Don't Wait to Plan Summer Camp Fun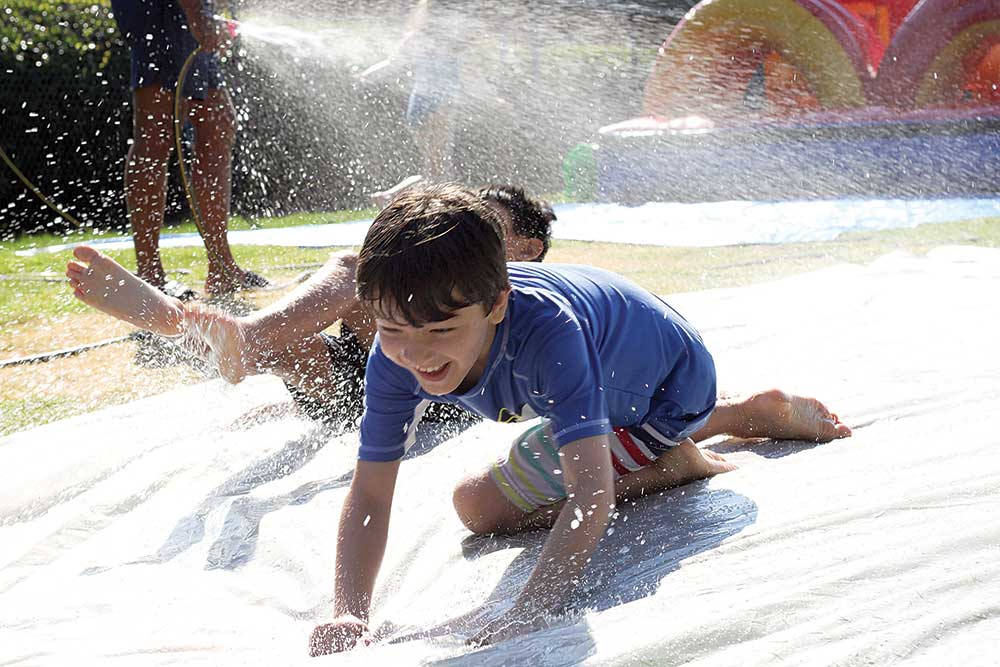 We're coming up to those lazy days of summer more quickly than you might realize. It's just a few calendar page flips until the last day of the school year will be here.
For Gwinnett County Public Schools and Cornerstone Christian Academy, the last school day is May 22. For Greater Atlanta Christian School, it's May 23 and Wesleyan School's last day is May 24.
That means weeks of students with time away from school. While they claim they can't wait to get a break, we're all too familiar with the "I'm bored…" whine that often starts within the first week. Or we notice the reddened, glazed eyes from too much screen time and think 'There's got to be something better for them to do.' Of course, there is.
The summer camp solution
Summer camps are a time-honored solution for filling weeks of school break. Camps not only keep kids busy, they also keep them active — physically and mentally.
Traditional summer camps focus on sports and warm weather activities. These days, however, there are a wide variety of camps to choose from that feature topics like art, theatre and STEM (science, technology, engineering and mathematics).
Whatever camps are the best fit for your kid's summertime, start researching and registering now. Summer camps fill up quickly!
Activity and nature camps
The classic concept of summer camp is a day spent outdoors, swimming and playing sports with the guidance of counselors. While many camps follow that pattern, they often add more.
The goal at Camp All-American is to build strong character in the lives of young people. The full-day camps they offer are available for kids aged 5 through 17 and include Bible study, physical activity, and specialty camps. Campers can also choose from a wide range of specialties like art, cheerleading, photography, and soccer.
Camp All-American runs for 10 weeks and is held at Perimeter Church in Johns Creek. Day camps for 1st to 6th grade students are also held at Dunwoody Baptist Church. Registration opens Superbowl Sunday; campallamerican.com is the place to get details.
Christ the King Lutheran Church offers Preschool Summer Camps that are designed for children aged 2 to rising kindergartners. Three sessions are available, June 24-28; July 22-26; and August 12-16. Go to ctklutheran.org/preschool or call 770-449-7217 for more information.

The 10 sessions of summer camp programs at Robert D. Fowler Family YMCA run from May 28 through August 2. There's a lot to choose from, too: traditional camps, sports camps, specialty camps, teen camps and half-day preschool camps. Sports include baseball, flag football and volleyball, and specialty camps offer STEM, film, cartooning, dance and more. Go to ymcaatlanta.org/program-locations/summer-camp/norcross.php for more.

The summer camps at Autrey Mill Nature Preserve & Heritage Center in Johns Creek emphasize reconnecting kids with nature and history, allowing them a break from technology and competition. Campers are kept engaged with activities and learning opportunities, but they're also given plenty of time to explore and imagine.
Autrey Mill has several options of full-day summer camps for campers aged 5 to 14 years, and half-day camps are available for 4-year-olds. Visit autreymill.org for camp themes, schedules and more.
Summer camps are not summer school
Several area schools offer camps during the summer months. Though many keep a focus on learning, they bring in a strong element of fun.
Wesleyan School has a long list of camps for kids aged 4 through 8th grade. There's Summer Art Fun; Cooking and Forensic Science. Students interested in science and technology may especially enjoy camps like Movie Makers and Game Designers, Coding and Lego Robotics, Project Invention, STEAM for Middle School or Xtreme STEAM for Lower School.
Camps are offered over six weeks in the summer in a safe, nurturing environment. Registration began January 21, and you can get details at wesleyanschool/camps.
At Greater Atlanta Christian School, more than 30 summer programs in academics, arts, and athletics are offered through the seven weeks of camp, June 3 through July 26. Campers enjoy making new friends and exploring new talents in a secure, Christian setting.
Some of the camps have opportunities for field trips that take students to various locations in metro Atlanta for fun learning experiences. Visit gac.growcamps.org for the 2019 schedule and details.

The Primrose School of Peachtree Corners offers a Summer Adventure Club for children in kindergarten through 5th grade. The kids become artists, explorers and scientists as they're guided through experiments, engineering design challenges and other themed activities. Call the school at 770-409-8732 or visit their website, PrimrosePeachtreeCorners.com, to learn more.

Pinecrest Academy in Cumming welcomes all children 5 and older to their summer camps, which begin in late May and run through late July. The school typically hosts over 25 camps each summer. A favorite, Camp Altius, features fun activities like scavenger hunts, team games, splash time and crazy crafts.
There are also many special interest camps with a focus on subjects like the arts, Spanish, science and athletics. For the budding techies and scientists, there are camps on Coding + STEM, Robotics, Rocketry & Aeronautics and Introduction to Engineering. Visit pinecrestacademy.org/page/campus-life/summer-camps for details and information on registering.
University summer camps
The University of Georgia holds its Summer Academy Camps a little further away, in Athens, Ga., for middle and high school students. Camp choices range from STEM and the arts to college and career preparation camps. Some of the STEM camps choices are Robotics, Engineering, Video Game Design, and even a Mini Medical School.
Kids interested in the arts can choose from Fashion Design, Photography, Screen Writing and more. The Career Preparation and Specialized Camps have focuses that include culinary skills and law. A residential option is available for students to stay in a college dorm during the week. Registration opens February 6; go to ugasummer.com to sign up.
Emory University and Georgia Institute of Technology both offer summer tech camps through iDTech, focusing on STEM education including coding, game development and robotics. At Emory, the week-long camps and two-week academies are for ages 7 to 18 and run May 27 to July 26. Georgia Tech's week-long iDTech camps, scheduled June 10 to July 19, are for girls only, aged 10 to 15. Get more info at idtech.com.
Tech summer camps
Summer camps with a technology bent is the perfect way to add some productivity to your kids' screen time. Prototype Prime is introducing the Kids 4 Coding camps this year, and there are also more tech camps in the area.
Kids 4 Coding Summer Camps will be held at both Gwinnett Technical College locations. In Lawrenceville, the camp runs from June 3 to July 19, and in Alpharetta, from July 15 to 26. There's a variety of tech-based camp themes, such as Microbit & Swift Programming, Mobile Apps + Augmented Reality and Game Design. Full and half day sessions are available. To sign up and see the full list of choices, visit kids4coding.com.
Club SciKidz has summer camp locations throughout the area, including Duluth First United Methodist Church. Children from ages 7 to 15 have 60 STEM and STEAM camp choices, including Young Scientist, F/X Zombie, Veterinary Medicine and Manga Maker. Details are at ClubSciKidz.com.
The Marcus Jewish Community Center of Atlanta (MJCCA) is offering a beginner's Tech 101 camp for 1st and 2nd graders, Whiz Learning Kids, that runs from June 24-28. Campers will learn to use different design elements — images, text, color, and backdrops — to create digital scrapbook pages. They'll even have the opportunity to design their own animations using basic programming techniques. See the full range of camps at mjccadaycamps.org.
At Fernbank Science Center, 4th to 8th grade students can sign up for a week-long Lego Robotics Camp that covers areas like programming and motors for Lego Mindstorm robotics. Find out more at fernbank.edu/roboticscamp.html. ■
Revington neighborhood transforms tennis courts into victory garden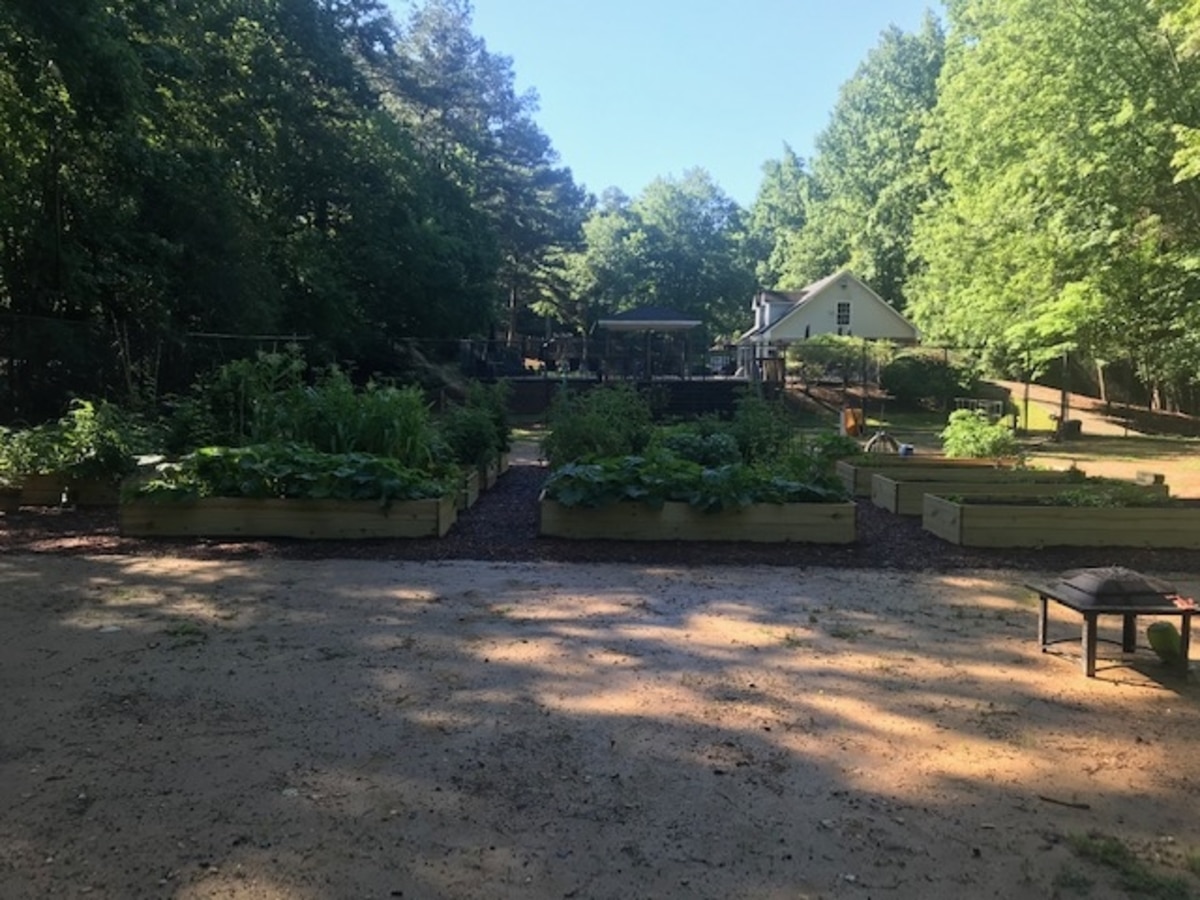 Looking on the bright side can be tricky these days, but residents of Revington on the River soak up the sun by working together to renovate their abandoned tennis courts into a lush, lively victory garden. The tennis courts near the community pool had been unused for a few years so members of the Revington Homeowners Association and interested homeowners began to discuss a plan to "someday" convert the tennis courts into a community garden. Then after health and safety concerns related to Covid-19 required many people to stay close to home, "someday" came a lot sooner than expected.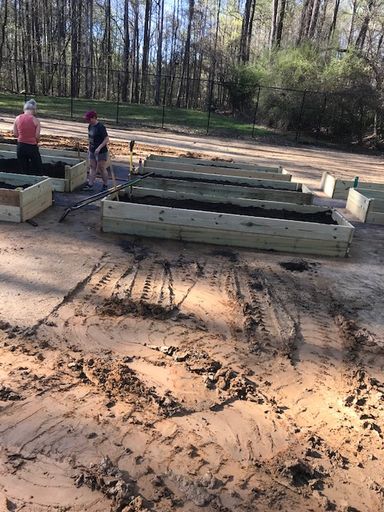 As a relative newcomer to the neighborhood and a retired Texas transplant, Ed Stockhausen searched for a way to connect with his neighbors and to contribute to the community. So naturally, when the victory garden project came up, Ed jumped in with both feet.
"I went out and bought a bunch of boards, basically started building the first set of boxes. I've done a lot of landscaping on my property, so I had a good idea of what we needed. I brought in a bunch of rocks, a bunch of soil," Ed said.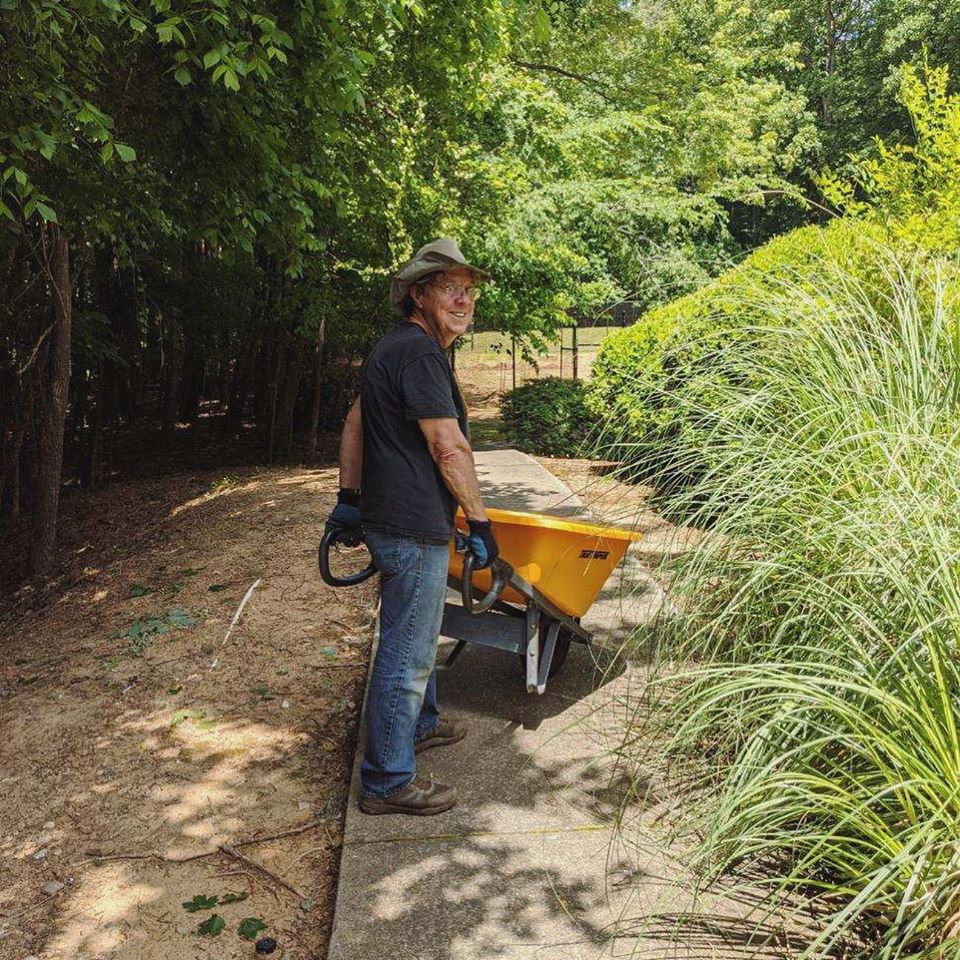 Ed laid out the initial plans for the first twelve boxes, with dimensions of 4ft long, 4ft wide by 20in high. Ed was quick to say that this was a joint neighborhood project with lots of hardworking and cheerful people chipping in. He simply served as the first to break ground and get things organized so that others could come and join in the fun. Due to a family emergency, Ed was out of town for six weeks towards the completion of the project. But the work continued as more and more neighbors marveled at the progress. One neighbor even rode in on big Bobcat machinery to speed things along.
"It's been amazing. We've put in a fire pit and we have two tee-pees made out of bamboo out of somebody's yard. The kids did that and planted beans around one of them and peas around the other," said Karen Walkup, Revington resident.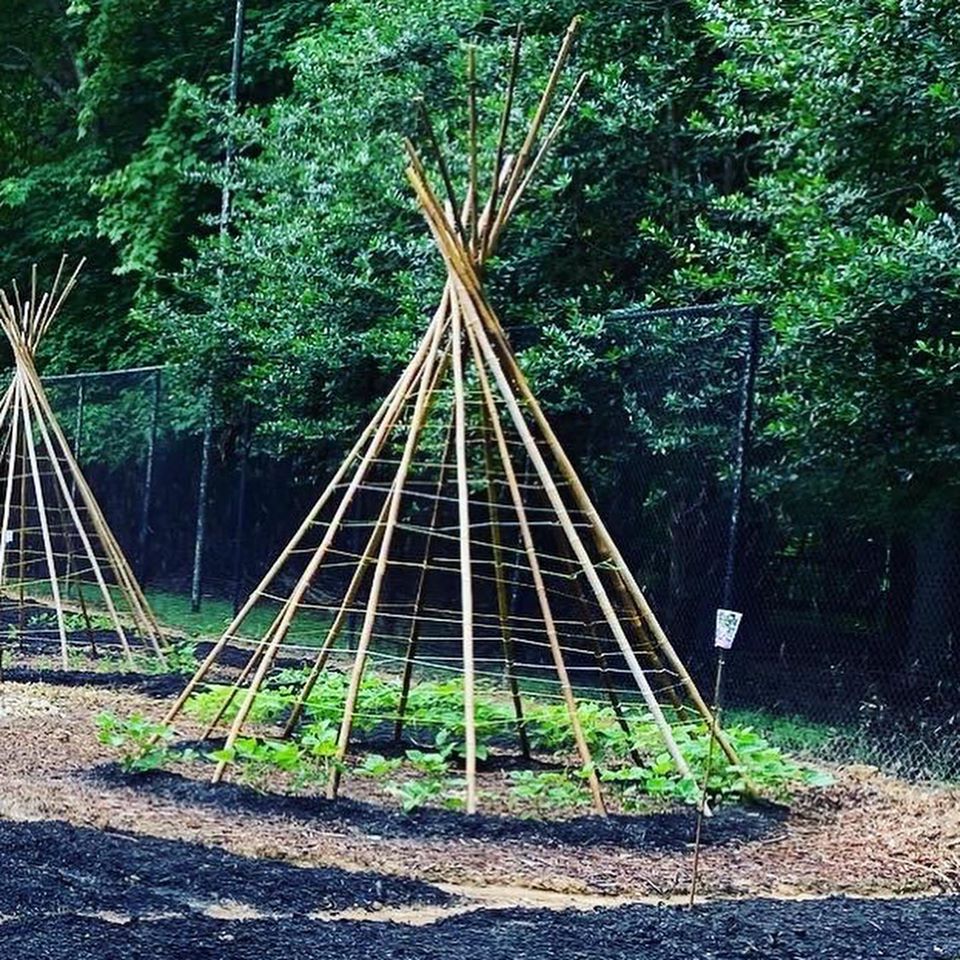 Karen estimates that there are now 15 tended beds managed by individual neighborhood families, as well as designated community areas for shared use. The variety of plants is impressive, from fresh flowers to delectable tomatoes, cucumbers, okra, watermelon, pumpkin and more.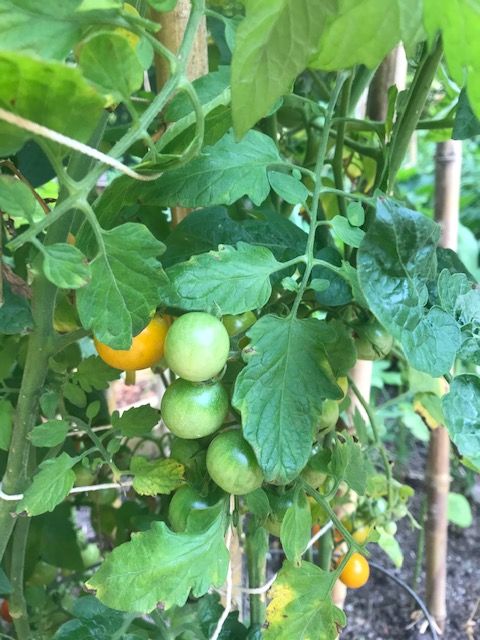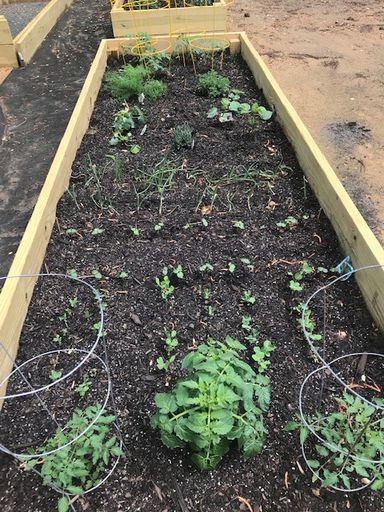 The green garden breathes life into an already vibrant community and gives us hope for the future as we see like-minded individuals work towards a common goal to make things better. Thanks for sharing your story with us, Revington Community Garden.
The many fun features of Peachtree Corners Town Center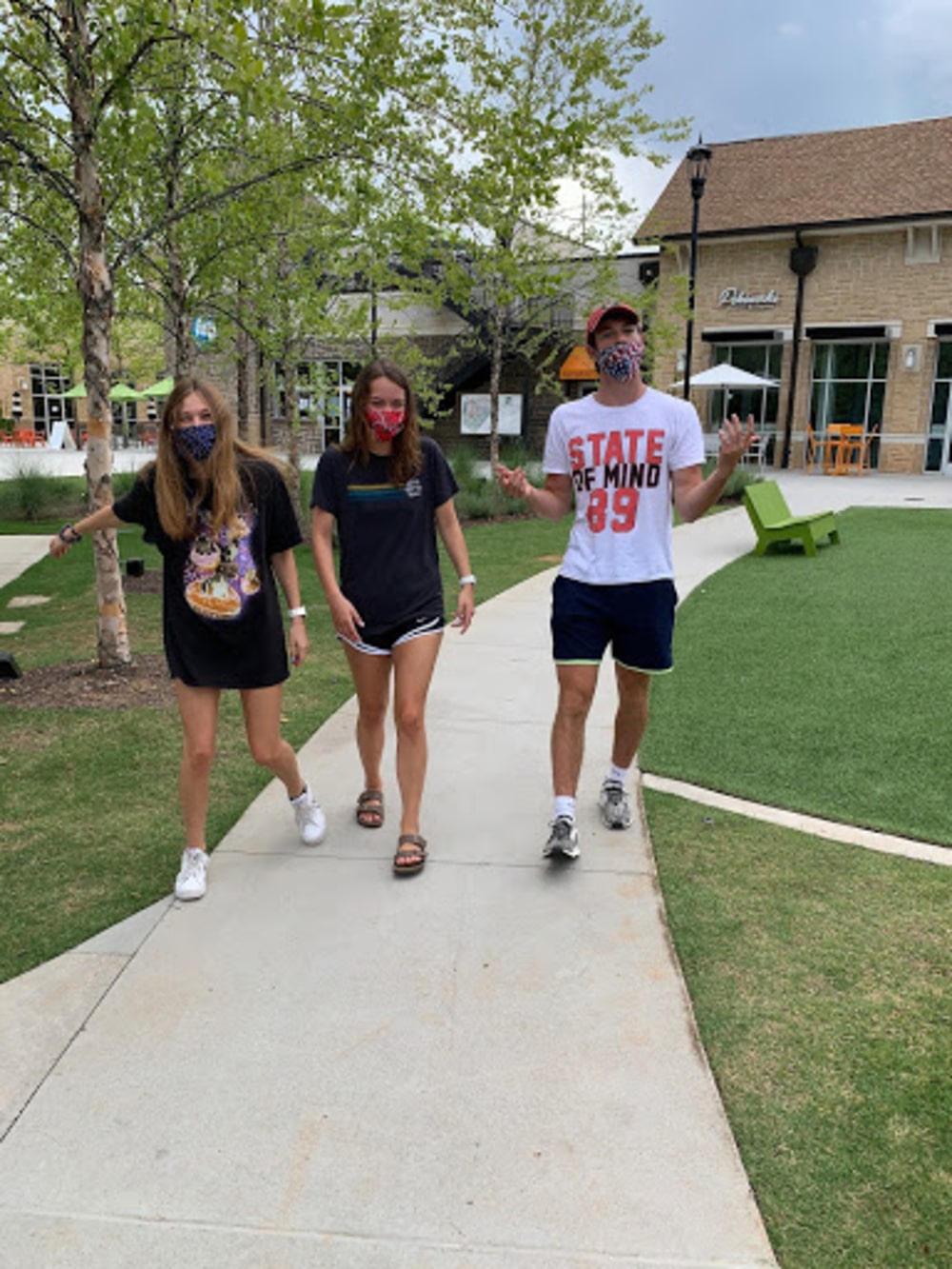 Even though we are in uncertain times, the city of Peachtree Corners is taking steps to keep our citizens active and healthy during the pandemic. Along with great restaurants and stores, recently the city has added many new fixtures to the Town Center for people of all ages to enjoy. These add-ons include a fun new climbing station where you can practice your monkey bars skills, or even try to race your friends to the top. Along with these new additions, students still enjoy going down the town center's famous slide with their friends.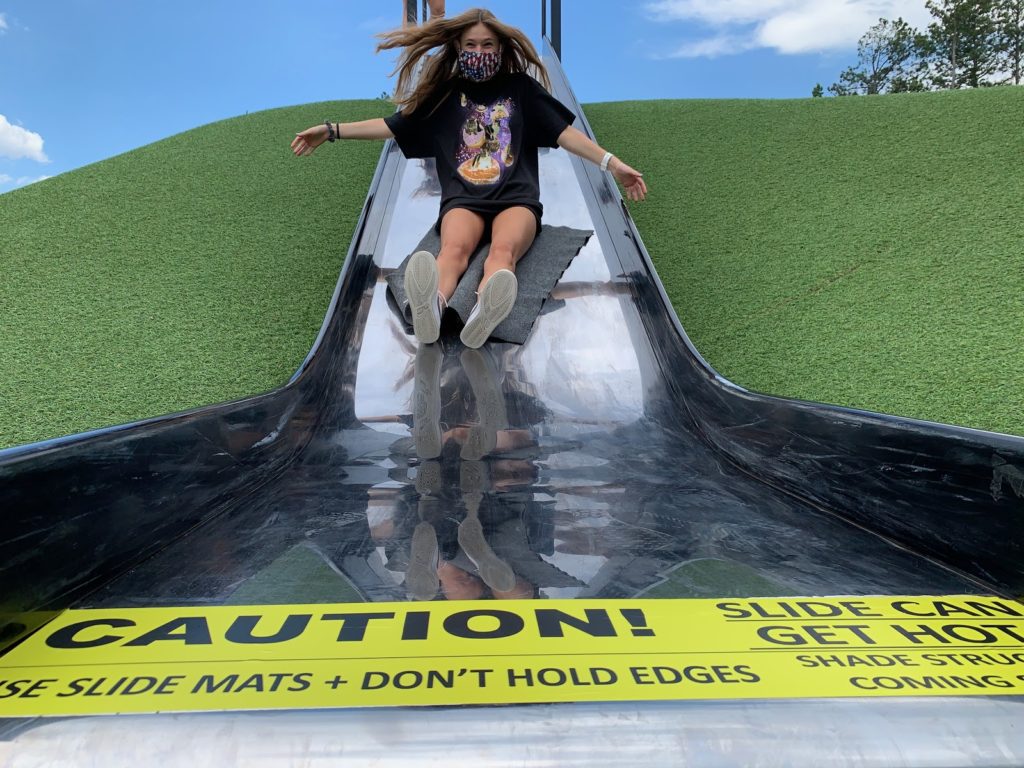 To top off a fun day in the sun, everyone can take a pleasant walk along the greens for fresh air and a great view of the town center shops. All these activities can be done safely while practicing social distancing, and wearing a mask to protect yourself and others from the virus. After a great day in the heat, don't forget to check out some of the Town Center's great shops and restaurants like Buff City Soap, Lazy Dog Cafe, or Beard Papa. You can also pop into Gong Cha for a refreshing tea to beat the heat and make this summer in Peachtree Corners your best one yet.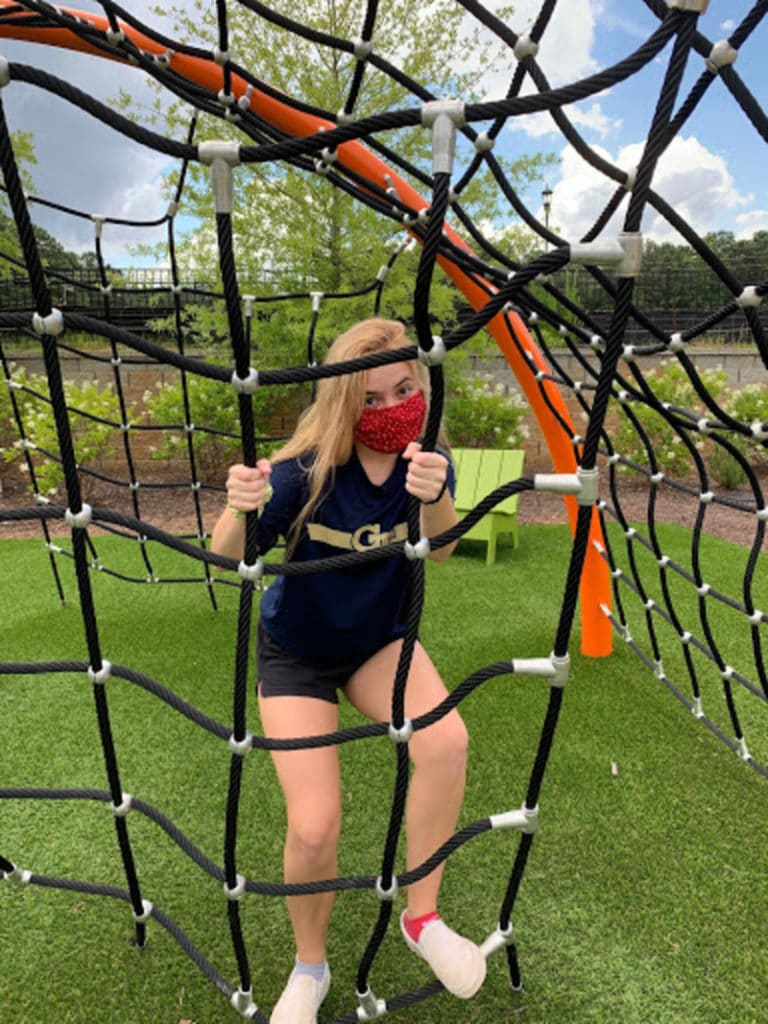 Peachtree Corners Celebrates 8th Anniversary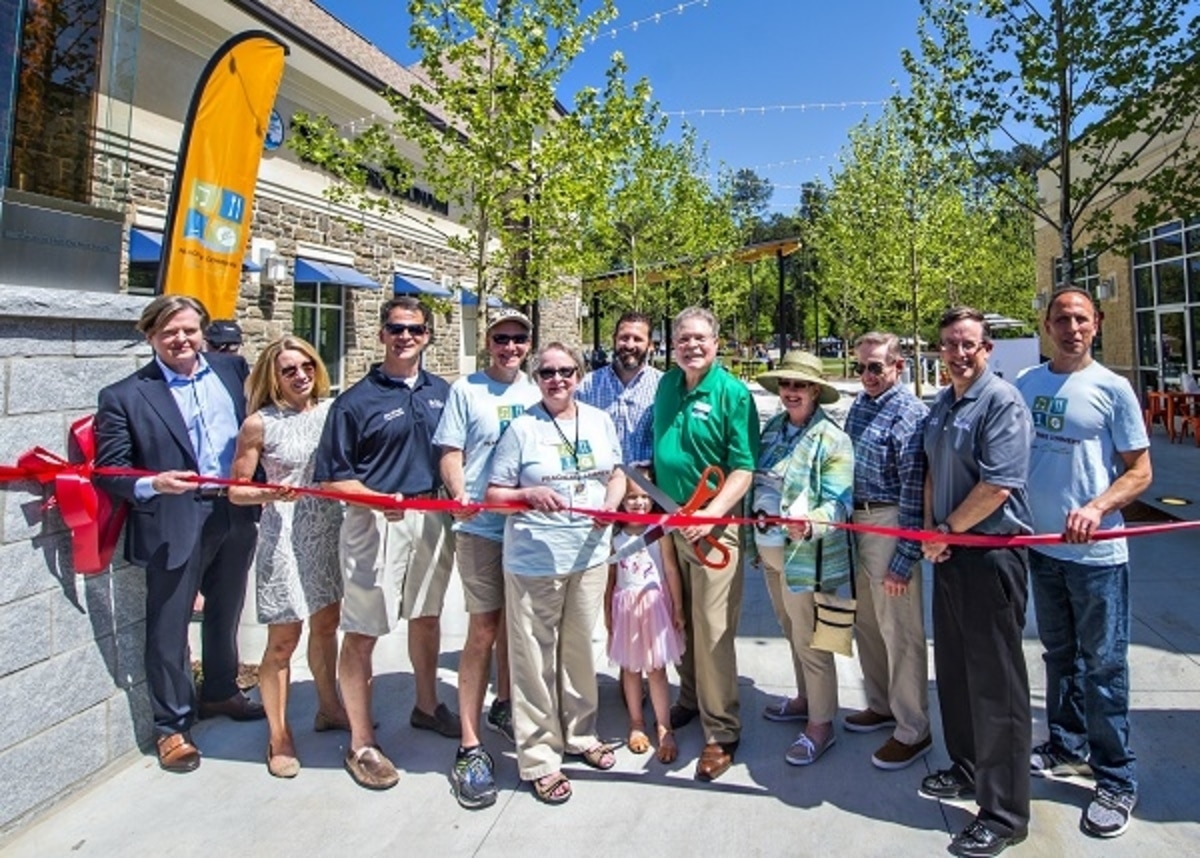 On July 1, the City of Peachtree Corners officially celebrated its 8th anniversary. It's been an eventful eight years. The list of accomplishments since its incorporation on July 1, 2012 continues. A new Town Center, a Veterans Monument to honor our veterans, the launch of Curiosity Lab, a soon-to-be-complete pedestrian bridge, are just some of the recent highlights.
The city's 11.5 mile multi-use trail, named the Corners Connector, continues to expand. A portion around Technology Park Lake was just completed — expect news of a ribbon-cutting to be announced soon.
New businesses continue to open and re-locate to our city by the river enhancing the economic development of our city. And thanks to prudent financial management, the city continues to maintain its zero millage rate. Happy 8th anniversary Peachtree Corners.