Peachtree Corners Festival Returns in June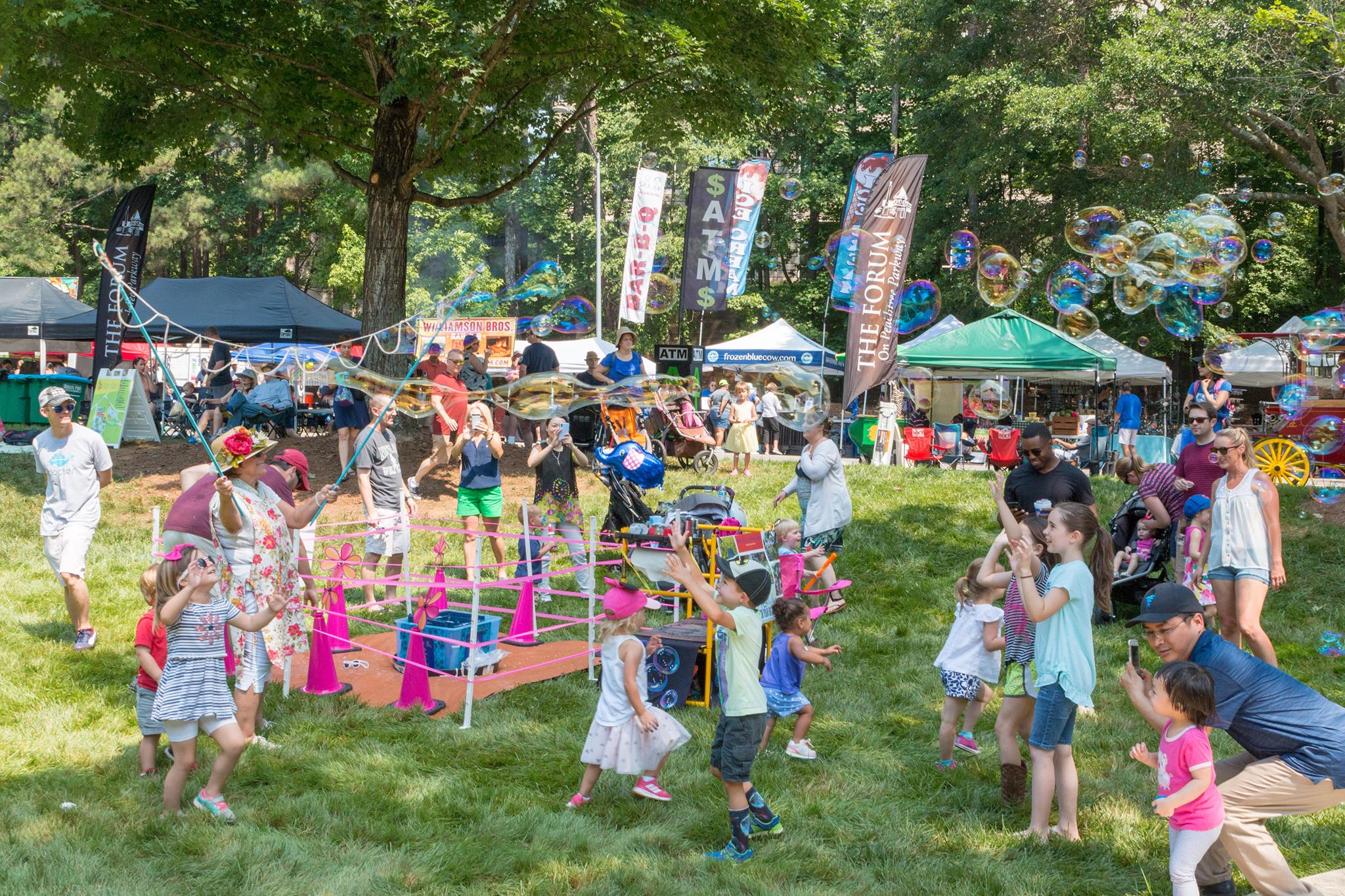 Planning is in high gear for the ninth annual Peachtree Corners Festival, a free arts and crafts and concert event that draws about 15,000 people over three days. Always held on the second weekend in June, the 2019 festival is set for Friday to Sunday, June 7-9, at The Corners Office Park.
About a half mile of The Corners Parkway, from Holcomb Bridge Road to Mary Our Queen Catholic Church, will be blocked off for the event.
What can you expect?
Headlining this year's Friday night concert is Atlanta-based Rumours, a Fleetwood Mac tribute band that has appeared in major venues around the country. Runnin' Down A Dream, an Atlanta-based Tom Petty tribute band, opens the concert.
Once again, the festival will feature more than 100 handmade arts and crafts booths representing vendors from across the South. Among other returning attractions are car and bike shows featuring classic cars on Saturday and British cars on Sunday and the "Kids Korner" with carnival rides.
Live music will be performed throughout the festival and the ever-popular lobster food truck will be back among the food vendors. Festival visitors can expect some new twists that weren't ready for announcement at press time.
Why have a festival?
Peachtree Corners Festival is all about bringing the community together for a good time, but its ultimate goal is to foster community pride and civic involvement. The nonprofit festival costs about $80,000 to $100,000 to stage, a sum footed almost entirely by sponsors, including the City of Peachtree Corners.
Any proceeds from the all-volunteer effort are donated to area education and beautification efforts.
Dave Huffman is in his sixth year as president of the festival. The retired electrical engineer and his wife, Laura, both Georgia Tech grads, have been Peachtree Corners residents since 1986. Their son Matthew graduates from Georgia Tech in May.
Huffman is an active volunteer, including longtime work in refugee resettlement and at Pinckneyville Middle School. Several years ago, the Festival Committee was asked to also take on the city's holiday parade, usually held in late November, and work on the Peachtree Corners Festival begins in January every year.
"It's a lot of work," Huffman said of the festival. "But when you get there, and it's going on, and you see people having a good time and eating and kids playing, it's all worthwhile."
Who makes it happen?
The Festival Committee roster currently includes President Dave Huffman, Vice President Debbie Mason and the following other members: Matt Collins, Lori Howard, Bonnie Marshall, Linda O'Connor, Karen Walkup, Cept Harden, Shara Crespo, Ayanna Graham, Becky Lyon and Patti Creasman.
The committee is looking for more festival volunteers. To sign up, visit peachtreecornersfestival.com.
Construction on Pedestrian Bridge Underway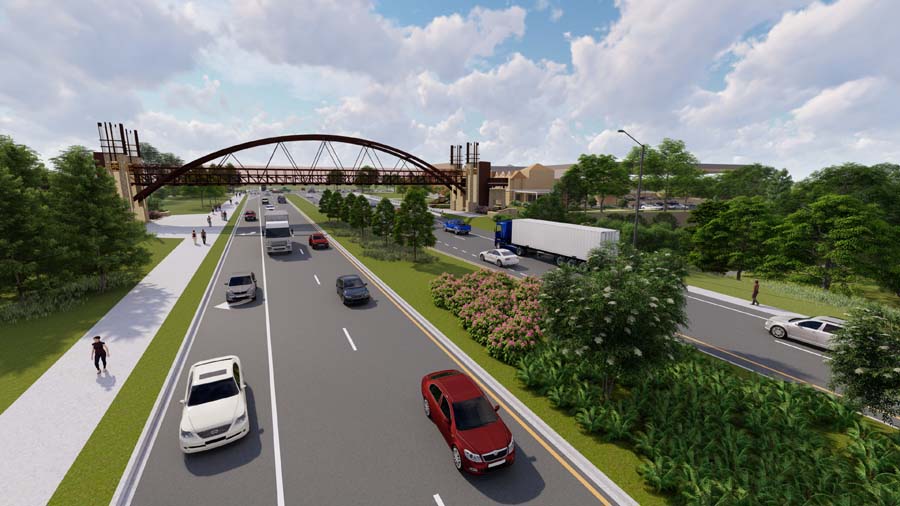 The Peachtree Parkway Pedestrian Bridge is now under construction thanks to the recent permit approval from the Georgia Department of Transportation. Construction is scheduled to continue for the next 14-16 months until completion.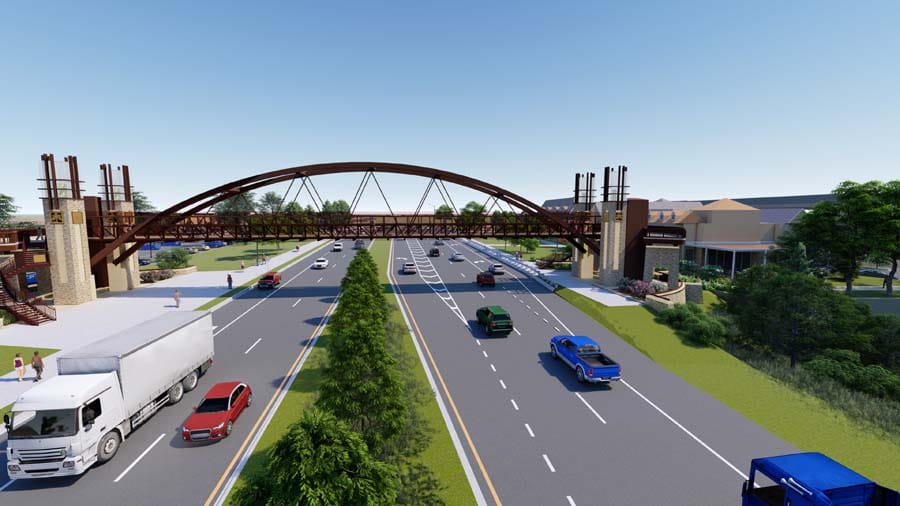 It will be a steel, thrust arch bridge connecting the multi-use path on the west side to the east side of State Route 141 that separates the Town Center and Forum developments. The design of the pedestrian bridge is intended to be a tribute to Jones Bridge, which stretched across the Chattahoochee River for decades and served as a namesake for many of the amenities and roads in the Peachtree Corners community.
Concrete barricades have been installed along northbound and southbound Peachtree Parkway that provides protection between the construction work zone and vehicular traffic. Lane closures or traffic interruptions are not anticipated, but any construction activities that require impact to the vehicular lanes will be kept to a minimum during off-peak hours only, and no permanent or long-term lane closures will be involved.
Initial construction for this project will involve driving piles for the foundation of the structural towers on each side of the bridge. The structure itself is being manufactured now and it will be delivered and installed in Spring 2020.
The installation process will require lane closures over a weekend, and information on that process and plans for detours will be disseminated as that information is finalized and the calendar approaches the scheduled dates for the work.
Volunteers Needed at County's America Recycles Day Event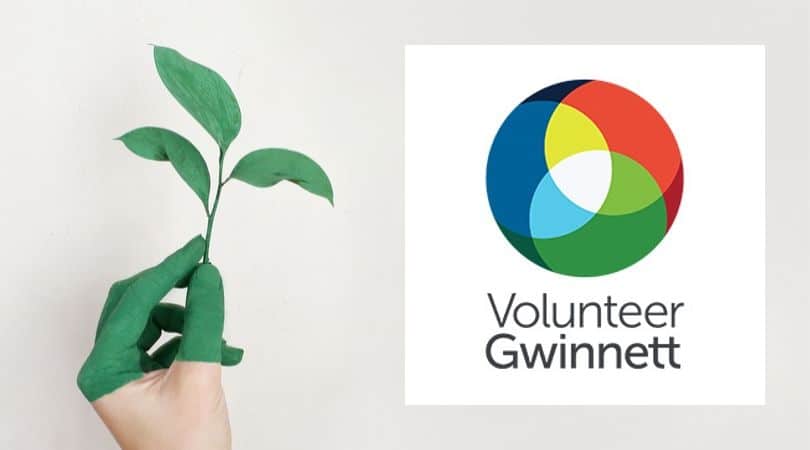 Help Gwinnett County maintain a sustainable environment by volunteering at the annual America Recycles Day event Saturday, Nov. 9 from 9am to 12pm at Coolray Field.
Gwinnett residents are invited to recycle paper, paint, electronics, tires, clothing, sneakers and ink/toner cartridges. Volunteers ages 14 and up are needed to unload vehicles, break down boxes, distribute recycling information and support other America Recycles Day activities.
The event is rain or shine. Volunteers should register at www.VolunteerGwinnett.net.
For more information, please contact Gwinnett Clean & Beautiful at (770) 822-5187 or email gwinnettcb@gwinnettcb.org.
Coolray Field is located at 2500 Buford Drive in Lawrenceville.
Prime Lunchtime with Brian Johnson – Olli, Autonomous Vehicles, 5G and Smart City