Peachtree Corners Festival Returns in June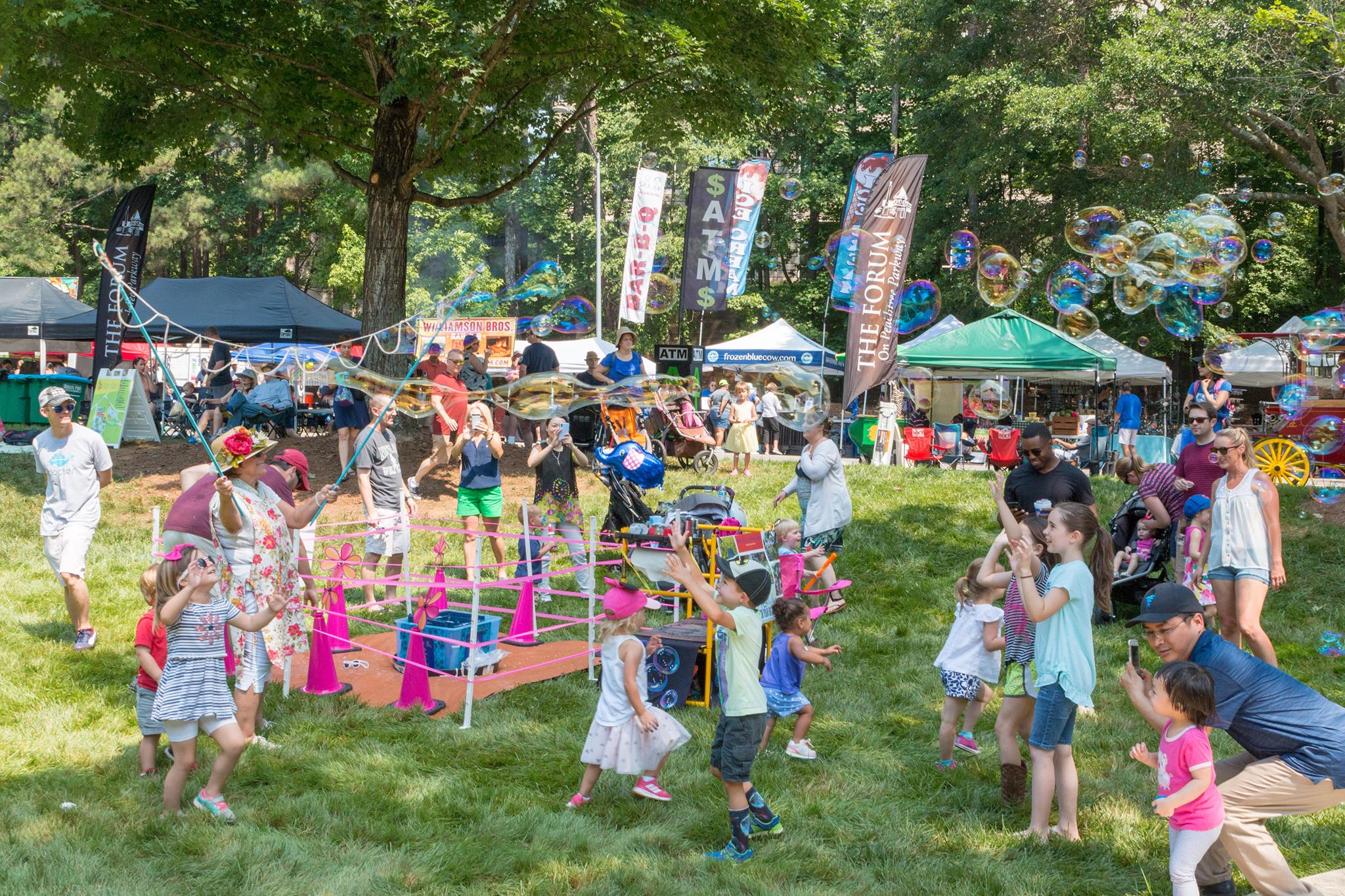 Planning is in high gear for the ninth annual Peachtree Corners Festival, a free arts and crafts and concert event that draws about 15,000 people over three days. Always held on the second weekend in June, the 2019 festival is set for Friday to Sunday, June 7-9, at The Corners Office Park.
About a half mile of The Corners Parkway, from Holcomb Bridge Road to Mary Our Queen Catholic Church, will be blocked off for the event.
What can you expect?
Headlining this year's Friday night concert is Atlanta-based Rumours, a Fleetwood Mac tribute band that has appeared in major venues around the country. Runnin' Down A Dream, an Atlanta-based Tom Petty tribute band, opens the concert.
Once again, the festival will feature more than 100 handmade arts and crafts booths representing vendors from across the South. Among other returning attractions are car and bike shows featuring classic cars on Saturday and British cars on Sunday and the "Kids Korner" with carnival rides.
Live music will be performed throughout the festival and the ever-popular lobster food truck will be back among the food vendors. Festival visitors can expect some new twists that weren't ready for announcement at press time.
Why have a festival?
Peachtree Corners Festival is all about bringing the community together for a good time, but its ultimate goal is to foster community pride and civic involvement. The nonprofit festival costs about $80,000 to $100,000 to stage, a sum footed almost entirely by sponsors, including the City of Peachtree Corners.
Any proceeds from the all-volunteer effort are donated to area education and beautification efforts.
Dave Huffman is in his sixth year as president of the festival. The retired electrical engineer and his wife, Laura, both Georgia Tech grads, have been Peachtree Corners residents since 1986. Their son Matthew graduates from Georgia Tech in May.
Huffman is an active volunteer, including longtime work in refugee resettlement and at Pinckneyville Middle School. Several years ago, the Festival Committee was asked to also take on the city's holiday parade, usually held in late November, and work on the Peachtree Corners Festival begins in January every year.
"It's a lot of work," Huffman said of the festival. "But when you get there, and it's going on, and you see people having a good time and eating and kids playing, it's all worthwhile."
Who makes it happen?
The Festival Committee roster currently includes President Dave Huffman, Vice President Debbie Mason and the following other members: Matt Collins, Lori Howard, Bonnie Marshall, Linda O'Connor, Karen Walkup, Cept Harden, Shara Crespo, Ayanna Graham, Becky Lyon and Patti Creasman.
The committee is looking for more festival volunteers. To sign up, visit peachtreecornersfestival.com.
Bark in the Park at Town Green, September 14th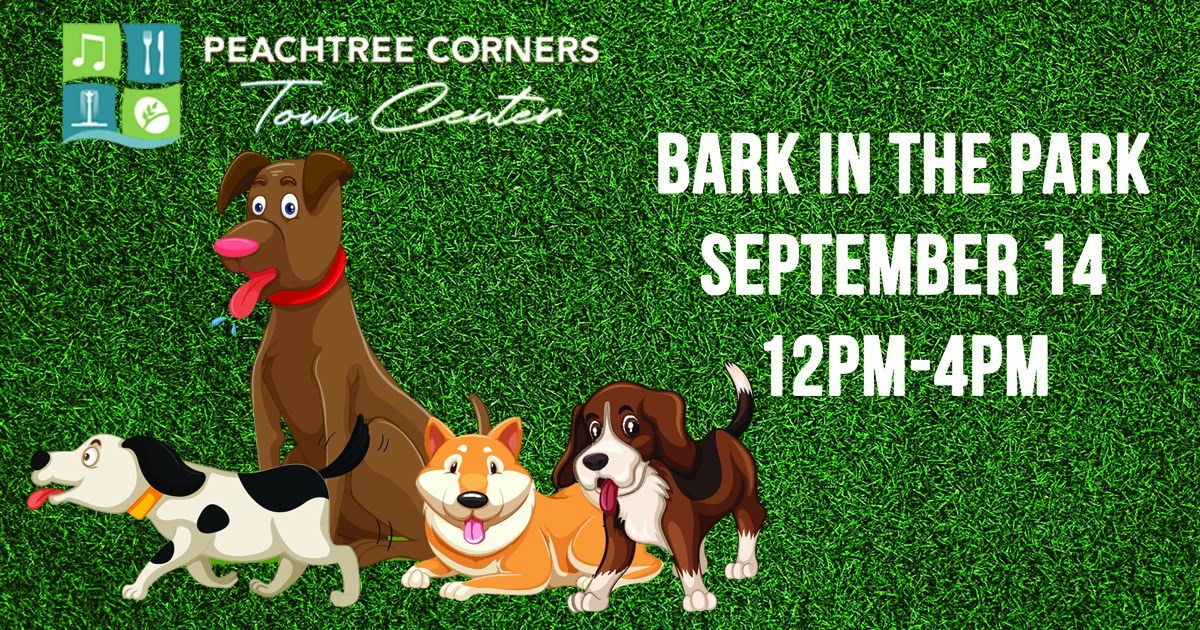 Pooches are taking over the Town Green at Bark in the Park! Dogs and their humans can enjoy this FREE event on Saturday, September 14th. Give your pooch the ultimate day in the park with bacon bubbles, ball pits, fur painting and more! Pinot's Palette will be giving demonstrations on their special paint your pet classes while Hollywood Feed will be supplying everyone with special treats. The pups can take a break and beat the heat with King of Pups!
The Fine Print
All pets must be kept on leash at all times during the event
Please be a responsible pet owner and clean up after your pet
Parking
Parking is available within the Town Center – 5200 Town Center Blvd.
Additional parking is available off Davinci Court off Peachtree Corners Circle (3720 Davinci Ct, 3715 Davinci Ct or 2745 Davinci Ct). You'll cross Peachtree Corners Circle and access the Town Green via a path – look for the signs!

Public Invited to Intersection Improvement Meeting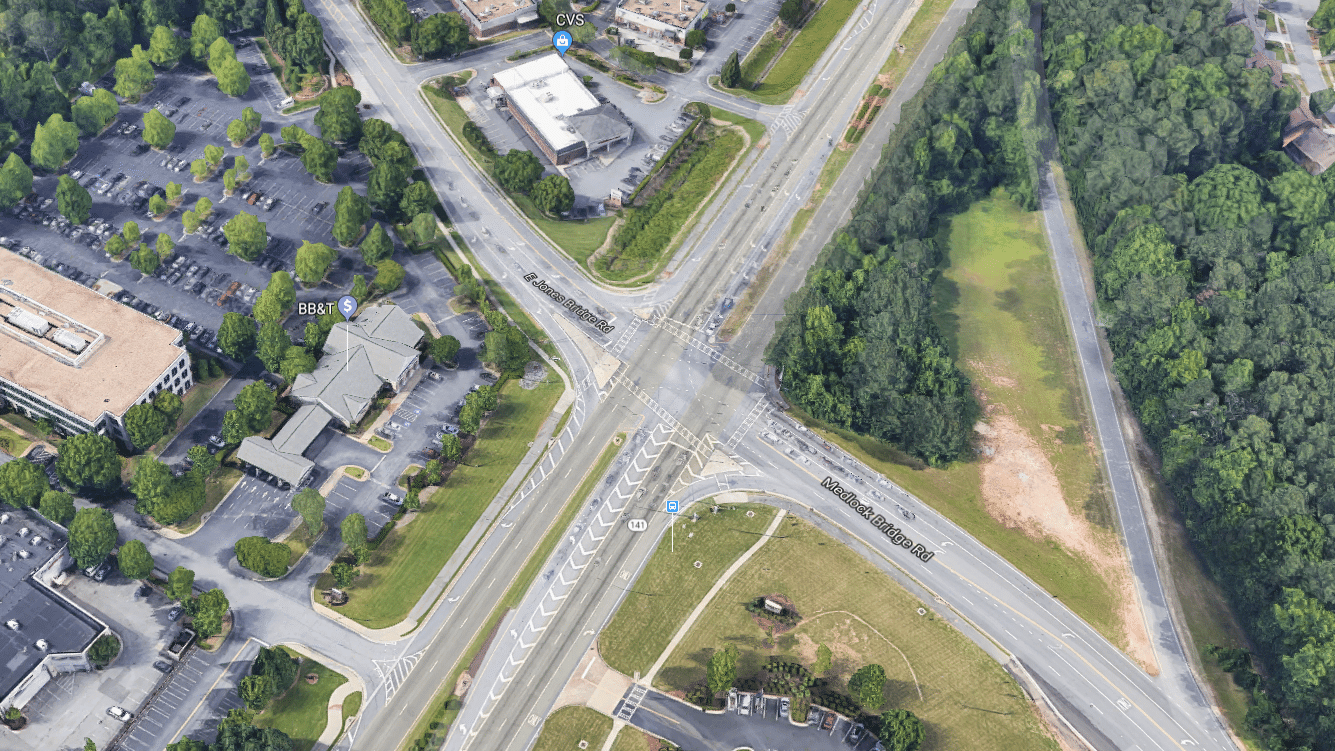 Intersection of State Route 141/Peachtee Parkway at East Jones Bridge Road and Medlock Bridge Road
The city's Public Works Department invites you to attend a public information meeting to learn potential intersection improvement options for the intersection of State Route 141/Peachtee Parkway at East Jones Bridge Road and Medlock Bridge Road.
When: 7 p.m., Thursday, Sept. 5, 2019 
Where: Community Chest Room at City Hall, 310 Technology Parkway (The entrance to the Community Chest Room is located on the north side of the building). Look for "Event" signs directing you to the entrance.
A short presentation will be followed by a Q&A session and an opportunity to discuss the potential improvement options with staff and engineers.
Feedback on the options and potential improvements will be solicited from the audience, and comment forms will be available to submit at the meetings.
Comments via forms or emails will also be accepted following the meeting.
Georgia Unified Invitational Brings Together Swimmers for Competition and Fun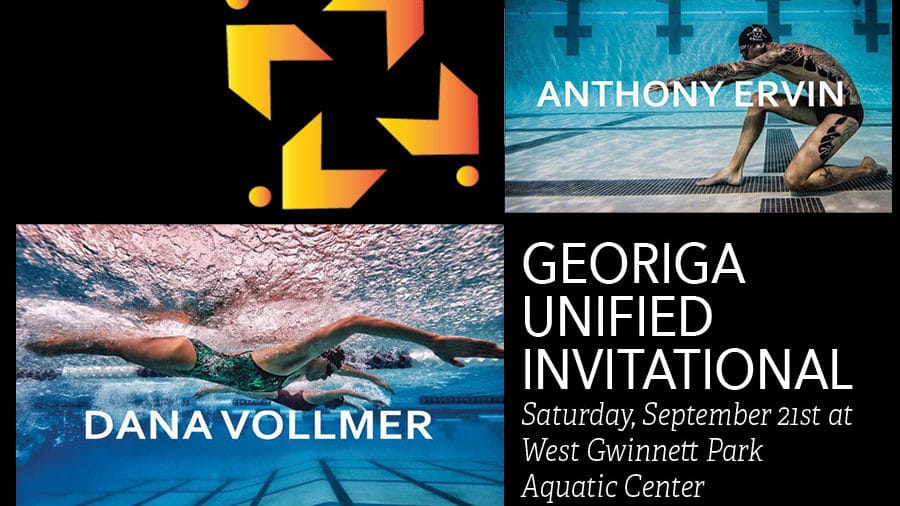 Competitive swimmers are invited to participate in the 2019 Georgia Unified Invitational (GUI): Celebrating the Olympian in All of Us, to be held September 21 at West Gwinnett Park Aquatic Center.
"This event is all about bringing together many different groups. The purpose is really to drive home that they're all one," said Kai Akubo Smith, AngelfishGA/ATAQ, Area 18 Agency for Special Olympics Georgia. "With Special Olympians leading the way, GUI celebrates the Olympic spirit in all of us, recognizing that everyone has daily struggles and challenges to conquer."
The invitational, a sanctioned Special Olympics and USA Swimming observed traditional sprint swim meet, is open statewide this year to all qualifying athletes of Special Olympics, USA Swimming, Paralympics, YMCA and US Masters, as well as uncertified athletes who have been certified through GUI.
"Uncertified athletes are swimmers who swam for summer league, middle or high school swim teams," Smith explained. "They will need a letter from their summer league coach, verifying their times and their ability to perform race starts off the block."
In addition to racing each other, athletes will have the opportunity to race against some of the top swimmers in the world, including 2016 Rio Olympic Gold Medalists Anthony Ervin and three-time Olympian, Gold Medalist and former world record holder Dana Vollnmer. The fun doesn't stop with the swim meet. Participants can continue their good time at the Victory Village, which is open to the public.
"There will be a DJ cranking out hot tunes, a pool party, food trucks, local artisans and much more," Smith said. "So save the date, participate, donate and celebrate at the 2019 Georgia Unified Invitational!"
GUI—pronounced "GOO-wee"—was formed to provide greater access, exposure and opportunities for athletes with intellectual disabilities seeking to participate in traditional sporting events.
The admission fee for the pool party is a $10 donation. All donations are directed to Special Olympics Georgia.
West Gwinnett Park Aquatic Center is located at 4488 Peachtree Industrial Boulevard, Berkeley Lake, Ga. 30092. Visit georgiaunified.com for more information.