Peachtree Corner's Town Center Grand Opening draws 4,000 People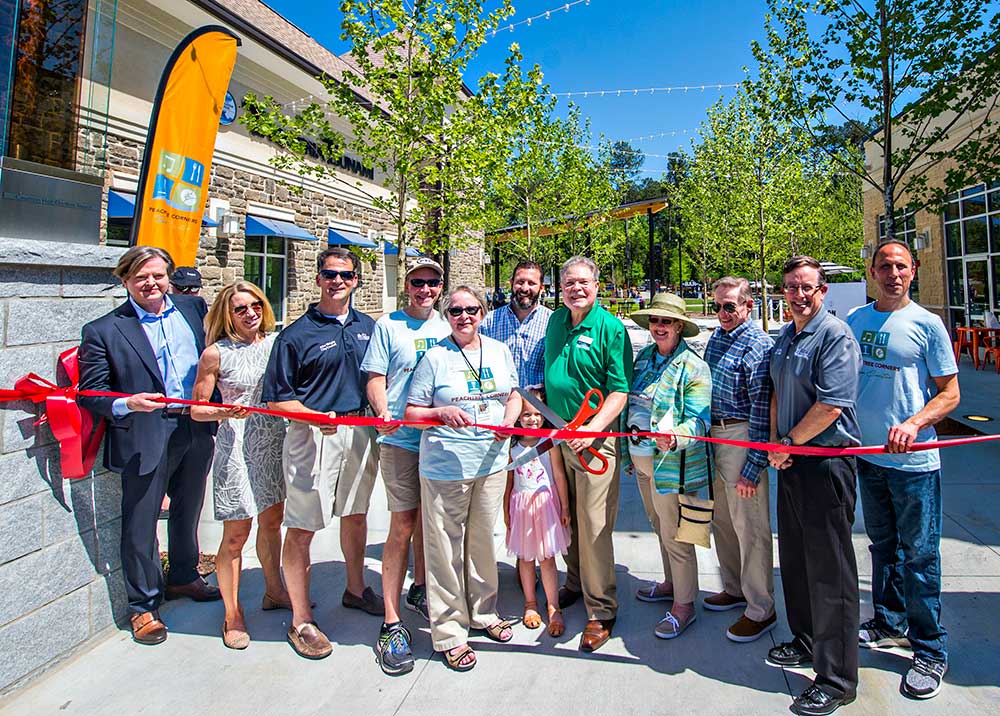 On a picture-perfect day, Gwinnett County's newest city welcomed residents, guests, and dignitaries to celebrate the official opening of the Peachtree Corners Town Center. The event drew more than 4,000 from the community to see the unveiling of the Town Green which had been closed to the public until Saturday's grand opening.
Residents finally had the opportunity to see and experience the 2-acre Town Green, considered the centerpiece of the 21-acre development. When complete, the development will include 15 restaurants, numerous shops, office space and 73 townhomes adjacent to the Town Green. It was the Town Green that everyone flocked to this past Saturday afternoon to take in the sights, relax in one of the chairs on the elevated teak deck that overlooks the green, listen to music, watch their children enjoy the play structures, and catch up with neighbors.
It was just as city leaders had hoped it would be for this community of over 40,000 – a special gathering place to call their own. "Our vision, simply put, was to create a place where our citizens could make memories together. A place where parents can be confident that their children can play safely while they enjoy music, or a movie, a meal with friends," said Mayor Mike Mason at the ribbon-cutting.
"And a place where children will grow up remembering those good times. It has been our dream to have a place where the community could come together and make many happy memories for years to come."
A number of the restaurants opened their doors earlier this year, including Firebirds Wood Fired Gill, First Watch, Marlow's Tavern, Pokeworks and anchor tenant CMX CineBistro. Several more eateries are expected to open in the coming months including Taqueria Tsunami, Lazy Dog, Uncle Jack's Meat House and Beard Papa's, a Japanese-based business that serves up freshly baked pastry shells filled with a variety of custards.
Saturday afternoon began with a ribbon-cutting at the entrance to the Town Green, followed by a Children's Plaza dedication, and recognition of the city's Veterans' Monument that including raising of the flags and pledge of allegiance led by Cub Scout Pack 575. Later a parade lead by the Norcross High School Marching Band ushered in the community and the mayor and council officially opened the Town Green by activating a multi-jet fountain and tossing out inaugural Frisbees. Strolling musicians, stilt-walkers, balloon sculpture artists, plus an array of food and drink filled the afternoon.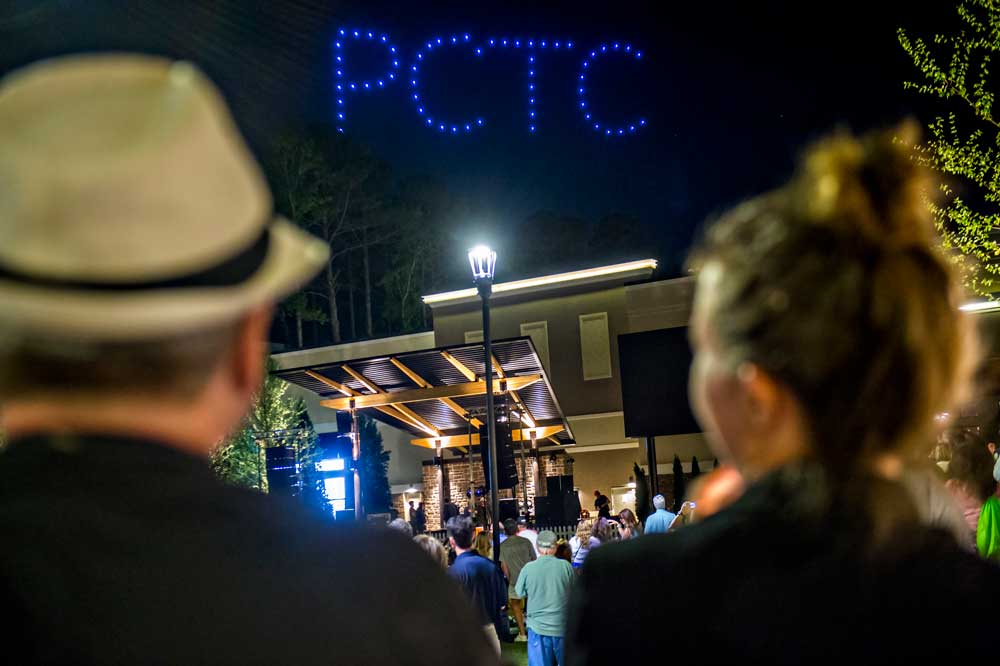 At 8 p.m. American Southern rock band, Atlanta Rhythm Section, took the stage performing well-known favorites including "Spooky," "Imaginary Lover" and "So Into You." The grand finale of the evening was a spectacular synchronized drone show that lit the sky above the Town Center to the delight of the audience. The drone show ended with the letters PCTC (Peachtree Corners Town Center).
"We wanted to do something that would benefit the entire community and showcase our city," said Councilmember Alex Wright during the ribbon-cutting. "I believe we have accomplished our goal."
History of Town Center
In 2013 the city purchased the 21-acre undeveloped tract of land, one of the few remaining in the city. The property was slated for 267 garden apartments. City leaders thought a mixed-use development was a much better fit for the location and stepped in and offered to purchase the property.
Fuqua Development was selected for the project in 2013, planning began shortly thereafter. Ground was broken in June 30, 2017. The groundbreaking represented a milestone for the young city that incorporated as Gwinnett County's 16th city only six years ago.
Gwinnett Hosting Four Poll Official Hiring Events in July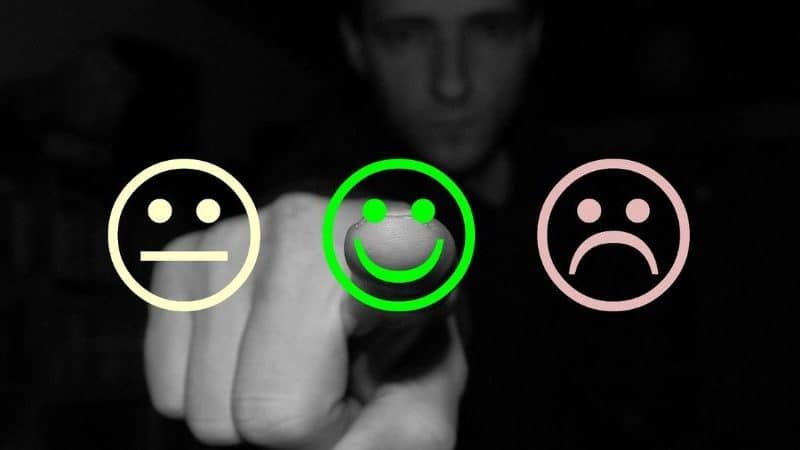 Citizens interested in the electoral process and who want to give back to the community are invited to attend one of Gwinnett County's four upcoming poll official hiring events in July.
The Gwinnett County Voter Registrations and Elections Division is looking for citizens of all backgrounds, but especially needs bilingual poll workers, particularly Spanish speakers. Gwinnett County elections personnel staff 156 polling locations on Election Day plus eight advance voting locations. To comply with federal law, bilingual polling officials must be available to assist voters at each polling location during elections.
Poll officials can gain valuable work experience and earn $75 to $300 per day.
The hiring events are set for:
Thursday, July 18 from 4 p.m. to 7 p.m. at Five Forks Branch Library, 2780 Five Forks Trickum Road, Lawrenceville
Saturday, July 20 from 9 a.m. to noon at Collins Hill Branch Library, 455 Camp Perrin Road, Lawrenceville
Thursday, July 25 from 4 p.m. to 7 p.m. at OneStop Norcross, 5030 Georgia Belle Ct., Norcross
Saturday, July 27 from 9 a.m. to noon at OneStop Norcross, 5030 Georgia Belle Ct., Norcross
The events are scheduled in the evenings and on a Saturday so that people who work during regular weekdays can attend.
Among the requirements, applicants must be at least 16 years old, a U.S. citizen and be able to read, write and speak English. They also must be a Gwinnett County resident or a Gwinnett County government employee and they must have access to a computer for required online training.
Interested citizens are encouraged to apply online prior to the event at www.gwinnettcountyjobs.com.
Gwinnett County Human Resources staff will be onsite to accept applications in person. Computers will be available at the events for applicants to use. To fulfill federal I-9 Employment Eligibility Verification requirements, please bring documents to verify your identity and legal authorization to work in the U.S.
To view the list of accepted documents, visit www.uscis.gov/i-9-central.
You Are Invited to Mayor's Annual State-of-City Address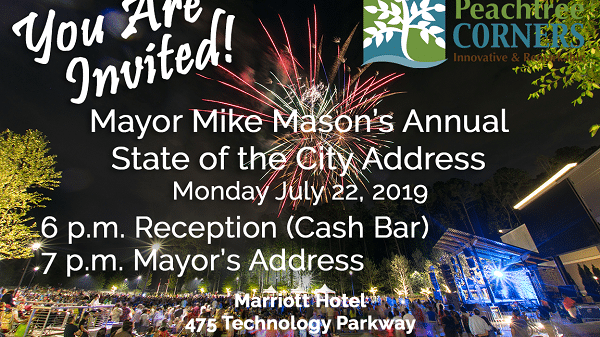 Mark your calendars and plan on attending Mayor Mason's annual State-of-the-City address on Monday, July 22, 2019, 6 p.m. – 9 p.m.at the Marriott Hotel, 475 Technology Parkway, Peachtree Corners, GA 30092. A reception with cash bar begins at 6 p.m. followed by the Mayor's address at 7 p.m.
Its been a short seven years since the city was incorporated as Gwinnett County's 16th city, yet there is little doubt that this young city has been on the move since it was officially founded July 1, 2012.
Mayor Mason is expected to highlight the city's progress — and offer a look ahead to the future of the county's largest city.
Feeding Hungry Children in Southwest Gwinnett County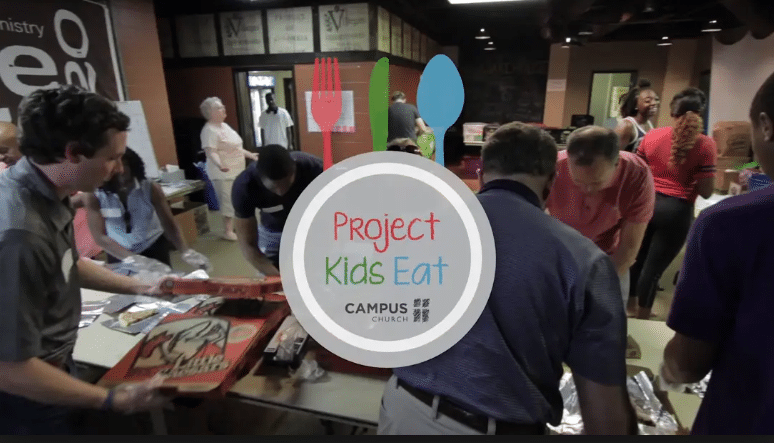 Southwest Gwinnett Chamber of Commerce Volunteers to help prepare and deliver meals to area children in need on Friday, July 12th.
The Southwest Gwinnett Chamber of Commerce will work side by side with the organizers of PROJECT KIDS EAT to deliver meals in the Southwest Gwinnett area to children who often go without regular meals when school is not in session. Studies show that hunger and drug/sex trafficking are linked as predators lure children into activities with simple offers of food. Summer is an especially vulnerable time.
Mayors, Council members, and other SWGC members will make sandwiches, pack and deliver meals to over 100 children, located mostly in the extended stay hotels, on Friday, July 12th from 11:30 a.m. to 1:00 p.m.
SWGC Chair (and Peachtree Corners Mayor Pro Tem), Weare Gratwick, explained that volunteering in areas of need were a central part of the chamber's charter. "We are all in close proximity to kids who need our support. It is something that needs daily attention, and we were glad to participate with the folks who do this work throughout the summer and other times when school is out. Our community is made better because of the efforts of organizations like Project Kids Eat." Membership Director, Beth Coffey also commented "the SWGC members are typically small to medium sized organizations in the SW corridor of Gwinnett County. They truly understand the specific needs of our community and are active in filling in gaps through our volunteer programs. It is one of the reasons Gwinnett County is such a tremendous place to live."
Project Kids Eat is an outreach of Campus Church, located at 1525 Indian Trail Road. They utilize volunteers every weekday to help with the outreach to over 100 children who rely on them for consistent and reliable meals during the summer. For more information about PKE, contact Julie@campuschurch.org or https://campuschurch.org/PKE
The Southwest Gwinnett Chamber of Commerce is a voluntary partnership of business and professional people, both profit and not-for-profit, working together to build a healthy economy and to improve the quality of life in Berkeley Lake, Norcross, and Peachtree Corners. For more information about Chamber, contact Beth Coffey at 678-906-4078 or bcoffey@southwestgwinnettchamber.org.