Peachtree Corner's Town Center Grand Opening draws 4,000 People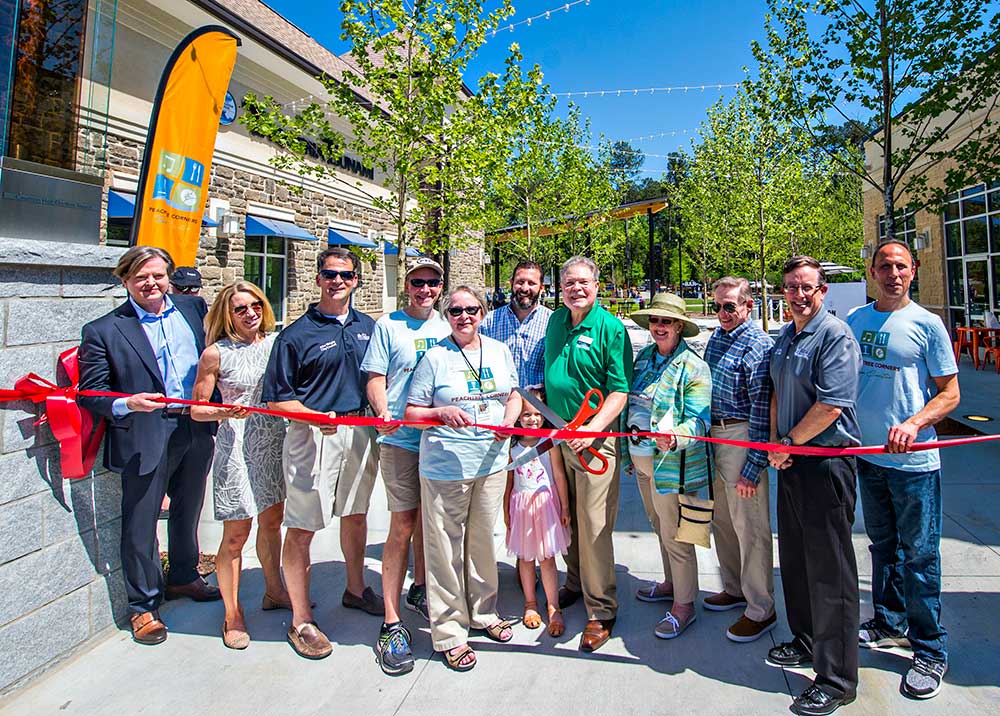 On a picture-perfect day, Gwinnett County's newest city welcomed residents, guests, and dignitaries to celebrate the official opening of the Peachtree Corners Town Center. The event drew more than 4,000 from the community to see the unveiling of the Town Green which had been closed to the public until Saturday's grand opening.
Residents finally had the opportunity to see and experience the 2-acre Town Green, considered the centerpiece of the 21-acre development. When complete, the development will include 15 restaurants, numerous shops, office space and 73 townhomes adjacent to the Town Green. It was the Town Green that everyone flocked to this past Saturday afternoon to take in the sights, relax in one of the chairs on the elevated teak deck that overlooks the green, listen to music, watch their children enjoy the play structures, and catch up with neighbors.
It was just as city leaders had hoped it would be for this community of over 40,000 – a special gathering place to call their own. "Our vision, simply put, was to create a place where our citizens could make memories together. A place where parents can be confident that their children can play safely while they enjoy music, or a movie, a meal with friends," said Mayor Mike Mason at the ribbon-cutting.
"And a place where children will grow up remembering those good times. It has been our dream to have a place where the community could come together and make many happy memories for years to come."
A number of the restaurants opened their doors earlier this year, including Firebirds Wood Fired Gill, First Watch, Marlow's Tavern, Pokeworks and anchor tenant CMX CineBistro. Several more eateries are expected to open in the coming months including Taqueria Tsunami, Lazy Dog, Uncle Jack's Meat House and Beard Papa's, a Japanese-based business that serves up freshly baked pastry shells filled with a variety of custards.
Saturday afternoon began with a ribbon-cutting at the entrance to the Town Green, followed by a Children's Plaza dedication, and recognition of the city's Veterans' Monument that including raising of the flags and pledge of allegiance led by Cub Scout Pack 575. Later a parade lead by the Norcross High School Marching Band ushered in the community and the mayor and council officially opened the Town Green by activating a multi-jet fountain and tossing out inaugural Frisbees. Strolling musicians, stilt-walkers, balloon sculpture artists, plus an array of food and drink filled the afternoon.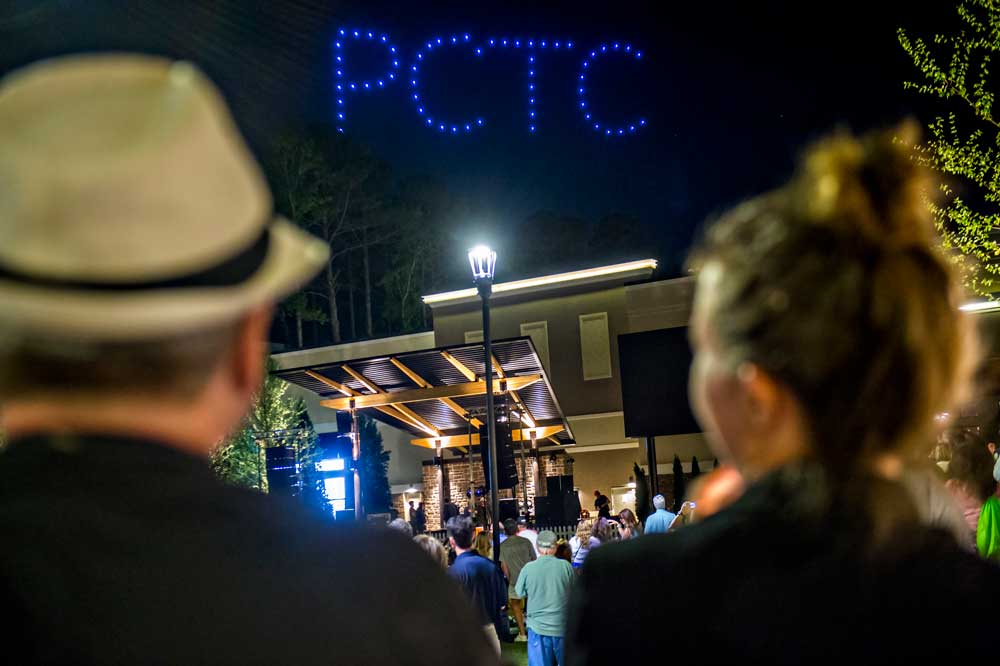 At 8 p.m. American Southern rock band, Atlanta Rhythm Section, took the stage performing well-known favorites including "Spooky," "Imaginary Lover" and "So Into You." The grand finale of the evening was a spectacular synchronized drone show that lit the sky above the Town Center to the delight of the audience. The drone show ended with the letters PCTC (Peachtree Corners Town Center).
"We wanted to do something that would benefit the entire community and showcase our city," said Councilmember Alex Wright during the ribbon-cutting. "I believe we have accomplished our goal."
History of Town Center
In 2013 the city purchased the 21-acre undeveloped tract of land, one of the few remaining in the city. The property was slated for 267 garden apartments. City leaders thought a mixed-use development was a much better fit for the location and stepped in and offered to purchase the property.
Fuqua Development was selected for the project in 2013, planning began shortly thereafter. Ground was broken in June 30, 2017. The groundbreaking represented a milestone for the young city that incorporated as Gwinnett County's 16th city only six years ago.
Georgia Unified Invitational Brings Together Swimmers for Competition and Fun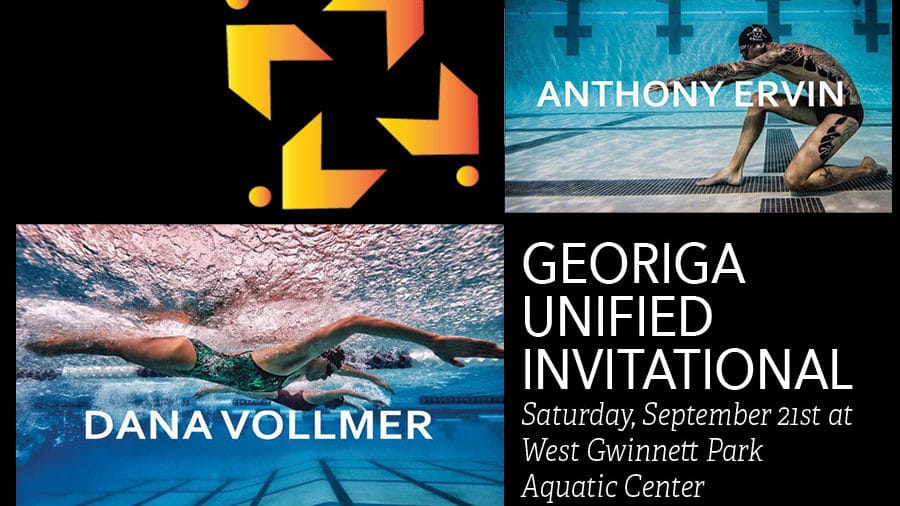 Competitive swimmers are invited to participate in the 2019 Georgia Unified Invitational (GUI): Celebrating the Olympian in All of Us, to be held September 21 at West Gwinnett Park Aquatic Center.
"This event is all about bringing together many different groups. The purpose is really to drive home that they're all one," said Kai Akubo Smith, AngelfishGA/ATAQ, Area 18 Agency for Special Olympics Georgia. "With Special Olympians leading the way, GUI celebrates the Olympic spirit in all of us, recognizing that everyone has daily struggles and challenges to conquer."
The invitational, a sanctioned Special Olympics and USA Swimming observed traditional sprint swim meet, is open statewide this year to all qualifying athletes of Special Olympics, USA Swimming, Paralympics, YMCA and US Masters, as well as uncertified athletes who have been certified through GUI.
"Uncertified athletes are swimmers who swam for summer league, middle or high school swim teams," Smith explained. "They will need a letter from their summer league coach, verifying their times and their ability to perform race starts off the block."
In addition to racing each other, athletes will have the opportunity to race against some of the top swimmers in the world, including 2016 Rio Olympic Gold Medalists Anthony Ervin and three-time Olympian, Gold Medalist and former world record holder Dana Vollnmer. The fun doesn't stop with the swim meet. Participants can continue their good time at the Victory Village, which is open to the public.
"There will be a DJ cranking out hot tunes, a pool party, food trucks, local artisans and much more," Smith said. "So save the date, participate, donate and celebrate at the 2019 Georgia Unified Invitational!"
GUI—pronounced "GOO-wee"—was formed to provide greater access, exposure and opportunities for athletes with intellectual disabilities seeking to participate in traditional sporting events.
The admission fee for the pool party is a $10 donation. All donations are directed to Special Olympics Georgia.
West Gwinnett Park Aquatic Center is located at 4488 Peachtree Industrial Boulevard, Berkeley Lake, Ga. 30092. Visit georgiaunified.com for more information.
Light Up The Corners "best race and most successful"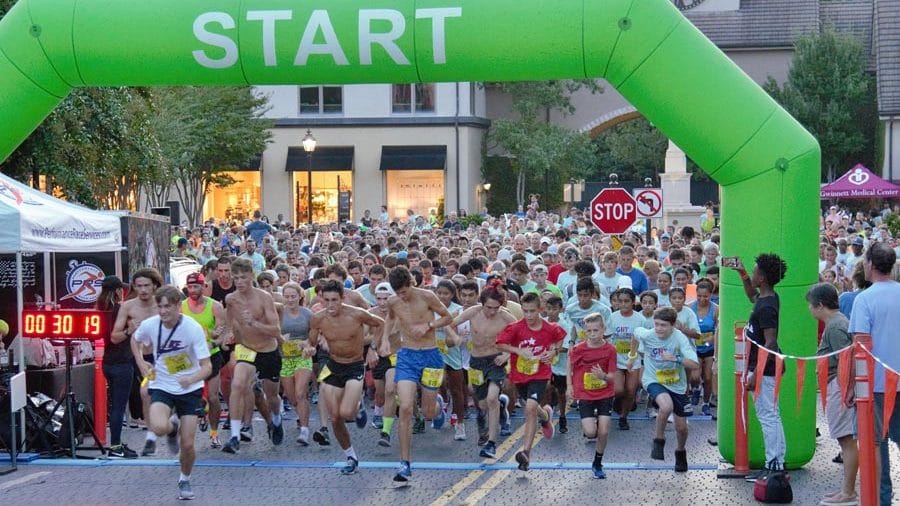 2019 Light Up The Corners Glow Run was "the best race and our most successful fundraiser yet," according to Amy Massey, Race Coordinator.  "This fun, family-friendly event has become a Peachtree Corners tradition shared by more and more every year."
The annual event in Peachtree Corners has touch lives of so many in the community who need it "most by enabling them to benefit from the life-changing programs and services at the Fowler YMCA."
In her e-blast to supporters, Massey said, "This event is a team effort in every sense. Many thanks to the more than 150 volunteers who donate their time, talent, and energy so 100% of your entry fees can go directly to the Why It Matters campaign at the Fowler YMCA."
About the sponsors, she wrote, "This could not be a successful fundraiser without the generous support of our sponsors who help defray our costs through donations of money, food, gift cards, and/or time and resources. If you get a chance, please thank them for caring about – and giving back to – their community." (Sponsor links below)
SPIRIT AWARD WINNERS
Congratulations to PEACHTREE ELEMENTARY SCHOOL for winning the spirit award for the team with the most number of participants with 70 members!
Second place goes to Junior Blue Devils with 46 team members, and 3rd place goes to Simpson Elementary School with 38 members.
AGE GROUP AND OVERALL RESULTS
Click this link for results. 
Top Male Finisher – Top 3 Overall
Gabriel Schlicht
Miguel Schlicht
Eric Heintz
Top Female Finisher – Top 3 Overall
Merritt Blum
Regan Russo
Hannah Schemmel
Light Up The Corners – 2019

Light Up The Corners – 2019

Light Up The Corners – 2019

Light Up The Corners – 2019

Light Up The Corners – 2019

Light Up The Corners – 2019

Light Up The Corners – 2019

Light Up The Corners – 2019

Light Up The Corners – 2019

Light Up The Corners – 2019

Light Up The Corners – 2019

Light Up The Corners – 2019

Light Up The Corners – 2019

Light Up The Corners – 2019

Light Up The Corners – 2019

Light Up The Corners – 2019

Light Up The Corners – 2019

Light Up The Corners – 2019

Light Up The Corners – 2019

Light Up The Corners – 2019

Light Up The Corners – 2019

Light Up The Corners – 2019

Light Up The Corners – 2019

Light Up The Corners – 2019

Light Up The Corners – 2019

Light Up The Corners – 2019

Light Up The Corners – 2019

Light Up The Corners – 2019

Light Up The Corners – 2019

Light Up The Corners – 2019

Light Up The Corners – 2019
Sponsor List:
The Forum on Peachtree Parkway
Relationship Recovery Center, LLC
Debbie Timm – Atlanta Fine Homes
Greater Atlanta
Christian School
Road Runner Sports
Peachtree Corners Business Association
Norcross Sports Training Academy
Greater Atlanta Christian School
Pediatric Associates of North Atlanta, PC
Pokeworks
Taqueria Tsunami
Trader Joe's
Mojitos Bistro
Patricia Merson
Landscape Architect
Press Blend Squeeze
Gwinnett Medical Center to Open Primary Care & Specialty Center in Peachtree Corners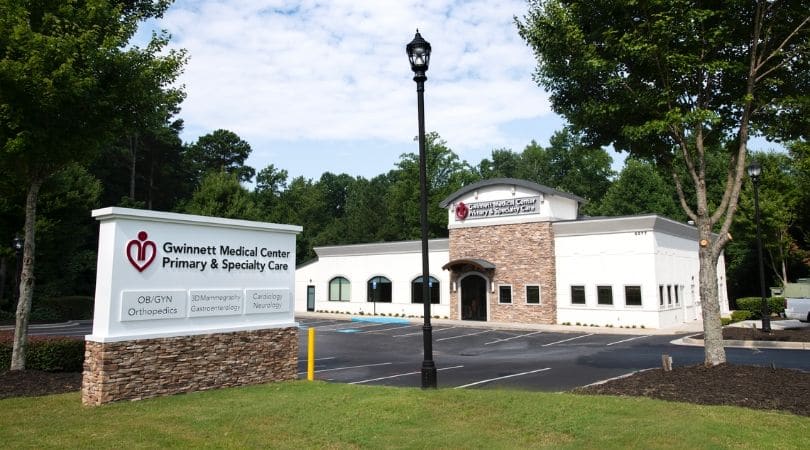 Gwinnett Medical Center announced today a new GMC Primary Care & Specialty Center will open August 5 in the heart of Peachtree Corners on Peachtree Parkway, putting accessible, industry-leading healthcare on the map for area residents.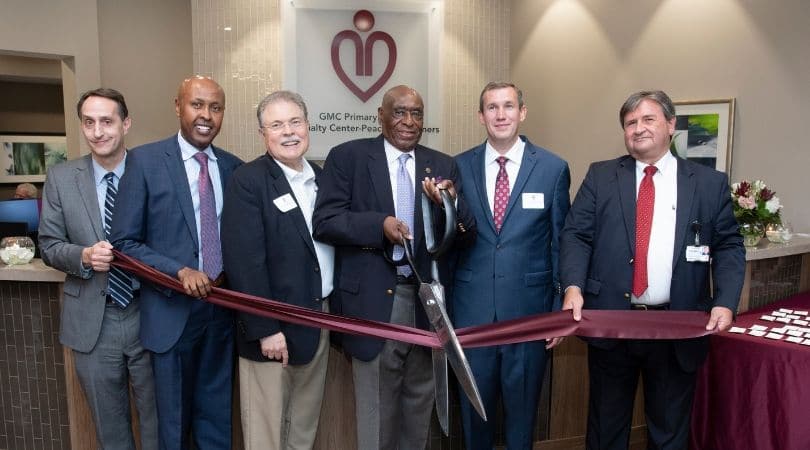 GMC Primary Care & Specialty Center-Peachtree Corners will deliver several exceptional services for individuals and businesses seeking specialized and preventative care. Offerings will include primary care and corporate health programs from GMG Primary Care, as well as cardiology, gastroenterology, obstetric and gynecologic care from a variety of local specialists. Additional, onsite offerings will include orthopedics, 3D mammography and digital X-ray.
Mike Mason, Debbie Mason (Peachtree Corners Festival Board of Directors Vice President), Jason Chandler (GMC Foundation President)

Lorri Christopher, Thomas Shepherd, Jay Dennard (GMC Senior Vice President and Chief Transformation Officer), L.C. Johnson

Lorri Christopher (Peachtree Corners City Council Member), L.C. Johnson (Board Member for both Gwinnett Medical Center and Southwest Gwinnett Chamber of Commerce)

Ben Ku (District 2 Commissioner for Gwinnett County), Thomas Shepherd (GMC Executive Vice President and Chief Operating Officer)
Barbara Joy Jones, DO, an alumna of GMC's Graduate Medical Education program, will serve as the lead primary care provider for the new facility.
"Delivering care that is both high-quality and convenient is instrumental to our mission of transforming healthcare," said Phil Wolfe, president and CEO of GMC. "We believe that the addition of this facility will further that mission and promote healthier communities."
GMC Primary Care & Specialty Center-Peachtree Corners

GMC Primary Care & Specialty Center-Peachtree Corners
To learn more about the new GMC Primary Care & Specialty Center-Peachtree Corners, visit gwinnettmedicalcenter.org/ptc. In addition, GMC is offering free concussion baseline testing August 5 from 8 a.m. to 5 p.m. and August 10 from 11 a.m. to 1 p.m. To register, visitgwinnettmedicalcenter.org/ptcbaseline. For questions, contact Kristy Crea at kcrea@gwinnettmedicalcenter.org.
About Gwinnett Health System
Gwinnett Health System (GHS) is the parent company of Gwinnett Medical Center, Gwinnett Medical Group and Sequent Health Physician Partners. GHS employs 5,000 associates and has 800 affiliated physicians serving more than 400,000 patients annually. Gwinnett Medical Center (GMC) is a nationally-recognized, not-for-profit healthcare network with acute-care hospitals in Lawrenceville and Duluth. Additional facilities include: the Gwinnett Women's Pavilion, the Gwinnett Extended Care Center, Glancy Rehabilitation Center, outpatient health centers and surgical centers, imaging centers and outpatient physical, occupational and speech therapy facilities. To learn more about how GMC is transforming healthcare, visit gwinnettmedicalcenter.org.