Willie Degel talks About Restaurants, his Vision and the new Uncle Jack's Meat House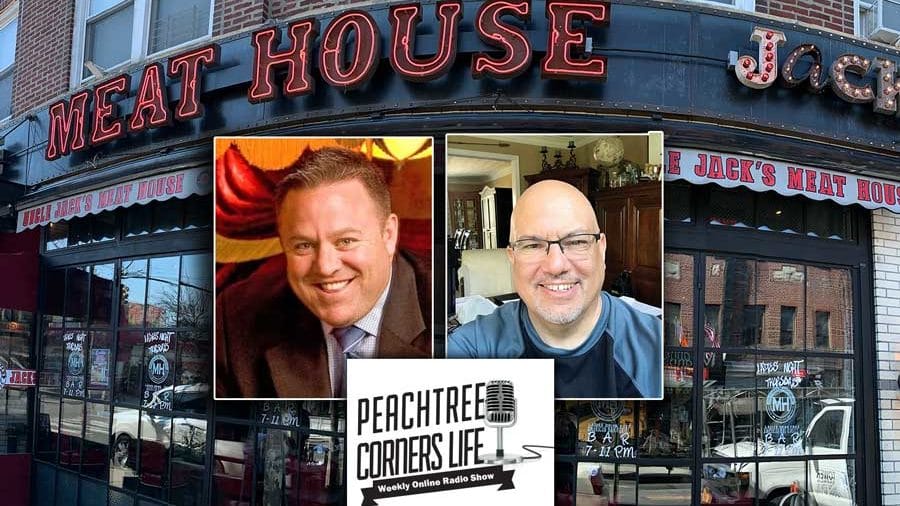 Opening in Spring 2020
Willie Degel is the founder and owner of Uncle Jack's Steak House. Beginning as a neighborhood steakhouse selling black, angus steaks in Queens, he has expanded his restaurant around New York and now has plans to take over the entire east coast. In this episode of Peachtree Corners Life, Rico sits down with Willie to chat about his entry into the restaurant business, how he builds his restaurants into a visual experience, and his plans for the new, Uncle Jack's Meat House coming to Peachtree Corners.
Resources
Uncle Jack's Meathouse http://www.unclejacksmeathouse.com/
"My father instilled hard work. My mother instilled confidence in us, good work ethic. Being the baby of four boys, my brothers beat me up every day, so I have a sense of fearlessness. I'm tough. I'm gonna keep coming. I'm never gonna give up. I'm never gonna quit. I always had vision. I'm a visual learner. I'm a hands-on person. I have to be in control of that. I have to be involved in it. It's my personality, and I wouldn't want it any other way."

Willie Degel
Transcript of the podcast:
Rico [00:00 ]: Hi this is Rico Figliolini, host of Peachtree Corners Life and publisher of Peachtree Corners Magazine. I thank you for joining us. This is a live Facebook stream with a special guest today, of a new restaurant that's going to be coming to the town center here in Peachtree Corners. Not there yet, long journey. We'll discuss in a few minutes. Just want to say thank you to Guinnett Medical for GMC Primary Care, for being a sponsor of our podcast and family of podcasts that we do, including Capitalist Sage and Prime Lunchtime with City Manager. So I want to thank them and our other sponsors including Atlanta Tech Park and Prototype Prime, which is part of now, Curiosity Lab at Peachtree Corners. So, without further ado, let me introduce my guest. We have Willie – I should have asked you about the Degel at the beginning. And we lost your visual.
Willie [00:55 ]: Gotcha. Yeah. People try to fool me.
Rico [00:57 ]: There you go. So is it Willie Degel?
Willie [01:01 ]: Degel. D-e-g-e-l. Very simple.
Rico [01:04 ]: Excellent. Willie Degel. So, Willie is our guest today. He's the founder and owner of Uncle Jack's Steakhouse, which is a New York based place. I think right now, you have locations in New York and Georgia – in Duluth, Georgia, actually, is the one I'm familiar with. And you were a former host of the Food Network's Restaurant Steakhouse.
Willie [01:26 ]: Yes. Restaurant Stake-out, yeah.
Rico [01:30 ]: Stakeout, that's cool. And you're a native from Queens. I'm a native from Brooklyn, New York. I found my way south to Atlanta. So we got a little bit in common from New York as far as that stuff goes. And the food of New York, if you will, which was a little difficult to find in 1995 when I moved here because there wasn't good pizza, there wasn't a good deli, an Italian restaurants were few and far between. Now it's kind of much better. We're seeing a lot more stuff coming down here from all over the place, not just from – I mean, Korean places, Japanese, a place from Chicago, New York and stuff. So, why don't you tell us a little about yourself? Give us a little background.
Willie [02:13 ]: Yeah. I'm a baby of four boys from Flushing, Queens. You know, Catholic. We had to put ourselves through Catholic school. We had newspaper routes. We shoveled snow. My mother was, you know, worked hard. My father worked. He did two jobs – he worked in the post office and was a long shoreman. My mother worked for a legal secretary. So my father instilled hard work. My mother instilled confidence in us, good work ethic. Being the baby of four boys, my brothers beat me up every day, so I have a sense of fearlessness. I'm tough. I'm gonna keep coming. I'm never gonna give up. I'm never gonna quit. I always had vision. I'm a visual learner. I'm a hands-on person. I have to be in control of that. I have to be involved in it. It's my personality, and I wouldn't want it any other way.
Rico [03:02 ]: Cool. So what – you know, obviously it seems like it runs in the business a little bit. In the family. What got you started in food?
Willie [03:13 ]: You know, I was on a blind date. I always cooked with my father. My father got cancer when I was 10. And he had to retire from one job – he almost died. We made soup for him, we brought him back from death, and then he would be at home two days a week, and he would cook. And I would go shopping with him cause I was the littlest. I would come home from Catholic school, on my bike from lunchtime, to see him. He would take me over to the butcher, go get veal cutlet and some pork, go to this place in Queens, Richmond Hill. So he taught me about dealing with people. About giving people tips. About saying hello and working with the average, everyday Joe that nobody's better than anyone. And my father worked down the piers and he handled a lot of stuff for Queen Elizabeth, and he took care of the boats and the chefs. And the chefs used to give him gifts. So he used to explain this to me. So my father would set up his meats in a glass, and he taught me how to cook and prep, and he was very clean and organized, my father, and so am I. And that came from my grandmother. So that gave me a little taste and flavor. Then, I was always an entrepreneur. I went on a blind date. We saw a movie, you know, cocktails, and the girls were like, oh my god, you should bartend. I wound up getting a bartender's job, and the rest is the history. And then I cooked and bartended. I did every position, you know? I run a company now, but I built every position, worked every position, then I try and fill the position and grow the company and build my people.
Rico [04:53 ]: Do you miss any part of that? Do you miss the cooking or the bartending? Do you miss the feel of that?
Willie [05:00 ]: Yeah. Like, I'm home today. I took off today Thursday. I work from my phone. I'm making a seven-level layer lasagna with my bechamel. So I'm always cooking. I love it. It's a stress reliever to me. I have to be creative. I'm working on building new restaurants all the time, working on building people. The corporate infrastructure. The vision – the next five years. So yes – I miss being the interaction of running just one restaurant and me controlling everything and not depending on so many other people to run my vision. And that's where the growing pains come. And that's a, you know, trial and tribulation process.
Rico [05:43 ]: Now, you've – you started modestly, right? You opened up a place – Bayside Queens, I guess?
Willie [05:50 ]: Yes. My first bar/restaurant was in Main Street in my neighborhood, alright? And then I opened up the first Uncle Jack's in Bayside on Bell Boulevard in 1996. So it was a bar – it was the first, sort of, fine, black angus steakhouse. I don't think anyone knew what black angus even was.
Rico [06:13] : That's funny – I don't think it was too far from the – I worked on Bell Boulevard at a nightclub there in Bayside for a while. And, a lot of different – it's a – it was an interesting neighborhood. So did you find success there? How long – is it still there?
Willie [06:28 ]: Yes. It's still there. We're open 24 years. I own the building, the corporate headquarters is upstairs, I'm in that store every day. We have the best customers. People come from all over. You know, that have been served there. And that's where we built the legacy. That's store – a small box, fifty seats, catering to everyone, giving them what they need, selling the best, executing day in, day out.
Rico [06:53 ]: So, you had that place for a while. And then, obviously, decided you wanted to grow and open another one. So how did you –
Willie [07:01 ]: We served a lot of developers and politicians, and then the mayors came there – Julianni, Bloomberg. So in 19-what is it, about 15 years ago on ninth avenue and 34th street, they were gonna transform that area with the Jet stadium. And a developer came to me and said, "We want to put an Uncle Jack's in this building". It was an apartment building on 9th avenue and 34th street. So I went and looked at it. They funded most of the project – half of it. I raised the other half of the money, built it out. The Jet project never went through, but I worked on the Knicks in Madison Square Garden, then I had Penn Station, then I had the Hammerstein ballroom, I had about ten hotels in the area. So again, I built it one customer at a time. You know, now it has the Hudson Yards, America's largest, most expensive development ever, built two blocks away. I renegotiated, put another 15 years on the lease a year ago. What a vision of what was transformative in the neighborhood. So that was my second one.
Rico [08:06 ]: A lot of work, and a lot of experience getting that done, I'd imagine.
Willie [08:11 ]: Yeah. I mean, it's not easy, you know. Starting from the bottom and being a self-taught entrepreneur and coming from a lower middle-class family. It's never easy. Nobody wants to give you anything. You gotta go out there and you gotta earn it and you gotta win people over. You gotta attack other brands and understand that – why are people going to choose your brand over theirs?
Rico [08:38 ]: Right. Right. That makes a lot of sense. I mean – I deal with a lot of customers. I do use social media marketing and stuff. And it's really – everyone thinks they have a unique business, but you really need to really point out what the uniqueness is, if it's there. So, yeah.
Willie [08:56 ]: Here's what I say. I live by this motto. What, where, and why. What are you selling? Where is it? And why should they come?
Rico [09:07 ]: Yeah, why should they buy it, right?
Willie [09:09 ]: You know, human nature – we have our senses. We're visual, we smell, we touch. You know, when I – it's not rocket science here, you know? Technology makes our life easier – it becomes a convenience. It becomes an organizer. It becomes a director. It becomes – it remembers and tracks and does everything for us and creates laziness. But you, as a business man and a businesswoman in today's environment – you still have to keep your simple models, and you must execute your vision and game plan, day-in, day-out to whoever your customer base is.
Rico [09:51 ]: I – you know, and that applies to probably every business that you can think of, right?
Willie [09:57 ]: I think so. Right? I mean, it applies to Amazon, it applies to Google, it applies to Walmart, it applies to Home Depot, Target. You see their numbers. They're all coming through, incredible, having great sales, because everybody's working, and the economy's booming.
Rico [10:13 ]: Yeah. And if you don't – if you stay stagnant and you don't change, you get lost, right? So – I mean –
Willie [10:19 ]: Time, today. I always say, right? Freedom is priceless. Time stands still for no one. People will step right over you.
Rico [10:30 ]: That's right. That's right. That's what's happening to a lot of these places right now, right? So Walmart is trying to become an Amazon. Amazon is flying away with stuff, right? I mean, no one goes to stores anymore, it seems. I mean, even friends that I know to go a store to maybe touch things, to see it, and then they'll go back and buy it online or they might actually buy it on Amazon while they're in the store. The –
Willie [10:54 ]: I – what I feel is – listen. 92% of retail is done in small shops or big stores. So, how much more of that can be done online? Now, me – I'm very progressive. So I've been shopping on the internet from the day it started. I was creating my own. But I'm very – I'm a visionary. So I believed it when everyone was scared of it. So you still will have retail. It's just changing.
Rico [11:25 ]: That's right.
Willie [11:26 ]: And it's evolving. And people today want an experience. So in some sense, I always hated the big malls. I like a small town. I like a community. I like individual owners working a niche. And a lot of that's come back with these many energy town centers. And I believe that's the transformation of America again. It's full of evolution, just new.
Rico [11:54 ]: Now, you talked about, you know, customers coming. But you also talk about experience. Experiential, right? I think one of the locations you opened in Queens had a roaring, 20's style, basement bar/lounge.
Willie [12:08 ]: Right. It's a hidden speakeasy called Bootlegged Jack's. You have to go through the laboratory bathrooms, and it's a big, steel vault door. You have to press this button and a red light goes off inside. You have to have the password to get in. And then the little metal hatch opens up. You tell the doorman the password, and then you get in, and it transforms you into an early 1900's speakeasy lounge, Bordelo-sense-feel whiskey parlor.
Rico [12:36 ]: Unbeli-that's an experience. Now how would you get the password? Is that something –
Willie [12:40 ]: The password is based on who you are, who you know, how many times you come to the restaurant, what are you eating upstairs, are you having a celebration? So it's all done based on networking.
Rico [12:53 ]: So the restaurant – there's a restaurant upstairs. Is it the normal Uncle Jack's steakhouse upstairs?
Willie [12:59 ]: Yes. It's the Uncle Jack's Meathouse. The same location. So the Uncle Jack's Meathouse is not a classic style steakhouse like Uncle Jack's Steakhouse. It's more of a new concept, where you come to get your meat game on. I'm the steak doctor. So I'm basically a meat expert. I grew up in a German-Irish household eating meat and potatoes my entire life. So I went shopping with my dad, I understand every aspect of meat. I live for it. I love it. I'm a carnivore. I'm a caveman, right? I love the nutrition. I like working out. It makes me feel strong. In this meathouse concept, it looks like an old, meat factory warehouse, but yet it has a level of luxury in the seating, in the materials used. And then we have a great menu mix where you could go there and you could spend anywhere from 20 dollars a person to 100 dollars a person and have four to five different style dining experiences. And it all is entertainment based. It's very visualizing. The decor, the atmosphere, the artwork, the graffiti, everything handmade, customized, the way the food is displayed. I designed all these metal plates, we got hanging bacon, we got a cookie staircase. We have, you know, meatballs on golf cues. It's very cool.
Rico [14:22 ]: Now, we were talking a little bit before we started this show that what you – you know what you tried to do a year ago. You had taken over a piece of area that, you know – is this going to be a standalone building?
Willie [14:36 ]: Hold on [dog barking] My wife took my dog out.
Rico [14:44 ]: This is what happens when you do live stream.
Willie [14:46 ]: Right. It's okay. So Peachtree Corners – it's three quarters, semi-attached building. And next to me is an Xfinity store. So we worked a deal with the landlord so we had this Xfinity store right next door, and now we have 4000 square foot inside, and then we have about 2000 square foot outdoor dining patio space. Some of it covered, some of it not.
Rico [15:12 ]: Nice. So you're gonna – so what were you describing before, it's gonna be the same look and feel. So if someone went to the Duluth location, it would be similar to that?
Willie [15:21 ]: It's gonna be a lot like the Duluth location, but each store is unique for the area. Each menu gets tweaked for the area. So being that we're at Peachtree Corners, we're gonna have this special Peach Compote burger designed just for that area. So little things – we do our research of the area. All the history, who owned the land, who farmed there, what was grown there. So that's all involved in the philosophy and story and the makeup and the ingredients we use when we'll unveil a new location.
Rico [15:52 ]: So you're – I mean, the meathouse is actually also like a farm to table? Are you local?
Willie [16:00 ]: Right. We use as much locally sourced, fresh ingredients, working direct with farmers, vendors, who makes honey, who makes cheeses, who's raising their own pork, meat, sausages. Whatever way we can, we try to integrate that as much as possible.
Rico [16:17 ]: Okay. So, we're – how far are we along now? Because it looks like you want to maybe open five additional locations, or five in total in the Atlanta area. You've got Duluth. Where are you now as far as getting the building, ground breaking?
Willie [16:30 ]: You know, when you design things at the level that I'm doing, it takes time. You know, working with towns today, it's not easy. There's a lot of regulation, there's a lot of red tape. You gotta fight through. You have to hire a lot of people. You know, this was a fully brand new building. A brand new restaurant. It's not like a face lift. You're not taking an existing one. No permits were filed. So there's a lot of different steps you gotta go through. But once you've passed that process and you get your store open, you know, those battles mean nothing. It's all about execution, feeding everyone in the Peachtree community, building loyal customers, friends, winning them over, making them a part of the family, and getting them to love our house.
Rico [17:14 ]: So do you have – do you have a timeline of when you think things will happen?
Willie [17:19 ]: Well we – the final meeting is on the 27th. We just had unanimous approval on the elevation's design. So we figure we're breaking ground in two weeks, and we start building the building. You'll see all the fencing wrapped. We have great visuals of what's go come. And it's the selfie of me on the fence, and if you send in pictures right now, you'll be able to get invited to the grand opening and have dinner with me.
Rico [17:45 ]: So wait, there's selfies on there now?
Willie [17:47 ]: No. The fencing that wraps the job site is getting wrapped with this meathouse fencing. Then it's a full size selfie of me, the steak doctor, and we want people to take pictures and selfies next to it and send it in. And we're gonna pick about 25 of the best photos and different people to come to the grand opening week celebration.
Rico [18:11 ]: Wow. Nice. Do you have an estimated time of when that might be – that grand opening?
Willie [18:15 ]: Well, we gotta figure, probably early spring of next year.
Rico [18:19 ]: Early spring. Okay. And are you working on any other restaurants or locations?
Willie [18:24 ]: Yes. Right now, I'm talking to other people in Georgia. I'm looking for the belt line, I'm looking for other developers to work with me, I'm talking to the Revel right next door, next to my Duluth store to maybe do a Jack's tavern or one of my burger concepts there. Or maybe a speakeasy, right? So I have the Bootlegged Jack's concept. I talked to Miami, I'm talking to Orlando. I'm looking in Virginia and Washington and North Carolina. So I'm gonna try to take over the east coast with this concept.
Rico [18:54 ]: Sounds good. And they're all company owned. None of them are franchises?
Willie [18:59 ]: No. They're all individually owned by me. And I have company shares for everyone who works involved in the company, runs my stores. They're all gonna get shares and be working partners and owners. Then we're gonna grow the brand.
Rico [19:13 ]: Okay. So you have local partners from Atlanta?
Willie [19:16 ]: Yes. So my team in Atlanta now – Brian, April, and the chef, Chris there – they're all getting shares of the company. The opening team in Duluth will get shares in the company.
Rico [19:27 ]: So the chef that you have there now – or that you know will be there – what's his experience? Is he working off – he's obviously working off an existing menu that, plus the tweaks to that menu, I'm assuming, with you.
Willie [19:40 ]: Yes. Me and my chef work hand in hand. I'm a self-taught chef, so I understand the business. I understand what people like and what people need. So my chef is a creative tool, and he has the love and has the passion. Be able to work with others. And be young and be shaped and moldable. So Chris is excellent. He's passionate, he loves food. He listens well. He works well with me. And you always say – the rich guy Tillman said, "Shut up and listen." You know, when you have young people looking at you, eyes wide open, and realize, like, you have thirty five years of experience doing this. Are you willing to listen and learn? And work with me? And build a team? And teamwork, you know, leads to dream work. And that's what we're going here. We're building a dream, and we're changing people's lives, we're taking care of the community. It's very important today to have place that people could go have a drink, have quality food, fresh, educated, good staff. It's important.
Rico [20:46 ]: Oh, for sure. And a lot of people are talking about, like, scratch kitchens, right? I'm assuming yours is a scratch –
Willie [20:54 ]: Well that's what we do. We make everything from scratch every day. We run a lunch show, we run a dinner show. If you see the new Peachtree location, we have this big round tower. I did a private, big round custom-made table in there to sit 14 people. It's like the corporate event space where all these TVs on the wall for private parties. It's going to be mind-blowing.
Rico [21:16 ]: So it's gonna be it's own private room, I guess?
Willie [21:19 ]: Right. When you walk in the door, there's gonna be all these refrigerators of all the different meats, dry aged and tagged. How we're aging them for 35 to 120 days. Also – that visualization you can see from walking around outside the building because they'll be in the window. All the windows and doors open up. I put string lights, so it's like a little string appeal in between the buildings. So it's gonna be really cool.
Rico [21:47 ]: I can't wait to see it – I can't wait to see the renderings. I know you said you would share some with us, and we'll be able to put that on our website along with an article about this. So I appreciate that, Willie.
Willie [21:57 ]: No problem.
Rico [21:58 ]: So what's next for Uncle Jack's Steakhouse?
Willie [22:02 ]: We got Peachtree working, I'm working on a lease in Miami, I'm working on a lease in Orlando. So, you know, to me, I'm gonna build one store at a time. The leases – the paperwork, the agreements, the design work – that all takes months. So I'm – me, I'm trying to do that now and the rest is my team executing the game plan.
Rico [22:22 ]: Excellent. Right. So we've been – this is great. We've been talking to Willie Degel. And – about Uncle Jack's Meathouse – Steakhouse in New York, but Meathouse in the south. That's what you're expanding out on. With tweaked menus, especially to the local area. What was that particular one that you mentioned about Peachtree Corners?
Willie [22:45 ]: We're gonna do a peach cobbler burger. It's gonna have a peach jam, it's gonna have cheeses that go with it. I don't want to let you know the whole recipe yet, it's gonna be different. We use it in some different things. We've got a peanut butter burger. So we've got a lot of new tweaks for the menu just from the Peachtree area.
Rico [23:02 ]: That sounds great. I can't wait to try that. It's such a – I miss New York in some ways. I don't miss New York in a lot of ways, but what I miss in New York is the food from New York and the experimentation and stuff that goes on, and the experience, like you said. I mean, heck, Coney Island's always an experience I think when you go there and check out the food.
Willie [23:22 ]: Coney Island's changing. A lot of people developing there. Listen – I grew up in Queens. I live in Long Island now. Long Island don't have the food like Queens. Queens – you have 177 languages. The largest ethnic groups in anywhere in the world. Its amazing cultural experience – we take all of that and it becomes Americanized. It gets infused. It's the melting pot of the world. But, look, I love Georgia. Georgia is clean, neat, organized. The people are nice. Everybody's kind. In New York, there's grime, there's wearing down on everyone. I'm gonna turn 52. I got an escape plan. I know where I'm going. I'm outta here in a couple years as well.
Rico [24:05 ]: That's funny. The escape from New York. That's funny. That's what I did in '95. Yeah. Good luck there. We've been with Willie – I appreciate you being with us, Willie. Thank you, and hang in there with me for after I close this out, but I wanna thank the Facebook livestream people. My facebook fans for showing up for Peachtree Corners Live for this show with Willie and talking about the new restaurant that's gonna be opening up early spring hopefully – mid-spring. That's Uncle Jack's Meathouse. Lots of stuff sounds so unique. Can't wait to have it. But thank you guys – I appreciate you being with us. Thank you, Willie.
Willie [24:50 ]: No problem, Rico.
6 Places to Eat Asian in Peachtree Corners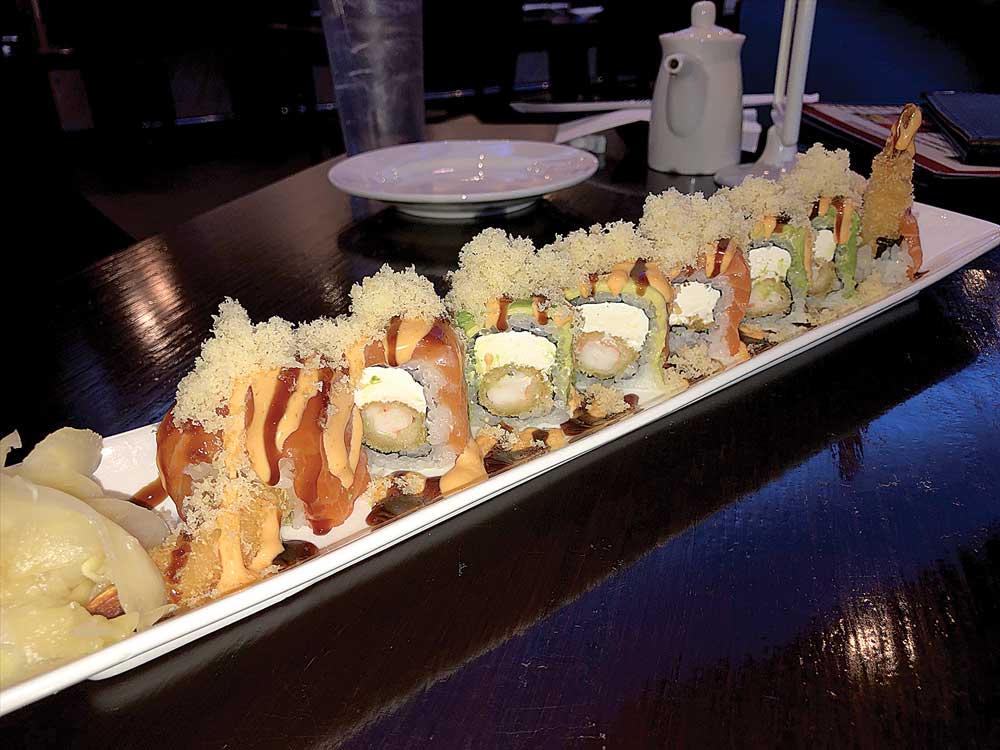 Aomi Japanese Restaurant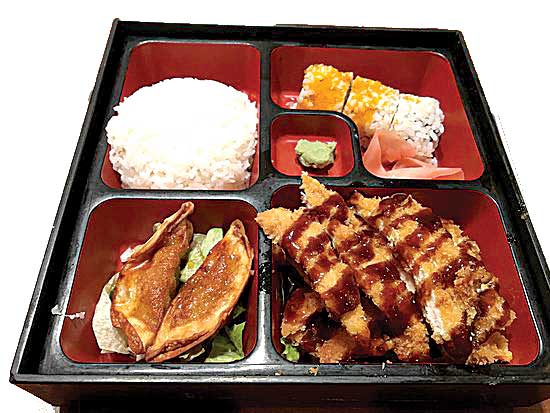 The new go-to lunch dish at Aomi Japanese Restaurant is the Chicken Katsu Bento Box. This chicken explosion is deep-fried after being breaded in their signature Japanese panko, then served with shrimp and vegetable tempura, crunchy shrimp rolls, two-piece gyoza and soup or salad. Aomi has not only perfected their lunch menu, but also their hibachi show at night! Offering a variety of meats and sides, Aomi covers all tastes for every customer.
5145 Peachtree Parkway, Suite 470A, Norcross 30092
aomijapanese.com/norcross.html
Lon U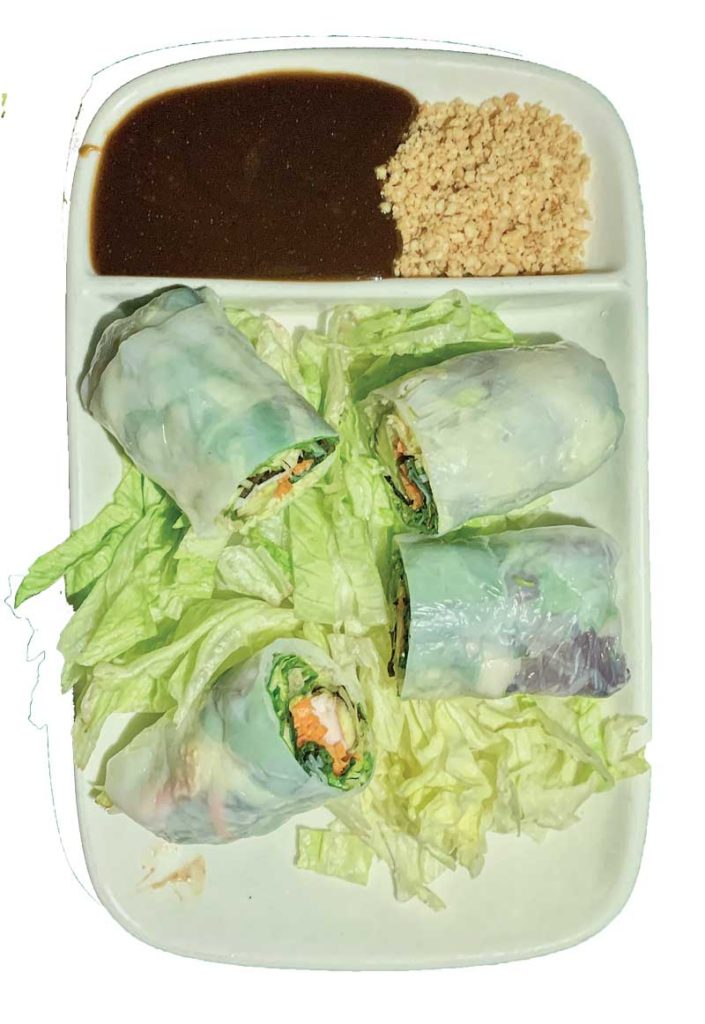 Pictured is an authentic appetizer for a Thai-style meal. The Basil Rolls are a combination of chicken, shrimp and avocado, layered in carrots, cucumbers and basil leaves. Finally, it's wrapped in soft rice paper and served with a hoisin-peanut dipping sauce. You'll experience every layer of flavor in each bite. It's a perfect way to start off your dining experience at Lon U.
5005 Peachtree Parkway, Suite 860, Peachtree Corners 30092
lonunorcrosstogo.com
Royal Bistro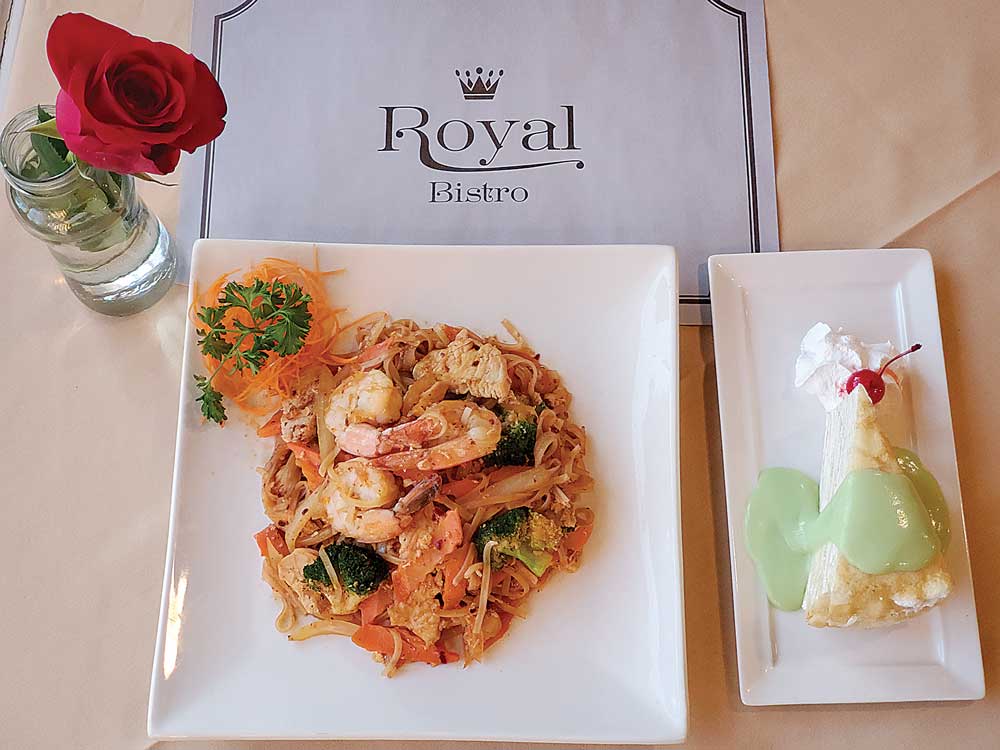 If you love a tasty blend of sweet, spicy and salty, then this is the dish for you! Recommended by the Royal Bistro chef, the lava noodles are lightly fried and accompany chicken, shrimp, eggs, white onions, carrots and broccoli in a homemade roasted chili paste sauce. This delightful meal can be prepared mild, medium, hot or Thai hot upon request.
6365 Spalding Drive, Suite A, Peachtree Corners 30092
royalbistro.net
Sushi Mito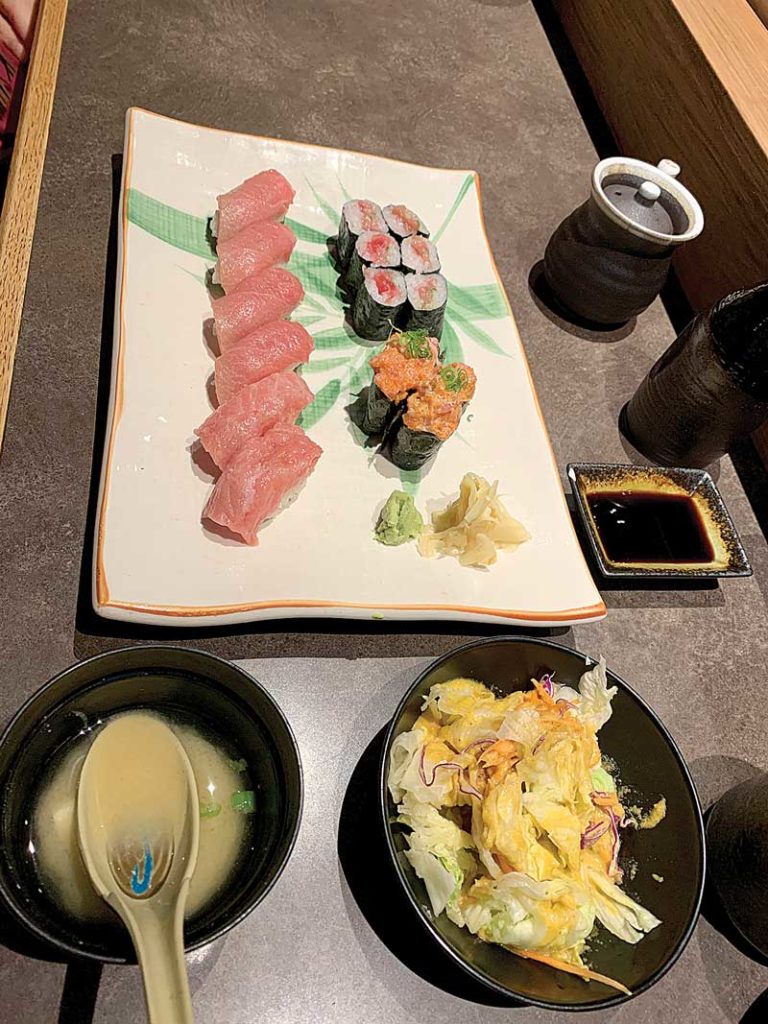 Sushi Mito, serving traditional Japanese cosine for 25 years, is proud to announce that they have a new special menu featuring the highest quality BlueFin Tuna. In Sushi Set A, toro and o toro nigiri, the most desired part of the tuna fish, is served with miso soup, salad and green tea. The menu is filled with different BlueFin combinations to suit every sushi lover's preference.
6470 Spalding Drive, Peachtree Corners 30092
sushimito.com
Sushi Osawa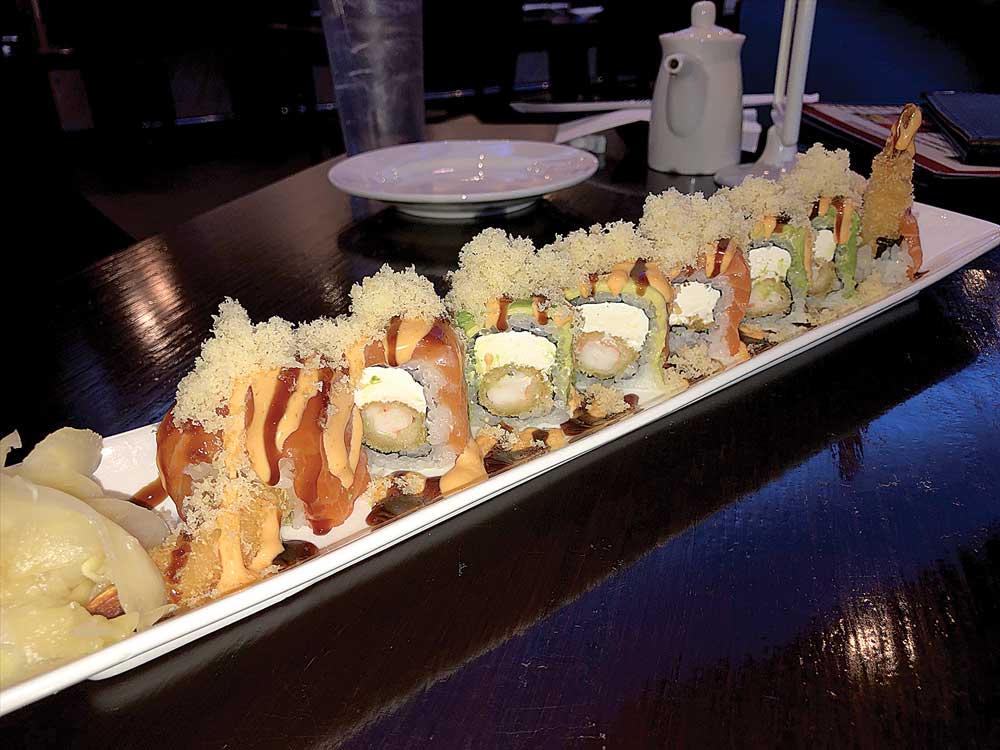 Offering an assortment of rolls, Sushi Osawa is the perfect spot for sushi lovers. The Super Crunch roll is a delicious showstopper that includes shrimp tempura and cream cheese. To top it off, this roll is wrapped in salmon or avocado, spicy mayo, eel sauce and crunch. Sushi Osawa also offers an all-you-can-eat menu, allowing customers to get their fill.
5270 Peachtree Parkway, Suite 119, Peachtree Corners 30092
sushiosawa.online
Taqueria Tsunami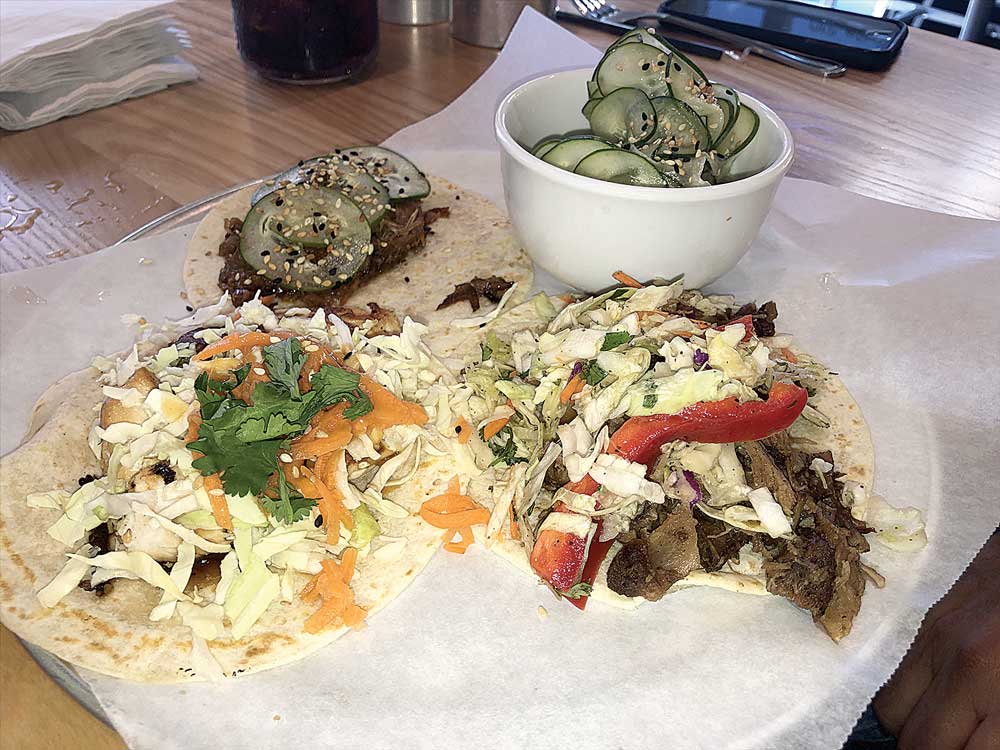 At Taqueria Tsunami, the Quatro is the way to go; you get to select three favorite tacos and a side from their delicious menu. Three highly recommended dishes are the BBQ Short Rib taco smothered in Kogi BBQ sauce; the Thai Chicken taco with cabbage and carrots; and the Rising Sun pork taco topped with Asian slaw. To complete your ultimate meal, add a side of the cucumber salad for an amazing balance to your tacos.
5160 Town Center Boulevard, Suite 510, Peachtree Corners 30092
taqueriatsunami.com
New Restaurant, Townhomes, Specialty Grocery Store Under Construction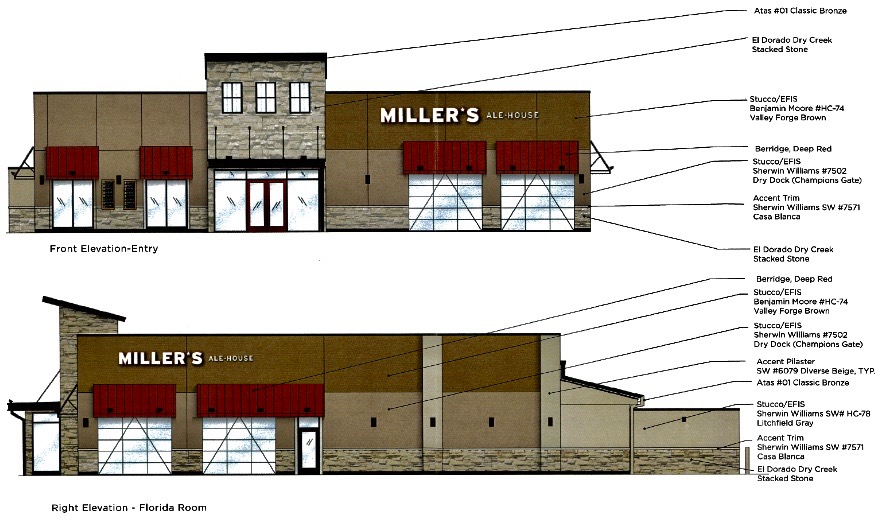 Miller's Ale House, a 7,000 square-foot restaurant, will soon break ground at its new location on Peachtree Parkway. The sports bar will be located on an out-parcel next to Taco Bell in the Peachtree Parkway Shopping Plaza. The north corner of the existing shopping center (where an existing emissions inspection station is located) will be razed for a parking lot for the restaurant. The new restaurant is part of a chain based in Orlando, Florida.
Town Center Townhomes: The first five of the 72 planned townhomes adjacent to the Town Green are now under construction. Foundations have been poured on the new 3-story brick townhomes which will offer three- and four- bedroom/3.5-bathroom floor plans. Features include brick exterior, two-car garages, gas fireplace and stainless-steel appliances, granite counter-tops in the kitchen. The development is named 5200 at Town Center. The sales office is located at the Stonington community located at 3544 Medlock Bridge Road. A full list of amenities and prices are included on the builder's website.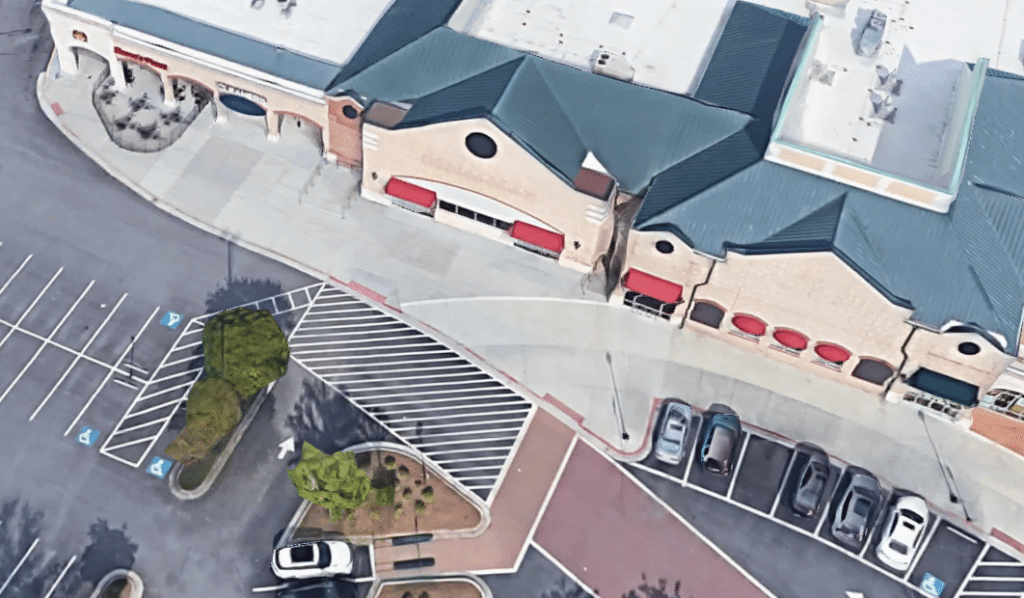 Lidl, the German discount grocer, will open in the former Earth Fare space in the Interlochen Shopping Center at 5270 Peachtree Parkway. Work is currently underway in the 23,500 square foot space but the company has not yet announced an opening date for its new Peachtree Corners location. Along with fresh produce, the discount grocer sells meat and poultry, frozen foods, bakery items, health and beauty and household essentials. The first modern Lidl store opened in 1973 in Germany; today the company operates 10,800 stores in 32 countries including more than 70 stores in the United States.
Information courtesy City of Peachtree Corners
My Favorite Holiday Foods & Desserts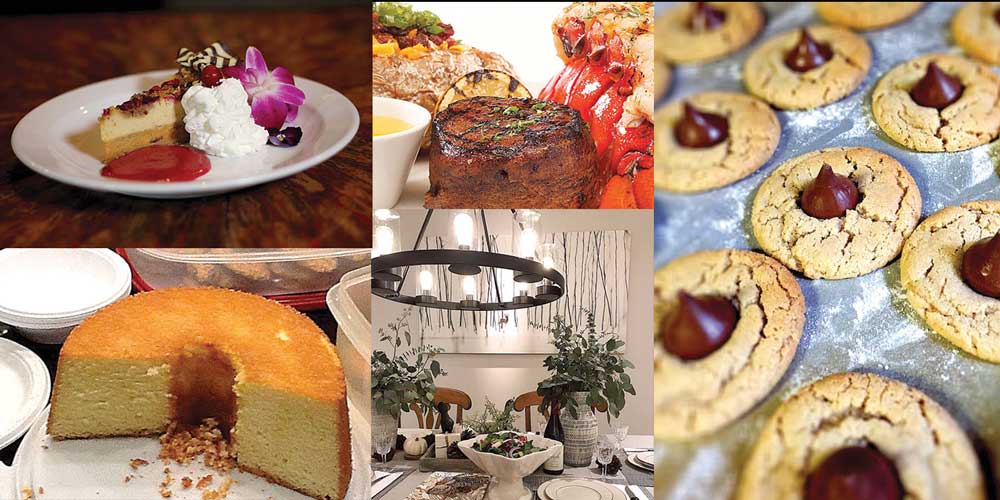 We asked some local people what their favorites were for this holiday season
The Bramble Family
Kyra, Cliff, Stevie, Reid
Owner of Noble Fin
The Bramble Family

Peanut Butter Cookie Kisses
Peanut Butter Cookie Kisses
"One of the joys of making this dessert during the holidays is not the actual eating of these cookies, but the pure look of excitement in our kids' faces. The excitement of gathering all of the ingredients, and the fun of pouring the ingredients into the bowl, making a mess and watching the kids be filled with so much excitement as the cookies get placed into the oven."
---
Debbie Mason
Peachtree Corners
First Lady
While Debbie is involved with many of the city's activities, including the Peachtree Corners Festival, she takes time to bake for her family. She shares this favorite holiday recipe.
Debbie's Sour Cream
Pound Cake

Debbie Mason
Debbie's Sour Cream Pound Cake
2 sticks butter, softened
½ teaspoon baking soda
3 cups sugar
1 cup sour cream
6 eggs
1 teaspoon vanilla extract
3 cups flour
Cream the butter and sugar until light and fluffy. Add the eggs, one at a time, beating well after each. In a different bowl, sift together the flour and baking soda. Then add the flour mixture, alternating with adding the sour cream, beginning and ending with flour. The batter should have taken on a different sheen when it's ready. Add the vanilla and blend well. Pour into a greased and floured tube pan. Bake in a preheated oven at 325 degrees for 90 minutes. Enjoy!
---
Executive Chef Ken Hampton
Hilton Atlanta—Peachtree Corners
Chef Ken Hampton

Cranberry Pumpkin Pie with Berry Coulis

Warm Salted Caramel Vanilla Bean Cake with Peppermint Ice Cream

Pearls Sugar Waffles with Mini Cider Donuts.

Red Velvet Cheesecake with Bourbon Eggnog Crème
"I have been Executive Chef at the Hilton Atlanta—Peachtree Corners Hotel, known as the "Castle on the Hill," for the past nine years, and I've seen tremendous growth in the area. Over the years, several local companies have held their holiday celebrations at our hotel. The holiday season is my favorite time of the year—I love to see the joy and happiness of our customers celebrating the season with co-workers and family.
"Our holiday collection this year includes Red Velvet Cheesecake with Bourbon Eggnog Crème, Warm Salted Caramel Vanilla Bean Cake with Peppermint Ice Cream, Cranberry Pumpkin Pie with Berry Coulis and Pearls Sugar Waffles with Mini Cider Donuts."
---
Gina Solomon
Wesleyan Artist Market
Harvest Salad
"This is, hands down, a sure hit—even for those who typically do not enjoy a salad. The combination of sweet and savory is a crowd pleaser every time. Crisp green apples, toasted pecans and dried cranberries make it a seasonal specialty."
● The salad ingredients include:
● mixed greens lettuce
● sliced red pepper
● cubed Granny Smith apples
● sliced red onion
● toasted pecan halves
● dried cranberries
● crumbled blue cheese
● salted bagel chips and
● homemade dressing of oil, apple cider vinegar, sugar, dried mustard and poppy seeds.
---
Jeanne Aulbach
Peachtree Corners City Council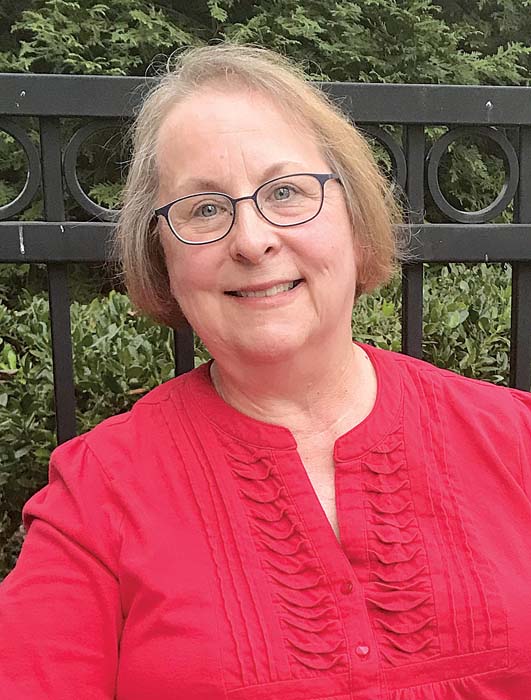 Jeanne likes to keep it basic. "Generally, if I'm hosting for the holidays, I just roast a turkey and fix some candied sweet potatoes, mashed potatoes and succotash. No recipes needed!"
---
Chef Donte Youmans
Firebirds Wood Fired Grill in Peachtree Corners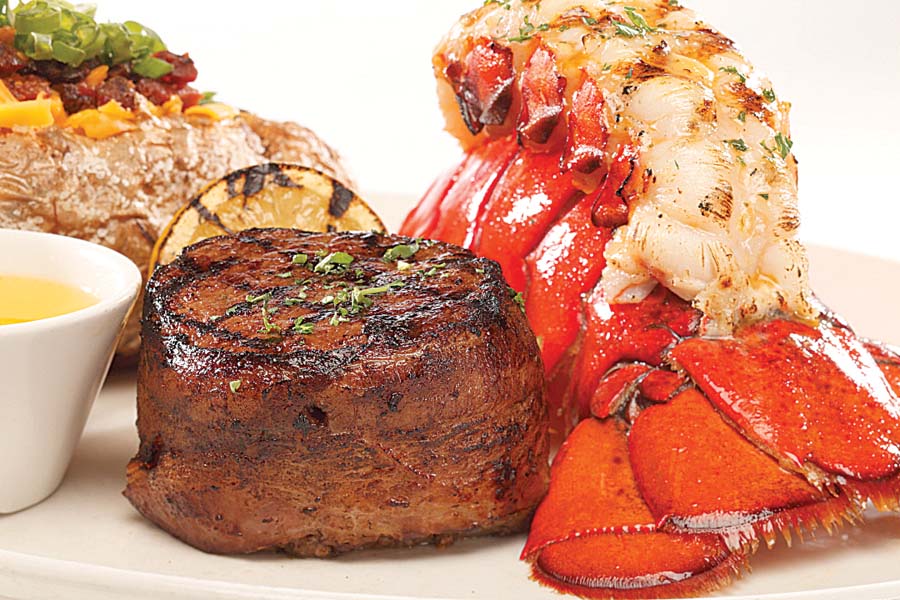 Surf and Turf
If turkey isn't your style, Chef Youmans has a suggestion: try a half-pound lobster tail and a 7-ounce applewood-smoked, bacon-wrapped filet seared over glowing embers of Firebirds' 100% wood fired grill.
"Our Surf and Turf is a special entree combining a flavorful hand-cut filet with a juicy lobster tail grilled to perfection."