A Conversation with Actor Braian Rivera Jimenez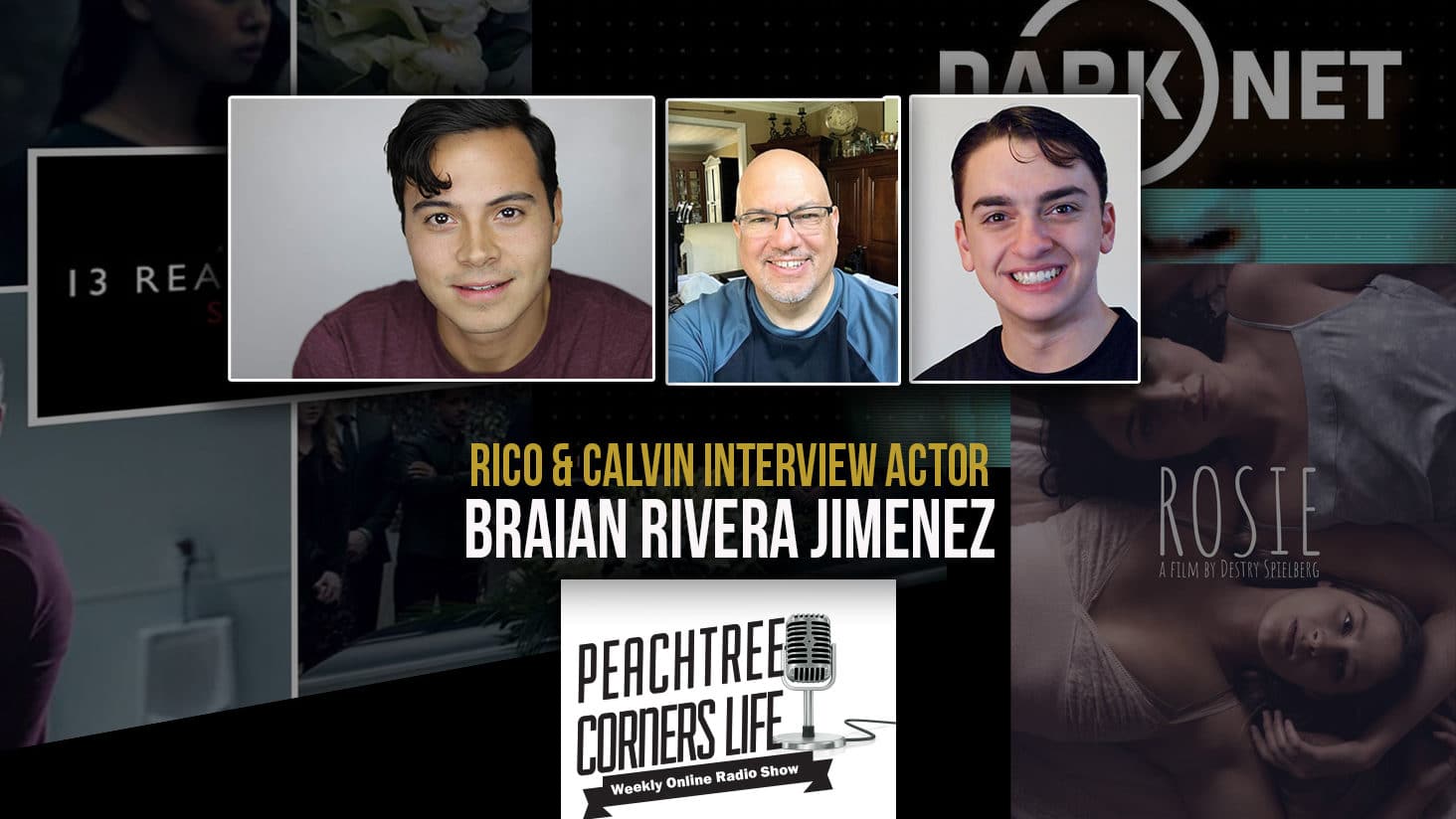 In this episode of Peachtree Corners Life, Rico Figliolini chats with actor Braian Rivera Jimenez known for his roles in DarkNet, 13 Reasons Why (2017), and The Price (2017). Braian is originally from Peachtree Corners, GA and a graduate of Norcross High School. Rico chats with him about his time learning his craft at Norcross's theater program, his past and current projects, being in Destry Spielberg's short Rosie, his biggest influence, and his future plans.
Rico's cohost for this episode is Calvin Bernardo. He is senior at Norcross High School, and an actor in their Drama department. His stage highlights include his roles as Bert in Mary Poppins, Rev. Shaw Moore in Footloose, and Charlie in Willy Wonka. He earned the award for Best Actor in Region 7-AAAAAAA at his One-Act Region competition. Calvin has been a two-time participant in the Georgia Thespian Conference Opening Number, in the tap dance corps. A veteran member of Lionheart Theatre Company, Calvin has experience in writing, directing, and teaching.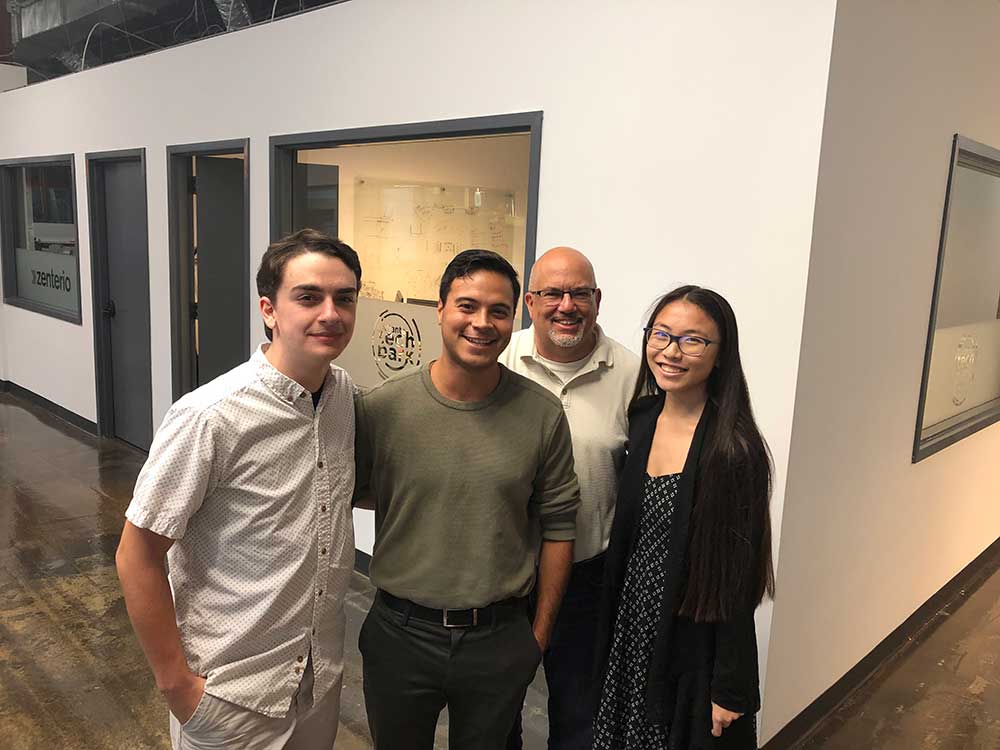 Calvin Bernardo, actor Braian Rivera Jimenez, Host Rico Figliolini and behind the camera Paul Duke STEM High School student Quinn Watch. Recorded at Atlanta Tech Park.
Texas Flood Concert Photo Gallery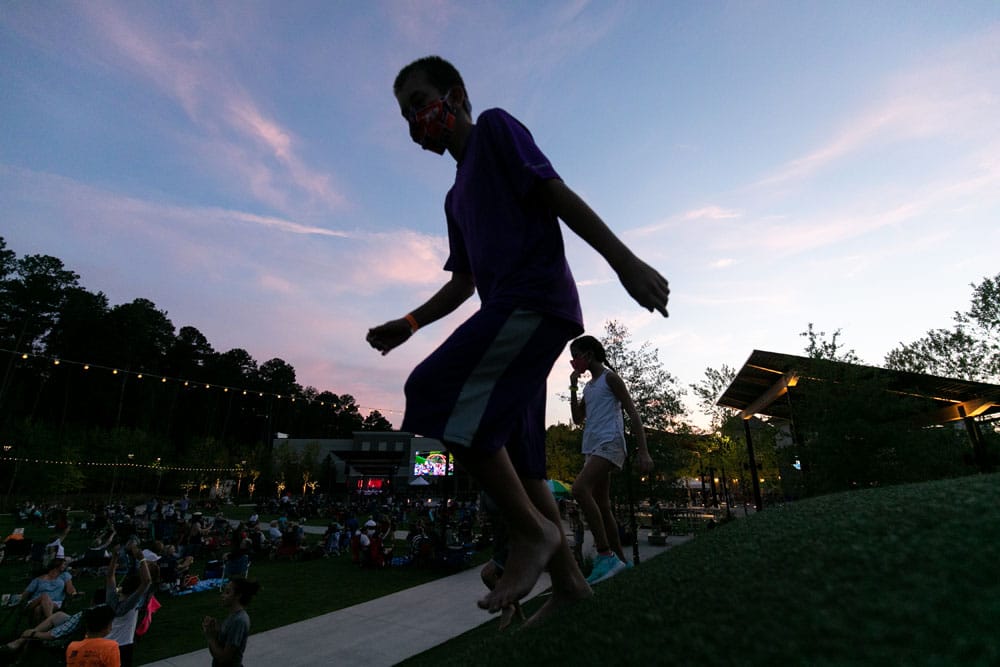 We've been fortunate to have photo coverage of this past weekend's Texas Flood concert at Peachtree Corners Town Center offered up by two great photographers, Jason Getz and Ludwig Keck, and local resident Peter Chen provided drone shots.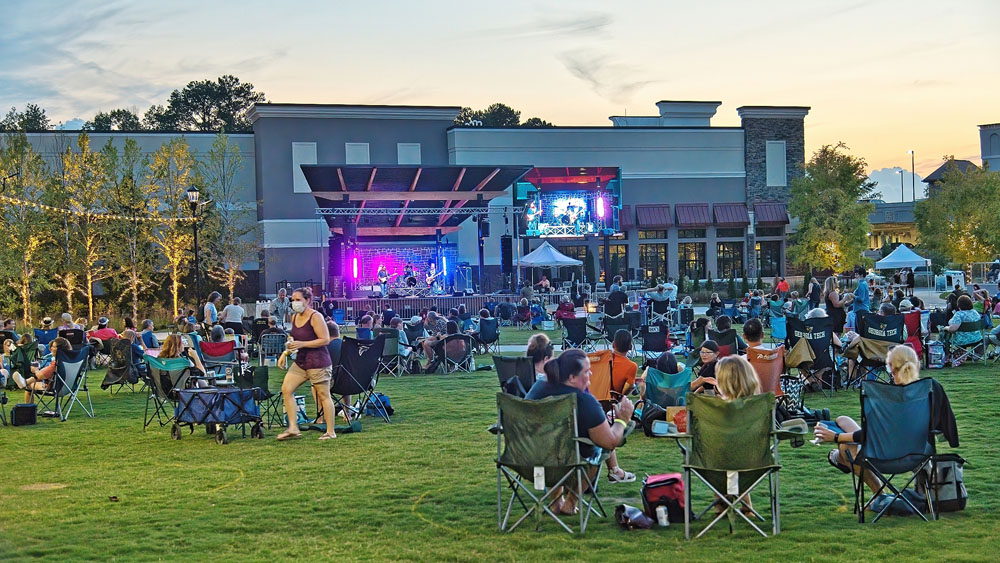 ---
---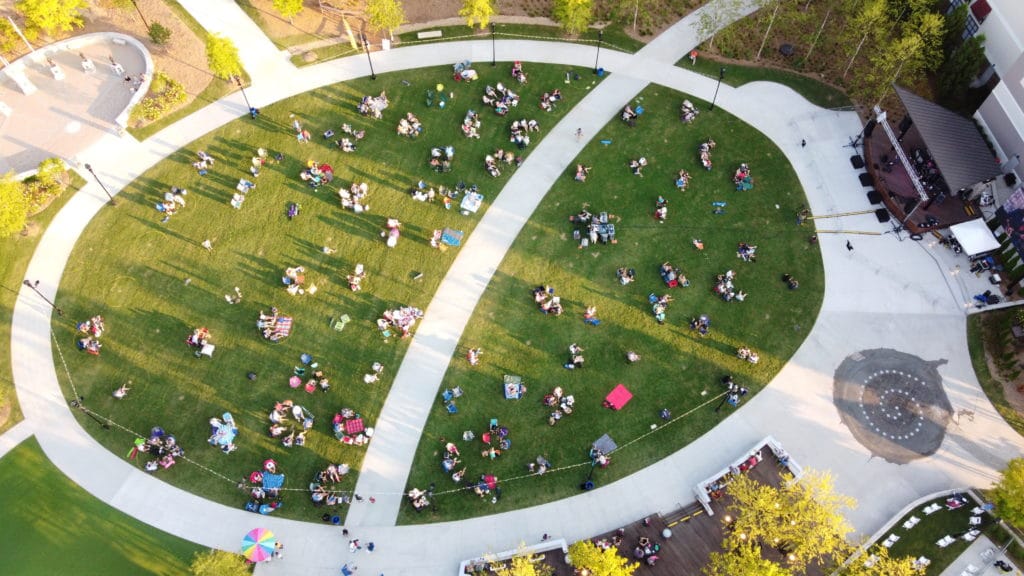 High Museum of Art Commissions New Piazza Installation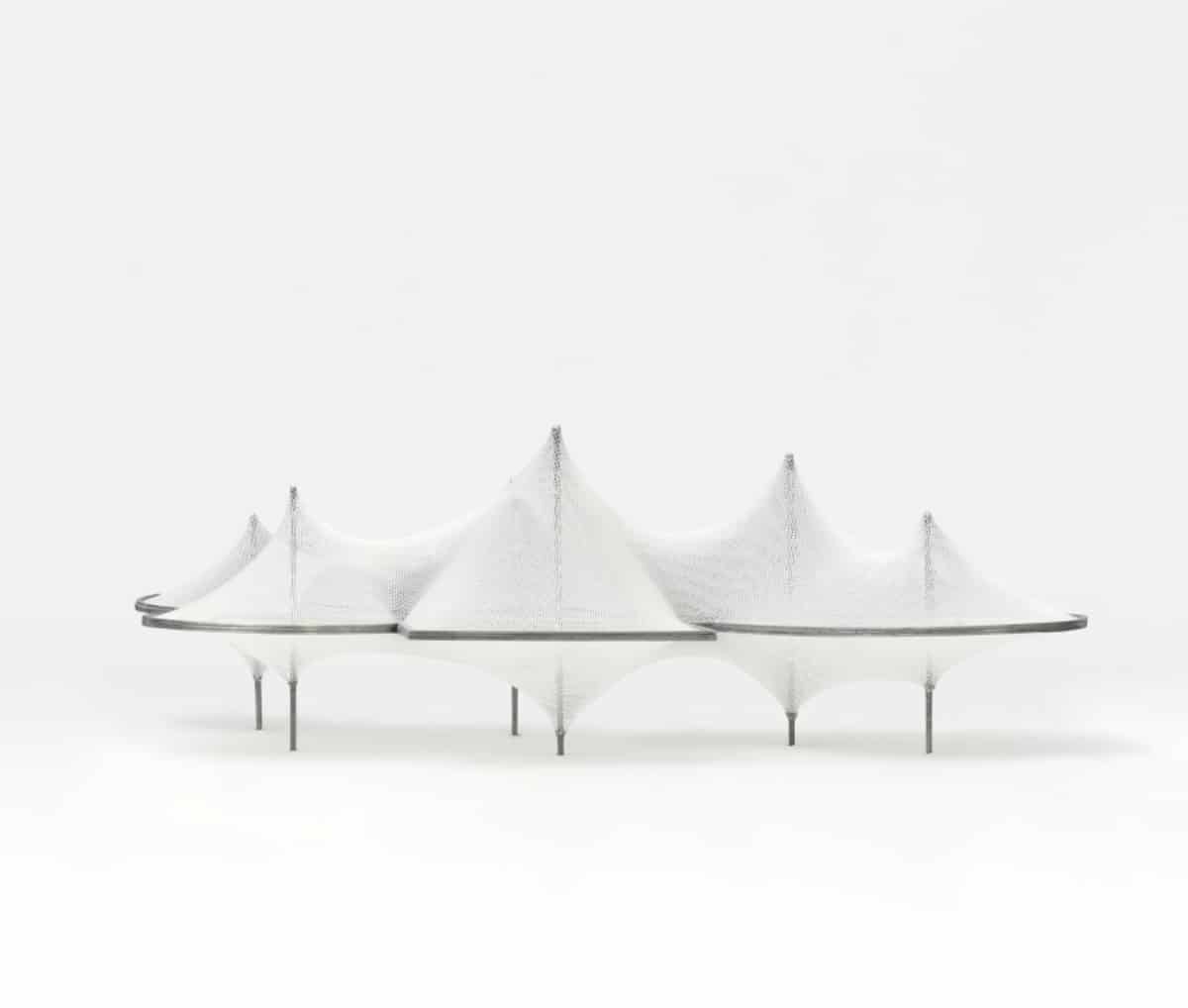 In July, the High Museum of Art will unveil "Murmuration," a soaring, stunning installation by the internationally renowned architecture and design firm SO – IL and partners Jing Liu and Florian Idenburg. Presented on The Woodruff Arts Center's Carroll Slater Sifly Piazza, the installation continues a multiyear initiative to activate the High's outdoor space with site-specific commissions that engage visitors of all ages.
On view from July 17 through Nov. 29, 2020, "Murmuration" speaks directly to the architecture of the Piazza and more broadly to the city of Atlanta and its relationships with the natural world as viewed through the lens of bird migrations. Featuring a foliage-filled mesh canopy suspended over the Piazza by a steel framework, the installation will envelop guests, evoking tree canopies throughout the city and region. SO – IL was inspired by Atlanta's reputation as the "city in a forest" and by the High's proximity to the city's largest greenspace, Piedmont Park, to guide the design of this installation.
Along with its many trees, the metro area is home to hundreds of bird species. The canopy's perches will aim to draw birds to the site. Beneath the canopy, guests can use the space as a shaded respite and participate in their own "nesting and perching" by using benches and "pods" suspended from the upper structure. "Murmuration" will serve as a welcoming atmosphere for rest and recreation, as well as a place for families to connect and create memories at the Museum.
"Our guests will enjoy the opportunity to relax and reflect as they lounge underneath the beautiful canopy of 'Murmuration','" said Rand Suffolk, Nancy and Holcombe T. Green, Jr., director of the High. "As with all of our previous Piazza installations, this latest project welcomes visitors of all ages to enjoy some fun, or take a quick break, in our outdoor space before heading into the Museum."
The installation's design is Atlanta focused but also explores broader themes related to nature, the environment and human-animal interactions.
"SO – IL's belief that connecting communities with their physical environment coupled with a thoughtful approach to engaging with the Museum's architecture, makes Murmuration relevant for our visitors and the community at large," said Monica Obniski, the High's curator of decorative arts and design. "It is incumbent on the art museum to create spaces that challenge traditional ideals of where art should be. SO – IL's socially-driven installation can help generate public discourse about the intersection of architecture and nature, but let's not stop there."
The project was originally slated to open in April but was delayed due to COVID-19. To ensure the safety of guests gathering outside under the canopy, the Museum will provide a hand-sanitizing station.
This project builds on the success of the five previous Piazza commissions: Japanese designer Yuri Suzuki's "Sonic Playground" (2018), Spanish designer Jaime Hayon's "Merry Go Zoo" (2017) and "Tiovivo" (2016) and 2014–2015's "Mi Casa, Your Casa" and "Los Trompos" ("The Spinning Tops") by Mexican designers Héctor Esrawe and Ignacio Cadena.
Source: Press Release by the High Museum of Art
Howell Upchurch – From Filmmaking to Guitar Making, Part of Five Stories to Brighten Our Spirits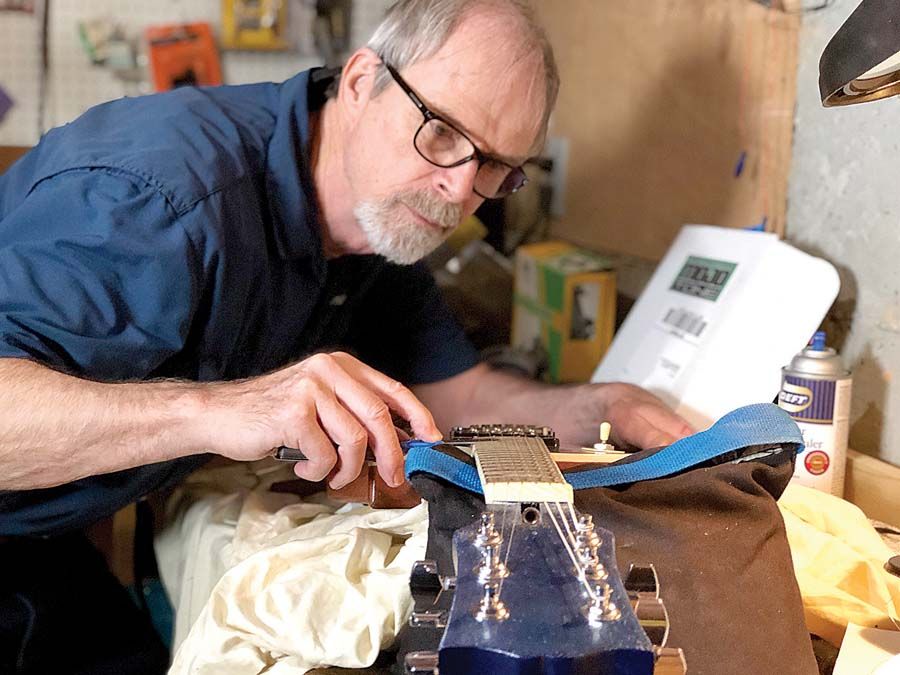 The Bright Side of Lockdown in Peachtree Corners
We can all relate to the surreal feeling brought on by the coronavirus as we struggled with being caught in this bizarre new world that was difficult to believe yet impossible to ignore. We couldn't help but feel shocked as it unfolded — it was unprecedented — although there had been a dreadful buzz in the air heading straight for us from miles away.
As our nation is sieged with controversy, climbing death rates, trepidation and uncertainty, I wanted to find some uplifting, local COVID-19 stories that would serve to brighten our spirits. This is part 2 of 5 stories to be posted.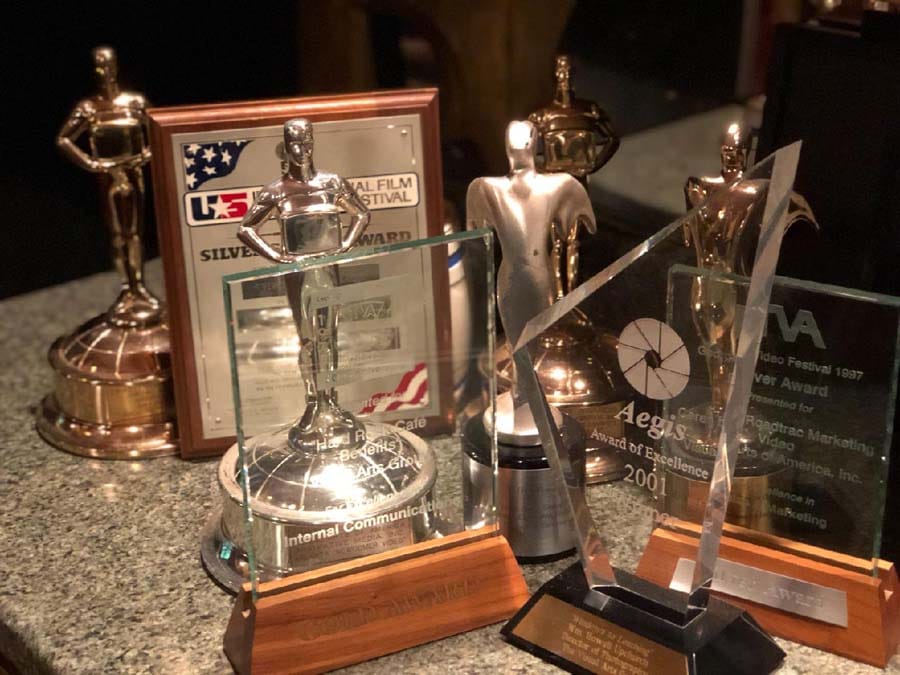 Peachtree Corners resident and Videographer Howell Upchurch has been in the film business since he was 25 years old. His most recent project with the city is a video tribute to commemorate America's fallen soldiers at the Veterans Monument on Town Center, to be viewed on Memorial Day in lieu of having a ceremony — a coronavirus safety precaution.
As many can relate, when the pandemic struck, his professional projects completely shut down. He knew he'd be inoperative for at least two months and decided he wanted something tangible to show for this time.
Rather than join his acquaintances on Facebook who divided into warring camps, Trump vs. Pelosi, Upchurch turned to a creative outlet to find his way out of the darkness.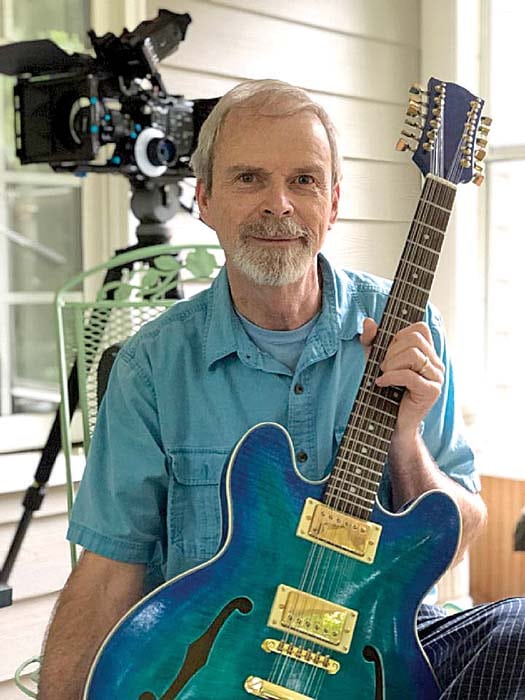 It Only Takes One Finger to Play a Guitar
Upchurch took up the guitar two years ago. Though he doesn't consider himself a gifted guitarist, he enjoys playing the blues. The Allman Brothers and Eric Clapton are among his favorite artists.
"When I met Ric Seymour, former guitar player of Wet Willie, he set me on course to really start taking it seriously," Upchurch shared. "I enjoy playing along with backing tracks. If there's a song I like, I turn up the guitar and jam with it. I feel like I'm playing with the Rolling Stones."
You Can't Play the Guitar All Day
Upchurch soon decided that building a guitar would be a good break from playing one.
He had gifted a guitar kit to his son which they built together. Woodworking has always been a hobby.
"I've built boats, decks, furniture, the chair I'm sitting on, but the guitar was different," he said. "It's very fine woodwork. Once you finish building it, it has a real purpose."
From his basement workshop, Upchurch has constructed both acoustic and electric guitars, with plans to build more and even try his hand at other instruments like the violin. He's eager to expand his hobby as his growing skills allow.
"I'd like to continue on a much grander scale, make it very à la carte. When I do my next acoustic, I'll start out at a very non-kit, raw material level," Upchurch explained.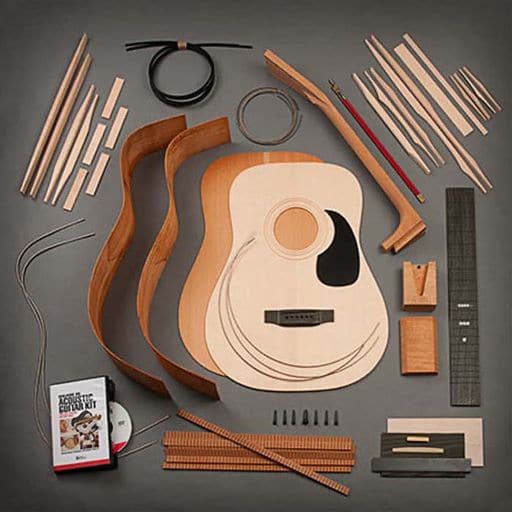 Guitar Making Made Me a Better Musician
Upchurch described a special bond with an instrument you make yourself: "The instrument becomes an extension of you. It sounds the way it does because you made it that way. You speak through the instrument.
"As I got into building it, I learned how the instrument makes the sounds that it makes, which immediately made me a better guitar player," he said. Previously, Upchurch would take his guitar to a luthier who would set it up to get the best sound out of the instrument.
"When you start building guitars, you learn how to do all that yourself. After a while your knowledge of music, scales, fretboards all interrelate with intonation and harmonics. That's what makes a great instrument," Upchurch explained.
Post-Lockdown PTC — More Than Just a Place to Work
Upchurch would like to see music lessons offered by the city, "Playing music brings people together. The city is considering a Cultural Arts Center to be built behind the Veterans Monument. That would be a good place for lessons," Upchurch suggested.
He feels guitar building would also bring the community together. "We could start a Guitar Building Clubwhere we can help each other and share ideas. I'd like to share some of what I've learned and encourage others to build."
According to Upchurch, the new Town Center buildings in chrome and glass can be turned into a cultural center with a focus on music. "The city government is focused on technology, business, a Smart City, driverless vehicles and drone delivery. But there should be an equal amount of emphasis placed on developing the cultural aspects of our city," he said.
Jamming in the Corners
When conditions safely allow for it, Upchurch would like to expand his musical network from virtual jam sessions with friends in Virginia to playing with musicians in town. Evoking the street musicians of New Orleans and Paris, he proposed we encourage local musicians to gather on Town Center to play informally, adding a touch of musical identity and charm typical of iconic cities.
"We have great bands around here, even high school bands like Norcross and Wesleyan. We should bring them out more to perform before an audience. I'd love to see Peachtree Corners' cultural and musical development parallel its technology and industry development," Upchurch said.
Commissions
As things slowly open up again, Upchurch plans to continue his guitar making hobby. A custom guitar can take one to three months to build. An acoustic guitar takes longer to make than an electric guitar.
Upchurch said he would want to learn about your personality, your musical abilities and preferences before setting out to create an instrument for you. "You're trying to make something that's appropriate for the individual. You can actually build a guitar to suit someone's size and personality," he explained.
The choice of wood is determined by the genre of music one wishes to play because the type of wood affects the sound. Mahogany for example, produces a higher pitched sound.
To view his custom guitars, find Howell Upchurch on Facebook. Or contact him via email at howell@mindspring.com