First Brewery in Peachtree Corners, to Host Halloween Festival Grand Opening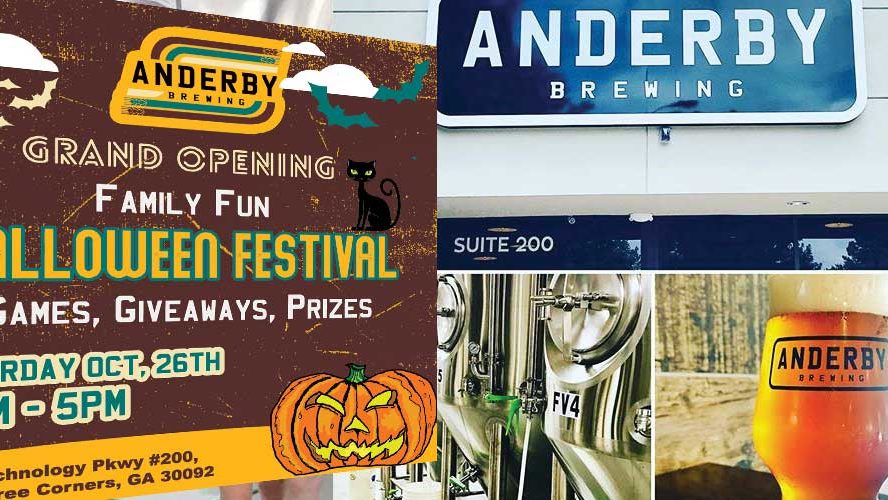 ​Anderby Brewing is the first and only brewery in Peachtree Corners, and they have already sent a wave of excitement throughout the community. With a laid back atmosphere and delicious brews featuring regional grains, they want to bring you the best experience and taste for your taste buds. Preston & Michell Smelt are the owners and their journey to this point has been quite interesting. It all started with a homebrewing course Michell purchased for Preston as a birthday present. The rest is history and now they have brought their delicious brew dreams to life by opening Anderby Brewing in the heart of Peachtree Corners.
If you haven't had a chance to check them out, don't fret! The two are hosting a huge Halloween Festival Grand Opening on October 26th. The Family Friendly event will be from 12pm-5pm. Parents, enjoy a beer while your kids enjoy all the fun-filled activities we have for them! They will have food vendors, candy, giveaways, arts and crafts activities on-site and more.
From 6pm-12pm they will host a Halloween Party for adults 21 & Older. The Halloween Costume Contest will take place during this time along with fun activities, food vendors, and more. $500 will be given to the first place winner for best Halloween costume. If that doesn't excite you enough five new beers will be released that day.
They are currently open for business and ready to serve you Tuesday-Friday 4pm-10pm, Saturday 12pm-10pm, Sunday 12:30pm-7pm.
Anyone interested in attending can RSVP at the following link:
Halloween Festival: ​https://anderbybrewingfestival.eventbrite.com
Adults Halloween Party: ​https://anderbybrewingparty.eventbrite.com
Lawrenceville and Aurora Theatre celebrate "Topping Out" of new Lawrenceville Performing Arts Center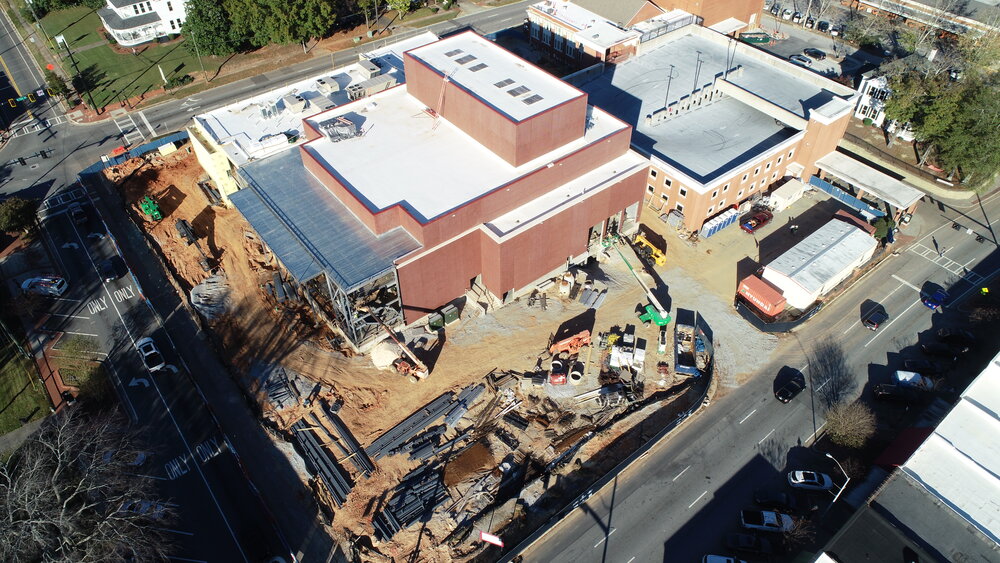 To commemorate the placing of the final structural beam for the expanded Lawrenceville Performing Arts Center (LPAC), the City of Lawrenceville Mayor and Council; Downtown Development Authority; representatives from the Aurora Theatre; Carroll Daniel Construction; Croft and Associates; and Community leaders gathered for a Topping Out Ceremony at the site of the new facility in Downtown Lawrenceville.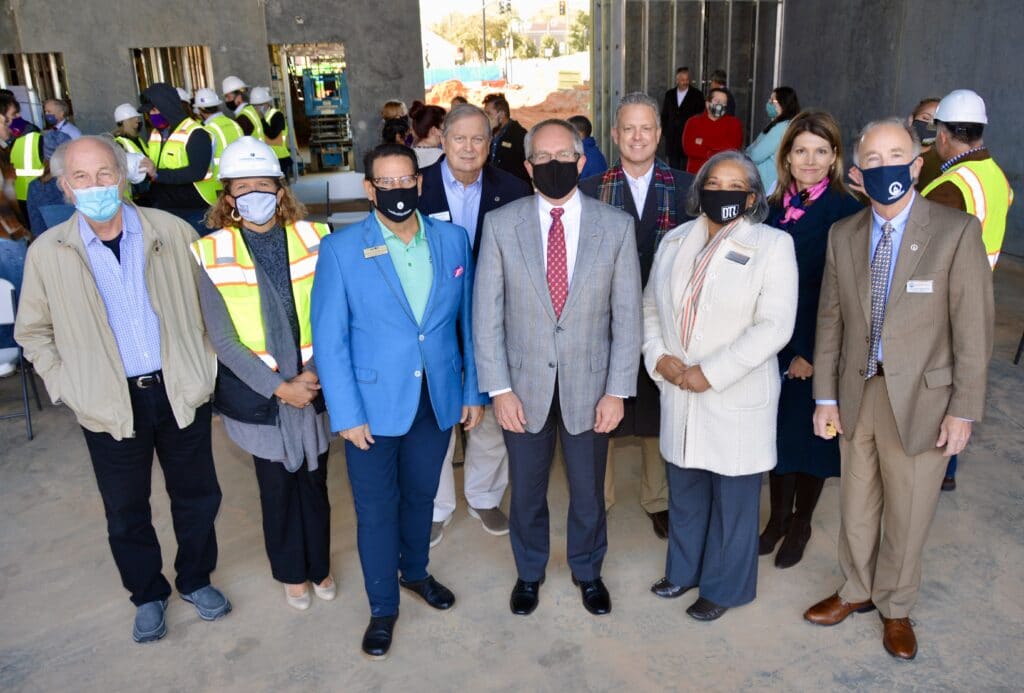 "The completion and grand opening of this facility will be a visual representation of Lawrenceville's commitment to the arts," said Mayor David Still. "A 15-year partnership with Aurora Theatre and many years of hard work on the part of numerous determined individuals have delivered a one-of-a-kind project placing Lawrenceville in the spotlight as an arts-centered community."
Construction began on the $35-million facility in June 2019 and continued throughout the recent pandemic. The 56,000 square-foot Lawrenceville Performing Arts Center will house a 500-seat theater; Cabaret; indoor and outdoor civic spaces; and rooms for office and educational programming. It will be home of the second largest professional theater company in Georgia and Gwinnett's only professional performing arts organization, Aurora Theatre. In October 2020, the City of Lawrenceville approved an additional $4-million in facility upgrades to improve air quality, offer hands-free devices, create a safe physical environment and provide appropriate sanitizing equipment for patrons, performers and staff.
Anthony Rodriguez, Co-Founder and Producing Artistic Director of Aurora Theatre shared, "The City of Lawrenceville believes in the power of art as a force multiplier that can transform community, and as the Lawrenceville Performing Arts Center prepares to open, the region will see that vision tangibly expressed … none of this would be possible without what is truly a remarkable and unprecedented partnership with the city that should serve as a model for communities nationwide."
Aurora Theatre is home to the highest level of artistic excellence in the region, serving communities and offering performing arts experiences that nurture a love of theatre in a multigenerational space. Leading the way as a performing arts venue despite industry challenges posed by the 2020 landscape, the regional theater has managed to find new platforms and open-air venues to host meaningful live events at a safe distance. While the theater is currently dark due to coronavirus concerns, Aurora Theatre continues to engage with audiences through alternative programming, including its Digital Series and Our Stage Onscreen performance initiatives.
Construction on the expanded facility is expected to be complete in the spring with a target date for opening in May 2021.
For additional information about the City of Lawrenceville, please visit lawrencevillega.org or follow the City on social media. For more information on Aurora Theatre, call the Box Office at 678.226.6222 or visit auroratheatre.com
CMX CinéBistro Reopens. Popcorn time!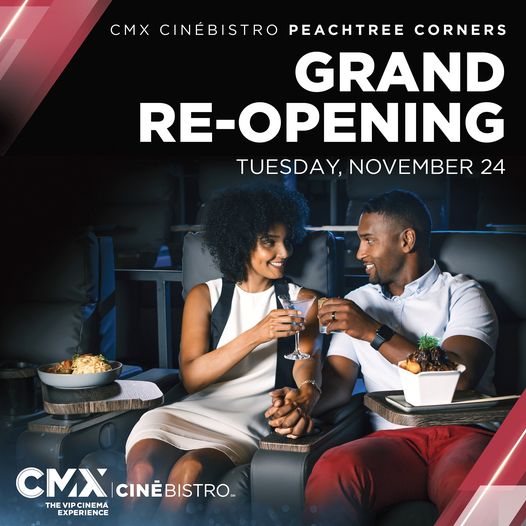 As if the holidays aren't enough to look forward to, CMX CinéBistro at Peachtree Corners Town Center reopens on November 24! With precautionary measures in place and new policies implemented, CMX CinéBistro is excited to welcome you back from a safe distance.
The nostalgic experience of movie date nights, box office releases, the smell of movie theatre popcorn and the announcement to "sit back and enjoy the show" are all waiting for you. The lineup of movies you don't want to miss include Let Him Go, Tenet, Freaky, War with Grandpa, Honest Thief, and Elf. CMX is offering new releases and holiday classics to make your return one to remember.
While you enjoy your movie, you can kick back with a classic meal or cocktail from CinéBistro's new limited menu. As previews are shown, start with an appetizer such as the popcorn chicken or truffle tots. Once the movie begins, move on to your main course of a 14oz NY Strip featured meal or the house-made veggie burger paired with a mojito or beer on draft. As the movie comes to an end, end your night with bottomless traditional popcorn or fan-favorite movie candy.
Enjoy the magic of cinema with special savings! Come on Tuesdays to experience Tempting Tuesdays and save with $5 movie tickets and chef-crafted combos for $18. As a token of appreciation for all medical heroes, free movie tickets on Sundays are offered to all front-line workers. Can't make it on Tuesdays or Sundays? Special prices for all weekdays are offered.
New age policies are in place such as guests 17 and under must be accompanied by a parent or guardian for R-rated films with ID required and children 12 and under must be accompanied by a parent or guardian at all times when visiting the theater. CMX CinéBistro is also offering private screenings to make your experience back feel as safe as possible. Bookings for a private screening for you and your loved ones to celebrate the latest occasion are available as part of CMX CinéBistro's efforts to make you feel comfortable upon your return. You can begin booking now!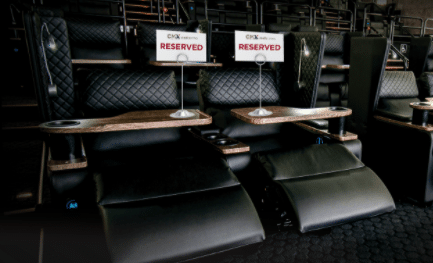 Join us for an experience we know you've missed this holiday season! To receive more information and details about the precautionary measures in place, click here.
Source– Press Release by Peachtree Corners Town Center
Three Podcasts to Tune Into, Broadcasting from Peachtree Corners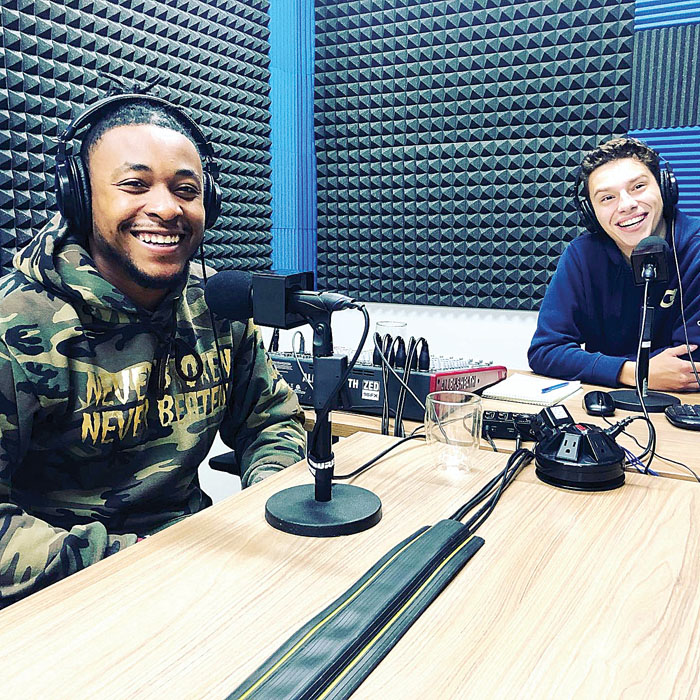 Podcasts have become an ever-popular form of entertainment to communicate exciting ideas, with 32% of Americans listening to a podcast in the last month according to Edison Research 2019. Several budding talents in the Peachtree Corners area have begun to star in, produce and edit their own podcasts.
We're spotlighting three local podcasts — and we hope our readers give them a listen.
The Nick Rodriguez Podcast
Plenty of young men feel that they have passion for and insight into the great world of sports, but few have the presence and foresight to generate a compelling podcast like The Nick Rodriguez Podcast.
Nick Rodriguez began his self-titled project late last year, concentrating on providing one-on-one interviews with people excelling in the sports industry. He and his guests dive deep into their careers, learning how they became so successful.
"I had a lot of great relationships that really helped me to experience the behind the scenes world of podcasting," Rodriguez said. "Being able to create something and find your next guest is always exciting. Each guest brings something different to the table."
What makes his podcast unique is that he covers sports on the business end as well as from the athlete's point of view. He talks to people from many angles of the arena, from media personalities and administrators to players.
When asked about some of the best interviews he could remember, he mentioned Maya McClendon, a former college volleyball player for University of Louisville and Arizona State. "She is doing amazing work, a major advocate for mental health in athletes and people in general," Rodriguez said.
Jonathan Dwyer, Atlanta native and former Georgia Tech running back currently on the Pittsburg Steelsers roster, also proved to be a memorable interview. "It was a great conversation. I learned more about him and why he chose Georgia Tech," Rodriguez said.
He added that he hopes to cover more diversity as well as higher-level athletes and players to expand the podcast's reach and appeal. Hand and hand with that, The Nick Rodriguez Podcast will be releasing merchandise officially in November, with two different types of t-shirts.
For more on The Nick Rodriguez Podcast, visit nickrodriguezpodcast.com or listen on Spotify, Tune In and other major podcasting platforms.
Product Genius with Tiffany Krumins
To say that this "Mom Genius" is a force to be reckoned with would be a mild interpretation. Tiffany Krumins' first claim to fame comes from her 2009 appearance on the inaugural episode of Shark Tank, the beloved ABC business incubator program. At that time, she presented Ava the Elephant, "…a patented singing medicine dispenser to take the fear and anxiety out of medicine time," according to her website, tiffanykrumins.com.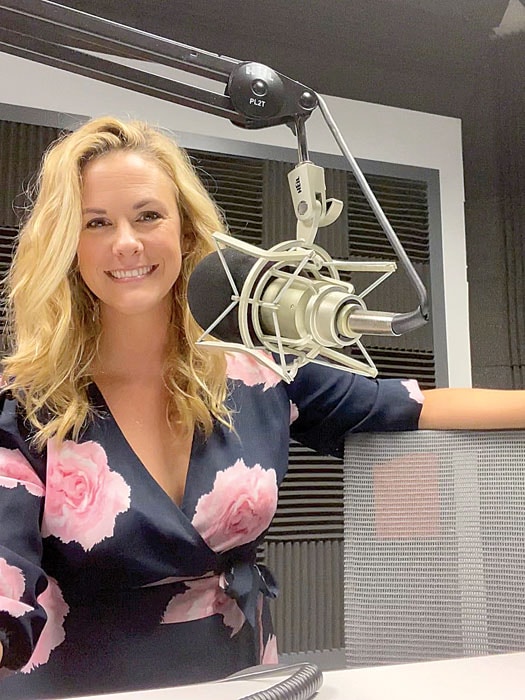 After the whirlwind success of that product, which can now be purchased at buybuyBaby and countless other favorite retailers, Krumins has turned her attention to empowering others to be creative and informed.
She founded Mom Genius, an early stage incubator for inventors and entrepreneurs that assists them in product development and brand awareness. Though the Mom Genius incubator operates in Alpharetta, Ga., Krumins produces her Product Genius with Tiffany Krumins podcast out of Atlanta Technology Park in Peachtree Corners. She has recorded it for over three years now.
"I had countless Shark Tank fans reach out for advice. I found that even when I tried to consult, there just weren't enough hours in the day," Krumins said. "While being interviewed on another podcast, the host suggested that I start my own. I wasn't interested, as I don't really love the sound of my own voice. But I realized the value in being able to share nuggets of product development wisdom with a much bigger audience, for free."
Krumins enjoys sharing from her experiences and wealth of knowledge — not just from her journey, but also from her podcast partners. Noah McNeely, an engineer from Product Quickstart, has contributed immensely to the Product Genius podcast, as well as Fulfillment Strategies International (FSI). FSI works with many of "the big guys" as a fulfillment center in Atlanta, but also supports entrepreneurs — a rare client range.
The podcast almost always covers product development topics, and Krumins said she often likes to cover the challenges facing other entrepreneurs. "I think we can all learn from each other's mistakes. We don't just cheer people on, we cover the hard things and real-talk about what it means to launch a successful product," she said.
The COVID-19 pandemic has prompted Krumins to sometimes discuss pivots that entrepreneurs might take around obstacles. She said she "highly recommends other product developers streamline their supply channels due to what we have seen with COVID-19."
In the future, Krumins hopes to take on an additional podcast partner who has relevant insights into the product development landscape that the podcast has not previously explored.
To follow Tiffany Krumins, tune into her podcast on iHeart Radio, Apple Podcasts, Stitcher and most other podcast streaming sites.
Bears, Birds, and Brews
For those seeking a unique and lighthearted sports podcast, Birds, Bears, and Brews delivers. The podcast features all things related to the Chicago Bears, the Atlanta Falcons and, of course, beer!
Hosts Asif Lakhani and Nabeel Lalani try a different beer each episode. They also recap and preview each team's most recent and upcoming games, as well as discuss other trending topics in the sports world. Birds, Bears, and Brews will be rounding up to its third year in circulation by October.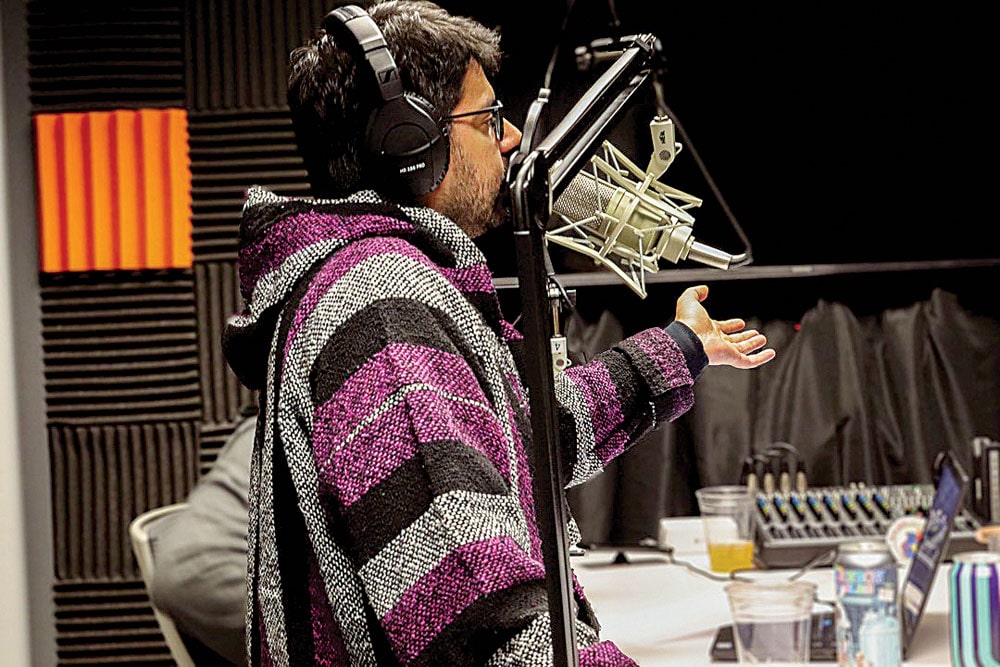 Childhood friends Lakhani and Lalani share a deep love for sports that shines through in their broadcasts. "The irony is that while we were both born in Chicago, Nabeel is loyal to their teams while I am a huge Atlanta sports fan," Lakhani said. "Our personalities mesh well together too, but there can be some difficulties there as well, so it often makes for compelling conversations."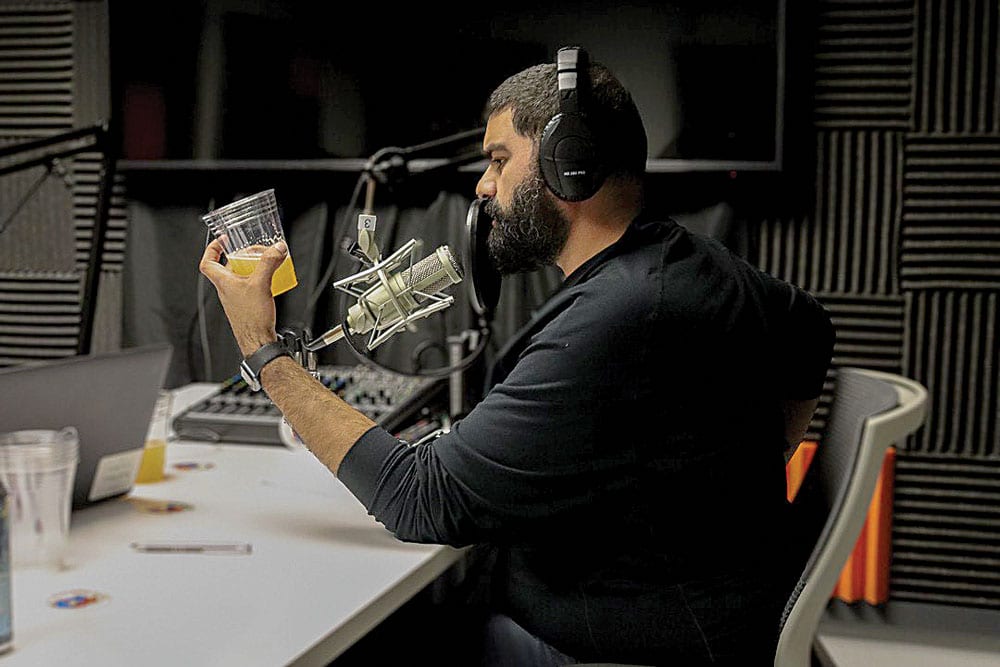 After Lakhani began his role as Marketing and Operations Manager at Atlanta Tech Park in 2018, the dream of hosting a sports podcast with his old friend Lalani finally made sense. They started creating full shows at Atlanta Tech Park, though it took a while to develop their signature style.
"I went to school for journalism at the University of Missouri, so media and communications is literally my thing," Lakhani explained. "The [podcasting] trend really took off a few years ago, and Nabeel and I launched our show just before everyone else launched theirs, it feels like. The process to conceptualize it took a few months, and the actual execution took a few tries the first go-around, but we got the hang of it eventually."
Along the way, the dynamic duo has had the opportunity to speak with some impressive guests, including Greg Schaffer, creator of Brews Brothers on Netflix, and Nabil Karim, an on-air personality for ESPN.
And don't forget the beer! They also feature local beer influencers and brewers. The podcast partners have made a point, during this time, to highlight small-to-medium businesses and breweries to show their support.
Though the sports landscape has changed drastically since the coronavirus outbreak, Bears, Birds, and Brews stays relevant with sports news updates and discussions on how sports and related businesses are adapting strategies and policies.
The future for the podcast looks as bright as a tailgate grill. The podcast partners' most immediate hope is that a complete and safe football season can be covered from now until the Super Bowl in February 2021. Ideally, local Atlanta and Chicago sport stories, athletes and personalities will also get some airtime, in addition to other interesting folks in the craft beer and sports arenas.
To keep up with Bears, Birds, and Brews, tune in on Apple Podcasts, Listen Notes and other podcast streaming platforms.