Exploring Fitness & Friendships [Podcast]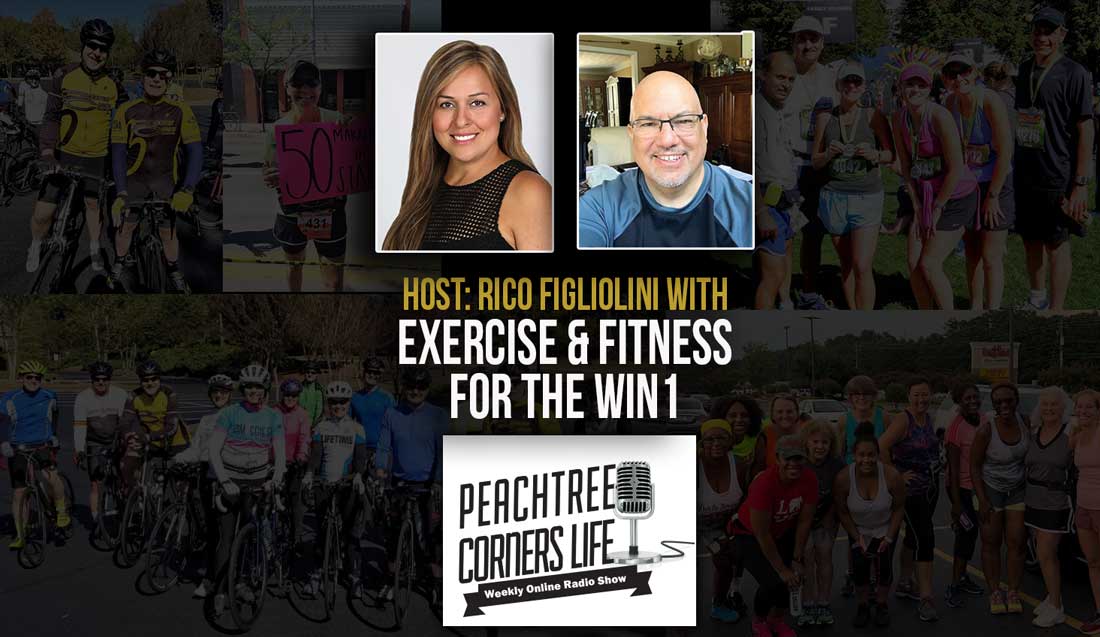 Summary: There's more to fitness than just getting healthy, especially when you're in one of the three amazing groups that are featured in today's episode of Peachtree Corners Life. Join Rico Figliolini and Patrizia Winsper, and our many guests from the fitness groups; the Renegade Runners, Black Girls Run, and PC3. Hear about the commonalities and personal bonds that come from pushing the boundaries of fitness.
Resources:
Renegade Runners: John Fervier, JohnFerver@gmail.com
Black Girls Run: Prudence Franklin, https://blackgirlsrun.com/pages/runninggroups
PC3 Website: Randy Bailey, http://pc3cycling.com
PC3 Facebook: https://www.facebook.com/groups/112799162224098/
Podcast Transcript
Rico: [00:00:00] Hi everyone. This is Rico Figliolini, host of Peachtree Corners Life, and publisher of Peachtree corners magazine. Thanks for joining us tonight at six o'clock here at Atlanta Tech Park. Atlanta Tech Park is an incubator. It's actually an accelerator, a place, a technology hub situated in Tech Park, Atlanta, which is a sponsor of ours. And this is where we're doing the podcast from. They provide a variety of things as far as workspace for almost a hundred companies that can be here. Conference rooms, areas to meet like boardroom areas. And plus they do events every week. There's something going on here, whether it's a Friday financial meeting where they bring in a venture capitalists or other people to teach how to get financing or people that actually do finance and they do wine Wednesday, you know, things like that, which is kinda neat. But really the big thing here is that it's all about tech. It's all about startup businesses and to accelerate your business. So what I want to thank them for providing that space to us. It's a great place to be. It's cool. It's a good place to collaborate. We have some guests today who are great. This is going to be a great conversation. I believe that now exercising, friendship and about, the way we can feel better every day. And we're going to have our feature writer Patricia Winsper that wrote our current feature story. From in Peachtree corners magazine and then this issue. And you'll find that online, by the way, on LivingInPeachtreeCorners.com. So I'm going to turn this over to Patrizia.
Patrizia: [00:02:00] Thank you so much, Rico. I'm so pleased to be here this evening, and every time I do a story for the magazine, just like I told the mayor the other day, I realize how many great things there are to love about living in Peachtree Corners. And I had the pleasure on this story of meeting three awesome citizens in our refined city, and let me just go ahead and go around and introduce you to them. Prudence Franklin, we have Prudence here and she heads up the BGR group. I'll have her discuss that later and just give us the scoop on what BGR is. Prudence by day is a software engineering director. Hi Prudence, thank you so much for joining us and thank you all so much for joining us in this in the midst of all the holiday crazy. Just take a little break and sit with us and listen to some feel good news about what's going on in our great city. And then joining us here we have mr John. Tell me how you pronounce it, and I know I messed that up. I'm pronouncing it in French and I just can't un-frenchify it because I'm a French teacher by trade. So John Fervere in my mind, but in yours is…
John: [00:03:10] I'll answer to anything but generally we go by Fervere.
Patrizia: [00:03:10] Fervere. Okay. And John, by day you're a Waffle House executive, and then on your spare time you head up the Renegade Runners. Peachtree Corners last but not least we have Randy Bailey. Randy Bailey is a software sales engineer by day, and on his spare time he has PC3 which stands for Peachtree Corners Cycling Club.
Randy: [00:03:38] That's close. Actually, don't call me a software engineer. You're going to scare all of my colleagues on a software sales exact, so.
Patrizia: [00:03:49] All right. We'll leave all the engineering up to three. All right, so let's start with our elevator sales pitch on what BGR is.
Prudence: [00:03:59] Okay. So BGR is short for black girls run. Now, I don't want anybody to be fooled by the black girls part of it because this group is open to all women of all races, all sizes, all shapes. The Black Girls Run is a nationally based organization. That started and they targeted black women because of the disproportionate number of black women who have diabetes, high blood pressure, who struggle with obesity. And a lot of women are intimidated by running groups. You know, when you look at Atlanta Running club and you look at people doing marathons and half marathons, you know, there are these skinny people who are running and can do seven minute miles. People are intimidated by that, and so BGR started so that they can reach women of all different levels. And go and BGR, you know, of all levels and competency levels are welcome to join us. So we welcome walkers, jog, walk, people who line. And one of our motto is no woman left behind. So when the runners are finished we all wait at the end for all the walkers and everybody could come in so that we can celebrate and just let everybody know and feel they were accomplishment and know that we were celebrating them for what they did at that particular time. When we go out.
Patrizia: [00:05:33] I love it. I love that Peachtree Corners is a diverse city and you welcome a diverse group of women, whether it's ethnicity or athletic ability, and I can attest to everything she said because it's true. Prudence was the most competent runner that evening, and she ran circles around all of that. She did for the very last one to come back and we were all welcome. Great.
Prudence: [00:05:59] And then age as well. I mean, Karen is walking like in her seventies and she comes out and she does grade and she, you know, she, I think she spoke to you and that, you know, she does it for the friendship, the comradery. You know, her husband passed away, you said going, she does this for you on social outlet. So you know. There's are so many functions that this thing performed.
Patrizia: [00:06:22] We're going to get into that aspect of these groups because obviously on the surface level, it started off as, "Hey, let's do a story on some exercise groups in Peachtree Corners," and quickly, I learned after a few interviews that there was a lot more involved than just the fitness and the physical fitness part of this component. We're going to get back to that later, but I love how black girls run started because of the, you know, historical, elevated levels of what, hypertension and heart disease among the black women, right. Among Americans in their communities. And then you've now opened it to empower all women all get out there and let's all get healthy. Okay. Sounds good. Okay. John elevator spiel on the Renegade runners.
John: [00:07:08] Elevator spiel. I, you know, I hate to even call us a running… Really, we transitioned sort of from a running group, which leads you to believe that we were training all the time, more of a social group that just likes to run and, and running as the common link that a lot of us have together. Well, we have all levels of runners. We have a lot of different groups of Renegade, I guess would be the overall name. But we have subgroups of the different names. We have different levels of activity. Oh, it's from runners to people that are really serious about
it. We have people that have never run a marathon. We had people run over 50 marathons. So it was just a wide variety of people that enjoyed each other's company. And we do a lot of things outside of the Saturday morning runs that are, we just had a Christmas party, different groups. We get together for other events. We've traveled across the country together, to run races. And so it's more of a social group anymore than it is running. Although we still run it. We're still walking. We have to, we just had a good time and enjoy each other's company. You gave a show.
Patrizia: [00:08:14] Why is that number 50 important? 50 marathons?
John: [00:08:17] Well, it's important to some people, not me, but there are a lot of runners whose goal is to run a marathon in every state, and we actually have somebody who was in our group who ran 50 marathons in 50 different States in the same year.
Rico: [00:08:32] No, no, no. I'll do the, I do the walk. I do the walk and run. So I walk mainly and then run the cul-de-sac.
John: [00:08:37] And our group does the walk-run method to it and we transitioned away from the Galloway group many years ago. So we have runners that have run just a few marathons and they'd just run one marathon. I've run 12 marathons. We haven't ever run 30 marathons, so it's, we have all different levels of running. We have people that will run 5Ks and 10Ks. So that, whatever you feel like doing, in fact, our motto is, do whatever the hell you want.
Randy: [00:09:09] You got a shirt with that on it?
John: [00:09:14] It's a common thing. We changed quite a bit. We're not quite as structured as a, is what the Galloway group was. And that was the genesis of our, they said, our motto. And so we, one example is the Galloway group does something called the magic mile. Well, they will, all the runners run a mile and your time on the mall dictates what group you're in. Three, pay Creek. We turned that into mimosa mile. They would go out in the parking lot. We'll do another one, with screwdrivers at the end of the run.
Rico: [00:09:50] I have to tell you that one. That was actually my birthday recently.
John: [00:09:55] Yeah, we had screwdrivers, so that was the most as well we've had, that's regardless after the run.
Rico: [00:10:01] So this sounds like a fun group. Maybe I'll join you.
John: [00:10:05] Fun is a main point of it. If you can't have fun or, where'd you get upset about stuff or you couldn't scan, you wouldn't belong in our group at all.
Patrizia: [00:10:14] What I love, and there is a common thread that unites all three of these diverse groups, is that we don't necessarily have to be intimidated cause that's what strikes a chord of fear in me. How can I join these runners? They're athletes. I can't even run around the block without feeling like I'm dying, you know? But you have a bunch of different levels in your country. Sorry. Where are they?
John: [00:10:37] So we started with being, well, we may have a walking group and…
Patrizia: [00:10:38] What do we call them again?
John: [00:10:40] The wild and wonderful walkers.
Patrizia: [00:10:46] Then there was the med group.
John: [00:10:48] My group is a five-one group tour run for five minutes and walk for a minute unless there's hills. And then we walk a lot more and we're the Renegade runners. We have our, a fast group, which is "Lazy Sucks." And they went a little bit faster and a little bit longer. And we have the slower group, which is the "Slackers" and you know, they're running the roughly two minutes and then walking them at it is a little bit slower pace. So it's, any pace group that you really want. And even my group, the renegades we'll have, we usually break up into two groups to where you ended up with some faster runners and some slower ones, and that's how you feel that day and how much you got to drink the night before. That way dictates.
Patrizia: [00:11:36] So wonderful. So we don't have to feel intimidated. In other words, if we want to, you know, decide it's time to get active, it's time to meet some people in our community and join one of these groups. There's room for all of us at all different competencies.
John: [00:11:48] Well, you know, we all started at zero. We did one time, none of us are runners and we all ran our first mile. I ran my first mile and could barely make it. And you know, you get to the point to where you're going to run 10 miles and it seems like nothing. And that sounds like a lot to people that don't run, but after you do it and get used to it, it's just normal. Right? So we all start at zero.
Patrizia: [00:12:11] Fantastic. I love that. It's inspiring. Randy, tell us about PC3 now. We've got a vehicle involved.
Randy: [00:12:19] So as you said, there are a lot of parallels. As I listened to, John and Prudence there are a lot of parallels in kind of what the glue that holds the group together. But PC3, just to give an overview of it, we've actually been a cohesive group for over 20 years. So we started with, back in the early nineties to date myself, we started as a few triathletes that exchanged the emails to figure out how we're going to ride together on Sunday. And then in the mid nineties Fowler YMCAs came to town and Fowler supported our efforts. I got drawn into teaching spin classes in, and I can tell you when somebody approached me as an outdoor
cyclist and said; "Hey, I've got this great thing I want you to try. We're going to go in a room full of exercise bikes, turn on some music and work out," and my reaction to that was that as easy you. but as thing I've ever heard subsidiary, obviously I'm not a good stock picker either because I got that one entirely wrong. That's subsequently, I've taught spin classes at the Y for over 20 years. As well as other places. And we started at that point to become a real group. So people coming off the spin bike that wanted to take the next step and people from the community that found out about us through the Y. So suddenly it became a real group. Today we've got over 600 members. So it's a pretty good sized group. We do primarily organized road rides from occasionally from the Y, but we're now starting our rides from lifetime fitness and feature corners, bigger parking lot. And all of a sudden they're also very supportive of us. And again, like Jonathan, Patrizia said, my trainer said, sorry. And my group is made up of, of everybody from that. You know, timid person coming out of spin class who just wants to dip a toe in the water to the multiple Ironman competitors and folks that have ridden across the country. You know, done a 4,000 mile cross country ride, things of that nature. So it really is a mix of different kinds of riders and we welcome everybody, whether you're a beginner or whether you're an iron man triathlete. We do a lot of social events. The social aspect is really, really a big part of what we do. So we don't name our rides after drinks, I'm going to have to rethink. That's sort of a branding thing and it probably is a good marketing tool. So I like that strategy. We do often end our rides with a, you know, a sort of a happy hour, which you've now earned from having been out exercising for a few hours. But it's very social. We do Christmas parties. We do those kinds of things as well. So you know, we want to welcome everybody into the group.
Patrizia: [00:15:17] That's something you shared with me when I first interviewed you struck me. You mentioned all the different levels. Once again, so beginners right. Pro athletes and then some who are so athletic, they're actually joining you on their off days. So you ride 20 or 30 miles back and then put their bike in the car and go for a run.
Randy: [00:15:40] We always have a few nationally ranked cyclists and triathletes in the group, and it always makes me feel very sad when we get to an end of a ride. And I have busted it as hard as I could go. And the person riding next to me, she says; "Well, that was a nice, easy ride. Now I'm going to go run 10 miles if nothing else." But yeah, that is true.
Patrizia: [00:16:03] Absolutely. And we've already touched upon this just a little bit. Rico, and I'd like to share with you all a video of an interview I did with Councilman Weare Gratwick, he's actually the mayor pro tem, so he would step in for our mayor. In the absence of Mike Mason are there in Peachtree Corners, so I'm dying to make the joke, Rico. I haven't done it with him yet, but I'm dying to tell him one day, "Who do you think you are, the mayor?" It was actually Weare who inspired me to take the twist on this story. I realized quickly that it wasn't just about the physical activity that these different groups are involved in. It's actually about bonds, they're creating the friendships they're creating in these groups. And then I started getting curious about it and did some research on loneliness, and I learned actually that loneliness is actually really
bad for you. You can develop physical health issues related to loneliness just as easily as smoking, just as easily as hypertension, so it actually can shorten your lifespan. So this little clip that we're about to show here with Weare Gratwick talking about a 27 year friendship he's had with his dear friend and his dear friend, his doctor.
Rico: [00:17:30] Okay. So they've had a good relationship.
Patrizia: [00:17:32] They don't maybe want to admit that they've been doing stuff for that long, that they started running, then switched to cycling because it was a little easier on the joints.
Rico: [00:17:42] So why don't we, why don't we go to that?
Weare: [00:17:46] We go out for an hour and usually we'll do that on average three or four times a week. And it's as much for physical exercise as it is for mental health, I guess you would say. We've had many deep conversations on many rides. Everything from business decisions that we've both faced to personal things going on in our lives. And so, you know, it's been, it's something I have always enjoyed and has been a big part of both of our lives, I think for many years. Hopefully we'll be able to continue that at some point. I guess we'll get to a little the bike and then perhaps a walk. We'll see.
Patrizia: [00:18:28] There's nothing wrong.
Weare: [00:18:30] Not at all. I know there's several people around Peachtree Corners. We pass walkers all the time, so yes.
Patrizia: [00:18:35] That's right. I was in one of those groups running with the BGR group. I'm more, I have to be honest, I did less running and more walking, but it was right along Peachtree park.
Weare: [00:18:50] It really is great that we've got a community where there are so many people that are able to participate in exercise activities that are out in the Valley, in the city. I know it was working very hard to extend. Both sidewalks as well as our multi-use trails throughout the city. And as we continue to expand those, that's going to be more opportunities for people to walk, jog, ride bikes.
Patrizia: [00:19:16] Well, since you, you clearly have experience with this, and you must be in the know. Why don't you tell us some of the great trails we should check out whether we're biking or walking or jogging?
Weare: [00:19:26] Well, I'll start at the top, which is, you know, right here in technology park where we have the autonomous vehicle track right out in front of here. Our curiosity lab, which, you know, another magazine is going to do features on. And so as part of that autonomous track, we have autonomous vehicle lanes, which scooters are allowed in there. I'm sure bicycles
are allowed in there. And we do have the, that's really the initial genesis of the multi-use trails because we have widened sidewalks into whether 12 feet wide, you know, throughout tech park. So you can start there. And I know we're working to connect to the lakes back there. There's a couple of lights back there. We'll have, you can actually access, so if you want to get on that Lake, it's big enough to fit a canoe or kayak. And so our multiuse trail will apply into there as well. And we'll continue around the loop around the city as we, it's a little bit of a slow process because you've got to find access to the property where you've got to right away to put it through and you know, people have to want it there too. So yes, long into the future, it's hard to, hard to guess. I don't know the answer to that question. As soon as we could possibly get there and know that it's high on our priority. And in the area
Patrizia: [00:20:48] And in the area nearby, what are some things? Biking trails?
Weare: [00:20:49] Well, so biking trails, stats. Not biking trails per se, although, you know, Simpsonwood park is a great place to run. It's a great place to walk and we do bike through there, but we tend to go through the neighborhoods, whether it's through North Manor, it can be saying there, we can be seen in Amber Fields, we can be seen in River Field and just different neighborhoods interior that Peachtree Corners.
Patrizia: [00:21:14] Wonderful. Well, thank you so much for sharing. So as you can see, I'm developing those personal bonds with people, with friends, having confidence. It's actually just as good for your health as the actual exercise you guys are out there doing, right? We do groups. So Prudence, do you have some friendship stories or some stories along those lines from the BGR group?
Prudence: [00:21:44] Absolutely. Corey Valentine is another engineer who runs with the group. I mean, she and another lady by the name of Nadine. Three of us are engineers and one morning nobody had showed up except the three of us on a Saturday morning and through running and resharing what we did, we realized all three of us are engineers. And really like, what are the odds, you know, nobody else showed up except the three engineers. Anyways, so inquire about in kind of NY, we formed a friendship. When you go out, we talk about our kids. I mean, I'm divorced, she's married, you know, we give each other advice and comfort. And so we, we've developed quite a bond. Same thing with some of the other ladies. We might not have, we're not seeing each other often as much, but some of them would live in my neighborhood, live in an adjacent neighborhood. So one, one day, Debbie, she knew something that she could try. I mean, so yeah, we have been having some real friendship around.
Patrizia: [00:22:53] Like your group on that was it. And she shared with me how her husband's passed away and she joins your group besides playing on two different tennis teams, by the way. And I had a hard time keeping up with her. I'm not gonna lie, she was in way better shape than I am, let's be honest. But she shared with me that, you know, she finds comfort in running with you guys and the comradery is nice cause you know, I mean it must be lonely after being married for so many years, the same person and then suddenly losing him.
Prudence: [00:23:31] Yeah. So one of the things we have, one of the goals we have you, we're gonna… For me, I wanted to lose 10 pounds before the holidays cause you shouldn't have put weight on over the holidays. And I'm giving myself some wiggle room. So one of the things you said after I got to make a little meet when I was going insane, and so that's coming.
Patrizia: [00:23:50] Oh, very good. All right, John, so fitness is not just physical. Let's talk about what your group does in terms of friendships and bonds and socializing outside of just the exercise part of it.
John: [00:24:14] Well, I have to go back to the losing late part because I always think about people that run and they want to lose weight for running or exercising and riding bikes or whatever. I think about myself, I've been running now for over 20 years and gained almost 20 pounds. And actually it's probably the only one in America that actually gained weight running marathons. So it doesn't work for everybody. Just imagine where you, you know, it's amazing how much you actually, or how close you get to people when you spend that much time with the ones that… We've traveled all over the country together from, you know, we ran a marathon, South Carolina. I mean, California, I've run in Colorado, we've run in Utah. We've run in South Dakota and New York and just all over the country. Some of our runners have gone to Hawaii and Alaska and run. And so when you're, when you're spending the whole weekend or several days with people and you're out on the course for five or six hours running with them. You talk about everything you run out of things to talk about. You ended up talking about a lot of personal stuff and getting to know people and you become really good friends with them. I said we, we'd go to parties together, we go out to dinner together occasionally. We do things like that and we all have downtimes in our life when things happen. When you have tragedies in your family or sicknesses or or whatever, and we're always there to support each other because we've known each other for a long time now. And even the new members of the group will. They quickly integrate into the, you know, the whole thing. And so I think that's really important. One of my favorite trips that I went on was to Sioux Falls, South Dakota. I think I have dozens who have ever run the marathon. And after, some ran a half marathon seminar in the fall, but that evening we decided to go to dinner together and we got a car and the guy showed up and the first thing they do is open the trunk. He had a full bar in his trunk.
Patrizia: [00:26:08] Hmm. So it's all about drinking
John: [00:26:11] It's all about drinking. All about drinking, always comes back to that dinner, have a good time. Call the guy up. You can pick this up at dinner and then we took a two hour tour of Sioux Falls, South Dakota, which is almost impossible to do unless you have a full bar in the back of the car. It was just a great social exercise type event.
Patrizia: [00:26:38] I'm just astounded that they can run and drink.
Rico: [00:26:42] I would be stumbling.
John: [00:26:43] Talking makes it so much easier though. It does, you know, the bad thing that we're running long distances when you're by yourself and you don't have anybody to take it away, you know, to help you through that and to, you know, send your mind some place else. You've gotta think about the pain and all that. But when you're talking about it, you're saying, think about I kinda, you know, long run to me is almost like going on a long car ride. Do you remember the start? Do you remember the finish? But you don't remember anything in between because you just zone out and when you're on for four or five hours or three hours, it's the same thing. You know? You remember the start to finish and barely anything in between. And a lot of that has to do with the talking and interacting with other people too. And this makes it so much easier. And you think it's hard, but it's really not. If you're running at the right pace.
Rico: [00:27:30] And it's funny to me the, okay, so I'm not a runner, obviously. I mean, I might drink, but I might not be able to run as well as you guys. I do spin class. I like that idea of looking stationary. I don't have to get hit by a car.
Randy: [00:27:42] You can't fall off. I've had two people fall off the spin bikes, but you have to really work to fall off.
Patrizia: [00:27:50] I think that only happened in the movies, that really happened?
Randy: [00:27:45] A real life example.
Rico: [00:27:53] Yes, there are people out there, I guess.
Randy: [00:27:58] I had this one guy who came into my spin class and this guy was an avid mountain biker, didn't know him when he came in first spin class, and this fly wheel makes the pedals keep turning, so you can't stop suddenly. And I'm trying to give this guy this, the, you know, sort of the coaching; here's what you have to be aware of. And he just brushed me off the side "I know what I'm doing here." Well, that 10 minutes into the class, he got up to a higher rate of speed and he tried to stop and literally, I kid you not over the handlebars. It scared me. I thought the guy, you know, hurt himself, he left my spin class and never came back.
Patrizia: [00:28:28] Well, he must've been, bless his heart.
Randy: [00:28:35] That just seems like way too much work for me.
John: [00:28:37] It's just way too much work.
Rico: [00:28:38] Well, and it was wondering about that too. I was wondering about the, you know, when you're running, you're talking to each other, like you said, unless you're running out of breath, maybe you're next to each other, you're talking a little bit more difficult depending on the ride.
Randy: [00:28:49] I would tell you, the actually the opposite. One of the things that I find interesting, and I did 2,500. More pastry. So I've done some running in my life, but I'll tell you on the bike. One of the things in relation to the idea of friendships and relationships is if you ride, and not that everybody does this, so you don't have to be able to ride the bike a hundred miles. But if you do, that's a five or six hour commitment of time and you spend that riding with other people and really is of place where you get into, as you were saying in John's serious conversations with people, you know, you find common ground that you didn't know you had. You're talking about the kids and the problems with, you know, raising your kids and the challenges outside of cycling. So that's one of the things that I think is really a benefit to biking over running is the fact that you can, you have opportunities to chat.
Rico: [00:29:48] Not racing necessarily but…
Randy: [00:29:50] No not all of it. A lot of it's not, a lot of it is social. It's a very social sport. So if we go on a two hour ride, you know, for 30 minutes of that, those of us who care to be competitive, go out and try and win the race up within a bike ride. There are races, many races, right? So every time you come to a hill, there's an opportunity to attack the gill. Beat your buddies up the hill, get bragging rights. But in between that, there are those times when you're riding along at sort of at a jogging pace or intensity. And those are the places where you get into conversations about how are the kids and you know, where are you? Are you a redecorating your house like you planned to do? And all of those kinds of conversations.
Patrizia: [00:30:30] It's a tremendous amount of time. Think about it that I met, I've met with Donna. When we talked and she told me, when you run for five hours with someone, it's like you become, your running has been, you know, everything about this person. You know, all of his ups and downs, all of his, you know, woes. You just really have to bond over a five hour conversation, running or cycling.
John: [00:30:57] A lot of wives get a lot of running lines.
Rico: [00:31:06] So it's a safe Prudence for you. I mean, do you find that, you know…
Prudence: [00:31:10] Absolutely. I mean, and it's so rewarding when you're, you know, you're having that conversation. Are you giving someone advice? Whether it's about where, and then you follow up, whether it's the next week or a few days later, Hey, how'd it go? And the person said, you know, work, thank you so much. You know, it's just so much other than just demeaning.
Rico: [00:31:32] Do you find younger people also trying to join up a little bit with PC3 or?…
Randy: [00:31:41] I have had, in fact, I've had youngsters that could be a lot of the oldsters that were in there in their mid teens come out and ride with this one young guy that rode with us
while he was in high school and big guy, very, very large guy, a very, very strong and, and he rode with us and took off. I don't know what, 75 pounds. And so I've got kids in their teens, a few. I've got some riders in their twenties. The typical rider is somebody either in their thirties who's a serious cyclist, and they're 40s who has discovered the inevitability of bad knees. Or somebody that's in their 50s or 60s and even beyond. I've got some folks that have ridden with us in their seventies and that can be humbling too, by the way. Cause some of those riders are extremely strong cyclists.
Rico: [00:32:34] And it's funny, it's like tennis a little bit because I do a mixed tennis and I'm not, I never played tennis until two years ago. So I mean short of, you know, hitting the ball once in a while, but there are seven year olds. I can place that hit the ball where I cannot get it, so I can appreciate what you're saying.
Patrizia: [00:32:53] So they said it's going to take a few days, then you're all out there, you're running, you're walking, you're cycling. The truth of the matter is you're all on the roadways at some point in your excursion, you more than others, right? There have been more than others. So let's talk about sharing the road with motorists and let's talk about measures you take to try to keep your group safe. I can speak for a previous group because she ran around. I wasn't kidding when I said she runs ripples around all of us. So we were all running. We were midway through, I think the journey. And then Prudence decided to run all the way back to her car and all the way back to us. And you brought us what, Prudence, that keep us safe at night lamps because it's dark in the winter, it gets dark so early. And so we need those lamps so that we can see the pavement. The any competing command, K and M cars can see us and it really, it really did help us. You know, when it's pitch dark out there and you're running by, you know, a forest right beside the sidewalk. There are bears and around this. So it was nice to have the headlamps.
Randy: [00:34:15] We do, they do. And again on the pavement with the traffic. And so 90% of the time there are paths, but 90% of the time we're out on public roadways. So as we talked about when we talked before. I do a couple of things. Number one, let me start by saying being hit by a car doesn't feel good. And I can tell you from firsthand experience, actually, I was hit by a truck and a boat. But it's, you're, if you're a cyclist. You will always 100% of the time lose that collision, you will lose that contest. So what we tried to is we make ourselves as visible as possible. Like as Prudence mentioned. And, beyond that, really bright clothing. I have a flashing front light. I have a flashing rear light. Lime green and you know, very, very bright clothing. And then beyond that, it's good to be in a group. So for somebody who wants to try biking out, it's a lot easier to see 20 cyclists than it is to see one. And so that, that sort of, well, my buddy said at some point, he said, I love to ride with you because you look like a garbage truck. He said, well, you know, the flashing lines, you got two rear flashing lights and a couple of front flashing lights. He said, you're impossible to miss. And that's the goal.
Patrizia: [00:35:42] Like a Christmas tree.
Randy: [00:35:44] I would have liked that analogy for me, but I didn't get to pick it. But yeah, so, it's really important to do that. And then related to that is you as a cyclist or as a runner, you need to pay attention to the rules of the road. You need to understand what the motor is expecting of you. So you know, learning to ride on the proper side of the road, which not everybody does. Learning to run on the proper side of the road, which not everybody does. You know, learning to obey the traffic rules all of those things also help. And just keep you out of a situation where you know, you're vulnerable too.
Patrizia: [00:36:25] A lot of people don't really even know about that. I researched because I was talking to these guys. So as a runner, you're supposed to run against traffic to see the cars coming out, right? As a cyclist, you're considered a vehicle and you need to run along with traffic. And I think some motorists might not know that and there might be a sense of sort of like irritation about that feeling.
Randy: [00:36:47] When I taught on the road, let me say the, in Peachtree Corners, this is a, it's a wonderful community to ride in because 95% of the people that we encounter out there are cordial and they've, not only did they recognize a ride, but they, you know, they appreciate what we're doing. So people tend to be friendly and cordial and accommodating. Still need to follow the rules though, because even if somebody is trying to be accommodating, if they can't predict what you're going to do, it's not necessarily a safe situation. So it's you know, it's important that we ride in a way that's following the rules. For example, a lot of people don't know you cannot ride where you're not supposed to. It's against a lot of riding your bike on the sidewalk. If you're over 14 years old and sometimes somebody is aggravated, roll down the window, ride on the sidewalks, well, in reality, that's against the law and in reality, you're seven times more likely, statistically to be hit. If you're riding a bike on the sidewalk, then if you're riding a bike on the street because visibility's more limited and people aren't accustomed to people going at 20-25 miles an hour on the sidewalk.
Rico: [00:37:59] So because you're crossing into sections at that point, even roads.
Randy: [00:38:02] Yeah, for sure.
Rico: [00:38:04] What do some people do? The, is it the Common trail, which is like a 50 mile run and this way you're not even on the public street.
Prudence: [00:38:18] You drive to, I know a couple of people that do that. They drive to, to there sometimes and they want to go for a long flat run.
Randy: [00:38:22] It's just a great resource. And the BeltLine is a great resource. It doesn't completely eliminate the, you know, you still have to watch her to do it. She'll have to ride safely. But yeah. Oh, it does. If it's a good place to start learning to ride because you're not contending with the fact that you've got to deal with traffic as much. You still have no cross streets, so you still have to pay attention.
Rico: [00:38:43] Yeah, for sure.
Prudence: [00:38:44] And, and people should never see that because you have the green light or you have the goals of an extreme that traffic is gonna stop. And you know, a lot of them say, just pause, look and see if the person is going to honor that before you go.
Randy: [00:38:57] Yeah.
Rico: [00:38:57] It's the same thing if for pedestrians, kids crossing the roads, especially with during school time, people just, they want to creep out. Right in front, they cut through the crosswalks.
John: [00:39:06] I always want to make eye contact with the driver when I'm crossing the street. Especially if they're turning and I never step out until I've made eye contact when they know that I'm there. You know, we were perfectly happy to let the cars have the roads if they let us have the sidewalks. So we've got that bill with them. But there are some great off-road ones too. I mean, Peachtree Corners and Simpsonwood yes. And you can go back in there and do some great trail running there.
Randy: [00:39:33] A Riverside park down in Roswell.
John: [00:39:34] We go down there in the summertime cause it's a lot cooler down there and run the Big Creek green lakes. There's some great things.
Rico: [00:39:43] You know, cornet County has a lot of great parks.
John: [00:39:47] Peachtree Corners is a great area to run in cause there's a lot of neighborhoods. You rarely have a problem in the neighborhoods. We don't have sidewalks and districts station, but the traffic is slow and everybody can see you and it's, and then you know when you're going along, the major roads are usually a bike pass along. The sides are running paths. And so it's. We rarely ever have to get on the road outside of the neighborhoods, and though it's pretty safe around here, actually.
Patrizia: [00:40:11] Yeah. So I know Randy used survived your sort of brush with death and that harrowing accident you described to me. That was in 2015 and unfortunately one of your group members was not as lucky. Is Mike Rachelson. Why don't you tell us a little bit about his situation, what you guys will be doing?
Randy: [00:40:32] Very, very sad situation for us. Mike was a personal friend of mine and as well, a very personal, a very popular member of our group. Retired recently, and as a challenge he had ridden cross country a couple of times and the summer, this past summer that just ended. He did a solo ride starting in Vance in British Columbia, down the continental divide all
the way from Canada to Mexico. Was the route, and Mike found friends along the way and they rode together. And when they were literally 34 miles from the Mexican border, he was rear ended by a car in New Mexico and killed. So, you know, I don't want to disincentive anybody cause I, I'll tell you first of all that that's a very, that's a challenging thing to do is drive in the open by yourself. A lot of the time I'm in an unfamiliar territory, but you know, a great loss of our group, a great guy, but he was doing what he loved. I will tell you that. And so as an outcome of that, we as a group, we're in the process of putting together an event, which we think is going to be, we haven't set the date, for next May. We're going to do a tribute ride for Mike, and we're gonna, we're going to ride those last 34 miles to, you know, to complete his journey for him and honor his effort and honored his friendships. So, you know, another good example of the great friends that you have in a group like this is, you know, and unfortunately, life has changes, but Mike was a great example and a great guy, a good friend
Patrizia: [00:42:19] That really was, that touched me deeply when you told me that story and I read about it and I just wanted to share with, you know, the Peachtree Corners, residents driving out there. The motor is the importance of sharing the road and maybe some people really don't know. I mean, until I asked you, I really didn't know 100% what is the proper way to pass a cyclist on the road?
Randy: [00:42:41] Yeah, that's a good point. Another one of those things that, that are codified in our traffic law is that in order to be legal, you need to allow a cyclist three feet of clearance. And that's not a whole lot. And typically on a lot of roadways, you know you can do that. If I'm on the white line, on the right hand side of the road and not even leave the line that you're in. So the law says you need to give the cyclist that you're passing three feet of clearance. Well, it also says that as cyclists can take the line of if we need to for safety purposes. But the thing that I would tell folks around the community, and I tell people this all the time, is we're not, you know, our agenda is to stay out of your way. Nobody wins when we get in your way. So we're not going to take up a road just to take up a road. We stay to the right. We stay on the shoulder. But if you want to pass us and you can't wait until, Oh, there's a place where we can get over out of your line, just give us that three feet.
Rico: [00:43:39] You know what I, that reminds me, of it was in Duluth, the Duluth area, and I saw a police car, I think it was the Duluth police. There were on active duty. I realized later they were actually run the cop, if you will. And there was this huge 20, 30 group of cyclists run behind them. And I realized later what they were doing. They had that police escort to be able to waive the right, it was more than 30 cyclists, I think, on the thing. And it wasn't like an event or anything. So, you know, I'm not saying that that's a normal thing. That might've been something I went on, but that was an interesting way of doing that. And you know, people do get, you know, they want to take that road and they want to get to where they're going. And because of smartphones now, and social media, I've seen people, weave through an app-driven up to them, and I've had stupid excuses given to me. One guy, I called right up next to him and I rolled down my window. Adam rolled down his and like, what are you doing? You've been weaving since
Pinckneyville middle and he says, I'm putting on my socks. And I'm like, well, what are you an idiot?
Randy: [00:44:49] So that was sort of a rhetorical question.
Rico: [00:44:52] Yes.
Randy: [00:44:54] So that's just one person.
Rico: [00:44:55] But I've seen people do that and they're looking at the phone, even on the highway. So someone today doing that.
Randy: [00:45:00] And it just, you know, one of the worst things that I, when I'm on my bike and I'm riding, and particularly if I'm by myself, where, you know, I'm not as likely to attract somebody's attention if they're distracted. They still look at somebody coming for me. And seeing them looking down, right? Not looking where they're going, but looking down at obviously their phone in their lap. And one of the things that we do, another safety features that we always advocate that you wear or buy or have on your handlebar rear view there so you know what's behind you. You know what's coming up from behind. And I've had the same thing happen with people approaching me from behind and I'm a little extra nervous about that because I've experienced getting fit from the rear. So it's, you know, it's again, my ask is that if you're in your car, drive like the person on the bike that you might not see is your wife, your son, your, you know, your neighbor.
Patrizia: [00:45:58] Right.
Rico: [00:46:00] Well this has been a great conversation. We're at the tail end of our time together, God knows, I think someone said, I don't know if we have enough to talk about, but there is the, we could go on probably for an hour, but we're at the tail end.
Patrizia: [00:46:17] So maybe you want to get a head start on your new year's resolutions and you realize it's time to combat not only a sedentary lifestyle, but loneliness. And what better way than to join one of these groups or other groups that you know, take place and meet regularly in Peachtree corners. So if we have listeners and readers out there who want to join your group. How, how can they get in touch with you, Prudence? What's the best way?
Prudence: [00:46:41] You know what I've had since you wrote the article, I've had two people reach out to me on LinkedIn, so having that is fine, Facebook is fine.
Patrizia: [00:46:52] So yeah, we can feel free to reach on LinkedIn and Facebook. And John, how should they get in touch with the Renegade runners?
John: [00:46:57] I'll just give them my personal email. You can email me at JohnFerver@gmail.com.
Patrizia: [00:47:09] Thank you, John. And Randy, if people want to find PC3, what should they do?
Randy: [00:47:13] Oh, we're in all the social media channels. So, the easiest way I would suggest people go to Google and then Google on PC3 Cycling. And that should pull up my website. That should pull up our Facebook group page. I think it pulls up my Twitter feed as well. And my contact number is on all of those pages. So you can feel free to reach out to me and you know, if you have any questions about anything that we do or whether you would fit in with the group, the answer is yes. But I'll convince you of that. If you'd just reach out to me.
Patrizia: [00:47:53] Well, this has been delightful and I'm so pleased to have met all of you. Thank you so much for joining us. The Peachtree Corners residents. If you have wonderful ideas for future stories that we should feature in few Peachtree Corners magazine, you could reach me on social media, either Facebook or Instagram at Patrizia Winsper.
Rico: [00:48:19] And he's recording his magazine. So you should have gotten this in the mail about a week ago. So if you haven't, please let me know. Come onto Facebook page at Peachtree Corners Life, Facebook. And otherwise you can visit us on LivingInPeachtreeCorners.com and that's where you find the digital edition, our other podcasts, like other episodes. Peachtree Corners Life, Capitalist Sage, the Ed Hour and Prime Lunchtime with the City Manager. So feel free to join us and thank you for being with us.
Patrizia: [00:48:50] I so look forward to meeting other residents and working on other stories. Rico's already given me my next assignment. Let's talk about the good things you're doing in Peachtree Corners.
Waste Management suspends pick-up of bulk, yard waste, and anything outside of the carts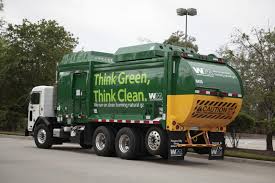 Due to reduced staffing levels, Waste Management will be limiting certain services so that they can focus their remaining staff on trash collection. These changes are effective Monday, March 30 and continue until further notice.
Drivers will not be able to get out of their trucks to collect items sitting outside the trash or recycling carts. Only what is in the carts will be collected.
Yard waste services and bulk item pickup is temporarily suspended. These items will not be collected. (Yard waste fees will be credited back to your account by Waste Management for as many weeks as the service is suspended.)
As always, please place your carts at the curb and away from your mailbox to make it easy for the robot arm to reach them. If your mailbox is on the right side of your driveway, put the carts on the left side (and vice versa).

Above source: Councilman Eric Christ
Waste Management Notice:
Waste Management has significantly reduced its field work force in response to the COVID-19 pandemic. Consequently, effective Monday March 30, Waste Management will be suspending pick-up of bulk, yard waste, and anything outside of the carts until further notice. Pick up of solid waste and recycling carts will continue as normal. Thank you for your patience and understanding
Q & A on Stay-at-Home Order from the Mayor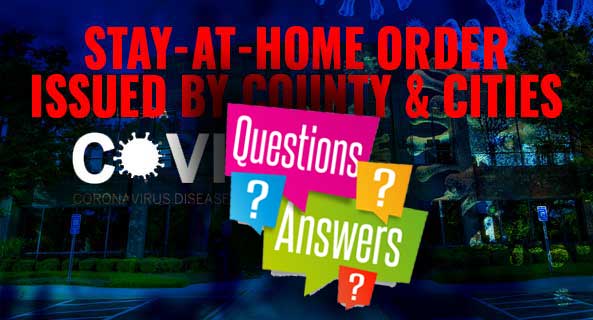 The Emergency Order becomes effective March 28
On March 17 there were 7 cases of COVID-19 in Gwinnett County. Ten days later there were 78. The very next morning there were 83. More compelling, there is a 6 to 7-day delay in getting test results, plus testing is limited to only first responders, medical personnel, and sick people. I think you get the point. As a result, when the County asked all the Cities to join them in a stay at home order, our Council was unanimous in support.
This decision was not made impulsively or without due regard for the impact on our business community. You should know by now how business-friendly we are. Rather we chose to find that balance between your health and your paycheck that we thought was in everyone's best interest. We will do what we can for our businesses separately. For now, our health is paramount.
What is a stay at home order? Below you'll find a basic, simplified Q&A that walks you through what it means. Please note, this list is intended as a living document. We expect lots of questions and clarifications, so do not hesitate to contact us at info@peachtreecornersga.gov, or mmason@peachtreecornersga.gov with your questions. We'll update the Q&A as things change.
Most importantly, take this seriously. STAY HOME. We'll be back to concerts on the Town Green before you know it.
Stay-at-Home Q&A
Q: Does this mean I must stay inside my home/apartment all the time?
A: No, the Emergency Order directs everyone to stay in their place of residence unless they leave their homes for an essential activity.
Q: What are essential activities?
A: Essential activities include:
· Grocery shopping (including restaurant takeout), picking up medical supplies or medication, visiting a health care professional or to obtain supplies needed to work from home, or to go to your place of work, only if it's an essential business (which provides an essential activity).
· Outdoor activities such as walking, hiking, running, bicycling, and other physical activities, as long as you comply with the social distancing requirements (remain at least 6 feet apart from those other than your immediate family).
· You may also leave to care for a family member or pet in another household.
Q: What is an essential business?
A: Essential businesses include:
· Medical facilities, grocery stores, certified farmers' markets, farm and produce stands, supermarkets, food banks, convenience stores, and other establishments engaged in the retail sale of canned food, dry goods, fresh fruits and vegetables, veterinary clinics, pet supply, fresh meats, fish and poultry and any other household consumer projects such as cleaning and personal care products.
· Restaurants that offer food only through delivery, takeout, or drive-thru.
· Establishments that sell alcoholic beverages can sell unopened bottles of liquor or wine, or new sealed growlers, curbside to takeout customers only.
· Businesses and other organizations that provide food, shelter and social services and other necessities of life for economically disadvantaged or otherwise needy individuals.
· Banks and related financial institutions.
· Hardware stores
· Plumbers, electricians, exterminators, lawn service, cleaning services, and other service providers necessary to maintaining safety, sanitation and the essential operation of residences
· Mailing and shipping services including post office boxes
· Laundromats, dry cleaners, and laundry service providers
· Businesses that supply products needed for people to work from home
· Businesses that deliver groceries, food, goods, or services directly to residences,
· Airlines, taxis, and other private transportation services providing transportation for essential activities
· Home-based care for seniors, adults, or children
Q: What is essential travel?
A: Any travel related to an essential activity, essential business or essential government functions. All other travel is restricted.
Q: Can businesses stay open as long as they comply with the 6-foot social distancing rule?
A: No, only essential businesses providing essential services may remain open.
Q: Can my children play with my neighbor's children?
A: Only if they maintain the social distancing requirement of 6 feet.
Q: Can I socialize with my neighbors outdoors as long as we remain 6 feet apart?
A: Yes, but remember, this Local Emergency Order is necessary to protect the health and well-being of all who live and work in our city. This is temporary, we will get through this tough period, there will be plenty of opportunities to socialize if we all work together.
Q: Is the Town Green open? Can I take my family there?
A: Yes, the Town Green is open, however, the playground and restrooms will remain closed during the pandemic. Please remember to maintain the 6-foot social distance requirement.
Q: How long will this Emergency Order be in place?
A: This Emergency Order became effective at 12:01 a.m. on March 28, 2020 and will continue to be in effect until 11:59 p.m. on April 12, 2020. It may be extended, rescinded, superseded, or amended by the Mayor and City Council.
Q: The Department of Public Health has ordered that certain higher-risk population remain quarantined or shelter in place for 14 days. Who are considered at higher risk?
A: Individuals 60 and older and those who are medically fragile such as those who are undergoing cancer treatments, have heart and lung conditions, asthma, and other serious health conditions that put them at risk if exposed to the coronavirus.
Q: Is it OK to attend drive-in church services?
A: While we understand the desire of local churches to gather in worship, we encourage our churches to abide by local limits on social gatherings. Many of the large COVID-19 outbreaks occurring across our nation are directly linked to places of worship and similar social gatherings. The existing state of emergency prohibits gatherings of 10 or more people, which includes weddings, funerals, and church services. This would include a drive-in church scenario.
Q: Does this Emergency Order include a curfew?
A: No, this emergency order does not include a curfew.
Q: What is the best source for finding ways to protect me and my family during the pandemic?
A: Every day the Georgia Department of Health Services (DPH), the Centers for Disease Control and Prevention (CDC) and the Gwinnett County Health Department issue updated guidelines and information related to the coronavirus (COVID-19).
These sources are the best place to get the facts and get your questions answered. The city urges all citizens to visit these websites on a regular basis. These are the health experts who have the expertise to provide the guidance you need to keep you and your family safe.
If you want regular updates delivered to you via email, the CDC offers a subscription to an e-newsletter that provides important COVID-19 updates. To subscribe visit the CDC website and select the link labeled "Sign up for emails from CDC" located near the bottom right side of the page or use this link: https://tools.cdc.gov/campaignproxyservice/subscriptions.aspx?topic_id=USCDC_2067
Q: Is there a phone number that I can call if I have questions about the coronavirus?
A: For health questions, please keep these important telephone numbers handy:
• Georgia Department of Public Health: 404-657-2700 (information); 24/7 Public Health Emergency Line: 1-866-782-4584)
• Centers for Disease Control (CDC) 1-800-232-4636 • Gwinnett County Health Department: 770-339-4260
• The State of Georgia has a new COVID-19 hotline: 1-844-442-2681
Simpson Staff Parade [Photos]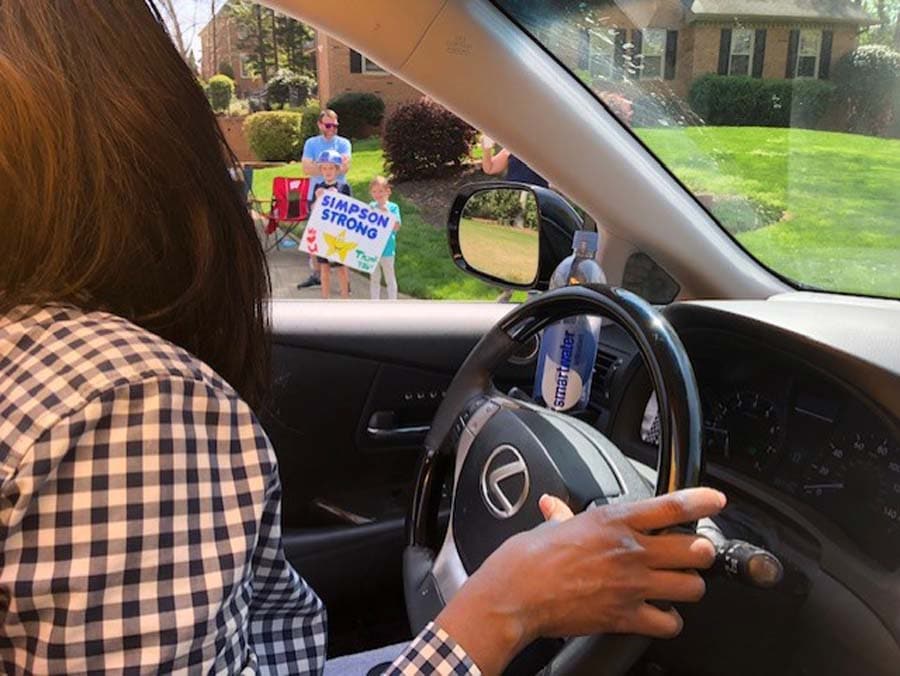 In case you missed it we're sharing pictures from Simpson Elementary School's Staff Parade from Friday, March 27th.
According to Principal Taffeta Connery:
There are not enough words to express how much the Simpson Staff Parade meant to our community today! Your generosity of time, warm caring signs, smiling faces and heart felt waves meant the word to our families. We had approximately 70 staff and family members in attendance (even fur babies).
Community members who did not even have children in the neighborhood commented, "This act of kindness has MOVED me to tears, very INSPIRATIONAL to see!"
A student stated, "This was the best part of my week!"
Parents said, "We needed this! Are kids miss seeing their teachers."
A TREMENDOUS "THANK YOU" goes out to Ms. Kathryn Arnold! She approached me with this idea only 3 days ago and all I had to do is say, "yes!" Thank you Kathryn for planning this special day for us and I THANK everyone who participated by making our Simpson Staff Parade so incredibly successful!!!
The smiles you placed on your students faces today, "priceless!" 🙂
With the deepest of gratitude, Taffeta #NorossStrong#gcps2020