City Celebrates 7th Anniversary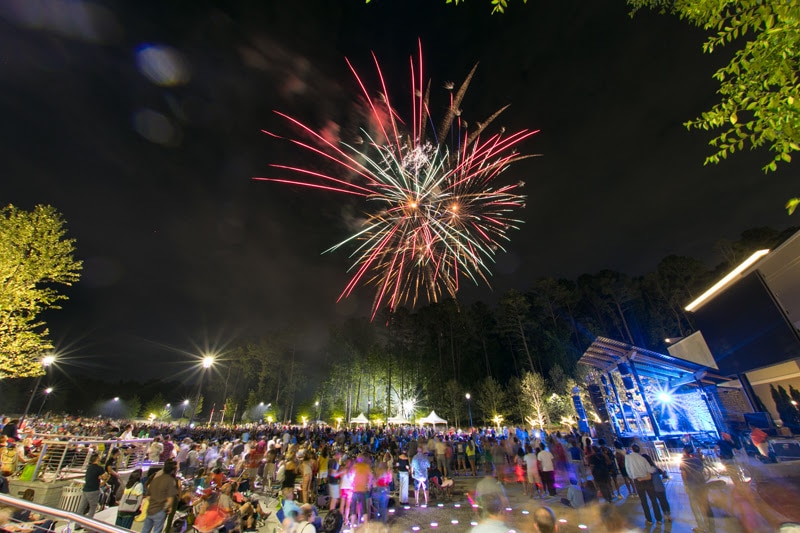 The City of Peachtree Corners officially celebrates its 7th anniversary.
This past Saturday city leaders, residents and guests celebrated the city's 7th anniversary two days early with an outdoor concert featuring Queen Nation and a fireworks show at its new Town Center. The mixed-use development officially opened April 27; the Town Center, has already hosted a number of outdoor concerts and other activities. Over 6,000 attended the concert and fireworks show on the Town Green.
The city's Town Center features numerous retail shops, 15 restaurants, a CineBistro dinner theater, and a 2+ acre Town Green. A gathering place for the community, the Town Green features plenty of open space for outdoor concerts, an elevated teak deck that overlooks the Green, children play structures. A number of restaurants feature dining that overlooks the Green which also includes a 2,500 square-foot Veterans Monument. Site work has begun on 70+ townhomes on six acres adjacent to the Town Green. The 21-acre development is located at 5200 Town Center Boulevard.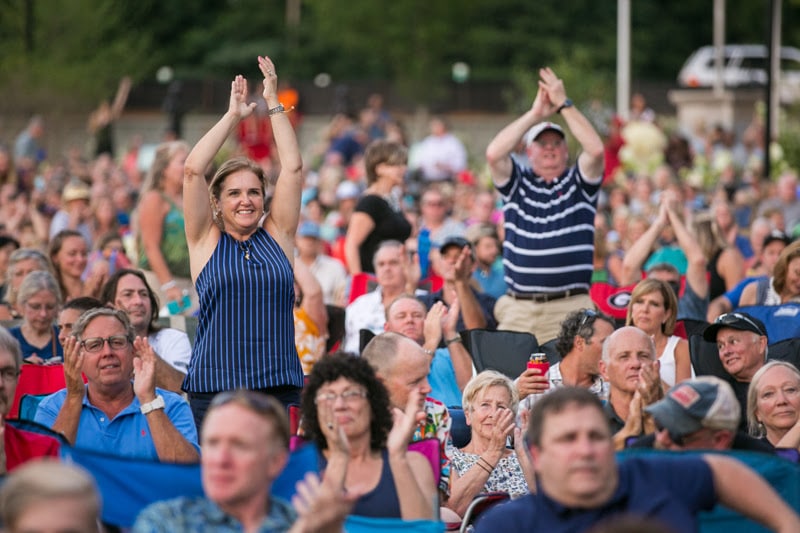 Thanks to prudent financial management, the city undertook this large-scale project with no additional cost to tax payers. The city will maintain its zero millage rate.
Happy 7th anniversary Peachtree Corners.
Meet New York Times Bestselling Author Karen Abbott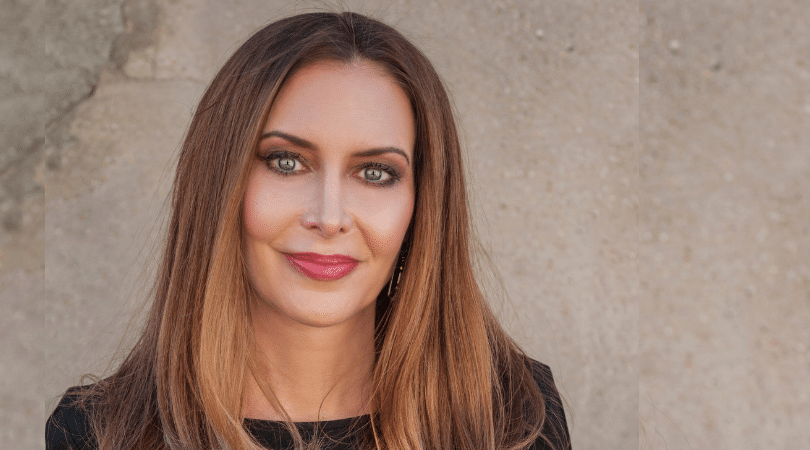 Karen Abbott is the author of Sin in the Second City, American Rose, and Liar Temptress Soldier Spy, which was named one of the best books of 2014 by Library Journal, Christian Science Monitor, and Amazon. She has written for The Wall Street Journal, The Washington Post, newyorker.com, and other publications. Her next book, The Ghosts of Eden Park, tells the story of "the Bootleg King, the women who pursued him, and the murder that shocked jazz-age America."
Join Gwinnett County Public Library and meet Karen Abbott on Friday, August 30 at 7:00 pm at the Peachtree Corners Branch, 5570 Spalding Drive, Peachtree Corners, GA 30092. Free and open to the public.
For more information, please visit www.gwinnettpl.org or call 770-978-5154.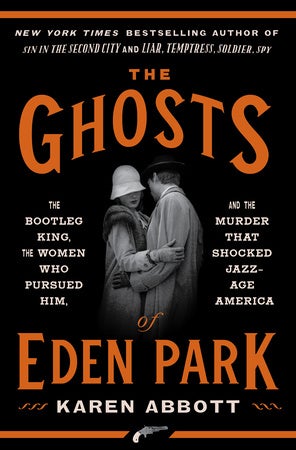 The Dark Crystal Ball: Gathering of Gelflings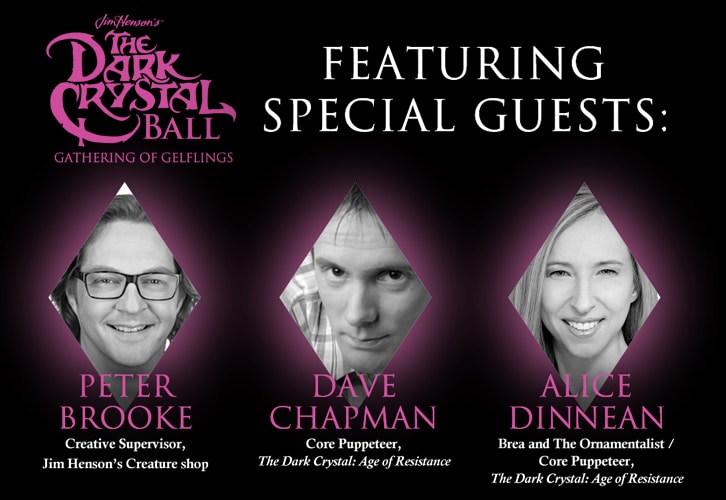 Before the darkening descends, your invited to gather at the Center for Puppetry Arts for their final ball honoring Jim Henson's The Dark Crystal: World of Myth and Magic.
Create a Dark Crystal-inspired costume or wear any fantasy attire. Festivities include celebrity guests, a costume contest, complimentary heavy hors d' oeuvres, and beer and wine for purchase.
Celebrity guests from the upcoming Netflix series The Dark Crystal: Age of Resistance include:
Peter Brooke – US Creative Supervisor, Jim Henson's Creature shop
Dave Chapman – Core Puppeteer
Alice Dinnean – Brea & The Ornamentalist, Core Puppeteer
Ages 21 and over only
Thurs, Aug 29, 7pm
Limited tickets are available and range from General Admission at $150 to ULTRA VIP Tickets $550.

Residents and Tytan Pictures Shine a Light on Peachtree Corners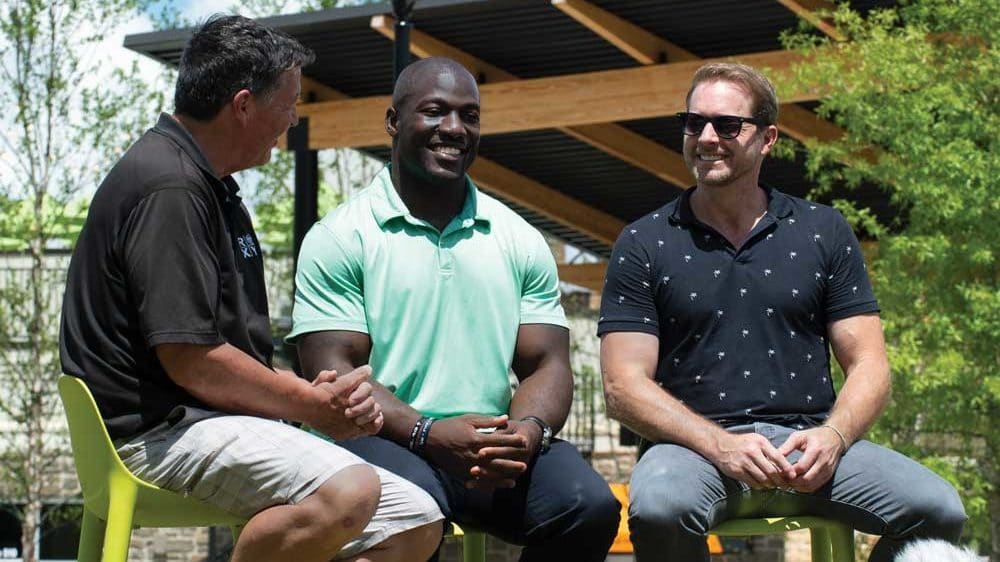 When Peachtree Corners City Manager Brian Johnson wanted to publicize what was happening in the city, he knew where to turn. "I'd worked with Brian 10 or 11 years ago," said Jim Stone, CEO, Producer and Director at Tytan Pictures, an award-winning production company based in Eatonton, Ga. "He came to me 2½ years ago, when my business had become more of a lifestyle marketing company producing short-form content and feature films."
Johnson asked for Stone's help with promoting the young city of Peachtree Corners and its vision. "Johns Creek and Alpharetta were doing a better job of attracting businesses and residents at that time," Stone said. "They were much more visible."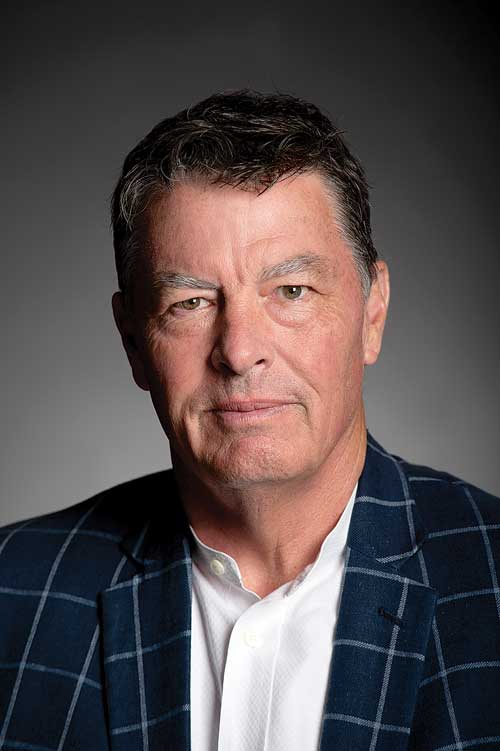 Instead of bringing in a large team and a plan that would cost several millions of dollars, Stone wanted to take a different approach. "For a fraction of the money and people, we created unique content using a YouTube network with four programs."
The programs include:
■ The Corners, videos that run under 10 minutes and cover food, fashion and fun topics with a hip, edgy and energetic vibe for people from 13 to 50.
■ Peachtree Positive, 10-minute and less videos of insight and information on what's new in Peachtree Corners, and,
■ Momentum, an interview format show that covers charities, companies and organizations with videos that range from 5 to 30 minutes long, "but without the investigative 'gotcha,'" Stone said. "We're here to bring positive light."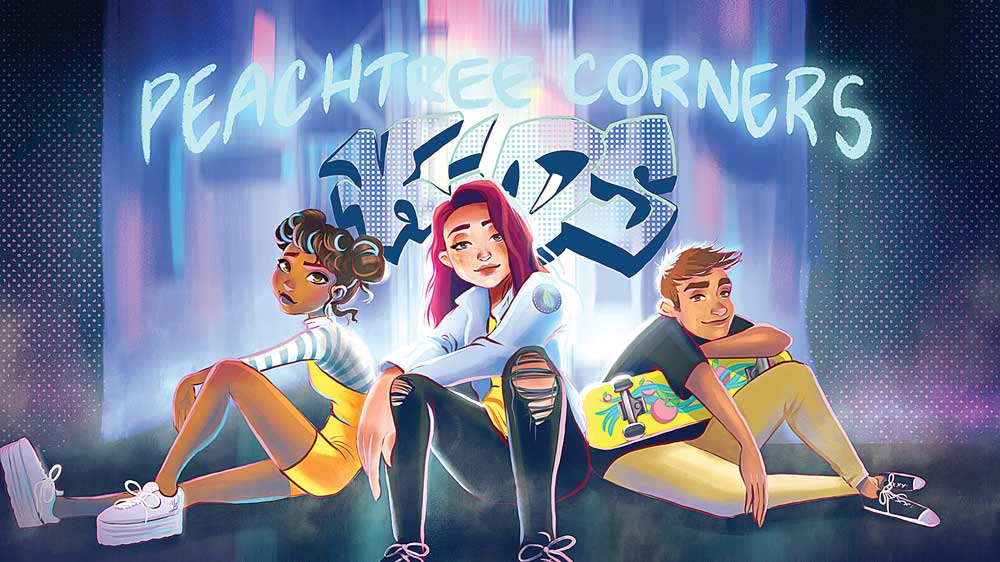 He said that PCN focuses on delivering professional quality content. "We stay agile and appropriate. We don't get political, and all our content is G- and PG-rated."
Stone also played a big part in the Veterans Monument on the city's Town Green. Bob Ballagh, executive director of the non-profit Peachtree Corners Monument Association, brought him into the project to film the stories of local veterans.
"Though I'm a civilian, I've done a lot of work with military special forces," Stone said. "I knew they wanted the monument to be interactive, and they asked me if we could do something like that. We created the interactive aspect of the monument."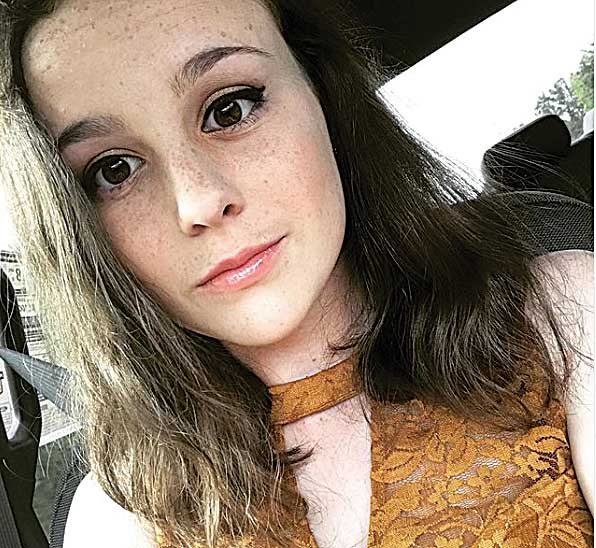 Peachtree Corners Kids on the horizon
There's a new project that Stone is working on for the PCN, too. "Peachtree Corners Kids will cover the community through the eyes of kids and teenagers. I'm very excited about it."
There is one person already cast for the show, according to Stone. "That is 15-year-old Karli Brown, a wonderful young actress who has been interning on the Tytan team and working with us in Peachtree Corners this summer." There are plans to send out a casting call in Peachtree Corners soon to cast more kids for the show, he said.
Connecting through social media
As good a publicity tool as PCN is, Stone had just begun. He turned to social media, and specifically to Instagram.
"None of the younger set watch TV," Stone said, "and, after all, attention is the new currency. Social media outlets, like Instagram, Twitter and Facebook, have 50 times the viewers as CNN, FOX and NBC combined. Social media was obviously the way to go."
He shared some impressive numbers: it took radio 38 years to reach 50 million listeners; television reached the same number of viewers in 13 years. The internet got to that level in four years. Instagram hit the 50 million user mark in 19 months, and YouTube got there in just 10 months.
Stone and his team began producing many of the Instagram posts and programs for #PeachtreeCorners and #PeachtreeCornersGA. But he wanted to get more activity on those accounts.
"The City of Peachtree Corners only has two people whose duties include working on media and public relations for the city—Judy Putnam and Mike Powell—as opposed to the many full-timers at other nearby cities," Stone explained. So Stone decided to take a different approach and came up with a 'smart' concept.
The people of Peachtree Corners tell their story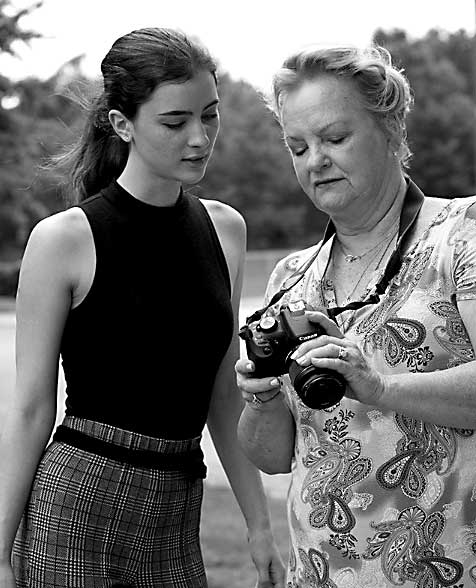 "I thought, let's let the citizens be the spokespeople, and we'll teach them to tell the story better," he said. Residents were not just asked to upload photos and videos; they were offered the skills to do a good job at it. "This way, we're energizing everyone!"
When his business transitioned into becoming a full capacity production house, Stone spent a great deal of time and money learning cinemaphotography from the best in the business. He decided to share what he'd learned with Peachtree Corners residents at no charge through free photography and social media workshops.
"We began offering seminars to teach people to how to film and photograph at a professional level," Stone said. "Generally, we have 20 to 25 people a seminar. However, our women-only seminar was standing room only!"
The gamble paid off big. Stone said that there's a core of about 20 to 25 people who've been supplying a steady stream of photos and content to Instagram. And the accounts have been tripling and quadrupling their followers steadily.
"We're crushing things as far as growth now," Stone said. "With #PeachtreeCorners and #PeachtreeCornersGA, we've pivoted on Instagram and we're continuing to push it very hard. Now we're leaning into LinkedIn."
Stone did make it clear that Alpharetta and Johns Creek still have larger numbers for their Instagram accounts, since those cities are more established.
"The City of Peachtree Corners is working very hard, and it's paying off. Curiosity Lab is the first of its kind, and it's drawing big names in the commerce, transportation and communication businesses," he said. "The world is watching."
Stone is motivating the residents of Peachtree Corners to make sure the world gets a close-up view of the good things that are happening here. ■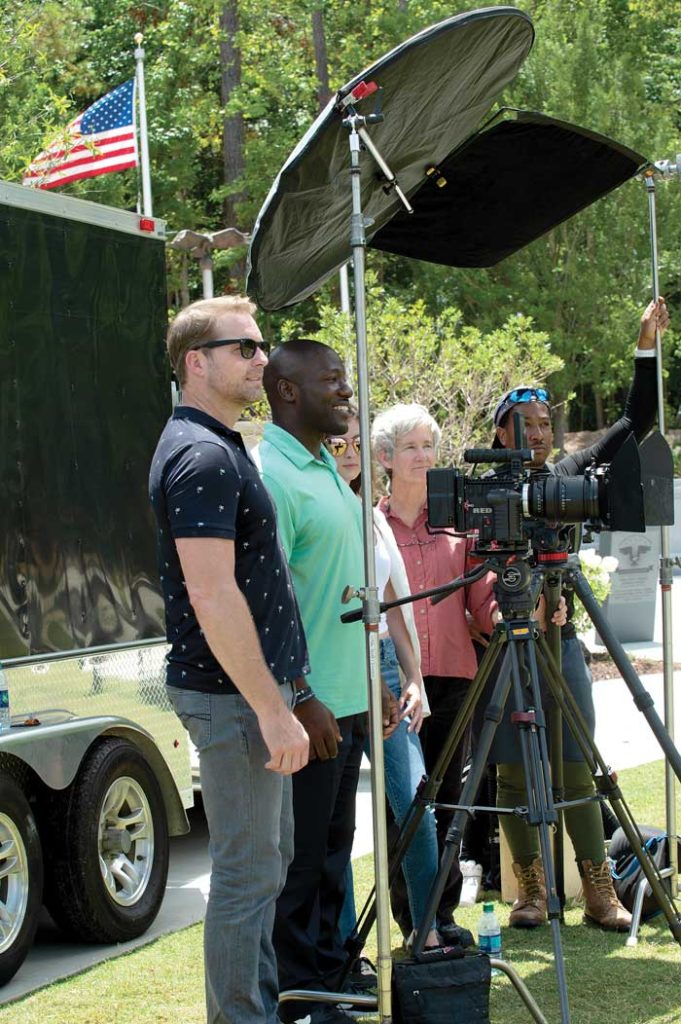 Movies and TV series shot in Peachtree Corners
More than 200 locations in and around Peachtree Corners and Gwinnett County have been used in films, TV shows, reality shows and commercials. Peachtree Corners film productions include:
■ Barely Lethal, 2015 film
■ Blind Trust, 2017 film
■ The Darkest Minds, 2018 film
■ Diary of a Wimpy Kid: The Long Haul, 2017 film
■ Dynasty, TV series
■ Game of Silence, TV series
■ Greenleaf, TV series
■ Halt and Catch Fire, TV series
■ Heart of Life, 2019 TV movie
■ Holidate, 2019 film
■ Lodge 49, TV series
■ Mother's Day, 2016 film
■ The Neighborhood Watch, 2018 TV movie
■ Ozark, Netflix TV series
■ Sextupulets, 2019 film