Alliance Theatre Season Updates

Alliance Theatre's drive-in production of A CHRISTMAS CAROL: THE LIVE RADIO PLAY will take place in Summerhill next to Georgia State University's Stadium, December 4 – 23, 2020 A VERY TERRY CHRISTMAS starring Terry Burrell will transition from in-person performances to the digital streaming platform Alliance Theatre Anywhere
Alliance's animated family production SIT-IN, originally scheduled for an October release on Alliance Theatre Anywhere, will trade places in the season calendar with the pre-recorded production of NAKED MOLE RAT GETS DRESSED: THE ROCK EXPERIENCE
ATLANTA, October 7, 2020 — The Alliance Theatre today announced the location details of its upcoming drive-in production of A CHRISTMAS CAROL: THE LIVE RADIO PLAY, as well as updates to its fall season schedule.
A CHRISTMAS CAROL: THE LIVE RADIO PLAY
Due to the effects of COVID-19, the Alliance decided to produce a new adaptation of the beloved Christmas Carol story that could be enjoyed safely from a car. From December 4 – 23, 2020, the Summerhill Lots at Georgia State University's Center Parc Credit Union Stadium will transform into a drive-in theater, with a stage for live actors and big screens providing a live concert-style experience. Capacity will be limited to allow for distance between cars. Audience members may enjoy the outdoor space beside their car if they wish. Masks will be required for anyone who is outside of their vehicle. Learn more about our safety procedures here.
Tickets for A CHRISTMAS CAROL: THE LIVE RADIO PLAY will be available for Alliance Theatre Members beginning today, October 7. Tickets for the general public will go on sale on October 21 at 10:00 a.m. General admission tickets start at $50 per car. The production will also be available to stream on Alliance Theatre Anywhere beginning in early December. The stream will cost $20.
A VERY TERRY CHRISTMAS
The Alliance's production of A VERY TERRY CHRISTMAS, originally planned for an in-person run on the Coca-Cola Stage, will now be filmed for streaming on Alliance Theatre Anywhere. In the filmed production, writer and star Terry Burrell will visit iconic Atlanta holiday destinations while sharing delightful stories and jazz-inspired versions of favorite holiday songs. A VERY TERRY CHRISTMAS will be available for streaming starting Black Friday, November 27, 2020.
FAMILY PROGRAMMING
The Alliance's first-ever animated production for youth and family audiences, SIT-IN, originally scheduled to stream on Alliance Theatre Anywhere beginning in October 2020, will now be streamed in early 2021. Switching places with SIT-IN in the season calendar is the hilarious family production NAKED MOLE RAT GETS DRESSED: THE ROCK EXPERIENCE. The Alliance Theatre's production of NAKED MOLE RAT GETS DRESSED was filmed in March 2020 before COVID-19 forced the production to close early. Families can experience all the fun for a limited time when NAKED MOLE RAT GETS DRESSED streams on Alliance Theatre Anywhere from October 21 – November 3, 2020. The stream will cost $10.
Two productions from the Alliance Theatre's Kathy & Ken Bernhardt Theatre for the Very Young are also available this fall for streaming – IN MY GRANNY'S GARDENis available now on Alliance Theatre Anywhere. (KNOCK, KNOCK) THE SOUNDS OF WINTER will be available in November. Families who purchase a Kathy & Ken Bernhardt Theatre for the Very Young membership will also have access to three TVY production streams plus at-home learning materials and fun, supplementary video content. The membership is $50 per family and the individual streams cost $10 each.
TICKETS
Annual Memberships for the Alliance Theatre are on sale now and are the only way to secure tickets now for A CHRISTMAS CAROL: THE LIVE RADIO PLAY. Members enjoy 12 months of world-class theatre, as well as a variety of benefits including members-only events, a welcome gift, discounts, flexibility, and free access to all streaming content. For more information, visit alliancetheatre.org/membership.
Single tickets for A CHRISTMAS CAROL: THE LIVE RADIO PLAY, A VERY TERRY CHRISTMAS, and NAKED MOLE RAT GETS DRESSED: THE ROCK EXPERIENCE will go on sale on Wednesday, October 21, at 10:00 a.m.
2020/21 SEASON SCHEDULE
NAKED MOLE RAT GETS DRESSED: THE ROCK EXPERIENCE (musical)
October 21 – November 3, 2020
Streaming on Alliance Theatre Anywhere
Book and Lyrics by Mo Willems
Music by Deborah Wicks La Puma
Based on the book Naked Mole Rat Gets Dressed by Mo Willems
Directed by Leora Morris
Children's book author and artist Mo Willems (Knuffle Bunny, Elephant and Piggie's We Are In a Play) brings another loveable character to life in this exciting family musical. Grab your friends and watch as Wilbur, a clothes-loving mole rat with exceptional style, navigates the pressure to be just like everyone else. With tail-shaking tunes, empowering messages of individuality, and classic Mo Willems humor, this musical is sure to rock audiences of all ages. For tickets or information, call 404-733-5000 or visit www.alliancetheatre.org/nakedmolerat.
November 27 – December 31, 2020​
Streaming on Alliance Theatre Anywhere​
By Terry Burrell​
Directed by Susan V. Booth
From author and Broadway icon Terry Burrell (Ethel; Ever After; Angry, Raucous, and Shamelessly Gorgeous) comes a holiday celebration of all the things that give us joy – even in the most chaotic of times. Terry will take us on a tour of her favorite Atlanta destinations while sharing her personal holiday stories and songs in this pre-recorded streaming production. Give yourself the gift of laughter, light, and love by spending a very Terry evening.​ For tickets or information, call 404-733-5000 or visit www.alliancetheatre.org/terrychristmas.
A CHRISTMAS CAROL: THE LIVE RADIO PLAY​
December 4 – 23, 2020​
Summerhill Lots at GSU's Center Parc Credit Union Stadium
18 Georgia Ave SE, Atlanta, GA 30315
By Charles Dickens​
Directed by Leora Morris​
JINGLE! JANGLE! DASH! The sounds of the season come to life in the Alliance Theatre's brand new, interactive experience A Christmas Carol: The Live Radio Play. ​JINGLE! Hear the bells jingle on the streets of Victorian England as you're transported back in time with Ebenezer Scrooge, Marley, and the Ghosts of Christmas Past, Present, and Future.​ JANGLE! Watch and listen to how a sound effect artist creates the jangling of Marley's chains in real-time with the story. ​DASH! Load up your sleigh (or car) in front of our drive-in theatre stage and big screen for an evening of stories, singalongs, and honking horns.​ For tickets or information, call 404-733-5000 or visit www.alliancetheatre.org/christmas.
SIT-IN (world premiere, animated)
January 8 – February 28, 2020
Streaming on Alliance Theatre Anywhere
By Pearl Cleage
Inspired by the book Sit-In: How Four Friends Stood Up by Sitting Down by Andrea Davis Pinkney; Illustrated by Brian Pinkney
A Palette Group Production
Directed by Mark Valdez
Written by Atlanta's bestselling author, playwright, and Civil Rights Activist, Pearl Cleage (Blues for An Alabama Sky, In My Granny's Garden, Tell Me My Dream) this original animated short celebrates the power of youth to change history. We meet three friends as they learn about the sit-ins of the Civil Rights era, and powerfully apply those lessons to issues they – and we all – face today. The play invites students, parents, teachers, and families to experience the Civil Rights Movement as a living, breathing energy with practical lessons, ethical challenges, and moral choices that remain relevant today. Presented in collaboration with the High Museum of Art's Picture the Dream exhibition, the story creates dynamic history, moving audiences through the real-life context of where we were then, the major forces that shaped the movement, and where we could be headed today. Featuring a mixture of Civil Rights anthems and new freedom songs composed specifically for the play, Sit-In will move audiences, encourage inter-generational conversations, and inspire the next generation of conscientious social activists. For tickets and information, call 404.733.5000 visit www.alliancetheatre.org/sitin.
THE NEW BLACK FEST'S HANDS UP: 7 PLAYWRIGHTS, 7 TESTAMENTS​
February 2021​
Coca-Cola Stage at Alliance Theatre​
By Nathan James, Nathan Yungerberg, Idris Goodwin, Nambi E. Kelley, Nsangou Njikam, Eric Holmes, and Dennis Allen II​
Co-Directed by Keith Arthur Bolden​ and Alexis Woodard
Presented by arrangement with Concord Theatricals on behalf of Samuel French, Inc., concordtheatricals.com
Originally commissioned by the New Black Fest in response to the 2015 events in Ferguson, MO, where a police officer fatally shot Michael Brown, an unarmed Black teenager, Hands Up is comprised of separate monologues written by seven Black playwrights. The play depicts the realities of Black America from the perspective of varying genders, sexual orientations, skin tones, and socioeconomic backgrounds. Hands Up is produced in association with Spelman College.​ For tickets or information, call 404-733-5000 or visit www.alliancetheatre.org/handsup.
DATA (world premiere; winner of the 2021 Alliance/Kendeda National Graduate Playwriting Competition)
March – April 2021
Hertz Stage at the Alliance Theatre
By Matthew Libby
Directed by Susan V. Booth
Maneesh is a brilliant entry-level programmer at Athena Technologies, a software development firm deep in Silicon Valley. Content to work in the low-stress environment of User Experience, Maneesh has a crisis of conscience when he is offered a transfer to the more-central Data Analytics team, where he learns the true nature of Athena's confidential and highly controversial work. Torn between idealism and company loyalty, Maneesh is forced to come to terms with his own American identity, as well as the personal and societal cost of his work — all while learning the extent to which Athena is willing to go to hide its secrets. Winner of the Alliance/Kendeda National Graduate Playwriting Competition, Data is a fast-paced drama for our technology-driven era that looks behind the closed doors of Silicon Valley. For tickets or information, call 404-733-5000 or visit www.alliancetheatre.org/data.
ACCIDENTAL HEROES – THE REAL LIFE ADVENTURES OF ROY ROGERS AND DALE EVANS (world premiere; musical)
April – May 2021
Coca-Cola Stage at Alliance Theatre
Book by Marshall Brickman (Jersey Boys, Annie Hall)
Music and Lyrics by T Bone Burnett (Crazy Heart, Walk The Line)
Directed by Des McAnuff (Ain't Too Proud, Jersey Boys, The Who's Tommy)
Heroes aren't born; they're made – with a little bit of luck.  Accidental Heroes – The Real Life Adventures of Roy Rogers and Dale Evans is the world premiere musical about the extraordinary rise of Hollywood's iconic Western stars. Over 80 million people every year watched the adventures of Roy, Dale, and their sidekicks – Trigger "The Smartest Horse in the Movies" and Bullet "The Wonder Dog." They are remembered as authentic American heroes, yet their paths to stardom were anything but straightforward.  Created by a renowned team of Tony, Academy Award, Grammy, and Olivier Award winners, Accidental Heroes – The Real Life Adventures of Roy Rogers and Dale Evans makes its world premiere on the newly redesigned Coca-Cola Stage at Alliance Theatre in April 2021. For tickets and information, call 404.733.5000 visit www.alliancetheatre.org/heroes.
TONI STONE
June – July 2021
Coca-Cola Stage at Alliance Theatre
By Lydia R. Diamond
Directed by Tinashe Kajese-Bolden
Presented by arrangement with Concord Theatricals on behalf of Samuel French, Inc., concordtheatricals.com
Considered a pioneer, Toni Stone is the first woman to play baseball in the Negro Leagues, also making her the first woman to play professionally in a mens' league. Against all odds, Toni blazes a path in the male-dominated sports world, breaking through the limitations others placed on her, and creating her own set of rules. Follow Toni's journey as she fights for love, equality and a chance to do what she wants the most — play some world class baseball. Declared the Best New Play of 2019 by The Wall Street Journal, Toni Stone is a funny and fascinating story of race, gender, and raw ambition… and an unheralded superstar you'll never forget. For tickets and information, call 404.733.5000 or visit www.alliancetheatre.org/tonistone.
KATHY & KEN BERNHARDT THEATRE FOR THE VERY YOUNG
IN MY GRANNY'S GARDEN
October 2020​
Streaming on Alliance Theatre Anywhere​
By Pearl Cleage & Zaron Burnett Jr​
Inspired by Pearl Cleage and Zaron Burnett Jr.'s children's book of the same name, In My Granny's Garden invites our youngest audiences to explore the glory of growing your own food. Watch a tiny seed become a field of corn, green beans, collard greens, and bright red tomatoes. Step into a visual feast inspired by world renowned artist Radcliffe Bailey's original paintings, and discover the one superpower that fuels Granny's garden. This fully immersive play promises to leave you nourished in body and soul. For tickets or information, call 404-733-5000 or visit www.alliancetheatre.org/garden.
(KNOCK, KNOCK) THE SOUNDS OF WINTER​
November – December 2020​
Streaming Audio Play on Alliance Theatre Anywhere​
By Samantha Provenzano and Olivia Aston Bosworth​
​Come in from out of the cold and celebrate community, family, and warmth this holiday season! Welcome to The Apartment Building. Below us, above us, and beside us, the residents are preparing for the holidays and trying to stay warm. Join us on a floor to floor adventure, meeting and ultimately celebrating with a variety of friends who all call The Apartment Building home. Surprises hide behind each door, all you need to do is (Knock, Knock) and listen closely to the sounds of winter and celebration. For tickets or information, call 404-733-5000 or visit www.alliancetheatre.org/wintersounds.
THE SOUNDS OF THE WEST END​
March – April 2021​
Streaming Audio Play on Alliance Theatre Anywhere​
By Will Power & R. Gregory Christie​
Conceived and directed by Ameenah Kaplan
Inspired by the children's book In the West End by Will Power & R. Gregory Christie, this aural adventure will immerse you in the sounds of the historic Atlanta neighborhood. From the talk on the sidewalks to the whoosh of the Marta trains, join us for a rhythmic and tasty trip through the epicenter of vegan cooking in Atlanta. For tickets or information, call 404-733-5000 or visit alliancetheatre.org/westendsounds.
Peachtree Corners Branch Library: 10 Most Popular Titles for Early Fall 2020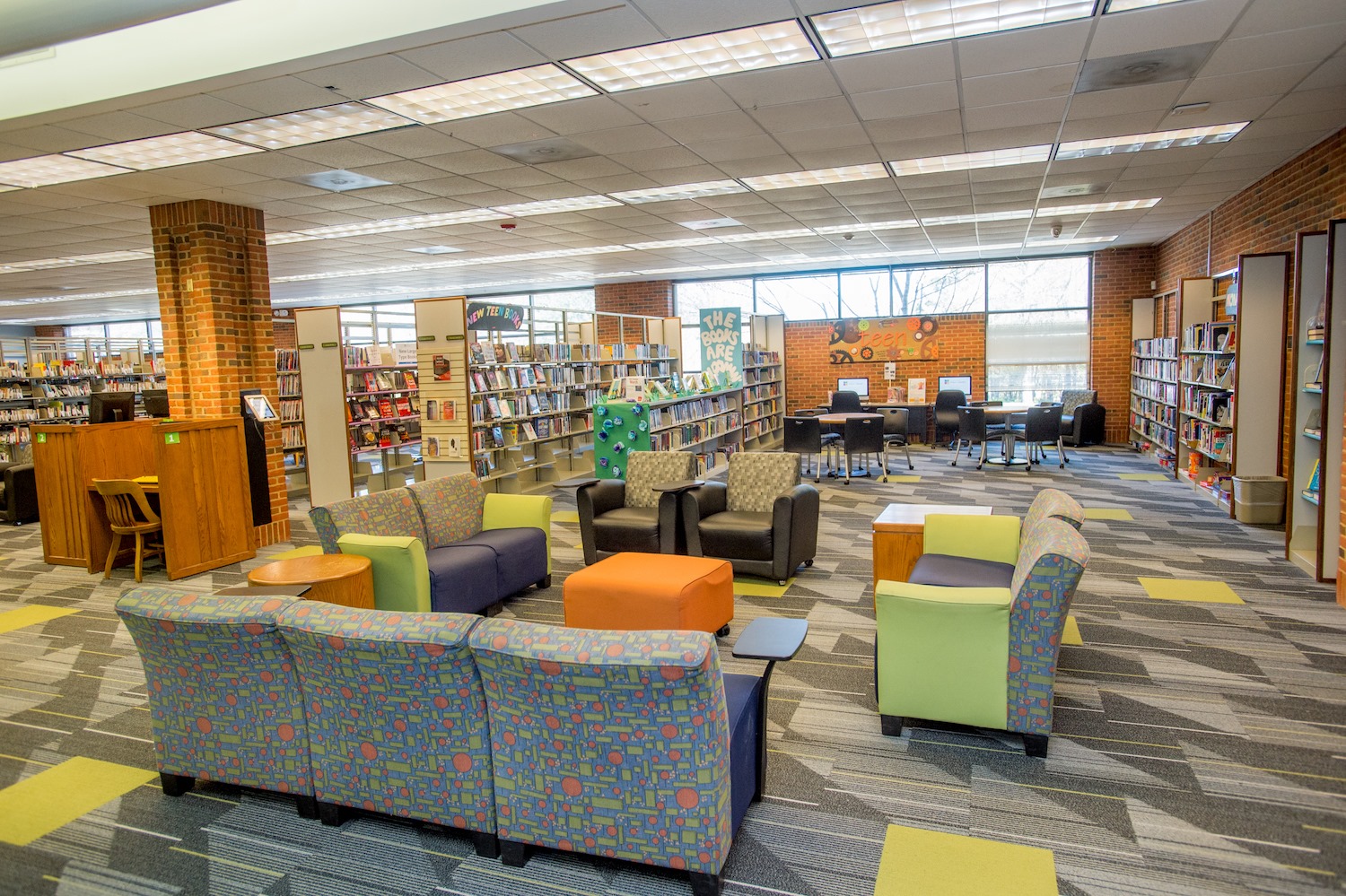 Library Branches in Gwinnett County reopened September 14 for computer use and browsing, so pick up the next great read. These are Early Fall 2020 Popular titles (Nonfiction and Fiction) listed from the Peachtree Corners Branch Library of the Gwinnett County Public Library system.
Non-Fiction Titles
1.) Educated: a Memoir by Tara Westover
2.) It's Not Supposed to Be This Way: Finding Unexpected Strength when Disappointments Leave You Shattered by Lysa TerKeurst
3.) Before and after the book deal: a writer's guide to finishing, publishing, promoting and surviving your first book by Courtney Maum
4.) The Body: A Guide for Occupants by Bill Bryson
5.) Grant by Ron Chernow
6.)  Never Eat Alone: and Other Secrets to success, one relationship at a time by Keith Ferrazzi
7.) 5 Conversations to Have with Your Son by Vicki Courtney
8.) 8 Ways to Avoid Probate by Mary Randolph
9.) ADHD & the focused Mind: a guide to giving your ADHD child focus, discipline & self-confidence by Sarah Cheyette
10.) Becoming by Michelle Obama
Fiction Titles
1.) Where the Crawdad's Sing by Delia Owens
2.) The Giver of Stars by Jo Jo Moyes
3.) Litter Fires Everywhere by Celest Ng
4.) Journey of the Pharaohs: a novel from the NUMA files by Clive Cussler
5.) The Red Lotus: a Novel by Chris Bohjalian
6.) The Alice Network by Kate Quinn
7.) The Gown: A Novel of the Royal Wedding by Jennifer Robson
8.) The Secrets We Kept by Lara Prescott
9.) Circe: A Novel by Madeline Miller
10.) The Dutch House by Ann Patchett
Thinking Outside the Branch: Librarians produce programs you can watch and join from home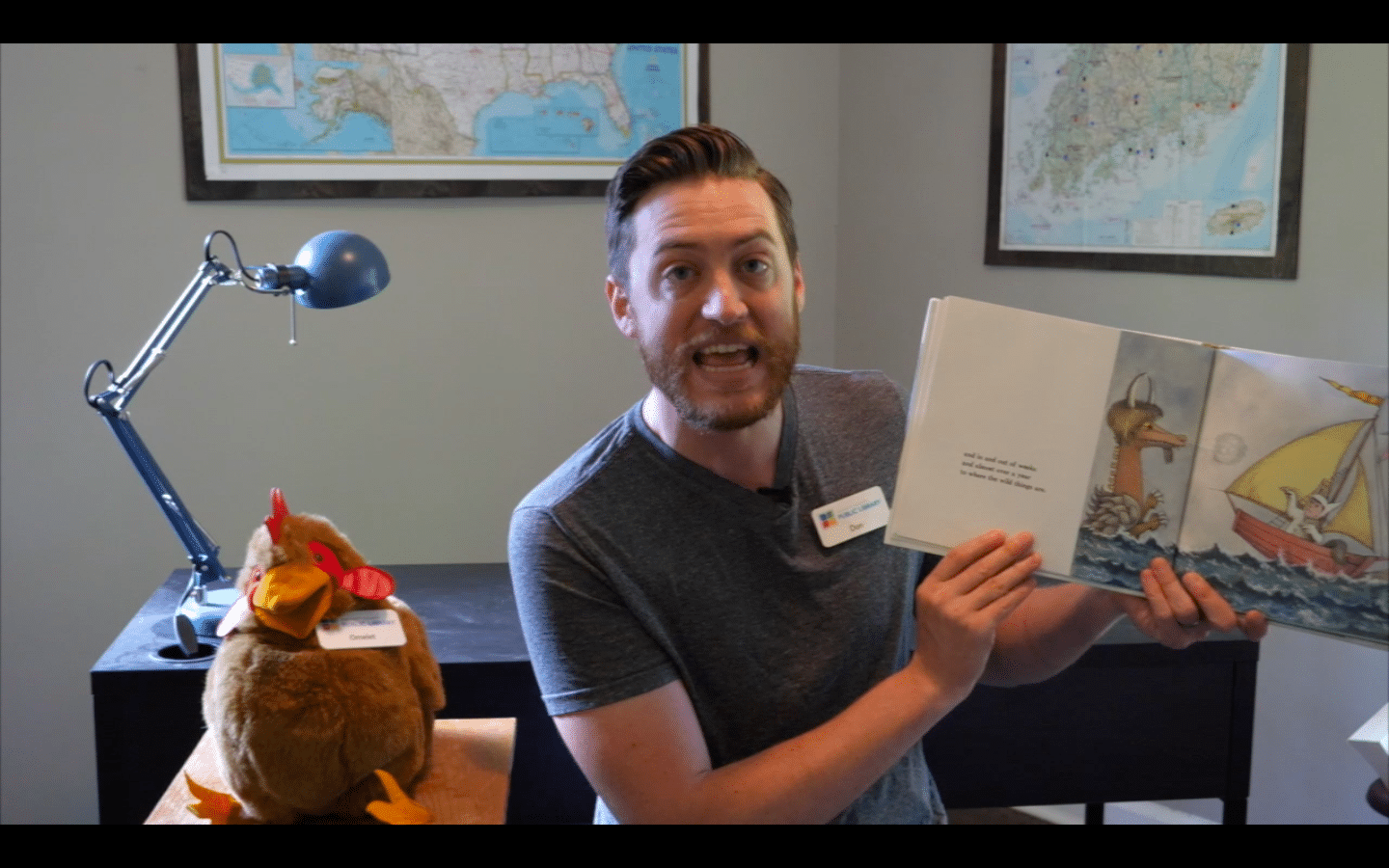 Librarian Becca Wamstad put herself through college by working as a Whole Foods baker. Today, her culinary skills are again being put to public use in a video series she calls "Baking with Becca."
Produced in her kitchen, the show is one of hundreds of homegrown videos produced by Gwinnett County Public Library staffers since March.
After COVID-19 shut their doors, librarians could no longer offer programs at their physical locations. But that didn't stop them from continuing to offer library programs.
They very quickly became video producers.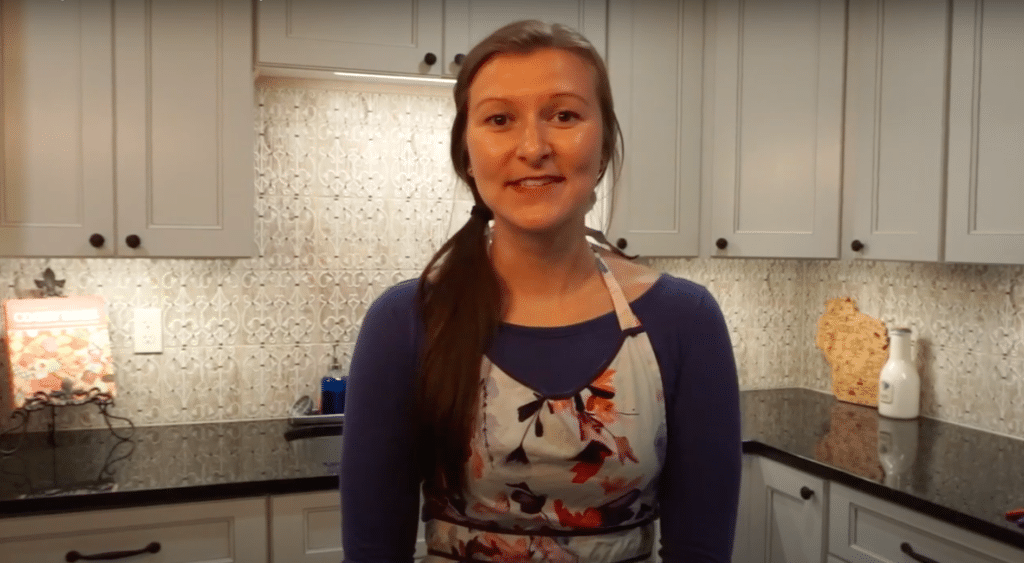 Librarians from the central office to the frontlines at branches are producing programs ranging from "Backyard Biology" and "Virtual Sewing Club" for kids to "Genealogy: Trace Your Roots" and an "Intro to Python" coding class for adults.
Anyone, anywhere can watch the library's videos on graphic design or a series on teas around the world. There's a virtual summer camp for kids and a series based on the Juneteenth commemoration of the end of slavery in the U.S.
About 30 to 40 new programs for kids and adults are posted each week on YouTube, Facebook and Instagram and promoted on the library's website, said Don Giacomini, a youth services specialist in the library system. Giacomini, who's also the storyteller and puppeteer on the library's "Storytime Takeout" variety show, praised the way library staffers have met the challenge of going virtual — from scrambling to master new technical skills to performing on camera.
"The stereotype of librarians is that we're very introverted people, and, in a lot of cases, that is very true. I think nobody could have ever envisioned what we are doing now … but I think it is indicative of the role that libraries have played over the past 20 years in that we are stepping up to provide community services," Giacomini said. "Our job has been to identify community needs and fill that gap."
Atlanta Reads!
The system now has its first ever live, virtual book club, called Atlanta Reads!
Guests can get a link to download a free copy of the book (or buy one) and then get a link to join a moderator a month later to talk about the book, said Denise Auger, who oversees adult programming for the system. Details can be found at gwinnettpl.org/virtual-book-club.
The library's very popular Author & Speaker Series — which has attracted authors such as Pulitzer Prize-winning journalist Rick Bragg — drew 6,001 guests out to hear 44 authors and speakers in 2019, Auger said. Find videos of some of these recorded programs at gwinnettpl.org/adults/gcpl-virtual-author-speaker-series.
New programs in the series are being done virtually and live, allowing guests to use chat boxes to ask the authors questions. Attendance has soared. An online session in May with authors Mary Kay Andrews, Patti Henry and Mary Alice Monroe drew 4,081 virtual guests, Auger said. Visit gwinnettpl.org/authorspeaker for the schedule.
Check out the library's YouTube channel to find many other programs for adults on topics such as gardening, cooking, starting a small business and help workshops for coronavirus-related job and landlord issues. (See info box for link.)
"Baking with Becca"
Wamstad's "Baking with Becca" was the first video to come out of the branches, Giacomini said.
A Hamilton Mill branch staffer, Wamstad said she's always loved doing programs in the library. But being filmed by her boyfriend for her first baking video was an entirely different story. "I never felt so nervous!" she said.
But she didn't cave, and she has gone on from that episode about baking rosemary parmesan bread to other baking episodes on blueberry coffeecake and lemon tarts. A biscuits-from-scratch program is planned.
Wamstad has proposed other programs awaiting approval, such as a Halloween special effects makeup tutorial using products found around the house and a session on DIY natural body care products.
"I definitely love the fact that we are such a resource for the community, and even outside the community, because our programs are available for anyone to view," Wamstad said.
Youth Services Specialist Jana King produces the bulk of the content for "Storytime Takeout," which recently posted its 34th episode. One of the harder things she said she's had to learn is how to engage a virtual audience.
"You don't really think about what you look like when you're (physically) reading a book to a group of children because you're interacting with them and pointing out things," King said.
But she's forging ahead, and, among other things, she's collaborating with her coworker
Sarah Martin to do a weeklong puppet camp for kids from July 27-31 that will be available online through the end of August. Find it by visiting classroom.google.com, hitting the + button, and entering the classroom code jp3dagl.
King encourages people to tell the library what they'd like to see in the way of programs. "We are brainstorming all the time about new content and new ways to get early literary skills out there to our kids and help them in this time," she said.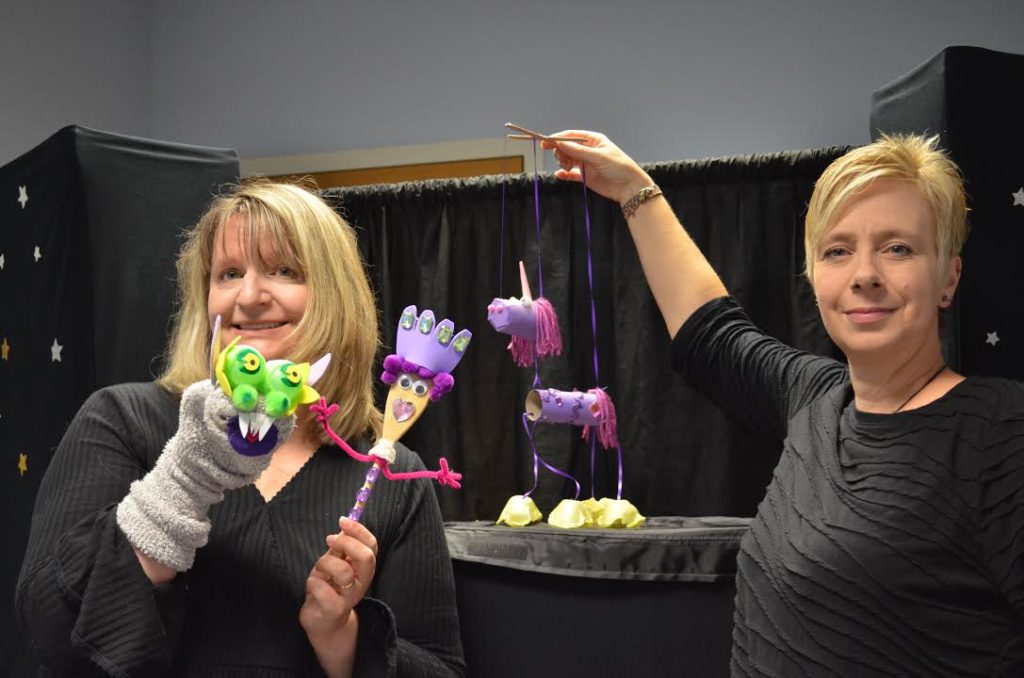 Peachtree Corners Branch
Gwinnett library branches reopened briefly this summer but closed again effective July 23. All branches will offer only curbside holds pickup, except for the Duluth Branch which is closed until further notice.
"There is now substantial data to show Gwinnett's COVID-19 fighting infrastructure is becoming strained," the library said in a public announcement on its web page. "We also see rising numbers of customers visit the library without masks, exacerbating the potential for germ spread."
Peachtree Corners Branch Manager Karen Harris said patrons who came in after they reopened told staff how much they'd missed them.
"My staff is so creative and so ingenious. We're doing well," she said at that time.
Ongoing branch programs are now online, including "Common Threads," a large group of seniors who knit, crochet, embroider and quilt, and two writing programs — one for teens and one for adults.
Harris said other proposed virtual programs await approval. Among them are a senior singing program for all ages called "Virtual Senior Moments," "Reading Rock Stars" for middle schoolers and "Fiber Arts Fridays" for all ages.
Other proposed virtual programs include a book club for adults, family game nights, a "Voting 101" program, and a session on "Fake News." Find scheduled programming on the library's website, gwinnettpl.org.
Catch a library video!

• Facebook
• YouTube: Click 'Videos' to see a list of programs.
• Library event calendar
• Beanstack (online reading program)
• Learning Labs
City Names its New Multi-Use Trail and Unveils First of Six Trail Art Sculptures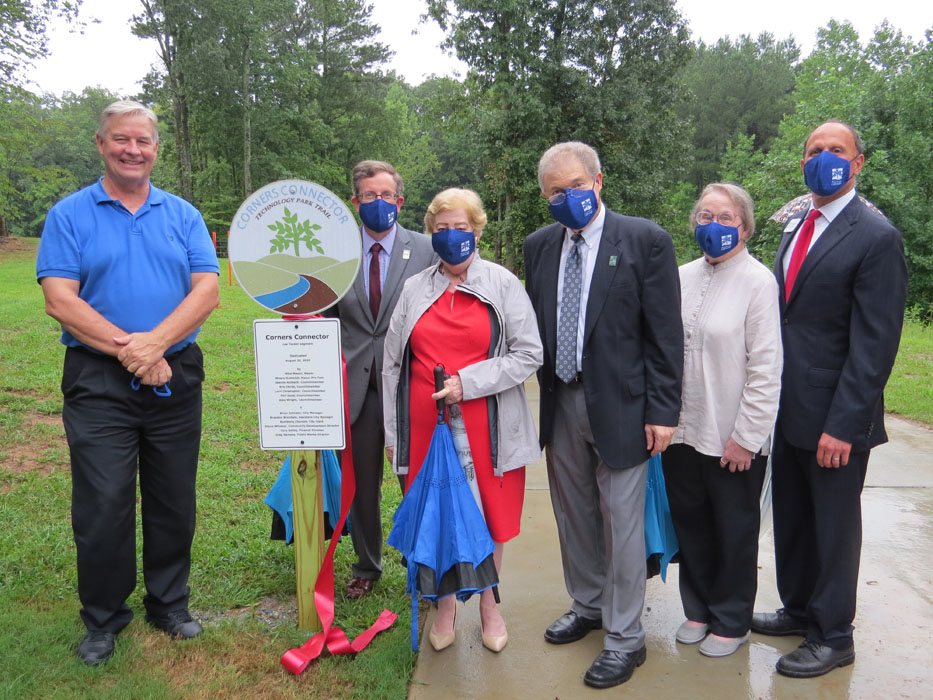 On Tuesday afternoon during a special presentation and ribbon-cutting event, the Mayor and Council celebrated the opening of a new section of its 11.5-mile multi-use trail system. They also announced the name selected for the trail — and unveiled the first of six sculptures to be placed throughout the city.
In the city's name-the-trail contest "Corners Connector" was chosen for the name of the city-wide trail which will wind throughout the community connecting neighborhoods to parks, shops, restaurants and offices. Mr. Randy Gilbert, a long-time resident, selected the winning name chosen from over 150 entries.
Mr. Gilbert was on hand to help cut the ribbon on the new 1/3-mile section of the trail which runs around a portion of the 7-acre Technology Park Lake. This newest section has a plaque dedicated to Mr. Lee Tucker in recognition of his efforts in ensuring the city had the land needed for the trail expansion. Future plans will include the trail to encircle the entire lake.
"The trail is a great asset to Peachtree Corners and well worth the effort to build it," said Mr. Gilbert. "I can see many people enjoying it in the years to come."
In several in-person and online surveys, citizens ranked multi-use trails among the most desirable and valued community recreational assets. The city envisions that the Corners Connector will not only serve as an alternate means of travel but will also be a linear park offering unique amenities and programs for its residents.
"This is an exciting moment for our city," said Mayor Mason during the event. "We hope our citizens, and those who work here in Tech Park, enjoy this new amenity. We look forward to celebrating each section of our "Corners Connector" trail as it is completed. We are also conducting feasibility study now to add a 3 ½- mile walking trail along Crooked Creek. We hope to have more news on that proposed section soon."
The new button-shaped sculpture, which is located at the entrance to the lake-side trail section, is part of a Gwinnett-wide effort by a nonprofit organization, Button Art, to showcase the county. The city plans to install a total of six of the round-shaped Button Art sculptures, each depicting a theme based on the area of town in which it is located. Button Art, Inc. is a nonprofit created to further the love of art in Gwinnett County. The project was inspired by Button Gwinnett, the county's namesake.
The city's first sculpture features a friendly-looking robot walking a robotic dog, a nod to the many high-tech businesses located within Technology Park. Local artist, Lance Campbell has designed the artwork for the city's six sculptures which are among 200 that will be sprinkled throughout the county.  
Visit www.buttonart.org for more information on the Button Art project.