Brewing Success: Anderby Brewing works through pandemic challenges to keep growing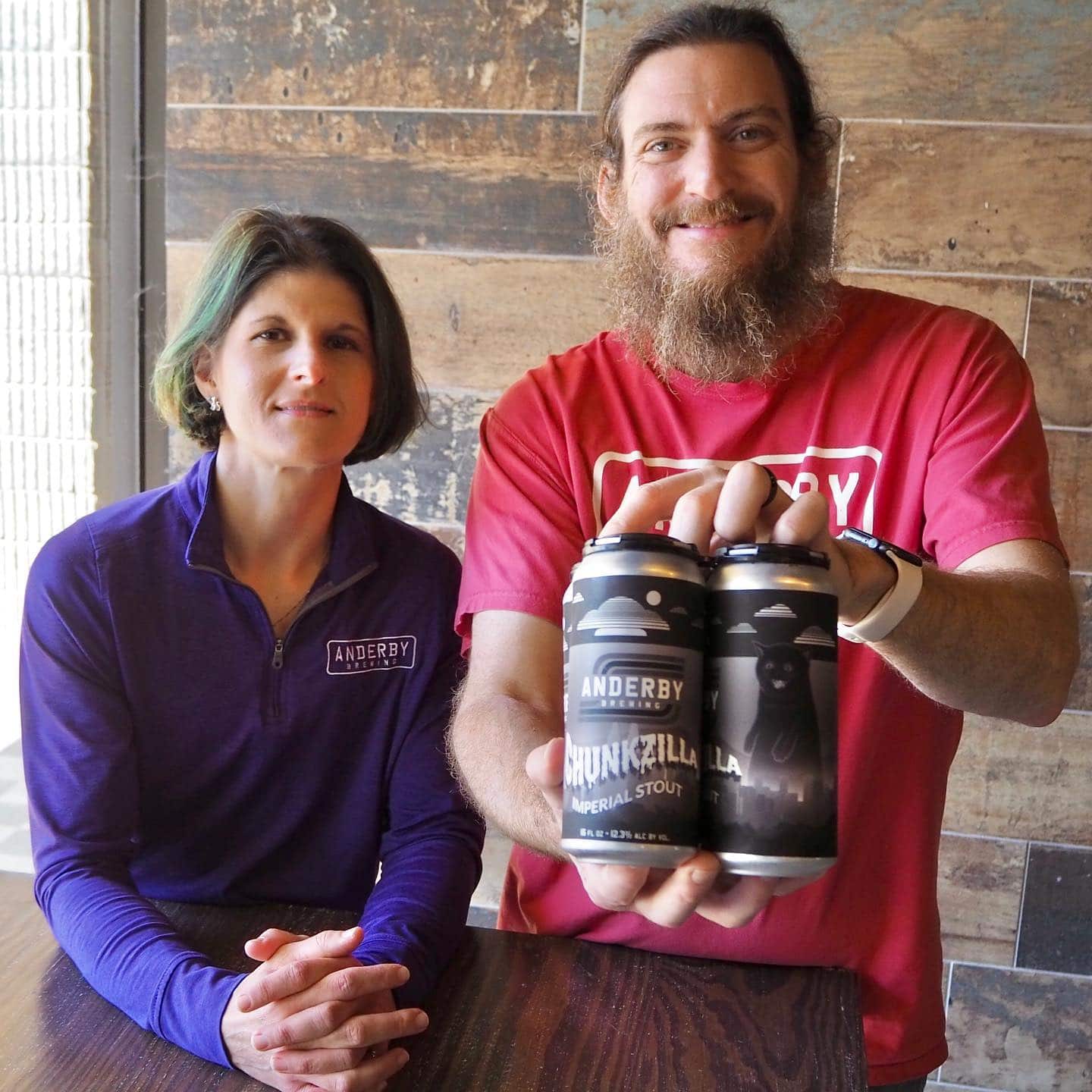 The signs were promising for Peachtree Corners first brewery — Anderby Brewing.
The fledgling operation on Technology Parkway debuted in August of 2019, and the taproom was generating steady revenue. Growlers were heading out the door. A third-party operator provided some canning of their product for package sales, albeit at no resulting profit. Owners Preston and Michell Smelt projected that March of 2020 was to be their first break-even month. COVID-19 had other plans.
Pressures from the pandemic
The taproom closed and didn't reopen until the Memorial Day weekend as Georgia shut down for a time. Restricted or shut-down food and drink establishments stopped ordering kegs.
Still able to offer to-go sales from their production facility, the couple proved the adage that necessity is the mother of invention. They found a supply of bottles and cranked up equipment that Preston had found at an auction. Some monotonous, not-much-fun work ensued.
"There we were in the back with a counter pressure bottler and it would take us literally all day to do two or three kegs of beer," said Michell. "No matter how tedious, that's what we did — and actually, for a while, it was working out pretty well. That's when we started talking about having a canning line."
Sales of to-go bottled beer, leftover canned product from a prior run and a $26,000 CARES Act grant got them through to Memorial Day.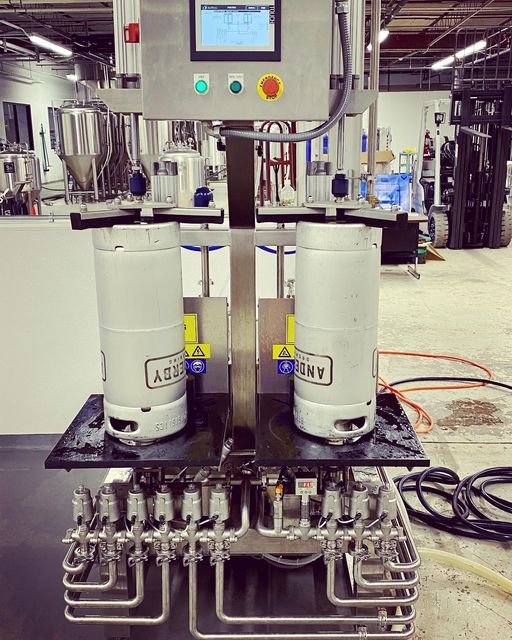 Profits in the can
What the couple talked about in those uncertain shutdown days is now a reality — a newly-arrived $50,000 canning and labeling setup. The long-awaited equipment ordered in March showed up at the end of October. It operates at nowhere near the dizzying pace of larger operations that can turn out 100 finished cans of suds a minute, but it does produce four or five cans in 60 seconds time, about two barrels per hour. They are staking a path to profitability on it.
And they say the timing was providential. The manufacturer of the equipment rolled out the smaller-scale model in February of this year; that cost just half to less-than-half the price that a canning line would normally run for smaller startups.
It proved both a blessing and a curse. It gave them the ability to can beer at an affordable price, but so many smaller brewers ordered the smaller model that a months-long backup resulted.
But now they say, "We're sending a lot of packaged beer out the door and that's making a huge difference for us." The 16-ounce four-packs are headed to destinations, including high-profile chain Total Wine, with which they've struck a solid partnership deal.
Improved technology means improved taste
Preston said the switch to canning makes sense from any number of standpoints. As he explained, "In the craft beer industry, cans were always looked down on for the longest time because the older canning technology wasn't great. A lot of people would pick up subtle metallic tastes in the beer, especially with craft beer, which is a little more sensitive because we don't pasteurize and most of us don't filter."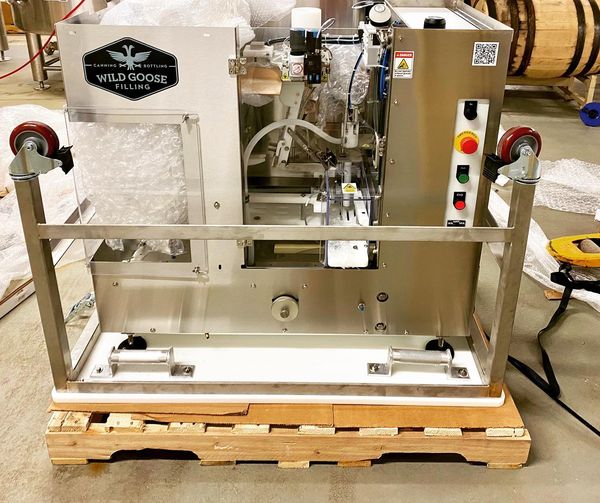 The canning companies have improved their technology and a lot of the old issues have gone by the wayside, he said. On the purely economic side of the equation, Preston said that for what it would cost them to buy 6,000 cans, they might only get 2,000 bottles — a significant price point difference.
The co-owners said they have 19 beers on tap, and already eight or nine of them have been pumped into cans with all to follow eventually. The canning approach is part of an industrywide trend, they explained.
Growing the brand
As to what consumers browsing beer coolers can expect to find in those Anderby-labeled cans, well, that's undergoing an evolution.
"When we first started, I was really trying to dabble in a number of different styles, trying to figure out what our niche should be," said Preston. After gauging the marketplace and working with a consultant, they've narrowed their focus to three areas: hazy IPAs, heavy imperial stouts and fruity sours.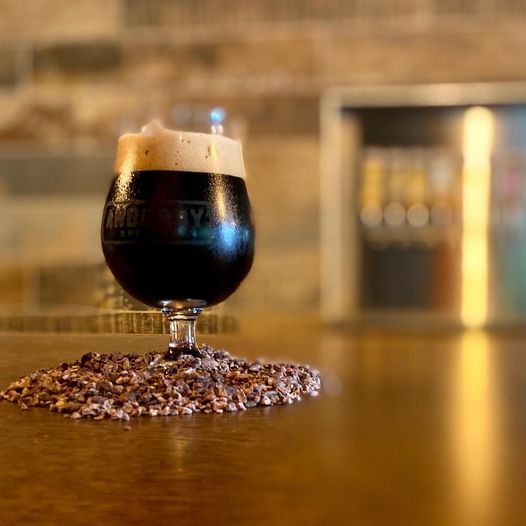 He said those three varieties account for 60% to 70% of craft beer sales nationally, and they also do well from a package sales standpoint. Their beer list will be changing to reflect that emphasis in the coming weeks.
The Smelts said they decided on only rotating offerings, an approach that some other craft brewers eschew because "the key thing for offering core beers is you have to make a lot of them, and we can't." Preston said the core approach doesn't work without a heavy restaurant presence.
The ever-changing aspect of their offerings should appeal to those venturing into their taproom with the notion that repeat customers who see an unchanging beer list will eventually quit showing up, according to Preston. The couple added that on occasion, however, what has been a signature beer may well make a comeback, like their popular "Get off My Lawn" IPA.
Future plans
Anderby has the capacity to brew 2,500 barrels a year, and they're now at a rate of under a thousand. So far, they've not hiked production, but they anticipate increased demand that will boost them to that level — with the resulting distribution cash flow bringing them into the black.
"Once we get maxed out and can't really do any more on our current system, then we'll start to talk about expansion," said Preston. "We have some penciled-in plans on what the next round would look like."
They said a bigger footprint would include additional fermentation tanks, more staff and consideration of a higher-volume canning line. One thing it would not include is a relocation. The co-owners said they could quadruple their current production capacity without having to move.
"That was one of the benefits of moving into this building — to have the room — because the last thing we wanted to do was get into a spot, grow and then have to find more space," said Michell. "Here [in a large facility] we can grow and not have to find more space in a couple of years."
Whatever shape future plans might take, they credit the City of Peachtree Corners with helping to make the setting-up-shop process in their current location and configuration a positive experience by facilitating necessary changes in the city zoning code to allow for operation of a production brewery.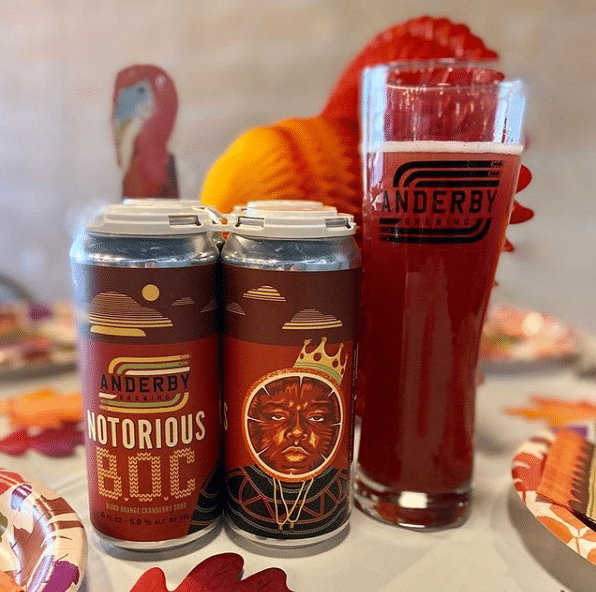 "Other nearby cities we talked to seemed encouraging, but then they didn't actually do anything, "Preston reported.
As to what niche they may grow into in metro Atlanta, he said, "If we get to the point where we are the destination brewer for someone coming into the Northeast OTP area, we'll be happy."
Peachtree Corners Deploys Cawamo's Industry-First AI Camera Tech For COVID-19 Safety and Security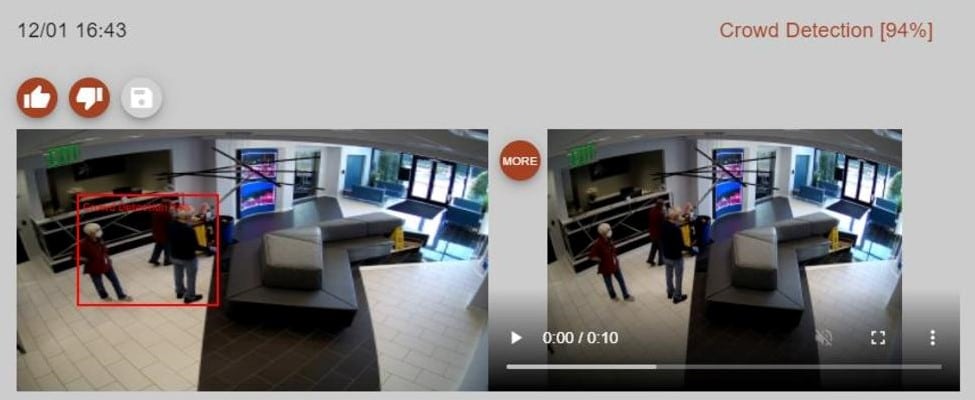 Peachtree Corners – the nation's first smart city environment powered by real-world infrastructure and next-generation connectivity – announced the addition of revolutionary artificial intelligence-powered camera technology from Cawamo at City Hall – aimed at increasing public safety and preventing the spread of COVID-19. The international firm's proprietary technology enables existing cameras to determine if someone is not wearing a mask or a group of people are not observing social
distancing guidelines, immediately alerting city personnel.
"As further reflection of our smart city leadership, our work with Cawamo to customize a COVID-19 monitoring system for City Hall shows how technology is helping to solve modern problems, while also prioritizing privacy," said Brandon Branham, chief technology officer and assistant city manager of Peachtree Corners. "Our highest priority, and the aim of a smart city concept overall, is the safety and security of our residents and we firmly believe this technology will help us maintain important public safety protocols as we work to slow the spread of the virus. Allowing us to instantly convert existing cameras into smart cameras also shows promise for wider deployment across the city, in addition to within workplaces in the near future."
Feature rich platform – combining artificial intelligence, cloud and edge computing
Accuracy: Combined onsite edge and cloud AI technologies work together to generate high-quality,accurate alerts with virtually zero false alerts
Universal: System can be installed on any existing camera or DVR/NVR
Privacy: Object detection done without facial recognition – no personal identifiable information used in COVID-19 monitoring
Cost-Savings for City Government: Cawamo offering municipalities free COVID-19 monitoring service with purchase of onsite equipment
"As the first cloud-edge video analytics company to develop mask and social distancing detection technology that connects with any existing security camera, we are thrilled to be helping the City of Peachtree Corners keep its citizens safe using the already-installed security cameras around the city," said David Yakov, CEO of Cawamo. "Peachtree Corners is a premier smart city known around the globe for its dedication to the development of emerging smart city technologies, so it was a no-brainer for it to be the first city in the United States to deploy the technology. We are honored to be providing mask and social distancing monitoring for the city and hope we can expand our footprint and help other municipalities, businesses and organizations with the same level of protection."
For more information or to schedule a briefing with city leadership, contact Judy Putnam, Communications Director at jputnam@peachtreecornersga.gov or 770-609-8821.
Source: City of Peachtree Corners and Curiosity Lab of Peachtree Corners Press Release
Recognition for Advancement in Homeland Security Technologies, for Peachtree Corners company and others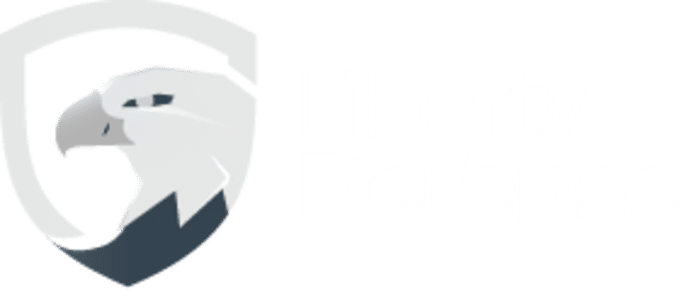 The Israel-U.S. Binational Industrial Research and Development (BIRD) Foundation is announcing awards for two collaborative projects totaling $1.5 million to develop advanced homeland security technologies in the areas of threat detection and 3D mapping. The BIRD Homeland Security (HLS) program is a joint initiative funded by the U.S. Department of Homeland Security (DHS) Science and Technology Directorate (S&T) and the Israel Ministry of Public Security (MOPS).
"The BIRD HLS program gives us the opportunity to bring some of the best U.S. and Israeli technology companies together to address our broad homeland security needs," said DHS Senior Official Performing the Duties of the Under Secretary for Science and Technology William N. Bryan. "These strategic partnerships will develop innovative solutions that will enhance safety and security around the globe."
The 2020 HLS awardees include:
Liberty Defense Technologies (Peachtree Corners, Georgia) and Levitection (Haifa, Israel) will develop a detection solution based on electromagnetic imaging and artificial intelligence to detect threats and concealed items in wide-open areas.
Hivemapper (Burlingame, California) and Ception Technologies (Jerusalem, Israel) will develop a fused air and ground 3D mapping system.
Dr. Eitan Yudilevich, Executive Director of the BIRD Foundation, said, "BIRD HLS attracts innovative American and Israeli companies and encourages synergistic partnerships to develop solutions that will fulfill critical homeland security needs in both countries. We look forward to continuing our work with DHS and the Israel Ministry of Public Security and to the next cycle in 2021."
Since 2016, DHS S&T has partnered with the MOPS on the BIRD HLS program to seek solutions to advancing first responder technologies. This year's call for proposals included six additional areas for U.S. and Israeli collaboration:
Cyber crime
Critical infrastructure and public facilities
Safe and secure cities
Border protection
Unmanned aerial systems
Advanced technologies for first responders
The BIRD Foundation is a unique U.S.-Israeli partnership that accelerates cooperation between U.S. and Israeli companies, academia and other research institutions in a wide range of technology sectors to foster strategic partnerships between companies in both countries for the purpose of joint product development.
DHS S&T focuses on providing the tools, technologies, and knowledge products the nation's Homeland Security Enterprise needs today and tomorrow.
Source: News Wise
January 2021- Message from Mayor Mike Mason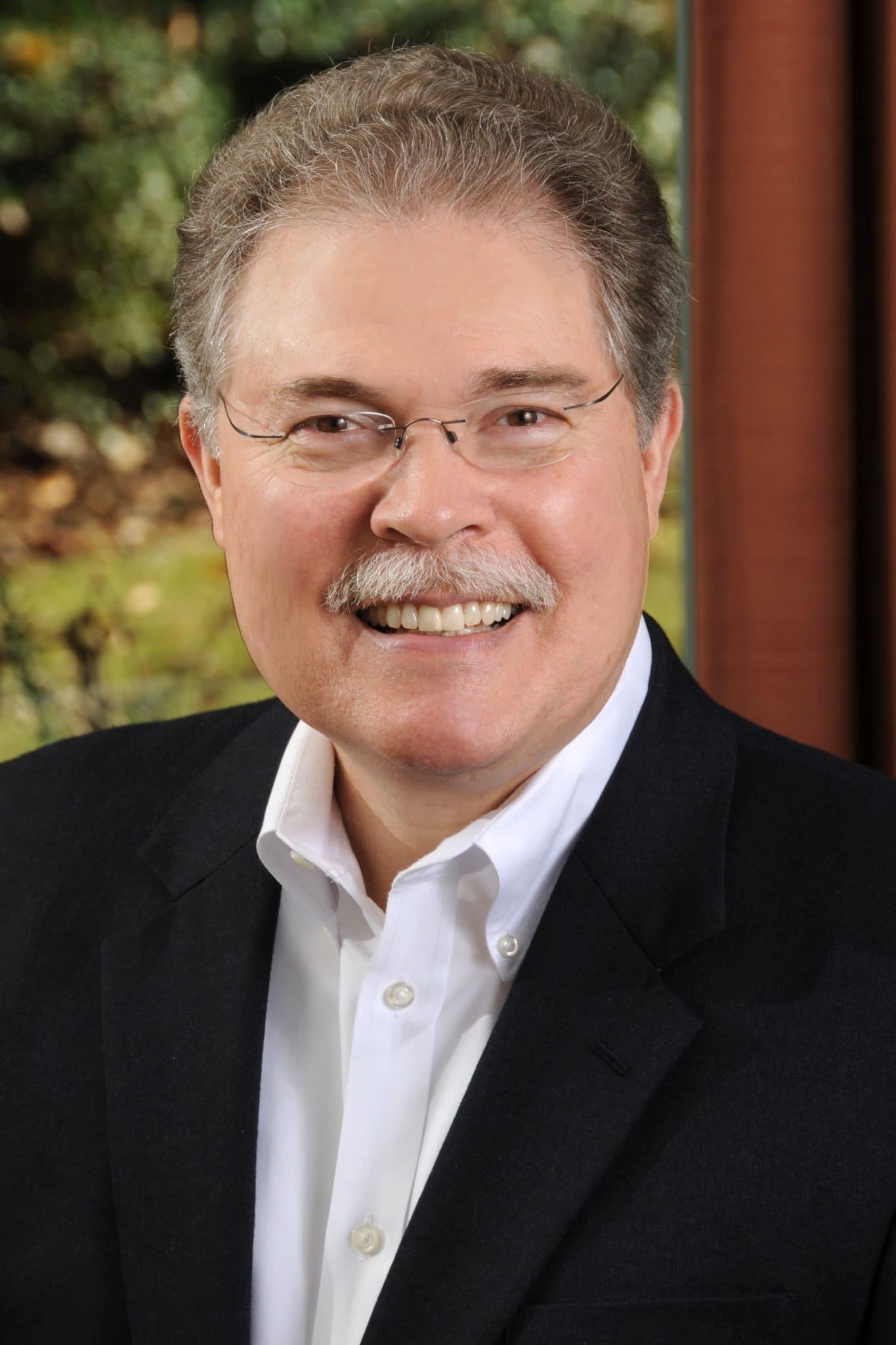 Looking Ahead to a New Year
2020 was tough. Who thought we would face a pandemic that virtually turned our lives upside
down? On one thing we all agree: we're happy to say good riddance to 2020! The new year
brings us hope with the release of the COVID-19 vaccine. We eagerly await news from the
Georgia Department of Health on when and where the vaccines will be available and will pass
along that information as soon as we can.
Despite the restrictions imposed by the coronavirus, the City accomplished quite a bit in 2020. We continued our efforts to keep you safe with the addition of 25 video cameras with license plate readers (installation to be completed in the first quarter of this year). For pedestrian safety, a bridge that carries walkers, joggers, and cyclists over Peachtree Parkway (S.R. 141) opened last fall. The bridge is part of the Corners Connector trail system that, when complete, will connect residents to shops, restaurants, and businesses around an 11.5-mile multi-use trail. In August we opened a new section of the trail that skirts Technology Lake in Tech Park. The scenic path winds along the lake's shore and will eventually encircle the entire lake.
On the business front, the city processed over 370 new business license applications in 2020. Additionally, CarMax announced an expansion last spring adding 200 additional positions at its location on Peachtree Parkway, and Soliant Health, a health care recruiting company, relocated to Tech Park bringing an additional 400 new jobs to our city.
In the fall, we were able to provide CARES Act funding to a number of small businesses that struggled to keep their doors open since the coronavirus struck. The city dispersed $2.66 million in small business assistance grants to 118 local businesses.
Additionally, at its December meeting, the council appointed board members to the city's new
Redevelopment Authority, that will provide renewed focus on reinvigorating the Holcomb
Bridge corridor and other areas of the city. The Authority can plan, administer, and implement
redevelopment and community improvement projects, as well as aid in identifying and obtaining public funding for industrial, commercial, or residential improvements or expansion projects. The Authority brings new tools which, we hope, will bring developers interested in investing in this highly visible and important gateway of our city.
The Authority board is made up entirely of Peachtree Corners residents who have broad backgrounds such as attorneys, real estate professionals, educators, and engineers. The members come from all geographic areas of the city and include men and women of different races. Councilmember Phil Sadd and Mayor Pro Tem Weare Gratwick will serve as ex-officio non-voting members.
Some of you have asked why much of the city's initial redevelopment efforts began with the
Tech Park and Town Center area instead of the Holcomb Bridge corridor. With respect to Tech Park, it is important to understand its role as the economic driver for our city which supports the quality of life and high home property values we all appreciate. When the city was founded in 2012, however, some of its anchor businesses had relocated to newer technology parks in the surrounding metro area and the office vacancy rate was skyrocketing. By focusing our efforts on re-invigorating Tech Park, it re-established our city as the technology hub that Paul Duke envisioned some 40 years ago.
The development of Town Center is a similar story of necessity reprioritizing your best intentions. The city had only been established for about 10 months, when news that the 21-acre property across from The Forum was destined to be a 263-garden style apartment development. I can tell you, buying this land had not even been on our radar when the news came out that this undeveloped property in a prime location had been sold to an apartment developer. If we had not acted swiftly and purchased this tract, none of us would be strolling along the Town Center sidewalks to take in the shops, restaurants, and outdoor concerts we've all come to enjoy.
When we became a city just a little over eight years ago, our first thought was to focus on reinvigorating the Holcomb Bridge corridor. However, the situations we faced required us to redirect our efforts. Now with Tech Park and the Town Center well underway, we are now eager to take full advantage of the tools that our new Redevelopment Authority has at its disposal to identify residential, recreational, business, commercial and industrial areas that may benefit from reimagined uses which will enhance the quality of life for each of us who call Peachtree Corners home.
Happy New Year, wishing you a safe and healthy 2021
Mike Mason, Mayor
Source: City of Peachtree Corners