Brewing Success: Anderby Brewing works through pandemic challenges to keep growing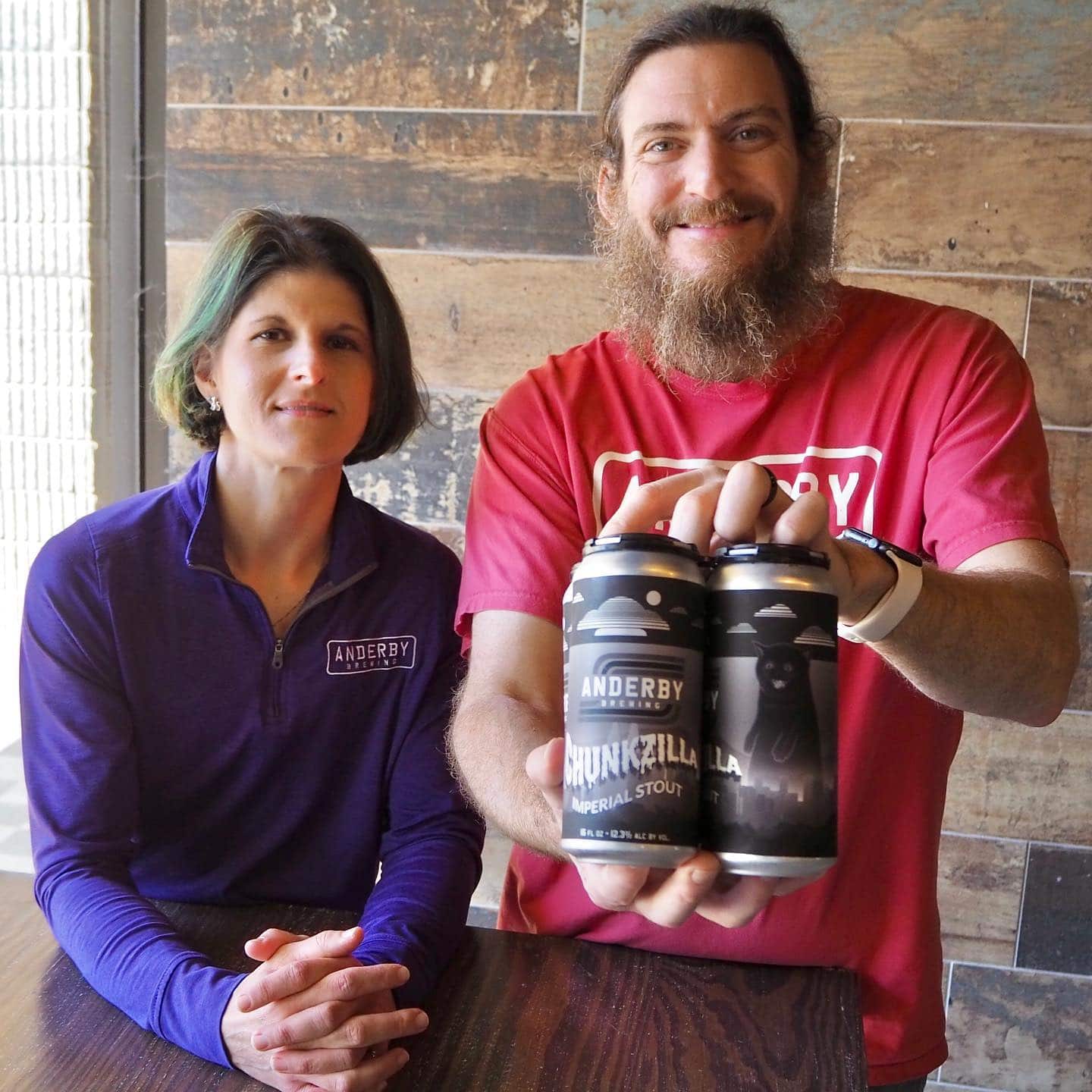 The signs were promising for Peachtree Corners first brewery — Anderby Brewing.
The fledgling operation on Technology Parkway debuted in August of 2019, and the taproom was generating steady revenue. Growlers were heading out the door. A third-party operator provided some canning of their product for package sales, albeit at no resulting profit. Owners Preston and Michell Smelt projected that March of 2020 was to be their first break-even month. COVID-19 had other plans.
Pressures from the pandemic
The taproom closed and didn't reopen until the Memorial Day weekend as Georgia shut down for a time. Restricted or shut-down food and drink establishments stopped ordering kegs.
Still able to offer to-go sales from their production facility, the couple proved the adage that necessity is the mother of invention. They found a supply of bottles and cranked up equipment that Preston had found at an auction. Some monotonous, not-much-fun work ensued.
"There we were in the back with a counter pressure bottler and it would take us literally all day to do two or three kegs of beer," said Michell. "No matter how tedious, that's what we did — and actually, for a while, it was working out pretty well. That's when we started talking about having a canning line."
Sales of to-go bottled beer, leftover canned product from a prior run and a $26,000 CARES Act grant got them through to Memorial Day.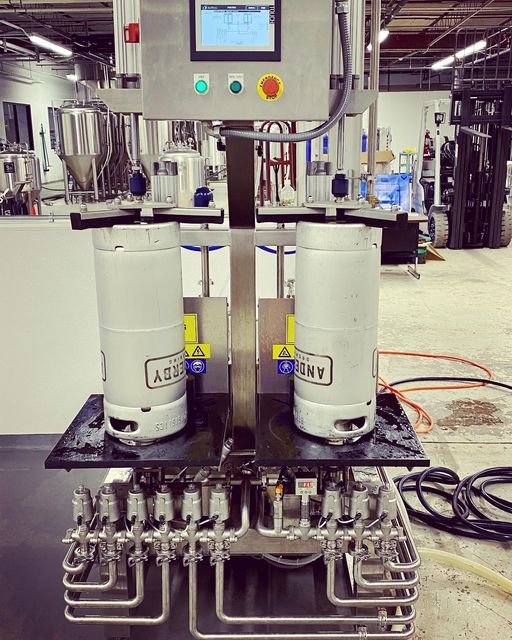 Profits in the can
What the couple talked about in those uncertain shutdown days is now a reality — a newly-arrived $50,000 canning and labeling setup. The long-awaited equipment ordered in March showed up at the end of October. It operates at nowhere near the dizzying pace of larger operations that can turn out 100 finished cans of suds a minute, but it does produce four or five cans in 60 seconds time, about two barrels per hour. They are staking a path to profitability on it.
And they say the timing was providential. The manufacturer of the equipment rolled out the smaller-scale model in February of this year; that cost just half to less-than-half the price that a canning line would normally run for smaller startups.
It proved both a blessing and a curse. It gave them the ability to can beer at an affordable price, but so many smaller brewers ordered the smaller model that a months-long backup resulted.
But now they say, "We're sending a lot of packaged beer out the door and that's making a huge difference for us." The 16-ounce four-packs are headed to destinations, including high-profile chain Total Wine, with which they've struck a solid partnership deal.
Improved technology means improved taste
Preston said the switch to canning makes sense from any number of standpoints. As he explained, "In the craft beer industry, cans were always looked down on for the longest time because the older canning technology wasn't great. A lot of people would pick up subtle metallic tastes in the beer, especially with craft beer, which is a little more sensitive because we don't pasteurize and most of us don't filter."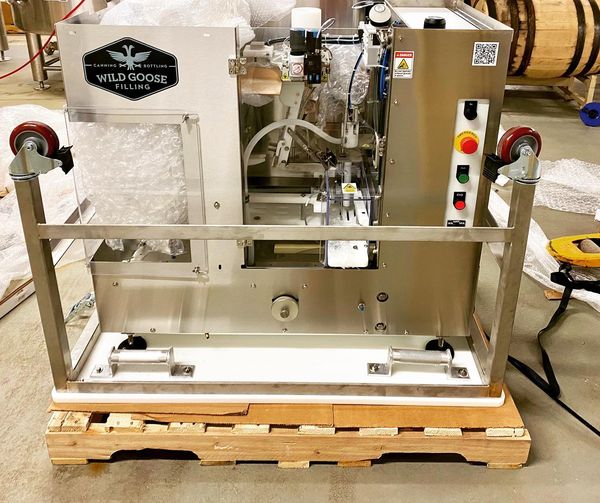 The canning companies have improved their technology and a lot of the old issues have gone by the wayside, he said. On the purely economic side of the equation, Preston said that for what it would cost them to buy 6,000 cans, they might only get 2,000 bottles — a significant price point difference.
The co-owners said they have 19 beers on tap, and already eight or nine of them have been pumped into cans with all to follow eventually. The canning approach is part of an industrywide trend, they explained.
Growing the brand
As to what consumers browsing beer coolers can expect to find in those Anderby-labeled cans, well, that's undergoing an evolution.
"When we first started, I was really trying to dabble in a number of different styles, trying to figure out what our niche should be," said Preston. After gauging the marketplace and working with a consultant, they've narrowed their focus to three areas: hazy IPAs, heavy imperial stouts and fruity sours.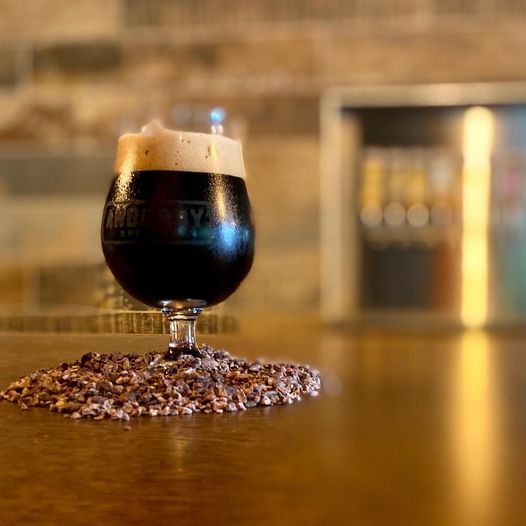 He said those three varieties account for 60% to 70% of craft beer sales nationally, and they also do well from a package sales standpoint. Their beer list will be changing to reflect that emphasis in the coming weeks.
The Smelts said they decided on only rotating offerings, an approach that some other craft brewers eschew because "the key thing for offering core beers is you have to make a lot of them, and we can't." Preston said the core approach doesn't work without a heavy restaurant presence.
The ever-changing aspect of their offerings should appeal to those venturing into their taproom with the notion that repeat customers who see an unchanging beer list will eventually quit showing up, according to Preston. The couple added that on occasion, however, what has been a signature beer may well make a comeback, like their popular "Get off My Lawn" IPA.
Future plans
Anderby has the capacity to brew 2,500 barrels a year, and they're now at a rate of under a thousand. So far, they've not hiked production, but they anticipate increased demand that will boost them to that level — with the resulting distribution cash flow bringing them into the black.
"Once we get maxed out and can't really do any more on our current system, then we'll start to talk about expansion," said Preston. "We have some penciled-in plans on what the next round would look like."
They said a bigger footprint would include additional fermentation tanks, more staff and consideration of a higher-volume canning line. One thing it would not include is a relocation. The co-owners said they could quadruple their current production capacity without having to move.
"That was one of the benefits of moving into this building — to have the room — because the last thing we wanted to do was get into a spot, grow and then have to find more space," said Michell. "Here [in a large facility] we can grow and not have to find more space in a couple of years."
Whatever shape future plans might take, they credit the City of Peachtree Corners with helping to make the setting-up-shop process in their current location and configuration a positive experience by facilitating necessary changes in the city zoning code to allow for operation of a production brewery.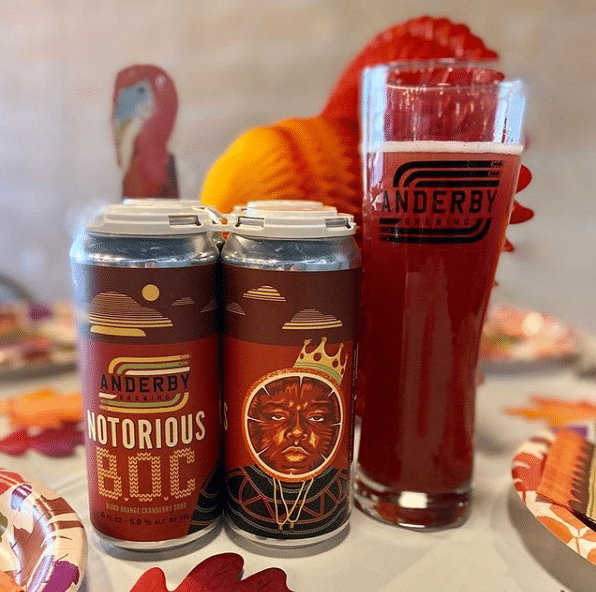 "Other nearby cities we talked to seemed encouraging, but then they didn't actually do anything, "Preston reported.
As to what niche they may grow into in metro Atlanta, he said, "If we get to the point where we are the destination brewer for someone coming into the Northeast OTP area, we'll be happy."
Insight Sourcing Group Commits to 100% Renewable Energy by 2030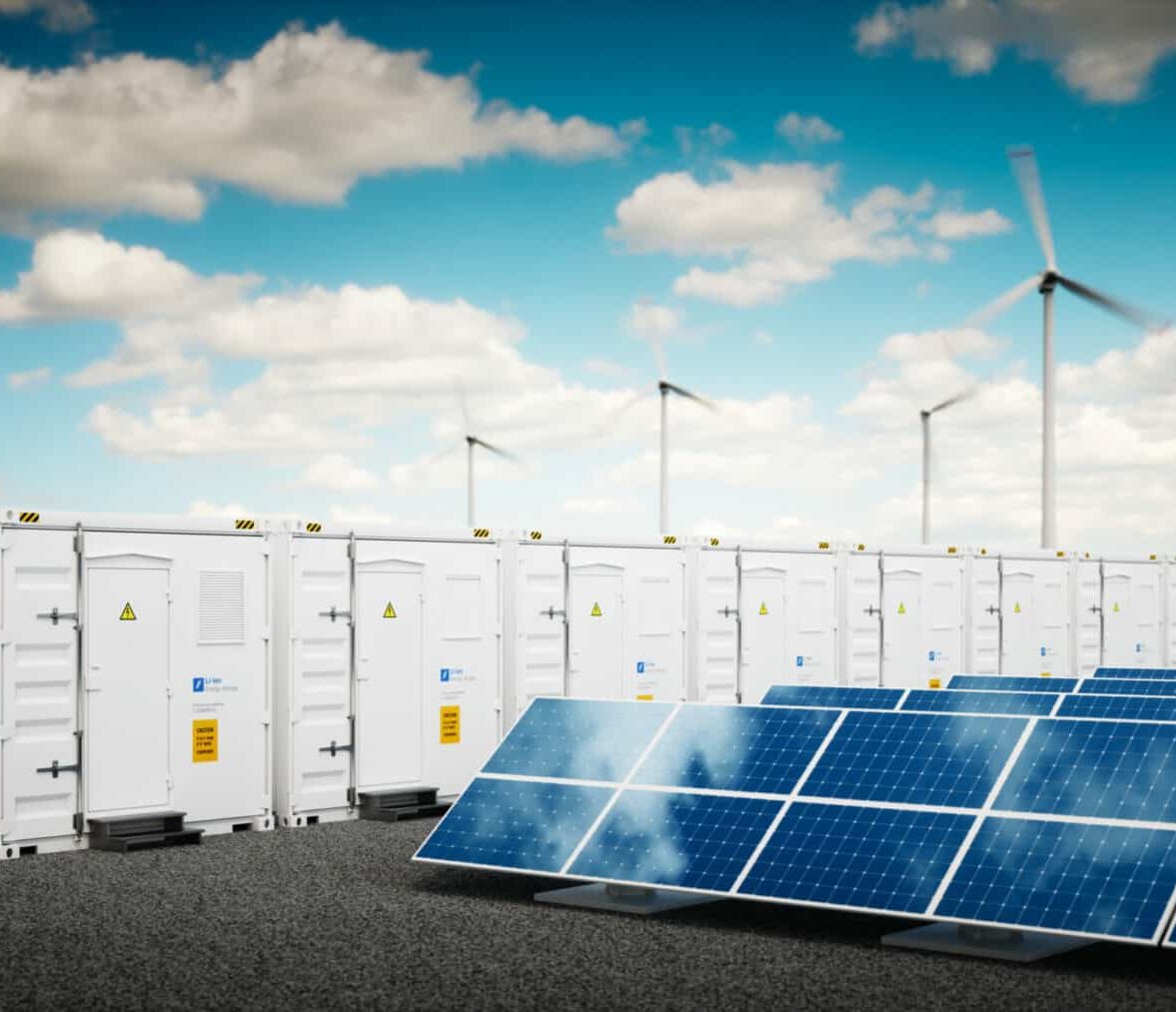 Sustainability initiative aligns with the same environmental standards it helps clients attain.
Insight Sourcing Group (ISG), a consulting firm located in Peachtree Corners, is focused on strategic sourcing and procurement-related services. Following a comprehensive analysis by Insight Energy, a subsidiary of Insight Sourcing Group that recently expanded, ISG set a 100% renewable energy goal for 2030.
The goal includes a commitment to sourcing its electricity from renewable sources at its Peachtree Corners headquarters beginning in 2022.
"Not only do we apply the same standards to ourselves that we help our clients achieve, but we also sought to pull back the curtain on this process and bring some transparency to this increasingly important service offering," said Brent Eiland, President of Insight Sourcing Group. "I commend the work of ISG's Internal Sustainability Committee led by Brandon Owens, Vice President of Sustainability at Insight Energy."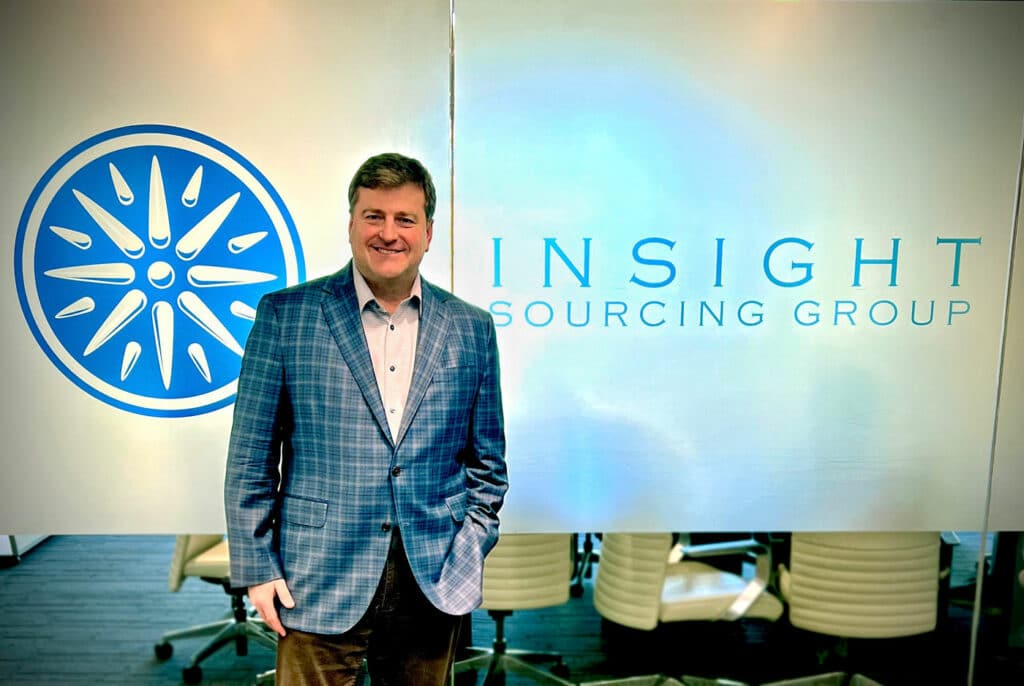 As part of the initiative, ISG conducted a measurement of its Scope 1, Scope 2 and selected Scope 3 emissions categories. Based on the findings, ISG developed a roadmap to achieve 100% renewable energy and established a plan to measure and reduce Scope 3 emissions, which are indirect emissions like business travel.
The Sustainability Committee also identified opportunities to reduce emissions from employee commuting via hybrid work models and a carpooling incentive program. Waste identification and reduction posed another opportunity to improve sustainability; internal audits revealed an opportunity to reduce the use of single-use paper cups.
Furthermore, ISG's procurement of Renewable Energy Credits (RECs) will certify the generation and consumption of renewable energy via wind or solar power.
Digital Technology Innovators Join Forces to Launch New Virtual Production Studio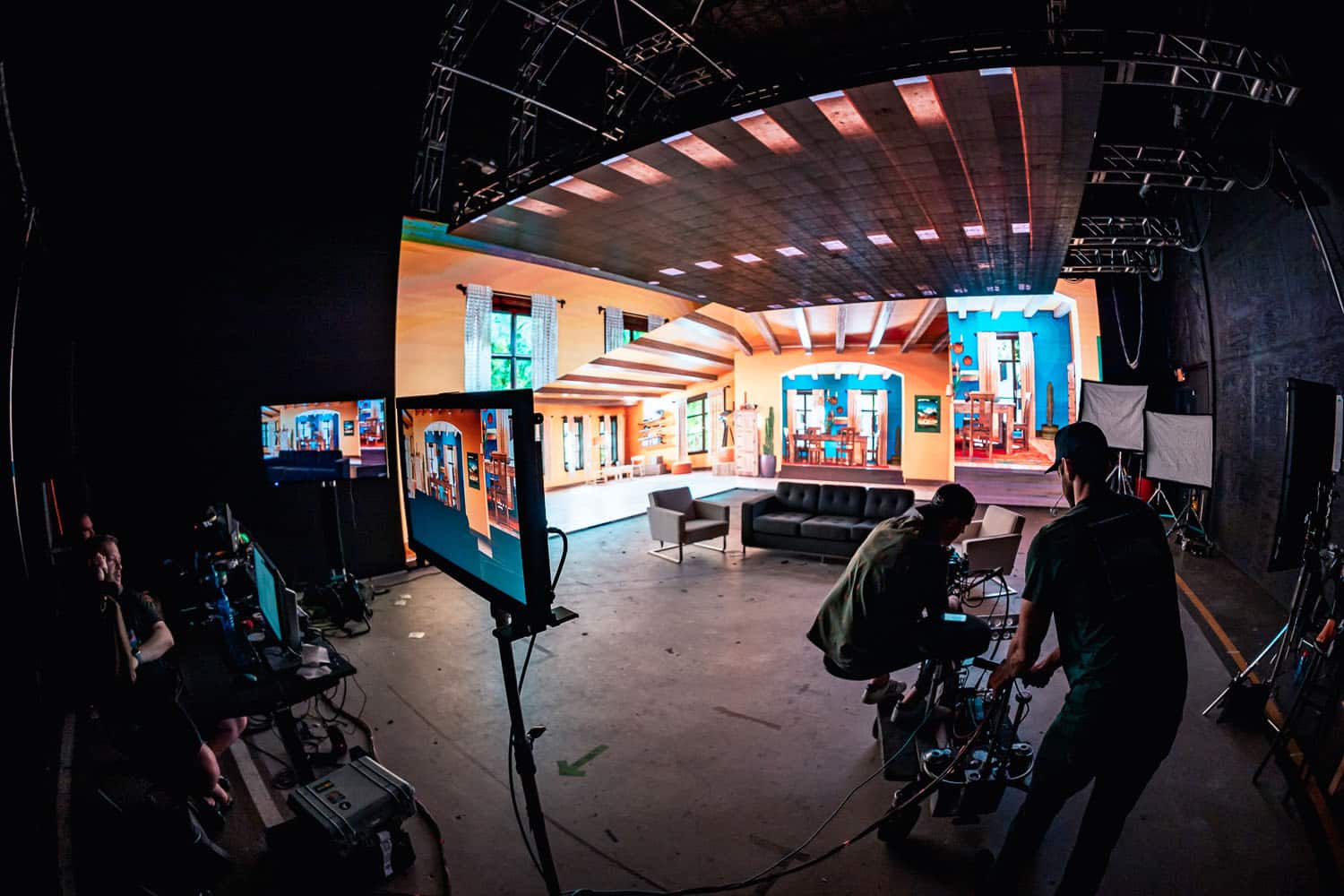 Everyone wants to have a taste of virtual reality. It can take you to far-away realms as you sit comfortably within your own room. Reveal XR, one of America's top virtual industries, provides this technology in its virtual production studios.
The company brought together Atlanta-based Music Matters Production and 3D animation and immersive content studio TRICK 3D to launch the newest Extended Reality (XR) studio in the state, Reveal XR — Atlanta, located at Eagle Rock Studios in Norcross, Ga
There has been a need for Virtual Reality (VR) and Augmented Reality (AR) in the area, so Chad Shockley, Aaron Soriero and Chad Eickhoff joined forces to meet the growing XR production demands.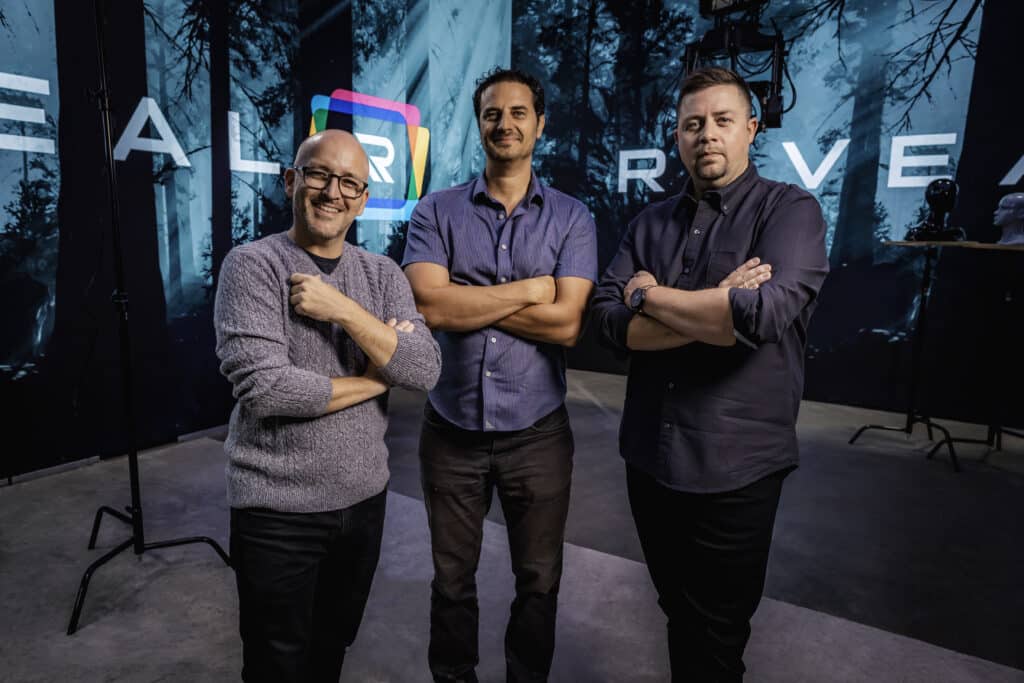 The three tech entrepreneurs opened Reveal XR — Atlanta, a highly accessible and multifaceted virtual production studio in Eagle Rock Studios.
Eickhoff said, "Today's brands need to connect with a digital-first generation of customers and, as such, the demands for creativity in content production is huge."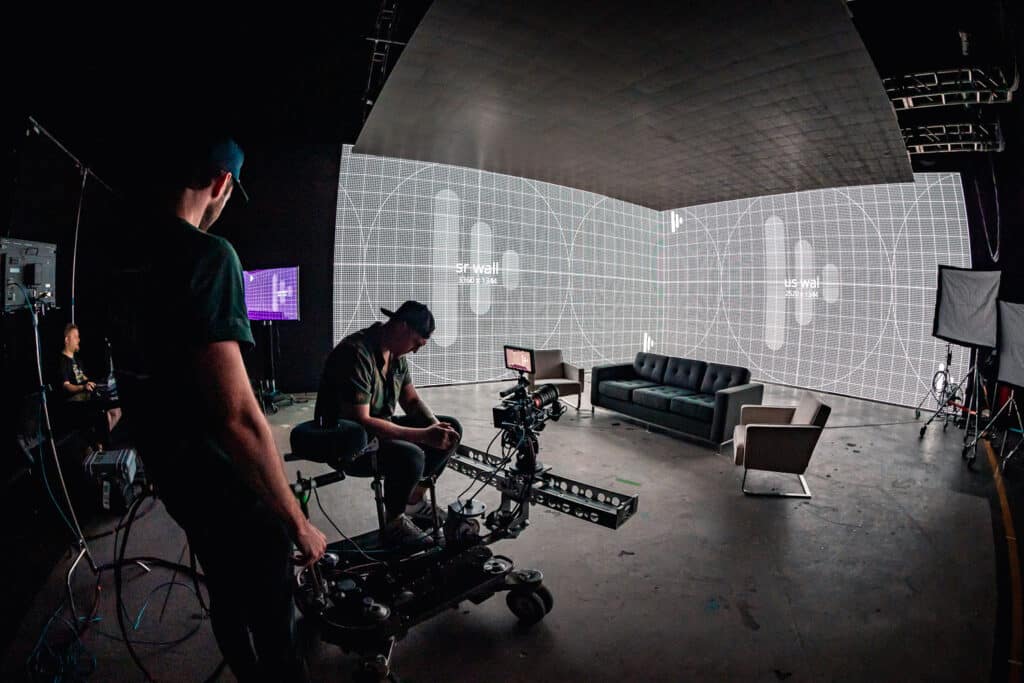 Some additional Facts and Specifications of the Studio:
As of the announcement, Reveal XR Atlanta is available for booking for brand, commercial, TV, film, and music productions.

Technical Specifications
● 35' x 75' sound stage at Eagle Rock Studios – full acoustic treatment and air conditioned
● 33' wide, 13' tall main LED wall, 25' wide, 13' tall wing LED wall, optional 3rd LED
wall up to 13' tall and 18' wide
● Absen PL 2.9mm pitch main walls – 90 degree configuration, next-generation Novastar
MX40 processing
● 18' x 20' LED ceiling, Absen X5 5.2mm pitch – high-bright, height adjustable
● Available ROE BM4 4.4mm Matte LED floor, 18' deep, 24' wide, high weight capacity
● Stype RedSpy Camera tracking system
● Disguise VX4+ for 4k 60fps compositing, RXII render nodes, uncompressed 10 bit video
workflow
● Available RED Komodo and RED Raptor camera packages
● Available Supertechno Technodolly automated telescoping crane
● Flexible staging and lighting options within the studio
● Full height truck docks and plentiful gear handling spaces
● Dedicated green spaces storage areas.

Names and Titles:
▪ Chad Shockley, owner Reveal XR
▪ Aaron Soriero, owner of Music Matters Productions
▪ Chad Eikhoff, owner of TRICK 3D

Location of Reveal XR Atlanta:
▪ At Eagle Rock Studios –
6269 Best Friend Rd, Norcross, GA 30071
Gate 4, E8
Cradlepoint, Bosch and T-Mobile Collaborate to Deliver IoT Solutions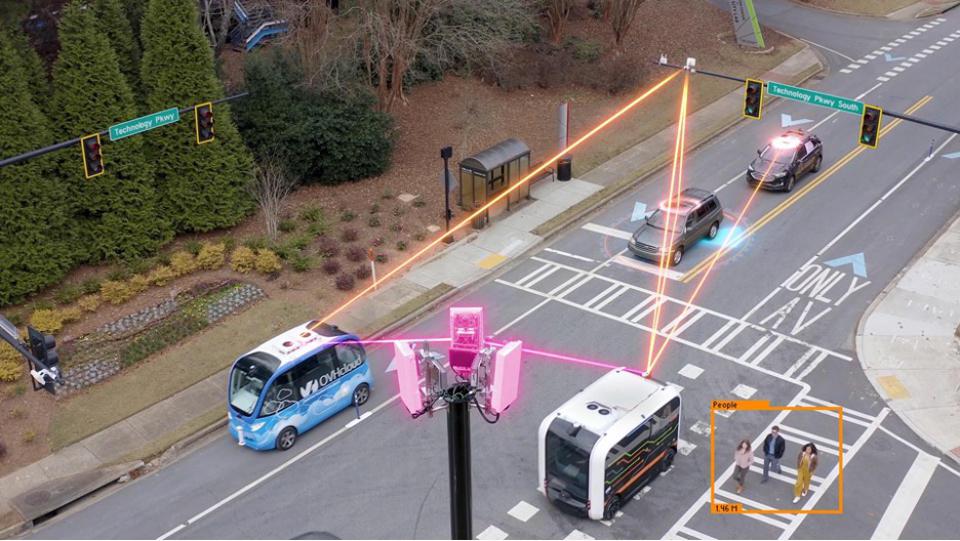 Advanced IoT Connectivity with 5G Wireless WAN Technology
Cradlepoint, the global leader in cloud-delivered LTE and 5G wireless network edge solutions, recently announced a collaboration with T-Mobile and the Curiosity Lab at Peachtree Corners to enable advanced IoT connectivity solutions, such as autonomous vehicles, robotics and AR/VR, using 5G Wireless WAN technology. The solution, developed by Bosch and Cradlepoint, leverages the high performance of T-Mobile's industry leading 5G network — America's largest, fastest and most reliable 5G network — with Cradlepoint's purpose-built wideband adapters and routers to facilitate near real-time parking and safety monitoring at Peachtree Corners, Georgia, one of the nation's first smart cities.
Companies and public sector entities are well positioned on the value of 5G cellular IoT connectivity, particularly when it comes to securing, managing and enhancing smart cities. Unlike traditional fiber connections that take months to deploy, cost thousands of dollars and have long-term commitment contracts, Cradlepoint's 5G Wireless WAN solutions enable an entire ecosystem of IoT partners to immediately deploy solutions with the security and remote management capabilities needed to support IoT deployments at scale.
"Real-world deployments of IoT are challenging the status quo of existing solutions. Couple that with the trend of businesses leveraging 5G technology to transform, and you'll see how this advanced connectivity is remodeling the enterprise," said Todd Krautkremer, Chief Marketing Officer, Cradlepoint. "Cradlepoint, T-Mobile and Bosch are at the forefront of this evolution, furthering IoT and 5G deployments for projects of all sizes."
"Improving safety, efficiencies and anticipating the needs of customers is what best-in-class smart cities can accomplish when powered by 5G and with innovators like Cradlepoint," said Chris Melus, Vice President of Product Management with T-Mobile for Business. "It's rewarding to see concepts from the Curiosity Lab, leveraging our 5G Advanced Network Solutions suite prove true value in the real world."
The solution uses near real-time IoT technology developed by Bosch in conjunction with T-Mobile's Ultra Capacity 5G network and Cradlepoint 5G hardware to assist Peachtree Corners shoppers and visitors in finding open parking as well as available charging stations for electric vehicles.
"In collaboration with T-Mobile and Cradlepoint, and our continued joint effort with the Curiosity Lab in the City of Peachtree Corners, we are demonstrating a scalable, affordable, adroit AIoT solution to serve the community," said Lewis Stallworth, Business Development, Bosch Security Systems, LLC. "The flexibility of this solution was only possible with this technology-forward collaboration and is changing the conversation of what is possible when there is a need for parking management, retail management, community safety and true community operational analytics."
In addition to improving the Peachtree Corners visitor experience, the technology also enables city planners to make real-time informed decisions on parking capacity, infrastructure planning, traffic management and security safeguards based on data around events happening throughout the city.
"Through our work with Cradlepoint, Bosch and T-Mobile, we are now able to better manage our public spaces. Cradlepoint devices having high-speed connectivity through T-Mobile's 5G is key – these devices now allow us to use smart parking applications through the Bosch cameras in our Town Center, while also providing a safety and security layer for our police department." said Brandon Branham, CTO and Asst. City Manager, Peachtree Corners. "The analytics these devices provide help us to better communicate with our residents about parking and safety in our downtown area."
To learn more about Cradlepoint's work with T-Mobile, Bosch and the Curiosity Lab at Peachtree Corners, please visit: https://resources.cradlepoint.com/success-stories/smart-city-uses-5G-for-connected-intersections-and-innovative-parking.