How to Position Your Small Business to Grow Sales During and After COVID-19 [Podcast]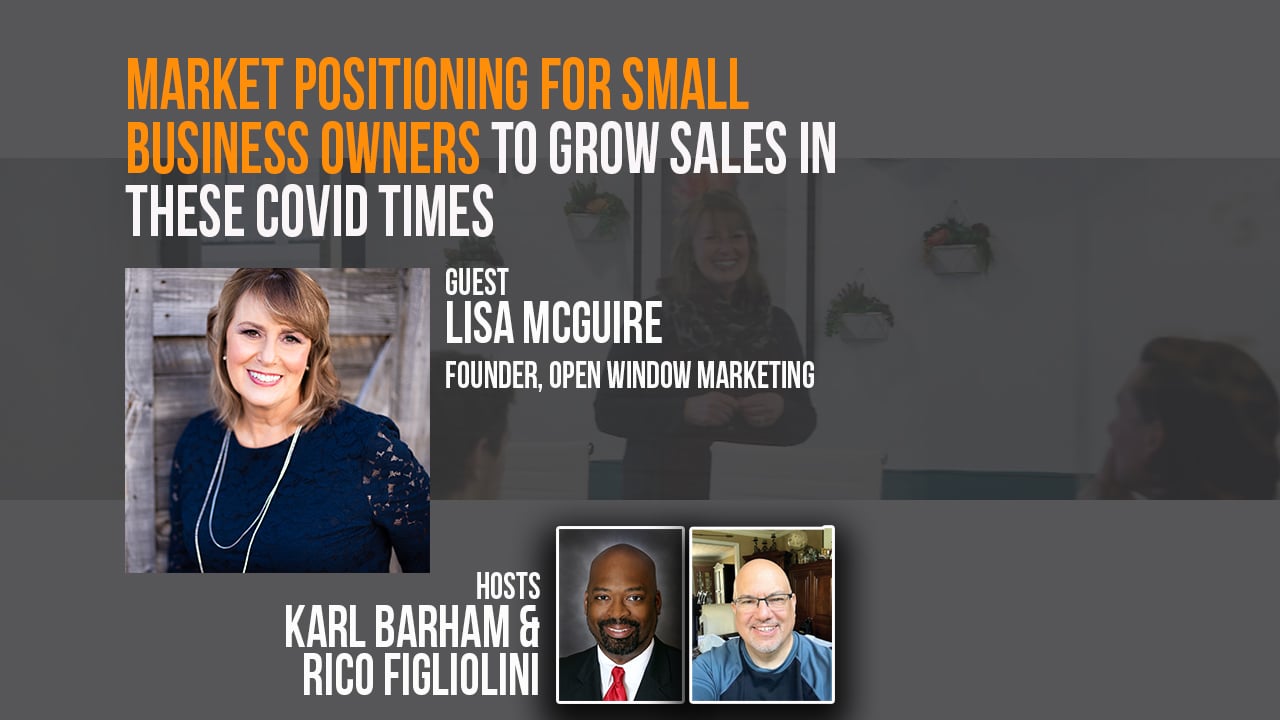 The pandemic has changed customers and their buying habits. That's without question. So how do you talk to them now and in the next normal time? Open Window Marketing founder Lisa McGuire joins Karl Barham and Rico Figliolini to discuss brand positioning and more.
Social Media
LinkedIn
Instagram @iamlisamcguire
Marketing Tips for Small Business Owners to end 2020 strong.
The 3 Customer Profiles of 2020 – how your customer has changed
Customers have shifted from pre-pandemic to the pandemic to the next normal. How can you possibly know what to say?
Why traditional marketing no longer works and how to move forward.
Traditional marketing talks about the features of the product and why they are the best choice. In our noisy world, you need a new approach.
Why your personal brand is even more important to help you drive more revenue
Timestamp, where to find it in the podcast:
[00:00:30] – Intro
[00:03:10] – About Lisa
[00:04:01] – Marketing Mistakes
[00:05:43] – Changing Clientele
[00:09:33] – Importance of an Online Presence
[00:16:14] – Clarifying Your Message
[00:21:14] – Traditional Marketing
[00:23:57] – Spending and Personal Branding
[00:30:17] – Marketing Done Correctly
[00:31:52] – Closing
"And the big idea to take away from this is the customers that you've had no longer exist.
They are now pandemic customers. They have new problems, they have new priorities. So what
do you need to do in your business to shift your product line and offerings? To meet these new
problems, or if you still connect with their problem, how do you need to shift your message?"

Lisa Mcguire
Karl: [00:00:30] Welcome to the Capitalist Sage Podcast. We're here to bring you advice and
tips from seasoned pros and experts to help you improve your business. I'm Karl Barham with
Transworld Business Advisors, and my cohost is Rico Figliolini with Mighty Rockets Digital
Marketing and the publisher of Peachtree Corners Magazine. Hey Rico, how are you doing?
Rico: [00:00:47] Good Karl. It's a beautiful day considering how much rain we had the other day.
Karl: [00:00:53] I know, I know. This storm has gone past and now we'll hopefully get some
better days going ahead. Things are getting cooler for the fall. Why don't you introduce our
Sponsors?
Rico: [00:01:04] Yes. Our lead sponsor is Hargray Fiber. Hargray Fiber is a Southeast based
company that does internet connectivity. They handle fiber optics, which is the main drive of any
internet home or office, right? So they're in the communities that they serve as well. So they're
not your cable guy, right? They're not a company that just has an office there. They're involved
in the communities that they're in, whether they're involved with local companies. So for
example, in Peachtree Corners, they're involved with Curiosity Lab at Peachtree Corners with
the city. They're providing internet connectivity to a lot of companies in the area. So if you are
interested in Fiber optics in a company that's local that has a local presence, and that can give
you the tools you need, like smart office tools to be able to operate your employees at home or
in the office, reach out to HargrayFiber.com or you could go to Hargray.com/Business. And they
have a promotion going on, a thousand dollars visa gift card for those companies that qualify
becoming a client of theirs, so check them out.
Karl: [00:02:10] Oh, that's fabulous. Everyone needs more internet, more speed and I'm glad to
have good businesses like Hargray in our community to help business owners with that. Today,
I am honored and pleased to have a great guest. In this fourth quarter as we're coming in,
rounding out 2020, most business owners have seen all sorts of impacts. Some have grown,
some have stayed the same. Some have actually seen some reduction in their customer. What I
know for sure if you're going to have a great fourth quarter and start off 2021 well, you've got to
focus on growth. And today we have Lisa McGuire here to talk about how small business
owners can really focus their marketing and sales efforts in concert. To help them really have a
springboard to their growth in 2020 through 2021. Hi Lisa, how're you doing today?
Lisa: [00:03:07] I'm doing great Karl. Thank you so much for having me.
Karl: [00:03:10] Oh, pleasure. Well, Lisa McGuire is a business growth and adviser. And a
marketing consultant with Open Window Marketing. And I'd love for her to introduce herself and
tell a little bit of how she helps people in business.
Lisa: [00:03:25] So, one thing we know is when business owners started their business, they
wanted to do the work they love. They didn't necessarily want to wear all the hats that a
business owner has to wear when running a business. So what I do is I come in and help them
determine how to figure out who their ideal client is, how do they connect with that client, what
message does that client need to hear, to be able to engage with them, and then how to grow
their business through marketing that works. And then it filters into the other areas, productivity,
the mission of their company, the culture of their workforce too.
Karl: [00:04:01] Wow. Well, I'll tell you, I look at a lot of P&Ls for business owners. And one of
the things that really becomes apparent, I look at how one business owner spends on marketing
and ask some questions about that. And then I look at another one who may not do a lot of
marketing. You'll hear a lot of, I grew my business through referrals and so on. And I realized
there's a big difference when you look at the performance of growth, those that focus on that
marketing versus those that don't. But when they start business, they didn't really think about
that. What are some of those mistakes you see business owners making when it comes to
marketing their business in general?
Lisa: [00:04:45] Yeah, just kinda marketing their business in general. What they're looking at,
they're looking at, okay, what is it that I have to sell and how can I push it out to get as many
people to buy it as possible? They're not looking at it from the customer perspective of what do
they need to hear. All they know is I've got this many widgets to sell, or I've got to book this
many billable hours, and what can I do to make people buy from me. And so what they end up
doing is they've got this message they repeat over and over that isn't connecting with their
clients. They put a lot of money into tactical things. They'll do Facebook ads, they'll pay a lot of
money for SEO to get people to come to their website. But what happens is the message that
they're using either to get people there, or once they are on the site, it's not converting because
it doesn't matter to the customer. They talk about features. They forget about them.
Karl: [00:05:43] Wow. Well this year, has gotta be really interesting. For many businesses
because of the pandemic, their customers might have change. Either new customers are
coming through or what their existing customer needs have changed. How would you walk
someone through looking at a situation like that?
Lisa: [00:06:04] Yes, this has been a year that was unthinkable. We never could have imagined
it. And so if you think about back to January, February, we had pre-pandemic customers. Things
for going along, if you remember just a couple months before that we were celebrating a new
decade, there were all kinds of analogies, the 2020 vision, we're going to make this the decade
that really makes the difference. And then the unthinkable happens. We have this global
pandemic. And really the whole world, as far as the business world in the United States, just
kind of came to a standstill. You know, we were in a period, if you remember back think when
they said, if you just quarantine for a couple of weeks, we'll get through this. And so it was
uncharted territory. So here's what we found with businesses. They did one of three things.
They either continued with their marketing as usual. They used a different message and pivoted
their message. Or they said nothing at all. So if we look at those three things, continuing
marketing business as usual would tell their customers you're insensitive to what's happening in
my life. Why are you going on acting like this world has not changed? The ones that went quiet,
what happened is they made a space for other businesses to come in and take their place. But
the businesses that won, the businesses that did well, were businesses who first of all
acknowledged what was happening and became very empathetic to your customers. You know,
there was and continues to be, but initially a lot of fear. A lot of anxiety, anxious, you know,
what's going to happen to my business? What's happening with my family? Am I in danger with
my health? So making sure that you really understand that customer and who they are was
really critical. So we heard a lot of messages, we're in this together. You know, we've heard the
new normal, we heard all of those things to really unify our market place to be able to reach
them. But now we're what, six months into the seven months into this, I guess, because it's six.
Now you've got a third type of customer. You've got the customer that is realizing, okay, this is
our new way of life for now. You know we're moving forward, so what can we do? Our whole
world has been disrupted. If you think about it or work lives, our home lives, how we consume
media, how we purchase, what we value up, like everything has been shifted. So what can we
look at what the customers, what they need now? And what the big idea to take away from this
is, the customers that you've had no longer exist. They are now pandemic customers. They
have new problems, they have new priorities. So what do you need to do in your business to
shift your product line and offerings? To meet these new problems, or if you still connect with
their problem, how do you need to shift your message? And that is the advice I would give
business owners heading into 2021. If you're using a pre pandemic message, you're talking to a
client who is no longer existing.
Rico: [00:09:33] Lisa, do you, what do you find from the clients that you talk to from the
companies you talked to more effective? You know, as far as business goes, what tools are
they implementing? What are they changing that they weren't doing before the pandemic?
Lisa: [00:09:51] Well, I think the thing that has become very apparent to business owners is if
you did not have an online presence, you need to have one. You know, I'm very active in
networking and in those first couple of weeks, people were trying to figure out how do we
network if we can't go to coffee? How we will reach people? How are people going to find me?
And you know, if you look even at restaurants, they had to do a quick of it. How do we get
people to consume our food? How do we make them feel like they're safe? So being online and
making sure that your customer experience online is seamless. That has been the big shift that
I've seen with most people is figuring out, okay, how do I go online and switch my products.
Rico: [00:10:38] You know, what's interesting. I think in the restaurant business especially, it
was easier, right? Because you had Yelp, you had Door Dash, you had Grub Hub, you had all
these businesses. If you wanted food, you could, you would go out and you'd find it. You know,
where you could go. The problem is with, you know, with a place like a yoga place or a soap
maker type of store, it's difficult, right? Because people aren't quite looking for that and they may
want it, but they just don't know. So there's that two-sided edge to that right? You do, but I agree
with you. You have to be online, but it's way more difficult for some businesses than others.
Lisa: [00:11:17] Yes, it definitely is. So we saw a lot of people in the health and fitness space go
online and start having virtual yoga classes, things such as that. We found brick and mortar
stores suddenly had to have an eCommerce site. But the other thing too, we have this
opportunity of where we may have been marketing within a geographical area, is now we could
extend our services, you know, you can network nationally or internationally. I'm working with a
couple of clients who did work with local Atlanta businesses or local Atlanta clients. And now
their clients are all across the United States. So how do they find them? How do they reach
them? How do they connect with them?
Karl: [00:12:01] It's easy to understand the power of being online. And I visit businesses and I
look at their websites all the time and it's a pandemic in itself how bad some of these websites
are. People don't put a lot of attention. When you look at a website, someone doing it right, what
are some of the things? Maybe not technical, but what are some of the things that you find helps
business owners be more reachable and successful online?
Lisa: [00:12:33] Yeah. So the first thing, you know, as we talk about websites, Karl the thing I
would invite people to do is if you think you have a great website, look at two or three of your
competitors and go to their websites. And what you're going to find, it's very likely you're all
saying the same thing. So what you have to do is figure out how am I going to stand out?
There's a couple of different ways to do that. So the immediate piece of advice I can give all
your listeners today, you can go and do this and start making money tomorrow. Make sure you
have clear call to action buttons. And you want them all over your homepage. So you want one
in the upper right hand corner. In that hero shot area. You want one in the middle of that hero
shot area and make sure those call to action buttons are a different color than the rest of your
website. Make sure they're the same color throughout as you cascade down the page. As you
scroll down the page make sure there's always a call to action button in the screen as well as in
the upper right hand corner. Because here's what happens, the visitor may not be ready to
purchase from you or maybe ready to take the next step with you initially, but as they scroll
down the page and start learning more about you, Oh, now I want to know more. And so you
want to make it convenient. We call that call to action button, your cash register. So why would
you hide your cash register in the back ladies room? You want to make sure they're all over the
place, right? So that's something you can do to start making money today. So that's one thing, if
that's helpful to you.
Karl: [00:14:13] Yeah, that's great advice. The other thing is, there's this thinking around Google
pay-per-clicks and Facebook ads and so on. How do they, how do business owners use those
to integrate with their website?
Lisa: [00:14:28] Yeah. So there certainly is a place for paid ads. And you know, the thing is, is
you start with your website. You want to make sure that Google recognizes your website as a
quality website. So I'm going to answer your question, Karl, but I'm going to kind of connect
these two. First of all, Google's going to try and watch and monitor to see, are people when
they're on your website, are they staying on it long? If they can register that they're staying on it
long, that signals to Google, there is quality content on there. So again, your message is so
important. So when you go to a website, you should be able to immediately know what the
business does. It is astounding, the number of business websites I see, I can't tell what they do.
I have to know what you sell. What do you do for me? Making sure that you are updating
content. And so that would be having a blog on your website, talking about topics that people
have questions about. And, you know, people say, I don't know what to write in a blog. Think
about this, what are the top five questions people ask you about your business? Those will be
your first five blog topics. And so putting those on there, that's going to give you some organic
reach with SEO in that. But then when you get to ads, paid ads, that's when you can drive
people to your website whether it's Facebook ads or Google ads. And I recommend not trying to
do it yourself, work with a digital marketing specialist who knows what they're doing. I believe in
paying experts for what they know so well.
Karl: [00:16:14] There's a subset of business owners that I know struggle in this space. And it's
in the professional services. Lawyers, accountants, etc. Very smart, very talented in their
profession. But when it comes to marketing themselves, maybe not as strong. And their content
can be confusing to the layman. Finding the intricacies of tax law for how to get out of speeding
tickets or whatever that might be. For those types of businesses, how can their messaging on
their website help them? What would be something they can do to guide people in?
Lisa: [00:16:54] Yeah, so a really great way to do that because, you know, here's the thing we
want those experts. And when you need someone like that, you want someone who knows what
they're doing, who knows all the intricacies and you know, the ins and outs of how to practice
their profession very well. But what happens is when you speak with them, because they are so
educated and they're so good at what they do. You'll find a lot of times they tend to use what we
call insider language. So they'll use industry terms. And when they start using those, the person
reading the website or the person listening to the message, what goes on in their mind is they
say, I don't know what that means. So they either get stuck trying to figure it out, what are they
talking about? Or they just stopped listening because it's too much work to try and keep up with
the person communicating the message. So that is one thing I would advise for those folks, is to
stop using insider language. To make your language, make your website as if a 10 year old
could read it and understand it. You want the language to be that simple. You'll be able to bring
in your credibility and authority the longer people stay on your website, but that would be the
first thing I would suggest. The second thing I would suggest is make sure that you really get to
the problem that your customer has. And here's the thing, traditional marketing was talking
about the business. Today, great marketing is being known for the problem that you solve. So I'll
use a tire store for an example. This one I use quite frequently. So if I sell tires, I am not selling
tires. That's not the problem I solve when somebody needs tires. The problem I'm solving is
someone needs to have a vehicle that is safe on the road because they have quality tires. The
problem I'm solving is someone has to turn in their car for a lease and they've got to update their
tires so it meets qualifications. So look at for the customer, what is that pain they are
experiencing? How is it making them feel? And being known for solving that problem, that is the
way that you go in as a professional service provider and speak to them.
Karl: [00:19:20] It's interesting, as you're saying that, it made me think of this concept around
demand generation and leading the customer to discover or clarify the problem they have and if
you're the person that helps them do that. And a lot of professional services, I talked to
someone the other day, a client the other day, and they were concerned about, they took out
PPP loans and EIDL loans this year. And so as they're going through, I mentioned to them, they
have to process or apply for forgiveness. They looked at me kind of shocked. You mean it
doesn't happen automatically? And so I know lots of financial advisors and CPAs and
accountants and folks that help in that area. No one's talking about that problem that's out there
that people may not know. And is that an example of some blog and/or content around that
particular problem that would help someone find a professional service site?
Lisa: [00:20:25] That is a very timely and perfect example, Karl. Because, so these people
walked into these situations, you know, okay, this is great. You're telling me I can get this
money. How does this work? They were very good about leading them to it, but now is the next
step of now you've got to apply for forgiveness. Well, these people don't know how to do it.
What does that look like? How do I? Is there a way I could do it and mess it up? Please help me
figure that out. So that is the next step of when the bank says okay, now it's time, wherever you
were able to secure. It says, okay, now it's time to start moving it along. We have no idea of
what that means. So you've got to spell that out as well. Yeah. Great example.
Karl: [00:21:14] Well, if I can ask a little about some of the more traditional forms of marketing.
This year, I don't know how many movies were released between March and September, but no
one's watching ads between movies anymore. What did the role of these other different
vehicles, whether it's ads and papers and magazines and those types of direct marketing. What
role does that play in marketing today? And should people still be investing in those?
Lisa: [00:21:47] So, yes, there's a lot of different types of marketing. And that's the thing when
you talk to someone that has a marketing company that can mean a dozen different things, a
dozen different directions. And people are always looking for quick fixes, but I really, you know,
the way I describe marketing is imagine you were going on a cross country trip, you know, you
know, your goal is to get the other side of the country. You would not think of getting in your car
and just starting to drive without putting gas in the tank and making sure you have snacks. You
might, you know, plug in your GPS where you're going, or, you know, you've got your Google
maps, you make a plan. You don't just start getting, you don't get in your car and just start
driving wherever you want. Well, that's what people do with their marketing. So, okay I need to
market. Maybe I'll try direct mail. Oh no, no, we don't do direct mail because you know, I don't
use direct mail. So why would anybody else use that? But even here's a really great rate or
maybe I'll try these Facebook ads and I'll boost the post myself. Well, maybe so they're all over
the place. So the first thing I would recommend for any business owner is to just sit down with
someone who knows what they're talking about in marketing and develop a strategy. You know,
come up with a 12 month plan, a six month plan, a three month plan. Allocate some budget to it
because your business will grow in one of two ways. Your business is either going to grow by
innovating. So that's changing up, pivoting, doing something better. Or it's going to grow by
marketing. So you've got to make that investment one way or the other. And when you start
seeing traction, that's when you'll have, you know, more to be able to boost from. But you're not
going to have that traction. You're going to be wasting your money if you start going into
different areas that don't apply to you. And I think what happens a lot of business owners,
they've got their buddy that did this, or they know of this other company, their competitors doing
this. They think they need to do it too. And that's probably the worst thing they can do.
Karl: [00:23:57] I'll offer up, if I could add to that, for business owners out there. There's three
numbers I'll share, 4, 8 and 12%. When I look at a P&L for a business and I'm looking at trend
over time, I notice how much percentage of their revenue to spending on marketing and I look at
their growth rate. And what's often, if you want to benchmark for mature business, that's been
around and known for a while. Some of those can get away with between 4 to 8% spend on
marketing. If they want to grow. If they want to stay flat. They don't have to spend on marketing,
but if they want to grow their top line revenue, 4 to 8% is what your competitors, what other
people are spending normally grow. If you're a new business or you're a business that needs
some explaining or new to an area you're talking about 8 to 12%, range depending. If your
product is known, but you're a new company offering something that's known, you might be
able to get away with 8%. If you're offering something new and no one else is offering it and you
want them to build awareness. You're talking close to 12%. I offer those numbers because it is
extremely consistent looking at the spend on marketing correlating to how people grow their
business. Now, the ones you'll always have a family friend that says I spend nothing on
marketing and my business keeps growing. That is the anomalies. They're innovating, they're
doing something different, or there's something that's giving them a competitive advantage. Or
they are marketing without spending. So talking about personal branding, talking about other
ways to gain audience without spending for it. Can you comment a little bit on that?
Lisa: [00:25:48] Yes, sure. This is one thing that as we have been in this situation, we're seeing
a lot more people on LinkedIn. I don't know if you're active on LinkedIn or not, but we're seeing
a lot more of that. And there's a lot of people that don't know how to use LinkedIn and how they
can really leverage it. So, you know, here's the thing that I tell people, particularly when you're in
an industry that there's a lot of other people that do what you do. People don't want to do
business with business. They want to do business with people. And so what makes your
business different from every other business out there is you. And so being able to feature your
zone of genius, being able to show your authority, your expertise, your credibility. One way to do
that is to really work through a personal branding process. Now, personal branding is not all
about saying, Hey, look at me. It's not about becoming an Instagram influencer. It's not about
being any of those. It's really being very strategic about understanding. How do you show up
online? Is that how you want to show up online? What do you need to do to shift that if it's not
where you want it to be and how can you position yourself as a credible expert that people
would trust to do business with you? So that is something that I really encourage people to do.
Whether you work for a company or whether you own your own business. The only thing you
own when you leave your business is your personal brand. So it's well worth the investment to
spend the time to do that.
Karl: [00:27:19] I love that you mentioned that. I'm curious about your thoughts on integrating
your personal brand or your personas, if you want to call it, professionally and personally.
LinkedIn, Facebook, Instagram, Twitter, all of these, Tic Tok. They have different use cases for
different application. But I've seen more people, especially in 2020, there's a lot of issues out
there that people are commenting on. Whether it's social justice or gender or race or other
political items, things about climate change, and others. People are voicing their opinions across
spectrums that's interweaved with their expertise in their business. Any thoughts on how to
manage that. And is that a good idea or? Well, what do you, what would you advise people to
do with that?
Lisa: [00:28:13] You know, it's what I advise business owners is what I've always told my
children. Anything that you've put out there online will follow you and could be found. And if it's
something that you aren't willing to put on a billboard and have your grandmothers see, then
don't put out there. If it's not something that you're not willing to share in your next job interview,
don't put it out there. There are filters, but still there are way to, you know, there are ways to get
through those. And you just always have to be conscious of whatever you are putting out there
represents who you are, and it does follow you. So there are appropriate channels. And then
there are ones that maybe you need to just have a conversation with a friend.
Karl: [00:29:00] I'm curious about, there's a professional sphere, but there's all these businesses
that are coming up in this entertainment mixed with business. So you could take the example of
a local ice cream shop or fitness business, where it is a business and they have customers, but
it's also a culture and a group and a community that they're building that reflect certain beliefs
and their personal. How can those types of businesses leverage both social media and how
they brand themselves?
Lisa: [00:29:35] Right. So it's a great opportunity and I don't want to, you know, imply that you
always have to stay buttoned up. I think you have to really look at who is your ideal client. Who
are you trying to attract? If you are on LinkedIn, you're trying to attract a different crowd than
what you'll probably find on Instagram, or Pinterest, or Tic Tok, or Facebook. Those all have a
different feel to it and different clientele. So if you are an ice cream shop and you've got music
going on, you've got certain culture or whatever, they're trying to attract the audience. They
need to be who they are. They need to be authentic. They need to be transparent. But they also
need to be respectful of their audience.
Karl: [00:30:17] I'm also curious, just comment and maybe Rico as well. When you interact with
people online in a lot of your publications, in your content out there, have you found examples of
people doing it really well? Can you give us an example where you saw people blend those
different personas well online?
Lisa: [00:30:42] I can't think of one person that comes to mind right now, but here's what I see
as a trend. It's people who are sharing their expertise. They're generous and they're humble. So
they're out there, they're being servant leaders. They understand what their customers need.
They're very generous with it because they believe in the law of reciprocity. You know, if I give
to you and I'm giving freely, and it's this valuable, imagine what you're going to get if you pay to
work with me. I mean, that's the message that they're sending. So I think that is a great lesson
for all of us, is we are here to serve in our businesses. We're here to serve our clients and one
way to attract clients is to let them see what you're about. Let them experience you before they
pay you anything. I think that would be a good model to follow.
Karl: [00:31:41] That would probably be about 1% of politicians by my guess.
Lisa: [00:31:45] Yes. They don't fall into that trend very easily.
Karl: [00:31:52] That's fabulous advice. Well, I'd like to, if folks wanted to get in touch with you
and learn more about just marketing and ways that they could improve for themselves, what are
some ways folks can get in touch with you?
Lisa: [00:32:06] Yeah, absolutely. So I am on LinkedIn. It's Lisa McGuire. I'm also
Lisa@LisaMcGuire.com. And they can also call 678-520-7660.
Karl: [00:32:26] Well, as we're getting into fall and you're starting to get busy with helping clients
grow. Are there anything you have coming up or what do you have coming up over the next
quarter? What are your plans?
Lisa: [00:32:36] Yeah, so I'm really excited. I am a StoryBrand certified guide, so I'm affiliated
with the StoryBrand company and they have a sector of their business called Business Made
Simple, BusinessMadeSimple.com. And so, it is a series of online courses. They really propose
it's the same thing as an MBA only we're going to save you $50,000 from that MBA. It's a one
year subscription or when you're licensed for $275. And they have courses on creating your
mission, marketing message, productivity, communication, scaling your business. So I am being
certified as one of their Business Made Simple coaches. So right now I'm in the process of
clients, coaching clients, or really business growth advising is what I do. I think there's a lot of
coaches out there. And a lot of coaches end up being cheerleaders. This is not the case. I really
believe on providing frameworks and valuable tools that we can help make a difference in your
business grow. Whether it's in revenue, whether it's in culture, whether it's just the business
owner growing as a business leader and becoming more proficient in what they do.
Karl: [00:33:50] Oh, that's fabulous. As you mentioned when we started, a lot of people get into
business to do what they love and that's their operational expertise and they started making
money there. I think the lesson is to transform or to grow into becoming a true sustainable
long-lasting business, you've got to evolve. And so the other pieces in the tool belt that you've
got to build is some financial smarts, some marketing smarts, how to recruit people, some HR
smart to really become a fully well-rounded business leader. And if there's a way for them to get
it without spending $50,000 and taking a year or two off to get an MBA. I think that's a good ROI
on investment. So thank you for sharing that.
Lisa: [00:34:36] Absolutely, yeah. Thank you so much.
Karl: [00:34:41] I want to thank Lisa McGuire, who is a business growth advisor and a marketing
consultant with Open Window Marketing. Thank you for your insights for sharing your
experience and to help every business owner figuring out little nuggets of things they can do to
improve their business. I'm Karl Barham with Transworld Business Advisors of Atlanta
Peachtree, and we are going to continue to help business owners post this shutdown period of
the pandemic. Figure out their best way to grow their business, improve. We can do that by
helping them to franchise their business. We can do that by helping them to acquire their
business. And for those that are ready to relax on a beach somewhere, we can help them find a
buyer and help them get their business sold. So you can reach me at KBarham@TWorld.com
or you can visit us on our website at www.TWorld.com/AtlantaPeachtree. Hey Rico, why don't
you tell us what you've got coming up.
Rico: [00:35:39] Sure. First, I want to tell people that I totally enjoy talking to Karl off-camera
because I learn a lot from Karl, okay? I own my own business or businesses and, invaluable
insight from Karl and along with our other guests. I mean, Lisa has some good, great, valuable
insight here. And you know, we've done what, 40 of these?
Karl: [00:36:00] We're up to 47. We're going to hit 50 soon.
Rico: [00:36:06] There's a ton of sage advice out there that we've learned. So I'm always happy
to be on a show like this, where we get more because I'm constantly learning. I own my own
business marketing, MightyRockets.com and everyone that watches this show knows that. We
publish Peachtree Corners Magazine which is coming out again every six weeks we sort of wrap
ourselves around the next issue and we put this out six times a year. So the next issue is
coming out around the first week of October. And we're going to have great backyard retreats.
We're profiling five local backyards that we feel are exceptional for a variety of reasons. So
we're doing that. We're doing a pets and their people give away, and that's going to be a pull out
in the next issue as well. And we're going to have probably get 4 or 5,000 pictures of people and
their pets that have been submitting. So we have this contest going right now. So if you haven't
entered, go to our Facebook page or to our website, enter it. All you have to do is submit a
picture of you and your pet. And, you know, tell us a little bit about you all. And then we're going
to pick three winners at the end of that. So we're doing that. We're doing a bunch of other
stories within that publication. It's going to be chock-full things as it usually is. And you know, I'm
still working with clients as well, doing some of their marketing online content and stuff. So if you
need to reach me and you want to be able to do some of that work and you need someone to
do it, MightyRockets.com is the place to go. LivingInPeachtreeCorners.com is the place to find
the magazine and our family of podcasts. And I just launched the CapitalistSage.com website
just to begin exhibits. So it's shallow on content right now. We're adding all the podcasts that
we're doing, that we've done. So you'll find some of that there. We're going to be adding over
the next few weeks. So check that out, leave your name and email address. And certainly you'll
be reached back out to it again.
Karl: [00:38:09] And if I can, I want to spark an idea in honor of the theme of today, marketing. I
think you're still accepting ads. If somebody would like to do ads for the magazine, you can
reach out for that? So for people in Peachtree Corners surrounding area, if you want to increase
your visibility, traditional marketing methods also still work. But you can reach out to Lisa to help
you with your messaging and Rico, if you'd like to have an ad added.
Rico: [00:38:38] So if you do, our deadline is, well our deadline is September 22nd for the print
magazine for the October, November issue. But you know, we come out six times a year. Plus, I
mean, it's not just print. You get exposure in a variety of places, you know, online on our
Facebook page on Instagram, on Twitter, on LinkedIn. So if you're an advertiser with us and
you have that type of package, we're providing some of that online as well.
Karl: [00:39:05] So if you didn't get the message, post pandemic, your customers have changed.
You need to talk to them. So take advantage. Thank you everybody for joining us today on the
Capitalist Sage podcast, you'll find us on all of your streaming channels. iTunes, Spreaker,
iHeartRadio, on YouTube, on Facebook. Just go and explore Capitalist Sage. And, you know,
pick up something, apply it, and we'll be happy to continue to give you great episodes. Thank
you.
How Five Community-Owned Businesses Were Bolstered with Cares Act Money – Mojitos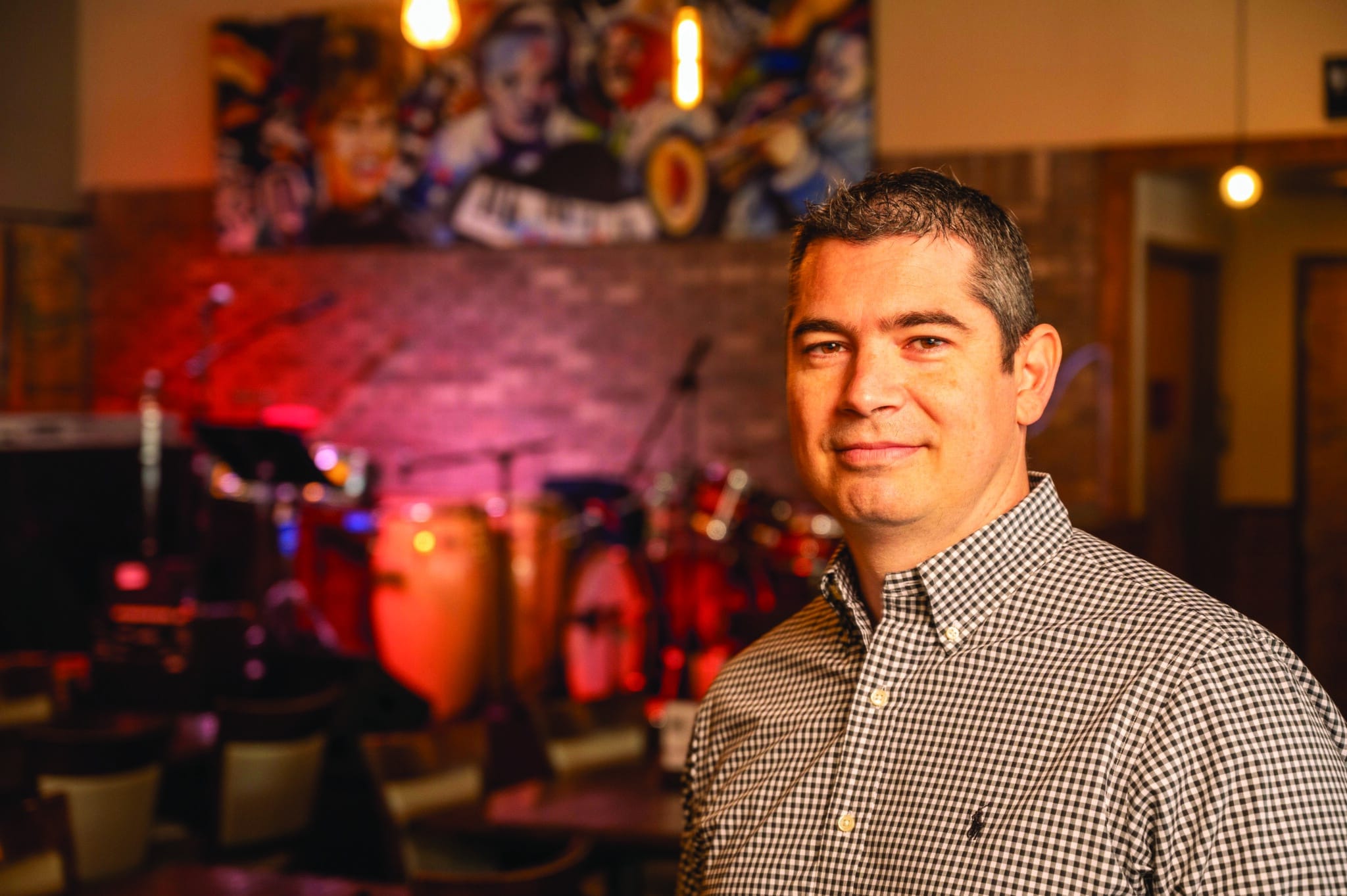 "I don't want to say it was a drop in the bucket, it was very helpful," said Luis Fernandez of the thousands in federal money his business got under the Paycheck Protection Program, a later COVID-19 grant and from elsewhere.
"But one rent check, one liquor license renewal and a couple of utility check payments and you just blew $50,000," said the owner of Mojitos Cuban American Bistro at the Forum as he recounted well over a year of struggle in his Peachtree Corners restaurant and other locations. He said without the money from the paycheck program, they wouldn't have made it until December of this past year, when they got the grant.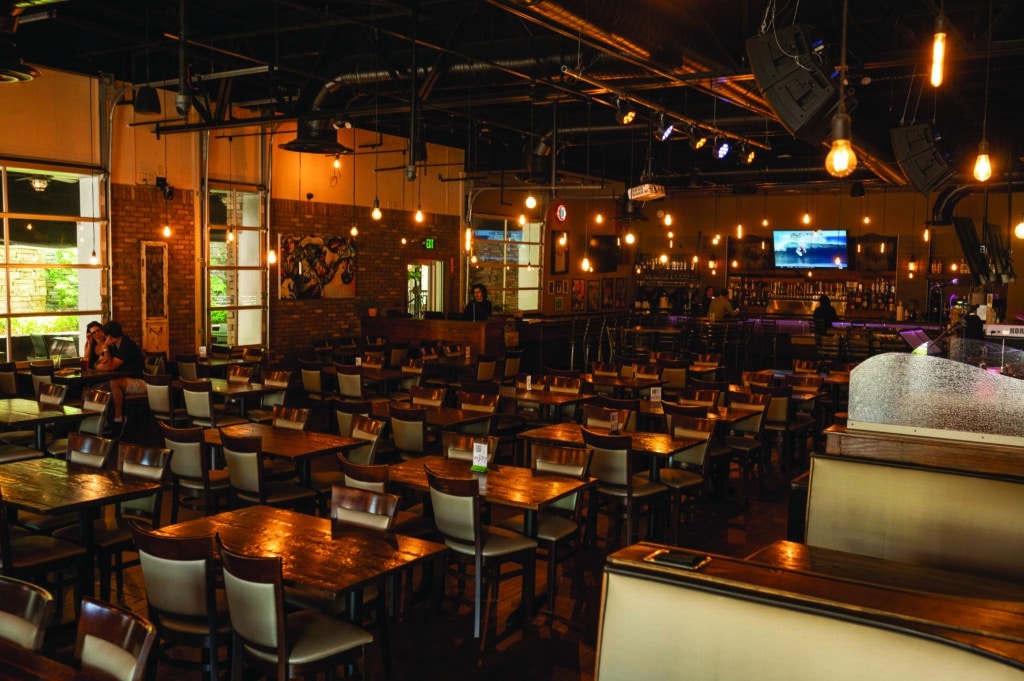 As the pandemic flickered to life in the spring of 2020, he said, the dining room was closed for more than a month, then open for takeout only, and when the dining area finally reopened, 80% of their square footage disappeared due to social distancing.
Thinking initially that the crisis would peak and begin to subside in 15 days, Fernandez said he gathered staff and told them that he was going to pay them as if all and sundry were going on a couple-week vacation.
When that span came and went with no sign of recovery, "that's when the body aches and the grey hairs came. I feel like I aged 30 years in ten months," he lamented.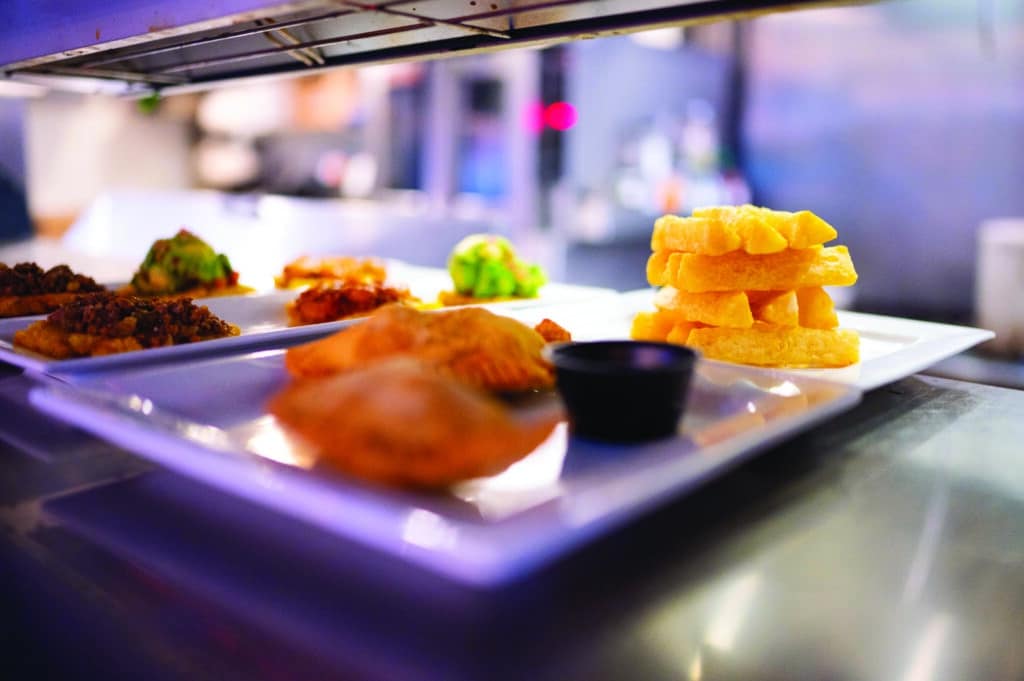 Efforts to stay afloat included them cashing in life savings and maxing out a home equity line of credit. Not so good.
But much better: Fernandez credits both the city of Peachtree Corners and ordinary citizens with being a huge help. The grant money that he had applied for in late November-early December came through a couple of weeks before Christmas — a very timely holiday gift, if you will.
As with Harwell, Fernandez said since reopening and easing back toward "normal," business has been a roller coaster ride. "We saw some amazing weeks of sales come in late May and early June (of 2020) and we said, 'Hey, baby, we're coming back.' And then the whole riots and everything started happening with spikes in cases and (business) went back down again."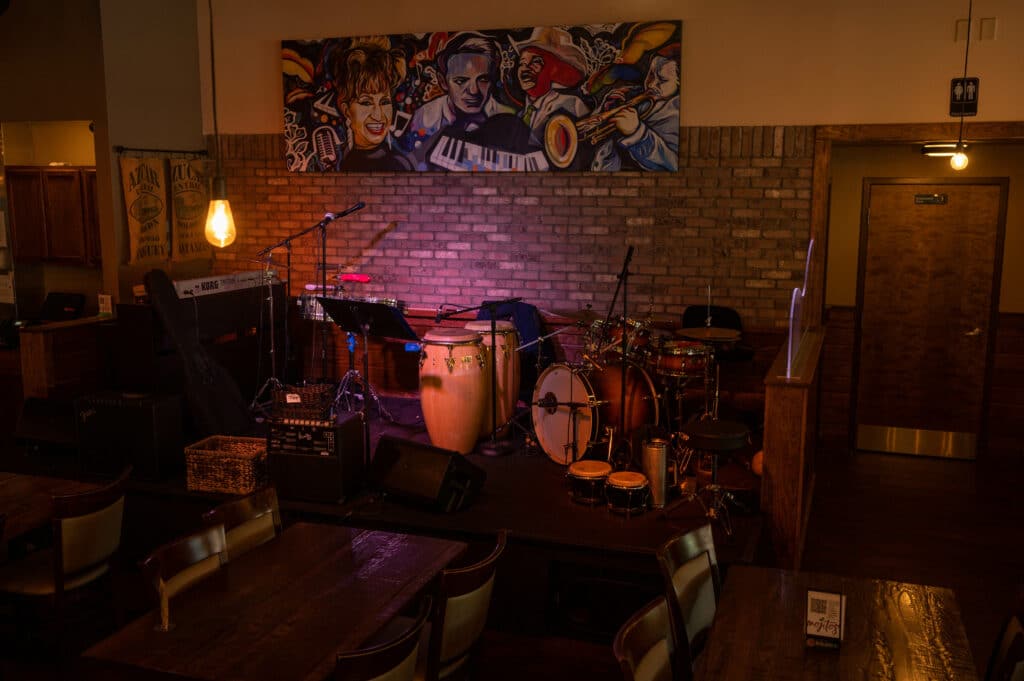 He credits the city with helping to stem the bleeding in a couple of ways. Fernandez said when they decided to reopen the dining room, he procured a large banner announcing the reopening. Unbeknownst to him, he said, was a provision in the city's building code limiting the size of such signage. A code enforcement agent drove the point home with a visit.
The Cuban restaurant owner decided to plead his case with city hall, emailing a member of the council and getting a sympathetic hearing. "A week later, the city announced they weren't enforcing the signage code," he said, adding, "you're not thinking about the city code when you're trying to save your financial life."
The city also eased up on late fees for paying liquor sales tax, Fernandez said, which alone saved thousands of dollars. The move made sense, he said, given that restaurants, with historically little profit margin, have to closely allocate their money in order to meet such obligations in a timely manner.
The community also rallied, buying gift cards while the restaurants were closed and placing garden-variety-sized orders with a $100 tip attached. "They really did bring tears of joy on more than one occasion, just knowing that we have a community that wants to help small businesses," he said.
Fernandez said the business is back to about 80% of its former level. He noted that the latest wrinkle involves finding enough staff. "We had an amazing Mother's Day weekend at all of our restaurants," he said. "But we have like 40% of the staff, so it feels a lot harder." He said the weekend was a mad scramble as a result.
While the trend is in a positive direction, he added, a business model meant to evoke a crowded, hopping 1950s Cuban nightspot faces a tough challenge in an era of social distancing and face masks.
How Five Community-Owned Businesses Were Bolstered with Cares Act Money – BeautifulLea Hair Salon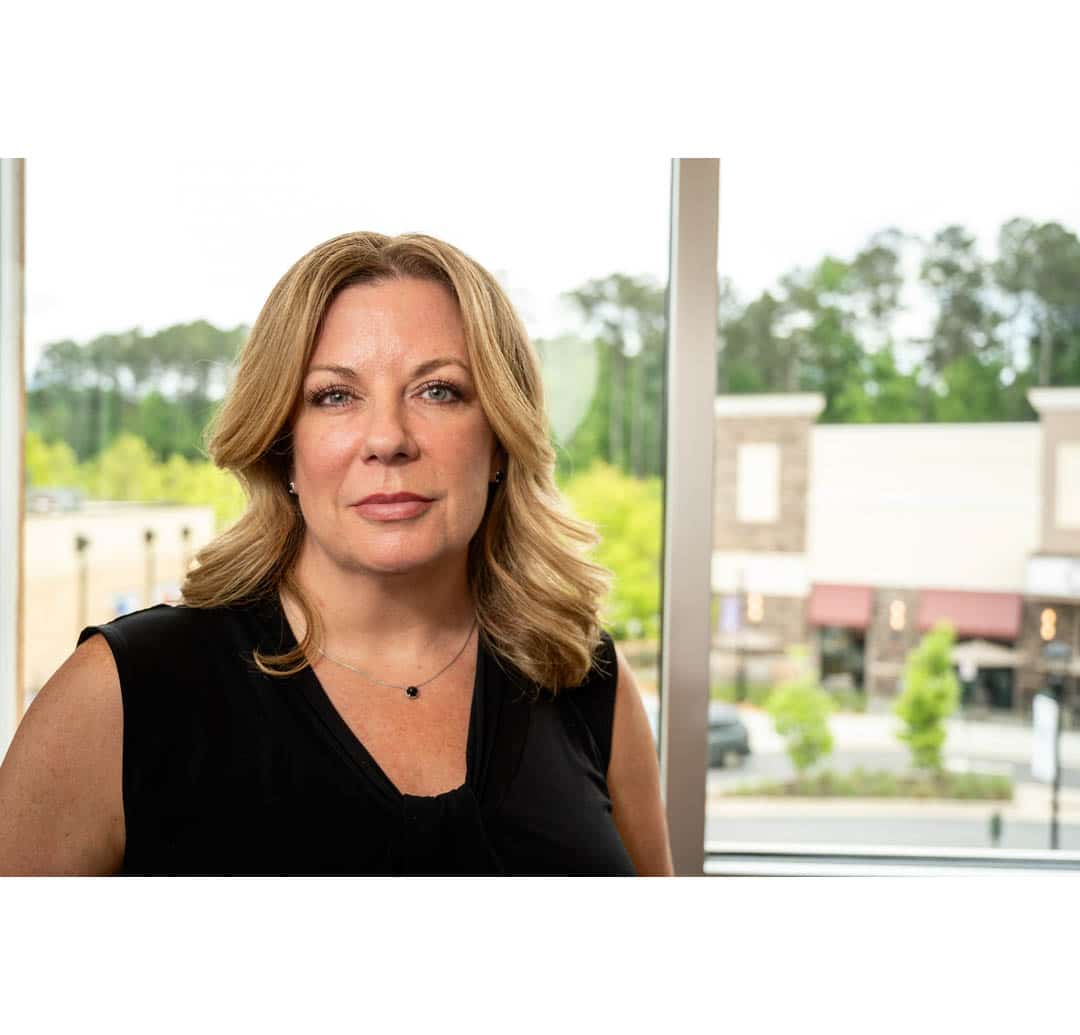 Businesswoman Lea Harwell said her business has been subject to ebb and flow since the onset of the pandemic some 16 months ago. Although she prides herself on having an "always prepared" mentality, being shut down for five weeks and then having to make operational concessions to COVID took a considerable financial toll.
She said the thousands of dollars in COVID grant money she received helped compensate for the weeks of no income. The veteran cosmetologist dipped into her own finances for business expenses during that time, then used some of the grant money to replenish her rainy-day stash.
She also utilized the help to get masks and additional safety supplies and institute cleaning measures. Then there were operational and scheduling changes that chewed away at her former income level.
"I work longer hours to do the same number of people because I'm not seeing two people at the same time," Harwell said. She occupies a one-room suite with three chairs at the MY SALON Suite – Beautiful Hair Salon and said in pre-COVID times she could have a client in one chair undergoing a color processing while simultaneously giving a haircut in the other. That's not possible now.
On the other hand, she allows that having an individual room instead of working as part of a larger open salon has been a plus.
In addition to the limitation on people, additional costs have come with completely sanitizing her room between clients and keeping mask and cleaning supplies on hand for her and for customers who want to feel more comfortable.
That has made her more adaptable, she inferred. "You can't cut hair very well around a mask," she said, although if clients insist on a covering, she can find a workaround.
She's gone the extra mile on Zoom to help clients who are even more ultra-cautious. Harwell said several who have feared venturing out have asked her to jump on a video call with her so they can trim a friend's or partner's bangs or clean up a bit around their ears.
She's willing to do that, but couples it with a cautionary note. "I tell them I will try to help, but I can't take any responsibility for what you do with your untrained hands." As she noted, "I have doing this for 40 years."
Providing what could be termed "tele-haircuts" is a second manner in which she's had to be nimble since COVID reached pandemic levels last year. Harwell said there are other examples as well.
Take what happened at the end of the five-week shutdown, for example. "I remember the day the governor was doing his press conference. He made the announcement at 4:00, and at 4:01 my phone started blowing up. That day was a scramble, and everyone wanted to be back," Harwell recalled.
She said that after initial rush, business tapered off. A couple of roller-coaster cycles followed, including a drop-off last July and August. Now her business has settled into a groove that's about 80% of the pre-pandemic level.
A couple of ancillary factors have brightened the picture. "Our owners were very generous to us," she said. Although they had to keep up with payments to their landlords, lease payments from individual salon tenants were waived during the time that they were not able to be open, she explained.
Harwell also cited working for a number of years in sales and marketing, which she pursued until coming back to the haircutting business some 13 years ago. "I can get out there and find business," she said confidently. "If business falls off, I just don't wait for something to happen. I need to work, and I want to work."
For now, she's playing it conservatively, using her much-appreciated help to rebuild her savings while keeping her fingers crossed that cases don't spike again to the point that another shutdown is required. She's still in recovery mode, financially.
Harwell said she thinks Governor Brian Kemp has done what he can to keep small businesses going during the pandemic and added that she's eternally grateful that Georgia is not in the same boat as California, where she said stylists weren't allowed to work for a year.
How Five Community-Owned Businesses Were Bolstered with Cares Act Money- Anderby Brewing Feature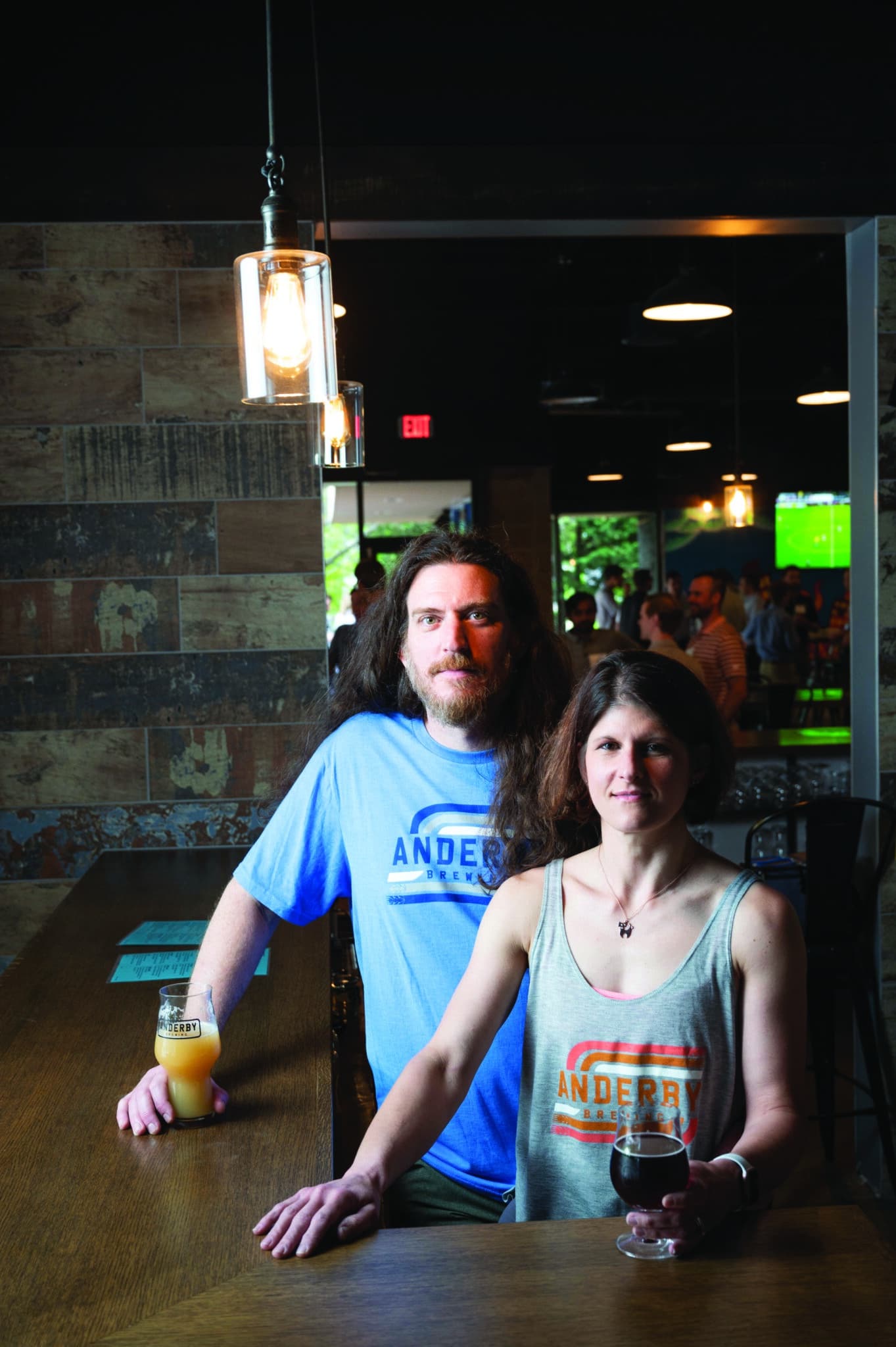 The grandly titled Coronavirus Aid, Relief and Economic Security (CARES) Act came quickly out of Congress and was signed into law after the namesake disease clamped down on both public and private life in March of 2020. A key provision was a $367 billion loan and grant program for small businesses.
Sometime later, the city of Peachtree Corners was allocated $4.5 million meant to aid those enterprises and divvied it up among each qualifying applicant. This is a story about five Peachtree Corners enterprises forced to weigh a number of considerations, from how to balance safety for customers and staff with a driving need for revenue — and about the help they got to stay afloat.
Anderby Brewing
Anderby launched in 2019 with owner Preston Smelt and spouse Michell, along with a small cadre of employees, brewing a variety of IPAs, stouts, fruited sours and other favorites. They built buzz through their taproom and by supplying kegs of beer to restaurants. Then came COVID, and the whole enterprise, well, went flat.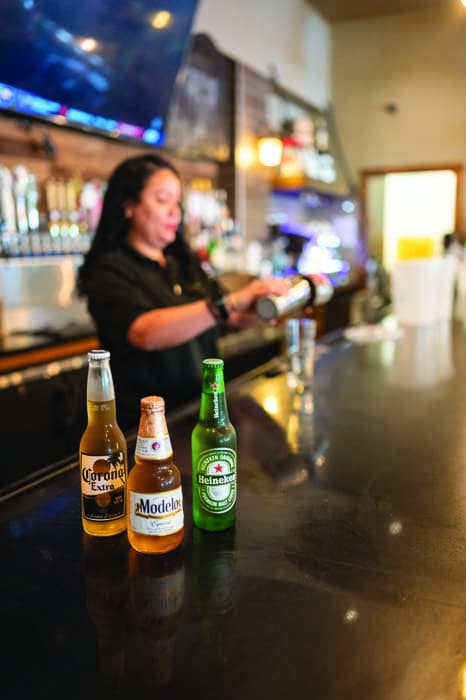 They got a COVID-19 grant through the Cares Act plus help through other government programs that, lumped together, was in the low six figures. It was badly needed as their taproom shut down until June. With restaurants closed, as well and many later limiting to pickup and delivery once open, that part of the business dried up as well.
Smelt said some stark numbers told the tale. He said a good month prior to COVID meant $35,000 to $40,000 in total revenue rolling in from product distribution and their taproom. After the onset of the epidemic, that shrank to $3,500 or $4,000.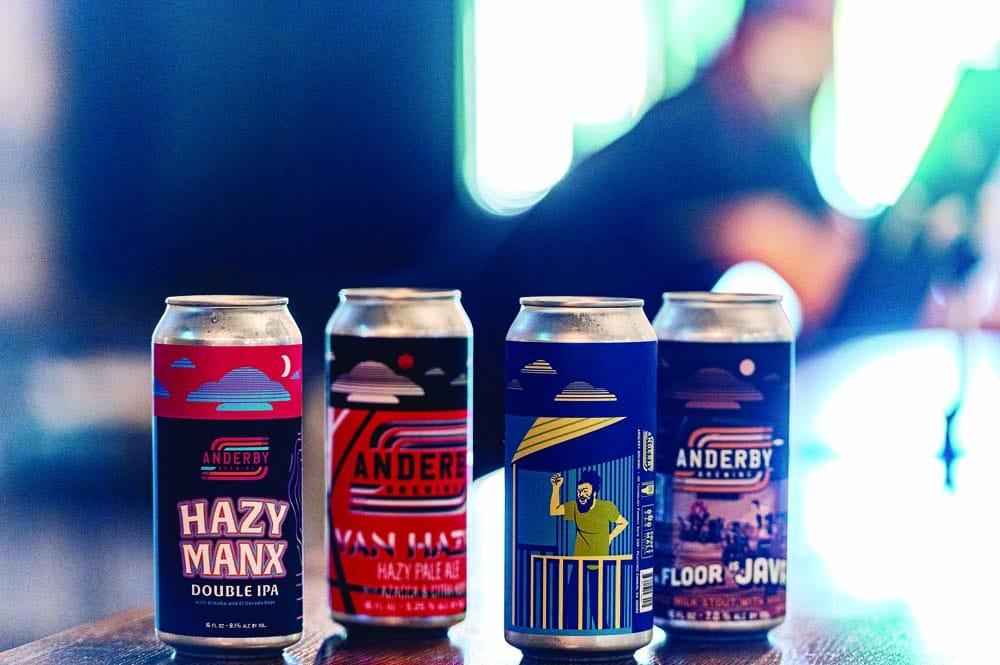 "And it wasn't like we were a long-established business where we could go to a bank and say 'we need a $100,000 loan and we'll be good for it as soon as we get out of this,'" he pointed out.
Smelt said, "The money got us to the point where we were able to make some reinvestment in product and stocking raw materials." He said it also helped to fund the acquisition of capital equipment for a canning operation "because that was one of the few ways to move beer during this period."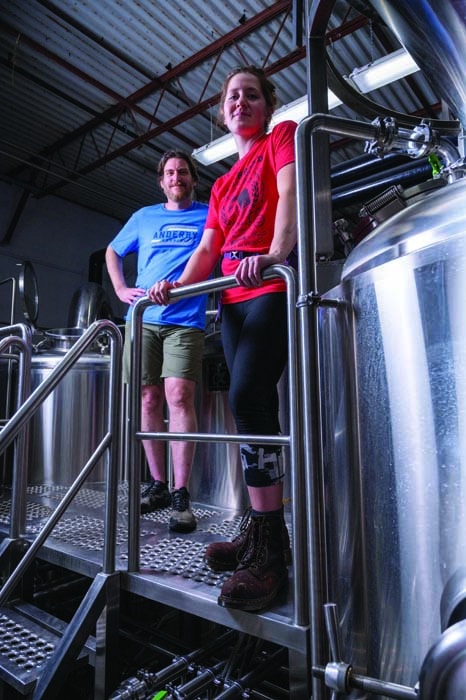 That canning equipment took until October to arrive. In the meantime, they resorted to a hand bottler, filling exactly two bottles at once and selling finished six-packs out the front of their digs. Ultimately the endeavor was a money-loser, but Smelt said it did provide some revenue, got their product into the hands of their boosters and gave them visibility.
It also kept them from pouring even more beer down the drain than they had already had to do.
Another factor in play, he said, was a "fantastic landlord" who worked with them on their rental obligations. "We would not have survived without those two things," he said bluntly.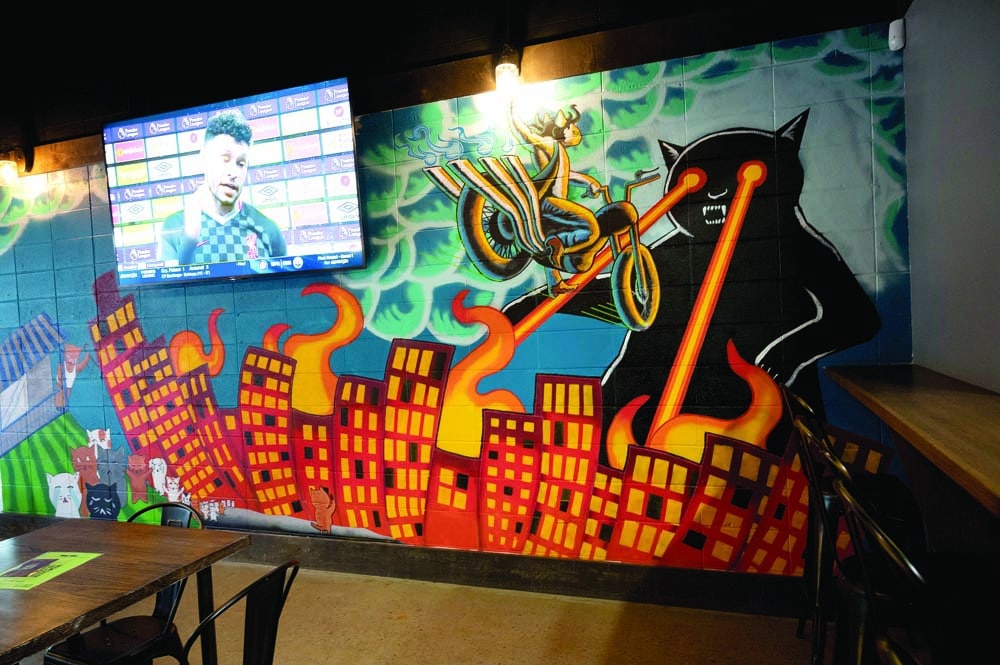 Smelt said he and his wife had just started talking about revamping their product lineup when the epidemic descended. The federal help helped enable them to settle on a core of three or four beers they think will help them expand throughout the region.
The couple is cheering the growing vaccination numbers and drooping COVID caseloads. With more companies reopening in the surrounding Technology Park and their workers beginning to stop in, and restaurants starting to clamor again for kegs, prospects are improving.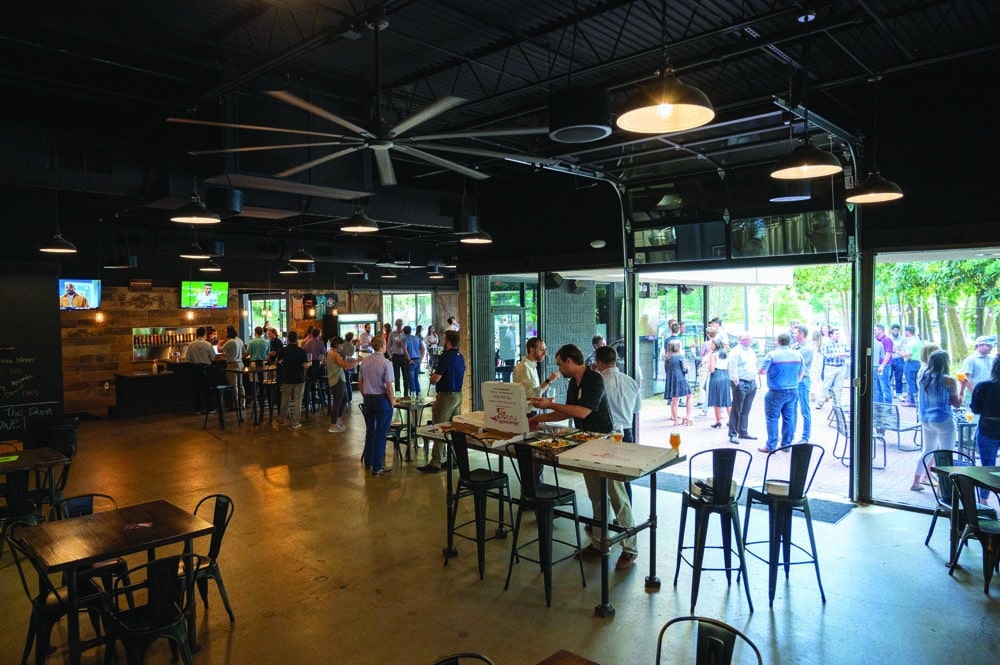 Another positive factor, he said, was that three new breweries have opened in the immediate area since they debuted. He said having several in close proximity will create a "brewing scene" that could become a destination choice.
At their own destination, they had cut taproom seating by 30-40% before reopening last summer and took other cleaning and sanitizing steps. "What we're wanting to do is create an environment where you can come in and spread out and feel comfortable," Smelt said.
In line with the push toward distancing has been a reluctance to re-start larger themed events. He said that if a bigger crowd shows up in conjunction with daily operations, they're OK with that, but a large blowout is not in the cards.
In another case of altered plans, Smelt said earlier plans to do a capital expansion have been put on hold. All the juggling of procedures, products and profit-and-loss numbers has taken a toll.
"There hasn't been a lot of sleep," he said. "There's still not. While things are improving, we're not back to normal yet."