How to Position Your Small Business to Grow Sales During and After COVID-19 [Podcast]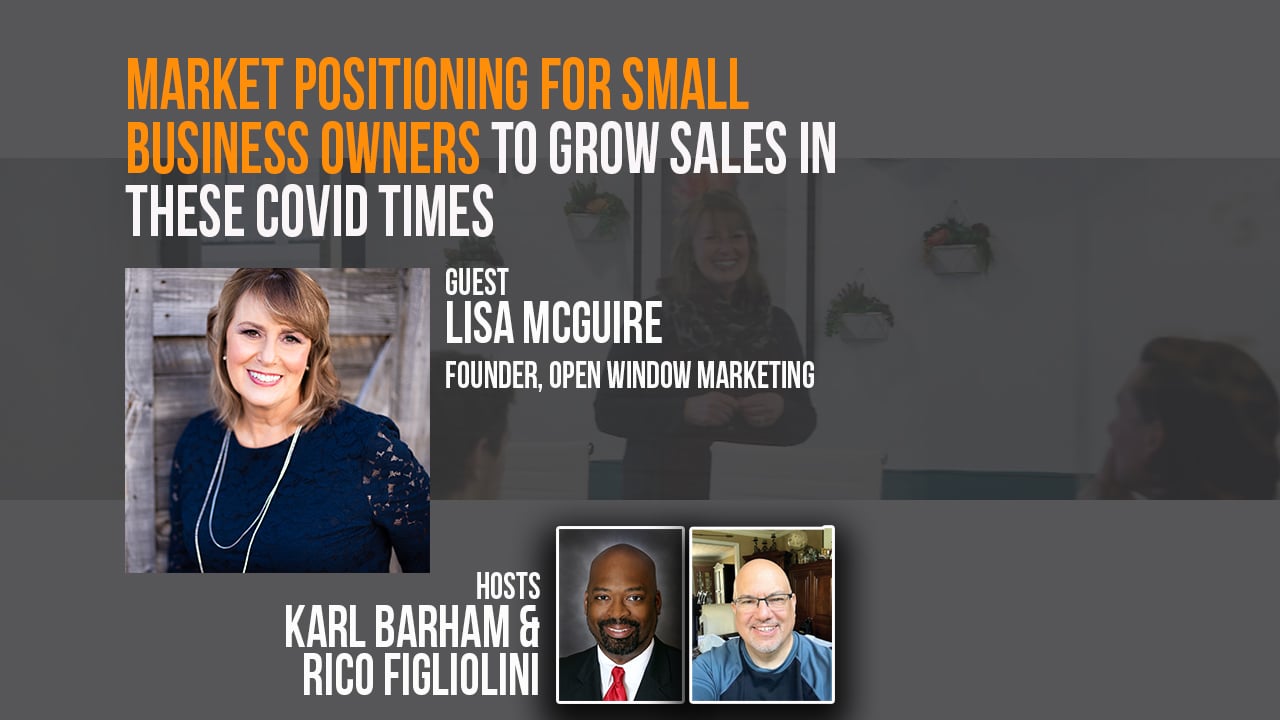 The pandemic has changed customers and their buying habits. That's without question. So how do you talk to them now and in the next normal time? Open Window Marketing founder Lisa McGuire joins Karl Barham and Rico Figliolini to discuss brand positioning and more.
Social Media
LinkedIn
Instagram @iamlisamcguire
Marketing Tips for Small Business Owners to end 2020 strong.
The 3 Customer Profiles of 2020 – how your customer has changed
Customers have shifted from pre-pandemic to the pandemic to the next normal. How can you possibly know what to say?
Why traditional marketing no longer works and how to move forward.
Traditional marketing talks about the features of the product and why they are the best choice. In our noisy world, you need a new approach.
Why your personal brand is even more important to help you drive more revenue
Timestamp, where to find it in the podcast:
[00:00:30] – Intro
[00:03:10] – About Lisa
[00:04:01] – Marketing Mistakes
[00:05:43] – Changing Clientele
[00:09:33] – Importance of an Online Presence
[00:16:14] – Clarifying Your Message
[00:21:14] – Traditional Marketing
[00:23:57] – Spending and Personal Branding
[00:30:17] – Marketing Done Correctly
[00:31:52] – Closing
"And the big idea to take away from this is the customers that you've had no longer exist.
They are now pandemic customers. They have new problems, they have new priorities. So what
do you need to do in your business to shift your product line and offerings? To meet these new
problems, or if you still connect with their problem, how do you need to shift your message?"

Lisa Mcguire
Karl: [00:00:30] Welcome to the Capitalist Sage Podcast. We're here to bring you advice and
tips from seasoned pros and experts to help you improve your business. I'm Karl Barham with
Transworld Business Advisors, and my cohost is Rico Figliolini with Mighty Rockets Digital
Marketing and the publisher of Peachtree Corners Magazine. Hey Rico, how are you doing?
Rico: [00:00:47] Good Karl. It's a beautiful day considering how much rain we had the other day.
Karl: [00:00:53] I know, I know. This storm has gone past and now we'll hopefully get some
better days going ahead. Things are getting cooler for the fall. Why don't you introduce our
Sponsors?
Rico: [00:01:04] Yes. Our lead sponsor is Hargray Fiber. Hargray Fiber is a Southeast based
company that does internet connectivity. They handle fiber optics, which is the main drive of any
internet home or office, right? So they're in the communities that they serve as well. So they're
not your cable guy, right? They're not a company that just has an office there. They're involved
in the communities that they're in, whether they're involved with local companies. So for
example, in Peachtree Corners, they're involved with Curiosity Lab at Peachtree Corners with
the city. They're providing internet connectivity to a lot of companies in the area. So if you are
interested in Fiber optics in a company that's local that has a local presence, and that can give
you the tools you need, like smart office tools to be able to operate your employees at home or
in the office, reach out to HargrayFiber.com or you could go to Hargray.com/Business. And they
have a promotion going on, a thousand dollars visa gift card for those companies that qualify
becoming a client of theirs, so check them out.
Karl: [00:02:10] Oh, that's fabulous. Everyone needs more internet, more speed and I'm glad to
have good businesses like Hargray in our community to help business owners with that. Today,
I am honored and pleased to have a great guest. In this fourth quarter as we're coming in,
rounding out 2020, most business owners have seen all sorts of impacts. Some have grown,
some have stayed the same. Some have actually seen some reduction in their customer. What I
know for sure if you're going to have a great fourth quarter and start off 2021 well, you've got to
focus on growth. And today we have Lisa McGuire here to talk about how small business
owners can really focus their marketing and sales efforts in concert. To help them really have a
springboard to their growth in 2020 through 2021. Hi Lisa, how're you doing today?
Lisa: [00:03:07] I'm doing great Karl. Thank you so much for having me.
Karl: [00:03:10] Oh, pleasure. Well, Lisa McGuire is a business growth and adviser. And a
marketing consultant with Open Window Marketing. And I'd love for her to introduce herself and
tell a little bit of how she helps people in business.
Lisa: [00:03:25] So, one thing we know is when business owners started their business, they
wanted to do the work they love. They didn't necessarily want to wear all the hats that a
business owner has to wear when running a business. So what I do is I come in and help them
determine how to figure out who their ideal client is, how do they connect with that client, what
message does that client need to hear, to be able to engage with them, and then how to grow
their business through marketing that works. And then it filters into the other areas, productivity,
the mission of their company, the culture of their workforce too.
Karl: [00:04:01] Wow. Well, I'll tell you, I look at a lot of P&Ls for business owners. And one of
the things that really becomes apparent, I look at how one business owner spends on marketing
and ask some questions about that. And then I look at another one who may not do a lot of
marketing. You'll hear a lot of, I grew my business through referrals and so on. And I realized
there's a big difference when you look at the performance of growth, those that focus on that
marketing versus those that don't. But when they start business, they didn't really think about
that. What are some of those mistakes you see business owners making when it comes to
marketing their business in general?
Lisa: [00:04:45] Yeah, just kinda marketing their business in general. What they're looking at,
they're looking at, okay, what is it that I have to sell and how can I push it out to get as many
people to buy it as possible? They're not looking at it from the customer perspective of what do
they need to hear. All they know is I've got this many widgets to sell, or I've got to book this
many billable hours, and what can I do to make people buy from me. And so what they end up
doing is they've got this message they repeat over and over that isn't connecting with their
clients. They put a lot of money into tactical things. They'll do Facebook ads, they'll pay a lot of
money for SEO to get people to come to their website. But what happens is the message that
they're using either to get people there, or once they are on the site, it's not converting because
it doesn't matter to the customer. They talk about features. They forget about them.
Karl: [00:05:43] Wow. Well this year, has gotta be really interesting. For many businesses
because of the pandemic, their customers might have change. Either new customers are
coming through or what their existing customer needs have changed. How would you walk
someone through looking at a situation like that?
Lisa: [00:06:04] Yes, this has been a year that was unthinkable. We never could have imagined
it. And so if you think about back to January, February, we had pre-pandemic customers. Things
for going along, if you remember just a couple months before that we were celebrating a new
decade, there were all kinds of analogies, the 2020 vision, we're going to make this the decade
that really makes the difference. And then the unthinkable happens. We have this global
pandemic. And really the whole world, as far as the business world in the United States, just
kind of came to a standstill. You know, we were in a period, if you remember back think when
they said, if you just quarantine for a couple of weeks, we'll get through this. And so it was
uncharted territory. So here's what we found with businesses. They did one of three things.
They either continued with their marketing as usual. They used a different message and pivoted
their message. Or they said nothing at all. So if we look at those three things, continuing
marketing business as usual would tell their customers you're insensitive to what's happening in
my life. Why are you going on acting like this world has not changed? The ones that went quiet,
what happened is they made a space for other businesses to come in and take their place. But
the businesses that won, the businesses that did well, were businesses who first of all
acknowledged what was happening and became very empathetic to your customers. You know,
there was and continues to be, but initially a lot of fear. A lot of anxiety, anxious, you know,
what's going to happen to my business? What's happening with my family? Am I in danger with
my health? So making sure that you really understand that customer and who they are was
really critical. So we heard a lot of messages, we're in this together. You know, we've heard the
new normal, we heard all of those things to really unify our market place to be able to reach
them. But now we're what, six months into the seven months into this, I guess, because it's six.
Now you've got a third type of customer. You've got the customer that is realizing, okay, this is
our new way of life for now. You know we're moving forward, so what can we do? Our whole
world has been disrupted. If you think about it or work lives, our home lives, how we consume
media, how we purchase, what we value up, like everything has been shifted. So what can we
look at what the customers, what they need now? And what the big idea to take away from this
is, the customers that you've had no longer exist. They are now pandemic customers. They
have new problems, they have new priorities. So what do you need to do in your business to
shift your product line and offerings? To meet these new problems, or if you still connect with
their problem, how do you need to shift your message? And that is the advice I would give
business owners heading into 2021. If you're using a pre pandemic message, you're talking to a
client who is no longer existing.
Rico: [00:09:33] Lisa, do you, what do you find from the clients that you talk to from the
companies you talked to more effective? You know, as far as business goes, what tools are
they implementing? What are they changing that they weren't doing before the pandemic?
Lisa: [00:09:51] Well, I think the thing that has become very apparent to business owners is if
you did not have an online presence, you need to have one. You know, I'm very active in
networking and in those first couple of weeks, people were trying to figure out how do we
network if we can't go to coffee? How we will reach people? How are people going to find me?
And you know, if you look even at restaurants, they had to do a quick of it. How do we get
people to consume our food? How do we make them feel like they're safe? So being online and
making sure that your customer experience online is seamless. That has been the big shift that
I've seen with most people is figuring out, okay, how do I go online and switch my products.
Rico: [00:10:38] You know, what's interesting. I think in the restaurant business especially, it
was easier, right? Because you had Yelp, you had Door Dash, you had Grub Hub, you had all
these businesses. If you wanted food, you could, you would go out and you'd find it. You know,
where you could go. The problem is with, you know, with a place like a yoga place or a soap
maker type of store, it's difficult, right? Because people aren't quite looking for that and they may
want it, but they just don't know. So there's that two-sided edge to that right? You do, but I agree
with you. You have to be online, but it's way more difficult for some businesses than others.
Lisa: [00:11:17] Yes, it definitely is. So we saw a lot of people in the health and fitness space go
online and start having virtual yoga classes, things such as that. We found brick and mortar
stores suddenly had to have an eCommerce site. But the other thing too, we have this
opportunity of where we may have been marketing within a geographical area, is now we could
extend our services, you know, you can network nationally or internationally. I'm working with a
couple of clients who did work with local Atlanta businesses or local Atlanta clients. And now
their clients are all across the United States. So how do they find them? How do they reach
them? How do they connect with them?
Karl: [00:12:01] It's easy to understand the power of being online. And I visit businesses and I
look at their websites all the time and it's a pandemic in itself how bad some of these websites
are. People don't put a lot of attention. When you look at a website, someone doing it right, what
are some of the things? Maybe not technical, but what are some of the things that you find helps
business owners be more reachable and successful online?
Lisa: [00:12:33] Yeah. So the first thing, you know, as we talk about websites, Karl the thing I
would invite people to do is if you think you have a great website, look at two or three of your
competitors and go to their websites. And what you're going to find, it's very likely you're all
saying the same thing. So what you have to do is figure out how am I going to stand out?
There's a couple of different ways to do that. So the immediate piece of advice I can give all
your listeners today, you can go and do this and start making money tomorrow. Make sure you
have clear call to action buttons. And you want them all over your homepage. So you want one
in the upper right hand corner. In that hero shot area. You want one in the middle of that hero
shot area and make sure those call to action buttons are a different color than the rest of your
website. Make sure they're the same color throughout as you cascade down the page. As you
scroll down the page make sure there's always a call to action button in the screen as well as in
the upper right hand corner. Because here's what happens, the visitor may not be ready to
purchase from you or maybe ready to take the next step with you initially, but as they scroll
down the page and start learning more about you, Oh, now I want to know more. And so you
want to make it convenient. We call that call to action button, your cash register. So why would
you hide your cash register in the back ladies room? You want to make sure they're all over the
place, right? So that's something you can do to start making money today. So that's one thing, if
that's helpful to you.
Karl: [00:14:13] Yeah, that's great advice. The other thing is, there's this thinking around Google
pay-per-clicks and Facebook ads and so on. How do they, how do business owners use those
to integrate with their website?
Lisa: [00:14:28] Yeah. So there certainly is a place for paid ads. And you know, the thing is, is
you start with your website. You want to make sure that Google recognizes your website as a
quality website. So I'm going to answer your question, Karl, but I'm going to kind of connect
these two. First of all, Google's going to try and watch and monitor to see, are people when
they're on your website, are they staying on it long? If they can register that they're staying on it
long, that signals to Google, there is quality content on there. So again, your message is so
important. So when you go to a website, you should be able to immediately know what the
business does. It is astounding, the number of business websites I see, I can't tell what they do.
I have to know what you sell. What do you do for me? Making sure that you are updating
content. And so that would be having a blog on your website, talking about topics that people
have questions about. And, you know, people say, I don't know what to write in a blog. Think
about this, what are the top five questions people ask you about your business? Those will be
your first five blog topics. And so putting those on there, that's going to give you some organic
reach with SEO in that. But then when you get to ads, paid ads, that's when you can drive
people to your website whether it's Facebook ads or Google ads. And I recommend not trying to
do it yourself, work with a digital marketing specialist who knows what they're doing. I believe in
paying experts for what they know so well.
Karl: [00:16:14] There's a subset of business owners that I know struggle in this space. And it's
in the professional services. Lawyers, accountants, etc. Very smart, very talented in their
profession. But when it comes to marketing themselves, maybe not as strong. And their content
can be confusing to the layman. Finding the intricacies of tax law for how to get out of speeding
tickets or whatever that might be. For those types of businesses, how can their messaging on
their website help them? What would be something they can do to guide people in?
Lisa: [00:16:54] Yeah, so a really great way to do that because, you know, here's the thing we
want those experts. And when you need someone like that, you want someone who knows what
they're doing, who knows all the intricacies and you know, the ins and outs of how to practice
their profession very well. But what happens is when you speak with them, because they are so
educated and they're so good at what they do. You'll find a lot of times they tend to use what we
call insider language. So they'll use industry terms. And when they start using those, the person
reading the website or the person listening to the message, what goes on in their mind is they
say, I don't know what that means. So they either get stuck trying to figure it out, what are they
talking about? Or they just stopped listening because it's too much work to try and keep up with
the person communicating the message. So that is one thing I would advise for those folks, is to
stop using insider language. To make your language, make your website as if a 10 year old
could read it and understand it. You want the language to be that simple. You'll be able to bring
in your credibility and authority the longer people stay on your website, but that would be the
first thing I would suggest. The second thing I would suggest is make sure that you really get to
the problem that your customer has. And here's the thing, traditional marketing was talking
about the business. Today, great marketing is being known for the problem that you solve. So I'll
use a tire store for an example. This one I use quite frequently. So if I sell tires, I am not selling
tires. That's not the problem I solve when somebody needs tires. The problem I'm solving is
someone needs to have a vehicle that is safe on the road because they have quality tires. The
problem I'm solving is someone has to turn in their car for a lease and they've got to update their
tires so it meets qualifications. So look at for the customer, what is that pain they are
experiencing? How is it making them feel? And being known for solving that problem, that is the
way that you go in as a professional service provider and speak to them.
Karl: [00:19:20] It's interesting, as you're saying that, it made me think of this concept around
demand generation and leading the customer to discover or clarify the problem they have and if
you're the person that helps them do that. And a lot of professional services, I talked to
someone the other day, a client the other day, and they were concerned about, they took out
PPP loans and EIDL loans this year. And so as they're going through, I mentioned to them, they
have to process or apply for forgiveness. They looked at me kind of shocked. You mean it
doesn't happen automatically? And so I know lots of financial advisors and CPAs and
accountants and folks that help in that area. No one's talking about that problem that's out there
that people may not know. And is that an example of some blog and/or content around that
particular problem that would help someone find a professional service site?
Lisa: [00:20:25] That is a very timely and perfect example, Karl. Because, so these people
walked into these situations, you know, okay, this is great. You're telling me I can get this
money. How does this work? They were very good about leading them to it, but now is the next
step of now you've got to apply for forgiveness. Well, these people don't know how to do it.
What does that look like? How do I? Is there a way I could do it and mess it up? Please help me
figure that out. So that is the next step of when the bank says okay, now it's time, wherever you
were able to secure. It says, okay, now it's time to start moving it along. We have no idea of
what that means. So you've got to spell that out as well. Yeah. Great example.
Karl: [00:21:14] Well, if I can ask a little about some of the more traditional forms of marketing.
This year, I don't know how many movies were released between March and September, but no
one's watching ads between movies anymore. What did the role of these other different
vehicles, whether it's ads and papers and magazines and those types of direct marketing. What
role does that play in marketing today? And should people still be investing in those?
Lisa: [00:21:47] So, yes, there's a lot of different types of marketing. And that's the thing when
you talk to someone that has a marketing company that can mean a dozen different things, a
dozen different directions. And people are always looking for quick fixes, but I really, you know,
the way I describe marketing is imagine you were going on a cross country trip, you know, you
know, your goal is to get the other side of the country. You would not think of getting in your car
and just starting to drive without putting gas in the tank and making sure you have snacks. You
might, you know, plug in your GPS where you're going, or, you know, you've got your Google
maps, you make a plan. You don't just start getting, you don't get in your car and just start
driving wherever you want. Well, that's what people do with their marketing. So, okay I need to
market. Maybe I'll try direct mail. Oh no, no, we don't do direct mail because you know, I don't
use direct mail. So why would anybody else use that? But even here's a really great rate or
maybe I'll try these Facebook ads and I'll boost the post myself. Well, maybe so they're all over
the place. So the first thing I would recommend for any business owner is to just sit down with
someone who knows what they're talking about in marketing and develop a strategy. You know,
come up with a 12 month plan, a six month plan, a three month plan. Allocate some budget to it
because your business will grow in one of two ways. Your business is either going to grow by
innovating. So that's changing up, pivoting, doing something better. Or it's going to grow by
marketing. So you've got to make that investment one way or the other. And when you start
seeing traction, that's when you'll have, you know, more to be able to boost from. But you're not
going to have that traction. You're going to be wasting your money if you start going into
different areas that don't apply to you. And I think what happens a lot of business owners,
they've got their buddy that did this, or they know of this other company, their competitors doing
this. They think they need to do it too. And that's probably the worst thing they can do.
Karl: [00:23:57] I'll offer up, if I could add to that, for business owners out there. There's three
numbers I'll share, 4, 8 and 12%. When I look at a P&L for a business and I'm looking at trend
over time, I notice how much percentage of their revenue to spending on marketing and I look at
their growth rate. And what's often, if you want to benchmark for mature business, that's been
around and known for a while. Some of those can get away with between 4 to 8% spend on
marketing. If they want to grow. If they want to stay flat. They don't have to spend on marketing,
but if they want to grow their top line revenue, 4 to 8% is what your competitors, what other
people are spending normally grow. If you're a new business or you're a business that needs
some explaining or new to an area you're talking about 8 to 12%, range depending. If your
product is known, but you're a new company offering something that's known, you might be
able to get away with 8%. If you're offering something new and no one else is offering it and you
want them to build awareness. You're talking close to 12%. I offer those numbers because it is
extremely consistent looking at the spend on marketing correlating to how people grow their
business. Now, the ones you'll always have a family friend that says I spend nothing on
marketing and my business keeps growing. That is the anomalies. They're innovating, they're
doing something different, or there's something that's giving them a competitive advantage. Or
they are marketing without spending. So talking about personal branding, talking about other
ways to gain audience without spending for it. Can you comment a little bit on that?
Lisa: [00:25:48] Yes, sure. This is one thing that as we have been in this situation, we're seeing
a lot more people on LinkedIn. I don't know if you're active on LinkedIn or not, but we're seeing
a lot more of that. And there's a lot of people that don't know how to use LinkedIn and how they
can really leverage it. So, you know, here's the thing that I tell people, particularly when you're in
an industry that there's a lot of other people that do what you do. People don't want to do
business with business. They want to do business with people. And so what makes your
business different from every other business out there is you. And so being able to feature your
zone of genius, being able to show your authority, your expertise, your credibility. One way to do
that is to really work through a personal branding process. Now, personal branding is not all
about saying, Hey, look at me. It's not about becoming an Instagram influencer. It's not about
being any of those. It's really being very strategic about understanding. How do you show up
online? Is that how you want to show up online? What do you need to do to shift that if it's not
where you want it to be and how can you position yourself as a credible expert that people
would trust to do business with you? So that is something that I really encourage people to do.
Whether you work for a company or whether you own your own business. The only thing you
own when you leave your business is your personal brand. So it's well worth the investment to
spend the time to do that.
Karl: [00:27:19] I love that you mentioned that. I'm curious about your thoughts on integrating
your personal brand or your personas, if you want to call it, professionally and personally.
LinkedIn, Facebook, Instagram, Twitter, all of these, Tic Tok. They have different use cases for
different application. But I've seen more people, especially in 2020, there's a lot of issues out
there that people are commenting on. Whether it's social justice or gender or race or other
political items, things about climate change, and others. People are voicing their opinions across
spectrums that's interweaved with their expertise in their business. Any thoughts on how to
manage that. And is that a good idea or? Well, what do you, what would you advise people to
do with that?
Lisa: [00:28:13] You know, it's what I advise business owners is what I've always told my
children. Anything that you've put out there online will follow you and could be found. And if it's
something that you aren't willing to put on a billboard and have your grandmothers see, then
don't put out there. If it's not something that you're not willing to share in your next job interview,
don't put it out there. There are filters, but still there are way to, you know, there are ways to get
through those. And you just always have to be conscious of whatever you are putting out there
represents who you are, and it does follow you. So there are appropriate channels. And then
there are ones that maybe you need to just have a conversation with a friend.
Karl: [00:29:00] I'm curious about, there's a professional sphere, but there's all these businesses
that are coming up in this entertainment mixed with business. So you could take the example of
a local ice cream shop or fitness business, where it is a business and they have customers, but
it's also a culture and a group and a community that they're building that reflect certain beliefs
and their personal. How can those types of businesses leverage both social media and how
they brand themselves?
Lisa: [00:29:35] Right. So it's a great opportunity and I don't want to, you know, imply that you
always have to stay buttoned up. I think you have to really look at who is your ideal client. Who
are you trying to attract? If you are on LinkedIn, you're trying to attract a different crowd than
what you'll probably find on Instagram, or Pinterest, or Tic Tok, or Facebook. Those all have a
different feel to it and different clientele. So if you are an ice cream shop and you've got music
going on, you've got certain culture or whatever, they're trying to attract the audience. They
need to be who they are. They need to be authentic. They need to be transparent. But they also
need to be respectful of their audience.
Karl: [00:30:17] I'm also curious, just comment and maybe Rico as well. When you interact with
people online in a lot of your publications, in your content out there, have you found examples of
people doing it really well? Can you give us an example where you saw people blend those
different personas well online?
Lisa: [00:30:42] I can't think of one person that comes to mind right now, but here's what I see
as a trend. It's people who are sharing their expertise. They're generous and they're humble. So
they're out there, they're being servant leaders. They understand what their customers need.
They're very generous with it because they believe in the law of reciprocity. You know, if I give
to you and I'm giving freely, and it's this valuable, imagine what you're going to get if you pay to
work with me. I mean, that's the message that they're sending. So I think that is a great lesson
for all of us, is we are here to serve in our businesses. We're here to serve our clients and one
way to attract clients is to let them see what you're about. Let them experience you before they
pay you anything. I think that would be a good model to follow.
Karl: [00:31:41] That would probably be about 1% of politicians by my guess.
Lisa: [00:31:45] Yes. They don't fall into that trend very easily.
Karl: [00:31:52] That's fabulous advice. Well, I'd like to, if folks wanted to get in touch with you
and learn more about just marketing and ways that they could improve for themselves, what are
some ways folks can get in touch with you?
Lisa: [00:32:06] Yeah, absolutely. So I am on LinkedIn. It's Lisa McGuire. I'm also
Lisa@LisaMcGuire.com. And they can also call 678-520-7660.
Karl: [00:32:26] Well, as we're getting into fall and you're starting to get busy with helping clients
grow. Are there anything you have coming up or what do you have coming up over the next
quarter? What are your plans?
Lisa: [00:32:36] Yeah, so I'm really excited. I am a StoryBrand certified guide, so I'm affiliated
with the StoryBrand company and they have a sector of their business called Business Made
Simple, BusinessMadeSimple.com. And so, it is a series of online courses. They really propose
it's the same thing as an MBA only we're going to save you $50,000 from that MBA. It's a one
year subscription or when you're licensed for $275. And they have courses on creating your
mission, marketing message, productivity, communication, scaling your business. So I am being
certified as one of their Business Made Simple coaches. So right now I'm in the process of
clients, coaching clients, or really business growth advising is what I do. I think there's a lot of
coaches out there. And a lot of coaches end up being cheerleaders. This is not the case. I really
believe on providing frameworks and valuable tools that we can help make a difference in your
business grow. Whether it's in revenue, whether it's in culture, whether it's just the business
owner growing as a business leader and becoming more proficient in what they do.
Karl: [00:33:50] Oh, that's fabulous. As you mentioned when we started, a lot of people get into
business to do what they love and that's their operational expertise and they started making
money there. I think the lesson is to transform or to grow into becoming a true sustainable
long-lasting business, you've got to evolve. And so the other pieces in the tool belt that you've
got to build is some financial smarts, some marketing smarts, how to recruit people, some HR
smart to really become a fully well-rounded business leader. And if there's a way for them to get
it without spending $50,000 and taking a year or two off to get an MBA. I think that's a good ROI
on investment. So thank you for sharing that.
Lisa: [00:34:36] Absolutely, yeah. Thank you so much.
Karl: [00:34:41] I want to thank Lisa McGuire, who is a business growth advisor and a marketing
consultant with Open Window Marketing. Thank you for your insights for sharing your
experience and to help every business owner figuring out little nuggets of things they can do to
improve their business. I'm Karl Barham with Transworld Business Advisors of Atlanta
Peachtree, and we are going to continue to help business owners post this shutdown period of
the pandemic. Figure out their best way to grow their business, improve. We can do that by
helping them to franchise their business. We can do that by helping them to acquire their
business. And for those that are ready to relax on a beach somewhere, we can help them find a
buyer and help them get their business sold. So you can reach me at KBarham@TWorld.com
or you can visit us on our website at www.TWorld.com/AtlantaPeachtree. Hey Rico, why don't
you tell us what you've got coming up.
Rico: [00:35:39] Sure. First, I want to tell people that I totally enjoy talking to Karl off-camera
because I learn a lot from Karl, okay? I own my own business or businesses and, invaluable
insight from Karl and along with our other guests. I mean, Lisa has some good, great, valuable
insight here. And you know, we've done what, 40 of these?
Karl: [00:36:00] We're up to 47. We're going to hit 50 soon.
Rico: [00:36:06] There's a ton of sage advice out there that we've learned. So I'm always happy
to be on a show like this, where we get more because I'm constantly learning. I own my own
business marketing, MightyRockets.com and everyone that watches this show knows that. We
publish Peachtree Corners Magazine which is coming out again every six weeks we sort of wrap
ourselves around the next issue and we put this out six times a year. So the next issue is
coming out around the first week of October. And we're going to have great backyard retreats.
We're profiling five local backyards that we feel are exceptional for a variety of reasons. So
we're doing that. We're doing a pets and their people give away, and that's going to be a pull out
in the next issue as well. And we're going to have probably get 4 or 5,000 pictures of people and
their pets that have been submitting. So we have this contest going right now. So if you haven't
entered, go to our Facebook page or to our website, enter it. All you have to do is submit a
picture of you and your pet. And, you know, tell us a little bit about you all. And then we're going
to pick three winners at the end of that. So we're doing that. We're doing a bunch of other
stories within that publication. It's going to be chock-full things as it usually is. And you know, I'm
still working with clients as well, doing some of their marketing online content and stuff. So if you
need to reach me and you want to be able to do some of that work and you need someone to
do it, MightyRockets.com is the place to go. LivingInPeachtreeCorners.com is the place to find
the magazine and our family of podcasts. And I just launched the CapitalistSage.com website
just to begin exhibits. So it's shallow on content right now. We're adding all the podcasts that
we're doing, that we've done. So you'll find some of that there. We're going to be adding over
the next few weeks. So check that out, leave your name and email address. And certainly you'll
be reached back out to it again.
Karl: [00:38:09] And if I can, I want to spark an idea in honor of the theme of today, marketing. I
think you're still accepting ads. If somebody would like to do ads for the magazine, you can
reach out for that? So for people in Peachtree Corners surrounding area, if you want to increase
your visibility, traditional marketing methods also still work. But you can reach out to Lisa to help
you with your messaging and Rico, if you'd like to have an ad added.
Rico: [00:38:38] So if you do, our deadline is, well our deadline is September 22nd for the print
magazine for the October, November issue. But you know, we come out six times a year. Plus, I
mean, it's not just print. You get exposure in a variety of places, you know, online on our
Facebook page on Instagram, on Twitter, on LinkedIn. So if you're an advertiser with us and
you have that type of package, we're providing some of that online as well.
Karl: [00:39:05] So if you didn't get the message, post pandemic, your customers have changed.
You need to talk to them. So take advantage. Thank you everybody for joining us today on the
Capitalist Sage podcast, you'll find us on all of your streaming channels. iTunes, Spreaker,
iHeartRadio, on YouTube, on Facebook. Just go and explore Capitalist Sage. And, you know,
pick up something, apply it, and we'll be happy to continue to give you great episodes. Thank
you.

Gwinnett study to establish redevelopment plan of Gwinnett Place Mall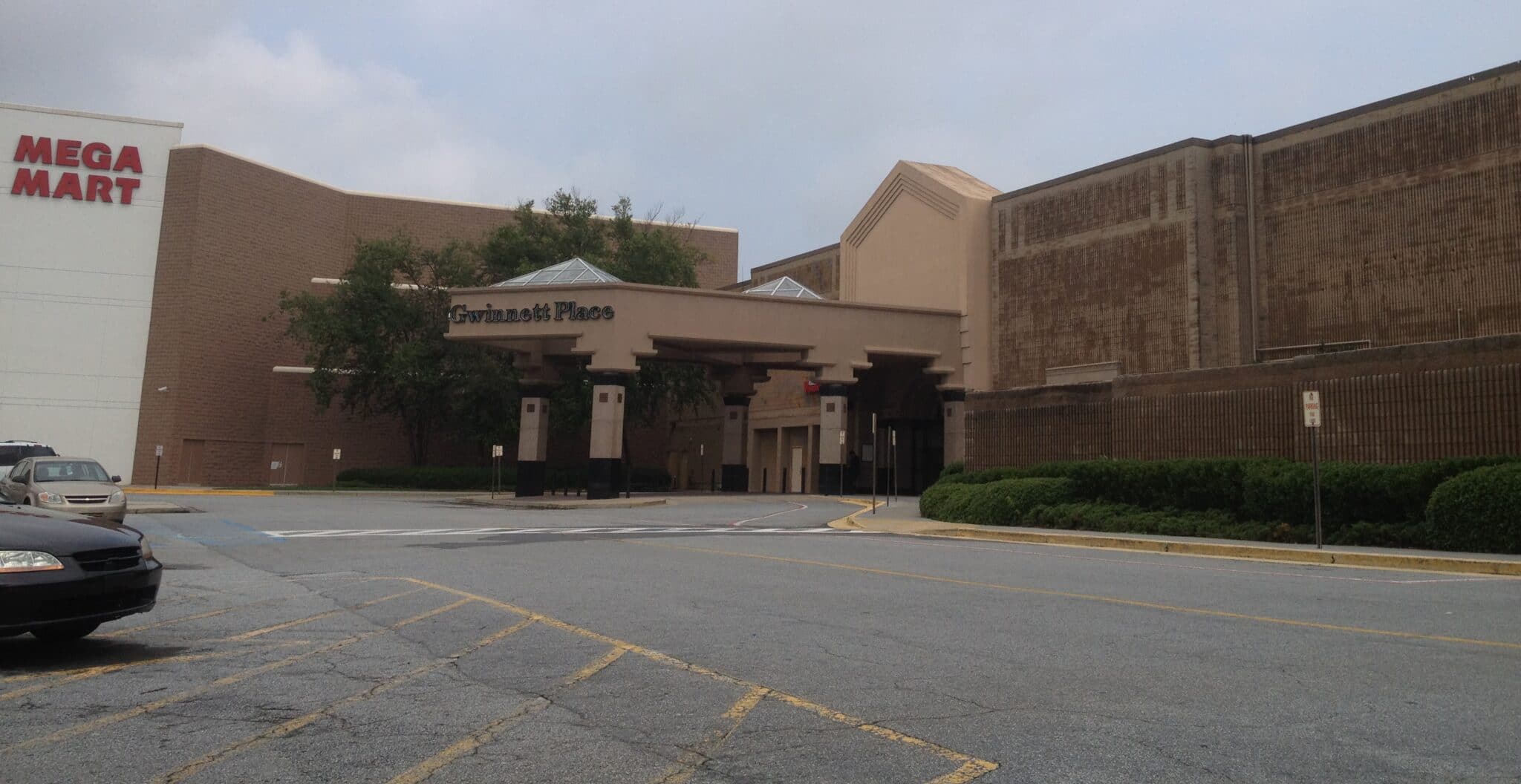 The Gwinnett County Board of Commissioners last week agreed to a funding agreement with the Gwinnett Place CID for a Livable Centers Initiative study of the Gwinnett Place Mall site and surrounding areas. The Community Improvement District has contracted with Vanasse Hangen Brustlin, Inc., to conduct the study.
The LCI study will establish a plan to guide the redevelopment of the Gwinnett Place Mall area. It will consist of public outreach, strategic development and preparation of final deliverables.
The LCI grant helps cities and communities with plans to connect residents to activities by walking and bike trails. The hope is to ease traffic on roadways.
The study is estimated to cost $275,000.00. The Atlanta Regional Commission awarded the Gwinnett Place CID an LCI grant for $220,000, with the estimated local match of $55,000 being split between the CID and the County. Each party's share of the local match will be reduced equally should the total study cost less than estimated.

Gwinnett Partnership, It's Influence, What Trends they See, and Resources to Empower Businesses [Podcast]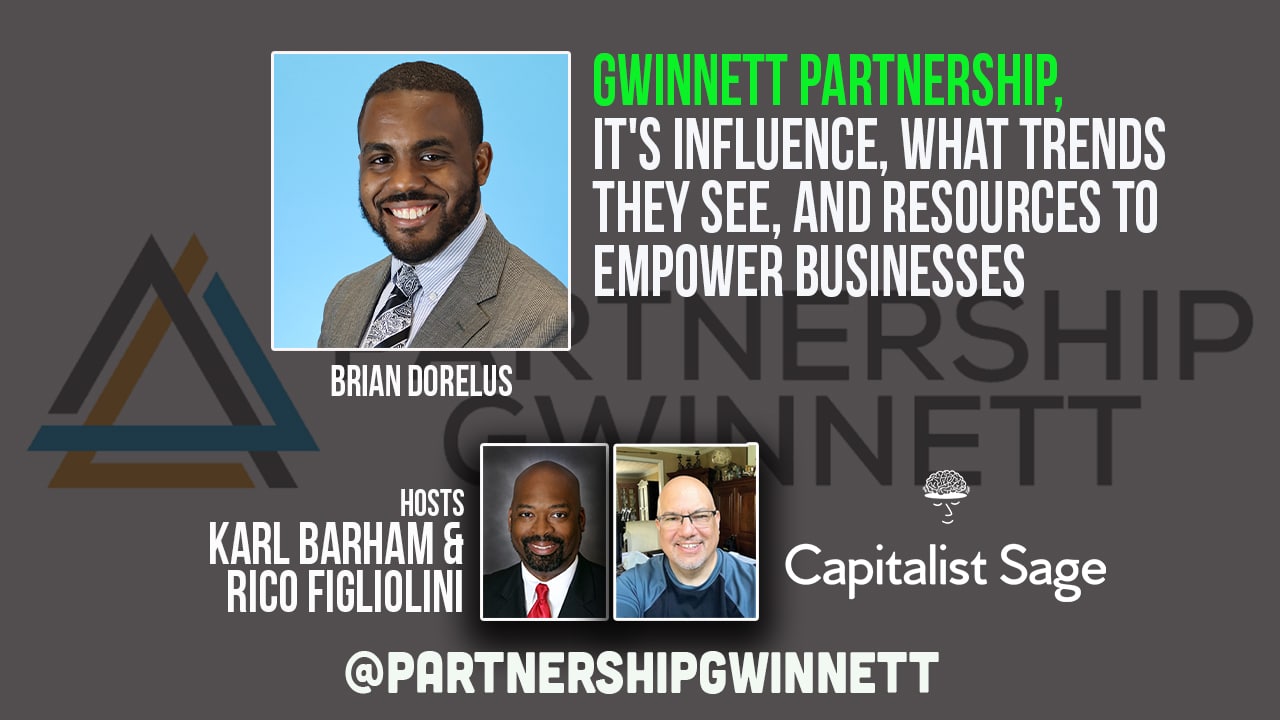 Partnership Gwinnett is the economic development initiative behind some of the most exciting business ventures that have started or relocated to Peachtree Corners. Brian Dorelus, project manager with Partnership Gwinnett, is our guest on today's episode of the Capitalist Sage. Join Karl Karham, Rico Figliolini, and Brian, as they discuss what exactly Partnership Gwinnett is and does for business in our community.
Resources:
Website: https://www.partnershipgwinnett.com
Brain's Email: BDorelus@ParntershipGwinnett.com
Timestamp:
[00:00:30] – Opening
[00:02:14] – About Brian and Partnership Gwinnett
[00:03:29] – How Partnership Gwinnett helps Businesses
[00:04:34] – Why Businesses Choose Gwinnett
[00:05:47] – Industries that are Thriving
[00:06:59] – Activity in Peachtree Corners
[00:08:12] – Bringing Startups to Peachtree Corners
[00:15:02] – Resources that Partnership Gwinnett Provides
[00:22:12] – Closing
"Partnership Gwinnett is the economic development agency for Gwinnett County. So it's our job and our privilege to wake up every single day to recruit, retain, and expand industries in our five target sectors… And so what we do every day is just provide resources and be a one-stop shop for companies big and small, so they could continue to grow in our community."

Brian Dorelus
Podcast Transcript
[00:00:30] Karl: Welcome to the Capitalist Sage Podcast. We're here to bring you advice and tips from seasoned pros and experts to help you improve your business. I'm Karl Barham with Transworld Business Advisors, and my co-host is Rico Figliolini with Mighty Rockets, Digital Marketing, and the publisher of the Peachtree Corner Magazine. Hey Rico, how are you doing today?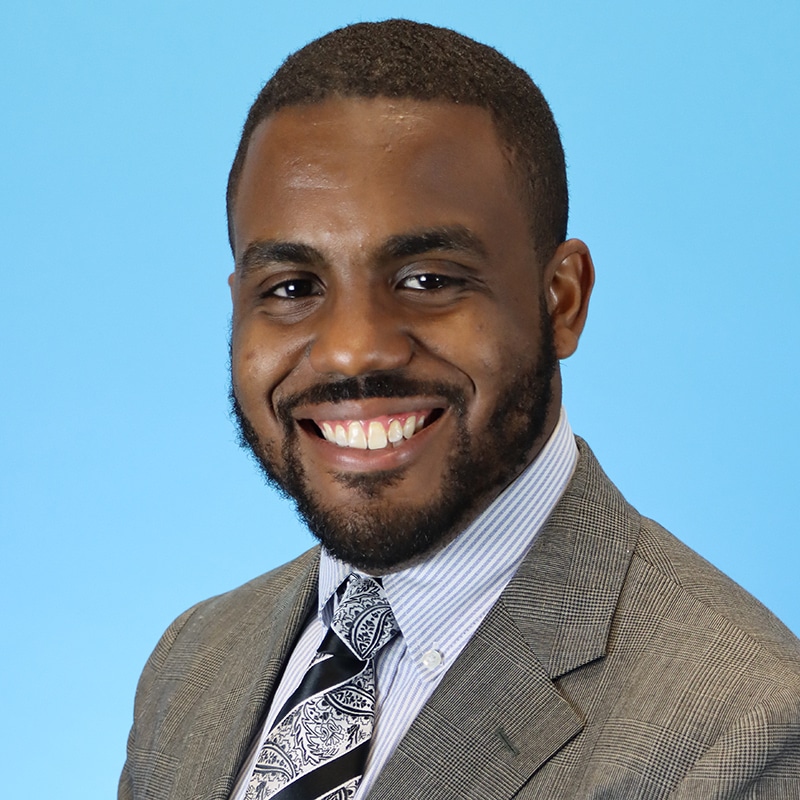 [00:00:48] Rico: Hey Karl, great. Looking forward to this interview right now with Brian.
[00:00:53] Karl: Absolutely. We're going to talk about what Partnership Gwinnett can do for businesses locally here in Gwinnett county, and Georgia overall. But let's talk a little bit about our sponsors today.
[00:01:04] Rico: Sure. So Peachtree Corners Magazine is supporting this podcast along with the family podcasts that we do. And we just put our last issue to the printer. It's coming out in about two days. So keep an eye out for it. Go to LivinginPeachtreeCorners.com and you'll see the digital version of that print edition that will be coming out this week.
[00:01:24] Karl: Fabulous. Great job with the Peachtree Corner Magazine. Lots of great articles in there, keeping up with what's going on locally. So I really appreciate all that information that's shared through that. Today we are going to talk about what Partnership Gwinnett, one of the organizations within Gwinnett county can do to help business owners, large and small. Help drive economic development within the community. Today I'm honored to have Brian Dorelus, who is a project manager with Partnership Gwinnett to talk a little bit about some of the mission of the organization, some of the successes and some of the things, resources that are available to business owners to help them with their businesses. Hey, Brian, how are you doing today?
[00:02:09] Brian: Doing good. Just trying to stay dry in today's rainy weather, but doing good.
[00:02:14] Karl: Absolutely. No, I appreciate you joining us today. Why don't you start by introducing yourself to our audience and tell a little bit about yourself and what you do with Partnership Gwinnett.
[00:02:25] Brian: Of course. Thank you. So once again, my name is Brian Dorelus. I'm the project manager for technology and life science with a focus and concentration in entrepreneurs and small business here at Partnership Gwinnett. And Partnership Gwinnett for those of you who might not know is the economic development agency for Gwinnett County. So it's our job and our privilege to wake up every single day to recruit, retain, and expand industries in our five target sectors. And then as I mentioned, I lead the initiatives for technology and life science, but my counterpart leads the manufacturing and supply chain sector. And our leadership leads the kind of bigger corporate headquarters relocation projects. And so what we do every day is just provide resources and be a one-stop shop for companies big and small, so they could continue to grow in our community. And then prior to this, I was actually a Peace Corps Volunteer at the Republic of Moldova doing very similar work. Doing economic activities with a local mayor focusing on infrastructure and capacity building with the local village that I was stationed at.
[00:03:29] Karl: Oh, that's fabulous. I'm going to jump in with the first question and thanks for the introduction for Partnership Gwinnett. Can you describe a little bit about how you work with business owners? And I would also guess some of the other city economic development departments, to help support thriving businesses in our communities.
[00:03:48] Brian: Yeah, definitely. So one thing we do is we try to give a concierge level service to businesses and companies in our communities, within our 16 cities. So typically on average day I work with the local economic development managers or city managers in each one of our beloved cities. And just hear about some of the issues that some of our businesses, large and small, are facing and trying to connect them with resources that typically they might not be aware of. And one of the good things about Partnership Gwinnett, is that all of our services are free and complimentary. So if you're looking for research data, or looking to get connected, or even needing help with business plans or getting exposure. If we can't do it, it's our job to hunt down a person who can do it for you.
[00:04:34] Karl: I'm curious, when you think about Metro Atlanta and Gwinnett County, what's the selling point for businesses to come and thrive here in this community? What have you found to be some of the things that really attract large and small businesses to Gwinnett?
[00:04:50] Brian: I think typically we have some, big pieces of infrastructure and systems in place that make businesses thrive. One obviously being the airport. Being the busiest airport and being two hours flight from all major airports, it really helps the interconnectivity between us locally and internationally, between places of business. But on a more maybe personal and cultural aspect, one thing that Georgia has and in Atlanta that really stands apart is that we are just pro-business and a friendly environment. Ironically, I had a lunch with a couple of international prospects. They literally said the first thing they said that to other international companies is that Georgia is nice. Which you would think is a weird selling point. But I would say as a community, we really have thrived because we've worked together really well with other partners within our community, within our cities, and across the Metro Atlanta region.
[00:05:47] Karl: So, when you think about Atlanta and how it's grown since the Olympics over the last 20 odd, 20 plus years, where do you see industries that are really starting to thrive in the Metro Atlanta region?
[00:06:01] Brian: Just a little more about my background, I went to Georgia State University downtown. I was able and fortunate to see that growth happening almost before my eyes. And so some of the industries that just appeared and blossomed, we can't talk about Atlanta without talking about FinTech. The financial technical center, it's called the FinTech capital of the world, just because there's so many FinTech companies located here. So when you think about entertainment, FinTech, conjoining with the tech ecosystem here, it just became a natural boom. Because I guess before, if you look at Georgia and in Metro Atlanta, we was a huge manufacturing sector. And we still are. When you think of Georgia, you cannot not highlight some of the manufacturing pieces. But within the past 20 years, you've just seen a huge boom and kind of major corporations coming to find that talent for that tech pieces and engaging the new generation. With just the amount of startups that are appearing and them just engaging into the market.
[00:06:59] Karl: So I know locally here in Peachtree Corners, Atlanta Tech Park, and in this area there's been a thriving tech community that's been developing here. Can you tell us a little bit about some of the past and current activity you're seeing in this part of town?
[00:07:17] Brian: Yeah, definitely. One thing Peachtree Corners has done really well, is really brand themselves as a city of the future. And a city to engage the technology, not existing today, but existing or will be in a market 10, 15 years from now. So when you think about Peachtree Corners in particular, and some success stories, they've branded themselves as I mentioned that city of the future by engaging with that 5g technology or the internet of things. Which is the interconnection between everyday appliance into the interweb. And just because they have made themselves the centerpiece and the tip of the spear in that, now companies are searching and looking to be a part of just kind of the platform and the energy here. And that's not even talking about that autonomous vehicle track that's been deployed in Peachtree Corners and what they're doing with electric vehicles and self-driving cars.
[00:08:12] Karl: Yeah. I know that we've heard an announcement about a company that's really expanding in the surgical, medical space here. Can you share with us just a little bit about that and how does something like that come about? And what role does Partnership Gwinnett play in helping make things like that happen?
[00:08:29] Brian: Yeah, definitely. We were brought in very early into their project as the company Intuitive Surgical was looking to expand and grow. And for those who might not be familiar, Intuitive Surgical is the creator of the DaVinci robot. The small robot that does surgery on individuals. And I'm not gonna lie, I will be the first to admit that I was hesitant to think about having someone perform surgery on me that isn't a human body. But once you've seen the application and seen the success rate and seen what they've developed. You just wouldn't go back to human hands. And so Partnership Gwinnett, in collaboration with the local city administration in Peachtree Corners, and then with our state partners all worked together, hand by hand. And kind of stepping forward, of bringing the company here. And just kind of doing what we do every day, is telling the story of Atlanta and Gwinnett County. Explaining that the workforce here, one thing that's great about Metro Atlanta, is that we actually graduate more engineers than any other region. So telling them about the great work that's done at Georgia Tech and Georgia State and Kennesaw, and SCAD. And then combined that with the quality of life then a few corners in the, some, the other innovation hub across the street, across Wynette county, it was a no brainer. And, we really just work well with our community partners, with the local administration. And we brought all the resources kind of bundled together and made a compelling case that, eventually, they decided that this is where they want to be their new home. So it was our team in congruence with everybody else. And we worked hard for this past summer to land a plane. And we're proud to say that they've opened and it's one of the largest projects in Gwinnett County history.
[00:10:05] Karl: Wow. That's fabulous, the work that's being done and seeing so many people playing a role, working together to make that happen. If I could ask a little bit around your area of specialty, when you think of startup companies, technology companies, and so on. What are some of the things that you see that can help bring more of that? How does that work to get more of that ecosystem developed here in greater Atlanta and Gwinnett County in specific.
[00:10:33] Brian: I think when people typically think of startups, there's a little divide and there's a lot of misconceptions on what startups will need and what they're looking for. And the first thing that startups themselves and other people sometimes get wrong. Is that they're looking for capital, they're looking for funding. And everybody's looking for funding. But one thing that we have here in Atlanta that really pushes the needle for these startups to grow is something that I mentioned earlier, it's that just the interconnectedness between all parties and that mentorship and exposure. We're in an ecosystem where generally speaking it's pretty close knit. Even from Gwinnett to Atlanta or from Gwinnett to our community partners. It's a small knit community where transportation time isn't that far. And so when talking to these startups thinking about relocating or growing, we just tell him like, Hey, this is an area where innovation is booming fast. Innovation comes from areas where there is a problem and there's someone looking to solve. And Gwinnett County has set themselves apart, being that problem solution for a lot of the world societal problems. And so these startups, they come here and they find a lot of success and become leaders very quickly because of that.
[00:11:42] Karl: Can you tell us a little bit about any specific startup that you're watching, some exciting stuff that's going on? Just to give people a feel of the activity that's happening here.
[00:11:54] Brian: I could tell about some startups, but even some innovation hubs that we have where these startups are breeding. If we're looking back on in your neck of the neighborhoods in Peachtree Corners, there's a lot of startups that are focusing on 5g and cyber security. And one of them that their common conversation is Smart Eye Technology using that retina scanning to scan for security purposes for documents or providing cybersecurity solutions to municipalities. And especially with security and data breaches being something that was talked about maybe 10 years ago, but now being a necessity, these companies, these startups are becoming the face of what it means to protect yourselves in a new digital age. Kind of as you go up Gwinnett County, you have the water tower, which is a water innovation hub. Innovation hub, actually more of an innovation campus, if you really think about it. It's an area built solely for the innovation of water development technologies and water workforce. And there's just so many exciting water startups there from providing clean water to the masses using hydro stations that could tell you, not only the level of certainty how clean it is, but pull data about your current water usage and scan for that. To even some startups working on trying to gather water from solar panels. And then if you kind move across from the water tower, up north all the way up through 16 is kind of the biggest and largest innovation hub, which is called Rowan. Recently in Gwinnett county just purchased 2000 acres to build this kind of life science community. Life science community focusing solely on renewable energy. That life, science, and agriculture. And you can most accurately think about it as like adjacent or something very similar to what you see at the Research Triangle Park. And there's something so similar that we've actually hired the COO of Research Triangle Park to run the Rowan foundation, to lead to that development. And so while the development is still ongoing, since it's such a massive project for Gwinnett County, we've just engaged a lot of startups and larger corporations.
[00:13:55] Karl: Gotcha. I'm curious when you're talking about some of these innovation hubs and so on, what are some of the things that make us more attractive than other cities around them? What infrastructure is in place that entrepreneurs and tech folks can come to Gwinnett County and leverage?
[00:14:13] Brian: One of them is just the level of service that we offer here at Partnership Gwinnett. As I mentioned a little briefly, we like to call ourselves, community connectors. So they're kind of, the one-stop shop. So we have partners at score or SBDC or SBA and ACE capital who are willing to sit down with these entrepreneurs on one-on-one, and give them that service and that training they need to find capital. To find exposure, to find that mentorship that could really take them to the next level. But also we've got some, a lot of resources just around a region that provides that same level of service at very little to no cost. And one thing that's, the best thing about Gwinnett that's also sometimes may be the worst thing about Gwinnett, is that it's so big that entrepreneurs don't know where to go. And so we could help them point to that direction.
[00:15:02] Karl: Now I wanted to talk a little bit of specific resources. So if I'm thinking of starting a business, whether I'm a CEO of a large company looking to expand into the Southeast, or I'm a tech company, that's looking to establish operations here locally, what are some of the specific resources and tools you have that I can come to and get help with that most people may not know about?
[00:15:25] Brian: And if you, as a small business, I would actually first you come to me as the, kind of the first level of inquiry, just get some general questions. And then what we'll do from that process is kind of. direct you to the next staff. And you could think about this as almost as stages. So first the Gwinnett Chamber of Commerce would be the first step, just to network. The community here and all the businesses that's under that umbrella can really help you brandish yourself and find the market that you're looking for. And then after that, we'll probably divert you to Score. Which is an organization built from volunteers to help you with your business plan. To help you figure out what your target market is, what's your SWAT analysis, who are you trying to aim for and kind of really solidify and drill down your kind of needs for your business. And then depending on your type of business and depending on if you're a startup, we also have an Angel Investment Network. Where, similar to what Shark Tank has become, you can apply and pitch to Angel investors who are looking desperately trying to invest in startups in the region. To kind of find that next unicorn status startup. So there's just a bunch of resources here between a lot of the agencies here that can really help you go to the next level.
[00:16:40] Karl: What if I'm a large company and I wanted to move here locally? What are some of the tools and resources available for people that are helping with that type of search?
[00:16:49] Brian: Well, if you're a large company, the first thing you're looking for is space. Where am I going to have my production facility? Where am I going to house my employees? Even though you might be an office, there's the trend of working from home. You want a place where you can build that company and culture. And so one of the things we do is connect you with, well first find a property that kind of fits the parameters of your needs and connect you with our network of brokers. And then after that, pull some data and research into, where's the best place for you? Are you looking for somewhere close to the airport or close to a major interstate? Or are you looking for a place where the city is, has a lively festival culture? And so we really work hand in hand to make sure that we find a facility for you. And then after that we pull research, we pull our state partners to help with the tax incentives that companies all often qualify for creating new jobs in our region and putting in capital investment. And then after we kind of helped you relocate you, your company, your employees, and their families. We like to do a grand opening and press release to kind of welcome you in the community. And we've seen some press releases that have gone and grand openings that are just minuscule. They just want to let the community know they're here. And then we've also seen ones that want to do a whole festival. They want to have a ferris wheel and a barbecue. And what we try to do is have the elected officials, key stakeholders, people in the community that fits the needs and people that you want to get in front of, all at your grand opening. Just to show that the community is here for you. And then after that, it's not after you've landed that we're just done with you. One thing we always say is that one of the good things about us, that once you find us, we're always going to be contacting you. So you then after kind of move into our retention program, where we have our director for business retention and expansion kind of keep our eye on you. Do checkups and just make sure that you're growing and expanding. One of the services that we offer of course, is helping with permitting needs. So if you're a company here located and you have some permitting concerns, or it's just trouble getting someone in contact, or you need a Fire Marshall to do a quick survey of your building, we can help facilitate and expedite that process for you.
[00:19:03] Karl: If there was one thing that you, from your perspective, would really leapfrog Gwinnett County into the clear leader for companies of all sorts. What kind of infrastructure improvement would you say would need to be here, put in place so we could develop over the next five to 10 years to really become that easy decision for businesses to come and play here?
[00:19:29] Brian: It would be hard to say, because I feel like a lot of the things that Gwinnett County is already working on. So one thing typically that we've talked about internally in our offices, that quality of life piece. But one thing Gwinnett County it's already one step ahead of me. Is that, you know, one thing of our 16 cities is all of them are developing their downtown area. Downtown Suwanee is very different than downtown Peachtree Corners or downtown Norcross or downtown Lawrenceville. But they all have bubbly activity. And it's those little key pieces that are really important to the companies that are relocating. Because you have to remember, they are people too. These companies are comprised of people and of employees. And after work, they also want to unbutton their shirt and grab a beer or go to a beer garden. So just having a community that has activities, not only for the older generation, but even for the millennial generation as well. So for them to build their families. And Gwinnett County has led the way in developing that. So I would say, as for Gwinnett County it has continued to grow, we have almost a million people as a population is just to further develop. And redevelop. Which has become a huge thing in economic development, it's redevelopment. And it's something Partnership Gwinnett has now taken a role into is redeveloping old areas that have been long forgotten and making those areas of attraction and beauty and entertainment. Where family meets, and friends, and coworkers, and millennials, all alike can kind of enjoy the services.
[00:20:58] Karl: You know, reinvention is always a key part of rebirth. Reinvention, being able to do that. I'm curious, Brian, is there anything coming up that, what are you working on? What are some of the things that are coming up where people can engage in the community around Partnership Gwinnett?
[00:21:14] Brian: Yeah, definitely. One thing that I've been working on with my team is how to provide more resources to entrepreneurs. There seems to be a little bit of a gap between small and medium sized businesses and entrepreneurs to the larger corporations. So one thing that we're working on is how to bridge that gap. How to match make where, a small business can apply to be a subcontractor for a larger company and incorporation. And see, that's the thing that we're hoping to try to roll out as a program or a database where larger corporations, not only in Gwinnett County but in general, a large corporation can have our RFI and these small businesses could apply. Can go to the website, apply, and to be awarded I guess a small subcontract work where they could work and kind of bridge the gap. As one thing, working in technology innovation is, innovation definitely comes from within. And it also comes with collaboration with other partners. So we're actively looking at different ways and methods for that to happen.
[00:22:12] Karl: Oh, fabulous. Well, Brian, I want to thank you. How can people reach you? If they wanted to reach you, what's the best way to contact you?
[00:22:19] Brian: Yes. Best way to contact me is go on our website, www.PartnershipGwinnett.com, going to teams and under my profile of Brian Dorelus. Or you can go on LinkedIn and reach me there. Or you can reach me by email at BDorelus@ParntershipGwinnett.com.
[00:22:38] Karl: Oh, that's fabulous. Well, you know what, I want to thank you, Brian. For everybody that is joining us midway, this is Brian Dorelus of Partnership Gwinnett. Sharing some of the exciting things that are happening here in Gwinnett County, and Metro Atlanta, and here in Georgia. From on the small side entrepreneurs, startup community, the resources and the help that they're bringing to the local cities as well as business owners. But also how they're bringing large companies into the areas, working collaboratively, across many different stakeholders to make those things happen. Thank you so much for sharing some of the insight and introducing yourself to the local business community. Thank you, Brian. Thank you very much. And I'm Karl Barham with Transworld Business Advisors of Atlanta Peachtree. Our business advisors are available to help consult business owners, connect them to folks like Brian and other people in economic development. And if you're looking for real estate, commercial real estate, et cetera, we have a network of folks that can help people. And also if you're looking at planning for your business growth through acquisition, if you're looking at doing something else, we help with business sales and business exiting planning. If you want to contact me, you can reach me at KBarham@TWorld.com. Or visit our website, www.TWorld.com/AtlantaPeachtree. We're here in the community to help. Rico, why don't you tell us a little bit about what you've got coming up?
[00:24:04] Rico: Sure. Sorry about, I've been acting more as an engineer on this episode than anything else. But we just went to press with the printer in Monroe, Georgia. To do a shout out to Walton Press. They do a great job of printing the publication. We're at 88 pages this issue, the largest issue we've had since we started over two years ago. Lots of stuff in it. And the lead feature story is actually about the people that run the day-to-day activities, the five department heads of the city of Peachtree Corners. So it highlights them. Also, Judy Putnam is profiled in there. She's the communications director who's retiring. And we have a new communications director that will be taken over shortly. And a lot of other stories in there along with photographs from Peachtree Corners Photography Club. They did a great fall-ish photo spread for us. And it's also the pet issue. So lots of pet pictures and the end of the giveaway that we've run for the last four or five weeks. So check that out and you can actually see the digital edition online at LivingInPeachtreeCorners.com. Other than that, Mighty Rockets is my company as well. A publisher of Peachtree Corners Magazine, the purveyor of these podcasts and other marketing and product videos that we do for clients. So check that out. And if you need to reach me, it's Rico Figliolini on LinkedIn. You can get me there. I'm probably the only Figliolini short of two others that are my siblings, if you find them. So Figliolini just checked that out and you can reach me.
[00:25:32] Karl: And I would be remiss if I didn't mention, if you want to keep up with what's going on locally, multiple ways to follow us. Follow us on Facebook. What are some of the other ways that folks can hear the podcast and follow what's going on locally?
[00:25:46] Rico: Sure. So the video podcast, if you go to Peachtree Corners Life on Facebook or the Capitalist Sage on Facebook, there'll be streams. We always stream those as a simulcast live stream. Search YouTube channel for Peachtree Corners Life. You can subscribe there and you'll get notified when we go live on the simulcasts. And if you're looking to audio podcasts, anywhere that you find the podcast, right? I Heart Radio, Spotify, Apple. Anywhere that you find audio podcasts, you can find us. Just Google the Capitalist Sage Podcast and you'll pick up all sorts of resources that way.
[00:26:19] Karl: Absolutely. Thank you for that. And the last thing I'll mention, if you have ideas for stories and articles, is there a way for folks to send that in to you Rico?
[00:26:29] Rico: Great, great question. Thank you. You can send any story, any ideas that you have suggestions to Editor@LivingInPeachtreeCorners.com. And if you're thinking it's going to be a great subject matter for the Capitalist Sage Podcast, certainly reach out to that email as well. And we'll be able to talk to you a bit about that. And quite frankly, let me do this as well. If you're looking to advertise or be a sponsor of the family of podcasts that we do, which includes the Capitalist Sage, Peachtree Corners Life and Prime Lunchtime with the City Manager, which is a monthly podcast, reach out to me at Editor@LivingInPeachtreeCorners.com.
[00:27:08] Karl: Excellent. How many homes do you reach currently with the magazine?
[00:27:11] Rico: We mailed 19,700 homes, households, get the magazine. And then another 1200 out to about a hundred locations.
[00:27:20] Karl: Lots of reach there.
[00:27:22] Rico: Oh, for sure. And more online because of the digital edition as well. And the weekly newsletters and website and all that, sure.
[00:27:30] Karl: Absolutely. Well, Rico, thank you very much. And for everybody that joined us today, thank you for supporting and watching the Capitalist Sage. We're going to continue to have great topics for business owners and for people in the community. Let's talk about business. Well everyone have a great day. Take care.
[00:27:46] Rico: Take care guys.

French-American Chamber of Commerce Moves In and Brings More Opportunities to Curiosity Lab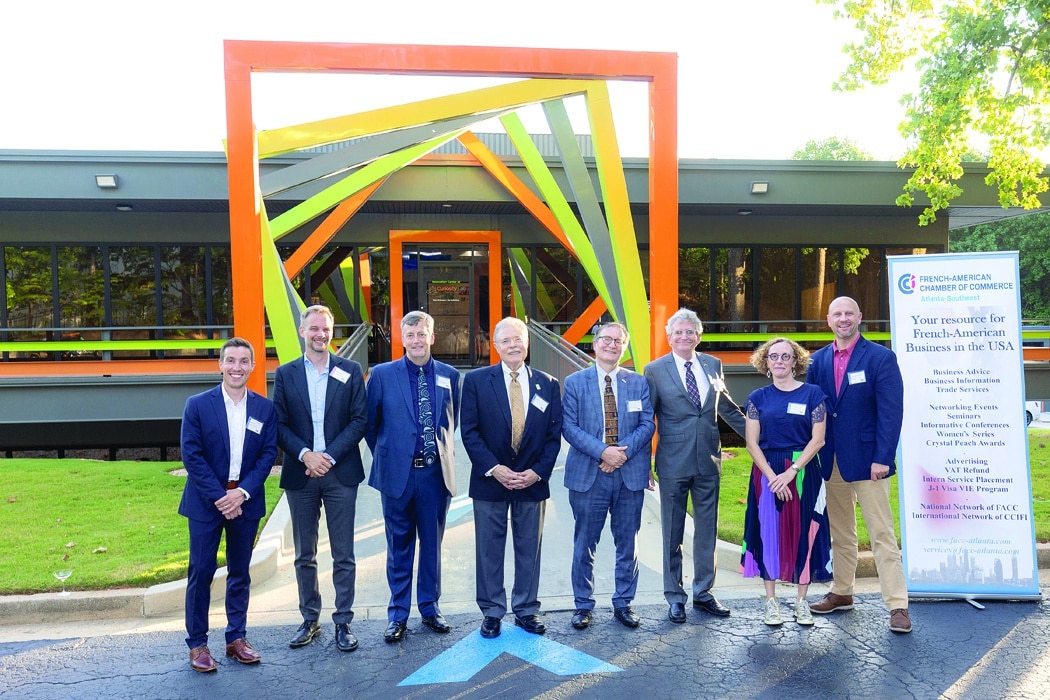 Photos by Jason Getz– Instagram @jasongetz11
A bold initiative involving the French government and its newly unveiled technology consortium, the city of Peachtree Corners and its Curiosity Lab has been launched.
About 100 officials and community members were on hand for a recent ribbon-cutting celebrating the French-American Chamber of Commerce's move from former offices in the Atlanta French Consulate to the Peachtree Corners lab, where it's expected to play a key role in helping French technology firms relocate and expand here.
As La French Tech Atlanta President Sebastian Lafon put it, the move will "enable French startups to collaborate with many innovators and prove out their technology in a unique and live environment with real city-owned connected infrastructure that can't be replicated in a laboratory."
La French Tech Atlanta is an alliance of start-ups, investors, executives and community builders which is expected to work with the city in helping French firms develop technology in the Lab's innovative testing environment as they seek to grow their North American footprints. The Atlanta outpost of the consortium was awarded accreditation by the French government in April.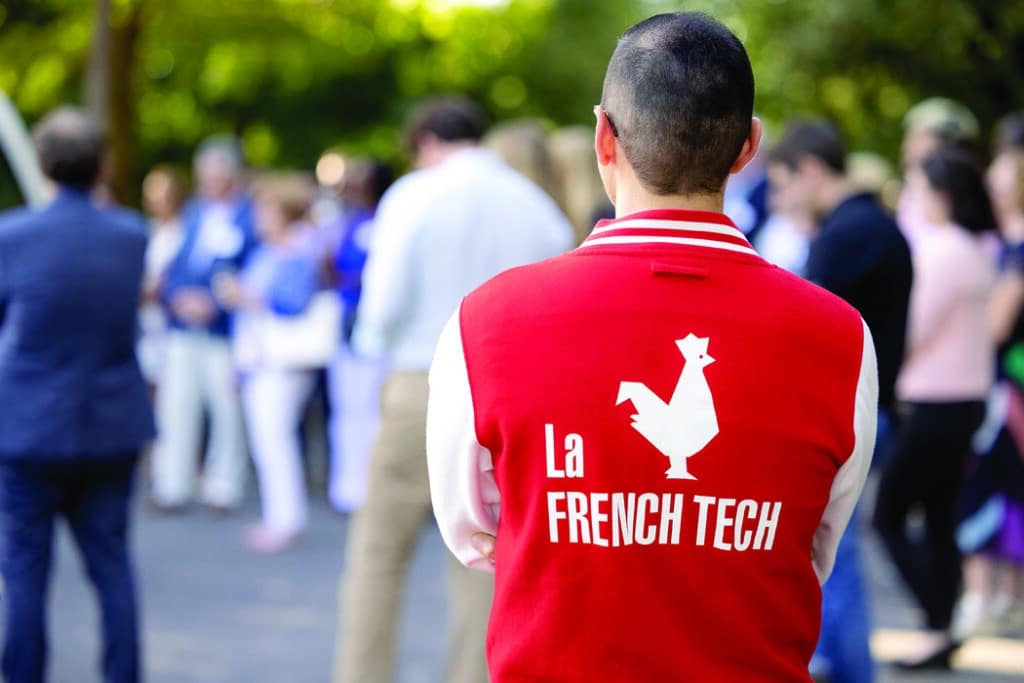 Member of an exclusive club
City Manager Brian Johnson, who attended the ceremony, said the Corners joins a rather exclusive club, as French officials chose only a half-dozen spots in the U.S. for the venture. Other La French Tech programs have landed in such places as Austin, Texas and North Carolina's Research Triangle.
Speaking on the "Primetime Lunchtime" Podcast, Johnson said, "It was a competitive process, and we threw our hat in the ring." He added that officials not only leveraged the technology testing environment of the Curiosity Lab, but also pitched metro Atlanta and Georgia's advantages as well, including state economic development incentives and the availability of such institutions as Georgia Tech as a resource.
Mayor Mike Mason, who was also on hand, said the initiative will be a signature resource for French firms looking to launch products in the U.S. with its laser focus on smart city technology, intelligent mobility and self-directed vehicles. That seems a hand-in-glove fit with the Curiosity Lab, which encourages companies of all sizes to test and deploy technology using such amenities as a three-mile autonomous vehicle test track.
Mason said a related hallmark of the lab is its ability to create partnerships with private firms and other entities, with more than a dozen current research projects underway there.
"Curiosity Lab has been influential in convincing several large companies to locate here. The old axiom of economic development is that activity creates more activity. This is a real plum for us."
French business opportunities
Although no French tech firms have made commitments to work with the associated partners yet, French-American Chamber Atlanta Executive Director Julie Lambotte feels that day is coming.
"We are in discussion with a few companies, but there's nothing definitive yet," she said, adding that agriculture tech companies and various technology service providers are on the 'possibles' list.
The start-ups they're looking to incubate at the lab complex will join an already respectable list of French firms doing business in the Peach State, Lambotte said. Some 254 firms from the European nation have already set up shop in Georgia, 135 of them in Metro Atlanta, she said. Lambotte noted that those firms are responsible for more than 18,000 jobs.
She indicated that building awareness of Atlanta and its suite of economic offerings among her countrymen has been challenging. "You probably noticed that when you talk to a French person, it's not the first destination you have in mind when you talk about moving to the U.S. What we are trying to do with the chamber and La French Tech is to put Atlanta on the map," Lambotte said.
And it's not just the French who are sniffing around. Mason said that officials from other consulates such as Belgium and Canada attended the ribbon-cutting and officials from Germany and India want to tour the place.
Johnson said "portals" like these create possibilities that wouldn't have existed otherwise and that the river can run both ways, with American companies establishing partnerships with French firms or perhaps opening facilities in that country.
"The sky is the limit right now," Johnson said.