City of Peachtree Corners launches 'Color Our Heroes' children's community art project (Video)
Color our Heroes- Peachtree Corners City Art Project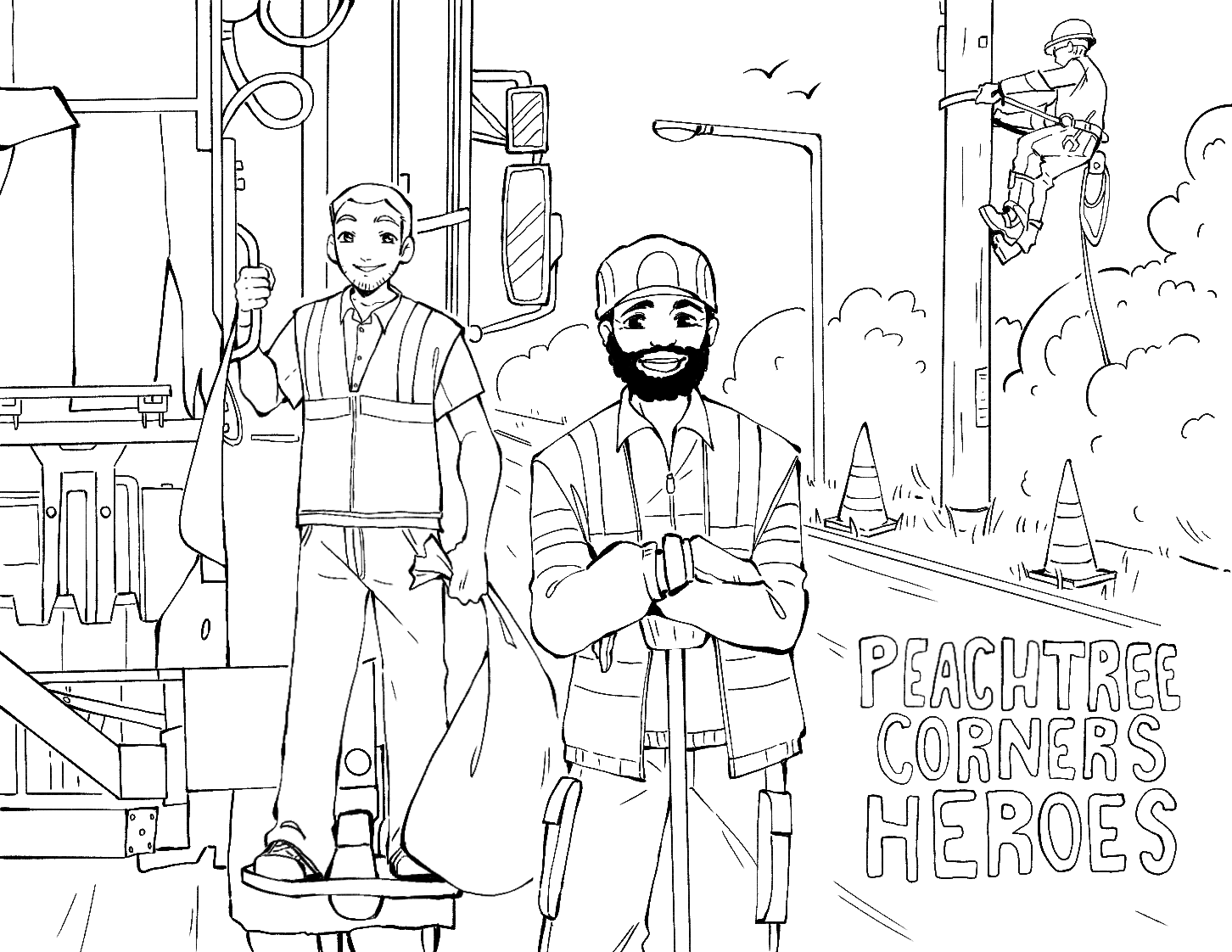 These are trying times for us all. While those with little ones to care for adjust to the new normal of working from home, keeping a regular schedule is a challenge.
Although school-age children continue their studies online, there is still idle time. Walks in the neighborhood, playing video games, and watching reruns on TV helps wile away the hours, but it leaves little opportunity to explore creativity.
To reduce screen time and get those creative juices flowing, the city of Peachtree Corners is launching an arts project called "Color Our Heroes" to recognize the men and women keeping us safe during the pandemic.
Each week, for the next four weeks, a new coloring sheet will be available on the city's website. The first week depicts doctors and nurses, the second, garbage collectors, the third Police and EMS personnel and the fourth-week features teachers. [The latest one is here (PDF format)]
"For small kids, (Color Our Heroes) is a great way to show how these professions are critical. You know these are callings. They're not just jobs, these are ones that it's a calling. You're giving back to the community and in a phenomenal way."

– City Manager Brian Johnson
We are asking everyone to show off their artwork by posting on their front door or window. Additionally, we encourage you to post completed artwork on your social media pages using the hashtags, #colorourheroes, #peachtreecornersga or #peachtreecorners.
To show appreciation for your efforts, each week a winner will be selected from a random drawing to receive a gift card from a local business.
Please take time now to download the PDF, add your personal touches, scan and share with friends and find a prominent place to post in and around your home.
Follow these steps to participate:
Locate the "Residents" tab
In the pull-down menu click on "Color Our Heroes"
Select a PDF or PNG file to download
 Watch for more coloring sheets in the coming weeks that you can download, color, and display. We look forward to seeing your unique artwork. Parents, be sure to send a copy of your child's artwork and your contact information via email to info@peachtreecornersga.gov to enter the gift-card drawing.
Source: Press Release from the City of Peachtree Corners
Jim Stone of Tytan Ad Group interviews City Manager Brian Johnson about recent events in Peachtree Corners regarding the response to Shelter in Place local and national orders, as well as the 'Color Our Heroes" community project.
Resources
Transcript
Jim: (00:00) Brian here we are it's Week Four of the shelter-in-place order that you guys started and then the governor came in with a formal one that was statewide. You're doing another address, you're addressing the residents of the city and businesses three times a week and a couple times a week we're going and talking with each other and maybe going in a little bit more detail and today you mentioned a new project, the Color Our Heroes project, tell me a little bit about that.
Brian: (00:28)So it's a project that we think, you know, might be able to kill two birds with one stone so to speak one, at least for the kids who are in school. From their standpoint, they're not in school or at least they're not in the schoolhouse and for you know some of them of certain ages that means that they're wanting to be on screen time more and they're wanting to you know do things that sometimes parents are like 'oh I wish there was something more constructive to do' right and so and you know I have younger kids myself and it's a constant struggle. You know, a lot of schoolwork when you don't have to move at the speed of the slowest person in a class you can get through it a lot quicker so by noon every day my kids are done with all their schoolwork and they're already like I want to you know get on some screen of some sort and so one way you know we thought of is you know coming up with something more constructive than some of that.
And then – it is to thank some of the occupations that are out there that are doing things that either we take for granted like say sanitation workers or maybe we don't take for granted but we still need to appreciate them because they're working either longer hours or they're putting themselves in harm's way as far as the virus because they don't know if they're being subjected to it or not and so you um you know wethe city came up with and Tytan came up with a project that we thought we could start and that is to have a sketched image of these professions and to publish it and to let them, people in the community, color it and both post it on the front of their house you know in their front window or door whatever as a way of showing support for people driving past and I know if I was driving home and there was a bunch of pictures of city managers in the houses yeah but but you know who would not want to see the support you know being prime military I've been you know and at a point coming back from you know where there was a massive outpouring of support and it makes you feel good, makes you feel good about the danger that you voluntarily subjected yourself to as you know while you were providing the service for the greater good and so that's a great way to do it.
And then it's not only just posting it on the front of their house just as a show of solidarity but also posting it in some of our social media platforms like Facebook, Instagram, Tik Tok and that allows you to post it in a creative way right? It allows Tytan to have the people who do that their names dropped into a random drawing right and then you're going to as an appreciation going to randomly draw ten names per week correct with gift cards from purchased from local Peachtree Corners businesses as a reward for doing this and as a way to support the local economy.
Jim: (04:03)Yeah I think it's a win-win andwe were really excited when you guysmentioned it. I think it was Kim Jarek, thecity clerk she came up, she was allexcited. She saw we had the other project. Can we talk about the other coloringproject or not?
Brian: (04:17)Yeah, absolutely.
Jim: (04:18) So a little while ago the city came to us and said 'hey we want to do something different you guys are innovative and remarkable and everybody knows you for Curiosity lab and all this high-tech stuff' and Rocio Monterrosa and Kim come to us and Judy Putnam when they go let's do a coloring book for the community. Let's show some of the different parts of our community- the parks, town center, Jones bridge, you know, and all these different things. And let's make a coloring book and our artists were so excited and some of our artists are young and they absolutely love this because even though they may be in their 20s they still love, you know, coloring books and that's a thing now with adults and therapy coloring but we created a coloring book that we're about to release here I think.
We were going to release it a little bit later but I think we're gonna release it early with everything that's going on but Kim and some of the ladies here started going hey why don't we do something you know for the community and that was the genesis of this and so I want to thank you for everybody at the city for being you know so innovative. Really I mean you guys are always thinking about new ways to reach out to residents and businesses and get people involved.
Brian: (05:22) Well I at least can speak to myself when I say I'm innovative enough to know that I'm not particularly innovative by myself yeah you know and so that's why you try to surround yourself with people who are you know hopefully smarter than definitely more, you know, looking at things more creative looking at things from different vantage points and this is like you said the genesis of those kind of things I mean when you have a bunch of smart people talking about what can we do different oftentimes it you know that's you know part of why we retain you guys to to help us with these kind of things because they don't happen organically. They take effort.
Jim: (05:59) Well one of the things and you guys definitely employ this here but one of my mentors always said 'the best idea wins' and you know before I got into the crazy entertainment world and in production world you know I had an engineering company and we had a bunch of engineers and my chief engineer said 'it doesn't matter you know if John the guy who takes the trash out at night comes up with a better idea than our engineering team does let's use his idea and give him credit for it right you know put your ego aside' and I think we see that in Peachtree Corners. I mean your staff, I mean your entire group, I mean literally you know if one of the guys outside you know washing the windows has a better idea we'll use it and give him or her credit for it and I think that we got to be that way we've got to be agile in this new economy, this new paradigm we're living now.
Brian: (06:46) We do and you know credits got togo to you know the governing body mayorand council also have supported you knowthese efforts. They give us you know theflexibility and latitude to come up withyou know ideas like this to implement them. They're not constantly coming in and talking about well I don'tyou know why should we do it. It's really more of why shouldn't we right? and you know some of the times we do things that aren't quite as successful as we want and some of them are more wildlymore successful than we thought right but at the end of the day the one thing that mayor and council have always been clear is we shouldn't be you know not doing something right and so I would rather be trying something and you know failing than not doing anything at all. So we've appreciated this and you know this is another one to that I mean it doesn't hurt. This is a great way to instill pride and in the community and in these professions and for kids to understand I mean all of these professions that we have.
In Week one we're doing medical professionals doctors, pas nurses, public health you know officials. Week two we're gonna do maintenance and sanitation workers. Week 3 will be Police and Fire EMS. and then week four will be our educators teachers and of course there are a lot of other ones I mean if we had more than just four we could be going on and on and on. There's so many people there. There are the folks at the groceries. Yeah let's not forget you know.
I mean you know they've got every new customer they're ringing up is technically somebody that could have it, could be asymptomatic and a risk so butwe need groceries and they're there too right to do it. But you know at the end of the day though especially for small kids this is a great way to also show how these professions are critical right you know these are callings. They're not just jobs these are ones that it's a calling. You're giving back to the community and in a phenomenal way.
Jim: (09:02) So all right well I'm gonna let the kids knowyou mentioned it when you gave your public address but we have hashtag #colorourheroes, we have hashtag #peachtreecorners of course, and hashtag #peachtreecornersga . So when you do your coloring when you finish your coloring, take a picture of it, scan it, whatever you can do to get it digital. If you do it in Photoshop it's already digital but post it on your social media platform the ones we follow. We talk about Instagram, Facebook, Tik Tok, are the primary ones. You adults, if you want to put it on LinkedIn we'll check it out there. I don't you don't seem very many you might get a lot of attention on link over here with your colored photos so that may be some white space maybe some of the adults want to go for but we're gonna be watching all the different platforms and looking for those hashtags and then we're gonna pull ten names basically from a hat every week and give out gift cards to local businesses which i think is a great idea.
Brian: (09:58) Now so is it fair to say then that if you're posting on one of those platforms depending on you know the orientation of each you're okay with them being posted in unique ways?
Jim: (10:02) Absolutely you know so Tik Tok could bein a short video format, Instagram couldbe a unique photo of it, I meanabsolutely use your creativity you know, definitely.
Brian: (10:14) We just wantto see that the photos been coloredright that they participated and thenyou know but other than that it could becreative
Jim: (10:20) Absolutely be ascreative as you want to be you know, loveit, this is a creative town when we didthe casting call for P Street Corner Kidswe were absolutely amazed at thetalent that's around here and we'relooking forward to getting back to that. I know a lot of kids we had a coupleepisodes queued up to film here and thenthis all hit so anyways kids you're outthere we're gonna start soon I knowCarly's reaching out to some of you soget ready for that.
Brian: (10:46) They really are. I mean this community is phenomenal. I have seen some parents step up me and I'vehad you know neighbor of ours was doingyou know video teleconference bookreadings right amazing you know for kidsdoing it. I mean our neighborhoodhad the Easter Bunny drive around in theback of a pickup truck and so the kidsonly had to go to the end of their youknow yard or driveway and the EasterBunny was throwing out some candy sothat they at least still got to see theEaster Bunny. I mean you know our schoollocal schools here had teacher paradesright where they drove the bus routes tothe schools in their own cars for thekids got to come out. I mean so yes thatwe have a lot of young kids we have avery vibrant you know school system here.
Jim: (11:38)Right and I look forward to seeing somereally good you know really I'm lookingfor too that that family and Brandon'sneighborhood I saw that video they putout I mean goodness sakes it was like
like a live news share was on my new show they produced it was incredible.
Brian: (11:52)There's some pretty cool stuffgoing on some really forward to seeingboth the pictures colored but alsounique ways in which it's posted. (11:58)
Jim: (11:59)I think that's it and so you know check it out we do monitor Tik Tok the P Street Corner Kids have a Tic Tok so that could be really fun like you say I see some Tik Tok videos of their coloring. It's any, Instagram can have some pretty cool pictures on absolutely absolutely you can do all kinds of fun stuff with our G TV and in different ways. You can post on Tik Tok and Facebook so it'll be fun.
Well Brian thanks again thanks for all you're doing for the community. Thanks for what your team is doing for the community. I know we talked about that I know you're a military professional but really this is a time that city government really had to stand up I mean you guys really this is what you get paid for is making sure this city continues to run in times like this so I know only want to thank you and the mayor and the council for the great job they're doing but every single team member here that's both working from home and I see the maintenance guys here every single day when we come by here to film. They're out there fixing the roads there. They're fixing bravo work with pipes. There's no working from home when a pipe breaks or there's a big chunk hole in the road so I mean these guys are out there guys and gals are out there every single day so thank you for what all of you are doing in your team are doing it's incredible, appreciate it.
Brian: (13:12)Thanks for helping us get that word out about those kind of things we appreciate it and we look forward to keeping you know keeping this momentum up.
Jim: (13:19)Yes sir all right we'll see you Friday.
Brian: (13:21) All Righty
Source: Adapted from Peachtree Corners City Website and video
Three Wesleyan Artist Market Artists Profiled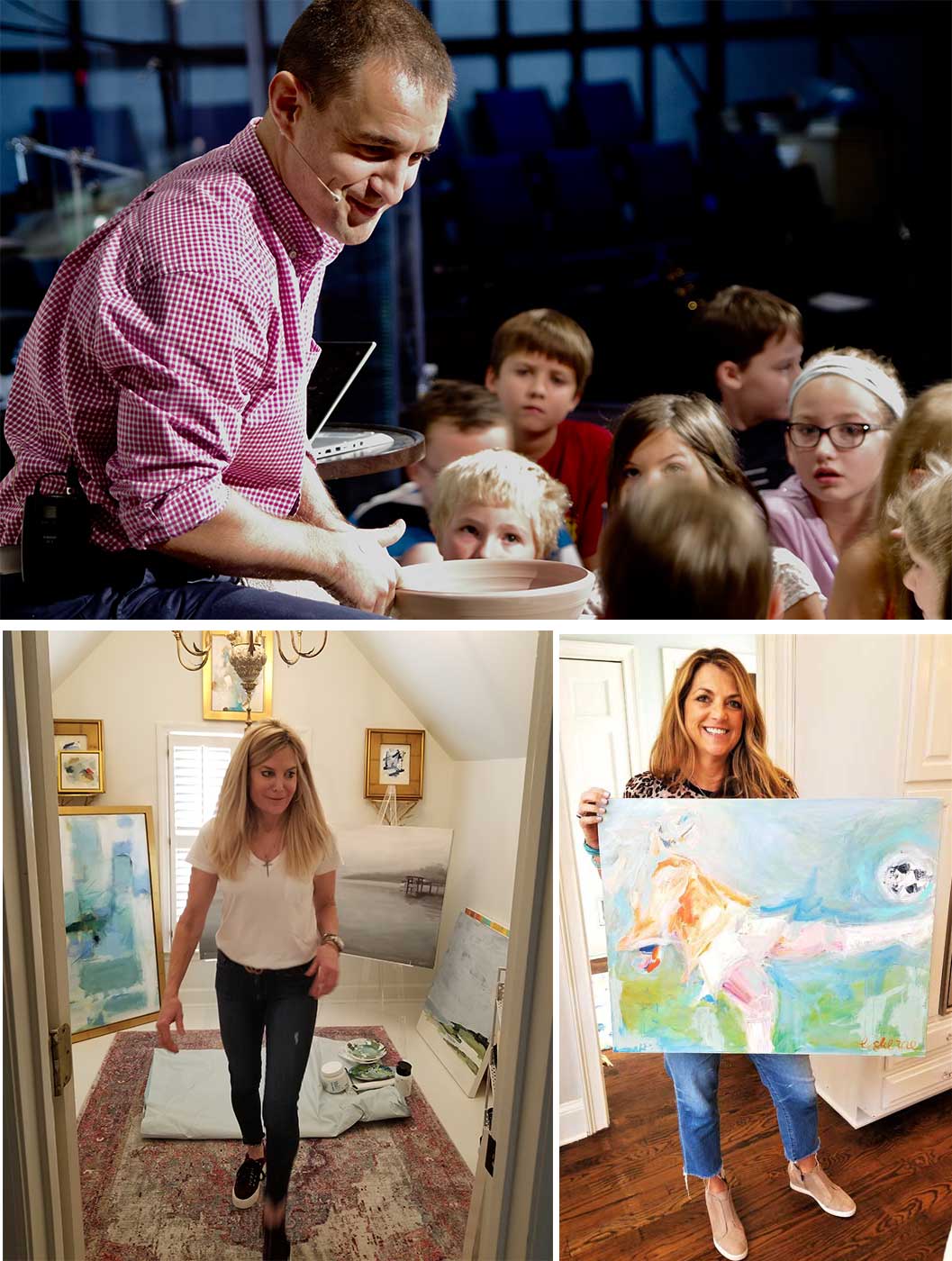 Editor's Note: Even though the Wesleyan Artist Market was canceled in April due to the coronavirus Pandemic you can still view their work online. The show plans to return next year on April 22-24, 2021.
This article appeared in the April/May 2020 issue.

Mother Nature in all of her springtime glory inevitably awakens our artistic side. Most of us don't create art, but we certainly enjoy visiting artist markets where one can take in professional expressions of creativity and talent across a broad variety of artwork.
My imagination was sparked while meeting the artists behind three inspiring bodies of work. They're among 80 artists scheduled to exhibit at the ever-popular Wesleyan Artist Market (WAM) planned for this past April.
For 22 years, artists have been submitting portfolios, hoping for a coveted spot in the show. The panel gets more selective every year, guaranteeing an exhibition that exceeds all expectations.
Caryn Crawford
Mixed Media and Oils
On the Wesleyan Artist Market
This would have been Caryn Crawford's fourth year exhibiting at the market she describes fondly: "It's a real privilege and honor to be a part of such a great experience in the community. You're bridging student artists with the regional artists they bring in. It's great to speak with students, encourage them and see what's going on there. That's been really fun."
Crawford loves to see so many gifted artists come together using different media. Since proceeds go to the Wesleyan Arts Alliance, supporting student programs, facilities and art education at the school, she loves being a part of "giving back to something wonderful."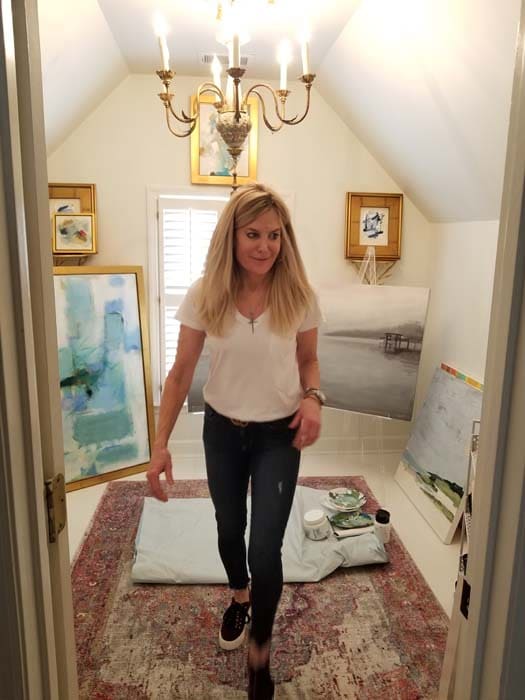 The Making of an Artist
Crawford grew up in the culturally rich city of New Orleans. As a young girl she recalls always having a paintbrush in hand and enrolling in every art class available. She loved visiting art galleries with her mother. "It was a neat place to grow up and to see art everywhere," she recalled, evoking the colorful vibrancy of the street artists' works.
Crawford has been a decorative painter for 20 years, working on wall textures, murals and ceilings. Today, she and a partner work on projects more likely to involve "Frenching-up furniture pieces."
In a natural extension, Crawford progressed into abstract art paintings using acrylics and mixed media about 10 years ago. "Mixed media involves using different materials on the canvas like oil pastels or even objects from outside; pieces of glass or cut-up tissue paper, for example," she explained. Primarily, she creates paintings using acrylics and oil pastel crayons.
Crawford enjoys the thrill of challenging herself beyond her comfort zone. Recently, she's been painting with oils, working on landscapes and impressionist style paintings.
"It's been beneficial later in my career to train under some regional painters as mentors. Teresa Gerard is an abstract painter I love to work with. I see her about twice a year. Weekly, I meet with James Richards in his studio in Tucker, doing oils," Crawford said.
She loves the ability to blend oils, finding the vibrancy and tone of the colors fun to work with. Since starting to do more landscape work, Crawford finds that oils allow her more time.
"It's been great to expand a little bit. Oils are a whole different world," she said. "They allow me to have more time to play on the canvas, to accomplish what I want. You want your eyes to be drawn to it from a distance. Oils help to accomplish it."
Inspiration
Having been so abstract, Crawford suspects she's drawn inspiration from the outdoors, from different colors and the environment.
"You don't know what you're looking at in an abstract painting, but you are looking at something. You usually can't see that in a painting. You have to ask each artist about it. Those shapes and colors do represent something," she clarified.
The low country and the east coast of northern Florida inspire her landscapes. "I paint on Amelia Island a lot. It's fun," she smiled.
A former Wesleyan parent and artist, Crawford said, "I'm so thankful that I'm asked to do this every year. It's neat to see everybody's gifts. They come from above. I feel like any gift I have is from above, and I'm very thankful for this opportunity to share it with others in the community."
Commissions
The best way to contact Caryn Crawford is through Instagram, @caryncrawford, or on her website, caryncrawford.com. Depending on the time of year and how many shows she's doing, one can usually expect a commission to be completed within a month or two.
Every commission is a source of inspiration, as well as a challenge, Crawford noted. When someone says, "Can you paint this?", a lot of times, it's the first time you've painted it. It involves a little research. "It's great to work alongside mentors to help me through some of that process," she shared.
Leslie Rae Cannon
Acrylic
On The Wesleyan Artist Market
A former Wesleyan parent, Leslie Rae Cannon volunteered at the show before participating in it as an artist. After nine years, she is still thrilled to receive the congratulatory email about being selected as one of its vendors.
She shared her enthusiasm for the show, "You'll be inspired. Wesleyan goes outside of our little community, pulling in brand new artists and giving them their start. They really raise the bar on quality art. They're constantly reevaluating, trying to make it even better."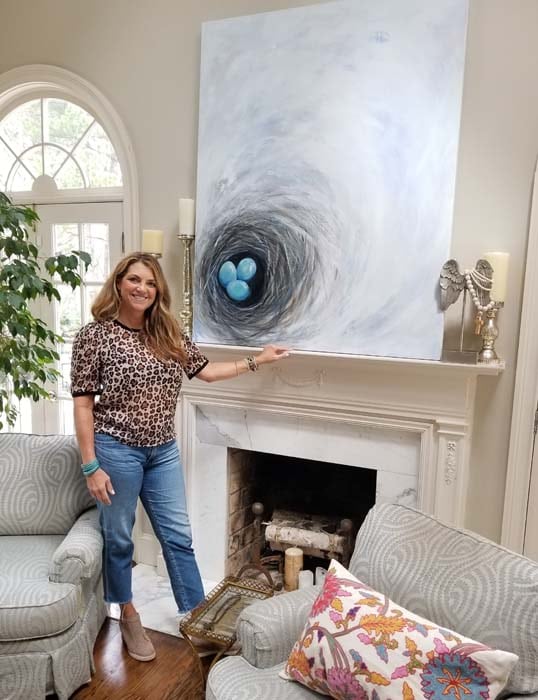 Besides it being her first real art show, it's her favorite because Wesleyan spoils vendors. "When you arrive, a hoard of volunteers (parents, teachers, students) come out and take your art to the booth," Cannon said. "The hospitality is sweet. It's the most comfortable, warm feeling being in that show."
As a mom and former art teacher, Cannon shared another thing she loves about the show: being interviewed by students. The Fine Arts classes tour the exhibits and students get to choose an artist. "I love being picked for an interview," she exclaimed.
"My kids were educated there, so I enjoy giving back. I love the fact that these kids have access to art as part of their everyday life. They won't ever be afraid to try something. The art they're exposed to and the different classes they have access to are wonderful. It's endless what they can do, and they have great teachers," she added.
Cannon enjoys the student artists, "They're phenomenal! So many of them eventually become professional vendors in the show. I've been able to follow one girl in particular; I've even purchased some of her prints. She's very creative and paints on anything that will stay still long enough. I can't wait to see what becomes of her. I'll be able to say, "I knew her when.""
The Making of an Artist
"I've been drawing since as long as I can remember. My parents set up a desk in the living room when I was little. My dad worked for an office supply company. My biggest treat would be when he brought home new glue, paperclips or Scotch tape; I would go to town. I remember drawing very young," she recounted.
A native of DeKalb, Cannon took the limited elementary and high school art classes available to her at the time. She knew she wanted to use her creativity in some way and studied oils, acrylics and watercolors at Presbyterian College.
"I majored in art, but my dad was adamant that I also have a job. When I graduated in the 80s, social media didn't exist. To be a prominent artist, you needed to be in a gallery and know people. The starving artist was a real thing," Cannon explained.
So, she majored in education and taught in Gwinnett County for 10 years. Cannon shared proudly, "Kids would leave 5th grade with no fear of painting or sculpting; they'd been exposed to it as a regular class since kindergarten."
After her second child, she stayed home and began to dabble in her own art. With young children in the house, the fumes from oil paints didn't seem like a good idea — nor did their drying time. Depending on the environment and number of layers, it could take days or weeks to dry. This clashed with her preference to work fast, so she started painting with acrylics and never looked back.
Well known for her nests, Cannon loves thick paint, vibrant colors and large, loose brushstrokes. She includes texture and drips in her paintings, ranging in size from small to extra-large.
Cannon hopes to share the joy of art with adults who are afraid to paint. She plans to assemble groups to get over their reservations. She revealed what she'd convey, "Get your hands dirty, make a mess, play, enjoy it! Just have a relaxing, fun, non-threatening time."
Inspiration
Having always been drawn to birds and nests, Cannon remembers a comment her mother-in-law made decades earlier. It powerfully echoed back to her the first time her eldest son came home for a visit from college, "All my chicks are in the nest." She recalled those words and the sentiment resounded with her more than ever before.
Cannon created her first huge painting of three eggs in a nest, representing her children. Upon seeing it, her husband left a note which read: "The drawing over the mantle is beautiful. DO NOT SELL."
aturally, she took it to her next show and ended up selling it for more than her original asking price.
Since then, she recreates that painting for the mantle every year, and every year, she inevitably sells it.
"Nature inspires me, and I also like the human figure," she said. While she is fond of painting nudes, she likes them to be a little abstract. "They're not very detailed, you can hang them up without having to put a box over certain parts."
Commissions
Contact Leslie Rae Cannon on Instagram or Facebook, @leslieraecannon_art. Commissions are fully customizable. The number of eggs in the nest can reflect your family size; colors and backgrounds can be customized. Cannon enjoys working with interior designers, and will match paint chips, swatches of wallpaper and upholstery to match your room.
Depending on the canvas size and her commission schedule, she can usually turn pieces around in two to three weeks if nothing else is going on. "I ask a lot of questions to get a feel for what you like," Cannon said. "I adore incorporating individual touches that would be unique to your piece."
Michael Tablada
Ceramics
On The Wesleyan Artist Market
For Michael Tablada, The Artist Market represents his busiest time of year. It's also the only time he makes "normal pieces," like mugs, vases and bowls.
He described the show, the only one he participates in yearly, as a great community event and an exciting time. "It's an invitation to come see a gathering of artists — from the community and from several states away — who participate. Over the years, there's been a great mix of beautifully executed, high-end art and crafts made by self-taught individuals. Though they exhibit a wide range of work, the content is family-friendly."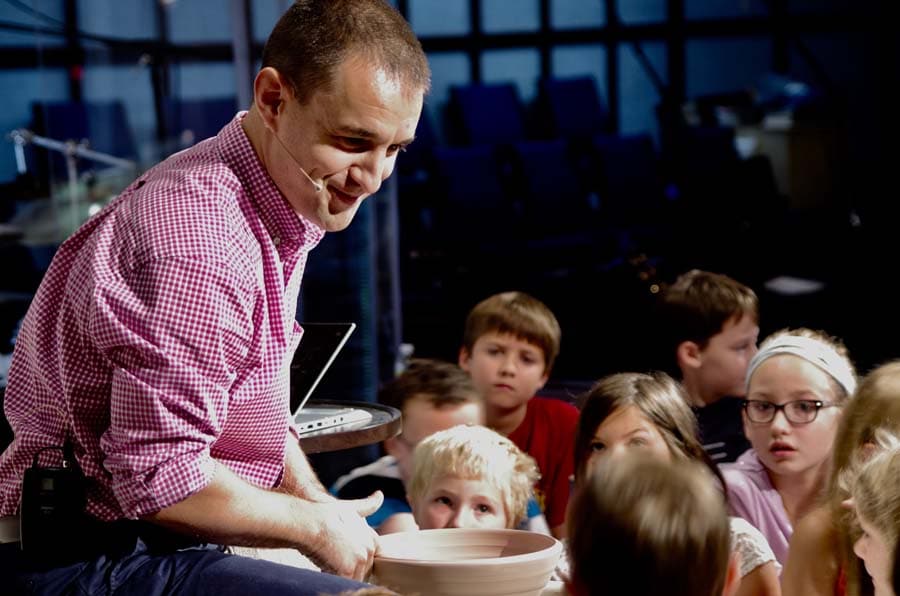 The show also provides an opportunity for students to exhibit and sell their art. It's fascinating to see what middle and high schoolers can accomplish, Tablada added.
"We have top notch facilities and a plethora of media we work through," he said. "Middle school classes are doing advanced painting techniques. High school classes are able to get on the wheel and create large-scale pottery exploring a variety of techniques."
Proceeds from the show are used to grow the amazing facilities at Wesleyan. Whether it's upgrades for studios, an opportunity for a student trip or a guest speaker. "We try to bring in outside influences. The Wesleyan Arts Alliance advocates for the arts, helping us strive for the best student programs," Tablada explained.
Several students have unbelievable talent. Some are selling artwork made in class; then they go home and make more to sell. Others make baked goods or jewelry on their own. One student, who graduated last year, had a soap business she had started in middle school. She created her own self-sustaining business and has an online store.
The Making of an Artist
Tablada grew up in Alpharetta, Ga. He discovered his love for clay at Auburn University and started creating art in 2003. "I love how the slightest touch can change the look of the clay; it's easily manipulatable," he explained. "It can be anything you want it to be. I enjoy working with such a versatile medium because of all the possibilities."
While telling Bible stories at school or before a congregation in church, Tablada creates pottery. Fusing music, visual art and the spoken word, he aims to elicit emotion using the gospel. "I enjoy combining elements to make as big an impact with the artwork as I can," he said.
Tablada loves presenting. "Students go to chapel and many attend church, too," he said. "To break up that rhythm by including pottery and music, they get mesmerized by the art. Before they know it, they're captivated by the message as well. I love to draw emotions out of people as they connect with the experience. It's pretty unique to be able to do that in a live setting."
The process used to create his pieces is emblematic. Distressing the vessels represents sin, for example. Conversely, waves and blue glaze represent baptism. The story behind his creation dictates the methodology used. For example, throwing stones at the vessel "Criminal on Cross" while it's being made represents the crowds who threw rocks at Jesus.
Conversely, the "John the Baptist" pitcher is laying down on a bed of waves. The figure is undisturbed while being dunked under the water. This represents how John the Baptist fully accepted the will of God and laid down his life for Him.
Inspiration
Tablada's art is spiritual. A strong Christian faith is the backbone of his work, he said, and it wasn't until after college that his faith really blossomed at Wesleyan. Until then, he had always considered himself a Christian but never truly explored what that meant.
"I started reading the Bible and the words came to life as I asked to know God personally. Being surrounded by a community of believers at Wesleyan played a big part in my faith journey," Tablada said.
For the last 10 years, his artwork has centered around illustrating Bible stories in a novel way. "I give my pottery human characteristics represented in Bible stories. Each piece is derived from stories in scripture," he shared.
His vessels start off whole and utilitarian. One could actually use them as a bowl, a vase or a pitcher. But when he distresses them, they become worn, representing sin.
"Just as our sins eat away at us, removing the original function God had intended for us, the same is true for the vessels. After distressing them to varying degrees, they are no longer able to hold liquid or to be used. Or maybe the piece becomes so fragile it's about to break," he said.
Tablada described his creative process. "I get new ideas about how I can turn a piece of pottery into a representation of something from the Bible. Whether it's to teach a lesson for a presentation or to create a finished work of art." He added that he likes to work on some pieces in the classroom, opening the door for faith-based conversations.
Commissions
Visit Tablada's website — michaeljtablada.weebly.com — to learn more. Popular designs on his website are recreated upon demand — all handmade, of course.
Biblically themed pieces that are duplicated often include elements to make each one unique; forms, sizes, textures or colors may vary.
"I take commissions for unique pieces often ordered for Christmas, birthdays or one-of-a-kind wedding gifts. These have included coffee sets, sculptures and biblically-themed book ends." A consultation with the artist ensures pieces are created to inspire the recipient.
Three Wesleyan Students Nominated for Prestigious Shuler Awards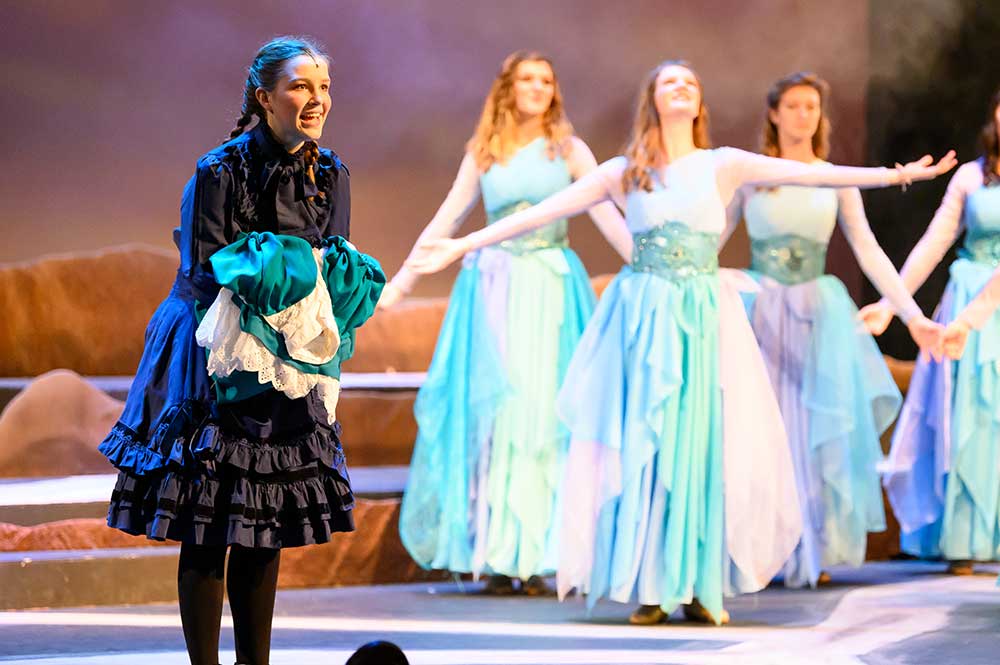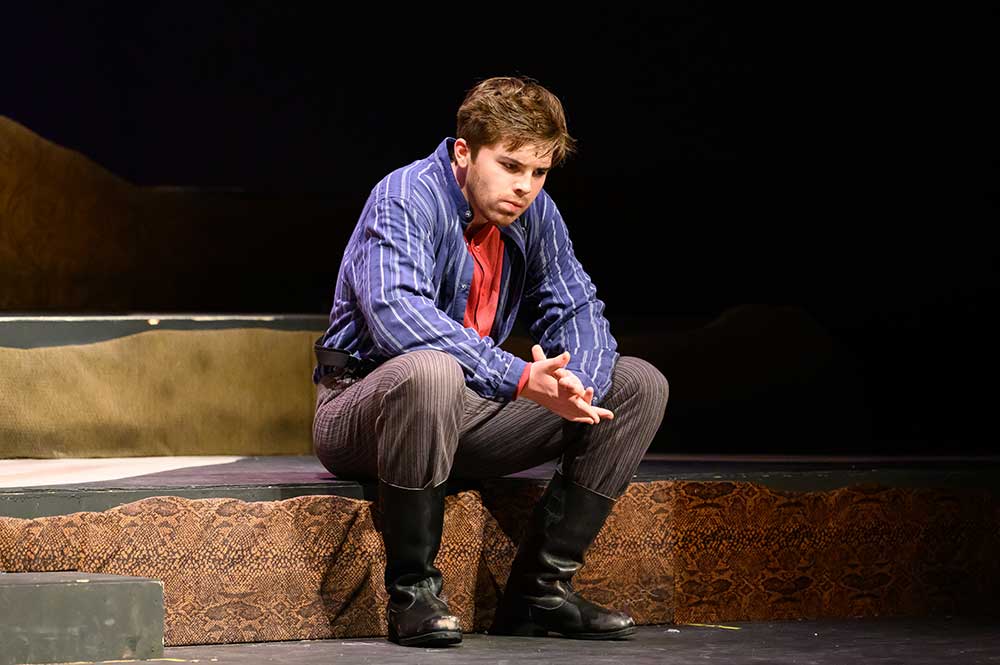 Wesleyan School is pleased to announce that three student actors in the high school winter musical "Tuck Everlasting" have been nominate for prestigious Shuler Awards. The nominees from Wesleyan are:
Brenna McConnell ('22) – Leading Actress (role: Winnie Foster)
Adam Rogers ('20) –Supporting Actor (role: Angus Tuck)
Tori Hedlund ('22) –Supporting Actress (role: Mae Tuck)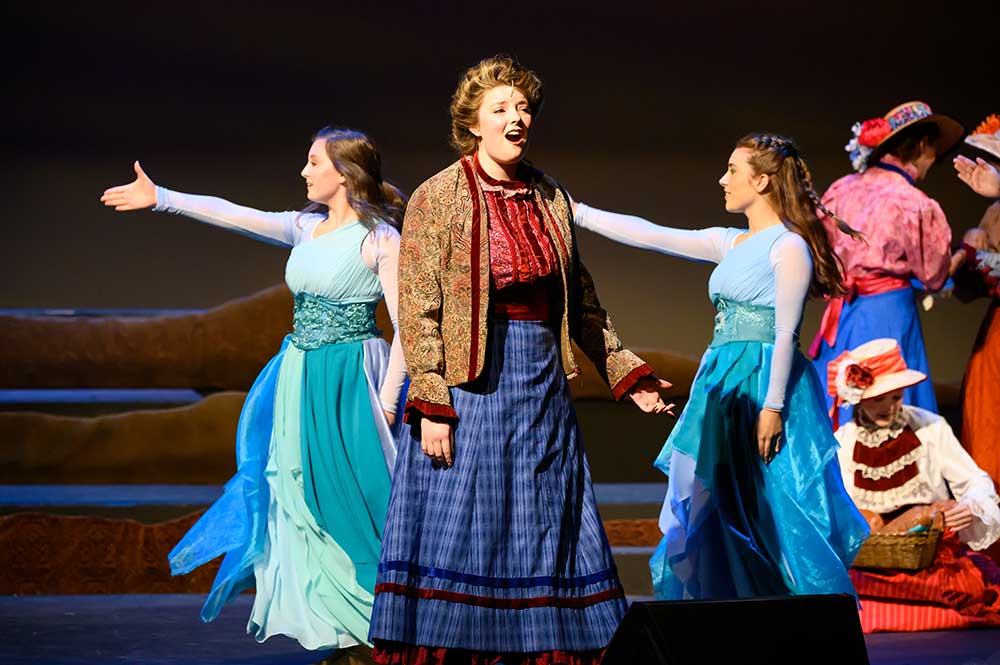 "We are thrilled to have three fine actors recognized for their individual hard work and talent," said Steve Broyles, Wesleyan director of theater. "Being nominated for a Shuler is a high honor and approximately 75 schools in the state had productions evaluated for the awards process. The nominations speak to the talent of these three students and the contributions they make to the Wesleyan community through theater."
In addition to student nominations, Wesleyan's Costume Coordinator Judy Beaman was also honored with an honorable mention nod for costumes in "Tuck Everlasting."
Presented as the Shuler Hensley Awards and known as "The Shuler Awards" or "Shulers," the education program is named for the Atlanta-born star of the stage and screen. The awards are a program of the ArtsBridge Foundation. ArtsBridge Foundation is dedicated to providing quality arts education and community programs that engage, motivate, inspire, and elevate the next generation of artists and arts supporters.
Wesleyan's high school theater department performed the musical Tuck Everlasting in early February 2020.
Wesleyan School is a Christian, independent K-12 college preparatory school located in Peachtree Corners, Georgia. At the start of the 2019-2020 school year, Wesleyan enrolled 1,179 students from throughout the metropolitan Atlanta area. To learn more about the school, visit www.wesleyanschool.org.
Peachtree Corners to Acquire Six Button Sculptures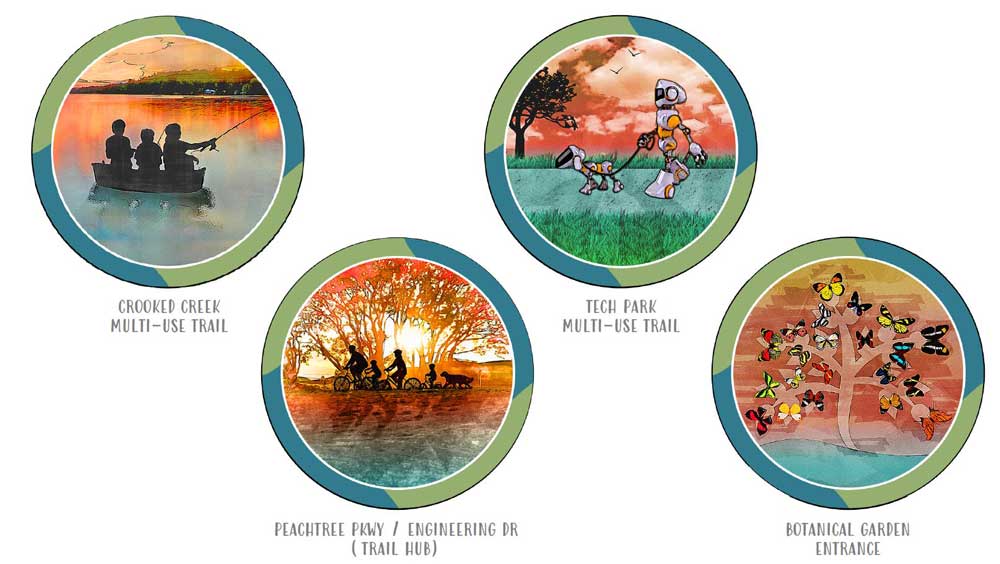 The City Council of Peachtree Corners has approved the acquisition of six Button Art sculptures, created by a nonprofit organization to showcase the county. The six sculptures will be placed throughout the city. The half-dozen sculptures are among 200 that will be placed throughout Gwinnett County. The artist is Lance Campbell.
Button Art, Inc. is a Georgia nonprofit created to further the love of art in Gwinnett County. The project was inspired by Button Gwinnett, the county's namesake, and the only county bearing the name Gwinnett out of more than 3,000 counties in the U.S.  Button Gwinnett was a British-born founding father, a delegate from Georgia to the Continental Congress, and one of the three Georgia signatories on the Declaration of Independence.
"Art in a community has a positive impact by offering a place for creative expression," said Mayor Mike Mason. "We are pleased to be part of the effort to display these unique art pieces and look forward to the installation of the Button Art."
The first work will be unveiled on Tuesday, April 21st at Gwinnett Justice and Administration Center. [Editor's note: due to the coronavirus crisis this may not be occurring, please check ahead] The Peachtree Corners sculptures will be installed this spring.   
The first location to display a Button Gwinnett art piece will be at one of the entrances to the "Corners Connector, the city's multi-use trail system. When complete the 11.5-mile Corners Connector trail will wind through Technology Park and connect with offices, restaurants, shopping and neighborhoods.
Through public and private collaborations, while engaging artists of all ages, cultures, and media, Button Art, Inc. will manage, create and install 200 original Button Sculptures throughout Gwinnett County. The art project was inspired by Gwinnett County's 200th birthday celebration.