City of Peachtree Corners launches 'Color Our Heroes' children's community art project (Video)
Color our Heroes- Peachtree Corners City Art Project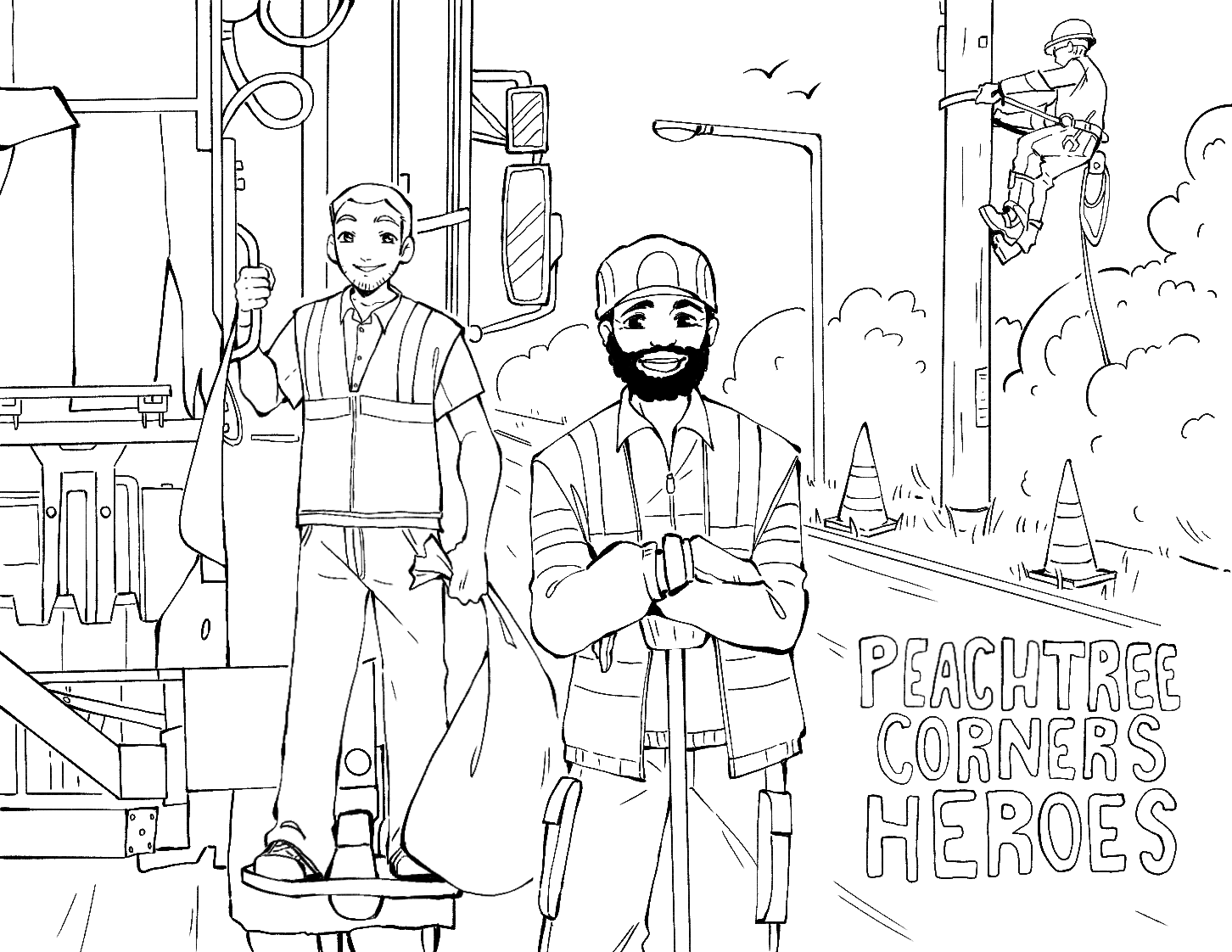 These are trying times for us all. While those with little ones to care for adjust to the new normal of working from home, keeping a regular schedule is a challenge.
Although school-age children continue their studies online, there is still idle time. Walks in the neighborhood, playing video games, and watching reruns on TV helps wile away the hours, but it leaves little opportunity to explore creativity.
To reduce screen time and get those creative juices flowing, the city of Peachtree Corners is launching an arts project called "Color Our Heroes" to recognize the men and women keeping us safe during the pandemic.
Each week, for the next four weeks, a new coloring sheet will be available on the city's website. The first week depicts doctors and nurses, the second, garbage collectors, the third Police and EMS personnel and the fourth-week features teachers. [The latest one is here (PDF format)]
"For small kids, (Color Our Heroes) is a great way to show how these professions are critical. You know these are callings. They're not just jobs, these are ones that it's a calling. You're giving back to the community and in a phenomenal way."

– City Manager Brian Johnson
We are asking everyone to show off their artwork by posting on their front door or window. Additionally, we encourage you to post completed artwork on your social media pages using the hashtags, #colorourheroes, #peachtreecornersga or #peachtreecorners.
To show appreciation for your efforts, each week a winner will be selected from a random drawing to receive a gift card from a local business.
Please take time now to download the PDF, add your personal touches, scan and share with friends and find a prominent place to post in and around your home.
Follow these steps to participate:
Locate the "Residents" tab
In the pull-down menu click on "Color Our Heroes"
Select a PDF or PNG file to download
 Watch for more coloring sheets in the coming weeks that you can download, color, and display. We look forward to seeing your unique artwork. Parents, be sure to send a copy of your child's artwork and your contact information via email to info@peachtreecornersga.gov to enter the gift-card drawing.
Source: Press Release from the City of Peachtree Corners
Jim Stone of Tytan Ad Group interviews City Manager Brian Johnson about recent events in Peachtree Corners regarding the response to Shelter in Place local and national orders, as well as the 'Color Our Heroes" community project.
Resources
Transcript
Jim: (00:00) Brian here we are it's Week Four of the shelter-in-place order that you guys started and then the governor came in with a formal one that was statewide. You're doing another address, you're addressing the residents of the city and businesses three times a week and a couple times a week we're going and talking with each other and maybe going in a little bit more detail and today you mentioned a new project, the Color Our Heroes project, tell me a little bit about that.
Brian: (00:28)So it's a project that we think, you know, might be able to kill two birds with one stone so to speak one, at least for the kids who are in school. From their standpoint, they're not in school or at least they're not in the schoolhouse and for you know some of them of certain ages that means that they're wanting to be on screen time more and they're wanting to you know do things that sometimes parents are like 'oh I wish there was something more constructive to do' right and so and you know I have younger kids myself and it's a constant struggle. You know, a lot of schoolwork when you don't have to move at the speed of the slowest person in a class you can get through it a lot quicker so by noon every day my kids are done with all their schoolwork and they're already like I want to you know get on some screen of some sort and so one way you know we thought of is you know coming up with something more constructive than some of that.
And then – it is to thank some of the occupations that are out there that are doing things that either we take for granted like say sanitation workers or maybe we don't take for granted but we still need to appreciate them because they're working either longer hours or they're putting themselves in harm's way as far as the virus because they don't know if they're being subjected to it or not and so you um you know wethe city came up with and Tytan came up with a project that we thought we could start and that is to have a sketched image of these professions and to publish it and to let them, people in the community, color it and both post it on the front of their house you know in their front window or door whatever as a way of showing support for people driving past and I know if I was driving home and there was a bunch of pictures of city managers in the houses yeah but but you know who would not want to see the support you know being prime military I've been you know and at a point coming back from you know where there was a massive outpouring of support and it makes you feel good, makes you feel good about the danger that you voluntarily subjected yourself to as you know while you were providing the service for the greater good and so that's a great way to do it.
And then it's not only just posting it on the front of their house just as a show of solidarity but also posting it in some of our social media platforms like Facebook, Instagram, Tik Tok and that allows you to post it in a creative way right? It allows Tytan to have the people who do that their names dropped into a random drawing right and then you're going to as an appreciation going to randomly draw ten names per week correct with gift cards from purchased from local Peachtree Corners businesses as a reward for doing this and as a way to support the local economy.
Jim: (04:03)Yeah I think it's a win-win andwe were really excited when you guysmentioned it. I think it was Kim Jarek, thecity clerk she came up, she was allexcited. She saw we had the other project. Can we talk about the other coloringproject or not?
Brian: (04:17)Yeah, absolutely.
Jim: (04:18) So a little while ago the city came to us and said 'hey we want to do something different you guys are innovative and remarkable and everybody knows you for Curiosity lab and all this high-tech stuff' and Rocio Monterrosa and Kim come to us and Judy Putnam when they go let's do a coloring book for the community. Let's show some of the different parts of our community- the parks, town center, Jones bridge, you know, and all these different things. And let's make a coloring book and our artists were so excited and some of our artists are young and they absolutely love this because even though they may be in their 20s they still love, you know, coloring books and that's a thing now with adults and therapy coloring but we created a coloring book that we're about to release here I think.
We were going to release it a little bit later but I think we're gonna release it early with everything that's going on but Kim and some of the ladies here started going hey why don't we do something you know for the community and that was the genesis of this and so I want to thank you for everybody at the city for being you know so innovative. Really I mean you guys are always thinking about new ways to reach out to residents and businesses and get people involved.
Brian: (05:22) Well I at least can speak to myself when I say I'm innovative enough to know that I'm not particularly innovative by myself yeah you know and so that's why you try to surround yourself with people who are you know hopefully smarter than definitely more, you know, looking at things more creative looking at things from different vantage points and this is like you said the genesis of those kind of things I mean when you have a bunch of smart people talking about what can we do different oftentimes it you know that's you know part of why we retain you guys to to help us with these kind of things because they don't happen organically. They take effort.
Jim: (05:59) Well one of the things and you guys definitely employ this here but one of my mentors always said 'the best idea wins' and you know before I got into the crazy entertainment world and in production world you know I had an engineering company and we had a bunch of engineers and my chief engineer said 'it doesn't matter you know if John the guy who takes the trash out at night comes up with a better idea than our engineering team does let's use his idea and give him credit for it right you know put your ego aside' and I think we see that in Peachtree Corners. I mean your staff, I mean your entire group, I mean literally you know if one of the guys outside you know washing the windows has a better idea we'll use it and give him or her credit for it and I think that we got to be that way we've got to be agile in this new economy, this new paradigm we're living now.
Brian: (06:46) We do and you know credits got togo to you know the governing body mayorand council also have supported you knowthese efforts. They give us you know theflexibility and latitude to come up withyou know ideas like this to implement them. They're not constantly coming in and talking about well I don'tyou know why should we do it. It's really more of why shouldn't we right? and you know some of the times we do things that aren't quite as successful as we want and some of them are more wildlymore successful than we thought right but at the end of the day the one thing that mayor and council have always been clear is we shouldn't be you know not doing something right and so I would rather be trying something and you know failing than not doing anything at all. So we've appreciated this and you know this is another one to that I mean it doesn't hurt. This is a great way to instill pride and in the community and in these professions and for kids to understand I mean all of these professions that we have.
In Week one we're doing medical professionals doctors, pas nurses, public health you know officials. Week two we're gonna do maintenance and sanitation workers. Week 3 will be Police and Fire EMS. and then week four will be our educators teachers and of course there are a lot of other ones I mean if we had more than just four we could be going on and on and on. There's so many people there. There are the folks at the groceries. Yeah let's not forget you know.
I mean you know they've got every new customer they're ringing up is technically somebody that could have it, could be asymptomatic and a risk so butwe need groceries and they're there too right to do it. But you know at the end of the day though especially for small kids this is a great way to also show how these professions are critical right you know these are callings. They're not just jobs these are ones that it's a calling. You're giving back to the community and in a phenomenal way.
Jim: (09:02) So all right well I'm gonna let the kids knowyou mentioned it when you gave your public address but we have hashtag #colorourheroes, we have hashtag #peachtreecorners of course, and hashtag #peachtreecornersga . So when you do your coloring when you finish your coloring, take a picture of it, scan it, whatever you can do to get it digital. If you do it in Photoshop it's already digital but post it on your social media platform the ones we follow. We talk about Instagram, Facebook, Tik Tok, are the primary ones. You adults, if you want to put it on LinkedIn we'll check it out there. I don't you don't seem very many you might get a lot of attention on link over here with your colored photos so that may be some white space maybe some of the adults want to go for but we're gonna be watching all the different platforms and looking for those hashtags and then we're gonna pull ten names basically from a hat every week and give out gift cards to local businesses which i think is a great idea.
Brian: (09:58) Now so is it fair to say then that if you're posting on one of those platforms depending on you know the orientation of each you're okay with them being posted in unique ways?
Jim: (10:02) Absolutely you know so Tik Tok could bein a short video format, Instagram couldbe a unique photo of it, I meanabsolutely use your creativity you know, definitely.
Brian: (10:14) We just wantto see that the photos been coloredright that they participated and thenyou know but other than that it could becreative
Jim: (10:20) Absolutely be ascreative as you want to be you know, loveit, this is a creative town when we didthe casting call for P Street Corner Kidswe were absolutely amazed at thetalent that's around here and we'relooking forward to getting back to that. I know a lot of kids we had a coupleepisodes queued up to film here and thenthis all hit so anyways kids you're outthere we're gonna start soon I knowCarly's reaching out to some of you soget ready for that.
Brian: (10:46) They really are. I mean this community is phenomenal. I have seen some parents step up me and I'vehad you know neighbor of ours was doingyou know video teleconference bookreadings right amazing you know for kidsdoing it. I mean our neighborhoodhad the Easter Bunny drive around in theback of a pickup truck and so the kidsonly had to go to the end of their youknow yard or driveway and the EasterBunny was throwing out some candy sothat they at least still got to see theEaster Bunny. I mean you know our schoollocal schools here had teacher paradesright where they drove the bus routes tothe schools in their own cars for thekids got to come out. I mean so yes thatwe have a lot of young kids we have avery vibrant you know school system here.
Jim: (11:38)Right and I look forward to seeing somereally good you know really I'm lookingfor too that that family and Brandon'sneighborhood I saw that video they putout I mean goodness sakes it was like
like a live news share was on my new show they produced it was incredible.
Brian: (11:52)There's some pretty cool stuffgoing on some really forward to seeingboth the pictures colored but alsounique ways in which it's posted. (11:58)
Jim: (11:59)I think that's it and so you know check it out we do monitor Tik Tok the P Street Corner Kids have a Tic Tok so that could be really fun like you say I see some Tik Tok videos of their coloring. It's any, Instagram can have some pretty cool pictures on absolutely absolutely you can do all kinds of fun stuff with our G TV and in different ways. You can post on Tik Tok and Facebook so it'll be fun.
Well Brian thanks again thanks for all you're doing for the community. Thanks for what your team is doing for the community. I know we talked about that I know you're a military professional but really this is a time that city government really had to stand up I mean you guys really this is what you get paid for is making sure this city continues to run in times like this so I know only want to thank you and the mayor and the council for the great job they're doing but every single team member here that's both working from home and I see the maintenance guys here every single day when we come by here to film. They're out there fixing the roads there. They're fixing bravo work with pipes. There's no working from home when a pipe breaks or there's a big chunk hole in the road so I mean these guys are out there guys and gals are out there every single day so thank you for what all of you are doing in your team are doing it's incredible, appreciate it.
Brian: (13:12)Thanks for helping us get that word out about those kind of things we appreciate it and we look forward to keeping you know keeping this momentum up.
Jim: (13:19)Yes sir all right we'll see you Friday.
Brian: (13:21) All Righty
Source: Adapted from Peachtree Corners City Website and video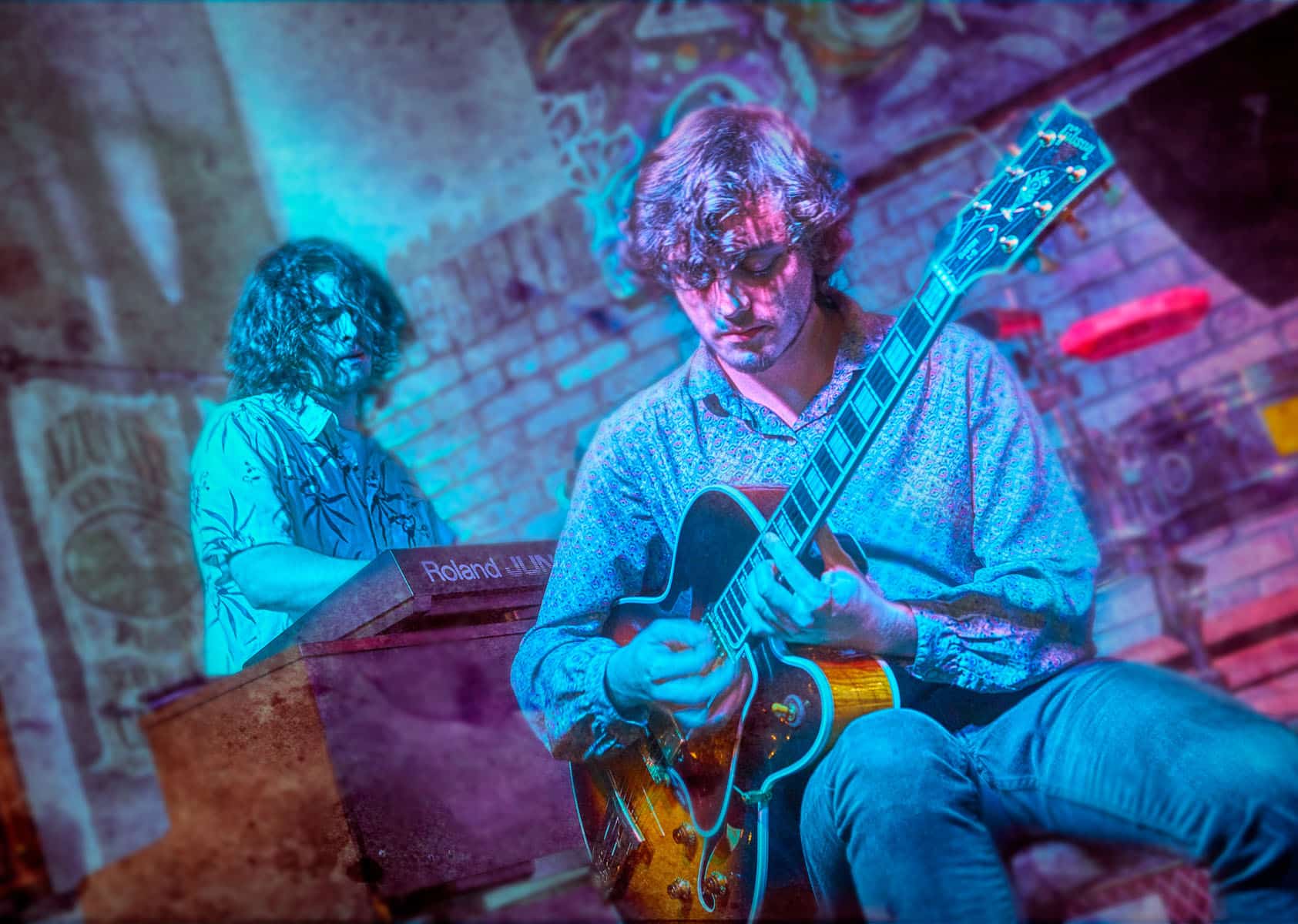 Peachtree Corners is perhaps best known for its technology and scientific minds, but it's a proven fact that science and art go hand-in-hand. So it should come as no surprise that Peachtree Corners is also bursting at the seams with creative people who produce art at all levels, across all art forms and in every medium.
From the visual arts to the performing arts, you will find painters, dancers, actors, musicians, and yes, even photographers, who are brand new to their craft — and others for whom it has been a life-long quest for creative expression.
Enjoy these photos taken by the members of the Peachtree Corners Photography Club, who are artists themselves, taking photos of other artists in Peachtree Corners!
The monthly meetings of the Club are open to everyone, from beginners to pros. For more information about the Club, go to their website at pcphotoclub.org.

Wesleyan Artist Market Celebrates Its Silver Jubilee in 2023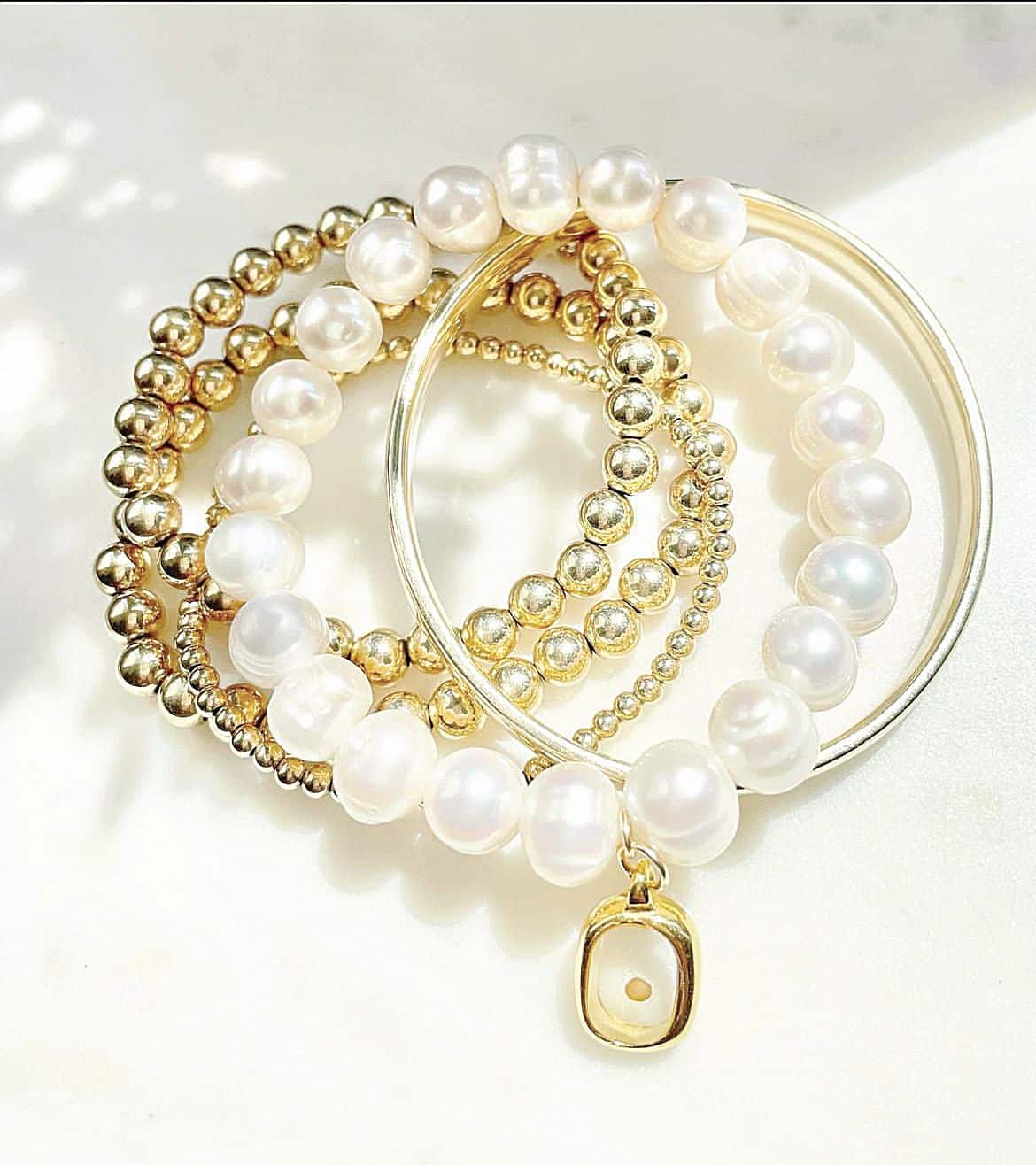 This spring ushers in the 25th annual Wesleyan Artist Market (WAM), our favorite local fine art, jewelry and fine wares show. It's set for Friday, April 28, 10 a.m.-7 p.m., and Saturday, April 29, 10 a.m.-3 p.m. at the Wesleyan School in Peachtree Corners.
Enjoy scrumptious beverages and snacks while taking in the talents of 85 professional artists from all over the Southeast and 19 student artists. This two-day event is open to the public; parking and admission are free.
Engage with artists as you hunt for works that you'll treasure for years to come. "Come to the Table," Wesleyan's hardcover cookbook with over 200 recipes, will be available for purchase. Proceeds help fund Wesleyan's fine arts programs.
This year, your support will facilitate the purchase of a new truck for the marching band, the refurbishing of a Steinway piano, new chorus risers and upgraded lighting in Powell Theater.
From casual customers to avid collectors, WAM always delights. To preview participating artists, visit artistmarket.wesleyanschool.org. Cheers to 25 years, WAM!
Spotlight on three artists
Wendy King — Poppy and Jewel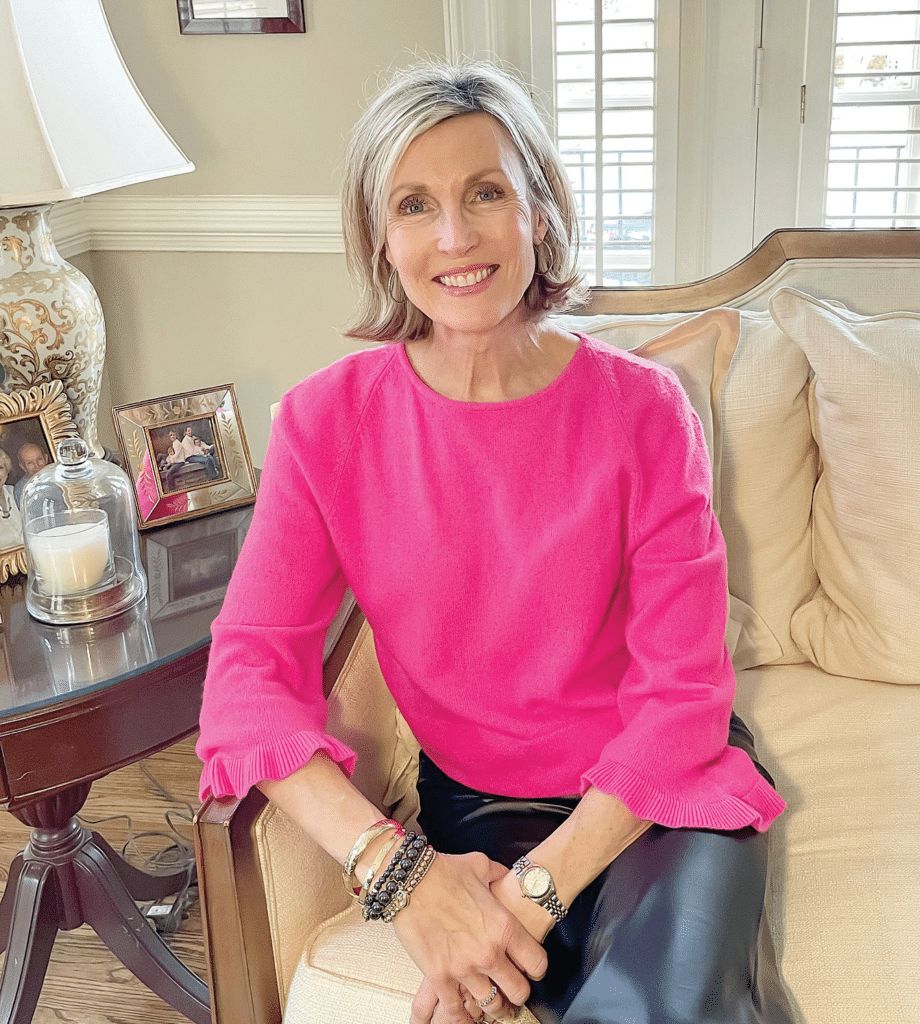 Inspirational jewelry that cuts the mustard
When Wendy King received a spherical, vintage charm containing a single mustard seed from her husband's grandmother long ago, she had no idea it would be the catalyst for starting her own inspirational jewelry line one day, nor that it would have such a profound and far-reaching impact on others.
In the 1950s and 60s, it was apparently customary to gift such charms, alluding to the parable of the mustard seed. Some were set in brooches, many hung on necklaces.
King found it was very effective to wear the sentimental trinket she had received as a reminder to walk in faith every day. She elected to sport the bauble on a stylish new bracelet and realized that women today would be more likely to benefit from continuing this tradition if the cherished charms of yesteryear with real mustard seeds inside were set in more contemporary, fashion-forward jewelry pieces.
"A lot of the religious jewelry has a similar look. I wanted to elevate it, put a different spin on it," King said.
She thought she could breathe new life into these vintage charms by using them to create contemporary jewelry pieces. "I went to antique stores, but it was like finding a needle in a haystack, especially to find them in good shape. That's when I realized I'd have to make the charms myself too," she added.
Today, her Poppy and Jewel pieces are made with natural gemstone beads like white lace agate, amazonite, aquamarine, pearl, tiger's eye, labradorite, hematite and river stone and her perfected bezels with metal finishes in silver, polished gold or antique brass. Each one contains a solitary, immortalized, goldish-brown mustard seed suspended in the center of a clear resin-filled charm.
"You don't have to see the whole staircase; just take the first step." – Martin Luther King
It's a powerful visual, to see how physically tiny a mustard seed really is. King painstakingly creates lovely earrings, necklaces and bracelets — vessels that spark the might of faith when worn.
Her jewelry line speaks with the promise that if you believe it, everything will work out for the best. Each distinctive piece comes with a card explaining the parable that inspired it.
Faith can move mountains — pass it on
Jesus says in Matthew 17:20, "For truly I tell you, if you have faith the size of a mustard seed, you will say to this mountain, 'Move from here to there,' and it will move; and nothing will be impossible for you."
It's a message that transcends all faiths and provides comfort whether you're religious or not. We all go through low points when digging deep to find the strength to triumph is vital.
Even the smallest amount of faith in an all-powerful God, or an ever-just universe, results in great things. Sometimes life's tests may seem insurmountable: divorce, job loss, infertility, illness.
That's when you must believe in your heart, without a doubt, that God or the universe is bigger than those mountains. It's hard to do in our we-have-to-see-it-now-to-believe-it society. Enter Poppy and Jewel. Cue "You Gotta Have Faith" (George Michael, 1987)
King has enjoyed witnessing the organic growth of the one-woman enterprise she started in 2016 named after her maternal grandparents who planted the seeds of faith in her. The ripple effect of customers sharing her pieces is special.
"I can't tell you how many times I've had people tell me they hear stories that grip their hearts and give their bracelets away to comfort someone in need. Then I get an email, "Well, I gave another one off my wrist. I need to restock." That's what it's for. You hear somebody going through a rough patch and you pass it on," King smiled.
The evolution of an artisan
A bachelor's degree in government administration didn't exactly allow King a creative outlet. Nor did her 12-year stint as a fitness instructor at Country Club of the South. She founded Poppy and Jewel when her kids were still in school, and she was able to ramp production up or down as needed. "Now that they're grown, I can devote so much more to it," King said.
Producing her pretty, handcrafted pieces took plenty of trial and error. "The first time I worked with the resin, I poured it, set the seed in and wondered why it was gooey. It took years of making charms that I can't use. Those little boogers float around," she laughed.
Lately, King has been working with a company to replicate the vintage charm that started it all for her. They are three samples into tweaking a spherical bauble with a metal band around it that should be available in a few months.
Behind the scenes
Removing air bubbles in the resin, stringing smaller beads one by one with a needle and thread, perfectly positioning the seeds — it's tedious work.
If the resin mixture isn't spot on and perfectly timed, it doesn't cure correctly. It's all part of learning what works. "I'm very methodical now. I follow the same steps every time. I don't want any mishaps," King explained.
This jewelry line is a true labor of love for King who has since fine-tuned her two-step resin pouring process. Still, every phase of a successful batch of charms has to be completed within a certain window. She purchases the bezels (the empty metal part), mixes the resin with hardener, pours it and positions the itty-bitty mustard seed in the center while wearing glasses and a magnifying glass.
King patiently allows it to cure, but she must also check on them at exactly the right time to be able to redirect any seeds that may have drifted. Once that stage has cured properly, a second round of resin is poured.
King prefers to work on small batches of about 100 charms at a time. "When inspiration hits, I'll go to my studio down the hall and work while those juices are flowing and I'm in that creative mindset, whether it's crack of dawn:30 or late at night," she said.
Shop Poppy and Jewel
Shop King's handcrafted jewelry in person at WAM, The Red Hound in Norcross and Alpharetta, Under the Palm Tree in Dunwoody, and Josephine's Antiques in Roswell. Electronically, visit her website, poppyandjewel.com, or Instagram account, @poppy_and_jewel.
Customizations include requests for particular colors, smaller or larger sizes. Some people bring their own beads or a broken necklace to be used. If you find a vintage charm after rifling through your family's jewelry boxes, you can have it added to Poppy and Jewel bijouterie.
"If it brings a sense of joy or hope to somebody, if I touch one person's life, then I'll keep doing what I'm doing," King declared.
Shane Miller — Artist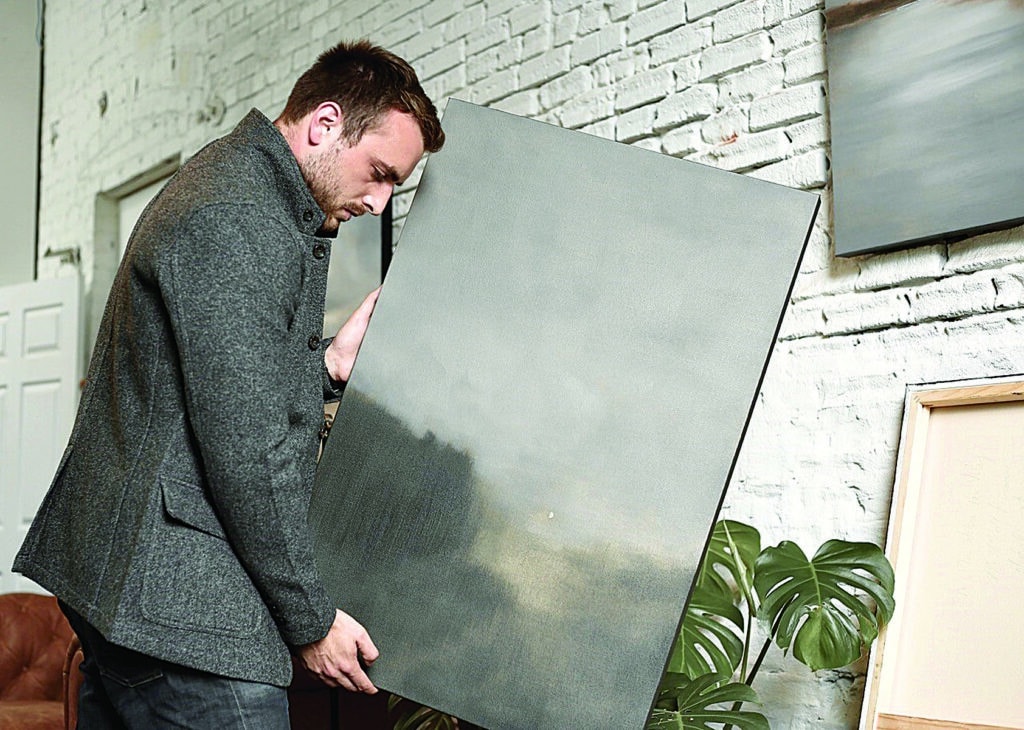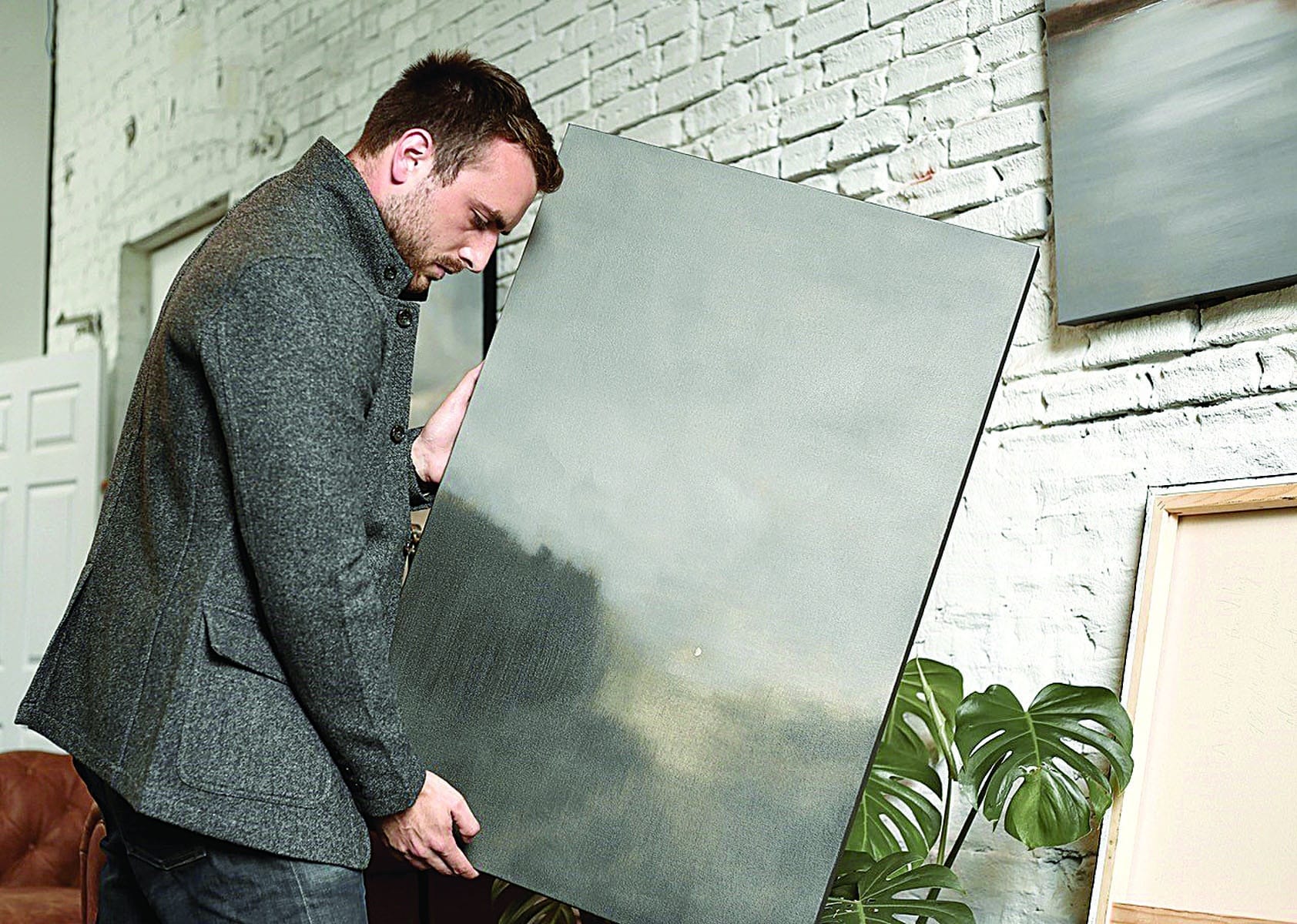 Stumble into art
Maryland native Shane Miller did just that, and he's been swimming since 2016. Miller transferred to Nashville in 2013. He always knew he'd do something creative full time, but he didn't realize it would be painting until a chance encounter at an art crawl with Paul Polycarpou, then CEO of Nashville Arts Magazine, changed his instrument from guitar to paintbrush.
Miller had already hung up his physical therapist hat after six years in the field to pursue music. His father introduced him to guitar early. He took lessons at age 10 and was giving them by 15.
Strumming for a living wasn't much of a stretch. For most, it would be a giant stretch. For musical Miller, easy peasy.
Touring on weekends with an independent artist, his year in the life of a professional musician allowed more time for painting. Eventually, the music volume decreased as the painting volume amplified.
A natural knack
"I had a watercolor tutor in high school. Before that, I'd draw on the back of my worksheets in elementary school. I have a natural knack for it," Miller stated.
Miller clearly paid attention in watercolor class where he learned the fundamentals of color theory and composition. Through college and thereafter, he painted in his spare time.
After trying different styles, he settled on creating what most resonated with him: abstract, atmospheric landscapes influenced by tonalism like those one might recall from a reverie or a distant memory, using oils on canvas.
Miller took Polycarpou up on his open-door policy for local artists. The executive was open to critiquing artists' work and had offered to introduce Miller to a gallery in town when he believed him to be ready.
True to his word, Polycarpou provided direction and in a short time, Miller signed with the Rymer Gallery. Others ensued.
Needless to say, the painter isn't missing his regimented physical therapy days. He considers his flexible schedule a dream. "I'm happy with my career. It was an interesting road getting here," he said.
The sway of social media
Curating a cohesive Instagram story and posting regularly paid off for the promising artist. The platform revealed a market for his work. Miller was both astonished and assured by people's readiness to buy paintings online.
"I've shipped work all over the world: the UK, Australia, Japan, the Philippines, Germany — all through the power of the internet," Miller said.
Studio space
Miller works out of his Germantown studio with soaring ceilings, a massive north-facing window and skylight in an old flour mill that's been converted into a business collective north of downtown Nashville.
A believer in being disciplined, he reports to his atelier daily, inspired or not, "You have to be consistent with showing up. Diving in allows creativity to start flowing."
The painter's process
Miller finds inspiration in his travels. He doesn't work from reference photos; he finds them restrictive. Surprisingly, he doesn't aim to depict any particular panorama. He paints from his imagination.
More interested in expressing himself and capturing feelings, he seeks to take viewers on a spiritual voyage. "Painting is a subconscious process for me, like meditation," he explained.
Miller paints bodies of water because, besides being visually interesting, they create lines leading the eye into the composition. It evokes turning a chapter, especially flowing rivers.
His monochromatic, non-specific landscapes act as a bridge to tap into emotions. He's pleased when people feel like they've been to "that place" in any of his paintings.
A prolific painter, his preference is to juggle about six pieces at once. "I paint skies on different days than the foreground, working in batches. I'll mix a certain color and carry it throughout multiple paintings so I'm not wasting paint. It's a nice way to streamline things and jump around through different pieces," Miller said.
Stepping away frequently when working on multiples allows him to avoid tunnel vision, "I can always reassess the direction."
Most paintings are varnished once he's done. He likes the subtle finish of satin varnish mixed with cold wax for a less reflective sheen.
Mystery blooms
"Recently I've been painting abstract florals. There aren't many rules when painting florals," Miller stated. One gets the impression he wouldn't follow any if there were. He enjoys using brighter colors than he would in his landscapes.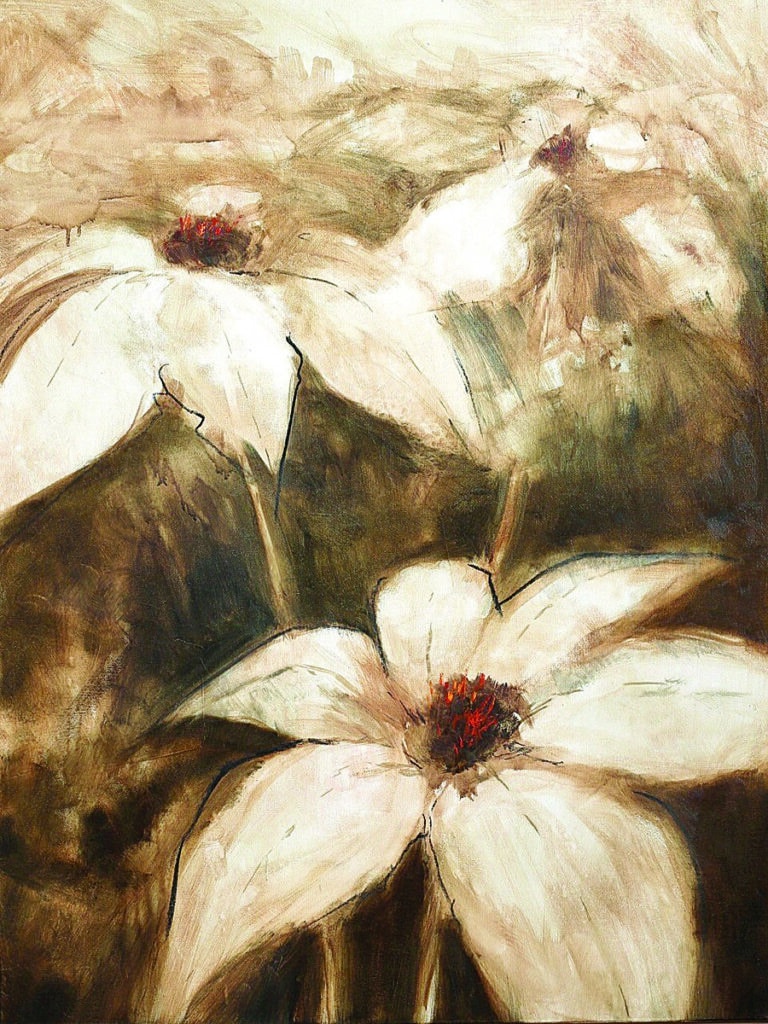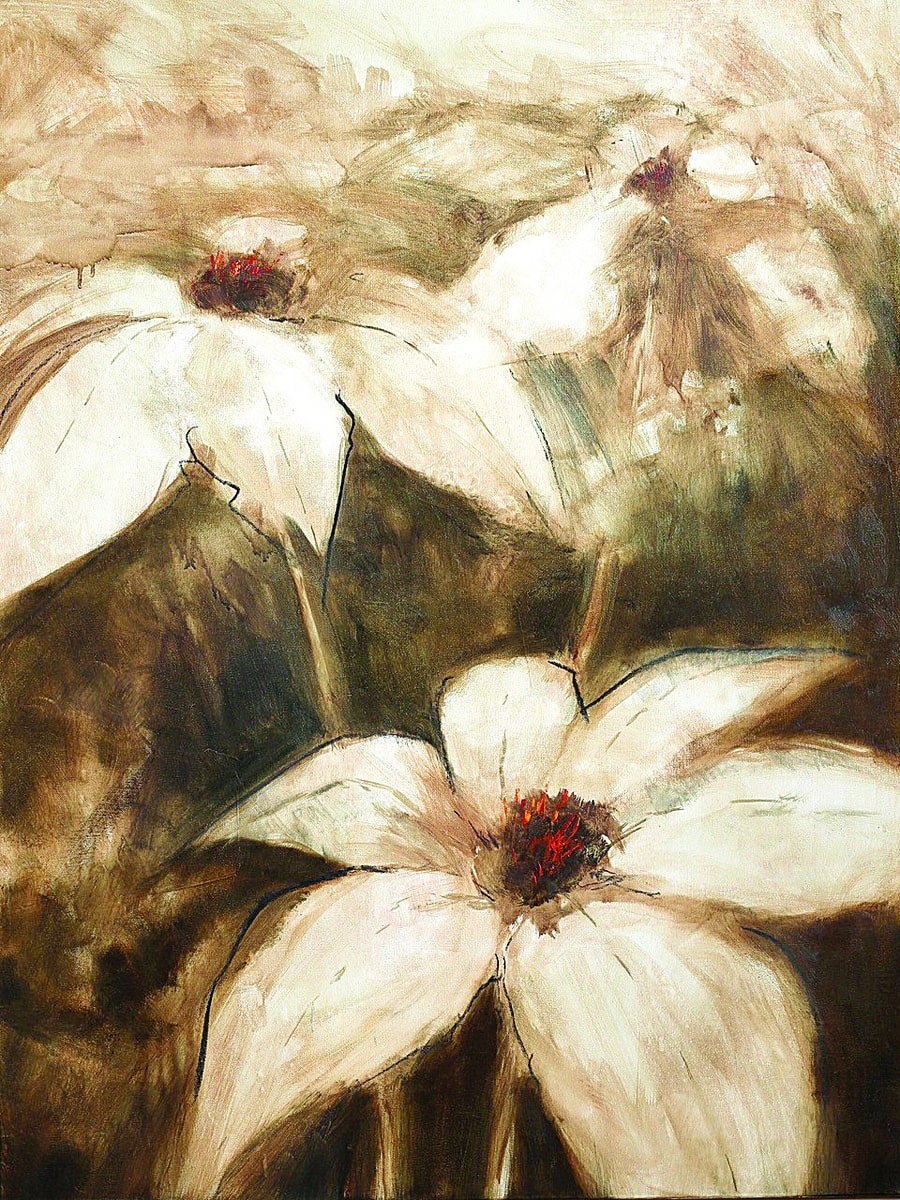 "I don't know one flower from the next. I just paint whatever shape looks great and my wife will say, "That looks like a lily." For Miller, it's about creating a composition that feels right.
A left-brained creative?
Miller has a penchant for numbers and organization. "I have systems to keep track of everything," he said. His paintings have an identifier that correlates to a spreadsheet and an internal tracking system. He can trace any piece, whether it's at the studio, at a gallery or sold.
Miller dove into the accounting cycle and relishes keeping up with his books. Documenting his endeavors makes him feel accomplished.
A logbook holds records of the colors and dates of every layer of every painting — all steps taken to achieve the end result. These come in handy when clients request something similar to one of his older works.
"Painting is a very subtle thing, especially working in layers. It could be hard to recall every step," Miller explained.
Commissions
At shows like WAM, you might not find exactly what you're looking for, but if you like his style, Miller can create a unique piece for you. One can request a painting reminiscent of a location — the Carolinas, a marsh, the coast or mountains — and any desired elements for the piece.
Miller then gets to work. A 20% deposit gets the ball rolling. Within a month, one can expect to see photos and videos of a piece for final approval.
Shop Shane Miller Art
Meet Miller and see his work at WAM. So that buyers can purchase with confidence, he is responsive to inquiries from his website, shaneartistry.com or through Instagram @shane.artistry.
"Art washes away from the soul the dust of everyday life." — Pablo Picasso
Miller espouses Picasso's sentiment. He feels painting or any creative outlet is an escape from the mundane and rejuvenates the spirit.
Jennifer Keim – JKEIM Fine Art and Lifestyle Design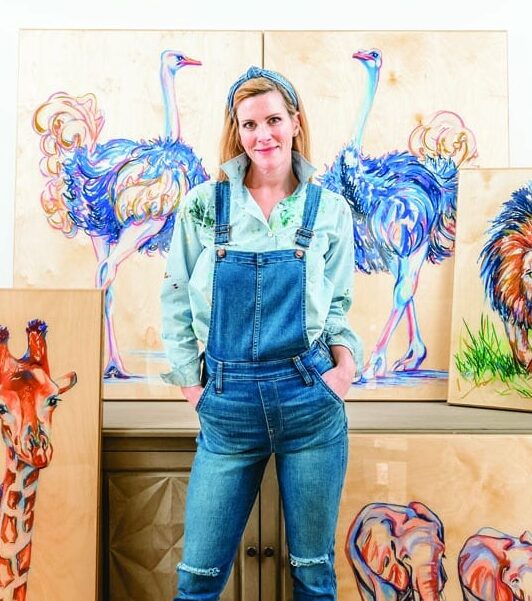 Becoming JKEIM
Atlanta artist Jennifer Keim switches between oils, pastels and mixed media to best capture her subjects' personalities. She's been fostering her artistic talent since fourth grade at the behest of the late Jill Chancey Philips, a summer camp instructor at the Columbus Museum who noticed she had something special.
Keim studied under Philips until earning a Bachelor of Fine Arts in drawing and painting at Auburn University. Philips owned the gallery and studio where Keim spent her young adult summers learning the business side of being a professional artist.
She credits her mentor for emphasizing grit and form. "It's so important understanding technique before you can evolve your style. You have to understand dimensions, perspectives and shading to bring a subject onto the page," she said.
Keim worked in advertising for practical reasons until a successful solo art show convinced her she could do art full-time. She felt "suffocated" behind the computer, so in 2007 she left graphic design for a career as a painter.
Art therapy
An unfinished space in her home is Keim's special place. Nails dot the walls where pieces have come and gone. Paint and resin splashes adorn the studio floor. Her beautiful work surrounds her on all sides.
Seeing how color and shadowing can bring the beauty of a subject up off the page has always intrigued Keim for whom painting is a creative outlet. "It feels good. If I'm a little cranky, my husband says, 'You might need to go to the studio for a bit.'"
Off to the Races
The jockeys and detailed horses of the pastel-on-wood Off to the Races series feature clean lines and vibrant colors. Keim captures the energy of the horse races. "My favorite part is doing the kickup," she said.
Fun fact: Mud can splatter up to 20 feet behind a galloping horse.
Starting with a pencil drawing is key as the nonporous wood allows for only one or two strokes of pastel. After 20 years of working with high gloss resin, Keim is still surprised by the chemical reaction that occurs when it's poured over pastels on raw wood. It enriches the woodgrain, melts the pastels heightening the colors and creates an almost 3D effect.
The family is warned before a resin session begins with "Do not enter; mommy is pouring." Then it's literally off to the races. It takes two to three minutes to precisely mix the concoction of resin and hardener and another 15 minutes to pour the epoxy before it gets too sticky.
Keim releases air bubbles with a torch and walks away for three days, hoping no bugs land on the curing resin. The finished pieces, with their glossy sheen and beveled edges, do not require a frame.
Generation Wild collection
An African safari in 2009 left Keim forever enchanted by the way of the wild — how the animals communicate, the smells, the circle of life. "It makes your heart beat in a different way. I still get chill bumps from it," she said.
Capturing animals is all in the eyes in Keim's view. "Start with the eyes. If you don't get them right, you might as well start over," she explains. "I have to feel like they're blinking at me before I can move on."
Fly Guys
"My Fly Guys collection started from my husband's grandfather's fly box in the studio. I was up late one night and started tinkering around with it. Creative moments," Keim said.
Textiles
Whose Booze? It's what Keim likes to call her set of four hand painted linen cocktail napkins with a hemstitch, each in a different color for easy glassware identification. They'll be available at WAM for the first time this year.
Keim also makes tea towels, scarves that double as cover-ups and more. The painted fabrics are durable and washable.
Shop JKEIM
Find Keim's artwork and textiles at WAM, Marguerite's in Brookhaven, B.D. Jeffries in Atlanta or visit her website, jkeim.com.
A day in the life
"I jump around like a ping-pong ball, which keeps me in the groove" is how Keim describes her workday. There are textiles drying on tables and on the floor, scarves on mannequins. It's a carefully timed game of drying stations in anticipation of the next color. Snuck in between is a layer being added to an animal piece.
She prefers coastal and mountain pieces in oils with visible palette knife blade marks. "I like to work with oil on linen or canvas with a venetian red backing. I was trained to emulate the masters," she said.
Keim keeps a supply of canvases painted with a venetian red basecoat in all sizes at the ready, in case there's something she wishes to paint immediately.
Commissions
Keim completes commissions of all sorts. Even her textiles can be personalized. Pinpointing what the client is interested in comes first. Next, learning what the space is like.
She's been known to bring an assortment of works to homes to see what size works best with the ceiling height and the environment. A 50% deposit gets a commission underway.
The best part
Keim wants her work to incite nostalgia, cheer and joy. For her, the best part about being an artist is having people connect to a piece she was inspired to create.
"You're getting a little piece of me in every one of my original works," she said. "When all those happy moments combine, that really is magical for me."
See you at WAM's 25th!
I'm positive you'll enjoy meeting these gifted artists at WAM. The show is the springtime indulgence we've all come to expect. Exhibitors are looking forward to meeting you and sharing their zeal for art with you.
Thanks for one exquisitely imaginative quarter of a century, WAM!

Wesleyan Artist Market, Student Artists 2023 [Podcast]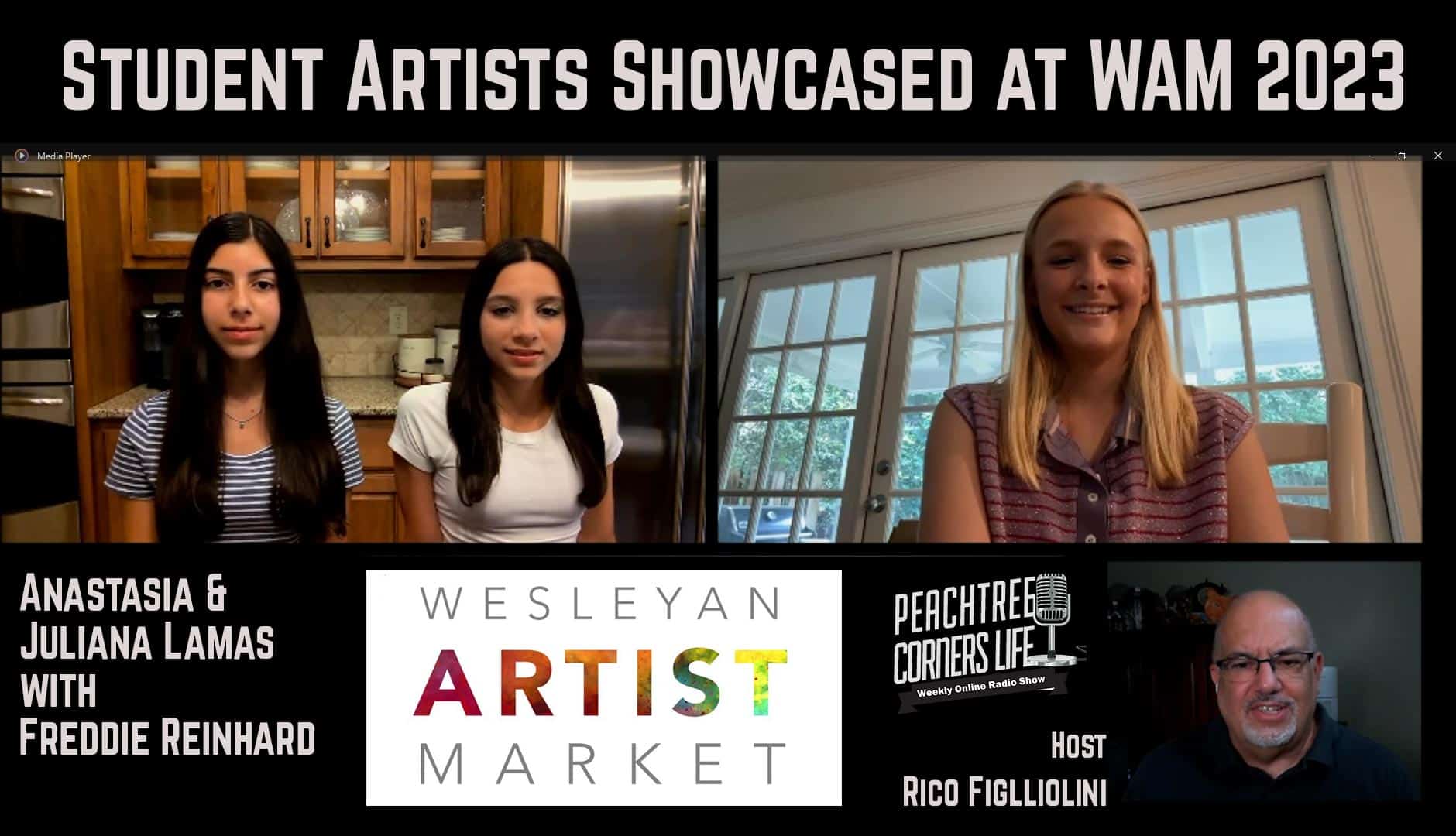 On this episode of Peachtree Corners Life we take a deep dive into the world of young artists at Wesleyan School, featuring three talented individuals: Freddie Reinhard, and Anastasia and Juliana Lamas. From digital art to painted oyster shells, these artisans have created unique, inspiring pieces that showcase their creativity and passions. We explore their inspirations, hobbies, and future aspirations, as well as their involvement in academics and extracurricular activities. With the Wesleyan Artist Market approaching (on April 28,29, 2023), this podcast is the perfect sneak peek into the exciting works these artists will be presenting. Don't miss this chance to discover the next generation of artistic talent.
Resources:
Wesleyan Artist Market Website
Timestamp (Where to find it in the podcast):
[0:00:00] – Intro
[0:01:48] – About Anastasia and Juliana
[0:02:58] – About Freddie
[0:05:40] – Other Interests
[0:06:19] – The Creative Process
[0:10:50] – Presenting at The Artist Market
[0:12:34] – Inspiration
[0:14:35] – Difficulties of Mediums
[0:19:32] – Art Courses and Extracurricular Activities
[0:23:50] – Closing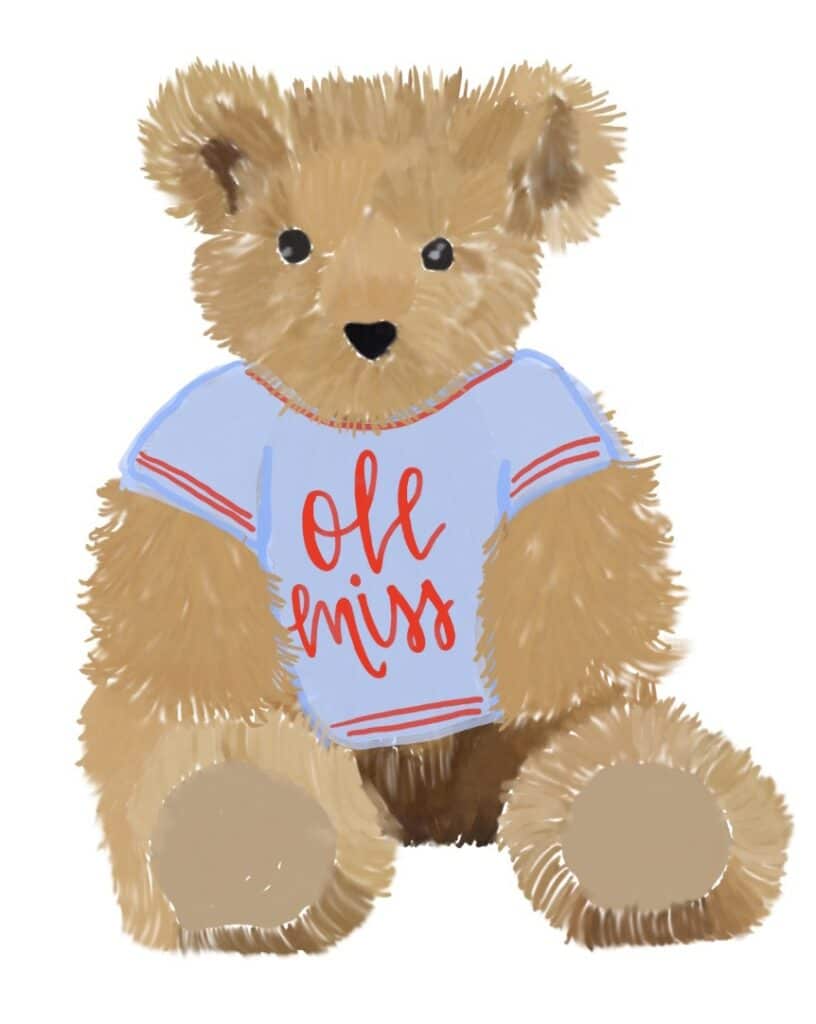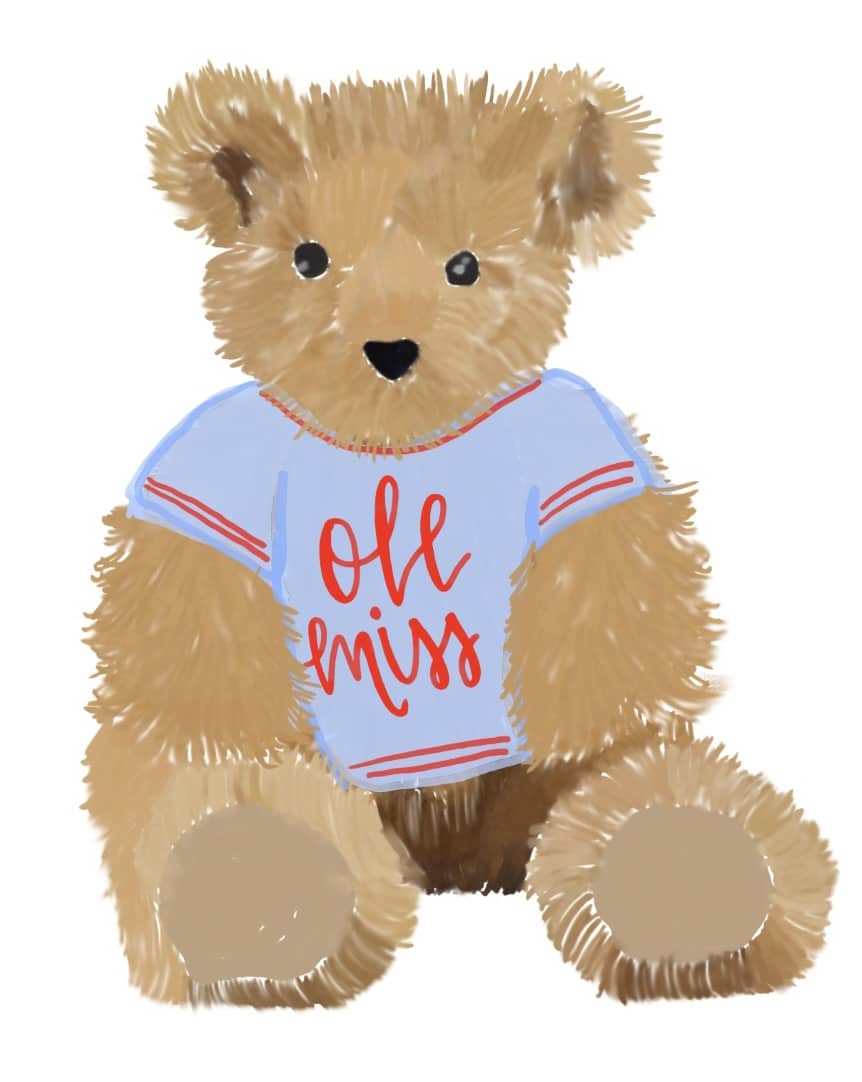 Podcast transcript:
[0:00:00] Rico Figliolini: Hi, everyone. This is Rico Figliolini, host of Peachtree Corners Life. And I have some special guests today. We are a sponsor of the Wesleyan Artist Market, and the guests I have here are student artists that are going to be presenting at the show this April. So let me introduce Freddie first. Hey, Freddie, thanks for joining us.
[0:00:18] Freddie Reinhard: Hi, how are you?
[0:00:19] Rico Figliolini: Good. Anastasia and Juliana, left and right, respective. Thanks for joining us.
[0:00:26] Anastasia Lamas: Thank you.
[0:00:27] Rico Figliolini: Appreciate it. So before we get right into it, I just want to say thank you to our corporate sponsor, EV Remodeling. I say corporate, but they're a neighbor of ours, right? They live in Peachtree Corners. Eli is the owner of the place, and EV Remodeling does design to build and renovation work, and they've been around for a while, and they do great work. So check them out at EVRemodelingInc.com. They're our sponsor and a great supporter of ours, so we appreciate them. So let's hop right into it. You girls are exhibiting at Wesleyan Artist Market this April. I wish I had the dates in front of me, but do you remember the dates, Freddie?
[0:01:07] Freddie Reinhard: Yes, April 28 and April 29.
[0:01:10] Rico Figliolini: Great. Thank you. Just testing you on that one. Right? So we're featuring it in the upcoming issue of Peachtree Corners Magazine as well. So we have three adult artists that we profiled in the magazine. So check that out. That's coming out. Hitting the post office, I think Thursday. Mailboxes this weekend, hopefully. So check that out. But let's get right into it. Juliana and Anastasia do artwork on oyster shells and a little different medium, right? They're in 8th grade and 7th grade, and they're working together on this project. So why don't you two tell me a little bit about what it is that you do.
[0:01:48] Anastasia Lamas: So we take oyster shells from where we vacation at Hilton Head Island, and we paint them with a lot of different designs to be used as trinket dishes and decorations and gifts.
[0:02:04] Rico Figliolini: We're going to flash one on. So when you paint these, I'm assuming you paint the background white, and then you use colors. What mediums, what actually are you using to do this?
[0:02:15] Anastasia Lamas: So first we bleach them to get any sort of, like, black spots off, and then we use acrylic paint. We do a few coats of that.
[0:02:25] Rico Figliolini: So what got you into that?
[0:02:28] Anastasia Lamas: We really loved the style, and I actually used them as nutcracker gifts for my dance friends as well, originally. And we thought that they would sell really well at the Artist Market.
[0:02:38] Rico Figliolini: Cool. Here's another one that let's pop that one in there too. So how many varieties do you have actually, that you're using?
[0:02:46] Anastasia Lamas: Probably at the moment, probably seven. Like, seven-ish.
[0:02:49] Rico Figliolini: Cool. Freddie, you're doing different stuff, so tell us a little bit about some of your work.
[0:02:58] Freddie Reinhard: So I have a button right here, like college buttons. And this one happens to be for Wesleyan. So they're for, like, game days, and whenever you just want to support your team. They're very popular at big SEC schools, especially. And then I'm also doing dorm room prints, so you can put, obviously, your dorm room, bathroom, wherever you want to show your team spirit. And I'm also making sweatshirts that have, like, a teddy bear design on them, wearing jerseys for Ole Miss Alabama.
[0:03:29] Rico Figliolini: So what medium? I know you said I believe you said before we started rolling on this that you use digital. So it's digitally done? So what programs are you actually working in?
[0:03:39] Freddie Reinhard: I use Fresco. It's, like, from Adobe, and it just is great. Definitely my go to. It's pretty simple. I have, like, a button machine, and you just print out your pictures, and a pretty easy job to get done.
[0:03:55] Rico Figliolini: So some of the stuff, like, for example, Auburn, this would be on a button I'm assuming .
[0:03:59] Freddie Reinhard: Yes, that would be on a button.
[0:04:01] Rico Figliolini: Excellent. So leave that up for a minute. Freddie, have you done the Wesleyan Artist Market before, or is this the first time, or how long have you been doing it?
[0:04:16] Freddie Reinhard: No, this is my first time doing it.
[0:04:18] Rico Figliolini: Really?
[0:04:18] Freddie Reinhard: I thought it would just be a fun way for people to wear my art. I thought it would just be cool to see people wearing it. And I'm going to college next year, so I'm like, what better time to make college pins? I can even make some for my friends next year. And I just thought it was something unique that I knew would probably sell well.
[0:04:35] Rico Figliolini: Cool. Now, you've been, I understand correctly, you're an AP art student at Wesleyan School?
[0:04:41] Freddie Reinhard: Yes.
[0:04:42] Rico Figliolini: And you've done about three and a half years of art in high school, I'm assuming. That's a lot of years of art for a high school kid.
[0:04:48] Freddie Reinhard: It is.
[0:04:49] Rico Figliolini: Is this something that you want? Where do you want to take this when you go to college?
[0:04:54] Freddie Reinhard: Well, I'm hoping to do something in fashion, and so all this art is definitely helping me just kind of know my style in general, and I just love art. In the first place, I would like to do fashion, and I'm sure that if these buttons sell well, I'll probably sell them in college. Yeah. It's just something I've always loved.
[0:05:16] Rico Figliolini: Do you want to do a career out of this? What do you think your major would be in college?
[0:05:22] Freddie Reinhard: Well, currently I'm majoring in Southern Studies, which is, like, I can study the art of the south. So I really would like to tie in my Southern culture with my fashion. Hopefully, I could go into something fashion related would be my dream. All of this definitely helps out.
[0:05:40] Rico Figliolini: Absolutely. All right, let's go to Anastasia and Juliana. I mean, middle school, 7th, 8th grade. Is that middle school? Yeah, that's middle school. You're way before college, right? Why don't you share some of the interests that you two have? I mean, is art part of that, or do you have other interests besides that?
[0:06:00] Anastasia Lamas: I'm a dancer. I really do enjoy making art outside of dance and school. And Juliana?
[0:06:08 ] Juliana Lamas: I'm a gymnast, and so I really like that, and I really like just being creative and thinking of new ways to make something.
[0:06:19] Rico Figliolini: So when you're doing the oysters and that artwork, are you both working on it at the same time? Do you collaborate? Does one of you say, no, I don't think I like that, or how does that go? And do you sketch it out before you actually put it on the oyster?
[0:06:35] Anastasia Lamas: Yes, we have designs that we know we're going to do on the shells, and we'll put on the shell and do them together.
[0:06:44] Rico Figliolini: Cool. I guess there's always someone a little bit more creative than the other right in a pair. Does anyone want to raise their hand? Which one's more creative?
[0:06:55] Anastasia Lamas: I think we're both creative in our own ways, like, different parts.
[0:07:01] Rico Figliolini: And where do you get your inspiration for what you do? Like, the artwork that you put on the shells, how do you come up with that?
[0:07:08] Juliana Lamas: For some of them, so we play the piano. So for one of them that we made, we put piano notes on it. I actually have it with me. And then Anastasia really likes flowers, so we made some with flowers on them, and then we wanted to incorporate something from Wesleyan into them. So it says Joy on it. It's the joy motto. And then we have the ones that have the crosses on them.
[0:07:32] Rico Figliolini: Okay. Got a bunch of them up there now. Okay, so let's go back to Freddie a little bit. So, Freddie, where do you find your creative process, your creative space, physical space or mind?
[0:07:53] Freddie Reinhard: Yeah, honestly, I do a lot of my drawings during class, which isn't a good thing. I call it the doodlebug. My friends know it as that, and it's just like, I'm in class, I can't think of anything but just, like, drawing something on paper or my laptop. So, sadly, to my teachers, it's definitely in class. And then also, I'll draw when I get home from school, or if I just have some downtime, I'll do some drawings then, and I get a lot of my inspiration from Pinterest. I see all these cute dorm room stuff, and I'm like, I could do that, but I want my Freddie spin on it. So I'll do bows often. A lot of people know me for my bows because I just have bows in all my artwork. I just have practiced my handwriting for probably, like, four years now.
[0:08:47] Rico Figliolini: All right, well, the Pinterest, I'm surprised, actually. My daughter uses it. She's 24. So is that something that you use a lot of? Do you create boards and put up your stuff that way too?
[0:09:07] Freddie Reinhard: Normally I'll just go on there. If I need a pattern for this cherry background, maybe I saw something with cherries, and then I was like, that's pretty cute. Or if I just see fun colors that I could incorporate in my art, I'll do that. Or if I just need inspiration for something, I'll definitely go there, because obviously it's Pinterest. They have everything under the sun.
[0:09:30] Rico Figliolini: Okay. All right. Juliana, how about as far as inspiration? I think you said your family goes to Hilton Head, or is that correct? So when did that start? And I guess do you beach comb? Do you go searching for the shells on the beach, I'm assuming?
[0:09:51] Anastasia Lamas: Well, our grandparents owned some condos up at Hilton Head, and they've been going there since before we were born, definitely since my dad was a kid.
[0:10:00] Rico Figliolini: Okay.
[0:10:01] Anastasia Lamas: And so we kind of got the inspiration for the shells there, and we ordered them from a lady who cleaned them for us, actually, at Hilton Head. And we also sometimes when we go to restaurants there, we'll ask the cook if they can give us some of their old oyster shells.
[0:10:21] Rico Figliolini: That's ingenious. That's a good way of recycling. That's good. I would never have thought of that. My creative process runs a little different, but that's cool that you did that. Okay, so now that you have your process and stuff, do you know where you're going to be doing it at Wesleyan? Where you're going to be presenting your products and stuff? Whoever wants to go first.
[0:10:46] Freddie Reinhard: Where I'm presenting them, do you mean, like, in Yancy?
[0:10:50] Rico Figliolini: Yeah, at the show. Well, at the show. Well, I guess people can find you when they go to the show. But will you have a variety of things at the show, I'm assuming?
[0:11:00] Freddie Reinhard: Yeah, I'm going to have my stand is going to be very obvious, I think. My mom's trying to plan, like, a huge pink bow above my stand. So if you need to look for it, just look for the pink bow. And I'm going to have about 400 buttons there, 100 prints, 100 sweatshirts, I think, so there's definitely going to be a variety. And I'm also taking commissions for the, I obviously can't do every college I wish I could, but commissions for smaller colleges like Sanford and wherever else, I'm going to do commissions. So whoever's going there, they can get buttons or prints or whatever they want.
[0:11:36] Rico Figliolini: Cool. So they can order from you, and then you'll ship it. You can ship it later.
[0:11:40] Freddie Reinhard: Yes.
[0:11:41] Rico Figliolini: And Juliana and Anastasia, obviously, you're going to have tons of product too, I'm imagining.
[0:11:47] Anastasia Lamas: We're trying to do maybe ten to 20 of each design, but we're definitely going to have made more by the time of the artist market. So far, it should start. I don't know about you, but I want to keep selling them after the artist market when she goes to high school. Keep doing them.
[0:12:09] Rico Figliolini: Do you have an Instagram account? Do you have a place where you show off your artwork online?
[0:12:16] Anastasia Lamas: Not really. We all have just our personal Instagram account.
[0:12:20] Rico Figliolini: Got you. Freddie, the same for you, I'm assuming.
[0:12:23] Freddie Reinhard: I've decided that if these sell well, I'm going to make an Instagram account. So however well this art market goes, will decide if I post these on an Instagram account or not.
[0:12:34] Rico Figliolini: Got you. Okay, so a little bit about you all personally? A little bit, I guess. Let's start with Freddie. Do you have a favorite artist or filmmaker or author that you'd like to share?
[0:12:51] Freddie Reinhard: Well, I have, like, fashion icon who I'm just obsessed with, and she really inspires me. Just so creative and so cool. Her name is Rebecca Cohen, and she's the owner of this brand that I love called Love Check Fancy. I'm sure they probably know what that is. And she's so girly and feminine, and I just admire it so much about her. And she just made this huge brand that everybody my age and around my age loves, and I just want to be her when I'm older, and I just love her distinct style.
[0:13:28] Rico Figliolini: And that's called love. What is that called? Love Shack.
[0:13:30] Freddie Reinhard: LoveShackFancy.
[0:13:34] Rico Figliolini: Cool.
[0:13:34] Freddie Reinhard: She's the queen of the world in my eyes.
[0:13:37] Rico Figliolini: Really? Okay. I haven't heard of that one yet. My daughter tries to keep me abreast of things, but that one I haven't heard. What about you two? Julianna, Anastasia. Do you have any artists or brands or styles that you follow that you like?
[0:13:54] Anastasia Lamas: Nothing in particular. I'm a giant bookworm, so I read, like, a lot. And a variety of genres.
[0:14:02] Rico Figliolini: What's your favorite genre? Top two genres, I guess.
[0:14:08] Anastasia Lamas: Probably right now, fantasy and romance.
[0:14:10] Rico Figliolini: Okay. And your sister Juliana?
[0:14:14] Juliana Lamas: For me, probably someone I really love and look up to is Selena Gomez, because I've been seeing it on Instagram recently. I think she's really inspirational and stuff.
[0:14:26] Rico Figliolini: She was the actress in Wednesday, right? On Netflix? Or am I thinking of someone else?
[0:14:33] Anastasia Lamas: Yeah, Jenny Ortega.
[0:14:35] Rico Figliolini: Yeah, that was Ortega. Sorry. All right, cool. So what do you want to share that we haven't talked about yet, related to the artwork and stuff that you do, process or anything like that? What's the most difficult thing? What's the thing that you've done that you thought was great and all of a sudden you're like, yeah, let's try something else, and you start from scratch again. Let's start with Freddie. She looks like she already knows something.
[0:15:05] Freddie Reinhard: Well, I think you're probably asking something a little different, but through this button process, I thought it was going to be so easy. I thought I would just be, like, clamp and it would be done. My palms were sore after I was doing it. It's actually hard work. And my mom kept trying to show me how to do it. We failed at, like, ten buttons in a row. So that's definitely a lot harder than I expected. This whole artist market, I'm excited for it, but it's definitely a lot of work.
[0:15:33] Rico Figliolini: But I know, yeah, the button machines are definitely I've done that before for political things, it's not easy. What about you girls? Have you had stuff during your process that you found difficult or had to start all over again on?
[0:15:55] Anastasia Lamas: I think it's just a lot of time to paint the shells with so many layers and just letting it all dry takes hours. Just keeping on going and going and going. And we're trying to make all of them perfect. So that just takes a little bit of extra time. And then also, since we're kind of working together on this, we both have our own different styles, so we kind of intervene and we both like, oh, but I think it looks better like this, better like that, or whatever.
[0:16:32] Rico Figliolini: Did you ever decide to okay, this shell is mine. I'm going to put my initials on it because do you do individual shells like that? This one's my creative thing.
[0:16:43] Anastasia Lamas: Not really. I really enjoy doing the cross oyster shells, though, so I usually stick to those.
[0:16:46] And I really like doing the notes, the music notes and the joy one. So we each have our shells that we work on.
[0:16:59] Rico Figliolini: Okay. All right, Freddie, when you're doing the work that you're doing, I know you're using digital, so is that easier to do that? I mean, when you're creating patterns and all that? I imagine some of the process is easier, but also that gives you a little bit more creative space, maybe.
[0:17:15] Freddie Reinhard: Well, I prefer doing lettering on paper. I still enjoy it because it's easier to just erase things and clear. But if I could, I would definitely prefer paper for just doing my lettering. But for the pattern and such. Like the cherries, I just have to draw one and then just duplicate a bunch. So it's way easier than if I had to do every single cherry. And then for these prints, it's so much easier when I can just kind of just fill this hat in with one click instead of, of course, drawing in the whole thing. So in some ways it's easier. Other ways I feel, if it was all handmade, if it was all made on paper, I think it would have more of like I don't know, I feel like it has your hand more in it. As my art teacher would say, you could tell it's from me because you could tell it's drawn on paper. So that aspect I kind of miss, but definitely easier for math, product, to do digital.
[0:18:16] Rico Figliolini: Have you ever thought about I know 3D printing is like, the big thing now, and I've seen artists use 3D printing, actually. Have you thought about that?
[0:18:25] Freddie Reinhard: No, I haven't. I know we have a few at Wesleyan, but I didn't even get into consideration. That is a really good idea, that would be really cool. Maybe I will start trying to figure that out.
[0:18:36] Rico Figliolini: It doesn't take much on some of that. Some of that is just fed these templates. But you can feed your creativeness into that template. You can customize some of these templates. So that's just another avenue of art. Same thing. I guess for that you could 3D print shells, but then what's the point, right? I guess those shells might have been out in the ocean for like, 100 years before they got to you or whatever. However long. So there's some history to that, maybe even that's unknown to anyone. Have you ever thought about doing your work, girls, on other materials besides shells?
[0:19:20] Anastasia Lamas: We haven't really. We've mostly just stuck with the oyster shells.
[0:19:26] Rico Figliolini: Okay.
[0:19:27] Anastasia Lamas: Yeah, it would be interesting to see how it would work on other mediums.
[0:19:32] Rico Figliolini: Yeah, probably. Well, I'm assuming you're taking art courses or you've taken art courses at Wesleyan?
[0:19:41] Anastasia Lamas: We were both in digital art last semester, and we both really enjoyed that.
[0:19:45] Juliana Lamas: I took it in fifth grade and 6th grade. Just normal art. And then I did digital art, and now I'm in technology class.
[0:19:57] Rico Figliolini: Cool. And are you liking it? Is it everything you thought it would be? What about Freddie? Freddie, what about you? I mean, you've been in three and a half years of AP Art course. Because of that, you probably have done different mediums, different subjects and stuff. How'd that go? And did that help with what you're doing now? Any of that?
[0:20:18] Freddie Reinhard: Yeah, I'm going to have to think back to freshman year. I think it was 3D art, and I got stopped midway because of COVID. But I like that, it's not my thing. I enjoyed it because it's fun to do, but I don't know, I just prefer doing things too deep. And then I've been on digital art as well, which I love. That was like so much fun. And so from then I was like, yeah, I think this is my thing. So I started getting into that. And I do some digital art on my AP Art stuff now. I don't know, I'll doodle on some of my pictures and I do a lot of mixed media, so that also helped with my creativeness, I guess. Too much to count.
[0:21:04] Rico Figliolini: And doodling in the classrooms. That helps, too, a little bit.
[0:21:09] Freddie Reinhard: Yes, definitely does.
[0:21:11] Rico Figliolini: Let's make sure the teachers don't hear that. I've covered quite a bit with you three. If you want to share anything else with the audience that will be listening to this, want to start that with Freddie and we'll go the other way.
[0:21:29] Freddie Reinhard: I don't have too much more to share, but I'd say to you two girls that you should definitely take AP Art because it is just such a great way to really learn your style and just do so much stuff you've always wanted to do. And it just helps with who you want to be as an artist, definitely.
[0:21:47] Rico Figliolini: Have you done any, the girls do dance and gymnastics. Have you done anything along those lines? I mean, that's one creative aspect. Right. Have you done anything similar?
[0:21:57] Freddie Reinhard: Well, this year I actually did the musical for the first time. I've never done musical theater, but it was just me and my two best friends, and so that was just a great experience. Overall, we had the best time, and I've never been in an environment like that, and it was just so much fun. And then right now, I'm doing lacrosse, and in the fall, I do cross country.
[0:22:16] Rico Figliolini: Wow. Okay. Busy schedule. Sounds good. What about Juliana and Anastasia? It's gymnastics and dance?
[0:22:28] Anastasia Lamas: Our main things are gymnastics and dance, but we do other sports too. She's in the musical, and I do lacrosse and cheerleading and all that stuff.
[0:22:41] Rico Figliolini: It's amazing how much activity girls have. I don't know how, so what do you do to unwind then? I mean, you have schoolwork, you have artwork, you have sports. What is it that you do that's not associated that way, to sort of do something different? Anything?
[0:23:03] Freddie Reinhard: For me, it's honestly just, like I really get my energy from my friends, so I'll definitely try to hang out with my friends in the little free time that I have, because they just bring me so much joy. And also hanging out with my parents since I'm going to college next year. I know I've got to savor these last few months, so I just make sure if I'm home during a school night, I'll definitely go and just hang out with them and talk with them.
[0:23:31] Rico Figliolini: That's cool. That's a good daughter. Thank you. My kids do that. What about you girls? Juliana? Anastasia?
[0:23:39] Anastasia Lamas: Well, we try to do stuff as a family. Like family movie nights and stuff on weekdays and weekends when we aren't super crammed schedule.
[0:23:50] Rico Figliolini: Yeah. Wesleyan kids, Great Atlanta Christian, The kids that I've interviewed and stuff always busy. Norcross high school. I don't think any kids that I've interviewed have had more than a night or two free because of academics and sports and everything else. They're there. But you know what? Your future is secured when you do that. I think you develop a different way of looking at life and become more successful that way. So glad you three were able to spend some time with me. This took a little time to get this together. Mostly my fault on the scheduling, but I appreciate you three showing up and doing this interview with us.
[0:24:32] Freddie Reinhard: Yeah, it was awesome.
[0:24:34] Rico Figliolini: Thank you. Hang in there with me for a minute. I just want to say thank you to everyone that's been watching this. So the Wesleyan Artist Market is at the end of this month, and you just Google Wesleyan Artist Market, and you'll be able to find the schedule and everything else from there. Follow them on Instagram there are going to be 75 artists from around the country there as well, besides the student artists. So there's a lot of stuff, a lot of mediums. Check out the latest issue of Peachtree Corners magazine. You'll see three of the artists of the 75 that will be there. It's some good feature stories. And there's a podcast interview also with Jennifer Keim, another adult artist that is going to be showing there. So thank you. And thank you to EV Remodeling for being a sponsor of ours. So thank you all. Take care.