Peachtree Corners to Acquire Six Button Sculptures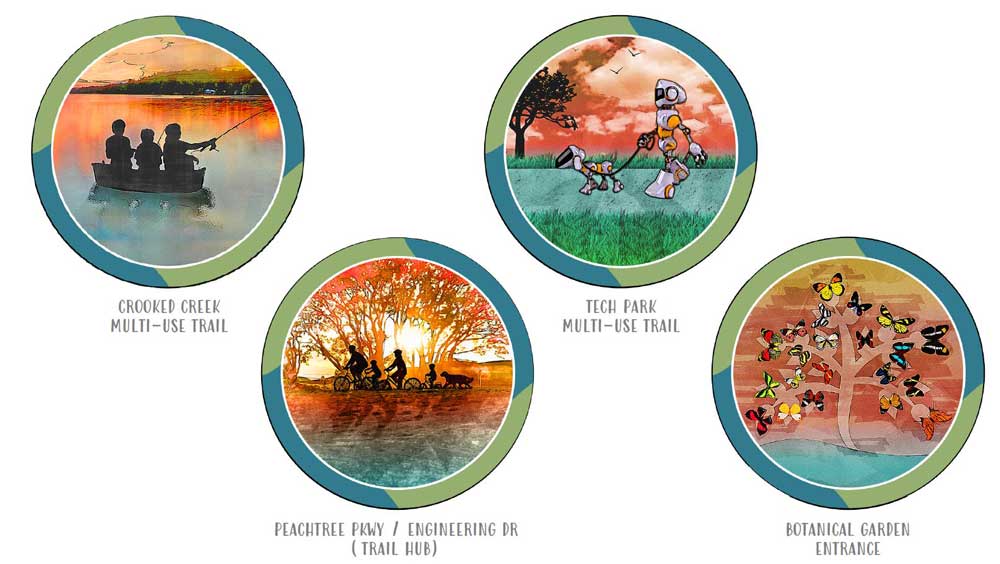 The City Council of Peachtree Corners has approved the acquisition of six Button Art sculptures, created by a nonprofit organization to showcase the county. The six sculptures will be placed throughout the city. The half-dozen sculptures are among 200 that will be placed throughout Gwinnett County. The artist is Lance Campbell.
Button Art, Inc. is a Georgia nonprofit created to further the love of art in Gwinnett County. The project was inspired by Button Gwinnett, the county's namesake, and the only county bearing the name Gwinnett out of more than 3,000 counties in the U.S.  Button Gwinnett was a British-born founding father, a delegate from Georgia to the Continental Congress, and one of the three Georgia signatories on the Declaration of Independence.
"Art in a community has a positive impact by offering a place for creative expression," said Mayor Mike Mason. "We are pleased to be part of the effort to display these unique art pieces and look forward to the installation of the Button Art."
The first work will be unveiled on Tuesday, April 21st at Gwinnett Justice and Administration Center. [Editor's note: due to the coronavirus crisis this may not be occurring, please check ahead] The Peachtree Corners sculptures will be installed this spring.   
The first location to display a Button Gwinnett art piece will be at one of the entrances to the "Corners Connector, the city's multi-use trail system. When complete the 11.5-mile Corners Connector trail will wind through Technology Park and connect with offices, restaurants, shopping and neighborhoods.
Through public and private collaborations, while engaging artists of all ages, cultures, and media, Button Art, Inc. will manage, create and install 200 original Button Sculptures throughout Gwinnett County. The art project was inspired by Gwinnett County's 200th birthday celebration.
Local Book Spotlight: Sixty Things to Teach College Kids Before They Graduate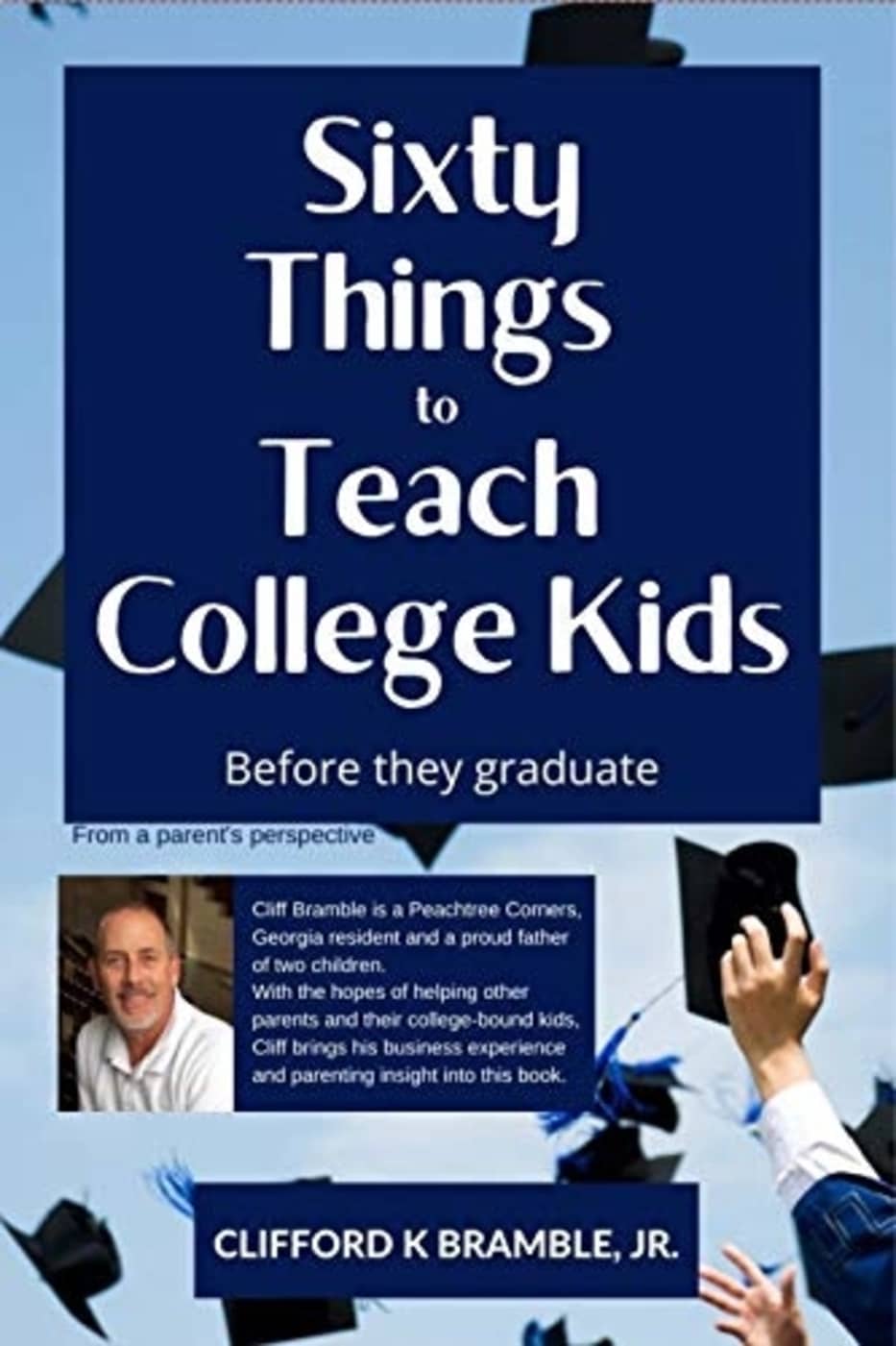 After forty years of helping guests in the hospitality business, local Peachtree Corners restauranteur and author Cliff Bramble brings his advice and skills to the college bound kids. His new book, "Sixty Things to Teach College Kids Before They Graduate: Life Lessons Before and During College Years" is full of practical advice and encouragement for young adults.
Parents, friends, and relatives of high school and college kids will be pleased with this new book of "life skills". The book is listed in the top 100 ranked books on Amazon's "College Prep (Books)" category, as of January 8. Below is the official book description.
"After dropping off my daughter at COLLEGE, I was overcome with emotion. On our journey back home, I pulled onto a side road and cried my eyes out. My wife did the same. My twelve-year-old son (in the back seat) was quiet but seemed concerned. Once we got home, I hugged my son and told him that it was okay to cry and his sister was going to do great, and we will visit her frequently. My son hugged me tightly and while crying he said, "what am I going to do without my best friend?" It broke my heart. I cried even more. It was a tough day but, like all parents, we got through it. Part of the reason for the tears was because we were so proud of her, but the "letting go" part…. wow, it's tough! The next day I thought to myself, "did I teach my daughter everything that she needs to know to be ready for the real world?" I quickly realized that she needed to know more about the"life skills" to make her successful. That's how this book came to fruition.
It's made up of many "life skills" that a teenager can begin to explore during college and, as they grow older, continue to read and learn more about the topics. Along with the information, there are additional pages at the back of the book to add thoughts of exciting events that have occurred during the child's lifetime.
Topics include: Responsibility, Health, Insurance, Annual Exams, Drugs & Alcohol, Money and Savings, Credit Checks, Credit Cards, Taxes, Stocks, Budgeting, Buying a Home, Home Repairs, Home Cooking, Buying a Car, Car Insurance, Car Maintenance, Gas Cost, First Jobs, Income Streams, Failing, Contracts, Shopping and Being Frugal, Home Buying, Warranties, Being Nice, Helping People, Complimenting Others, Being Humble, Thank You Cards, Self Defense, Bad Days, Taking Risks, Politics, Quitting, Roommates, Small Things, and Personal Parent Pages
Hopefully, this book will help before and during the college years and after graduating from college."
This book is the second published by Bramble. The first, Within Our Walls. An inspirational story for the restaurant industry," is a hands-on no-nonsense story of his planning & opening three restaurants as a partner while he was co-owner of Rathbun's, Krog Bar, and Kevin Rathbun Steak in Atlanta. Both titles are available for purchase on Amazon.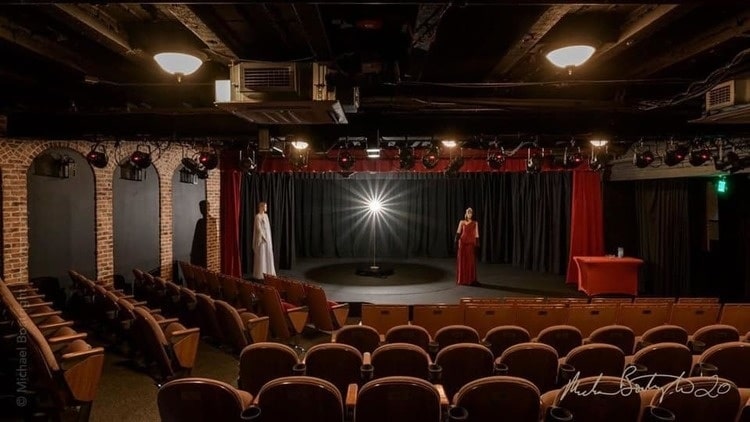 Now more than ever, we could use a little artistic inspiration and entertainment. Here's a quick look at what the local art community has in store for December and January.
The Hudgens Center presents its 10th Annual Juried Members Exhibition, on view at the center through January 30. This year's exhibition will be adjudicated by Atlanta based artist Jerushia Graham. Graham has exhibited work nationally and internationally, and is the Museum Coordinator at the Robert C. Williams Museum of Papermaking in Atlanta. For info, visit thehudgens.org.
Bring the joy and magic of holiday theatre home with The Twelves Dates of Christmas: A Virtual Christmas Play presented by ART Station Theatre. After seeing her fiancé kiss another woman at the televised Thanksgiving Day Parade, Mary's life falls apart — just in time for the holidays. Over the next year, she stumbles back into the dating world where romance ranges from weird and creepy to absurd and comical. This heartwarming one-woman play offers a hilarious and modern alternative to the old standards of the holiday season. Get details at artstation.org.
Christmas has arrived at Aurora Theatre. Anthony Rodriguez is back to delight audiences with an exhilarating one-man adaptation of Charles Dickens' A Christmas Carol. Nestled in the intimate Aurora Studio, the theatre is transformed to make you feel as though Mr. Dickens has personally invited you into his parlor. Rodriguez guides you through the traditional tale of Mr. Scrooge one last time and single-handedly portrays all the beloved Dickens characters. At its heart, this rendition captures the true spirit of Christmas — the joy of giving. The show runs from December 16 to 23, with tickets at $60 apiece. Go to auroratheatre.com to learn more.
For a virtual experience of Aurora Theatre, it doesn't get more wonderful than an It's a Wonderful Life stage adaptation. This hilariously touching stage adaptation of one of the most popular and heartwarming films ever made stars Atlanta's own Jeremy Aggers (Singles in Agriculture, Hands on a Hardbody). Mr. Aggers inhabits all of the wonderful characters — Clarence, Mr. Potter, Uncle Billy, Mary, Mr. Gower, yes even Zuzu, as well as the iconic George Bailey, who learns that it takes a lot more than money to be the richest man in town. The cost for streaming access is $25. Click on auroratheatre.com for details.
The Sacred Threads interactive quilt exhibit at the Rectory in Norcross features recordings of the artists explaining their work. The Sacred Threads traveling exhibition has attracted a wide array of visitors across the nation and has proven appropriate for all ages. Following the opening reception, the exhibit will be available through January 8. More at sacredthreadsquilts.com.
The Lionheart Theatre Company presents Orphans by Lyle Kessler, directed by Christine Trent. It's a dark, moving story about two lost and forgotten brothers who find redemption through a mysterious stranger, their kidnapped victim. The show will run from January 8 to 17, hosted at 10 College Street in Norcross. There's a $25 admission cost; each show is capped at 25 attendees. Get more info at lionhearttheatre.org.
'Late Boomers': Local Author publishes book about enterprising seniors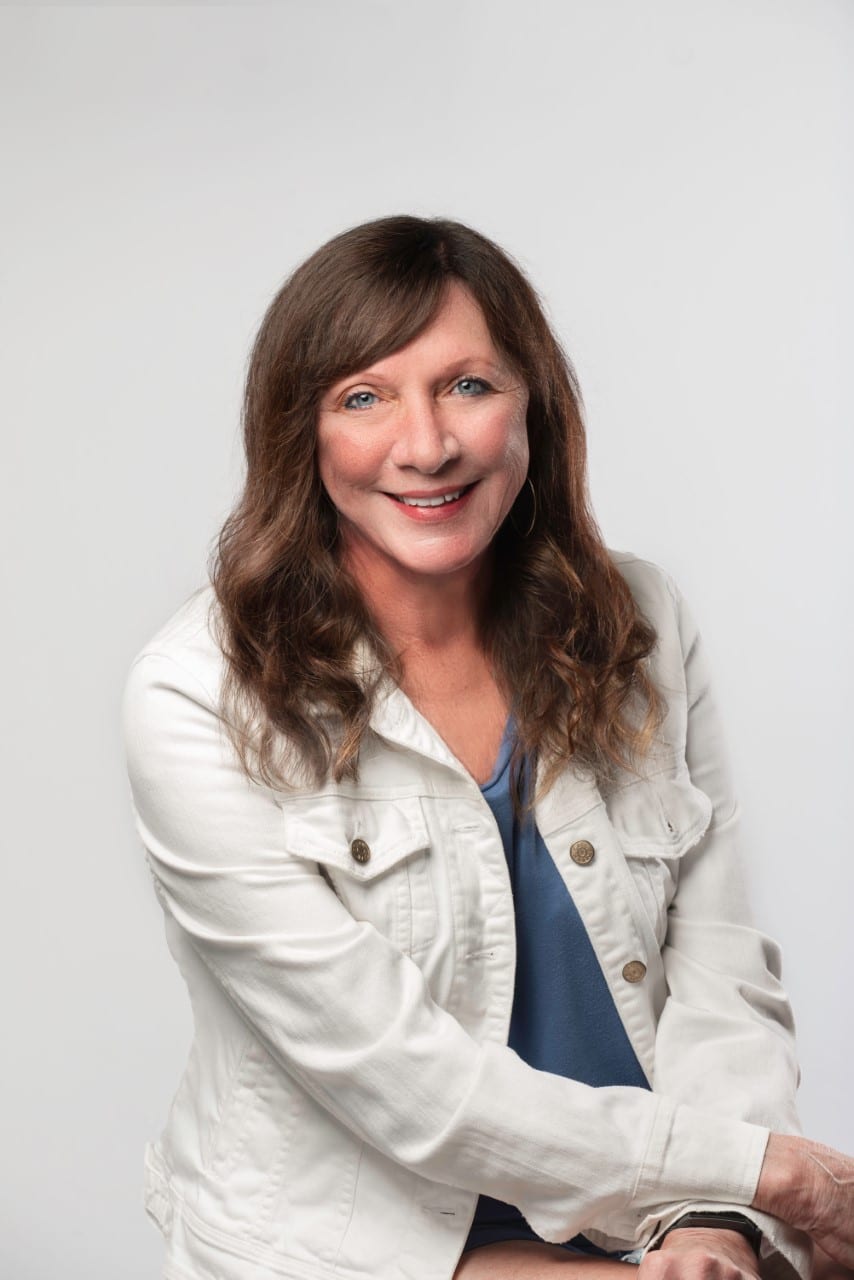 Long time Peachtree Corners resident Jeri Bernstein has recently published a book partly inspired by her interactions with residents in a large retirement community in Buckhead. As a freelance advertising copywriter, Bernstein would periodically write community posts for their websites that would essentially profile the life stories of select residents.
She noticed just how interesting the lives of these experience peoples were and continue to be. And most specifically, she found herself drawn to those that made late-in-life pivots. A sixty-something friend retired from teaching last fall and started a new job as a Delta Flight Attendant. If her friend could do it, so could others. So Bernstein did some research and dug into the thick of it. Out of that process came "Late Boomers: Inspiring stories of people who've done life-changing things later in life."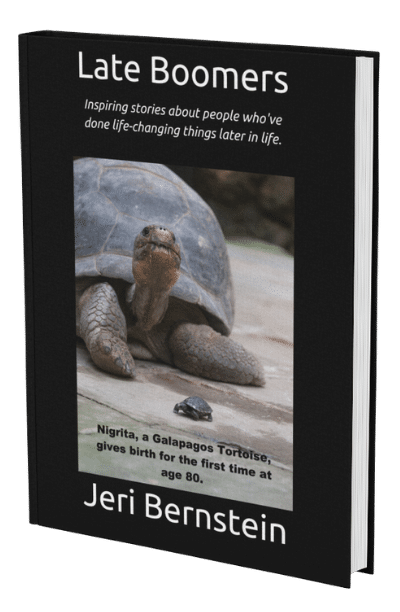 "In my book, using the same process that I use for the people at the retirement community, I wrote about Ginny who set out to do just one pull-up and now is the oldest female competitor on the America's Ninja Warrior TV show. I told the story of a Maryland couple in their 80's who started a stand-up comedy club…and they had never even set foot in a comedy club. I searched out and interviewed 16 fantastic people and wrote their stories to inspire others to keep on going–age is just a number. And accomplishment never gets old," Bernstein says.
Some might say Bernstein herself take after the very role models that she depicts, choosing to write a full-length non-fiction book instead of her copywriting comfort zone.
If you would like to purchase a copy, Late Boomers can be found on Amazon or at LateBoomersRock.com