Moreno Aguiari on Preserving History and Fulfilling a Passion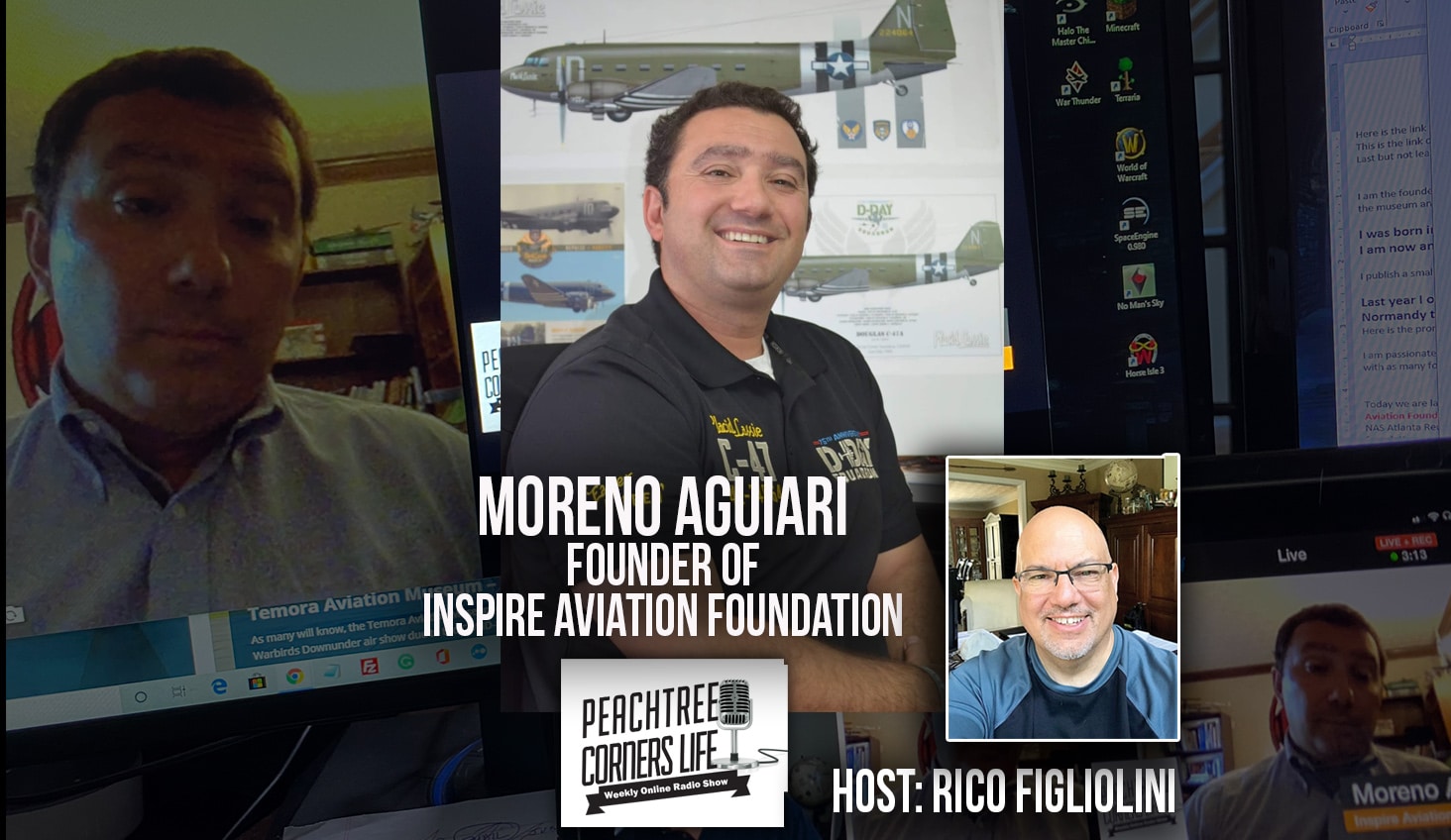 Moreno Aguiari is looking to preserve some history and along the way maybe establish the Atlanta Air & Space Museum.
On this episode of Peachtree Corners Life podcast, Rico Figliolini talks with Moreno Aguiari, founder of the Inspire Aviation Foundation. Listen as Moreno shares the upcoming plans to build an immersive and educational Air and Space Museum in the Peachtree-DeKalb airport, along with his wonderful stories of the history of Georgian aviation.
Related Links:
Website: ​https://atlantaairandspacemuseum.org
Inspire Aviation Foundation: https://www.facebook.com/InspireAviationFoundation/
Warbird Digest: ​https://warbirddigest.com/
Recorded socially safe online and in the City of Peachtree Corners, Georgia
Timestamp:
[00:00:30] – Intro
[00:01:24] – About Moreno and the Foundation
[00:08:00] – Putting the Museum in PDK
[00:10:54] – Inspiring the Next Generation
[00:19:50] – Digitizing Historic Pictures
[00:27:09] – Warbird Digest
[00:32:03] – Closing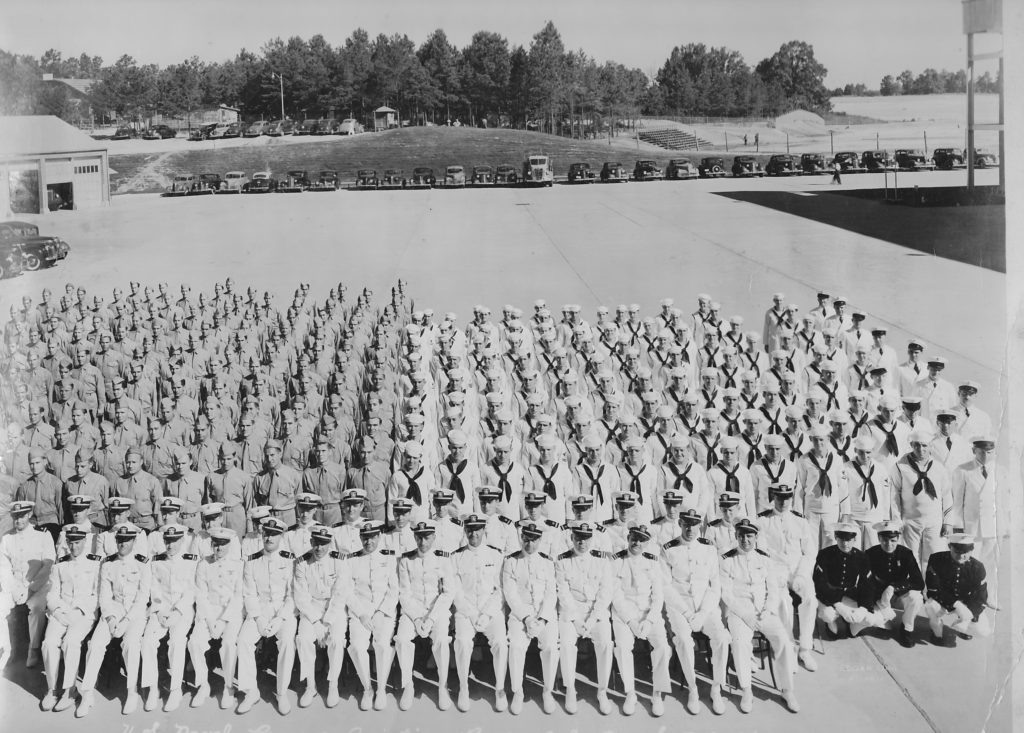 "The goal is very simple… We would like to get a little Johnny [and Jane] who, you know, loves airplanes or he doesn't know anything about airplanes and he comes to our doors, gets inspired and then, you know, he becomes the next Mars explorer."

Moreno Aguiari
Podcast Transcript:
Rico: [00:00:30] Hi everyone. This is Rico Figliolini host of Peachtree Corners Life. I apologize for the interruption of the broadcast that we just, had. I don't know if that has to do with the local thunderstorm that's going on in the connections that we have today, through Comcast, believe it or not. So we won't get there, but, but let's, let's start. Well, we're not going to start over again. The, the feed is there. So we're just going to pick up from where we were actually, with our introductions of, let me just give an introduction again to Moreno Aguiari, who is, founder of foundation, Inspired Aviation Foundation. He's moved here 20 years ago from Milan Italy and has found a passion in flying certainly in the World War II veterans, even, area. So, why don't you let's start with you telling us a little bit more again about yourself, not to repeat things, but give us a little bit more explanation.
Moreno: [00:01:24] As Rico was mentioning I came to the US to become a pilot. And then the goal was to go back in Italy and things didn't go as planned. I've been here for 20 years now and, as far as my passion for aviation, it comes from both my uncle and my dad who were in the Air Force. And my passion for World War II came from, you know, talking to my both of my grandfathers, who both fought in World War II and always been a history buff in general. And obviously combining World War II aviation and my passion for history, naturally I fell into following a research in World War II aviation. Although I really like any, any, any era of aviation, but World War II, it's very, very fascinating as a lot of great stories and we are still able to meet veterans for World War II. So, you were asking me about the NAS Atlanta archives, but the NAS Atlanta archives are a project of Inspire Aviation Foundation. So you don't mind allow me to explain what Inspired Aviation Foundation is? Essentially, we are a five, 501c3 nonprofit, dedicated to the goal of bringing up a world-class air and space museum and educational campus at the Peachtree-DeKalb airport or as we call it PDK, you know, not that far from here. So we set up this foundation to, you know, to essentially build an aerospace museum and an educational camp at PDK. Because of COVID-19 things obviously slowed down a little bit, so we, we wanted to act quick in order to not, avoid to go unnoticed and to keep the momentum going. So, I had a previous relationship with this group called NAS Atlanta Union, which is a group of, veterans who served at NAS Atlanta. NAS Atlanta for some of your listeners, might know or might not know. We know the last base being in Marietta at Dobbins air force base that's the last location. NAS Atlanta, which I believe was closed down in 2009, but NAS Atlanta started here at PDK Peachtree-Dekalb airport, 1941. Essentially, NAS of PDK was a NAS Atlanta Naval air station training pilots, essentially to go to combat. And, this group has been meeting, essentially this veteran group has been meeting since 1960 and has been collecting artifacts, photos, log books, newspapers, all kinds of material from 1960, you know, until recent years. And, it was about five years ago that I met, I met a gentleman named Will Tate. I organized an event called The Atlanta Warbird Weekend at PDK, it was held in September. We brought in a bunch of World War II airplanes for rides to the public and we had an educational programs, educational displays. And these gentlemen came up to me and, and we had an airplane called Corsair, with the bent wings and there was a famous TV show called Baa Baa Black Sheep back in the days.
Rico: [00:04:39] Right.
Moreno: [00:04:41] And he goes, you know, this airplane was based here at, in Chamblee, 1960. I said really Sir, how did you know? And he goes, well, you know, I grew up here in Chamblee. I was a kid, that was jumping the fence and was going to play with the airplane. So when I was a little younger than, my son was next to me, little younger than your son. So we started talking, we went back and forth and found out, he was the president of th NAS Altanta the union group. We became good friends. And he lives in Pensacola we went back and forth until essentially he knew, I told him about the museum, the goal of the museum. And, until, you know, these guys are getting very old. They don't have the energy really to do those reunions again. So I help them out put up a reunion, three years ago. And I'm actually going to help them again this year. And in return they asked, essentially asked me, look, we are getting old, we're getting tired. We need, we want this history of NAS Atlanta to continue. Would you guys be interested in taking over the archives? And for me it was like, absolutely. I mean, this is great. So essentially, they donated the archives to the foundation. And as obviously as part of the museum, our job is to preserve history in the best ways as possible. All these pictures were essentially, they are 70, 75 years old. Things like the original drawings, of the blueprint of the base. It's paper and obviously very fragile. So what we did in order to start moving the first steps towards our educational mission with the foundation and the museum, we decided to start a small fund raising campaign to preserve the archives. And we do that, because all of these photos are paper, paper and printed material and they're a very large format. We decided to essentially hire a photographer with a high resolution camera and he essentially photographed all the archives with a vertical, he's got a beautiful vertical rig. That camera is mounted vertically. And shots picture at, 74, 80, megabyte, or, or gigabyte resolution. I mean, huge files. So the goal is to preserve the archives digitally, but then the digital material will be turned into an exhibit. Once we have the museum built. And, we stopped about a month ago and I was very surprised with the positive feedback. We were able to reach our fundraising goal. And, in fact, the photos now are digitized and next week I'm going to pick them up and organize them again. So the next step would be, possibly creating a book, with, with this, this material. A book about NAS Atlanta. And the other interesting fact of Peachtree-Dekalb airport before World War II, it used to be, World War I it used to be called Camp Corbyn. So, soldiers who fought in World War I trained in PDK. So there is a lot of history in Chamblee and PDK in particular. So, yes.
Rico: [00:08:00] So that sounds like that'd be a great place for the museum actually.
Moreno: [00:08:04] Yeah. Yeah. I mean, the museum is set to be on a runway 27, which is now not open, it's been closed for about 10 years. And so we already have the land. We already have, you know, we know where it's going to be, which is, that was the most important thing. Making sure to have a land to build a museum because you can have the best project, a great, best ideas, but if you don't have a place to put it, it's never going to happen. The good thing is that the airport director Mario Evans. He's a, one of our board of directors. He loves the idea. He has a vision for PDK to be more than just an airport, more than just a place for people to really land and take off with airplanes, and the museum fits in his master plan, really creating a place for economic development and for the community. So the museum fits perfectly.
Rico: [00:08:54] Yeah. I personally liked the idea of having a, air and space museum. I mean, because it's not just airplanes then, right? I mean, is the mission to also handle anything that flies?
Moreno: [00:09:05] Absolutely. Absolutely. We want to tell the story of, you know flying, flight from you know, the Wright Brothers. It happens that at PDK, we have a company, the company I worked for actually, and Ben T Epps was the first man who flew in, in Georgia. So, and there is actually a replica of his plane in the hangar where I, where we work. So it happens that Mr. Epps, his son is still alive and big supporter of, of the museum, he's 86 years old. And his father was the first man who flew in Georgia. So there is a lot of history, definitely at PDK. So it's, and it's centrally located. you know, the, the goal is really to build an experience with visitors, that is as dynamic and inspirational in the fields of aviation and space travel. So, we are not envisioning, I guess your old school aviation museum, where you have your airplane and a sign. Read the sign. This is an F16 or whatever. That's, that's not, that's not, making that sound inspirational. So we're really, we're really thinking outside the box here. We are talking to Disney Imagineers. Disney imagineers are actually, those guys who build the theme parks for Disney. So we really want to provide an experience that, that goes beyond your box full of airplanes and yes.
Rico: [00:10:30] Yeah, I'm, I'm, I'm personally excited by it. I'm a, I'm a SpaceX Elon Musk fan. Most people don't even know that in the state of Georgia, we have a spaceport in Camden County, on the coast. And they're trying to be, and I don't know if, if it was Bizos or one of these private companies actually, has leased out that spaceport, I think for part of it.
Moreno: [00:10:54] Well, you know, one thing that people don't know that Georgia is number one state in business for, has been the number one state in business for the past five years, but it's number three in aerospace. So people think of, we have Delta, we have UPS. Absolutely. But Georgia is a big player in the aerospace industry, which includes general aviation space and everything else. So our state is definitely a big player in, in aerospace. So that's, that's why, you know, we think that what we are going to do, will make, will make a difference and an impact too. The goal, is very simple Rico. We, we would like to get a little Johnny who's, you know, loves airplanes or, or he doesn't know anything about airplanes and he comes to our doors, gets inspired and then, you know, he becomes the next Mars explorer. And that's why we are, you know, the project title, it's Atlanta Air and Space museum, which might change to Georgia Air and Space museum, but there is another important component attached to it, which is the educational campus. In fact when we mean educational, we are not just meaning, come to the museum we'll tell you a story about an airplane. Absolutely. They're really talking about tangible education. In fact, the, DeKalb County school district is our partner and we are developing a master plan of classrooms within the museum premises. So students can come in and learn the STEM subjects related to aviation. And we are starting, going back to what I was saying earlier that we don't want to really lose the momentum because of COVID, that we want to be acting now, well we have developing with DeKalb County, a syllabus for K-12 grades, based on STEM
aviation. And hopefully everything goes well, we're going to deploy it with the next school year, whatever happens to it, obviously it's going to be all digital. So we, we didn't plan for that. So we are actually now kind of adjusting as well, but the point is that, yes, it's an aerospace museum, but we really want to focus on the educational side of things. And not just saying education because it sounds good. But because we want to really bring these little Johnny to the museum as a little child and, you know, with the partnership with DeKalb County school district and hopefully Georgia Tech. We're going to accompany this little Johnny museum, high school, college. And we're already talking to companies that are interested in having an RD facility, research and development facility within our campus. So all of a sudden than you have, you know, a path. You know, you go from the museum all the way to hopefully get into the job market because of our work and our influence of being around our facility.
Rico: [00:13:44] And I know that you're not doing it on purpose, but we want to make sure that people understand. It's obviously not only John, but Jane.
Moreno: [00:13:54] Oh absolutely, yeah.
Rico: [00:13:55] We're talking about women in coding, we're talking about, the history that, the history of women in NASA that have done terrific work. So being able to, to put that enthusiasm out there, especially in a time like now, when people can learn online. Where there are apps, where there's virtual reality, VR systems that can be used to a degree right? My kids fly, you know, they're playing games like War Thunder on Steam or on a PC. And it's literally what you will see on a dashboard of a plane and you're literally doing the same thing. So…
Moreno: [00:14:31] No you're right, it's Jim and Jane, absolutely no question about it. And, in fact, one of our board members, she's, you know, I'm a fan of, of this woman because she's super, really. She's a pilot. Used to be a transport plane. She flies, at Dobbins. She used to be a, 130 mechanic then started working for Vail as a mechanic, decided to become a pilot. And now she's flying C130s. She's a math teacher and she has a degree in aerospace and she just applied for the NASA astronaut program. And she's, I think she's a 37, Latesa and she, so absolutely it's not only James, it's Jane as well. And I have two daughters, so I hope that what I'm doing will in a way, influence them as well.
Rico: [00:15:25] Sure. How old are your kids?
Moreno: [00:15:27] I have a 11, Rebecca is 11 will be 12 in November. Jada is eight will be nine in September. Our little guy. Morgan will be six tomorrow, in fact.
Rico: [00:15:41] Wow. Alright, cool. Three kids. That's right. I have three kids also. They're all 16 and above actually. So, but a great, great age, great time to be inspired to get inspiration, right? Because they're all learning what they want to become at some point. It's still young, right. But it's good to be inspired by the right people. And sometimes it's a matter of showing and experiencing rather than telling.
Moreno: [00:16:06] Yes, there's no question about it that, you know, by, by living an experience, you learn more. And this idea comes from an experience I had about eight, nine years ago. I went to, I was in California and I was visiting the mecca of World War II aviation called Planes of Fame in Chino, California. And I met a friend of mine with kids, I guess like your age kids, 14, 15, two boys. And we walk inside the museum and I was in awe. I mean, World War II planes, I always wanted to see. They actually are flying, so it's even better. And after 10 minutes I heard these two kids telling their dad, this is boring, nothing moves. You know, they're only, there are just signs, there's nothing interactive. I said, what are you talking about kids, this is awesome. And then of course, it's different generations. Now you've got to immerse them. But even for us adults, if you think about it, cognitive process works the same at different speeds, depending on the age. But the process is the same. So if we are immersed into an experience, you really learn it at a different, different level. So that's really what we're trying to do. And that's why I mentioned the Disney Imagineers, because when you go to Disney, you have an experience. So the way we envision the museum is yes, we want to have airplanes, but we are not going to focus necessarily or we need that specific airplane because it broke the war break or blah, blah, blah. We want to be able to use that airplane to tell a story and to bring an experience, an immersive experience. So, I mean, they're not going to be the old school box of airplanes.
Rico: [00:17:47] Well, this is, like I said, it's an exciting time because you have the ability to do that in a very interactive way. I mean, virtual reality allows for that, where you can actually, instead of you know, building something that has to stay that way for 10 years before you do another buildout or something, you actually can adjust and do things on a quicker basis right. And give an experience a little different. You know, exhibition museum stuff, you know, it's, it's an interesting, proposition because you know, kids, kids are interested at a different level like you said. They want that interactiveness. Whereas adults like you and me maybe, we're cool with seeing the airplanes hanging or maybe flying or, you know, whatever, it might be a little different. Although I got to tell you, watching my son play War Thunder on the PC big screen in front of me. And I'm like, man, can I sit down and do that too? He's like, no, no, get away from me. But you know.
Moreno: [00:18:43] I think also for us adults Rico, you never know when you're going to fall in love with a new passion, you know. So we definitely, definitely, we want the kids, we are, are building this for the younger generation of the kids, but we also want the adults that, you know, had a dream of flying or had a dream of being around airplanes. But because of life, work, whatever happened was never able to get around it. So, you know that's the beauty of flying. It's really, a really passionate thing. And some people have it since the beginnings since young children, or young child like me and people, other people discover it later in life. So that's why we think that really what we are trying to build here that really will allow to, attract and inspire different generations.
Rico: [00:19:36] I think that's exciting, but obviously the first step, so the baby steps, right? So the first step is to take care of the NSA archives that you have. And you need some money to be able to preserve that and take care of that.
Moreno: [00:19:50] We did. We did. And, again, that's something that we had, we had there, but because of COVID we had to, we were really preparing to, put together a, feasibility fundraising campaign starting really to get out in the public. But obviously this climate right now, it's not ideal. So we said, look, we have the archives. What if we do something with it. And we all, I always deep inside, I always knew that I wanted to digitize them and I called to the board, and I, you know, convinced them to, let me try this campaign and sure enough, it was well received. We had a couple of articles in the media and the donations came in and everyone told me, Oh, nobody is going to give you money. It's tough times. Actually, we reached more than, we raised more than what we expected because I think people understand what we're trying to do. So people might not have, you know, money for, for, you know, silly things. But I think they still have money to donate for important things. And then these archives are really, really awesome. And you really the, I know you have some pictures, so if you want, we can.
Rico: [00:20:58] As we were talking before, it was a expanding some pictures, yeah.
Moreno: [00:21:05] Yeah. This is, this is a 1945. This is again, Peachtree-Dekalb airport as it looked like, looked like in 1945. Believe it or not without believe it or not, what's interesting, there are still buildings that I can see. It's hard, it's really hard for me to describe in these pictures, but there are new buildings that are still existing, right now, and that are still being used as hangers. And it's really fascinating because the history buff that I am, I walk around the airport and I always find things that I recognize that are still existing since World War II. So that's how the airport looked like in, in 1945, on the lower part of the picture. Okay this is no, this is good. It's good. This is actually for those who are listening, who go to PDK, there is a great kid's park, with the Magnolia tree and more control tower. And next to it, there is a restaurant called the Downwind restaurant of the building, building right behind those Corsairs, that's where the Downwind restaurant is. On the upper level, upper level right now you have the administration offices of the airport. Right below there are flight schools and those white doors are still there, although they're not white anymore. They're obviously aluminum and glass, the control tower is still there, although there not shaped as, as it looks like in this photo. This photo is posed for about 1950. On the far right, you see the doors of the main hanger and that hanger right now it's aviation. That, those doors are still there, still move by hand or with a tug actually, like back in the days. Those two, those airplanes, are FG1D Corsairs. FG means that they were built by Good Year. During the war chance bought, produced the Corsair but because of the demand, they outsourced the production. So Good Year actually manufacturing in Akron, Ohio, those, those aircraft. And, this is when the base was a reserve base was after the war. So there is service used to, you know, service, I don't know, a week in a month, do weeks in a month. So those planes, are, you know, very iconic. They serve in the war and they flew all the way to the late fifties in South American countries. There is, down in Peachtree city. One of the museums I belong to called Commemorative Air Force has a Corsair then was actually based at NSF
Atlanta in 1950. In 1950, 1952. So it might be very likely one of the airplanes in that picture. It's very cool.
Rico: [00:23:57] What about this one? This was another one.
Moreno: [00:24:01] Yeah, that's a 1942. I remember the date because it's actually printed on the bottom, corner, right corner of the original photo. That's just, just essentially all the officers and enlisted personnel of the base, on the far right side, you see, the doors of the, essentially this is the back of the previous picture. That's the ramp behind the hanger shown in the previous picture. Everything you see in the background, it's gone, no longer exists that are only hangers back there. But that the ramp where those folks are sitting on, it still exists to this day. And it's still being used as an airplane ramp. Yeah.
Rico: [00:24:43] Yeah. We got also this, this one that.
Moreno: [00:24:45] Yeah, these were the first airplanes that were assigned to, they're called end to ends, or yellow perils and, or as more popularly known Stearman biplane. And, they were all yellows and those were the first biplanes, assigned to the base in 1941. Those were trainers. Trainers for Naval aviators, and, well, On the, essentially in front of the, in front of the airplanes, that's where the current hanger is. In fact, in the full picture, you can see it, you still see a piece of the hanger. What's interesting that maybe the viewers cannot see it, but on the side of the airport and there is actually a Donald duck, running with a parachute and that, interestingly enough was the first time in the Walt Disney designed anything for the military. It was actually the mascot of NAS Atlanta Chamblee. It's probably too old to see and some airplanes had it, some didn't. But, that, that the interesting fact is that Walt Disney, first time to design anything for the military was for NAS Atlanta Chamblee, which I thought was pretty unique.
Rico: [00:26:02] Cool. Well, we, went through the picture archives that we had. I only had like four or five samples of those. So, but if, so when, you know, I mean, even if the, museum is not set up, I know there's a website that you all have that you set up. It's called the AtlantaAirandSpaceMuseum.org. These digitized versions appear somewhere on that website.
Moreno: [00:26:27] Yeah. Yeah. I think, originally I was not planning to put up a dedicated website, but the turnout of the job is so phenomenal that I'm thinking to, put up a website, just for the archives. In the meantime, very likely I will post some pictures on the website, which they're already available on the Atlantic Air and Space museums that's our website. But, I'm inclined towards building a dedicated website just for DNS Atlanta Archives. Because it's really cool the stuff that, that, we have been digitizing. I'm not sure when, but yeah, definitely in the upcoming months, along with that book project that I was, I was mentioning to you.
Rico: [00:27:09] Excellent. You're also a publisher of Warbird news, right?
Moreno: [00:27:14] Yeah. We, it's a magazine called Warbird Digest. Warbirds news is, is our news outlet and, that's something I started back in 2013, as a hobby. I came from a digital marketing background and I just wanted to have my own blog and from a blog, you know, it became more than a blog and from a blog became a magazine. So it's a, it's a labor of love and, frustration too, because you know, you're a publisher, you know this. But it takes work. And sometimes the contributors, you know, are not running on time. They don't deliver the material when they have to, right? And the photos are not really good. So…
Rico: [00:27:57] There's always a problem. It's not going to print right.
Moreno: [00:28:01] But in a way we published this magazine for the same reason. We are all of us in this vintage aviation community, ready to preserve the history of aviation to tell stories of veterans and to honor for their service and the magazine. And warbirds news is that, does essentially that. I, you know, again, I, I was born in Italy obviously, but I've always been grateful for, well, one, I going to mention these real quick. I know you probably are running out of time, but, I always, everyone asks me, why do you do that? You know, you grew up in Italy and blah blah. I said, well, I grew up in Italy but you know my, what my grandparents always told me, if it weren't for the American soldiers that came over and liberated Europe. We probably would be speaking German. And I have very sad stories of my grandparents, you know, being in prison camps. And, one of my grandfather was, my grandfather was what's called a partisan or under war underground warrior that actually fought against the Nazi and risked his life because he never really approved of the facist regime. So when I came in the US I really, I was looking for a way to kind of pay my, you know, my tribute and do my part to honor this is young Americans that came over and liberated us. And last year I was fortunate to be a part of the D-day 75th anniversary. And that was, that was the experience really of my life. I was actually hired, two years prior to that, by a foundation called twenties on foundation to put together this mission. And at the end of the day, we left on May 18 from Oxford, Connecticut, and we flew with 15, C47 World War II cargo transport from Connecticut all the way to Normandy, including Greenland, including Iceland. We essentially did the same route that the C47s did 75 years ago. And then in June, it was phenomenal on June the sixth we flew, Omar beach over the cemetery, in front of president Trump, president Macron and the presidents, all of the other allied nations it was phenomenal. That was kind of like the apex of my, you know, volunteer career. It's really rewarding when, you know, you get to meet some of these guys and I still do know, World War II veterans are still with us and a couple I'm very close with. I call them every week and we have great chats. And so it's really, really, really rewarding.
Rico: [00:30:44] It's, so anyone listening to this, you were, I'm going to in the show notes on the website, you will find a link to the Vimeo video, which is a promo of the documentary. If I understand correctly of the Normandy flights of those, that flight. To find out more about the foundation or the museum itself, how can people get involved if they want to reach you, to be able to either help in whatever the way they want.
Moreno: [00:31:12] Yeah, absolutely, you know, AtlantaAirandSpaceMuseum.org there's a contact, a contact us page so they can send it there. Or we just yesterday, actually, we finally opened up all our social media channels on the Inspire Aviation foundation. So Facebook, Twitter, Instagram, and, well, I don't have YouTube because I don't have any, maybe this video will be our first YouTube Videos. But find the Inspired Aviation foundation on social media and on the web or at AtlantaAirandSpaceMuseum.org. I'm the one managing all that. So I'll be getting all the messages.
Rico: [00:31:52] Excellent. So for those people that want to get involved, certainly reach out, to Mareno. And, do you want to say anything else before we end the show?
Moreno: [00:32:03] No, I want to really thank you for giving me the opportunity to talk about this project. It's very, it's a passion of mine and, and that's what I want to do when I grow up. I just, be around the museum or, or work at the museum and, They're doing a phenomenal, phenomenal work. We're still not there, but, if anyone wants to get involved, this is very much a grassroots effort. A lot of people get together business professionals of different backgrounds and really trying to build something, something unique for the city of Atlanta. But we think for the state of Georgia and the Southeast. So anyone who wants to help you're more than welcome.
Rico: [00:32:39] Excellent where, if you want to find out more information, once this is posted on our website, it'll be LivinginPeachtreeCorners.com that you can visit. Be aware of the next issue coming up, the issue after this one, let's pick that up. So this is our last issue that we have, but we're working on, the latest issue. That'll be August, September, and the article one of the articles in there is about Mareno, about the foundation, about what's going on there as well as SOAR, which is an organization, a rocketry organization. That meets once a month to shoot rockets. I mean, everything from one footers to five footers. So it's, it's a cool thing. So we're going to be covering them as well because the second week of August is the national aviation week. And so we thought this would be a great time to be able to share some of these stories. So, Marino Aguiari, I appreciate you coming out on this interview. Hang in there with me as we sign off. Everyone if you've been listening to the live stream originally, there was some interruption of it. I'm going to be uploading this as the full video on Facebook shortly after the show ends. But thank you for being with us and look forward to the next podcast. Thanks.
Pets & Their People: Giveaway results

Pets. They are the members of the family that love the deepest, smile the brightest and enjoy life to the fullest. One positive side effect to the call the stay close to home has been spending more time with our furry loved ones, or those with tails, scales and other fun features.
So now seems as good a time as any to celebrate the pets of Peachtree Corners. We had an open call for our Pets & Their People giveaway, in which local people sent in photos with their pets having family time and adventures. We've included a select number of the submitted photos on our pages. Three submissions were chosen at random to receive prizes.
The Pets & Their People giveaway was a great success, and we heartily thank everyone who sent in photos. We especially want to thank our wonderful sponsors, Pet Suites of America Norcross, and The Ark Pet Spa & Hotel Doraville who provided gift cards. Peachtree Corners Magazine supplied Visa gift cards.
To see the full submission gallery, visit livinginpeachtreecorners.com/petsandtheirpeoplegiveaway2020/
Winners of our Giveaway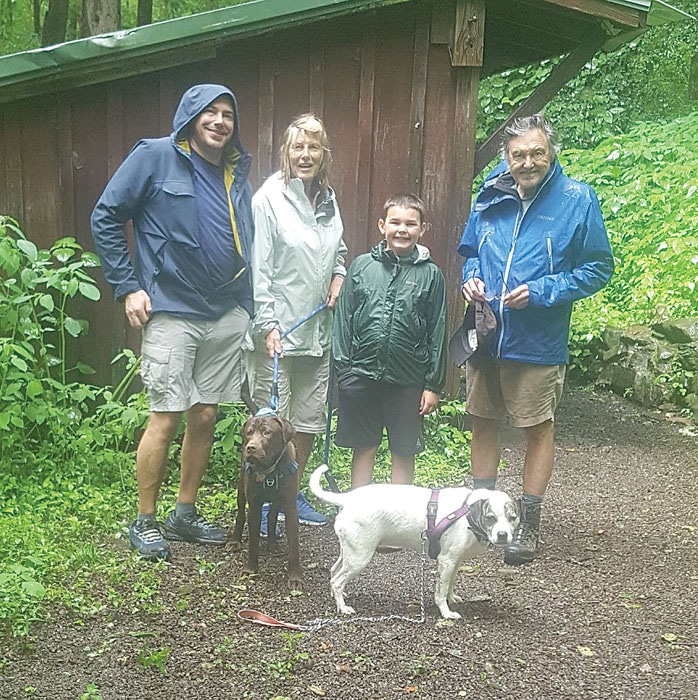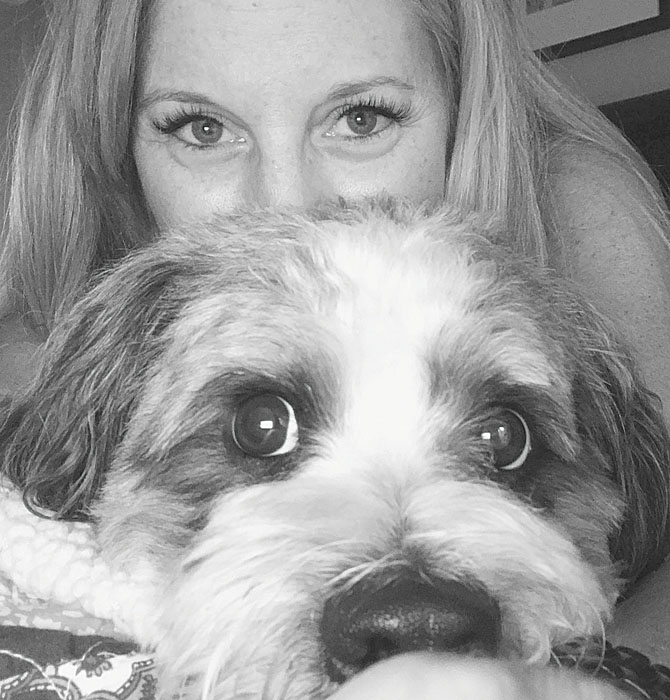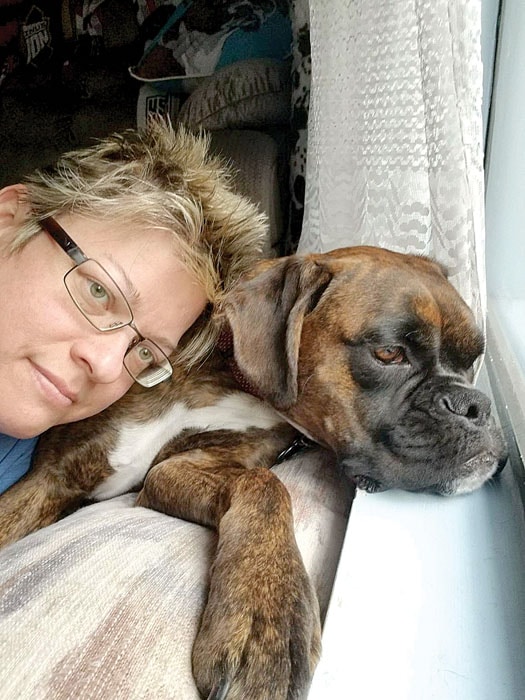 This year's Giveaway Sponsors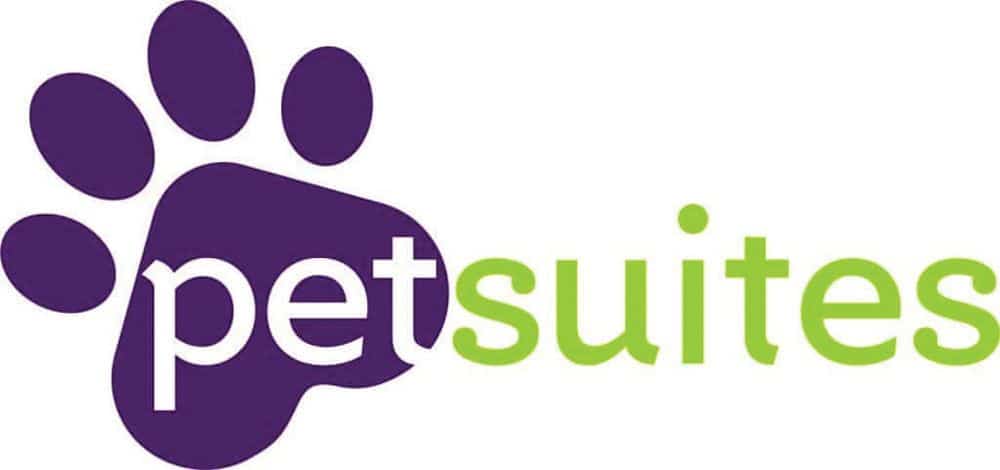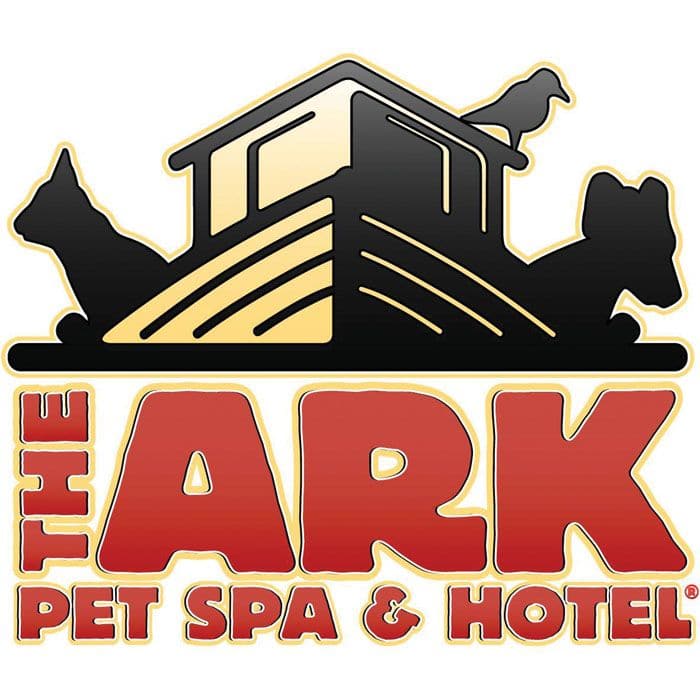 Backyard Escapes Pt. 5: If You're Lucky, You'll Discover Happiness in Your Own Backyard Like Bob and Lori Howard in Forest Hills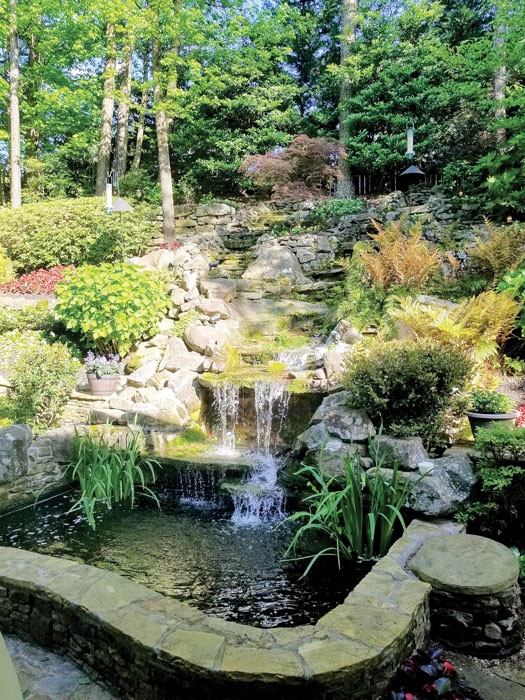 What if you could feel like you were in the north Georgia mountains every time you stepped outdoors? That was the inspiration for Bob and Lori Howard's posh backyard makeover upon settling into their retirement home.
An environmental engineer, Bob designed and supervised the transformation of their yard. A home designed for empty nesters doesn't come with the largest yard, but every square inch of this one is gorgeous.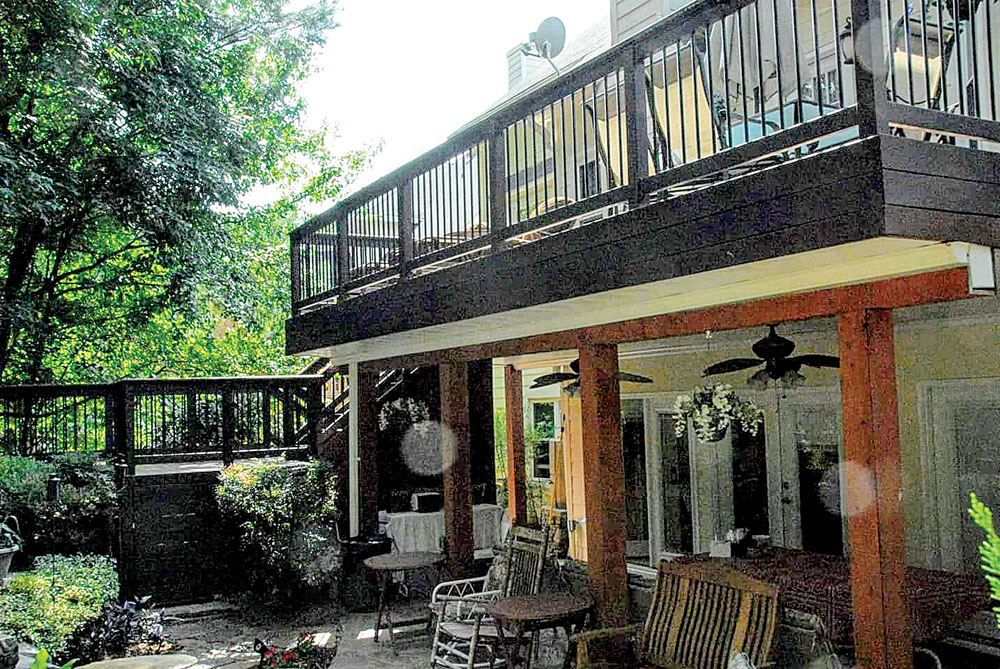 Taking advantage of the natural topography — their property slopes towards the back of the home — Bob had a vision of what could be there and brought it to life exquisitely. It's difficult to believe their yard once consisted of privet and a few short pine and other scrubby trees. "There was no landscaping. It was a cosmetic disaster," Lori recalled.
They were able to develop their outdoor space into a striking deck, a series of retaining walls and flowerbeds, a marvelous waterfall, koi pond and patio haven which they've been reveling in for 12 years.
"It's a comfortable place to be. We turn music on, have the waterfall going, drink a margarita and life is good," Bob said.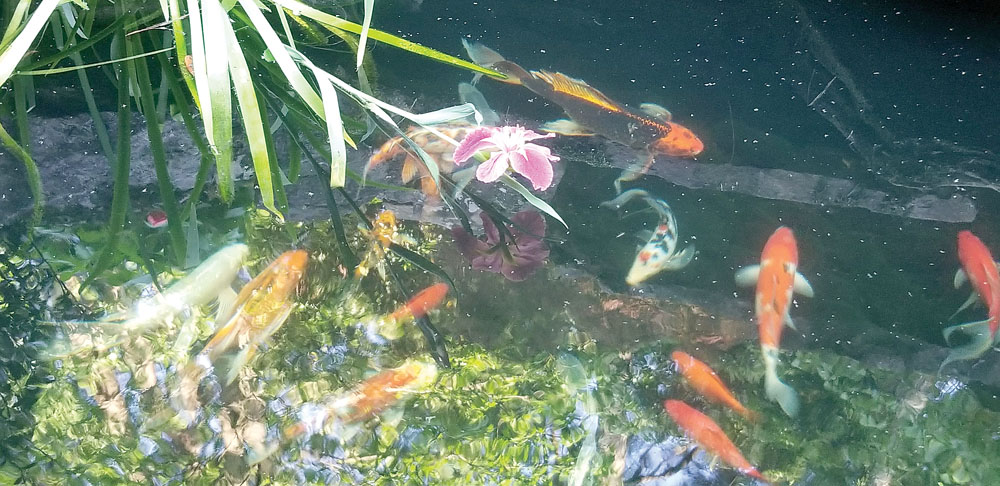 "We have under decking, ceiling fans, a fire pit and a warming light on the patio, so we can sit out almost year-round," Lori added.
Color changing landscape lights illuminate the waterfall at nighttime. From the patio, one has a breathtaking view of the waterfall.
Most evenings you'll find the Howards on their patio, listening to The Bridge on SiriusXM. "Bob also put in a sound system. I've had a live-in handyman for 40 years; I've been blessed," Lori smiled.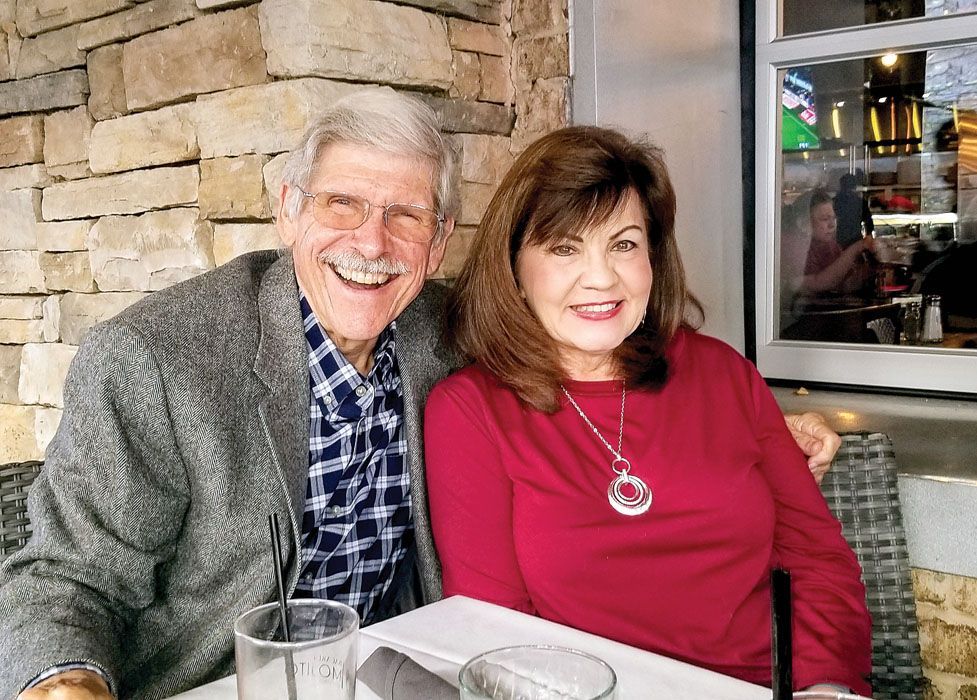 The Howards have been able to share their lovely surroundings with family and friends. Their friends were married here, they host neighborhood parties — not this year, of course. For their 70th birthday, they welcomed a large group of friends. A country western singer came from Nashville to perform for them.
"This is a good party house. It flows very nicely," Lori said.
Extreme Remodel
The stonework in the Howard garden is impressive. "There are probably 20 or 30 tons of stone and rock on the slope. I laid out where I wanted it with spray paint, bought the stone and the contractor, Nick Carillo, built it," Bob reported. The tiered, stacked stone retaining walls were built to create flat areas for planting flowerbeds.
Bob conceived the 3,500-gallon koi pond including the pumps, biological filter and UV light. "We have large koi. I designed it so the herons could not get access to fish," Bob said. "They can stand on the edge, but they can't get into the water to get any fish; it's over four feet deep."
A coyote's attempt at catching the fish was captured on their security camera. The fellow almost drowned after falling in, but he was able to scramble to safety.
Knock on Brazilian Wood
They originally had a poorly made deck that was falling off the house with nothing but earth underneath it — but Bob had plans to rebuild it. He selected premium Brazilian cherry wood for the new, sturdy deck. "I like the reddish color and it holds up longer than pressure-treated pine," Bob said. He designed and built the deck with his son's help.
"On our last deck, we used Trex composite wood. We love the way it looked but it holds a lot of heat in the summer," Bob said.
The new deck has a stair system with a boardwalk that goes over to the back slope. Steps lead to an area by the waterfall.
Carillo poured the foundation, reinforcing the sandstone patio for the posts. "I didn't want to have that much weight on the sandstone patio without having a foundation underneath," Bob said. "It has worked well. Knock on wood."
Pandemic Relief —Backyards for the Win
The couple hosted an engagement dinner for their youngest son and his fiancée in August. They've been able to gather with friends, one couple at a time, socially distanced on their patio. "That's how we've managed to do it, with people our age who have been quarantining and staying close to home like us," Lori said. "They wear masks when they come in. Outside we serve drinks, hors d'oeuvres and talk."
Gardening Is a Work of Heart
Amid a backdrop of hydrangeas, ferns, azaleas, Japanese maples and dogwoods, Carillo and his crew return every spring to plant annuals: begonias and impatiens. In the fall, they pull out the gardens and winterize the flowerbeds.
"Yearly, at the beginning of the season, I have to pressure wash and seal the sandstone patio," Bob said. "It has a water finish look; it's really quite beautiful."
The Howards have had four different homes in Peachtree Corners since 1984. This is their last. "You really want to have a nice backyard, a retreat you can enjoy," Bob said.
Gwinnett Tax Commissioner awarded CARES Act grant to cover convenience fees for 2020 online property tax payments

Gwinnett property owners have the opportunity to pay property taxes online using debit or credit cards without incurring added convenience fees, Tax Commissioner Richard Steele announced today.
"We wanted to make it as easy as possible for people to pay their property taxes safely," Steele said. "Obtaining this grant helps us do that, and I sincerely hope people take advantage of it during the pandemic to pay online from the safety of home."
The Gwinnett County Office of the Tax Commissioner was recently informed of its successful application for obtaining a CARES Act grant to cover the cost of convenience fees for online property taxes. Taxpayers who have already paid their 2020 taxes and incurred a convenience fee will automatically receive a refund of the fees via the card they used from payment processing vendor Value Payment Systems LLC.
Online payments can be made at GwinnettTaxCommissioner.com/pay and include these options:
· E-check, debit or credit card with no added convenience fees.
· Scheduling payments in advance, as long as the total is paid by the Dec. 1 due date.
Property owners who have questions or need assistance may contact the Tax Commissioner's Office 8 a.m. to 5 p.m. weekdays via email to Tax@GwinnettCounty.com, by phone at (770) 822-8800 or initiate a chat on any device from GwinnettTaxCommissioner.com.