Peachtree Corners Spaces: 4329 Riverview Drive of Riverview Subdivision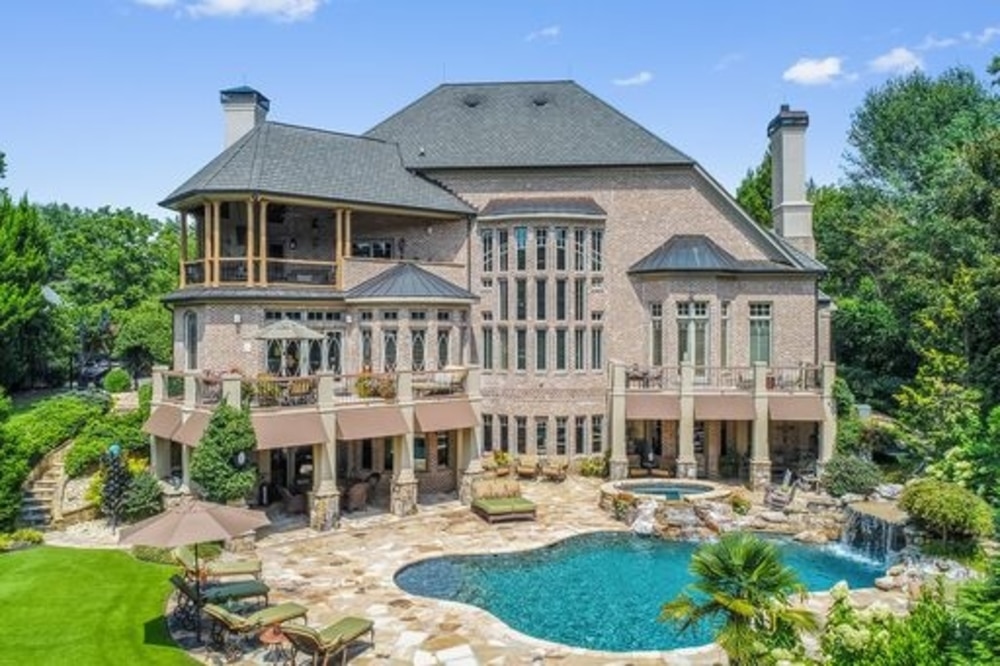 A truly unique home has come to the market in the oldest neighborhood in Peachtree Corners, Riverview Estates. Riverview is a vibrant community of 150 homes along the Chattahoochee River, and boasts of a rich Peachtree Corners' history.
The History of the Property
Back in the late 1960's, the Atlanta Athletic Club (then called East Lake Country Club and located in Avondale) decided to build a new golf facility on Medlock Bridge Road in Duluth. At that time, the majority of the area was farmland and neither Peachtree Parkway(141) nor Peachtree Industrial Boulevard existed. The only way to get to the new Club was to drive up Buford Hwy through downtown Norcross to the 2-lane Medlock Bridge Road.
Tom Forkner and Joe Rogers, Sr., the co-founders of the Waffle House chain, wanted to move close to their Club. On September 19, 1968, they purchased 63 acres from Mr. Horace Medlock for $1,000/acre. A portion of the property was swampland, which was turned into a lake. The land along the river was in a floodplain, so it was made into a horse pasture. The remaining acreage was divided into lots and sold for $12,000/acre to fellow Club members. The lots around the lake shared equally in the ownership of the lake and pasture.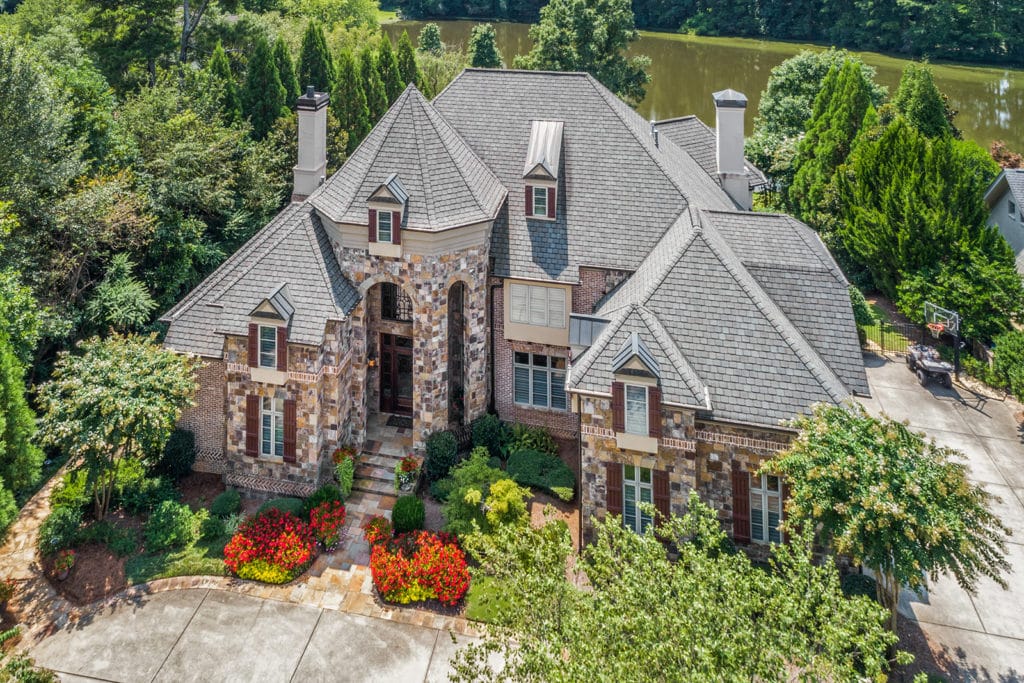 An additional 131 acres was purchased a few months later from Edwin Medlock, Horace's brother, and by then lots were selling so fast they were able to raise the price 20 percent. Riverview Estates was born. The first 2 houses were completed in 1971 and occupied by Tom Forkner and Joe Rogers, Sr. Rumor has it they would hit golf balls from their backyards across the lake at each other.
Riverview Estates quickly became a popular neighborhood for its large lots, diverse architecture, and welcoming residents. Most of the original homeowners never moved out of the subdivision. They developed a tightknit group and the HOA owns volumes of scrapbooks chronicling the neighborhood events over the decades. In recent years, the neighborhood has seen an influx of younger families eager to purchase an older home and renovate, breathing new life into this unique community.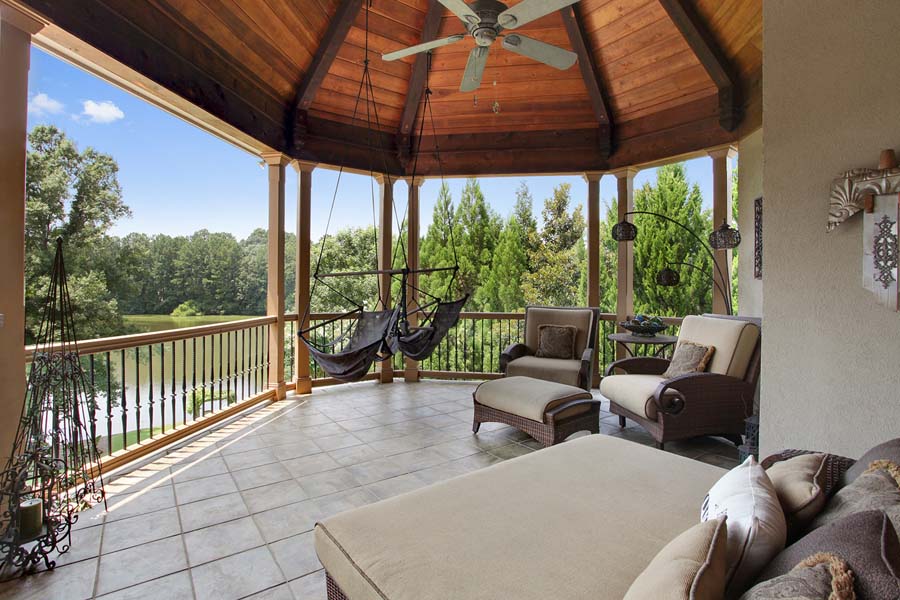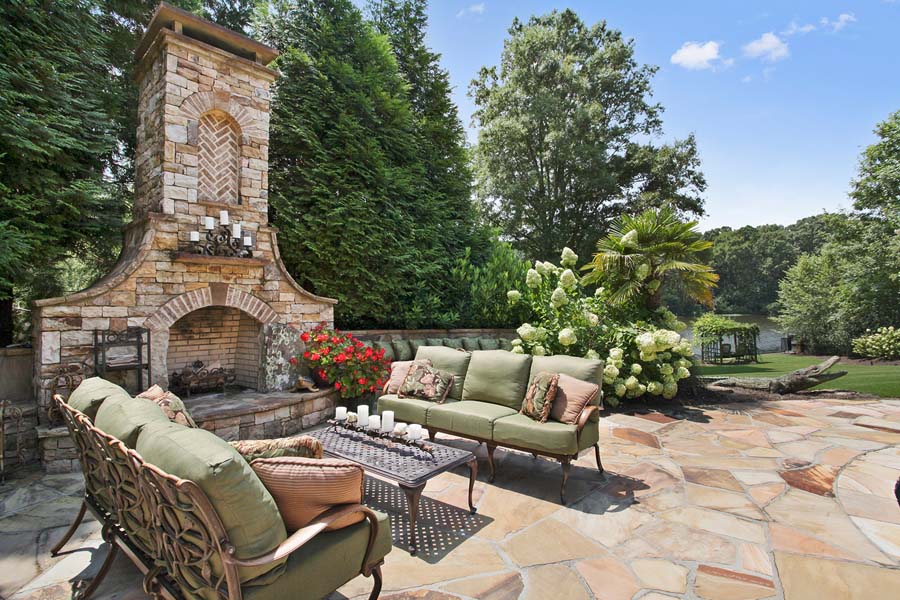 The Property today and hopes for the future
Today the Rogers' property affords an amazing lifestyle to its residents. The current homeowners of the luxurious estate are Deena and Sean Coughlin, who have raised their family there for 12 happy years. You might know Sean from C2 Partners LLC, a commercial real estate firm. Many also know Deena as the franchise owner of Gigi's Cupcakes At The Forum, a local 10-year staple that recently closed due to Covid-19. Though the couple hates to part with the place they have called home for so long, they have decided it's time to sell and to find a smaller place now that their two sons are almost all grown up.
"I just remember the very first night that we moved in and I called the previous owner. I was crying, walking around my backyard thanking him for selling it because I was so excited," said Deena.
The Coughlin's two sons grew up with a deep love and appreciation for the outdoors simply because they had a front row seat to nature.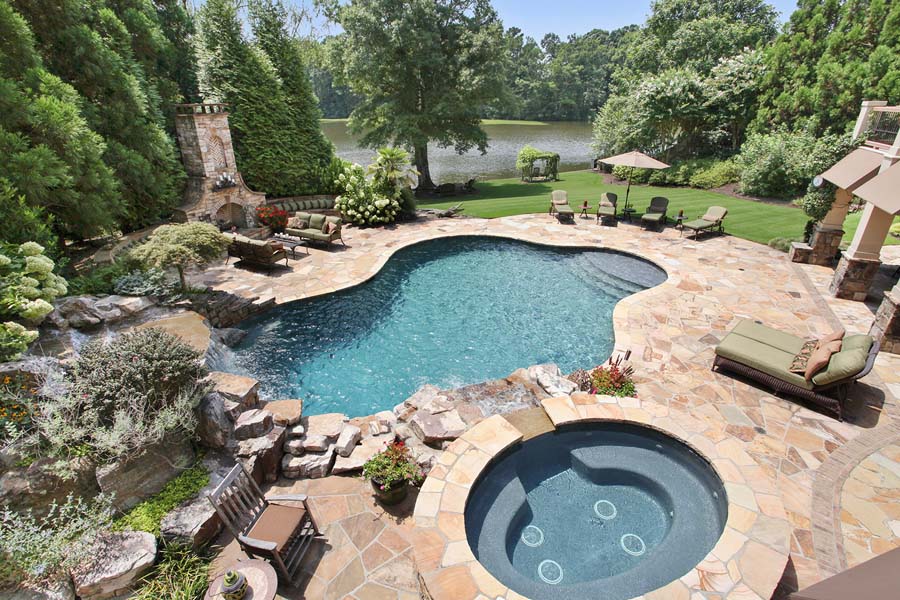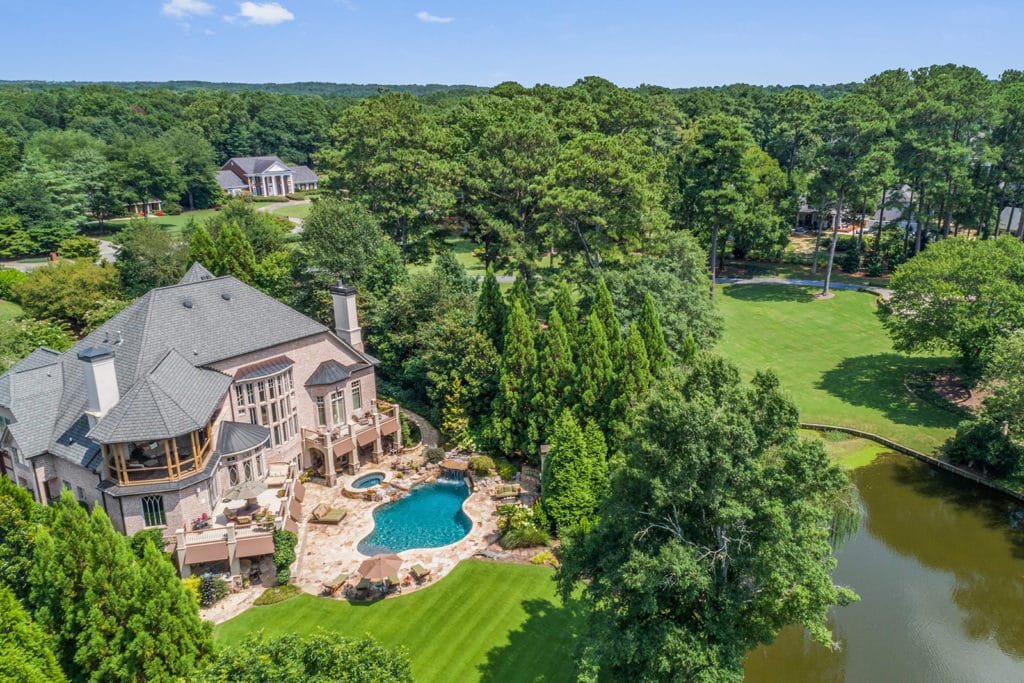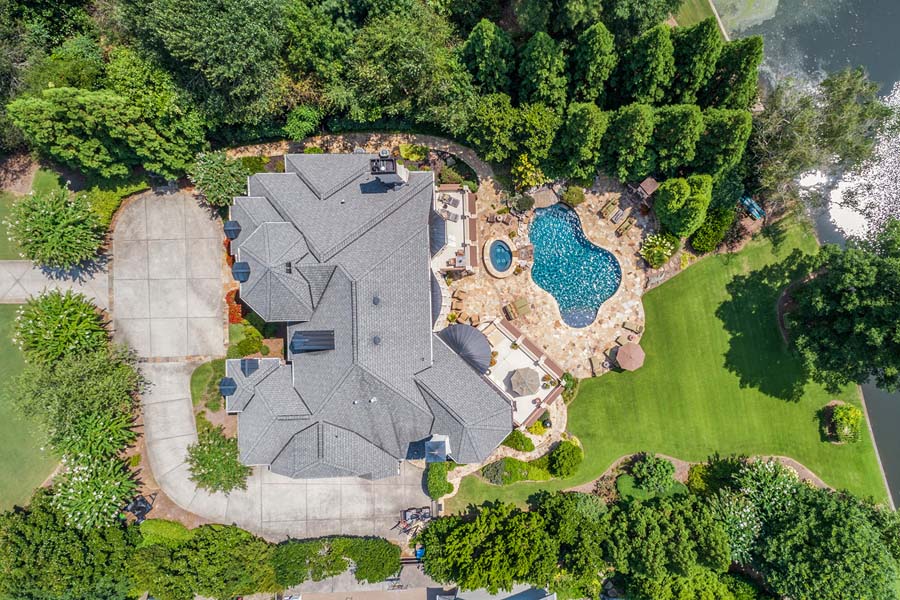 "It was an amazing place to raise little boys because we had the lake behind us, and they would go out and kayak and fish every night. And then there is the pasture at the end of the street with the barn and they would ride 4 wheelers and dirt bikes," said Deena.
Features of the Property
Sitting right near the 10-acre stocked and professionally maintained lake, the house also has a freeform pool, hot tub, outdoor kitchen, fireplace, firepit, and boat ramp. Three separate decks and two patio areas overlook the backyard. Residents enjoy the neighborhood's riverfront park and an active HOA, along with the semi-private 15-acre pasture with river access, barn, and grilling area. The Coughlins hope to pass the place on to a young, active family that would love and cherish it as much as they have. For more information, contact Sean Coughlin at sean@c2partnersllc.com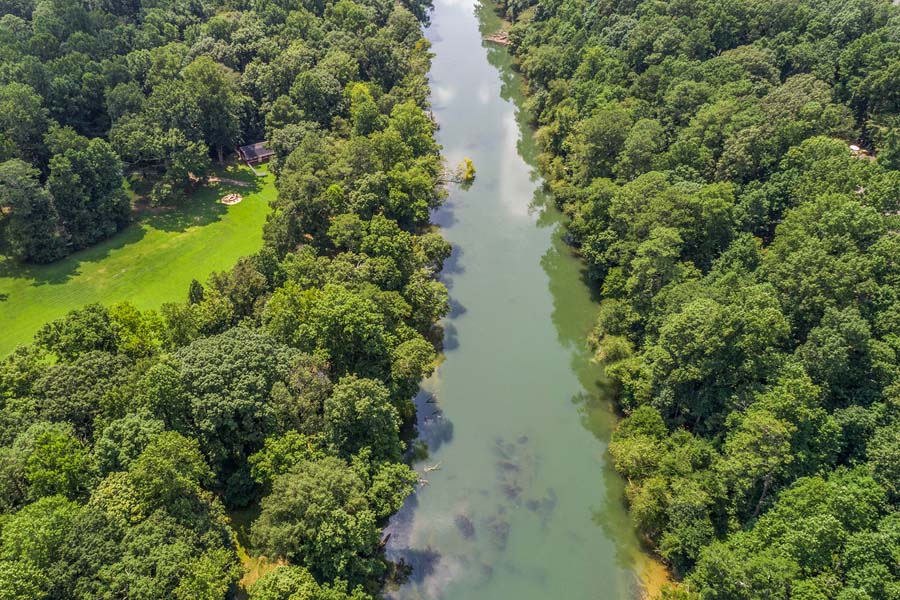 Source:
The Riverview HOA website– History information listed as "written by Robbie Harrison, as told by J. Rogers, T. Forkner, S. Ackerman, B. Black, D. Evans, D. Crane and B. McGriff."
Deena and Sean Coughlin
Old Fiserv Property Sold to Local Builder for 55+ Development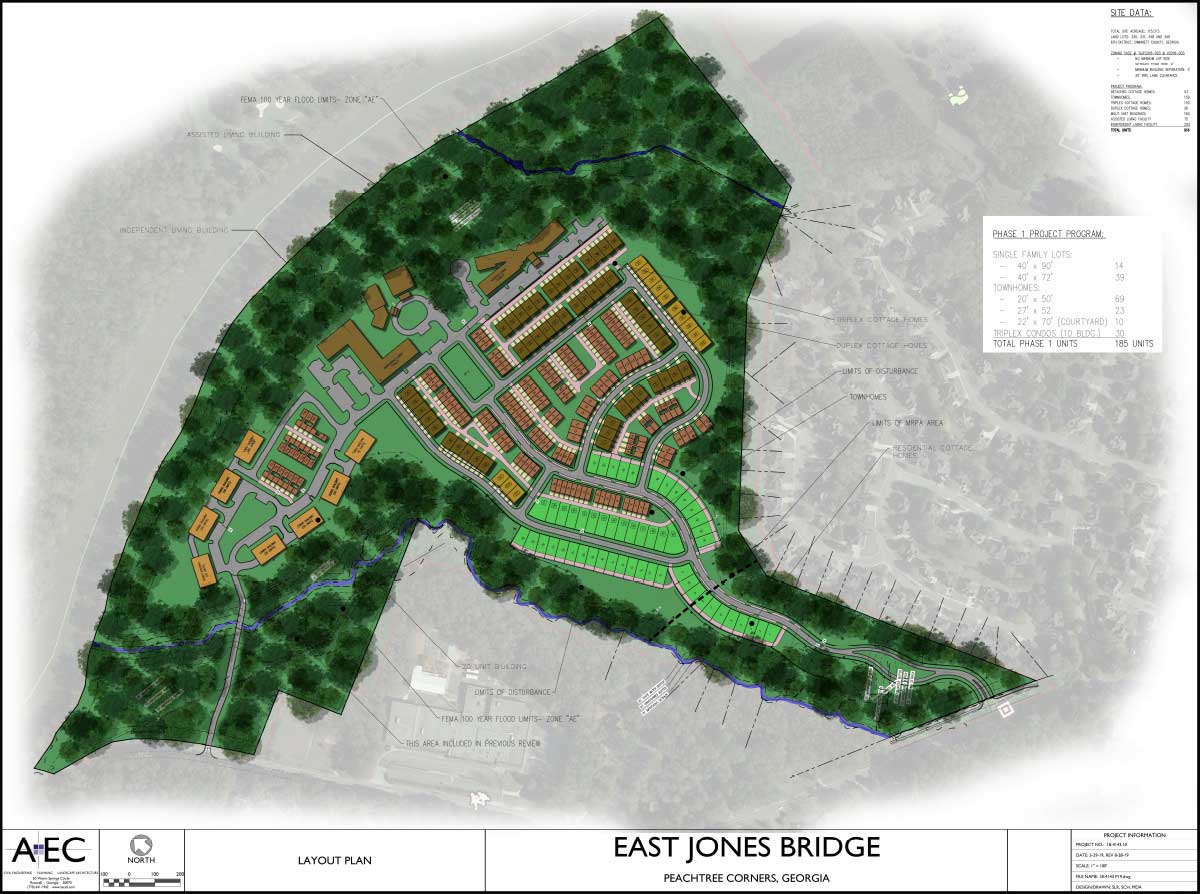 Construction on the long-anticipated home development for residents 55+ on the former Fiserv property is now a step closer.
The 115-acre property located on East Jones Bridge Road has been sold to The Providence Group of Georgia. The Suwanee-based builder announced it expects to begin construction in January of next year with the first homes available for sale in the fourth quarter of 2020.
The new development is a joint venture partnership between The Providence Group, a subsidiary of Green Brick Partners, Inc., and East Jones Bridge, LLC which originally purchased the land to develop the 55+ community.
The East Jones Bridge development will offer condominiums, townhomes and single-family homes for active adults. The community will consist of up to 916 mixed age-restricted residential units. The project also includes age-restricted independent, assisted living and memory care components. The gated community property includes 4,000 feet of frontage along the Chattahoochee River.
"This is welcome and important news for our community," said Mayor Mike Mason. "As Peachtree Corners' population ages, we want to make sure that housing for these citizens is available. This project will provide that housing while respecting the sensitive river corridor and tree canopy."
Future residents of the planned development will have easy access to the 30-acre Jones Bridge Park which is located within walking distance and the city's new Town Center that includes shopping, dining and a two-acre Town Green which is less than a mile and a half from the East Jones Bridge development.'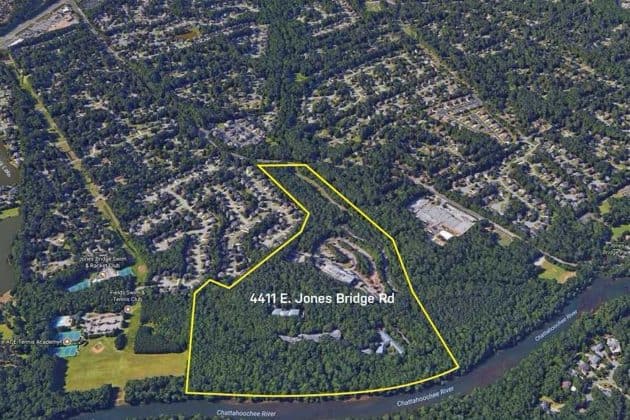 Peachtree Corners Multifamily Asset Trades Hands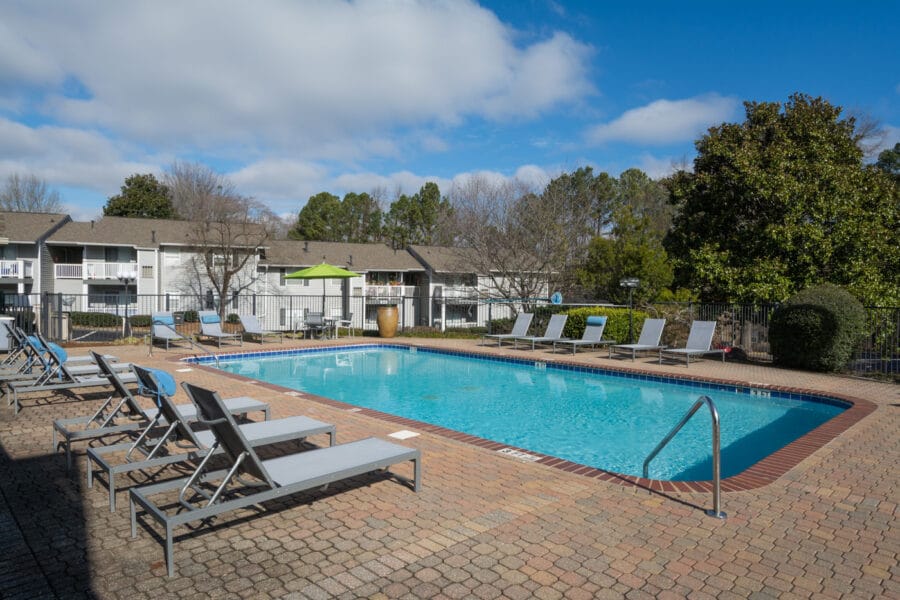 CBRE has arranged the sale of a 308-unit multifamily property in Peachtree Corners, Georgia, north of Atlanta. Corners 1700 traded from M Banks Realty, a Sage Equities subsidiary to Bridge Investment Group.
CBRE's Shea Campbell represented the seller.
Corners 1700 is in a major employment hub with proximity to an active office market, the fast-growing Interstate-85 industrial corridor and Gwinnett County, which alone offers more than 460,000 jobs. The property is zoned in a top school district, which presented a rare opportunity for investors to enter the vibrant Peachtree Corners market with a value-add asset.
Corners 1700 not only benefits from its proximity to outside employment hubs, but it is also in the middle of Atlanta's largest and fastest-growing jobs center, as Gwinnett County employs 462,438 workers, falling just short of Downtown, Buckhead, Midtown, Perimeter Center and Alpharetta combined.
"Gwinnett County is a titan of economic development," Campbell said. "Though just outside of the Gateway85 Community Improvement District, Corners 1700 reaps the benefits of the organization, which is poised to improve the surrounding area by raising property values and providing economic development incentives."
Atlanta's multifamily market continues to rank among the top performing markets in the U.S. As one of the fastest-growing job and population growth markets, Atlanta draws multifamily investors nationally and internationally. The multifamily market is expected to continue to thrive as the city attracts more residents, corporations and entertainment.
Echo Lakeside Luxury Apartment Community Celebrates Opening with Ribbon Cutting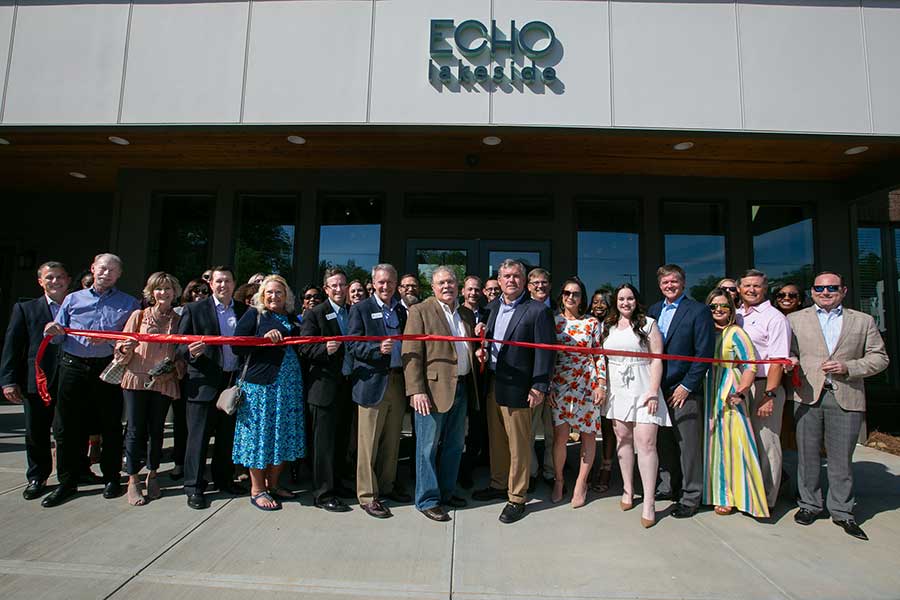 Echo Lakeside gives residents access to thousands of jobs and helps meet much-needed demand for new modern housing near Technology Park.
"This is, has been without a doubt, one of the most exciting projects for Peachtree Corners," said Mayor Mike Mason. "Echo Lakeside is an important investment for our city in terms of livability for our millennial workforce, many of which hold technology-based jobs in Technology Park and surrounding office parks. The convenience of nearby residential rental space will ensure that the city continues drawing a dynamic workforce to fill these important positions."
Project partners for this new development include Project Architect, Niles Bolton & Associates; General Contractor, Oxford Construction; Landscape Architect, HGOR, TPA Partners and Property Manager, Woodward Management Partners.
Mayor Mike Mason, Debbie Mason and Brand Properties CEO, Brand Morgan
Layout options include one-bedroom and two-bedrooms floor plans with rents starting at $1025 per month.
The project officially broke ground on August 3, 2017.
Community leaders joined project developers Brand Properties to celebrate the Grand Opening of Echo Lakeside, a new luxury apartment community in growing Peachtree Corners.
Echo Lakeside provides a modern, millennial property in a beautiful, serene setting with 295 homes overlooking two lakes. It is the first new multi-family development in Peachtree Corners in more than 20 years.
Conveniently located in Peachtree Corners, with access to major highways, I-85, I-285 and GA 400, Echo Lakeside offers more than 14 acres of sanctuary complete with interconnected hiking and biking trails, lake access with a dock and a dog park.
The scenic location is just the start. Stainless steel appliances, ample storage and designer cabinetry round out the sumptuous spaces, all generously arranged under 9 foot ceilings.
The thoughtful design extends to the state-of-the-art clubhouse, and fitness center, which flank a beautiful resort style pool with a sun terrace. Other luxury amenities include an Uber lobby, a cyber café and a package management system.
"We designed this project to be a space where residents look forward to coming home after a long day of work and we are thrilled to see that vision realized today," said Michael Hoath, president of Brand Properties, the project's developer. "Almost a quarter of our residents work in Technology Park. Echo Lakeside along with all the surrounding development really make this community a great place to live work and play."