Georgia State Park 2021 Travel Guide and Passes Available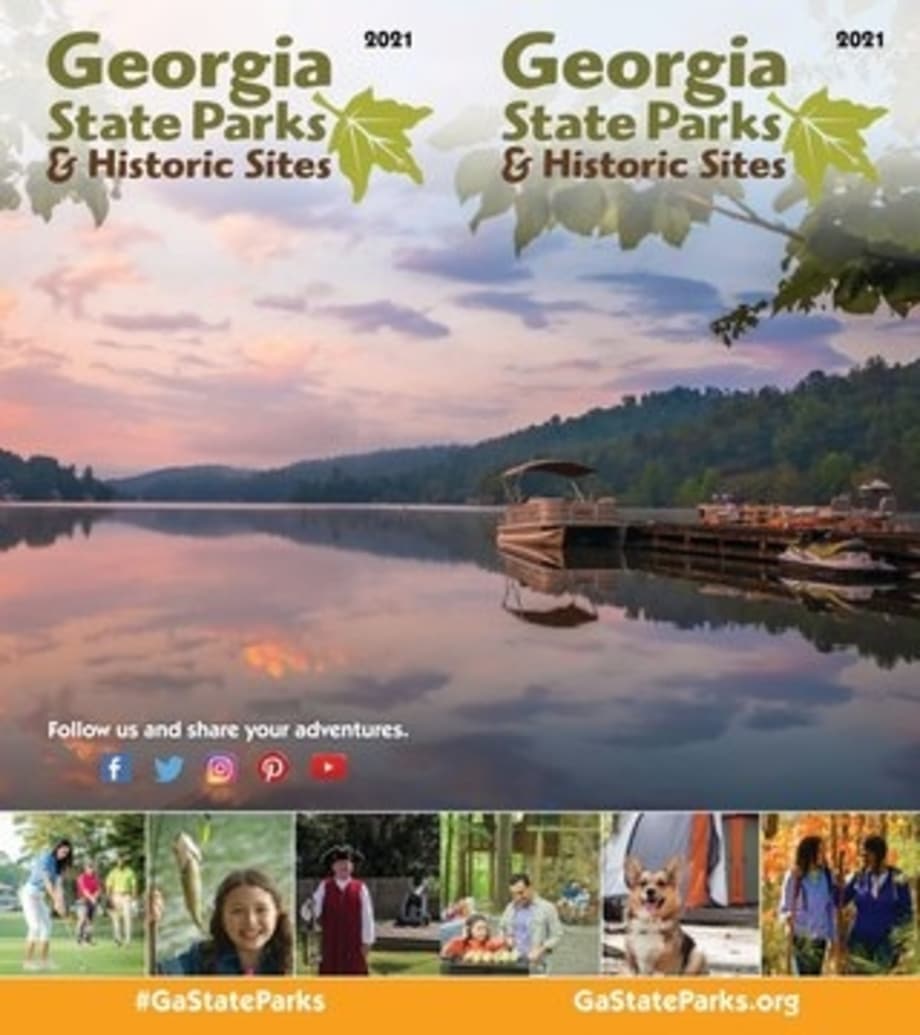 One silver lining from 2020 has been discovering the joy of outdoor adventures. Parks all across the country welcomed record numbers of visitors looking for fresh air, peaceful scenery and heart-pumping exercise. The beginning of a new year is the perfect time to start daydreaming about future getaways. The newly published "2021 Guide to Georgia State Parks & Historic Sites" is a helpful resource for planning spring break, romantic retreats and summer vacations. The booklet is filled with tips on the best hiking trails, fishing spots, pet travel, golf courses, cabins and campsites, as well as many new photos shared by park users.
Frequent visitors may also want to purchase new 2021 passes. A $50 Annual ParkPass provides free parking at more than 40 destinations, including Fort Yargo, Tallulah Gorge and Providence Canyon. The separate Historic Site Pass covers admission fees at 15 sites, including Etowah Indian Mounds, Dahlonega Gold Museum and Fort King George. The Historic Site Pass is $25 for students and $50 for families.
"One advantage of having an annual ParkPass or Historic Site Pass is that it encourages people to explore parks and historic sites they've never been to before," said Georgia State Parks Director Jeff Cown. "Your parking and admission fees are already covered for the whole year, and you may even find a new favorite campground, historic site museum or hiking trail."
The 2021 Travel Guide is available free in park offices or can be viewed on GaStateParks.org. Passes may be purchased online, by calling 770-389-7286 or in park offices as well.
High Museum of Art Presents  Major Julie Mehretu Exhibition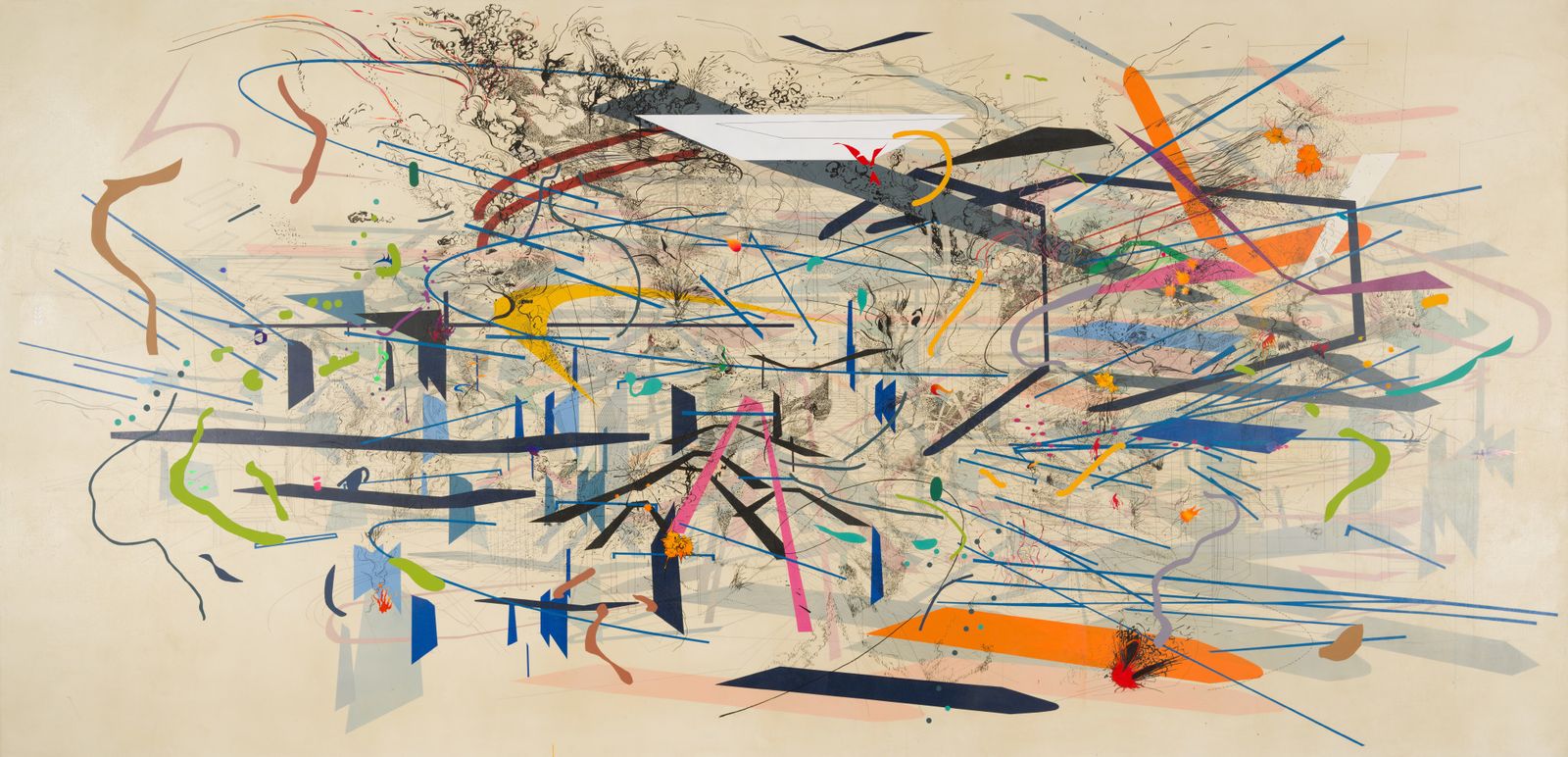 This fall, the High Museum of Art presents "Julie Mehretu" (Oct. 24, 2020-Jan. 31, 2021), a major traveling exhibition of work by Julie Mehretu (born 1970, Addis Ababa, Ethiopia) co-organized by the Los Angeles County Museum of Art (LACMA) and the Whitney Museum of American Art. This is the first comprehensive survey of the artist's career, covering more than two decades of her work, from 1996 to the present, and uniting nearly 40 drawings and prints and 35 paintings predominantly monumental in size and scale.
Mehretu's work bears witness to the shaping of human consciousness through the combination and reconfiguration of sources and images that address history and its intersection with the present. Her process involves compiling a vast and diverse archive of sources, including diagrams and maps, cave markings, Chinese calligraphy, architectural renderings, graffiti, photojournalism and texts. The exhibition also reveals the centrality of drawing in Mehretu's artistic practice, from her diminutive drawings made in the 1990s to her monumental paintings of the 2000s, and explores the abiding influences of indexing, diagramming, and mapping as well as their techniques, aesthetics and ideologies.
Mehretu's work of the past decade draws from present-day images of natural disasters, human rights atrocities and global conflicts. Her most recent work in the exhibition refers to the detention camps holding migrant children along the southern border of the United States and is often scaled to the size and reach of her body. This correspondence between the artist's body and her distinctly physical application of paint (and erasure of objective imagery), in combination with fragmented images produced in drawing, printmaking and stenciling techniques, lend the recent work a palpable sense of urgency and poignancy.
A highlight of the exhibition is Mehretu's cycle of four monumentally scaled paintings titled "Mogamma (A Painting in Four Parts)" (2012). Reunited for the first time since they were last shown together in 2013, "Mogamma" interrogates themes of migration, revolution, global capitalism and technology at the dawn of the Arab Spring. Each painting in the cycle belongs to four different museums across three continents. The High Museum of Art acquired "Mogamma (Part 2)" in 2013.
"We are grateful for the opportunity to present this sweeping examination of Mehretu's dynamic, multi-faceted career," said Rand Suffolk, Nancy and Holcombe T. Green, Jr., director of the High. "The globally conscience themes in her work align strongly with our commitment to celebrating diverse perspectives through the High's collection and exhibition program. We look forward to offering our audiences a chance to experience a broad spectrum of her creative genius."
"Julie Mehretu is one of the most consequential artists in the first quarter of this century," said Michael Rooks, Wieland Family Curator of Modern and Contemporary Art, ". . . because she has managed to synthesize histories told and untold, and history in the making, with our present moment beset by dislocation and turmoil. Among the histories with which she contends is the history of visual culture, particularly the language of abstraction, which powerfully expresses the fragmentation, splintering, formation, and reformation of our present moment."
"Julie Mehretu" considers the artist's excavation of the histories of art, architecture, and past civilizations and addresses themes in her work such as migration, revolution, human rights, social justice, climate change and global capitalism. Additionally, the exhibition considers Mehretu's career in printmaking through a selection of works produced with such techniques as etching, photogravure, aquatint and engraving. In its combination of media, the exhibition draws attention to the artist's agility in radically shifting scale, moving from the intimate to the grand and from the personal to the universal. The exhibition will also include British artist Tacita Dean's 2011 filmic portrait of Mehretu titled "GDGDA."
Previously on view at LACMA (Nov. 3, 2019-Sept. 7, 2020), the exhibition will travel to the Whitney Museum of American Art (March 19-Aug. 8, 2021) and the Walker Art Center (Oct. 16, 2021-March 6, 2022) following its presentation at the High.
In early works such as "Untitled (two)" (1996), "Map Paint (white)" (1996) and "Untitled (yellow with ellipses)" (1998), Mehretu explores how to represent the cumulative effect of time by layering materials. In these paintings, she has embedded drawings between layers of poured paint, creating fossilized topographies.
In "Stadia II" (2004) and "Black City" (2007), Mehretu interrogates sports and military typologies to disrupt modern conceptions of leisure, labor and order. The coliseum, amphitheater and stadium in "Stadia II" represent spaces designed to accommodate and organize large numbers of people but that also contain an undercurrent of chaos and violence. While "Stadia II" is filled with curved lines and an array of pageantry such as flags, banners, lights and seating, "Black City" is more linear and contains references to the military and war, including general stars and Nazi bunkers. Both works call attention to the ways in which modern culture and the spectacle of contemporary wars, such as the War on Terror and the Iraq War, are connected to imperialism, patriarchy and power.
The four-part "Mogamma" (2012) took significant inspiration from the 2011 Egyptian revolution, part of the Arab Spring of uprisings in the Middle East and North Africa. The work was named after a government administrative building on Tahrir Square that was seen as a symbol of modernism and the country's liberation from colonial occupation when it was first built in 1949. It was later associated with government corruption and bureaucracy before eventually serving as a revolutionary site. Mehretu began work on the four vertical canvases by exploring the densely layered environment of Tahrir Square, where an array of architectures — including structures built in Islamic, European and Cold War styles — coexist. She then created a web of drawings that combined the Brutalist architectural style of the Mogamma with details from other public squares associated with the revolutionary fervor of the Arab Spring, such as the amphitheater stairs and spiraling lights of Meskel Square in Addis Ababa, Ethiopia, and the midcentury high-rise buildings surrounding Zuccotti Park in New York. Over this, she layered drawings of global sites of public protest and change, such as Red Square in Moscow and Tiananmen Square in Beijing. "Mogamma" was installed in Documenta in 2012 and again in London in 2013. This exhibition reunites all four panels of the monumental painting and marks the first time the work has been shown in its entirety in the United States. Before traveling with the exhibition, "Part 2" had been on view at the High since the Museum acquired it in 2013.
Mehretu's most recent paintings introduce bold gestural marks and employ a dynamic range of techniques such as airbrushing and screenprinting. The works draw on her archive of images of global horrors, crises, protests and abuses of power, which she digitally blurs, crops and rescales. She uses this source material as the foundation for her paintings, overlaying the images with calligraphic strokes and loose drawings. For example, "Conjured Parts (eye), Ferguson" (2016) links disembodied anatomy with a site of violence and political strife. The painting began with a blurred photograph of an unarmed man with his hands up facing a group of police officers in riot gear, which was taken during the protests following the fatal shooting of Michael Brown in Ferguson, Missouri. Mehretu layered color over a blurry, sanded black-and-gray background; fuchsia and peachy-pink areas rise from below while toxic green tones float above like distant skies drawing near. Outlines of eyes, buttocks and other body parts appear within the graffiti-like marks and black blots hovering over smoky areas, suggesting human activity obscured.
In "Hineni (E. 3:4)" (2018), Mehretu addresses the fires caused by climate change and the intentional burning of Rohingya homes in Myanmar as part of a campaign of ethnic cleansing. The painting is based on an image from the 2017 Northern California wildfires, while the word "hineni" in the title translates to "here I am" in Hebrew, which was the biblical prophet Moses's response to Yahweh (God), who called his name from within the burning bush. By interrogating three types of fires in this painting — one environmental, one intentional and one prophetic — Mehretu explores the contradictory meanings of a single elemental force.
Installed alongside these recent paintings, "Epigraph, Damascus" (2016) is a notable achievement in printmaking for Mehretu, representing a new integration of architectural drawings and painting overlaid with an unprecedented array of marks. Working closely with master printer Niels Borch Jensen, Mehretu used photogravure, a 19th-century technique that fuses photography with etching. She built the foundation of the print on a blurred photograph layered with hand-drawn images of buildings in Damascus, Syria, then composited that with a layer of gestural marks made on large sheets of Mylar. On a second plate, she executed her characteristic variety of light-handed brushstrokes, innovatively using techniques known as aquatint and open bite.
Many of Mehretu's large-scale works will be on view throughout the galleries. The artist is known to create large horizontal canvases full of layered drawings to work out complexities of scale, size, detail and expanse. These panoramas often take on monolithic or compressed themes and histories such as African liberation movements and the architecture of spectacle.
The exhibition will also feature "Transcending: The New International" (2003). The painting began with a map of Ethiopia's capital city, Addis Ababa, which Mehretu fused with maps of every African economic and political capital, creating a vast network of aerial views of the continent. In subsequent layers, she included drawings of both colonialist architecture in Africa and iconic modernist buildings erected there during and after liberation. In the center of the painting, she layered drawings of the many African plazas of independence with idiosyncratic markings she has called "characters." Here, these characters stage battles, migrate, form alliances, congregate and ultimately participate in a system of entropy.
"Julie Mehretu" will be on view in the Cousins Special Exhibition Galleries on the Second Level of the High's Wieland Pavilion.
High Museum is Exclusive Southeast Venue for Dawoud Bey Photography Retrospective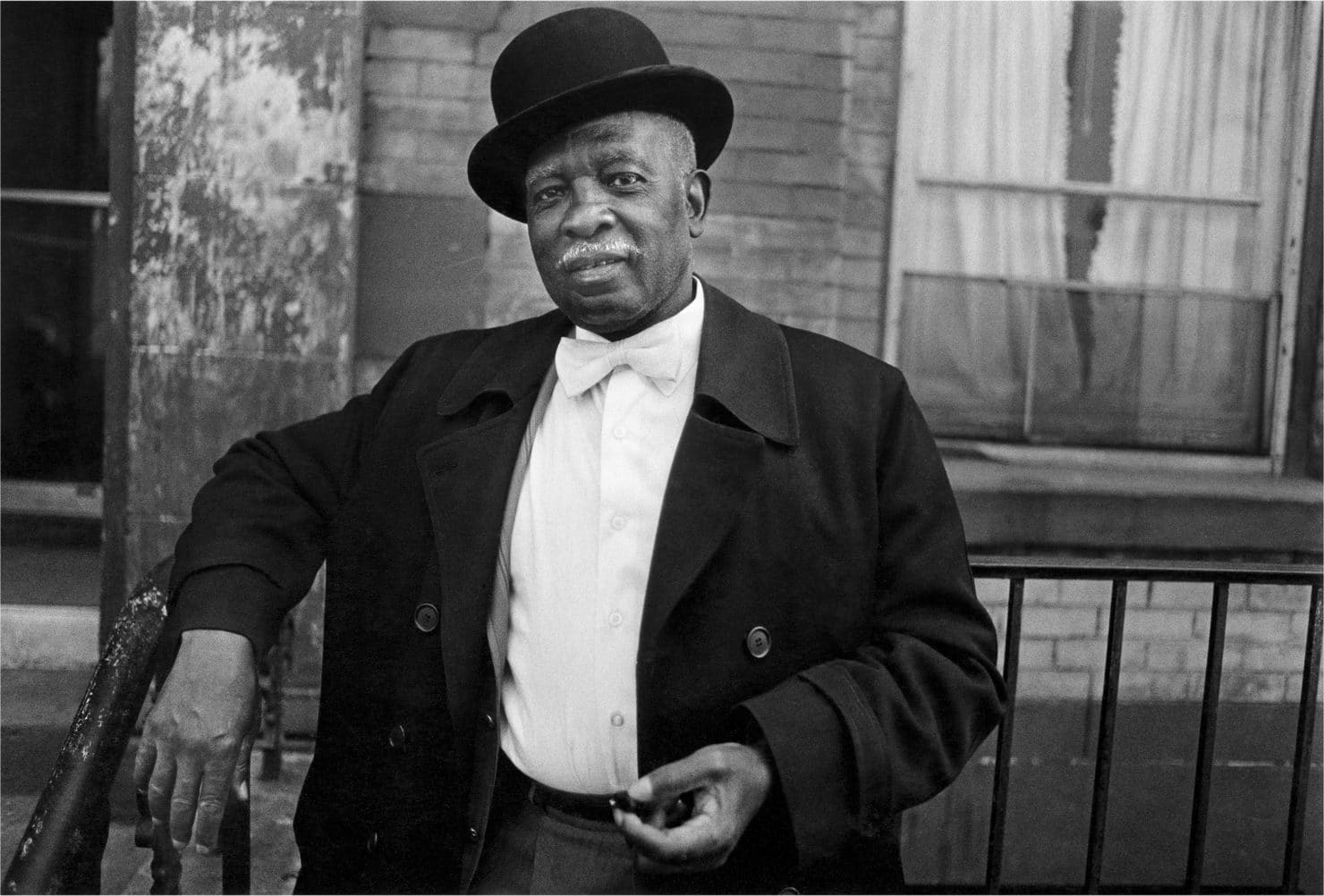 For more than four decades, renowned photographer Dawoud Bey has created powerful and tender photographs that portray underrepresented communities and explore African American history. From portraits in Harlem and classic street photography to nocturnal landscapes and large-scale studio portraits, his works combine an ethical imperative with an unparalleled mastery of his medium. Coming this fall, the High Museum of Art will celebrate his important contributions to photography as the exclusive Southeast venue for "Dawoud Bey: An American Project" (Dec. 12, 2020-March 14, 2021), the artist's first full career retrospective in 25 years. 
Co-organized by the San Francisco Museum of Modern Art (SFMOMA) and the Whitney Museum of American Art, New York, the exhibition will feature approximately 80 works that span the breadth of Bey's career, from his earliest street portraits made in Harlem in the 1970s to his most recent series reimagining sites of the Underground Railroad (2017). 
The High has enjoyed a long and fruitful relationship with Bey, who was commissioned in 1996 for the Museum's inaugural "Picturing the South" series, which asks noted photographers to turn their lens toward the American South. For his project, Bey collaborated with Atlanta high school students to create empathetic, larger-than-life portraits. Made with the monumental 20-by-24-inch Polaroid camera, these photographs explore the complexity of adolescence as a time of critical identity formation and expand the concept of portraiture. The High now holds more than 50 photographs by Bey, one of the most significant museum collections of his work.
"Bey's portraits are remarkable for their keen sensitivity and for how they elicit and honor their subjects' sense of self, which is partly an outcome of the artist's collaborative practice," remarked Sarah Kennel, the High's Donald and Marilyn Keough Family curator of photography. "Given the museum's long relationship with Bey and the strength of our holdings, we are thrilled to present this important retrospective. We look forward to sharing the artist's photographs and his powerful and moving reflections on African American history and identity in their country with our visitors."
Bey, born in 1953 in Queens, New York, began to develop an interest in photography as a teenager. He received his first camera as a gift from his godmother in 1968, and the next year, he saw the exhibition "Harlem on My Mind" at The Metropolitan Museum of Art. Widely criticized for its failure to include significant numbers of artworks by African Americans, the exhibition's representation of Black subjects nonetheless made an impression on Bey and inspired him to develop his own documentary project about Harlem in 1975. Since that time, he has worked primarily in portraiture, making tender, psychologically rich and direct portrayals, often in collaboration with his subjects. More recently, he has explored seminal moments in African American history through both portraiture and landscape.
"Dawoud Bey: An American Project" will include work from the artist's eight major series and is organized to reflect the development of Bey's vision throughout his career and to highlight his enduring engagement with portraiture, place and history.
The Street 
Bey's landmark black-and-white 1975-78 series "Harlem, USA" documents portraits and street scenes with locals of the historic neighborhood in New York. As a young man growing up in Queens, Bey was intrigued by his family's history in Harlem, where his parents met and where he visited family and friends throughout childhood. The series premiered at the Studio Museum in Harlem in 1979, when Bey was just 26. 
In addition to works from that series, the exhibition will include a remarkable series of street photographs Bey made in Syracuse, New York, that demonstrate his keen eye for portraiture and his ability to respond with both spontaneity and sensitivity to his subjects and their environment. These works are accompanied by more formal street portraits that Bey created in the 1980s in areas such as Brooklyn, New York, and Washington, D.C. Made with a large-format camera and Polaroid film, these photographs reflect a more intimate and enduring exchange between Bey and his subjects, and by extension, the viewer.
The exhibition will also feature the series "Harlem Redux," which marks Bey's return to the area from 2014 to 2017. This newer series of large-format color landscapes and streetscapes at once documents and mourns the transformation of the community as it has become more gentrified and its original residents increasingly displaced.
The Studio
After honing his skills in street photography, Bey moved toward studio work in the 1990s, using a massive 20-by-24-inch Polaroid camera to make a series of sensitive and direct color portraits, first of friends and later of teenagers he met through a 1992 residency at the Addison Gallery of American Art in Andover, Massachusetts. At the time, Bey also began to experiment with beautifully lit multipanel Polaroid portraits that challenge the singularity of the photographic print and suggest the complexity of identity. 
In 2002, a residency at the University of Chicago's Smart Museum of Art inspired Bey to begin the series "Class Pictures." Using a view camera to create striking, large-scale color portraits of high school students, Bey asked the students to write narratives to accompany the photographs. Over the next four years, Bey continued work on the series at high schools across the United States. By focusing on teenagers from a wide range of economic, social and ethnic backgrounds and giving them an opportunity to reveal their thoughts, fears and dreams at a critical moment of identity formation, Bey created a diverse group of thoughtful and introspective portraits that challenge stereotypes of adolescence.
History
The exhibition closes with works from two of Bey's most recent series exploring African American history and collective memory.
"The Birmingham Project," created in 2012 as a commission from the Birmingham Museum of Art, memorializes the victims of the 1963 bombing of the 16th Street Baptist Church in Birmingham, Alabama, and its violent aftermath. The series features expressive portraits of children who are the same age as the bombing victims paired with photographs of adults who are the ages those children would have been in 2012 had they lived. The photographs, along with an accompanying video piece, are stirring reminders of the precious lives lost and foreground the enduring legacy of racism and violence against African Americans.
In 2017, Bey completed "Night Coming Tenderly, Black," a series of beautifully rendered and evocative images made in Ohio where the Underground Railroad once operated. As landscapes, the large black-and-white photographs mark a departure from the artist's previous work, but they emphasize many of the same existential questions. The series, whose title is drawn from a Langston Hughes poem, conjures the spatial and sensory experience of an enslaved person's escape to liberation as imagined by the artist. Shot by day but printed in deep shades of black and gray as if they were taken at night, these evocative and mysterious works explore blackness as both color and metaphor for race.
"Dawoud Bey: An American Project" will be presented in the High's Wieland Pavilion Lower Level.
Fall Fun Guide Around Peachtree Corners and Atlanta Area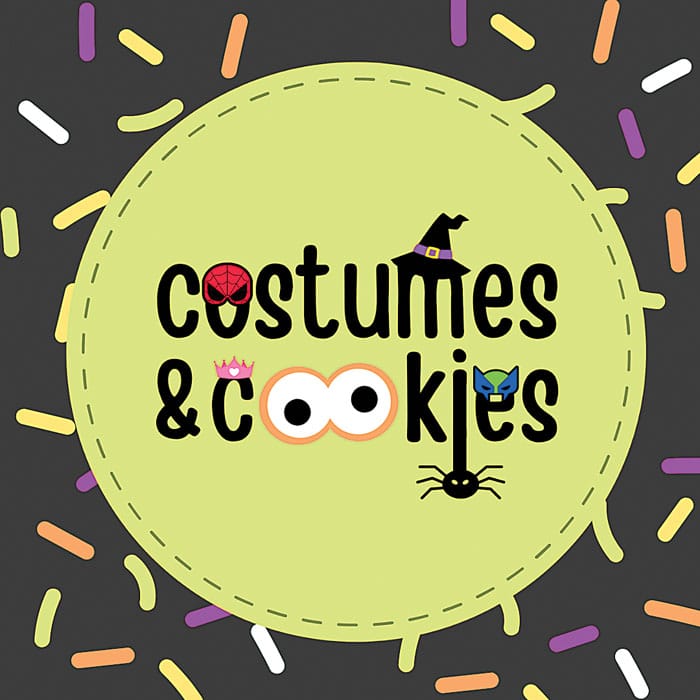 *Before attending any of these events or activities, please check for any updates on the schedules, given that most of these are subject to change.
Motul Petit Le Mans — Competitive Racing and Family Events
October 14-17, 8 a.m., races begin. Free Entry.
Michelin Raceway Road Atlanta
5300 Winder Highway, Braselton, GA 30517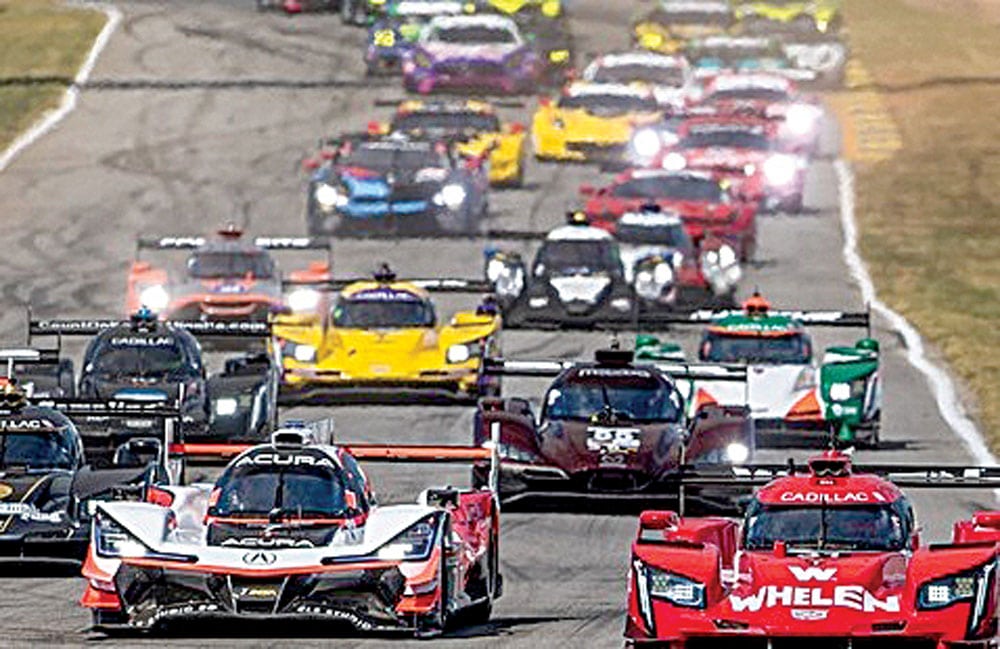 For the past 20 plus years, Motul Petit Le Mans has been the sporting event in the southeast to experience. With four days' worth of on-track battles, culminating in the 10-hour IMSA WeatherTech Championship finale showdown on Saturday, October 10, the action is nonstop. Once you add in the heated manufacturer and team rivalries, kid's zone, vendors, food trucks, displays, car corrals, camping, Patrón bar, grid walk, autograph sessions and so much more, this event has it all, and at family-friendly prices, too! More info at roadatlanta.com
Spotlight in the DTL Series Talent Show Style Event
October 14, 21, 28 and November 4, 11, 18, 5-9 p.m.
70 South Clayton Street, Lawrenceville, GA — exact location TBA.
Calling all artists! Step into the spotlight and perform! Do you like to paint? Looking to showcase a new song? Ever had a passion for miming? Whether your talent is painting, music, sculpture or something else, Spotlight in the DTL wants to feature you! Performers from all backgrounds, skill levels and abilities are encouraged to apply. Auditions required. Check out downtownlawrencevillega.com for more information.
Urban Media Makers Film Makers Film Festival
October 15-17. Virtual.
The Urban Media Makers are excited to announce the 19th Urban Mediamakers Film Festival (UMFF), running throughout Gwinnett County — Duluth, Lilburn, Lawrenceville, Suwanee — and metro-Atlanta, online only this year. Includes Afrofuturism, animation, art, film, music, apps, TV and scripts. Founded in November 2001, the Urban Media Makers is a 501c3 organization founded by Cheryle Renee Moses, a native of Atlanta, Georgia and resident of Gwinnett County. For more information, visit umff.com.
Open Studio Glass Fusing Fridays
October 16 and November 6, 13, 20, 1-5 p.m.
Roswell Visual Arts Center. 10495 Woodstock Road, Roswell, GA 30075
Join on Fridays for an Adult Glass Fusing Studio! In this drop-in studio setting, you can choose what to create from a variety of projects. All tools and materials provided. Projects priced individually, ranging from $15 to $35. There is a $5 studio fee due at each visit. To find out more, call 770-594-6411 or register at RoswellGov.com/Eventbrite.
Laser Adventure Battle Arena at NETHERWORLD Haunted House
October 17, 24, 31 and November 7, 6-10 p.m. $25 per person.
NETHERWORLD Haunted House
2076 West Park Place Boulevard, Stone Mountain, GA 30087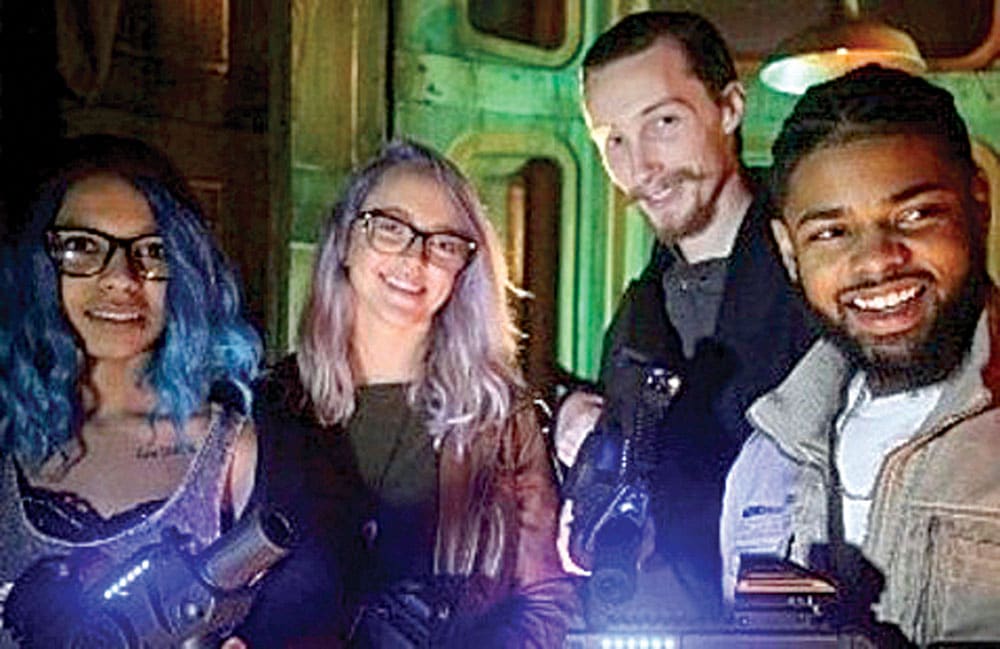 NETHERWORLD Haunted House's newest immersive attraction, laser tag, is perfect for those seeking a live video game-like experience where they can test both their brains and athletic abilities. Complete with mazes, abandoned forts and other haunt-like interactive elements, even the most advanced laser tag enthusiasts can expect a challenge in this complex post-apocalypse themed outdoor arena. Participants can choose from a large variety of battle modes for their game, limited to at most 24 players. Outside of normal hours, Laser Adventure Battle Arena is also open for private bookings any weekday. Go to fearworld.com for details.
Patio Paint and Sip in The Hudgens' Sculpture Garden
October 23, 6-8 p.m. $25-35.
Hudgens Center for Art & Learning
6400 Sugarloaf Parkway,
Duluth, GA 30097
Looking for a fun and creative evening out of the house? Join The Hudgens Sculpture Garden to relax, enjoy the fresh air, connect with old friends or make new ones at Patio Paint & Sip. Bring your favorite snacks and Friday night nip (beer or wine only, please!) to enjoy as one of our talented instructors guides you through the process of creating your own masterpiece. Not an artist? Don't sweat it! Art supplies will be provided, and no artistic experience is necessary.
The Hudgens practices all recommended public health guidelines and social distancing to ensure a safe, healthy and enjoyable evening for all. Learn more at thehudgens.org.
Trunk or Treat from Keller Williams Cityside
October 30, 4:30-7 p.m.
3350 Atlanta Road, Smyrna, GA 30080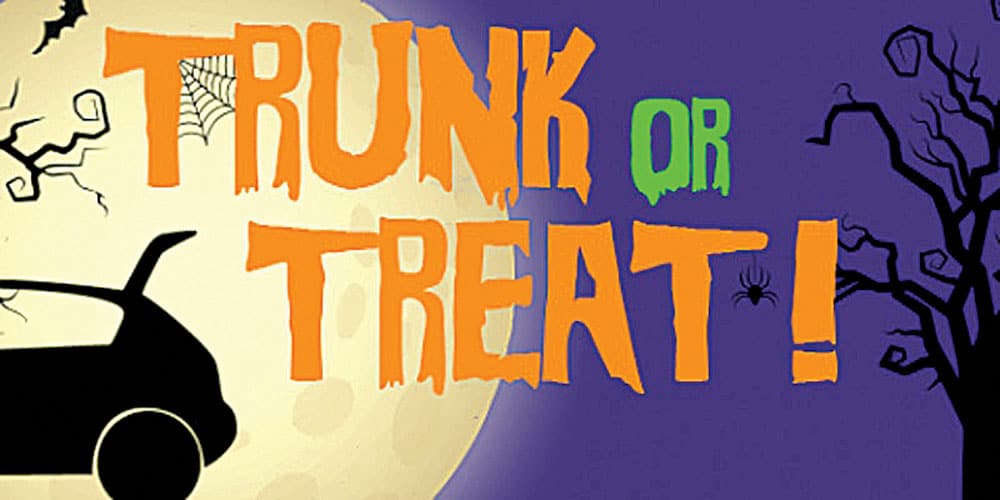 Keller Williams Cityside will host a community-wide Trunk or Treat. Agents will invite their clients, current and past, and they'll open it up to the community. All participants will park their car in the parking lot, decorate their trunk to make it festive and pass out Halloween Candy.
They ask that all participants keep COVID-19 health and safety precautions in mind. The plan is to hand out candy rather than having the kids reach into a bowl.
Costumes and Cookies at Mojitos
October 31, 10-11 a.m.
The Forum on Peachtree Parkway
5155 Peachtree Parkway, Peachtree Corners, GA 30092
Come in costume on Halloween morning for a how-to cookie workshop at Mojito's! Adults, kids and families are welcome. Each group will receive all the ingredients and supplies to create fun, vibrant and delicious Halloween sugar cookies. Step-by-step instructions for decorating will be shared by local baker Pierina from Twin Kookies & Sweets on the big screen.
Everyone in costume is invited to enter the giveaway at the end of the workshop. Afterwards, kids can stay on property and hang out with some of their favorite characters walking around at The Forum. Reserve your seats at The Forum in Peachtree Corners, theforumonpeachtree.com, click on Events, then "Costumes + Cookies." Workshop will be socially distanced and hand sanitizing stations will be available at check-in. Masks are optional.
6th Annual Halloween Bash at Atlanta Comedy Theater
October 31, 7-10 p.m.
Atlanta Comedy Theater
4650 Jimmy Carter Boulevard, Norcross, GA 30093
The 6th Annual Ghoulish Halloween Bash with Comedians, seen on HBO & BET ComicView, is for ages 21 and over. Dress to scare and win prizes in the Halloween Custom Contest for first, second and third place; cash and prizes given to winners. For tickets and details, visit atlcomedytheater.com.
Snellville Farmers Market
November 7, 9 a.m.-12 p.m.
Snellville Towne Green
2342 Oak Road, Snellville, GA 30078
Look forward to choosing from a wide variety of seasonal produce, microgreens, beef, pork, eggs, honey, BBQ, pizza, jams and jellies, whole bean coffee (including a special Snellville blend), bath & body care products, and a variety of baked boods, including gluten-free and vegan products. More at snellvilletourism.com.
16th Annual Hot Tamale Chili Cookoff
November 7, 11 a.m.-2:30 p.m.
Snellville Towne Green
2342 Oak Rd SW, Snellville, GA 30078
Presented by the Greater Eastside Chamber of Commerce and hosted by Snellville Tourism and Trade. The competition is open to any individual, business or organization who believes they have the best award-worthy chili recipes! More info at snellvilletourism.com.
Glass Ornament Workshop
November 7, 11 a.m.-1 p.m.
Roswell Visual Arts Center
10495 Woodstock Road, Roswell, GA 30075
Create a beautiful, sparkly glass ornament for your tree or window this holiday season. Only bullseye glass will be used to create a one-of-a-kind fused glass decoration. Have a fun social time creating and indulging in holiday snacks, then creating ornaments! Pick up your ornament after it has been fired (approximately one week). Pay only $5, by cash or check, for each ornament you make! For ages 9 and up. Call 770-594-6411 to learn more or register at RoswellGov.com/Eventbrite.