Summer Concert Series – Dead Letter Office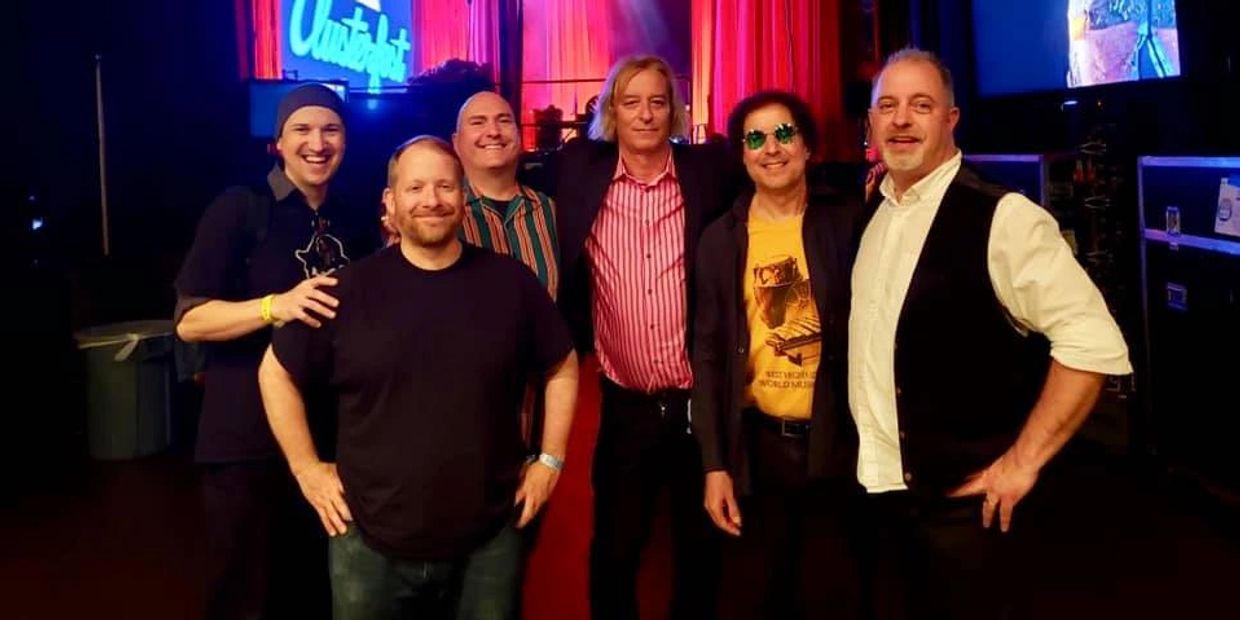 Summer Concert Series at Peachtree Corners Town Green
Last Saturday of each month through September. 7-9 p.m.
The third annual Summer Concert Series features bands from across the nation at the Town Green in the Town Center. Reservations are no longer needed for the Summer Concert Series. Guests are welcome to set up their chairs beginning at 8 a.m. the day of the concert.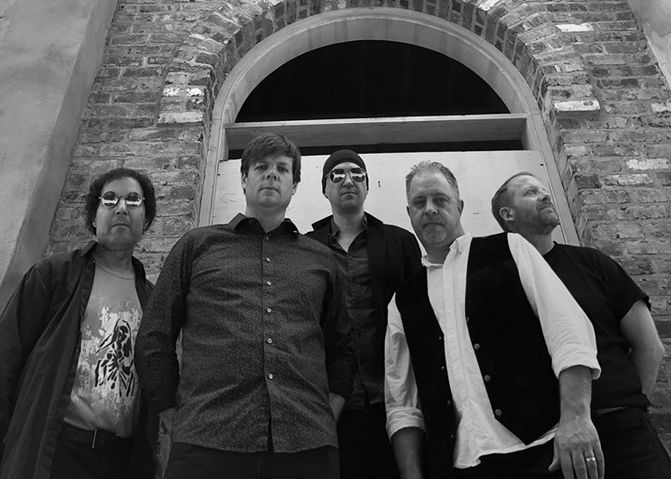 To ensure that everyone has space, tarps and blankets are not permitted. Should these items be set up before the event team is on site, the event team will fold up your tarp or blanket and place it on your chair.
Dead Letter Office is an international tribute to R.E.M. The band has dedicated themselves to faithfully reproducing the music and energy of a live R.E.M. show. Since 2014, they've been thrilling audiences throughout the U.S and Canada. They are the only R.E.M tribute band to have Mike Mills and Peter Buck perform with them on stage.
Town Green Information
Town Green
5140 Town Green Boulevard, Peachtree Corners 30092
Important Note: All city events are subject to postponement or cancellation due to current health and safety concerns, as well as other mitigating factors. Please check the city website and calendar for updates and COVID protocols. If reservations, masks and other precautions are required, the city's website will include all necessary information at least one week before the event. Check peachtreecornersga.gov.
For the safety and convenience of all guests the following items are prohibited on the Town Green: glass containers; fires or barbecue grills; hard-sided or large coolers; large or over-sized bags/backpacks, luggage, or duffel bags; fireworks or sparklers; smoking, vaping or use of any tobacco products; illegal substances or drugs; pets or animals, with the exception of service animals; flying objects, including but not limited to sports balls, flying discs, beach, balls or drones; tents, tables or staking. No items can be affixed to any park infrastructure.
Peachtree Corners Photography Club Group Meet Up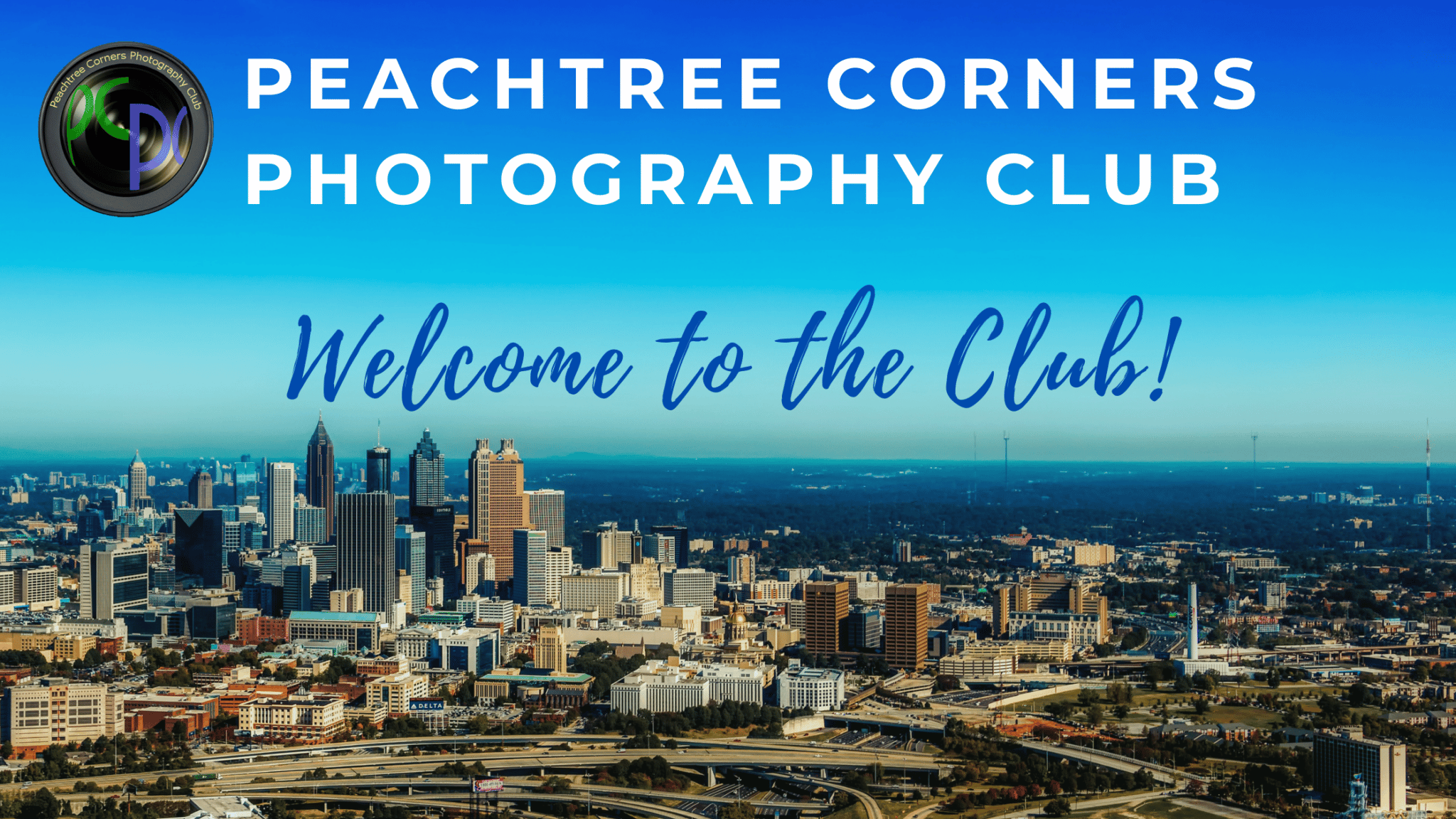 Thursdays, August 11, September 8, October 13. 6:45-8:15 p.m.
107 Technology Pkwy., Peachtree Corners 30092
Meetings are held on the second Thursday of each month at Atlanta Tech Park and/or online. Photographers of all skill levels are invited to arrive at 6:15 p.m. for fellowship and social time.
Local Author Spotlight: Ellie Raine's Successful Story in Self-Publishing

Ellie Raine is a Peachtree Corners resident with nine book titles to her name, most notably the NecroSeam Chronicles, which consist of a series of five epic fantasy novels and two prequels. Her writing has earned her recognition as a two-time winner of the Readers' Favorite in the International Book Awards and first place in the fantasy division for Writer's Digest's Self-Published Book Awards in 2019, as well as a couple other awards.
Author Ellie Raine. Raine's books and merchandise.
The NecroSeam Chronicles even have their own website, necroseam.com, which is themed around their fantastical namesake. There, Raine regularly engages with her active fanbase on her blog, posts her own artwork (and fanart, coming soon), sells merchandise, promotes her upcoming events and provides notes and a glossary on the world she's built. There's even a personality quiz you can take to find out what knight you are! (I'm a BladeSworn.)
But who is Ellie Raine? How did her writing expand beyond her series to build a fantastic universe?
A visionary from the beginning
Raine explained that her love of magic goes back to her childhood.
"I was a huge fantasy nerd, like the rest of my family," she said. "I grew up on Sir Terry Pratchett's Discworld series, books with dragons, Harry Potter, King Author, Final Fantasy, Zelda, tons of anime, the Hobbit, Lord of the Rings — you name it. If it didn't have knights in shining armor, magic sorcerers and fire-breathing dragons, I wasn't interested."
Book covers 1-4 of Raine's books.
The joy she found from video games, storytelling and fantasy led her down the path of video game art and design, so she enrolled at the Art Institute of Atlanta to gain an education in that field. While she was enrolled, she took a creative writing course and started telling the story of the game she was developing. She found that she liked the writing format better than video game development, so she switched fields.
"It was so much more fulfilling. It was like something just clicked, and I've been writing ever since," Raine said.
Today, that video game turned creative writing assignment has turned into the NecroSeam Chronicles.
The NecroSeam Chronicles
It took Raine over 10 years to write the epic, gothic, high fantasy series for which she is best known. In addition to Terry Pratchett, Raine said she draws inspiration from Rachel Aaron and Brandon Sanderson (notable for his creation of the Cosmere fictional universe) as well as from her own life.
Three more Ellie Raine titles.
"Being present in the moment is probably the most effective tool for sparking creativity, especially for fantasy. I have a lot of fun asking, 'what if things worked this way instead?', and those are the questions that usually prompt a new story," Raine said.
The Necroseam Chronicles have been described as "[i]f Tim Burton had written Lord of the Rings" by Vincent E.M. Thorn, author of the Dreamscape Voyager Trilogy.
A sampling of Raine's merchandise.
"They are an epic fantasy series about twin necromancer brothers who were born with split abilities to control the dead," is how Raine described the NecroSeam Chronicles in a TikTok video.
"One resurrects corpses, the other puts souls inside them, so together, they kind of make one necromancer. But one of the brothers gets his soul ripped out of his body and trapped inside his brother, so they go on a journey to figure out what happened to the other brother's body, and on the way, as they're crossing over all these other kingdoms, they run into demons, they run into dragons. So, it's a lot of fun. It's magic-adventure."
The series contains so much lore and worldbuilding that it spills out of its own pages. Raine has created an oracle deck based on the series (similar to a tarot deck, it's a loose collection of cards that assist in self-reflection) that she often performs readings with during interviews and at conventions. There are maps (because all the best fantasy novels have maps), songs sung in the audio versions of the books using the language that Raine created and explanations of how her fantasy world operates — its laws, symbols and belief systems.
The process of creating this series was a "passion project" in itself for Raine. Though the first two books were traditionally published, the author decided to self-publish her third book onwards.
"It was a wildly different experience, but to be honest, there's something freeing about learning what exactly goes into publishing. The logistics can be dizzying, but eye-opening for why traditional publishers make the decisions they do," she said.
With self-publishing, Raine said she's become educated on market trends, book advertising and marketing. She's also built close relationships with her cover artists and audiobook narrators, and the latter have their own profiles on the NecroSeam Chronicles's website
More Ellie Raine
Though the NecroSeam Chronicles are complete, Raine said she does have plans in the works for projects that exist in the same universe: one is a standalone NecroSeam novel with different characters in a different part of the same universe, another is an epic fantasy novel that plays with shadow-magic. An audiobook of "Pearl of Emerald," the third NecroSeam book, is scheduled to be released this fall or winter.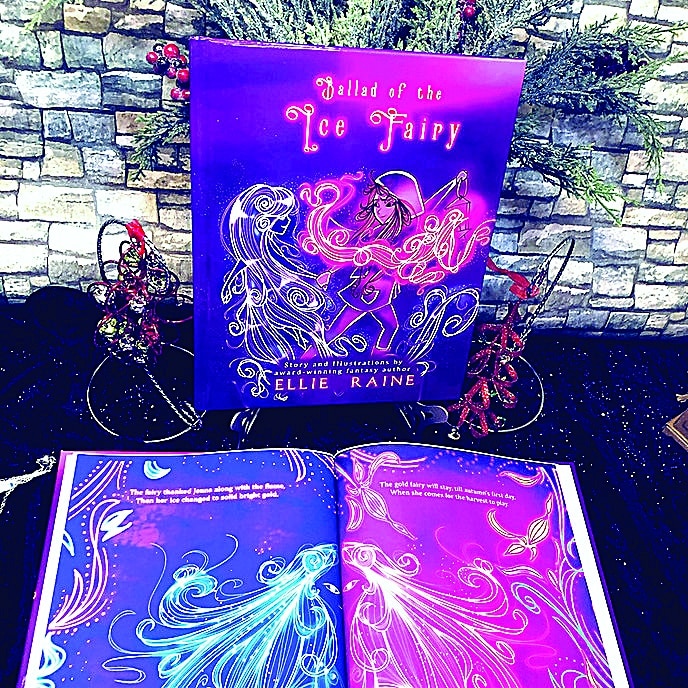 For younger readers or those who don't have a taste for violence, Raine has also created a children's illustration book that she originally wrote and illustrated for her then-two-year-old daughter. It's called "Ballad of the Ice Fairy," and it's "[a]n enchanting children's illustration book with beautiful colors and a lovely story of courage, magic and healing," according to its description.
"Honestly, writing the series and the noir novella was insanely easier than the children's illustration book, mostly because I'm much slower at creating visual art than I am at writing. It was a huge part of why I switched over in college," Raine explained. "It took years to finish the children's book, instead of my (previously) usual six-month turnaround for novels. But I'm still insanely proud to have finished it, and I definitely plan to do another one when I have another concept to obsess over."
In addition to finding new genres and new subjects to try her hand at, Raine's had to adjust to a new routine as a mother in her 30s and post COVID-19. While she used to pull all-nighters writing, fueled by caffeine and hyper-fixations, she said that nowadays her daughter keeps her awake all day, especially with the reduced childcare availability caused by the pandemic.
"The progress is drastically slower than the old days, but one of the most important mantras to keep in mind for any writer is 'Any pace is better than no pace,'" Raine said.
For aspiring writers, she also loves to share this piece of advice: "You can't edit what doesn't exist, and you can't take care of your story if you don't take care of yourself first."
Keep up with the author
Raine is currently hosting a NecroSeam fanart competition through July 30. All entries will be featured in the website's upcoming fanart gallery as well as across Raine's social media channels; winners will be awarded special additional prizes. Find more information on her blog on the NecroSeam website.
You can also catch her live in the upcoming months, including the Savannah Mega Comic Con on July 30-31, the Key City Steampunk Festival on Aug. 12-14, the Multiverse Fandom Convention on Oct. 14-16, Anime Weekend Atlanta on Oct. 27-16 and CONjuration on Nov. 4-6.
In the meantime, follow Ellie Raine on TikTok and Instagram, like her Facebook page, subscribe to her YouTube and bookmark both her personal website, ellieraine.com, and the NecroSeam website, necroseam.com. You can purchase her books directly from her online store or listen to them on Audible.
Emmy Award-Winning Filmmaker Calls Peachtree Corners Home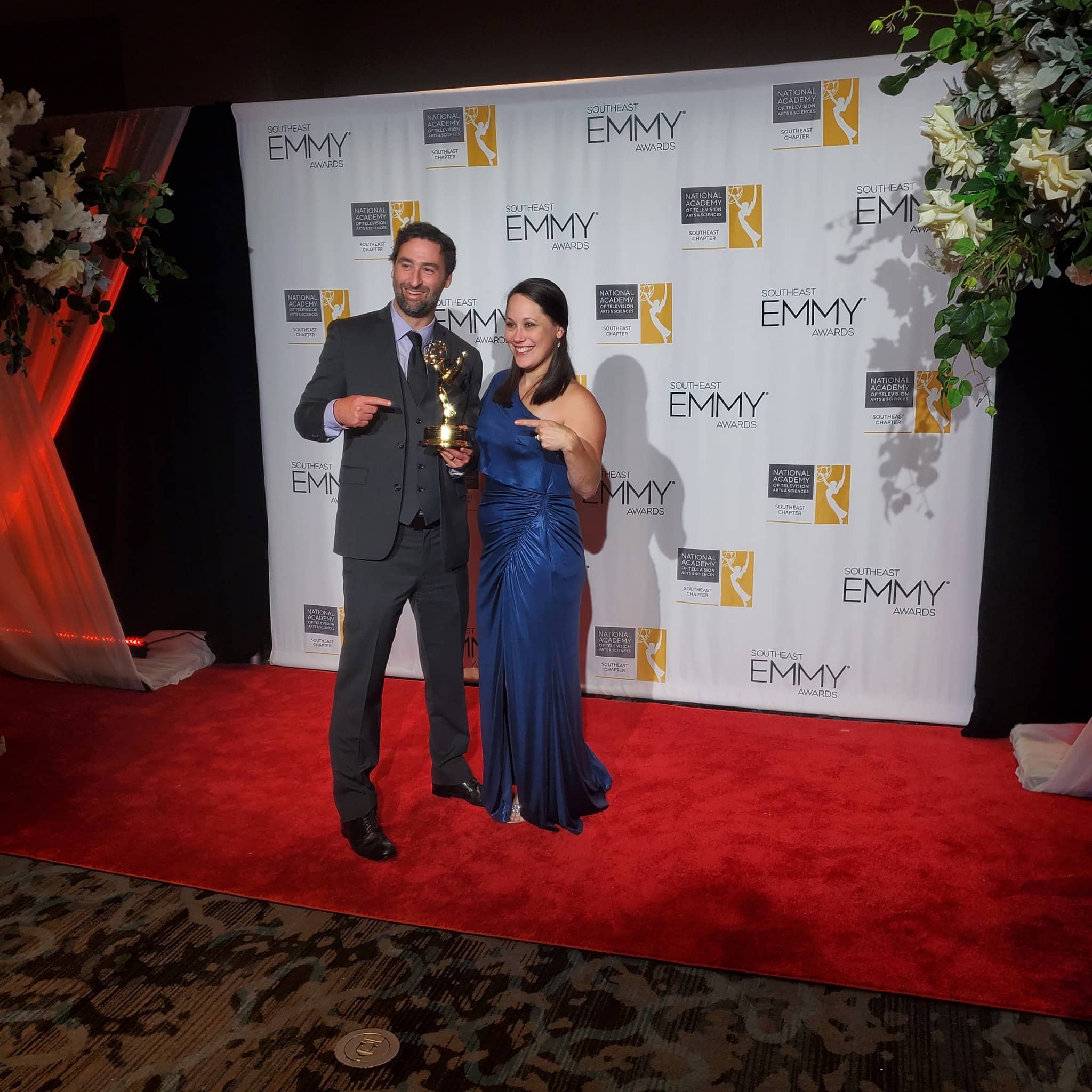 Unlikely bond between a Braves player and Mets fan earns local filmmaker an Emmy.
As the 20-year anniversary of 9/11 approached last year, Kevin Allison and Bally Sports South/Southeast Braves knew the best way to mark the solemn occasion was to look back on the singular importance one baseball game made toward the first steps of healing. When the Atlanta Braves and New York Mets took to the field for the first sporting event after the September 11 attacks, it was about much more than winning or losing.
The 7½ minute short documentary, More Than A Game — Braves at Mets — 9/11 Remembrance, recently won a Southeast Regional Emmy Award from the Southeast chapter of the National Academy of Television Arts & Sciences. Peachtree Corners resident Kevin Allison edited and produced the film, along with chief photographer Gregg Therieau.
Healing through sports
"During the pandemic in 2020, there were a lot of discussions about missing sports and how sports help in the healing process," said Kevin. "We were doing a lot of historical content at the beginning of the pandemic. A lot of former players — Chipper Jones, Brian Jordan, Tom Glavine, a lot of those guys — would refer back to their time during September 11 and how sports helped people process the tragedy."
Knowing that a year later was going to be the 20th anniversary of those tragic events, Kevin began doing a lot of research, looking at old photos and raw footage from the Braves versus Mets game that took place just 10 days after the historic terrorist attacks. He kept coming across photos of Brian Jordan with a Mets family whose hero father/husband had perished during the World Trade Center attacks.
With one iconic image of Jordan embracing the overcome-with-emotion widow, Carol Gies, Kevin knew he had found the storytelling connection he needed.
"Come to find out, they had stayed in touch a little bit through the years," said Kevin. "During the making of the feature, we actually reconnected the two of them as well." Gies remembers the night and the painful memories surrounding those early post-9/11 days, but credits Jordan with helping her family tremendously by coming over and saying the kind words that he did.
Connecting stories to the human element
Piecing together a story and finding the personal connection is what Kevin seems to enjoy most about his work. From the time he began filming interviews for the feature film to editing those 7½ minutes took about a month of work. Before beginning interviews, from the time research began, was closer to a year.
Most Braves fans will remember a Mets homerun sealed the game for the home team that night. Most fans also accept that Mets win as how the game needed to end.
When asked about his approach to documentary filmmaking, Kevin stated, "For me, it has always been: what's the connection and how do I connect the storytelling to get the human element? Especially when it comes to sports, you can be fans of the team, but how do you find the human interest for an individual?"
Kevin's wife, Jaclyn Allison, is often the first audience to judge that emotional connection. As Director Marketing, Communications and Events at Partnership Gwinnett, Jaclyn understands the subtleties of good communication and, for her job, how to create events that will draw on an individual's or group's desire to engage.
Jaclyn's work with Partnership Gwinnett
Partnership Gwinnett is a public/private initiative designed to drive "economic prosperity by attracting, expanding and retaining quality businesses; aligning and developing diverse talent; and contributing to the exceptional quality of life in Gwinnett County."
"We have three different goal areas," explained Jaclyn. "We focus on business development, recruiting and retaining business in our community, talent development — so we work with the university and school systems to build up our talent pool, and then our community development — working a lot with entrepreneur development and small business culture.
Within our goal one, business development, we focus on five target sectors: manufacturing, supply chain, technology solutions, health sciences and services and then corporate and professional services. Anything that falls within those sectors we focus on and work with our community to bring here."
Jaclyn works on a number of events that target those sectors. She's currently working to bring The State of Technology Summit to Peachtree Corners November 10 at Atlanta Tech Park. It will bring together keynotes and speakers to talk about trends and best practices in the technology sector.
She's also very proud of her husband's work and was the first to share that his latest Emmy is not his first. In fact, this is his eighth Southeast Regional Emmy Award.
Kevin's dream career and life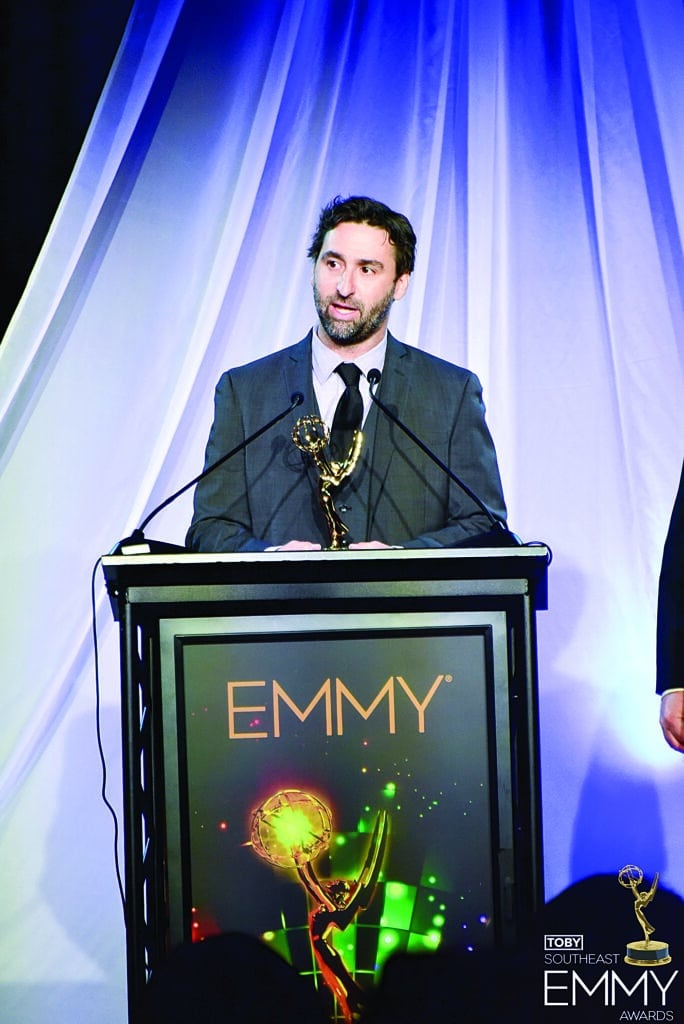 It all comes from an honest place. Kevin Allison has been a huge sports fan his whole life and he readily admits he just enjoys TV. Combining those passions into a career is the dream.
For "More Than A Game – Braves at Mets – 9/11 Remembrance," he took a lot of care. "For something that impacted so many people, even if it was 20 years ago — and out of respect for Carol who was still willing to tell this story 20 years later — for me the goal was what's the most respectful way to tell this story," Kevin stated.
Kevin was proud and happy this film was recognized, not so much for the personal accolades, but because of the story and the people involved. "I work with Brian Jordan every day and he is one of the best people to work with and one of the kindest people in this community," said Kevin. Being able to share Carol and Brian's story meant being able to recognize two of many special individuals who made a difference in those very challenging days post 9/11.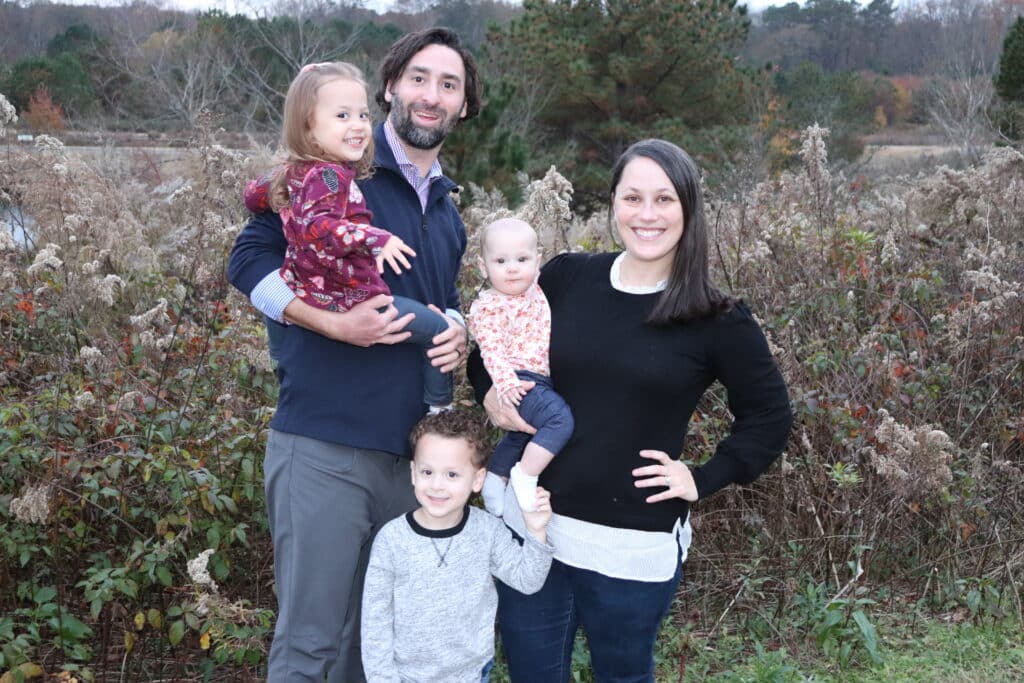 Introducing you to Kevin and Jaclyn would not be complete without sharing that their Peachtree Corners family is currently a busy one, with three young children ages one, three and four. The little ones haven't been to see the Braves play yet, but it's inevitable. We anticipate you'll also be seeing each of those young ones on the ballfields in and around Peachtree Corners soon.
Allow yourself seven and a half minutes, grab a tissue and be inspired by More Than A Game – Braves at Mets – 9/11 Remembrance.
Kevin Allison's 9 Emmy Awards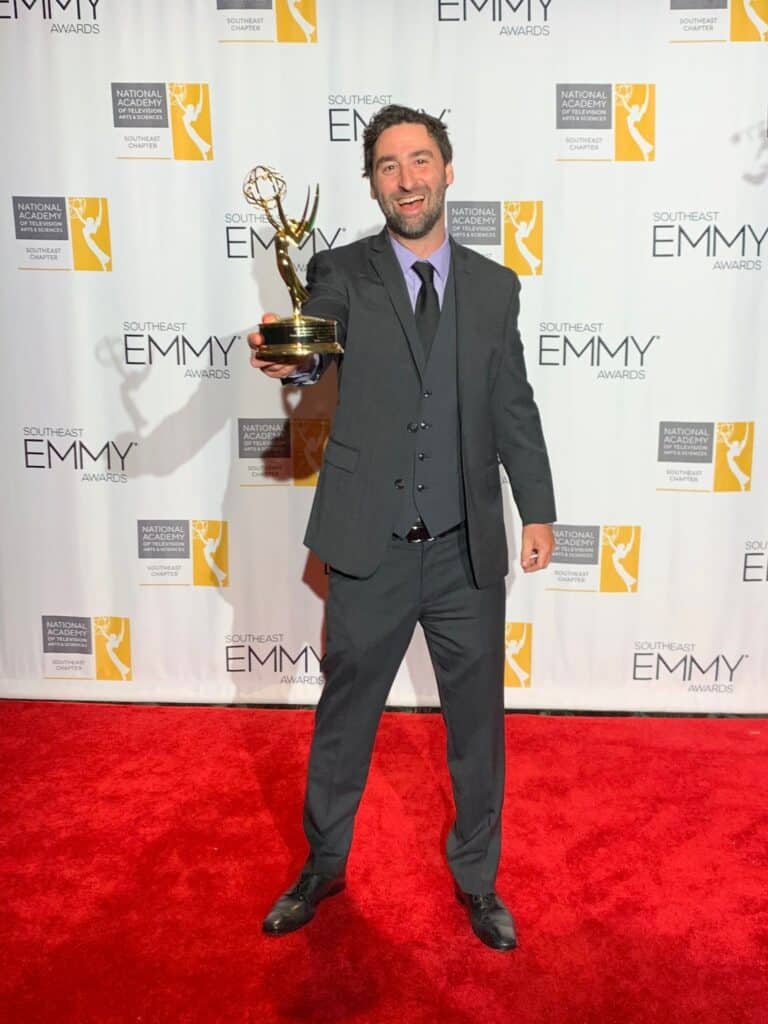 ■ 2022, Southeast Regional Emmy Award: Outstanding Achievement, Sports Story — News, More Than A Game — Braves at Mets — 9/11 Remembrance | Bally Sports South/Southeast (formerly Fox Sports South/Southeast)
■ 2021, Southeast Regional Emmy Award: Outstanding Achievement, Sports Program — Live — Series, Community Heroes Week | Fox Sports South/Southeast
■ 2016, Southeast Regional Emmy Award: Outstanding Achievement, Documentary: Topical — Driven: Michael Waltrip Racing — Life in the Pits | Fox Sports South/Southeast
■ 2014, Southeast Regional Emmy Award: Outstanding Achievement, Television News and Program Specialty Excellence Category: Sports Program Series — DRIVEN: THE CHIPPER JONES STORY | Fox Sports South/Southeast
■ 2013, Southeast Regional Emmy Award: Outstanding Achievement, Television News and Program Specialty Excellence Category: Sports Program Series — DRIVEN: Tougher. Faster. Stronger. The 2013 Bobcats Draft | Fox Sports South/Southeast
■ 2013, College Sports Media Award: Outstanding Achievement, Regional/Local Networks: Program Series — Under The Lights: Southern Miss Baseball | Fox Sports South/Southeast
■ 2013, Southeast Regional Emmy Award: Outstanding Achievement, Television News and Program Specialty Excellence Category: Sports Program Series — Under the Lights: Southern Miss Baseball | Fox Sports South/Southeast
■ 2009, Southeast Regional Emmy Award: Outstanding Achievement, Television Programming Excellence Category: Interview/Discussion — In My Own Words: Charles Barkley | Fox Sports South/Southeast
■ 2007, Southeast Regional Emmy Award: Outstanding Achievement, Television News & Program Specialty Excellence Category: Sports News Program — University of Tennessee Hoops Preview | Fox Sports South/Southeast