Smart Eye Technology just launched on the Samsung AppStack Marketplace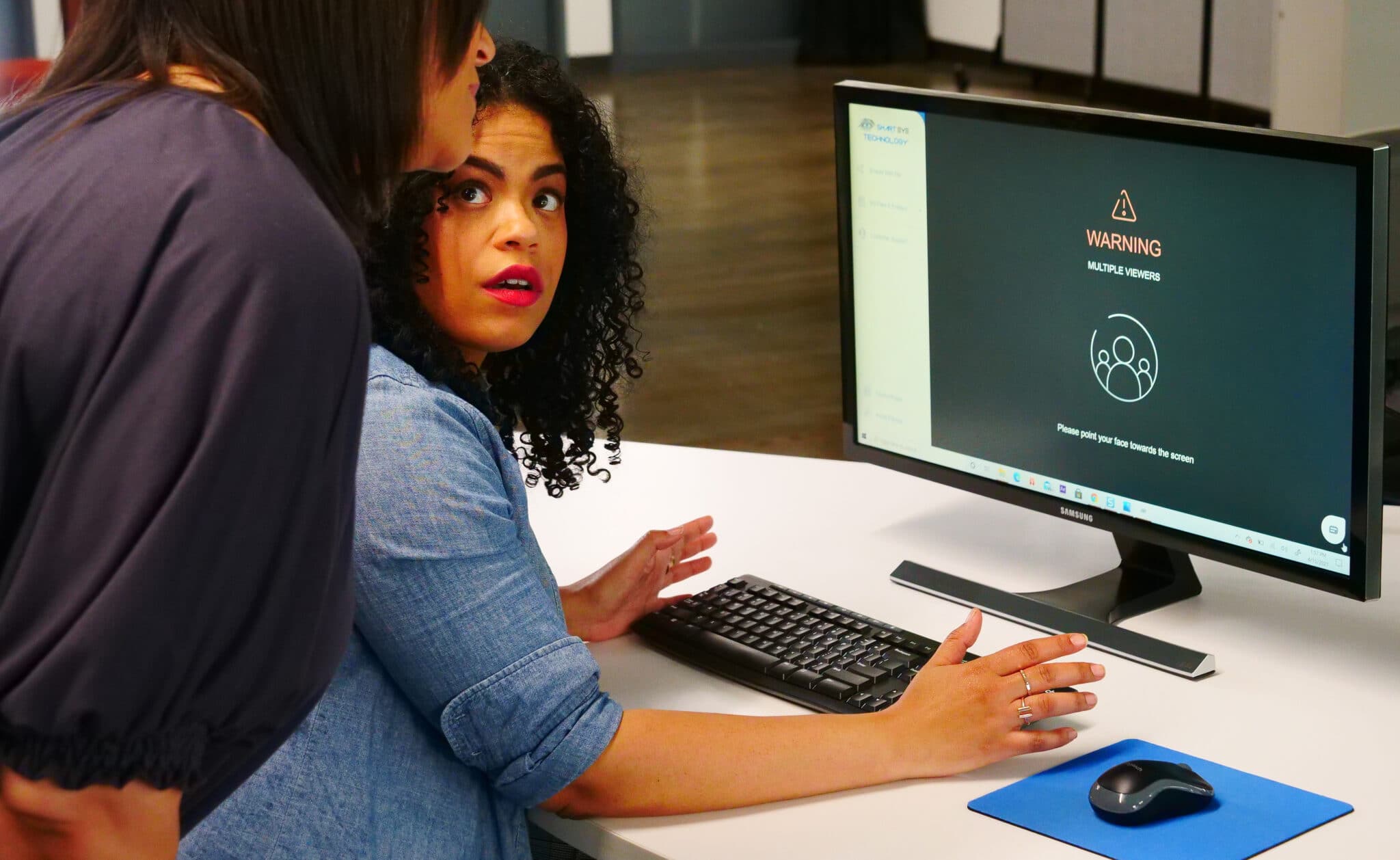 Smart Eye Technology Brings its Biometric-Based Secure File Sharing Platform to the Samsung AppStack Marketplace
Smart Eye Technology, a biometric-based file sharing platform, today announced that it has partnered with Samsung to help small and medium-sized businesses combat security threats by bringing its innovative platform to Samsung AppStack Marketplace customers. AppStack is a new platform that curates and bundles apps for small businesses. 
With more people working remotely, and even as people move back to the office, employers are continuing to face an increasing number of security threats.
This unique privacy and secure document solution uses a proprietary biometric engine, with continuous facial recognition, voice recognition, and additional factors to block unauthorized viewers of your documents and control who sees what, when, and how. Smart Eye is further powered by Adobe Sign (enabling Biometrically verified e-Signatures). Use cases span from board of director communications, high-value financial transactions, work at home employees, HR data sharing, health record protection, secure online testing, e-notary, validated invoice presentment, and more.
Smart Eye Technology is focused on helping companies protect the privacy and security of the confidential business information that they need to share with employees, customers or vendors as part of their on-going business. The solution also includes biometric-authenticated e-signatures for executing contracts in their platform.
"As many organizations continue to operate in dispersed and hybrid work environments, they are under increased pressure to ensure their data remains secure no matter where it is going," said John Curtis, Vice President, Mobile B2B, Samsung Electronics America. "Smart Eye Technology provides a modern day solution for SMBs to share wiring instructions, project bids and other sensitive documents securely within this environment."
Smart Eye Technology consists of a desktop and mobile app which lets users upload, share, receive, review and e-sign files in the platform from any device. When files are uploaded for sharing, they are encrypted with a proprietary self-protecting data technology for true end-to-end security. Smart Eye doesn't stop there, though, to secure confidential information.
For an added level of security, each company creates their own 'private pond' for internal and external collaboration. "In order for anyone to receive or share files with you through the platform, your system admin must approve them," Dexter Caffey, founder of Smart Eye Technology, explained. Shutting out all others protects organizations from issues like wire fraud, business email compromise and even data leaks from employees – either intentional or unintentional.
Smart Eye layers on biometrics, requiring the file receiver to authenticate their identity in order to access the file. It then utilizes continuous facial recognition to detect and block unauthorized "shoulder surfers" from seeing the information on the authorized receiver's screen. "No one should be able to see your confidential information unless you want them to," said Caffey. "Smart Eye says no, this file is none of your business, so we're blocking you out."
File senders have additional control over files even after they hit send. They can set a time limit on file access; prevent downloading or further sharing; track activities on the file; and even terminate access to any file immediately, with just one click. Plus there's a control panel for the system admin to monitor activities on all files shared through the platform in real time.
Smart Eye also uses its biometrics to enable identity-verified e-signatures and ensure that only the intended signer can e-sign the contract. "Many executives have assistants sign documents for them, but now that executive is not responsible for that contract," Caffey continued. Smart Eye e-signatures are powered by Adobe Sign, the market-leading e-signature solution in Adobe Document Cloud; and the addition of biometric authentication provides needed proof of who signed your contract.
Smart Eye Technology was designed to meet the needs of any size business in any industry as an all-in-one platform that is simple to use and affordable. "Advanced technology does not need to be complex," Caffey added. "Giving customers a great and user-friendly experience is our number one focus."
You can get Smart Eye Technology at a discounted rate through Samsung AppStack. AppStack simplifies the process of selecting and managing your work apps, reduces their subscription costs and provides ongoing support, plus a centralized billing system. Smart Eye Technology desktop app versions are available for Windows and macOS in the Samsung AppStack Marketplace.
The software comes with:
Desktop version (Windows / Mac)
Mobile version (Android / Apple iOS)
Administrative Control Panel for enterprise management
Download it free for 14 days and test it out! https://www.samsung.com/us/business/products/software/appstack/smart-eye-technology/

Changes to The Forum and Surrounding Area Are Coming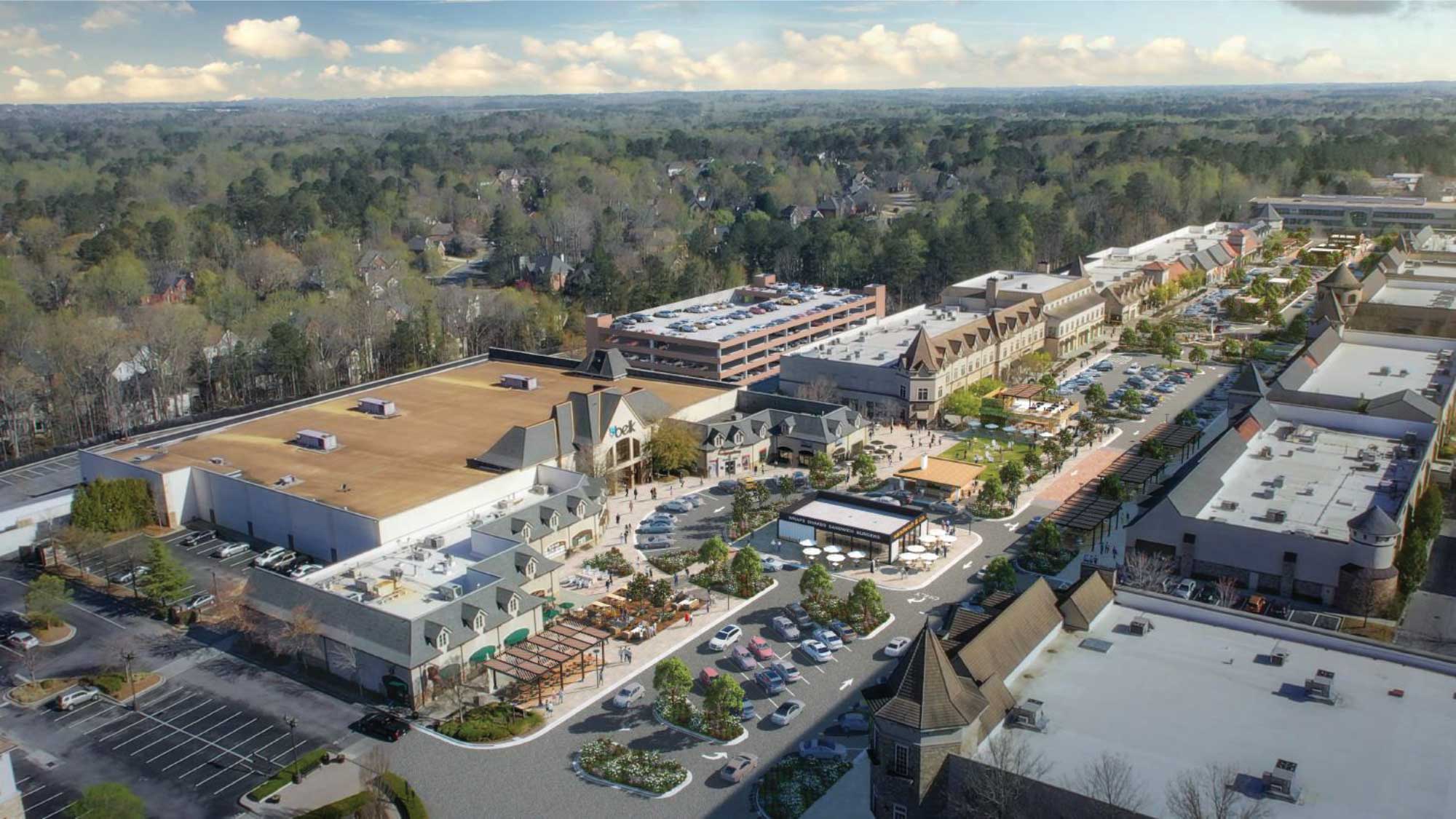 The changes coming to The Forum at Peachtree Parkway are perhaps the biggest thing happening in Peachtree Corners in a long time. So, it was probably no surprise that about 250-plus residents and stakeholders turned out for an information session on May 18 hosted by United Peachtree Corners Civic Association (UPCCA).
Tim Perry, managing partner of North American Properties (NAP) Atlanta location, presented the plans the developer has for the property.
For those who didn't know his background, Perry explained that he's a neighbor, living just five miles from Peachtree Corners. "[The Forum] has been on my morning commute for years. I've driven by it, sort of coveted it a little bit and thought… it has deteriorated so much over the past few years," he told the audience.
Opportunity for improvement
Perry explained that he saw The Forum as a great opportunity to bring about a success similar to what NAP has done in other areas. He cited a property called Birkdale in the Charlotte, N.C. area, near Lake Norman, that's like The Forum and The Avenue in East Cobb. It's not as large but was developed with a similar strategy. Of course, NAP's most successful local development, Avalon, is the measure for what mixed-use buildouts should be.
"We focus on places, not spaces. I'm sure all of you recognize this from Avalon. It's not about the physical buildings," Perry said. "It needs to be expressed with the brands, but it's about the space between the buildings."
While he lamented that a great property like The Forum had gone downhill, Perry was optimistic that it hadn't hit rock bottom. "There's a certain point [where these properties] can't necessarily be revived. When you start getting into the [resale stores]… that tenant profile, it chases the rest of [the higher end tenants] out," Perry said. "You really have to be able to change that perception and right that ship. And what that means is you have to be able to drive sales. This is all about driving sales.
"[The property] has been a victim of this really bad institutional ownership that… doesn't necessarily invest on the operating expense side the way that you have to to keep these [types of investments] running," he added.
Before looking at purchasing the property, Perry said NAP contacted the previous owner about investing in the location and helping to bring it back to its former luster, or even go one better and elevate its profile. In the mindset that a rising tide raises all ships, he reasoned that a corridor of luxury development would be good for everyone — not just The Forum.
"I started calling the owner," he said. "[I'd say] 'Hey, come on, let us be an investor. Let's put some money in and stick with you and your partner in this.'"
Perry presented some plans. "We want to define downtown Peachtree Corners as this amazing community amenity that, again raises all tides," Perry said. "And like a house, people don't move to buy houses just for the bedrooms. They buy a house for the great kitchens where they spend time cooking, and dining rooms where they hang out for board games, and living rooms where they socialize with family and friends. And what great downtowns are, they are great social places where people convene and play boardgames in the plaza and spend time at concerts and have great meal options where people kind of get together."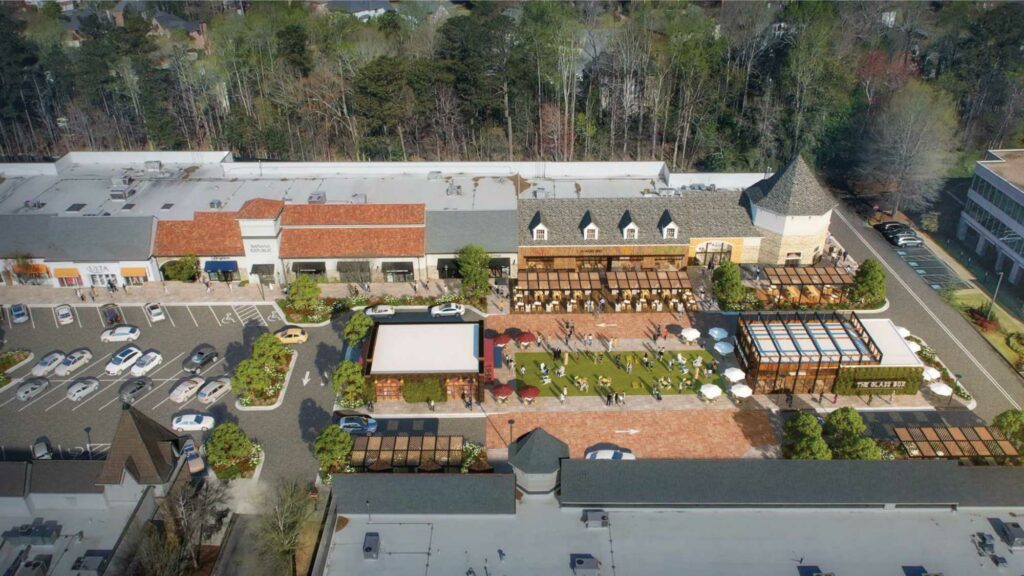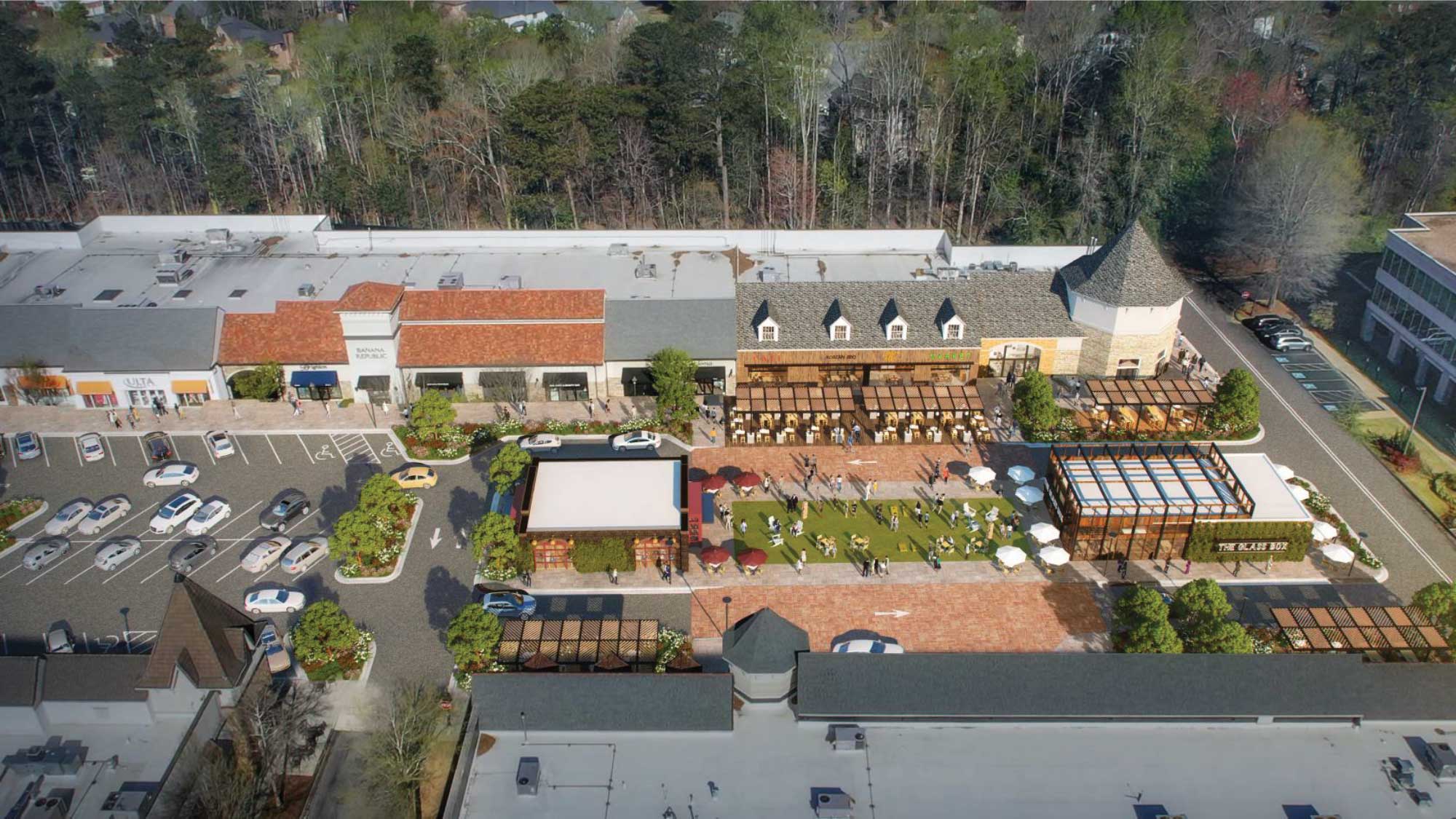 Setting the record straight
In the end, the partnership didn't materialize, and NAP purchased The Forum in March. "We will increase the operating expenses… at The Forum by about $2 million a year over what the previous owner invested on an annual basis," Perry said.
The immediate fixes will include investments in music, lights, uniforms and opportunities to get to know the tenants. Things like replacing chewed-up speaker wires in flower beds, upgrading lights and fixing small things that aren't noticeable when they're done right — but can give an air of shabbiness when done wrong — cost $35,000, Perry said.
Before the land use meeting, Perry did his homework. Living so close to Peachtree Corners, he can access local posts on NextDoor. He wanted to see what people were saying.
"We always start with community engagement. One of the first calls we made here was, 'What's the community interaction here?'" he said.
Perry debunked some of the misinformation that's been spreading.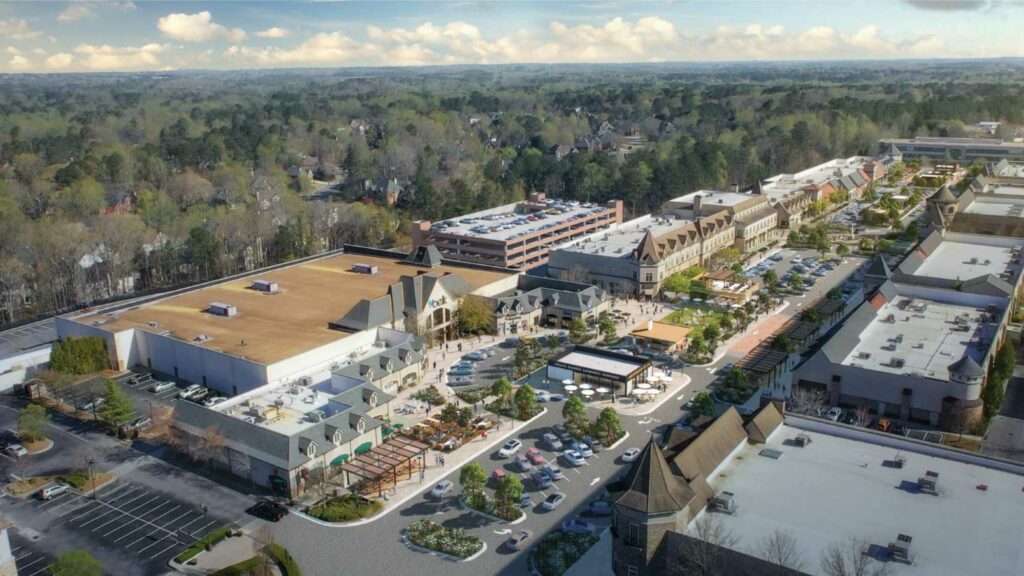 "A hedge fund raised the rent," said one post.
"We didn't buy from the hedge fund. It was a core trust. The Forum has been going downhill for years. Even before COVID, it put in a liquor store. It's not an optimistic picture," Perry said. "There was a pretty dire picture with Williams Sonoma leaving, and even the tenants that were there were seeking something to buy into."
"The city should buy the property and change it to an Avalon or have more family open field stuff," wrote another poster.
"We'll do the Avalon if the city wants to pay for it," said Perry. He added that the city leaders have already shown tremendous enthusiasm for creating a vibrant downtown. He mentioned the subsidies to the Town Center, the foresight in building the pedestrian bridge over Peachtree Parkway and the planning for a walkable city center.
"The Forum is suffering because the prior owner was charging too much," a NextDoor post said.
"Just for a very quick side note, it's not about rent, y'all. It's about sales. About 35% of [business] expenses are payroll, another 35% are cost of goods sold and 10% are [general and administrative costs], 10% are rent and 10% are profit. When their top line sales start suffering, the first thing that goes away is profit. Then comes the quality of the product and the quality of customers. So, it is all about sales," Perry said.
He encouraged everyone to communicate with NAP and The Forum through social media channels if that's how they feel most comfortable. "We do monitor our Instagram feeds, our Facebook feeds and all that other kind of stuff," he said. "But we're here to listen, and really do read these. So please let us know."
Five-year plan
After setting up the premises, Perry showed what can be expected at The Forum in the next five years. He shared a conceptual plan for nine major improvements or additions to the property. City Councilman Eric Christ posted a comprehensive diagram outlining those items on a NextDoor post. Here's his take (map pictured above):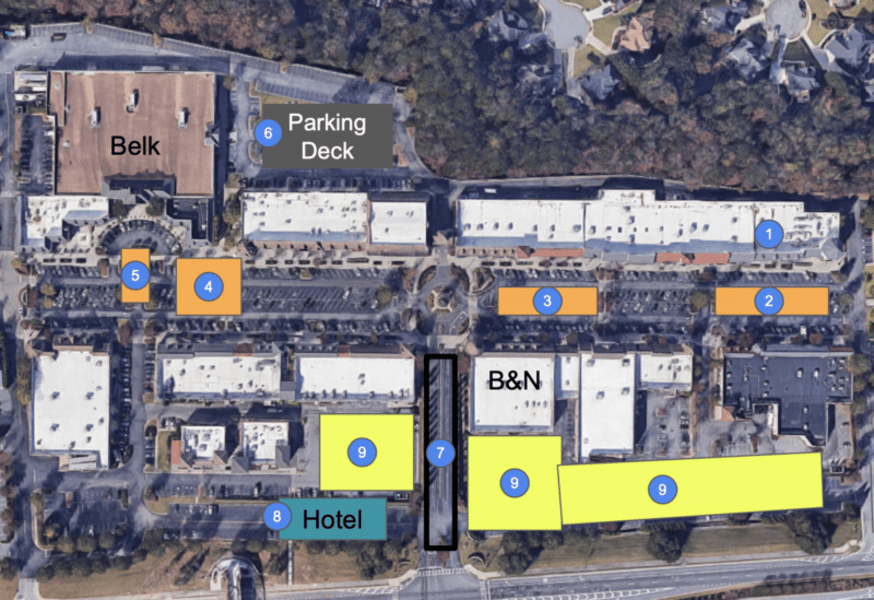 1.   NAP plans to convert the empty Kinnucan's location into a Food Hall with multiple food stalls (think a mini–Ponce City Market). Diners could sit indoors or at a patio outside the Food Hall or in the new North Court.
2.    The North Court will be built on the central parking spaces and feature an outdoor seating area with small retail buildings (2,000 square feet each) at both ends. While cars will continue to circulate on both sides of the North Court, the roadway will be raised to be even with the sidewalk height to facilitate pedestrian access to/from the North Court.
3.  A Center Court will also be built on the central parking spaces and feature a gathering area bounded by two tiny retail buildings (450 square feet each).
4.  At the Belk end is the South Court with the lawn, a gathering area with a performance stage and a concierge building with public restrooms and valet parking service.
5.  There's another small retail building (2,400 square feet). Note that constructing items 2-5 removes about 200 parking spaces from The Forum's main street.
6.  To replace lost parking spaces, NAP will build a parking deck. The parking deck will be built on the existing parking lot next to Belk. It will have 300 spaces on three floors and be about 35 feet high. Per Perry, the existing Belk building is approximately 28-30 feet high. For comparison, this is about half the size of the Town Center parking deck which has 617 spaces. You will be able to access the deck via car by coming in the main entrance and under the clock tower, but also by going behind the Belk building by Ted's Montana Grill or by going behind the retail stores by the Aiomi restaurant end. Pedestrians would get from the deck to the main street by using the cut-through at Grace 1720. Removing 200 street parking spaces but adding a 300-space parking deck would net 100 more spaces for shoppers and diners.
7.    The entrance boulevard will be redesigned with sidewalks.
8.    A boutique hotel would be built above current parking spaces in the upper parking lot next to Peachtree Parkway. The room count has not been finalized, but the target range is 125 to 175 rooms. New dedicated parking for hotel guests would also be built. Note that items 1-8 are all permitted under the current zoning and while there are requirements for building heights, construction materials, etc., these proposed items do not require City Council approval.
9.   The final component is a proposed residential complex built above current parking spaces on the Peachtree Parkway side of The Forum. There will be 300 apartments, a mix of one- and two-bedroom, no three-bedroom, units The complex would also include new dedicated parking spaces for residents. The target market would be young professionals and empty nesters. Perry stated that at Avalon, there is one school-age child in all of the apartments at that site. Residing in a C-2 zoning district is not permitted, so item 9 would require a rezoning application, a hearing before the Planning Commission and a vote by the City Council before it could be constructed.
Regarding timing, items 1-7 will be underway in the next two years while items 8 (the hotel) and item 9 (the residential, if approved by council) are four to five years away.
Questions and answers
At the end of his presentation, Perry suggested rebranding the site with a new name. "The Forum is still going to be called 'The Forum,' but let's float this out for the public forum."
He reasoned that since The Forum will be cementing the downtown of Peachtree Corners, why not change the name to "The Forum at Peachtree Corners"? That question got no real reaction. It appeared the attendees were eager to have their concerns addressed.
"You mentioned housing units. Are those rented?" a man in the audience asked.
"They're all rented. We don't do homes. The restaurants really need some of the turnover, so, you have a whole new set of diners, one set of patrons every year," said Perry. "And it's kind of a big part of why these downtowns work."
He added that the success of the city center creates concentric outgrowth with townhomes and single family detached homes further out. But the buildings aren't so far away that someone who rented on the property and then decided they wanted to own nearby property couldn't take advantage of the amenities.
"Have you done any traffic impact studies relative to all this development?" asked another person in the audience.
"The increase in traffic impact studies are part of the zoning submission; that's on the way," said Perry. He added that there is already a traffic circle proposed at one of the entrances.
Another person asked about the number of rooms in the proposed hotel and how that will impact parking at The Forum.
"Almost all the residential development has to self-park. …We took out 300 or 200 spaces of diagonal and stuff in the middle and replaced it with 300 that's purely for commercial parking, so it's actually increasing the amount of parking at The Forum," Perry said. He added that the hotel will be boutique-style which typically has 125 or 150 rooms.
As the evening progressed, questions about parking, traffic, property values, public safety and a timeline of work were asked. In general, the reactions were favorable, and everyone appeared to leave with a feeling that the development was the right thing for the area.
Lines of communication stay open
UPCCA President Matt Lombardi said he was surprised that the queries weren't more aggressive, and that the audience seemed accept Perry's responses to the tougher questions.
"I haven't received a single phone call or text or email with concerns or additional questions," he said. "Just from what I observed at the event, Tim Perry was very transparent and seemed to want to listen to any concerns."
But a few days later, City Councilman Eric Christ gave his synopsis of the townhall meeting on Nextdoor. It appeared that the detractors chose to save their remarks for social media:
"I would hope that our city would actually use all data available to make apartments sustainable, equitable and affordable. If the city is already adding so many apartments, it should ensure developers are doing so thoughtfully. Otherwise, all we're doing is adding traffic without infrastructure."
"As a handicap individual, this WAS the only shopping center I used as it was so easy to park and walk directly into the store. [I] went to Avalon once and never returned due to difficulty for handicap people."
As Perry and Christ explained, none of the zoning changes have been enacted. The purpose of the townhall was to get community input. To have one's voice heard, both men encourage those with questions or concerns to reach out instead of suffering in silence or just grumbling to neighbors.
"Over the next 90 to 120 days, we're going to be going through city processes," said Perry. "We have a very, very engaged social media, so I'll be happy to answer questions on NextDoor, since I live so close. Follow our Instagram or Facebook or Twitter. We try to be really, really good at communicating, especially when there are things that are inconvenient."
Residents are encouraged to contact NAP at naproperties.com, or connect through instagram.com/forumpeachpkwy, facebook.com/forumpeachpkwy or twitter.com/forumpeachpkwy. ■

Finnish Company Moves U.S. Headquarters to Peachtree Corners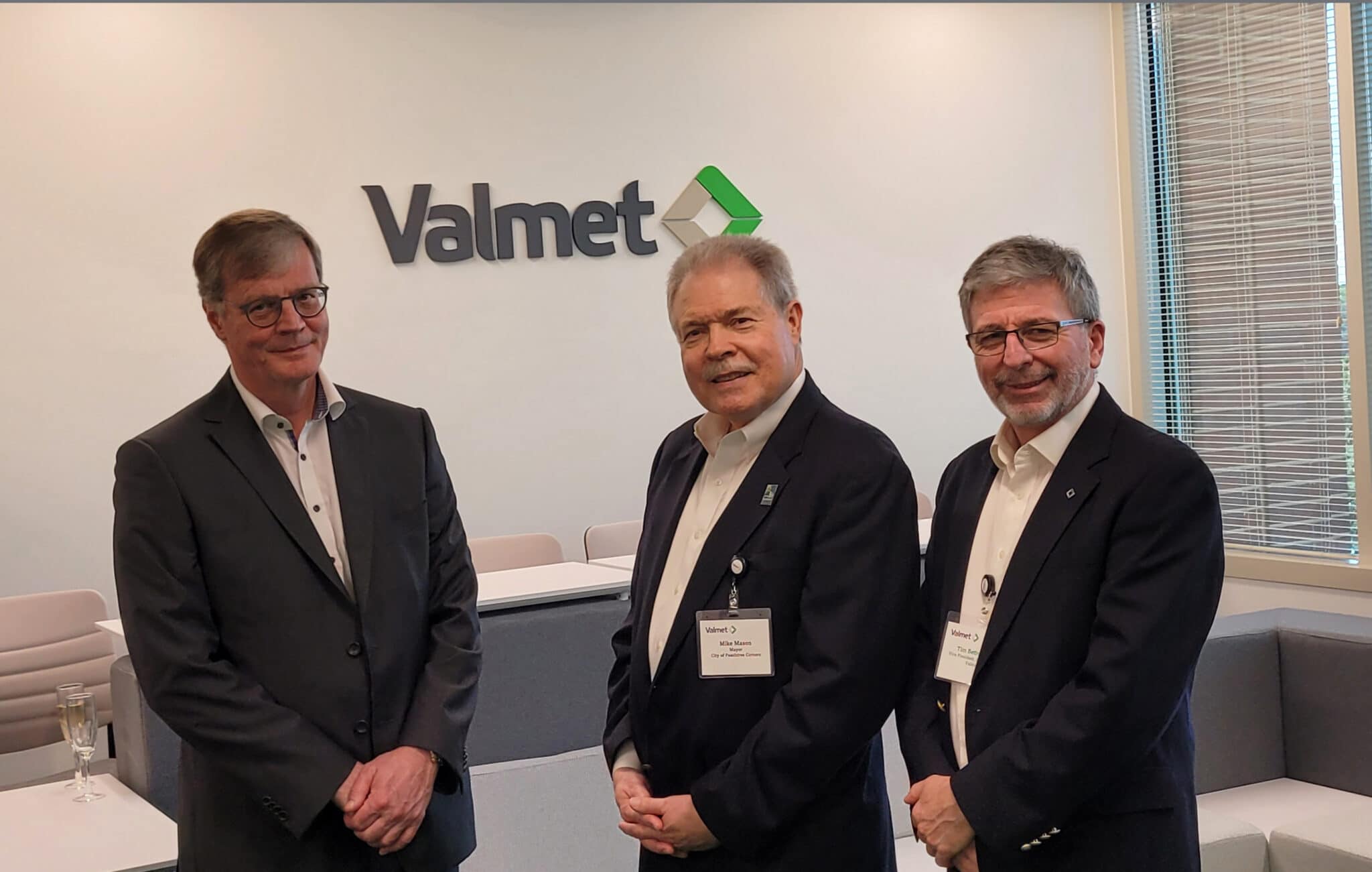 Valmet's corporate mission of sustainable energy and carbon-neutral production fits in with local goals.
The appealing aspects of Peachtree Corners led leaders of Valmet, a Finnish-based global developer and supplier of process technologies, automation and services for the pulp, paper and energy industries, to move its headquarters to the city.
"In about March of last year, we started thinking about relocating our office from Duluth to somewhere else," said Jukka Tiitinen, Valmet area president, North America. "To find a new home for our North American headquarters that represents our values and represents the flavor and nature of our company, we took quite a bit of time to go and visit different neighborhoods, different areas and looked at different buildings. And we settled here. …I don't see how we could have done any better. This is fantastic."
The company cut the ribbon on its new offices on May 11 with local dignitaries, media and the Valmet CEO Pasi Laine, who came in from Finland for the occasion.
Laine explained how Valmet didn't have early successes in the North American pulp and paper industry. In 1988, the company had some business interests here, but the capital activities were on the decline and continued that way for decades.
"We weren't selling too many machines and didn't have too many partners," he said, adding that Valmet didn't give up on North America and kept strengthening the business through several mergers and acquisitions.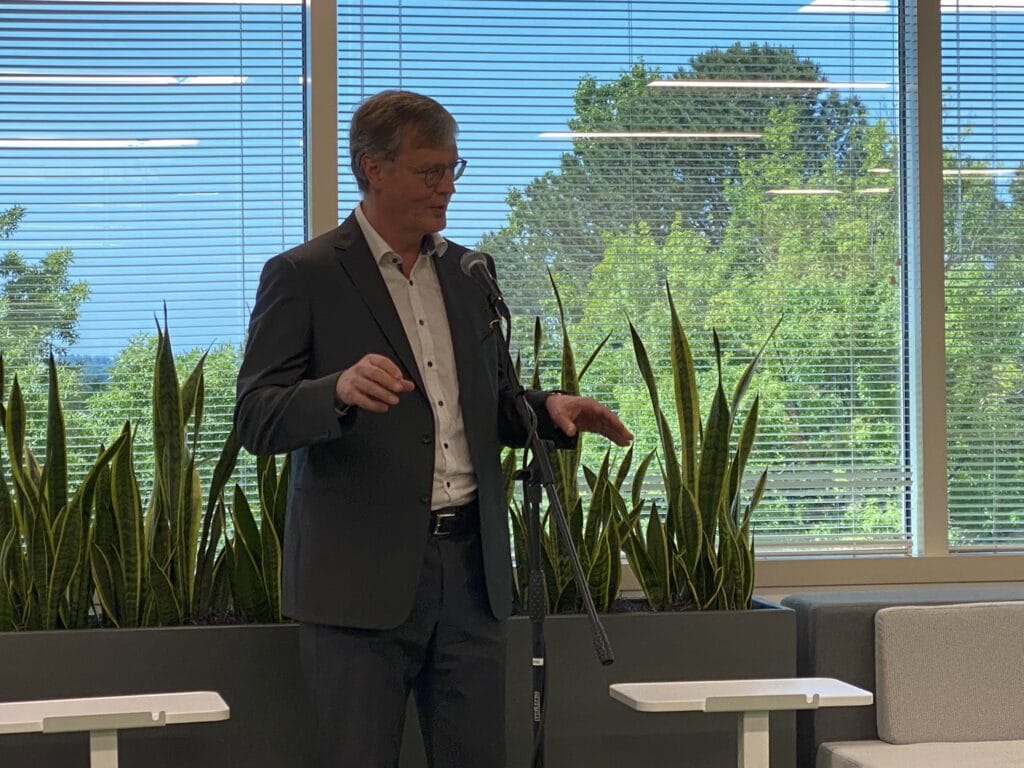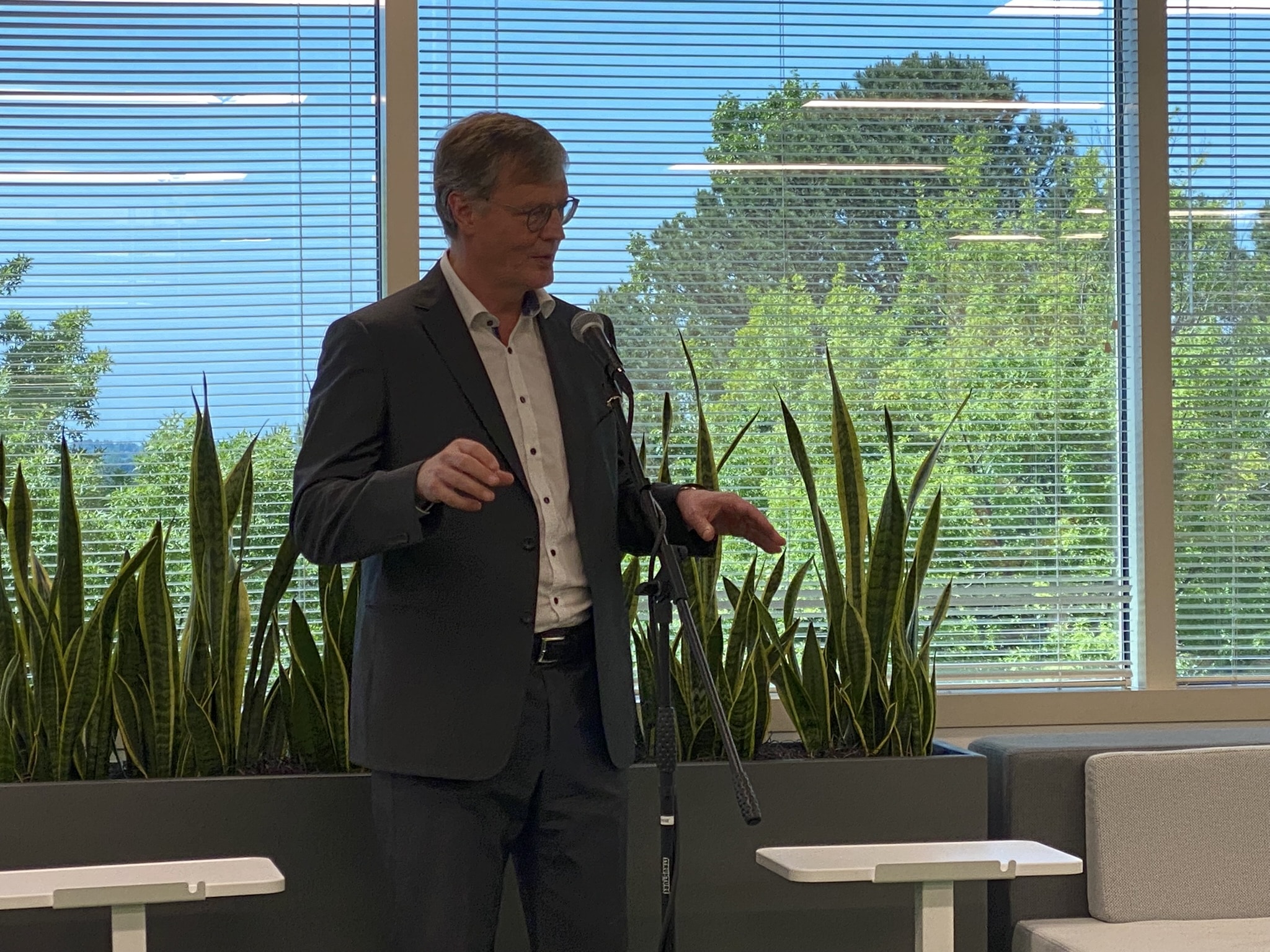 Part of the issue, Laine said, was that there were a lot of small businesses in the group that wanted their own processes and procedures. They wanted to maintain their old identity, offices and even logos. "It was practically impossible to get the people even in automation," he said, adding that the North American customers weren't seeing any continuity.
But the company continued to invest and improve production through technological advances and a management style that had come together in a "learning cluster" of sorts. Now, 30 years later, Valmet has added some of the state's and the country's major players in the industry as partners. Household names like International Paper and Georgia Pacific have Valmet machines and staff working in their plants and mills.
"Now, currently, we have about 2,000 people here, we have big business under civilian revenue and a lot of lot of customers and good personnel as well," said Laine. "Now we have learned how important it is to work with each other, talk with each other and learn from each other. And I think that's the big change that has happened over the decades in the company."
Like-minded neighbors
The collaboration Valmet has seen with Curiosity Lab and other endeavors in Peachtree Corners is the exact business model the company projects. Laine's interactions with local CEOs have shown that maintaining the status quo isn't good enough any longer.
"They were saying that it's not a good strategy anymore just to maintain the old machines and run them out. They started to say that they have to start to invest to make a difference. And today, we have a totally different situation than 10 years ago. Most of our customers are believing that it's worthwhile to invest in North America," said Laine.
The company isn't limited to paper products like tissue, boxes and the like. Valmet is organized around five business lines: services, pulp and energy, paper, automation systems and flow control. The company serves five geographical areas, North America, South America, EMEA (Europe, Middle East and Africa), Asia Pacific and China.
With more than 220 years of industrial history, Valmet has a strong track record in continuous improvement and renewal, and has more than 17,000 employees worldwide. The combined company net sales in 2021 were approximately 4.5 billion euros which converts to about $4.7 billion in U.S. currency.
Valmet's continuing mission is to convert renewable resources into sustainable results. This means that its technology and services make it possible for customers to manufacture sustainable products from renewable resources.
"We believe that technology plays a crucial role to mitigate climate change and global warming. Our target is to enable 100% carbon-neutral production for all our pulp and paper customers by 2030," according to corporate statements. "We believe that technology plays a key role in mitigating climate change and global warming in the transition to a carbon-neutral economy. Valmet has a long track record in providing solutions that convert biomass into renewable energy and recyclable products such as pulp, paper, board and tissue. We have also developed and commercialized new biomass conversion technologies for producing new bio-based end products such as biogas, biofuels and biomaterials."
Peachtree Corners Mayor Mike Mason agreed that Valmet fits in with the local business climate of companies that are working to change the world for the better.
"Welcome to the community — and most importantly, thank you for making the decision to come here," Mason said. "And from talking with your leadership, hearing what you do, you make, what's important to you about this decision, you made the right decision."

PCBA Panel Gives Insights into City's Growth, Development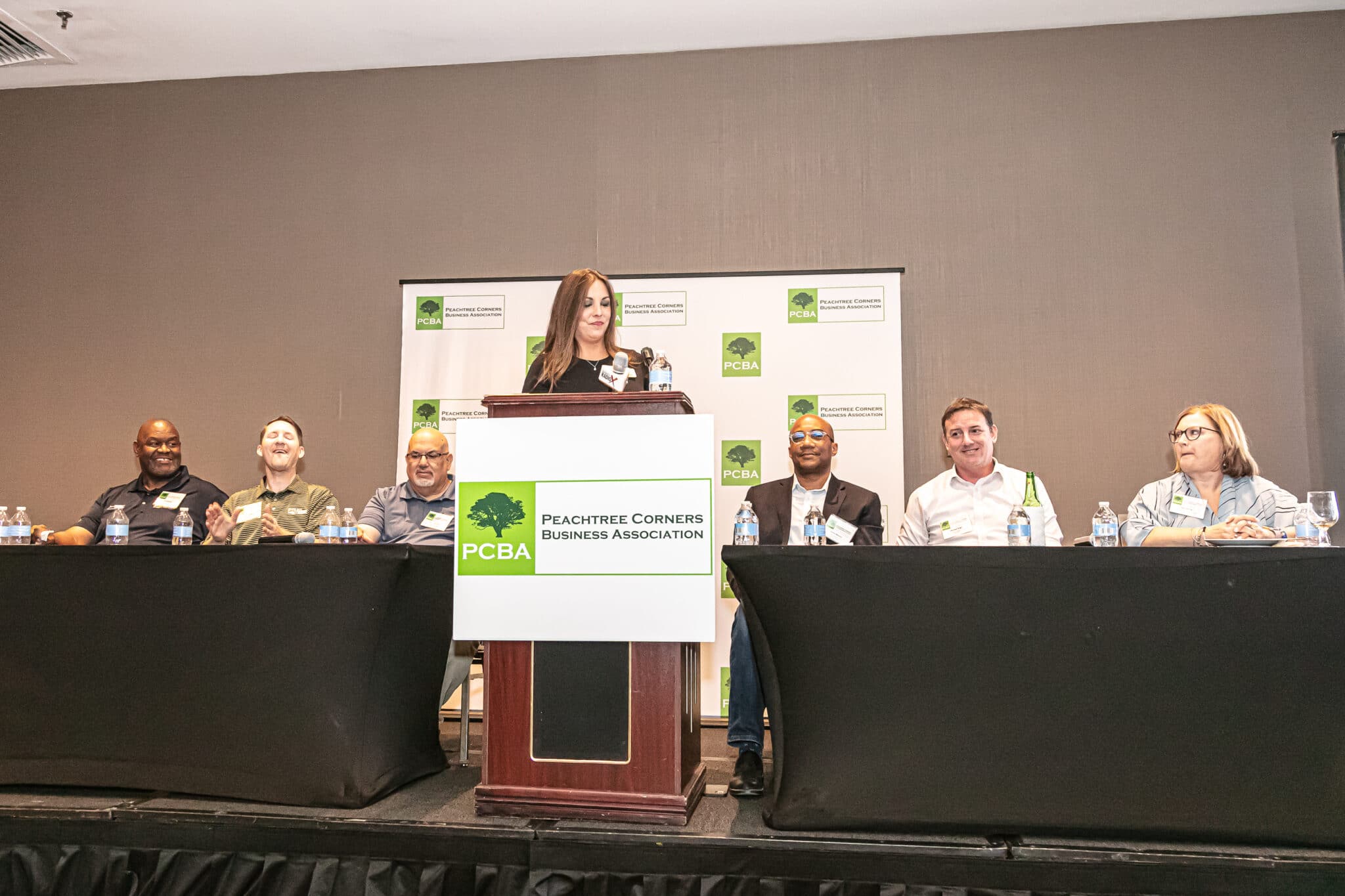 Visionaries see smart expansion for Peachtree Corners.
In a city that's a hotbed of economic development, technological advancement and residential properties, it's important for residents and stakeholders to keep informed about what's going on today and what's planned. To aid with that undertaking, Peachtree Corners Business Association convened a panel of local influencers at its April Business After Hours Speaker Series at Atlanta Marriott Peachtree Corners.
Moderated by Amanda Pearch, the CEO and principal of Forsyth Business RadioX, a community focused company that produces, promotes, distributes and markets online radio shows and podcasts for businesses, the panelists were a diverse mix of local movers and shakers which included:
Joe Sawyer, Peachtree Corners City Councilman at Large, a resident of Peachtree Corners since 1994. He recently became the first person of color elected to the City Council. Sawyer has owned Alpha & Omega Carpet Cleaning in Peachtree Corners since 2001 and has been a preacher since 1998.
Sue Storck, with North American Properties, the general manager for the Forum on Peachtree Parkway. She has been in property management since 2007 in Florida and Georgia.
James Winston, the director of construction at AHS Residential, a company that develops, builds and manages multifamily housing in metro Atlanta. He has 17 years of experience in real estate development.
Michael Pugh, a partner at the law firm of Thompson, O'Brien, Kappler & Nasuti, P.C. He concentrates his legal practice on the representation of businesses, banks, credit unions and commercial finance companies in secured transactions, financial workouts, asset recovery and liquidation and lender liability defense in both state and federal court, including federal bankruptcy court.
Louis Svehla, communications director for the city of Peachtree Corners.He has years of experience in journalism and public relations.
Rico Figliolini, a longtime Peachtree Corners resident and the publisher and executive editor of Peachtree Corners Magazine. He is also a creative director and social media strategist, three-time magazine publisher and podcast host.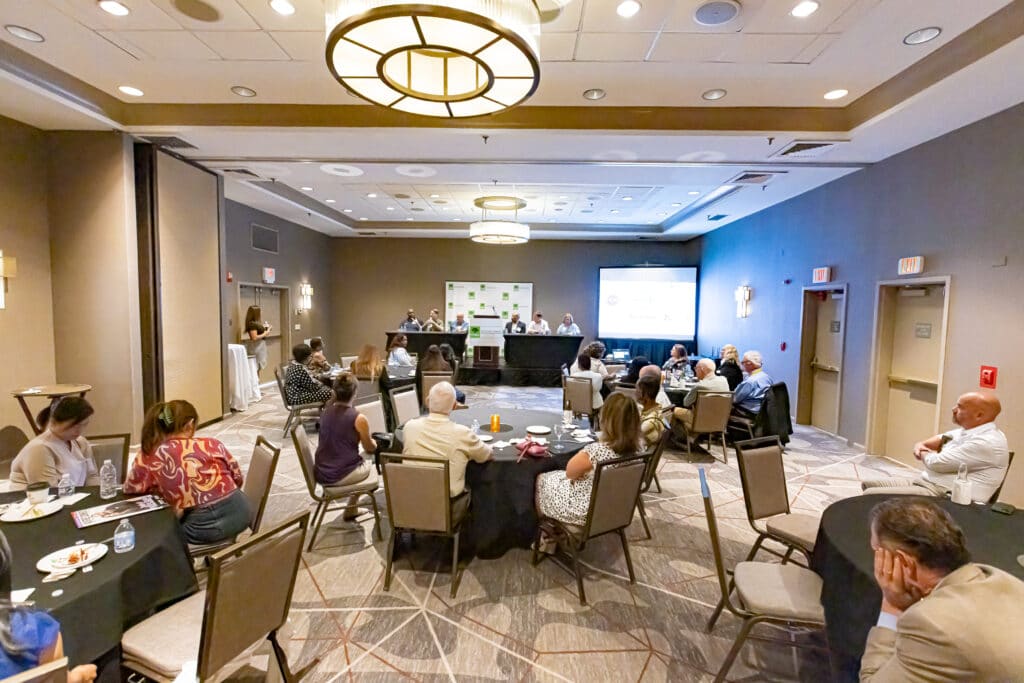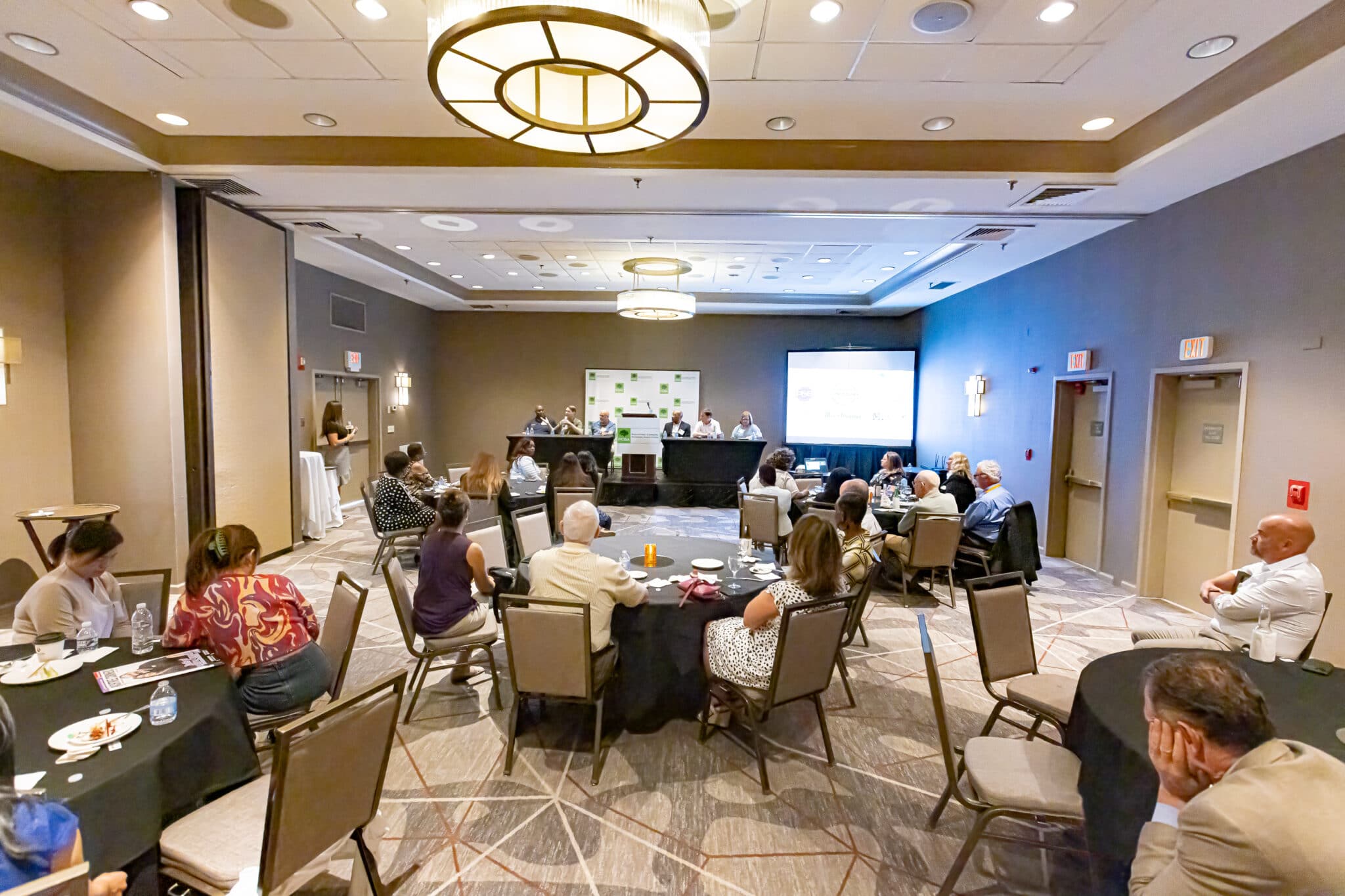 Growth opportunities
The group started off discussing some identifiable opportunities for growth in Peachtree Corners. With so much emphasis on what's happening in the northern part of the city, Sawyer said developers need to start looking to the city's south side.
"There's a lot of opportunity for growth on the south side," he said. "You see the townhomes going up and you haven't seen houses going up for a long time. That's where the next wave of growth will come."
Svehla agreed. "I think redevelopment is really the big thing. Joe got it completely right. Housing is probably not going to happen unless it's redevelopment of older neighborhoods," he said. "Just like what's happening with The Forum, the future is multi-use type facilities."
Pearch parlayed that response into a question for the home builder. "Well, the prediction is we're going to find very efficient and innovative ways of finding solutions for this housing problem that we have," Winston responded. "We know everybody is looking for… housing that's reasonably priced. We have a way of building and approaching our projects that I think is going to fit into the fabric of what this whole community is looking for. They're trying to be innovative, looking for something that's going to have an impact to the community. And we're doing just that by rehabbing, basically, an existing property."
Storck expanded on that concept with what's happening right now with The Forum. "On our side, it's experiential. …This is probably a very overused phrase, but 'live, work and play' is a trend that works," she said. "With our tenants, we have a built-in customer base. The restaurants have built-in patrons, but it's about an experience. Shopping is not… what it used to be. You don't go window shopping anymore; you have a destination. So, our plan and our goal are to bring that opportunity to the property, to be able to host larger events and gatherings, whether it's a tailgate party… or the Christmas tree lighting or concert series or a fitness series."
Talking about developers dove-tailed into Pugh's business. "One of the biggest advantages for Peachtree Corners is that it's close enough to the city [of Atlanta] so that people inside the perimeter are comfortable coming here, and since it's not in downtown Atlanta, we get people who don't want to fight traffic in town," he said.
All those factors feed into each other, said Figliolini. Having a publication that's focused on the lifestyle of a community that fulfills the demand for a high quality of life with entertainment, retail and employment opportunities nearby allows him to put more emphasis on the message than the medium.
"Print is sort of a dying business. I can say this because I've been in the business for a long time," Figliolini said. "We curate news in the community and people consume it in a variety of ways. Whether it's Twitter, Instagram, Facebook, Tik Tok, it doesn't matter. …Advertising is a long game. …Companies come to us. We have several corporate sponsors that are supporting local journalism, for example, so they're not necessarily buying advertising as much as supporting news."
Accolades and suggestions for the city
The panelists gave their perspective on what Peachtree Corners is doing right and what the city should do more of. Among the top recommendations is preparing the area for changes that have already been indicated. For example, the uptick in highly skilled jobs is affecting employment rates. Supply chain issues are challenging consumerism and access to technology is making a difference on how people live their lives.
"Roughly 65% of the existing labor force is almost set to retire," said Winston. "So, we have to replenish that, and we also have to find ways to manage that and to find innovative ways of doing construction. We know we're going to have challenges with the labor, in addition to all the materials. …Everybody is reading the articles about how prices are going up."
Sawyer pointed out that Peachtree Corners is growing in smart ways and every new development is people centered. "I think we are probably one of the smartest cities, as far as technology. …What other city in the South has an app that, when you sit at a red light, the app on your phone tells you when the light is changing?" he said.
"A couple of months ago, we had Transportation Secretary Pete Buttigieg here to study our transportation sector," added Svehla. "Everybody wants to come to Peachtree Corners because of all the innovative things that are going on here. I'm working to try to give Raphael Warnock an opportunity to see Curiosity Lab. …We don't really have to reach out to anyone anymore because the word is out that we're the most diverse city in the state."
Perspectives on the future
In looking ahead, all the panelists agreed that Peachtree Corners has a solid future outlook and growth strategies. Pearch asked the panelists where Peachtree Corners, in general — and their industry, specifically — will be in three years, five years and 10 years.
Storck said, "The retail world is different, because some ways, the retail world hasn't changed. We still have the brick and mortar as well as Amazon, so there are parts that will stay the same. But I think in three years, we are we are going to be fully redeveloped and we are going to be moving at a very fast pace. [The Forum] is going to be hosting 200-plus events a year and we are going to have opened quite a few new retailers. In five and 10 years, we'll still continue that course. Because everything is cyclical and we go through changes, we have to adapt as well."
Pugh added, "The legal industry is the dinosaur of all industries. If the legal world has adopted something, it's been adopted across the board. I think that law firms' sizes are going to shrink. I think that office space is going to shrink, and I think more and more attorneys and more and more businesses are going to go paperless. …I think that more and more are going to start incorporating the use of [artificial intelligence] in their in their work, where typically you would have a new associate coming out of law school doing research eight hours a day. You now have a computer program that does it for you."
Winston noted, "Nowadays, with an age of social media, [job seekers] are able to see so many other options more easily, and people are able to tailor it to make it more marketable. That's not always what you see in the construction industry. …You could start off learning mechanical, HVAC work, plumbing or electrical and branch off into a completely different sector of that same industry, or branch off more into real estate, because it really is part of the same pie at the end of the day."