Annual ParkPasses available online for Georgia State Parks and Historic Sites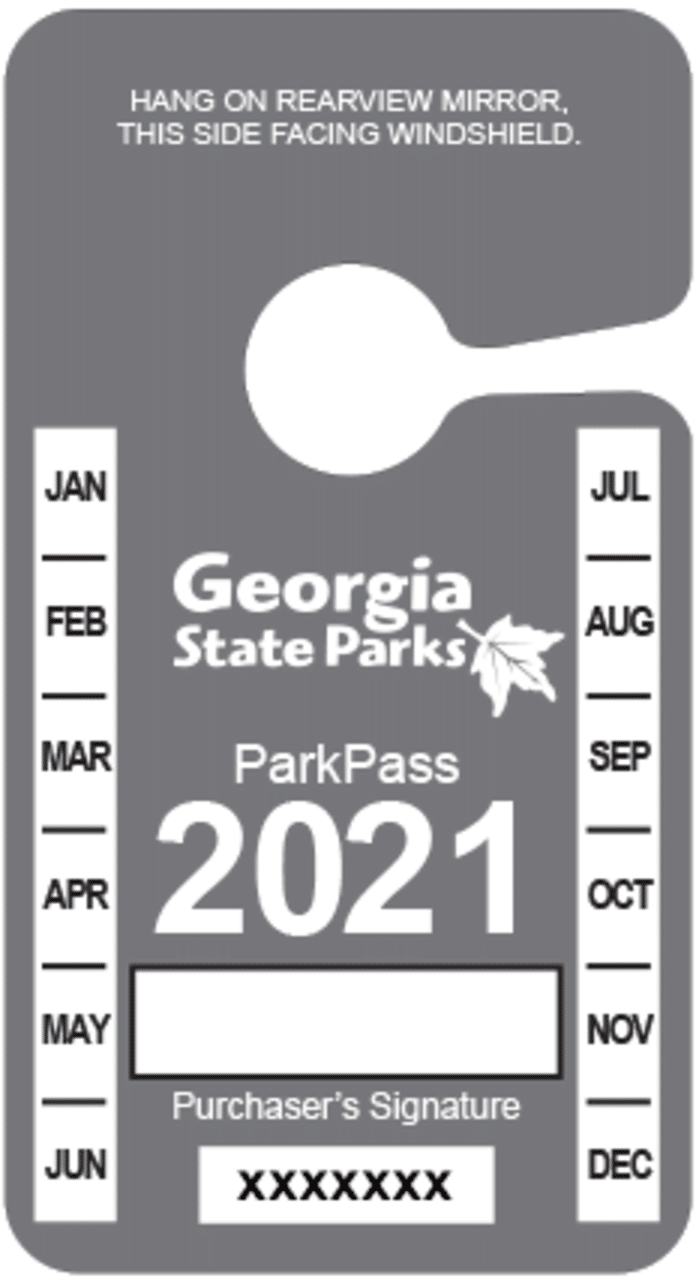 Beginning this month, annual passes for state parks, historic sites, equestrian trails and golf courses will be available on GaStateParks.org. Passes give you a year filled with hiking, fishing, horseback riding and even traveling back in time, encouraging you to explore more often. Prices vary, so check GaStateParks.org for details and even senior discounts.
ParkPasses- Daily and Annual
Parking in Georgia's State Parks is just $5 and visitors can buy a $50 annual ParkPass that helps fund renovations, trail work, dock replacements and more. A family of five can enjoy a full day of hiking, biking, fishing, boating, birding, picnicking, swimming and more for only one dollar per person. ParkPasses are not valid at state historic sites. Overnight guests pay the daily ParkPass fee only once during their stay, regardless of duration.
---
• $5 Daily ParkPass
Purchase at kiosks inside parks, by QR code upon arrival, or in park offices. Daily passes can be used at more than one state park in the same day and are only valid for day of purchase. Daily park passes are only valid at State Parks, not State Historic Sites. State Historic Sites require a separate daily admission. Email confirmation is your receipt and proof of purchase.
• $50 Annual ParkPass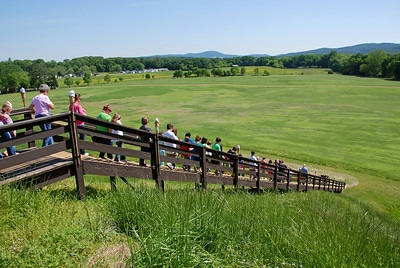 Purchase online or at park offices. Allow 7 – 10 business days for shipping*. Valid for 12 months from the date of purchase. Annual ParkPass discounts of 50% are available for seniors 62 and older, and 25% for active military and veterans**. Discounted passes must be purchased in person. Ask about bulk discounts for corporations and organizations.
* Shipping may be delayed a few days during this time.
** Discounted passes must be purchased in person.
• Bulk Annual ParkPasses
Purchase 10 or more Annual ParkPasses and save money. These are great for corporate wellness programs and gifts. Call 770-389-7286 to purchase more than 10 passes. Bulk rates are:
| | |
| --- | --- |
| 10–99 Passes | $45.00 each |
| 100–999 Passes | $37.50 each |
| 1,000–9,999 Passes | $25.00 each |
| 10,000+ Passes | $12.50 each |
ParkPass Exceptions: Organized school groups, diners in lodge restaurants and attendees of day-long lodge meetings are exempt. Golfer parking is included in greens fees. Large vans with a capacity of 13 to 30 passengers pay $30 per day or may purchase an Annual ParkPass for $75. Buses or motor coaches with a capacity of more than 30 passengers pay $70 per day or may purchase an annual pass for $250. However, those vehicles carrying overnight guests pay only the regular daily parking fees.
The Chattahoochee River National Recreation Areas, Stone Mountain, Corps of Engineers lakes, Jekyll Island and Lake Lanier are not state parks, and are not covered by the ParkPass. The ParkPass is not valid at Wildlife Management Areas or Public Fishing Areas. These locations are covered by a hunting or fishing license or Lands Pass available from the DNR's Wildlife Resources Division.
---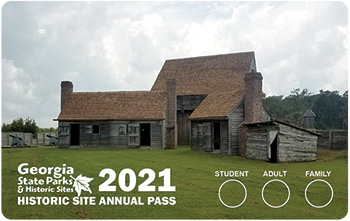 Historic Site Pass
History buffs can save money with the purchase of a Historic Site Annual Pass. This pass gives unlimited admission to all of Georgia's state historic sites (for normal admissions only – does not include special events). Passes may be purchased online or at one of our historic sites. Senior citizen discounts are not available on Historic Site Annual Passes.
Available passes: $50 family (admits up to 4), $30 adult (admits 1 adult 18 or older), $25 student (admits 1 under 18 or college student with valid I.D.).
Source: Georgia State Parks site
A Conversation about Recent Anti-Asian Hate Crimes, with Long Tran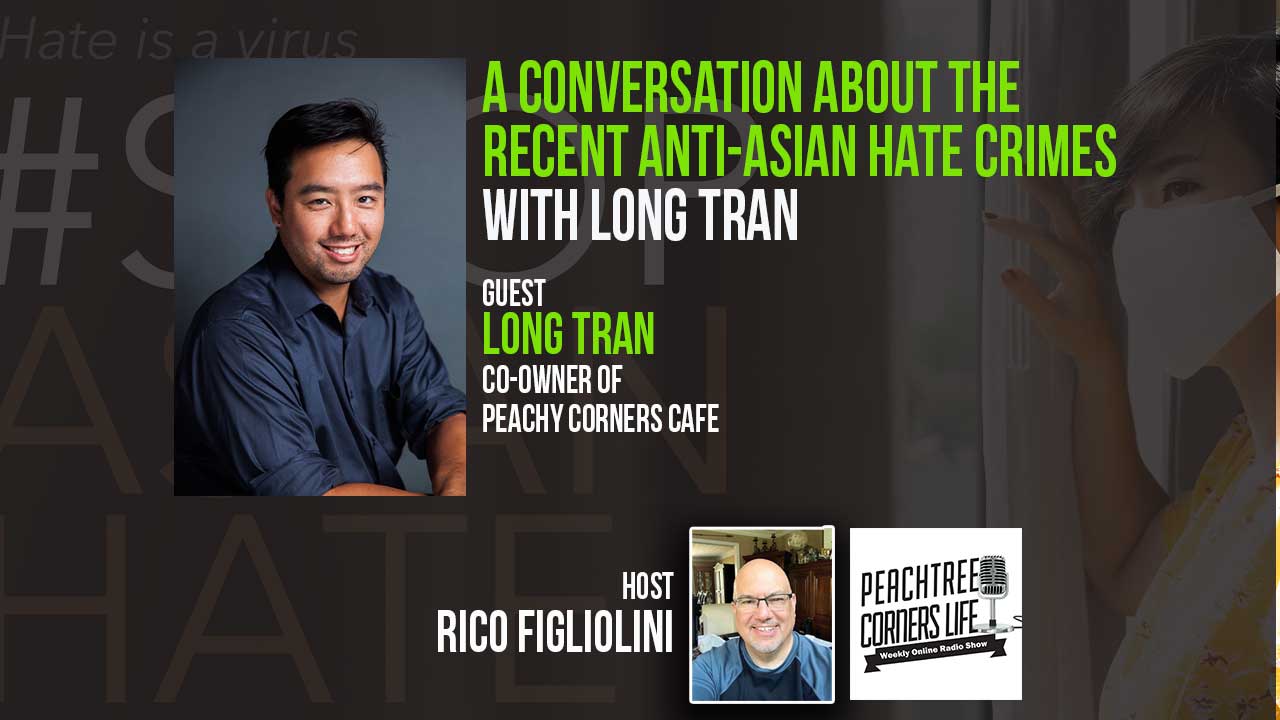 Long Tran, owner of Peachy Corners Cafe, and an advocate of the Asian community joins Rico Figliolini to discuss hate crimes against Asian Americans, what it means to be Asian in America, how businesses are affected, and where we go from here.
Resources:
Peachy Corners Cafe Website: www.PeachyCornersCafe.com
AAJC Website: https://advancingjustice-aajc.org
CPACS Website: https://cpacs.org
https://www.facebook.com/reallylong
https://www.facebook.com/peachycorners
https://www.instagram.com/peachy_corners_cafe/
https://stopaapihate.org
#stopasianhate
https://equalityliveshere.com/equality-eats-here/
"We really need to get to the root cause of why people feel like they need to blame specific subgroups. Whether it's based on race, Black or Asian, Latino. Based on gender, you know, blame things on women or, you know, sexuality, the LGBTQ. You can't outlaw that kind of bias. But you can come up with policies and programs that will help educate people and hopefully get them to cross that bias."

Long Tran
Timestamp (Where to find it in the podcast):
[00:00:30] – Intro
[00:02:38] – About Long
[00:04:54] – Choosing to Speak Up
[00:07:07] – News of the Spa Shootings
[00:09:52] – The Broad Term of Asian-American
[00:11:21] – Addressing Ethnoburbs and White Flight
[00:19:11] – How Business is Effected
[00:21:17] – Race Related Bullying in Schools
[00:25:26] – Moving South
[00:29:13] – What Local Businesses and Citizens Can Do
[00:34:39] – Finding Hope
[00:36:43] – Closing
Podcast Transcript:
Rico: [00:00:30] Hi, this is Rico Figliolini, host of Peachtree Corners Life in the City of Peachtree Corners. We have a special show today. I want to be able to talk about some of the things that are affecting recently, a lot of the communities that surround us and that are with us. But first, before we get to that, I just want to introduce our sponsor for not only this podcast, but our family of podcasts and that's Hargray Fiber. They are a local Southern regional company that provides internet connectivity and business solutions to an array of businesses, whether you're small or enterprise size. They've been working through the pandemic, providing coverage and internet connectivity to not only employees in the office environment, but also the home remote employee and making sure that that's a seamless process. So check them out. They've been a great supporter of our podcast and our family of podcasts. So HargrayFiber.com or Hargray.com/Business. Now that we've talked about that, let me tell you a little bit about what we're going to be talking about today. And I'm going to introduce our guest here. But today we're going to be talking about and putting a spotlight on crimes against Asian-Americans. Vicious crimes, attacks, harassment crimes that have targeted a group. That in the Atlantic, recent Atlantic magazine article noted are simultaneously stereotyped as model minorities and perpetual foreigners. They've had a history in America, both working over the past hundred, 200 years providing growth in this country and been an important asset to this country. An important community member to this country. But hate incidents targeting Asian Americans have risen and in 2020 was over 150% before the previous period of time. And Asian-American women have been targeted twice as likely in these attacks according to recent data. So without further ado, let's introduce Long Trek. Owner of Peachy Corners Cafe. Welcome Long. I appreciate you coming on the show with me.
Long: [00:02:34] Thanks, Rico. Honored to be here. Thanks for inviting me.
Rico: [00:02:38] So I thought it was long overdue to get this discussion going. So, you know, one of the, I know you're a Peachtree corners business owner with Peachy Corners Cafe, great new place that a lot of people are discovering and going to. But you live in Dunwoody also, and you've been involved recently as I've known through protests as well. So give us a bit of an introduction about yourself.
Long: [00:03:02] Sure. As you said, I've lived in Dunwoody, you know, next door to Peachtree Corners for about 10 years now. And I'm very involved in the city of Dunwoody. I lead a Cub scout pack and I'm currently serving on an economic recovery advisory council to the city of Dunwoody. And so we're hoping to, you know, bring back some businesses and get some new business startups. So I'm really involved. But when the shooting happened in Atlanta you know, from customers to friends and family who called me, a lot of people were upset. And so I reached out to many of the Asian organizations that I support that have been advocating for the Asian community for decades now. And we all wanted to do something. And there were three nursing students who specifically, they wanted to take charge and lead the effort. And so they coordinated with me and we did something down at the state house that you know, by our estimates, probably 3,000 people showed up. It was something that's never happened in Georgia to have that kind of protest coming from the Asian American community. It was very peaceful. We had all kinds of elected officials come out. Senator Allsopp and Senator Warnock came out. And you know, even Governor Kemp, came out against what happened, came out against the shooting. So to bring this awareness and get the media coverage and actually feel the emotion beyond our community, the Asian American community, and you know, see the support from the Jewish community. Who've gone through something like this with the synagogue shooting. Or the black community with the church shootings. And then of course the white community has reached out and expressed their shock and disbelief because of the model minority myth, you don't realize the type of discrimination Asians go through.
Rico: [00:04:54] Yeah, I think part of it, like we discussed beforehand a few days ago is that particularly in the South. We're both from the North, but particularly in the South, Asian americans tend to be more quiet, less wanting to make waves, be under the radar. You know, how is it that you found yourself speaking up? You know, why did you, why did you choose to do that?
Long: [00:05:19] So for me, I feel like I've been speaking up for quite a while now, like to go back to 1995. But I grew up with a slightly different perspective. In the early eighties, there was the war between South Vietnamese refugees and the KKK down in the Mississippi Delta, Biloxi. The white fishermen did not appreciate that there were Vietamese fishermen after the Vietnam war and they didn't like the competition. And so they called it a war, broke out, down there where people were killed on both sides. And so living up North, we were always afraid, would that come up North? And so my dad would have discussions with his family and friends that were Vietnamese. Like, what are we going to do if the KKK comes for us? And so it's always been there. And then Vincent Chin was the catalyst for the Asian American community when he was killed by two guys who thought he was Japanese. And this was during the anti-Japanese automaker sentiment in the eighties. And the judge said, well, these are two good guys and their lives shouldn't be thrown away. So all they had to do was pay a $3,000 fine. And, you know, a $3,000 fine was all you needed to get away with murder. And so it started with me at a young age that this had to be addressed. And so when I got to college I became much more active in speaking up when things would happen especially to students who were getting bullied on campus or hazed differently from their other roommates or colleagues when they would rush for a fraternity. And so I've been speaking up for quite a while, but right now it seems like it's, I'm given a stage to amplify the voice far more.
Rico: [00:07:07] When you know, how did you hear about the spa shootings? How did that make you feel when you, when you heard that?
Long: [00:07:15] So I woke up and it was, usually I don't turn off my phone, but for whatever reason, that night I had turned off my phone. So I could just get a good night's sleep. And I woke up, I turned on my phone and it just blew up with all kinds of text messages or Facebook messages, with people asked me if I knew about the shooting, what's going on you know. And so I turned to the news and sure enough, that night there was the spa shootings. And I was angry because, you know, we've known this was coming for a while. Last summer in July, I believe it was July. There's a Chinatown in Chamblee, Doraville and white supremacist protesters showed up armed with guns and they harassed business owners and their patrons. They didn't stay very long and they got scared off as soon as the police were called, but it was a sign of intimidation. And even in my own city of Dunwoody, there were, on the exit and on-ramps of the freeway were these signs that says boycott China. You know, if you want to take it from a business perspective, you would put it at the Chinese embassy, or maybe at Walmart, someone who's doing business with China. But you're putting it in front of residential areas. You're sending a message to the Chinese who live in Dunwoody when you do that. And so we kind of, I knew something like this was coming. I didn't know it was going to result in the death of six people. But from what was happening in San Francisco and New York, we knew the violence was coming. Just didn't expect it to be a shooting like this.
Rico: [00:08:47] Do you feel that this is a special moment in time? I mean, Trump hasn't helped over the past year and if anything, he stoked the fire even worse.
Long: [00:09:00] Yeah. And I want to talk about how he stoked to fire as early as 2017, when he started challenging North Korea and all the talk of fire and brimstone. Unfortunately, we are considered perpetual foreigners. And so, you know, when people hear that, they just see the Korean Americans living in this country, even if they're second generation, their parents were born here, as foreigners. And when Trump goes fire and brimstone to these people, they think, alright this is my permission to go attack and harass. And then, you know, comes the pandemic and someone's gotta be scapegoated and he wanted a scapegoat. But he says, it's the Chinese government. What a lot of Americans hear is Chinese people. And so they take out their frustration and anger on Chinese people.
Rico: [00:09:52] Do you find that, Asian-American is a broad term, right? My heritage is Italian, right? So people, when I grew up in the eighties, college in the seventies, I was Italian American. I belonged to the Italian American society in college. I mean You know, that's a bit more fine. Although if you speak to an Italian, a Sicilian is different from a Roman that's different from a Milanese or someone from Milan. So that's all within that group. But Asian-American is so broad, right? It takes in a variety of countries, dozens of countries, really. Do you think that's you know, does that help? Does that also provide a coalition if you will? What does that do for you?
Long: [00:10:31] So the term Asian American gives influence by providing the numbers that are needed. You know, if you were to just look at the economic impact of just the Cambodian or Vietnamese community, it's not as high as an economic impact from the Asian American community. And so for the stakes of certain communities in other States where they're just small, they're the number in the hundreds. Say Columbus, Ohio, where Cambodians may only have 200 and Vietnamese may only have a thousand, but then you add in Chinese and Indian. Then we're 10, 15,000. We become 5% of the population. We have now, a voice. And so it's important to have that designation so that we get the resources we need.
Rico: [00:11:21] Do you, let me just point out something from the Pew research that many people may not be aware of. But it also shows the strength and I think the growth of the Asian community, that Asian communities are the fastest-growing racial ethnic group in the US electorate. So among the voters, that's the fastest growing population. Most of them are naturalized citizens. That's 67% of them are immigrants and 33% are US born. That's normally not the case. Usually the fastest growing part or the largest part would be US born. But we're talking about immigrants that have come here that decided to naturalize. They became US citizens. They chose to become US citizens, become part of this country, and to take up the responsibility of voting as well. So you have that happening. You have the growth of a lot of minority areas. You have the areas where, especially in let's say, places like Duluth and parts of Atlanta where there is a growing population of Asian Americans and where there are people deciding they need to leave for some reason. What they're calling ethnoburbs becomes a white flight area and people are moving out to other counties. Do you think, you know, I mean, obviously some people feel threatened for some reason. How do we address that? What's your thoughts on that?
Long: [00:12:42] It's complicated. Historically the reasons why Chinatowns exist is because at one point in time in our country's history is that we could group people into sections. And so we could say all the Chinese are going to live in this area and it becomes Chinatown. But in the case of Duluth, Pleasant Hill area it was more just free market capitalism. The more Koreans started to move into the area, the more businesses came in to support that population, whether it's grocery stores or restaurants. And so, you know, nothing's monotonous. Nothing is like, this problem applies in our situation. So when you look at Gwinnett and you look at that area, the school has become a bit more competitive. Maybe too competitive. So people feel like, alright, I need to move somewhere where maybe my kid will have more of a shot. And that could be a reason for the white flight.
Rico: [00:13:35] I think that has to deal a little bit with what was happening when HAC article pointed out about school rankings, right? That the top 20, 18 of the top 20 kids in let's say Duluth high schools were Asian. And colleges pit or used to pit, I don't know if they still do. Would take into consideration rankings as well. So I think the County or the school system decided to do away with rankings because of that. Which is crazy to me because, you know, it's almost like dumbing things down for no reason. Instead of raising the bar, we're dumbing things down because other people may be smarter. It's just like, you need to get your kids working a little better maybe, but sorry, hate to…
Long: [00:14:17] No, no. It's, that's a very real and it's actually a problem because as much as our society likes to reward competition, free market. And I am as a small business owner, I truly believe in it. When a certain group seems to attain too much success, then people get concerned. And then they find ways to change things so that it becomes advantageous to them. So we look at some of the Ivy league schools and all of a sudden you realize that Asian Americans actually have to have a higher GPA than of the other ethnic groups to make it into those schools. So Harvard, an Asian American has to have a 4.1 or 4.2 to get in, but a white student would only need a 3.8 or 3.9. And they would say, well, this student does this and that. And so that gives some the jump over. And so the true flat out merit, those rules never truly stay in place. They're always shifting that bar.
Rico: [00:15:19] Yes. It's a moving target. It's like, okay your grades aren't good enough, but you've done a lot of volunteer work in the community. So we're going to use that. There's nothing really wrong with that, but the problem is is that these pendulums keep swinging back and forth, right? Like you said, when things get too, when people feel too threatened or such, there's always someone that has to be a scapegoat, it seems. You know, it's funny in a way, it reminds me of, there was a Soprano episode where one of the characters walk around with a cell phone talking. He's walking around little Italy and he barely walked two blocks and he's like, I'm in Chinatown already? That just shows the expansion of a population that is just one of many ethnic groups, right? To be doing that. Successful and providing good. I mean, we're already seeing stuff. You know, movies like parasite, a lot of Asian influence in our communities. In food and music and in other areas and entertainment. And you know, maybe people are looking at that and instead of embracing it. I love Asian food. I love sushi. I mean, Italian food, grew up on matzah balls. We always talked about matzah balls and meatballs being interchangeable almost in the neighborhood I grew up in. So instead of seeing that as a good thing, there are too many people I think they're just not happy with themselves, maybe and aren't being friends. What do you think? Go ahead, I'm sorry.
Long: [00:16:56] So there's Asian Americans like myself, who we live in two worlds. I am perfectly fine going down to the Kroger right down the street from me and I'm comfortable. And I can go to the HMart also down the street from me and be perfectly comfortable. But there are those who go into Kroger and they feel like everyone's staring at them. And then of course there are those who go into HMart and feel like everyone is staring at them. We need to get to a point where it's okay for you to go into an HMart and go get groceries. It's no different than going into a Kroger. And then we won't see that kind of white flight that happens.
Rico: [00:17:31] Yeah. I agree with you. I mean, I go into HMart because quite frankly, I like the vegetables more than I like, and it's better priced than like other supermarkets. I think what happens just like, you know, on the face of it, if you will. We all look a bit different, right? And even Anglo-Saxon Asians, if you will, blended families. Which is, if you look at the younger generation, is more and more happening. So we're looking, I think society is looking at one group that really is changing quite a bit. Your parents, versus you, versus your children maybe, are changing. We're all becoming, it really is becoming what I always, never thought was really a melting pot growing up in New York. But really is becoming more of a melting pot now I think.
Long: [00:18:26] It is. My family is a perfect example of that. Where, my parents are both Vietnamese. But I didn't marry Vietnamese. I actually married a Chinese woman. My brother, the other two aren't married, but my brother that got married, he married white. And so the blending is happening. You can't avoid it. You know, love takes you where it takes you. Which is a good thing, yeah. I think that's something that needs to be embraced. You know, it's sad that there are some who would look at that and go, a child that's half Asian and half white has no place in our society. That's such an outdated idea that I really hope that we get away from that.
Rico: [00:19:11] I think if you look at college kids or high school kids in an area that is a bit more diverse, you find a broad range of friendships. And it is changing and it's a good thing that it's changing. How do you think all this has affected Asian businesses? Asian owned businesses in Peachtree Corners or in our area? Has it affected?
Long: [00:19:33] It has definitely affected. I wasn't the only one who opened up right before the pandemic. There's a place called Mr. PJ's right down the street from me owned by a Korean man. Great chicken wings. But he was getting scared too. Because he saw a business drop right away. When March hit and the first cases in Georgia started to be announced, he saw a big drop. I saw a drop, but not as significant as many other businesses. There's kind of an installation area or cushion for Peachtree Corners, I think. In that Peachtree Corners has become a place for a lot of Asian families. Asian, Indian, Korean Americans, Vietnamese American, families have started to move into the area. And so they continue to go to those businesses. And, you know, I'd like to think that they, kind of like in Dunwoody, encouraged neighbors to go to other businesses. I saw that on the forums in Dunwoody where, you know, we've got to protect these businesses and then every once in a while someone would go, don't forget about this restaurant. You know, they need help too. And so I think the more diverse community you have where your kids are in school together, and some of those kids' parents are business owners in the city you live in. You're like, Hey, you know, we've got to help this family too. And so I think Peachtree Corners has been lucky in that regard. I think we've got a great city, great neighbors who live around here. And so, hopefully we won't see any of the harassment and definitely, hopefully we won't see any of the violence that we've seen in other parts of Atlanta.
Rico: [00:21:17] It's doubtful. I think in my mind. Hopefully I'm not saying the wrong thing. But I think it's doubtful in this area because I just think this area is a bit different. You know, the makeup of the area, the diversity of the area, the income, the economic prosperity of the area, has been able to survive through things, right? So if people are still buying food, they're still going out. Even before sort of the lifting of the stuff people were Instacarting. I mean, I was using Instacart to get food and ordering, and curbside pickups, and you know, the takeout really didn't stop too much. So we were still patronizing businesses. How, you know, what. You know, one of the things that we talked about was, you know young kids being bullied and stuff. You know, what can Asian families do maybe to address some of that you know, in schools? You know, what for practical purposes can they do?
Long: [00:22:11] I would like to see parents start to address the bullying in a way that's more, that's bridge-building. Has a connection with the school. Far too often when Asian American kids get bullied, parents tell them, just put your head low, study hard, get through school, get to college. You'll be okay. It's not okay. I saw it with kids who came to college when I was in college that really struggled integrating. Because that scar, that fear you get from bullying, stays with you and it hurts how you interact with other people. So I want the parents to talk to their kids and tell their kids, if you're being bullied, you need to tell us, and we'll bring it up to the school. And you know, really impart to the principal and the school counselors that it needs to be addressed, that this has gone on for far too long. Just because you have successful academic Asian American students at your school, doesn't mean there aren't other kids where the bullying is affecting their ability to learn. And so the parents need to be more vocal and build a relationship with their school administrators.
Rico: [00:23:24] Have you heard of any bullying or anything along those lines?
Long: [00:23:30] I have. I'm not going to call out any schools. But I have heard of the bullying happening. And it seems to start in the middle school and then will carry over somewhat to the high schools. And so it's unfortunate that it does happen. But we'll you know, I think we'll be able to figure out a way. Some of these Asian American advocacy groups because of the shooting, I think they're going to start to address the bullying from a possible racial perspective now. And see if any of that, clearly some of it has to come from race issues. But to address it properly in the middle school and high school Right.
Rico: [00:24:12] For sure. I mean, kids can be traumatized easily in some ways. Some ways, you know, depending on the kid, I mean, it might toughen them up, it might. Other kids you know, toughen them up. Ridiculous thing to expect from a child that they should be toughened up. You know, we used to hear stuff about, our kids need safe spaces. And I always joked around about, you know, what does that mean? You know, growing up we didn't have safe spaces. You know, I can, is that an old thing to say? I think that kids should be challenged with their thoughts and beliefs, but not challenged because of who they are. You should always be able to defend your ideas, because that just makes you better, I think. And validate you better and actually makes you a better person. If you can, you know, defend why you believe something a certain way. But bullying is not part of that. It's just total different thing, yeah. So you've lived here in Dunwoody for 10 years, I guess, in the South. And you originally came from?
Long: [00:25:26] Ohio.
Rico: [00:25:26] Ohio. Ohio was a bit different for you? The North than the South?
Long: [00:25:31] Yeah. It's very different. We have an area of Ohio called Youngstown and there's a lot of Italian Americans who, and this, it sounds weird, but they retired to Youngstown. They retired to Youngstown from Chicago and New York. And so, but yeah, Ohio is definitely a Midwestern state where everyone's friendly. The communities tend to be very blue collar, much smaller. And so there's a more intimate connection among neighbors because when one neighbor does something, it spreads across the city very quickly. Because the city I grew up in, we had seven GM factories and so everyone worked for GM. So, you know, if you did something strange, the word spread through the unions across seven factories very quickly.
Rico: [00:26:27] So when you, so, and I come from New York and Brooklyn, and I guess that my parents and everyone that I knew retired to Jersey. I don't know about you, but when I moved down, I found the South very different than the North, by far. In a way I found it friendlier, I got to know more people. But you also find things, you know, neighbors yelling across the street. I just saw the godfather Yeah But you know, how did you find the South when you came down?
Long: [00:27:02] I found it very similar to what you said. I definitely saw the Southern hospitality. You know, everyone's very friendly. But some people, I think it's kind of like that saying that people like to laugh at. The 'bless your heart' saying. There's a goodness to it, but there's also a slight backhand to it. And so, you know, some people will go, Oh, your English is very good. And it's like, well, okay yeah. Do you say that to like everyone, you meet? Or just someone that you think is possibly a foreigner, even though I'm not. I was born and raised in Ohio. So that happens and then it's always tough. You know, you get asked, where are you from? And my first response is always I'm from Ohio. I know what people mean. And so to figure out when someone is saying that in, from more or less an ignorant perspective versus a curiosity, a curious perspective. It's always difficult.
Rico: [00:28:03] It's a better way of saying, I mean, I like asking people, you know, what's your heritage? You're American, I'm American, we're all Americans, right? Where did your ancestors come from? Where do your parents come from? I mean, you know, and talking to you, I found out, didn't realize this. I was born here in America, so I always thought I was first generation American. But you put me straight because you said the federal government doesn't look at it that way.
Long: [00:28:31] No. They see the immigrants. Your immigrant parents as the first generation, they're the first to become American. So they're first generation.
Rico: [00:28:38] If they're naturalized. So of course my son asks, says, what if you were born here first and your parents become naturalized later? Are they second generation? Great question.
Long: [00:28:54] That's a great question. I think they're still considered first generation, so that would apply to me. I was born six months after my parents got here. And so they weren't citizens yet. But I was definitely a citizen the moment I said hi to everyone. But uh, yeah. You know, I think the parents would still be considered first generation.
Rico: [00:29:13] I thought so too, but I thought that was great. He's always out there with a different question than I had in mind. So getting back to the real question at hand that we've been covering also, what do you think local businesses can do to help out?
Long: [00:29:31] Local businesses need to just be a little bit more aware. You don't have to necessarily be proactive, but pay attention to your customers who come in. If you're not an Asian-American owned business and you see someone come in and something happens. And it may be something very small and it could be something that's a big conflict. And so I'm going to talk about a few things to address as a bystander, because it also applies if you're a business owner and you're there watching. You can always get involved by one, what everyone seems to do nowadays is documenting and you can tape it. So you make sure your security cameras are on or your phone. But you can also help to try to diffuse the situation by delaying something or distracting them. Like, hey, you know, you want to try this or you want to try that? You know, depending on what your business is. That will help your customers feel more comfortable. If you feel like your Asian American customers are a little bit nervous coming in then get to know those customers. Have your staff get to know them. I do my best, I don't necessarily know every single one of my customer's names. But I think that's helped our business quite a bit that when you come in, if you've come in at least three times, one of the staff or myself, we're going to know your name. And we can tell if you're nervous or you're, you know, some people are just nervous in general. And then some may walk in and see that it's, you know, one day my main room is filled with old white guys that are about to go golf and it makes some people uncomfortable. And so you get, just got to engage with them. For the Asian businesses, they need to let our law enforcement, let our city officials know if something's happening. You know, if you talk to the businesses on Buford highway, Canton House, some of these businesses that have been around for decades. They'll tell you, they've had rocks thrown through their windows. They've had their harassing phone calls. Businesses in Peachtree Corners, Dunwoody, and this Northern Dekalb area, Gwinnett, Southern Gwinnett, you've gotta speak up. You gotta let us know. If we don't know. Gwinnett police can't run additional patrols. My shopping center is a perfect example. You would never know it, but it's a very mixed culturally shopping center. Next door to me, is a Thai restaurant owned by a Thai family. Across from me is a dry cleaner owned by a Filipino family. And then I've got a Chinese family with a vegan restaurant and a Persian restaurant as well. And so it's a very diverse little shopping center we have. And I've talked to all of them that if something happens, if you see something that is, even if it's questionable. You know, if you don't want to call the police, let me know. I'll call Gwinnett police. I'll let our city council know. Just so that the awareness is there. And when the awareness is there, it helps to lower the intention.
Rico: [00:32:33] Do you think there's enough laws out there? Do you think the hate crimes bill that Kemp signed into law last summer, do you think all that's enough? Do you think it's necessary to make sure that the hate crimes bill is used? So then it's not just a crime, but it's noted as a hate crime. Do you think that's important?
Long: [00:32:57] I think it's very important. And it's not just like signing the bill and saying, we've got this hate crime bill. We have to educate the public that there is a hate crime bill and your act of violence, whether it's throwing a rock at someone or shooting and killing someone, comes with larger penalties. If it turns out to be based on race, on gender, on religion, all the categories that they'll cover. But the bill alone, isn't the solution. It just provides a buffer hopefully making people think twice before acting. We really need to get to the root cause of why people feel like they need to blame specific subgroups. Whether it's based on race, black or Asian, Latino. Based on gender, you know, blame things on women or, you know, sexuality, the LGBTQ. You can't outlaw that kind of bias. But you can come up with policies and programs that will help educate people and hopefully get them to cross that bias. And I think some of it we need to start accepting is mental illness and start providing the funding to address mental illness.
Rico: [00:34:17] All good points. The, you know, the bill is one thing and it's a political tool. So if it's not enacted in culture it's something else, right? You can't put your foot on someone's neck, or your knee if you will, if you can't culturally understand why things are happening.
Long: [00:34:39] Right.
Rico: [00:34:39] So we've been talking to Long Tran here, owner of Peachy Corners Cafe here in Peachtree corners about Asian hate crimes. It's a tough issue to talk about. We did a series of these types of things, this type of podcast about the crime on Blacks, back during the last, this past summer. Do you find any hope coming? Where do you find hope coming from?
Long: [00:35:03] I find hope from the younger generation. You know, when we did our rally, these nursing students, they wanted to make sure that we were inviting all the other communities with us. When George Floyd and Ahmaud Arbery happened. I went to some of those protests and rallies and spoke to black community leaders. And I saw the younger generation show up. Of all backgrounds Latino, Asian, White. They all were showing up. They were marching together. And so I think the younger generation does not have a tolerance for this. And they call it out. If you're on Tik Tok, you'll see it called out on Tik Tok all the time. On certain social media, you know, people will say, you know, it's not cool to hate or to be a bigot. This is why. And they post pictures and videos. So I see hope from the younger generation that they've drawn a line that this isn't going to happen anymore. You know, I'm Generation X. And I think we got lulled into a perspective of, it came to an end. It didn't really happen. It's all isolated incidences. And you know, when given, when white supremacy was given a voice and some influence and power we saw what they could do. I mean, never in my lifetime, did I see something like Charlottesville. And we would lulled into thinking that that could never happen. And so my generation didn't fight. But this younger generation, they've got the tools and they're talking to one another.
Rico: [00:36:43] For sure. Thank God. There's just too much stuff going on. The riots and the Washington, takeover of DC at one point. Almost apocalyptic looking. I mean, it's just ridiculous. I mean, the people are okay with that happening and justifying those things. It's been great having you on. It's been great talking to you. I've got to come over to have some cup of coffee and dessert later.
Long: [00:37:13] Absolutely. And if you've never had bubble tea, you've got to try our bubble tea as well.
Rico: [00:37:17] I haven't had it, my kids go out to get it. So I think, I'll try some. So I appreciate you coming on Long. Thank you for being with me. Hang in there after this, but you know what, before we leave, tell everyone where you're located and how they can find out information about you, your business, and anything else that you'd like to tell them to reach?
Long: [00:37:41] Sure. So we're Peachy Corners Cafe, it's actually PEACHY, Peachy. I don't know if it was a smart decision to go with peachy versus peachtree. But that's what we went with and we're located by Holcombe bridge and Spalding drive. So if you know, where Loving Hut, Loving Hut's been here forever, or Royal Thai, who's been here forever. We're right in between the two. We're not in the same shopping center as the bowling alley. We're in the one next to them. We're open from eight to eight every day, but Sunday. We're open on Sundays too, but from ten to six. Come on down. We have great coffee, great bubble tea. We also have wine if you want to just chill out in the evenings, do wine and a dessert. And then if you want to get involved with addressing the Asian-American, the violence against Asian Americans somehow. As a community, one of our first efforts right now is to fundraise for the families. They need money for legal fees and to help with the kids who are now parentless. So you can go to any of the community advocacy groups, Asian Americans Advancing Justice. Or the center for Pan Asian-American, CPACS or Center for Pan Asian-American Community Services is what it's called. And you can go to their websites and find a donation. You can donate there and you know. For Peachy Corners. So you can go to www.PeachyCornersCafe.com, and that will get you to our Facebook and you'll see our calendar and a link to everything else that we're a part of.
Rico: [00:39:11] Excellent. We'll have most of these links if not all of them in our show notes. So check that out later. But thank you again Long. I appreciate you being with me and talking today.
Long: [00:39:21] Thank you Rico for having me. This was a great conversation.
Rico: [00:39:24] Same here.
Rotary Club of Peachtree Corners supporting teachers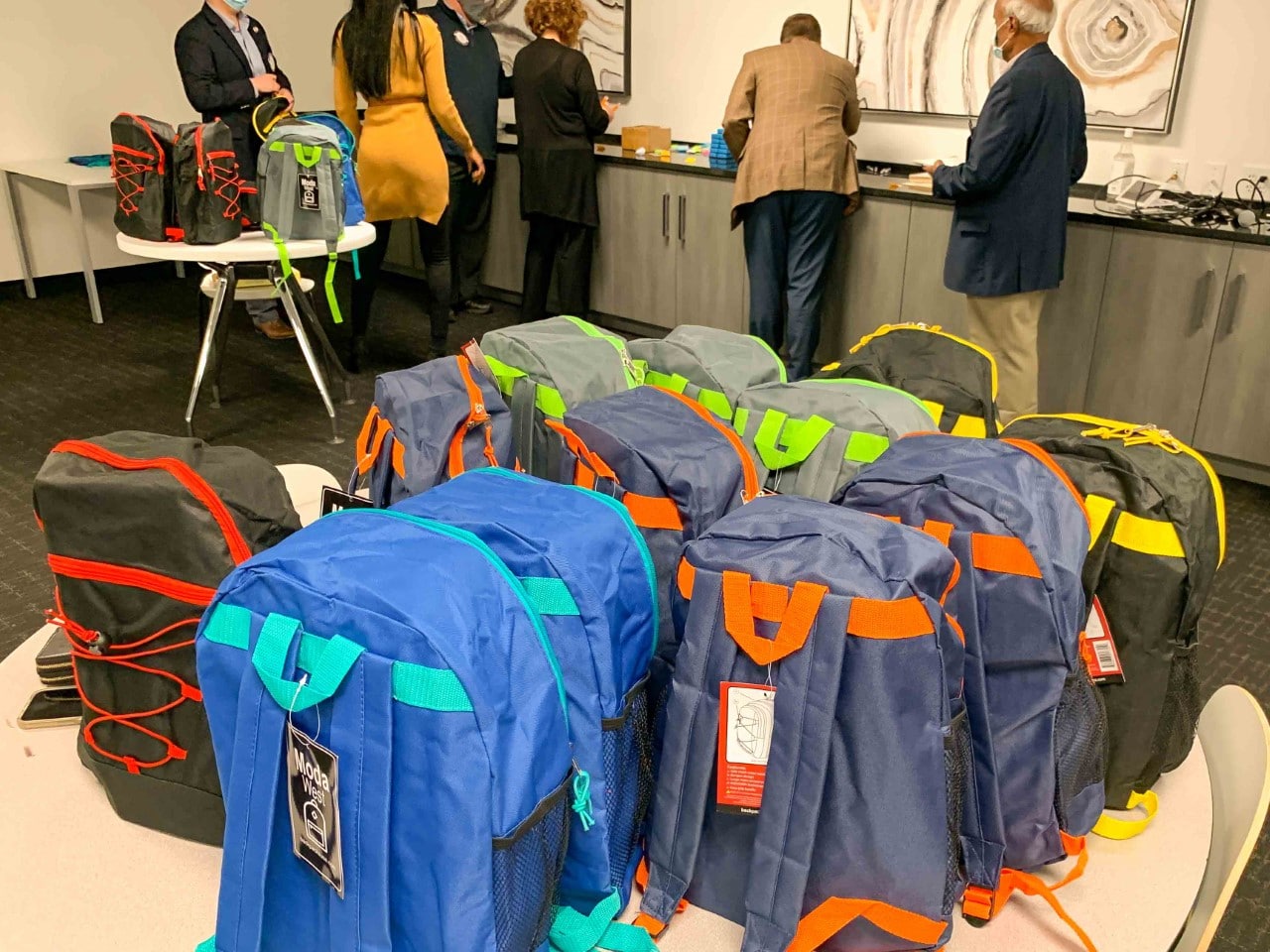 In March, the Peachtree Corners Rotary Club participated in a project aimed at honoring our teachers in the Norcross/PTC cluster and the Special Needs School of Gwinnett. The club members committed funds for the project. Rotarians Erica McCurdy of McCurdy Solutions Group and Eric Walls of Chick-fil-a worked together to apply for a matching grant. This made it possible to purchase supplies for 25 classrooms.
The goal was to provide a backpack full of the things teachers need and want the most but rarely have the budget to purchase. Some of the items included in the backpacks are thermal laminators, individual white boards, pre-sharpened pencils, and pencil sharpeners that do not require batteries. The club gathered on Monday, March 29 in the Community Chest room to put the packages together. The backpacks will be personally delivered by Rotarians over the next 60 days to the schools in our area.
The club meets on Monday at noon in the Community Chest room of Peachtree Corners City Hall. You can learn more about Rotary at peachtreecornersrotary.org
Traffic Shift Planned on Spalding Drive from Winters Chapel Road to Holcomb Bridge Road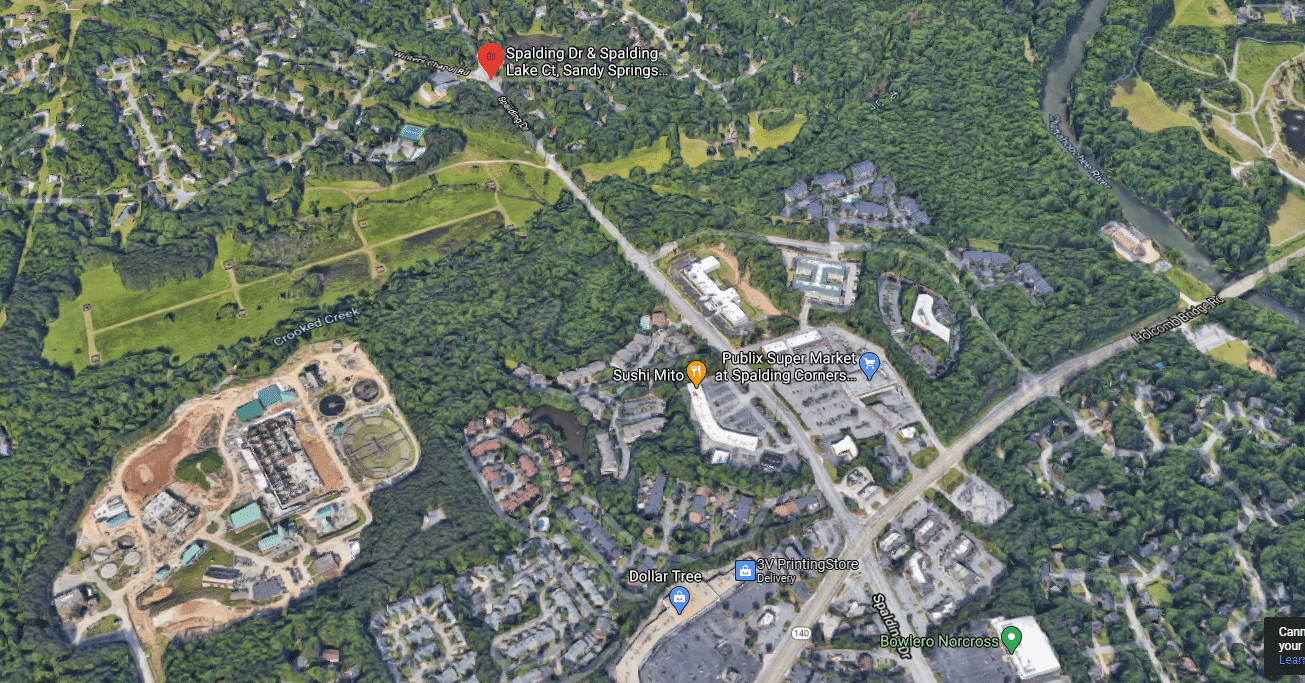 The Gwinnett Department of Transportation will shift traffic on Spalding Drive Tuesday as part of the widening project that extends from Winters Chapel Road to State Route 140/Holcomb Bridge Road.
The shift is to occur along the full length of the project. Flaggers will be on site to direct drivers safely through the construction zone.
Multiple jurisdictions are working on the project to widen Spalding Drive to four lanes with a center lane. Along with the widening, the project includes the replacement of the existing bridge over Crooked Creek with a new bridge and addition of sidewalks and a multi-use path on Spalding Drive. Curb and gutter and associated drainage improvements also will be installed.
This project is funded by the 2014 and 2017 SPLOST programs, the cities of Sandy Springs and Peachtree Corners, and the state of Georgia.
More information about this project and others is available on the County's website, GwinnettCounty.com, under Transportation in the Departments menu.