Has COVID-19 Changed Our Friendship Groups? What It Looks Like a Year Later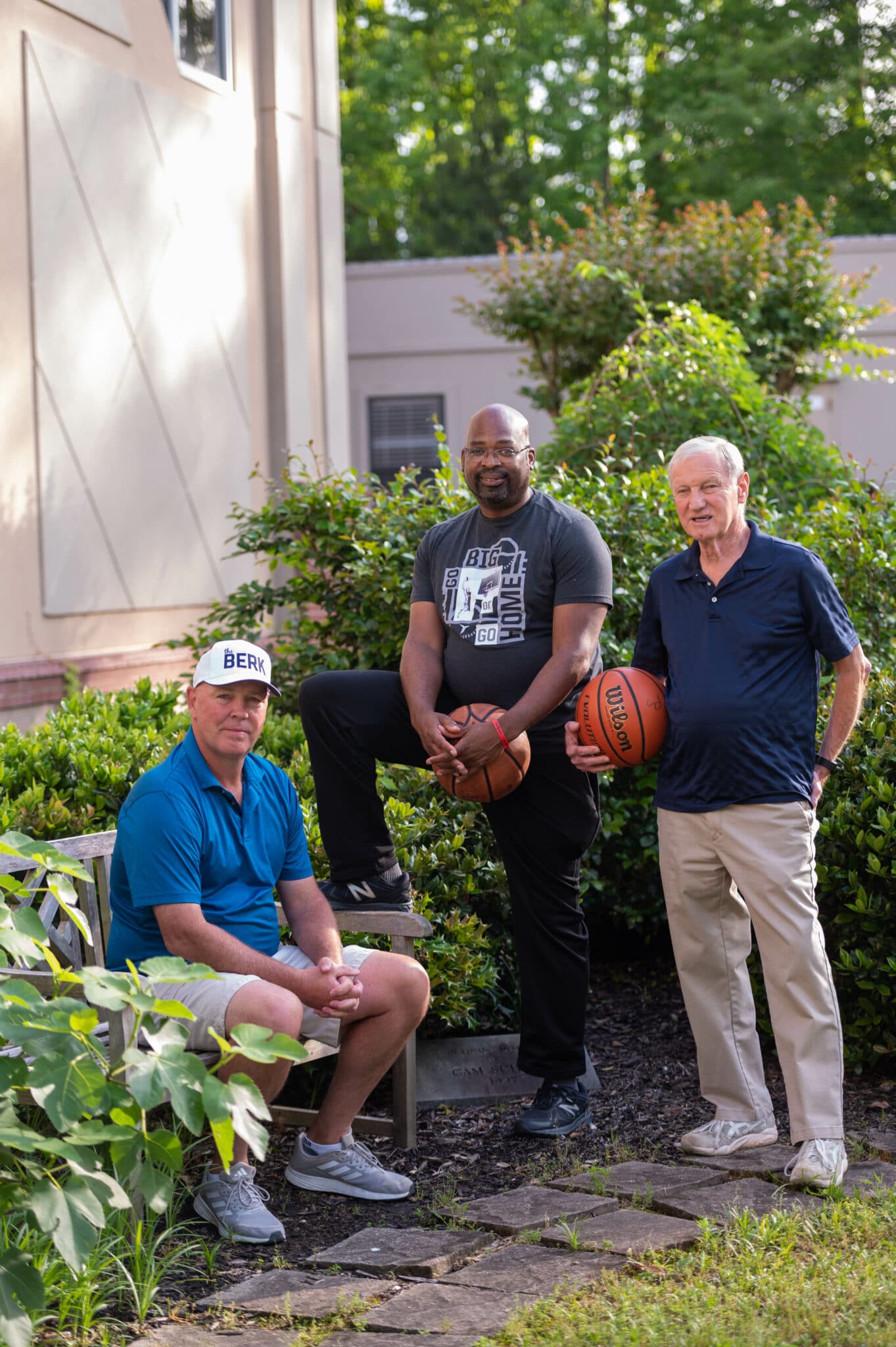 By Matt Bruce
Photos By George Hunter
Sanctuary is an oasis of refuge. A fortress of equanimity nestled upon resilient timbers sturdy enough endure turbulent sea changes.
Many look for sanctuary in the traditional realms of church pews and scripture. Others find it in work or hobbies while some turn to yoga mats and nature trails to find their place of solace.
But a local group of hoops lovers found theirs in sport. Three times a week, they crawled out of bed before dawn and convened at the Robert D. Fowler Family YMCA on Jones Bridge Road for early morning pickup basketball games.
Theirs was a refuge that existed between the black lines of the hardwood court. Saggy-eyed engineers and insurance salesmen filtered in for shoot arounds at 6 a.m. Minutes later, the kinetic pace of full-court runs energized the gymnasium.
For two hours, the chorus of sneakers squeaking against the synthetic wood floors mixed with the snap of the roundball swishing through the net. Afterward, each of the men went their separate ways for an honest day's work.
It was a ritual that held true for decades at the Peachtree Corners Y. Dozens of recreational ballplayers, hungry for good pickup games, cycled through the gym on different days. As many as 75 players were signed up on an email distribution list for the 6 a.m. runs.
But COVID forced statewide shutdowns of Georgia's gyms last spring, stripping the local hoopers of their beloved sanctuary. Gov. Brian Kemp issued a shelter-in-place order April 2, 2020, officially closing all gyms, hair salons, barbershops and many other businesses across Georgia. That executive order came two weeks after all of Metro Atlanta's YMCA facilities temporarily closed.
Thirteen months later, many of the shutdowns have lifted. However, the morning ballers had yet to return to their haven on the court.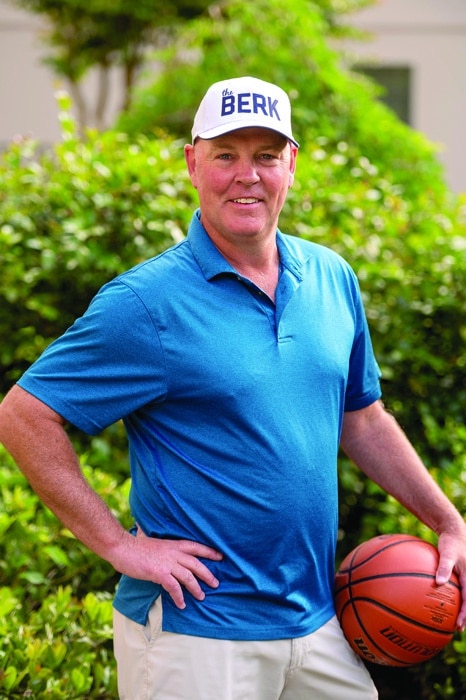 "I feel like I'm missing something," Terry Hogan said during a recent interview. "It's just another loss for me. It's like the whole world's been rocked and this is a piece that I miss and hate that it was taken away."
COVID-19's devastation has extended to all aspects of life, affecting everything from work and school to the ways we shop, vote, congregate and worship.
One of its overlooked impacts is the toll the pandemic has had on casual friendships. Researchers say those relationships add depth to people's lives and help eliminate the feelings of isolation that have crept into many households over the past 14 months.
Before the pandemic-forced closures, Hogan, a 56-year-old engineer, had been playing basketball at the Y since 1998. He and three of the other group's mainstays sat down with Peachtree Corners Magazine last month to discuss life sans their pre-dawn basketball rendezvous.
"It feels good because it's a sense of normalcy," Hogan said of seeing some of his old buddies for the first time in more than a year. "Normalcy's about to return, that's how I view it."
'It's Sort of Like Family'
For this group, normalcy meant starting their day with a workout. They met at the Peachtree Y around 6 a.m. every Monday, Wednesday and Friday. The majority of them are working professionals so the early starts gave them enough time to muster a handful of pickup games before cleaning up and heading to the office.
"It jumpstarts your day," Jesse Mills said. "The thing about it, once you get into a routine, your body adapts."
Mills, a 39-year-old tech analyst, was recruited to play about 12 years ago. He's a part-time referee and was officiating a rec league in which Hogan played at the time. Mills said he was about 300 pounds when he first started waking up for the morning scrimmages. He's slimmed down to about 200 pounds and now brings an explosive style to the pickup games, capable of slashing to the bucket and knocking down 3-point shots.
The ensemble includes a mixture of ballplayers from across the Atlanta metro region. Some drove from as far away as Cherokee County — over an hour away — to get in on the action. The players ranged in age from early 20s to mid-50s. Some of the regulars were women.
Between 12 and 15 players showed up each morning. The crowd swelled to over 20 during the summer months, when college students were home from school and local teachers joined the fray.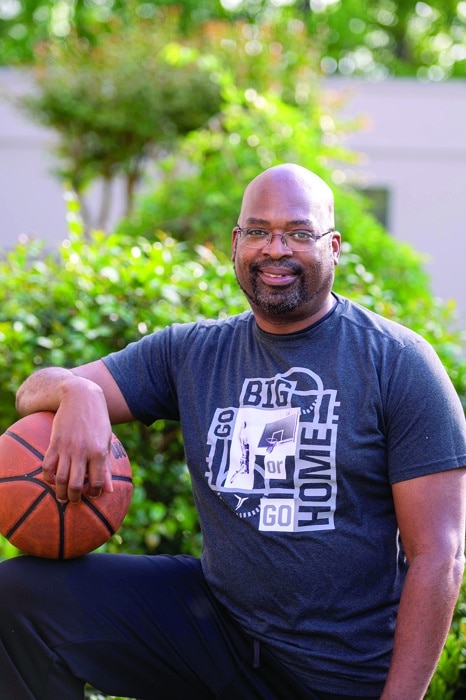 "All the basketball personalities are there at different times," said Karl Barham, a regular of the past 20 years. "You dread it, but you can't beat it. Every morning, I get up with the same feeling of 'I don't want to go, I want to sleep.' But on those days, the second I get on the court and get that first game in, that feeling's gone. And I never regret it. I never feel like I should have stayed home. It's the days that you don't go that you regret not going."
Barham, a 48-year-old New York City native, plays a physical style patterned after the Patrick Ewing-led Knicks of the 1990s. Without real options to play basketball over the past year, he said he's struggled to stay in shape. He's tried alternatives like the Peloton and running outdoors.
"But you don't get the cardio, you don't get the exercise you get with running on the basketball court," Barham said. "Even just getting up in the morning, keeping that routine."
Trash talk was an integral part of the players' bond. Barry Blount, an automotive engineer, moved to the area from Michigan in 2012 and quickly stumbled upon the morning rec runs. He said the boastful banter begins with text messages long before they hit the court. And the smack talk continues right after the runs are over for the day. It's all borne out of the spirit of competition that draws the ballers to the gym.
"It's sort of like family because even when we argue, we all know what the limits are and it never really lasts that long," Blount said. "We have the games and everybody loves it. It's the kind of group that would hang out outside of work."
While Mills may be effective on the court, he catches flack for the volume of fouls he calls during the games. It's become a running joke in the group over the years, with his comrades wisecracking that he should leave his whistle at home. Mills shrugs it off.
"I'm a ref, so anytime I call something, they're always yelling 'bad call,'" he acknowledged with a wry grin. "But it's a pretty good group of guys that we've got on a normal basis."
The Love of the Game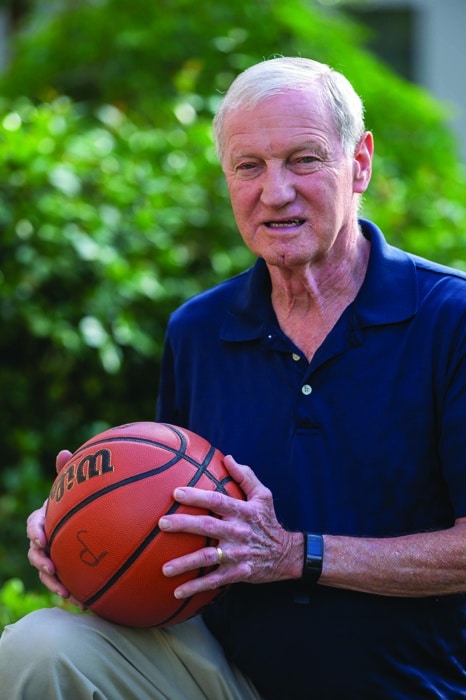 Jiles Parham, who turned 77 in May, played morning basketball for more than 30 years in Albany, Georgia before moving to Conyers in 2012.
Parham has a special bond with the game. Basketball is credited with saving his life. During a morning run at the Albany Y in 1995, Parham collapsed on the court. He came up to Atlanta to have five heart bypasses at the Emory University Hospital.
"The doc that did the surgery said, 'Keep playing, keep doing what you're doing,'" Parham recalled. "They said it was the reason I survived, because I was in good shape. But I say it's because the Lord saved my life."
When he moved to the Atlanta suburbs, Parham said he first tried out a gym in south DeKalb. But it only offered recreational games once a week on Monday nights.
"So I called around, and this was the only Y that had 6 o'clock basketball. That's why I started coming up here," Parham said.
Before the early pickup games at Peachtree Y were suspended last year, Parham woke up at 4:20 each morning in time to travel from Conyers and hit the court by 6 a.m. "If you love basketball, you'll do it," he said.
"If the world could live like we play basketball, we'd be a lot better place. That's for sure," Parham added later. "If we have disagreements, we take turns on a ball. But if you have a bad call, we'll shoot the three for it. And whoever makes or misses it, we keep playing."
Shaking Off the Rust
All of the members of the group said they miss the fellowship. Blount said a few tried to arrange times to catch up around Christmas, but those plans eventually fell through because of scheduling conflicts.
"I love the basketball," he explained. "But I also love the fact that I found a group of guys who all kind of have the same mindset as I do. They're all family guys…And a lot of us are not from here, so we don't have family here. So it gives me, like, a group that I can affiliate myself with."
The bug to get back on the court started to set in around late March when the winter weather dissipated. Several people started texting each other about going back to the gym.
"At least get the guys sparked back up to start playing again," Blount said. "Everybody wants to get back in the gym, to get in shape and just kind of see each other. Get that camaraderie going again."
Mills said he'd already started back at different gyms throughout the area, but his game wasn't the same as before the pandemic. He'd heard whispers of other local courts that were set to open.
Hogan reflected on losing his connection with the group. He was itching to get back on the court but had some apprehensiveness after being away for a whole year.
"I'm worried about my age," he said. "It's hard at this age to stop and start back up." Despite those concerns, he began making plans to get the word out and round the gang back up.
"This is perfect timing," he told Mills, Parham and Barham as they sat at Towns Center plotting a return to the courts. "This is like going to be the restart. It's like we're close to restarting, and talking to us now is the perfect reason to restart."

What's Happening at Pinckneyville Community Center this Month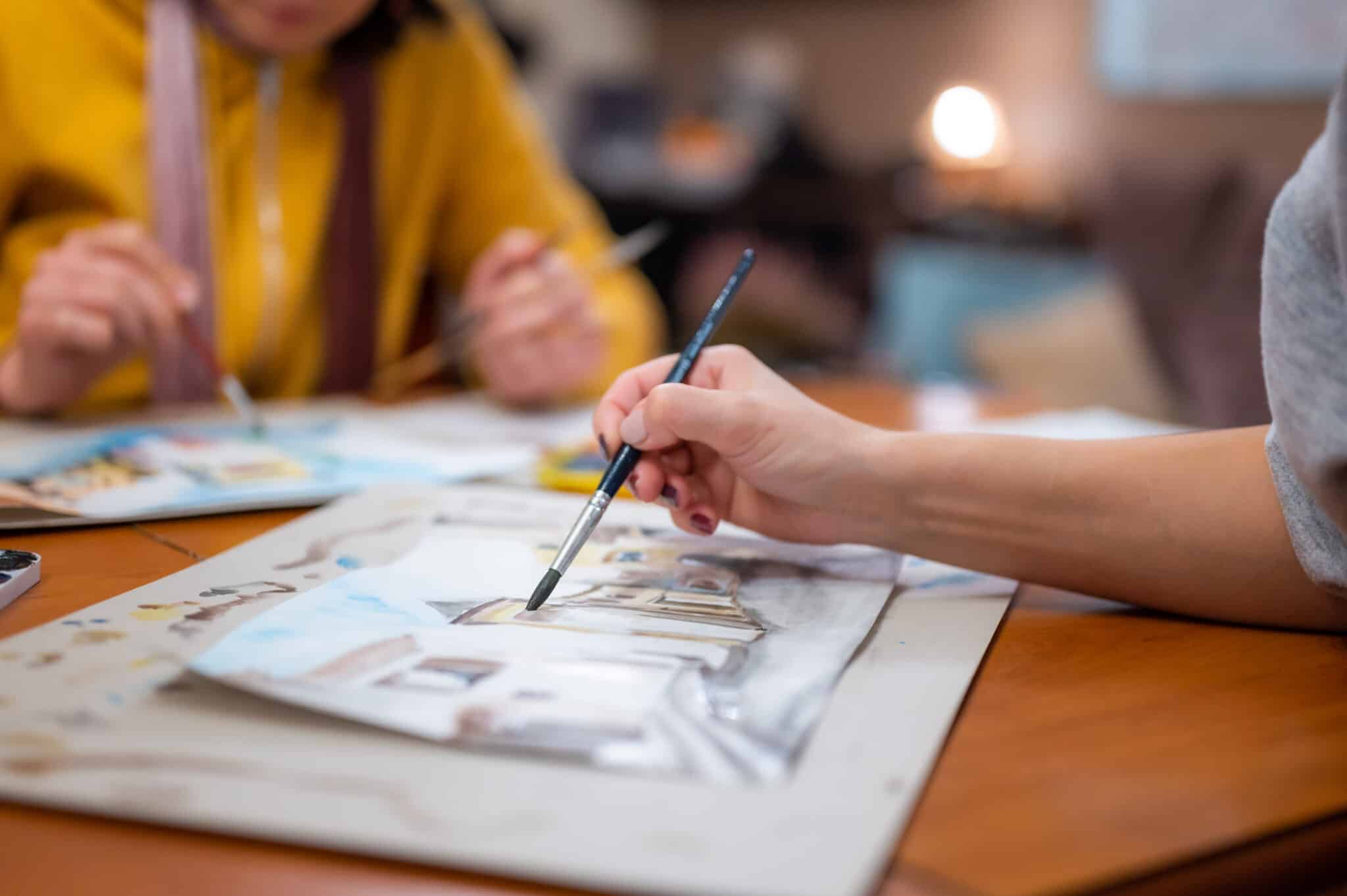 NEW! Gwinnett "En Plein Air" Park Art Challenge: We're calling Gwinnett artists 16 and older to participate in an artwork challenge! Paint an outdoor scene at one or more of the parks selected for a chance to win a cash prize. Saturday, August 5 to Saturday, November 11. Submission deadline is November 17. Please call 678-277-0920 for more information!
OFFERINGS
Adventure Days Out: We've got your school's out childcare covered. Children will have an amazing experience trying new games, exploring new skills, making new friends and most of all, having fun! 7:30 a.m. – 6:00 p.m. Ages 5-12. $30 per day.
NEW! Beginner Karate: This course consists of traditional martial arts self-defense to help students develop strength, knowledge and discipline. Our classes are safe, fun and exciting! Saturdays, October 7 – 28. 1:15 p.m. – 2:15 p.m. Ages 5/up. $88.
NEW! Basic Drawing: Students will learn the basics of line, shape, value, texture, and perspective to create finished drawings in pencil and charcoal. Students will draw subject matter provided by the instructor. Call 678-277-0920 for dates and times. Ages 18/up. $201.
NEW! Understanding Watercolor: Taught by an award-winning watercolorist, this course emphasizes techniques in watercolor. Various subject matter from still life, landscape, animals to portraits will be rendered. All levels welcome. Call 678-277-0920 for dates and times. Ages 18/up. $201.
Get Into Watercolor: Learn the basics of watercolor from a seasoned instructor! This class is designed for beginners as well as the more experienced. Master the methods of watercolor to paint basic and complex shapes; development of depth through values, perspective, color and the composition of overall painting. Students will furnish their own materials (supply list will be provided). Saturdays, October 7 – November 11. 10:00 a.m. – 12:30 p.m. Ages 16/up. $141.
Ballet–Preschool: Creative dances and imagination will help instill a love for dancing, as your toddler learns the basics of ballet in a positive and fun environment! Preschool ballet will need pink leather ballet shoes and pink footed tights, pink leotards and a pink skirt. Saturdays September 9 – 30. 10:00 a.m. – 10:45 a.m. Ages 4–5. $37.
Ballet–Beg: Expand your child's ballet abilities in this beginner class. Students will focus on developing ballet techniques and posturing. Beginner ballet will need pink leather ballet shoes and pink footed tights, pink leotards and a pink skirt. Saturdays, September 9 – 30. 12:15 p.m. – 1:00 p.m. Ages 6–9. $37.
Ballet–Int: Expand your child's ballet abilities in this beginner class. Students will focus on developing ballet techniques and posturing. Beginner ballet will need pink leather ballet shoes and pink footed tights, pink leotards and a pink skirt. Saturdays, September 9 – 30. 9:15 a.m. – 10:00 a.m. Ages 7–10. $37.
Ballet–Int: Students will reinforce their ballet techniques, physical strength, flexibility, and musicality in this intermediate level class. Dancers need pink leather ballet shoes, pink footed tights, black leotard and a black skirt. Saturdays, September 9 – 30. 11:30 a.m. – 12:15 p.m. Ages 11–16. $37.
Ballet–Adv/Pointe: This class is designed for dancers 15 or older, aimed at strengthening ballet technique, flexibility, and performance levels. More demanding and complex movements will help your student master the art of ballet. Dancers need pink leather ballet shoes, pink footed tights, black leotard and a black skirt. Saturdays, September 9 – 30. 10:45 a.m. – 11:30 a.m. Ages 15/up. $37.
NEW! Hip Hop/Jazz: Tone your body and get your heart pumping to the beats of your favorite music! Students will learn fun, innovative, and unique dance routines that will strengthen their dance skills. Each class consists of stretching, exercise, cool downs and dance choreography. Drop in any class for only $15. Wednesdays, September 13 – November 1. 6:10 p.m. – 7:00 p.m. Ages 8-12 $81.
NEW! SWEAT: This class incorporates all aspects of fitness: cardio, resistance, flexibility and core training structured in segments that focus on upper, middle and lower body exercises. This class will improve endurance, strength, muscle, tone and definition for all fitness levels. Wednesdays, September 13 – November 1. 7:10 p.m. – 7:50 p.m. Ages 18/up. $81.
NEW! 3D Printing Workshops: Unlock your child's creativity and introduce them to the exciting world of 3D modeling and printing! Our class teaches the basics of 3D design using industry-standard software, Blender and bringing designs to life through 3D printing. Participants will gain valuable skills such as problem solving, spatial reasoning, creativity and attention to detail while having fun creating their own unique 3D printed creation. A laptop and mouse are needed for this class. Required: A $10 material fee is due at the start of the class paid directly to the instructor Optional: $10/session for laptop rental fee. Please reserve ahead. Highly recommended to bring your own laptop and mouse.
3D Printing Experience: Saturdays in August, 2 p.m. – 3 p.m., Ages 6 – 18, $36
Design Thinking in 3D Printing: Saturdays, August 5 – 19, 1 p.m. – 2 p.m. Ages 6 – 18, $100
POTTERY STUDIO
NEW! Session begins September 11, registration opens August 30.
Wheel: This class is perfect for beginner pottery students who want to learn the basics of working with a pottery wheel. $22 per bag of clay required. Mondays, 6:30 p.m. – 9:30 p.m. Ages 16/up. $128.
Wheel Adv: Advanced pottery wheel lessons that build on the beginner class so you can hone your skills and perfect your craft. $22 per bag of clay required. Tuesdays, 6:30 p.m. – 9:30 p.m. Ages 16/up. $128.
Wheel/Handbuilding – Beginner: This class is for true beginners interested in pottery, both wheel and handbuilding will be explored. Try it out and explore a new art form! $22 per bag of clay required. Tuesdays, 10:30 a.m. – 1:30 p.m. Ages 16/up. $128.
Wheel/Handbuilding – Adv: This course incorporates working with a pottery wheel and hand building with clay for more experienced students. $22 per bag of clay required. Wednesdays, 10:30 a.m. – 1:30 p.m. Ages 16/up. $128.
Handbuilding: No wheel necessary in this course, learn how to work and create with your hands using clay and tools. $22 per bag of clay required. Thursdays, 6:30 p.m. – 9:30 p.m. Ages 16/up. $128.
Independent Study: Open studio session for individual pottery artists. Must complete Pottery Studio orientation prior to first visit if you are a new patron. Monday – Saturday. Ages 16/up. $100.
Independent Study ADD ON: Open studio session for individual pottery artists. Must be registered for current pottery class. Monday – Saturday. Ages16/up. $30.
*Out of county resident fees applied at time of registration*
FREE ACTIVITIES
Atlanta Gourd Patch: Create art on gourd canvases. Meeting the second Saturday of each month, 10:00 a.m. – 2:00 p.m. To register contact Kay Rozea at 470-316-8185 or kmr01@aol.com.
Atlanta Hobby Robotics Club: Come and share your robotics ideas. All ages are welcome. Meeting on the third Saturday of each month, 10:00 a.m. – 12:00 p.m. To register contact Walter Burleson at 404-932-8108 or wlenbl@gmail.com.
Senior Bridge Club: A trick-taking card game using a standard 52-card deck. In its basic format, it is played by four players in two competing partnerships. 50/up. Thursdays, 9:00 a.m. – 2:00 p.m. To register contact Mary Fender at 678-357-6709 or maryrfender@yahoo.com.
Bridge- Act II: Fourth Monday of each month from 10:00 a.m. – 2:30 p.m. For more information contact JoAnne Leisen at 571-330-4730.
Guitars for Vets: Helping Veterans cope with PTSD through music. Participants get 10 weeks of one–on–one lessons. When finished with lessons participants will receive a free guitar! Mondays, 12:00 p.m. – 3:00 p.m. To register contact Cliff Meinhardt at 404-234-8040. Visit guitars4vets.org for more information.
Gwinnett Chess Club: Chess for all ages. All experiences are welcomed. Every other Saturday, 9:30 a.m. – 12:00 p.m. To register contact Tom Emch at 770-605-0429 or ibemch@charter.net.
Last Tuesday Book Club: Join in on all the reading fun! Meets the last Tuesday of each month.

Robert D. Fowler Family YMCA Plans 'Welcoming Week' and More Exciting Events This Fall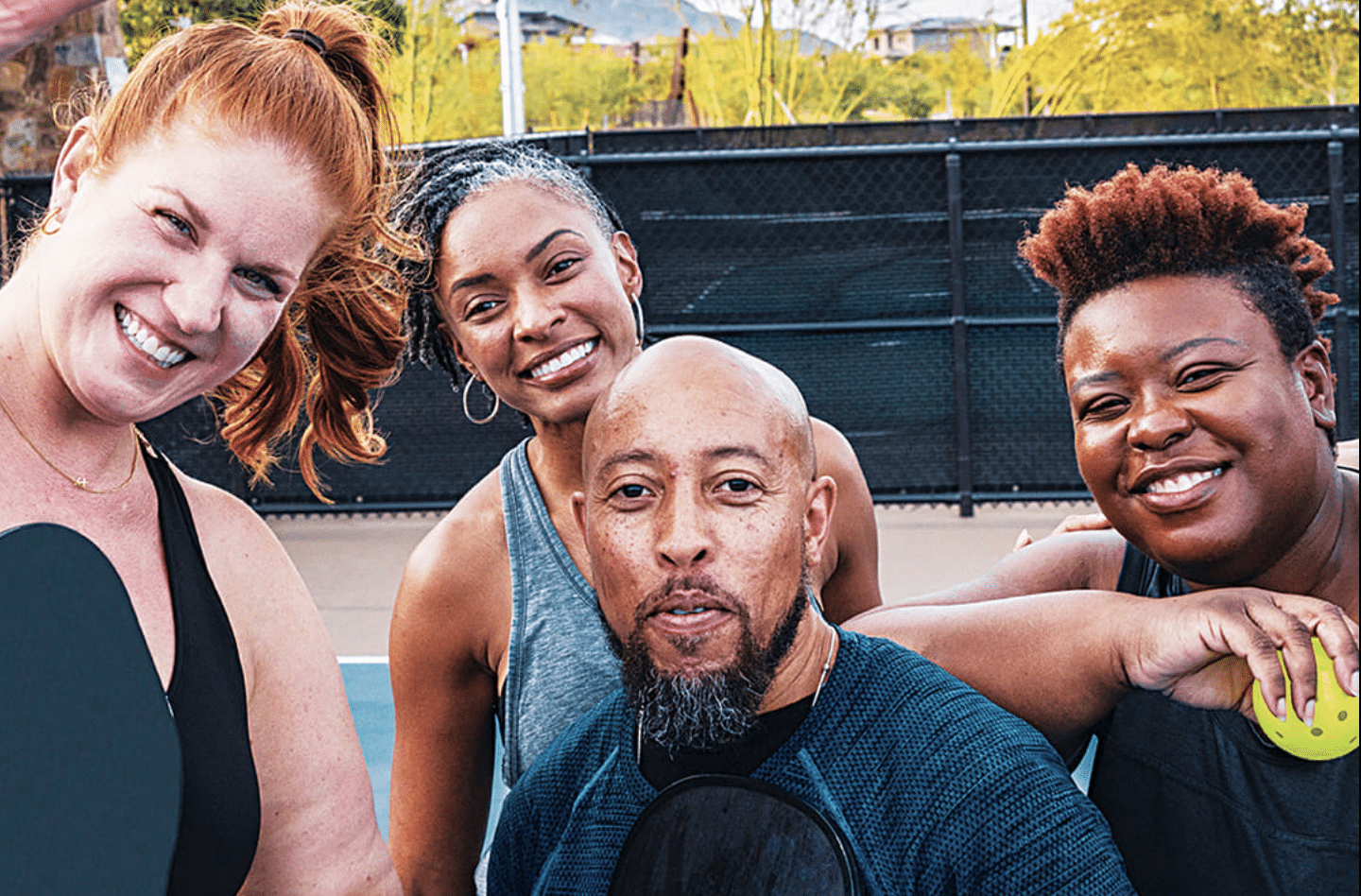 Welcoming Week: Reserve your FREE one-time guest pass during the week of September 8 – 17 and enjoy everything the Robert D. Fowler Family YMCA has to offer. Welcoming Week provides an opportunity for Peachtree Corners neighbors, whether they are immigrants or U.S.-born residents, to connect and strengthen community bonds. From swim class and water safety to day camps, group workouts and community well-being initiatives, the Rober D. Fowler Family YMCA has something for the whole family.
Guest passes do not include access to outdoor pools or basketball facilities in the gymnasium. Click here for you free guest pass.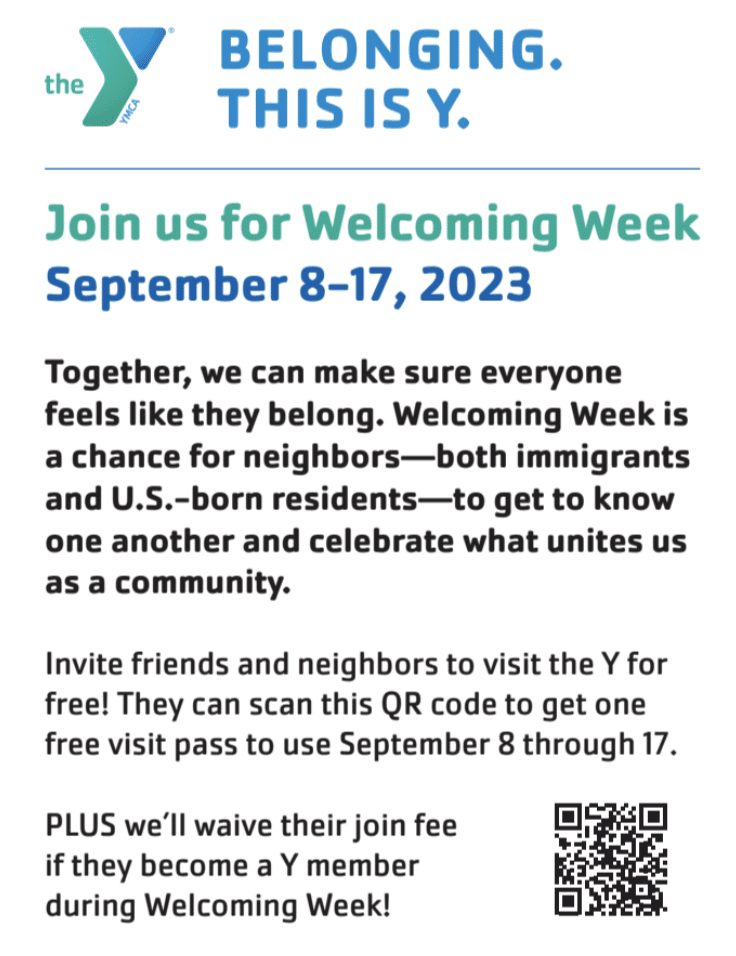 Lifelong Learners: Healthy living doesn't always mean physical activity. Creative thinking, exploring interests, and learning new things are as important as diet and exercise. That is the philosophy behind Lifelong Learners. For ages 50 and up, Lifelong Learners offers seniors the chance to come together and enjoy guest speakers, local field trips and spirited cultural discussions. The group meets every other Friday at 12:15 p.m. in the Senior Center. For more information, email Rob Wilson at robertw@ymcaatlanta.com.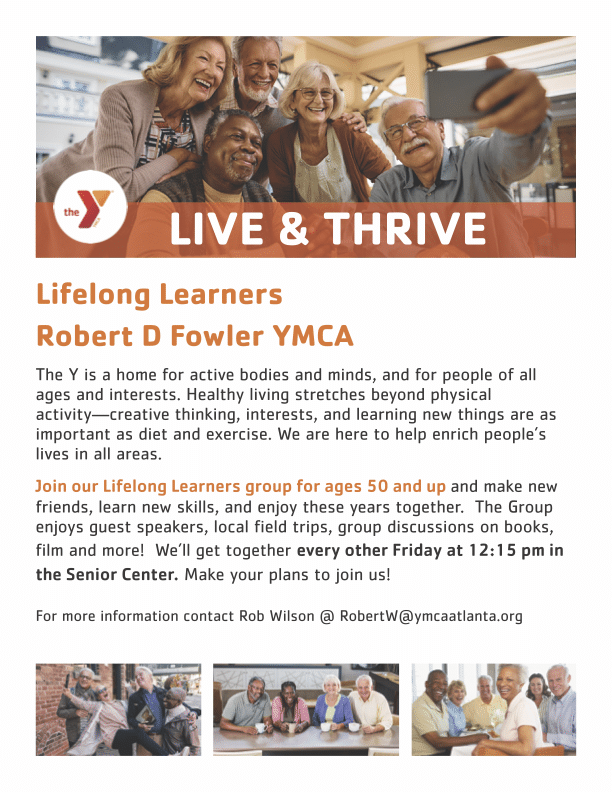 Grief and Loss Support Group: Grief and loss are two of the most difficult emotions to face in life, but you don't have to face them alone. Every Monday at 11 a.m. in the Senior Meeting Room, the Robert D. Fowler Family YMCA provides a safe and caring environment for participants to come together and begin to understand the grief process. For more information, connect with Ellie Garrett at ejgarrett@gmail.com.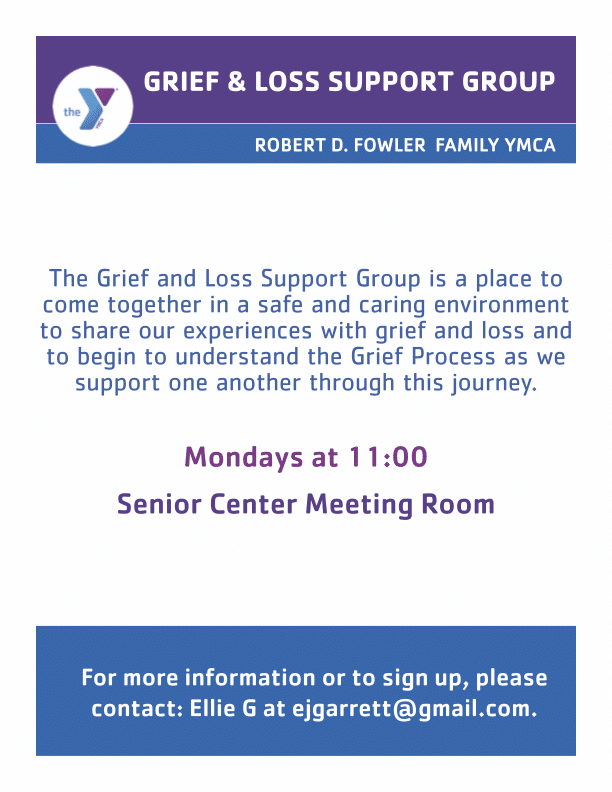 Caring for Those Who Care: The YMCA's weekly Caregivers Group provides a dedicated meeting space for caregivers to offer and receive emotional support. If you are providing care for a loved one, or want to learn more about long term caregiving, this group is for you. The group offers practical information while respecting confidentiality and encouraging camaraderie. Take this opportunity to build relationships with others in similar situations every Tuesday at 11:45 a.m. in the Senior Meeting Room. To learn more, email Mary Crawley at mcrawley@wans.net.
More Senior Activities:
Canasta: Every Monday at 2 p.m. in the Senior Meeting Room,
Dominoes: Every Thursday at 10:45 a.m. in the Senior Meeting Room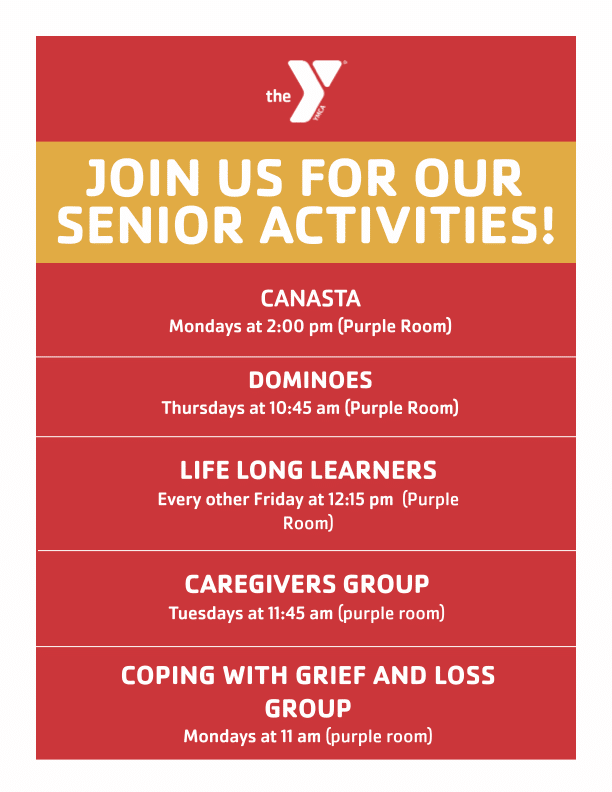 Gully-Washer Subsides to Keep 'Light Up The Corners' on Track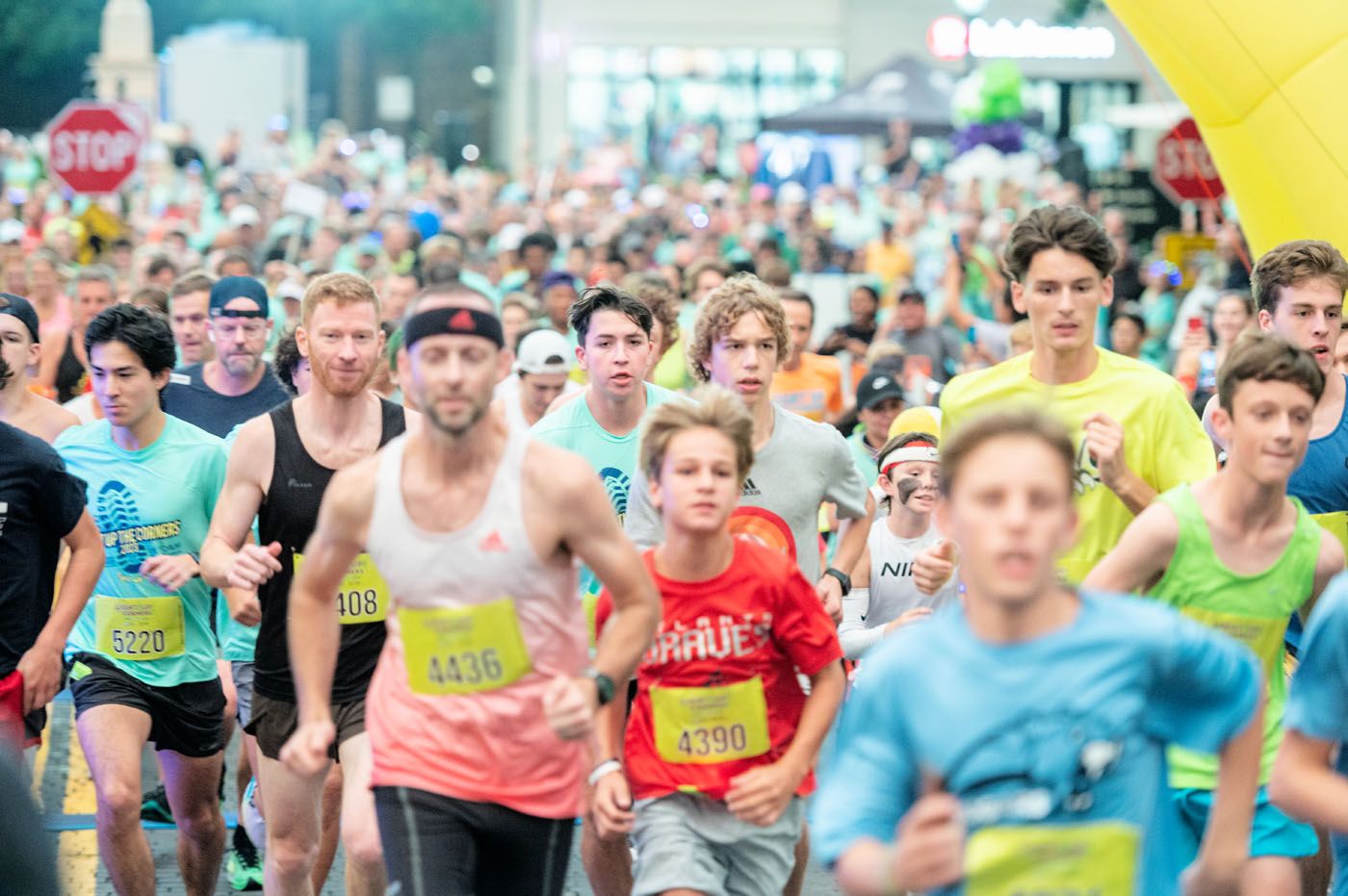 Call it luck or divine intervention, but some force in the universe was determined that the 10th annual Light Up The Corners event was going to take place as planned. About an hour before start time, the deluge that threatened the area with heavy rains and strong winds on Saturday, Aug. 12, began to subside.
By the planned 8 p.m. start, the sun had peeked through the clouds and fun and festivities were in full swing.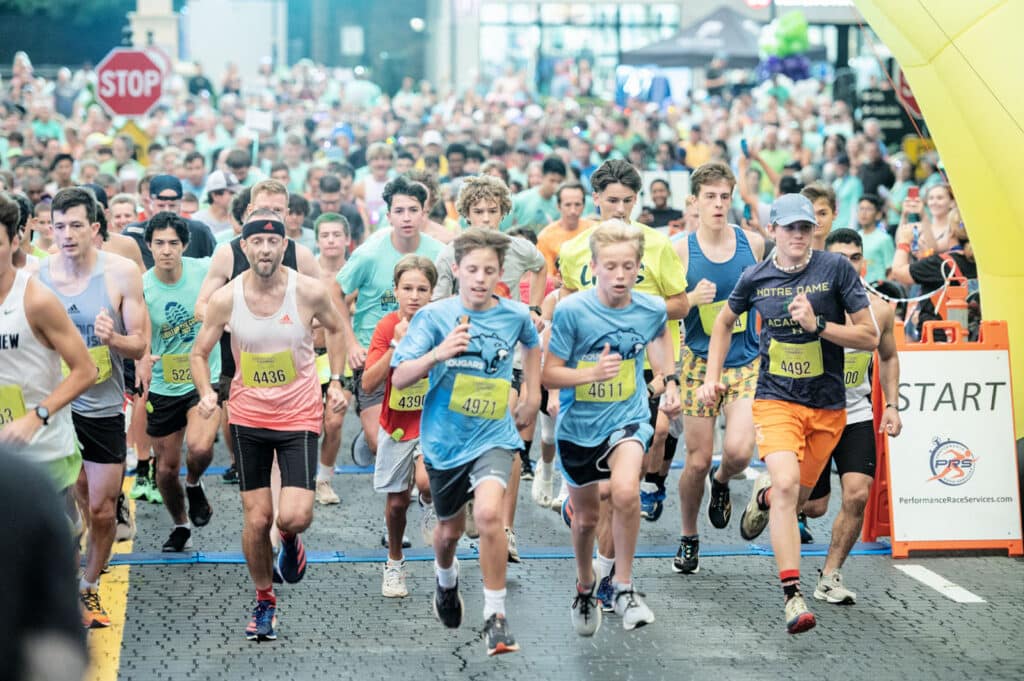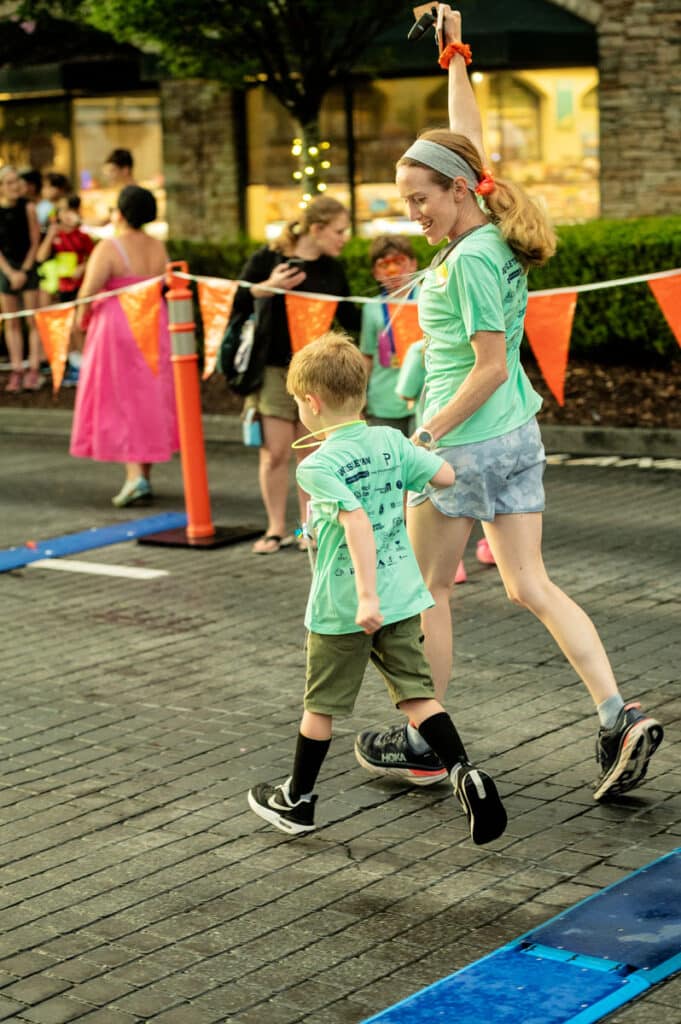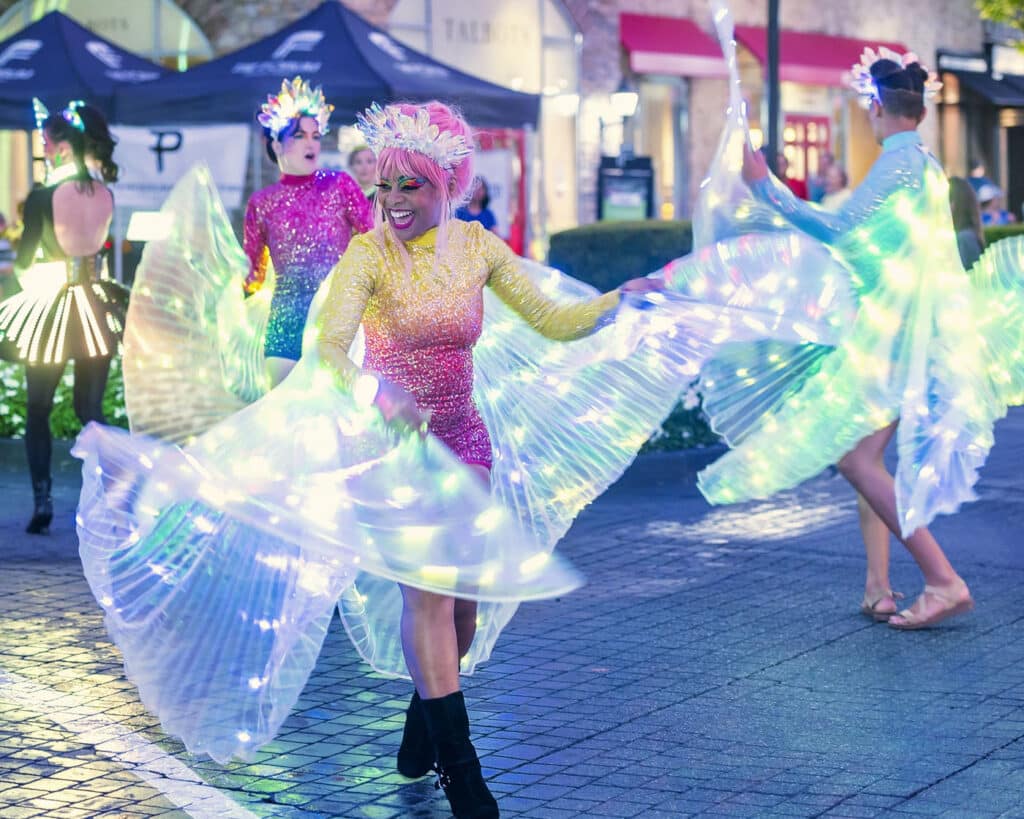 Guests from all across metro Atlanta gathered at The Forum at Peachtree Corners for the four-mile glow run and one kilometer twilight trot benefitting the Fowler Family YMCA. The evening raised over $60,000 for the local community center, according to organizers.
"This event has taken on a life of its own," said Light Up The Corners race organizer Amy Massey in a press release. "The run is less about competition and more about friends, neighbors and families coming together to participate in a healthy, family-friendly fun way to 'glow for the good' of the community."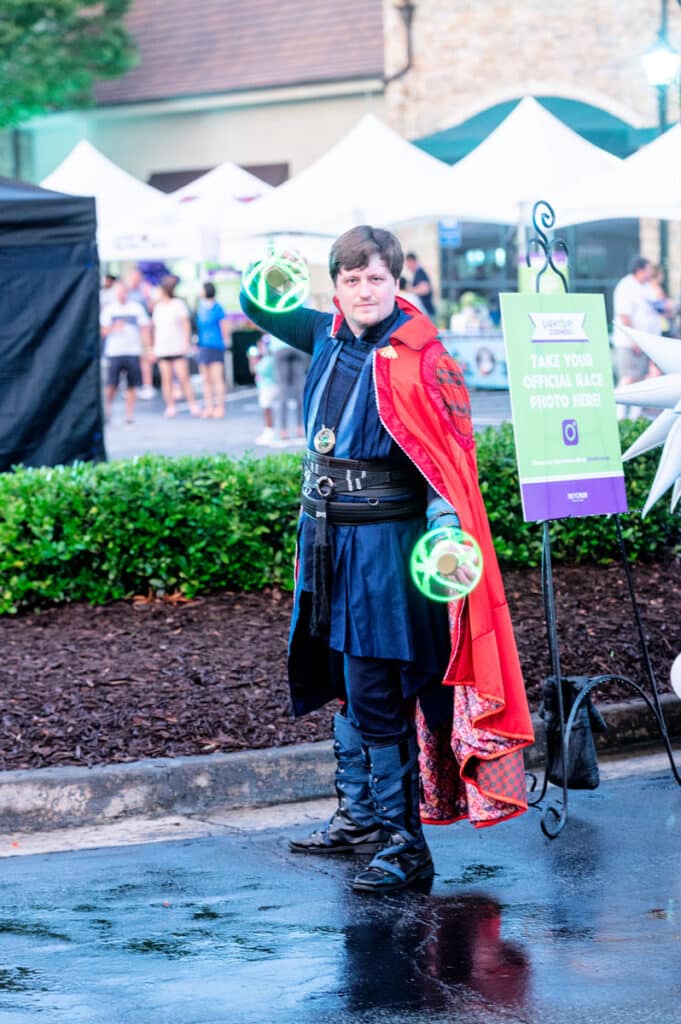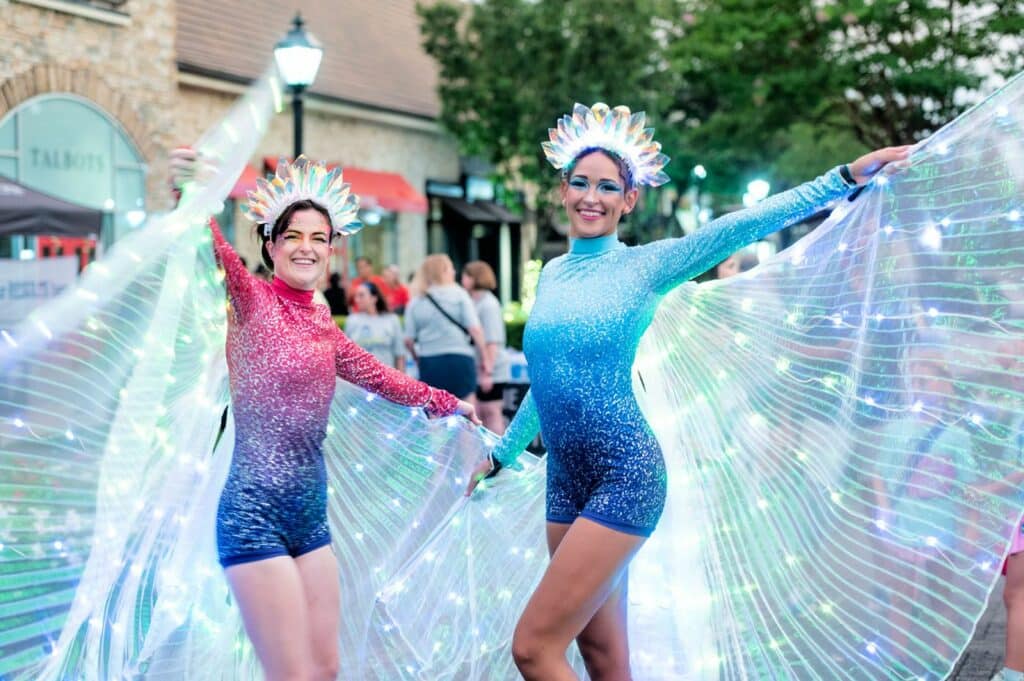 Despite the weather threat, this year's event attracted a record number of participants, sponsors and volunteers with more than 1,400 registered runners and hundreds of spectators cheering along the racecourse. Even if the physical activities weren't your thing, there were plenty of other attractions to keep one occupied.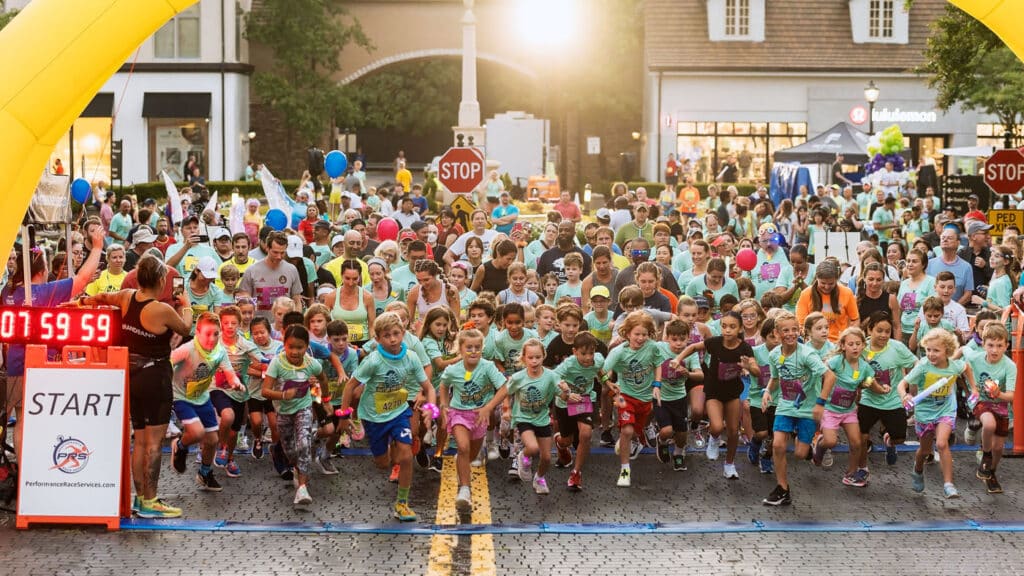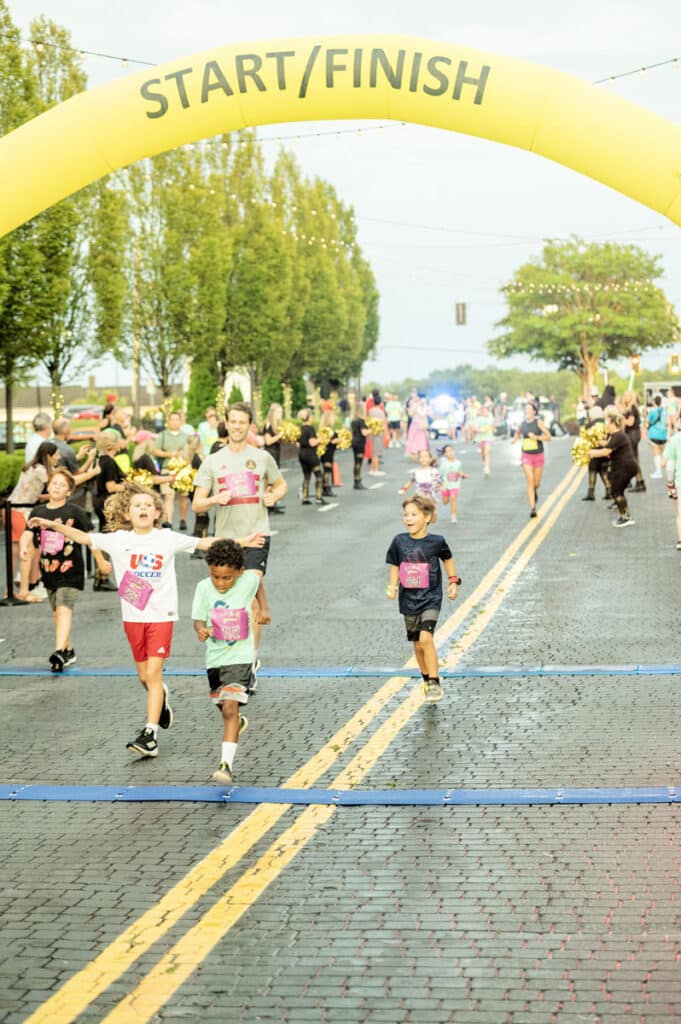 The festivities included activities for the whole family, a live DJ, roaming entertainment — one of the dancers was a dead ringer for Katy Perry — face painting, neon manicures, special prizes and awards for the runners. Light bites, beverages and giveaways were provided by The Forum retailers and restaurants, along with local schools, churches and businesses across the Peachtree Corners and metro Atlanta area.
"Light Up The Corners has become a truly beloved tradition not only for The Forum, but the entire Peachtree Corners community. Witnessing thousands of glowing runners is a thrill from start to finish, and we're honored to support our friends at the YMCA year after year," said Charlotte Hinton, The Forum marketing manager.
Since its inception, Light Up The Corners has raised more than $400,000 for the Fowler Family YMCA. To learn more, go to lightupthecorners.com.
Photos by George Hunter