Greater Atlanta Christian School raises 34,000 cans for Salvation Army's Can-A-Than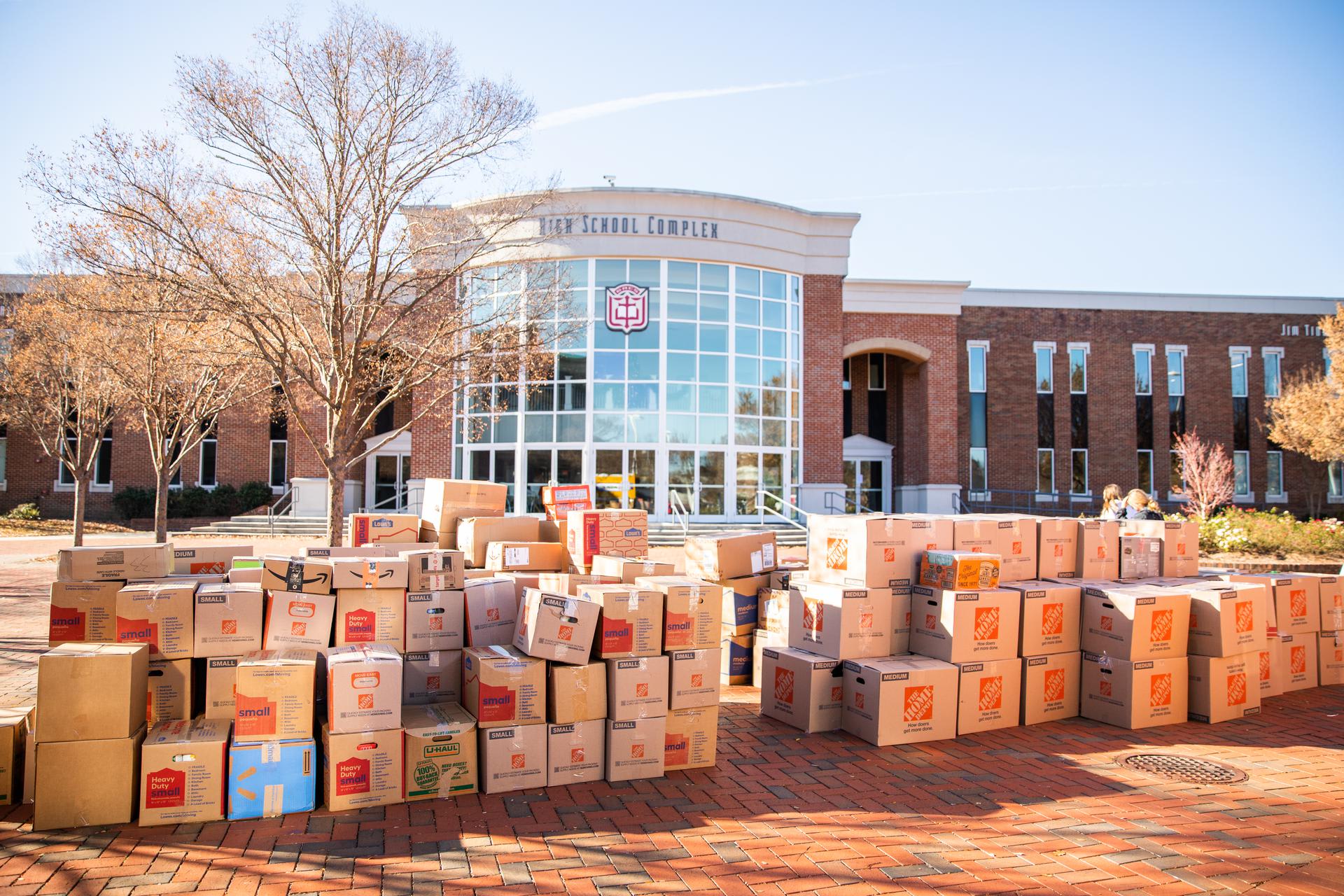 Supporting the Salvation Army's Can-A-Thon has been an annual school-wide tradition at Greater Atlanta Christian School. Realizing the need was more significant than ever due to the pandemic, the administrators challenged the students to raise an astonishing 30,000 cans. 
34,000 non-perishables were collected and delivered to the Salvation Army on Friday, December 3rd.

The Infant-12th grade students rallied their efforts for three weeks in varying ways to accomplish their goals. Different competitions (social media, boy-girl, grade-level) all spurred the number of cans to grow. A unique twist for the High School was that as each "can goal" was met, a selected faculty member committed to doing karaoke in front of the whole student body.
On Can-A-Thon collection day, over 80 students from the Performance Training, Swim, and Student Ministry classes volunteered their strength to load the boxes into Salvation Army trucks. On-site at Salvation Army, the GAC Concert Choir serenaded volunteers with spirited Christmas music while student leaders unloaded boxes and presented the donations for the 11Alive Can-A-Thon. It truly was a school-wide collaborative effort that made this donation possible.
Making the Can-A-Thon fun adds to the success, but the larger goal is much more intentional. "It's inspiring to see our students, from the youngest to the oldest, come together and make a big impact for the food pantries. Our goal is more than collecting canned goods, it's to develop a love for giving in all capacities," shared Greater Atlanta Christian School President, Dr. Scott Harsh.
A Community Cornerstone Grows Stronger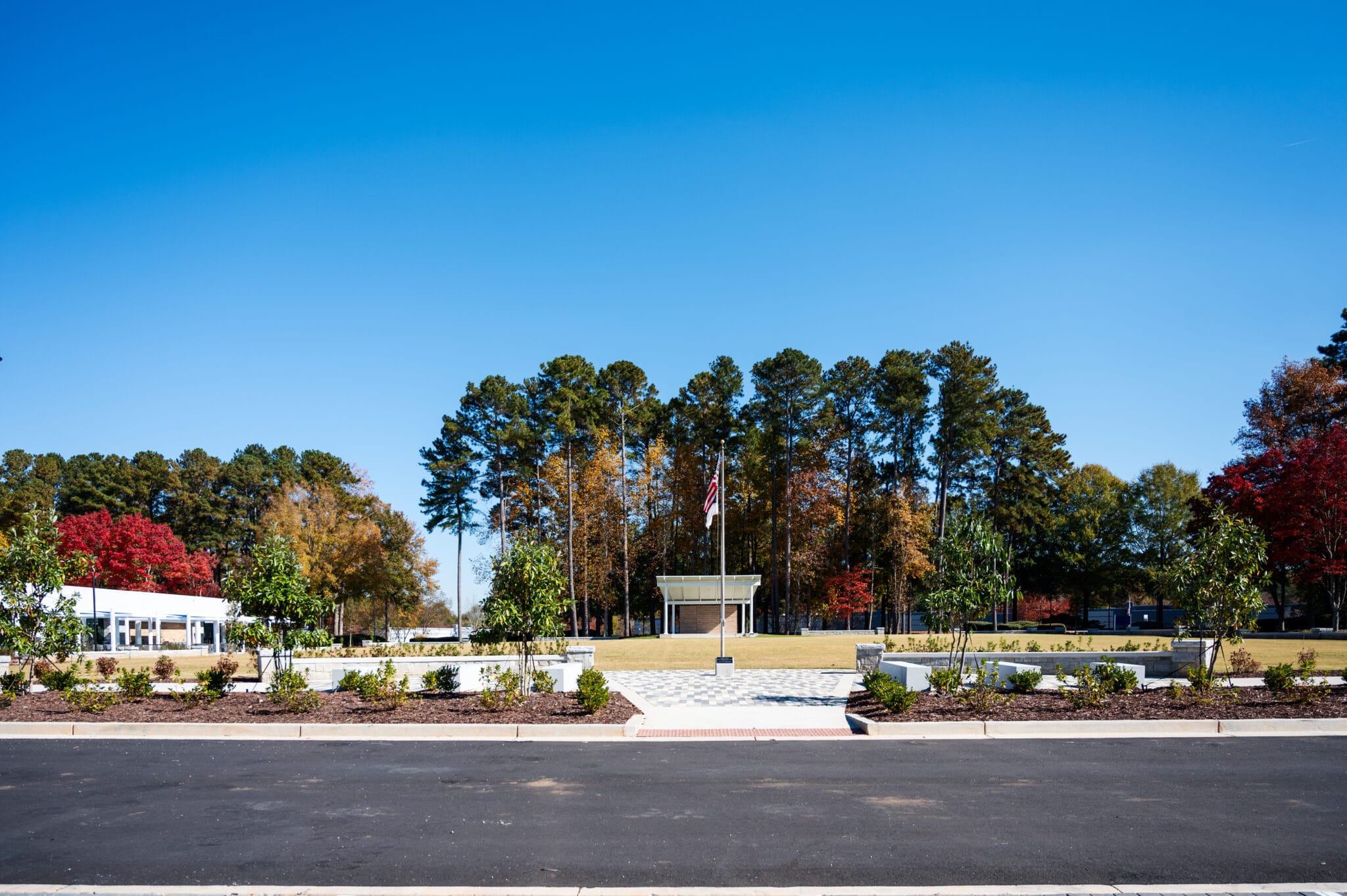 Cornerstone Christian Academy's Campus Improvements. Photos By George Hunter.
Bright minds prefer a bright, sunny setting to stay sharp and positive. Cornerstone Christian Academy has gone to major lengths to promote the future success and well-being of their students by completing a serious of recent extensive campus renovations, funded by over $3 million raised by philanthropic support from the Cornerstone community and friends of Cornerstone.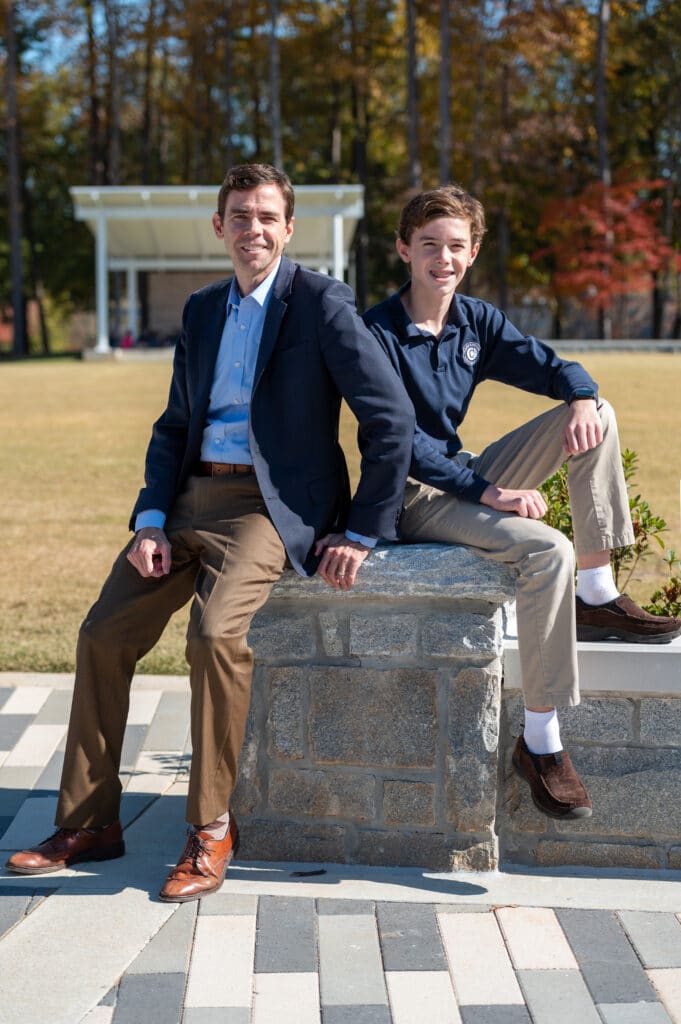 Cornerstone is no stranger to renovations and building improvements throughout its two-decade history, continuing to expand its facilities periodically to accommodate for development in academics, athletics, arts and many other enriching educational endeavors. The school has come a long, long way from its humble 2001 beginnings as a church school in the children's wing at Peachtree Corners Baptist Church.
Dee Ann Crawford, Josh Whitlock, Sara Fogle.
Since the 2016 purchase of their 11-acre property at 5295 Triangle Pkwy NW in Peachtree Corners, Cornerstone's board redirected their efforts to projects that would prove beneficial in the long-term which previously weren't feasible in a leasing agreement.
"God's dreams for Cornerstone have always been bigger than mine. Each time we renovated or expanded our campus, I tried to imagine what God would do next," said Former Head of School and current Director of Admissions De Ann Crawford.
The interior structure of the building works rather well, but the board felt the surrounding grounds could use enhancements of its aesthetic appeal. Additionally, students needed more useable outdoor spaces.
Making way for new space
Demolition to make way for wide-open spaces began over Spring Break last year, which included the leveling of an old office building to make way for a much-anticipated campus mall. Most of the construction was completed by the start of school. Staff and students gained full access to the new outdoor spaces after Cornerstone's 20-year celebration on October 1.
"During the celebration, I must admit, I stepped aside with a grateful heart as the worship band played, families spent time together, and wonderful new memories were being created from one end of the campus to the other," Crawford said.
At the improved Cornerstone Christian Academy campus, students can run around on the grassy campus mall dubbed Cougar Quad. Cougar Quad includes Flook Stage on one end and Honor Plaza on the other.
"Recess is significantly more fun because the large green space allows us to play ultimate frisbee. The green space also has allowed my teachers to create fun and innovative activities like math scavenger hunts," said student Cole Creel. "In addition, as a house leader I am hoping to host ping pong and foosball tournaments in the MS Plaza for the student body."
Creel just couldn't contain his excitement about the transformation of his school and demonstrated gumption that perhaps mirrors his dad (Headmaster Colin Creel) by sending an impassioned message to Peachtree Corners Magazine asking for the good news to be shared with the outer community.
Quad brings benefits to all
Staff members have remarked on the welcome changes as well.
"As a parent of four young children, I know it's important to let them run around outside in the fresh air. This space will be great for recess," said Director of Technology and Design Josh Whitlock. "I already see students playing kickball, four square, just running around, and my personal favorite singing and dancing on the stage. Even the middle school students are enjoying the space."
Whitlock has taught at Cornerstone for 10 years and has three children of his own attending the school in first, second and third grade, as well as a four-year-old who will join them next year. Besides his personal thoughts on the spaces, on a professional level Whitlock has already witnessed the benefits.
"I love taking my video production class outside any time there is good weather. We are able to spread out and film several projects in the new space," he said. "I've also had the privilege of hosting some Cornerstone alumni Chapel Band members to play music for our large family gathering on the new stage. I know we will have a lot of live music and movie watching happen on the green."
Teacher and Chapel Coordinator Sara Fogle shared similar sentiments. "The campus expansions have created such a positive energy to our student community," she noted. "The addition of our Cougar Quad and patio has increased our ability to provide student gatherings and teaching options like never before."
Fogle is quickly approaching 14 years at Cornerstone teaching a wide array of subjects, primarily seventh and eighth grade Math, and Bible classes for fifth through eighth grades, as well as elective classes such as World Religions, Cooking and Chess. Her three kids attended through eighth grade, then went on to Norcross High School; currently, all three attend University of Georgia.
"This place has been an anchored extended family that has helped us grow and thrive. I have been fortunate to see the physical growth of our school, as a staff and a campus," Fogle said.
For the Lower School Carpool, a covered walkway was erected named Adra Breezeway. Lastly, the plan included numerous infrastructure additions related to fiber, lighting, asphalt and more. The added lighting and visibility should bolster security measures as well.
"We are blessed in Georgia with moderate temperatures which allow us to utilize these outdoor spaces for most of the year," Headmaster Creel said.
Cornerstone's cornerstone
But all that glitters isn't necessarily gold. It's always most important to remember what truly matters. A great campus is one thing, but it's the people that are the cornerstone of Cornerstone.
"We are blessed by the leadership of Headmaster Colin Creel, an exemplary faculty, students that love to learn and supportive families that believe in the value of a Christian education," Crawford stressed. "In my role, I can understand how new facilities might draw more people to Cornerstone, but this new look still isn't as beautiful as the relationships that God has planned for the Cornerstone community."
For more information about Cornerstone's history in the community, and about current happenings at the school, head over to cornerstonecougars.org.
Paul Duke STEM High School Formula 24 Racing Team Forges a New Path, Assisted by McDonald's Golden Grant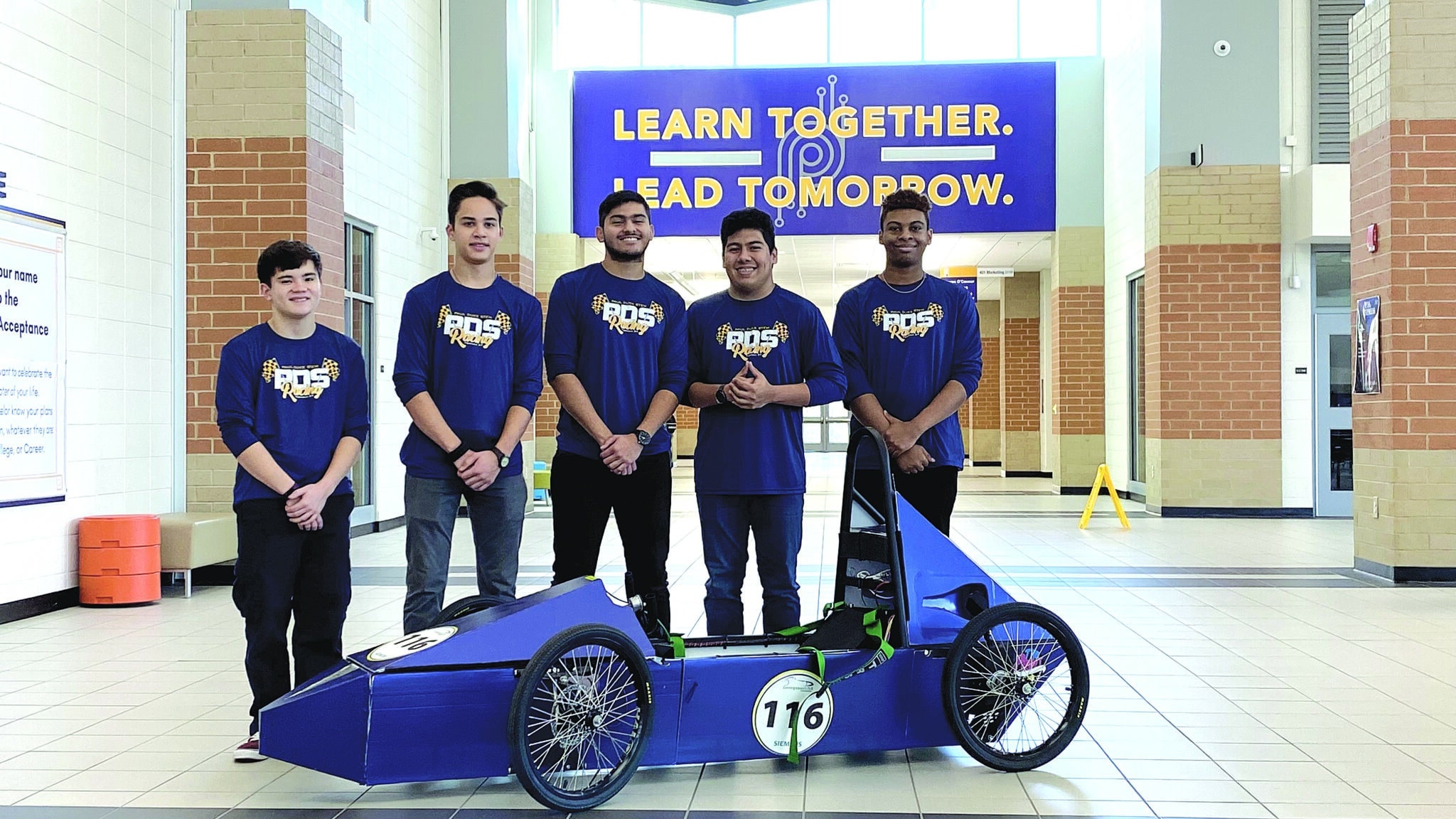 At Paul Duke STEM High School, their motto is to be trailblazers and make the path for new and creative ideas. That's exactly what they are doing now, expanding the path of success and building something special with the Paul Duke F24 Racing Team. They are officially the only F24 Racing team in Gwinnett County Public Schools but with future success, they hope to see that change.
The PDS Formula 24 Racing Team got its start in September 2020 when a senior student, Marco Altamirano-Pacheco, approached the Career and Technical Education Co-Chair Stephen Cochran with the idea of starting a race team at Paul Duke STEM High School. Cochran responded with, "If you can find $5,000 then we will start a team."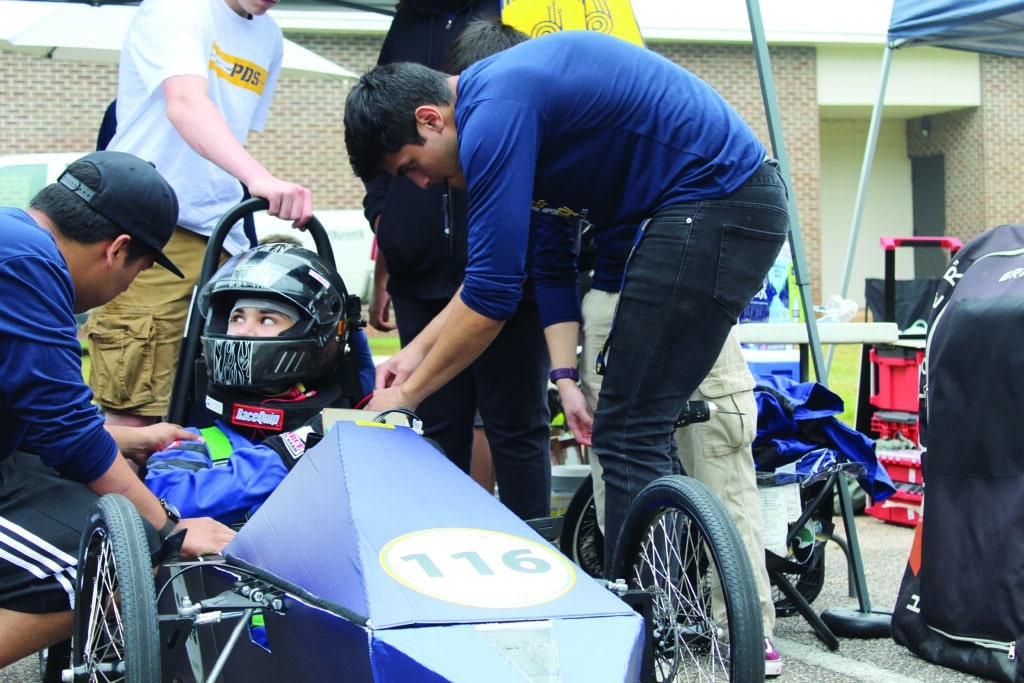 A few months later, Altamirano-Pacheco was driving by McDonald's when he took a picture of a Golden Grant opportunity offered by the fast-food chain, funded by McDonald's of Greater Atlanta Owners/Operators. This local initiative supports individuals, educators, programs and organizations serving students grades K-12 by assisting in funding for creative and hands-on educational and community-minded projects.
Altamirano-Pacheco and Cochran applied for the grant with the help of parent Tina Budnitz. They were notified in March 2021 that they had won a $10,000 Golden Grant and they promptly purchased the Greenpower Kit. The Greenpower starter kit provided by Greenpower USA F24 allows students grades 6 through 12 to build Formula 24 cars in a team environment and eventually race in competitions.
"A major influence that got me to join was the want to learn more about the mechanics of electric vehicles. I was interested in components of vehicles like motors, chassis, how to maintain the structural integrity of these types of vehicles, and other intricate parts," Melecio Flores said.
The newly formed team spent the rest of May 2021 building the car, refining the car this summer and spending the first part of this school year getting the car ready for the first competition which was held October 4 in Lafayette, Alabama. The team took 3rd place in the Modified Division.
"The experience has been amazing. My teammates and generally the team as one, have brought me a good time on and off the track; to experience the thrill and adrenaline rush with them is just great and I wouldn't really be here in this position without their constant effort in the car," Darwin Ramirez said.
The PDS F24 Racing Team has learned a lot in the course of getting ready to compete and will continue to do so as the program progresses.
"Some challenges that I have faced in the construction of the body would have to be the fabricating of some of the very complex shapes and structures involved with the body design of our car," Robert Syvertson said. "I overcame these challenges through perseverance, effort, time, and the exploration of different ideas and strategies to construct and design these systems."
The team has a number of races to prepare for in the new year. To keep up to speed with the PDS F24 Racing team, visit pdsf24racing.com.
Race Schedule
December 4, 2021
Santa Sprints (F24 race)
Columbus, Ga.
January 15, 2022
Oxford Green Prix
Oxford, Al.
February 12, 2022
Columbus Grand Prix
Columbus, Ga.
April 16, 2022
Diverse Power Grand Prix
LaGrange, Ga.
"NFL Sunday" Features GAC Alumni for Veterans Day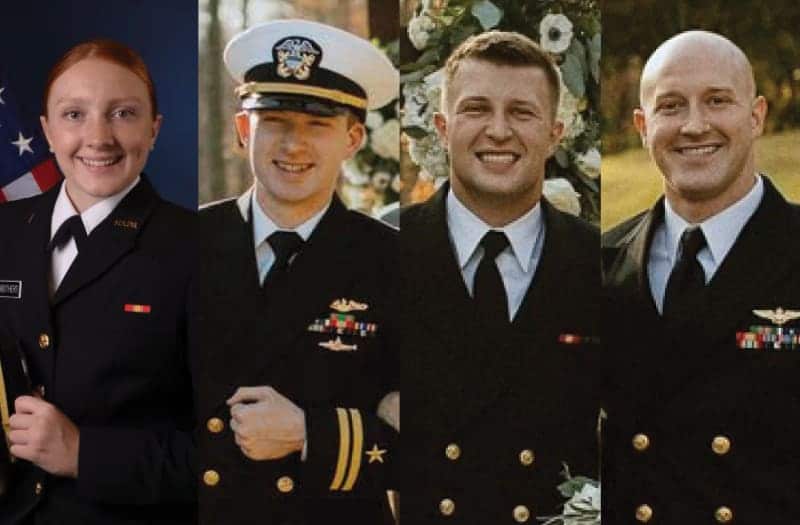 Greater Atlanta Christian School wished all the men and women who have served in the United States Armed Forces a happy Veterans Day. They thanked them and their families for their service to our country.
If you are a football fan, you may have seen the Fox Sports "NFL Sunday" show broadcast from the United States Naval Academy (USNA) this past sunday. The show honored several midshipmen including GAC's own Jessica Carothers, Class of 2019. If you missed the segment, the link is below. It is something you will want to watch.
Jessica shared her connection with her father, a 26-year veteran of the U.S. Marshals Service who was killed in the line of duty, and the pride of carrying on the family tradition in the Navy.
What makes this a unique GAC story is that four Carothers siblings graduated from GAC and all attended the Naval Academy. The oldest, LT Michael Carothers (GAC Class of 2008) led the way and is currently a Naval Aviator serving as an Assistant Operations Officer onboard USS John C. Stennis. He married a GAC alumna, Brittany (Nolan) Carothers (Class of 2008) and they have a daughter, Nora. LT Matt Carothers (Class of 2011) also married a GAC alumna, Paige (Tisher) Carothers (Class of 2009) and have twin sons, Collier and Knox. Matt is a Naval Submarine Officer serving as a Navigation Instructor and Assistant Operations Officer at Naval Submarine Base Trident Training Facility Kings Bay. ENS Paul Carothers (Class of 2015), recently married Madison "Maddie" Godleski, and is serving Hawaii as an Information Warfare Officer. He was Captain of the USNA Football Team.
Michael shared, "God really has brought us all a long way and blessed us with beautiful families and friends. We would NOT be where we are without the sound structure and guidance provided by our GAC family."
It is an honor when a GAC graduate is accepted at an elite Service Academy, but to have four siblings attend is unheard of and a true blessing. The United States Naval Academy is one of the most highly selective universities in the U.S., with the Class of 2024 having a 9% acceptance rate. In addition to having a strong academic record, students must also receive a Congressional nomination and pass a physical test to receive a prestigious appointment. As the undergraduate college of our country's naval service, the Naval Academy prepares young men and women to become professional officers of competence, character, and compassion in the U.S. Navy and Marine Corps.
When GAC reached out to Jessica, currently a Plebe (freshman at USNA) she said, "Tell the GAC teachers that they are all so incredible and that I said hello. I am so thankful for their love and support and everything they've done for me which all helped me get to where I am today! I miss them all. It was a blessing to be able to attend GAC."
We express our gratitude to the Carothers family and our other GAC Veteran families.