Pinckneyville Middle School Win State Odyssey of the Mind and Head to World Finals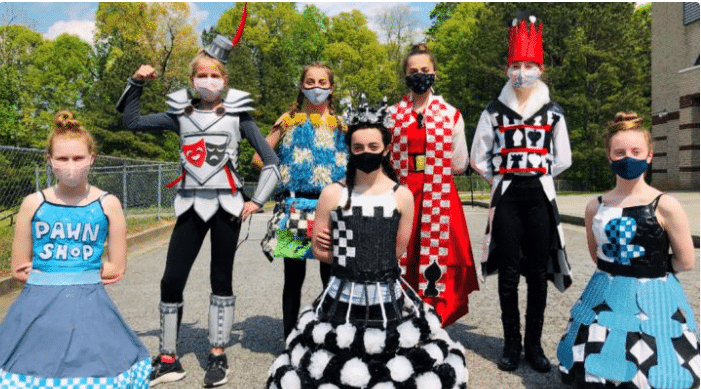 This girls team is heading back for the 4th time seeking a 3rd win
If you haven't heard, the Pinckneyville Middle School Odyssey of the Mind just placed 1st at the Georgia state competition and have been invited to represent Georgia at the Odyssey of the Mind World Finals in Orlando in June.
Some people might never have heard of Odyssey of the Mind (OotM) or do not understand exactly what it is, so here is the official description as well as a link to the Odyssey website for anyone who would like to know more.
"[OotM] is an international creative problem-solving program that engages students in their learning by allowing their knowledge and ideas to come to life in an exciting, productive environment. Participants build self-confidence, develop life skills, create new friendships, and are able to recognize and explore their true potential. OotM proves that students can have fun while they learn."
The competitions consist of the performance of an original skit based on the exact set of required elements given (the "long-term problem") as well as the performance of the "spontaneous problem," in which teams are asked to perform random tasks on the spot with no prior preparation, such as creating a bridge out of unique materials that can actually support weight. So, in effect, it's a great combination of science, technology, engineering, and math (STEM) with the arts (STEAM)! It also requires a lot of teamwork and effective communication.
"The Pinckneyville MS team is made up of 7 girls, including two of ours, with my wife Lisa Dommert as their coach. They've really helped put Peachtree Corners and Georgia on the map among thousands of Odyssey teams from around the world.  They've placed first in the world twice already, besting 71 world finalist elementary school teams in 2018, placed 4th among over 60 world finalist middle school teams in 2019, and reclaimed the top spot among over 60 world finalist teams in 2020.  They are shaping up to be one of the most dominant teams in state history and one of the few to consistently beat the Chinese and Polish teams who have been very strong in recent years," supporter and parent Travis Dommert said.
It is an honor once again to be one of the teams that will be competing at the World Finals in Orlando and to represent Peachtree Corners, Gwinnett County Public Schools, and the state of Georgia! They sincerely appreciate any assistance, large or small, that you can provide as they prepare to make the journey to Orlando! All donations collected on their GoFundMe page will be withdrawn at the end of our fundraising campaign and deposited into a bank account created by Jeff Ebert (a team parent); these funds will then be distributed equally among the team members and volunteer parent coach.
The girls will also be fundraising on Saturday, May 8 in front of Sprouts Market in Peachtree Corners, from 2-4 p.m. They thank you for your support!
Simpson Elementary Cuts Ribbon on New Track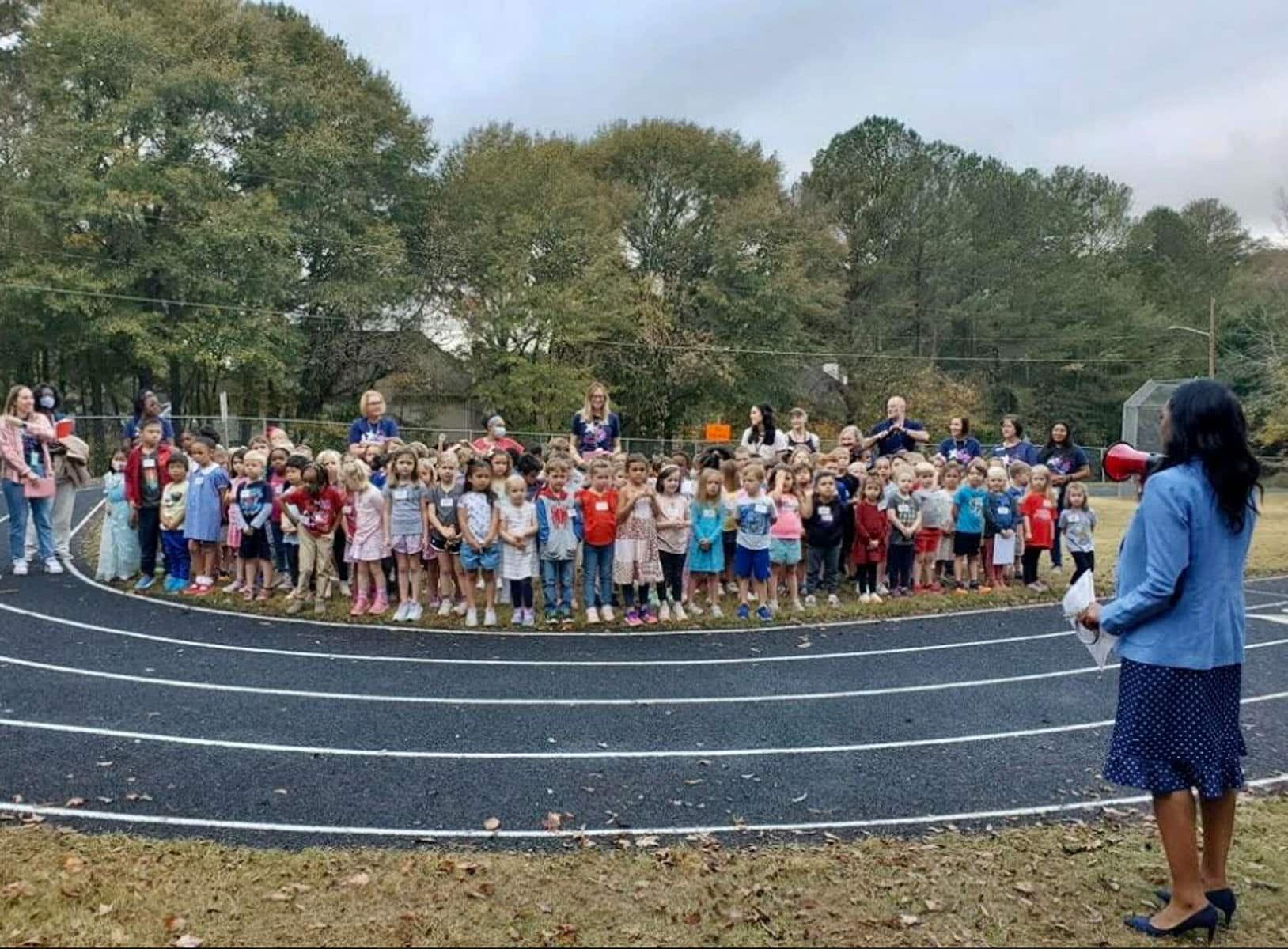 Students now have facilities suitable for exercising the body as well as the mind.
For something to be important and special, it doesn't necessarily have to be huge. That's what Simpson Elementary students, staff and Peachtree Corners officials realized on Nov. 7 with the ribbon cutting of the school's new track.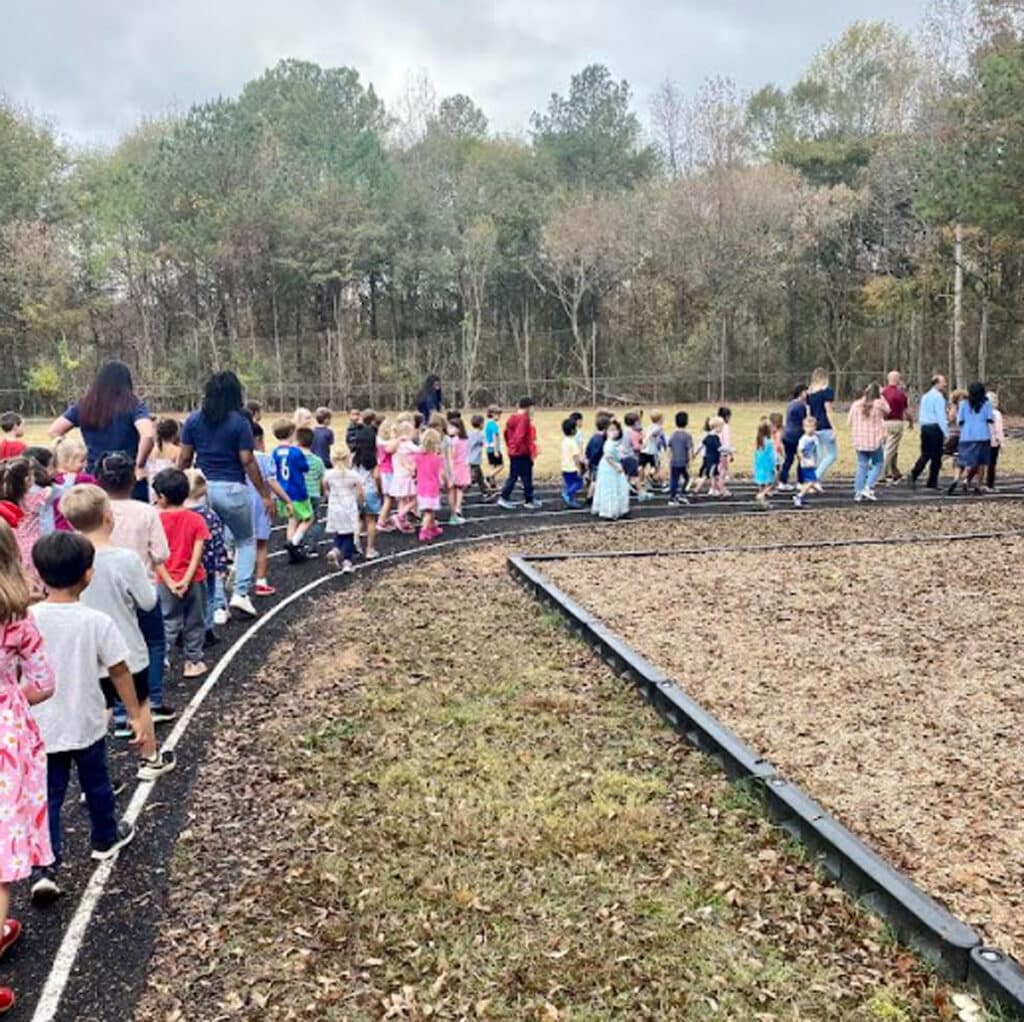 "Today is a joyous occasion because we're here to celebrate the renovation of our school's playground," said Simpson Elementary Principal Dr. Taffeta Connery.
The four-month long project took a lot of effort. In addition to trimming the overgrowth of trees beyond the fence surrounding the track and a playground area, numerous potholes needed to be filled. The playground was leveled with truckloads of dirt and gravel, and the actual track was rubber striped.
What was once a potential hazard and mini wetland has been transformed into an inviting recreational space for students and staff to exercise. For safety reasons, the track isn't open to the public.
"Not only is it attractive, but it's also safe and enjoyable for all of you to run around and play," said Dr. Connery.
Previously, the Simpson Superstars had to meet for Kilometer Club at the nearby YMCA. The renovated space now allows for a closer option right on school grounds.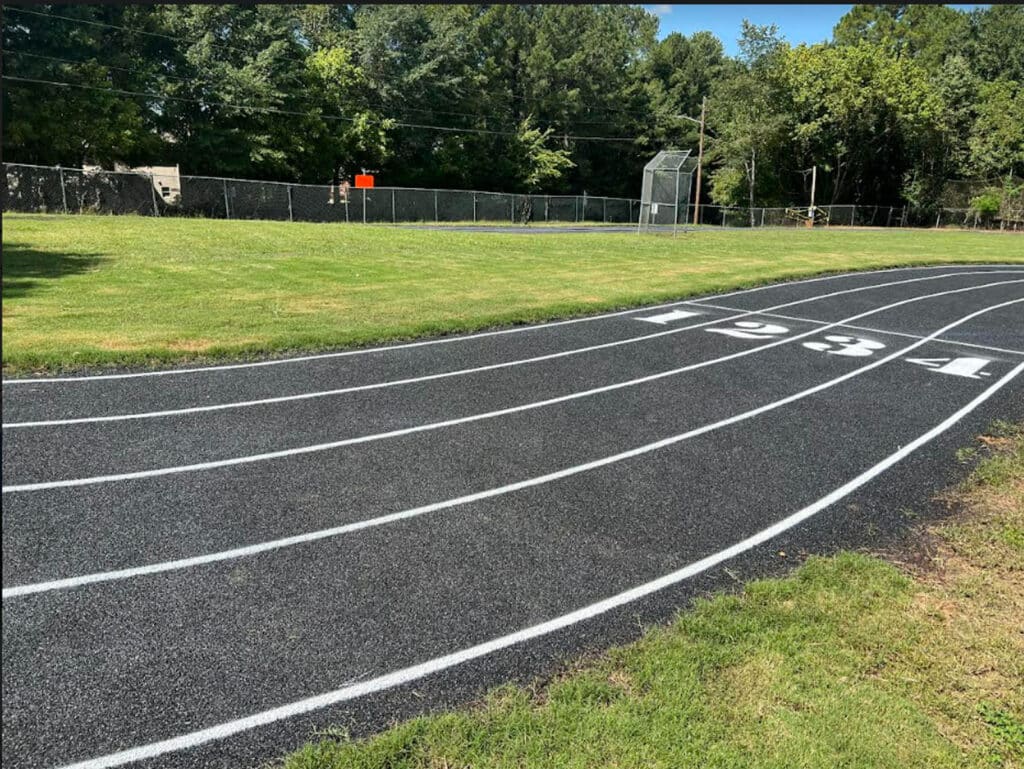 Great schools, great communities
City representatives Councilmembers Lori Christopher, Phil Sadd and Mayor Pro Tem Weare Gratwick, along with City Manager Brian Johnson, were presented with an award of recognition and appreciation by Dr. Connery.
The officials received a beautiful bouquet of flowers and an abundance of thank you cards from the kindergarten class of the school before officially declaring the track open for walking, running and just enjoying the outdoors.
The kindergarteners gathered for the ceremony and applauded the efforts of the city as Dr. Connery presented Peachtree Corners with a plaque and flowers as tokens of appreciation.
"We always say that great schools build great communities, and in turn, great communities build great schools," said Dr. Connery. "This Community Service Award is with our deepest appreciation for the City of Peachtree Corners."
The students presented the thank you cards they'd made to city officials before everyone took a victory lap to break in the new track. The weather was a little warm for early November, but everyone agreed that it was perfect for a mid-morning stroll.
Simpson Elementary PTA Co-Presidents Mary Catherine Jennings and Dana Zamuel were also present to celebrate the school's new addition. They both agreed that exercising the body is just as important as exercising the mind — especially with energetic elementary students.
The teachers are just as excited about the improvements as the children. Prior to the renovations, that area had such poor drainage that it often couldn't be used for recess, nature walks or other school functions.
GCPL's 2023 Student Film Fest is Opened for Submissions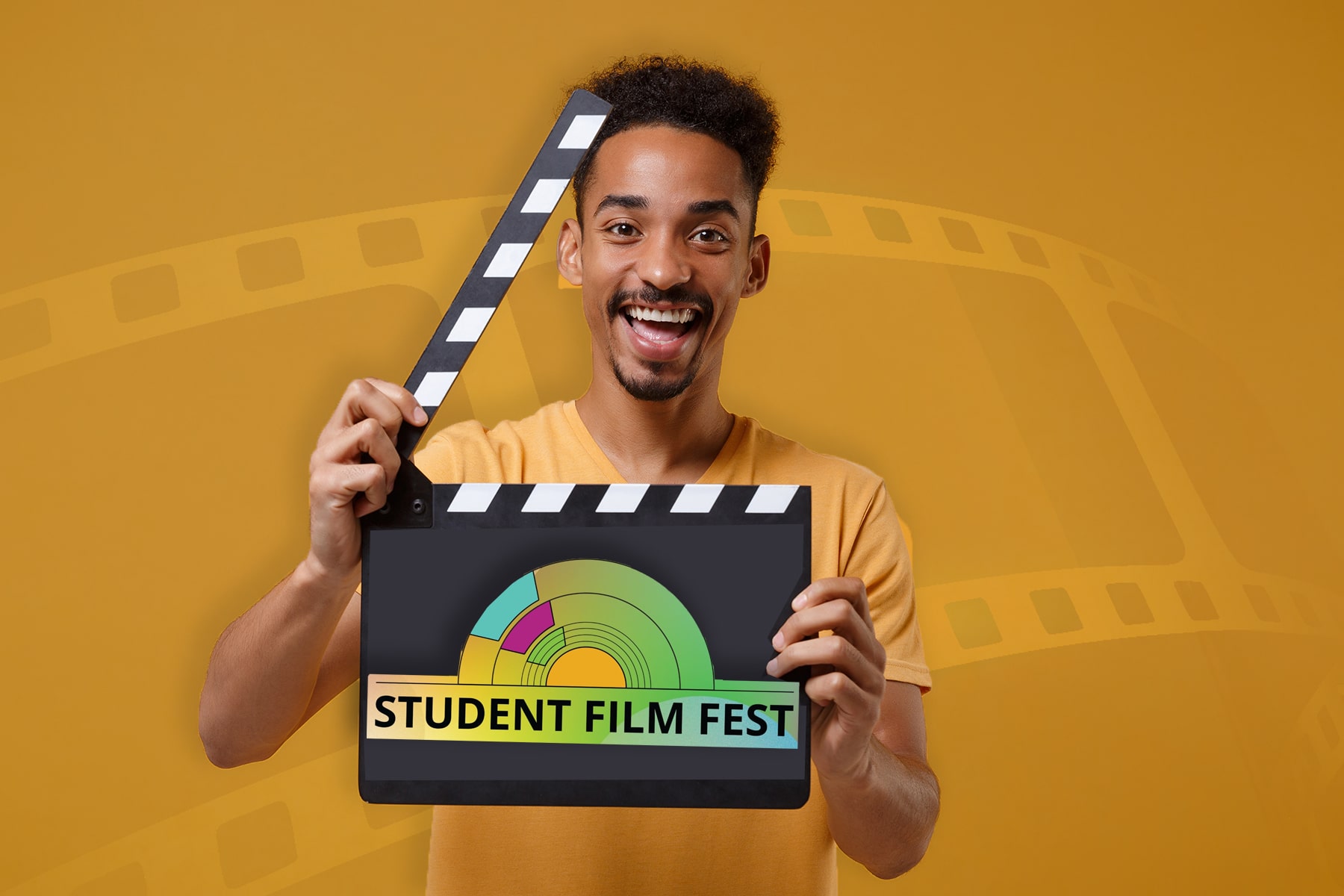 Gwinnett County Public Library Announces Its First Annual Student Film Fest for the 2022-2023 School Year
When it comes to bonding and quality time among students, nothing proves more effective than a premium film fest. In light of this, Gwinnett County Public Library has taken this initiative down in its playbook by presenting the first annual Student Film Fest for the 2022-2023 school year.
According to the GCPL media alert, the festival will be held on March 11th, 2023, and it promises to showcase a lot of film screenings, an award ceremony, and an after-party with possible networking benefits, especially for young filmmakers.
Everyone in and outside the county was pretty excited about the news, more so when the video and film production company and media group, East2West, was announced to be the major sponsor for the program. This news, coupled with the fact that cash prizes and awards would be in abundance at the festival, has kept students and spectators on their toes as they wait for the day of the film fest in unbridled anticipation.
Subsequently, invitations were spread worldwide to students around the age of 11 and above from every grade in middle school, high school, and higher education. For a landmark project, the Gwinnett County Public Library might just make this Student Film Fest the best of its kind yet.
GCPL's Rules for the 2023 Student Film Fest
Following the announcement of this film fest, calls were made to students from reputable institutions around the world to submit films of any genre. These films will be arranged into their respective categories, and winners in each category will receive awards and cash prizes. Submissions will open on November 1st, 2022, and close on January 22nd, 2023.
For a much wider reach, the GCPL decided to include other members of the public by demanding a representative from each student group who would attend the awards ceremony. This would form an eligibility clause for students seeking to win prizes.
But the directives did not stop there as the GCPL proceeded to outline several rules of conduct for the Film Fest. Here are excerpts of these rules:
Students below the age of 18 must submit a completed entry form and video release form duly signed by a parent.
The name of the school and year of study must be submitted.
Films must include credits and an opening title.
Films should run between a minimum of 2 minutes and a maximum of 10 minutes.
For some semblance of order to take place throughout the Student Film Fest, it was paramount that these regulations be implemented thoroughly.
As for the prizes, GCPL stated that only the winners of the Best Picture award in each category would win $250. Trophies and certificates will be awarded to other winners, and the GCPL's Learning Labs team will provide access to library resources for young filmmakers.
Additional information can be found at the library's website.
Seven Norcross High School Students Named as National Merit Semifinalists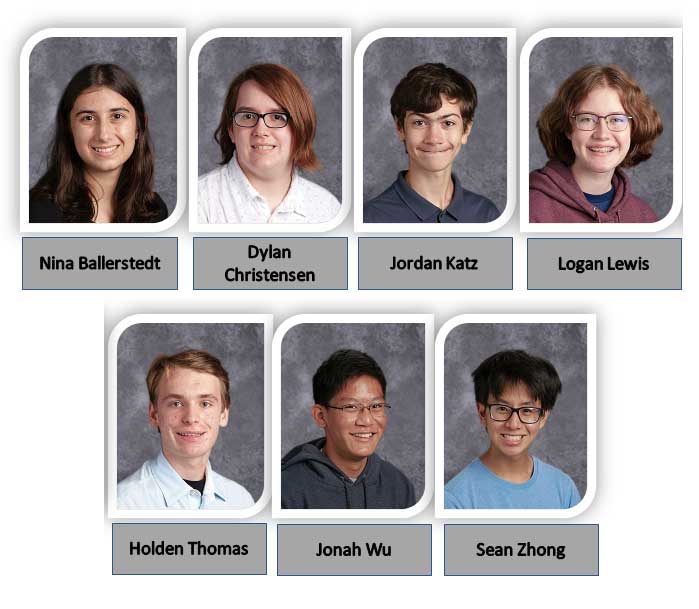 Nina Ballerstedt, Dylan Christensen, Jordan Katz, Logan Lewis, Holden Thomas, Jonah Wu and Sean Zhong — all students at Norcross High School — have been named as Semifinalists for the National Merit Scholarship Program.
The Semifinalists were determined by the students' scores on the 2021 Preliminary SAT/National Merit Scholarship Qualifying Test (PSAT/NMSQT). They are among 16,000 students from across the nation competing for National Merit Scholarships worth nearly $28 million that will be offered next spring.
To become a Finalist, the Semifinalist and the high school must submit a detailed scholarship application, in which they provide information about the Semifinalist's academic record, participation in school and community activities, demonstrated leadership abilities, employment, and honors and awards received. A Semifinalist must have an outstanding academic record throughout high school, be endorsed and recommended by a high school official, write an essay and earn SAT scores that confirm the student's earlier performance on the qualifying test.
National Merit Scholarship winners of 2023 will be announced beginning in April and concluding in July.