Holiday Shopping, Pioneer Harvest Festival and Native American Heritage Month at Georgia State Parks
Let's Go Leaf Watching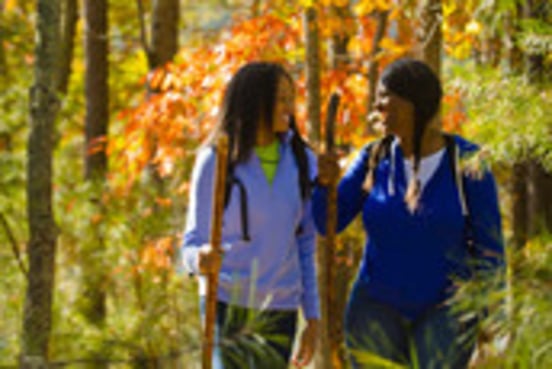 Georgia's forests are blanketed with gorgeous fall color during early November. To best enjoy these autumn hues, use the Leaf Watch Travel Planner filled with tips to help you find top parks, campsites, cabins and more. You'll find vibrant maples at F.D. Roosevelt State Park and copper-colored cypress needles at George L. Smith State Park. Instagrammers, tag your best fall photos with #GaLeafWatch and #GaStateParks for a chance to be featured on Leaf Watch.
November is Native American Heritage Month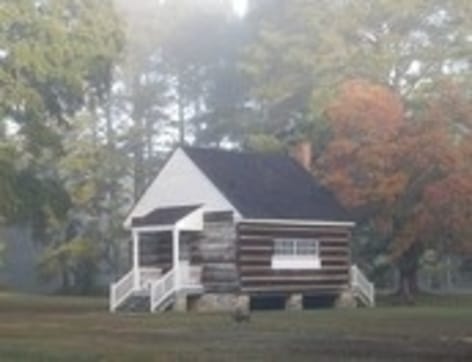 Celebrate the culture of our land's native people throughout November. More than 1,000 years ago, vibrant civilizations thrived across the Southeast. Their earthen mounds and legacy remain at Etowah Indian Mounds Historic Site in Cartersville and Kolomoki Mounds State Park in Blakely. Later, in the early 1800s, the Cherokee Nation established its central government in north Georgia. New Echota Historic Site near Calhoun showcases this capital through original and reconstructed buildings, and nearby Chief Vann House Historic Site features a stunning 1804 home.
Pioneer Harvest Festival at General Coffee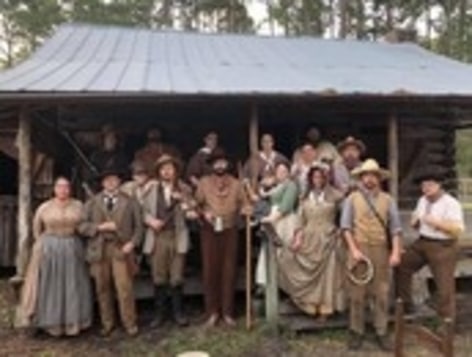 Celebrate pioneer life with the Southeast Coalition of Authentic Reenactors at General Coffee State Park. On November 13, travel back to the late 1880s to watch soap making, butter churning, candle dipping, smoking meats, cooking, cane grinding and syrup boiling. Browse craft vendors, enjoy music and food, and mingle with the park's farm animals. General Coffee is located in southeast Georgia and offers cabins, camping, walking trails, bike rental, fishing and picnicking. For a unique treat, stay overnight in the park's historic Burnham Cottage.
Making Campfire Banana Boats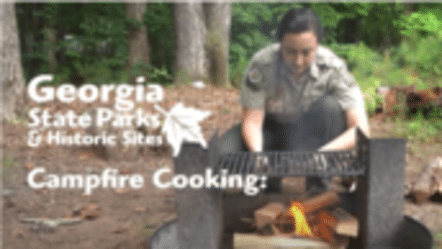 Relaxing next to a toasty campfire is the perfect way to end a day of hiking. Make it even sweeter with a yummy dessert cooked over your fire. In this video, Ranger Sarah shows how to make easy banana boats with chocolate, marshmallows and peanut butter. You'll find more campfire recipes, park tours, historian interviews and more on the Georgia State Parks YouTube channel.
Holiday Shopping Made Easy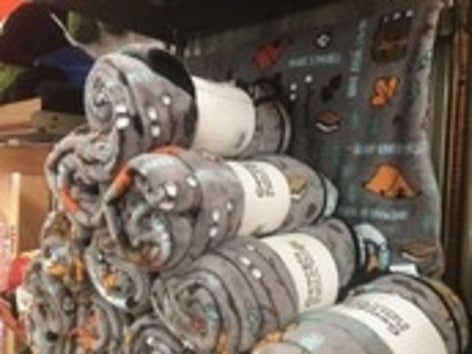 Winter nights are perfect for snuggling under blankets and cozying up to campfires. Their online gift shop features not just blankets, but also hiking stick medallions, patches, Canyon Climbers Club memberships, annual passes and more. They even have gift cards which can be used for cottage reservations, campsites, golf green fees and items in our gift shops. They make it easy to find the perfect holiday surprise. GaStateParks.org
November Events
Astronomy Night – November 6, Providence Canyon State Park, Lumpkin
Veterans Day Celebration — November 11, F.D. Roosevelt State Park, Pine Mountain
Colonial Autumn Encampment — November 13, Fort King George Historic Site, Darien
Fall-Color Paddle – November 13, Hard Labor Creek State Park, Rutledge
Leaf-Looker's Hike – November 13, Mistletoe State Park, Appling
Movie Night – November 19, Laura S. Walker State Park, Waycross
"Come and take it!" Encampment – November 20, Fort Morris Historic Site, Midway
Thanksgiving Crafts – November 20, Victoria Bryant State Park, Royston
Opt-Outside Hikes – November 25, Many Georgia State Parks
Find more happenings on GaStateParks.org.

Gwinnett County Commissions approves Parks and Rec plan to shape facilities, programs through 2030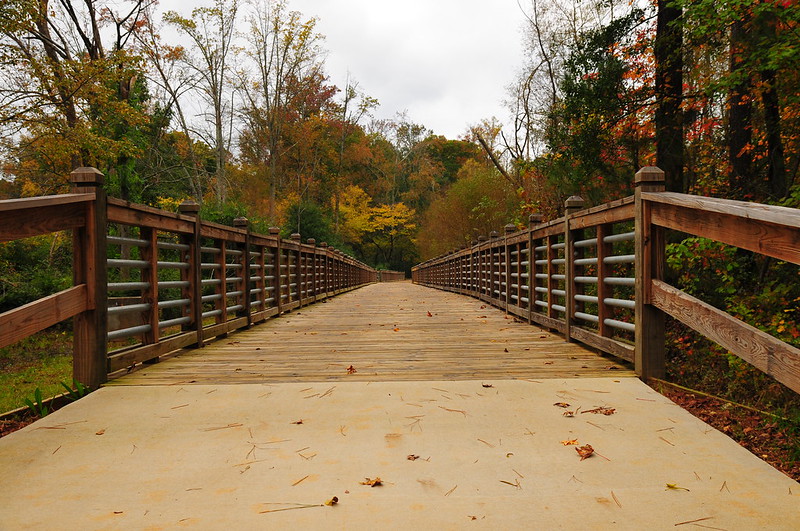 The Gwinnett County Board of Commissioners is on board with the first step of a Parks and Recreation master plan that lays out a proposed blueprint for adding parks, greenspace, trails and developing recreational programs over the next decade.
The plan approved last Tuesday used extensive public input and analysis to identify gaps in Parks and Recreation's programs and locations. Next steps include prioritizing capital improvement projects.
"Gwinnett has a top-tier parks and recreation program, developed over the years with careful thought and planning," said Chairwoman Nicole Hendrickson. "It makes sense to revisit these plans every 10 years because of changing demographics, priorities and interests. This plan will continue the tradition of the Gwinnett Standard of excellence in recreation and facilities."
In developing the plan, Gwinnett Parks and Recreation examined existing and projected demographics, current parks inventory, local and national trends as well as what residents and stakeholders really want. For example: creating recreation opportunities within a 10-minute walk.
Assuming funding is available, the proposal calls for renovations park improvements and new parks – including adding more playgrounds, dog parks, interactive water features, outdoor courts and trails.
Meanwhile, armed with more than 29,000 social media responses, results from 1,700 surveys and information from 10 town halls, Gwinnett Parks and Recreation learned it's exceeding what other agencies are offering across the nation. One of the key findings is that parks and recreation is positioned as an essential service and residents hope it stays that way. To do so, feedback shows communications, convenience, facilities, amenities and protecting the natural areas – should remain priorities. The parks capital projects have primarily been funded through Special Purpose Local Option Sales tax revenues, which has raised about $259 million since 2009, 2014 and 2017.

Gwinnett Parks and Recreation Offers Indoor and Outdoor Pool Hours Through September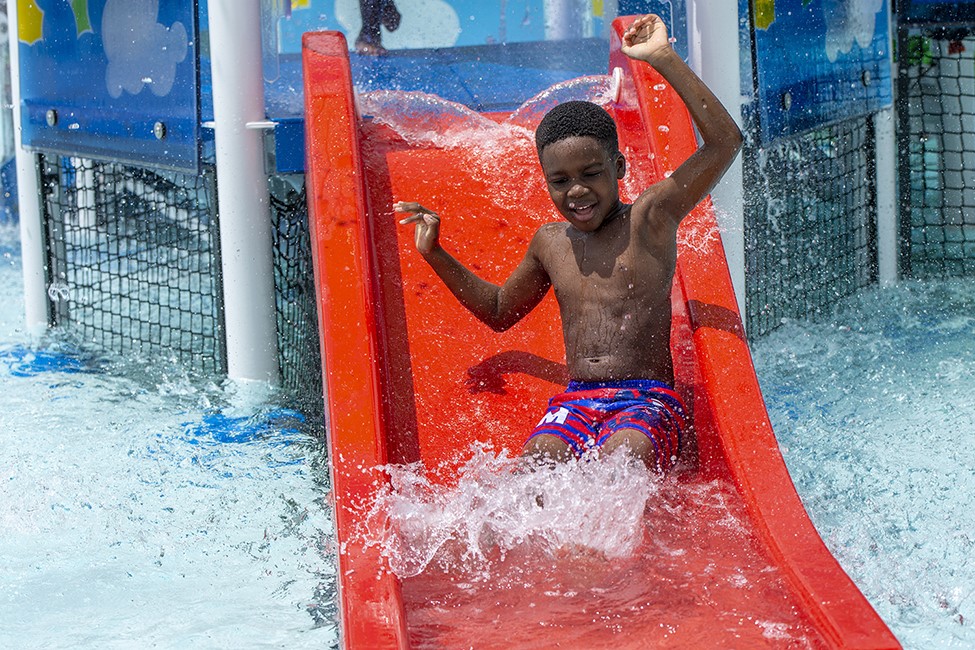 Gwinnett Parks and Recreation is offering modified indoor and outdoor leisure play pool hours until the end of September.
Patrons can enjoy the lifeguard-staffed leisure play pools, which feature disability accessibility, lazy rivers, water play structures and slides, zero-depth entry and more.
Three-hour time slots are available for reservation from 11 a.m. to 2 p.m. or 3 p.m. to 6 p.m. on Saturdays and Sundays at Bethesda Park, Bogan Park, Collins Hill Park, Mountain Park and West Gwinnett Park Aquatic Centers, as well as Best Friend Park and Rhodes Jordan Park Pools.
Family swim nights are available for time slot reservations from 6:30 p.m. to 8:30 p.m. on Mondays at West Gwinnett Park Aquatic Center, Tuesdays at Mountain Park Aquatic Center and Thursdays at Collins Hill Park Aquatic Center.
Patrons can make reservations at least one day in advance until Sept. 27 by visiting the website or calling the facility. The cost is $4.25 per person for Gwinnett residents and $8.50 per person for non-residents. Ages 18 and older must provide proof of residency.
Patrons will have their temperature checked before entering the facilities. They should also shower at home, bring their own lifejackets, lawn chairs and pool noodles and keep their belongings on the pool deck as lockers are unavailable at this time.
Those looking to enjoy free, outdoor fun can enjoy the interactive fountains at E.E. Robinson Park and Graves Park from 10 a.m. to 8 p.m. daily and from noon to 8 p.m. on Wednesdays.
Visitors at all parks and aquatic facilities should follow the Centers for Disease Control and Prevention guidelines on protecting yourself and others from COVID-19, including staying at least 6 feet away from others.
Visit GwinnettParks.com for more information, including online reservations and facility addresses and phone numbers, as well as interactive fountain and leisure play pool rules.

City Names its New Multi-Use Trail and Unveils First of Six Trail Art Sculptures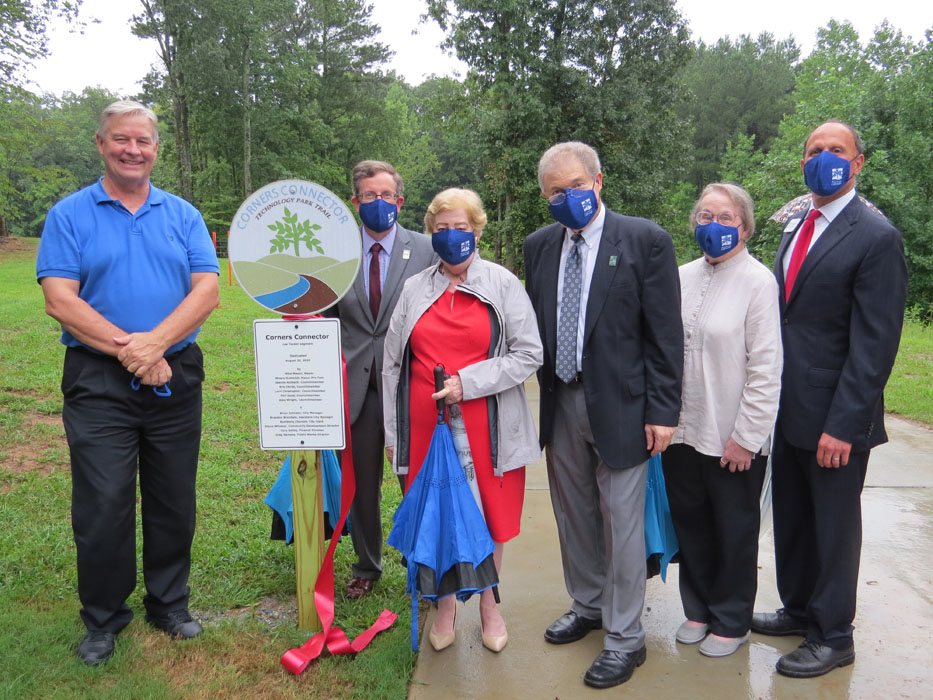 On Tuesday afternoon during a special presentation and ribbon-cutting event, the Mayor and Council celebrated the opening of a new section of its 11.5-mile multi-use trail system. They also announced the name selected for the trail — and unveiled the first of six sculptures to be placed throughout the city.
In the city's name-the-trail contest "Corners Connector" was chosen for the name of the city-wide trail which will wind throughout the community connecting neighborhoods to parks, shops, restaurants and offices. Mr. Randy Gilbert, a long-time resident, selected the winning name chosen from over 150 entries.
Mr. Gilbert was on hand to help cut the ribbon on the new 1/3-mile section of the trail which runs around a portion of the 7-acre Technology Park Lake. This newest section has a plaque dedicated to Mr. Lee Tucker in recognition of his efforts in ensuring the city had the land needed for the trail expansion. Future plans will include the trail to encircle the entire lake.
"The trail is a great asset to Peachtree Corners and well worth the effort to build it," said Mr. Gilbert. "I can see many people enjoying it in the years to come."
In several in-person and online surveys, citizens ranked multi-use trails among the most desirable and valued community recreational assets. The city envisions that the Corners Connector will not only serve as an alternate means of travel but will also be a linear park offering unique amenities and programs for its residents.
"This is an exciting moment for our city," said Mayor Mason during the event. "We hope our citizens, and those who work here in Tech Park, enjoy this new amenity. We look forward to celebrating each section of our "Corners Connector" trail as it is completed. We are also conducting feasibility study now to add a 3 ½- mile walking trail along Crooked Creek. We hope to have more news on that proposed section soon."
The new button-shaped sculpture, which is located at the entrance to the lake-side trail section, is part of a Gwinnett-wide effort by a nonprofit organization, Button Art, to showcase the county. The city plans to install a total of six of the round-shaped Button Art sculptures, each depicting a theme based on the area of town in which it is located. Button Art, Inc. is a nonprofit created to further the love of art in Gwinnett County. The project was inspired by Button Gwinnett, the county's namesake.
The city's first sculpture features a friendly-looking robot walking a robotic dog, a nod to the many high-tech businesses located within Technology Park. Local artist, Lance Campbell has designed the artwork for the city's six sculptures which are among 200 that will be sprinkled throughout the county.  
Visit www.buttonart.org for more information on the Button Art project.