Bachelor in Pawradise Pet Adoption Promotion, Lifeline Animal Project Offering $14 Pet Adoptions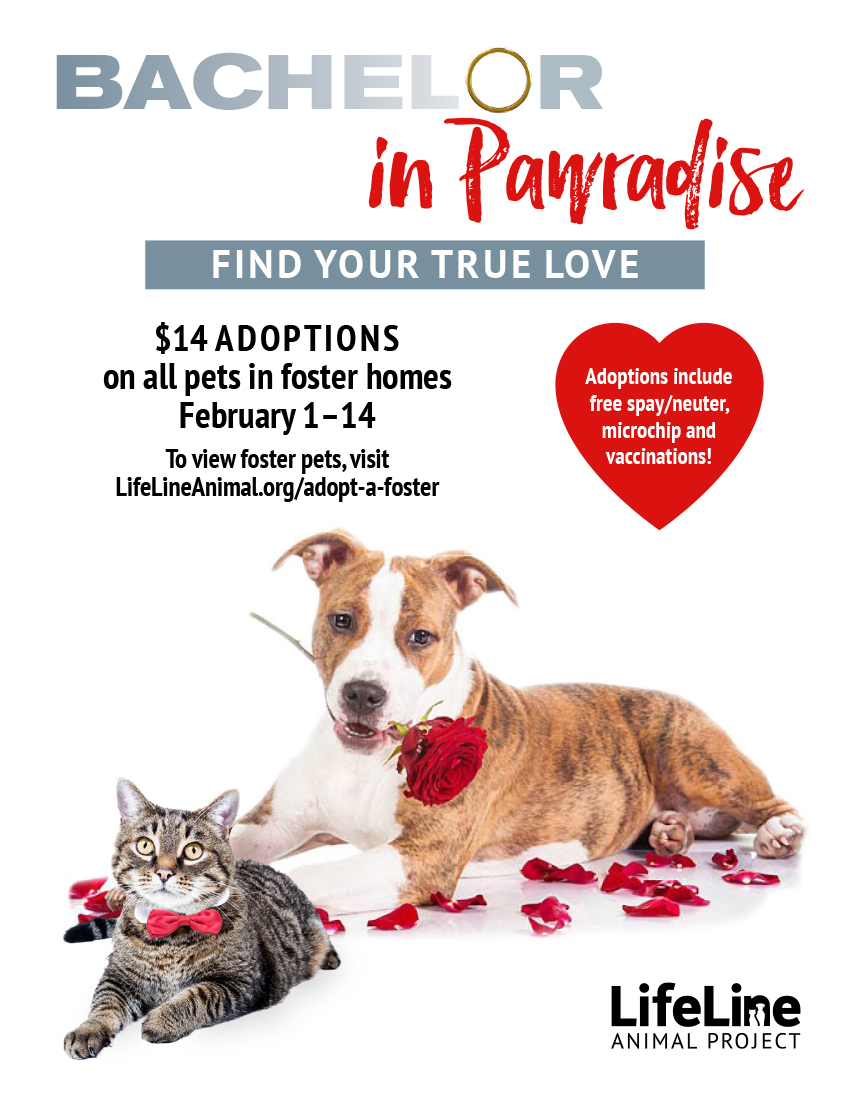 All shelter pets currently living in foster homes are eligible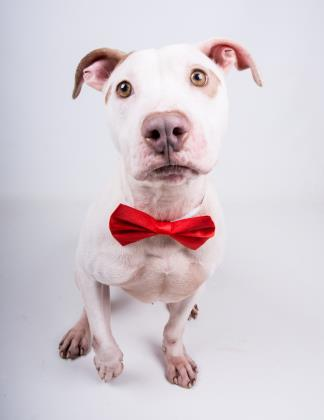 Move over tv reality stars, there are new bachelors and bachelorettes in town, and they are drama-free and ready to find true love during LifeLine Animal Project's Bachelor in Pawradise adoption promotion!  Now through February 14, all pets living in LifeLine Animal Project foster homes may be adopted for only $14, including the pet's spay/neuter, microchip and vaccinations.  The promotion applies to pets living in foster homes from all LifeLine shelters, including DeKalb County Animal Services, Fulton County Animal Services and the LifeLine Community Animal Center.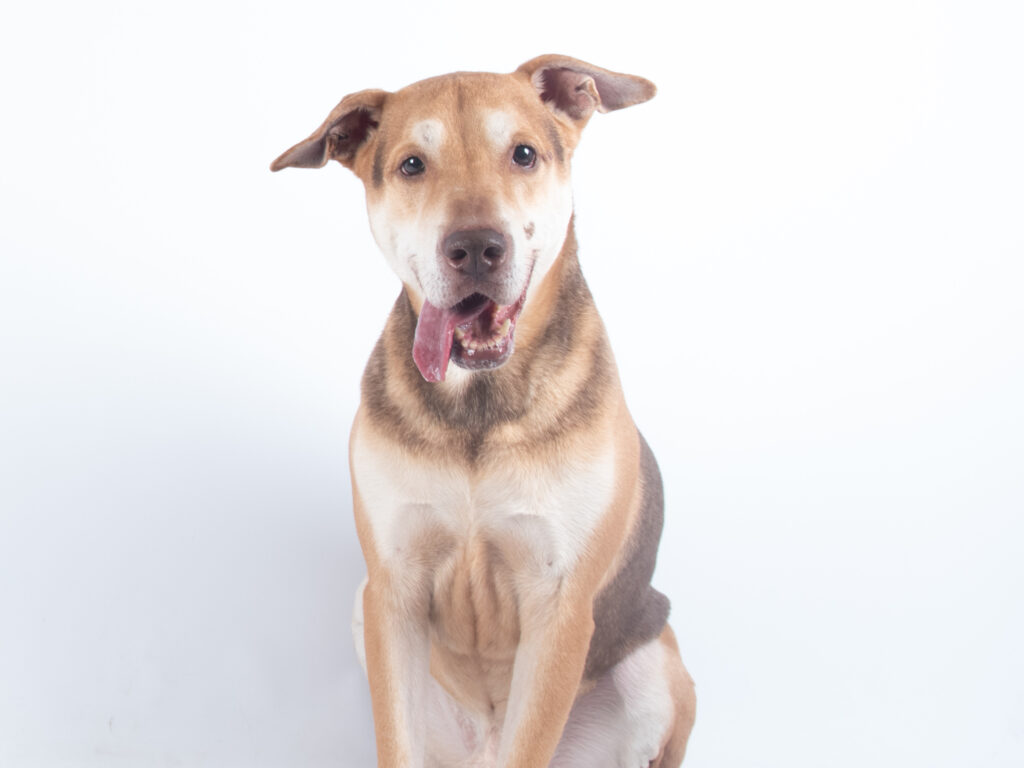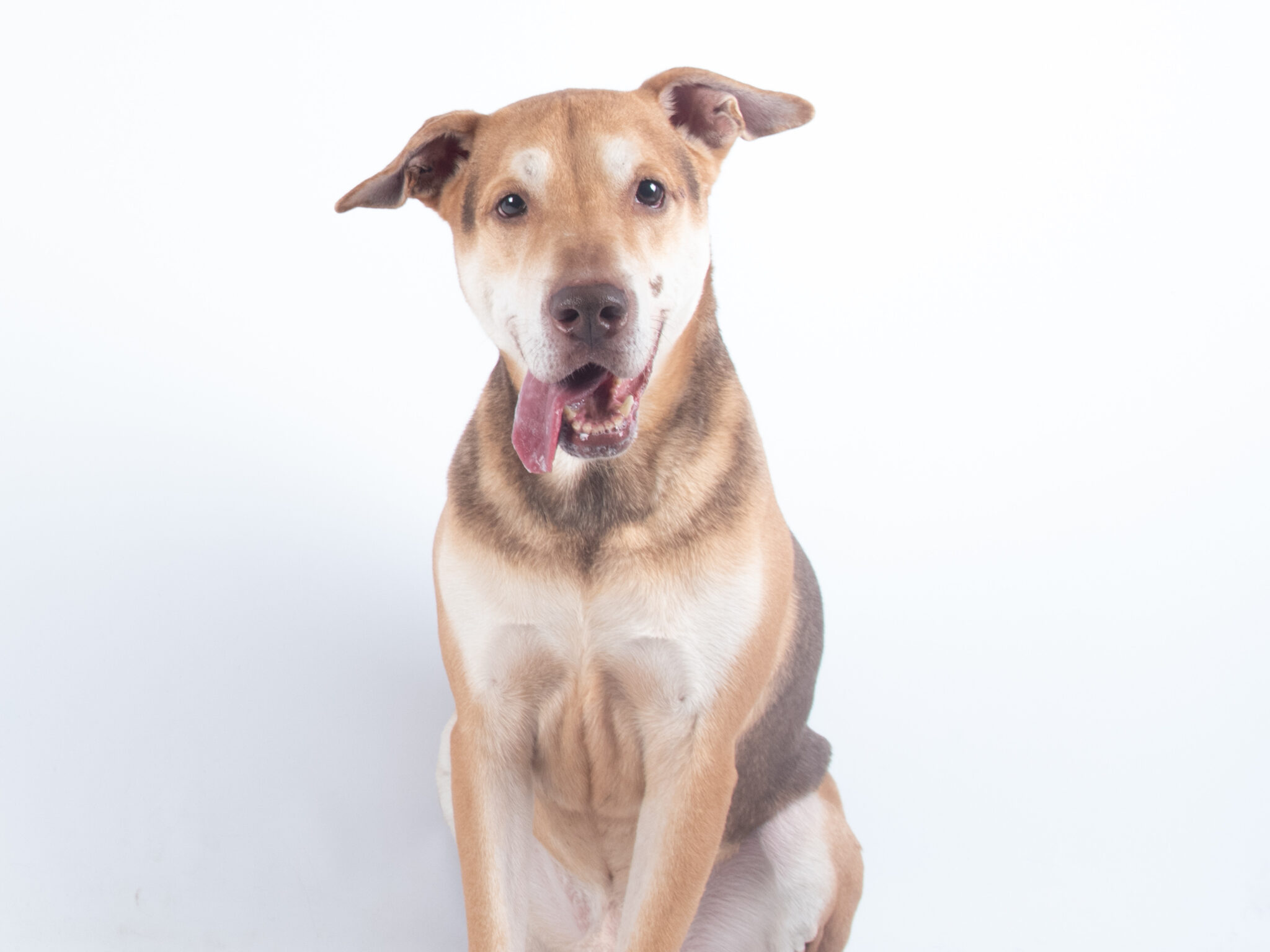 There are hundreds of wonderful pets to choose from who are ready to provide you with a lifetime of love, and the majority are already housebroken and know some basic commands.  Additionally, adopting a pet from a foster home means you can avoid the animal shelters and stay safe.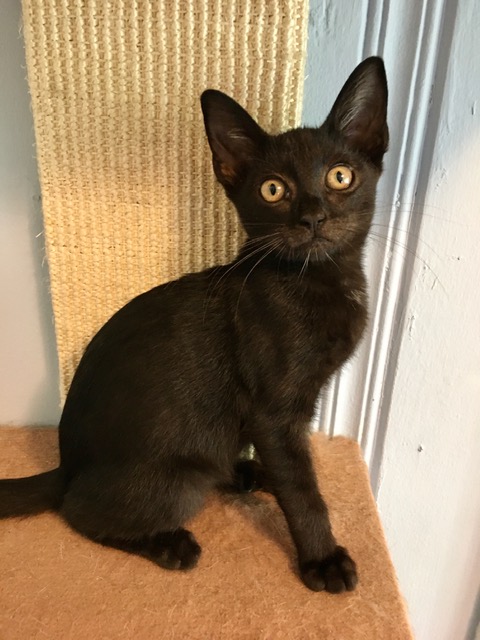 To view the foster pets available for the Bachelor in Pawradise $14 adoption promotion, please visit LifeLineAnimal.org/adopt-a-foster
Source: Lifeline Animal Project Press Release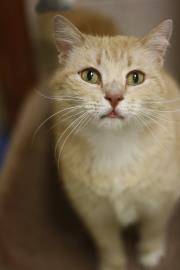 Gwinnett County's First Household Hazardous Waste Collection Day Set for February 11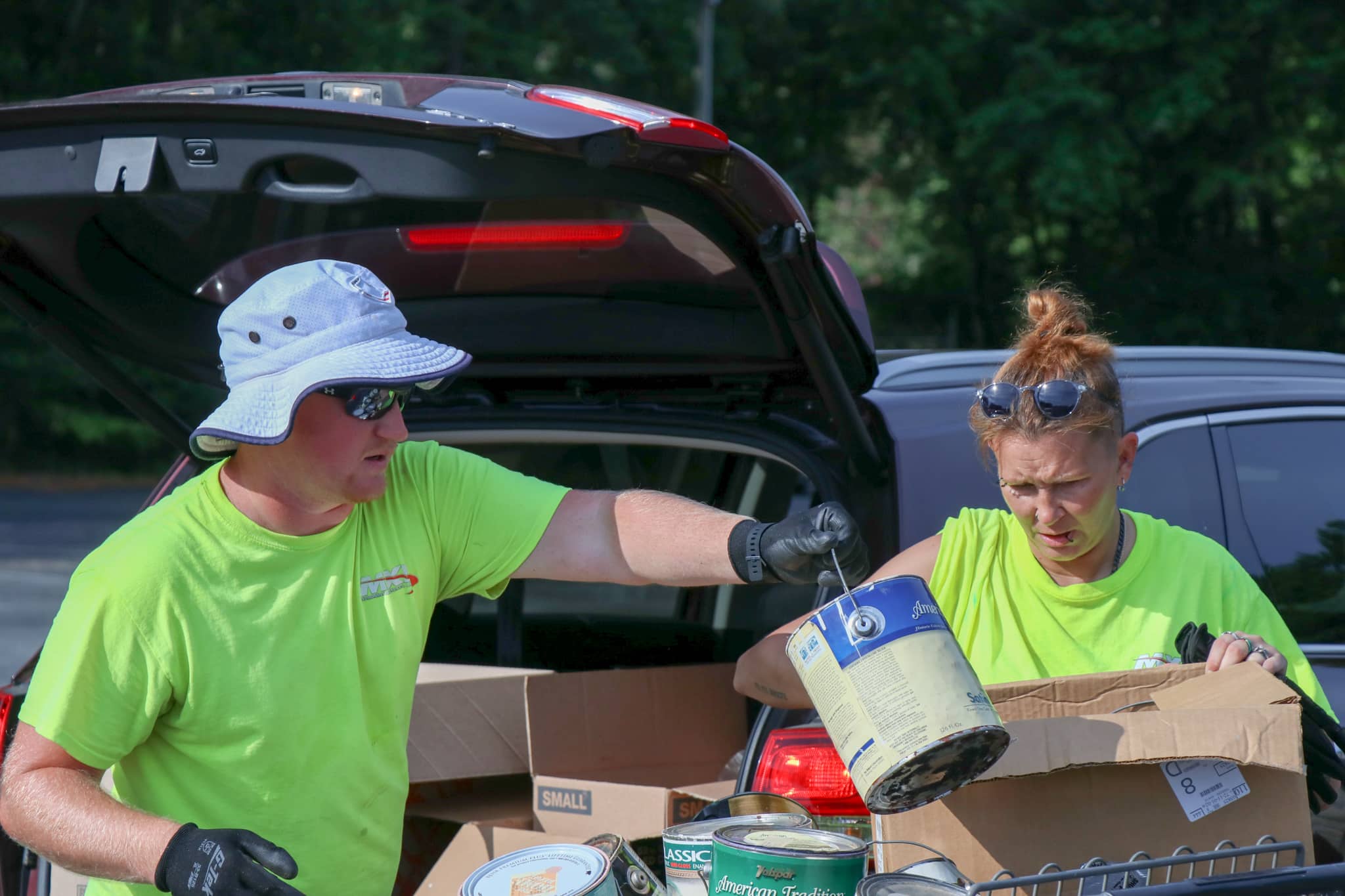 Gwinnett Clean & Beautiful and the Department of Water Resources to host an environmentally focused community event — Volunteers needed!
In February, Gwinnett Clean & Beautiful (GC&B), with its partners at Gwinnett County Department of Water Resources (DWR), will provide a free opportunity for its neighbors throughout the county to drop off household hazardous waste for recycling or proper disposal.
The first Household Hazardous Waste Collection Day of 2023 will take place Saturday, February 11 at Gwinnett County Fairgrounds in Lawrenceville from 9 a.m. to 1 p.m.
As a result of the biannual Household Hazardous Waste Collection Days in 2022, 1,422 Gwinnettians decluttered their homes while diverting 161,874 pounds of hazardous materials from local landfills. A bigger turnout is predicted for this year.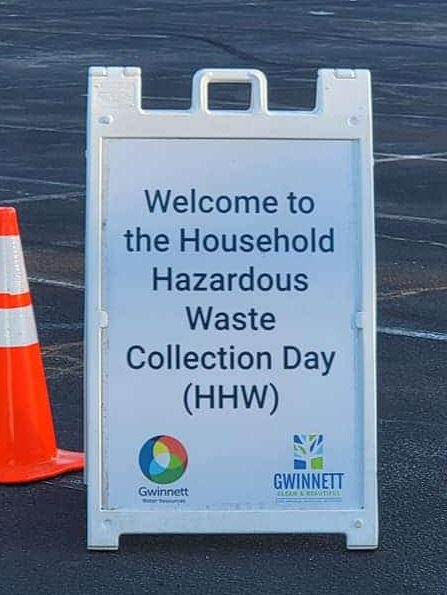 Looking for volunteers
"To help ensure a smooth event, we're seeking an additional 50 volunteers," said Schelly Marlatt, Executive Director for GC&B. "We only have a four-hour window to collect materials from hundreds of cars, so this is a 'the more, the merrier' scenario."
She added that it's a great opportunity to spend some time outdoors, meet other people who have a heart for the environment, fulfill volunteer hours for school and club commitments, and do something good for the community.
"Volunteers will help direct traffic, be assigned a station to help haul materials from vehicles, break down boxes, and more. It's easy but rewarding work," she said.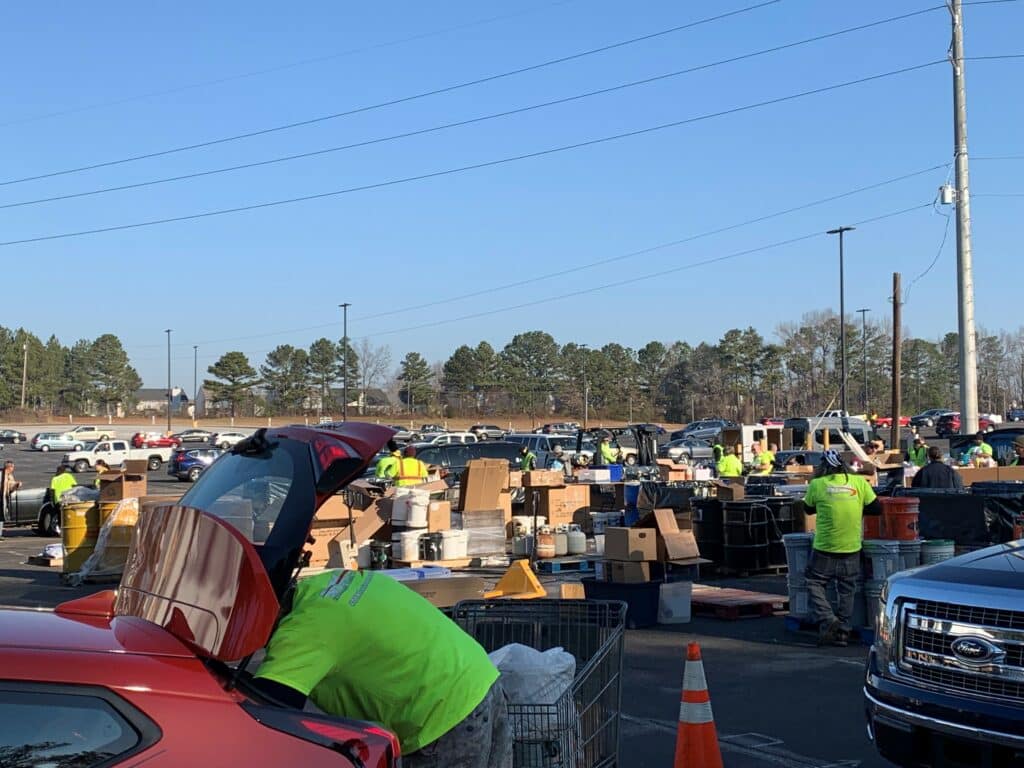 Marlatt explained that when people throw household hazardous materials in the trash, it winds up in the landfill and could leech into the soil, contaminating groundwater and the environment. The dangerous combination of some of those materials during the disposal process could even lead to a chemical reaction resulting in a fire or explosion.
"It might not seem like it at the moment when our volunteers are collecting items from the trunks and backseats of our attendees' cars, but we're saving the planet — one pesticide, paint can, and propane cylinder at a time!" she said.
To sign on as a volunteer for this and future events, Marlatt encourages interested individuals and groups to visit Volunteer Gwinnett.
Hazardous Waste Collection Day info
Attendees are permitted to bring up to five containers of household waste. Containers must be the size of a copy paper box or laundry basket, and — since they cannot be returned once removed from the car — disposable containers are recommended.
Acceptable items for collection include:
Aerosol/spray pesticides
Automotive products (engine degreaser, brake fluid, transmission fluid, antifreeze, etc.)
Cleaners, corrosives, spot removers, acids, and bases
Aerosol/spray paint
Auto batteries
Batteries (household and rechargeable)
Chlorinated solvents
Cooking oil and grease
Fire extinguishers
Flammables (lighter fluid and waste fuels (kerosene, gasoline, diesel fuel, etc.)
Fluorescent bulbs and ballasts
Insecticides
Latex and water-based paints
Lawn care products
Mercury
Mercury salts and elemental mercury thermometers
Oil-based paint and stains
Oxidizers
Pesticides
Poisons
Propane cylinders
Solvents and varnishes
Thermostats and other mercury-containing items
Thinners and paint strippers
Weed killer
Wood preservatives
"While we traditionally collect items like tires, electronics, and paper for shredding at other annual recycling events like Earth Day and America Recycles Day, we will not have the capacity to accept those items at our Household Hazardous Waste Collection Day," added Marlatt.
She suggested that attendees plan to bring their tires, and electronic and paper items to GC&B's Earth Day Recycling Event at Coolray Field on April 22.
Items that will NOT be collected during the Feb. 11 event include:
Ammunition
Radioactive waste
Pharmaceuticals, and
Biomedical/biohazard waste.
Gwinnett County Fairgrounds is located at 2405 Sugarloaf Pkwy. in Lawrenceville. Volunteers are asked to report at 8 a.m. on the day of the event.
Questions about February's Household Hazardous Waste Collection Day can be directed to Program Coordinator, Stephanie Marquardt at 770-822-5187 or gwinnettcb@gwinnettcb.org.
Providence Group Completing Framing of Clubhouse at Waterside Community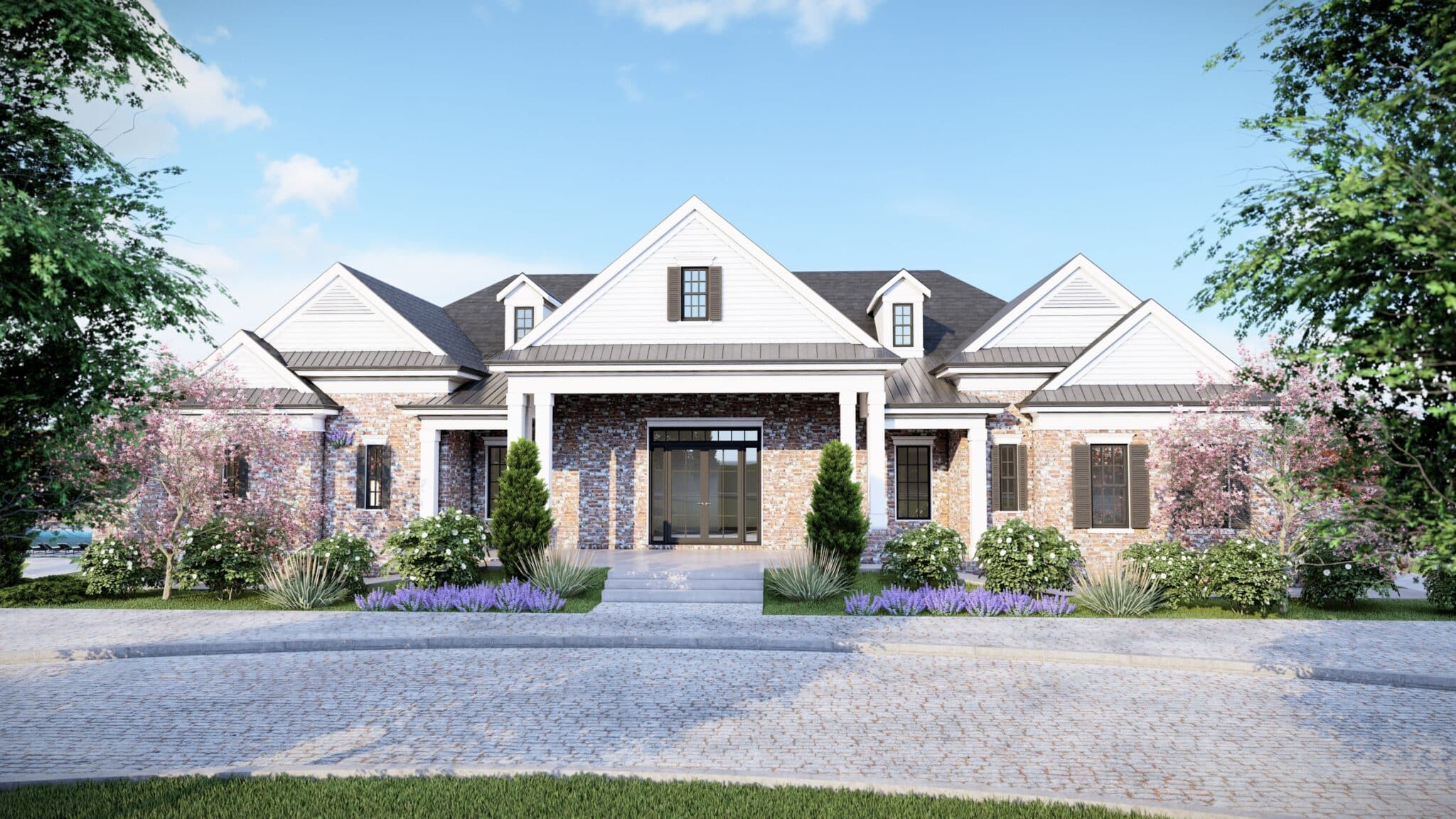 Atlanta homebuilder and developer The Providence Group and its joint venture partner East Jones Bridge River Holdings, LLC have announced that framing is nearing completion on the clubhouse in their Waterside community. The neighborhood is located one mile from The Forum on Peachtree Parkway.
The Providence Group is completing the framing of the 7,000+ square-foot community clubhouse that features a large gathering area, card room, catering kitchen, and conference room on the first level. The basement level has a state-of-the-art fitness center, aerobics room, and massage rooms.
Additional amenities include an outdoor swimming pool, pickleball courts, and walking trails that wind along the .7-mile frontage of the river and throughout the community.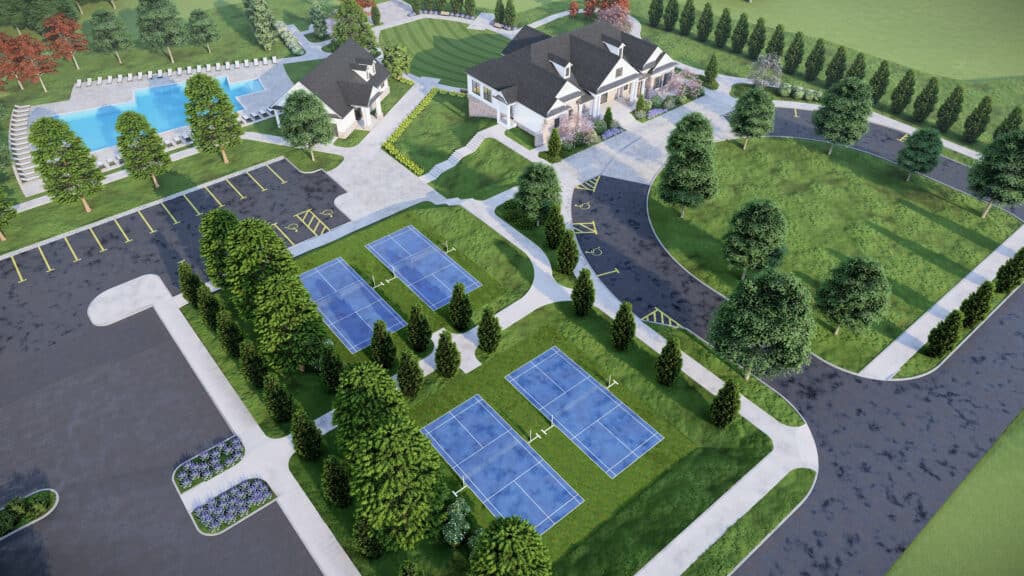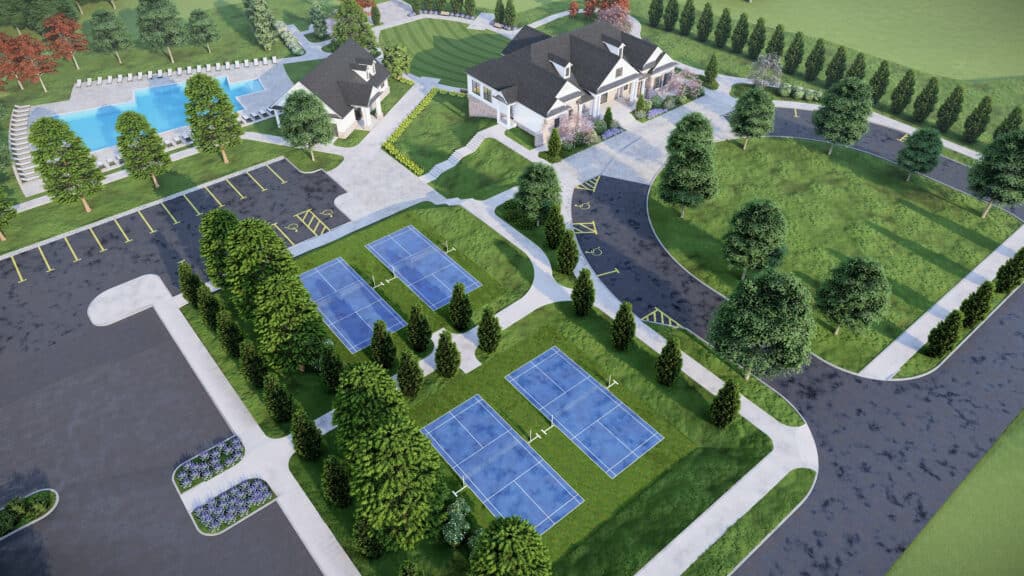 "Waterside is the epitome of luxury and lifestyle near the heart of Peachtree Corners Town Center," said Ty White with East Jones Bridge River Holdings. "We are thrilled to celebrate the construction progress of the community clubhouse for this community."
Set along the shores of the Chattahoochee River, Waterside is designed to provide multiple housing options for those looking for a true age-in-place living. It is located just off East Jones Bridge Road, so the community is convenient to quick interstate access as well as shopping, dining, and entertainment venues, including The Forum and Peachtree Corners Town Center.
Waterside's initial development phase focused on single-family detached homes as well as two-story front-entry townhomes and three-story rear-entry townhomes. The single-family homes feature owners' suites on the main, or offer optional elevators, and are priced from the $700s. There are three quick detached home move-in opportunities.
Several of the townhome designs also include optional elevators. There are eight quick move-in townhome opportunities priced from the $600s.
Construction is nearing completion on the first condominium building, featuring unique one-, two- and three-bedroom condos with private garages and no shared corridors. These homes range from 1,500 to 2,500 square feet, all on one level, with open-concept designs.
Model homes showcasing these home designs are planned to be completed in March. Waterside condo prices start in the mid $400s to the high $500s.
A future phase of the Waterside community is planned to include independent living, assisted living, and memory care facilities for owners 55 and older.
Peachtree Corners Partners with Fusus to Launch Connect Peachtree Corners Camera Registration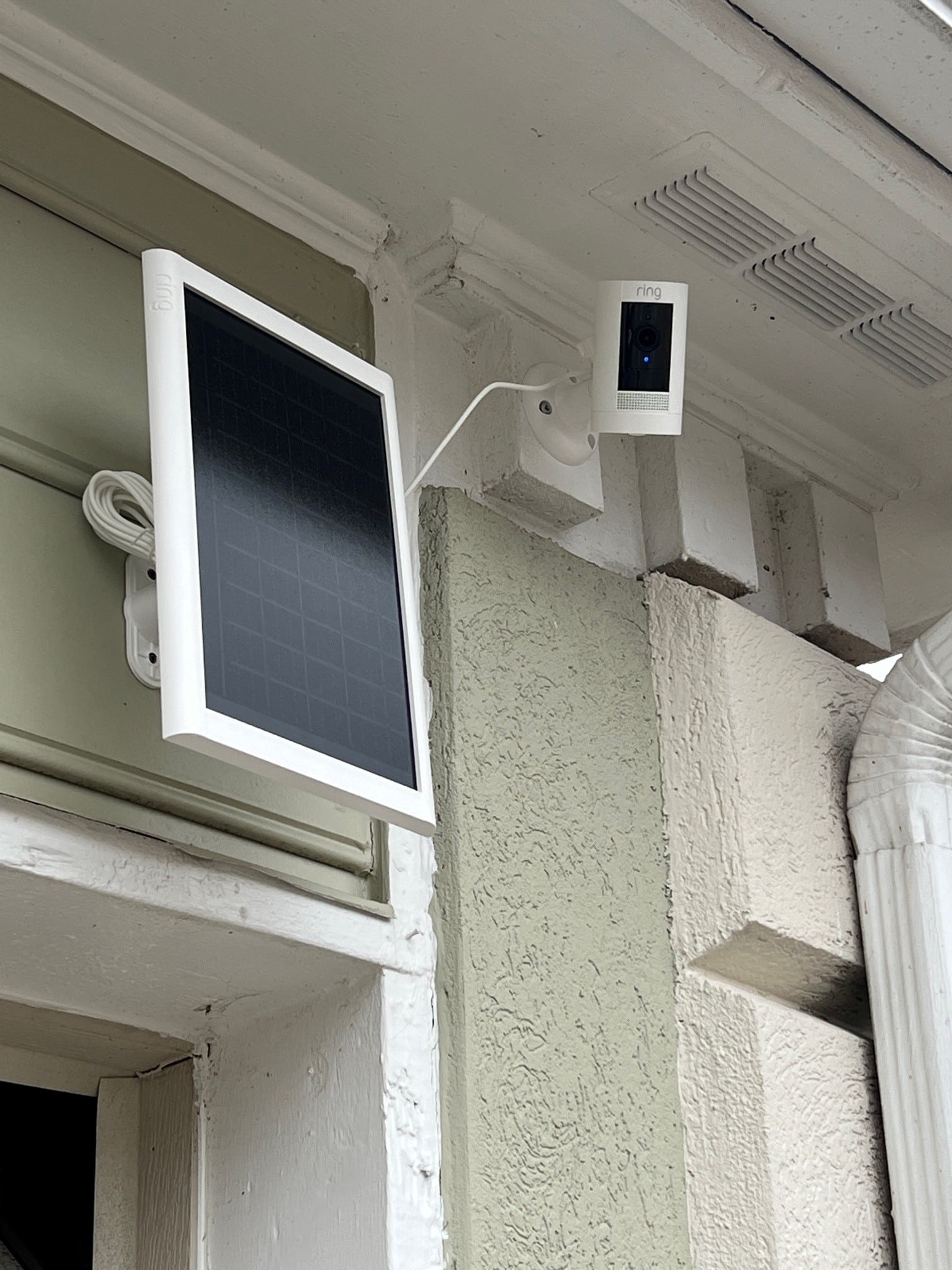 The City of Peachtree Corners has partnered with Fusus to provide enhanced public safety services to local businesses and residents. Fusus is a nationally recognized public safety technology provider that has operated out of its headquarters in Peachtree Corners since 2019.
Fusus is currently in use by cities and agencies nationwide including the Atlanta Police Department. The partnership between Fusus and the City will increase the efficiency of law enforcement and public safety responses by building a community-based public safety ecosystem.
The partnership begins with the launch of Connect Peachtree Corners, a tool that allows residents to register the location of their private home security cameras. The registration of a camera is completely optional and does not provide access to the camera to anyone.
The camera registration simply allows for the creation of a city-wide camera map for use by law enforcement. If a crime occurs in the city, law enforcement will be able to reference the map, and if they feel it is beneficial, they may contact a homeowner to request access to footage.
"We're excited to partner with the City of Peachtree Corners to create increased public safety innovation found in most major cities, right here in our backyard. And where more appropriate than our hometown, the "Silicon Orchard," to provide some of the most progressive, cutting-edge community safety tools available," said Chris Lindenau, CEO of Fusus.
Peachtree Corners residents and businesses are encouraged to visit Connect Peachtree Corners Residential Camera Registry to learn more about the program, access the frequently asked questions and register their security cameras.
"As a city government, we take the issue of public safety very seriously. There are not many things more important," said City Manager Brian Johnson. "This partnership and associated camera registry program will allow us to support law enforcement with a new technology tool and will lead to increased public safety throughout the City."
The Fusus platform and the Connect Peachtree Corners camera registry will serve as a central point for our local law enforcement and first responder agencies. It will bring all personnel and emergency operations centers under one umbrella and provide them with video and data information that will integrate directly with 911 Computer Aided Dispatch (CAD) systems.