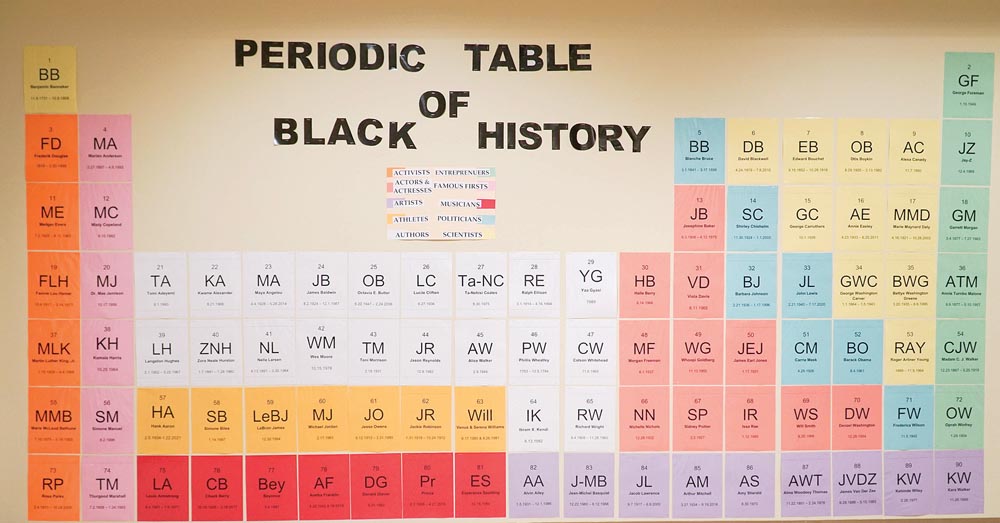 Black History Month takes on special significance this year.
It comes just after Kamala Harris was sworn in as the nation's vice president, becoming the first female, first Black person and first person of South Asian descent to hold the position.
The annual celebration also comes in the wake of last year's global Black Lives Matter protests for racial justice and the passing in July of civil rights legend Congressman John Lewis.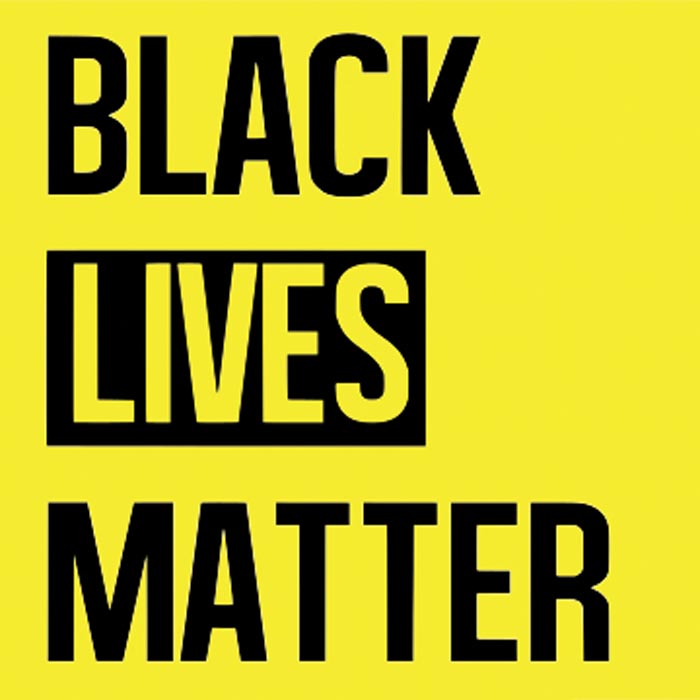 The COVID-19 pandemic has impacted many of the Black History Month observances typically held in and around Peachtree Corners, sending them into the virtual world or cancelling them all together.
But the celebration will go on at many area schools, including Wesleyan School.
"At Wesleyan, we are seeking to engage in parts of history that are often forgotten, but that were pivotal in creating a better future for current generations," said Dr. Jennifer Pinkett Smith, the school's director of diversity. "Students and teachers learn about history that shows the resilience and courage of African Americans who often sacrificed their own safety and lives for equality."
Here's a sampling of Black History Month activities planned at schools and elsewhere in the Peachtree Corners area.
Private Schools
Greater Atlanta Christian School
Celebrating Black History Month has been an annual tradition at Greater Atlanta Christian School (GAC), said Charles Edwards, the school's director of diversity and inclusion.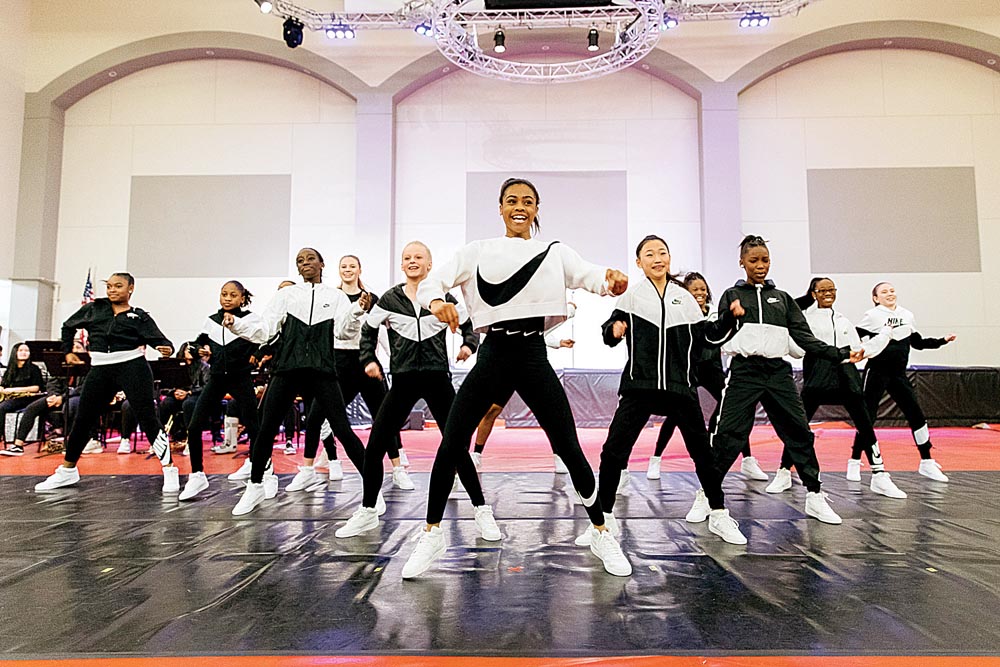 "The year 2021 provides an even broader opportunity to share valuable contributions and struggles through historical people and events, alongside today's headlines," Edwards said. "America is a land of complicated history and delving into the 'whys' with students creates conversations leading to better understanding, respect and appreciation for the diversity we embrace."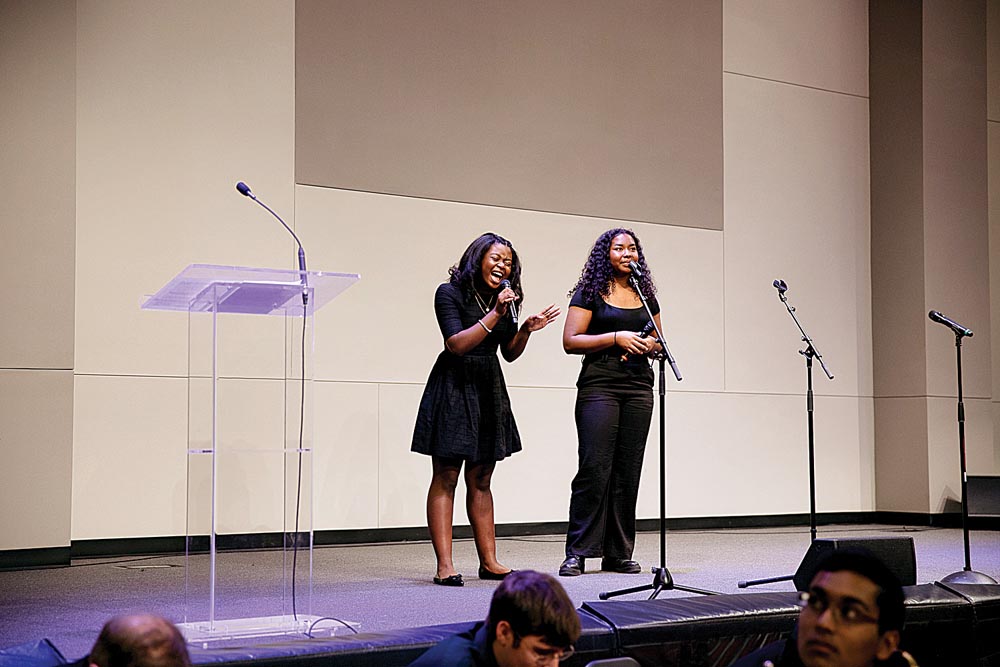 Plans now underway include spotlights on Black heroes during the elementary students' Spartan News Live program, shown in classrooms three days a week. Similar spotlights are in place for Middle and High School with a culminating, schoolwide Black History Month chapel program which will be held in-person and virtually on February 26. The annual program for grades K-12 typically includes music, dance and videos created and presented by GAC students and readings offered by students and a notable guest speaker.
Wesleyan School
Lower School students at Wesleyan School will journey through Black history with the book, "28 Days: Moments in Black History that Changed the World." Each day they will learn about contributions and the fight for equality that continues today.
Middle school students will journey back to the 1930s and learn about the use of "The Green Book," a travel guide used by Black people to live and travel safely in America. Students will also learn about visionaries who continue the fight for equality.
High school students will view the Teaching Tolerance lesson "What Counts as History" and discuss how to keep the conversation about black history as a part of everyday history.
Public Schools
The following was compiled from information provided by the Gwinnett County Public School system and individual schools.
Coleman Middle School — Mini-lessons about black history will be made during morning announcements. Project-based lessons ask questions such as "How can we amplify the underrepresented voices of history?" and "How can we develop a character that influences social justice?"
Summerour Middle School — The school plans an HBCU (Historically Black Colleges and Universities) Door Decorating Contest, art displays, essay contest, Black author highlights in the media center and a celebration at the end of the month with student performances.
Duluth High School — The Social Studies Department will record a presentation of student performances that will be shared in classes. Students will also produce daily short videos of alumni, staff and students discussing historical figures, present influencers and their own experiences.
Duluth Middle School — A tribute to HBCU/Greek organizations includes school staffers sharing history and their experiences. Drama students will perform two virtual plays, "Kwanzaa Heroes" and "Freedom Riders." Students will learn about several historical figures through a "virtual wax museum" and will hear Black History Month facts during daily announcements.
Norcross High School — Individuals who have made significant contributions in science, math, literature, history and other areas will be recognized throughout the month. Videos and sources for additional information will be shared.
Peachtree Elementary School — Historic and impactful Black people will be commemorated during daily morning newscasts and highlighted in ongoing lessons.
Pinckneyville Middle School — The observance will include inspirational videos during morning announcements, student book talks and a virtual museum field trip to one of the museums that offer them such as The Center for Civil and Human Rights and The National Museum of African History and Culture. The school's annual Black History Month celebration takes place virtually on Feb. 21, featuring student performances and guest speakers.
Paul Duke Stem High School — Social Studies teachers and the Black Student Association plan daily messages highlighting "important and innovative Black leaders" and Black History will be highlighted daily in history classes. Video broadcasting students will create a special video with guest speakers that will be their major project for February. Black History and Culture spirit week takes place February 15-19 with themed dress-up days for faculty and students including Red, Black and Green Day (unity); College Day/HBCUs; Camouflage Day (in recognition of military contributions); Cowboy Day (in recognition of Black cowboys); and Black is Beautiful (wear all black in celebration of Black people).
Simpson Elementary School — The school plans to conduct a series of interactive discussions on Zoom for fourth and fifth graders with speakers from the journalism, legal, government and medical fields who will speak on the history of Black people in their professions.
Stripling Elementary School — The tentative plan for a schoolwide Book Museum includes each class selecting a book and discussing its main character. Students will create a display to post in the hallway and a classroom Google Slide to inform and inspire others. The slides will be compiled and placed on the school's website.
Community Celebrations
Gwinnett County Public Library — The Grayson branch will offer a program for schools and the public on "The History of African American Voting and Civil Rights, 1865-Present." The Norcross branch plans virtual programs on February 7, 14 and 21 on how to create your own art piece inspired by a contemporary Black artist's work using tools and materials you probably have around the house.
The Suwanee and Centerville branches are partnering to do a three-part virtual series on HBCUs, including a program on the history and future impact of HBCUs on March 11 at 9 a.m., a panel discussion with HBCU alumni on March 18 at 6:30 p.m., and an HBCU admissions talk — "What Every Teen Needs to Know" — on March 25 at 6:30 p.m. For more details and links to these programs, visit the library system's social media accounts or gwinnettpl.libnet.info/events.
United Ebony Society of Gwinnett County — The United Ebony Society actively works to educate, engage and promote community involvement emphasizing the diversity of Gwinnett County.
The organization's annual display and program at the Gwinnett County Justice and Administration Center will not be held due to the pandemic. Instead, the United Ebony Society is partnering with Gwinnett County Community Outreach and other organizations to host virtual presentations and a service project. Students will be involved in this event.
Topics will include "African American History in Gwinnett County, historical sites, genealogy, and African American pacesetters throughout the African Diaspora." Details are being finalized and will be available on unitedebonysociety.org and Facebook.
Peachtree Corners Family Takes On 'Family Feud'!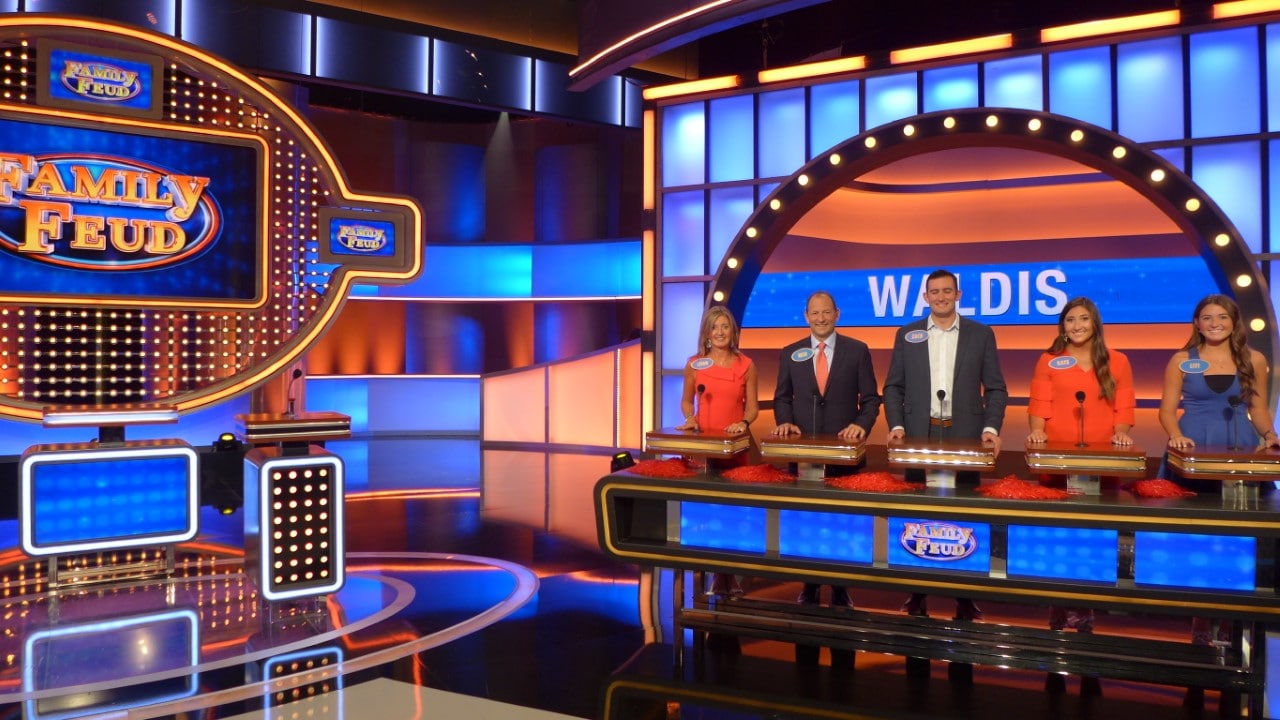 Survey says that the Peachtree Corners Waldis Family had a wild time at Tyler Perry Studios last September playing a game of Family Feud with the larger-than-life Steve Harvey! Their episode will air on ABC, March 2 at 7 p.m. But the story of how this all came to be is almost as disorienting and fun as the filming experience itself.
"Back in May, something popped up on Facebook saying they were looking for families in the Atlanta area. As a joke, I just sent in our information. Then they contacted me about three weeks later to get more information and at that point, I started thinking 'Oh my gosh, this could actually happen.' And it just kind of evolved from there," Leigh Waldis said.
Leigh, her husband Rich, and their teenage daughter Olivia are Peachtree Corners residents. The Waldis' also have two grown children who came home to have this unique family experience. Leigh served as the 'head of the family' in the game, as the first person in line to answer questions.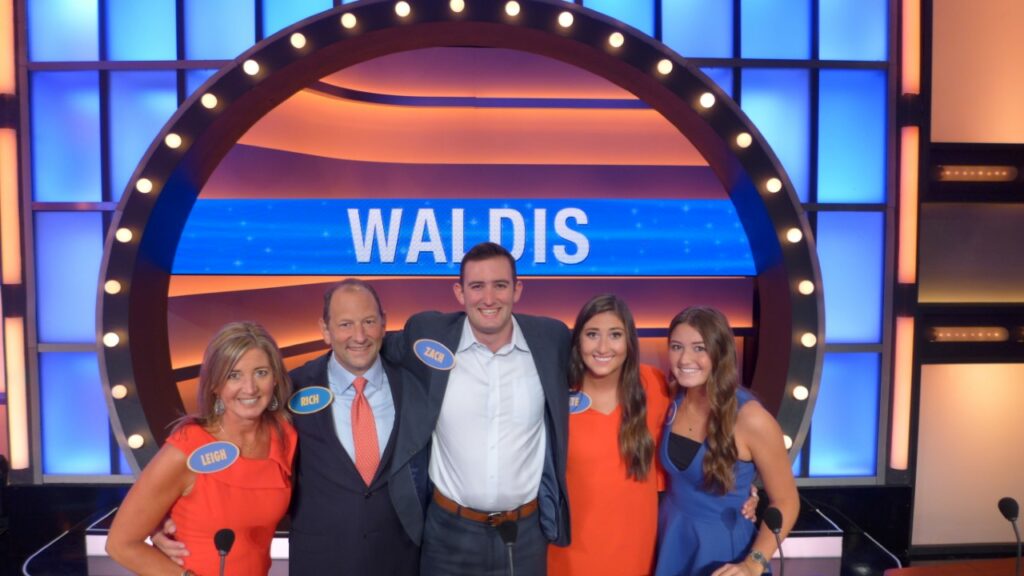 For those not familiar with the popular ABC game show, Family Feud is a survey based trivia style game in which two families compete against each other to guess how a survey of 100 people might answer a certain question, ideally coming up with the most popular answer for the most points. The first to 300 points wins, continuing to the lightning round for the possibility of a $20,000 cash prize. Hosted by beloved comedian Steve Harvey and often filmed in the Atlanta area, this show is a home favorite for many families, including the Waldis'. So joining in the Feud for real must have been a real treat.
"First of all, Steve Harvey is every bit and more funny than you see. The experience was interesting because of the Covid thing. Normally, there would be participants actually watching in the audience or people that are just there to view. Instead, it was the actual families who were the audience, so that kind of made it more fun bonding with the other people that were playing," Waldis said.
In order to get everyone together for the show, the studio flew their daughter Kate (23) in from Texas and their son Zach (24), who is commissioned in the Air Force and required leave time. He is a 2nd Lieutenant training to be a pilot at Laughlin AFB in Del Rio, Texas. Their youngest child Olivia (17) also played and she is a senior at Duluth Highschool.
Leigh noted how "well-orchestrated" the entire process was. The Waldis family immersed themselves in the strange world of Family Feud for two days, September 3 and 4. Day 1 consisted of a try-out with one other family, with a few test questions given to see how the families would react. Then they spectated the rest of that first day. Harvey breaks off a good deal during the taping and interacts with the audience, ad-libbing any particular entertaining tidbits that come to mind, "sort of like you are getting a four hour comedy show out of him," according to Leigh.
The safety restrictions related to Covid19 were strictly upheld and therefore might have complicated the experience but did nothing to dampen the enthusiasm of the family as they had a true view behind the curtain.
"It's kind of crazy but fun. We just went in with a mindset of, 'No matter what happens, we were just going to make the best of it and have the best time'."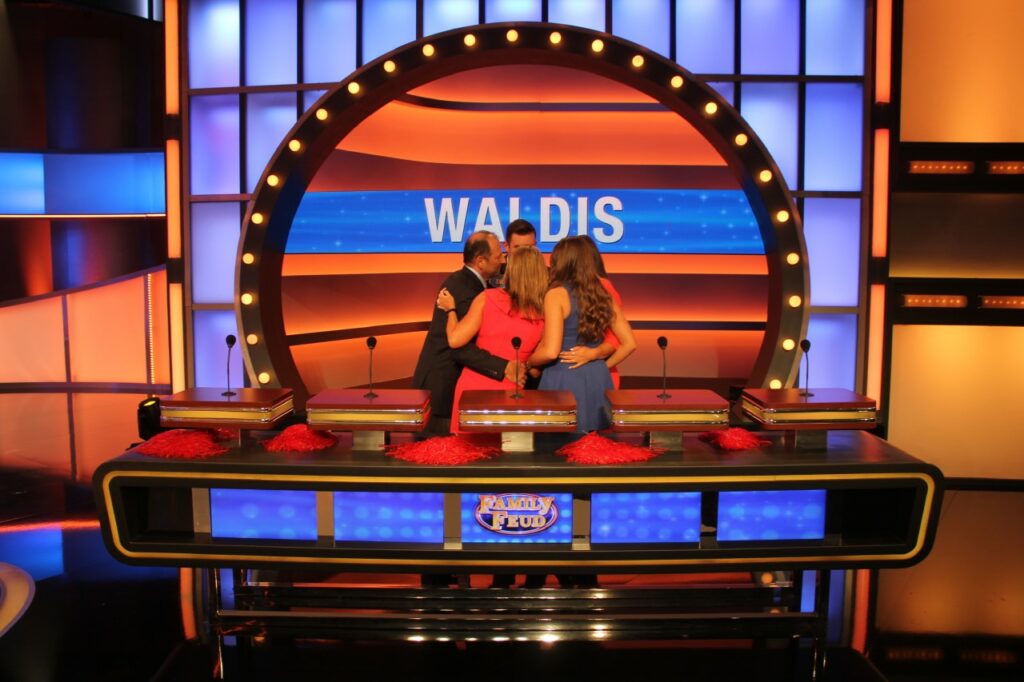 It takes about an hour to film each show, with four shows typically filmed each day. They shave that down to about 22 minutes, so the Waldis family is curious what will make the cut and what won't, as it was "a whirlwind" in the moment.
Watch March 2 at 7 p.m. on ABC to cheer the Waldis family on and see how they fare. The City of Peachtree Corners will also be showing the episode live on the big screen, at Peachtree Corners Town Center. The big screen is located adjacent to the stage so people can gather on the Town Green in front of the screen to watch. This is not an official city event, but just a low-key way to join in the fun.
Medlock Bridge, Bush Road Improvements Underway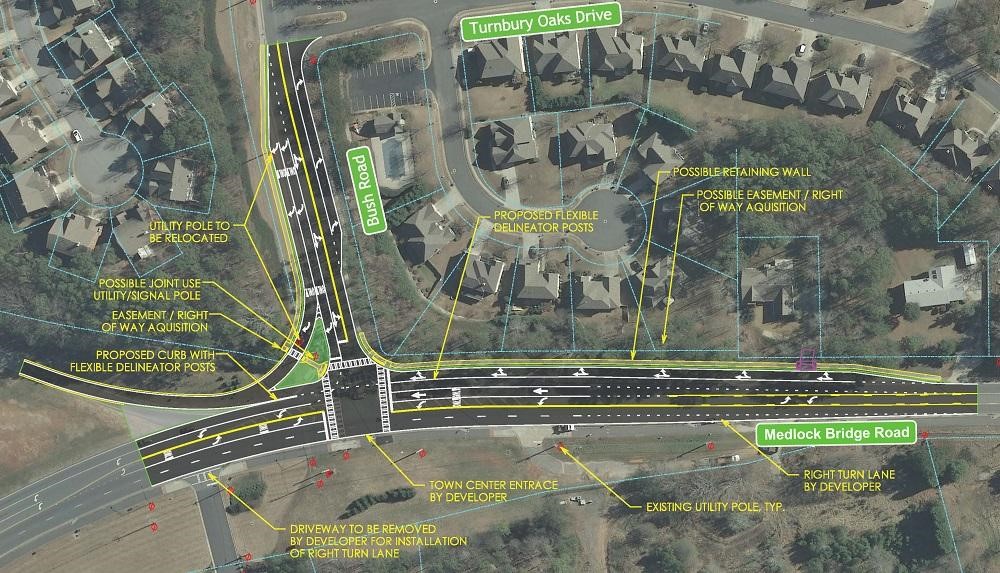 Construction is underway now on a project that will improve the traffic safety, operations, and
capacity of the intersection of Medlock Bridge Road at Bush Road. The project generally
consists of roadway widening, some full depth asphalt pavement, milling and inlay, concrete
curb and gutter, concrete median, concrete sidewalk, signing, pavement marking, storm
drainage improvements, retaining wall, traffic signal installation and grading.
For the westbound Medlock Bridge Road portion of the intersection, the final project will result in:
• a left turn lane onto Town Center Drive
• a through lane that will become a left turn lane onto southbound Peachtree Parkway
• a through lane that will continue across Peachtree Parkway to become East Jones Bridge Road
• a through-right lane that will allow traffic to turn onto Bush Road or continue onto the
slip lane to northbound Peachtree Parkway
Other major improvements in the project will add safety and capacity improvements to Bush Road. Southbound Bush Road will include a through-left lane for traffic to cross over Medlock Bridge Road onto Town Center Drive or turn left onto Medlock Bridge Road. Bush Road will also include two right turn lanes, one intended for accessing southbound Peachtree Parkway and the other for accessing northbound Peachtree Parkway.
Sidewalks and pedestrian crossings will be included for all approaches to the intersection. A new traffic signal will also be added that will include the latest traffic engineering technology. The project will also include walls, guardrails, fencing and landscaping additions.
Following a public bid process to procure a qualified construction contractor, Peachtree Corners' elected officials awarded the work to Vertical Earth, Inc. of Cumming, GA, for approximately $1.2 Million. The contractor will have 180 workdays to complete the project. Funding for the intersection improvements will come from the 2017 Transportation SPLOST.
Source: City of Peachtree Corners release
An Interview with Judge Davis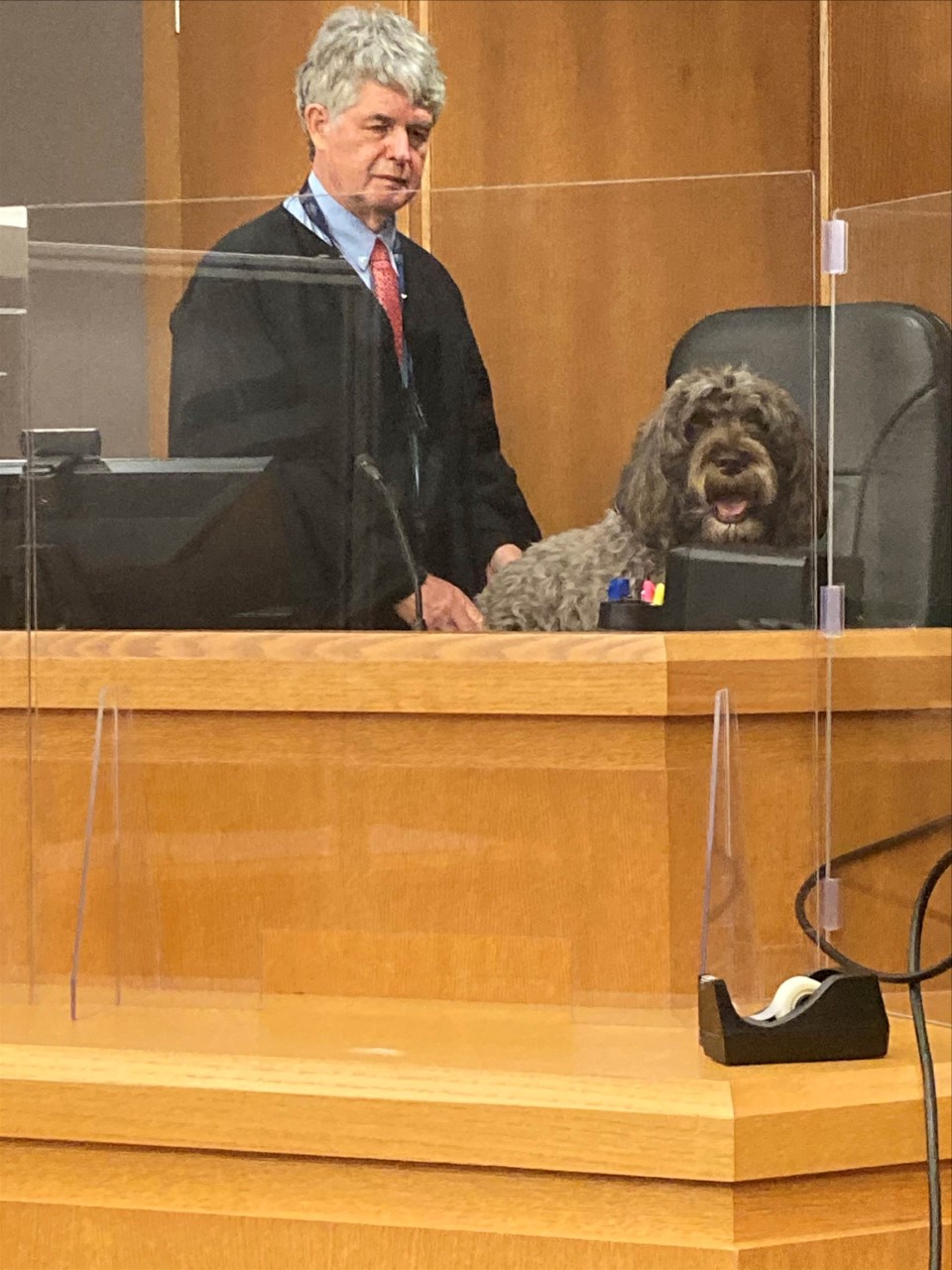 I recently had the pleasure of speaking with Judge Warren Davis about the history of Peachtree Corners, how he rose through the ranks and what he wants for the future of our great city.
When did you move to Peachtree Corners?
I first came to Georgia in the 1970s, but I bought the house in Peachtree Station in 1990. I loved the infrastructure of Peachtree Corners; the sidewalks were clean, parks were developing everywhere, and it was one of those few places that had good access to downtown with the traffic still being somewhat reasonable.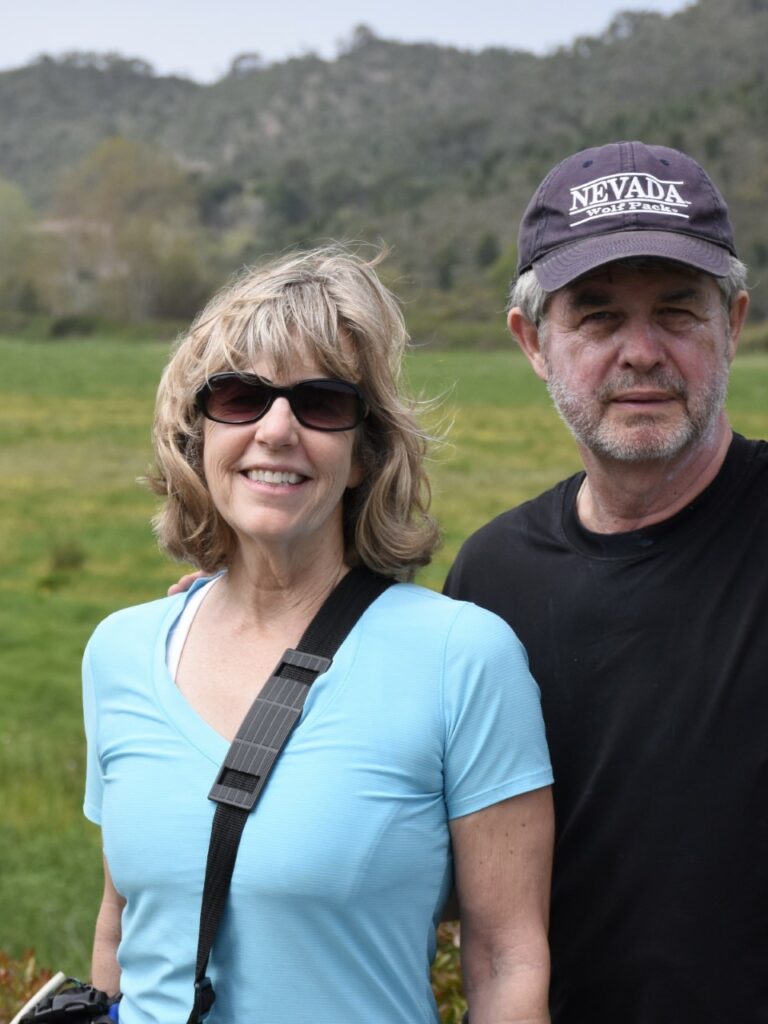 How did you become a judge?
I actually started as a patrolman for Gwinnett County Police Department, back when East Jones Bridge Road was still a dirt road and Jimmy Carter Road didn't even exist yet!
Gwinnett PD has a really great educational program, where they will pay for you to go to school, and you stay working for the department for at least one year after you graduate.
I used to be out on the beat, when it was rainy or cold, usually chasing down an abandoned car. And then I would go to court hearings and see the judge and think: he looks really warm and dry; maybe I'm in the wrong career.
So Gwinnett PD sent me to law school, and when I finished, I stayed another year and moved up from there. I owe my success to the Gwinnett County Police Department.
What makes Peachtree Corners so special?
It's the little things. When Peachtree Corners got its cityhood, we never had to reinvent the wheel. We kept the county organizations, like the police and fire departments, and didn't have to create our own.
When you live in a place where crimes against children and human trafficking are a huge part of your crime rate, it helps having officers who are trained in a unique field like SVU. That's something we would never have if we had to put our resources into a smaller police department. From a judge's standpoint, I can appreciate the skillset that Gwinnett PD brings to the table.
The beauty of Peachtree Corners is that when we became a city, we got to combine common areas with common interests. Gwinnett County has always been a leader and will continue to be. That leadership all began with Tech Park and the innovation it brought to the area. That niche brought top notch schools, plenty of medical centers to choose from and then all the shopping you could ever need within a few square miles.
Now we have a great support system. The YMCA helps people at all levels of the economic spectrum. We have many great church organizations, and three healthy, organic grocery stores all within 10 minutes of each other. Peachtree Station, and most Peachtree Corners developments, have a community pool, which people tend to bond around.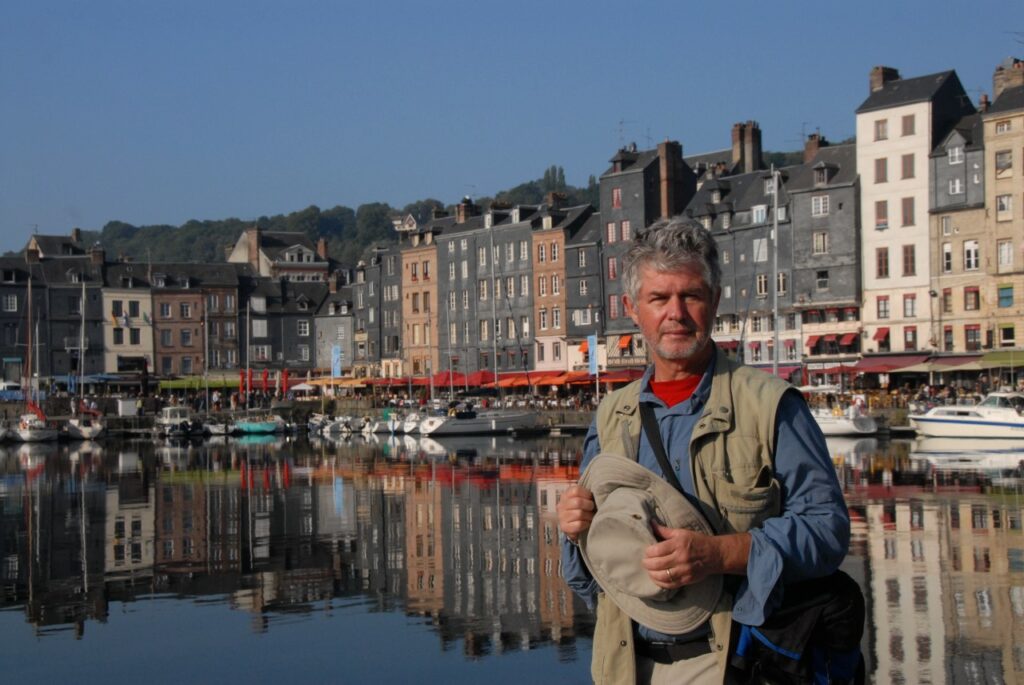 I hardly have a reason to go inside the Perimeter now, but when I do it is pulse-pounding and rare!
How has the pandemic affected your work?
I'm happy to say that we did better than most. As a judge, I legally have to be in a courthouse for hearings. So, I have been video conferencing court hearings from the same spot I always sit.
I'd say about 2% to 3% want to have their appearance in person, which is fine, because I just sit behind Plexiglass and everyone stays safe.
The only problem is that we cannot have jury trials for obvious reasons. I feel bad for those people who are awaiting sentencing, because we are about two years behind when it comes to trials now. Hopefully, we can get the system moving again soon.
What would you like to see for the future of Peachtree Corners?
Right now, we need to do what our ancestors did and just survive. We have great leaders working on the issues, looking at problems and making adjustments.
Peachtree Corners has always been willing to go out on a limb and try new tech — that's what built Silicone Valley — and I believe that's what our city is moving towards.
In the future, I want to see us keep striving towards better transportation. We already have great research studies and programs in place for timing stoplights and managing our traffic, not to mention the exciting autonomous driving system. But a great transportation system is so important because every great city has it, and eventually it becomes everyone's form of transportation.
I believe that the leaders of Peachtree Corners have a plan, and it's a good plan. We just need to keep doing it.