V2X Mobility, Path to Fitness and Getting Back to Work, with Alex Wright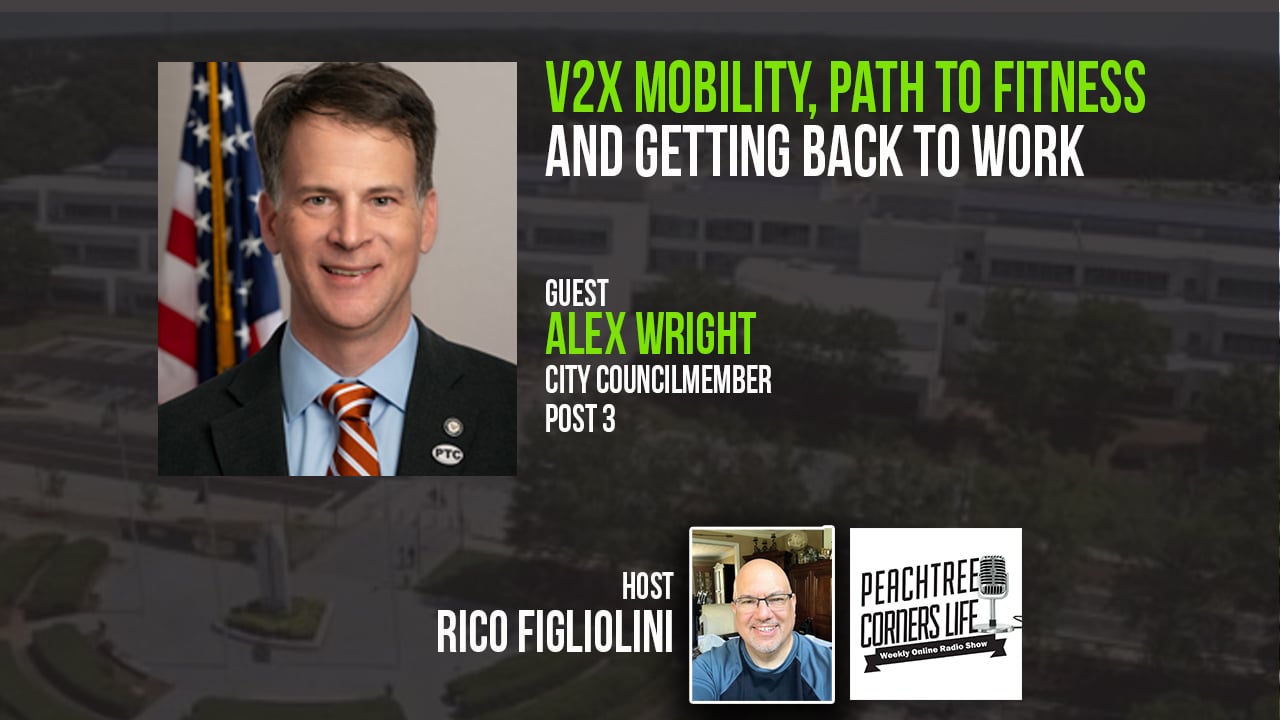 In this episode of Peachtree Corners Life, Rico talks with Councilmember Alex Wright about new programs coming from Curiosity Lab, economic advancements in the city, plus the October V2X Conference, the expansion of the Path to Fitness trail, and additional improvements to Town Center.
Resources:
City Website: Alex Wright
Timestamp:
[00:00:30] – Intro
[00:01:12] – Coming back to work after COVID
[00:06:38] – Government Work Post COVID
[00:10:20] – V2X Conference
[00:13:22] – Autonomous Vehicle Usage
[00:21:14] – Fitness Trail Updates
[00:26:55] – Creating Anchors
[00:41:48] – Closing
"I think that (companies) realize they're not going to be going back to what it was with everyone there five days a week, no exceptions. But I also think that, with some exceptions, that being remote, like all the time… maybe that's not the best model either, because I think you do need the human contact on some level too…So I think there'll be some kind of mix. Each company will figure out what works for them."

Alex Wright
Podcast Transcript
Rico: [00:00:30] Hi everyone. This is Rico Figliolini host of Peachtree Corners Life. Glad that you're able to join us. We have a special guest today. But before we get to Alex, I'm gonna just want to say thank you to our listeners for being out there. This is brought to you by Peachtree Corners Magazine and we are moving on to a full schedule where we should be posting every week a new podcast. Of different interviews with different people of different parts of the city. But today we have the city council member with us. We have Alex Wright of district three. Who's been a city council member since 2012, actually. So let's bring Alex on, let's bring him right in here. Hey, Alex. How are you?
Alex: [00:01:10] I'm good. Good afternoon.
Rico: [00:01:12] Yeah. Good to have you here. So we're recording this on a Wednesday afternoon. This is going to be simulcast live on Facebook and YouTube in a few days. So I'm glad that you're going to be with us and we're going to be talking over the next half hour about things going on in the city, things that are near and dear to your heart, and being able to be able to talk about experiences you've had and some new things going on in the city. So I'm glad to have you with us. So the first thing you know, I have to ask you because it's been a long time since I've had you on and we've gone through COVID. I know you worked for a major corporation, a consumer corporation out there. You know, how has it been being able to transition now? Being that people are coming back to work to a degree. There's some hybrid stuff going on. There's still some remote stuff going on. Quite a bit of that, actually. And if I listened to the recruiters. It sounds like no one wants to go back to work and no one wants to, I should go back into the office to work. They all want to be remote. And so how are you finding it out there? Corporate and government wise working?
Alex: [00:02:18] I think our company, like probably most companies are kind of feeling their way about where they want to end up. I think that they realize they're not going to be going back to what it was with everyone there five days a week, no exceptions. But I also think that with some exceptions that being remote, like all the time. And there's exceptions to that that maybe that's not the best model either, because I think you do need the human contact on some level to, you know, especially for if you're bringing on new employees. You know, how do you integrate them into the culture of your company? How do you bond with them, which you can do it remotely. It's just, I don't think as effective. So I think we're no different than pretty much any organization. Just trying to figure that out. There was an article recently, in the wall street journal about two of the big investment banks there. That were going back, you know, just like we were before. And the article was talking about how some of their competitors are looking at that as an opportunity to steal some of their workers away.
Rico: [00:03:24] Right.
Alex: [00:03:24] And I do think that I've recently hired someone a few months ago and probably like in their late twenties, early thirties, like one I interviewed was about that age. And that was a consistent question I got was what is going to be your new normal. And I do think that that will become something people will look at. When they're, you know, they got the salary, they got the location and all the different things. That'll be something that they'll compare with. And I think if you're a company that says we're going be old school, you will probably have to pay some type of premium to get people to do that because it is a, I mean, my office is over in the Braves stadium when I used to have to commute over the top end every day. And that was a quality of life issue. And not having to do that, you get two hours of your day back that you can, maybe you're not working those full two hours, but you're definitely working some of that. So the company to a certain extent is getting more production and there's plenty of evidence that shows that that's the case. So I think there'll be some kind of mix. Each company will figure out what works for them.
Rico: [00:04:33] That's interesting. I was listening to that wall street journal podcast, actually, that article. And they were talking about, I think it was Chase and Morgan Stanley where they said, no, we want people in because even though they learn all this stuff in college, they really are reeducated when they get into that environment of trade investment and all that stuff, investment banking. I guess, because they want to teach them trade secrets you really can't learn over Zoom. Because you don't want people to recording those things, maybe, I don't know. But it's kind of interesting how they frame it. Like you said, that you have to, some jobs need to be done, I guess, to degree in person. But most jobs I think people are finding out just as easily doing it remotely and actually better. You know, you save two hours of transit. You're probably more enthusiastic about your job then you would be a few traveled an hour to get and then leaving late or something.
Alex: [00:05:28] Yeah. When I did have to start going back a little bit in April, you know, I sit there. Because when I would go back, there was no one at the office. It was just a handful of people there. And I thought to myself, you know, spent this time getting ready in the morning, driving, you know, and then I'll sit there in my office by myself to a certain extent. I'm thinking this really doesn't make any sense. It kind of brought home like the insanity of, you know, of doing that every day. But like I said, I do think that you need some, you know, some level of, I mean, just think about what we're like in my job, you know, we go and visit different sites with people at factories and whatnot a few times a year. And one of the main reasons you're doing it is just to kind of establish that, you know, that human bond with people. So I do think you need that. But like this whole collaboration idea where you've had offices, okay, we're going to have this open concept and everyone's going to sit together, do one of those offices. And then you find out that the studies say, well, actually people are less collaborative because they're sitting there at these long desks with earbuds in and because everyone's getting on each other's nerves. So I do think there's a balance there.
Rico: [00:06:38] Yeah, that makes sense. I agree with you. And obviously to come in during COVID that was never. It's not even a good idea anymore, right? Being everyone out in the open like that. So yeah. And certain jobs like a judge Tracie Cason on my last podcast talked about how, as a judge, they did do video, a lot of video. But she said, really, you want to be able to see that person and interact with them in an in-person fashion because otherwise the other way around, it's just too cold. And I'm sure the judgment day will be different by doing it that way. But so working with government though, because know, you have the private side and now you have the government side. How has that been, being able to do city council meeting work sessions? How has that worked out?
Alex: [00:07:30] Yeah, I would say in that case, so last night we had a work session and it was the first time we were back in the, I can't remember the name of the room, but it's you know, we're real close together. Prior to that we had been either remote or in this big open space and you know sitting 20 feet apart. And I would say, because think about like with the council, there's seven people. And especially at work sessions, it's kind of a free flowing conversation. And I did find when we were remote or even when it was spread out, it's much more, the conversation would just not go as well. It's not like people were arguing, but it just didn't have that natural flow to it because either you couldn't see the person or maybe someone's screen wasn't working and, you know, sometimes it's just that, you know, just the facial expressions. So I would say when you've got a situation where you've got to, think about even in a zoom call, normally you've got somebody leading the meeting and everyone's just kind of listening. It's not a, seven people talking potentially talking at the same time. So I think that for that particular scenario, it helps to be in person and close together. And that was the kind of feedback we were hearing last night that, you know, the mayor made several comments about how happy he was that we were all back together in that more intimate environment. And I would agree with that.
Rico: [00:08:54] Yeah, that makes sense. I mean, I've been on zoom calls where there's 12 or 10. 10 to 12 people, and it's impossible to really get a sense of a room if you will, when you're all in different rooms. And you can't even read the room, if you will, of what's going on and how to interact with people. Yeah. It's, that's a tough thing to be able to do that. I don't know how the Congress has done that when they've done those zoom meetings for like CSPAN meetings and stuff. It's just, yeah, that's a tough thing. So are you all glad that you're back? I guess, are you all you know, I mean everyone's either vaccinated or masked or whatever? I mean, actually I don't, I don't think the city buildings need to, I don't think you guys need to have masks. That was removed.
Alex: [00:09:42] I believe that the policy is, if you have not been vaccinated that you're encouraged to wear a mask, but it's not mandatory. And that's what I've seen. Or like in my regular job, same kind of thing. Like if you, same rules. It's like, if you haven't been vaccinated, you know, we're encouraged to wear a mask, but otherwise you know, it's kind of back to normal. And that's what I think everyone on the council has been vaccinated. Maybe one person hasn't, I can't remember, we don't really talk about it. But last night there was nobody, nobody on the council was wearing a mask. There was a few people in the audience but very much kind of back to normal.
Rico: [00:10:20] Cool. So let's jump into some of the other things going on in the city. I know, you know, obviously Curiosity Lab has been gaining some more momentum now. I think there's things going on there. So give us a little bit of background, what's been happening the last few months.
Alex: [00:10:35] So just to kind of give a little context because I was prepping for this call, you know, cause we got kind of a regular job and that kind of thing. And it was almost like, you know, when we created this thing a few years ago, and then the staff took the idea and breathed life into it and started doing a lot of really amazing things with it. It's like an analogy might be, you've got this kid who lives at your house and then the kid leaves and goes off to college and then goes into their career. You kind of know what's going on, but you don't know, you don't know all the particulars of all the details until they come home and visit you and say, Hey, this is what I've been doing. That's almost like what's going on. Where, so I'm just going to tell you some of the things I do know, and I suspect there's a lot more out there that I'm just not tuned into. But a couple of big things and that you're probably familiar with some of these. You know, there's a conference coming up in October V2X, which is a really big deal. It's going to be in three sites across the planet. Silicon valley, I can't remember the exact city, Frankfurt Germany, and then Peachtree Corners. And it's going to be, you know, headquartered out of Curiosity Lab, but obviously the two major hotels will be involved. And we're going to be bringing in some autonomous vehicles actually before the conference. Because that's kind of what the whole thing is about is you know, integrating vehicles, other types of technology where you're able to move around autonomously. So obviously having those vehicles there will be a need. But I think as a minimum, the minimum goal, but they're expecting at a minimum 500 out of town guests, maybe up to a thousand. And that will be the 19th to the 21st of October. So they just told us a few weeks ago about this, but it's a pretty big deal to get picked. If you think about, you know, who the other two locations are, you know, to be in the same sentence with those two. I don't know I mean, I've been to Frankfurt, Germany. I don't know how big of a tech center it is in Europe, but it's obviously a major city in Europe for no doubt, definitely from a financial standpoint. So that's a really big deal. That's the first time we've had a conference. Because if you think about Curiosity Lab, we launched it September, 2019. And then four or five months later, bam, you know, the world stops. So the momentum we had going, you know, we had the Olli out there. Had to pull that because who's gonna ride it?
Rico: [00:13:13] Right. And that was after I think the Smart City Expo also in September, I think, or June of that year.
Alex: [00:13:22] Yeah. So that's the big thing on the horizon in three months. And I've made a couple of notes here. And one of the things that I think is going to be interesting about this conference is that, and some of this is kind of inside baseball, but, you know, normally you go to these things and you'll have an initial big meeting and then they'll have the breakout sessions. And then the breakout session ends and everyone just kind of trickles away. So we're going to turn that model on its head, where they're going to start out the day in these breakout sessions. And then they're going to end the day at the Town Green, like with a big kind of get together. Which I think will be very conducive for, not lobbying, but just networking. And that's a great venue for that. Because part of this is an economic development play, I mean Curiosity Lab was. And so to take it to, what I would argue is probably one of our two biggest achievements since we've become a city. You know, Curiosity Lab, and then the Town Center. You know, taking that, all those people are from out of town. They were just going to drop you off here, you know, 500, 1000 people. I thought that was a pretty good idea to switch, which set up. So you've already got them there and they're just gonna hopefully stay and spend some money.
Rico: [00:14:39] Yeah. I mean that, that's the whole idea of having conferences and conventions, right? Drawing economic, drawing money to the towns that are doing it. Yeah it makes a lot of sense.
Alex: [00:14:49] So yeah, last night at the work session. So we were talking a little bit about this, but they're going to have two companies that are going to be coming in. And I think this is going to happen before the conference. Three different autonomous vehicles, similar to Olli, but two different companies that are going to be coming and testing. And then I think even during the conference, there's going to be more than just three vehicles because you know what I had said all along was for people to be willing to get on one of these things and travel, it's gotta be a viable option to getting in your car. Which means it's gotta come by more often, every 10 minutes. Otherwise people would say, well, what's the point? So I do think they're going to try to have, I've heard as many as 8 to 10 running on the track. You know, so think about you get out of a breakout session at Curiosity Lab, Hey, let's go to Andrew B or let's go back to our hotel. And everything's kind of right there, or Kettle Rock, which is on the other end. So that was some of the announcement last night. And another interesting announcement, and this is the part I'm really excited about was so we're in the process or the staff's in the process of negotiating an IGA. An Intergovernmental Agreement with the state DOT. Which would allow the autonomous vehicles to travel up to the Town Center from Curiosity Lab. Because the reason we're able to do what we're able to do now is the city controls that road. So we didn't have to negotiate with anyone about rights to do that. But as soon as…
Rico: [00:16:28] Technology Parkway road?
Alex: [00:16:31] Yes, Technology that's right. But you know, the minute you drive off the Technology Parkway, say out to Spalding, or 141, you've got to get permission. So what they're talking about doing is using that very wide sidewalk along the 141 as a conduit to get down to the town center. Which, what a lot of people don't know is the origins of the whole project. When we were initially this whole thing came up, it was really about a mobility initiative of, this was before the virus of course, we can't control people driving through Peachtree Corners, but we can potentially make it easier to get around Peachtree Corners. And so that was kind of the initial idea is, you know, how do we, you know, do that? And I'm glad that they went the direction they did. Because one of the things I'd have been worried about is this thing would have turned into like the shuttle down in Atlanta where no one rides it and it's like, okay, you're wasting your money. So this turned out to be a much, you know, the staff made a much better decision to go this route. But you know, the goal, well one of the goals remains, you know, how do we make it easier to get around Peachtree Corners? How do we take people out of their cars if they want to of course and give them this other option to get around?
Rico: [00:17:53] So are you saying the DOT. So what Peachtree Parkway I think most people know it's a state highway, state parkway. So it's the state handles all that, the DOT. So you're, the city is looking to get permission, not to drive on Peachtree Parkway but to have a mobility vehicle riding along that wide asphalt path. That's like almost a wide sidewalk that goes along 141.
Alex: [00:18:18] That's correct. So that's still falls within the states right of way. So they ultimately control that as well. But I think, I'm just speculating here, but if I'm the DOT I'm thinking, okay, this was a good way to kind of test this concept out without getting an action on the road where something bad could happen.
Rico: [00:18:38] So does that, now I'm trying to figure out, trying to remember about, if that goes straight. I know that that goes past Wesleyan and continues on past where Lidl is? The shopping center over there.
Alex: [00:18:50] You're talking about the really wide sidewalk? I mean, it goes up you know, cause they just, they just finished connecting it and after they built the bridge. That was the, initially there was no sidewalk there. Well that now finished that out and then it's just as wide. So you could, I mean, you, if this became more permanent, obviously you'd need to do something other than just have the sidewalk. I don't know what that looks like. But just the fact that the DOT is willing to talk to us now. Like it's that's a really big deal.
Rico: [00:19:19] Wow. Okay. That would be, I mean, that would certainly extend the use of vehicles like that outside that, that area, that 1.4 mile track.
Alex: [00:19:30] Yeah. I mean, because ultimately, if you're just, you know, you're just going about your day to day, you know life people say, well, you spent all this money on Curiosity Lab, what's it doing for me? Or you know, I don't see anything going on there. I mean, the reality is there's a lot of testing going on that, none of us see. But I think it is important that we have vehicles out there. Because ultimately what people are interested in is, well, how am I benefiting from this? My, you know, my day-to-day existence. That's just human nature. So when you, when you can put something out there where people are like, well, I might actually be able to use this and improve my day somehow. They get more supportive of it.
Rico: [00:20:11] Now I can see us getting to the point where we have 5g throughout the city. And having that throughout the city because we're small enough that I think the city can do it as an infrastructure plan, right? To be able to build 5g technology. So then that's what autonomous vehicles need right? The 5g to be able to speak to everything. To be able to do that means that these vehicles don't have to be, then they could just be right on the road with the rest of us eventually. You know, maybe that's 10 years from now, but I can see that happening. Yeah, that's cool. I can't wait for that.
Alex: [00:20:45] Like I said, that was news that we just got last night. And like I said, I'm particularly excited because that is part of the, like I said the origin story of the whole project. So to see that that's still, we're still pursuing that. Because I think ultimately the public would probably be more interested in that than all the kind of cool research that's coming out because they're like, well, that's not, that's not doing anything for me there. At least that's tangible.
Rico: [00:21:14] Right. No, and I get that. Although, you know, part of that builds on, everything builds on itself. So, but I do get that. And I do, you know, as someone that lives here in the city and is active in the city also, I can't wait for that part to be a daily part of people's lives. You know where, you know, maybe there is a, where we have our own transportation system within the city that people can just loop through to get to different areas of the city. To get to different retail parts, hotel, to retail, to restaurants. That'd be cool, right? Yeah. So now, if we're talking about town center and getting there, there's all sorts of things going on. Let's touch upon that a little bit about town center. You know, there's quite a few things coming there. Peachtree Corners Festival is going to be there this summer for the first time. Do you want to share, is there, you know, I know you've been active in the fitness trail. I think that we call it right. Getting that built out and I was there just the other day and I noticed a few, I think, one new. I don't know, there's a couple of new things. I hadn't been there in a while. So then I saw that it expanded a little bit. It looked like. So maybe you want to tell us a little bit about that.
Alex: [00:22:22] Yeah. So I think the official name they came up with is a Path to Fitness, which is kind of a neat, you know, play on words. But for the people who are, I'm always kind of interested when. People email me or I'll bump into them. Like, I didn't even know it was there. You know, there was the Town Green, cause it's kind of in the woods and you don't necessarily notice it. But you know, for the listeners who aren't that familiar, coming into the Town Green, you know, there's a series of woods there. There's actually a path through the woods that they had cut for the first few concerts for people to get from another parking lot. And then we you know, put some obstacles on there. It's kinda like an obstacle course, really. So there's 10 different obstacles on there. There's monkey bars, wall climb, rope climb, all kind of stuff. And one of the things that I found interesting is a lot of times when I'm over there, you know, just kind of out for a walk, that when I say young people, I'm not talking just teenagers. But you'll have like kids 8, 10. It's like, they want to go play where the big people are. Like, it's kind of got a cool factor to it if you will. So to your question about what's coming next. So a couple of things. One, you know, there is a playground on the Green, not a full playground, but there's a couple of things you can do. They've got the hill with a slide and they've got a couple of climbing devices. And what we've seen is that those are often just over swarming with kids, which is great. That's what we want. But they need some more things to do. And so we're actually going to build another playground kind of catty-corner to that. So if you're facing the Cinebistro where the stage is, and you look to the left. We're going to take some of that area in the woods and put some new things in there that's still TBD. And actually the city manager and I are actually meeting Friday morning with a, I guess, a consultant for lack of better word, to help. I mean we kind of have an idea of what we want, but this person kind of helps you envision it. But what we're hoping is that will start after the concerts in this fall and that maybe we'll have it done by year end. So that will be an additional playground area. In addition to that, on the actual, on the Path to Fitness, we're going to be adding four new obstacles that hopefully will be in by September. So that's going to be…
Rico: [00:24:52] So the fit, so the other part, the kids part though, I understood, that maybe it's slightly older kids? Like middle school age. So it won't be like small scale stuff it'll be a little bit more challenging for like middle-schoolers.
Alex: [00:25:08] Yeah. So you're not going to have like a two or three-year-old on it. But you know, I sit there and I was just telling you by the kind of the fitness trail, which is really designed for adults and how like little kids are going to get on it. So I suspect that you'll have kids from, you know, six up. You know, but we want it to be kind of challenging enough where. You know, maybe some of the kids that are out on the fitness trail will also use that. Cause it really almost gets too crowded sometimes, there's so many people. Which is a good, you know, that's a good problem to have. So that's why we wanted to put even more amenities in there. You know, cause you've always got, I mean, I have four kids. I don't know how many times my wife tells me, you know, get off the computer, you know, go do something. So when you see all those kids out there, that's a great thing, they're running around exercising. We want to encourage that and add more things. So hopefully all that will be done later this year.
Rico: [00:25:58] Cool. And the four things that, because I interrupted you, sorry. The four things that you were saying to the Path of Fitness trail, what are the four other items you're adding there?
Alex: [00:26:07] So one of them will be like think about like rings, you know, like you're up in the air, like grabbing rings, you're going from ring the ring. So there'll be one of those. Two other kind of like what climbing, imagine like a wall that's an inverse wall where you're climbing like up like this. So a couple of different devices like that. So a lot of them…
Rico: [00:26:32] Like almost rock climbing type of thing?
Alex: [00:26:34] Yeah, a little bit like that. But like I said, it is more of an obstacle course type stuff. And I've been amazed like how much kids. Like, you'll see kids climb on this rope, you know, it's a 20 foot high rope and I never could climb a rope when I was, you know, 8 or 10. So that's been, some people with some skills out there for sure.
Rico: [00:26:55] That's true. Almost scary to see them do that. Cool. So there's a lot of, that's great that the city is looking to do that, to utilize that space. When I was out there just the other day. I think it was a few days ago, actually, I was walking out there early morning. And I'm seeing more of the town, the townhouses being built that surrounds there. I'm almost feeling like everything looks a little smaller. Almost felt like the veterans Memorial looked a little smaller than I remembered it from a year ago let's say. And I guess part of that is because you've got the town houses closer in now.
Alex: [00:27:27] Yeah, no, I know what you're talking about. Once they got right up on top of it's the same kind of vibe. But you know, one of the things like from the beginning, what we wanted to create was kind of an intimate feeling, if you will. Like we went up to Suwanee to talk to them, to, you know, kind of lessons learned. And, you know, they've got a beautiful facility up there. But one of the things that's a kind of a downside for them is they've got two major roads that borders their Town Green, and it's pretty extensive. I think there's is like seven acres, the green.
Rico: [00:28:07] It's fairly big. It's bigger than ours. Yeah.
Alex: [00:28:09] And ours is about two acres. And what we wanted, one of the things we wanted to do is be able to you know parents can come. They've got their little kids and not that a two or three-year-old old, can't still run off. But you know, if you're able to sit there and sit in one of those green rocking chairs and your kid's just out there in the green, running around. It's a lot easier to keep an eye on them, not worried about them getting run over because there's literally, you've got to really work to get near a car.
Rico: [00:28:40] That's for sure. Yeah. No, they would really have to get right off and a parent would not be paying attention at all for them to get lost then.
Alex: [00:28:48] Yeah. And speaking of the townhouses, that was one of the things that when we went to Suwannee, it was kind of, they had an interesting concept. They called it the beach concept and what they meant by that was, they said, build the beach first. And what they meant was build the town green first, that's the beach. And then the people who want to live at the beach. You know, certain people like living at the beach, some people don't. They will then kind of know what they're getting in for like, okay, we're going to buy one of these townhomes it's on the green. There's going to be noise. And we want that. Or at least that's what I'm hoping because you know, if you spend $700,000 and you get right there on the green. I'm hoping that those, whoever those people are don't call us to say, Hey, there's a lot of noise.
Rico: [00:29:35] You know, I asked someone about that that was looking to downsize. And I said, and they were about the same price range, I guess they were downsizing too if you will, from a big house to like a townhouse. And I said, why don't you look at one of those that's on the green? Because if you're out on your porch, you can be sipping on a bourbon and watching the concert playing across the way.
Alex: [00:29:57] That' right.
Rico: [00:29:58] And they were like, nah, that'd be too much noise. Now, of course, they're looking to retire. They were like heading into their sixties and stuff. So everyone has a different feel about it, right? I wouldn't mind that because, I mean, obviously the concert's over by 10, 10:30, 11. Usually, I mean, that's, it just depends on the individual, I guess.
Alex: [00:30:21] Yeah. I mean, it's you know, yeah. They're normally over by 10. Well, there's 10 of them a year. Yeah, it just depends on the person, you know. It's like, I wouldn't want to be necessarily right on the green, but if you think about living in those townhomes, you can walk to restaurants, you can walk to a grocery store, you can walk over the bridge to a dentist office, to a doctor's office. I don't go to movies much, but if you wanted to go to a movie. I mean, literally just about anything you want, you could could walk to. So it's, and you're seeing this across the country. You're seeing it across Gwinnett county where people wanna live in these kind of denser downtowns, if you will, that walkability. That's really what we were trying to create.
Rico: [00:31:06] Yeah. It's interesting how people can be lazy in a way. Because you know, the parking let's say at the forum, the parking in the middle near the retail, everyone wants to go there. But parking away from it, that's the last place you want to park because then you've got to walk, right? So like you're saying I mean, if you live on the green, if you're living in one of those townhouses, you can walk to anything within minutes. It'll be interesting to see when that if Roberts, Charlie Roberts ends up putting up, I don't think a hotel will go up because at this point, I mean, that's one of those things that may not happen, right? But 160 apartment complex, seven stories overlooking town center. I don't know if most people know it would be behind the Chase Bank. That open air that's been knocked right out. But that could be interesting, 160 families you know, going out onto the town green getting to the movies, eating and stuff. Those are apartments, you know. I mean, it could be interesting. A lot more density, like you said. So are you also, you know, with all this trail stuff, and I know one of the things you were thinking about it was maybe, you know, with Peachtree Corners Festival coming in September to the town green and outside the roads actually. Because I think part of the Peachtree Corner Circle road is going to be taken up by the festival if I understand correctly. So more events are going to be happening at town center and in this area. Bigger events like this. One of the things you were talking about you know, at one point before we started this was possibly a competition, maybe something similar to a decathlon or some sort of fitness competition that maybe could happen at town green, maybe backing up using that path of fitness. I mean, so there's all sorts of things that the city can still draw upon, right? Events and such.
Alex: [00:32:53] Yeah, no, absolutely. I mean, I kind of view, this is just a term I came up with, but, you know, creating anchors. What I mean by those, things that people want to live near. I mean, often you have natural anchors. People want to live near water, you know, whether it be a river or lake. You know, so in the case of Peachtree Corners, that would be our anchors as the Chattahoochee river. Like I live right near Berkeley lake. That's an anchor Wesleyan, my kids don't go there, but I know there's people who move here to be close to that school. Tech Park, you know, that's an anchor. So anytime, and I would argue that Curiosity Lab is an anchor where we've had companies relocate just to be near it. And so the town center is a new anchor. I would argue that the green itself is more important than the town center. In that if you go to the town center, on a Sunday or a Saturday afternoon, there's literally hundreds of people. They're just hanging out loitering, relaxing. You go across the street to the forum. There's no, you know, there's nowhere to do that. I mean, people want to have that. And it was interesting when we were initially going through this with a developer, they had no interest in green space. Because, you know, they couldn't quantify, they couldn't monetize it. So they didn't want to do it. And that's one of the reasons why the city ended up owning a bunch of it, because that was the only way to make the numbers work. Where, you know, we weren't worried about making money per se, off of the green. And I think what maybe the developers are starting to see is people will pay, you know, people are paying $700,000 to live on that green because they want to be near the action. And, you know, hopefully what we'll see maybe across the street at the forum is that they'll kind of pick up on that and say, we need something that will, you know, an activation area that people want to hang out. I mean, the forum's a neat place. There's just nowhere to hang out. Except looking at a parking lot.
Rico: [00:34:54] Yeah, no, I totally agree. I think I had this conversation with Brian Johnson at one point where I, where my feeling is the way things are going, for example, there's about 13 retail shops that are closed there. I counted that last weekend. And I think Pooch and Paws actually is closed now. So that's, that was up there too. So that may make it 14 now that are closed retail locations in that shopping center that are closed. I can see some part of that property, whether it's the office building that's on the Northern side of that property, or maybe the Southern side where you know, a seven story apartment, condo complex, maybe an equity owned property would make sense versus an apartment complex. I can see them maybe tunneling out a little bit of the center part where the cars are and making a green space. This way, people can like a pocket park almost within that. You might lose some parking spaces, but you know what really? I mean, like you said, there's no way to go there if you just wanted to hang out.
Alex: [00:35:56] And it's pretty rare that there's no parking there. You know, one of the things that we talked amongst ourselves at one point you know, cause we've talked about doing some type of art center. And you know, the Cinebistro location has come up before, you know, actually during the original plan, you know, we tried to get a kind of like right of first refusal to buy the property if it went under or maybe just had them lease it or whatever. And that never went anywhere because even before COVID, you know, the movie industry was already struggling. So we were worried about what becomes of that space, if it doesn't work out. But anyway that you know, that hasn't, there's been some discussions there, but it was the numbers just don't make any sense. But if you think about from an activation standpoint, look over at the forum. What if God forbid, you know, Belk's closed or Barnes and Noble closed. Well, maybe you go into one of those spaces where, you know, maybe it's a long-term lease or what. But you know, you might be able to change that particular building into some type of performing arts center. And then that becomes an anchor that becomes an activation point. So I'm not saying I want that to happen, but you know, there's different options down the road for things to happen.
Rico: [00:37:20] Yeah. And I don't disagree with you. You know, Belk's has closed some national stores. Nationally they've closed stores. They haven't closed this one, but that doesn't mean they won't. Barnes and Noble, a brick and mortar bookstore versus their online store or Amazon. I am still surprised, I forget how many square feet that is, but I'm still surprised that that is opened when other businesses with smaller footprints have closed their doors. So I wouldn't be surprised if that, God forbid that happens.
Alex: [00:37:52] Yeah. Well I think, one of the things that helps Barnes and Noble is like I said, it's got kind of a hangout vibe to it. You know, go in there and drink coffee and that kind of thing. And you know, people are, you know, they people like to hang out with their friends and just you know, talk. And there's nowhere else in the forum that you can do that. I mean, if you go to a restaurant, you feel kind of bad taking a table up just for hours, right? You're hurting the wait staff. There you can do that, no one's, you're not hurting anybody.
And there's
Rico: [00:38:20] no coffee place there. Ever since, I think it was Caribou that was years ago closed. There's really no coffee shop, but it's said to say. Not even a Starbucks and they have to go up through, down the road to get to that.
Alex: [00:38:32] That's right. That's right.
Rico: [00:38:34] So, there's still a lot of growth potential for different things, even when there's a negative, right? So maybe if Belk's goes out or maybe if Barnes and Noble, or if the developer decides that they want to adjust a few things and redevelop it a little differently, those are all good things now.
Alex: [00:38:53] Yeah. I think the biggest challenge there is with the forum is that it's owned by a REIT. And you know, you're, there's a management company that, you know, you can interact with, but you know, they're just the face. So, because there's been various conversations with them about some kind of creative ideas and just to have not been that. Yeah, they haven't gone anywhere. So, you know, it's like that Jerry McGuire movie he was like, help me help you. Right?
Rico: [00:39:26] They say, no. Yeah, because they're a REIT and 13 stores or 14 stores closed. It's just a write off to them. So they don't care. They don't live here locally. They don't really care. And hopefully, you know, and the, you know, the other side of that with apartments being very little occupancy. I'm surprised even corner center sold. I think that was sold for $45 million or $40 million that apartment complex. A lot of money, right? You were saying land is expensive. I mean, I just saw something listed the land under Lazydog, I believe, with the lease of Lazydog is selling. I think it's the offering is four and a half million dollars for that property. Because that's an our parcel. If I remember correctly. It's a four and a half million for that piece of land, with Lazydogs on it. And it's extended lease, I guess someone thinks it's valuable enough to put it out. I mean, it's expensive.
Alex: [00:40:18] Yeah. I mean, we've had people approach, you know, the city about, you know, the I guess five and a half acres of woods you know, that border the town green. We've had people approach us about, you know, buying that and putting stuff there. And I think, I mean nothing's forever, but I think the consensus is that, you know, even though that's money that's, I mean, you could sell it and take the money and do something with it. But I think the view of the community is, you know, they like having the woods there and I think it would kind of hurt the vibe, if you will, that we've got there with that intimate part I'm talking about. If you took the woods away and then put a bunch of new buildings. So it just going to say, you know, that there's not a lot of raw land around. And so that's, there's people definitely interested in that, but I'm pretty confident for the foreseeable future it'll stay woods.
Rico: [00:41:15] Cool. Well, that's good. I mean if anything, I was thinking, you know, arts center would be a great, that could be a great place for that, but yeah, I can't see more apartments there.
Alex: [00:41:27] No. Well, I mean, we think about it. We'd bought that land specifically because we didn't want, not just the land with the town center, but the land with the woods, it was the same thing. Apartments were going to go there. So didn't really make sense to buy land to stop apartments and then put apartments.
Rico: [00:41:40] Right. Yeah, no, I totally agree. I'm with you there.
Alex: [00:41:43] Yeah. I mean, there's definitely places to put apartments, but I don't think that's the place for them.
Rico: [00:41:48] Well, and there's only, you know, how much density can you pile into a place? You know? I mean, kids have to go to school, they have to be infrastructured. I mean, there's all sorts of things that, you know, people have to live. Other things that come with density, right? So, we've been talking with Alex Wright, city council member district three. And for those that don't quite know what district three borders, can you tell us? So then people know.
Alex: [00:42:17] Yeah. I'm very visual person, so and I know everyone else isn't, but you know. If it kinda, if you were looking at a map, to just give you some kind of natural boundary. So, you know, the city running north or running south to north, like post one is the south, post two is in the middle, and then post three is kind of the northern part. So boundaries would be Berkeley Lake you know the city of Berkeley Lake. That's kind of our northern boundary. Runs all the way along the river down to about a little bit past Jones bridge park. Almost down to like where Simpson wood park is, if you know where like Peachtree Corners, like the North Manor neighborhood, that's kind of the Southern part of post three. And then all along west Jones bridge up to about where the YMCA is. And then you'd take a left on Peachtree Corners circle all the way up until it dead ends to Medlocke and then a right on Medlocke and then all the way out to Norcross. So that's post three.
Rico: [00:43:14] That's fairly big too, so.
Alex: [00:43:16] Yeah. It's probably about 15,000 people. You know, each post is about 15,000. And you know, for us, that's like you know, who live around here, that doesn't seem like a lot of people. But one of the things that's interesting when you go to these you know, government, they have like a GMA convention every year in Savannah, where you get to interact with people from across the state. You realize that, okay, you know, Peachtree Corners is kind of the outlier, as far as, you know, cities across the state where, you know, you're talking to the you're in a class and the guy next to you as a mayor from a town with 2000 people in the whole city, right? And it kind of makes you realize, you know, it's pretty big, I won't say it's top 10 or maybe it's like in the top 15 biggest cities in the state, maybe. So it's really relatively big.
Rico: [00:44:02] I think we have what? 44,000 odd people, I think in the second? I think I forget 80% of those that work in the city don't live in the city. I mean, there's all sorts of statistics like that that people would be surprised probably on. Cool. So if people want to get in touch with you, Website, I guess they go to the city website and they can find your email address there?
Alex: [00:44:24] Yeah. They can. And I haven't been real good about this lately, but I do still send out a newsletter every so often. And you know, if you want to get on that distro, you know, you can email me at the city and I can add you. But we've probably got about, gosh, six or 700 people on that list. And then, you know, the people forwarded on and it's just like a way for me to share news. That's, you know, like the people work for the city, they don't have the luxury of kind of putting their own little opinion here and there, you know? It's just straight news. And sometimes people do like to hear, you know, kind of like our conversation here. Like, you know, it's a little more colorful, I guess, because you can get a little more behind the scenes what's going on and people's opinions.
Rico: [00:45:11] Yeah. And I've gotten your newsletters and I'm happy to get them because I do like the opinions that you share in there. So it gives me a little bit more rather than just state the facts, ma'am. It's a little bit more editorializing, which is good. So, thank you, Alex. I appreciate you being on the show with us again. This is Alex Wright city council member of Peachtree Corners. If you need to reach out to him, check the city's website. And if you have comments, put them in the comments below if this was on Facebook or YouTube, and I'll try to get answers for you. Thank you again, Alex. Appreciate you being with us.
Alex: [00:45:42] Yeah. Thanks for the invite. You have a good afternoon.
Rico: [00:45:45] You too.
What does the French American Chamber, 5G, and the Secretary of Transportation have in Common?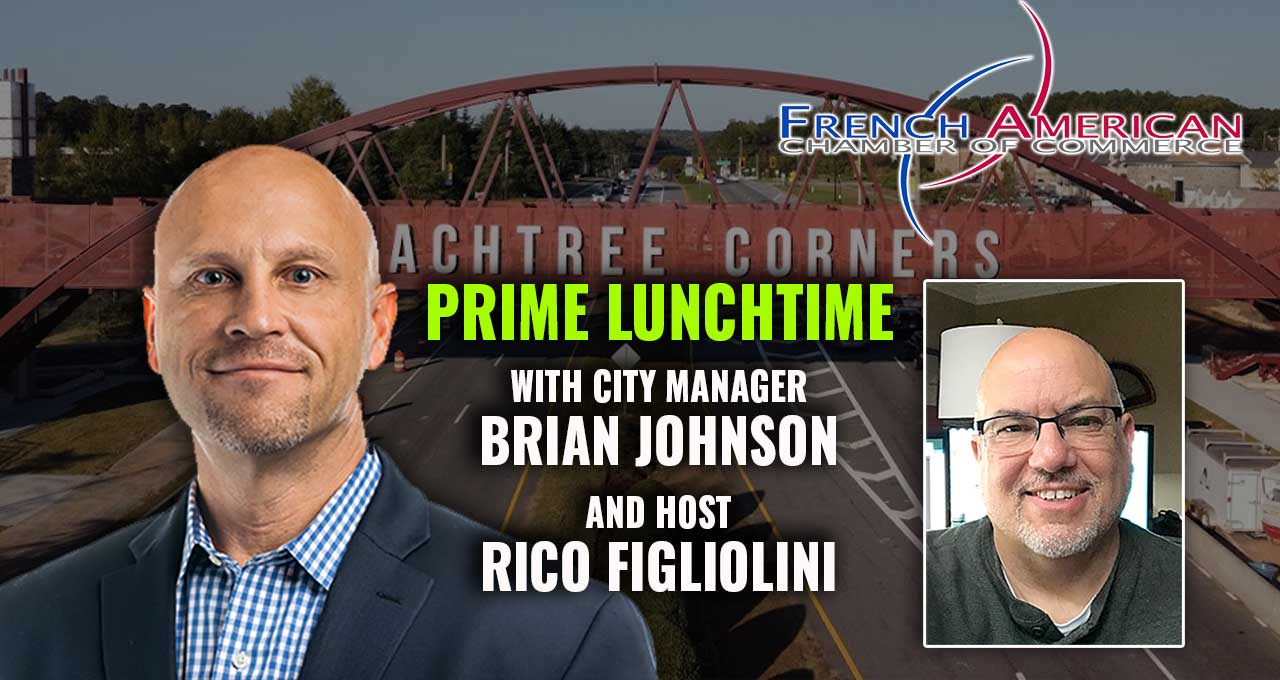 Peachtree Corners and Curiosity Lab continues to draw attention nationally (with a recent visit by Secretary of Transporation Pete Buttigieg) and internationally (from France, the Swiss Consul General, and others.) Find out how this impacts our community, business, and where we go from here. With your host Rico Figliolini and City Manager Brian Johnson on Prime Lunchtime with the City Manager.
Timestamp:
[00:00:30] – Intro
[00:01:15] – The Swiss Ambassador Visit
[00:03:12] – French American Chamber of Commerce
[00:09:50] – A Visit from the Secretary of Transportation
[00:15:34] – Local Events and Updates
[00:28:56] – New Building Developments
[00:31:43] – Closing
"It's kind of cool sometimes for the city to say, yeah, maybe we were part of the evolution of that particular technology. And so the secretary and others wanted to see some of the things that are happening here because they're interested in how close or far away it is and what they can do to help."

Brian Johnson
Podcast transcript
[00:00:30] Rico: Hi, this is Rico Figliolini host of Peachtree Corners Life and today, Prime Lunchtime with the City Manager, Brian Johnson who I'm going to bring on shortly. But I just want to let you know what we're going to be talking about today. Basically, we're going to be talking about even with COVID we have an environment where things are moving and shaking, things are happening in the city. That not only affects this city, but some of it's like the first time ever or things that are happening here, not really happening anywhere else. Like the 5G accelerator program. Having the secretary of transportation visit us, small city like ours, to discuss transportation. The French American chamber of commerce coming and moving into Peachtree Corners plus a whole lot more. So let's get right into it with Brian. Hey, Brian. How are you?
[00:01:14] Brian: Good Rico, how are you?
[00:01:15] Rico: Good. So let's talk a little bit about the Swiss ambassador and the council general coming for a visit from Washington to visit our little town of Peachtree Corners. What does that mean? And what can that mean? When we have dignitaries like that visiting us.
[00:01:28] Brian: Well, So this isn't the first time that we have had some international dignitaries. Most of the time, it's either the console general him or herself out of the Atlanta consulate. Sometimes we have some trade ambassadors, but this time the council general of Switzerland was joined by the Swiss ambassador himself. And they came here for the purposes of taking a look at Curiosity Lab, taking a look at the technology and the different sectors that we have here. And to do so for the purposes of them maybe seeing if there are some opportunities for Swiss companies to potentially come in and use the facility on a ongoing or temporary basis. See if there's not some synergy between Curiosity Lab and some Swiss tech companies. And they were very impressed. There was a lot of ideas thrown out. There's a lot of action items we have afterwards. But it is no secret, nor is it by chance, that a lot of the international companies that we have here are a result of us having put ourselves in a position where somebody whose job from another country is to keep their eyes and ears watching ways for them to further their countries' companies. That they hear and see, and they're like, we want to come out there. And they do and as a result, we have a lot of international activity here. We just had a Portuguese company that moved into the innovation center. That's what the Swiss were here to do. And I have high hopes that we're going to get some activity from them and maybe we'll get some chocolate, watches, all the other generalized things that come from Switzerland.
[00:03:12] Rico: Well, let's move on then to the French American chamber of commerce that is actually going to move their offices to the Curiosity Lab. So how'd that come about and what does that mean also for technology here and for companies from France, maybe moving here?
[00:03:25] Brian: Well, if there was, yeah, no easier segue than from one international, one to the other. As we're talking about becoming more known on the international stage. The French American chamber of commerce, which exists here, obviously like other chambers of commerce, is to provide a social, a civic link between companies from a particular country and ours. We have relationships with others like the Israel American chamber and others like that. But in this case, the French American chamber was doing its thing. And we got on their radar screen, specifically in this case, we actually have a gentleman who was a board member of it. His name is Bertrand Lapoire. He lives here in Peachtree corners. His kids go to school here. Very rooted in the community. And he reached out, very interested in what we were doing here, both personally and from his vantage point of being a board member. And we just started talking. And introduced to each other, started getting included in the French American chamber. We started doing things with them and they started getting more interested in what we have going on. Fast forward, I don't know, a year or so. And the French government created a program called La French Tech and to paraphrase and boil it down, the program was essentially to pick, I believe it was six locations in the US for the French government to choose as a targeted landing spot for French tech companies to come into the US so there was kind of a competitive process. They threw this out to cities throughout the US and said, Hey, we want to do this. We want to establish a more formal pipeline. And we threw our hat in the ring. And of course, I say Peachtree Corners, oftentimes these things are result of us having to educate people on the offerings and the benefits of being in Metro Atlanta. Obviously if Peachtree Corners by itself was just by itself. We couldn't be handling some of this stuff. We're punching outside of our weight class as it is. But the Metro Atlanta economic development ecosystem, that's here. From the Metro Atlanta chamber to the state's department of economic development to Gwinnett County's chamber, Partnership Gwinnett, and lots of other, a ton of other organizations that help. We leverage that by reminding them that we are also a part of Metro Atlanta and there's a lot of all these offerings. Anyway, we threw our hat in the ring. And along with a city in Silicon valley, one up in research triangle, I believe, New York city. Let's see, I think Austin, Texas. Of the locations we were one of the six. And so we are one of the six. And the exact landing location within Metro Atlanta is the Curiosity Lab innovation center. And of course, once they get there that opens the door for other things and they can move around. And obviously we have relationships with Georgia Tech, ATDC, and others. But their exact landing spot is here. And so the French American Chamber felt like it was in their best interest to further their mission of trying to help perpetuate, help expand and facilitate French tech companies doing various things in the U S that they would be best served to be physically located at the same location where these companies are coming in. So they moved their offices out of the French consulate and into our innovation center. And so this Thursday, we've got a big grand opening event where we're going to celebrate having a permanent French presence inside the innovation center for the purposes of facilitating technology companies and research and testing here, Curiosity Lab from France.
[00:07:45] Rico: If anything proves that technology opens boarders, this is one of them. I mean, internet has shown that you can be anywhere and order anything and be delivered within a day even. Within the day, within hours, almost. So technology, 5G, autonomous vehicles, all that stuff. It's just, to see that all happening here. And I appreciate what you were saying before. Punching, you know, in your weight class. Because the intuitive surgical company that announced some weeks ago that they were going to bring 1200 new jobs to Peachtree Corners couldn't have happened without the state also helping, right? Incentives from the city, from the county, I think as well. All that, we don't live in a small little cylinder here. So we're taking the city through leadership, political leadership, as well as leadership on your end. And I think advantage of where we can to bring economic impact into the city. It's a cool thing to be able to have and talk about this and bring jobs over a period of time. And that doorway with the French American chamber, it was like you said, another place that once they hear that can bring more work, more companies coming out here.
[00:08:52] Brian: Yeah. You just never know these portals sometimes open possibilities that you would never have. And vice versa, there could be some American companies that find that there's this back and forth. It's not a one-way street. They may end up finding a market in France or a partner as a French company to help scale up their product that they wouldn't have without it. So it's not always a one way street. We, like to stress that. Obviously we like to see the activity here, but if we're that conduit going the other way, that means that people will talk and we'll get other companies here. Very little investment to do this other than creating relationships, ensuring that the city continues to maintain a testing environment, this living laboratory that is very easy, inexpensive, but yet secure to use. And words getting out and activities happening, and sky's the limit right now.
[00:09:50] Rico: It seems to be. And the world's changing, COVID and all that. We're seeing more of a move at least through the Biden administration of away from petrol. Trying to move away from petrol towards more sustainable energy and possibly electric or alternative vehicles. So I mean, the future's out there. Forbes magazine even covered or highlighted a bit of what we were doing here, I think. So why don't you tell us a little bit about that as well?
[00:10:14] Brian: We got on Forbes radar screen about some of the electric vehicle activity that we have here. Specifically the fact that we are both getting ready to have our, if you want to call it kickoff. And I'll save some of this for the event, but four autonomous shuttles from two different manufacturers, two different OEMs. Coincidentally, one of the two original equipment manufacturers, what OEM stands for, one of the two is actually a French company. But they were talking about that as well as the electric vehicle research we have here to help facilitate what, like you said, might be a greater demand on the use or the need for batteries than we've ever seen. If President Biden's initiative and a lot of this infrastructure legislation is passed, there is a huge amount of pressure to get off the internal combustion engine and get into electric vehicles. That's not as simple as some people think. You still have a lot of battery charging, battery swapping, battery disposal, things that you've got to talk about. And a lot of that's being done here. And so Forbes took notice and did an article on us. So I get surprised everyday myself sometimes. My CTO and I were talking about another article and we pull it up and sure enough, right there, Forbes comes up and we're like, wow, we just got on Forbes. So it's, a wild ride right now.
[00:11:45] Rico: Yeah, I would think. It's great to have national attention like that. Local companies, local publications, like the Atlanta business Chronicle, featuring a story about Peachtree Corners, experience a real Renaissance by attracting business. And that was a nice article that they wrote just the beginning of this month that they put out that talked a bit about, a recap of the jobs coming here. Of companies that were going to leave, but decided they were going to stay instead. We're not talking about small amounts here. We're talking about tens of thousands of, and hundreds of thousands of square feet of office space, even during this COVID environment.
[00:12:20] Brian: And Rico, you and I are both residents here. So if we put on our resident hat, if we didn't know what was going on, we would be like, okay, what's the big deal with this? What's in it for me? Why does the Swiss ambassador or the French American chamber, why do I care about any of it? And you just hit the nail on the head. And that is what's happening is our local economy is benefiting from it immensely. Whether it's companies that were going to leave and did not. Hapag-Lloyd right at the corner of Spalding and Peachtree Parkway, they were looking to leave. And we were able to not only convince them not to leave, but then they closed another location and moved in here. And so they expanded by a couple hundred employees in that space. We have retained business. We have helped business expand by hundreds of employees. I mean, CarMax, liked their first experience here just expanded. Soliant liked their experience here. They hadn't been here a long time but they not only liked their experience, but they liked the fact that we've got a lot of energy and synergy around economic development and other emerging companies, innovative companies, and they want to be a part of it. And then of course you go to the ones that's always the, it gets the most press and that's the recruitment. And we get some new companies here, but obviously Intuitive being the big one recently. Just think about this, aside from permanent jobs, aside from that, which means we have stable home values and healthy community and all that kind of stuff. Intuitive's business model, their campus they're creating here, which will have all of the training for all the surgeons that are working in hospitals on the Eastern seaboard are going to come here to get trained. And so part of the investment commitment Intuitive made to Georgia and pastry Corners, they're going to generate at least 16,000 overnight hotel room stays per year or more. Just that. So Intuitive deciding to expand here, build their east coast headquarters here, create 1200 plus jobs exceeding $130,000 salary average. That's all great. Don't get me wrong. But then you want to talk about local economy and how it will help all of us as residences. That's a lot of hotel rooms by a lot of visiting surgeons. So these aren't like ones that are, at least they shouldn't be paupers and not have a lot of disposable income. But they're staying in a hotel here at least a week, sometimes a month or longer, depending on how much training they're getting at once. And they're needing to do something. And so that's restaurants, that's hotels, that's shopping, that's all sorts of things that feed our local economy. So this stuff does matter, even though it may be an international story. That's how you generate excitement, generate interest, generate just awareness. And then we go from there.
[00:15:34] Rico: Yeah, it's amazing how it just builds on itself. And you're right. The economic impact is way beyond just the jobs and the visits and stuff. Especially in this, in a city like Peachtree Corners that is still growing and finding its way over the past decade. The Peachtree Corners Festival coming up in September with all local events that are coming and even new ones that we don't even know are going to be coming this way. Obviously there is that event I think happening in October also was that conference.
[00:16:03] Brian: Oh, the V2X conference.
[00:16:04] Rico: The V2X conference, right.
[00:16:06] Brian: If COVID doesn't. Yeah, I mean.
[00:16:08] Rico: Well right. If it doesn't do it to us.
[00:16:12] Brian: But Rico, if it doesn't happen because of COVID, it will be postponed. It will not be canceled.
[00:16:18] Rico: I'm sure and there's events that are happening. We're a co-sponsor of Japan Fest, which is supposed to be happening at Gas Out, but that was postponed just this week. They decided to postpone that. There's events that are going to be postponed. Then you've got Shaky Knees in Atlanta, the concerts that are going to happen. They're out in the open and they're still going it seems. So and they're starting up in two weeks or something. So we're still here and there's even more. Like the secretary of transportation came to visit a couple of weeks ago to talk a bit about, to see what we were doing with the TV stations and what we're doing with the Curiosity Lab. So tell us about what that visit does for the Peachtree Corners City. Having someone like that show up.
[00:16:58] Brian: So we just got done talking a little bit about on the international front, how it benefits us. But domestically we also stand to benefit by getting on certain people's radar screen. That started actually before Secretary Buttigieg was here with our representative to the US house. That is Carolyn Bourdeaux. She was elected, what has it been almost a year ago? I guess it was January when she came in, but she is very interested in technology. Things that she can do in the suburbs to help with transportation, transit. Things that sometimes we think are only scalable in an urban area, she's really taken an interest. And up in DC it appears that she had done, I'm not sure what all she did. But she elevated Curiosity Lab to a point where Secretary Buttigieg had, what was essentially an advanced team, come out to our location and asked if they could come out and essentially put me on notice that look, we're here to see if this location is worth the secretary coming out. And at the end of that hour of me talking to them and showing them some things, they were like, oh yeah, he's coming here. I don't know, two weeks later, he ultimately came here with Representative Bourdeaux and with the Commissioner of Transportation for Georgia, Russell McMurry. And as well as a number of other, local leaders from our county commission chair to other state representative state centers. Anyway, the main benefit here are twofold. One is there are a number of agencies that regulate the activity that is going on right here. Two of them that we deal with a lot because of the companies that are wanting to test here is NITSA and FAA. Of course, we all know Federal Aviation Administration, they regulate everything that's in the air. So when it comes to drones, we're dealing with them a lot. These companies are dealing with them a lot. And the other one's NITSA. National Highway Transportation Safety Administration. They're the ones who regulate what happens on our roadways or essentially what is, or is not a vehicle. And so they're the ones regulating our autonomous vehicle activity here. Both those agencies work for the Secretary of Transportation. And so when secretary Buttigieg was here, one of the things he asked me when I was presenting is what challenges am I seeing? And I did tell him, I said, one of the things we're seeing is we've got some, not just cutting edge, bleeding edge technology that's happening here. And your regulatory agencies are oftentimes trying to play catch up to try to write regulations, to regulate some of this stuff that's just emerging. And I said, one of our challenges is that it's holding some of the evolution of this technology back. They're ready to go, but they can't because they're being held back because of these agencies. And the whole time, the only time I saw him take out a little note pad thing from his coat and write down something was when I said that. You know, we got some follow on action items, but I would love to see them maybe have a more active presence here to help facilitate some of this. But so that's one. And then the second one is that sometimes the city likes to oftentimes step up and be a part of the evolution of technology ourselves. And so it's nice for there to be things like the solar roadway that we've got out here that we're doing first in the world, testing on it, being on a public street. Attached to an active working electric vehicle charging station that's not pulling off the grid, if it runs out of power. I mean, these are some things that we're doing. So it's kind of cool sometimes for the city to say, yeah, maybe we were part of the evolution of that particular technology. And so secretary and others wanted to see some of the things that are happening here because they're interested in how close or far away it is and what they can do to help. So it helps us on a number of fronts. But yeah, right now we've got things humming pretty well on both the domestic and the international front. We've got some people who have a little bit of rank, so to speak that are coming around. Kicking the tires, seeing what's going on. So it's kinda cool. It also can be fatiguing because they come with a lot of advanced parties, whether it's to detail secret service advance, so there's a lot of that. I've had to hone up on my protocol skills just to know which side of the table to sit on with some of these people, but it's a cool problem to have.
[00:21:50] Rico: I would think. Exciting problem to have and good friends to have. I mean, Carolyn Bourdeaux being able to bring down secretary of transportation. These are all good things for the city to have. Political strength there, an interest from the federal government and the state. And the city, like you said, is doing a lot of things too. The EV charging stations, I think the city is providing administration of funds on for businesses as well as local people that want to be able to have their own EV charging stations. So that's an application process, I believe that has to go into the city. So I mean, the city's promoting stuff like that. So if someone wants to get in, if some business wants to put five EV stations at their business location, they could go to the city to talk about that. So there's all that going on. You could consider that almost national stuff. Interesting things. But then we have local things going on. So let's cut a little bit into that as well and let people know what's going on a little bit. There's new restaurants coming in. I know that the city approved several licenses. Liquor licenses that were approved, like for Fly Chef restaurant, Crabs 'R' Us is coming. So there's a bunch of that going on. So the city, even though, people talk about going out, restaurants and stuff, there are restaurants opening in the city. Still hard to find employees, right? I'm still seeing signs all over the place. Anywhere from $10 to $15 an hour. I don't know what the city can do with that, but certainly there is a demand out there for more employees, more jobs out there it seems. At least on a service level that we're talking about.
[00:23:21] Brian: There are. I mean, we have job fairs both for restaurant and hospitality. Because the hotels are hurting as well. But yeah, we certainly are seeing, we've got a number of restaurants that can't even, aren't even open all day for the normal times that they would, because there's not a lot of waitstaff.
[00:23:41] Rico: And I saw Salada also has limited their hours. It's funny because I put a dinner order on their app and it got to the end, it says they're closed. And they're only limited from 11 to 4:00 PM is what they're doing. So yeah, there is work out there or at least a certain type of work. Part time and stuff. But, those rates, those hourly rates aren't going up. They just have to find their way there. Also the Grace Korean church, they got approved right? For their special use permit. And Summit gas station, they were looking for some buffer reductions and actually the city didn't go with that. That was denied, that special use. That would really cut down the buffer on those areas. But the city looked at that.
[00:24:21] Brian: Yeah. Mayor and council, did look at that and said, look, were it not for you wanting to build a gas station, which requires a bigger footprint than a normal, like a different commercial one, because you've got to have the pump separate from the building and you've got certain distances. So it takes a bigger footprint. So council felt like look, there was no hardship because the owner could build plenty of things on there. Plenty of uses. He had just wanted to do a gas station and it just takes too much. And it's not to say that they thought it was a bad location. Had it not been for the fact that there was existing residential with a buffer that would have been removed and it would have affected their quality of life.
[00:25:08] Rico: And I'm surprised that they didn't look at that to begin with. I think they bought that property knowing what it was there and they should have asked those questions ahead of time to see if there was any interest in allowing them to do that.
[00:25:21] Brian: You'd be surprised what people buy with the assumption that they're going to get a rezone, Rico. It's sad, and then they get all worked up and threaten lawsuit. Do your due diligence.
[00:25:31] Rico: At this point, I'm not surprised. There are people out there that will buy stuff and not even do the due diligence and just expect to get what they want. Which is like ridiculous. Anything else going on in the city? Coming up that we should know about? That we should share?
[00:25:45] Brian: I mean, you know, fall festival. So that's coming in just under two weeks that's of course a huge deal. We are looking to do a decathlon. That's our next podcast, we can talk about it. It'll be sometime in mid November. A decathlon around, a unique one around the fitness stations in our fitness trail by the town green.
[00:26:10] Rico: I spoke with City Councilman Alex Wright about that. And he actually shared the logo on it, which looks really cool. And they're adding, you guys are adding, and this is like a city sponsored event versus an event that the city allows happening in a play. So the city is actually putting this event on. And you're adding 10 more pieces of equipment, I guess, to that.
[00:26:30] Brian: Well, no. We're adding three more to get to ten.
[00:26:33] Rico: I'm sorry. Three more, that's what I mean.
[00:26:35] Brian: We'll have 10 individual stations that people will rotate through to see. They'll have to do certain things a certain amount of time and the quicker you can do it the more time you have to rest. And it'll be five minute increments before you have to move to the next one. So yeah, we can talk about that. Another thing that gets activity to the town center. Another event that's unique to the area that offers a certain segment of the population something to do. So we're looking forward to that. But no, we've always got, we talked about some of these, more high-profile things. But we still have potholes to patch and you've got other things going on that are not as sexy but no less important. And of course, like to remind everybody we're doing all of this stuff without property tax. So still trying to keep costs of living in the city very low.
[00:27:29] Rico: It's amazing that the city can do all it's doing without property tax. Because you see other cities, every other city around here has a property tax. So the fact that our city doesn't is really good.
[00:27:41] Brian: It's our local economy. We've got to make sure that's strong and if it's generating sales tax and good business license, and we can do this. It's when we take our foot off the gas is where we're going to get into trouble. So we have no intention of doing that.
[00:27:54] Rico: And you were talking about events and stuff like the festival and the decathlon. Even the corn hole, the corn hole games. I didn't realize they attract almost, they had I think almost 200 registrants for the league here in Peachtree Corners alone. And they operate these things all over Atlanta. So even the little things like that.
[00:28:13] Brian: Yeah, or the Georgia Clemson game. I mean that one out at the town green was very well attended because people were like, oh, look, I can watch these games at home. Obviously I could go to it. But then I also have a unique experience and I could leave the house. I can be outside and watch it on a big screen. Great weather. Do it with friends. Have a libation and have a great experience. And nothing makes an experience, a Georgia football game, any better than when we beat a top five team.
[00:28:47] Rico: That's for sure.
[00:28:50] Brian: That's exactly right. That made it even better. Little things add up. Quality of life is why people live where they do.
[00:28:56] Rico: That's true. Even this weekend coming up for those that might hear this before this weekend September 11th is another concert night, music on the town green. Sundogs is going to be performing. So you know, all these things really provide a good atmosphere for everyone. I did have a question for you too. I've noticed, probably should have asked you this before we started the podcast, but it just came to mind. Earth moving behind Chase Bank. That property is the Robert's property. And I don't know if that's Earth moving or them just putting out trucks over there and stuff. But anything new going on there?
[00:29:29] Brian: No, the behind Chase Bank, not right now. You have two things that are going on in the area. The old black Walnut building was renovated. What's the name of the steakhouse? H&W?
[00:29:42] Rico: Yeah, H&W I think.
[00:29:46] Brian: So they did some renovation in the back, so it could have been that. And then of course our multi-use trail is going in along the Creek there that separates the Lazy Dog and the parking deck from the other side. And it's got a trail that is both elevated, up on stilts, if you will. And it also has one that is going to go down into the Creek itself. And so there's some construction going on with that. So they could have been pre-staging on one side because it just made it easier to get in then trying to go through the town center. But those are the only things happening.
[00:30:24] Rico: Okay. And anything new on the multi-use development that was approved? With that reuse of the four story, five story office building, and those one story condos?
[00:30:33] Brian: 5720 Peachtree Parkway, right? So right now they are working on the official architectural construction documents and the final engineering of the plat. They will take, these developers will take a project only so far before they have the rezoning. Because if they spend too much money and they don't get it, then all that work was flushed down the toilet. So they are doing that. And I've been told that they're hoping to break ground on that before the end of the calendar year.
[00:31:07] Rico: Alright. Cool. Okay. And I guess the other, the one last thing is the Jimmy Carter Boulevard where the old Upton's shopping center I guess. It used to be Upton's department store in there, or one of the gyms were in there after that I think. LA fitness, right? Anything new? I know they sold at one point, I think it was only a 40% occupancy or something like that. I'm just curious if there was anything new going on there that you hear.
[00:31:35] Brian: There is. They have a new owner. That's considering some options, including some discussions with our redevelopment authority.
[00:31:43] Rico: Excellent. Okay, cool. Good. So maybe we'll get more news on that. I know that's an area that's ripe for development. That whole side of Jimmy Carter. But this was great. I appreciate giving us a zoom call, so to speak on this.
[00:31:59] Brian: Rico as always, thanks for the opportunity and the vehicle for the city to allow some of this stuff to get out. It's important. And the more educated and knowledgeable our citizenry is, the better. So I appreciate that opportunity for those who watch to be a little bit more informed than they were before the show started.
[00:32:20] Rico: I'm glad to hear that. And Peachtree Corners magazine we're working on the next issue for the October, November. Putting that together. We'll have that by the end of this month, we'll have that all in place. So keep checking us on social media guys. If you like this podcast, certainly share it with your friends. Also give a review on Apple or Spotify or any of those where we're on. This way we'll be more searchable as well. And check out our sister podcast, which is starting up with three new episodes in the next few weeks, the Capitalist Sage. We'll be talking to local business people. One of the leaders of ASHRAE in fact, will be on the podcast soon. Talking about things going on here in the Metro area business-wise and what we can learn from them. So check that out. Go to LivinginPeachtreeCorners.com and learn more about this city. Thank you.
Paper Shredding, Electronics Recycling Event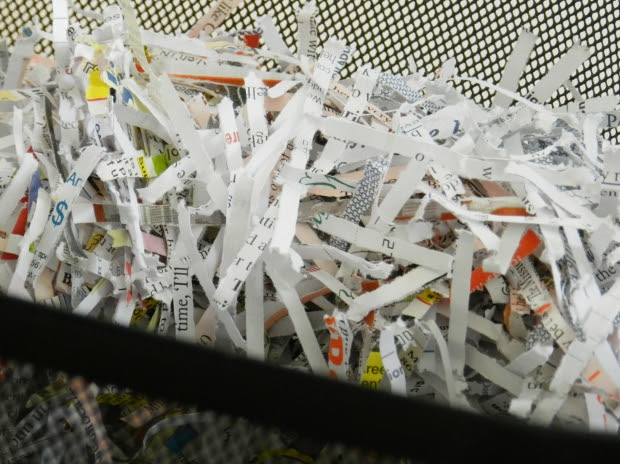 A free electronics recycling and paper shredding event will take place at the Peachtree Corners City Hall at 310 Technology Parkway on Saturday, Oct. 9, 2021, from 9 a.m. to noon or until trucks are full.
Residents of Peachtree Corners are invited to recycle electronics and shred unwanted documents. The city has hired Proshred and eWaste-ePlanet for the event. 
Residents are limited to five (5) medium-size boxes of paper materials. Most electronics are free to recycle. LCD flat screen monitors are free to recycle. There is a fee for CRT (large-backed, heavy monitors or televisions) of .40 per pound. E-waste staff will weigh the devices and collect payment directly. Cash or checks are accepted.
This event is open to Peachtree Corners residents ONLY.
ACCEPTABLE ELECTRONICS
Personal Computers
Floppy/Disk Drives
CD-Roms
Circuit Boards
PC Power Supplies
Keyboards
Mouse/Mice
PC Monitors
Laptops
Printers
Fax Machines
Copiers
Music/VCR/CD-Players
Typewriters
Test Equipment
Networking Equipment
Modems
UPS Batteries
Cell Phones
Phones
Scanners
Wire/Cabling
Servers
Shredding Guidelines:
OK to Shred:
Anything made of paper. No need to remove:

Staples
Paper clips
Binder clips
Hanging folders (with metal strips)
Manila folders
Paper board legal binders
Spiral notebook binders
Thin plastic sheet protectors
Books
Cannot shred:
Must remove (in advance):

3-ring binders
X-Rays
Plastic (such as CD cases or plastic folders)
Office supplies (pens, staplers, etc.)
Computer cables
Cell phones
Batteries (combustible)
Food or other garbage
If you, or your company, would like to volunteer at this event, please contact Jennifer Howard at jhoward@peachtreecornersga.gov
Four Qualify for Three Council Seats in Upcoming Peachtree Corners Elections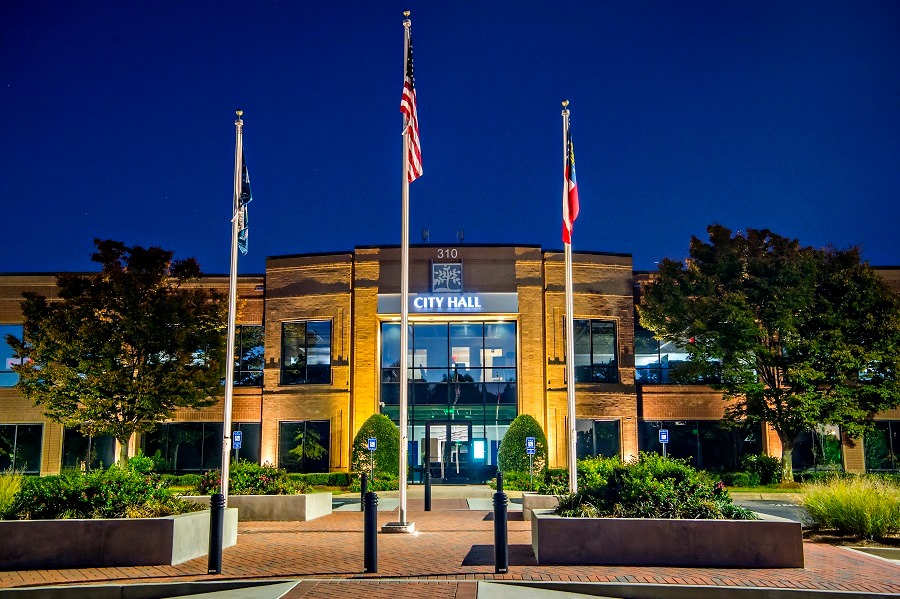 Three council seats are up for election in Peachtree Corners. Qualifying for the November 2021 municipal elections took place Aug. 16 –18 at City Hall. Incumbents Eric Christ (Post 2), Jeanne Aulbach (Post 4) and Weare Gratwick (6) all qualified and are seeking re-election. Additionally, Joe Sawyer has qualified and is seeking the Post 4 council seat.
Aulbach and Gratwick have held their seats since the city incorporated as Gwinnett County's
newest city in July 2012.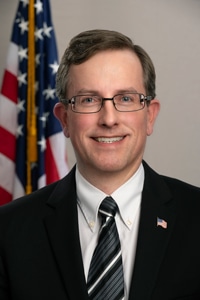 Christ has served on the city council since May 2016, after winning in a special election to fill
the Post 2 seat vacated by James Lowe who resigned to run for the state representative seat for
District 95.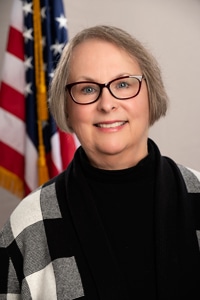 The 2021 city elections will be held Tuesday, Nov. 2 at Peachtree Corners City Hall, 310
Technology Parkway, Peachtree Corners, GA 30092.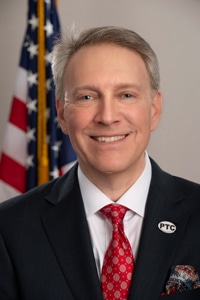 All municipal elections take place at Peachtree Corners City Hall regardless of polling places for county, state or federal elections. Only residents of the incorporated City of Peachtree Corners are eligible to vote for Mayor and Council and other elections.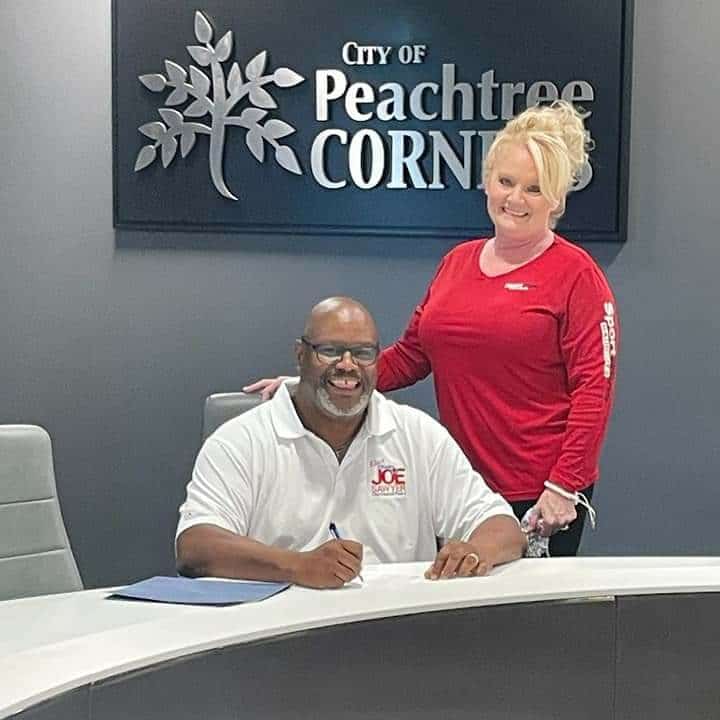 For additional questions, please contact City Clerk Kym Chereck via email at kchereck@peachtreecornersga.gov or by calling City Hall at 678-691-1200.