Tennis Anyone? The Vibrant Tennis Scene in Peachtree Corners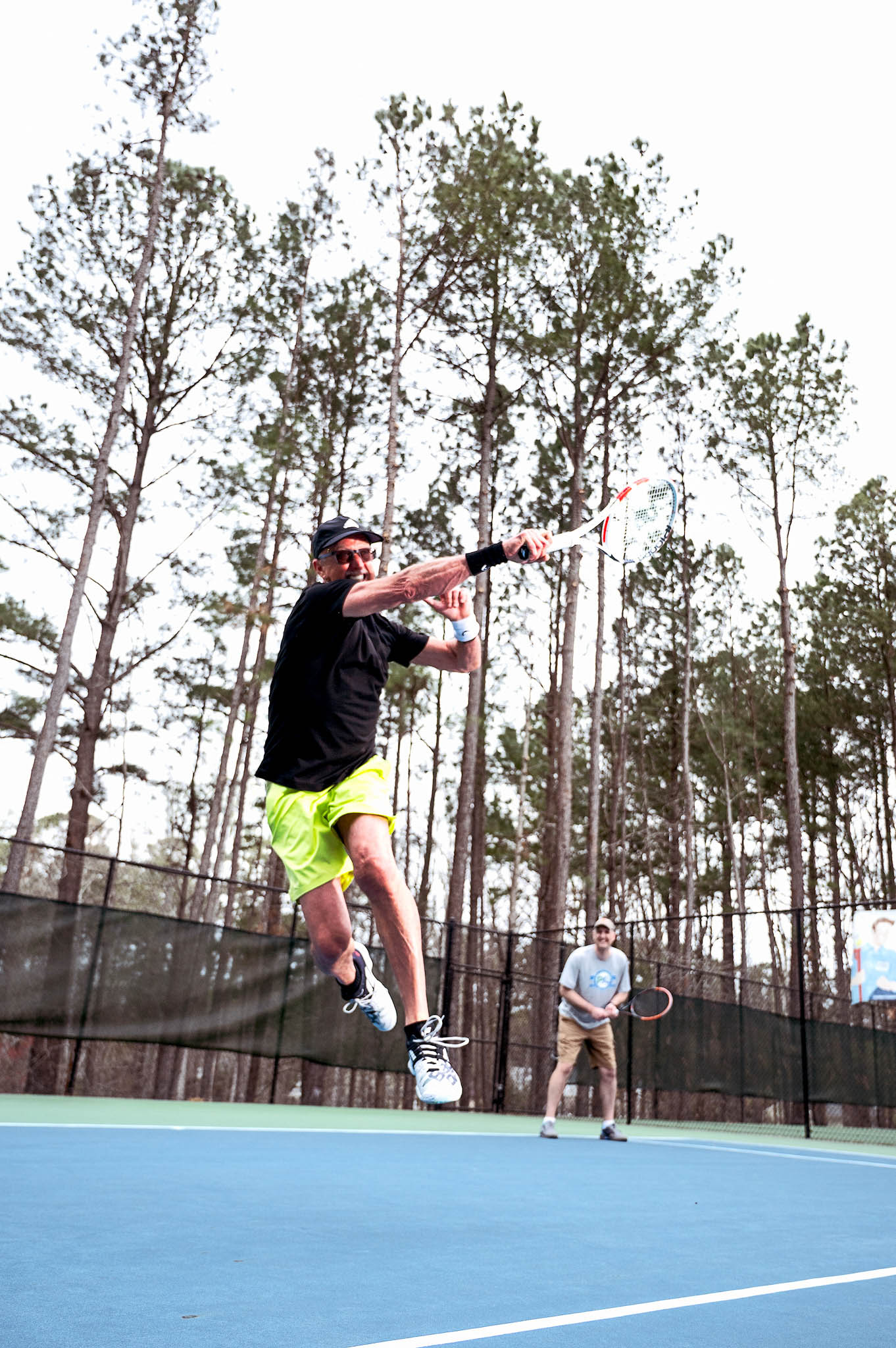 It's time to get into the backswing of things. For tennis lovers of every age, stage and skill level, there is a place in Peachtree Corners to pick up a racquet.
Where to Play
Peachtree Corners Swim & Racquet Club
People make quite a racquet about Peachtree Corners Swim & Racquet Club (PCSR) because of the vast amenities it offers member families for recreation, quality exercise and more. It boasts four lit tennis courts with covered seating areas on each side, reservable through their website or app. Other features include a six-lane junior Olympic sized pool, playground, ping pong table, tetherball court, basketball court, volleyball court and a seasonal pavilion.
There are many teams that compete out of PCSR, in the respected tennis organizations of Atlanta Lawn Tennis Association (ALTA) and United States Tennis Association (USTA). This spans to adult men's and women's teams, as well as mixed doubles. Teams are open to club members, but non-club members can play out of the club for an additional fee.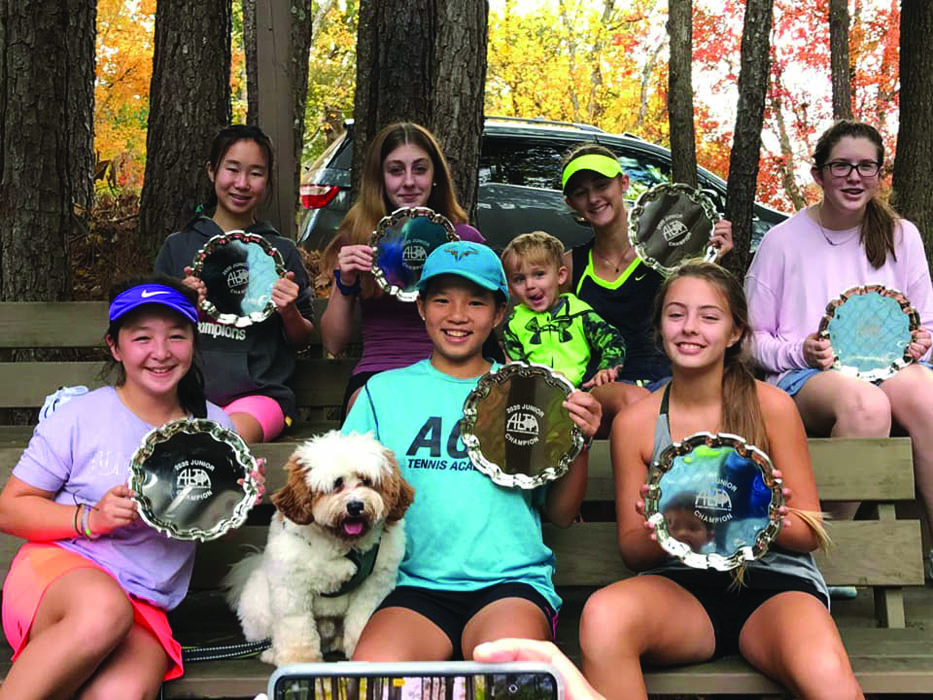 "Peachtree Corners has a vibrant tennis community across multiple clubs and neighborhoods, so you don't have to travel very far to get a match in," PCSR Membership Chair Sonny Pieper said.
Tennis is a social sport with a broad appeal, bringing people from all walks of life together to work out and have a blast. PCSR Tennis Chair Ryan Corley first joined a weekly Sunday women's team for beginners, before eventually stepping to a leadership role.
"I only started playing tennis myself the last three years, because there was an opening advertised for a beginner's team out of our club. It was a great way to get to know people and to get to learn the game more and to foster that team spirit," Corley said.
For more information, check out peachtree-corners.org.
Jones Bridge Swim and Tennis
Jones Bridge Swim and Tennis Club boasts a saline pool and 6 lit tennis courts for year-round play. All 6 courts will be resurfaced at the beginning of May and will include pickleball and kids lines.
The club offers weekday and weekend teams across all levels of skill for ALTA and USTA. They have five to six teams for ALTA Mixed Doubles and four Men's and four Women's Doubles teams. Often they have one or more teams in playoff contention. Many players also play in flex leagues out of the club.
Their tennis pro, Courtney Allen, offers team drills, private, semi-private, group lessons and a juniors academy.
Another unique feature the club offers is cardio tennis which is available to both members and nonmembers. Cardio tennis combines tennis and fitness with music – classes are held Monday evenings and Friday mornings.
Jones Bridge Swim and Tennis also hosts fun tournaments every month including round robin mixers and triples tournaments. For more information on Jones Bridge STC tennis, visit jonesbridgeclub.com/
The Club at Spalding Corners
This active neighborhood's club offers four courts to its members. Both of their mixed teams won in their respective divisions this year and, in fact, one of their mixed captains is the second longest running captain in ALTA history, according to President of Spalding Corners Neighborhood Association (SCNA) Megan Powell.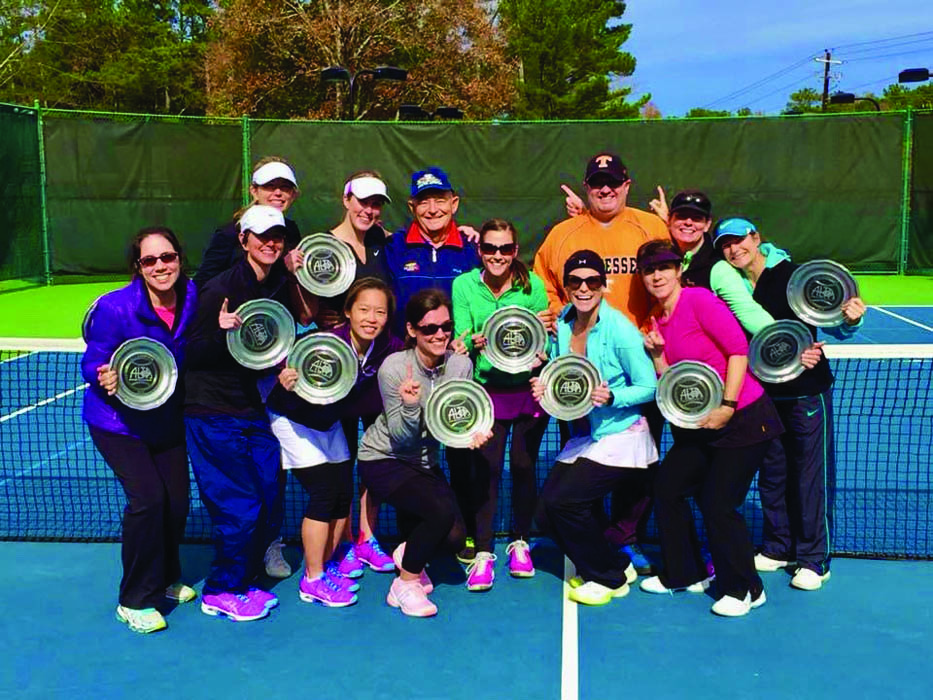 "Tennis is the best sport ever! It's a great social sport, and to be competitive and compete at all ages is so great," Powell said.
SCNA Tennis Chair Christina Stolte has been playing for roughly 21 years, starting about a year after moving into Spalding Corners. She also served as the former HOA president and now serves as the Grounds Committee Chairperson.
Stolte, who is instrumental in coordinating all things tennis at The Club in Spalding Corners, is quick to point out all the great opportunities for play — singles, doubles, mixed doubles, tournaments and more. Two years ago, the club hosted a triples tournament for members and guests to try a unique and different form of gameplay. The SCNA also offers tennis pro coaches for lessons and summer camps, as well as kids' play.
The club is voluntary membership for residents of Spalding Corners, but it also allows non-residents to join for dues of $685 for families and $485 for adult individuals. Standard operation hours are 9am to 5pm, Monday through Friday, according to their website.
In addition to its tennis offerings, The Club at Spalding Corners also has a lovely pool that has recently been resurfaced. It serves as the home base for the Spalding Corners Sharks, who ranked first place in Gwinnett County Summer Swim Leagues.
Peachtree Station Swim & Tennis
Peachtree Station Swim & Tennis Club (PSST) has eight LED-lighted tennis courts and two full-time certified United States Professional Tennis Association (USPTA) and United States Professional Tennis Registry (USPTR) tennis professionals on staff. Offerings include group, semi-private and private lessons, summer/holiday tennis camps, cardio tennis, tournaments, racket stringing and demos. The variety of levels of ALTA and USTA teams for men, women, children, seniors and mixed doubles out of PSST runs the gamut.
For those of us who really want to get the most out of every swing, it sometimes takes a savvy coach to motivate and teach us. That's where a hardworking athlete comes in, like Joe Rahme, one of the tennis pros who works within PSST and Peachtree Corners Swim & Racquet. He puts his players through their paces, often instructing over several courts at once to make sure they're getting the attention they need.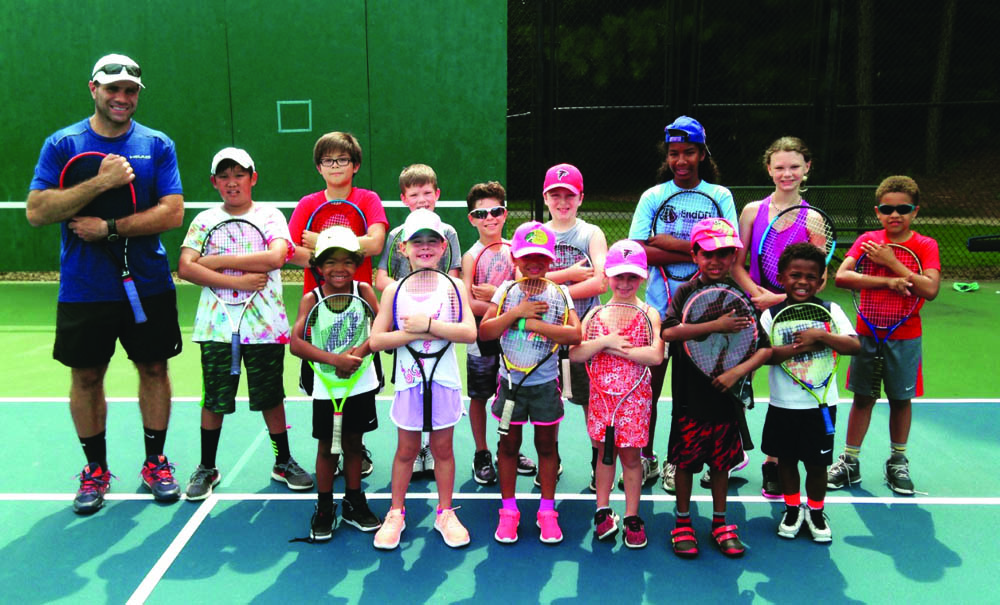 "Probably the most satisfying thing is just seeing everyone improve," Rahme said. "I've had some players come is as complete beginners. They have never even played the game, and then over the year they become really good. And that is the most satisfaction I get." Rahme also remarked that often tennis is a main source of exercise for people who go into the office (or work from home), so he makes sure they get a good workout.
"We believe that tennis is the ideal sport for a number of reasons," PSST Club Manager Lise Weaver said. "Tennis is a sport that can be played for a lifetime. At PSST, tennis provides our members an opportunity to socialize and meet new people, and we even offer things like cardio tennis for those looking to use tennis as a way to get or stay in shape! Not to mention, tennis is relatively inexpensive and is a low injury sport."
The Fields Club —Amberfield, Riverfield and Linfield
The Fields Club encompasses 50 acres of land between the Riverfield and Amberfield neighborhoods, much of that in view of the Chattahoochee River. It's a mandatory membership community for residents, and it's also open to outside members for access to its recreational programs, two pools, upcoming permanent pickleball courts, walking trails and 16 tennis courts. It's interesting to note that they have the most tennis courts of any HOA Swim and Tennis community in the area.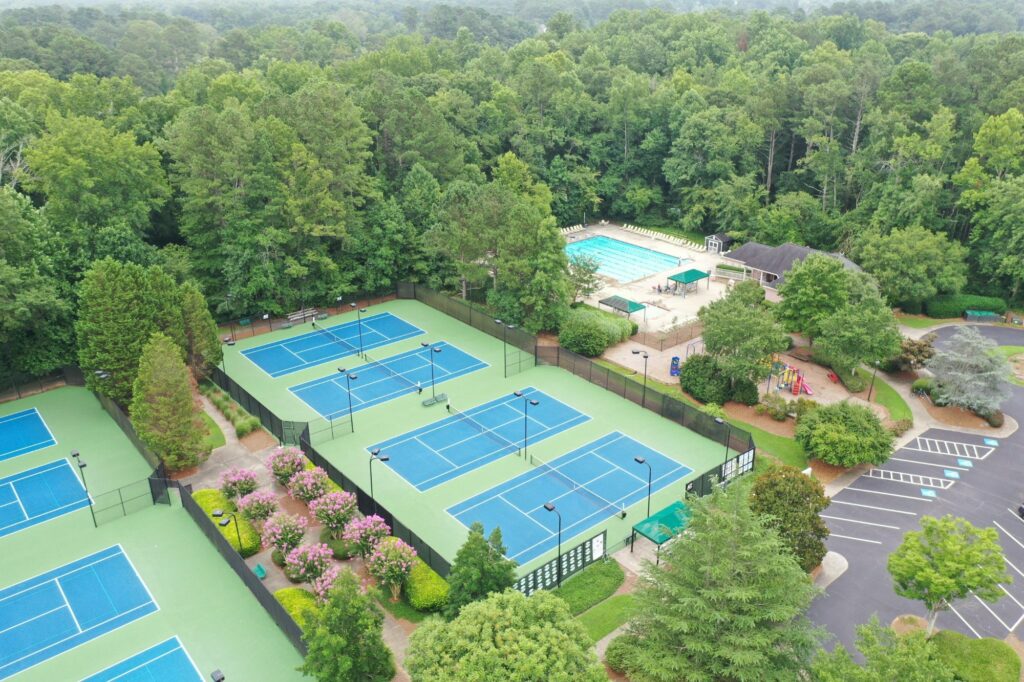 Ace Tennis Academy, under Ace Tennis Management, has operated in the area for 25 years and has been with Fields Club since 2015. There are seven full-time on-site coaches on staff, and there tends to be 15 to 16 adult teams active in ALTA or USTA every season. There is ample opportunity for summer play and programs for all ages and abilities. The junior tennis program spans from introductory tennis to kids who are top players in the country.
"To give you a little history, we have had eight players who have hit number one in the country over the years, and a pretty solid number of kids who have gone on to play college tennis," Tennis Director Jeff Weaver said.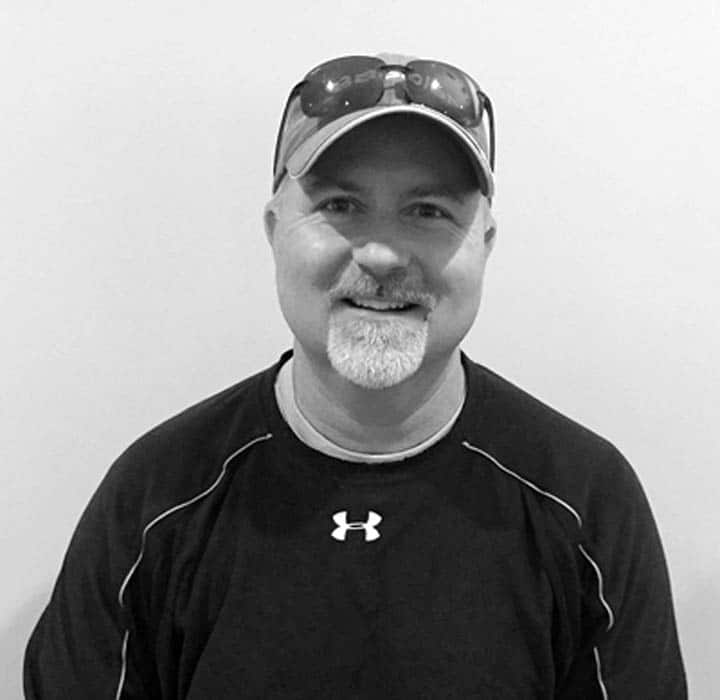 Ace's team of tennis pros provides all the programming for the club "and the competitive part of the academy just kind of sits on top," Weaver added.
For information on the Fields club, visit fieldsclub.com or email membership@fieldsclub.com.
Greater Atlanta Christian School Tennis Academy
In addition to its educational value, Greater Atlanta Christian School (GAC) has a unique asset in its tennis academy that allows students to receive tennis instruction as a PE elective or free period alternative during the school day.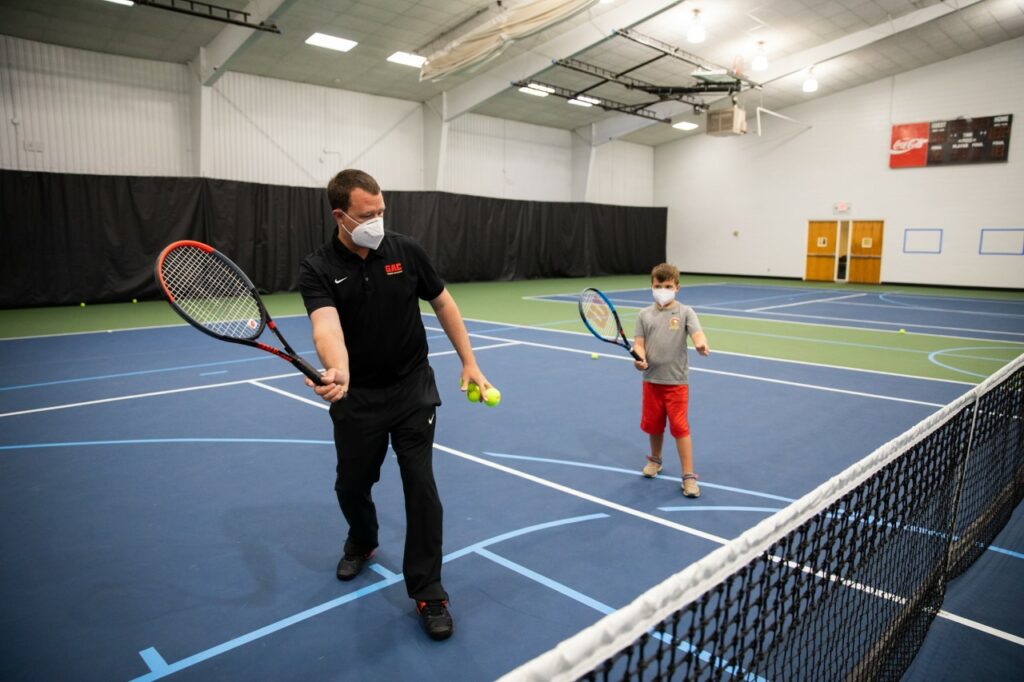 With six outdoor courts and two additional indoor courts, there is plenty of room for kids to play. It's worth noting that GAC is the only school campus in the state of Georgia to have indoor courts. The courts are within walking distance for students who participate in the tennis academy during school hours, so middle and high school players can walk over freely; elementary play is limited as younger children require an escort.
GAC Tennis Academy is a fully functional tennis academy that has operated within the school since 2017, with tennis professional staff accredited with USPTA and USPTR tennis coaches, professional organizations and USTA high performance certified coaches. Many of their tennis pro coaches have a trophy case full of awards and accolades, including Scott Hutchinson's and Rocky Warner's 2019 USTA Facility of the Year and 2020 USPTA Industry Excellence awards.
The academy is not a separate entity from the school; it's completely integrated under its athletic arm. Similar school programs typically bring in an outside organization to provide such specialized programs, but GAC made a point to construct a new kind of leadership.
"We were very intentional in setting up GAC Tennis Academy as a direct part of the school instead of a separate group so we could be connected to the students and help them to succeed in the sport," Hutchinson said.
Per scholastic sports regulations, the GAC Tennis Academy does not coach the GAC school tennis teams in any way and are not allowed to be present at practices. Student players can participate in camps and private lessons, however, and many do.
GAC Tennis Academy welcomes outside players from other schools for after-school programs, and also works with adults in USTA and ALTA. The academy will be part of GAC Grow Camps this summer. For more information, visit greateratlantachristian.org/athletics.
Life Time Athletic and Tennis Peachtree Corners
Life Time Peachtree Corners has 28 total tennis courts — 16 outdoor hard courts, 4 clay courts and 8 indoor tennis courts. They recently partnered with Academia Sánchez Casal to offer a junior academy for high level junior tennis players. Then there is the SMART Junior program, a junior development program that offers classes for ages four and up.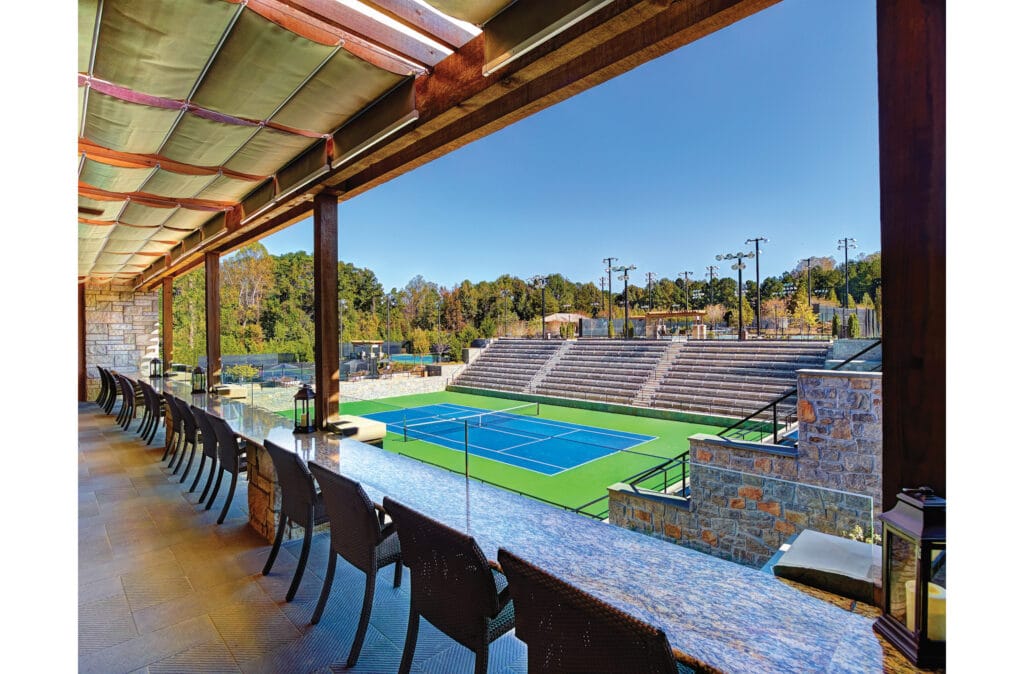 "Our innovative SMART programming focuses on fun and athleticism first, with tennis skills coming second," said Lifetime Public Relations Specialist Dan DeBaun. "We also offer a Play, Learn, Love Program — this is our beginner pathway for adults."
Additionally, Life Time Peachtree Corners offers in-house leagues, mixers and tournaments for all levels, as well as ALTA and USTA League play. For anyone looking for one-on-one instruction, private lessons with USPTA and PTR certified professionals are available.
Find out more about life at Life Time at lifetime.life.
USTA and ALTA: A Primer
Here is a general overview of the Atlanta Lawn Tennis Association (ALTA) and United States Tennis Association (USTA) sports organizations, which set the standards and organizational structures of competitive tennis in the U.S.
The USTA Southern office is located in Peachtree Corners, though their influence and authority reach much further.
"USTA Southern is one of 17 USTA sections. USTA Southern is the largest, with 25 percent of the national membership," explained USTA Southern Communications Director Ron Cioffi. USTA Southern covers Georgia and also included Alabama, Arkansas, Kentucky, Louisiana, Mississippi, North Carolina, South Carolina and Tennessee.
"USTA Southern acts as a regional office, even though we are called a section," Cioffi continued. "Each of our states is considered a district. Local tennis play is organized by community tennis associations (CTA). USTA Atlanta is the local CTA and covers much of metro Atlanta."
ALTA's office is located in nearby Roswell and has much in common with USTA. They are both non-profit or not-for-profit organizations dedicated to maintaining the rules of play and sportsmanship. ALTA is also affiliated with USTA through membership in the Southern Tennis Association and abides by the USTA rules of tennis and code of play.
The main difference between the two, if any, is simply ALTA's focus on play in the Metro Atlanta area. But if you play adult tennis locally and competitively, chances are high that any team you join would be under one of these two umbrellas.
*This article has been updated on April 12, to include information from Jones Bridge Swim and Tennis
Rolling Along: Roller Hockey Program Thrives in Peachtree Corners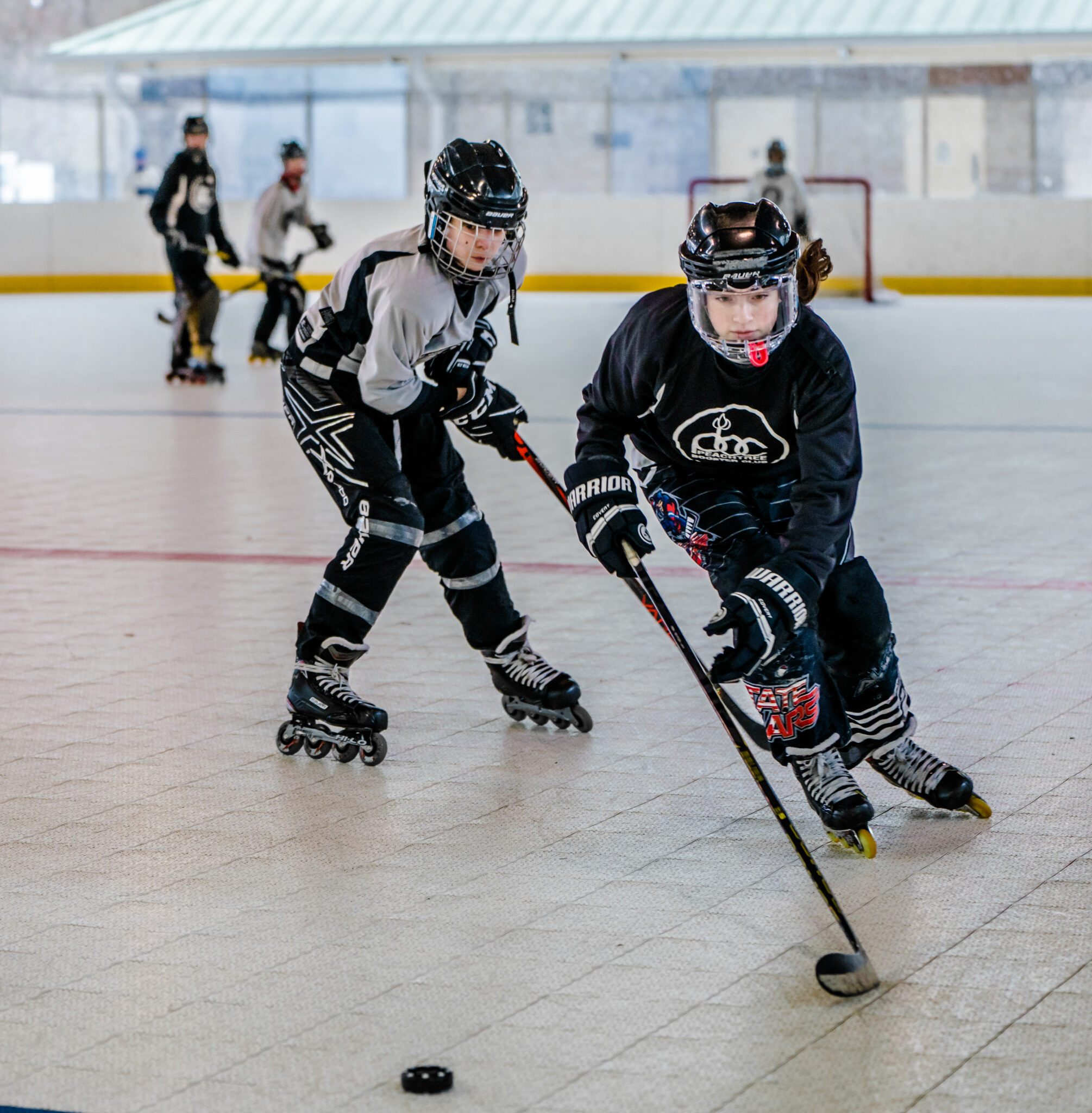 They're small by comparison, but scrappy. And quite skilled.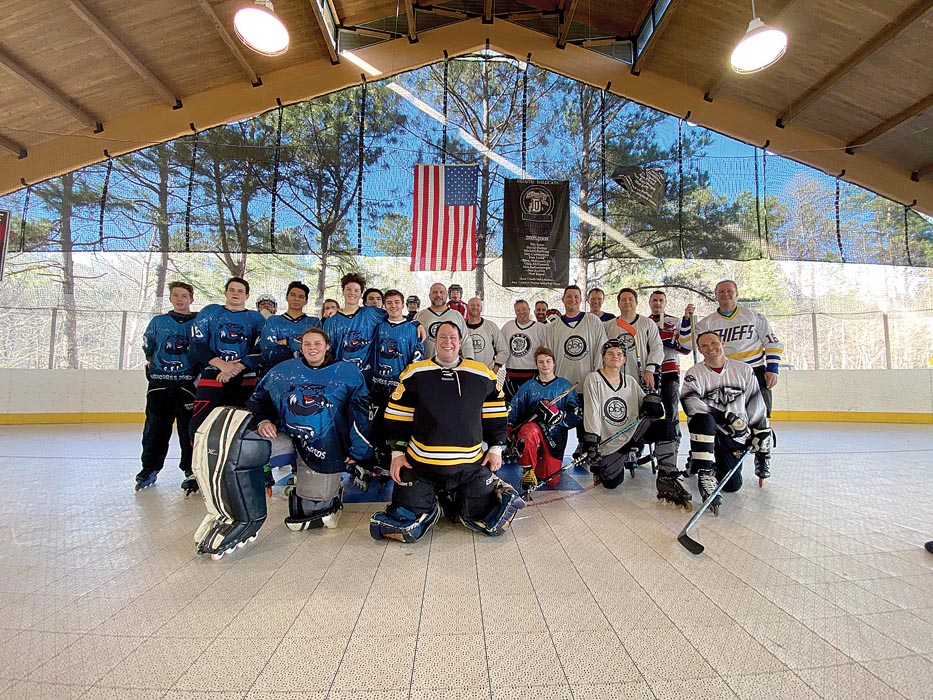 The Norcross Roller Hockey Program (NRH) at Pinckneyville Park on the Peachtree Corners-Norcross boundary may not gather in the thousands of youths and adults who take part in area football, baseball and recreational soccer programs, but interest is growing, said league officials, even if more than a few local people have no idea the program exists.
What they lack in size, they more than make up for in enthusiasm. The games are like a fluid dance with a hockey stick accompaniment as players move rhythmically up and down the court on their inline skates, constantly in motion, deftly passing (and stealing) the hard plastic puck and taking shots at a hyper-focused goalie.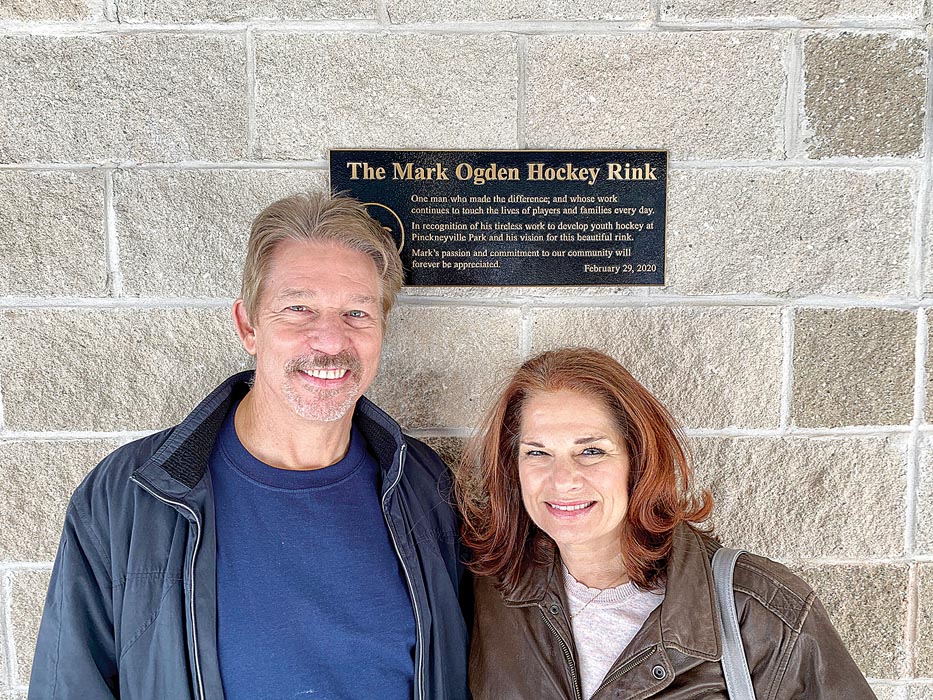 It's a tight-knit and supportive bunch that gathers each week at a well-appointed rink that boosters think is likely the finest outdoor roller hockey facility in the Southeast.
"We are in excess of 100 players right now, "said John Hendry, President of the parent Peachtree Booster Club, which also includes a soccer program. "We have been as high as 250 people (in a non-COVID year), so it's varied between 100 and 250 over the years."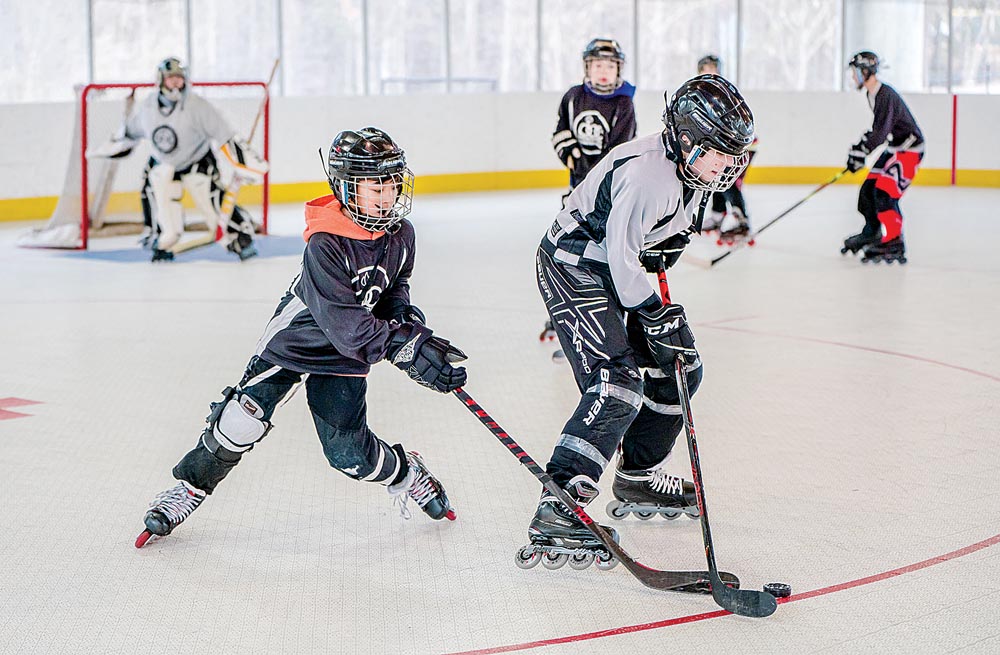 "A lot of it is letting people know we're here," he added. Agreeing with that, Mark Ogden said, "It was tough getting the word out. We always found that a lot of people didn't know about the program. Either they weren't close to it or we didn't do a good enough job of publicizing it. You're always in competition with other sports." Ogden presided over NRH for nearly a decade and stepped away after his kids aged out of the sport.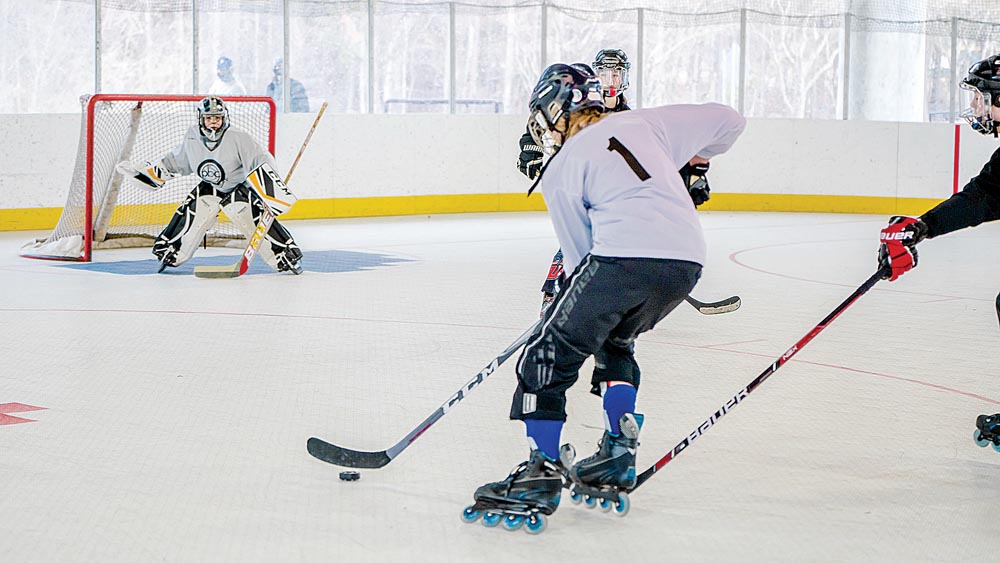 A northern game moves south
Ogden gets a huge credit for advancing the program that kicked off in 1975 at the behest of northern transplants who wanted to bring their favorite sport south. Games — originally it was only an adult league — were held in the gym at Peachtree Elementary School, later moving to a concrete slab in Pinckneyville Park after Gwinnett County built it in the early 1990s.
Longtime officials praise Ogden for lobbying the county to construct the current rink around 2006. The $1.6 million project included a sport court surface designed specifically for inline hockey, new dasher boards, quality lighting, an upgraded scoreboard and cooling fans for hot-weather games.
Today the operation is helmed by hockey vice president Nick Sally, who said NRH is still upping its game, having improved its website and increasing its social media presence. He brings a lot of cred, having grown up playing roller hockey and swatting the hard plastic puck in college and semi-pro play later.
Sally's still hip-deep involved, playing in the adult program as well as coaching. His youngsters are in the youth division, which starts with 4 to 6-year-olds and extends upward to the youth hockey program encompassing categories from 8 and younger to 18 and under.
Skill and character
The kids obviously want to win, but Sally is quick to point out that "we try to make it very family friendly, which fits right into the Peachtree Corners vibe. We have proud parents cheering for the kids, but nobody is yelling and screaming at each other."
The program puts a strong emphasis on recreation coupled with skill and character development, he and others said.
Three of the players on the Gladiators youth team that lost on a 10-9 shootout that January Saturday nevertheless displayed a pumped and positive vibe. To a person, they signal they've developed greatly and are by no means done with that process.
"We put a lot of effort into the game and we may have lost, but we played pretty well," said Ben Vanden Bos. He said he wants to shift to ice hockey at some point and got interested after seeing his uncle coach a team.
"I think I've become a lot more athletic playing roller hockey," he explained. "It is harder than a lot of different sports. There are more mechanics with shooting and developing strength through skating."
Teammate Eduardo Avila-Hinton Junior also has his gaze on the ice and said, in addition to developing character and motor skills, he's been able to connect and make new friends. And he says it's helped take his mind off teenaged stress (he's 13) and the overall events of the year when he gets lost in midst of a contest.
And then there are the lessons that are not as apparent on the surface as are the toned muscles and rocket like passing and puck-handling. "It's taught me to be more humble," said Timothy Hendry, "and not act arrogant about how I play or how I am with sports. It's also teamwork."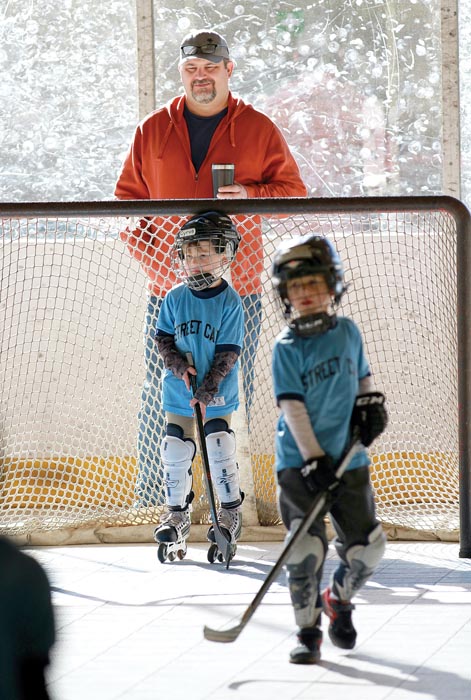 "It's a natural progression," John Hendry, father of Timothy, said of the desire to glide and slide on ice. "As the kids get into the teenage years, a lot of them are moving up to ice. It's a loss for us but it's a win for the sport."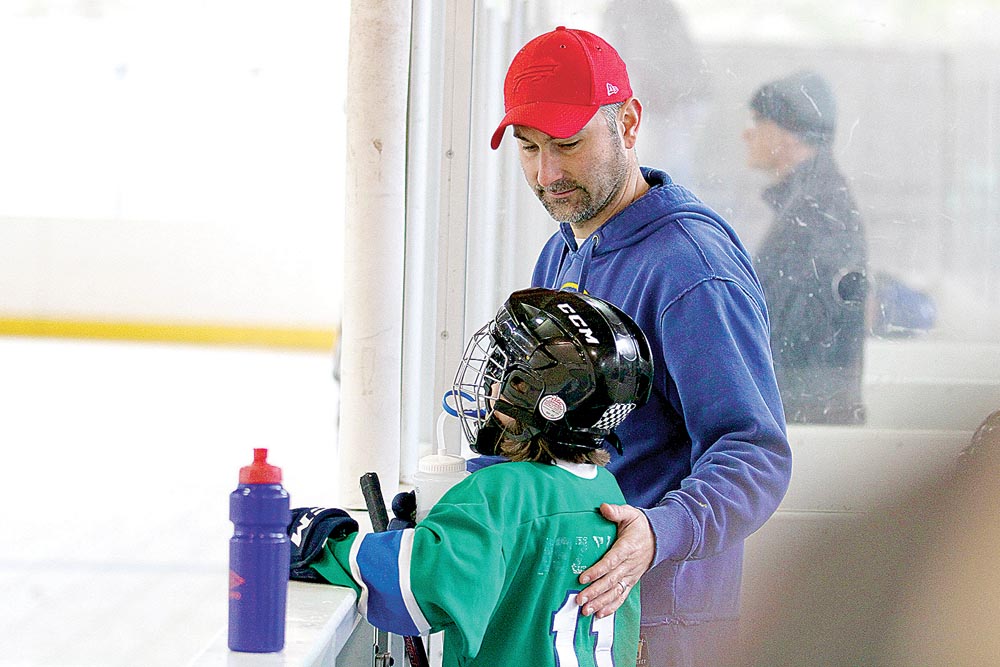 On the plus side
He does point out the roller form of the sport has some distinct advantages over and differences from the iced version — even if they are close cousins.
Body checking is not allowed, and that means fewer injuries. Positions aren't divided into offensive and defensive ranks, which results in a fluid, rhythmic motion up and down the court, making a game more of an endurance contest and a showcase for teamwork. Players are four to a team with a goalie instead of five.
And, said Hendry, there's a financial factor. The league costs about $100 for a three-month season.
"I know how expensive other sports can be," he said, running well into the hundreds of dollars "and this gives them the same benefit at a much lower cost." It's also a quick learn, he said. Kids step onto the play surface with no experience and within three weeks, "they're skating and handling the puck and able to take part in the game."
Ogden maintains a strong affinity for the game, even though he's gotten out of active involvement with the league and booster club, and he thinks back to when he got involved. His oldest began playing after a neighboring friend took up the sport, then the other two joined in.
"I just fell in love with it," he said.
As have literally successive generations. Youngsters playing in the program are following in the footsteps, well, skates of parents and even grandparents who also played.
With other roller hockey rinks having opened in places such as Snellville and Peachtree City and the local kids traveling to play teams there, the future looks busier.
"I see no sign of it going away anytime soon," said Hendry. "I've been involved with this program for ten years and it's definitely growing."
15 Norcross High School Players Sign to College Football Teams
Norcross High School Football celebrated a great signing day this past Wednesday. Congratulations to all the young men signing their National Letters of Intent to continue their education and football careers! As we could not have Signing Day in person, please view the 2021 Virtual National College Signing Day video.
2021 Norcross Football Signees
Zion Alexander – East Tennessee State University
Quinton Bradford– Concord University
Jahni Clarke – Valparaiso University
Jalen Garner – University of Houston
D'Andre Golden– Keiser University
Trey Goodman– Austin Peay University
Josh Graham– Morgan State University
Micah Green – Concord University
Xavier Herndon– University of Pikeville
Kaleb Jackson– Georgia Military College
Mason Kaplan– Valparaiso University
Kamren Lark– Morgan State University
Zemetrick Larry- Georgia Military College
Tripp Miller– University of West Georgia
Lovelle Williams– Mars Hill University
Peachtree Corners Teams Bring Faith to Sports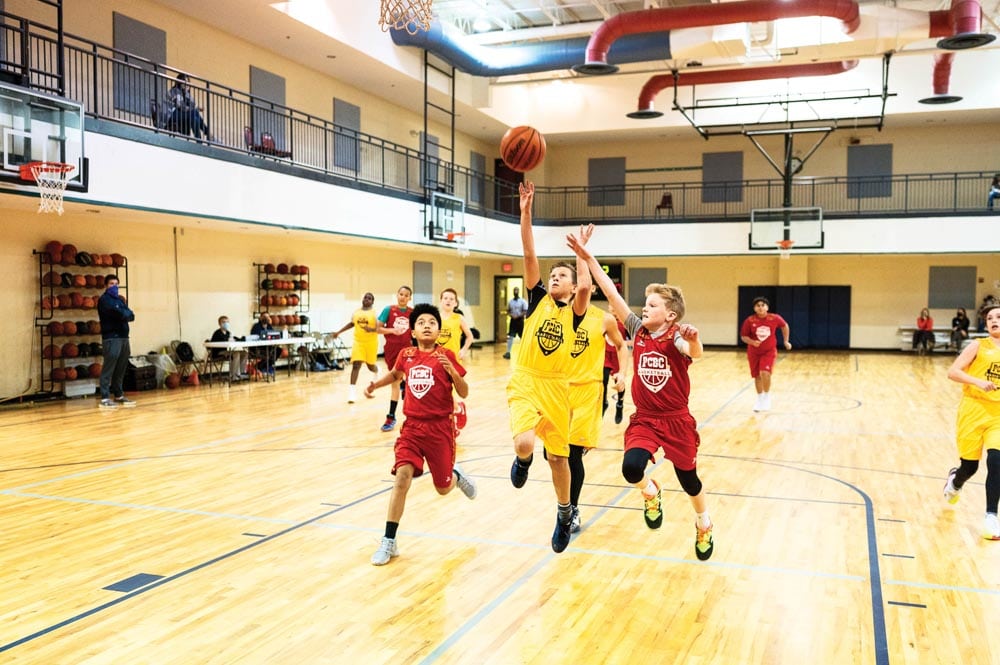 A quick inbound pass whistles by, just out of reach of a defender. The ball's grabbed, then quickly bounced — passed to another lanky youngster on the Tarheels (not the North Carolina college team, but youngsters on the cusp of being teenagers) basketball squad.
"Shoot it!" yells a teammate.
One quick pivot and a turnaround jumper later, the ball swishes cleanly through the net.
Such is a microcosm of youth hoops November through February at Peachtree Corners Baptist Church (PCBC), which plays host to a highly regarded and mainly intermural sports program that gathers in as many as 1,000 youngsters and adults annually. That includes boys' and girls' basketball (ages 7 to 12), with nearly a workday's-worth of games playing out on a particularly chilly January Saturday.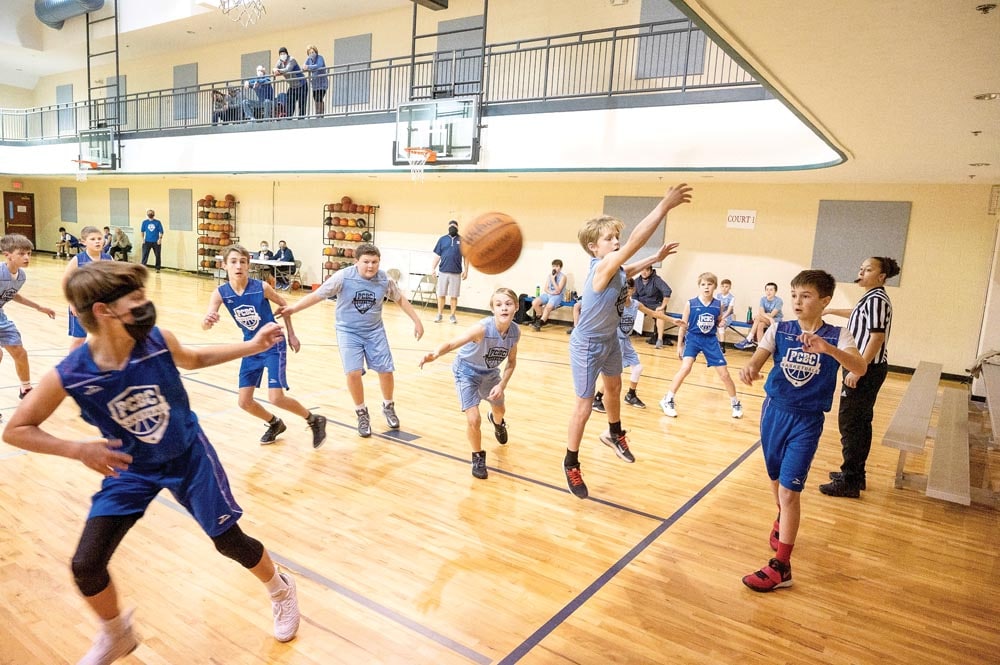 As is the case with any such program, the scene is familiar. Players, parents and coaches shouting into the echoing cavern of the gym, the squeak of sneakers and the rhythmic 'thunk, thunk' of ball meeting hardwood.
Sit in the bleachers for a while, however, and the differences between it and some other programs manifest. No trash talk. No angry disputing of referee calls. Coaches who encourage instead of demean.
'A good atmosphere'
"It's the first time I've been here," said Dan Marschke, a Walton County resident, in between yelling in-game encouragement to his grandson. "I think it's a good atmosphere."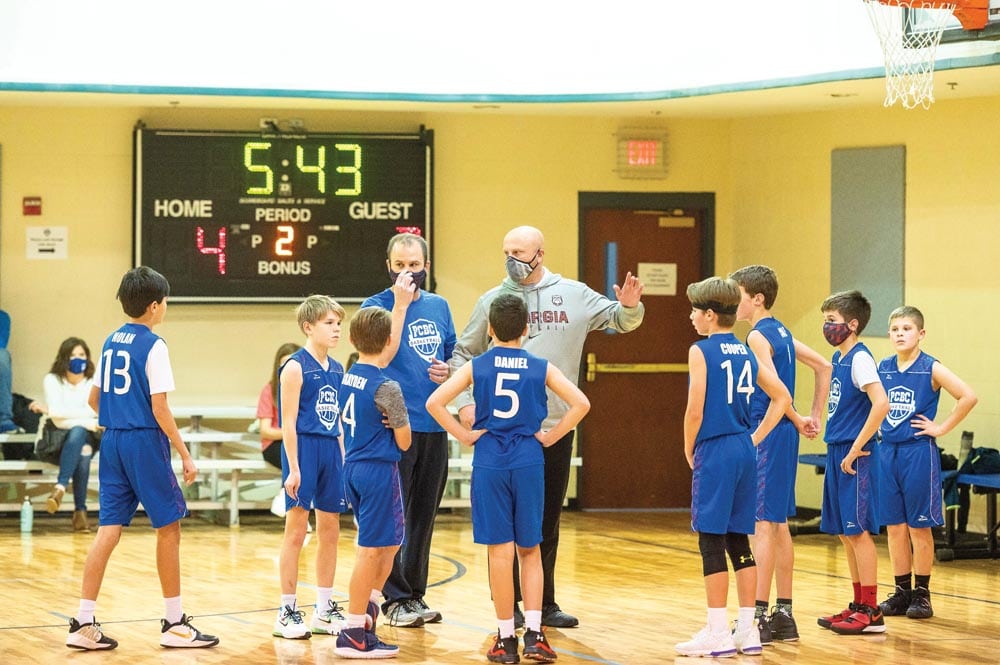 Unfortunately, the "feel" has changed a bit this year with a pandemic continuing to rage. As COVID-19 gained steam this past spring, adult basketball, tee-ball, and machine pitch baseball were shut down. The program returned with summer camps and precautions in place going forward.
As a faith-based organization, creating a team from youngsters, sometimes less than perfectly disciplined and lacking basketball experience, happens on the parallel tracks of skill improvement plus character / spiritual development. The recreational benefits of sports and fun are emphasized over winning and losing, said league coordinator Billy Sowell. Bringing players closer to Christ — pumping up that faith muscle, so to speak — is also a prime priority.
At PCBC, that takes the form of a devotional done in the course of weekly practice and prayer before games. Coaches, parents and kids all seem to appreciate the connection.
"I get to be closer to God," is how 13-year-old Grayson McCollum put it, referring to those 15-minute practice devotionals. "He gave me everything that I am blessed with today so I want to be as close as I can."
Not only has his faith strengthened, he indicated, but the experience has fostered a more even temperament. Cooperation, building each other up and taking responsibility are the default, not anger and blame shifting.
Peachtree Corners City Manager Brian Johnson, who coaches the Blue Devils team his 12-year-old Elias plays on, backs up that mindset. "The general benefit is learning teamwork and sportsmanship and how to be a good winner and a good loser," he said, "and that practice makes perfect. It takes time to get better." He added that personal development happens more than at the player level.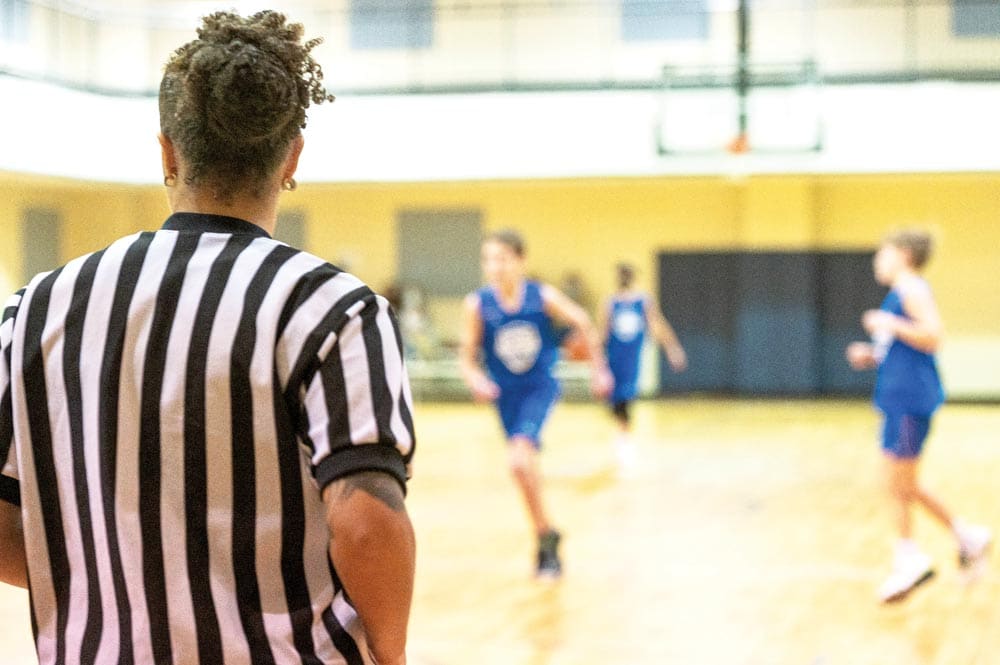 At the end of the season, Johnson said, "I feel like I've learned things, not just the kids. For me it's a little taste of what it's like to be a teacher."
As an adjunct to that notion, he's mindful that how he handles a bad referee call or tough loss sets an example.
And sometimes playing in a structured environment can lead to an inflection point or alteration in direction. Tarheels player and coaches' son Michael Brown Jr. said the experience has led to a changed view on sports.
"I always thought soccer was going to be my thing, but basketball has proven to be a really fun sport," he said emphatically.
He said that a winter holiday made longer by concerns over COVID-19 posed a challenge. "We came back from break and you could definitely tell that we had been gone for a while," Brown Jr. said. That rustiness led into some rehabilitative drilling on the basics.
Pandemic concerns have also made another kind of dent in the program. Sowell says four teams had been "quarantined" as of January 26, sitting out of games and practices. Two of the teams involved were exposed to coaches who have tested positive. The other two stemmed from cases where a player had tested positive within two days of playing a game. Three of the teams had returned as of January 26, with the other set to come back the following week.
He said that a couple of games and several practices had been canceled.
COVID and other concerns notwithstanding, parents seem very happy with the sports ministry.
"Everybody knows about the program here," said Karen McCollum, the mother of 13-year-old Grayson and 12-year-old brother Maddox. "We believe highly in keeping our kids involved in sports and keeping them focused. "They've learned so much from the coaches and the players."
That's like music to Sowell's ears and, to him, is reflective of the program's laser focus on faith. "We want to use sports as a way to introduce the love of Jesus," he said, making it clear to the youngsters "that God gave them the abilities to play and have fun and that's what we want to focus on."
Onward and upward
Programs such as PCBC's occupy an expanding role in the constellation of youth recreational sports.
South Carolina-based Upward Sports partners with churches to help them begin and maintain sports ministries, with more than 1,500 such congregations on its roster last year. Their Partner Engagement Manager, Drew Provence, said the goal is to help local congregations connect with their surrounding communities through the gospel.
"It's a universal language," is how Provence put it. "We've seen that 95% of all people interact with sports in some fashion." And, he said, churches can use the outreach and that universal language as a way to attract new members to the flock.
Officials with the local church said that's a story that's repeatedly played out over the years, as players and families from the community at-large make the jump from setting foot on the property for a first time to becoming staunch members of the congregation.
Not just for kids
Sowell said that roughly 10% of those involved in their sports programs are church members.
Capitalizing on that broad base to draw from, he said, the men's basketball program has become very competitive with several former professional and high-profile college players among the ranks.
"That's why I started the 35-and-over league for players who want to be more recreational than competitive," he said.
That recreational and developmental focus is on full display in the winter Saturday youth basketball program, said Tarheels coach Michael Brown Sr. A former school basketball player himself, Brown said he's "thrilled" that his son has also fallen in love with the sport.
"It's a great thing for a father and a son or a father and a daughter. I really enjoy working with the kids. We've got a great community here and a lot of talent and if I can just offer a little guidance and motivation, it's great."
Girls allowed — and encouraged
That same dynamic applies in the church's girls' basketball league, which takes over the gym earlier on Saturday before the boys storm the court. So said Perry McWilliams, a church staffer who helps direct a girls' team dubbed the Cardinals. He shares coaching duties with a family friend and his sister, and he said taking on that role after spending some time coaching boys' squads has been a revelatory experience.
"This is my first year of coaching a team of young ladies and you would think they wouldn't be as rowdy as the boys are — and that's definitely not the case," he said. "It's an athletic bunch and they need just as much redirection as the boys do. That's been very interesting. Kids will be kids, no matter what."
That direction is valuable and well worth it, said Johnson, despite many demands during his day. "I think that with growing up playing structured sports into college and having great coaches and parents to support me, I'd like to think I have something of value to add to my team and the league," Johnson said. "I believe that's worth a little extra time."
McWilliams said he was surprised that some of the youngsters weren't familiar with such elemental basketball phraseology as "traveling" and "triple double" and needed considerable drilling on the ins and outs of defensive play. Building on a firm foundation, he noted, there have been vast improvements since the season's outset, not the least of which has been fewer air balls.
McCollum said her boys and his teammates also have needed some on-court and courtside corralling. "There are always times when they don't want to do something; they don't want to go to practice or something like that. But we firmly believe that when you start something, you finish it," she said. "Once they're there, they love it, and it's much better than sitting in front of an electronic device."
Sowell wants to grow participation in the programs that they have now, but that's proving difficult in one area.
With nearby Cornerstone Christian Academy and PCBC's own preschool using the gym during the day and practical limitations on practice — having 11-year-olds doing shooting drills at midnight is far from optimal — he said they're capped at roughly 220 hoops participants on board. Sowell said he hates having to have a waiting list and to be turning away eager kids.
He has hopes that Cornerstone will eventually construct its own gym, giving PCBC more wiggle room and increasing participation.
No matter what 2021 and the years beyond might bring, Sowell has the overall goal firmly in his sights — making the Bible, and in particular one verse — a linchpin of the sports ministry.
"Our verse that we use is I Corinthians 9:25," he said. From a modern Bible translation, it goes thusly: "All athletes are disciplined in their training. They do it to win a prize that will fade away, but we do it for an eternal prize. "