Tennis Anyone? The Vibrant Tennis Scene in Peachtree Corners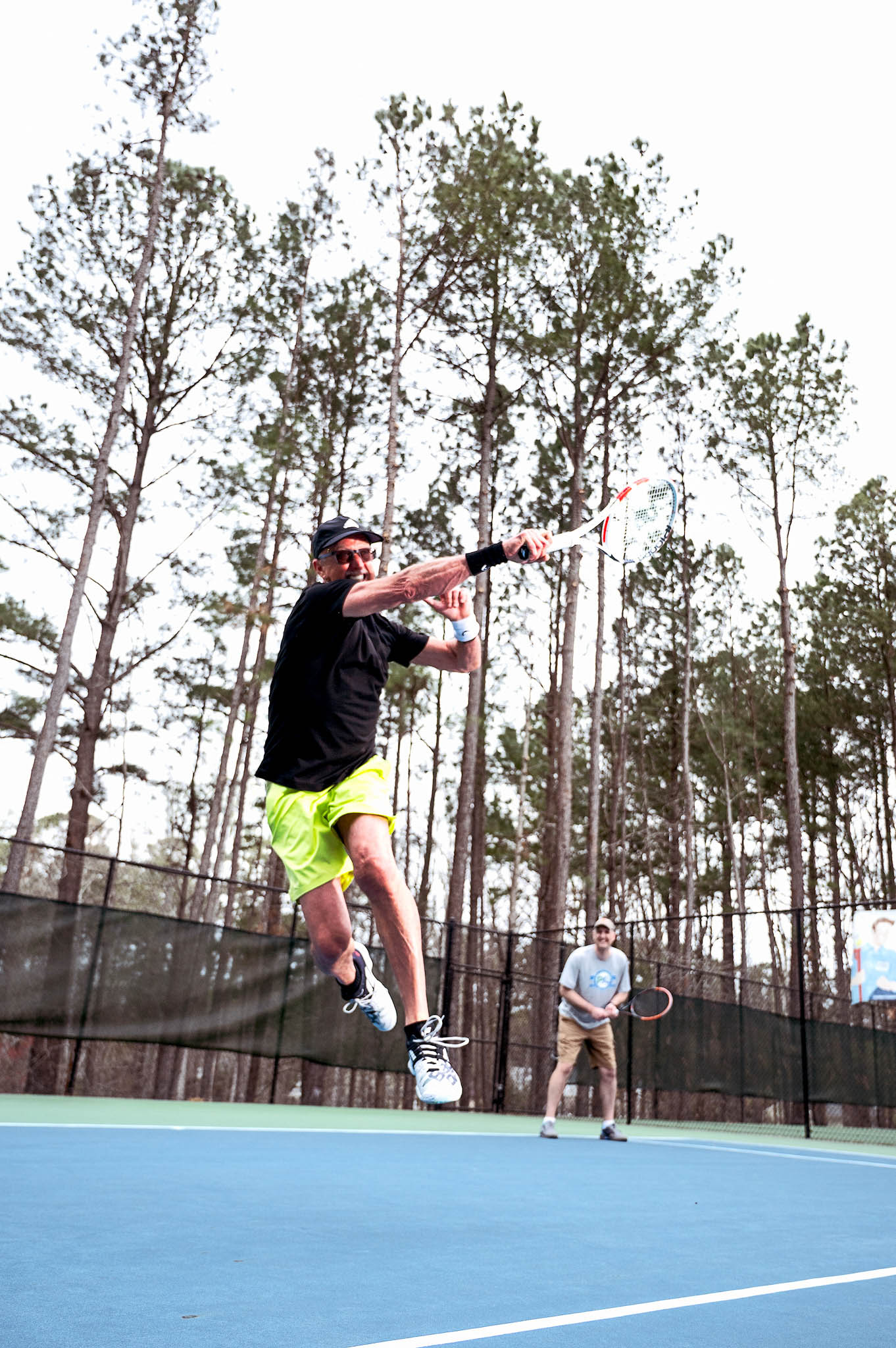 It's time to get into the backswing of things. For tennis lovers of every age, stage and skill level, there is a place in Peachtree Corners to pick up a racquet.
Where to Play
Peachtree Corners Swim & Racquet Club
People make quite a racquet about Peachtree Corners Swim & Racquet Club (PCSR) because of the vast amenities it offers member families for recreation, quality exercise and more. It boasts four lit tennis courts with covered seating areas on each side, reservable through their website or app. Other features include a six-lane junior Olympic sized pool, playground, ping pong table, tetherball court, basketball court, volleyball court and a seasonal pavilion.
There are many teams that compete out of PCSR, in the respected tennis organizations of Atlanta Lawn Tennis Association (ALTA) and United States Tennis Association (USTA). This spans to adult men's and women's teams, as well as mixed doubles. Teams are open to club members, but non-club members can play out of the club for an additional fee.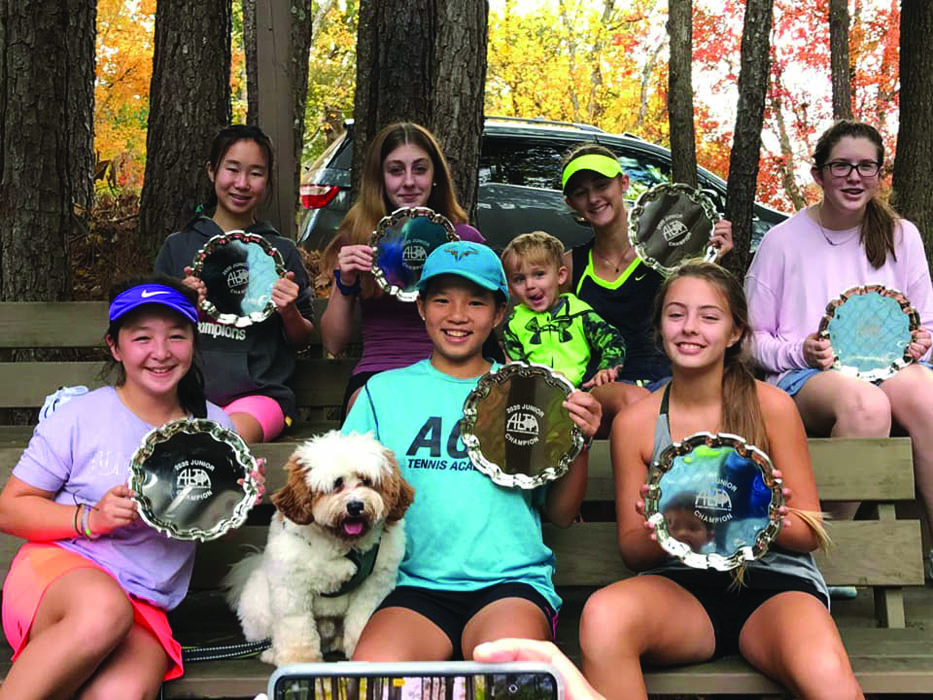 "Peachtree Corners has a vibrant tennis community across multiple clubs and neighborhoods, so you don't have to travel very far to get a match in," PCSR Membership Chair Sonny Pieper said.
Tennis is a social sport with a broad appeal, bringing people from all walks of life together to work out and have a blast. PCSR Tennis Chair Ryan Corley first joined a weekly Sunday women's team for beginners, before eventually stepping to a leadership role.
"I only started playing tennis myself the last three years, because there was an opening advertised for a beginner's team out of our club. It was a great way to get to know people and to get to learn the game more and to foster that team spirit," Corley said.
For more information, check out peachtree-corners.org.
Jones Bridge Swim and Tennis
Jones Bridge Swim and Tennis Club boasts a saline pool and 6 lit tennis courts for year-round play. All 6 courts will be resurfaced at the beginning of May and will include pickleball and kids lines.
The club offers weekday and weekend teams across all levels of skill for ALTA and USTA. They have five to six teams for ALTA Mixed Doubles and four Men's and four Women's Doubles teams. Often they have one or more teams in playoff contention. Many players also play in flex leagues out of the club.
Their tennis pro, Courtney Allen, offers team drills, private, semi-private, group lessons and a juniors academy.
Another unique feature the club offers is cardio tennis which is available to both members and nonmembers. Cardio tennis combines tennis and fitness with music – classes are held Monday evenings and Friday mornings.
Jones Bridge Swim and Tennis also hosts fun tournaments every month including round robin mixers and triples tournaments. For more information on Jones Bridge STC tennis, visit jonesbridgeclub.com/
The Club at Spalding Corners
This active neighborhood's club offers four courts to its members. Both of their mixed teams won in their respective divisions this year and, in fact, one of their mixed captains is the second longest running captain in ALTA history, according to President of Spalding Corners Neighborhood Association (SCNA) Megan Powell.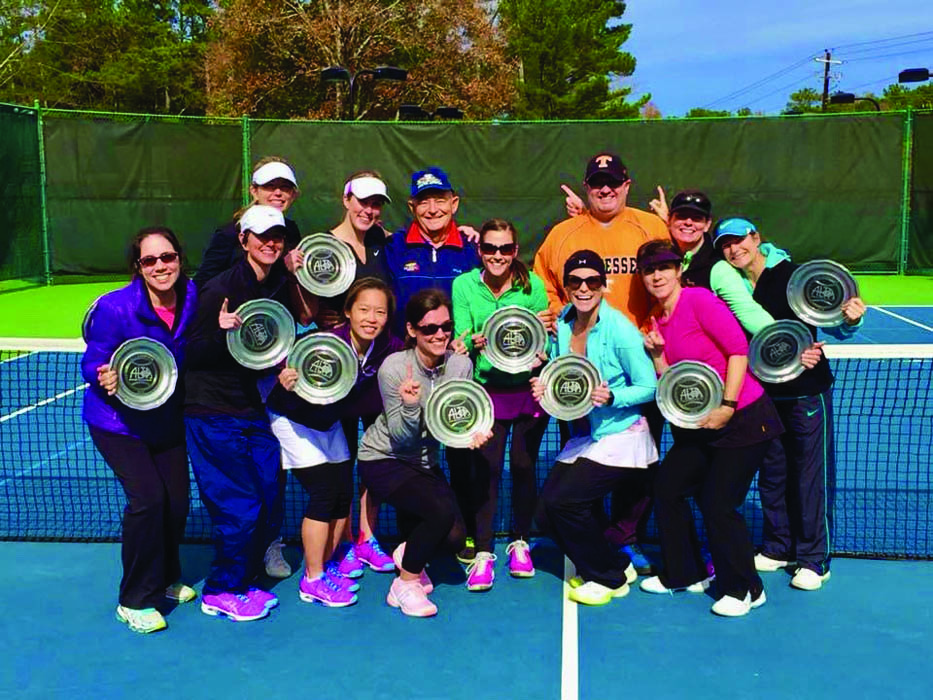 "Tennis is the best sport ever! It's a great social sport, and to be competitive and compete at all ages is so great," Powell said.
SCNA Tennis Chair Christina Stolte has been playing for roughly 21 years, starting about a year after moving into Spalding Corners. She also served as the former HOA president and now serves as the Grounds Committee Chairperson.
Stolte, who is instrumental in coordinating all things tennis at The Club in Spalding Corners, is quick to point out all the great opportunities for play — singles, doubles, mixed doubles, tournaments and more. Two years ago, the club hosted a triples tournament for members and guests to try a unique and different form of gameplay. The SCNA also offers tennis pro coaches for lessons and summer camps, as well as kids' play.
The club is voluntary membership for residents of Spalding Corners, but it also allows non-residents to join for dues of $685 for families and $485 for adult individuals. Standard operation hours are 9am to 5pm, Monday through Friday, according to their website.
In addition to its tennis offerings, The Club at Spalding Corners also has a lovely pool that has recently been resurfaced. It serves as the home base for the Spalding Corners Sharks, who ranked first place in Gwinnett County Summer Swim Leagues.
Peachtree Station Swim & Tennis
Peachtree Station Swim & Tennis Club (PSST) has eight LED-lighted tennis courts and two full-time certified United States Professional Tennis Association (USPTA) and United States Professional Tennis Registry (USPTR) tennis professionals on staff. Offerings include group, semi-private and private lessons, summer/holiday tennis camps, cardio tennis, tournaments, racket stringing and demos. The variety of levels of ALTA and USTA teams for men, women, children, seniors and mixed doubles out of PSST runs the gamut.
For those of us who really want to get the most out of every swing, it sometimes takes a savvy coach to motivate and teach us. That's where a hardworking athlete comes in, like Joe Rahme, one of the tennis pros who works within PSST and Peachtree Corners Swim & Racquet. He puts his players through their paces, often instructing over several courts at once to make sure they're getting the attention they need.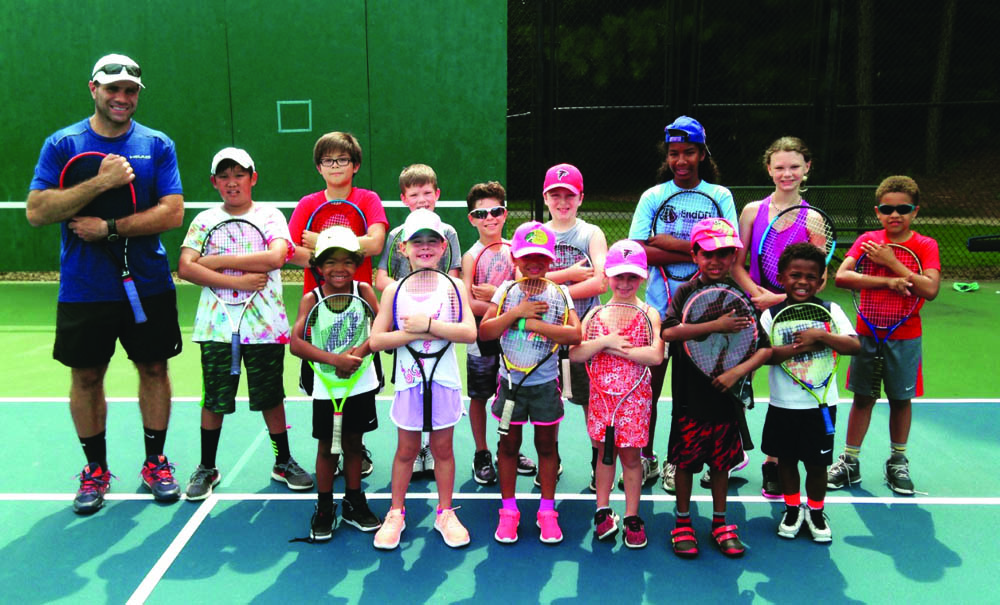 "Probably the most satisfying thing is just seeing everyone improve," Rahme said. "I've had some players come is as complete beginners. They have never even played the game, and then over the year they become really good. And that is the most satisfaction I get." Rahme also remarked that often tennis is a main source of exercise for people who go into the office (or work from home), so he makes sure they get a good workout.
"We believe that tennis is the ideal sport for a number of reasons," PSST Club Manager Lise Weaver said. "Tennis is a sport that can be played for a lifetime. At PSST, tennis provides our members an opportunity to socialize and meet new people, and we even offer things like cardio tennis for those looking to use tennis as a way to get or stay in shape! Not to mention, tennis is relatively inexpensive and is a low injury sport."
The Fields Club —Amberfield, Riverfield and Linfield
The Fields Club encompasses 50 acres of land between the Riverfield and Amberfield neighborhoods, much of that in view of the Chattahoochee River. It's a mandatory membership community for residents, and it's also open to outside members for access to its recreational programs, two pools, upcoming permanent pickleball courts, walking trails and 16 tennis courts. It's interesting to note that they have the most tennis courts of any HOA Swim and Tennis community in the area.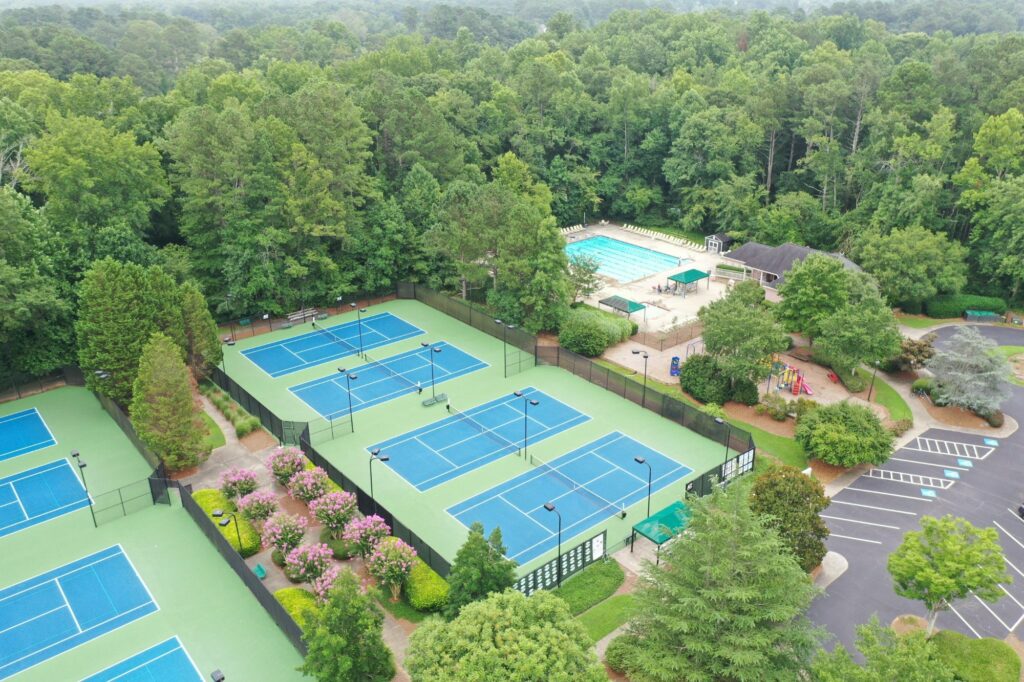 Ace Tennis Academy, under Ace Tennis Management, has operated in the area for 25 years and has been with Fields Club since 2015. There are seven full-time on-site coaches on staff, and there tends to be 15 to 16 adult teams active in ALTA or USTA every season. There is ample opportunity for summer play and programs for all ages and abilities. The junior tennis program spans from introductory tennis to kids who are top players in the country.
"To give you a little history, we have had eight players who have hit number one in the country over the years, and a pretty solid number of kids who have gone on to play college tennis," Tennis Director Jeff Weaver said.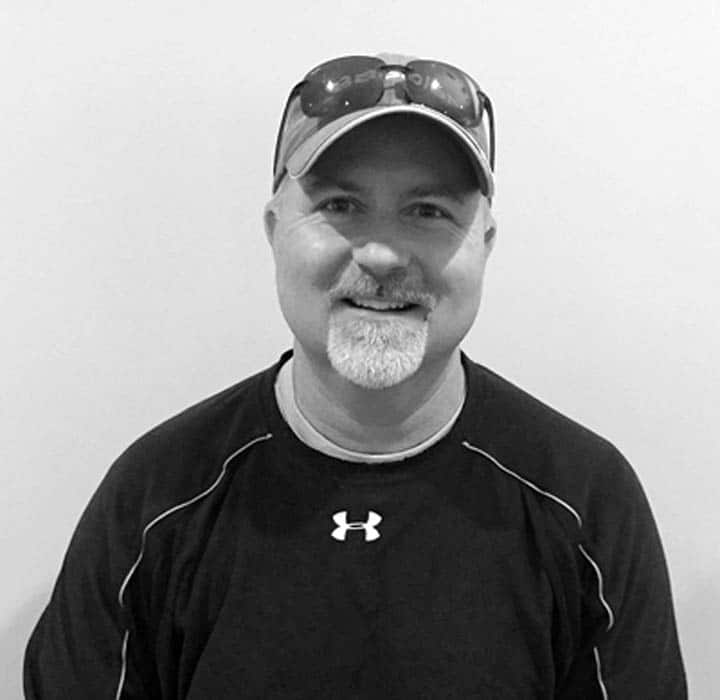 Ace's team of tennis pros provides all the programming for the club "and the competitive part of the academy just kind of sits on top," Weaver added.
For information on the Fields club, visit fieldsclub.com or email membership@fieldsclub.com.
Greater Atlanta Christian School Tennis Academy
In addition to its educational value, Greater Atlanta Christian School (GAC) has a unique asset in its tennis academy that allows students to receive tennis instruction as a PE elective or free period alternative during the school day.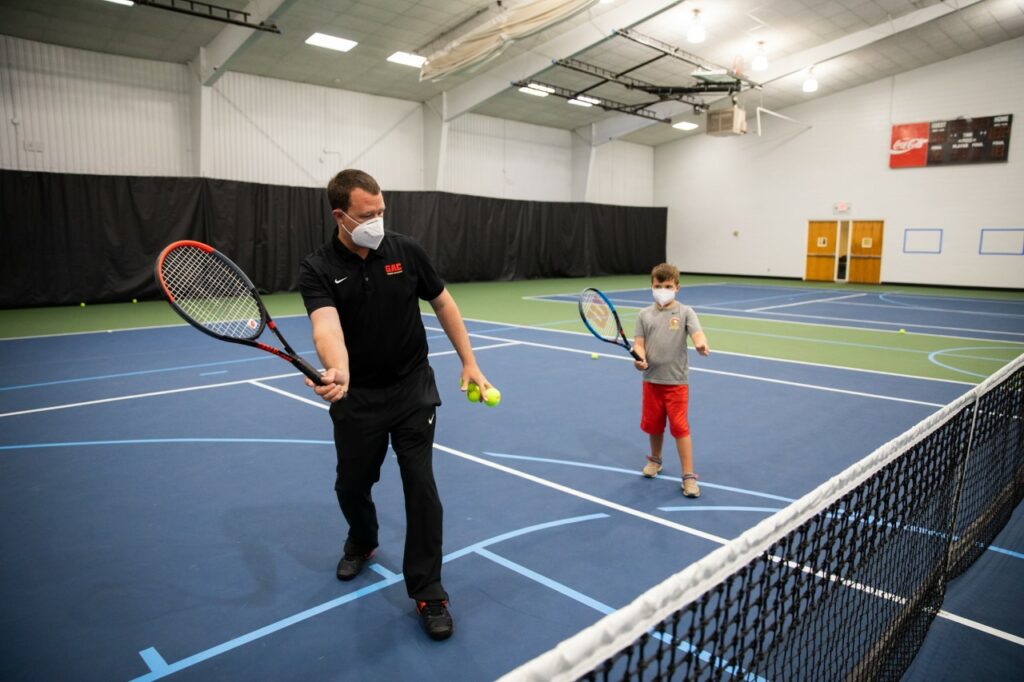 With six outdoor courts and two additional indoor courts, there is plenty of room for kids to play. It's worth noting that GAC is the only school campus in the state of Georgia to have indoor courts. The courts are within walking distance for students who participate in the tennis academy during school hours, so middle and high school players can walk over freely; elementary play is limited as younger children require an escort.
GAC Tennis Academy is a fully functional tennis academy that has operated within the school since 2017, with tennis professional staff accredited with USPTA and USPTR tennis coaches, professional organizations and USTA high performance certified coaches. Many of their tennis pro coaches have a trophy case full of awards and accolades, including Scott Hutchinson's and Rocky Warner's 2019 USTA Facility of the Year and 2020 USPTA Industry Excellence awards.
The academy is not a separate entity from the school; it's completely integrated under its athletic arm. Similar school programs typically bring in an outside organization to provide such specialized programs, but GAC made a point to construct a new kind of leadership.
"We were very intentional in setting up GAC Tennis Academy as a direct part of the school instead of a separate group so we could be connected to the students and help them to succeed in the sport," Hutchinson said.
Per scholastic sports regulations, the GAC Tennis Academy does not coach the GAC school tennis teams in any way and are not allowed to be present at practices. Student players can participate in camps and private lessons, however, and many do.
GAC Tennis Academy welcomes outside players from other schools for after-school programs, and also works with adults in USTA and ALTA. The academy will be part of GAC Grow Camps this summer. For more information, visit greateratlantachristian.org/athletics.
Life Time Athletic and Tennis Peachtree Corners
Life Time Peachtree Corners has 28 total tennis courts — 16 outdoor hard courts, 4 clay courts and 8 indoor tennis courts. They recently partnered with Academia Sánchez Casal to offer a junior academy for high level junior tennis players. Then there is the SMART Junior program, a junior development program that offers classes for ages four and up.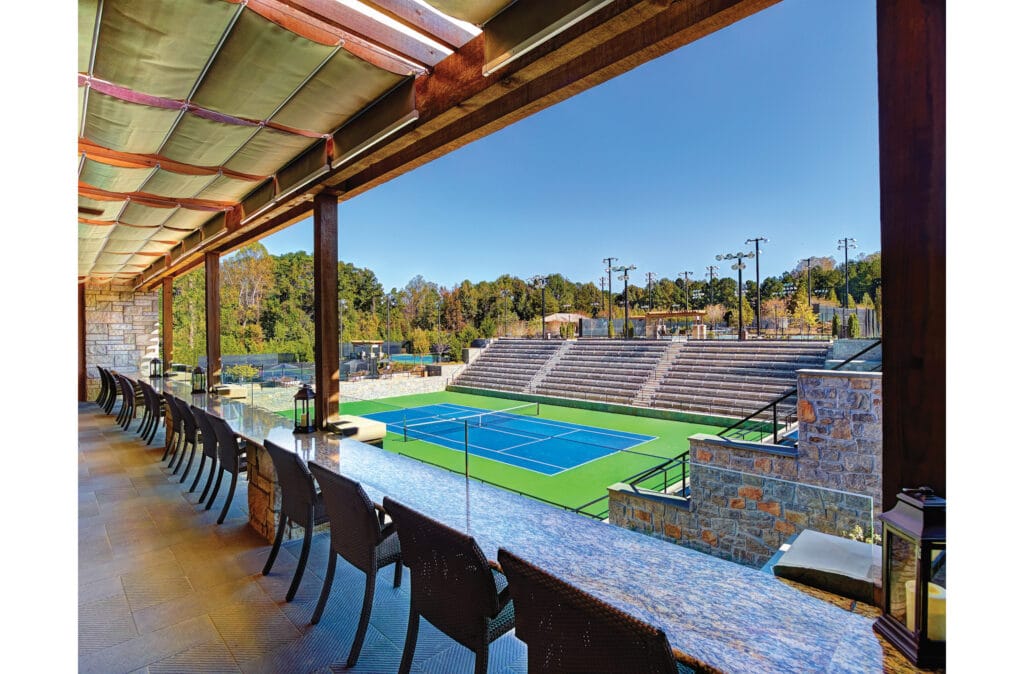 "Our innovative SMART programming focuses on fun and athleticism first, with tennis skills coming second," said Lifetime Public Relations Specialist Dan DeBaun. "We also offer a Play, Learn, Love Program — this is our beginner pathway for adults."
Additionally, Life Time Peachtree Corners offers in-house leagues, mixers and tournaments for all levels, as well as ALTA and USTA League play. For anyone looking for one-on-one instruction, private lessons with USPTA and PTR certified professionals are available.
Find out more about life at Life Time at lifetime.life.
USTA and ALTA: A Primer
Here is a general overview of the Atlanta Lawn Tennis Association (ALTA) and United States Tennis Association (USTA) sports organizations, which set the standards and organizational structures of competitive tennis in the U.S.
The USTA Southern office is located in Peachtree Corners, though their influence and authority reach much further.
"USTA Southern is one of 17 USTA sections. USTA Southern is the largest, with 25 percent of the national membership," explained USTA Southern Communications Director Ron Cioffi. USTA Southern covers Georgia and also included Alabama, Arkansas, Kentucky, Louisiana, Mississippi, North Carolina, South Carolina and Tennessee.
"USTA Southern acts as a regional office, even though we are called a section," Cioffi continued. "Each of our states is considered a district. Local tennis play is organized by community tennis associations (CTA). USTA Atlanta is the local CTA and covers much of metro Atlanta."
ALTA's office is located in nearby Roswell and has much in common with USTA. They are both non-profit or not-for-profit organizations dedicated to maintaining the rules of play and sportsmanship. ALTA is also affiliated with USTA through membership in the Southern Tennis Association and abides by the USTA rules of tennis and code of play.
The main difference between the two, if any, is simply ALTA's focus on play in the Metro Atlanta area. But if you play adult tennis locally and competitively, chances are high that any team you join would be under one of these two umbrellas.
*This article has been updated on April 12, to include information from Jones Bridge Swim and Tennis
Combining Professional Cycling, Technology and Community Fun at the Curiosity Lab Criterium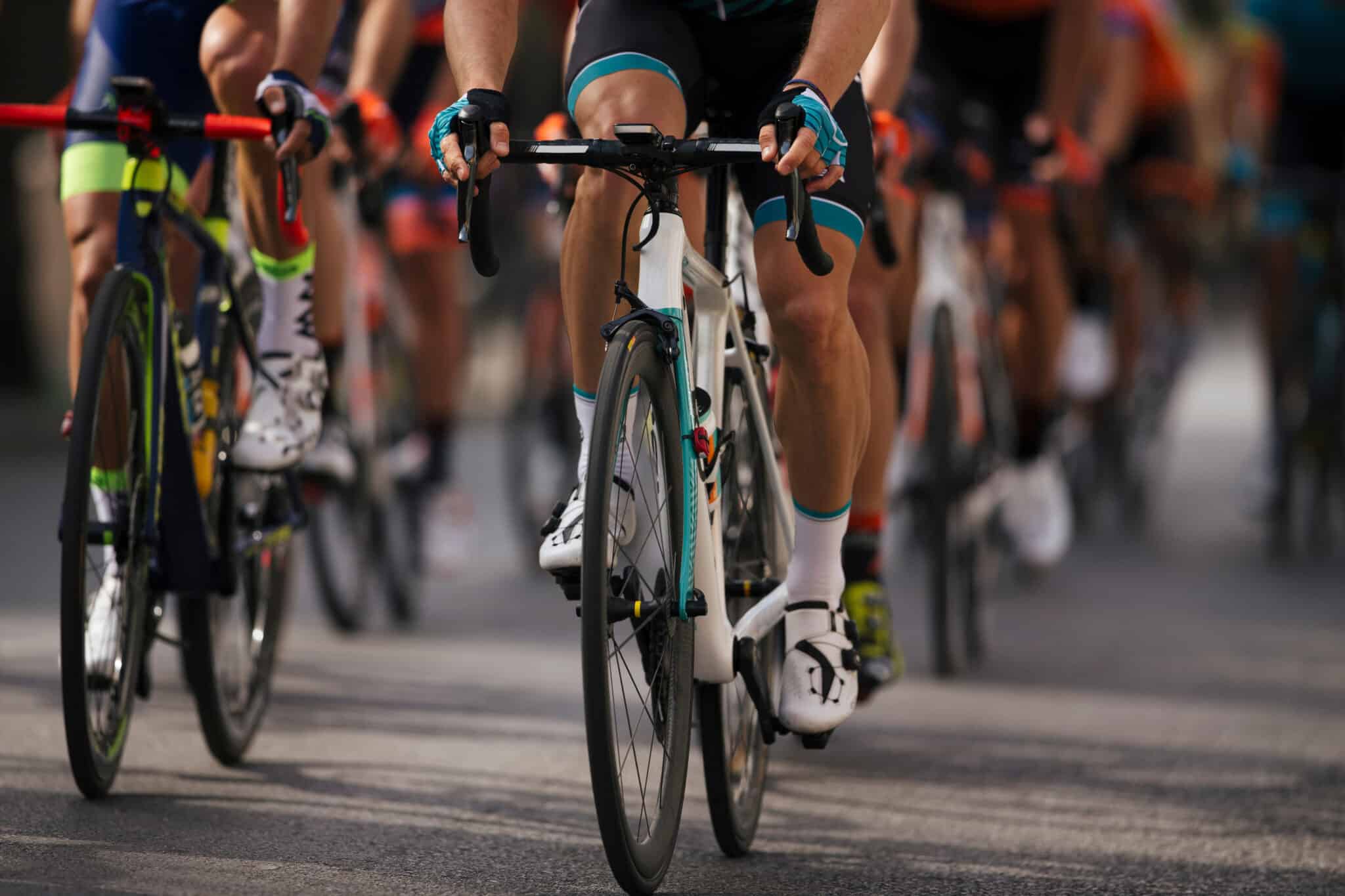 Curiosity Lab continues to generate opportunities for the City of Peachtree Corners. Peachtree Corners will be hosting the Curiosity Lab Criterium bike race on Wednesday, April 26.
Within professional cycling, there are three types of cycling races: road races, time trials and criteriums. The most popular and well-known of the three is the road race. Like the famous Tour de France, this format has riders racing from point A to point B on a linear course.
The Criterium is a closed race on city streets, laid out in a looping course. This race allows spectators to watch riders pass by many times, instead of hoping to catch these athletes once.
Professional cyclists will be competing in the race as a part of Speed Week, a series of races throughout Georgia. Speed Week also features the Athens Orthopedic Twilight Criterium, part of the American Criterium Cup, a national series of criteriums. Former professional cyclist Frankie Andreu will be the announcer for some of these exciting races.
Both professional and amateur cyclists will be racing in the Curiosity Lab Criterium in this day-long event. Starting with amateurs and moving into professional cyclists, there will be six races throughout the course of the day. Also, there will be a kids' race series along a 100-yard flat course in front of city hall.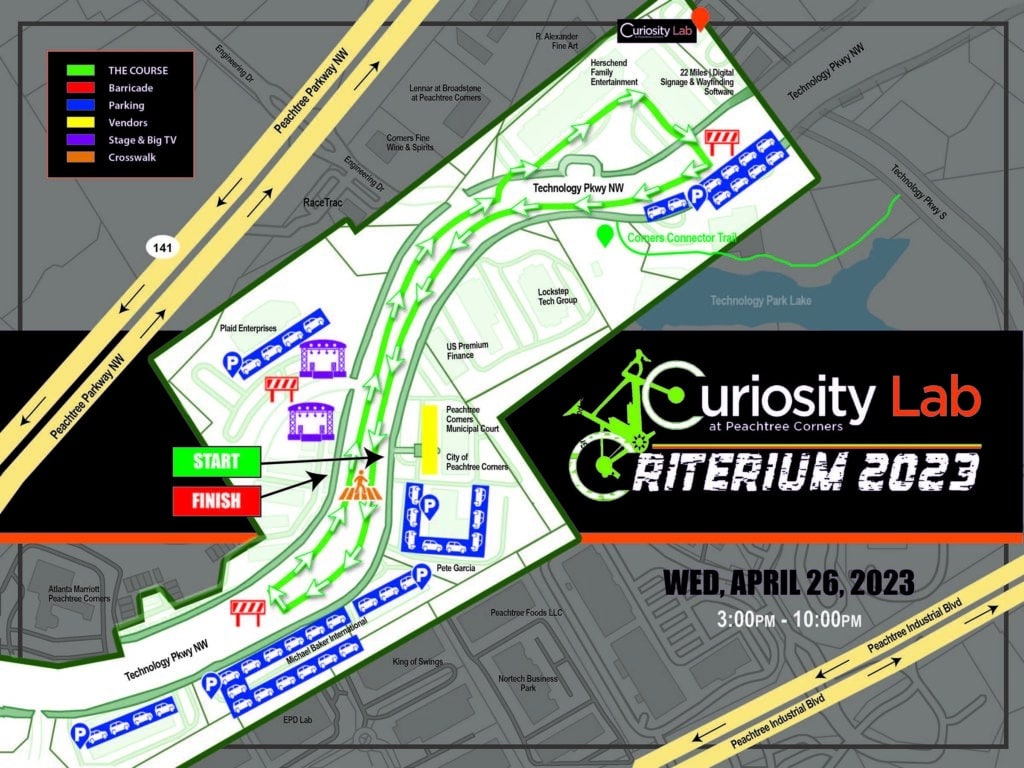 VRU technology exhibition
Another element of the Curiosity Lab Criterium is the testing and implementation of brand new VRU technology by Spoke. VRU, or vulnerable road users, include pedestrians, cyclists, motorcycles and e-scooters.
Spoke has recently partnered with Qualcomm, BMC and Audi to work on this new technology. The company's goal is to prevent VRU-based road incidents and increase the safety of non-car users.
Spoke is developing a device that sends a signal to all surrounding cars letting drivers know the location of VRUs. Most new cars have built-in obstacle avoidance technology but lack the ability to see around corners or see objects out of view.
"This is game-changing connectivity for both safety and for the mobility experience overall," said Jarrett Wendt, Spoke CEO. "For the first time, Spoke will provide dedicated hardware and software… that connects all users anonymously to each other and to the infrastructure."
Spoke was looking for a testing environment for this new technology and found Curiosity Labs. City Manager Brian Johnson met with Spoke representatives to create an opportunity to test this technology.
Combining sports, technology and community
On Wednesday of Speed Week, racing teams will come together on the Autonomous Vehicle Test Track in front of City Hall. Spectators will get a chance to see riders pass four times in each lap.
On race day, there will be food trucks at City Hall, as well as vendors and bike manufacturers featured for this mini festival. Spoke will also be showcasing their brand new technology for people to experience and learn more about.
"It's just a great place to see something that not all cities can set up," said Brian Johnson. "We're going to have cutting-edge technology that can't be showcased anywhere else because our city streets are set up to do this. We're uniquely positioned, which is why all these big companies want our location."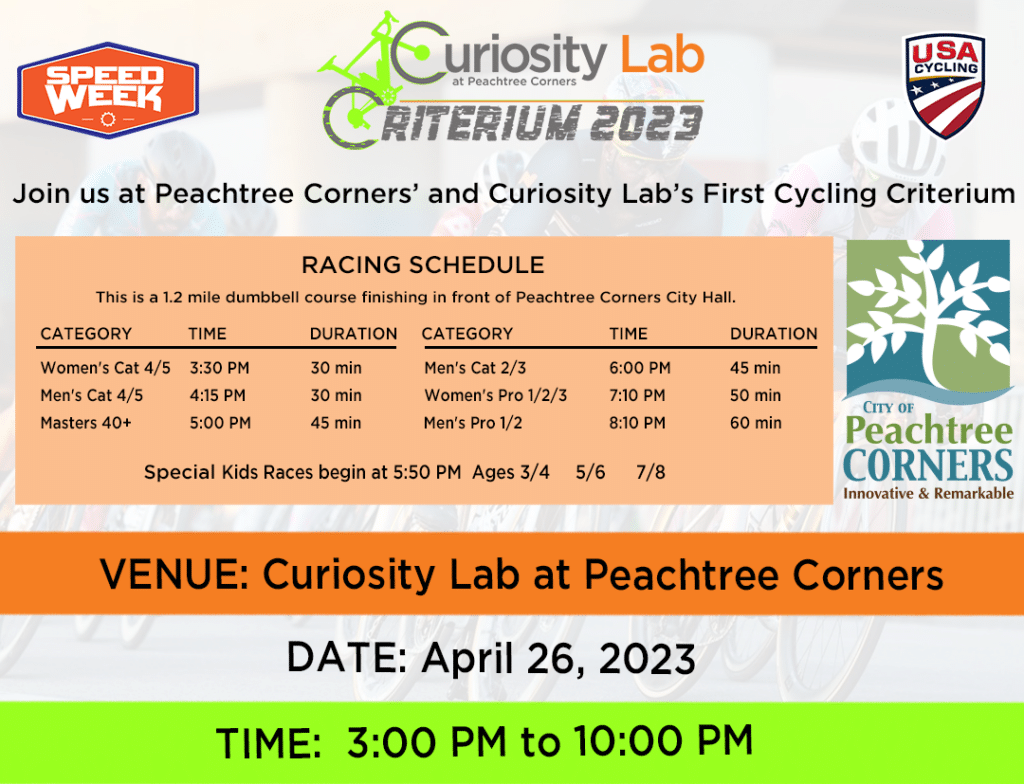 Special event information
On Wednesday, April 26, the Curiosity Labs Criterium on the city streets of Peachtree Corners. The series begins at 3:30 p.m. with the women's amateur division and concludes with the men's professional division at 8:10 p.m.
Cyclists interested in participating in the race can register at https://www.bikereg.com/59731. The deadline for online registration is Monday, Apr 24, at 12:00 p.m. ET.
The whole family is invited to enjoy the racing, food trucks and exhibits featuring new cycling and safety technologies. Little ones should bring their bikes to take part in the age based kids' races at 5:45 p.m.
There will also be one-of-a-kind Curiosity Lab Cycling Club jerseys, t-shirts and hats for sale at the event. Parking information and other event details will be released closer to the event.
Let's talk Criterium Cycling Race, Pickleball Courts in Peachtree Corners [Podcast]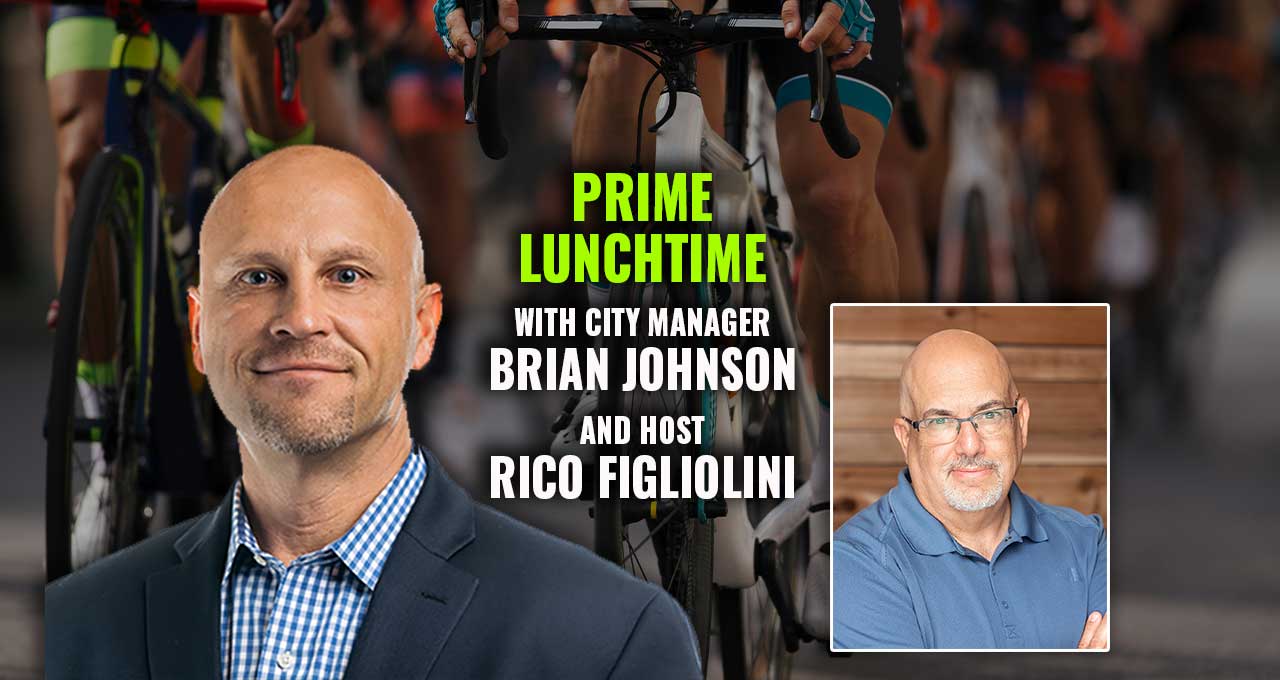 The Curiosity Lab Criterium 2023 @ Peachtree Corners is coming on Wednesday, April 26, during Speedweek. What does that mean for our smart city and what does AUDI have to do with it? Plus, we talk about a pickleball center with 30-50 courts and what that could look like in Peachtree Corners. Listen in to our podcast with City Manager Brian Johnson and your host Rico Figliolini.
Related Links:
https://www.bikereg.com/59731
Timestamp:
[00:00:30] – Intro
[00:01:42] – The Curiosity Lab Criterium
[00:06:49] – New VRU Technology
[00:16:32] – Pickleball in Peachtree Corners
[00:23:54] – Expanding Activities
[00:30:14] – Next Planning Commission Meeting
[00:31:58] – Closing
Podcast Transcript:
[00:00:30] Rico: Hey everyone, this is Rico Figliolini with Peachtree Corners Life. And this is Prime Lunchtime with the City Manager Brian Johnson. Hey Brian, how are you?
[00:00:37] Brian: Good, Rico, how are you?
[00:00:39] Rico: Good. I love doing this every month. Get to learn new things that I didn't, know before. Because I don't know everything, so this is why we do this.
[00:00:47] Brian: Neither do I though, so.
[00:00:50] Rico: I know some things, maybe we can have one brain together.
[00:00:52] Brian: So there we go.
[00:00:54] Rico: But before we get into the interview and stuff let me just say thank you again to Eli from EV Remodeling Inc. Who's a corporate sponsor of ours and supports our journalism. That's just through advertising with us, but also supporting these podcasts. Great guy, lives right here in Peachtree Corners. We just had a feature story on him as well in the recent issue of Peachtree Corners Magazine. So check that out. It's online now. See what he's doing. Design to build home renovation. Great guy, beautiful family. Check him out at EVRemodelinginc.com. Thank you, Eli. So let's get right into it. We found out something just now, you know, in our pre-talk, before the show about something I didn't know that's happening April 26th, which is kind of cool. That the city's actually doing this. So tell us a little bit about this. What's a race and what type of race it is and why it's there?
[00:01:42] Brian: So we've enjoyed seeing Curiosity Lab continues to kind of, generate unique opportunities for the city. And an opportunity kind of fell into our lap through Curiosity Lab's partnerships and interactions for us to have a professional cycling race here in Peachtree Corners. Now…
[00:02:06] Rico: Wow. That is cool.
[00:02:07] Brian: It's important to know that within professional cycling, there's generally three types of cycling races. One would be done indoors in a velodrome.
[00:02:21] Rico: Right.
[00:02:21] Brian: Which is a banked type course. You generally only see that on TV during the Olympics.
[00:02:27] Rico: Right.
[00:02:27] Brian: But that's one type. Probably the most popular one that people know is called a road race. And a road course is, you start on point a, and you end at a different point and you don't cross over the same point more than once. Like Tour de France would be the best example of that.
[00:02:46] Rico: Right.
[00:02:46] Brian: You never end at the place that you start. It's a linear course.
[00:02:50] Rico: Right.
[00:02:50] Brian: So if you're watching that one, you only get to see the cyclists come by one time.
[00:02:56] Rico: Right. If you're lucky. Yeah
[00:02:57] Brian: That's it. But there is a third type of race, and it's called a criterium. And a criterium is a closed race on city streets, usually done in a way in which, well, not usually it's the course is laid out in a way that you're going back over the same place over and over for a period of time. And it's more fan friendly, but yet it's not in, you know, it's on city streets. So you set it up. For those who like maybe went to Georgia or go up to Athens, there's a big one, long time one there called the Twilight, Athens Twilight. It's done at night. It's a cool event. I mean, you get to see professional cyclists, some of which are ones that are in the tour of France when it happens, in July of this year or every year. This is their full-time job. And in the US there is a criterium series that USA cycling manages throughout the entire US. And the race series or the race calendar starts here in the southeast, because our weather gets hotter than in a lot of the country. In fact the very first race of the year, oftentimes there's a few jockeying cities within the southeast here. The last city I managed, Aniston, Alabama, when we were there, we were the very first race on the circuit. They're third this year, they didn't get the first one. But so I have some experience in managing, not directly, there is a race director that actually runs the event, but being the city manager of a city that had it. Back in the day, I used to race in them. So as an amateur, you can race in them. And how it's set up is kind of a day long event and you'll start, and there are categories, and the categories are time. So pretend like you had a one mile circle on city streets. Different categories of racers starting with amateur weekend warriors, you know, they don't do it a lot. They can go out and race. And they'll do like 30 minutes. So it's basically like everybody starts at the same time. And you go around for 30 minutes and you'll hear a bell at the very last lap. And whoever comes in first wins that race. And they'll move up in categories from ones who have never done it all the way up to the professionals over the course of the day. So you'll have, and there's five categories. Five being the most amateur and you'll have like, cat five men. Or it starts with cat five women. So it'll be women racing, amateur women racing against amateur women, and then cat five men, and then cat four women, and then cat four men. Then you have breaks every day, or after every race.
[00:05:54] Rico: Through the day, right?
[00:05:56] Brian: Yep. You'll reset the next one and then they'll go.
[00:05:58] Rico: So is it a one mile race or is it, has that been established?
[00:06:01] Brian: It's timed. So these racers are usually averaging probably 30 miles an hour. And so, for 30 minutes for amateurs at 30 miles an hour, you can do the math. So it's not like a one mile race.
[00:06:16] Rico: Gotcha.
[00:06:16] Brian: Although, there is a kids race as well. And it'll be three age categories. Three age, three to four year olds, five to six year olds, and seven and eight year olds.
[00:06:30] Rico: Yeah, yeah.
[00:06:31] Brian: It's about a hundred, maybe 125 yards, like a football field in length. And it's just, start here and end somewhere else. And then you start them all on the line and then you see who can get to the finish line the fastest.
[00:06:46] Rico: So where is this going to take place then?
[00:06:49] Brian: Alright, so this criteria. A very cool way to watch professionally, a professional cyclist, especially when married up with things that make it unique for the family, like food trucks and vendors for you to see things or whatever. Well, these things happen all over the country and Curiosity Lab happened to be the location and we were starting to talk to some companies that have technology that is getting ready to be deployed, that are in the call it safety area for vulnerable road users. And vulnerable road users, or VRU is a category that includes pedestrians, cyclists, people that might be on an e-scooter, moped, motorcycle. Anybody who uses a roadway or sidewalks or crosses roadway, that is not in a car. Those are considered vulnerable road users, because if they have an interaction with an automobile, they're going to lose. A pedestrian hits a car, the car will win all the time.
[00:07:57] Rico: I think we all know someone that's been hit on a bike by a car. Or especially around these areas.
[00:08:04] Brian: I have.
[00:08:05] Rico: Really? Damn.
[00:08:06] Brian: Oh yeah, about four years ago I got hit cycling up in Duluth.
[00:08:11] Rico: Yeah, there's quite a few people it seems, sadly.
[00:08:14] Brian: Oh yeah. I mean, it's scary when that happens, but there's technology that is evolving to try to prevent these things from happening. And one of the technologies is a device that can go on bicycles. It can actually, it's a mobile, it could be carried by anybody. It could be put in any car. But it's basically a device that sends a signal, basically saying, I'm here. Here I am. And the device is done in such a way that vehicles will one day be able to hear that message from that other user. Versus right now automobiles have sensors that they can sense if there's an obstacle. We have it in newer cars. You know, a lot of cars now, if you're backing up and there's something or even in the front, sometimes you get close and it'll start beeping. That's the cars own signal where it's sending a signal out and it's getting bounced back. But what it doesn't have is the ability to see around corners or if somebody's coming up and it's not quite close enough for the car itself to detect it.
[00:09:32] Rico: Put that signal out.
[00:09:32] Brian: These devices are sending a signal a lot farther out or sometimes around corners saying, here I am. And the car can then know, and you can make it specific. Like if it's on a bicycle, it can send a message that this device is on a bicycle. And then cars can actually see, like a message on your dashboard saying like, cyclist on your right, cyclist to your rear. And it alerts the driver that I've got a vulnerable road user around here somewhere that I might not have known had I not had this device telling my car about that VRU. So this technology is being deployed by a company called Spoke, and they had brought with them partners in Qualcomm, BMC Bike, which is the big Swiss bike manufacturer, and Audi. And they wanted a testing environment or an environment that the roadway was set up for them to showcase this technology. And we started talking at a conference in January that we were at. And I knew about criteriums, they were talking about this, doing this, and I was like, would you guys be willing to do this? At a race where we've got all these people showing up to watch? And they were just like, that would be the best opportunity for us that you could get.
[00:11:00] Rico: Sure.
[00:11:00] Brian: So I came back and I knew about this because of my previous city I managed. And just one more thing on the calendar. The beginning of the criterium season in the US, here in Metro Atlanta, there's a thing called Speed Week. And it's basically the first and second race of the year are weekends. And in between you have a couple of Metro Atlanta criteriums. And on the Wednesday of Speed Week, right in the middle of it, where the racing teams are already in Metro Atlanta is when we're going to do, it's when it could fit into. So you've got all these racing teams with all these bikes and salaried professional cyclists that travel with them. Well now they're here. They love it because they don't have to drive to the next race and all the logistics involved. So you have a lot of that. So we decided to do a race on Wednesday, starting at 3:30 in the afternoon out here on part of our autonomous vehicle test track right here out in front of City Hall. And they're going to basically do what's called a dumbbell, which is, they go down the race course and then they do a circle, and then they come back the same, and then they do another circle, and then they go back the same.
[00:12:25] Rico: I gotcha. Okay.
[00:12:26] Brian: It'll look like two lollipops. So in front of City Hall you're going to see them really four times in each lap. So it's a great place to set up your lawn chairs, you know your tailgating chairs. Have the food trucks here at City Hall, get to see some of this cool technology, get to see professional cyclists. The play-by-play announcer is going to be Frankie Andreu, which is Lance Armstrong's very first roommate. Back when they were racing in the Tour de France before. And he was the one involved in the trial with the the US anti-doping agency and everything. I mean, but great dude. Longtime professional cyclist himself. We're going to have a bunch of vendors with some of this cool technology. We're going to have a lot of bike manufacturers and others here. So it'll be kind of like a little bit of a mini festival feel.
[00:13:23] Rico: Yeah. That sounds great.
[00:13:24] Brian: Come out and watch the professional cyclists. So it'll start at 3:30, and as you go through all these categories, the last race is going to be the men's professional race, starting at around 8:30 PM and they'll go for one hour. So it'll end around 9:30. And you know, Wednesday is a school night. We get it. But you know, you don't have to stay the whole time. But it's a great place to come eat dinner. Have some, we're talking to some of the local micro brews of having some stuff out here. But it's just a great place to see something that not all cities can set up. And in our case, we're going to have a lot of cutting edge safety technology that you can't, it can't be showcased anywhere else because our city streets are set up to do this. And so we're uniquely positioned, which is why all these big companies are like, oh, heck yeah. We want your location. And remember we're talking about Audi here.
[00:14:24] Rico: Yeah, I mean, that's exciting. I mean, it's good to see the fruit from the efforts of going out to Europe and Israel and places like that to talk about what this city does. So, and then bring back that economic impact. So it's great to do that. Plus, I mean, I, Jim Stone who heads Tytan Pictures?
[00:14:41] Brian: Yes.
[00:14:41] Rico: I know he's a road racer. Some of his people are too. They do amateur stuff, but he's constantly out there, riding from 41.
[00:14:49] Brian: Yes. And him and I have done this together. He worked with me and Aniston when we did the Sunny King Criterium, which is the one there. So Jim will be involved in this. Jim also like me, did crits for a long time. He did Velodrome stuff as an amateur athlete.
[00:15:05] Rico: Wow, okay. Yeah, I didn't know that part.
[00:15:08] Brian: What this does is it gets the community a pretty unique, cool event that we wouldn't have had, had it not dropped in our path.
[00:15:16] Rico: Right. And drawing from people from all over the place. I know there's a pretty big youth cycling group out of Suwanee. I think, I mean, they probably would love to be part of this.
[00:15:26] Brian: That's why Speed Week was so important. Speed Week has, every other day in between the two weekends is a race somewhere in Metro Atlanta. We just happened to steal one of the slots, the prime in the middle of the week's slot because all these racing teams and everyone were like, oh, that's a cool, that's a cool reason to have it, all the technology. And there's going to be potentially some technology, some of these devices, we're going to get some and we're going to distribute it amongst our local cyclists to further refine it and kind of call it, trial it out in the community as they ride. Some people don't realize that Peachtree Corners has a cycling club.
[00:16:11] Rico: Yes.
[00:16:11] Brian: It's called the Peachtree Corners Cycling Club. And you'll sometimes see them out in a group riding, they do group rides. So yeah, it's gonna be a really cool event. More to follow. But that's happening April 26th, which is a Wednesday, starting at 3:30 'till about 9:30. And it's a great way to watch both amateurs and professionals race really fast bicycles.
[00:16:32] Rico: So from one great event and sport to another growing sport. You know, this city can be a lot of different things. So it's not just smart city that we talk about, but there's a lot of things that go on here. A lot of things people are not even aware of that we write stories about in our magazines and online that people will all of a sudden like, oh, I didn't know. That's cool. So the next thing, I mean, we were talking about this and I've just started getting into the idea of pickleball. Pickleball is a growing sport in the United States. Actually, it's from the West Coast, I think. It's been growing leaps and bounds. I mean, we, there are pickleball tournaments being played here in Peachtree Corners now. People are probably not aware of it at lifetime. And we were talking before and you were talking about how the city may be doing a feasibility study about a private public partnership with someone to bring in 30, 40 pickleball courts. Maybe a facility that can attract national tournaments. Or maybe even, and maybe even create our own invitational tournament. That would be kind of cool. I know this is just basic starting out of the gate, you're still trying to look and see what you have to do, but what do you have in mind? And, well, what can you tell us so far? .
[00:17:44] Brian: So you hit on a couple of important points, and one is, you know, pickleball is the fastest growing sport. And it has certainly been, there's a lot of examples out there of cities using it, starting to use it as an economic development driver in and of itself. Because there's so many people who are wanting to do it. I've seen it in the community. There's been some community tennis facilities that have, even private ones that have converted some of their tennis courts into pickleball because the demand, even from the tennis community. And there's some that transition from tennis to pickleball because they feel like as they've gotten older, there's less running it's easier on the joints and whatever. And then others do both still. Some are like, I never played tennis and so I never developed the ability to do it, but pickleball doesn't require quite as much technical proficiency when it comes to your racket technique. Your, you know, your stroke technique and everything. And so it's a little bit more like, you know, ping pong on steroids, you know.
[00:18:58] Rico: Yeah. Or paddleball even.
[00:19:01] Brian: It's like in between tennis and ping pong. And so people are like, alright I kind of like it. So anyway, it doesn't really matter why it's growing. It is. Given that, and given that we have one of the highest number of tennis courts per capita of any city around when you include, 16 courts that Fields Club has and what does Lifetime have? 22 courts or whatever. Now they've got, yeah, indoor. And you've got a number of other clubs that have it as well. Then you go just right outside our border and you have an Atlanta Athletic Club. We have a lot of tennis. And those are, some of those are migrating to pickleball, so we're kind of, we recognize that there may be something here. So what we're doing is a feasibility study on whether we can, as a city be a facilitator at some level of having a pickleball facility constructed in the city that is big enough and enticing enough. Not too big, but enough that it is attracting weekend tournaments. And if you've ever had kids in organized sports that do the travel stuff, you only can go where there are the facilities. And I've had kids, you know, my daughter's big into volleyball and Lake Point, North I75 in between here and Chattanooga is a massive volleyball and baseball facility in the middle of nowhere. But it attracts big time tournaments on the weekend because that's where the facilities are. If you want to have a volleyball tournament with 500 teams, you've got to have a massive facility to do it. Doing that, you've got all this ancillary activity.
[00:20:54] Rico: Right. And they're running these tournaments for like whole weekends, sometimes a week if it's during the summer, but usually it's a three day weekend of tournaments from early morning to late night. Because they have it all lit and stuff. I mean, it's just unbelievable. I mean, that's just a business. Anyone that has kids doing travel team knows how much money it costs just to do that stuff.
[00:21:14] Brian: Yeah, yeah. Because you, yeah, you've got to stay in a hotel there. You're generally, you don't know when you're going to, who's gonna lose and when.
[00:21:21] Rico: Right.
[00:21:21] Brian: What your next, you can't really plan on meals, so you're usually eating in local restaurants. And then oftentimes you're staying overnight and now you've got the evening where you're like, all right, we've got some time to kill. What are we going to do? So it is a driver. And sales tax, lodging tax. And in pickleball's case, unlike say if you were going to build a massive tennis facility, pickleball doesn't require near as much space. You can essentially get two pickleball courts on one tennis court. And you can oftentimes go multiple stories because you don't need the height that you would in tennis.
[00:21:58] Rico: True.
[00:21:59] Brian: So there are some opportunities to do it different. And so what we're doing is we're going to see where is the sweet spot? What would it, what size, and how would it look like if we constructed that pickleball specific facility and got those tournaments. And what kind of economic development activity would it in and of itself generate to better the city? Whether it's to enhance an area that already has some of it, or maybe it's in an area that needs redevelopment and needs a shot in the arm. We'll look at, you know, the feasibility study will tell us what type of acreage we need. And then our job as a city, aside from doing this and identifying it, is to then start to cobble together those private players in this. And why that's important is the city is not looking to just solely build this facility and then run it as a recreational component.
[00:23:02] Rico: I mean, yeah, some cities have like.
[00:23:04] Brian: We could do that, but we're not, yeah.
[00:23:06] Rico: But then you have the maintenance and the budget to run it year in and year out. Like you said before, as we were doing, as we were doing our pre-talk before the show, public-private partnership makes more sense. Well at least the public partnerships in the sense of facilitating things to be done by a private entity that's interested in investing in this here to help make it easier for that type of facility to get here.
[00:23:31] Brian: That is exactly a perfect scenario would be the private sector builds it and the private sector operates it and you know, whatever money they make with it, that's great. The city has no involvement in it. However we win, because it generates the activity. And the sales tax and lodging tax that come from hotel stays and restaurants and other stuff is what ultimately does come back to the city.
[00:23:54] Rico: If we talk, we were talking about like 30, 40 courts, maybe 50 courts. Part of that feasibility study would be checking out other tournaments, national tournaments, national organizations, regional players. And it doesn't exclude a city like ours from doing a Peachtree Corners Pickleball Invitational or driving some of our own events. We've talked about the only real event that the city puts on, well officially we're just a sponsor of Peachtree Corners Festival. It's not even like a city event.
[00:24:24] Brian: That's right. It's not the city's. I mean, right now it's really the concert series.
[00:24:29] Rico: That's right. Okay.
[00:24:31] Brian: You know the concert series, you could maybe argue, we've had two years of the decathlon on the fitness trail.
[00:24:37] Rico: Right. Cool. And that, that gets better.
[00:24:39] Brian: But it is an event that people travel to. This criterium, if it generates, enough activity and interest from industry, technology industry, it could become a reoccurring event. And it is known maybe even nationally or internationally as the bike race that new safety technology is showcased every year because of Curiosity Lab. But a lot of this is trial by error and we've got to come up with a mix of how much of this is benefiting the community and to what degree? You know, is the juice worth the squeeze, so to speak? Is it a lot of effort by the city, but the community is like, eh, or maybe it's not a lot of effort by the city and maybe it's not. The decathlon has a very unique interest base, but it doesn't require a lot of resources from the city, so it's not a lot of squeeze net necessary. Criterium a little bit more, but still it's not as. So, this is just a way of trying to make our community very, diverse in all aspects, including diversity of unique community events.
[00:25:44] Rico: Yeah. This is, this is what I like about it. What I like about it is, and what I like about what, how the city looks at things, is that it's not just, you know, we talk about being a smart city and all, but we have a lot a lot of places that attract people here. Right? Simpsonwood Park, Wesleyan, Cornerstone, private schools, great private schools, great public schools, IB programs at Norcross High School and through the school system. You know, we have other things. It's interesting what attracts you and what it comes to the city even at, that are taking place at the Hilton, for example, events and conferences that people are not even familiar with that get.
[00:26:21] Brian: There's a range of stuff. There's like a whiskey tasting conference. There's been a fleet management conference and there's been, yes. And the Marriott's got some stuff too. And you've got, you know, you do have baseball tournaments at Pinkneyville Park.
[00:26:37] Rico: Correct, right.
[00:26:38] Brian: I mean, even just outside our border or you know, our city limits, like the Gwinnett Aquatic Center has swim meets, you know.
[00:26:45] Rico: That's right.
[00:26:46] Brian: We want stuff like every weekend there's, you know, it would be great like, oh, you know what have they got going on this weekend? Maybe it's something they're interested in, maybe not, but we like the diversity of it. And to council's credit, I mean, these things also help pull people that spend money in our restaurants, our stores. And that makes them healthy. It keeps them here. And so you can't just sit back and cross your fingers and just be like, well, I hope the Forum generates activity on its own. No, I mean, the Forum's management company is artificially pushing activity to, or attracting is probably a better way by programming. They have events and unique things there. You know, the Twilight Run.
[00:27:33] Rico: Yeah. Light Up the Corners.
[00:27:35] Brian: Or Light Up the Corners. Yeah, the Light Up the Corners. That is a cool event, a night run, and it's done at the Forum. I mean, that's it's important stuff. So pickleball could be in that list if it works out and the city can kind of facilitate getting all these players involved and finding the location and everything. A pickleball facility done right, could become a magnet for activity of people who do things before or after their pickleball league play or their pickleball tournament
[00:28:11] Rico: And still, and also serve the citizens here, because there's lots of people getting more and more into pickleball the same way.
[00:28:18] Brian: Well, that's why the league play. That's why the league play in between the weekend tournaments is for the residents, yeah.
[00:28:23] Rico: Right. So there's that. I mean, we talked about an art center as well at some point, an art culture center at some point. There's just such a good future here of a variety of things that can happen. So I'm excited by that. Not knowing that was happening.
[00:28:38] Brian: Yeah, I mean, you know, again, devil's in the details. But we are certainly going to get all the details and make a decision then. But, you know, to council's credit, mayor and council are very open minded to exploring new things. They're innovative. There's outside the box thinking about economic development. When you are the second largest city without city property tax, it is even more imperative that we are constantly doing what we can to ensure that the commerce that generates sales tax is healthy. Because if it isn't and those revenue streams dried up, the city has, it would have a decision to make. We either have to decrease the level and breadth of our services to cut costs or we would have to levy a milage rate and the city doesn't want to do either. So mayor and council are very clear to me, and staff is, they do some of it on their own, is being very innovative in thinking about ways that we can keep our commerce at a high level so that we can keep that zero milage rate.
[00:29:51] Rico: And we've been fortunate as a city for over 10 years now. Going through even a depressive part of that recession part, I guess, that we're still able to have enough money to do the things that we feel we need to do. I mean, city marshal system that the city's looking into.
[00:30:06] Brian: Done within the budget without having to go out and get other revenue streams.
[00:30:12] Rico: Right.
[00:30:13] Brian: Yeah, absolutely.
[00:30:14] Rico: So all good stuff. We've spent a lot of time together. We covered a couple of pretty big things. So I guess the last thing I just want to really just touch on is that we did have a comprehensive plan, the first public meeting this past Thursday. And I was meaning to get there. Obviously I didn't, but I'm sure it went really well. Do you have a couple of quick things you want to mention about that? And when's the next one that's coming up? Because I think there's a second one, isn't there?
[00:30:41] Brian: Yeah. So let's see. The next one is at the next planning commission meeting, which is…
[00:30:47] Rico: Oh, okay. Is that the, in March?
[00:30:50] Brian: Is it the 21st?
[00:30:52] Rico: Yeah, that would be the 21st because the 28th is City Council.
[00:30:55] Brian: Yes. So yeah, March 21st, that'll be the next one. The first one we had, I believe Diana, the Community Development Director told me we had 125 people.
[00:31:07] Rico: Cool. That's a lot of people.
[00:31:10] Brian: Yes. People should go to the website or who, those who have, accepted push notifications. We have a survey out right now on weighing in on housing. That was the main theme of this last community meeting, or I guess the first official comp plan meeting, it was housing was the main theme. Asking people their thoughts on housing and where certain types should go and things like that. We'll have some other additional ones, themes like public safety, transportation. These are events that if you care about the city and want to have your input on a document that guides over the next 10 years the decisions that council's making. Now's the time to get your input in.
[00:31:58] Rico: Cool, alright. So no excuse. Just go to the city's website to find out a little bit more. Next public meeting again, March 21st. Planning Commission Meeting at City Hall. Cool. We'll put out the links in our show notes as well, and you'll be hearing it from us. Brian, thank you. Hang on with me for another minute. But thank you to our audience. Thank you for EV Remodeling, for being a sponsor of ours. And look for the next issue of Southwest Gwinnett Magazine that's coming out. And that issue has a cover story about a young lady from Peachtree Corners, a middle schooler who became one of five girls to be part of this inspiration thing with Disney World and diverse dolls that they've created. It's a cool story, so check it out. She's our cover story. But thanks again for being with us. Thanks, Brian. Take care.
[00:32:44] Brian: Thank you.
Life Time to Host Nine Pro Pickleball Tournaments Nationwide, Two in Peachtree Corners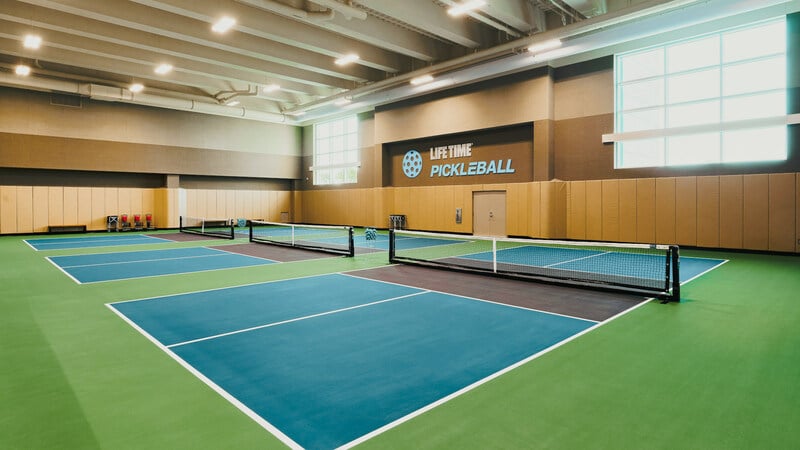 As pickleball continues to pick up in popularity, Life Time, the country's largest owner and operator of pickleball courts in the U.S., is planning nine tournaments in 2023. Two of the events will be at Life Time in Peachtree Corners, one in May and the other in September.
Both Major League Pickleball (MLP) and the Professional Pickleball Association (PPA) tournaments will take place at five destinations beginning in Lakeville, Minn., and ending in San Clemente, Calif.
According to a recent report from the Association of Pickleball Professionals, more than 36.5 million people played pickleball at least once from August 2021 to August 2022. Life Time now has nearly 500 permanent courts across its portfolio of more than 160 athletic country clubs.
Confirmed 2023 tournaments at Life Time athletic country clubs include:
Feb. 23-26: The PPA Indoor National Championships at Life Time Lakeville, Minn. – nationally televised
May 4-May 7: The PPA Tour North Carolina Open at Life Time Charlotte, N.C.
May 18-21: The PPA Tour Acrytech Atlanta Open at Life Time Peachtree Corners, Ga. – nationally televised
June 8-11: The PPA Select Medical Orange County Cup at Life Time Rancho San Clemente, Calif. – nationally televised
June 15: MLP tournament at Life Time Rancho San Clemente, Calif.
Sept. 21: MLP tournament at Life Time Peachtree Corners, Ga.
Sept. 28: The PPA Tour Texas Roundup at Life Time Frisco, Texas
Nov. 30-Dec. 3: The PPA Tour Finals at Life Time San Clemente, Calif.
Dec. 7: The MLP Championships at Life Time San Clemente, Calif.
"Each of these tournaments will bring thousands of players and spectators to our athletic country clubs and further cement Life Time as the go-to destination for the fastest growing sport in America," said Ajay Pant, Life Time's Vice President of Racquet Sports. "We relish our alliance with Major League Pickleball and the PPA to continue elevating this sport."
Life Time is also hosting another wave of its own Pickleball Classic Tournaments for members in February and March. These tournaments will be hosted at more than 60 of its clubs nationwide in partnership with Guaranteed Rate, Best Day Brewing and OS1st.
Life Time Peachtree Corners is located at 6350 Courtside Drive in Peachtree Corners. Call 770-449-6060 or go to lifetime.life to learn more.