Digital Technology Innovators Join Forces to Launch New Virtual Production Studio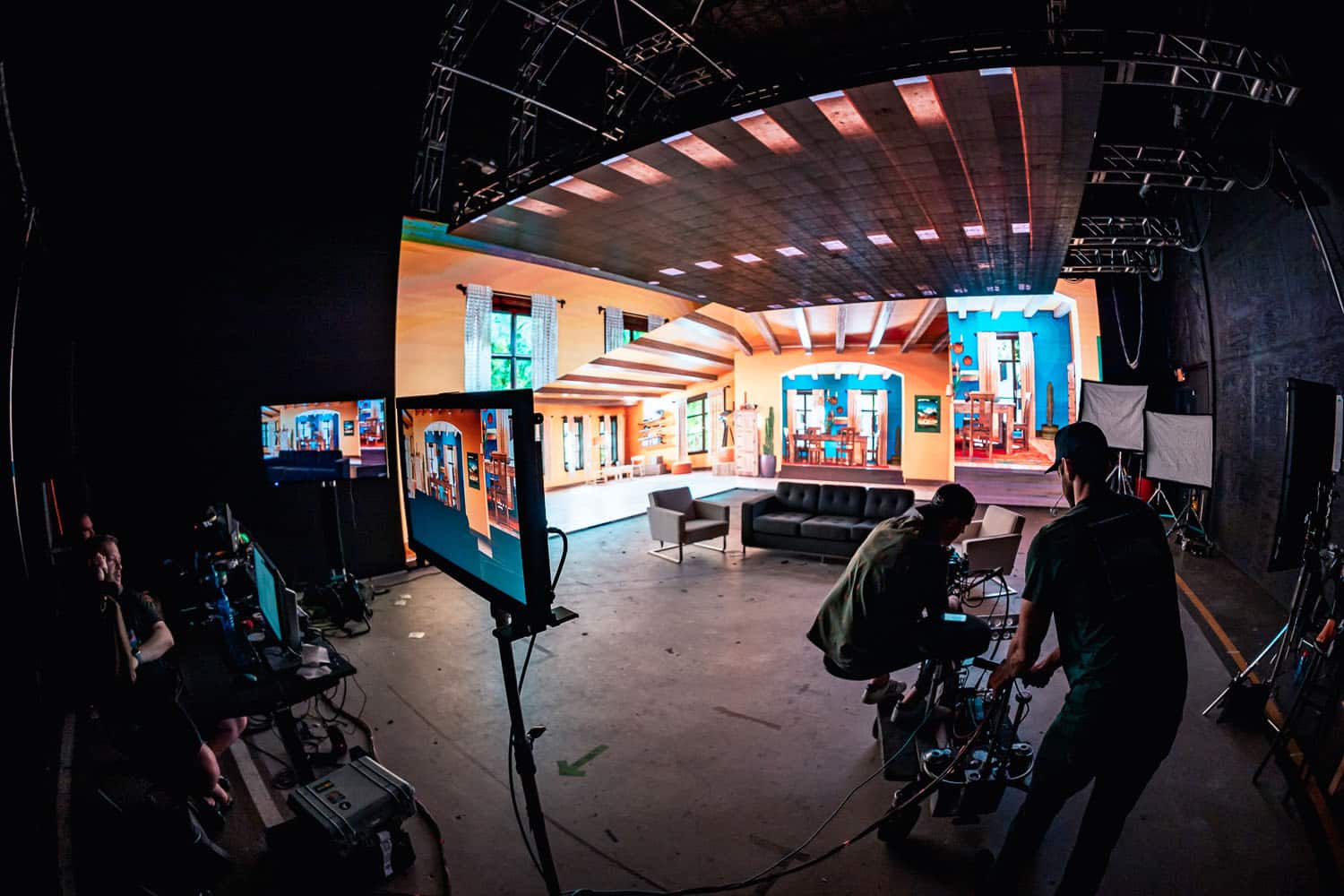 Everyone wants to have a taste of virtual reality. It can take you to far-away realms as you sit comfortably within your own room. Reveal XR, one of America's top virtual industries, provides this technology in its virtual production studios.
The company brought together Atlanta-based Music Matters Production and 3D animation and immersive content studio TRICK 3D to launch the newest Extended Reality (XR) studio in the state, Reveal XR — Atlanta, located at Eagle Rock Studios in Norcross, Ga
There has been a need for Virtual Reality (VR) and Augmented Reality (AR) in the area, so Chad Shockley, Aaron Soriero and Chad Eickhoff joined forces to meet the growing XR production demands.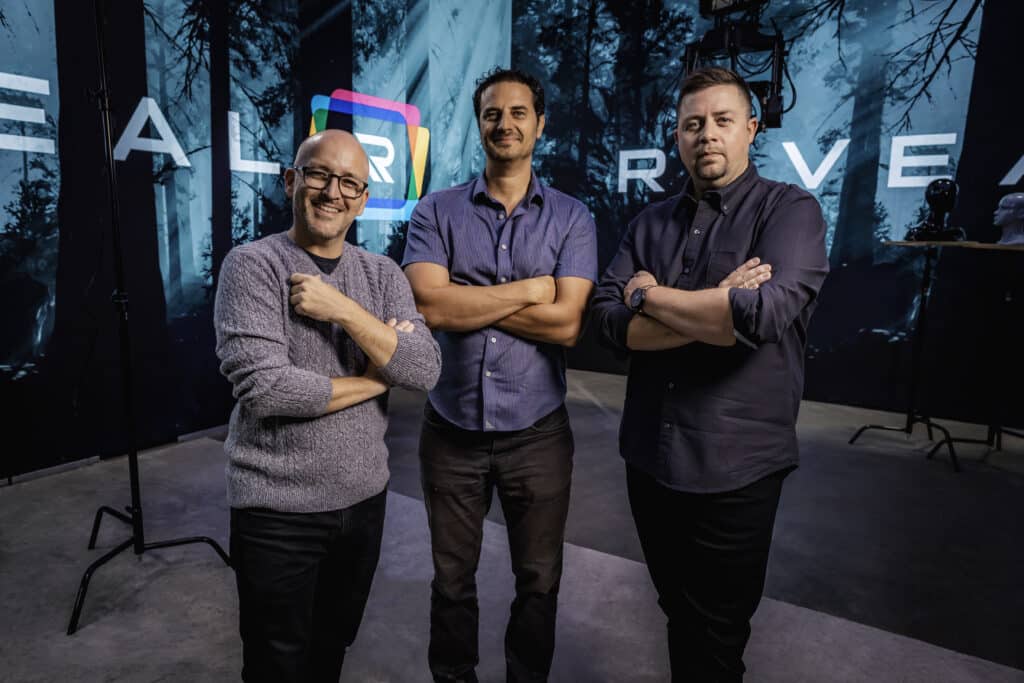 The three tech entrepreneurs opened Reveal XR — Atlanta, a highly accessible and multifaceted virtual production studio in Eagle Rock Studios.
Eickhoff said, "Today's brands need to connect with a digital-first generation of customers and, as such, the demands for creativity in content production is huge."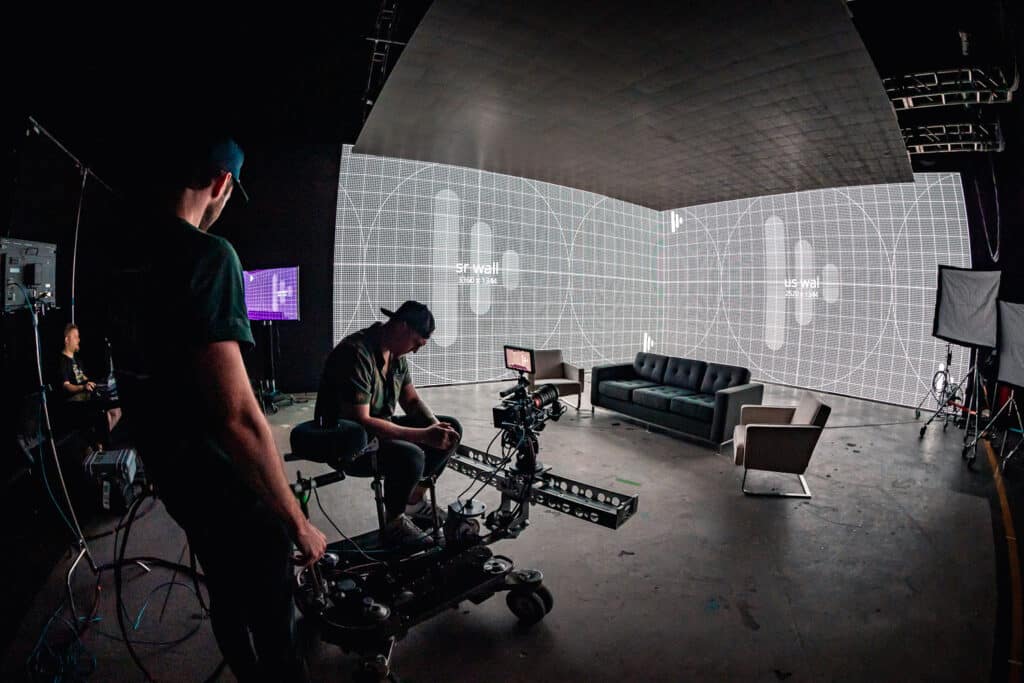 Some additional Facts and Specifications of the Studio:
As of the announcement, Reveal XR Atlanta is available for booking for brand, commercial, TV, film, and music productions.

Technical Specifications
● 35' x 75' sound stage at Eagle Rock Studios – full acoustic treatment and air conditioned
● 33' wide, 13' tall main LED wall, 25' wide, 13' tall wing LED wall, optional 3rd LED
wall up to 13' tall and 18' wide
● Absen PL 2.9mm pitch main walls – 90 degree configuration, next-generation Novastar
MX40 processing
● 18' x 20' LED ceiling, Absen X5 5.2mm pitch – high-bright, height adjustable
● Available ROE BM4 4.4mm Matte LED floor, 18' deep, 24' wide, high weight capacity
● Stype RedSpy Camera tracking system
● Disguise VX4+ for 4k 60fps compositing, RXII render nodes, uncompressed 10 bit video
workflow
● Available RED Komodo and RED Raptor camera packages
● Available Supertechno Technodolly automated telescoping crane
● Flexible staging and lighting options within the studio
● Full height truck docks and plentiful gear handling spaces
● Dedicated green spaces storage areas.

Names and Titles:
▪ Chad Shockley, owner Reveal XR
▪ Aaron Soriero, owner of Music Matters Productions
▪ Chad Eikhoff, owner of TRICK 3D

Location of Reveal XR Atlanta:
▪ At Eagle Rock Studios –
6269 Best Friend Rd, Norcross, GA 30071
Gate 4, E8
Insight Sourcing Group Commits to 100% Renewable Energy by 2030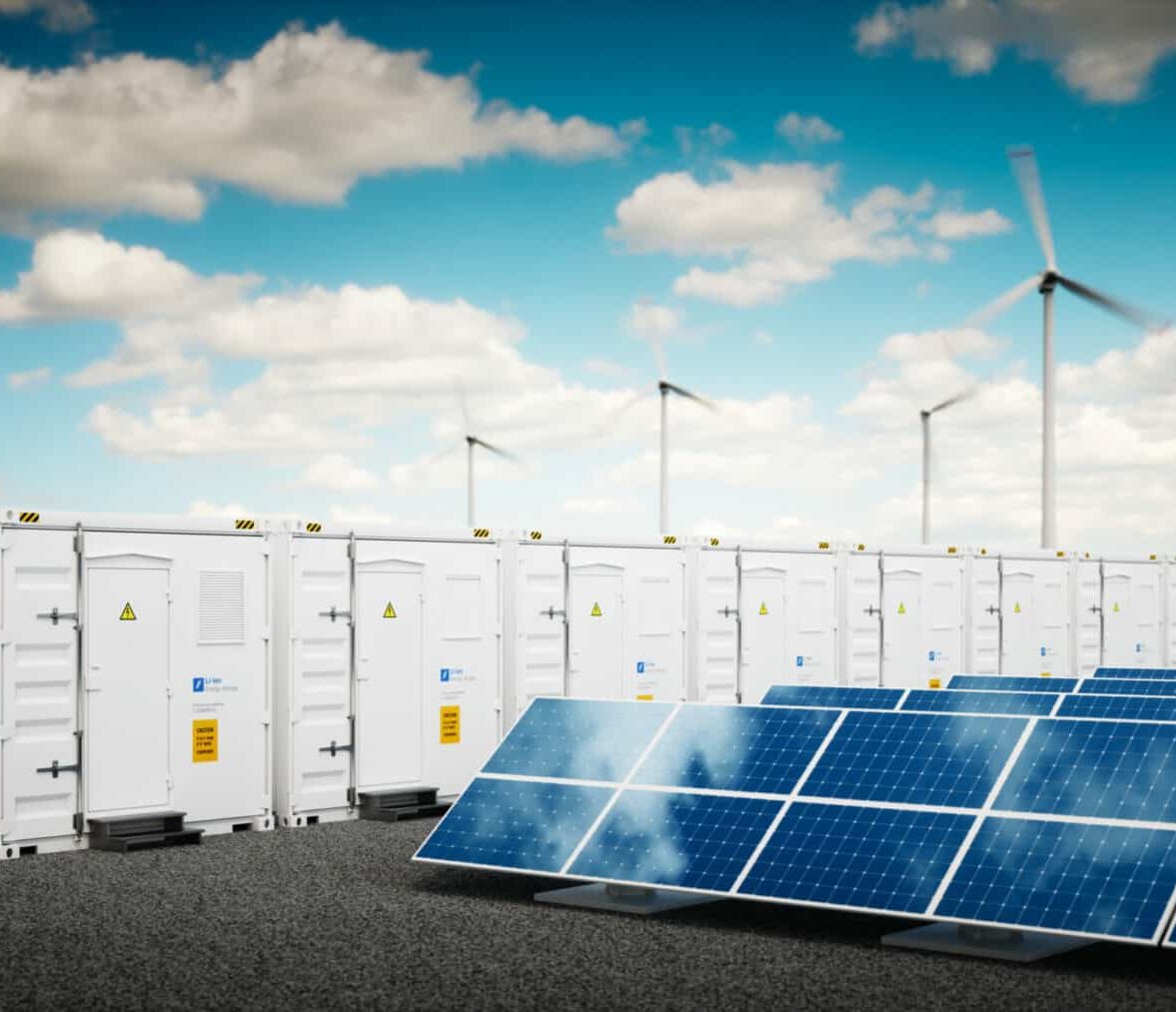 Sustainability initiative aligns with the same environmental standards it helps clients attain.
Insight Sourcing Group (ISG), a consulting firm located in Peachtree Corners, is focused on strategic sourcing and procurement-related services. Following a comprehensive analysis by Insight Energy, a subsidiary of Insight Sourcing Group that recently expanded, ISG set a 100% renewable energy goal for 2030.
The goal includes a commitment to sourcing its electricity from renewable sources at its Peachtree Corners headquarters beginning in 2022.
"Not only do we apply the same standards to ourselves that we help our clients achieve, but we also sought to pull back the curtain on this process and bring some transparency to this increasingly important service offering," said Brent Eiland, President of Insight Sourcing Group. "I commend the work of ISG's Internal Sustainability Committee led by Brandon Owens, Vice President of Sustainability at Insight Energy."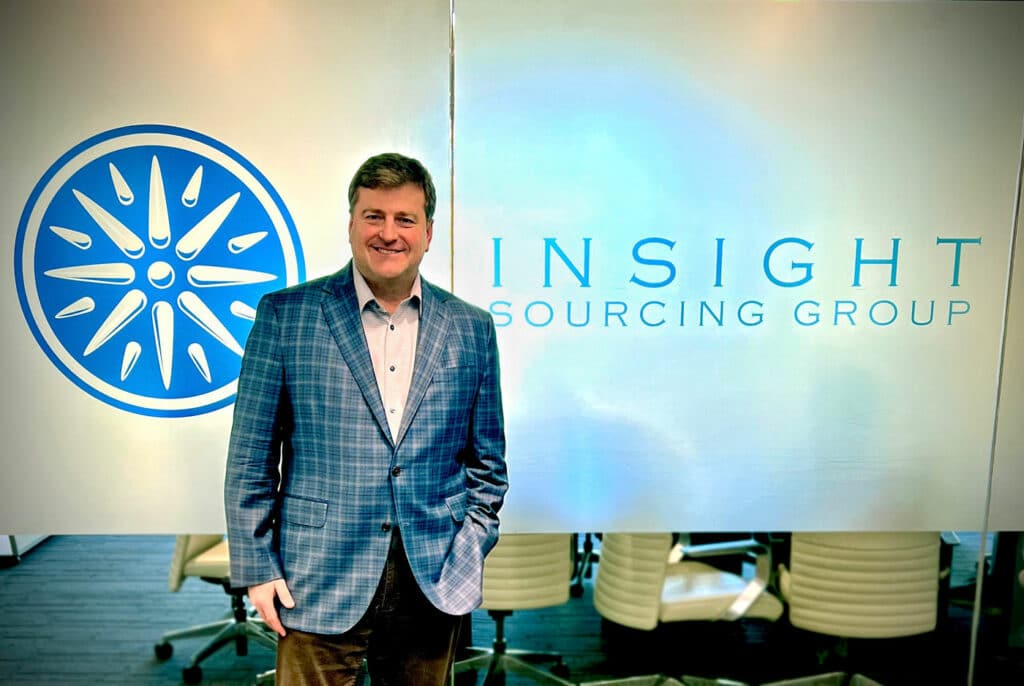 As part of the initiative, ISG conducted a measurement of its Scope 1, Scope 2 and selected Scope 3 emissions categories. Based on the findings, ISG developed a roadmap to achieve 100% renewable energy and established a plan to measure and reduce Scope 3 emissions, which are indirect emissions like business travel.
The Sustainability Committee also identified opportunities to reduce emissions from employee commuting via hybrid work models and a carpooling incentive program. Waste identification and reduction posed another opportunity to improve sustainability; internal audits revealed an opportunity to reduce the use of single-use paper cups.
Furthermore, ISG's procurement of Renewable Energy Credits (RECs) will certify the generation and consumption of renewable energy via wind or solar power.
Cradlepoint, Bosch and T-Mobile Collaborate to Deliver IoT Solutions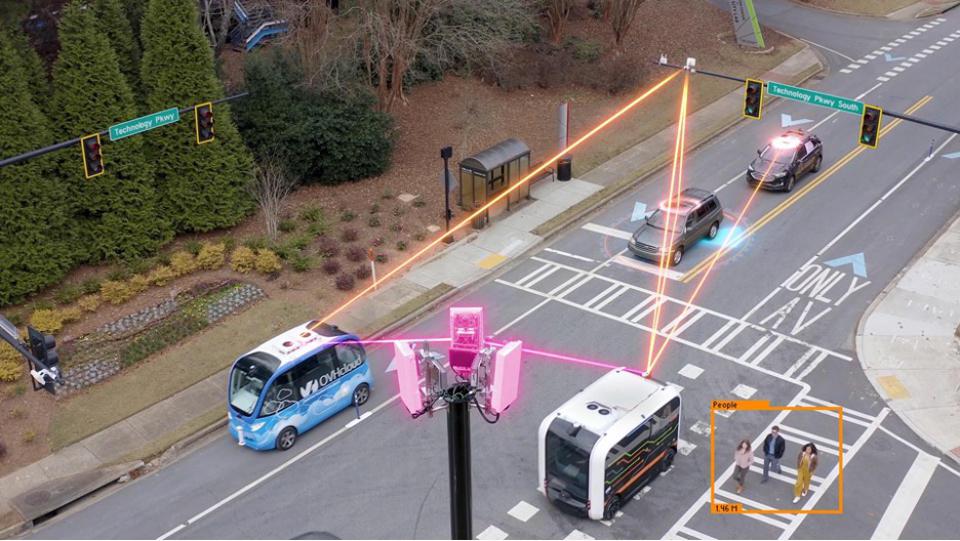 Advanced IoT Connectivity with 5G Wireless WAN Technology
Cradlepoint, the global leader in cloud-delivered LTE and 5G wireless network edge solutions, recently announced a collaboration with T-Mobile and the Curiosity Lab at Peachtree Corners to enable advanced IoT connectivity solutions, such as autonomous vehicles, robotics and AR/VR, using 5G Wireless WAN technology. The solution, developed by Bosch and Cradlepoint, leverages the high performance of T-Mobile's industry leading 5G network — America's largest, fastest and most reliable 5G network — with Cradlepoint's purpose-built wideband adapters and routers to facilitate near real-time parking and safety monitoring at Peachtree Corners, Georgia, one of the nation's first smart cities.
Companies and public sector entities are well positioned on the value of 5G cellular IoT connectivity, particularly when it comes to securing, managing and enhancing smart cities. Unlike traditional fiber connections that take months to deploy, cost thousands of dollars and have long-term commitment contracts, Cradlepoint's 5G Wireless WAN solutions enable an entire ecosystem of IoT partners to immediately deploy solutions with the security and remote management capabilities needed to support IoT deployments at scale.
"Real-world deployments of IoT are challenging the status quo of existing solutions. Couple that with the trend of businesses leveraging 5G technology to transform, and you'll see how this advanced connectivity is remodeling the enterprise," said Todd Krautkremer, Chief Marketing Officer, Cradlepoint. "Cradlepoint, T-Mobile and Bosch are at the forefront of this evolution, furthering IoT and 5G deployments for projects of all sizes."
"Improving safety, efficiencies and anticipating the needs of customers is what best-in-class smart cities can accomplish when powered by 5G and with innovators like Cradlepoint," said Chris Melus, Vice President of Product Management with T-Mobile for Business. "It's rewarding to see concepts from the Curiosity Lab, leveraging our 5G Advanced Network Solutions suite prove true value in the real world."
The solution uses near real-time IoT technology developed by Bosch in conjunction with T-Mobile's Ultra Capacity 5G network and Cradlepoint 5G hardware to assist Peachtree Corners shoppers and visitors in finding open parking as well as available charging stations for electric vehicles.
"In collaboration with T-Mobile and Cradlepoint, and our continued joint effort with the Curiosity Lab in the City of Peachtree Corners, we are demonstrating a scalable, affordable, adroit AIoT solution to serve the community," said Lewis Stallworth, Business Development, Bosch Security Systems, LLC. "The flexibility of this solution was only possible with this technology-forward collaboration and is changing the conversation of what is possible when there is a need for parking management, retail management, community safety and true community operational analytics."
In addition to improving the Peachtree Corners visitor experience, the technology also enables city planners to make real-time informed decisions on parking capacity, infrastructure planning, traffic management and security safeguards based on data around events happening throughout the city.
"Through our work with Cradlepoint, Bosch and T-Mobile, we are now able to better manage our public spaces. Cradlepoint devices having high-speed connectivity through T-Mobile's 5G is key – these devices now allow us to use smart parking applications through the Bosch cameras in our Town Center, while also providing a safety and security layer for our police department." said Brandon Branham, CTO and Asst. City Manager, Peachtree Corners. "The analytics these devices provide help us to better communicate with our residents about parking and safety in our downtown area."
To learn more about Cradlepoint's work with T-Mobile, Bosch and the Curiosity Lab at Peachtree Corners, please visit: https://resources.cradlepoint.com/success-stories/smart-city-uses-5G-for-connected-intersections-and-innovative-parking.
Local Business Leader Sees Balance as the Key to Peachtree Corners Longevity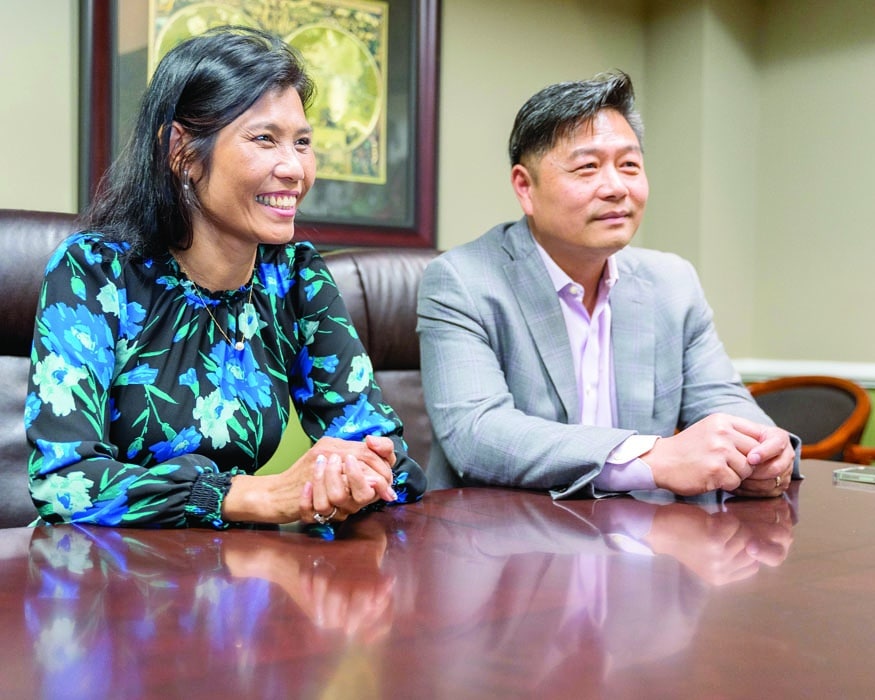 Photos by George Hunter.
As a refugee fleeing the war in Vietnam, Tim Le never envisioned the life he has today. With his wife Amy, they have a real estate business with officers in Peachtree Corners and Duluth.
Possibly more important, he is an advocate for the American dream for those with comparable stories as his — and for those who've never had to endure the uncertainties of a poverty-stricken homeland.
Hard choices to get to safety
Le came to the U.S. in 1982 when he was nine after leaving Vietnam by boat. He said it was it was an extremely dangerous time, so the family traveled in small groups. Le was with his parents, and his sister was with an uncle.
"We had to separate the families to minimize the risk. In times of turmoil, you have to make a decision — and then no matter how hard it is, you just have to stick with it," Le said. "And that's what our whole extended family did."
Slowly, they put together their escape plans and eventually left, he said. "But my sister took it very hard."
In the Vietnamese culture, family unity is extraordinarily strong so the abandonment his sister felt at the time has remained. "I'm sure they didn't make that decision lightly," said Le. "But she was only six at the time and it cost so much money to leave. I have two other sisters that had to stay back."
Through the journey, a cousin's boat sank. Everyone perished except one survivor who chose to live in Canada. She was just a teen at the time, and recently revealed to the family that she had been raped by pirates before eventually finding a home.
"These things that happened long ago stay with us," said Le. "You think you've gotten over them and sometimes they bubble up years later."
That's one reason family and community responsibilities mean so much to Le.
From California to Georgia
His family was sent to Chicago for a little while, but ended up in California, where Le met his wife in junior high school.
Le completed San Bernardino High School in 1990 before going to college at California Polytech Pomona, where he graduated with a degree in Mechanical Engineering in 1995. "Since then, I have worked as a Senior Equipment Engineer for NEC Electronics USA and eventually became an entrepreneur and real estate investor," he said.
Although California presented many opportunities, it was fraught with challenges. "California is really tough because everything is so expensive," said Le. "That is why we feel so blessed that we live in the state of Georgia, especially Peachtree Corners. …I feel safe in business. The regulations and everything are pretty good."
In California, Le said he grew up in the ghettos. When he and his wife became professionals, the competition was almost unbearable. "Competing just to climb that ladder, the corporate politics is tough, especially if you're a minority," he said. "I did my time and then in 2001, we had a recession. The internet bubble burst."
He obtained a real estate license and began investing in properties. Le is quick to point out that he wasn't a flipper. "Flipping is just doing a job, but if you hold onto real estate for the long term, that's an investment," he said.
With real estate costs so exorbitant in California, it took all their savings, plus borrowing from friends and family, just to get the 50% down payment to get the credit for the remaining cost. "We had to get everything out just to do one project. So, we were like, 'Let's look at another option,'" said Le.
In the 1990s, his uncle sponsored hundreds of families who had been in refugee camps to come to the United States. Many bypassed California because the jobs were so hard to come by. They started looking to different locations and Atlanta became a huge draw because of the 1996 Olympics.
"We sold our house in California and we were able to bring a significant amount of money with us," said Le.
Strong community ties
The couple continued in the real estate business and now the family is entrenched in the community. Le has been on the Gateway Community Improvement District board since 2012 and he is a member of the Gwinnett Rotary Club. He is also involved with the Vietnamese community and the Asian American and Pacific Islanders activities.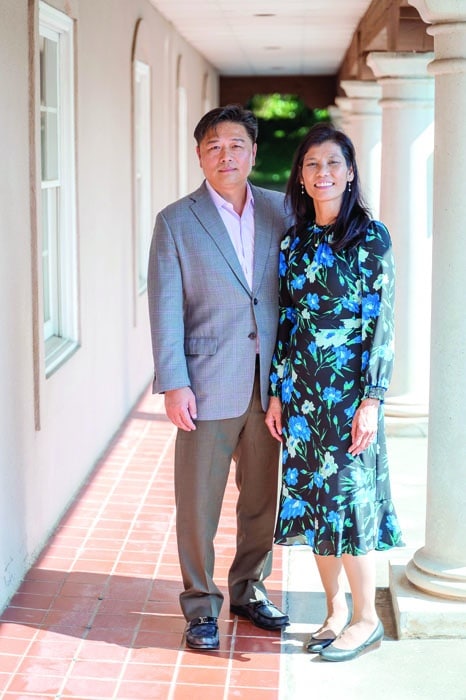 Le serves on the board of the Georgia Department of Community Affairs, the Peachtree Corners Downtown Development Authority, Leadership Gwinnett and the Gwinnett Chamber of Commerce.
Both Tim and Amy are involved with nonprofit organizations that are focused on helping new refugees that come to the United States, as well as the Vietnamese American Chamber of Commerce, to help other business owners from their country be more effective and more efficient.
"We educate them about resources from the mainstream community or chamber," said Le. "For example, when the SBA EIDL loan program was introduced or the stimulus package came out, our chamber put together a campaign to let the business owners know about the available resources."
They even helped businesses fill out the application.
Building business in Peachtree Corners
Le's Peachtree Corners office is another example of making the best of a dire situation. "It was vacant for …a few years. The grass in the front …was like six feet high. It got put on the market, so we put in an offer and then the owner went into bankruptcy," Le said.
After a long process, the property finally became his and the company rehabbed it into mid-level office space.
"We took a blighted property and then turned it around, and we brought a whole bunch of businesses into the building," said Le. "It brings a lot of tax revenue into the city." Peachtree Corners doesn't have a residential property tax, so the revenue that comes from business licensing is significant.
"We have pretty good leadership that makes the city grow without increasing or establishing the city tax," he said. Le added that he believes in the city government's vision and is confident that some of the issues, such as affordable housing, staffing issues and safety, will get resolved.
"There's a reason why I also serve on the Department of Community Affairs," Le said. "We deal with Section Eight, and the problem is we don't have funding to subsidize housing for low-income families."
Le added that there are developers who'd like to establish more affordable housing, but there's a way to do it that will fit in with the city's master plan. "We're already seeing development projects that are mixing business and residential, but in a different way," he explained. "That's a healthy community."
"We just have to keep balance in mind, and we won't have to look to different counties or other parts of Gwinnett for our labor force," Le continued. "We can accommodate them right here. Peachtree Corners is a wonderful place. I'm confident it will remain so."
Honoring his heritage and his adopted country
Although Le loves his adopted country, his family keeps many aspects of their culture alive. For example, he and his wife speak to each other in both English and Vietnamese. His parents prefer to converse in Vietnamese when interacting with the family.
"My parents lived in Rialto, California where my father was in the landscape, and later the water purification, business until they moved to Norcross in 2005," Le said. "We are blessed to have them in Georgia."
He added, "I am grateful for the Americans that fought for democracy and freedom throughout the world. I am also grateful for America helping and admitting all of the Vietnamese refugees into the United States and giving us the platform to build our foundation to prosper and thrive."
The friends he has made, the things he's learned and the opportunities he's had to prosper and help others mean a lot to Le.
"I think that's the key — it's understanding the other culture, because when we understand them, we will have freedom. And the thing is, as human beings when we see somebody that's different, then we have something against them," he said. "If you understand them and understand their culture, then it reduces fear," Le pointed out. "Like our staff here …we have pretty much every nationality represented."