On-street Parking in Peachtree Corners – Be safe, be courteous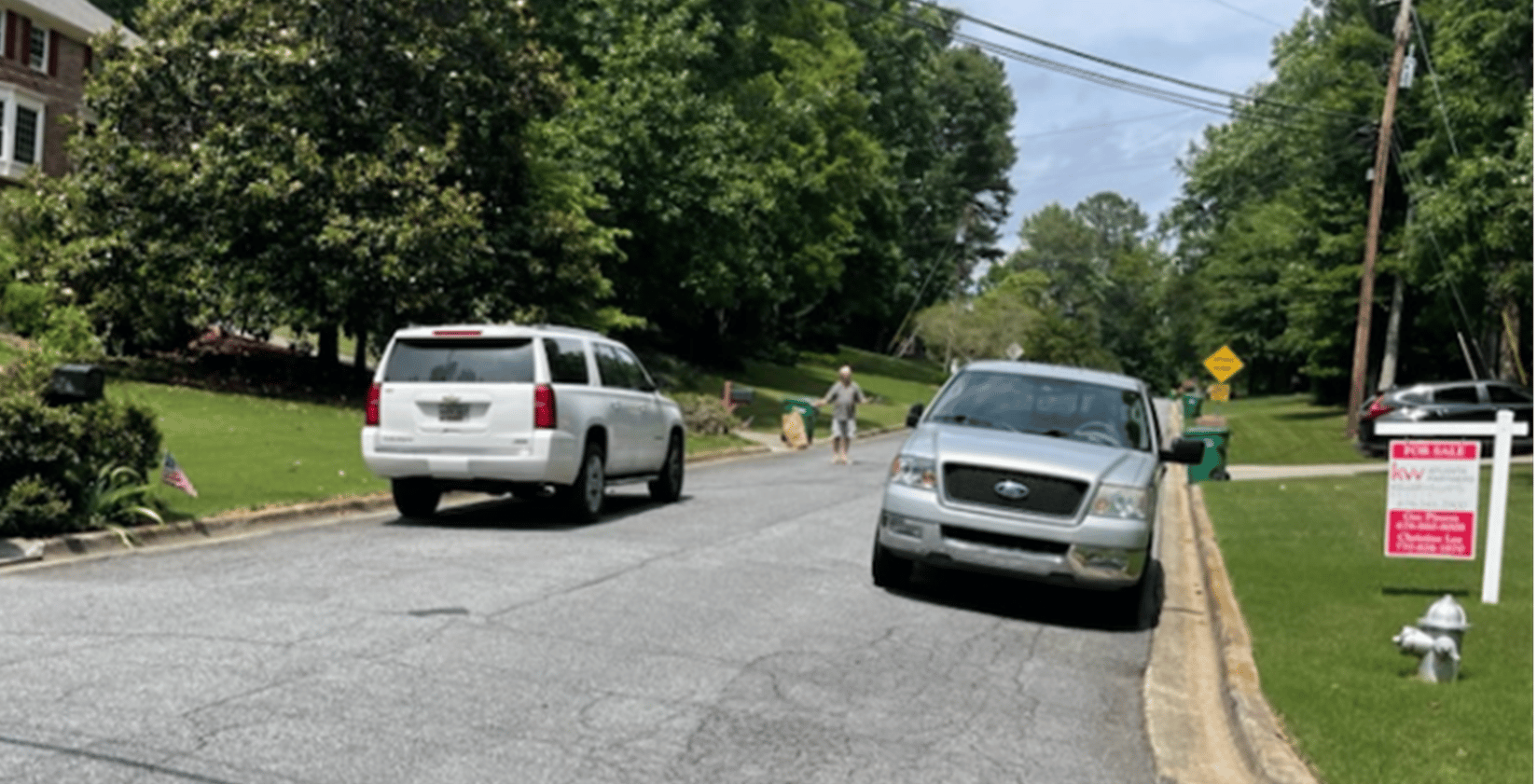 On-Street Parking means designated spaces where vehicles can be parked on a temporary basis, located on a public highway, street, avenue, parkway, or similar type of road. On-street parking spaces often provide direct access to residential, commercial, office, and other facilities.
While on-street parking is legal on public roads, there are rules that must be followed. The State of Georgia requires that on any two-way road, all street parked cars must be parked with the right-side wheels parallel and within 12 inches of the curb.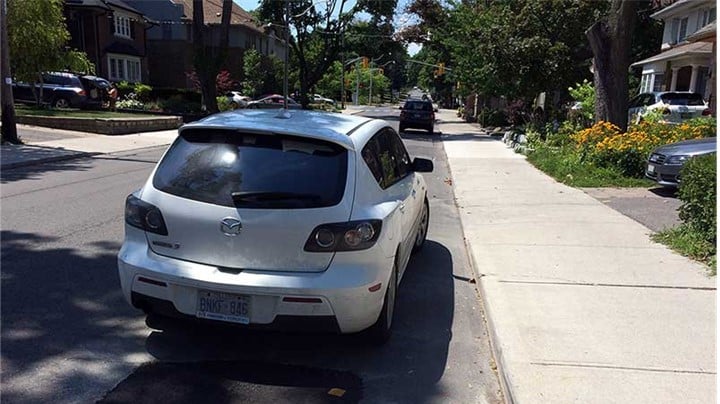 Do not park against the flow of traffic. While it might seem safe when the car is parked, you would need to drive on the wrong side of the road to park. The same applies when you pull out into head-on traffic. This creates two potentially dangerous situations and sets up a scenario that is contrary to other drivers' expectations. Most things contrary to typical driving behavior or driver expectancy are unsafe.
Additionally, double parking is illegal in all circumstances. Double parking is the term used for parking on the street side of any vehicle that's stopped or parked at a curb.
Other violations include prohibitions against parking in the following areas:
In a space on public or private property marked for vehicle parking for the handicapped unless you have the legal authorization and the plates or placards to prove it.
Within 25 feet of a crosswalk at an intersection, or sideline of a street or intersecting highway, except at alleys
Within 20 feet of a fire station without signs. If they post signs, you are not allowed to park within 75 feet of the station.
Between a safety zone for pedestrians and the adjacent curb or within 20 feet of the end of the safety zone
On the sidewalk or within 20 feet of a crosswalk
Within an intersection
In a crosswalk
In any tunnel
On railroad tracks or within 50 feet of a railroad crossing unless you are loading or unloading
Within 15 feet of a fire hydrant
Within 30 feet of a stop sign, traffic light, or flashing signal
In a bus stop zone
In front of a public or private driveway
Near properly marked street construction
In addition to illegal parking, there are other things that should be done to ensure the safety of your parked vehicle as well as the surrounding community.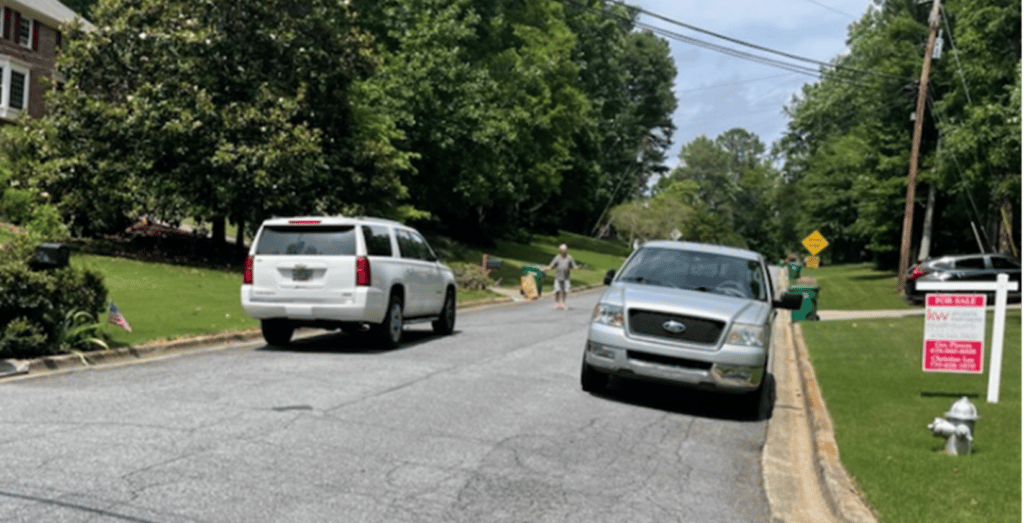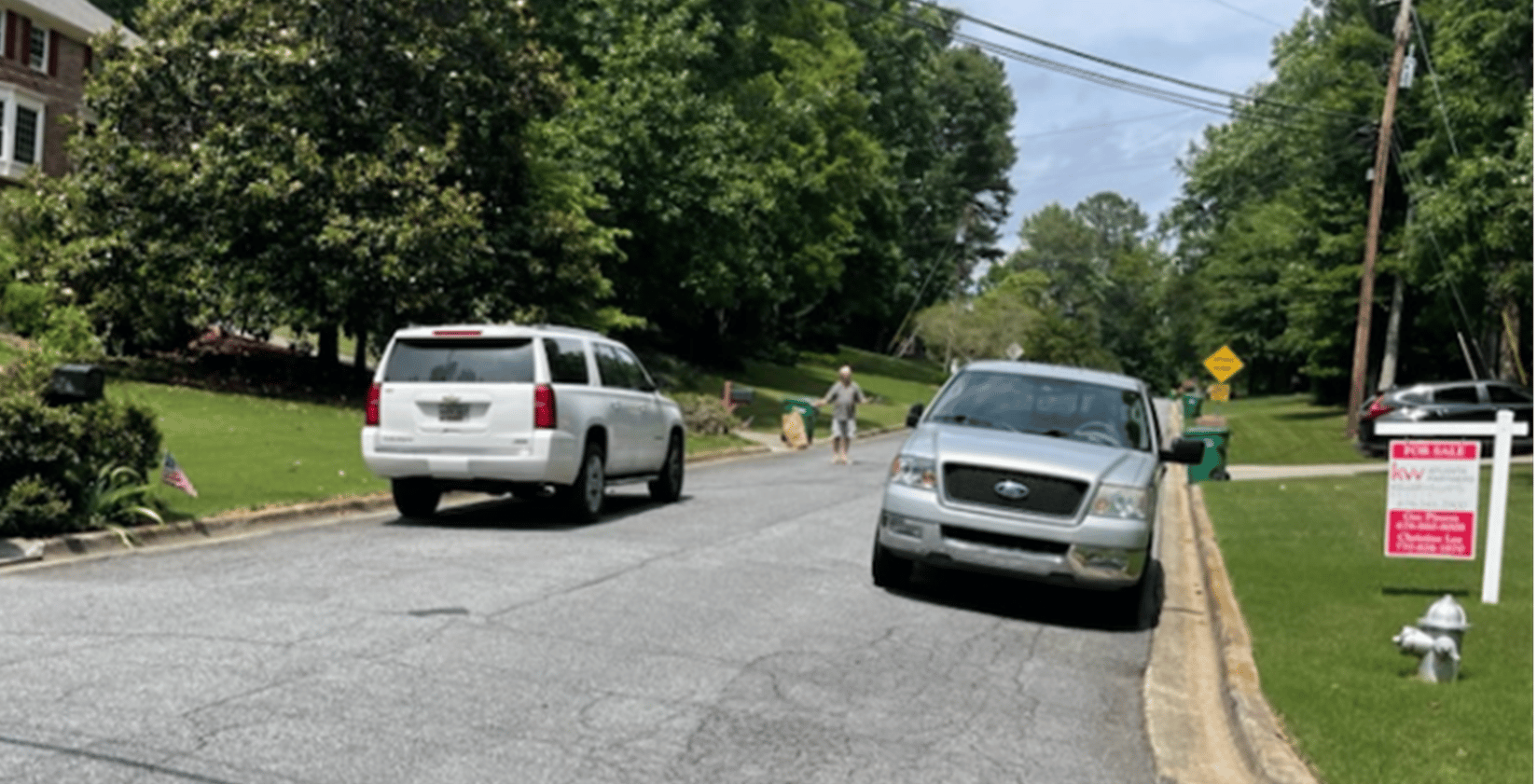 On limited-width feeder roads, cars should refrain from parking across from each other on opposite sides of the road. (See image). This is not only unsafe for pedestrians; it creates a bottleneck on the road that increases traffic conflict points.
Also, when cars are parked across from one another, the limited width of the road creates a safety hazard as it does not allow for the entrance and exit of school buses, sanitation trucks, construction vehicles, EMS and fire vehicles, or other larger vehicles into or away from the area.
If your car has mirrors that will push inwards, towards the driver's window, always do this before leaving your vehicle. This will prevent your mirrors from becoming broken or dislodged due to being sideswiped by a passing driver.
Do not park your car on a street where no other cars seem to be parked. Even if there are no signs saying that you cannot park on the street, there may be a rule that the other drivers are aware of. If a street is completely devoid of parked cars, there is probably a reason why. Take the hint from other drivers and steer clear of it. Street parking that seems too good to be true probably is.
Do not block other cars. Leaving enough space ensures that everyone's cars will stay free from dents and dings. If it doesn't seem like drivers and passengers can move around freely once you park, find a different spot.
Don't take up two spaces on the street. In residential areas where the parking spaces are limited and not marked, always park as close to the end of the open space as you can. Often there is room for two cars between driveways. If you park in the middle, you make it impossible for another car to park in that space.
Remember, safety is of the utmost importance. Street parking can be dangerous to vehicle owners, bicyclists, scooters, and walkers.  Let's all do our best to be safe and courteous. 
Source: City of Peachtree Corners
Peachtree Corners Receives Sixth Straight Distinguished Budget Presentation Award
Temporary Closures of Portions of the Town Center Parking Deck Through Summer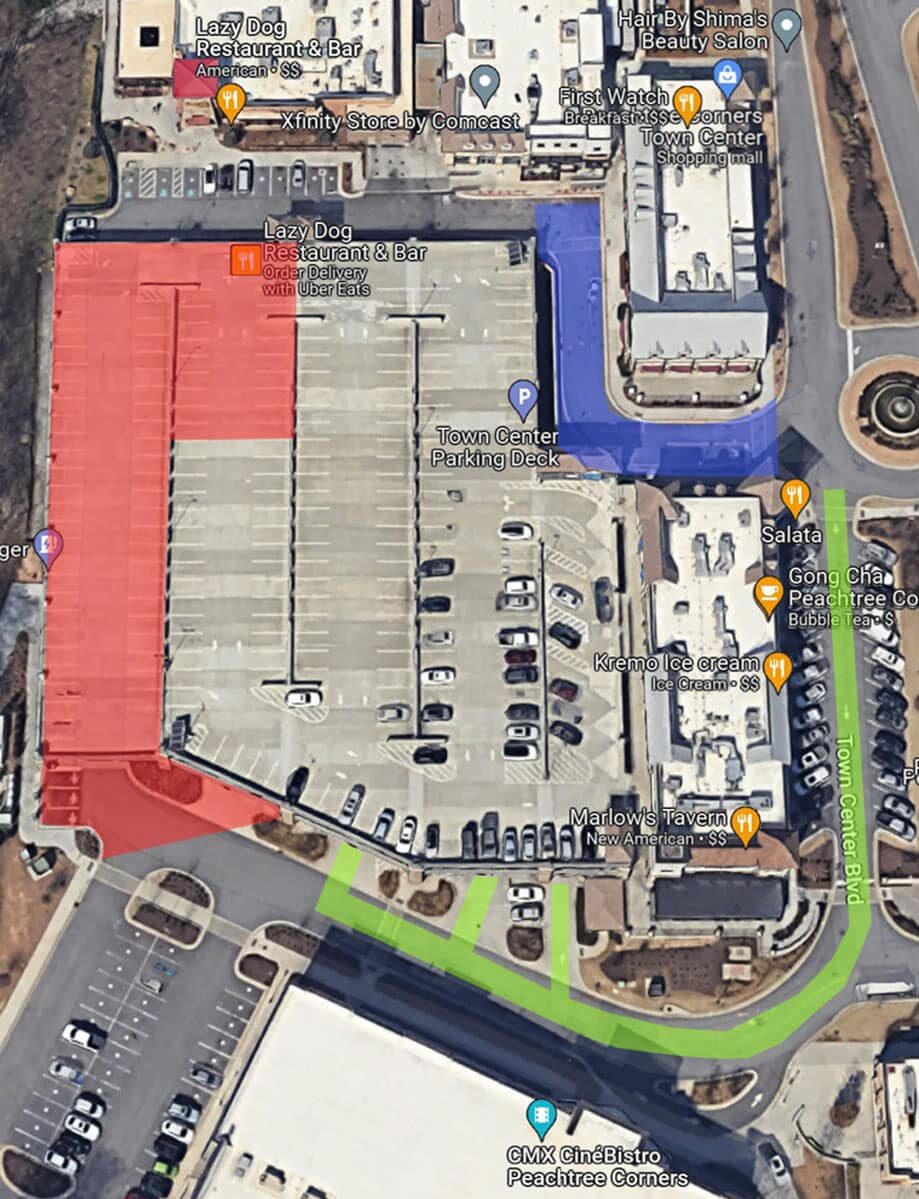 Beginning March 21, 2023, portions of the parking deck located in the Peachtree Corners Town Center will be closed to perform maintenance, repairs and area improvements.
These closures will affect the entrances immediately in front of Lazy Dog Restaurant, the entrance entering the lower deck closest to the CineBistro parking lot, and the southern ramp section in the area of the electric vehicle charging stations.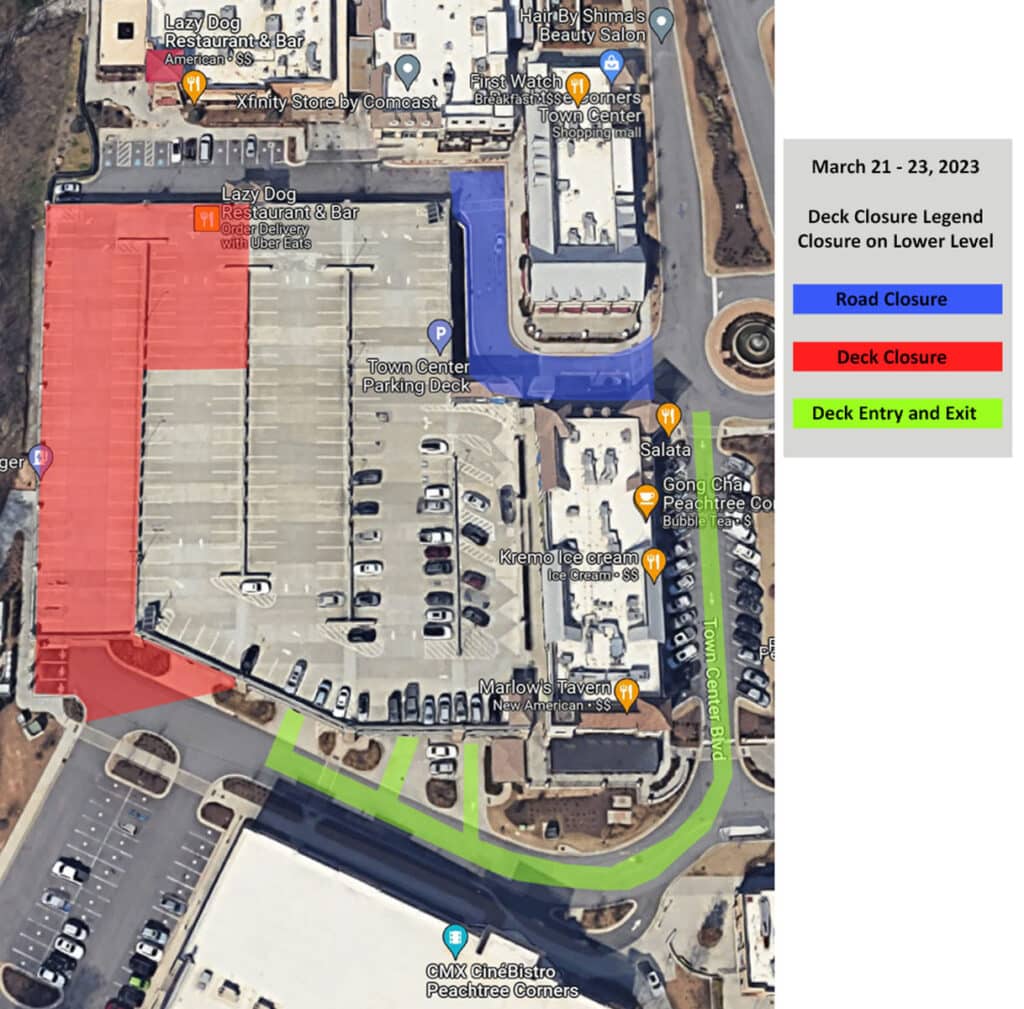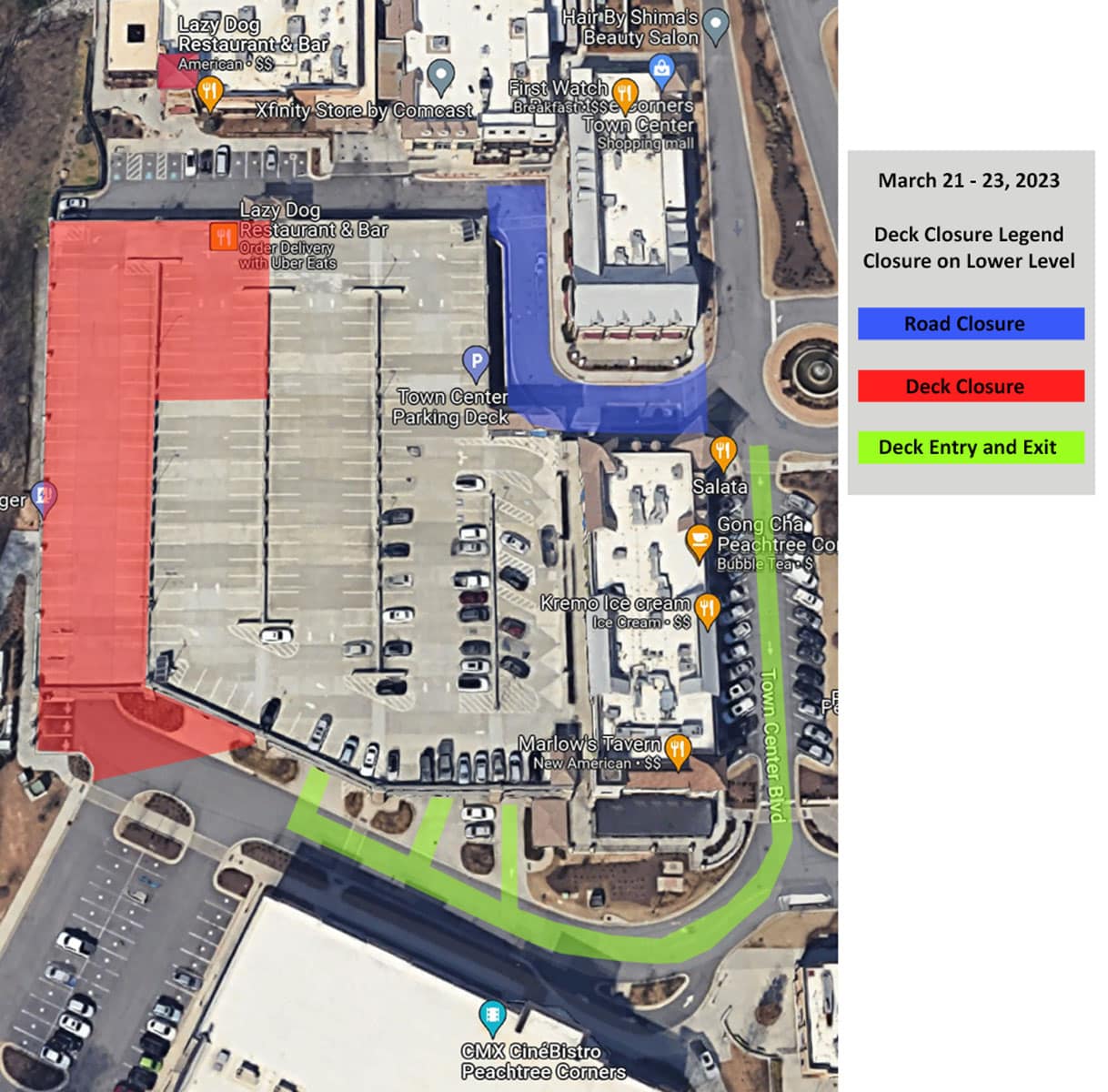 During the closures, from March 21 to March 23, all entry into the deck must be done through the lower deck entrances across from CineBistro.  The entrance nearest the traffic circle fountain will be temporarily closed to facilitate materials delivery for the project.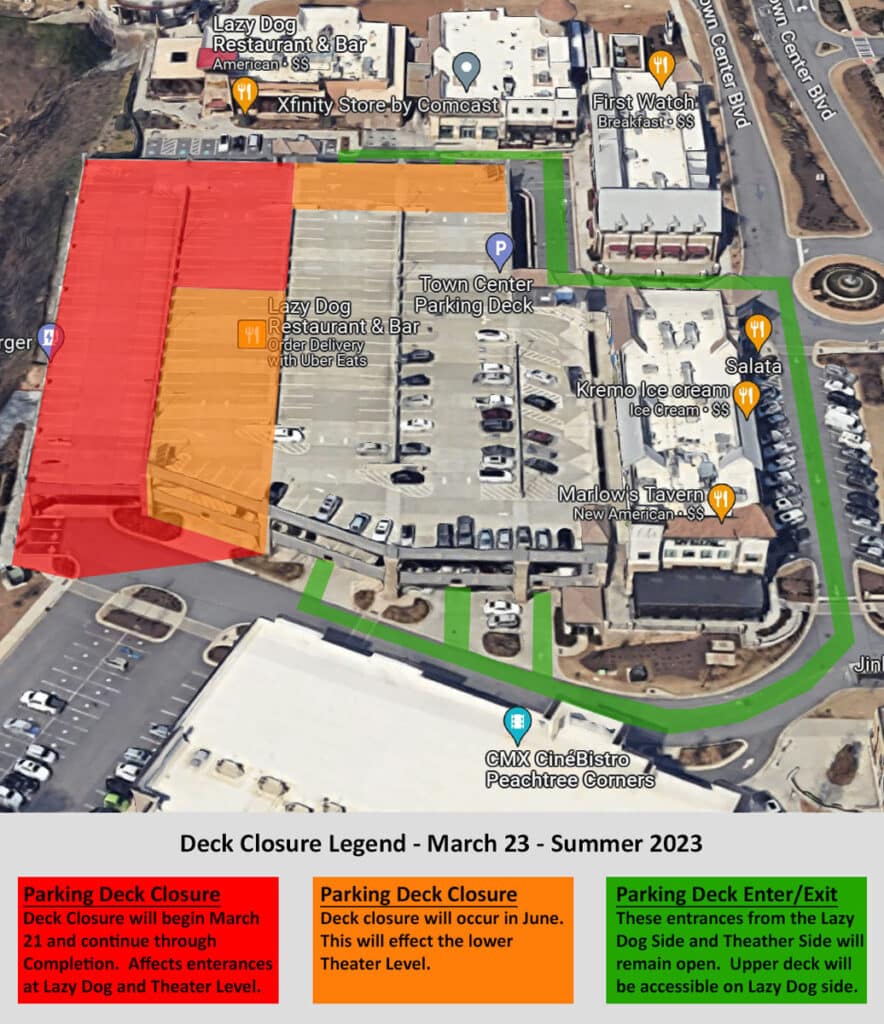 Following delivery, this entrance will be reopened for the duration of the project. Additionally, the ramp providing access to the upper level of the deck will remain open throughout the project.
During this time, the vehicle charging stations will also be inaccessible.
Peachtree Corners City Council Recognizes GCPD Officers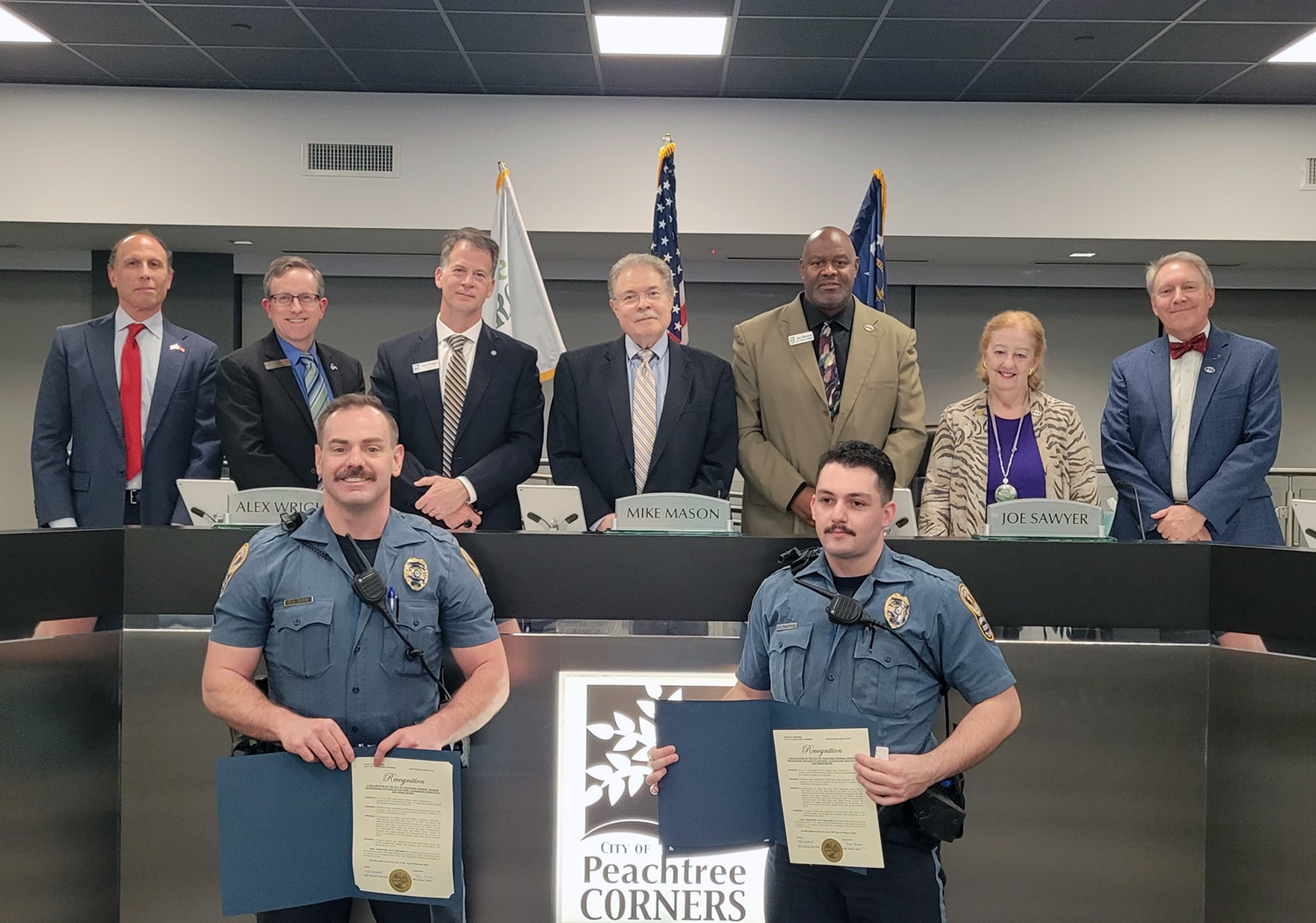 During the Council Meeting on February 28, the City of Peachtree Corners recognized three Gwinnett County Police Department Officers — Officers Dillon Burk, Aleksandar Panayotov and Amber Brown — for their actions last November.
The three officers worked quickly to stop alleged suspects involved in victimizing Peachtree Corners businesses.
City Manager Brian Johnson issued the following Proclamation:
A Declaration of The City of Peachtree Corners, Georgia Recognizing Officers Dillon Burk, Aleksandar Panayotov, and Amber Brown
WHEREAS, On Nov. 8, 2022 West Precinct officers were dispatched to a burglary at the SS Food Mart and Vape. A video was obtained showing four suspects smashing the front door.
WHEREAS, Detectives were contacted by Officer Burk, who recognized one of the suspects in the video as a juvenile he had previously been arrested on a shoplifting call alongside an adult.
WHEREAS, On November 12, Officer Burk and Officer Panayotov performed a traffic stop on a car with plates that did not match the vehicle. The driver was the adult female previously arrested for shoplifting with the juvenile. There was a book bag in the car that the officers recalled seeing in the burglary video. The female was taken to headquarters and interviewed by Officer Burk and Officer Brown. During the interview, the suspect disclosed her involvement in the burglary, as well as the location of the stolen goods, which were at the juvenile's home.
WHEREAS, A search warrant was obtained and stolen items were found. The female suspect was charged with burglary and contributing to the delinquency of a minor.
NOW, THEREFORE, BE IT DECLARED by the Mayor and Council of the City of Peachtree Corners that these officers be recognized for their good police work, for without it, the suspects would have likely continued victimizing businesses in Peachtree Corners.
SO DECLARED on this the day of 28th day of February 2023.