Local Non-Profit Makes Saving Children, Families Its Mission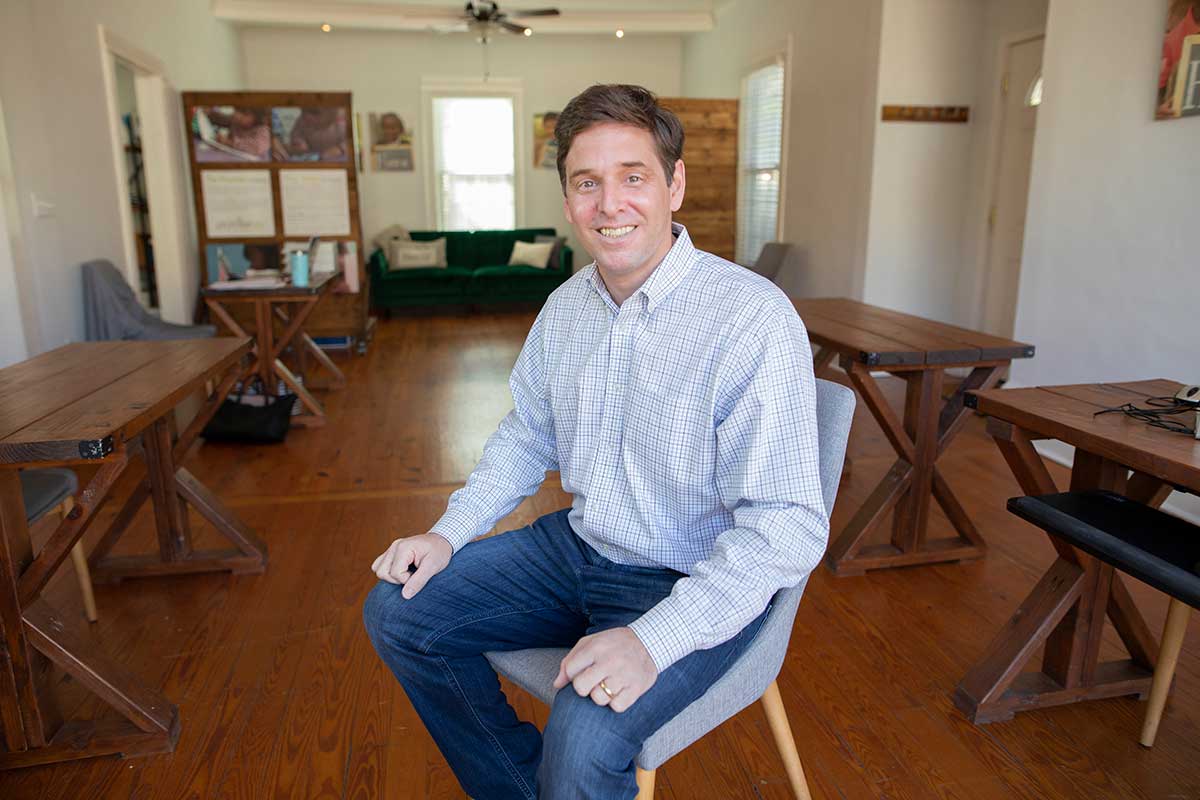 Promise686 is a volunteer organization dedicated to providing pathways for churches to help children and families engaged in the child welfare system.
In the United States there are more than 400,000 children in foster care, according to a report from U.S. Department of Health and Human Services. The same agency reported that in 2019, parental rights were terminated 71,300 times in the U.S., effectively ensuring that they will not return home to their biological parents.
Looking upstream, there are around 650,000 investigated and confirmed cases of abuse and neglect in the nation. Here in Georgia, there are approximately 12,000 children in foster care, according to the state Department of Family and Children's Services (DFCS).
The national child advocacy organization, the Children's Defense Fund, estimates that in the United States a child is removed from their home and enters foster care every two minutes.
To put it plainly, this is a big problem.
The child welfare system of the United States is under serious strain and organizations such as the DFCS are facing unprecedented challenges in helping children. Luckily, they aren't doing it alone. Enter Promise686, a volunteer organization dedicated to providing pathways for churches to help children and families engaged in the child welfare system.
"To the degree that we can enter the story, and our work is to call churches to enter the story sooner, then their journey doesn't start," explained Andy Cook, president and CEO of Promise686. "The truth is that in spite of so many well-meaning and wonderful people trying to help in the child welfare system, the longer a child is in that system the worse their outcomes are."
Cook found himself at the helm of this organization by way of his own personal journey of adoption. Cook and his wife Martha adopted two Ethiopian children in 2008. In the years since they added a third biological child and most recently adopted a set of five siblings from right here in Georgia. Today, Andy and Martha are parents to 10 children that range from age 8 to age 22.
At the time of their initial foray into adoption, Cook was working in administration and teaching at Wesleyan School in Peachtree Corners. He was on the cusp of a drastic career change and was preparing to take the LSAT before pursuing work as a lawyer.
"It was all driven out of a heart that wanted to see justice alive, specifically for kids," said Cook. Eventually, after discussions with his wife, he realized that what he wanted to do was bigger than 40 hours a week: it was an integration of these values into his daily life.
Birth of a ministry
At the onset of this process and daunted by the logistical and financial implications of adoption, the Cooks learned of and applied for an adoption fund organized by their church, Perimeter Church. Though they began the process with "$15 and a prayer," by the time 13 months had passed the Cooks had managed to raise $40,000 with the help of the church, fundraisers and garage sales.
After their successful adoption in Ethiopia, the leaders of Perimeter Church approached Cook and asked if he would consider spearheading a ministry to help other prospective adoptive and foster parents in the community. That initial ministry is what would later grow to become Promise686.
"The simple objective for Promise686 is to plant ministries in local churches that will care for kids. That's the idea," said Cook. "If we can raise up leaders in churches who will become conduits to care for children in their community, that's a win. We want to make the idea of a FAM — a Family Advocacy Ministry — an element of every church's DNA."
Citing a specific verse from The Bible, James 1:27, which states that pure religion is tied to caring for widows and orphans in their distress, Cook spoke of the unique connection between the church and children in the community. He has always been interested in the relationship of church and the government, noting that they are often at odds. One area where they can do great things, however, is in the service of children in need. In working with DFCS and case workers, Promise686 can identify and provide support to families and children in various stages of government intervention.
"There are really three strategic roles for this ministry. One is that we would prevent children from coming into foster care by serving their biological families really well. Two, we would intervene if and when children do come into care by raising up new foster families and wrapping around these families for the longevity of their placement. The third is to connect children and families for everyone. Prevent, intervene and connect."
Above and beyond providing financial assistance, the Family Advocacy Ministries (FAMs) arranged by Prom-ise686 are educated in methods to cultivate a community which provides new adoptive and foster families with support. That support can look like meal calendars, donations of furniture and clothing, coordination of transportation or babysitting. Sometimes these placements can come about in 24 hours or less, and in those cases a local mobilized community effort can make all the difference for these families.
"The church really is a conduit for the care of local children. If you saw it as a business model, our primary clients would be those churches because they have the infrastructure as institutions to do amazing work. They have a mobilized and ready group of people who have a scriptural backing for why they want to move in this," explained Cook.
While Cook's personal journey has been that of an adoptive parent, something which has greatly enriched his life, he also acknowledges that simply entering the welfare system can be devastating for children. That's why one crucial element of Promise686's work is to effectively interrupt the process before children are removed from their homes.
Foster care is kind of ground zero in a way for many of the societal problems we talk about.

ANDY COOK
Myriad factors lead to neglect
One common misconception about children who enter the child welfare system which Cook hopes to dispel is that the majority of removals are due to abuse. In actuality, children exit their family homes due to neglect about 80% of the time.
Breaking that figure down even further, neglect can be purposeful but is also often due to poverty, mental illness, addiction or other factors that prevent parents from being able to provide for their children even though they want to. In a practical sense, this can mean a community rallying to gather furniture and clothing necessary to provide adequate care for a child whose parents can afford housing but not furnishings.
Though much of the help that the FAMs engaged by Promise686 provide is financial or logistical, Cook emphasized that it is often a feeling of support and community that makes the biggest difference for parents. "At the end of the day more important than the meal that is brought is the person's presence at the door. The sense of not being in isolation during this journey, that is big," he said.
The gravity of the situation for children and caregivers engaged in the child welfare system can't be overstated. Conditions within the foster care system produce symptoms of PTSD on par with those of combat veterans. Statistically speaking, children who age out of the foster care system without being adopted are far more likely to suffer from addiction and depression, and enter the prison system as adults.
"Foster care is kind of ground zero in a way for many of the societal problems we talk about," said Cook.
Promise686 is headquartered in a century-old farmhouse on Holcomb Bridge Road. With a staff of only 17 employees and an annual budget of $3,000,000 for 2022, the organization has managed to expand its reach beyond Gwinnett County and across the nation. It currently works with 1,017 churches in 25 states, and in a given year it serves around 7,000 children through its ministry.
In the next two years Promise686 hopes to expand to meet the needs of 10,000 children. It will also be relocating to a new building with amenities that will better suit its needs.
Cook and the team at Promise686 hope to build an infrastructure that can eradicate obstructions that prevent prospective parents from choosing adoption and foster care. They seek to educate and deputize churches and their congregations at a local level to provide immediate and lasting support to families and children.
Beneficiaries of their services can be members of those churches or simply part of the communities around them. Additionally, preventing the removal of children from their biological families adds an element of protection that can intercept trauma and negative outcomes before they ever occur.
Cook spoke of the challenges prospective parents face when choosing adoption or foster care. "I see this space as a zero-entry pool, and yeah there's a deep end. We have made the mistake in our country of identifying potential adoptive parents and putting them in that deep end of the pool and saying, 'Oh and while you're treading water can you hold this child and care for it?' We have lost parents really quickly and that has really hurt children. The attrition rate of foster parents in America is about 50%, but when a team from a local church wraps around them, the retention rate goes up to 90%."
While the systemic problems Promise686 tackles daily are huge and often overwhelming, to the children touched by their efforts it can mean the world.
"It's amazing what our community can do in rallying around families who are the first line of defense for a child," Cook said. "The dream for our organization is that we would continue to grow and serve more children, and the hope is that we would be super strong in Gwinnett County and Peachtree Corners."
Those interested in learning more and getting involved can visit promise686.org/fams or sign up for the upcoming Promise Race, a mission-focused, experiential 5K in Johns Creek on April 23. More information and registration can be found online at promise686.org/race. 

UPCCA Extends Deadline for Annual Scholarship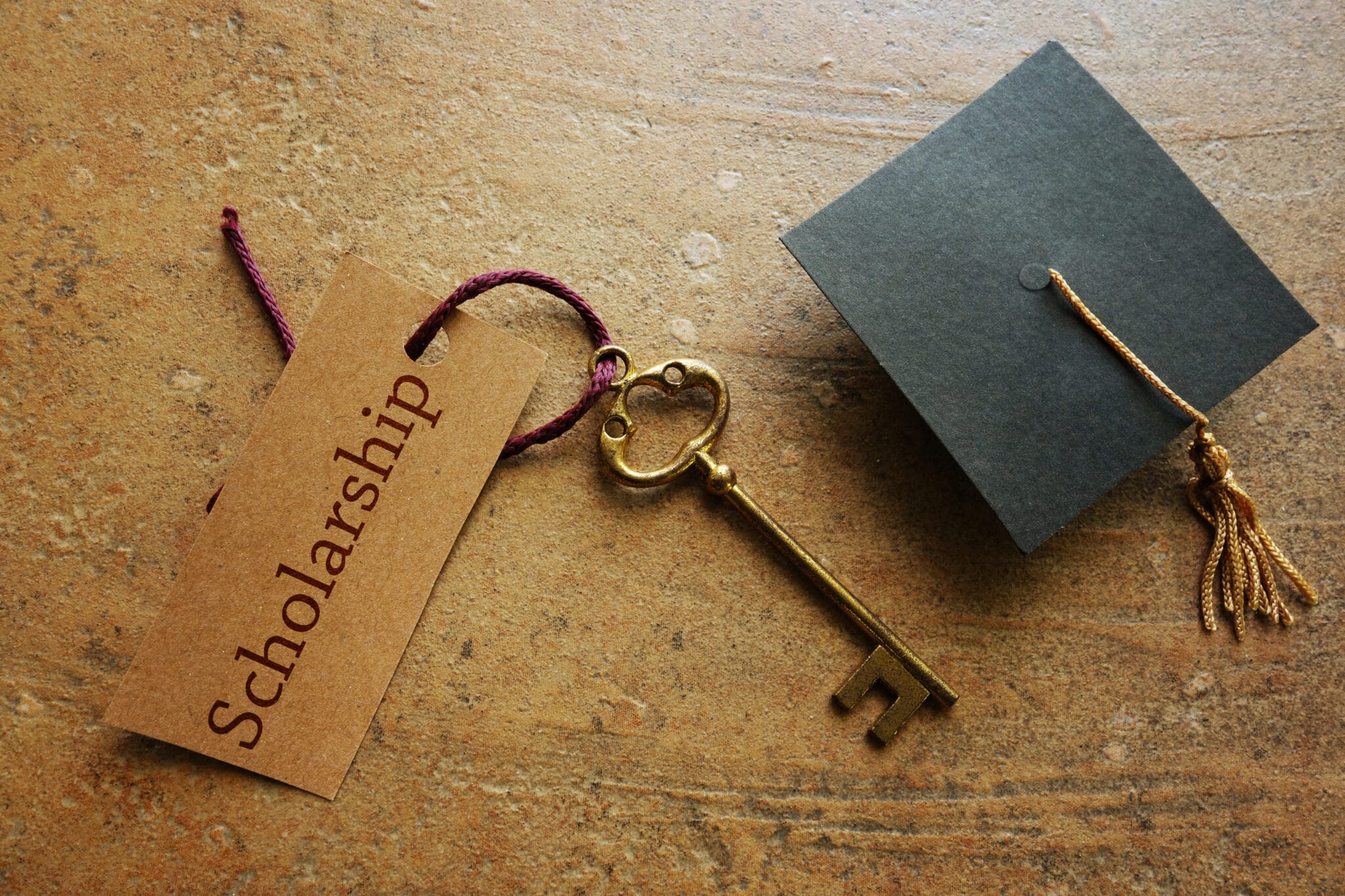 The United Peachtree Corners Civic Association is back this year with its annual Community Service Scholarship. After the COVID-19 pandemic forced the organization to make changes in the process, the organization is back to the original award of $1,000 each for two high school seniors who reside in Peachtree Corners and have made the commitment to volunteer outside of school hours during their high school years. 
"Every year, the committee weighs several factors, community service, extracurricular activities and things like that," said UPPCA President Matt Lombardi. "We're looking for students who personify our community values."
Last year's winner used the scholarship money to purchase a 3D printer and made mask clips that helped secure masks that had to be worn during the nationwide mask mandate, said Lombari, adding that it's that kind of selfless act that makes the awardee stand out.
"And it doesn't matter what kind of secondary education they're pursuing," said Lombardi. "It can be a four-year university, a vocational school or whatever works for the recipient."
The deadline this year has been extended to May 31 to give students an opportunity to "get back to normal."
Last year UPCCA awarded three $1,000 scholarships and has toyed with the idea of increasing the amount.
"But we don't want to be competitive with other non-profits in the area," said Lombardi.
While the pandemic made it necessary for the award presentation to be held outdoors, this year it will be at Peachtree Corners Baptist Church.
Any high school senior who resides in the 30092 ZIP code is eligible to apply, regardless of where they attend school.
Scholarship application process:
• Complete the Online Scholarship Application. The online application includes areas to upload your documentation for the essay and service activities.
• Write and/or video a 300-word essay about community service work that had the greatest influence and why.
• Include a listing of all community service activities participated in while in high school.
The winners will be chosen strictly on their participation in community service.
More information: In order to qualify for one of the two UPCCA scholarship, you must live within Peachtree Corners and/or be a member of the UPCCA. Click here for information on becoming a member of UPCCA or contact UPCCA President Matt Lombardi at 770-548-2989.

NHS Foundation Gala Raises over $114k Toward Student Success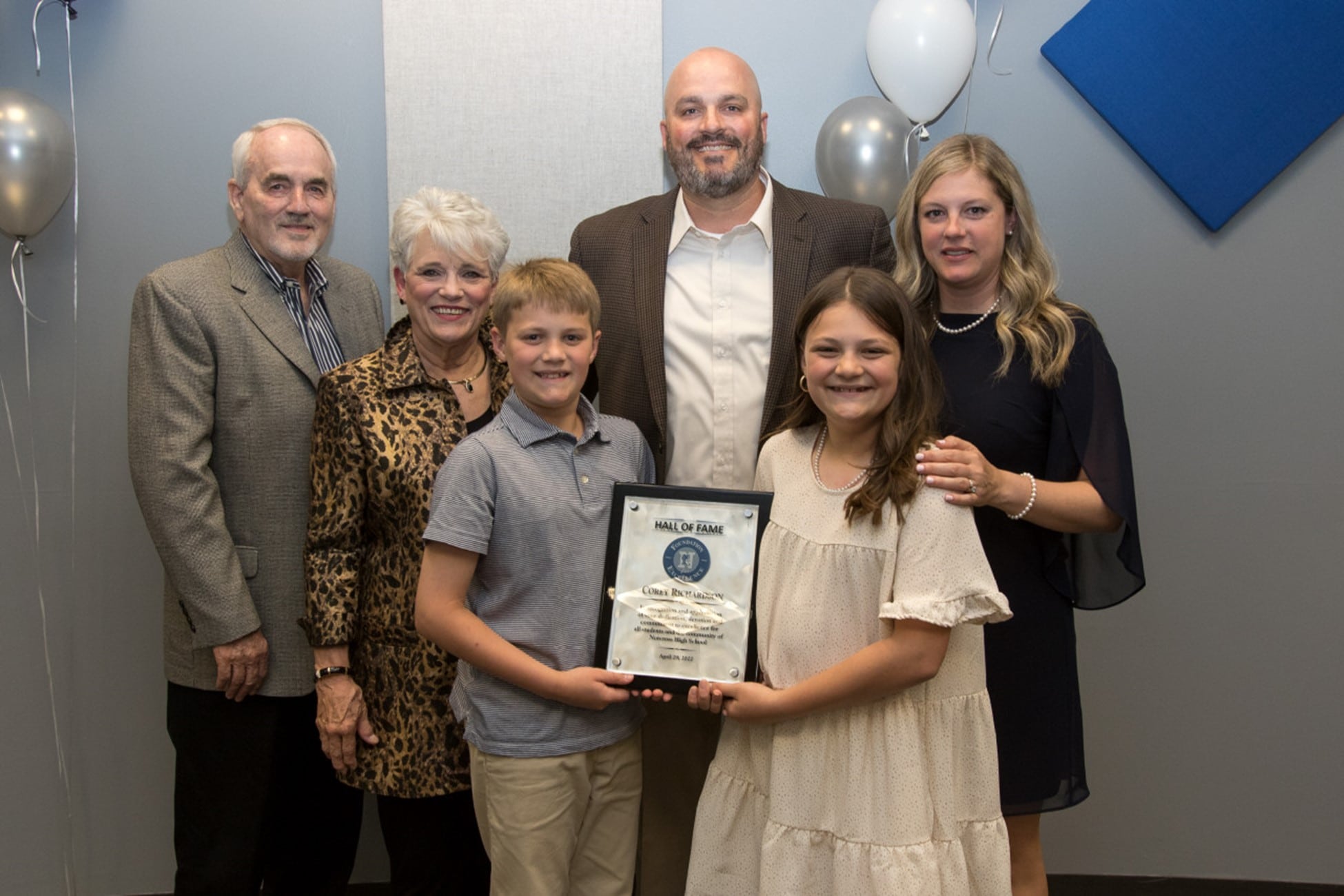 Norcross High School Foundation for Excellence held its annual gala fundraiser recently at Atlanta Tech Park. With over 300 guests in attendance, it was truly a community-wide event. The night was filled with delicious food and drinks and more importantly great fundraising for Norcross High School. Over $114,000 was raised which will be used to ensure the success of all students at NHS!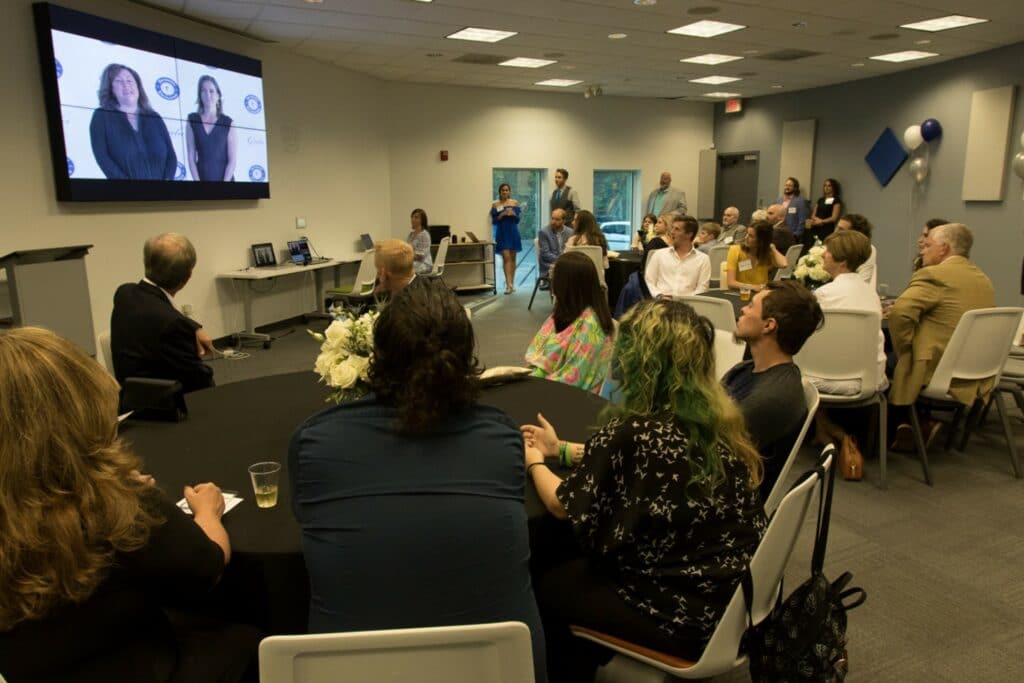 56 families accepted the Foundation Challenge this year and eight local businesses sponsored the gala. Foundation Challengers included parents and grandparents of current students, alumni and community members who know that great schools and great communities go hand in hand.
Since 2001, foundation supporters have raised over $2.6 million. These funds go directly back to the school to fund programs that support excellence in arts, academics and athletics.

SWGC Serves Community Need with Hospital Phone Charging Stations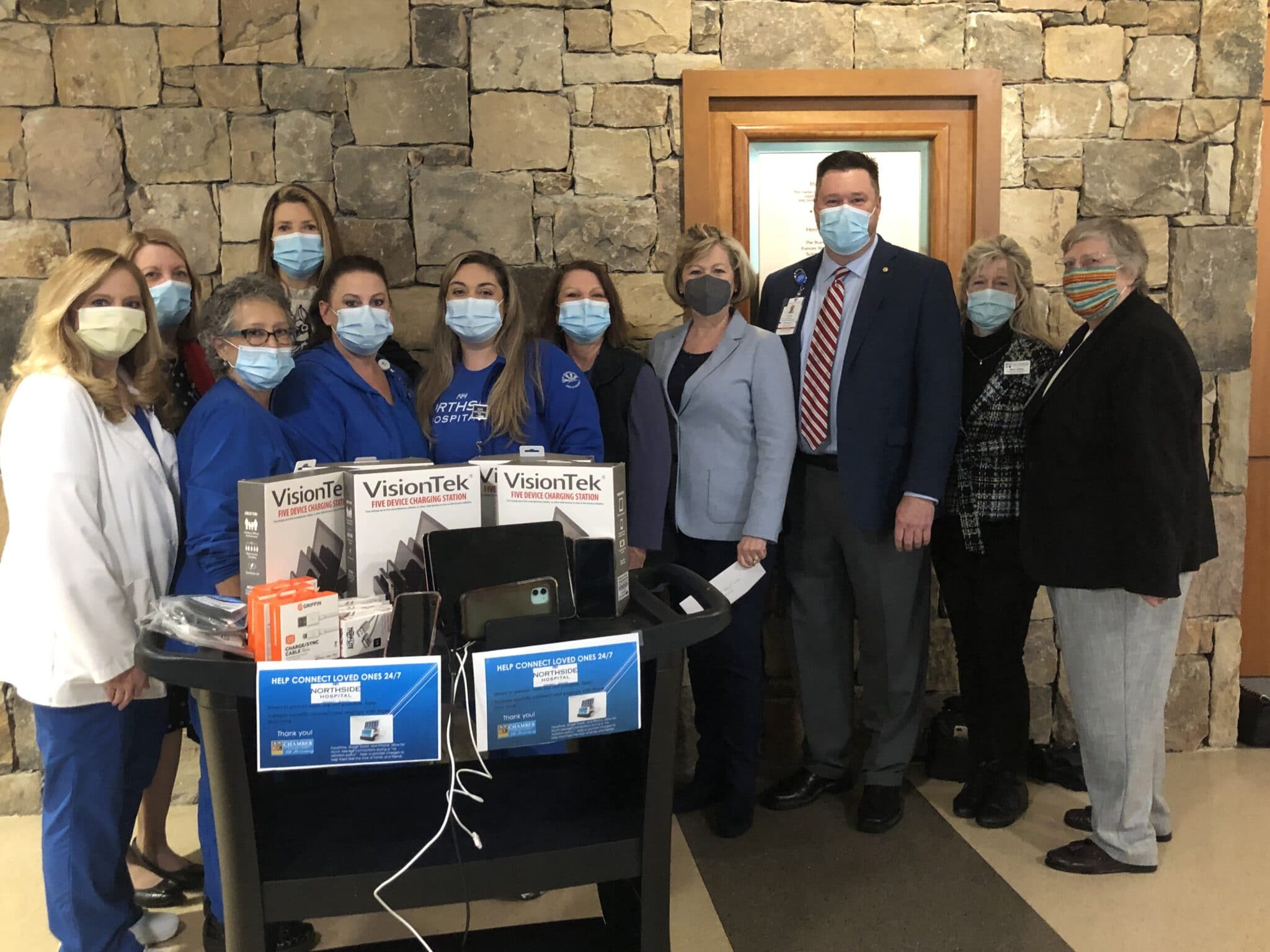 Imagine you've rushed a friend or loved one to the hospital emergency room to find you'll be waiting several hours to hear about their condition. In the mad dash you've forgotten your phone charger and as luck would have it, you have about 10% power left.
This scenario plays out daily at hospitals across the country because patients and visitors are likely there unexpectedly and haven't prepared to spend long hours waiting or are unaware of COVID protocols that may limit or not allow visitation of loved ones.
Low mobile device batteries only add to the stressful emotions of a hospital visit, but this could be remedied by using portable device chargers strategically located at nursing stations.
The Southwest Gwinnett Chamber of Commerce worked to ease this stress by providing mobile device charging stations for Northside Hospital Duluth. 
With a goal of raising $750 to provide at least six charging stations, the organization realized by the April 1 deadline that it had greatly surpassed that target.
SWGC this month donated $1,100 for phone charging stations to Northside Duluth Hospital via the Gwinnett Medical Foundation.
SWGC Board member Jill Morris works at Northside Duluth and shared this critical need with the chamber.
"Patients arrive at the hospital with hopes to be quickly treated and return home. Grabbing a phone charger is not always on their last-minute packing list. With the past years' limited visitor policy around the country, having a means to communicate with loved ones via phone or iPad becomes essential to their feelings of connection to home," said Morris.
"If they do not have a charger, then those important connections can be completely cut off."
Cindy Murphy, Associate Director of Development & Operations for Northside Hospital, explained the impact of the donation.
"Our nurses and floor techs are the first to offer their chargers to a patient in need. However, people forget to return them, or the needs outweigh the supply. Having a station where the cords are safely secure, and the phones are protected, is another need met by the hospital," Murphy said.
Murphy credits the Southwest Gwinnett Chamber of Commerce with helping meet a community need.
"Thanks to the generosity of the Chamber members, we are now providing comfort in another way. It is an excellent gesture of meeting the needs of others," she said.
The SWGC's core objectives revolve around engagement, connecting and making a difference in our communities of Norcross, Peachtree Corners and Berkeley Lake.
"By providing these charging stations, we hope to eliminate a barrier that has separated loved ones during challenging times," commented Chairwoman Margie Asef.
Information: southwestgwinnettchamberofcommerce.org