SWGC Serves Community Need with Hospital Phone Charging Stations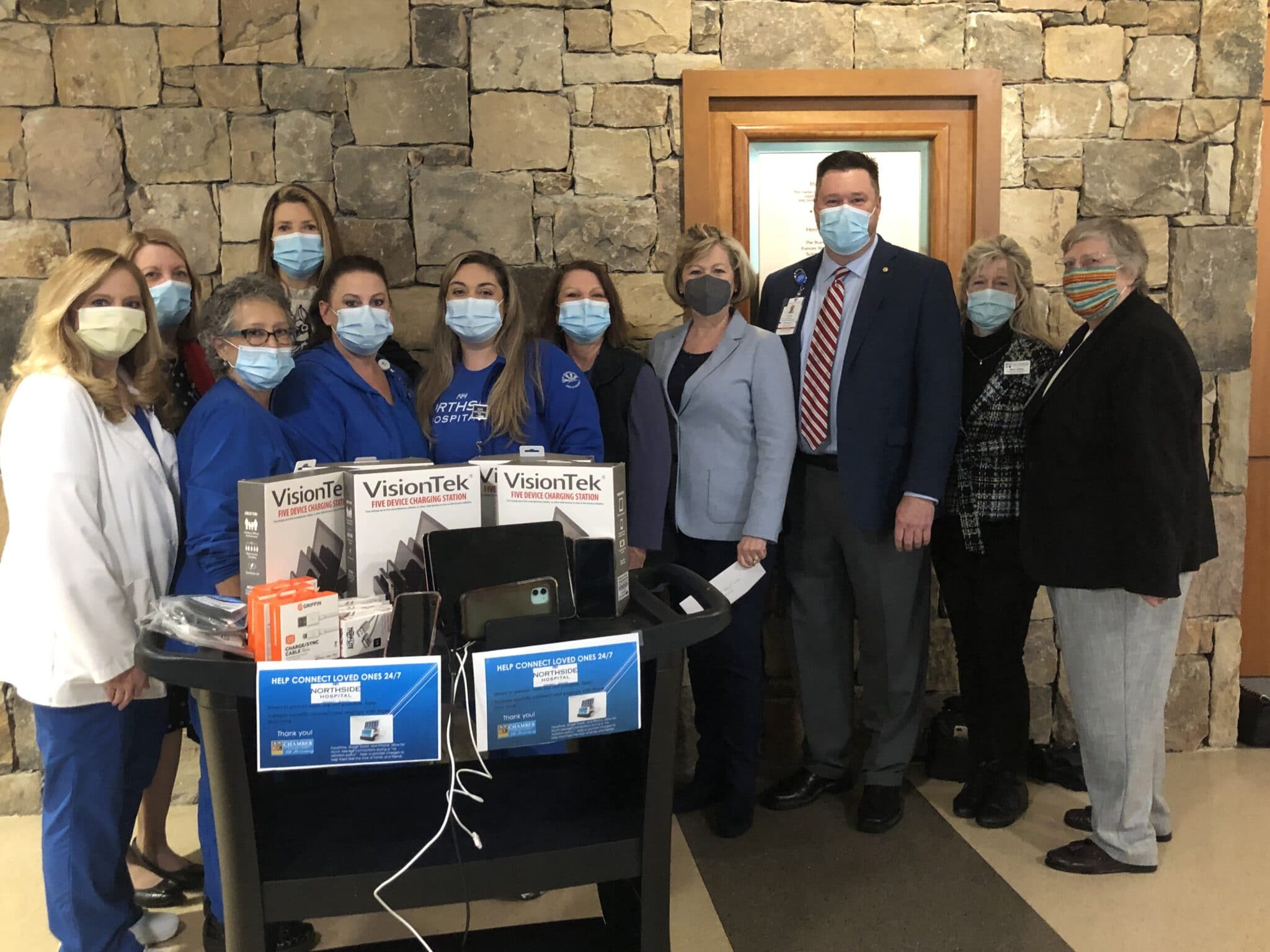 Imagine you've rushed a friend or loved one to the hospital emergency room to find you'll be waiting several hours to hear about their condition. In the mad dash you've forgotten your phone charger and as luck would have it, you have about 10% power left.
This scenario plays out daily at hospitals across the country because patients and visitors are likely there unexpectedly and haven't prepared to spend long hours waiting or are unaware of COVID protocols that may limit or not allow visitation of loved ones.
Low mobile device batteries only add to the stressful emotions of a hospital visit, but this could be remedied by using portable device chargers strategically located at nursing stations.
The Southwest Gwinnett Chamber of Commerce worked to ease this stress by providing mobile device charging stations for Northside Hospital Duluth. 
With a goal of raising $750 to provide at least six charging stations, the organization realized by the April 1 deadline that it had greatly surpassed that target.
SWGC this month donated $1,100 for phone charging stations to Northside Duluth Hospital via the Gwinnett Medical Foundation.
SWGC Board member Jill Morris works at Northside Duluth and shared this critical need with the chamber.
"Patients arrive at the hospital with hopes to be quickly treated and return home. Grabbing a phone charger is not always on their last-minute packing list. With the past years' limited visitor policy around the country, having a means to communicate with loved ones via phone or iPad becomes essential to their feelings of connection to home," said Morris.
"If they do not have a charger, then those important connections can be completely cut off."
Cindy Murphy, Associate Director of Development & Operations for Northside Hospital, explained the impact of the donation.
"Our nurses and floor techs are the first to offer their chargers to a patient in need. However, people forget to return them, or the needs outweigh the supply. Having a station where the cords are safely secure, and the phones are protected, is another need met by the hospital," Murphy said.
Murphy credits the Southwest Gwinnett Chamber of Commerce with helping meet a community need.
"Thanks to the generosity of the Chamber members, we are now providing comfort in another way. It is an excellent gesture of meeting the needs of others," she said.
The SWGC's core objectives revolve around engagement, connecting and making a difference in our communities of Norcross, Peachtree Corners and Berkeley Lake.
"By providing these charging stations, we hope to eliminate a barrier that has separated loved ones during challenging times," commented Chairwoman Margie Asef.
Information: southwestgwinnettchamberofcommerce.org
Peachtree Corners Business Association Donates to Neighborhood Cooperative Ministry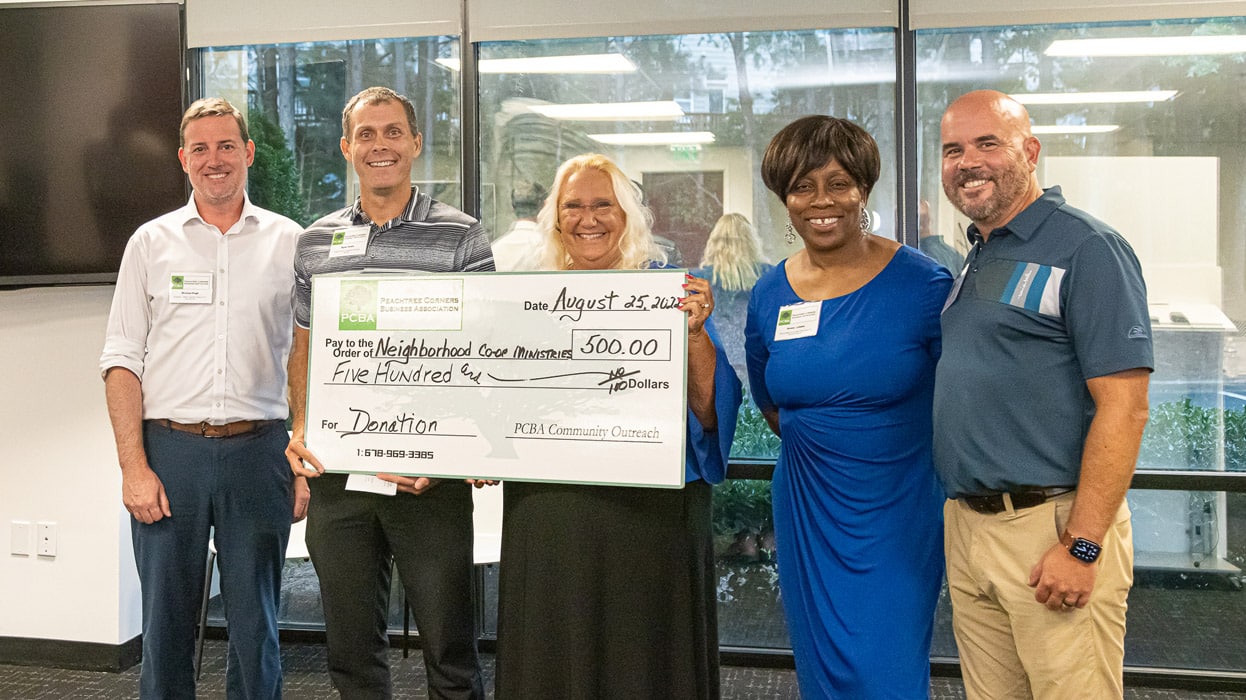 The Peachtree Corners Business Association (PCBA) awarded a check for $500 to Neighborhood Cooperative Ministries at our August PCBA Business After Hours Networking event. The PCBA was able to combine our "No Pressure Networking" event with doing good in the community!
The Neighborhood Cooperative Ministries provides physical (food & clothing, health), financial (rent & utility assistance, temporary hotel stay, job ministry) or spiritual assistance (counseling, prayer and church connections) to those in need.  Helping those in crisis by collaborating with the community to offer programs and services that transform lives through the love of Christ, Neighborhood Cooperative Ministries serves at-risk Gwinnett County residents from Doraville, Norcross, Peachtree Corners, and Tucker as well as Greater Gwinnett through community partner referrals and various funding cycles.
"The PCBA is pleased to award a check for $500 to the Neighborhood Cooperative Ministries to contribute to their ongoing need of restocking their pantry and providing financial assistance as part of our Community Outreach," says Lisa Proctor, PCBA President. Our Outreach Committee and Board are committed to supporting our community as our businesses continue to grow.

For more information about the association call 678-969-3385, email membership@peachtreeba.com or visit https://www.peachtreecornersba.com
'Scouting' for Wholesome Youth Activities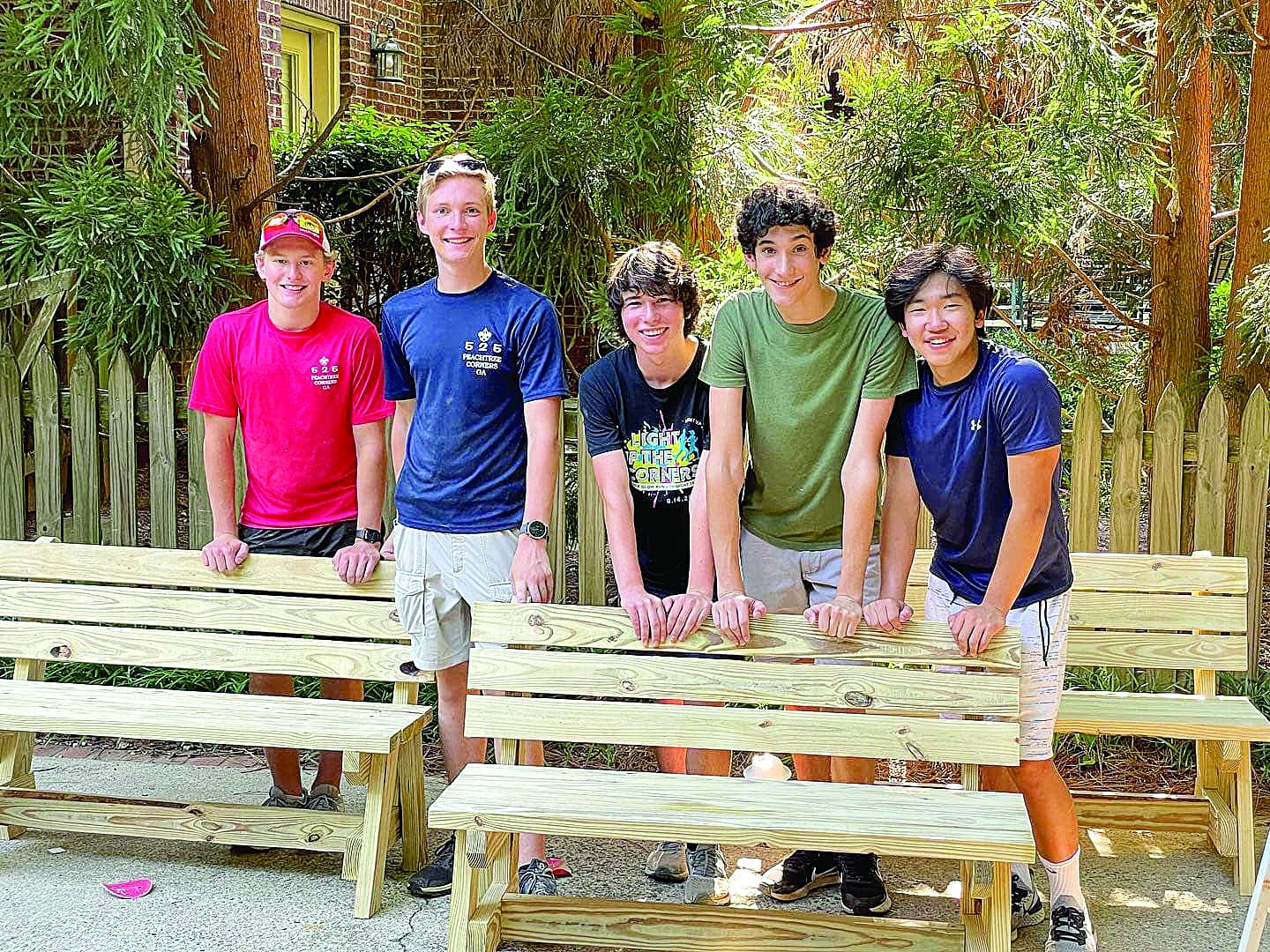 Scouts learn many life skills while have fun doing it.
With school starting for most students this month, it's time to start thinking about signing up for extracurricular activities as well as educational ones. If scouting is on your radar, it's possible you'll be signing your child up for something recreational that imparts life lessons as well.
Peachtree Corners Troop 525 out of Simpsonwood United Methodist Church has been proving that Scouts BSA (formerly Boy Scouts of America) is still relevant these days, even when kids can have busier schedules than their parents. Chartered with eight boys in August 1984, the troop prides itself on being boy-led, meaning that the youngsters are trained and then allowed to put those lessons to the test.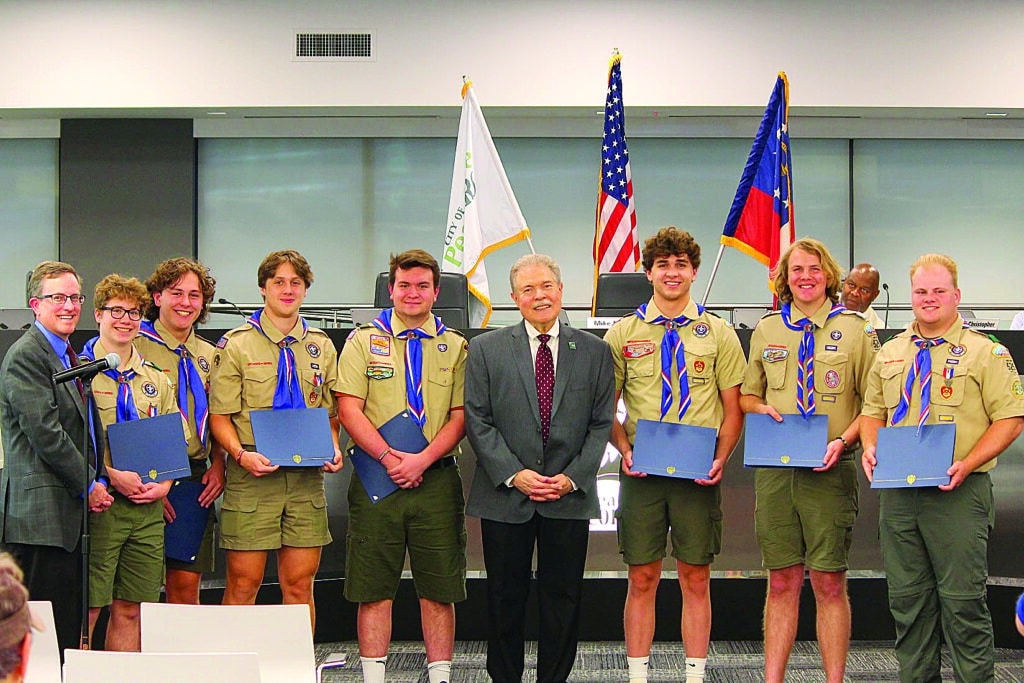 Although now is the best time to sign up and get in with the troop as the school year starts, boys are welcome all the time, said Scoutmaster Scott Donaldson. There may not be as many boys signing up now as there have been in the past, but they aren't hurting for recruits.
"We're at around 65 boys right now," said Dave Burns, Committee Chair and Merit Badge Counselor. He's the father of Will Burns, Eagle Scout #177, now a rising freshman at the University of Alabama. He also has another son/scout in the troop, Christian Burns.
The troop had more than 100 scouts just a few years ago and as large groups age out, large groups join.
From boys to leaders
Each scout is required to hold leadership positions as he advances in rank. "I was in Cub Scouts, did all Cub Scout stuff, got finished with Cub Scouts and was very much done with it," said Joshua Farley.
He was encouraged to give Scouts BSA a try. "When I got to the troop, I immediately loved it," he said.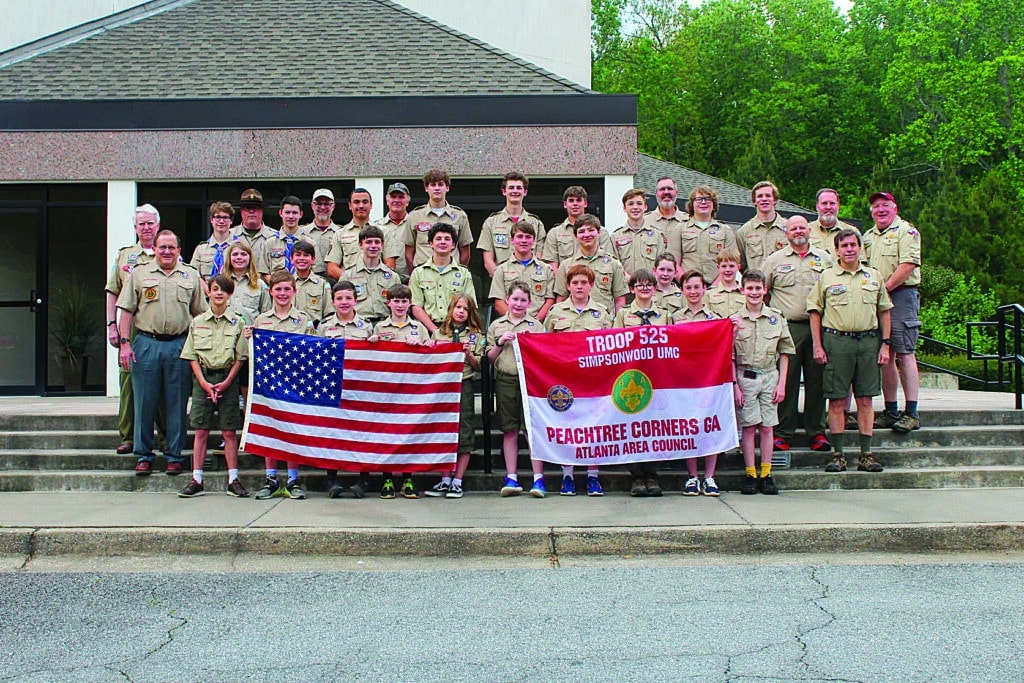 Where Cub Scouts involves younger boys in a parent-structured environment, older scouts get the opportunity to flex their leadership muscles and make most decisions themselves.
"We go camping once a month, and it's totally boy-led," said Farley. "We get to decide what camp we want to go to, what …to eat on a campout — it's a lot of fun."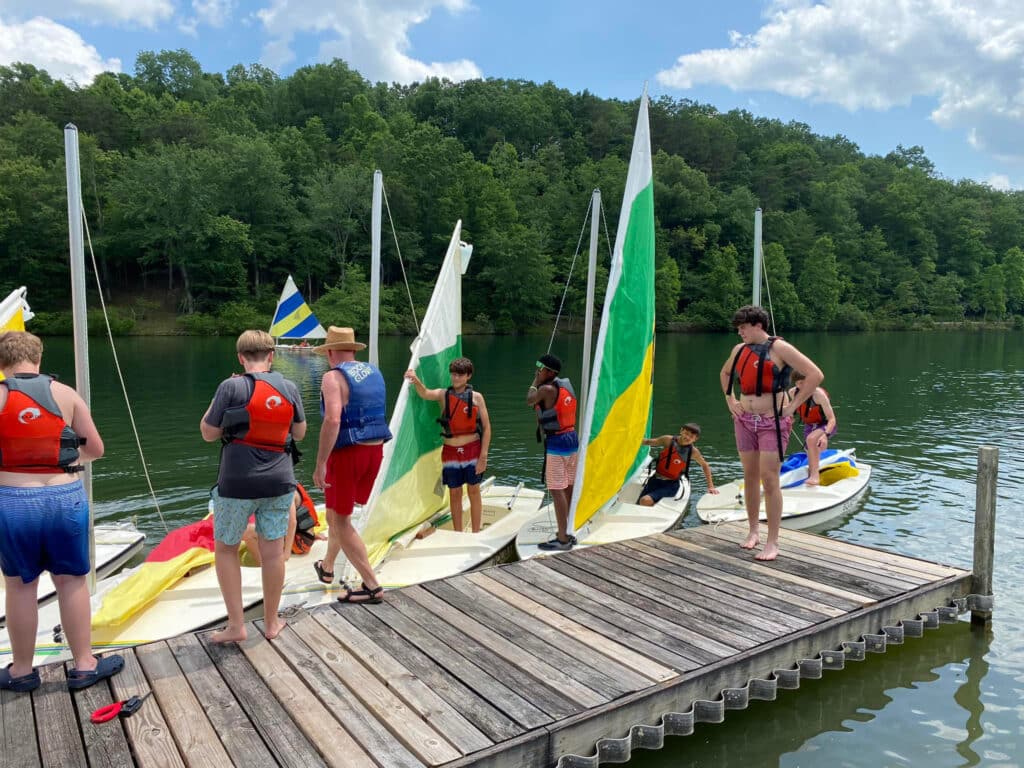 Fellow scout Andrew West, agreed. "When we go and camp out, the adults kind of point and say, 'Hey, you're over there. We're going to be over here. And then they go and drink coffee and make up stories about how cool they were when they were young," West said.
Fly high as an Eagle
Some of the scouts go on to earn the highest possible rank of Eagle Scout. Requirements include actively serving in positions of responsibility, earning a total of 21 merit badges and leading a service project from planning to completion.
West slid in just before the deadline with his Eagle Scout project. "I built a picnic table for a local neighborhood HOA's garden. I was originally planning on two, but the price of wood isn't cheap and they were happy with the one. They like it and they enjoy it," said West. "Honestly, it was a spur of the moment thing because I was coming down to the wire in terms of my aging out. It was May and I aged out in June."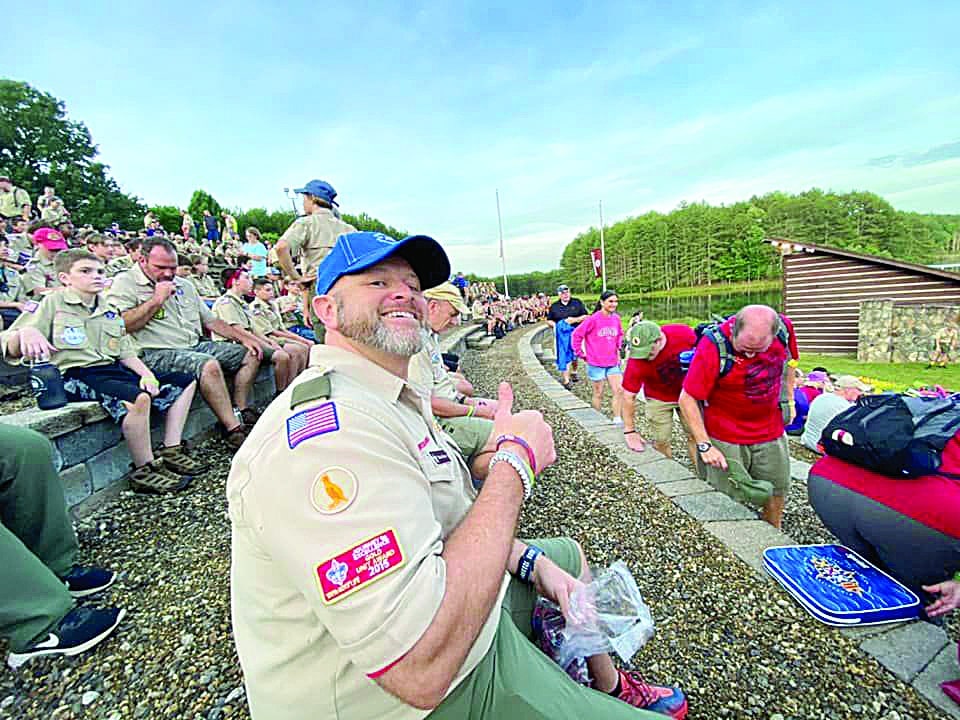 Farley didn't play it as close. "I got my Eagle back in 2018. …I built some shelves for a dog rescue," he said. "They were some pretty massive shelves. I think they were eight-foot by six-foot by four-foot shelves. Originally, they were designed to fit dog crates. The last time I was there, they were using them to store dogs inside of dog crates, as well as giant bags of dog food that they order in bulk. So they're still getting used a lot."
Unlike most boys, Farley was still in eighth grade when he earned his Eagle Scout rank — 13 years and 10 months old.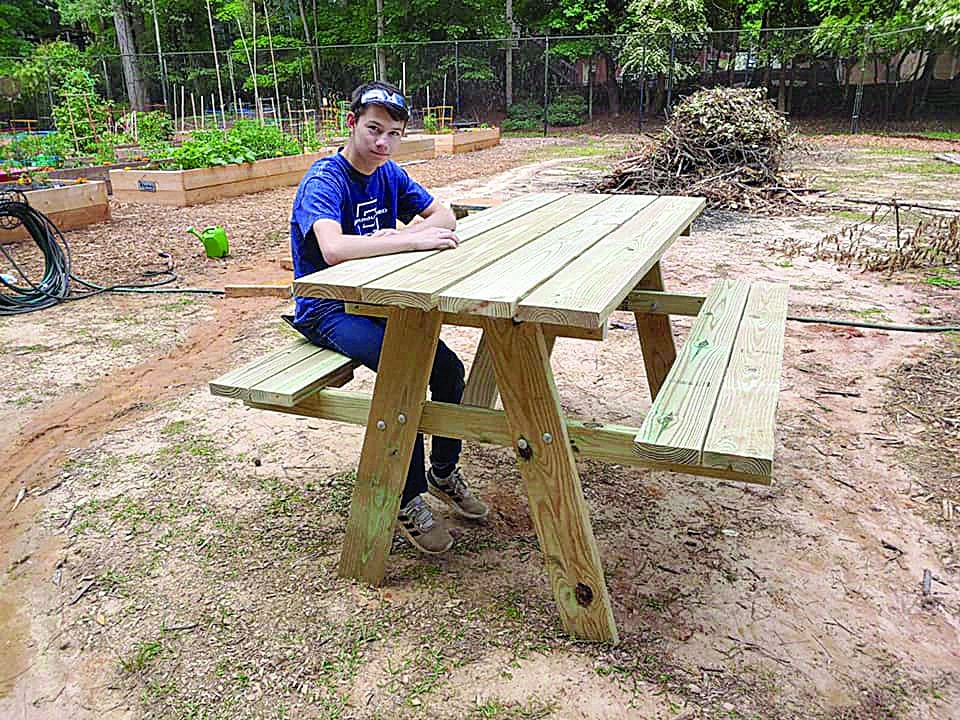 "I would say that out of the past 340 Eagle Scouts, two or three maybe fall in that category," said Donaldson. And again, not to say anything at all negative about this, but Andrew chose the more common path, which we jokingly referred to as the 'Hard Tech Eagle,' which is basically, 'I've got the merit badges. I turn 18 in 30 days, and I've got to get this done.' So, it's basically 'get the project done.'"
Growth through adventure
Even though earning that ultimate rank is a major accomplishment, the troop leaders were quick to point out that scouting is about much more than earning badges and achieving ranks.
"I went to my first camp out in Cub Scouts …in an eight-man tent on two blow-up mattresses. And it was like 30 degrees and we're like 'How is it that we're so cold?'" Farley recounted. Both he and his dad were novices at camping but liked the outdoors and the camaraderie of scouting.
"This summer, I backpacked about 105 miles in 10 days out in New Mexico at the Philmont Scout Ranch with our crews," Farley said. "I've totally come full circle since then. Obviously, that was my first camp out. When I first joined the troop, I was showing up with a sleeping bag that came up only a little past my waist.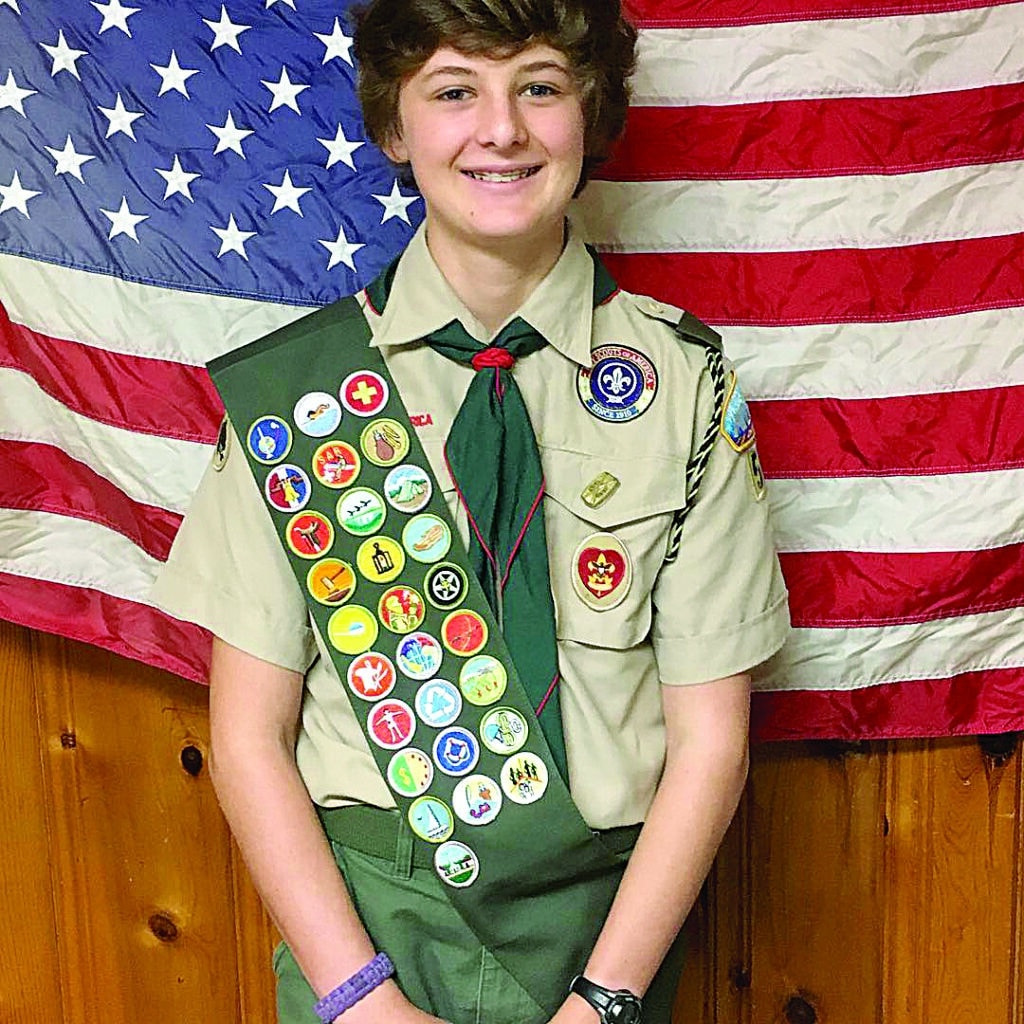 "…A lot of the kids, they show up in their first year and they've got either these giant tents or they've got this super-duper high-tech backpacking tent that their parents got them from REI. They have no idea how to set it up. Then as they're in it, they figure it out," he added.
Joshua's dad, Paul Farley, the Outdoor Chair and Merit Badge Counselor, nodded in agreement. He has another son/scout in the troop, Patrick Farley.
They both grew together in the Scouts experience. Although movies may portray all scout leaders as outdoorsy types, many learn along the way with their children. Paul Farley enjoyed it so much, he signed on to volunteer — and he kept volunteering. Now he's in charge of logistics. He went along on the 105-mile hike, carrying a backpack to summit a 12,400-foot-high peak.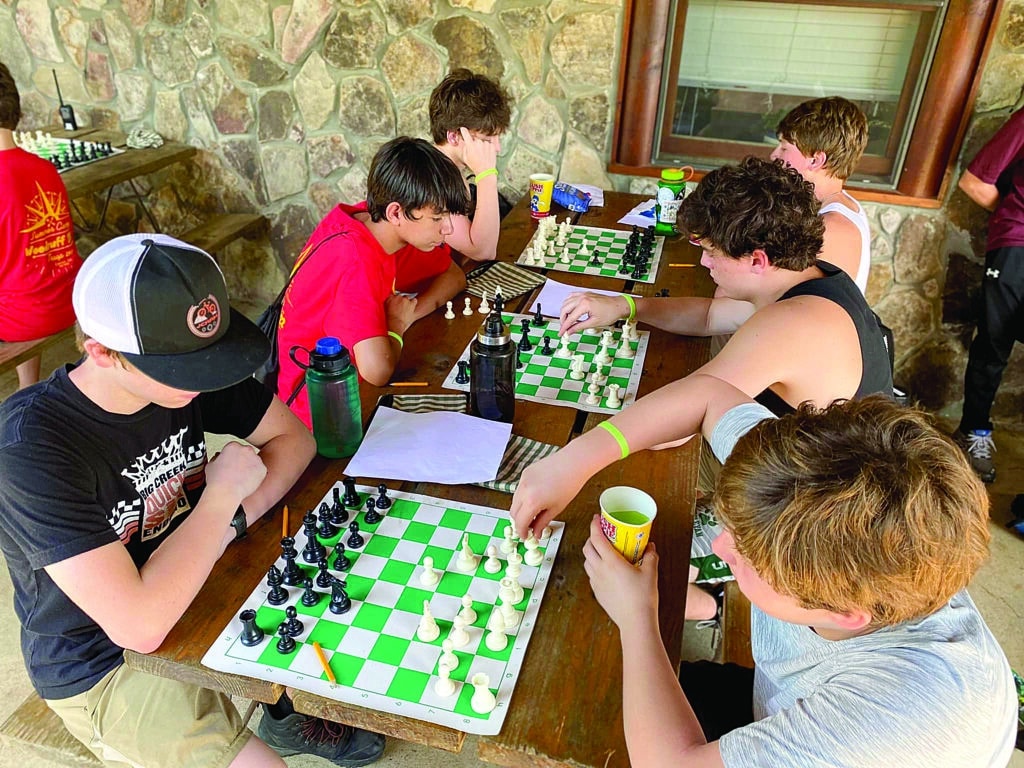 "I also went to Sea Base Camp in Florida, where they get to paddle a war canoe out five miles to barrier island. There's no power and you carry everything out with you," said Paul Farley. "My job in the troop as the Outdoor Chair is to do the behind-the-scenes stuff so that the boys have the opportunities to have these adventures and experiences."
Learn life skills
When it comes down to it, one of the most amazing things about Scouts is that the teens learn life skills, leadership skills and coping skills without realizing they've learned them.
Burns shared a story about a 12-year-old scout whose house caught on fire. "The stove caught fire," he said. "He called 911, got the dogs out of the house and got the fire extinguisher and gave it to his mom and she put the fire out. We're actually in the process of submitting him for a reward recognition for keeping a calm head and using his scout skills."
Boys of 11 and 12 enter the troop as nervous tweens. They learn how to set up tents, cook over campfires, coordinate with other boys to get chores done and tie a bunch of knots — and they come out as confident, caring and cognizant young men.
Basic info
Scout BSA Troop 525 meets on Mondays, 7:30 p.m., at Simpsonwood United Methodist Church, 4500 Jones Bridge Circle, Peachtree Corners 30092. To learn more about the troop, go to troop525.org .
UPCCA Extends Deadline for Annual Scholarship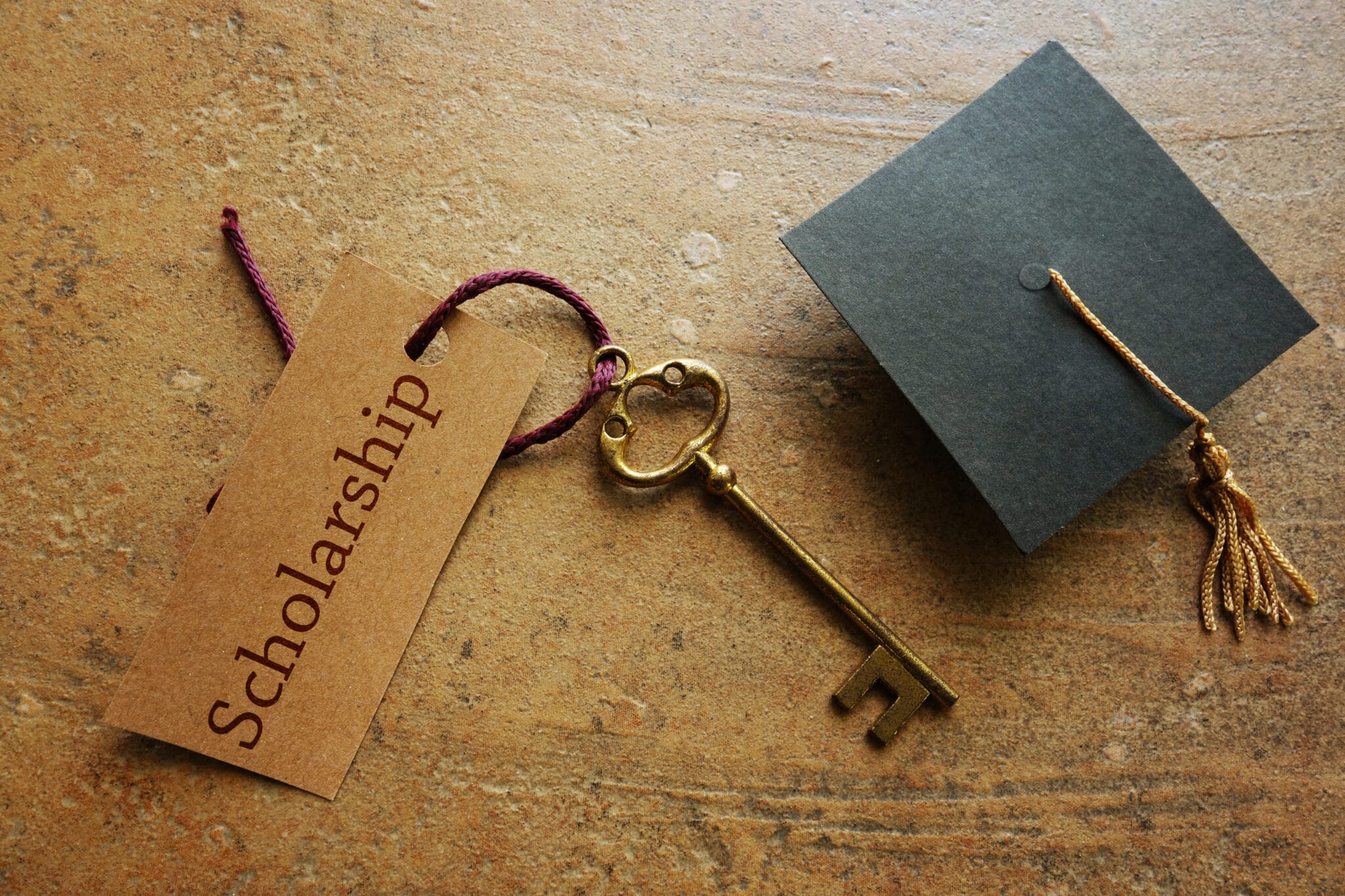 The United Peachtree Corners Civic Association is back this year with its annual Community Service Scholarship. After the COVID-19 pandemic forced the organization to make changes in the process, the organization is back to the original award of $1,000 each for two high school seniors who reside in Peachtree Corners and have made the commitment to volunteer outside of school hours during their high school years. 
"Every year, the committee weighs several factors, community service, extracurricular activities and things like that," said UPPCA President Matt Lombardi. "We're looking for students who personify our community values."
Last year's winner used the scholarship money to purchase a 3D printer and made mask clips that helped secure masks that had to be worn during the nationwide mask mandate, said Lombari, adding that it's that kind of selfless act that makes the awardee stand out.
"And it doesn't matter what kind of secondary education they're pursuing," said Lombardi. "It can be a four-year university, a vocational school or whatever works for the recipient."
The deadline this year has been extended to May 31 to give students an opportunity to "get back to normal."
Last year UPCCA awarded three $1,000 scholarships and has toyed with the idea of increasing the amount.
"But we don't want to be competitive with other non-profits in the area," said Lombardi.
While the pandemic made it necessary for the award presentation to be held outdoors, this year it will be at Peachtree Corners Baptist Church.
Any high school senior who resides in the 30092 ZIP code is eligible to apply, regardless of where they attend school.
Scholarship application process:
• Complete the Online Scholarship Application. The online application includes areas to upload your documentation for the essay and service activities.
• Write and/or video a 300-word essay about community service work that had the greatest influence and why.
• Include a listing of all community service activities participated in while in high school.
The winners will be chosen strictly on their participation in community service.
More information: In order to qualify for one of the two UPCCA scholarship, you must live within Peachtree Corners and/or be a member of the UPCCA. Click here for information on becoming a member of UPCCA or contact UPCCA President Matt Lombardi at 770-548-2989.