Greater Atlanta Christian School (GAC) Raises 22,500+ Cans for Can-A-Thon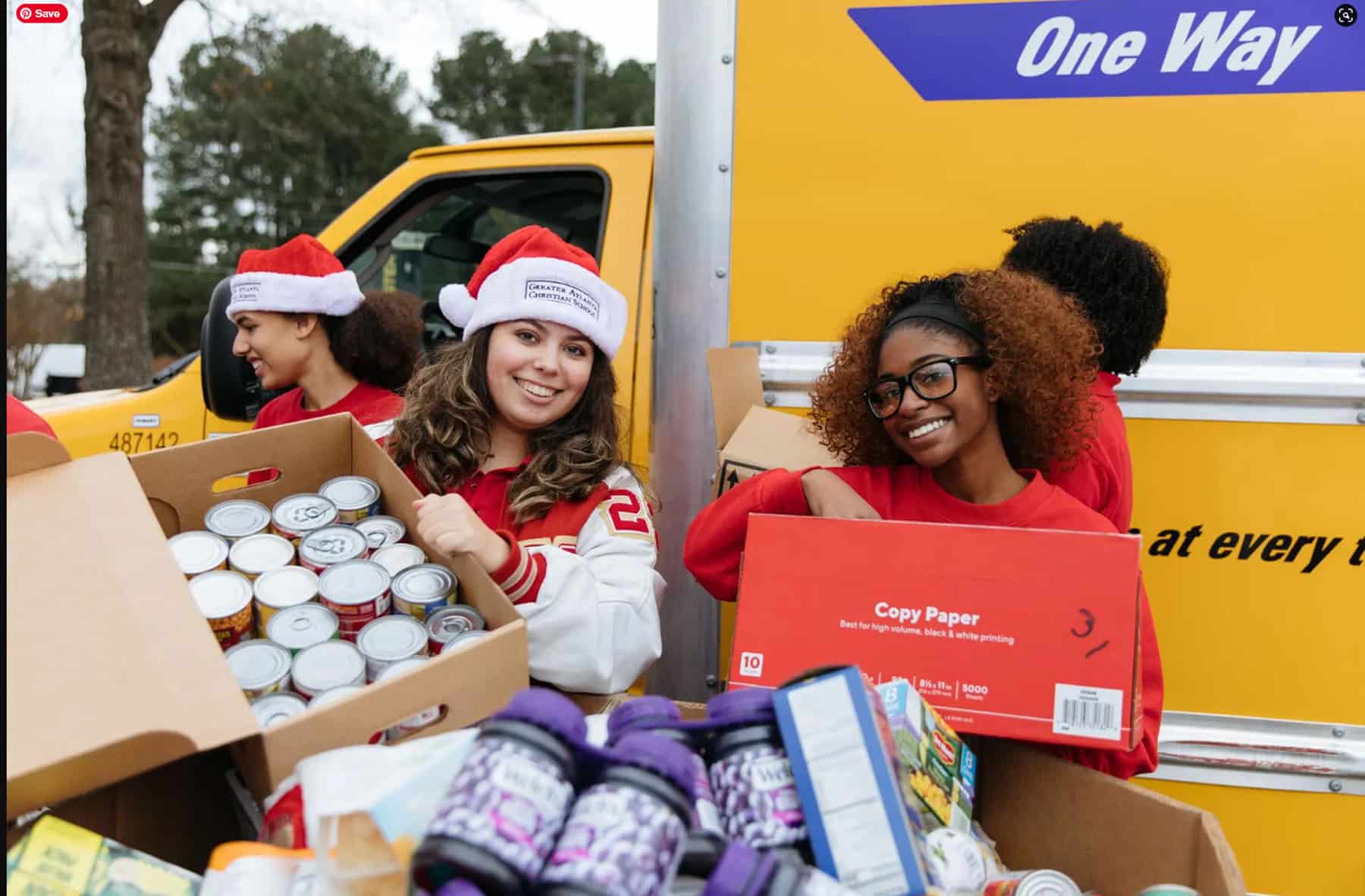 Supporting the 11Alive/Salvation Army Can-A-Thon has been an annual school-wide tradition at Greater Atlanta Christian School for the past 10 years. The GAC community came together in the fight against food insecurity in the Gwinnett County community and beyond.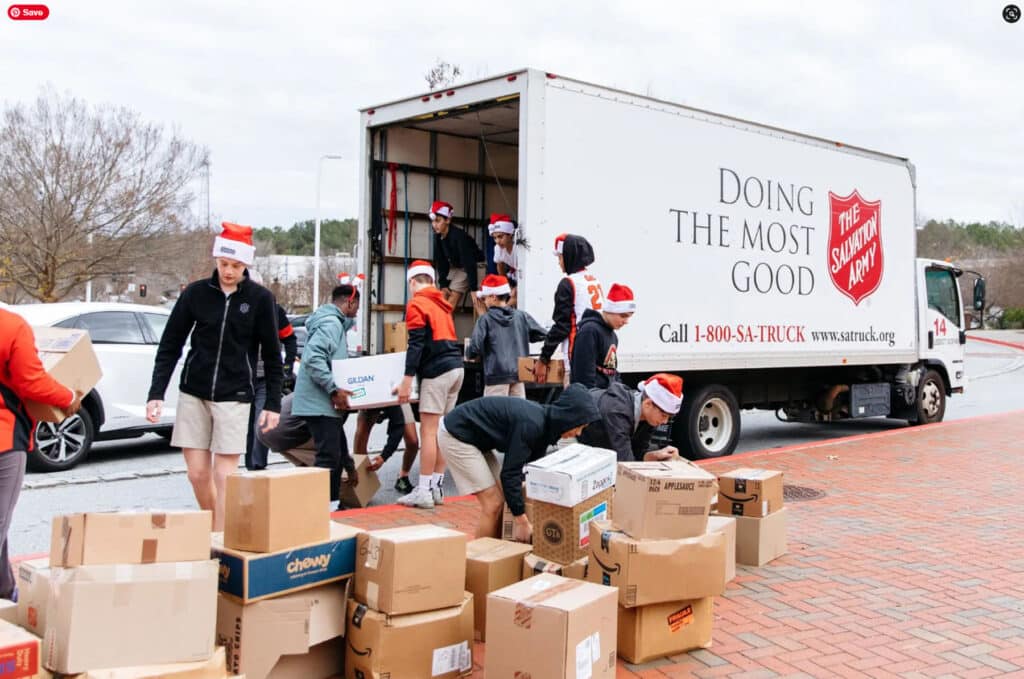 22,563 non-perishables were collected and delivered to the Salvation Army on Friday, December 2nd. 
 
The Infant-12th grade students rallied their efforts for the past month in varying ways to accomplish their goals. Different incentives and competitions all spurred the number of cans to grow. 
On Can-A-Thon collection day, each school level's service and leadership groups lent a hand collecting, counting, boxing, packing, and delivering food. On-site at Salvation Army, the GAC Concert Choir serenaded volunteers with spirited Christmas music while student leaders unloaded boxes and presented the donations for the 11Alive/Salvation Army Can-A-Thon. It truly was a school-wide collaborative effort that made this donation possible.
Making the Can-A-Thon fun adds to the success, but the larger goal is much more intentional. "Can-A-Thon increases our students' understanding of the need to give food and love to our surrounding community where there is great need right now. This is about more than just canned goods. Can-A-Thon is about the people who live and work alongside us. The GAC family has been called to use what we have been given to help ease the burden of hunger and food insecurity," shared Greater Atlanta Christian School President, Dr. Scott Harsh.
Gwinnett County's First Household Hazardous Waste Collection Day Set for February 11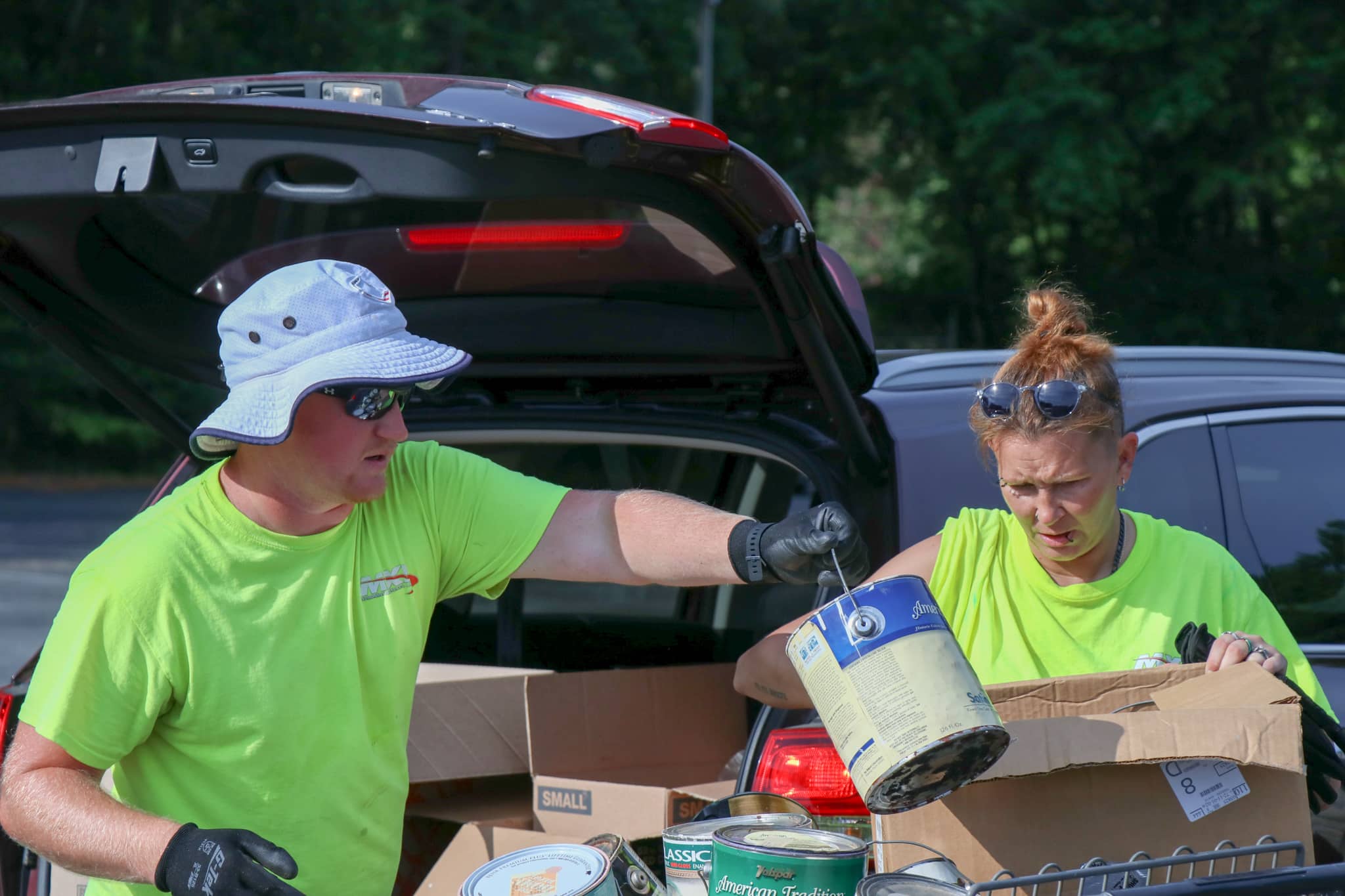 Gwinnett Clean & Beautiful and the Department of Water Resources to host an environmentally focused community event — Volunteers needed!
In February, Gwinnett Clean & Beautiful (GC&B), with its partners at Gwinnett County Department of Water Resources (DWR), will provide a free opportunity for its neighbors throughout the county to drop off household hazardous waste for recycling or proper disposal.
The first Household Hazardous Waste Collection Day of 2023 will take place Saturday, February 11 at Gwinnett County Fairgrounds in Lawrenceville from 9 a.m. to 1 p.m.
As a result of the biannual Household Hazardous Waste Collection Days in 2022, 1,422 Gwinnettians decluttered their homes while diverting 161,874 pounds of hazardous materials from local landfills. A bigger turnout is predicted for this year.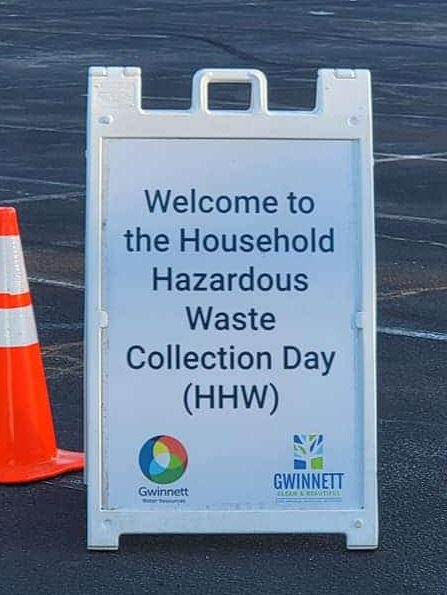 Looking for volunteers
"To help ensure a smooth event, we're seeking an additional 50 volunteers," said Schelly Marlatt, Executive Director for GC&B. "We only have a four-hour window to collect materials from hundreds of cars, so this is a 'the more, the merrier' scenario."
She added that it's a great opportunity to spend some time outdoors, meet other people who have a heart for the environment, fulfill volunteer hours for school and club commitments, and do something good for the community.
"Volunteers will help direct traffic, be assigned a station to help haul materials from vehicles, break down boxes, and more. It's easy but rewarding work," she said.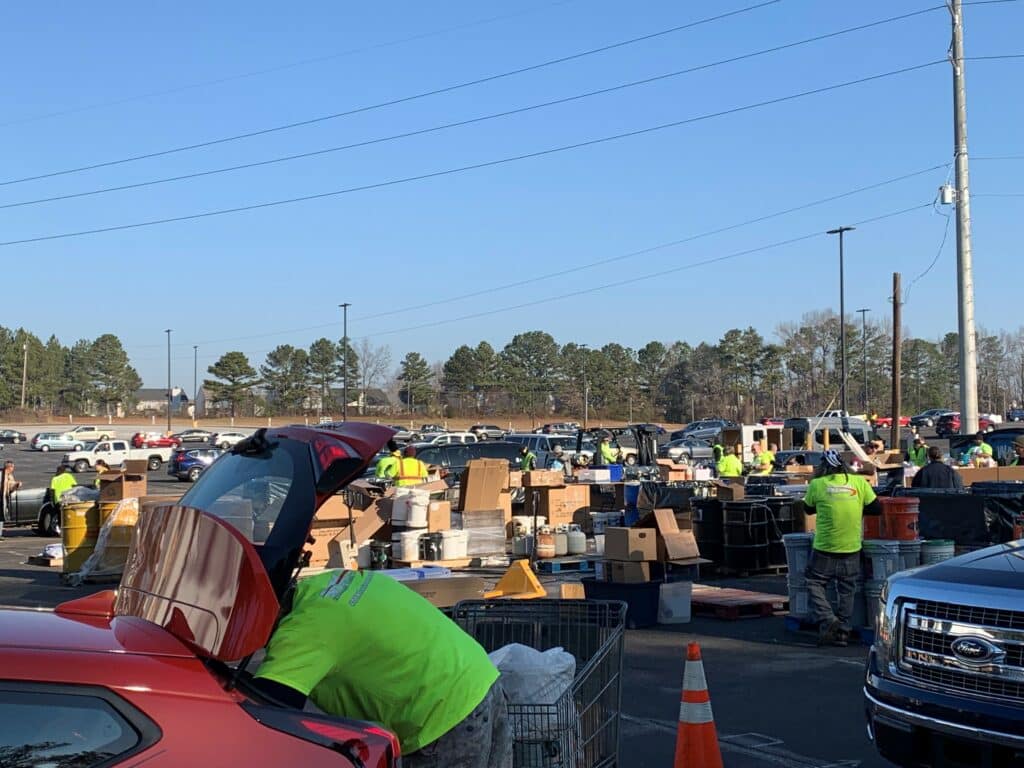 Marlatt explained that when people throw household hazardous materials in the trash, it winds up in the landfill and could leech into the soil, contaminating groundwater and the environment. The dangerous combination of some of those materials during the disposal process could even lead to a chemical reaction resulting in a fire or explosion.
"It might not seem like it at the moment when our volunteers are collecting items from the trunks and backseats of our attendees' cars, but we're saving the planet — one pesticide, paint can, and propane cylinder at a time!" she said.
To sign on as a volunteer for this and future events, Marlatt encourages interested individuals and groups to visit Volunteer Gwinnett.
Hazardous Waste Collection Day info
Attendees are permitted to bring up to five containers of household waste. Containers must be the size of a copy paper box or laundry basket, and — since they cannot be returned once removed from the car — disposable containers are recommended.
Acceptable items for collection include:
Aerosol/spray pesticides
Automotive products (engine degreaser, brake fluid, transmission fluid, antifreeze, etc.)
Cleaners, corrosives, spot removers, acids, and bases
Aerosol/spray paint
Auto batteries
Batteries (household and rechargeable)
Chlorinated solvents
Cooking oil and grease
Fire extinguishers
Flammables (lighter fluid and waste fuels (kerosene, gasoline, diesel fuel, etc.)
Fluorescent bulbs and ballasts
Insecticides
Latex and water-based paints
Lawn care products
Mercury
Mercury salts and elemental mercury thermometers
Oil-based paint and stains
Oxidizers
Pesticides
Poisons
Propane cylinders
Solvents and varnishes
Thermostats and other mercury-containing items
Thinners and paint strippers
Weed killer
Wood preservatives
"While we traditionally collect items like tires, electronics, and paper for shredding at other annual recycling events like Earth Day and America Recycles Day, we will not have the capacity to accept those items at our Household Hazardous Waste Collection Day," added Marlatt.
She suggested that attendees plan to bring their tires, and electronic and paper items to GC&B's Earth Day Recycling Event at Coolray Field on April 22.
Items that will NOT be collected during the Feb. 11 event include:
Ammunition
Radioactive waste
Pharmaceuticals, and
Biomedical/biohazard waste.
Gwinnett County Fairgrounds is located at 2405 Sugarloaf Pkwy. in Lawrenceville. Volunteers are asked to report at 8 a.m. on the day of the event.
Questions about February's Household Hazardous Waste Collection Day can be directed to Program Coordinator, Stephanie Marquardt at 770-822-5187 or gwinnettcb@gwinnettcb.org.
Career Exploration Night, Presented by the Rotary Club of Peachtree Corners [Photos]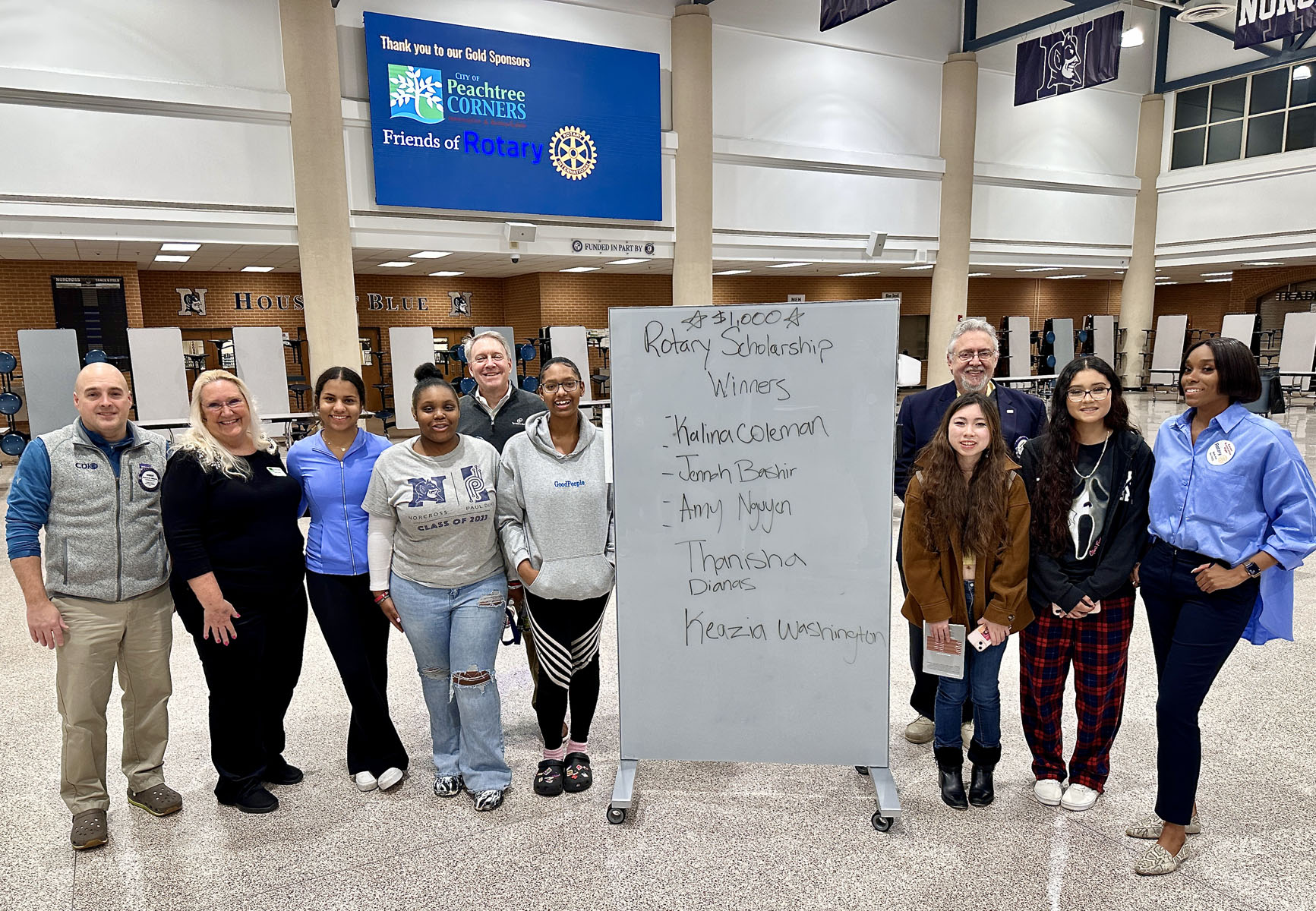 Career Exploration Night was presented by the Rotary Club of Peachtree Corners, Peachtree Corners Business Association and the Southwest Gwinnett Chamber of Commerce.
At the event, students from Norcross High School and Paul Duke STEM High School learned about many different career paths and met with experts in the fields of healthcare, public safety, Film/TV, Sports management and many others.
At the end of the event, five students received a $1,000 scholarship. They included: Kalina Coleman, Jennah Bashir, Amy Nguyen, Thanisha Dianas and Keazia Washington.
Photography by Bruce Johnson
PCBA Presents Donations to Three Local Charitable Groups

Paint Gwinnett Pink, A. Worley Brown Boys & Girls Club and Corners Outreach each receive $4,000 checks.
The Peachtree Corners Business Association (PCBA) awarded $4,000 checks to three area charity organizations in November and December.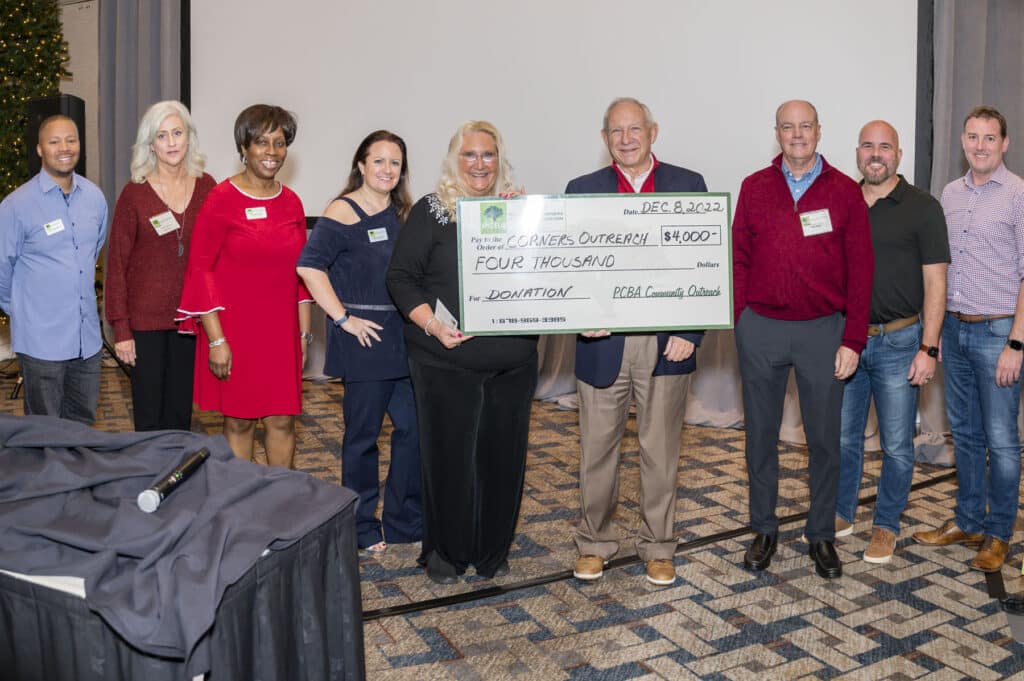 Paint Gwinnett Pink was presented with the check at the November PCBA Business After Hours Speaker Series. At the November 2022 Business After Hours networking event, a check was given to the A. Worley Brown Metro Atlanta Boys & Girls Club. And Corners Outreach received its check at the December Year-End Celebration.
PCBA President Lisa Proctor said that the PCBA was proud to present the checks to the three charities. The money was raised for the organizations through the PCBA's annual charity event.
"With the PCBA celebrating our 10 year anniversary, we are more committed than ever to find ways to engage and bring our community together in a meaningful way," Proctor added.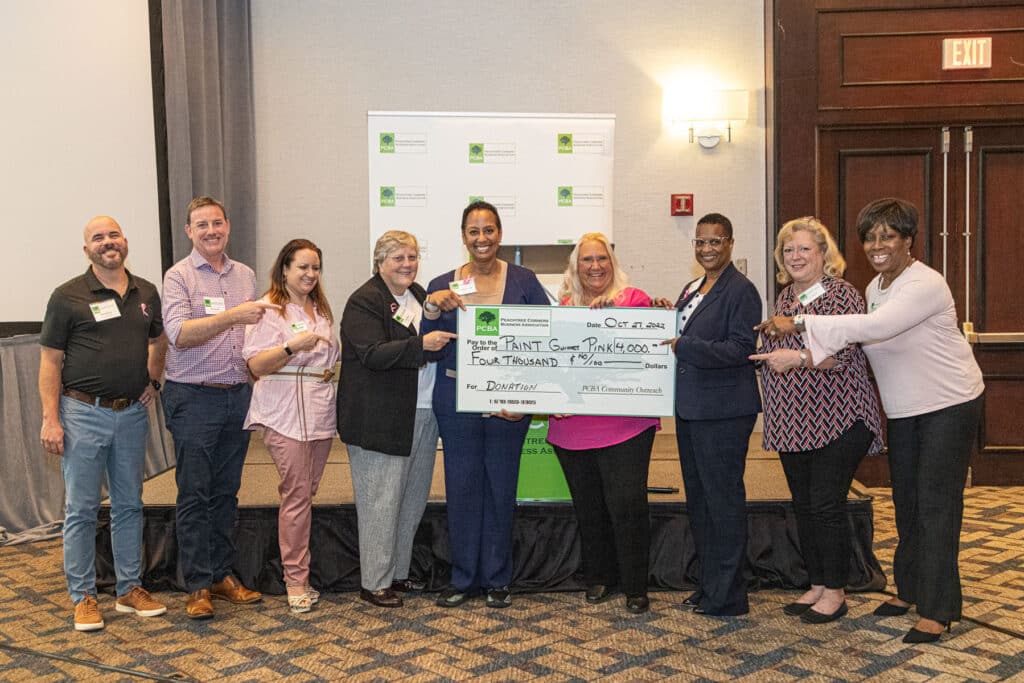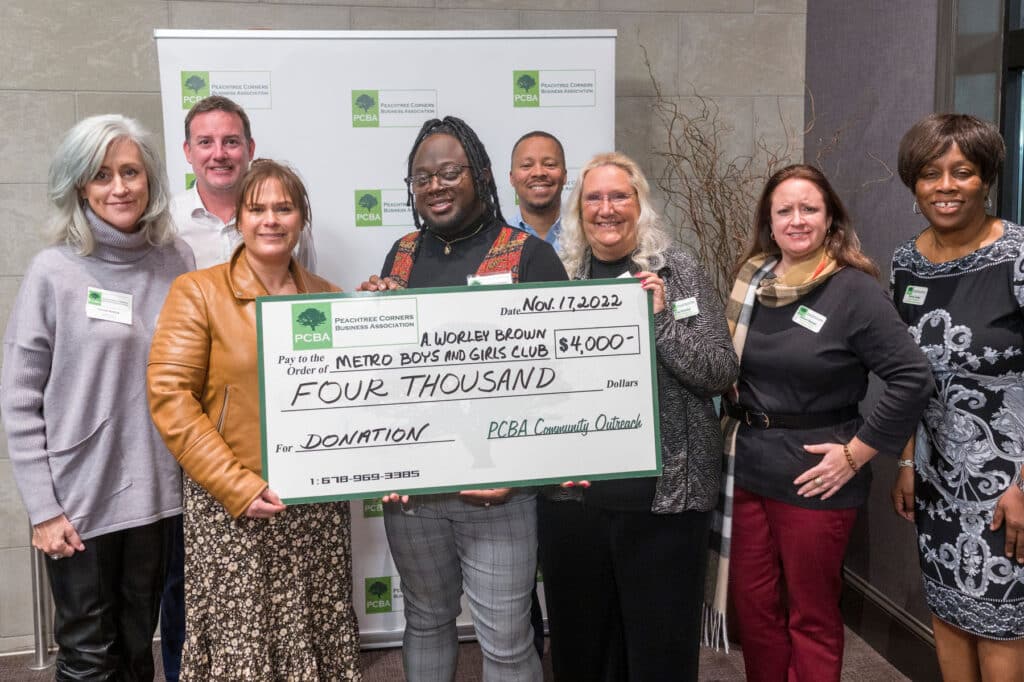 About the organizations
Paint Gwinnett Pink is an annual 5K walk/run event with one main mission: helping people in the community who are facing a breast cancer diagnosis by raising awareness and funding the best care possible for cancer warriors in our community.
The walk/run event is the largest breast cancer 5K in Gwinnett County and a celebration of survivorship that raises awareness and funds for breast cancer programs at Northside Hospital Gwinnett. The PCBA also participated in the 2022 race/walk with their Team PCBA.
The Boy & Girls Club of Metro Atlanta has 26 Clubs located in 11 counties across metropolitan Atlanta and serves nearly 8,000 kids and teens each year. During critical non-school hours, the club offers youth development programs that promote academic success, healthy lifestyles, character and leadership.
The mission of Corners Outreach is to equip metro Atlanta's underserved students of color and their families to lead full lives through educational development and economic opportunities.
About the PCBA
The PCBA is a business membership organization focused on innovative approaches, programs, shared resources, community outreach and opportunities for member businesses and professionals to connect and prosper.
Funds for the PCBA Community Outreach program are raised throughout the year from PCBA membership, sponsorship and the association's annual charity event. Donations and scholarships are awarded at PCBA's monthly events.
For more information, visit peachtreecornersba.com, call 678-969-3385 or email membership@peachtreeba.com.