Simpson Elementary Cuts Ribbon on New Track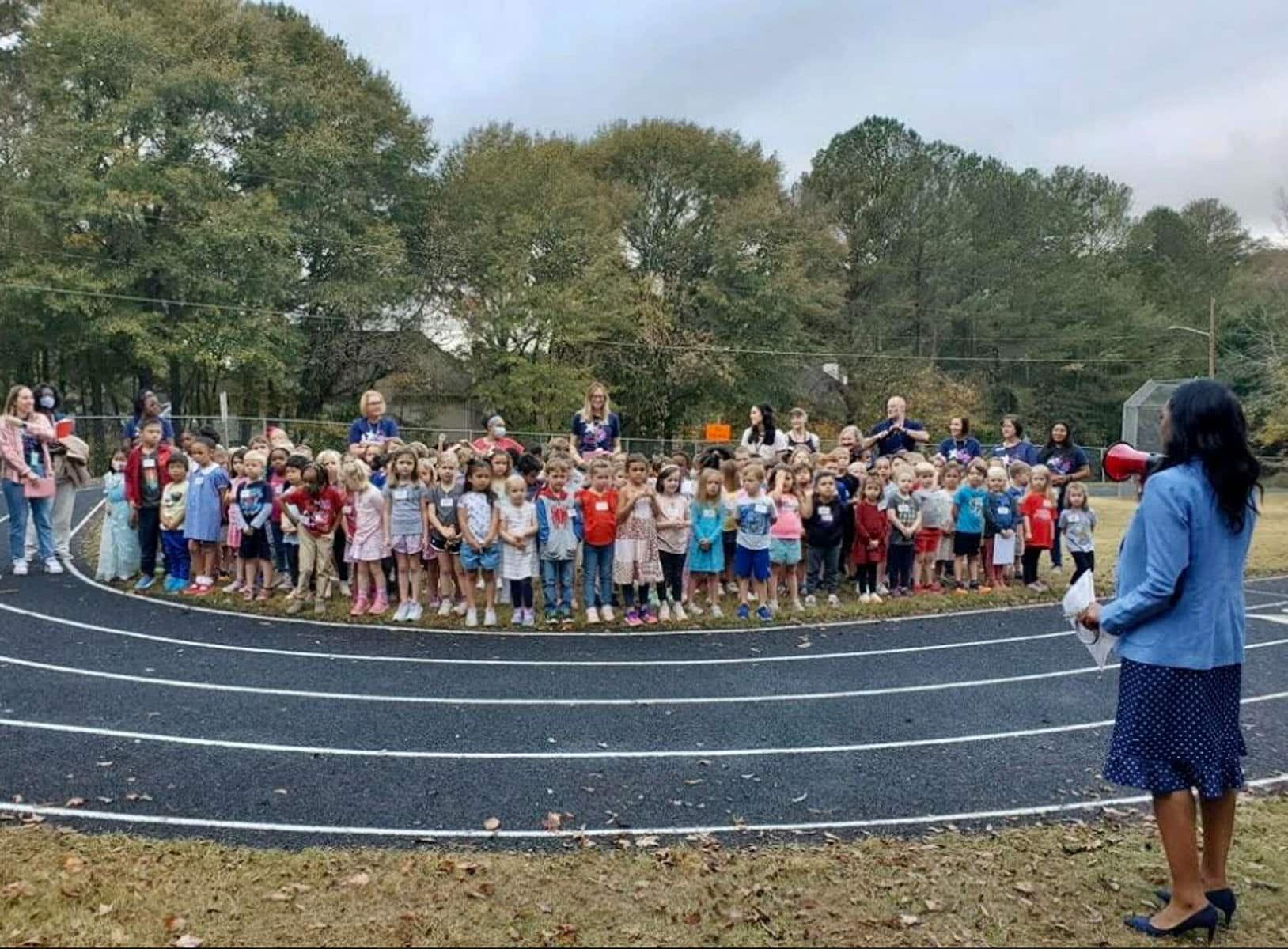 Students now have facilities suitable for exercising the body as well as the mind.
For something to be important and special, it doesn't necessarily have to be huge. That's what Simpson Elementary students, staff and Peachtree Corners officials realized on Nov. 7 with the ribbon cutting of the school's new track.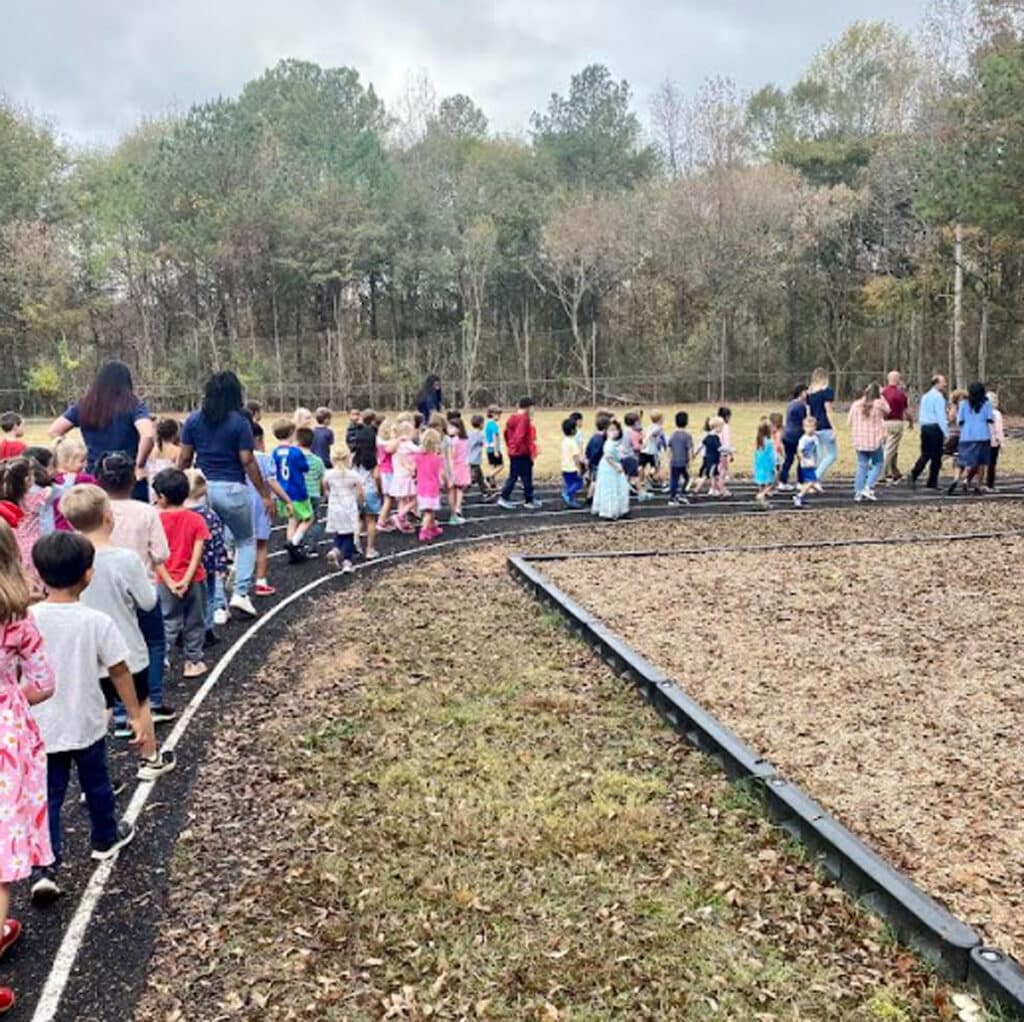 "Today is a joyous occasion because we're here to celebrate the renovation of our school's playground," said Simpson Elementary Principal Dr. Taffeta Connery.
The four-month long project took a lot of effort. In addition to trimming the overgrowth of trees beyond the fence surrounding the track and a playground area, numerous potholes needed to be filled. The playground was leveled with truckloads of dirt and gravel, and the actual track was rubber striped.
What was once a potential hazard and mini wetland has been transformed into an inviting recreational space for students and staff to exercise. For safety reasons, the track isn't open to the public.
"Not only is it attractive, but it's also safe and enjoyable for all of you to run around and play," said Dr. Connery.
Previously, the Simpson Superstars had to meet for Kilometer Club at the nearby YMCA. The renovated space now allows for a closer option right on school grounds.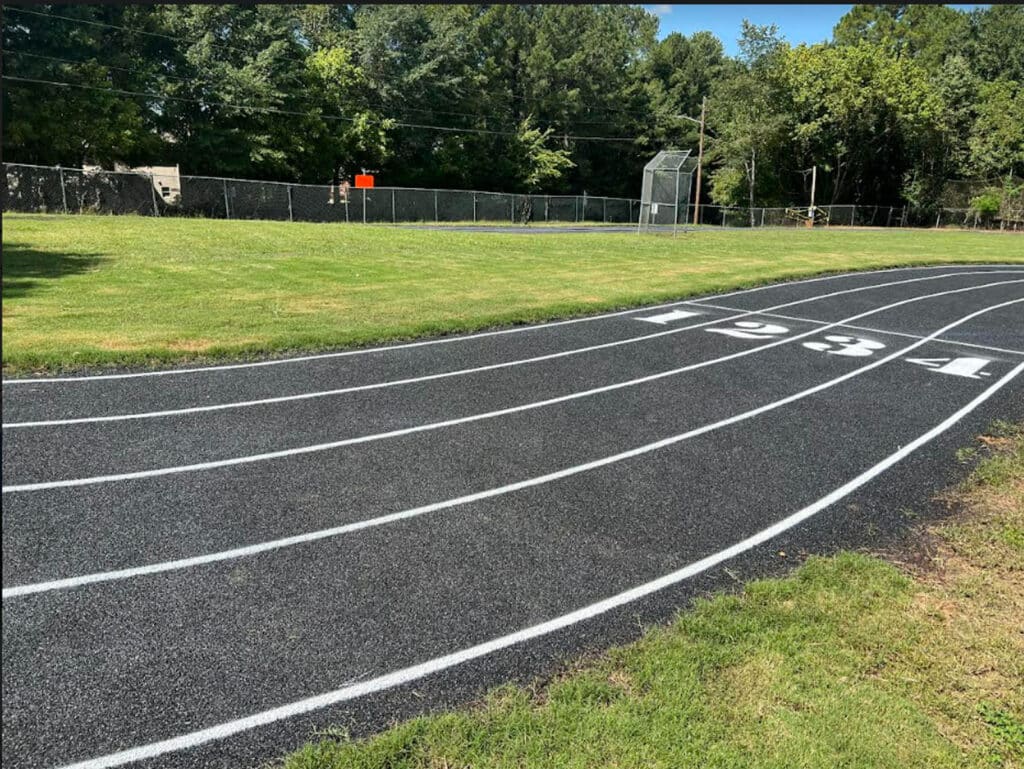 Great schools, great communities
City representatives Councilmembers Lori Christopher, Phil Sadd and Mayor Pro Tem Weare Gratwick, along with City Manager Brian Johnson, were presented with an award of recognition and appreciation by Dr. Connery.
The officials received a beautiful bouquet of flowers and an abundance of thank you cards from the kindergarten class of the school before officially declaring the track open for walking, running and just enjoying the outdoors.
The kindergarteners gathered for the ceremony and applauded the efforts of the city as Dr. Connery presented Peachtree Corners with a plaque and flowers as tokens of appreciation.
"We always say that great schools build great communities, and in turn, great communities build great schools," said Dr. Connery. "This Community Service Award is with our deepest appreciation for the City of Peachtree Corners."
The students presented the thank you cards they'd made to city officials before everyone took a victory lap to break in the new track. The weather was a little warm for early November, but everyone agreed that it was perfect for a mid-morning stroll.
Simpson Elementary PTA Co-Presidents Mary Catherine Jennings and Dana Zamuel were also present to celebrate the school's new addition. They both agreed that exercising the body is just as important as exercising the mind — especially with energetic elementary students.
The teachers are just as excited about the improvements as the children. Prior to the renovations, that area had such poor drainage that it often couldn't be used for recess, nature walks or other school functions.

Norcross High School Student Lisa Van Ness named a National Merit Scholarship Semifinalist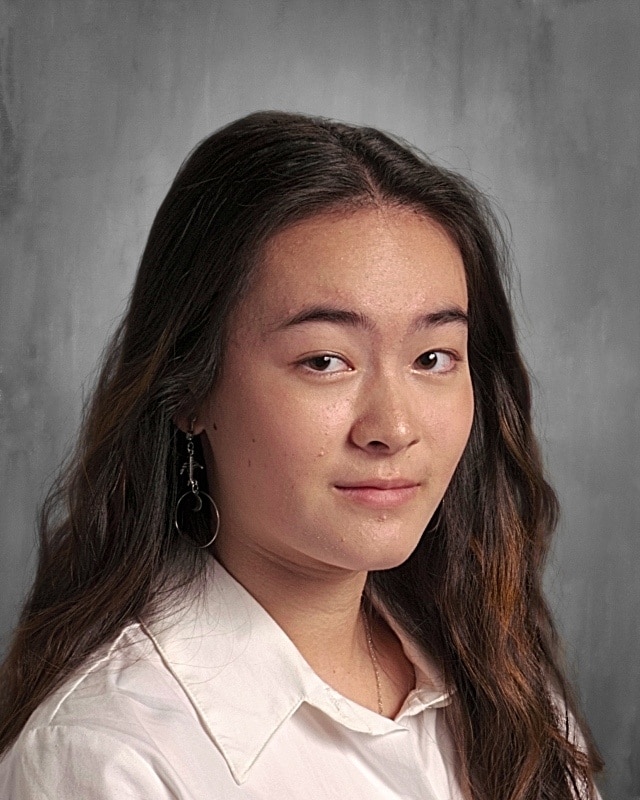 Officials from the National Merit Scholarship Corporation announced the names of 56 Gwinnett County Public Schools (GCPS) semifinalists considered for the 69th annual National Merit Scholarship Program.
One of these semifinalists is Lisa Van Ness, a senior at Norcross High School. Van Ness excels in all academic areas but really enjoys her STEM classes. 
Besides her success in the classroom, Van Ness is a member of the school's color guard for the marching band and has spent three years on the cheer team.
She is also an accomplished pianist and enjoys dancing, reading and baking in her free time.
Over 1.3 million juniors from 21,000 high schools entered the 2024 National Merit Scholarship Program by taking the 2022 Preliminary SAT/National Merit Scholarship Qualifying Test.
Van Ness is among 16,000 semifinalists from across the nation competing for National Merit Scholarships worth almost $28 million and offered next spring.
To become a finalist, the semifinalist and the high school must submit a detailed scholarship application.
They must provide information about the semifinalist's academic record, participation in school and community activities, demonstrated leadership abilities, employment, honors and awards.
A semifinalist must have an outstanding academic record throughout high school, a recommendation by a high school official, write an essay and earn SAT scores that confirm the student's earlier performance on the qualifying test.
National Merit Scholarship winners of 2024 will be announced in four nationwide news releases beginning in April and concluding in July 2024.

Mayor Mason Visits BIA Charter School for Mayor's Reading Program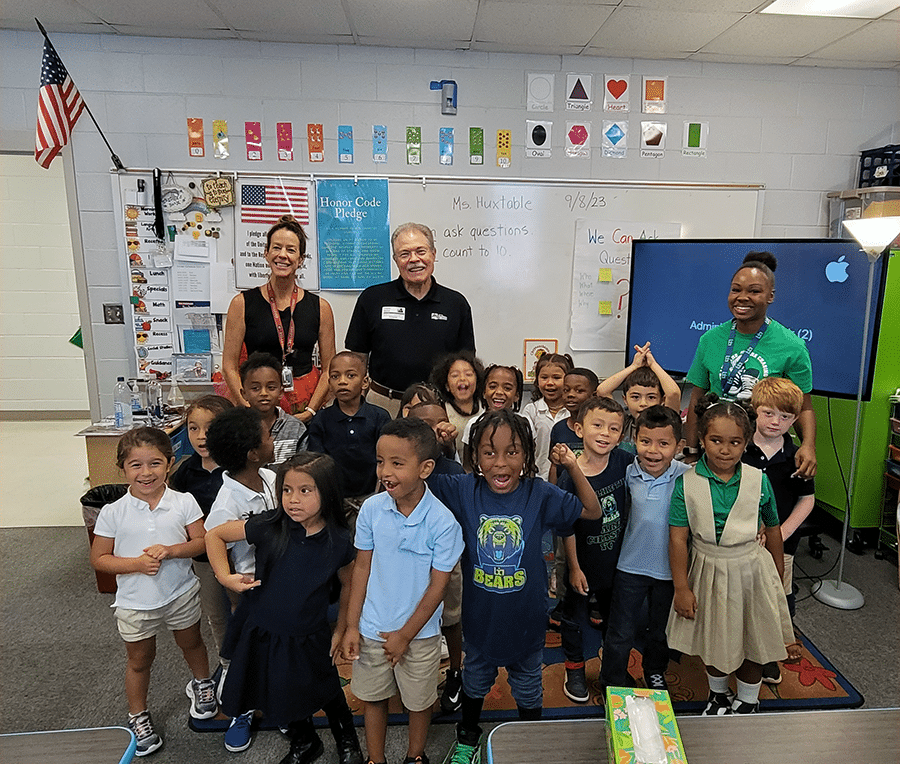 On Friday, September 8, Peachtree Corners Mayor Mike Mason visited the BIA Charter School to read to the kindergarten class of Meredith Huxtable.
The mayor visited BIA as part of the Mayor's Reading Club. Launched in August, the program is designed to support literacy skills and early reading success for children in Georgia cities.
During his visit, the mayor read "Georgia Caroline Visits City Hall," and answered student questions. Following his reading of the book, the mayor took part in an interview conducted by the school's morning news team, that was broadcast to the entire school.
The Mayor's Reading Club was developed by Georgia City Solutions and is designed to foster partnerships between the city, county, local nonprofits, schools, libraries and businesses. Other elected officials, city staff, youth and community members can participate in the program as guest readers.

Four Wesleyan School Faculty Members Named GISA Master Teachers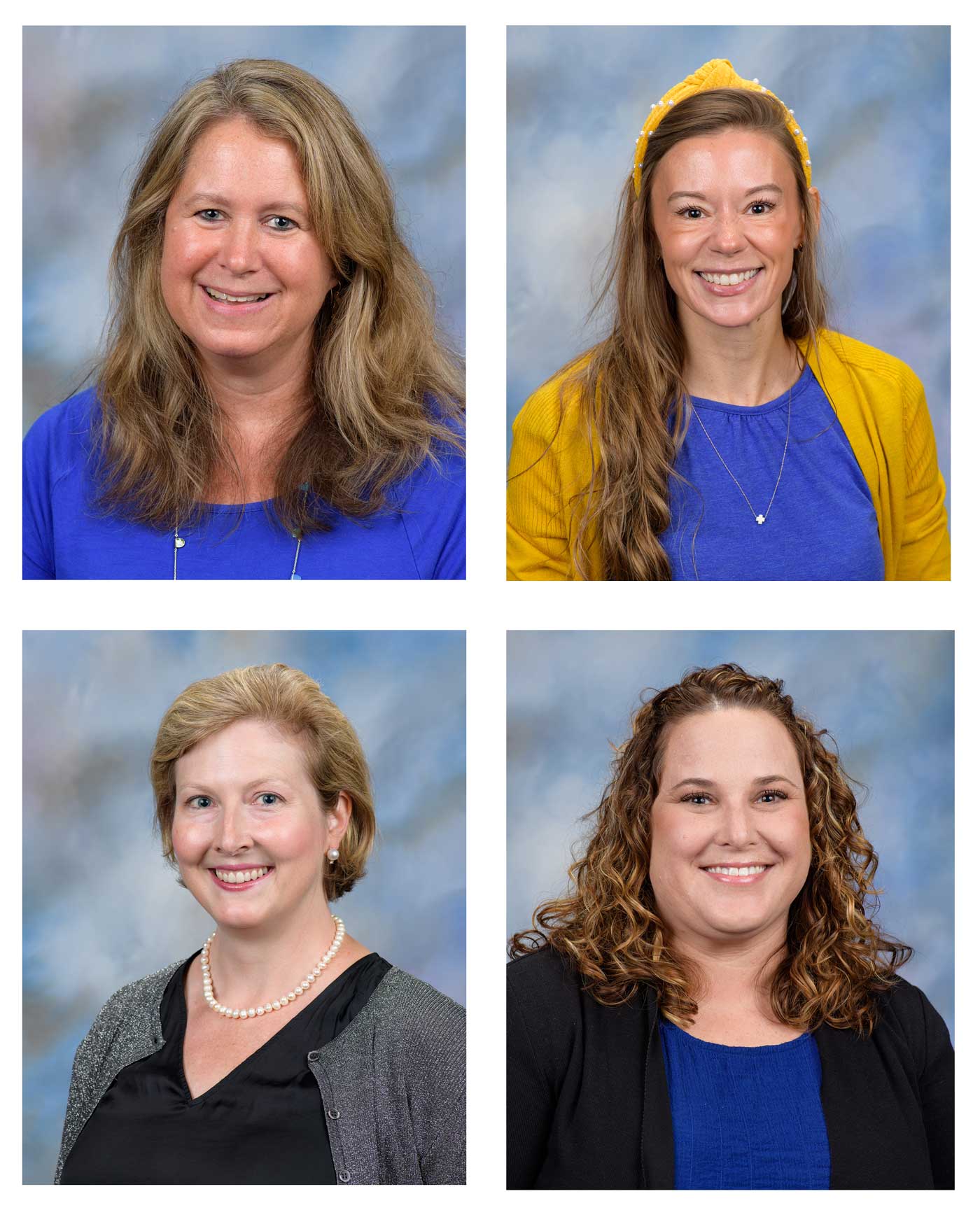 The Georgia Independent School Association (GISA) recently named four Wesleyan School faculty members GISA Master Teachers.

After completing a comprehensive application process through GISA this past spring, the following teachers were honored:
Juliette Ball, lower school lead teacher;
Paige Glass, lower school lead teacher;
Suzanne Ragains, a high school modern and classical languages teacher and
Laura Riester, middle school math teacher.
To be accepted into GISA's Master Teacher program, candidates must submit a portfolio featuring three examples of outstanding work related to the classroom and collaborating with other educators.
The final part of the application is an unedited video of the candidate's classroom teaching as well as five letters of recommendation from colleagues, administrators, parents and students.
"We are delighted that GISA has acknowledged the hard work of these committed educators through the Master Teacher program," said Chris Cleveland, Wesleyan Head of School.
"Juliette, Paige, Suzanne, and Laura are outstanding classroom teachers and have been impacting the lives of Wesleyan students for many years. They are each deserving of this honor."