Curiosity Lab partner Brodmann17 has joined the 5G Open Innovation Lab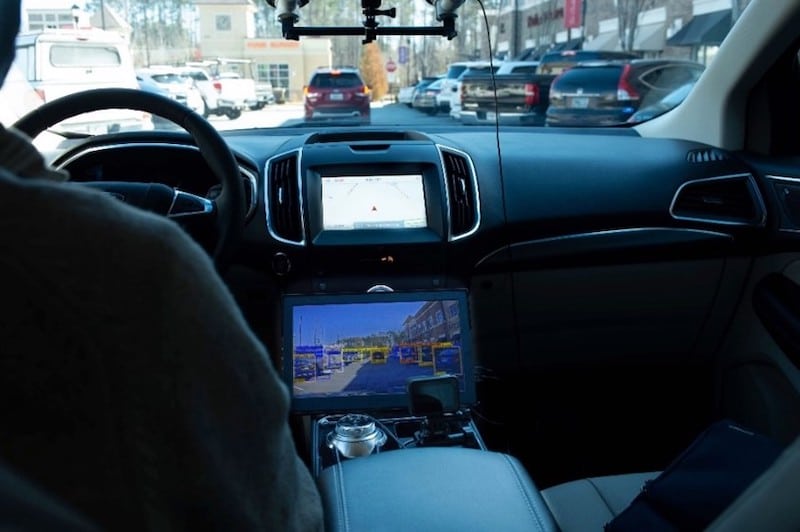 Brodmann17 Joins 5G Open Innovation Lab Following Successful ADAS Development in Peachtree Corners' Real-World Smart City Environment
Headquartered in Israel, Brodmann17 has developed Advanced Driver Assistance System (ADAS) technology which saves 95% of compute power enabling it to work on the edge
Brodmann17 used Curiosity Lab's Level 3 autonomous test vehicle to test its state-of-the-art software-only perception technology for assisted driving in real-world conditions – leveraging critical data generated at the city
A reflection of numerous Israeli developers and technology startups flocking to the "Silicon Orchard" region to prove out new technologies in a live smart city and launch into the North American market
Peachtree Corners – one of the nation's first smart city environments powered by real-world connected infrastructure and 5G – today announced Curiosity Lab partner Brodmann17 has joined the 5G Open Innovation Lab (5GOILab) after several months of successful tests of its state-of-the-art Advanced Driver Assistance System (ADAS) technology in the city. In June 2021, Israeli-based Brodmann17, added their technology to Curiosity Lab's Level 3 autonomous test vehicle to further develop and prove its software-only perception technology for assisted driving in real-world conditions.
"Our partnership with the City of Peachtree Corners and our ability to test and develop our technologies in a real-world environment, along with real connected infrastructure and data analysis, has been invaluable. In addition, being part of 5GOIL and Peachtree Corners has helped us forge valuable relationships with partners like T-Mobile that benefit our long-term business objectives. 5G-enabled technologies open the door to a wide variety of new use cases, and we feel strongly that hybrid cloud-edge solutions play a critical role in the future of the automotive industry." – Brodmann17 Co-Founder and CEO, Adi Pinhas
In October 2021, the company joined the Seattle-based 5GOILab, bringing its technology to corporate partners Accenture, Dell, Intel, Microsoft and T-Mobile. The 5GOILab is an ecosystem designed to make it easier for innovators, global platforms and enterprises to collaborate using open platforms and markets to develop, test and deploy new use cases and innovations for 5G and 5G-enabled technologies.
"Brodmann17 is a perfect example of our commitment in working with talented deep learning engineers to prove out and scale technologies in a real-world smart city. The work Brodmann17 did here is making a global impact, with North American manufacturers now looking to leverage advanced ADAS for their future vehicles. Their addition to the 5G Open Innovation Lab clearly reflects their rising prominence. We're proud that this level of new collaboration with major technology names was fostered right here in our ecosystem – reflecting why so many international companies have been flocking to the heart of Silicon Orchard." – Brandon Branham, chief technology officer and assistant city manager of Peachtree Corners
The success of Brodmann17 is another example of numerous Israel-born technology startups that have worked with Peachtree Corners to leverage their differentiated, city-owned smart connected infrastructure and overall technology ecosystem to develop and scale technologies, while creating critical new partnerships and scaling their efforts in the U.S. market.
Earlier in 2021, Brodmann17 also partnered with professional camera design house Rhonda Software to launch a new ADAS camera platform using the Ambarella CV25 edge AI vision processor. The new solution combines a camera feature set with the unprecedented levels of accuracy and performance which addresses the needs of the video telematics sector for increased driver safety and fleet efficiency.
Peachtree Corners' Prosperity Hinges on Technology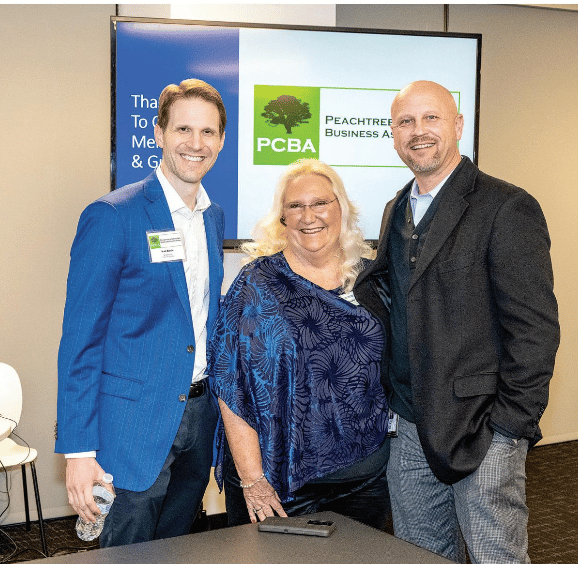 Curiosity Lab and the innovation it attracts may be the most significant economic driver in the area.
In Peachtree Corners, where economic development and business endeavors are in constant change, it's important to get periodic updates on what's going on in city government. That's why the Peachtree Corners Business Association (PCBA) invited Peachtree Corners City Manager Brian Johnson as the evening's speaker at its January Business After Hours event.
Johnson prefaced his talk by pointing out that PCBA is the same age as the city itself and that government isn't the only driver in a municipality's prosperity.
"Cities are only as good as the activity, the involvement that we get in all facets of the city, whether it's the business environment, recreational, whatever — and we can't do it without people like you who are taking your time to try to make your community a better place," he said.
Through that kind of community and business support, Peachtree Corners remains the second largest municipality in Georgia with no city property tax, Johnson added.
"One of the reasons that we can do that is because of our very healthy business environment and the synergy that it generates," he said. "And the more successful the companies here are, the more revenue we get from lots of different things."
Johnson cited occupational tax, business license fees, and sales tax from people shopping, eating, and lodging in the city as big contributors. "It's one of the main reasons that we can do it," he explained. "So, the city is very bullish on economic development."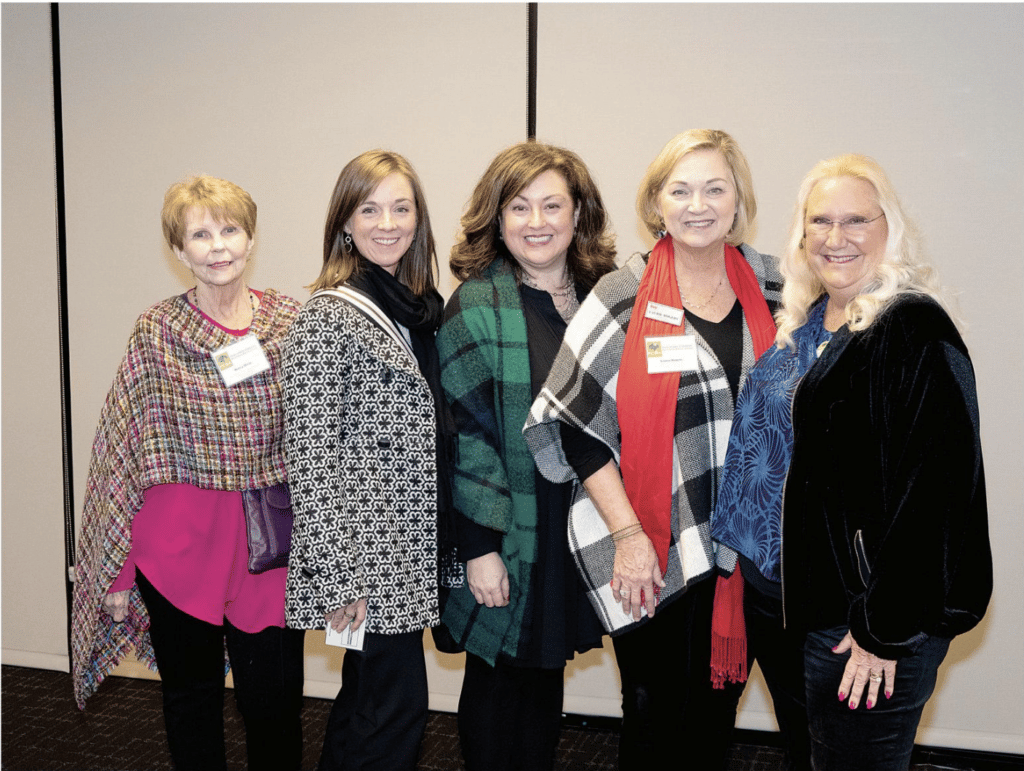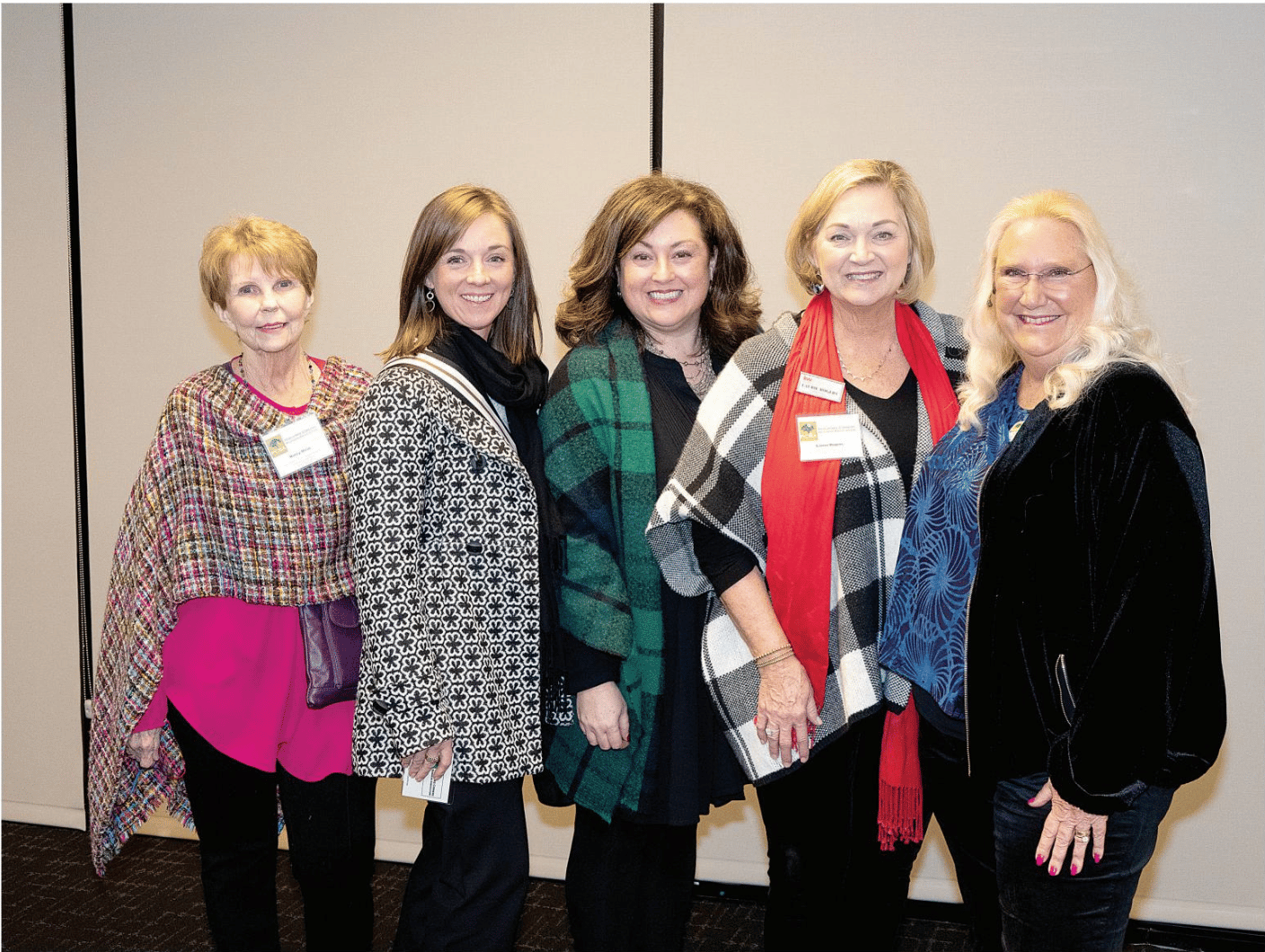 City's appeal
Peachtree Corners' appeal has lured many from far and wide. Part of the interest in the city comes through Curiosity Lab, which is a very important asset as it has become a magnet for business activity coming to the city.
"Four years ago, we sat down and really looked hard at the city and said, 'Economic development activity is important so that we don't have to collect property tax, but are we doing everything we can to make sure that this community stands out from other communities?'" Johnson remembered.
Peachtree Corners is in a very competitive market when it comes to attracting and retaining businesses. Johns Creek, Dunwoody, Brookhaven, Alpharetta are all in the running when companies look to expand or relocate. The city kept coming back to the same conclusion to attract tech industries.
Vision continues expanding
"Back in the late 60s, a Georgia Tech grad turned developer named Paul Duke decided to do something about what, at the time, was a brain drain of Georgia Tech graduates having to leave metro Atlanta because there were not enough tech jobs in the area to keep them," said Johnson.
Duke had been to the Research Triangle Park area in North Carolina and seen a concept of building office parks under a theme. The occupants of those office buildings were all together and all focused on the same industry — biomedical, energy, etc.
Inspired by that idea, Duke started speculatively constructing office buildings about 20 miles from downtown Atlanta and only filling them with tech companies. Today, it has grown into Technology Park, covering more than 500 acres and filled with over 10,000 people.
Over the years, some amazing discoveries have been made in that space.
In April of 1977, the first PC modem was created by a Georgia Tech alumnus.
The color printer was invented in Technology Park.
Scientific Atlanta, now Cisco, was also founded there.
Moving forward, the city couldn't just rely on its reputation. Similar technology-themed business parks were cropping up in other areas of metro Atlanta — Johns Creek, Buckhead, and downtown near Georgia Tech — as well as in other states.
City leaders started looking at what they could offer technology companies that they couldn't get everywhere else. "We noticed that technology goes through an evolution in which brand-new technological gadgets or widgets are created. The first place that it gets tested is in a closed laboratory environment," Johnson said.
Once it's 'perfected' in the lab, it needs an intermediate step before it's released to the general public. For example, an advanced vehicle would be tested on a closed course without people and other vehicles around. Once it passes that level, it needs another step before it's completely ready — limited interaction with the 'real world.'
"Maybe we take all of those roads that the city owns inside of Technology Park, and we open it up to companies to test or demonstrate the technology of any sort," said Johnson.
The city investigated and found that nowhere else in the world had this. "So, we set out in creating Curiosity Lab," he said. Its three-mile stretch of roadway offers 32 places where new technology can interact with cars and everything else involved in day-to-day traffic.
Major economic driver
The city isn't only looking to attract automobile technology. Four years ago, it partnered with Sprint, now T-Mobile, to set up a 5G deployment — one of the first in metro Atlanta.
"This has become a very powerful magnet for companies to come here, even if it's just for a little while. When we created it, …we decided to reduce some of the barriers to entry, and one of them is money," said Johnson.
There is no cost to use the facilities, but the companies spend money in hotels, restaurants, retail shops, and other local businesses while they're here. So, Curiosity Lab is now an economic driver for the city and the entire area.
Once companies see the possibilities, some decide to move their operations here. One such company is Brightree, a technology company that provides solutions to post-acute care providers. It was looking to relocate and ultimately chose Peachtree Corners.
"The tipping point was that the ecosystem we created was going to afford them an opportunity to interact with companies, or even use some of the technology, here that they wouldn't have had elsewhere," said Johnson.
The company took over a vacant building and brought in about 150 employees initially.
Another success story is Intuitive Surgical, a California-based company that makes robotic-assisted surgical systems. The most notable right now is called DaVinci. The company is looking to expand aggressively because it's the only one with FDA approval for this type of device.
Intuitive was looking for east coast operations and had narrowed its selection to Peachtree Corners or Durham, NC.
"What pushed them over the edge was Curiosity Lab's ecosystem in Tech Park," said Johnson. "They said the partners and users we have are what they want to be around and be able to interact with."
Intuitive is currently building a $600 million medical campus, creating 1,500 jobs with an average salary of $150,000. It will also bring 19,000 overnight hotel room stays per year from visiting surgeons who come here for training on the DaVinci device. It's the largest economic development project in Gwinnett County and the second-largest medical economic development project in Georgia.
Johnson added that the vision of city leaders has afforded Peachtree Corners residents to enjoy an outstanding quality of life with no city property tax, thanks to Curiosity Lab. He hinted that other big announcements will be made in the coming months and encouraged everyone to enjoy the ride.
Photos by Richard Phillips
Cradlepoint, Bosch and T-Mobile Collaborate to Deliver IoT Solutions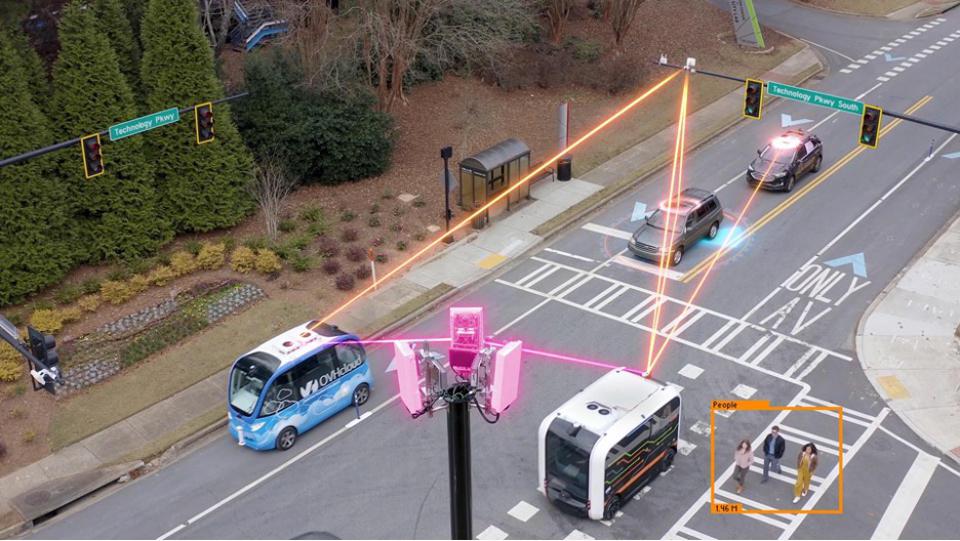 Advanced IoT Connectivity with 5G Wireless WAN Technology
Cradlepoint, the global leader in cloud-delivered LTE and 5G wireless network edge solutions, recently announced a collaboration with T-Mobile and the Curiosity Lab at Peachtree Corners to enable advanced IoT connectivity solutions, such as autonomous vehicles, robotics and AR/VR, using 5G Wireless WAN technology. The solution, developed by Bosch and Cradlepoint, leverages the high performance of T-Mobile's industry leading 5G network — America's largest, fastest and most reliable 5G network — with Cradlepoint's purpose-built wideband adapters and routers to facilitate near real-time parking and safety monitoring at Peachtree Corners, Georgia, one of the nation's first smart cities.
Companies and public sector entities are well positioned on the value of 5G cellular IoT connectivity, particularly when it comes to securing, managing and enhancing smart cities. Unlike traditional fiber connections that take months to deploy, cost thousands of dollars and have long-term commitment contracts, Cradlepoint's 5G Wireless WAN solutions enable an entire ecosystem of IoT partners to immediately deploy solutions with the security and remote management capabilities needed to support IoT deployments at scale.
"Real-world deployments of IoT are challenging the status quo of existing solutions. Couple that with the trend of businesses leveraging 5G technology to transform, and you'll see how this advanced connectivity is remodeling the enterprise," said Todd Krautkremer, Chief Marketing Officer, Cradlepoint. "Cradlepoint, T-Mobile and Bosch are at the forefront of this evolution, furthering IoT and 5G deployments for projects of all sizes."
"Improving safety, efficiencies and anticipating the needs of customers is what best-in-class smart cities can accomplish when powered by 5G and with innovators like Cradlepoint," said Chris Melus, Vice President of Product Management with T-Mobile for Business. "It's rewarding to see concepts from the Curiosity Lab, leveraging our 5G Advanced Network Solutions suite prove true value in the real world."
The solution uses near real-time IoT technology developed by Bosch in conjunction with T-Mobile's Ultra Capacity 5G network and Cradlepoint 5G hardware to assist Peachtree Corners shoppers and visitors in finding open parking as well as available charging stations for electric vehicles.
"In collaboration with T-Mobile and Cradlepoint, and our continued joint effort with the Curiosity Lab in the City of Peachtree Corners, we are demonstrating a scalable, affordable, adroit AIoT solution to serve the community," said Lewis Stallworth, Business Development, Bosch Security Systems, LLC. "The flexibility of this solution was only possible with this technology-forward collaboration and is changing the conversation of what is possible when there is a need for parking management, retail management, community safety and true community operational analytics."
In addition to improving the Peachtree Corners visitor experience, the technology also enables city planners to make real-time informed decisions on parking capacity, infrastructure planning, traffic management and security safeguards based on data around events happening throughout the city.
"Through our work with Cradlepoint, Bosch and T-Mobile, we are now able to better manage our public spaces. Cradlepoint devices having high-speed connectivity through T-Mobile's 5G is key – these devices now allow us to use smart parking applications through the Bosch cameras in our Town Center, while also providing a safety and security layer for our police department." said Brandon Branham, CTO and Asst. City Manager, Peachtree Corners. "The analytics these devices provide help us to better communicate with our residents about parking and safety in our downtown area."
To learn more about Cradlepoint's work with T-Mobile, Bosch and the Curiosity Lab at Peachtree Corners, please visit: https://resources.cradlepoint.com/success-stories/smart-city-uses-5G-for-connected-intersections-and-innovative-parking.
Peachtree Corners Hosts First EV Car Show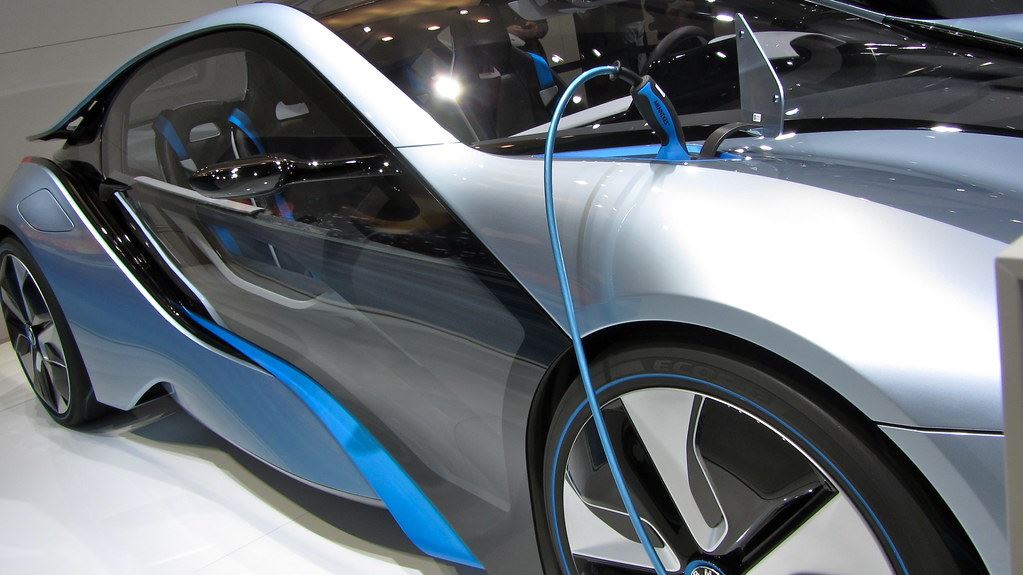 Everyone is invited to celebrate National Drive Electric Week with Electrify PTC, the first-ever electrified car show, hosted by the City of Peachtree Corners in partnership with Siemens, Mercedes-Benz, Qwik Charge, Ford, Jim Ellis and more.
Electrify PTC will take place Saturday, Sept. 24, 8 a.m.- 11 a.m. at the Peachtree Corners Town Center in the CMX CineBistro parking lot.
Guests will experience electric mobility firsthand and learn about the city's continued commitment to the sustainability of the #SiliconOrchard through innovative and smart technologies, such as Peachtree Corners having the largest charging hub in Metro Atlanta.
The parking lot will have many electrified vehicles on display and local vendors will offer prizes, eat great food and enjoy delicious drinks.
There is no cost to attend.
Owners of electric vehicles who wish to display their vehicles at Electrify PTC need to register. Note that registration is limited, so sign up today to secure your spot.