Peachtree Corners Mayor Participates In Global Smart Technology Summit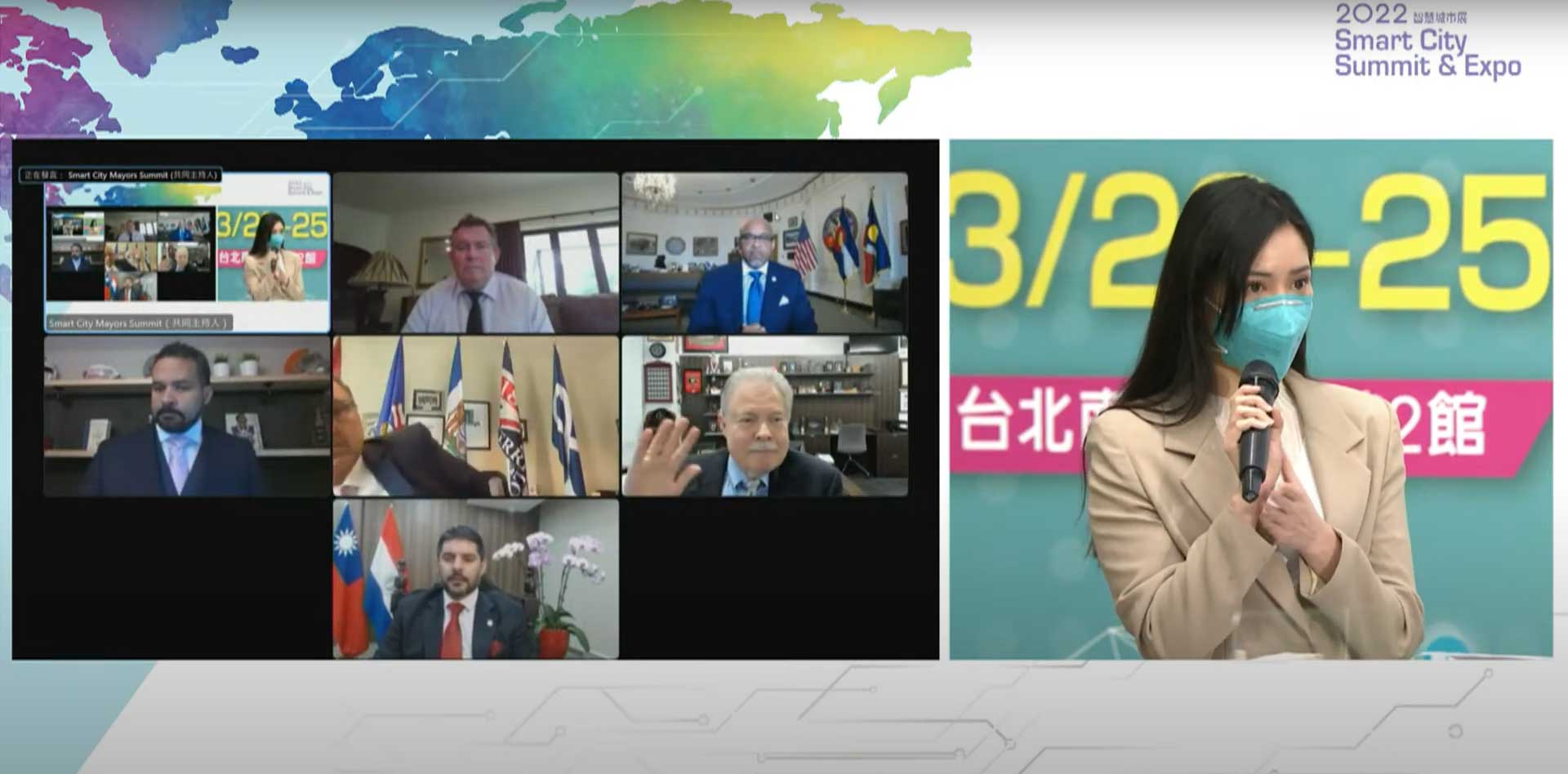 Mayor Mike Mason was a featured speaker at the Smart Cities Mayors Summit Tuesday that took place in Taiwan.
Peachtree Corners' reputation as a 'city of the future' isn't only known locally, technology experts around the world are aware of the cutting-edge innovation taking place here. Considering that fact, Peachtree Corners Mayor Mike Mason was invited as a virtual presenter during the Mayor's Summit and Panel Discussion – part of the 2022 Smart City Summit and Expo being held in Taipei, Taiwan.
As mayor of one of the world's premier smart cities, Mayor Mason was one of 21 city leaders invited to present at this year's event. In addition to the presenters, the subsequent panel discussion included leaders from approximately 30 countries around the world, according to a news release.
Every year, the Smart City Mayors' Summit gathers city mayors and high-profile municipal delegates from across the globe to share and exchange insights on the latest governmental strategies and trends in smart cities. The Summit is not just one of the biggest highlights in the Smart City Summit and Expo, but the world's largest networking platform among smart city governments.  
This year, in accordance with the theme of SCSE: Digital Transformation Takes Smart Cities to New Heights, the topics for roundtable sessions were "How do cities respond to the 'New Normal' with digital transformation?" and "In face of the 'New Norma'" in the pandemic era, what role do city governments play in driving the city's digital transformation?" the news release added.
The Smart City Mayor's Summit provided a high-level dialogue platform for global mayors and city leaders to exchange innovative strategies and visions on future city deployments.
Speakers at the Mayor's Summit included mayors from:
Peachtree Corners
Taipei, Taiwan
Atlanta
Aix-en-Provence, France
Belgian Chamber Representatives, Belgium
Castries, Saint Lucia
Denver, Colorado
Dijon Metropole, France
Edinburgh, Scotland
Edmonton, Canada
Edo, Nigeria
Gdynia, Poland
Municipalidad de Asuncion, Paraguay
Newark, New Jersey
Palmerston North, New Zealand
Prague, Czech Republic
Sao Jose dos Campos, Sao Paulo, Brazil
Scranton, Pennsylvania
Selangor, Malaysia
Rzeszow – Poland
Vysocina Region, Czech Republic
Participants in the panel discussion included representatives from:
Abuju, Nigeria
Budapest, Hungary
City of Hamilton, Bermuda
City of Tshwane, South Africa
Cockburn, Turks and Caicos
Cranston, Rhode Island
Cuenca, Ecuador
Da Nang, Vietnam
Davao City, Philippines
Eindhoven, Netherlands
El Farafra Oasis, Egypt
Goyang City, South Korea
Grenoble-Alpes Metrople, France
Helsinki, Finland
Izmir, Turkey
Jacksonville, Florida
Kansas City, Kansas
Kolin, Czech Republic
Konya, Turkey
Krakow, Poland
Kuala Lumpur, Malaysia
Kwinana, Australia
Lausanne, Switzerland
Lazio, Italy
Madrid, Spain
Miami-Dade County, Florida
Midvaal, South Africa
Nanes Metropole, France
Peterborough, England
Pittsburgh, Pennsylvania
Royal Borough of Greenwich, England
Sabac, Serbia
Stockholm, Sweden
Szekszard, Hungary
Taoyuan, Taiwan
Wellington, New Zealand
Wroclaw, Poland
Peachtree Corners Partners with Israeli Startup to Advance Smart City Technology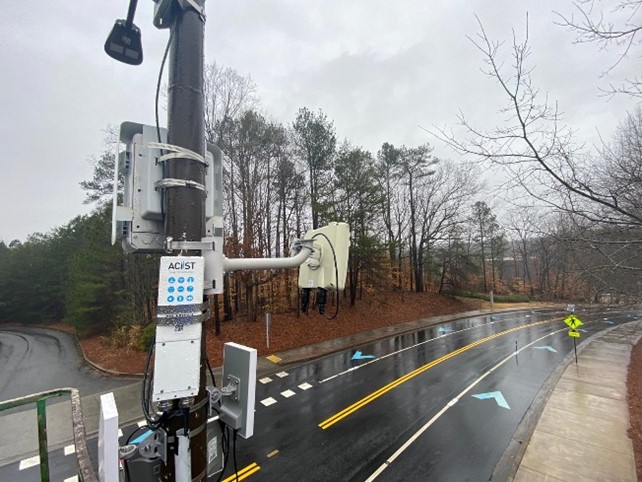 ACiiST will help the city with a connected infrastructure without tearing up roads or investing in miles of cables.
As one of the country's first smart cities powered by real-world connected infrastructure, Peachtree Corners recently announced a partnership with Israeli startup ACiiST – Smart Networks, the manufacturer of SD-LAN network solutions optimized for connecting outdoor cameras and sensors through a robust networking system. This partnership provides Peachtree Corners with connected infrastructure network solutions via fiber that allow various mobility technologies on Peachtree Corners' smart city streets to communicate with minimal digging, saving the city and residents time and money.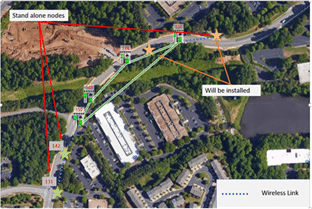 Installed in Technology Parkway earlier this year, ACiiST's technology spans across a half-mile of Peachtree Corners' "city street of the future," allowing deployed technologies and smart infrastructure with cameras, wireless links and other communication equipment, to be streamed directly to the Curiosity Lab's IoT Control Room, the first of its kind to be implemented in a city in the United States. Communication between the smart infrastructure and the IoT Control Room is possible via self-managed ACiiST Polarity units that create a low latency, high performance and fully manageable network.
"Working with ACiiST to demonstrate their technologies at Curiosity Lab is another great example of how international companies are showing great interest in the most unique real-world smart city ecosystem in the country," said Brandon Branham, Peachtree Corners Assistant City Manager and CTO. "We are able to demonstrate to other cities across the country the unique network connectivity, redundancy and monitoring capabilities of ACiiST's technology through this implementation on public infrastructure. This is a true testament of how the partnership between Israel and Curiosity Lab offers startups a one-of-a-kind experience to bring their products to the North American market."
ACiiST's network solutions allow Peachtree Corners to have a more secure smart city environment and make informed decisions based on data, such as traffic management. This solution also makes it easier for new edge devices such as cameras, radar sensors, digital signs, V2I access points and more, to be deployed and installed as smart infrastructure across the city street of the future, supporting the Curiosity Lab and Peachtree Corners' position as one of the leading smart cities in the United States.
"It was clear from the very first time we met with the Peachtree Corners management team that we are talking with leaders who want to promote positive change — with smart roads and streets as a platform to better manage their public spaces. They are open-minded to the implementation of new technologies, and we are happy to have our network solutions in action at the most unique smart city environment in the USA," said Sagi Gurfinkel, ACiiST Co-Founder and CEO. "The ACiiST network is already installed as the connectivity platform for multiple cities in Israel, Africa and the European Union, and we are excited to now add the United States to this list."

Bourdeaux Brings Big Check To Peachtree Corners Mobility Hub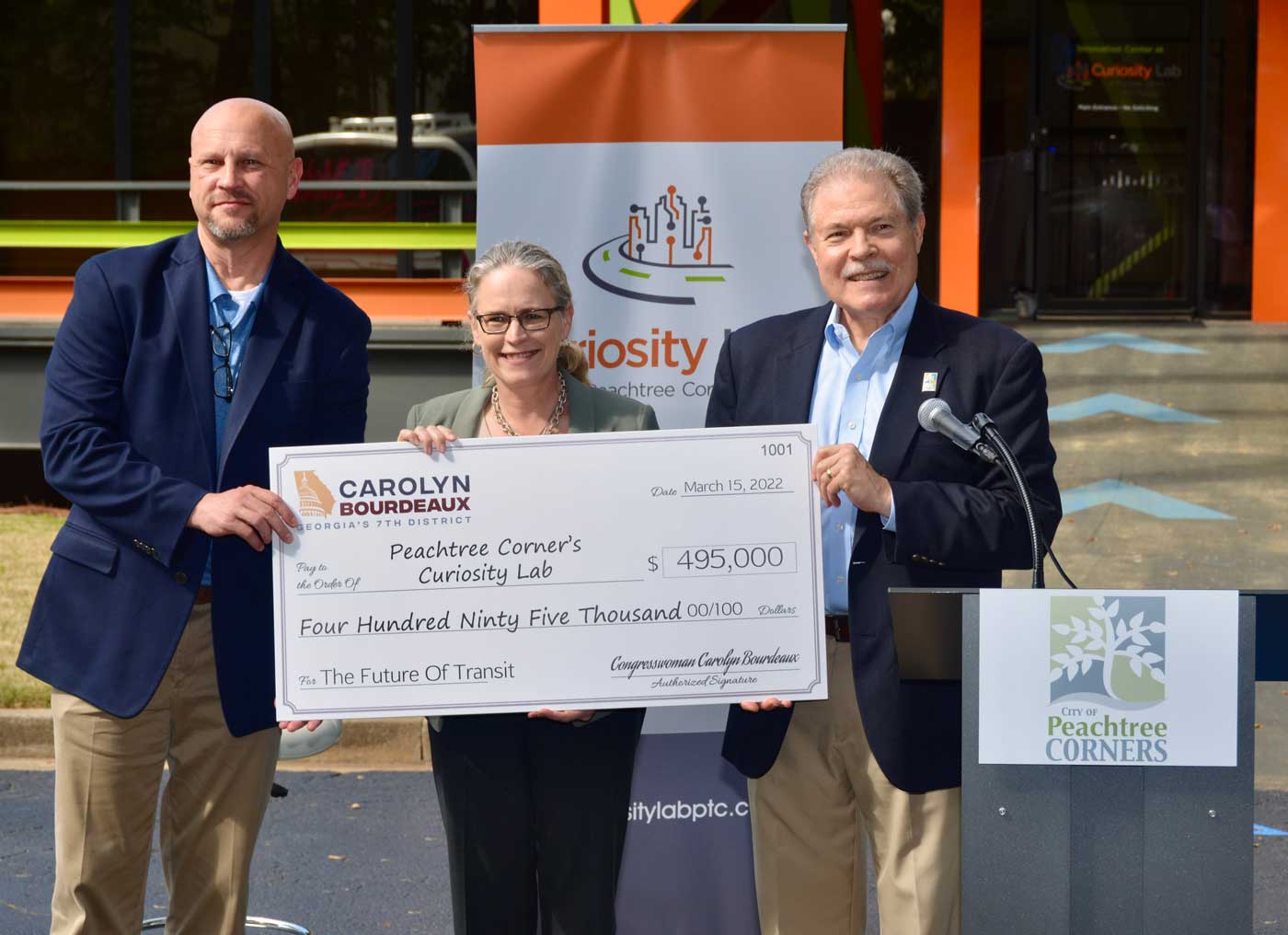 Federal funds will help further establish the city a leader in the smart city space.
There aren't many of us who can write a check for nearly half a million dollars, but Rep. Carolyn Bourdeaux came to Peachtree Corners Curiosity Lab on May 3 to do just that. Even though it wasn't from her personal bank account, she worked hard for more than a year to ensure that the people in Georgia's 7th Congressional District got the funding to continue developing the smart technology that has put it on the map.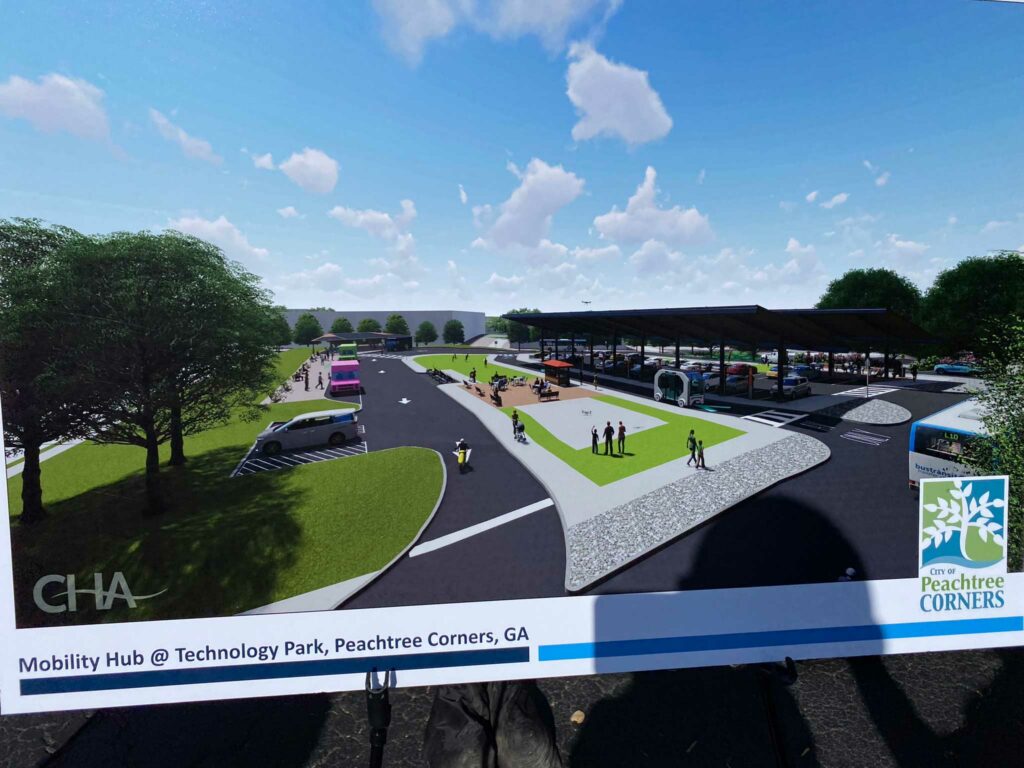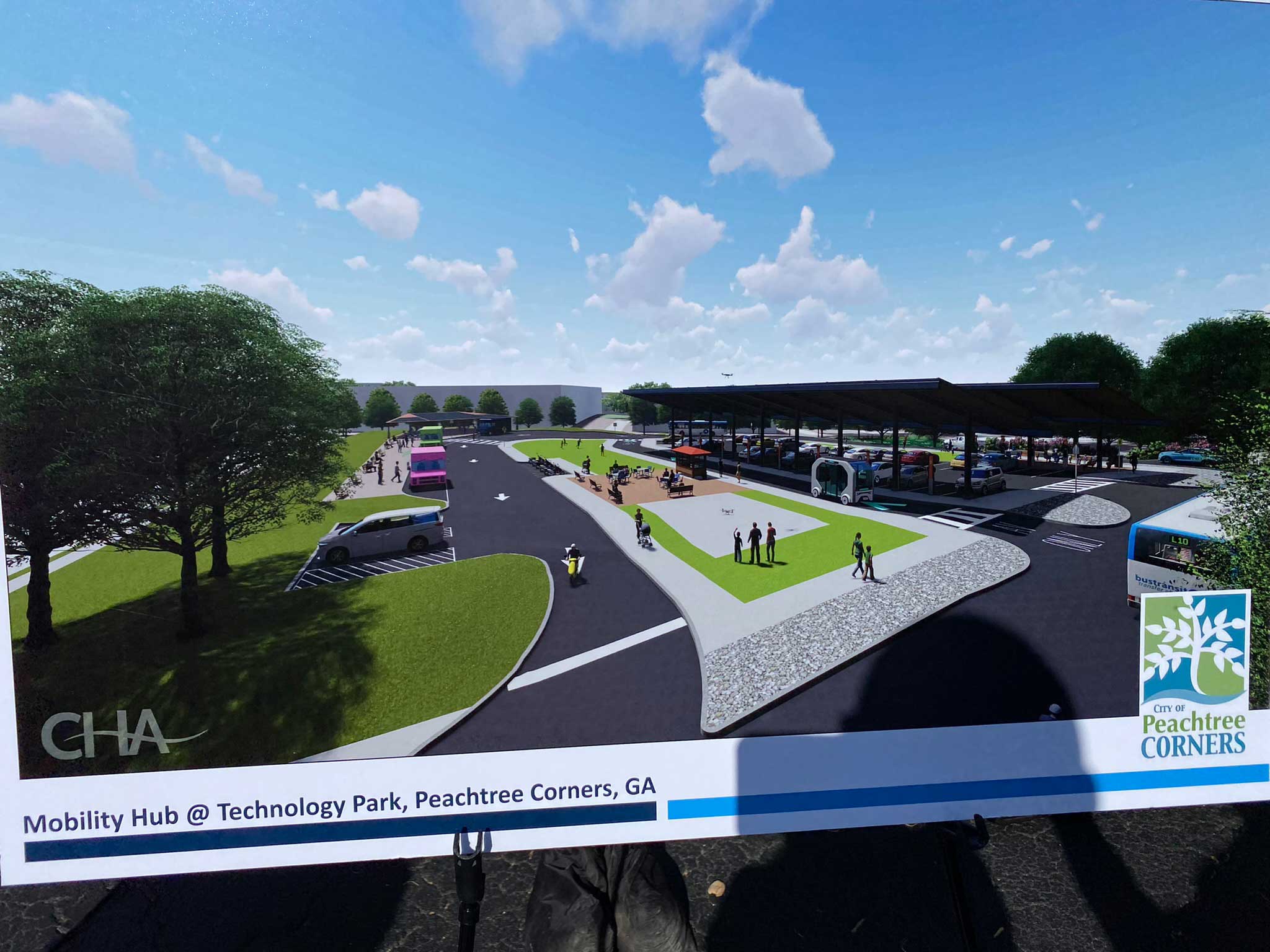 In spring of 2021, Bourdeaux submitted 10 funding requests for important community projects to the House Appropriations Committee. The recently passed Consolidated Appropriations Act of 2022 includes funding for all 10 of her community projects, including $495,000 for Peachtree Corners' Curiosity Lab Mobility Hub. This funding will allow the tech companies housed there to continue their work on improving community transit options to better accommodate autonomous vehicles, drones and other clean-energy vehicles.
"I am honored to be able to present Peachtree Corners' Curiosity Lab with almost half a million dollars to improve this mobility hub that they are developing. We want to do this because we really need to innovate around transportation. And we need to innovate in ways that promote the green economy," she said. "And it's important that our community be on the forefront of this."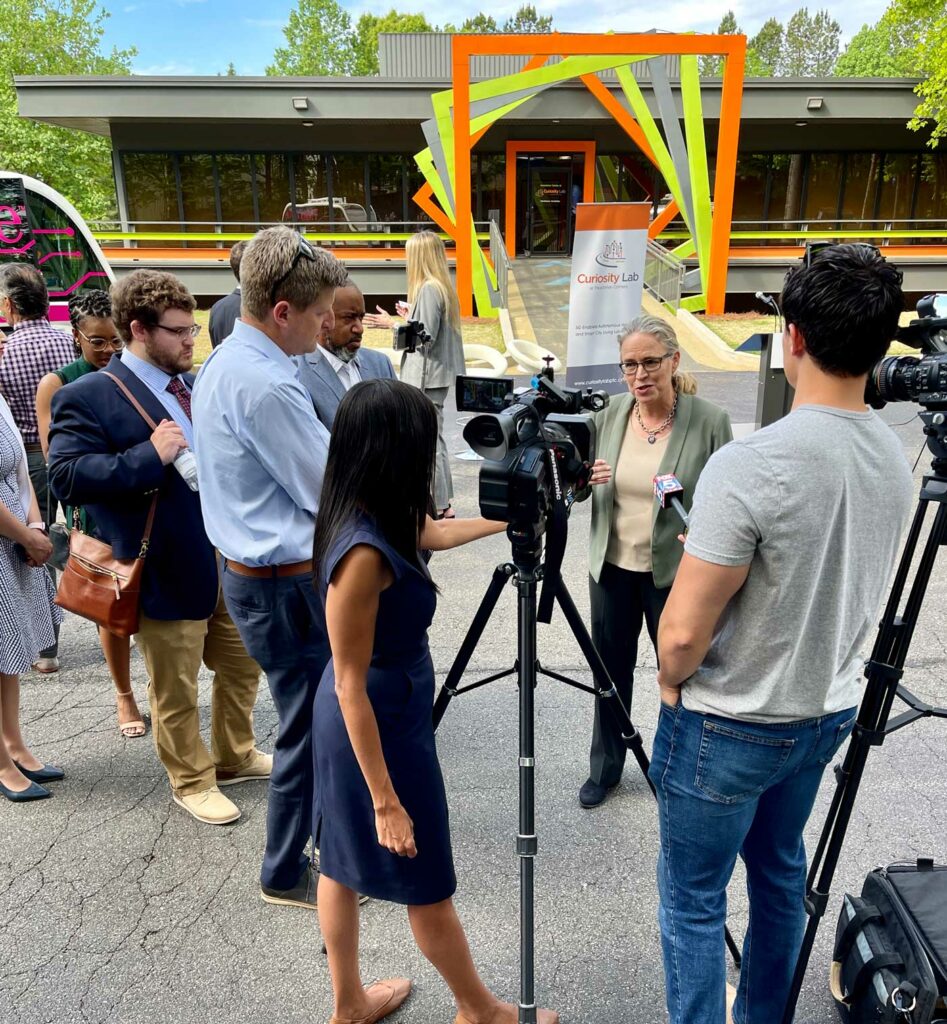 Bourdeaux pointed out that this funding will be used for sitework and furniture furnishings, as well as providing docking and refueling stations for solar electric power and other alternative energy vehicles. With these federal dollars, the innovators at Curiosity Lab will help accommodate mass transportation while integrating bicycle and pedestrian access.
The technology isn't just cool space-age gadgetry. It's a solution for cost-effective last mile connectivity for low-income individuals who may need to ride public transit and have been paying a higher rate than others. It can be an equalizer for the have-nots to become closer on par with the haves.
Peachtree Corners City Manager Brian Johnson agreed that federal support is paramount in this type of undertaking.
"These kinds of things only happen when you do have the support all the way up to the federal government," he said. "Some of this stuff like autonomous vehicles, which are regulated by the National Highway Transportation Safety Administration, and drones, which are regulated by the FAA, fall under the U.S. Transportation Secretary."
Johnson added that at the insistence of Bourdeaux, U.S. Secretary of Transportation Pete Buttigieg personally visited the Peachtree Corners facility to gain first-hand knowledge of what's possible.
"There is a rendering of a property that again is only a couple 100 yards up the road on our track and it is going to create an electric vehicle multimodal facility," Johnson said. "So, all things electric vehicle are going to come together at this one location thanks to these resources that the congresswoman helped us get."
What was once only a dream — and a prototype — is already functioning here. Everything from electric buses and autonomous vehicles fast electric vehicle charging stations to electric bikes and scooters are all coming together at one location to help with mobility in a more sustainable, environmentally friendly way.
Bourdeaux is proud of what's happening locally, not only for what it's doing to further the community, but also for how it can affect the entire world.
"Just this morning, my sister texted me that in India and Pakistan there are parts of those countries that are 120 degrees. Right now. That's not survivable for human beings over a long period of time; we really do face this threat of climate change," she said. "So, we need to get out there and innovate in these kinds of ways that promote that green technology. And by doing that, by doing good things like that, our economy will also flourish."

Curiosity Lab Receives Transit Funding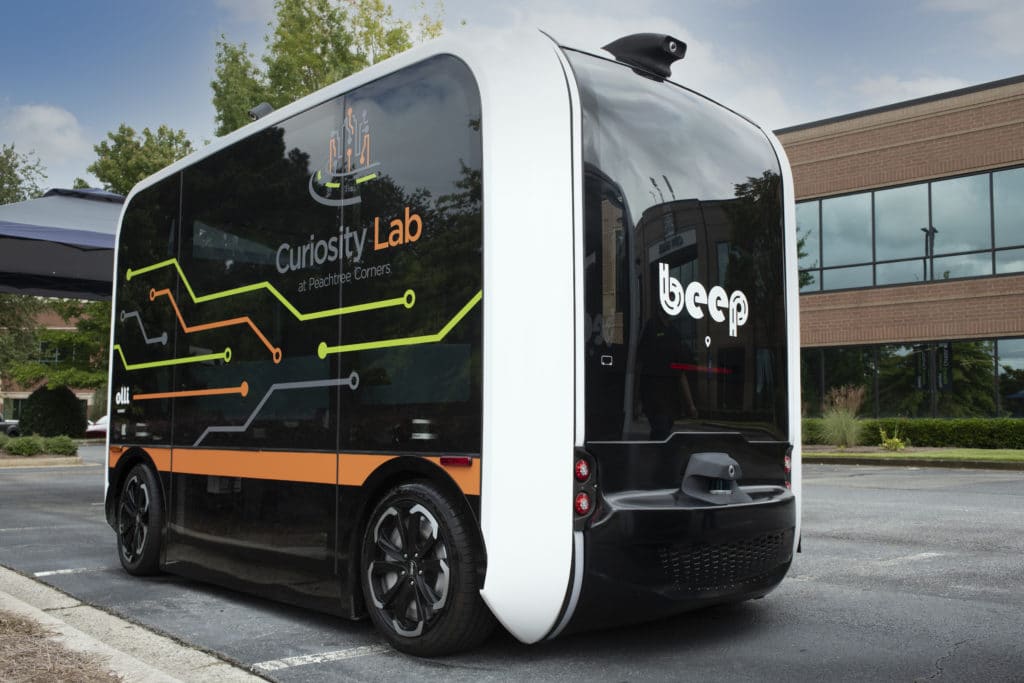 A portion of the federal FY22 Omnibus Appropriations Package will allow the city of Peachtree Corners to build a Mobility Hub.
Curiosity Lab, the not-so-hidden gem at the center of Peachtree Corners technology boom, recently announced it will be receiving $495,000 as part of the FY22 Omnibus Appropriations Package. This exciting development will allow the lab to build a Mobility Hub, which will foster the city's continued work in improving transit options to better accommodate autonomous vehicles, drones and other clean-energy vehicles as technology continues to develop.
Although the information is just being released, this endeavor took more than a year of hard work.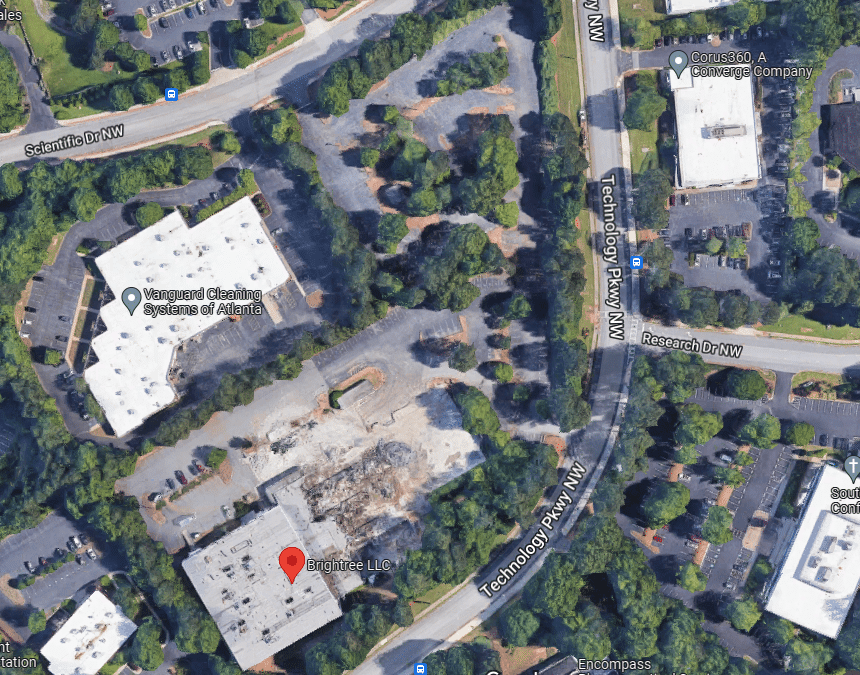 "I am bringing back $5.07 million to Georgia's 7th District for essential local projects that will make meaningful differences in our community," said Congresswoman Carol Bordeaux in a letter to the Peachtree Corners mayor and city council. "All ten of my Community Project Funding requests were successfully funded in Congress's FY22 Spending bill."
The city doesn't want this opportunity to languish. Peachtree Corners is already working on making the project happen.
"We're also in the process of closing on some land to create a mobility hub within the Tech Par," Assistant City Manager and Chief Technology Officer Brandon Branham mentioned recently in a guest blog for 3blmedia. "Solar will be a big part of regenerating the grid, which will also be geared around electric vehicle charging and the operations of that facility overall, including things like lighting and security. Right now, we're going through the necessary calibrations to see how much solar this hub will require. The goal is to try and create a sustainable, off-grid model for micro-mobility and the transit station."