New Retail Concepts Join Merchandise Collection at The Forum Peachtree Corners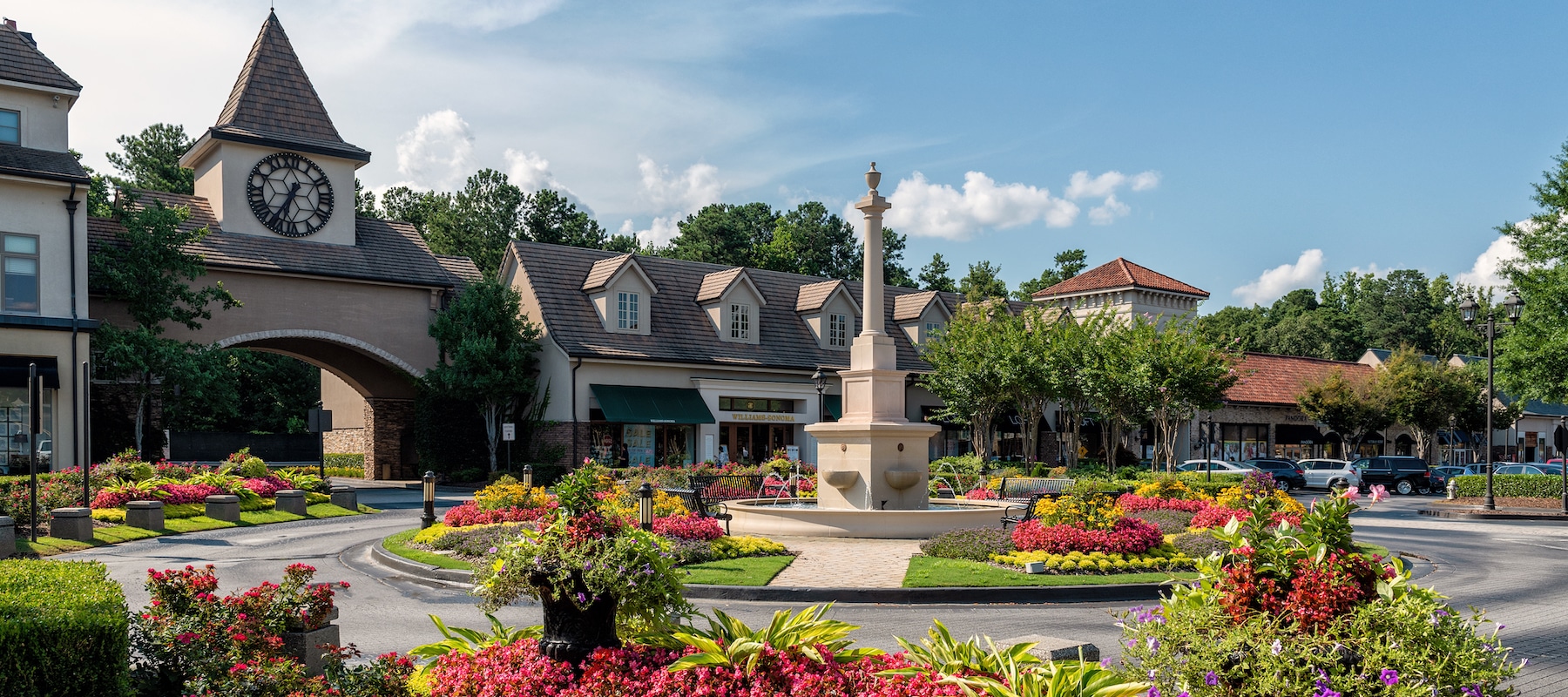 As North American Properties (NAP) and Nuveen Real Estate (Nuveen) transform The Forum Peachtree Corners into a mixed-use development, several new businesses are joining the merchandise mix. 
National retailers that signed long-term leases include Lovesac, Petfolk and Stretchlab. Temporary license agreements were reached with Auburn Candle Company, The Baby Nook and Girl Tribe Co.
Meet the retailers
Lovesac – This company designs, manufactures and sells unique furniture that's guaranteed for life. It offers modular couches called Sactionals, foam beanbag chairs called Sacs and associated home décor accessories, including home audio systems.
Upon opening next to Chico's in spring 2024, Lovesac at The Forum will be the ninth location in Georgia and fourth in NAP's portfolio.
Petfolk – Founded by vets with decades of experience in clinical practice, Petfolk is an animal hospital and pet care center built with pets and their owners in mind.
Veterinary services include exams, vaccinations, urgent care, nutrition, diagnostic testing, digital radiology and more.
The Forum location opens this October by Chipotle, marking the brand's second brick-and-mortar in metro Atlanta.
Stretchlab – Recognized for its customized, assisted-stretch sessions, Stretchlab is a wellness concept specializing in one-on-one routines led by nationally accredited flexologists.
Using a proprioceptive neuromuscular facilitation (PNF) approach, paired with dynamic and static stretching, the team is able to identify tightness and imbalances in the body. They then build a custom routine for each client to develop a wider range of motion and flexibility.
Stretchlab opens next to Club Pilates at The Forum this winter.
Auburn Candle Company – Established in 2020 and based out of Auburn, Alabama, Auburn Candle Company hand-crafts signature candles and fragrances, free from additives and dyes.
In addition to shopping for pre-poured candles as well as other bath, body and home goods, candle lovers can develop their own creations at the in-store pour bar.
Its year-long pop-up at The Forum, opening in October, will be the company's first venture in Georgia.
The Baby Nook – A haven for anyone seeking baby essentials and gifts, The Baby Nook will feature a select collection of baby items that combine functionality, safety and aesthetic appeal.
The year-long pop-up will open in October next to Soft Surroundings.
Girl Tribe Co. – NAP is expanding its existing relationship with Charlotte-based Girl Tribe Co. to bring a temporary store to The Forum from October 6 through December 31.
Created by childhood best friends and co-founders Sarah Baucom and Carrie Barker, the brand offers a collection of clothing, graphic tees, accessories and lifestyle products.
A combination of proprietary products and items made by local female entrepreneurs will be available for purchase in Suite 505, next to HomeGoods. Girl Tribe Co. also plans to host a series of events, workshops and networking sessions during its stay at The Forum.
The Forum's merchandise mix continues to grow
These forthcoming brands join KeenaBela, Gifts We All Want and Go! Calendars, Toys, and Games as the latest additions to The Forum's tenant collection.
KeenaBela, an Atlanta-based, eco-friendly sleep, lounge and resort-wear brand, officially opened its year-long pop-up at The Forum last month.
Additionally, specialty boutiques Gifts We All Want and Go! Calendars, Toys, and Games, have once again returned for the holiday season.
"We have seen a tremendous amount of interest from small, local business owners looking to grow their brands in a low-risk, incubator-style environment," said Emily Narchus, director of ancillary revenue at NAP.
"As our leasing and development teams continue moving forward on The Forum's renaissance, we are excited to play a part in upgrading the center's retail makeup."
NAP is nearing completion on the north end plaza and anticipates an early fall delivery of the 1,700-square-foot greenspace. This is the first, and smaller, of two community-driven spaces being adding to the property as part of its overall redevelopment.
Along with the ongoing retail improvements, renovations to the office lobby in building 5185, anchored by Trader Joe's, are now complete.
The Forum has partnered with the Peachtree Corners Photography Club to display and sell winning pieces from its first juried exhibition in the revamped entrance.
To stay up to date on the latest property news and happenings, follow The Forum on Facebook, Twitter and Instagram or visit theforumpeachtree.com.

5 Best Business Strategies for 2024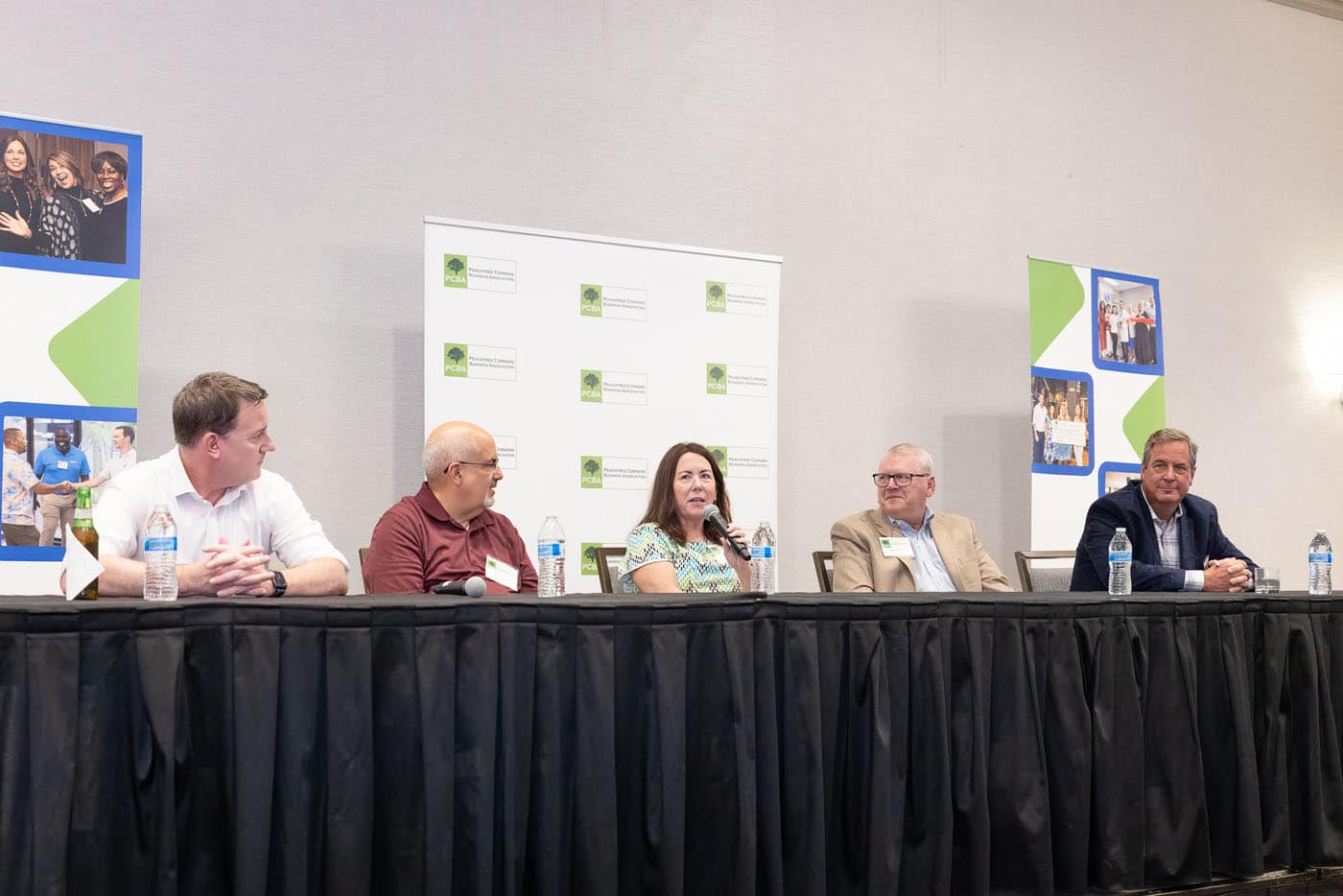 Peachtree Corners Business Association Speaker Series Panel Discuss Issues from AI to Leadership and Staffing
After 30 minutes of networking, light refreshments and 'death by chocolate' brownies courtesy of Marlow's Tavern, the Peachtree Corners Business Association (PCBA) After Hours Speaker Series Panel commenced.
This panel of local business owners and consultants gathered at the Hilton Atlanta Northeast on Thursday, Oct. 26, to discuss strategies and opportunities for business success in 2024 and beyond.
Moderator Amanda Pearch Marmolejo, owner and President of Forsyth Business Radio X, kicked things off by introducing the panel participants, which included: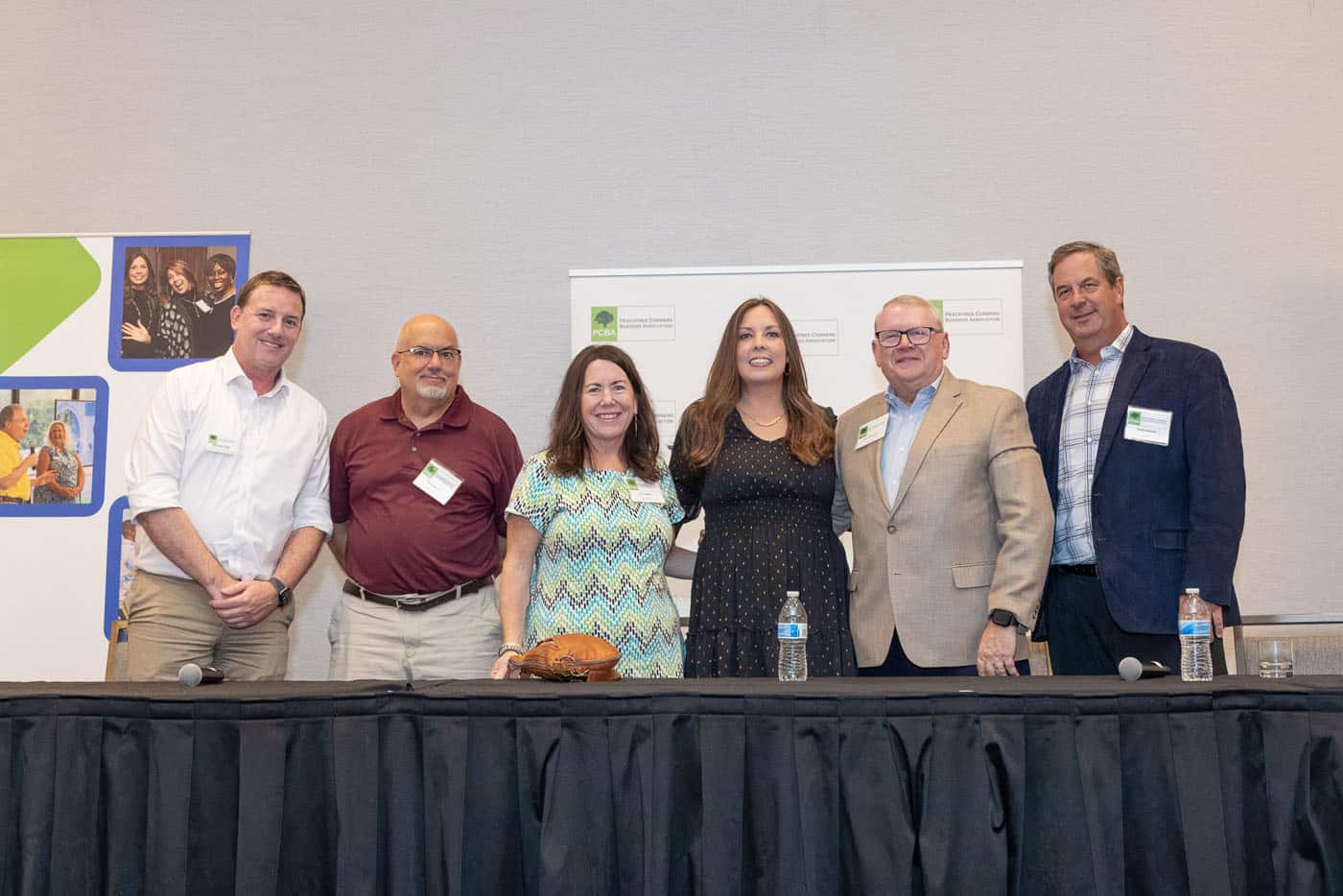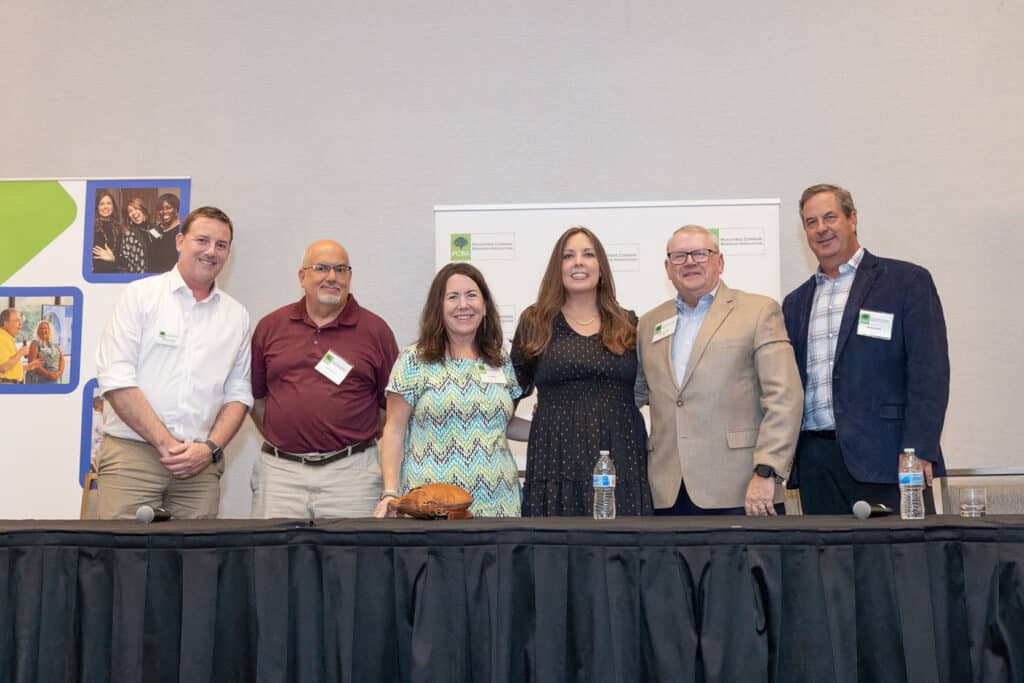 1. The importance of cybersecurity for businesses
Cybersecurity remains a top concern for small and medium-sized businesses. In fact, according to the Identity Theft Resource Center's (ITRC) recently published Business Impact Report, 73% of 551 surveyed small business owners encountered a cyberattack this year.
As the leader of technology solutions provider Rijoli, Gentry Ganote knows first-hand where businesses are the most vulnerable.
"What we're seeing is phishing attacks are really the number one nefarious act that's going on that we deal with on a daily basis. We provide security services for our customers, and we have spam filters and email filters and all kinds of artificial intelligence," said Ganote.
"But emails still get through, texts get through and people become susceptible to clicking on a link, putting their password in, changing bank records, giving money to the wrong people, and we see it every day," he added.
"If any of you guys hire interns, you should educate them quickly about scams that are out there. They don't know they're new to the workforce," Ganote explained emphatically.
2. Business succession and exit strategies
As some business owners head toward retirement or strive to preserve their legacy for future generations, transitioning both management and ownership is paramount.
As "The Profitability Coach," Bill McDermott has consulted many business owners on best executing their succession strategies.
"The particular work for a business owner is number one, identifying that there's value that can be transferred either to that seller, to the management team or to the outside buyer," said McDermott.
"Secondly, there's a growth plan that's required. Typically, there's a letter of intent or confidentiality agreement. There are asset purchase agreements, there are representations and warranties, and having an attorney is absolutely critical," he further explained.
"Selling a business in some ways is also selling real estate, except the numbers are bigger. So, it takes a business broker … it's a complex transaction, and there are a lot of moving parts, and there are a lot of important people that are part of that," he added.
3. Leadership, training and staffing
Industries like hospitality are innovating through adversity, developing new training programs to address service staffing shortages exacerbated by the pandemic and aiming to empower front-line employees through direct and tailored instruction.
Lisa Anders, the Executive Director for Explore Gwinnett, Gwinnett County's official tourism organization, shared her challenges and solutions in this area.
"We've been to a hotel recently. There used to be 30 employees; now there's 15 employees. And it is just a challenge. Pre-COVID, we had a full-time education director who worked on training and hospitality training. We had a very robust program … and just now we are reinventing it, and we're going to roll it out in 24,' but it's completely different," said Anders.
"We have a lot of research and a lot of conversations with our hotels and our other hospitality departments on the very frontline; the very front desk is the problem. People are under-trained and under motivated. It is just a problem," she added.
Yet, Explore Gwinnett is taking positive steps forward with its training efforts.
"We're instituting a new training program. We're going to be going into every single hotel district … going directly into those hotel districts and doing training one-on-one with our hotel partners and with frontline employees. Our hotels are super excited because it's not just customer service, it is learning how to de-escalate situations," Anders explained.
4. Content creation and podcasting
Podcasts have emerged as a powerful tool for storytelling and marketing. Drawing inspiration from a family history in journalism, McDermott leveraged the power of narrative to create a successful podcast that not only celebrates the entrepreneurial spirit but also serves as a cornerstone in his marketing strategy.
"Marketing is the number one weakness in any broken firm," McDermott said.
"I started a show, we just celebrated our 50th episode, and I was able to tell stories of business owners and professionals that advise them. Three years forward now, my podcast has become actually the linchpin in my marketing strategy. It is the number one thing that I do," he went on.
"Podcasting is actually a great way to get to know and trust people and a lot of my guests have now become clients," McDermott added.
Rico Figliolini, the founder of creative services company Mighty Rockets, echoed this sentiment.
"It's a great way to soft open a prospect. … If you want to get a lead prospect in your industry, you should become that authority of that industry," said Figliolini.
5. Artificial intelligence and technology
Increasing efficiency while maintaining the human element using AI applications is at the forefront of business strategy heading into 2024.
The legal realm is catching up with AI's transformative impact. Tools that once seemed futuristic are becoming standard, reshaping how legal professionals approach their work while maintaining the essential human touch through client interactions.
Michael Pugh, an attorney at the law firm of Thompson O'Brien, is witnessing this transition first-hand.
"The legal industry is just starting to incorporate AI … There's one program called LexisNexis where I can write a legal breach and upload it to Lexis, and it'll check my cases. It'll suggest other cases to incorporate; it'll analyze my arguments and tell me what percentage I'm likely to succeed," Pugh explained.
"That's a bit scary, but sometimes it's pretty cool. So, we're definitely going to be using more AI, but at the same time, people want to see who they're working with face-to-face. So, we do meet regularly with our clients," he added.
The next PCBA Business After Hours Speaker Series will be held on Nov. 16, 2023, from 5:30 p.m. to 7:30 p.m. Kathryn Stewart, owner of Performance Trucking, will discuss how she carved out her path as a female executive in a male-dominated industry.

Gwinnett Chamber to Host Multi-Chamber Mixer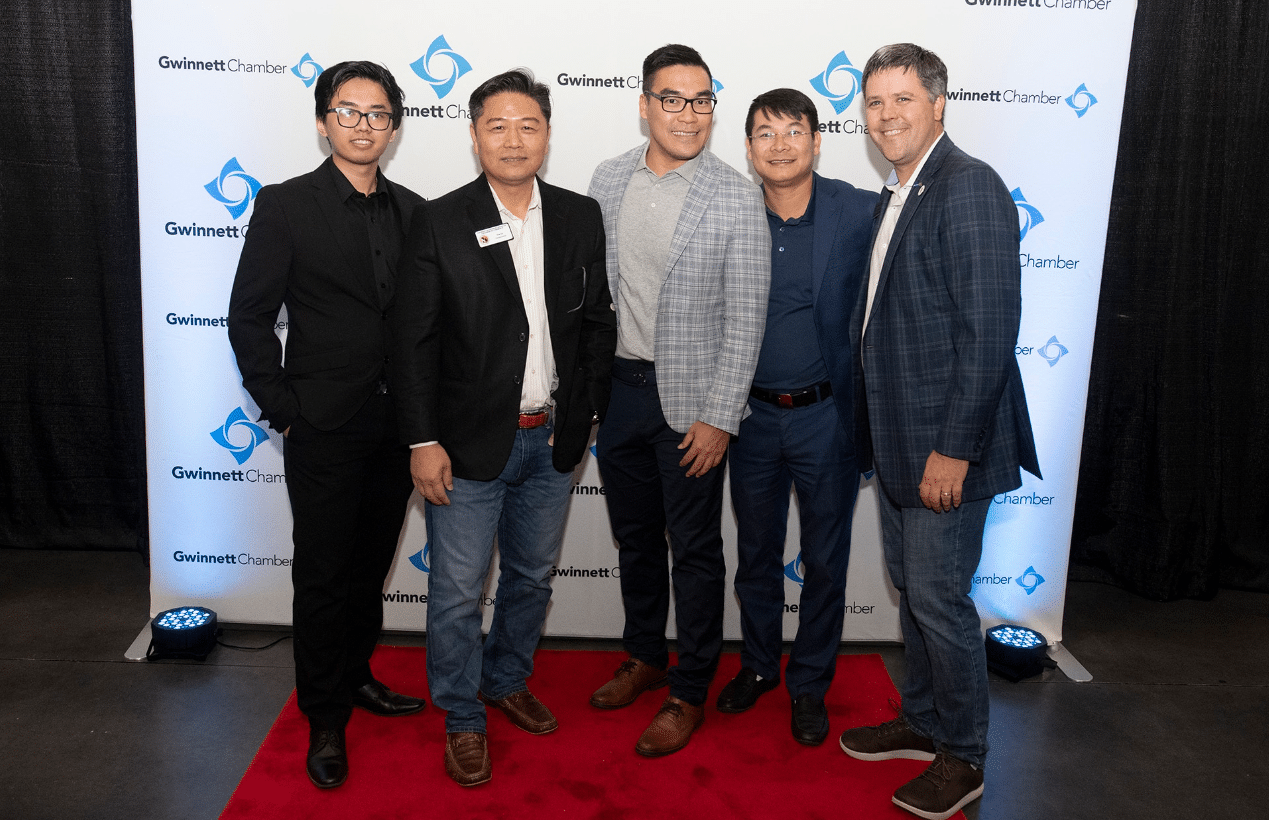 The Gwinnett Chamber is set to host the 2023 Multi-Chamber Mixer at After Hours, an end-of-year event designed to celebrate Gwinnett's inclusive business community.
The program will be held at the Gas South Convention Center on November 1, starting at 5 p.m.
This program brings organizations from around the world together to celebrate Gwinnett's diverse and international business community.
Partners in this event have historically included business groups such as:
The Georgia Indo-American Chamber,
Japanese Chamber of Commerce of Georgia,
Korean American Chamber of Commerce of Georgia,
Latin American Chamber,
German American Chamber,
French American Chamber,
Georgia Hispanic Chamber,
Georgia Pakistan Business Council,
Liberian Community Association of Georgia,
Atlanta Chinese Entrepreneurs Club and
the Italy America Chamber Commerce Southeast, Georgia Chapter
"Collaboration with these organizations enables connection and a deeper understanding of business needs in our region," added Gwinnett Chamber President and CEO Nick Masino. "We are pleased to partner with these entities in hosting an event designed to celebrate our collective success and ever-evolving growth opportunities."
Registration is required to attend and includes international food tastings, drink tickets and networking with more than 300 business professionals. To register, please visit GwinnettChamber.org/Events.

Insight Sourcing Unveils Refreshed Brand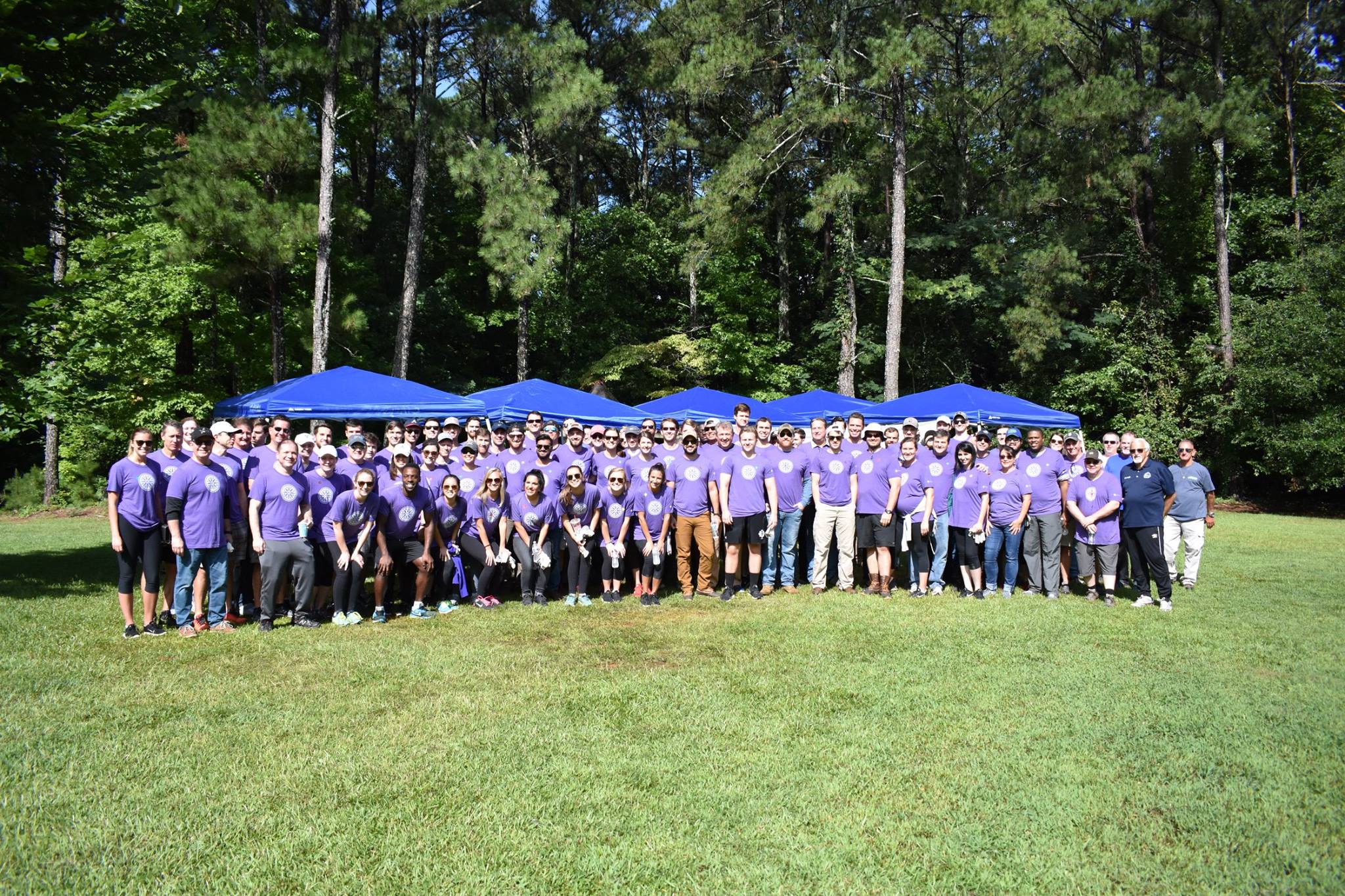 Insight Sourcing, a North American consulting firm focused exclusively on strategic sourcing and procurement-related services, is marking 21 years of client commitment with a brand refresh.
The firm has updated its visual identity with a new icon and font and is dropping "Group" from its brand name, previously Insight Sourcing Group.

The decision to refresh the brand underscores Insight Sourcing's dedication to the procurement and sourcing domain.
"Since day one, Insight Sourcing has remained innovative, agile and always ready to leverage market intelligence, and digital assets to meet the ambitious goals of our clients," said Tom Beaty, CEO of Insight Sourcing.
"We never rest in our pursuit of excellence, and neither should our brand. It reflects our deep appreciation for our past as well as the dynamic nature of our future," he added.
It's important to note that this refresh signifies a renewed pledge to clients and their needs. It does not signify a change of ownership or operating structure.
For further details about Insight Sourcing, visit the organization's website at www.insightsourcing.com.
Read more local business news here.