Peachtree Corners City Council Recognizes GCPD Officers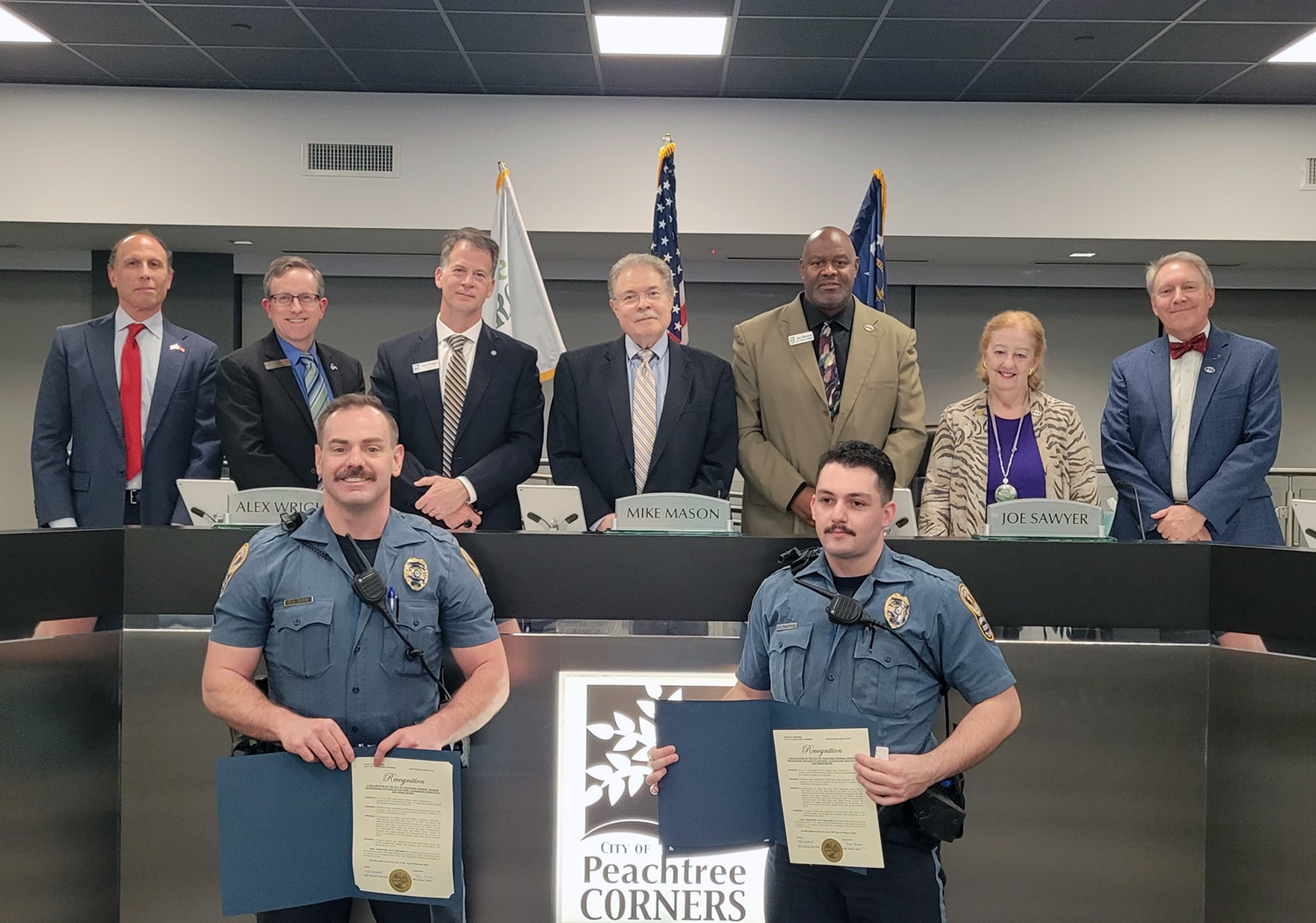 During the Council Meeting on February 28, the City of Peachtree Corners recognized three Gwinnett County Police Department Officers — Officers Dillon Burk, Aleksandar Panayotov and Amber Brown — for their actions last November.
The three officers worked quickly to stop alleged suspects involved in victimizing Peachtree Corners businesses.
City Manager Brian Johnson issued the following Proclamation:
A Declaration of The City of Peachtree Corners, Georgia Recognizing Officers Dillon Burk, Aleksandar Panayotov, and Amber Brown
WHEREAS, On Nov. 8, 2022 West Precinct officers were dispatched to a burglary at the SS Food Mart and Vape. A video was obtained showing four suspects smashing the front door.
WHEREAS, Detectives were contacted by Officer Burk, who recognized one of the suspects in the video as a juvenile he had previously been arrested on a shoplifting call alongside an adult.
WHEREAS, On November 12, Officer Burk and Officer Panayotov performed a traffic stop on a car with plates that did not match the vehicle. The driver was the adult female previously arrested for shoplifting with the juvenile. There was a book bag in the car that the officers recalled seeing in the burglary video. The female was taken to headquarters and interviewed by Officer Burk and Officer Brown. During the interview, the suspect disclosed her involvement in the burglary, as well as the location of the stolen goods, which were at the juvenile's home.
WHEREAS, A search warrant was obtained and stolen items were found. The female suspect was charged with burglary and contributing to the delinquency of a minor.
NOW, THEREFORE, BE IT DECLARED by the Mayor and Council of the City of Peachtree Corners that these officers be recognized for their good police work, for without it, the suspects would have likely continued victimizing businesses in Peachtree Corners.
SO DECLARED on this the day of 28th day of February 2023.
Peachtree Corners Receives Sixth Straight Distinguished Budget Presentation Award
Temporary Closures of Portions of the Town Center Parking Deck Through Summer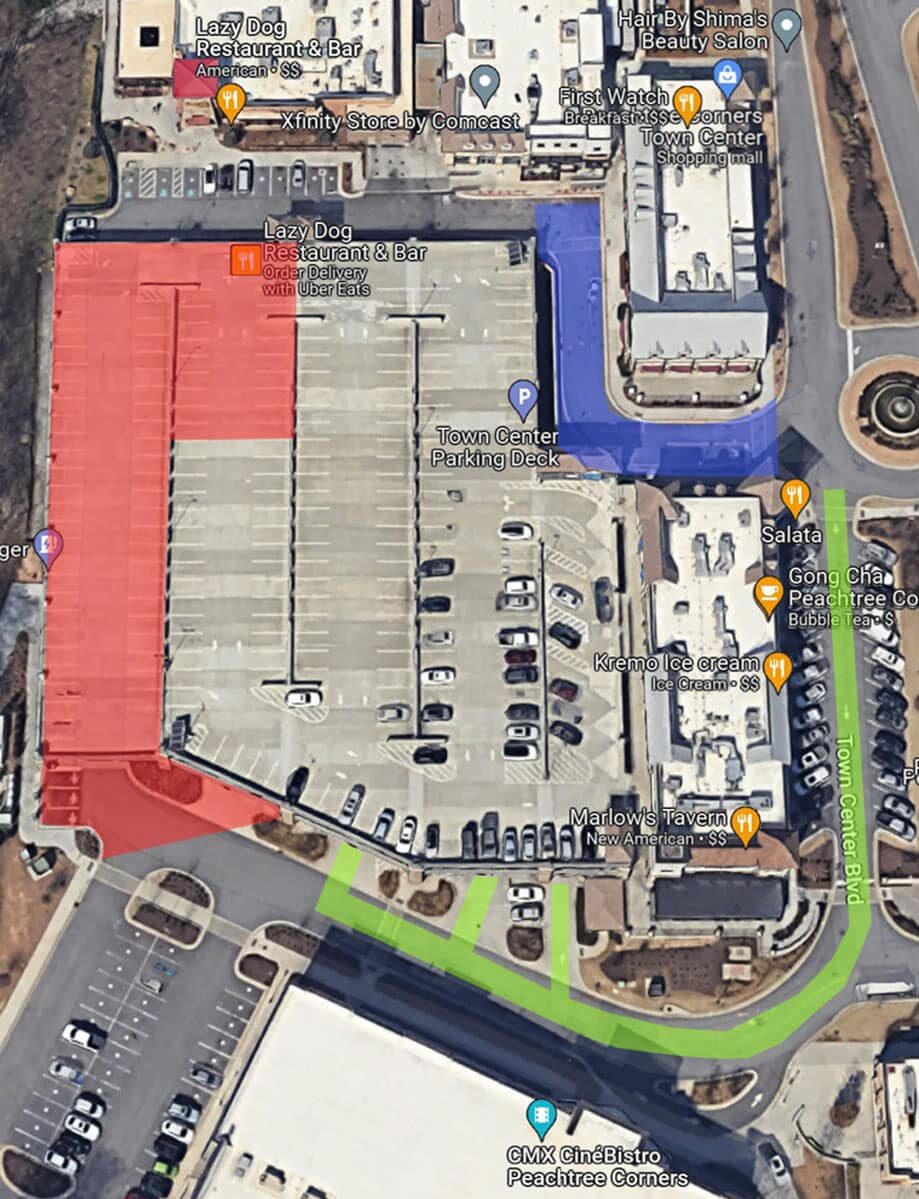 Beginning March 21, 2023, portions of the parking deck located in the Peachtree Corners Town Center will be closed to perform maintenance, repairs and area improvements.
These closures will affect the entrances immediately in front of Lazy Dog Restaurant, the entrance entering the lower deck closest to the CineBistro parking lot, and the southern ramp section in the area of the electric vehicle charging stations.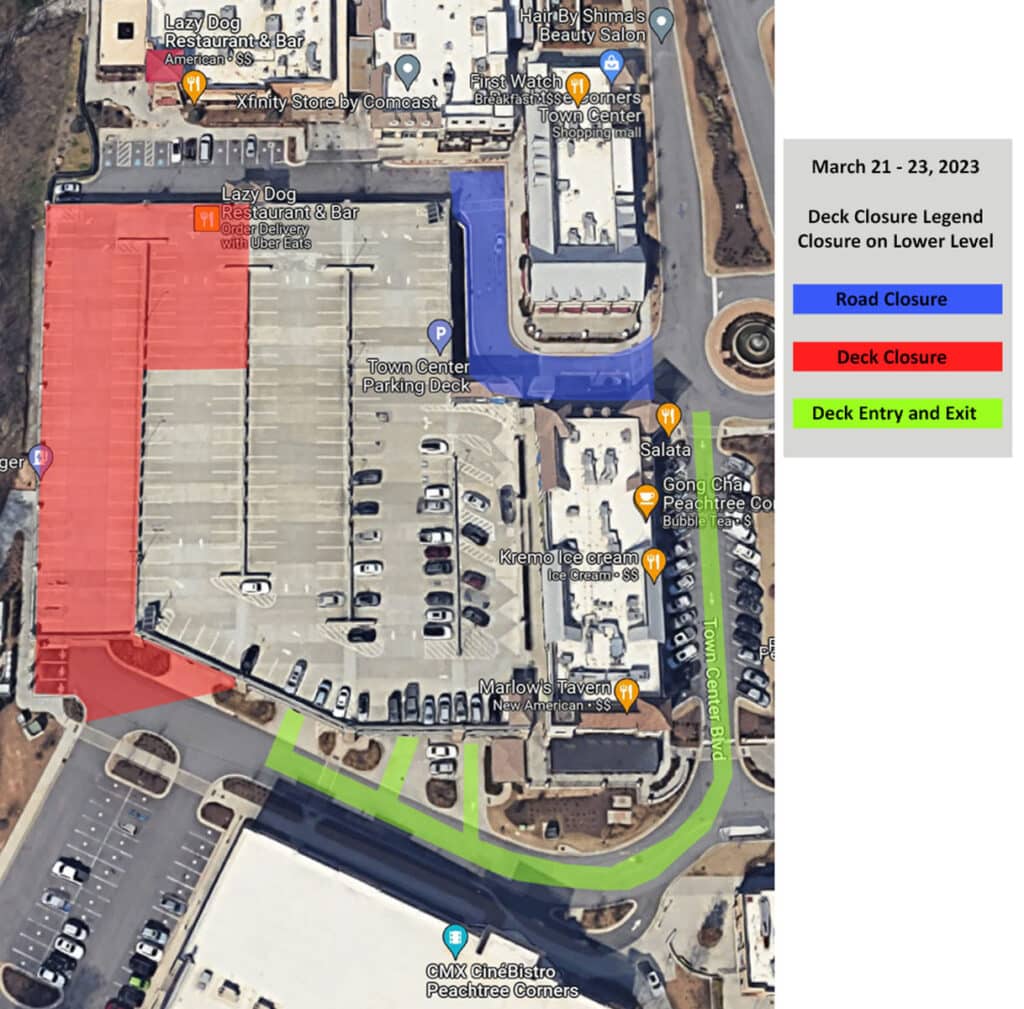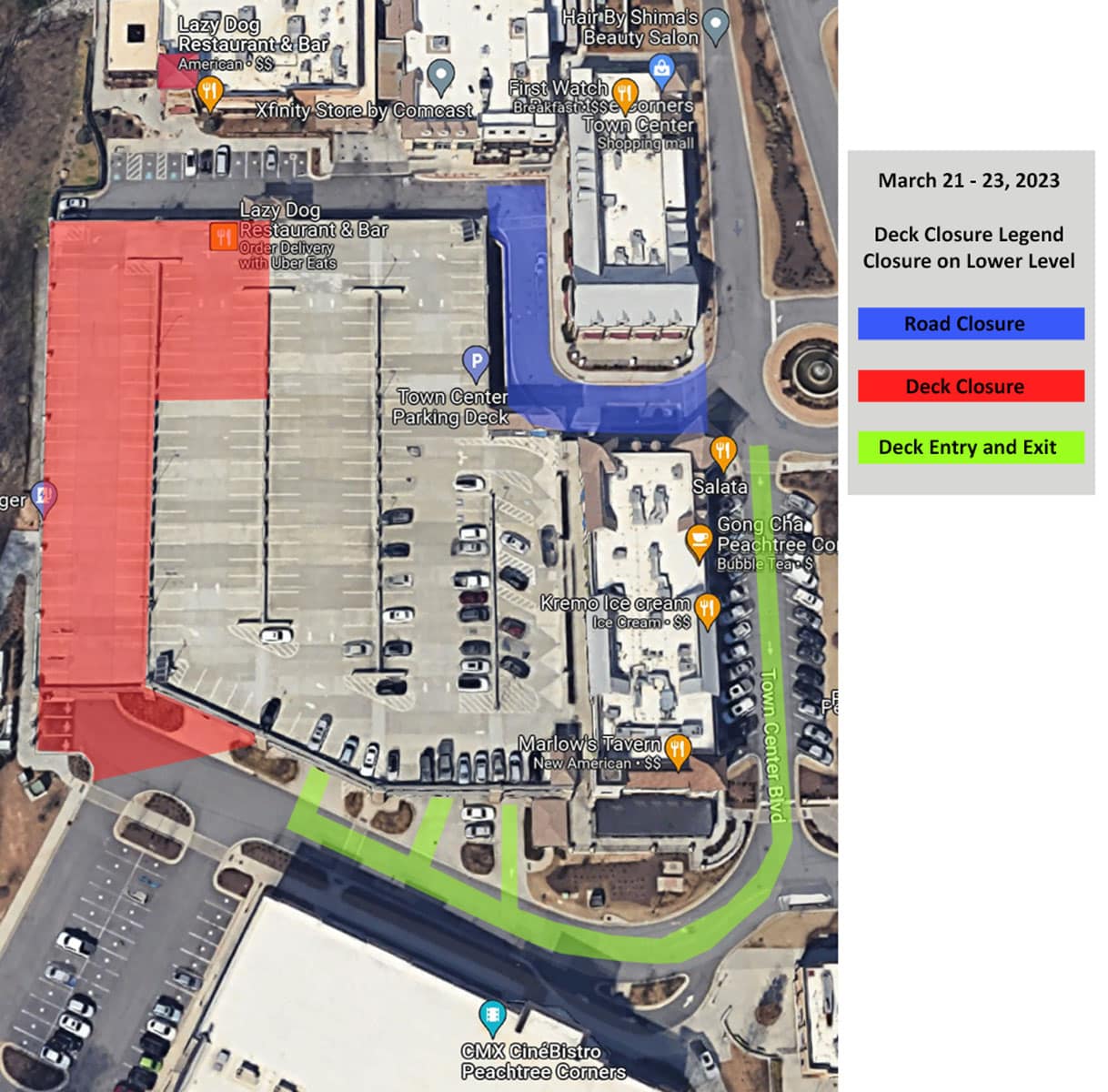 During the closures, from March 21 to March 23, all entry into the deck must be done through the lower deck entrances across from CineBistro.  The entrance nearest the traffic circle fountain will be temporarily closed to facilitate materials delivery for the project.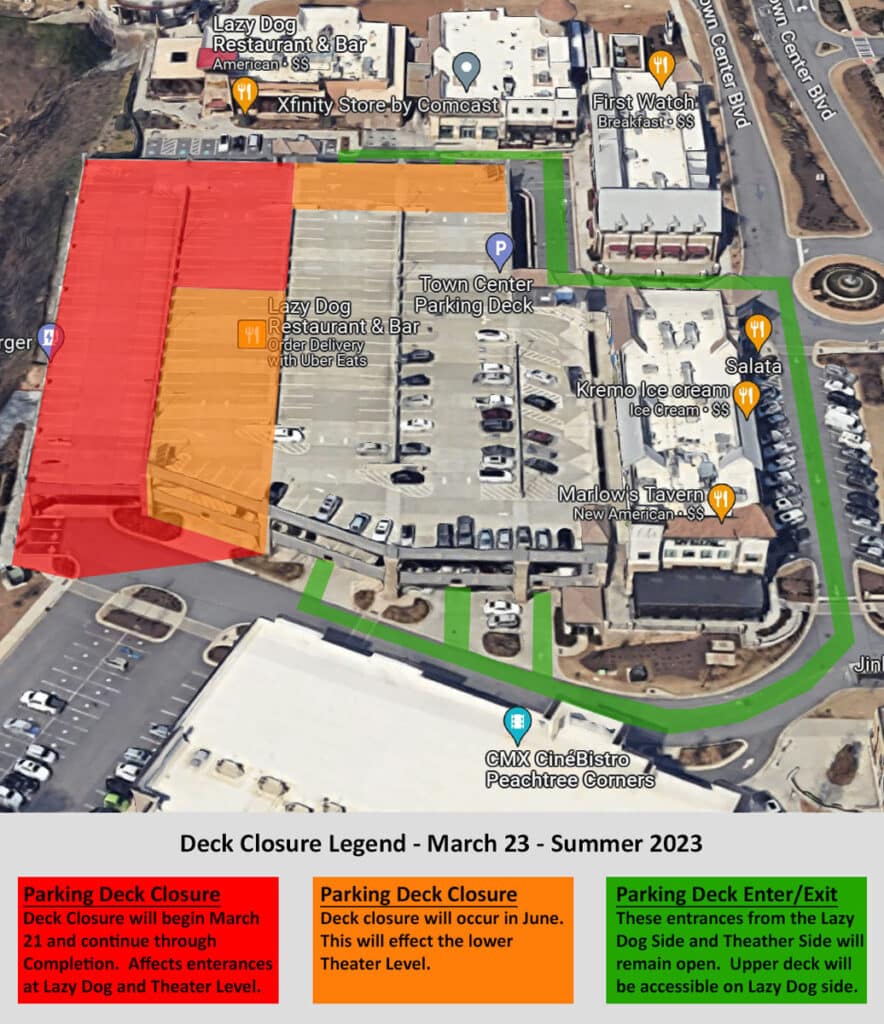 Following delivery, this entrance will be reopened for the duration of the project. Additionally, the ramp providing access to the upper level of the deck will remain open throughout the project.
During this time, the vehicle charging stations will also be inaccessible.
Advocating in a Different Way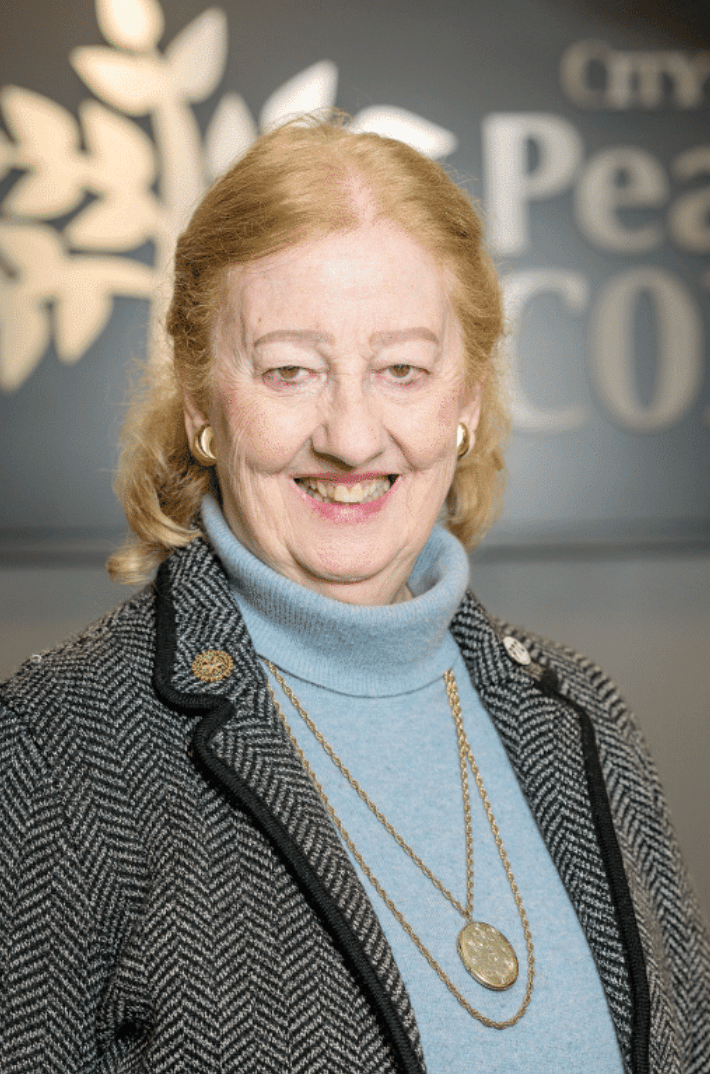 Lorri Christopher will remain active in the community but wants to pave the way for the next generation of local leadership.
When it comes to Peachtree Corners City Post 5 Councilmember Lorri Christopher, her actions speak for her. Not one to raise a ruckus, her four decades as a resident of the area before it became a city had been chock full of leadership in business, education, and community service.
With all she has accomplished, it shouldn't be a surprise that this 80-year-old woman with the stamina of the Energizer Bunny has decided she won't be running for re-election when her term expires in 2024.
"I'm not going to stop advocating for the city," she said. "I'll still be Lorri Christopher. I just won't be a city council member."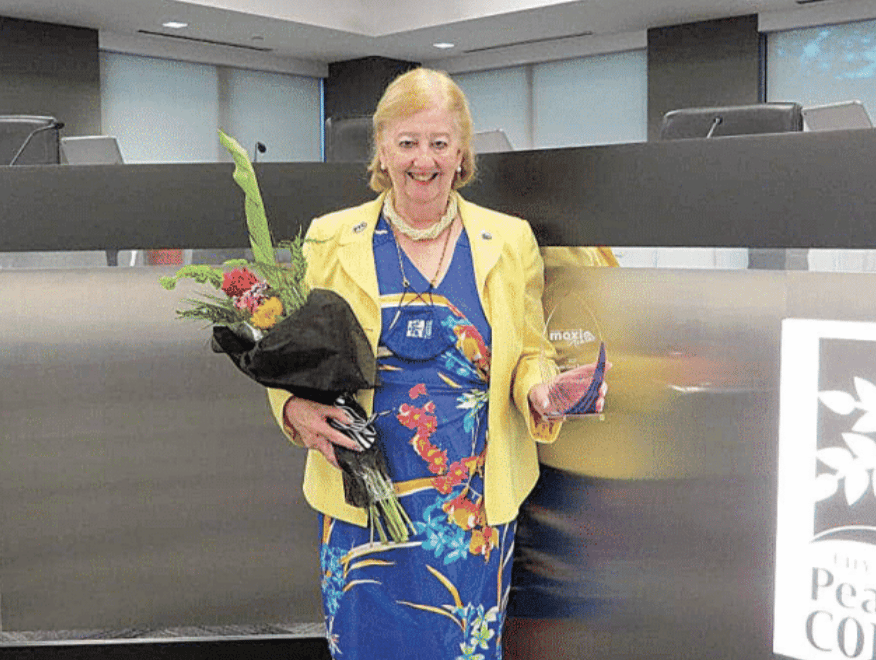 A life filled with achievements and successes
Christopher's bio on the Peachtree Corners website points to a career brimming with numerous titles. Here are a few:
Principal in CAP Associates, a human resources consulting firm
Computer Information Systems (CIS) Faculty Program and IA Director at Gwinnett Technical College
Trustee of the Gwinnett Senior Leadership program
Former IT Project Manager for the 1996 Olympics
High school Math and Science teacher,
Management Information System (MIS) Director and CIS Program Chair at Trident College
COO of Atlanta Desktop
Co-president of United Mortgage Company
Marketing Director of Right Associates
Vice President at Midland Associates
Vice President of Finance and Management Information System (MIS) for Edwards, Inc.
Marketing and technical leadership positions at DCA and Burroughs/Unisys, and
Founding Director of Paces Bank & Trust.
Christopher has been well-recognized through the years. She is a recipient of the 21st Century Award from The International Alliance, Atlanta Business Chronicle's Distributive Education Clubs of America (DECA) award, and the Triumph Inspiration 21st Century Woman Award. Christopher is also a member of the Young Women's Christian Association (YWCA) Academy of Women Achievers.
Her accomplishments include service to the community, business, and charity organizations. Christopher served on the leadership committee for the Center for the Study of the Presidency, chaired the Gwinnett County March of Dimes, and served on the Georgia Alliance for Children Board.
She is a member of several chambers of commerce, including the Gwinnett, Hispanic, Southwest Gwinnett, and Atlanta chambers, as well as the Gwinnett Village Alliance Board. Christopher is a past officer of Fox Hill homeowners' association and a member-volunteer for United Peachtree Corners Civic Association (UPCCA), Peachtree Corners Business Association (PCBA), and the Peachtree Corners Festival.
Then there's her education. Currently a Ph.D. candidate in Information Systems at Nova Southeastern University, Christopher holds an MBA in Business and Finance from Emory University, an MBA in Global Ecommerce from Georgia State University, and a BA in Mathematics and Chemistry from the State University of New York. She has additional graduate studies in CIS at Georgia Tech and Education at Hofstra University — and she holds a number of professional certifications.
"I worked in Peachtree Corners in the 70s and 80s in the Summit Building. Our technology firm, Burroughs/Unisys, was located there where we developed financial applications for the world …we had over 400 people in that facility," she told Peachtree Corners Magazine in a 2019 podcast. "So, I've seen Tech Park when it was in its heyday. I've seen it since, and it is so exciting with what's happening now."
She added that seeing the vision that she and several others had for the area during the cityhood movement more than a decade ago now coming to fruition makes the hard work worth it.
A vision that's blossoming
Besides the business growth and economic development, Christopher said she is proud that the city has remained one of the few that doesn't collect property taxes from its homeowners. And instead of building a city hall right off the bat, Peachtree Corners officials chose to turn the Town Center property into a place for people to gather and be together.
"We've worked really hard at keeping the millage zero and being fiscally responsible," she said.
Christopher is a pioneer in her own right, blazing a path in Information Technology when women were often relegated to administrative support roles instead of heading departments.
After college, she'd gone back home to Charleston, S.C., and was offered a position as Chief Financial Officer and IT Director for a chain of stores where she'd worked as a cashier in her youth. Even back then, Christopher realized that she didn't have to tell anyone what she could do — she just had to show them.
That's what she hopes for the future of Peachtree Corners. She doesn't want future leaders judged by anything more than their credentials.
It's that kind of stewardship that Christopher said she's looking for in her successor. She has someone in mind but insists that she'll back anyone who has the knowledge, passion, and energy to continue the work that was begun more than a decade ago.
Christopher hopes someone will bring Peachtree Corners into its next phase with diversity and inclusion. "I'd like there to be more people who don't look like me involved in city government," she said. "I think it's important that we do everything we can to make sure that we're an inclusive city."
Passing the baton
From the outside looking in, many people may not see the pockets of need in this seemingly affluent area.
Christopher would like the city to start receiving federal funds to pay for things like a homeless shelter. "We don't have a plan for people that are indigent," she said recalling a section of Spring Drive that had no streetlights for seven years. "It took too long to get lights there and that subdivision has over 200 homes," she said.
Even though it's impressive to gather a list of titles, Christopher stressed she does what she does because it's the right thing to do — and she wants to see the city continue doing what's right.
"I don't want to be one of those people who die in office," she said. "The City of Peachtree Corners is going to go on long, long after I'm gone. I see my decision as making room for another person."
Photos by George Hunter