Peachtree Corners' First Lady Debbie Mason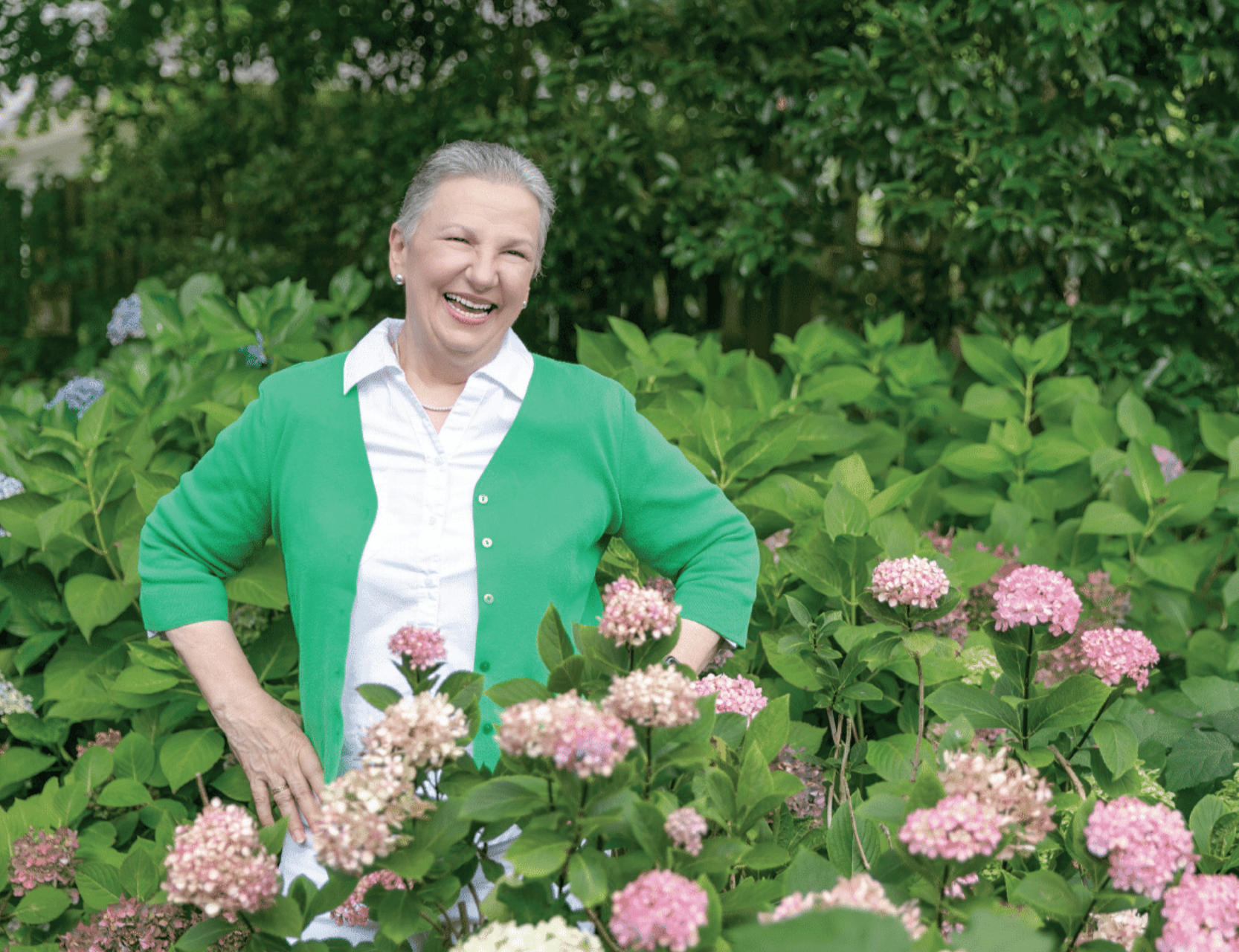 My husband Bob and I had the pleasure of volunteering with Mike and Debbie Mason for at least two decades. We worked alongside them volunteering with middle and high school drama projects and volunteered as chaperones for the 2004 NHS drama trip to NYC.
She supported Bob's Crooked Creek clean-up efforts where he served alongside Debbie on the City's Green Committee. In 2012, Debbie approached me to volunteer with vendor call marketing projects with the Peachtree Corners Festival.
Subsequently, Debbie asked me to serve as board secretary, capturing meeting minutes and assisting her further in vendor projects. She was an amazing community volunteer all the way around!
Bob and Lori Howard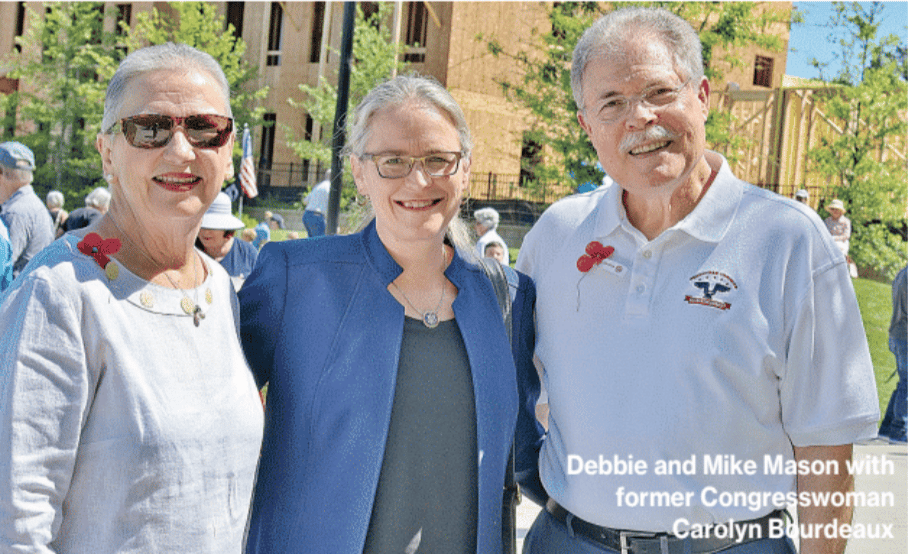 PTC has been my home for my entire life and is where we now raise our children. Debbie has been a fixture of Peachtree Corners for many years, and throughout my life, starting at about 15 years old as a freshman in NHS Theatre.
Nick [Mason, Debbie's son] was a role model for me as an aspiring actor, but more importantly, as a respectful and high-integrity young adult. Over the years, it became more and more obvious where Nick got his kind and charismatic nature.
Debbie was always so supportive of our theatre troop and continued to be a comforting smile and source of inspiration until the end. Her presence will be missed by many and remembered by all.
Sam Hoover, Brazilian Wood Depot
It is with a heavy heart that I say goodbye to our City's first lady, Debbie Mason. She always had a smile for the camera. From the first time I photographed her, back in 2014, she was always kind and exuberant.
Words are not my strength, so I wish to share just a few of my photos.
Ludwig Keck, Photographer
Words cannot express how deeply sorry I was to learn of Debbie's passing. The thought of not seeing her smiling face again makes me so very sad.
Debbie brought, and leaves behind, a great light and legacy to our City and to all who had the pleasure to know her. I am blessed to have been able to call Debbie my friend and will forever think of her with love in my heart and the memories of her will always bring a smile to my face.
Alan Kaplan
Being a community leader is not an easy task. She faced the conflict between responding to the needs of her family and the collective needs of our community. Debbie was always able to balance these needs and secure the resources necessary to accomplish the task at hand.
She engaged the support of her family in everything she did and made them a part of the solution. That made her a magnet for any task needed. She not only showed the way, but she made things move.
Being friends and neighbors for 38 years, it was a privilege to work together on projects you championed. You will be greatly missed, dear lady, but never forgotten for all the gifts you gave us of time, talent, and treasure. Rest in peace.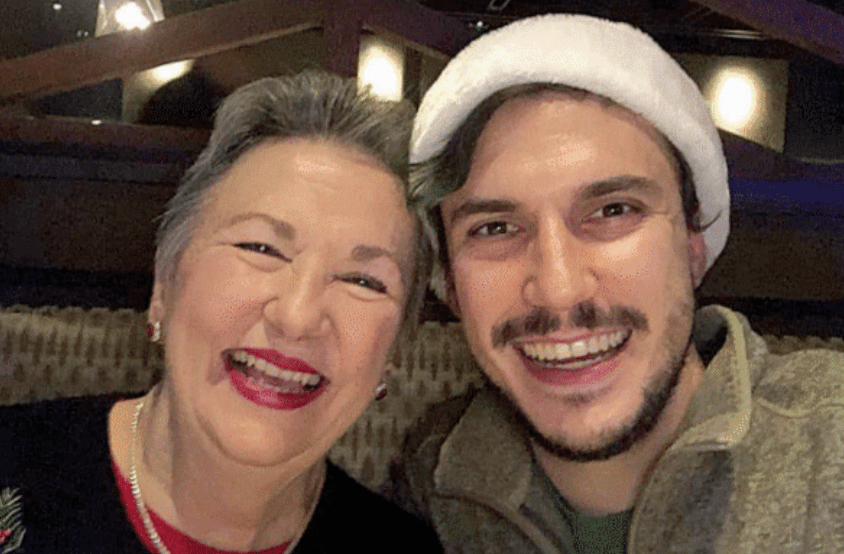 Lorri Christopher
I first met Debbie early on in researching the City's history. I'll never forget her enthusiasm and love for Peachtree Corners or her razor-sharp memory of the events that culminated in the YES campaign. Mrs. Mason was a true community hero.
Carole Townsend
I met Debbie Mason in February of 2011 when we were brought together by a mutual friend to discuss the idea of organizing a festival for Peachtree Corners. Although neither one of us, nor any of the people we brought into the project, had any idea how to put on a festival, we found a way.
Debbie and I always had a great relationship and not just because of the festival. We learned so much together.
I always admired her work ethic and principles. She taught me "You can't fix stupid," and she was sure right about that. I was lucky enough at the 2021 Peachtree Corners Festival to find a plaque from one of our vendors with that very saying, and I got it for her.
Debbie absolutely loved the Peachtree Corners Festival. This photo exemplifies how much fun she and her adoring husband Mike had every year. No one had a bigger smile.
I will always miss her.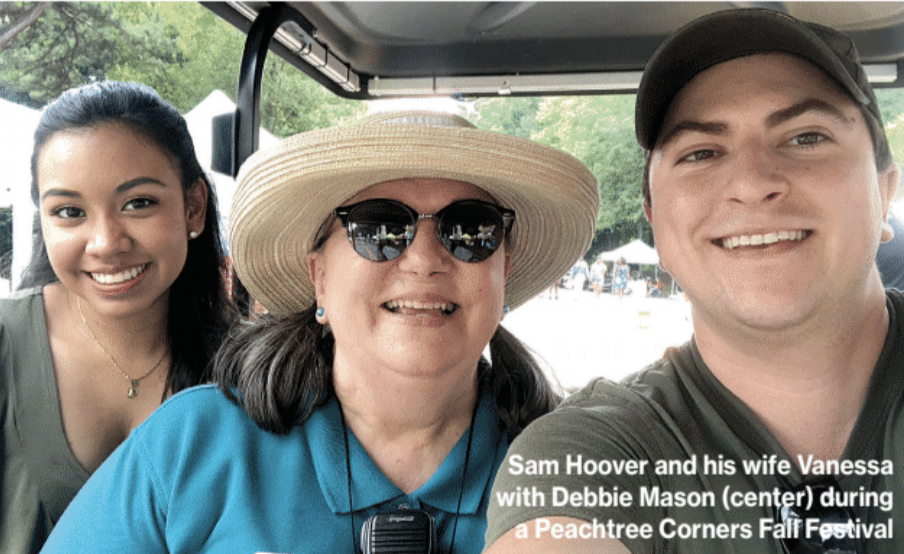 Linda O'Connor
Debbie Mason was a great and enthusiastic leader and supporter of the Gwinnett County Public School system during the years her two sons were students in our schools and for many years after they graduated.
As parents in the school system, Debbie and Mike Mason were co-presidents of the Pinckneyville Middle School council, leaders in the development of the Norcross High School Foundation for Excellence, and among the parents who went with Mrs. Gina Parish and her student actors to see live theatrical performances in New York City.
Whatever the need in the schools, [the mayor and first lady] worked to meet it. They supported scholarships for Norcross High School students through the United Peachtree Corners Civic Association.
They supported the naming of Paul Duke STEM High School and the opportunities provided to Duke students to experience internships with businesses in Norcross and Peachtree Corners.
Debbie Mason served our community in many roles, but never in a more important role than as a supporter of public education for all students and their families in Norcross and Peachtree Corners.
We will miss her greatly.
Mary Kay Murphy, Ph.D., District 3 School Board Member
For 19 years before Peachtree Corners became a city, the United Peachtree Corners Civic Association (UPCCA) was the de facto government for land use in our area. Debbie Mason was unquestionably one of the engines in UPCCA that drove our pride of place and the quest for our ultimate cityhood in 2012.
One of UPCCA's big successes was to improve the look of the ragged highway medians along Peachtree Parkway. Debbie, herself a consummate gardener, administered that detailed landscape job for six years.
She dreamed up the Peachtree Corners Festival, believing deeply that we all needed space and time to celebrate Peachtree Corners and make memories.
Her thousands of volunteer hours were distributed in so many more places.
Gay Shook
I met Debbie in July 2021 when Rico sent me to take photos of her for a feature article they were writing. She shared her story with me about her recent diagnosis and her hopes and fears for her future. I felt as if I had always known her.
We enjoyed roaming through her luscious garden and stopping to take pictures as we went. She was wearing a bright green sweater that complemented the colors in the garden perfectly. Her smile was beautiful, and her sense of determination came through in every photo.
It was a very special time, and I had no idea that one of those photos would become what Mike Mason calls her "signature photo."
Tracey R. Rice
There was no cause too great and no task too small for Debbie Mason. She was always ready to roll up her sleeves and get to work without a thought as to whom would get credit. She was in the foreground when necessary, but also a humble and diligent worker behind the scenes.
Debbie often said, "You can get a lot done if you don't care who gets the credit." What she accomplished through the gift of her time and tireless efforts on behalf of our City will live on in perpetuity.
Lewis and Amy Massey
Debbie had many titles, some official and some unofficial, but after wife, mother, and grandmother, she was proudest of being the first First Lady of the City of Peachtree Corners.
She and Mike were true partners, and she was instrumental in creating the vibrant community in southwest Gwinnett that became the City of Peachtree Corners in 2012. For the past 10 years, Debbie has supported the development of the City in many ways, both large and small.
Debbie will be missed deeply by the entire PTC community.
Eric Christ, Council Member, Post 2
For those of us fortunate enough to know Debbie Mason, it is impossible to overestimate her contributions to our community and city. She was involved at some level with so many worthwhile organizations that make this area such a wonderful place to live.
It was my privilege to work with Debbie on the Peachtree Corners Festival committee, the festival she helped to found. She was always thinking of ways to make the festival more fun and meaningful for our attendees, vendors, and sponsors.
If I had to describe Debbie in one word, it would be "selfless." She knew so many people in our community and she knew how to get things done. She is truly irreplaceable.
Dave Huffman
The City of Peachtree Corners has lost a shining light. Our first lady, Debbie Mason, lost her battle against cancer, and we lost a great lady. Watching Debbie accomplish goal after goal was not surprising because she had such a positive attitude and a strong belief in others. When she spoke, you were compelled to act.
Many times, I would see Debbie quietly working in the background to do something that would benefit our community. Long before there was a city, and long before there was a title of First Lady, Debbie was working to improve the neighborhoods we love. I remember Saturday mornings, Debbie giving of her time to clean 141.
Anytime Debbie was asked to be involved, she did so with great enthusiasm. Christmas Parades and The Peachtree Corners Festival are both a result of her strong desire to create a better community.
There is no question about her love for family, friends, and our city. It was evident in all that she did. She will be missed by all, but her imprint on our hearts and our great city will remain forever.
Nancy Minor
Debbie Mason has had a tremendous impact on the City of Peachtree Corners. She was the type of person who was willing to not only get involved in a project but also take a leadership position to help it be more successful.
She sacrificed much of her time and effort to bring growth and progress to our community. She did so much for others and had a burning drive to bring about positive change. She was a hard worker and knew how to make things happen!
Debbie was also a great wife, mother, and grandmother. She was very devoted to her husband Mike, and it was rare to see one without the other. I'm grateful to have known Debbie and for the positive example, she represented to me and many others.
Phil Sadd, Council Member, Post 1
Debbie Mason was a person of courage and leadership, who demonstrated a "can do" attitude and a never-ending love for her family and friends. Once Debbie set her mind to getting something done, she believed failure was not an option, and she would rally the people and resources around her until she got the job done.
Her footprint laid part of the foundation for the City she loved so much. She will be remembered for the love, guidance, and support she showed to her family and friends. The Peachtree Corners Community will continue to grow and develop because of the seeds she planted and shared with us all.
Lisa Proctor, President, Sanford Rose Associates – Lake Lanier Islands
Debbie was an incredible individual whose presence lit up every room and created an amazing environment for everyone. We learned at her funeral service that Debbie had an army of resources at her disposal.
But what is remarkable for me was the gift of love that she showered to her team of volunteers — and the community at large. Debbie was generous and gave to us without hesitation whenever we asked.
She welcomed us to Peachtree Corners and made us feel like family. I am blessed to have known her and I will forever miss her.
Thank you so much, Debbie Mason. We lost an angel.
Helen Odundo-Wanda, CPA, MBA
I had the good fortune to interact with Debbie a number of times for a number of different reasons. Debbie was a shining light in our community and meant so much to so many. Debbie was, and always will be, The First Lady of Peachtree Corners!
Gene Witkin
Peachtree Corners resident since 1994
I wish to send my sincere condolences to Mayor Mike Mason. I regret I never got to meet Debbie! Mike Mason is a great mayor and I assume the First Lady of Peachtree Corners was very supportive of her husband and his activities on behalf of Peachtree Corners residents. May Debbie rest in peace!
Clément Desaulniers
I had the privilege and honor of volunteering with Debbie for more than 20 years — UPCCA Board, PTC Tour of Homes, and the PTC Yes Campaign. We sat around many tables together. It was a joy to work with her. You knew if Debbie said she was going to do something, she did and gave 110%. And she was an A+ hostess who made the best lasagna. RIP, dear Debbie.
Pat Bruschini
Talented Artists Needed for 2023 Gwinnett Multicultural Festival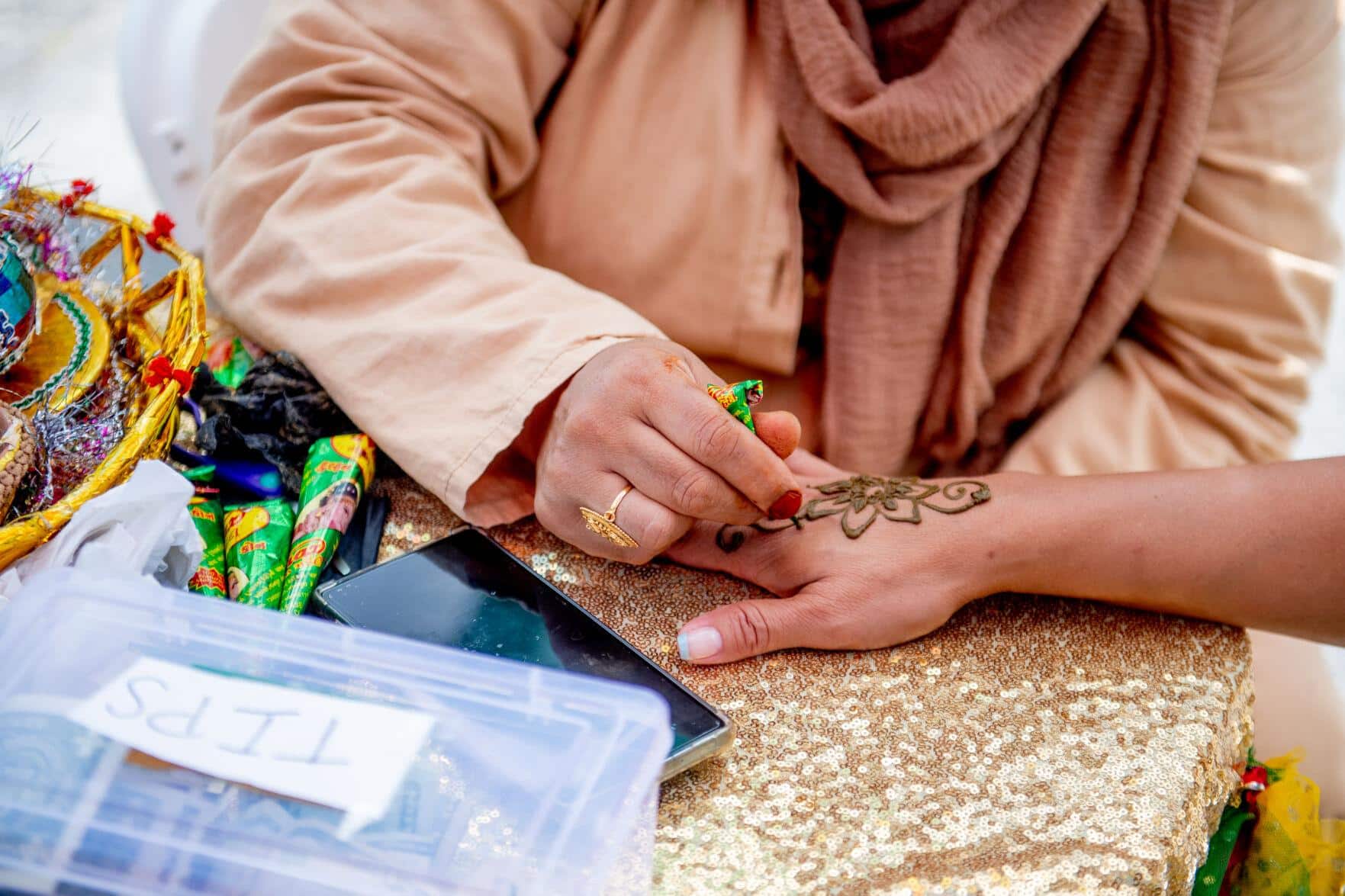 The 2023 Gwinnett Multicultural Festival is set for Saturday, May 13, 10 a.m.-2 p.m. Details will be released soon.
Photographers, painters, sculptors and artists are invited to exhibit their masterpieces at the 2023 Gwinnett Multicultural Festival. Performers — such as comedians, dancers, magicians, musicians and singers — are also invited to showcase their unique talents. 
Please note that while artists are welcome to exhibit their work, they will not be allowed to sell items at the event. However, they can let attendees know how and where to purchase the items at a later date.
Artistic exhibitors can access the festival performer application here. The deadline is Friday, April 14, 5 p.m.
Performers can fill out the performer application through this link. The deadline is Friday, March 31, 5 p.m.
Local businesses are also invited to support the Multicultural Festival with giveaways.
For more info, contact Outreach Manager Rachael Warnsley at Rachael.Warnsley@gwinnettcounty.com or call 770-513-5348.
Gwinnett County to Celebrate Earth Day with Community Recycling Event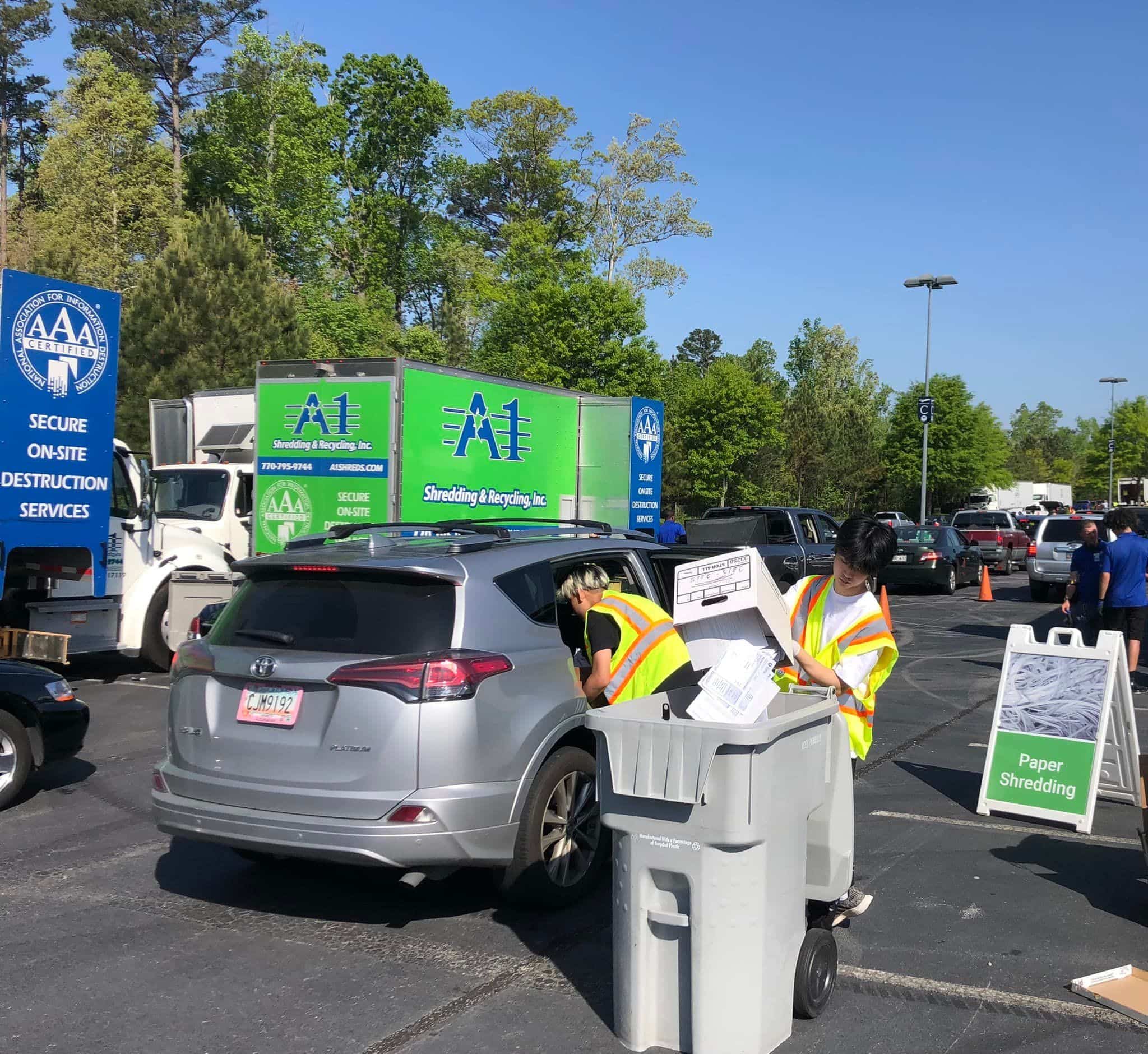 Gwinnett Clean & Beautiful (GC&B) and Gwinnett County Solid Waste are calling out to the public to start collecting tires, paint, electronics, clothing, sneakers and paper for this year's Earth Day Community Recycling. 
Over the last six years, GC&B has hosted a community-wide Earth Day-themed recycling event. Co-hosted with Gwinnett County Solid Waste, this year's event will take place Saturday, April 22, 9 a.m. to 12 noon at Coolray Field, 2500 Buford Drive in Lawrenceville.
"Celebrated by more than a billion people all over the planet since 1970, we are excited to participate in the world's largest environmental movement on Earth Day," said Schelly Marlatt, Executive Director of Gwinnett Clean & Beautiful.
"Designed to change human behavior and create opportunities for civic engagement and volunteerism, this year's theme is 'Invest in our Planet,' so we're asking our Gwinnett County neighbors to invest their time by either volunteering for this event or by combing through their closets, file cabinets, garages, basements, attics and storage sheds for items they no longer need that can be recycled into new products," she said.
"It's a win-win. Local residents get to declutter their homes, and we get to divert tons of items from our local landfills and give them new life!" Marlatt added.
During last year's event, Earth Day organizers helped 1,549 neighbors recycle 175,540 lbs. of items they no longer needed within the event's three-hour window. All told, 44,000 lbs. of electronics, 6,682 gallons of paint, 14 tons of tires, 2,720 lbs. of clothing and sneakers were collected for recycling, and 34,000 lbs. of paper were collected for shredding.
Beyond the all-important act of recycling, the Earth Day Celebration will include Touch-A-Truck, refreshments, a chance for residents to meet their haulers, opportunities to learn more about programs and services from various county departments, and more.
What to bring for recycling
Items collected that day will include latex and oil-based paints, electronics, tires, clothing, sneakers and paper for shredding.
Throughout the April 22 "rain-or-shine" event, the following items will be collected:
Paper for secure shredding — Limit to five copier paper boxes per vehicle.
Electronics — Recycling is free except for TVs, monitors and printers. There is a $15 cash fee per monitor or TV; and a $5 cash fee per printer. Projection/console TVs have a $35 cash fee.
Oil-based and latex paint — Please limit to 10 gallons per vehicle; cans must contain 25% wet paint.
Tires — Limit to eight tires per vehicle; no dealer tires.
Clothing and sneakers.
Materials should be placed in disposable containers or boxes. Containers cannot be returned.
Looking for volunteers
Volunteers are also needed for the event.
To register as a volunteer for Gwinnett County's Earth Day recycling event, visit the Volunteer Gwinnett page under the Employment tab at GwinnettCounty.com.
For more about this and other upcoming GC&B events, visit gwinnettcb.org. Questions may be directed to gwinnettcb@gwinnettcb.org or 770-822-5187.
UPCCA Community Service Scholarship Awards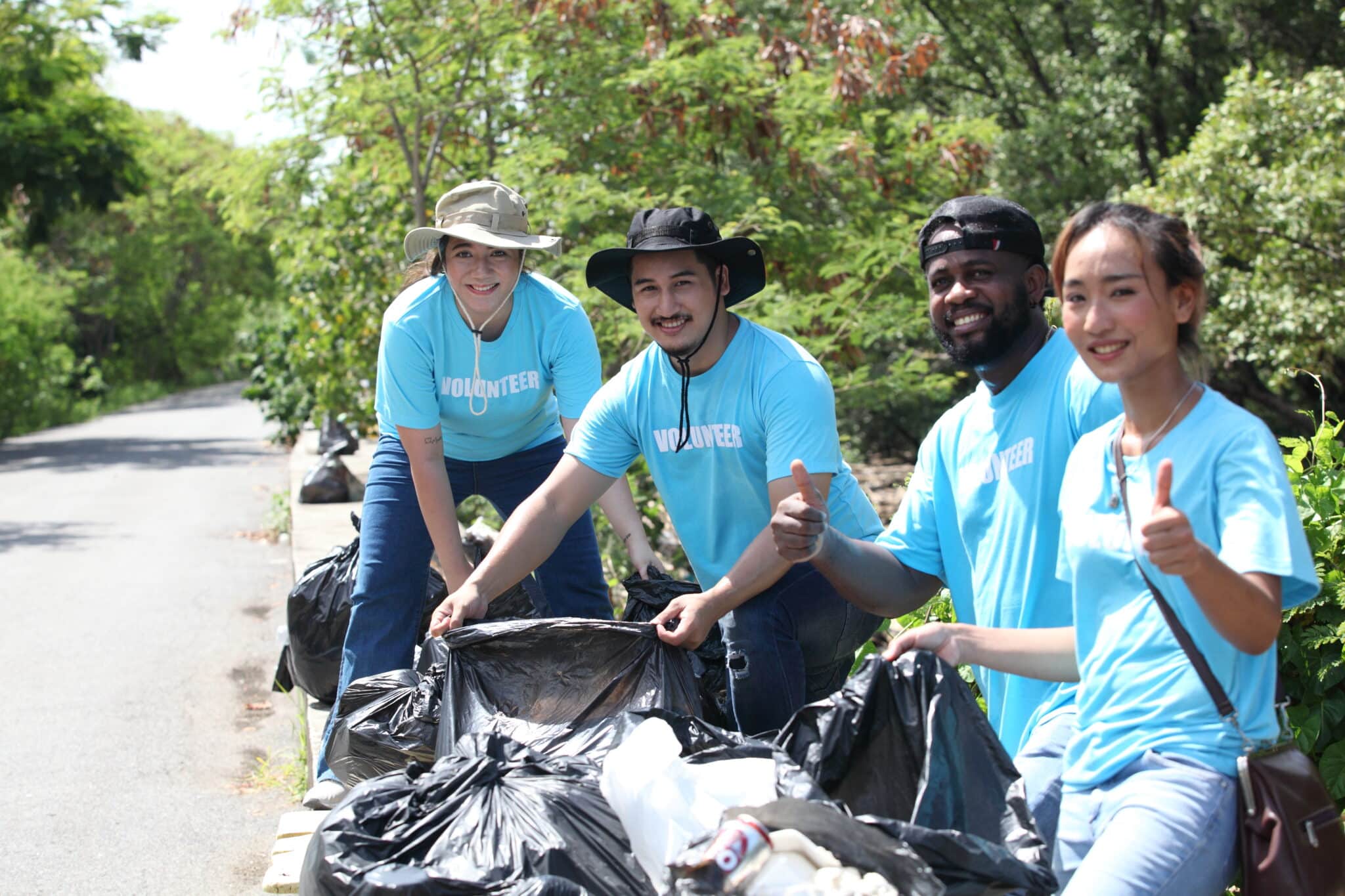 The United Peachtree Corners Civic Association (UPCCA) is again offering a Community Service Scholarship for high school seniors residing in Peachtree Corners. The 2023 scholarships will be awarded to students who have made the commitment to volunteer outside of school hours during their high school years.
New for 2023
Up to two UPCCA scholarships may be awarded.
The Debbie Mason Member Scholarship is a $1,000 scholarship. To qualify, the student or their HOA / neighborhood MUST be a member of UPCCA in good standing for the 2023 calendar year with membership fees paid on or before April 15, 2023.
If the applicant's HOA/ neighborhood is NOT a current paid member of UPCCA, they can contact their HOA, neighborhood board or president and encourage them to become a 2023 member.
Information for becoming a member of UPCCA can be found at upcca.org, or by contacting UPCCA president Matt Lombardi at 770-548-2989.
The Debbie Mason Community Scholarship is a $1,000 community scholarship in honor of Debbie Mason's commitment to serve her community. Students do not need to be a UPCCA member to qualify for this scholarship.
How to apply
High school seniors who meet the qualifications should:
1. Complete the Online Scholarship Application
The online application includes areas to upload documentation for the essay and service activities.
2. Write and/or video a 300-word essay about the community service work they have done that has had the greatest influence on them and why.
3. Include a Community Service listing of all activities they participated in while in high school.
Winners will be chosen strictly on their participation in community service.