Peachtree Corners' First Lady Debbie Mason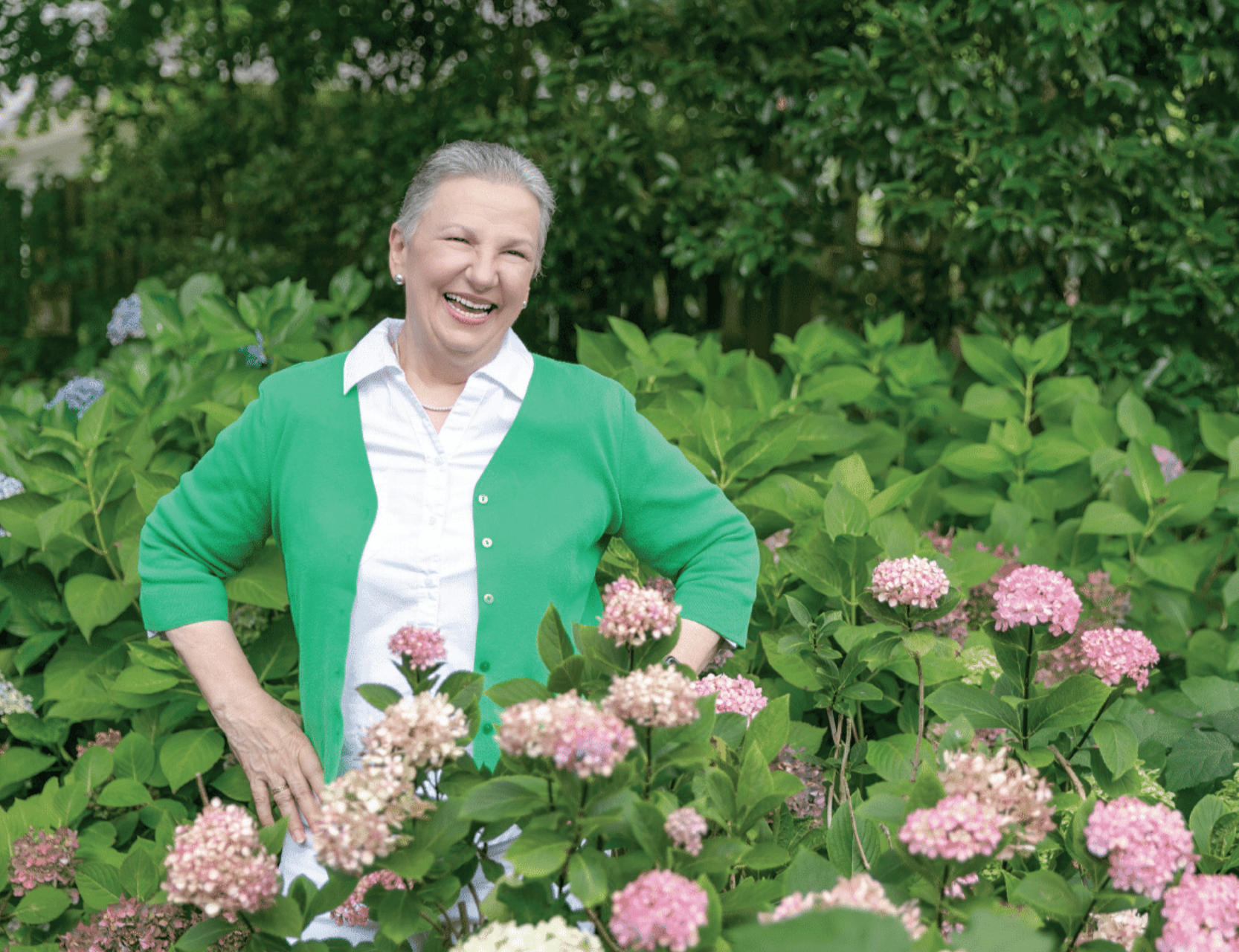 My husband Bob and I had the pleasure of volunteering with Mike and Debbie Mason for at least two decades. We worked alongside them volunteering with middle and high school drama projects and volunteered as chaperones for the 2004 NHS drama trip to NYC.
She supported Bob's Crooked Creek clean-up efforts where he served alongside Debbie on the City's Green Committee. In 2012, Debbie approached me to volunteer with vendor call marketing projects with the Peachtree Corners Festival.
Subsequently, Debbie asked me to serve as board secretary, capturing meeting minutes and assisting her further in vendor projects. She was an amazing community volunteer all the way around!
Bob and Lori Howard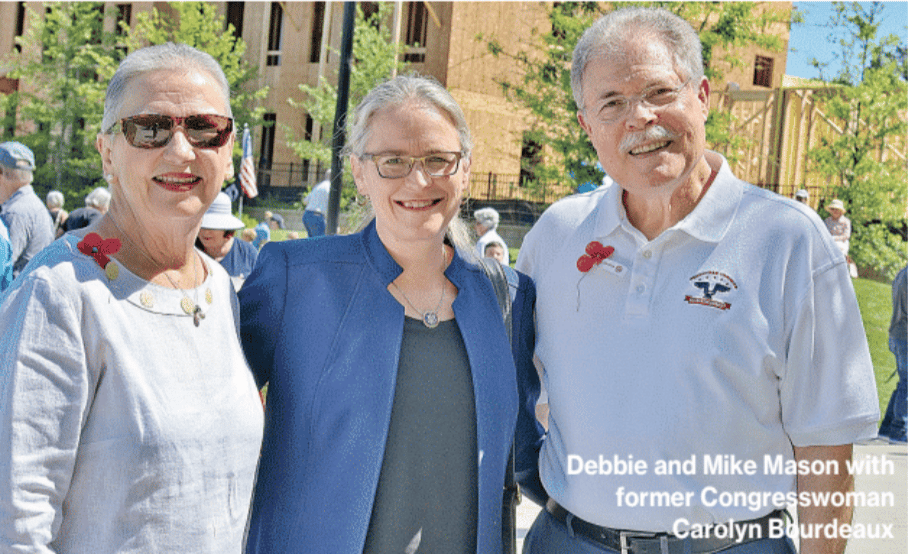 PTC has been my home for my entire life and is where we now raise our children. Debbie has been a fixture of Peachtree Corners for many years, and throughout my life, starting at about 15 years old as a freshman in NHS Theatre.
Nick [Mason, Debbie's son] was a role model for me as an aspiring actor, but more importantly, as a respectful and high-integrity young adult. Over the years, it became more and more obvious where Nick got his kind and charismatic nature.
Debbie was always so supportive of our theatre troop and continued to be a comforting smile and source of inspiration until the end. Her presence will be missed by many and remembered by all.
Sam Hoover, Brazilian Wood Depot
It is with a heavy heart that I say goodbye to our City's first lady, Debbie Mason. She always had a smile for the camera. From the first time I photographed her, back in 2014, she was always kind and exuberant.
Words are not my strength, so I wish to share just a few of my photos.
Ludwig Keck, Photographer
Words cannot express how deeply sorry I was to learn of Debbie's passing. The thought of not seeing her smiling face again makes me so very sad.
Debbie brought, and leaves behind, a great light and legacy to our City and to all who had the pleasure to know her. I am blessed to have been able to call Debbie my friend and will forever think of her with love in my heart and the memories of her will always bring a smile to my face.
Alan Kaplan
Being a community leader is not an easy task. She faced the conflict between responding to the needs of her family and the collective needs of our community. Debbie was always able to balance these needs and secure the resources necessary to accomplish the task at hand.
She engaged the support of her family in everything she did and made them a part of the solution. That made her a magnet for any task needed. She not only showed the way, but she made things move.
Being friends and neighbors for 38 years, it was a privilege to work together on projects you championed. You will be greatly missed, dear lady, but never forgotten for all the gifts you gave us of time, talent, and treasure. Rest in peace.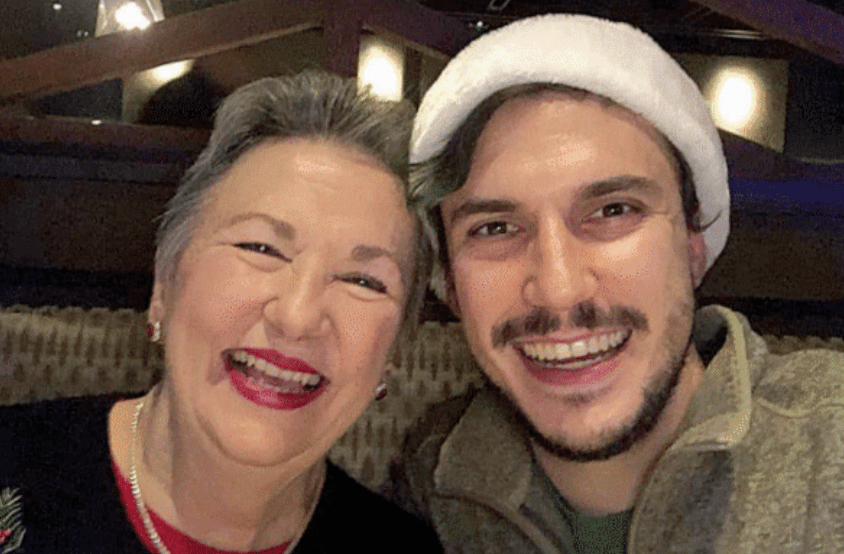 Lorri Christopher
I first met Debbie early on in researching the City's history. I'll never forget her enthusiasm and love for Peachtree Corners or her razor-sharp memory of the events that culminated in the YES campaign. Mrs. Mason was a true community hero.
Carole Townsend
I met Debbie Mason in February of 2011 when we were brought together by a mutual friend to discuss the idea of organizing a festival for Peachtree Corners. Although neither one of us, nor any of the people we brought into the project, had any idea how to put on a festival, we found a way.
Debbie and I always had a great relationship and not just because of the festival. We learned so much together.
I always admired her work ethic and principles. She taught me "You can't fix stupid," and she was sure right about that. I was lucky enough at the 2021 Peachtree Corners Festival to find a plaque from one of our vendors with that very saying, and I got it for her.
Debbie absolutely loved the Peachtree Corners Festival. This photo exemplifies how much fun she and her adoring husband Mike had every year. No one had a bigger smile.
I will always miss her.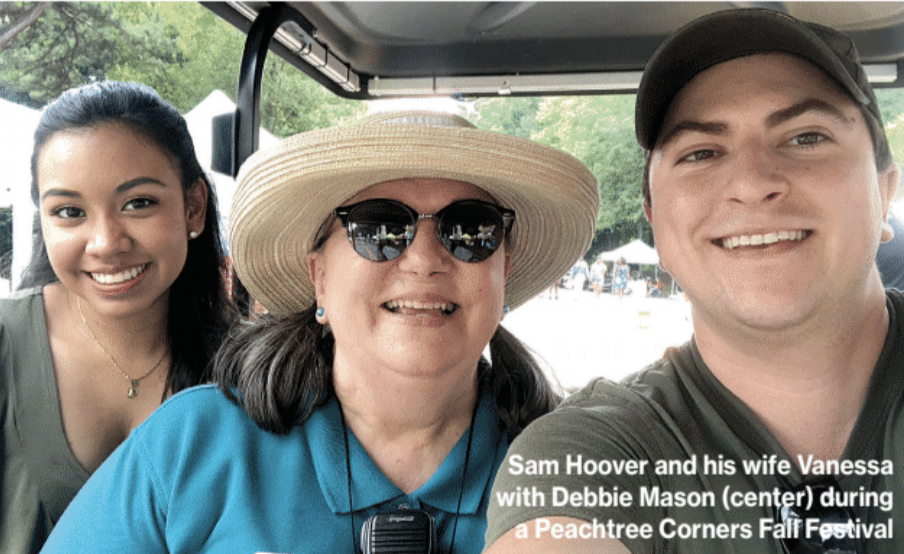 Linda O'Connor
Debbie Mason was a great and enthusiastic leader and supporter of the Gwinnett County Public School system during the years her two sons were students in our schools and for many years after they graduated.
As parents in the school system, Debbie and Mike Mason were co-presidents of the Pinckneyville Middle School council, leaders in the development of the Norcross High School Foundation for Excellence, and among the parents who went with Mrs. Gina Parish and her student actors to see live theatrical performances in New York City.
Whatever the need in the schools, [the mayor and first lady] worked to meet it. They supported scholarships for Norcross High School students through the United Peachtree Corners Civic Association.
They supported the naming of Paul Duke STEM High School and the opportunities provided to Duke students to experience internships with businesses in Norcross and Peachtree Corners.
Debbie Mason served our community in many roles, but never in a more important role than as a supporter of public education for all students and their families in Norcross and Peachtree Corners.
We will miss her greatly.
Mary Kay Murphy, Ph.D., District 3 School Board Member
For 19 years before Peachtree Corners became a city, the United Peachtree Corners Civic Association (UPCCA) was the de facto government for land use in our area. Debbie Mason was unquestionably one of the engines in UPCCA that drove our pride of place and the quest for our ultimate cityhood in 2012.
One of UPCCA's big successes was to improve the look of the ragged highway medians along Peachtree Parkway. Debbie, herself a consummate gardener, administered that detailed landscape job for six years.
She dreamed up the Peachtree Corners Festival, believing deeply that we all needed space and time to celebrate Peachtree Corners and make memories.
Her thousands of volunteer hours were distributed in so many more places.
Gay Shook
I met Debbie in July 2021 when Rico sent me to take photos of her for a feature article they were writing. She shared her story with me about her recent diagnosis and her hopes and fears for her future. I felt as if I had always known her.
We enjoyed roaming through her luscious garden and stopping to take pictures as we went. She was wearing a bright green sweater that complemented the colors in the garden perfectly. Her smile was beautiful, and her sense of determination came through in every photo.
It was a very special time, and I had no idea that one of those photos would become what Mike Mason calls her "signature photo."
Tracey R. Rice
There was no cause too great and no task too small for Debbie Mason. She was always ready to roll up her sleeves and get to work without a thought as to whom would get credit. She was in the foreground when necessary, but also a humble and diligent worker behind the scenes.
Debbie often said, "You can get a lot done if you don't care who gets the credit." What she accomplished through the gift of her time and tireless efforts on behalf of our City will live on in perpetuity.
Lewis and Amy Massey
Debbie had many titles, some official and some unofficial, but after wife, mother, and grandmother, she was proudest of being the first First Lady of the City of Peachtree Corners.
She and Mike were true partners, and she was instrumental in creating the vibrant community in southwest Gwinnett that became the City of Peachtree Corners in 2012. For the past 10 years, Debbie has supported the development of the City in many ways, both large and small.
Debbie will be missed deeply by the entire PTC community.
Eric Christ, Council Member, Post 2
For those of us fortunate enough to know Debbie Mason, it is impossible to overestimate her contributions to our community and city. She was involved at some level with so many worthwhile organizations that make this area such a wonderful place to live.
It was my privilege to work with Debbie on the Peachtree Corners Festival committee, the festival she helped to found. She was always thinking of ways to make the festival more fun and meaningful for our attendees, vendors, and sponsors.
If I had to describe Debbie in one word, it would be "selfless." She knew so many people in our community and she knew how to get things done. She is truly irreplaceable.
Dave Huffman
The City of Peachtree Corners has lost a shining light. Our first lady, Debbie Mason, lost her battle against cancer, and we lost a great lady. Watching Debbie accomplish goal after goal was not surprising because she had such a positive attitude and a strong belief in others. When she spoke, you were compelled to act.
Many times, I would see Debbie quietly working in the background to do something that would benefit our community. Long before there was a city, and long before there was a title of First Lady, Debbie was working to improve the neighborhoods we love. I remember Saturday mornings, Debbie giving of her time to clean 141.
Anytime Debbie was asked to be involved, she did so with great enthusiasm. Christmas Parades and The Peachtree Corners Festival are both a result of her strong desire to create a better community.
There is no question about her love for family, friends, and our city. It was evident in all that she did. She will be missed by all, but her imprint on our hearts and our great city will remain forever.
Nancy Minor
Debbie Mason has had a tremendous impact on the City of Peachtree Corners. She was the type of person who was willing to not only get involved in a project but also take a leadership position to help it be more successful.
She sacrificed much of her time and effort to bring growth and progress to our community. She did so much for others and had a burning drive to bring about positive change. She was a hard worker and knew how to make things happen!
Debbie was also a great wife, mother, and grandmother. She was very devoted to her husband Mike, and it was rare to see one without the other. I'm grateful to have known Debbie and for the positive example, she represented to me and many others.
Phil Sadd, Council Member, Post 1
Debbie Mason was a person of courage and leadership, who demonstrated a "can do" attitude and a never-ending love for her family and friends. Once Debbie set her mind to getting something done, she believed failure was not an option, and she would rally the people and resources around her until she got the job done.
Her footprint laid part of the foundation for the City she loved so much. She will be remembered for the love, guidance, and support she showed to her family and friends. The Peachtree Corners Community will continue to grow and develop because of the seeds she planted and shared with us all.
Lisa Proctor, President, Sanford Rose Associates – Lake Lanier Islands
Debbie was an incredible individual whose presence lit up every room and created an amazing environment for everyone. We learned at her funeral service that Debbie had an army of resources at her disposal.
But what is remarkable for me was the gift of love that she showered to her team of volunteers — and the community at large. Debbie was generous and gave to us without hesitation whenever we asked.
She welcomed us to Peachtree Corners and made us feel like family. I am blessed to have known her and I will forever miss her.
Thank you so much, Debbie Mason. We lost an angel.
Helen Odundo-Wanda, CPA, MBA
I had the good fortune to interact with Debbie a number of times for a number of different reasons. Debbie was a shining light in our community and meant so much to so many. Debbie was, and always will be, The First Lady of Peachtree Corners!
Gene Witkin
Peachtree Corners resident since 1994
I wish to send my sincere condolences to Mayor Mike Mason. I regret I never got to meet Debbie! Mike Mason is a great mayor and I assume the First Lady of Peachtree Corners was very supportive of her husband and his activities on behalf of Peachtree Corners residents. May Debbie rest in peace!
Clément Desaulniers
I had the privilege and honor of volunteering with Debbie for more than 20 years — UPCCA Board, PTC Tour of Homes, and the PTC Yes Campaign. We sat around many tables together. It was a joy to work with her. You knew if Debbie said she was going to do something, she did and gave 110%. And she was an A+ hostess who made the best lasagna. RIP, dear Debbie.
Pat Bruschini

What's Happening at Pinckneyville Community Center this Month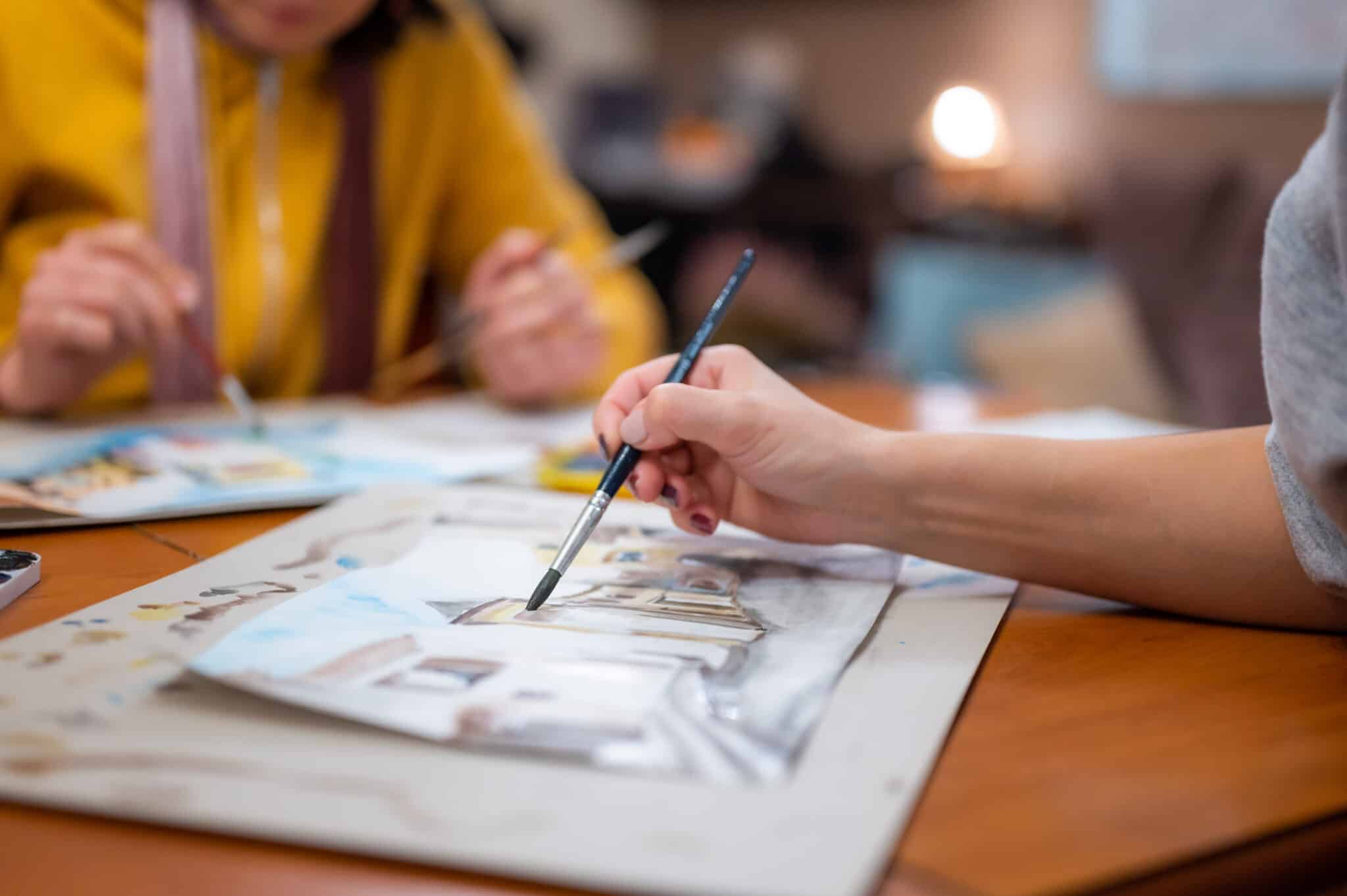 NEW! Gwinnett "En Plein Air" Park Art Challenge: We're calling Gwinnett artists 16 and older to participate in an artwork challenge! Paint an outdoor scene at one or more of the parks selected for a chance to win a cash prize. Saturday, August 5 to Saturday, November 11. Submission deadline is November 17. Please call 678-277-0920 for more information!
OFFERINGS
Adventure Days Out: We've got your school's out childcare covered. Children will have an amazing experience trying new games, exploring new skills, making new friends and most of all, having fun! 7:30 a.m. – 6:00 p.m. Ages 5-12. $30 per day.
NEW! Beginner Karate: This course consists of traditional martial arts self-defense to help students develop strength, knowledge and discipline. Our classes are safe, fun and exciting! Saturdays, October 7 – 28. 1:15 p.m. – 2:15 p.m. Ages 5/up. $88.
NEW! Basic Drawing: Students will learn the basics of line, shape, value, texture, and perspective to create finished drawings in pencil and charcoal. Students will draw subject matter provided by the instructor. Call 678-277-0920 for dates and times. Ages 18/up. $201.
NEW! Understanding Watercolor: Taught by an award-winning watercolorist, this course emphasizes techniques in watercolor. Various subject matter from still life, landscape, animals to portraits will be rendered. All levels welcome. Call 678-277-0920 for dates and times. Ages 18/up. $201.
Get Into Watercolor: Learn the basics of watercolor from a seasoned instructor! This class is designed for beginners as well as the more experienced. Master the methods of watercolor to paint basic and complex shapes; development of depth through values, perspective, color and the composition of overall painting. Students will furnish their own materials (supply list will be provided). Saturdays, October 7 – November 11. 10:00 a.m. – 12:30 p.m. Ages 16/up. $141.
Ballet–Preschool: Creative dances and imagination will help instill a love for dancing, as your toddler learns the basics of ballet in a positive and fun environment! Preschool ballet will need pink leather ballet shoes and pink footed tights, pink leotards and a pink skirt. Saturdays September 9 – 30. 10:00 a.m. – 10:45 a.m. Ages 4–5. $37.
Ballet–Beg: Expand your child's ballet abilities in this beginner class. Students will focus on developing ballet techniques and posturing. Beginner ballet will need pink leather ballet shoes and pink footed tights, pink leotards and a pink skirt. Saturdays, September 9 – 30. 12:15 p.m. – 1:00 p.m. Ages 6–9. $37.
Ballet–Int: Expand your child's ballet abilities in this beginner class. Students will focus on developing ballet techniques and posturing. Beginner ballet will need pink leather ballet shoes and pink footed tights, pink leotards and a pink skirt. Saturdays, September 9 – 30. 9:15 a.m. – 10:00 a.m. Ages 7–10. $37.
Ballet–Int: Students will reinforce their ballet techniques, physical strength, flexibility, and musicality in this intermediate level class. Dancers need pink leather ballet shoes, pink footed tights, black leotard and a black skirt. Saturdays, September 9 – 30. 11:30 a.m. – 12:15 p.m. Ages 11–16. $37.
Ballet–Adv/Pointe: This class is designed for dancers 15 or older, aimed at strengthening ballet technique, flexibility, and performance levels. More demanding and complex movements will help your student master the art of ballet. Dancers need pink leather ballet shoes, pink footed tights, black leotard and a black skirt. Saturdays, September 9 – 30. 10:45 a.m. – 11:30 a.m. Ages 15/up. $37.
NEW! Hip Hop/Jazz: Tone your body and get your heart pumping to the beats of your favorite music! Students will learn fun, innovative, and unique dance routines that will strengthen their dance skills. Each class consists of stretching, exercise, cool downs and dance choreography. Drop in any class for only $15. Wednesdays, September 13 – November 1. 6:10 p.m. – 7:00 p.m. Ages 8-12 $81.
NEW! SWEAT: This class incorporates all aspects of fitness: cardio, resistance, flexibility and core training structured in segments that focus on upper, middle and lower body exercises. This class will improve endurance, strength, muscle, tone and definition for all fitness levels. Wednesdays, September 13 – November 1. 7:10 p.m. – 7:50 p.m. Ages 18/up. $81.
NEW! 3D Printing Workshops: Unlock your child's creativity and introduce them to the exciting world of 3D modeling and printing! Our class teaches the basics of 3D design using industry-standard software, Blender and bringing designs to life through 3D printing. Participants will gain valuable skills such as problem solving, spatial reasoning, creativity and attention to detail while having fun creating their own unique 3D printed creation. A laptop and mouse are needed for this class. Required: A $10 material fee is due at the start of the class paid directly to the instructor Optional: $10/session for laptop rental fee. Please reserve ahead. Highly recommended to bring your own laptop and mouse.
3D Printing Experience: Saturdays in August, 2 p.m. – 3 p.m., Ages 6 – 18, $36
Design Thinking in 3D Printing: Saturdays, August 5 – 19, 1 p.m. – 2 p.m. Ages 6 – 18, $100
POTTERY STUDIO
NEW! Session begins September 11, registration opens August 30.
Wheel: This class is perfect for beginner pottery students who want to learn the basics of working with a pottery wheel. $22 per bag of clay required. Mondays, 6:30 p.m. – 9:30 p.m. Ages 16/up. $128.
Wheel Adv: Advanced pottery wheel lessons that build on the beginner class so you can hone your skills and perfect your craft. $22 per bag of clay required. Tuesdays, 6:30 p.m. – 9:30 p.m. Ages 16/up. $128.
Wheel/Handbuilding – Beginner: This class is for true beginners interested in pottery, both wheel and handbuilding will be explored. Try it out and explore a new art form! $22 per bag of clay required. Tuesdays, 10:30 a.m. – 1:30 p.m. Ages 16/up. $128.
Wheel/Handbuilding – Adv: This course incorporates working with a pottery wheel and hand building with clay for more experienced students. $22 per bag of clay required. Wednesdays, 10:30 a.m. – 1:30 p.m. Ages 16/up. $128.
Handbuilding: No wheel necessary in this course, learn how to work and create with your hands using clay and tools. $22 per bag of clay required. Thursdays, 6:30 p.m. – 9:30 p.m. Ages 16/up. $128.
Independent Study: Open studio session for individual pottery artists. Must complete Pottery Studio orientation prior to first visit if you are a new patron. Monday – Saturday. Ages 16/up. $100.
Independent Study ADD ON: Open studio session for individual pottery artists. Must be registered for current pottery class. Monday – Saturday. Ages16/up. $30.
*Out of county resident fees applied at time of registration*
FREE ACTIVITIES
Atlanta Gourd Patch: Create art on gourd canvases. Meeting the second Saturday of each month, 10:00 a.m. – 2:00 p.m. To register contact Kay Rozea at 470-316-8185 or kmr01@aol.com.
Atlanta Hobby Robotics Club: Come and share your robotics ideas. All ages are welcome. Meeting on the third Saturday of each month, 10:00 a.m. – 12:00 p.m. To register contact Walter Burleson at 404-932-8108 or wlenbl@gmail.com.
Senior Bridge Club: A trick-taking card game using a standard 52-card deck. In its basic format, it is played by four players in two competing partnerships. 50/up. Thursdays, 9:00 a.m. – 2:00 p.m. To register contact Mary Fender at 678-357-6709 or maryrfender@yahoo.com.
Bridge- Act II: Fourth Monday of each month from 10:00 a.m. – 2:30 p.m. For more information contact JoAnne Leisen at 571-330-4730.
Guitars for Vets: Helping Veterans cope with PTSD through music. Participants get 10 weeks of one–on–one lessons. When finished with lessons participants will receive a free guitar! Mondays, 12:00 p.m. – 3:00 p.m. To register contact Cliff Meinhardt at 404-234-8040. Visit guitars4vets.org for more information.
Gwinnett Chess Club: Chess for all ages. All experiences are welcomed. Every other Saturday, 9:30 a.m. – 12:00 p.m. To register contact Tom Emch at 770-605-0429 or ibemch@charter.net.
Last Tuesday Book Club: Join in on all the reading fun! Meets the last Tuesday of each month.

Robert D. Fowler Family YMCA Plans 'Welcoming Week' and More Exciting Events This Fall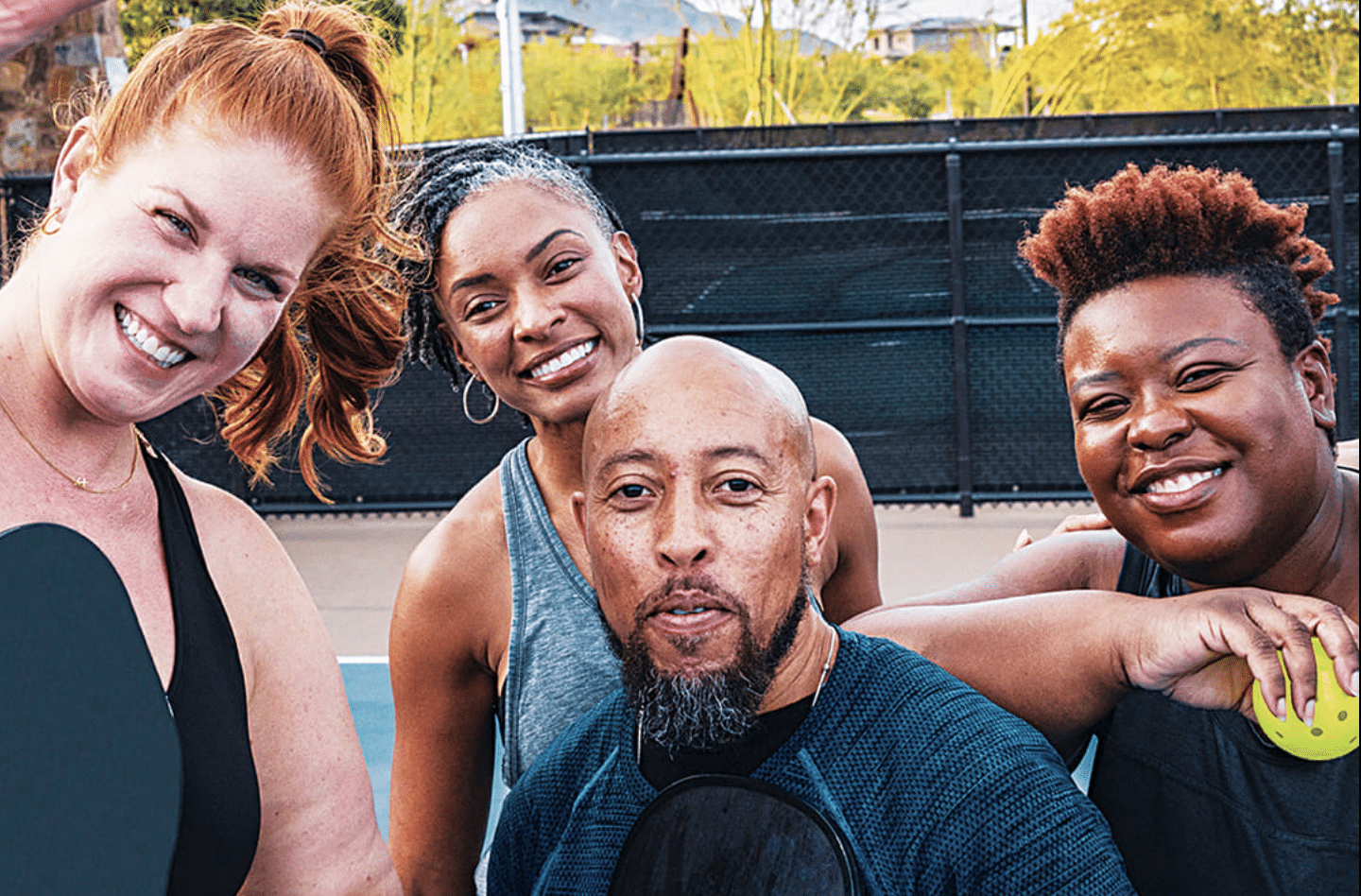 Welcoming Week: Reserve your FREE one-time guest pass during the week of September 8 – 17 and enjoy everything the Robert D. Fowler Family YMCA has to offer. Welcoming Week provides an opportunity for Peachtree Corners neighbors, whether they are immigrants or U.S.-born residents, to connect and strengthen community bonds. From swim class and water safety to day camps, group workouts and community well-being initiatives, the Rober D. Fowler Family YMCA has something for the whole family.
Guest passes do not include access to outdoor pools or basketball facilities in the gymnasium. Click here for you free guest pass.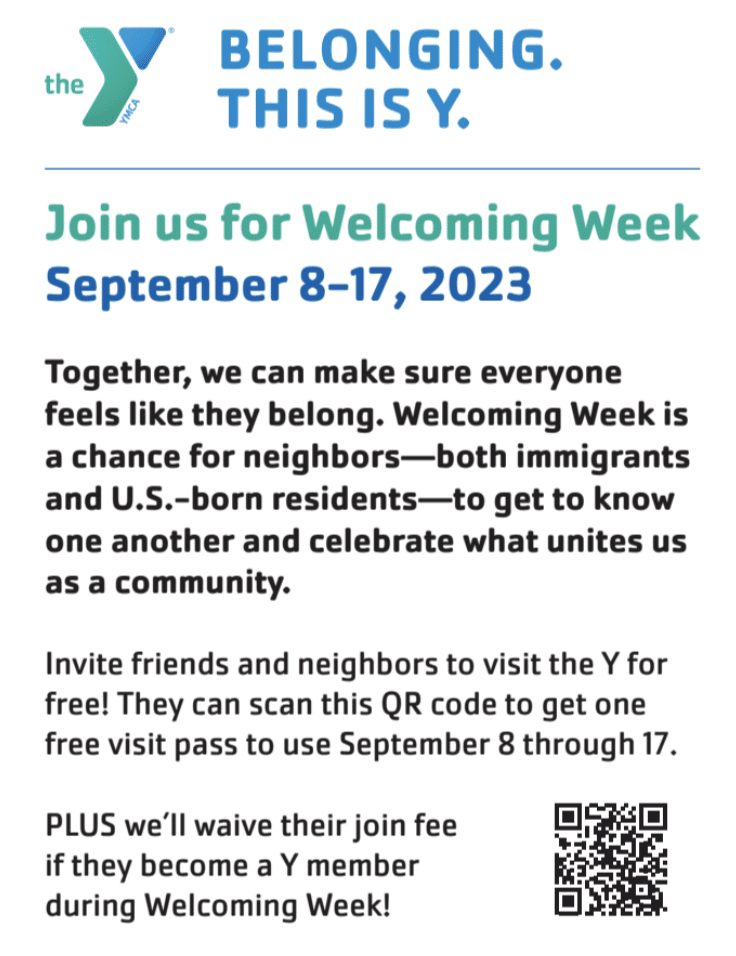 Lifelong Learners: Healthy living doesn't always mean physical activity. Creative thinking, exploring interests, and learning new things are as important as diet and exercise. That is the philosophy behind Lifelong Learners. For ages 50 and up, Lifelong Learners offers seniors the chance to come together and enjoy guest speakers, local field trips and spirited cultural discussions. The group meets every other Friday at 12:15 p.m. in the Senior Center. For more information, email Rob Wilson at robertw@ymcaatlanta.com.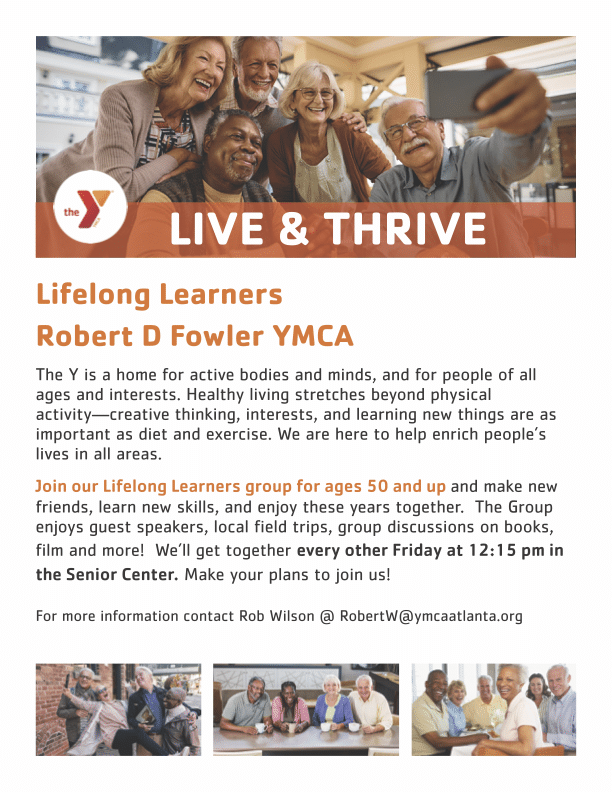 Grief and Loss Support Group: Grief and loss are two of the most difficult emotions to face in life, but you don't have to face them alone. Every Monday at 11 a.m. in the Senior Meeting Room, the Robert D. Fowler Family YMCA provides a safe and caring environment for participants to come together and begin to understand the grief process. For more information, connect with Ellie Garrett at ejgarrett@gmail.com.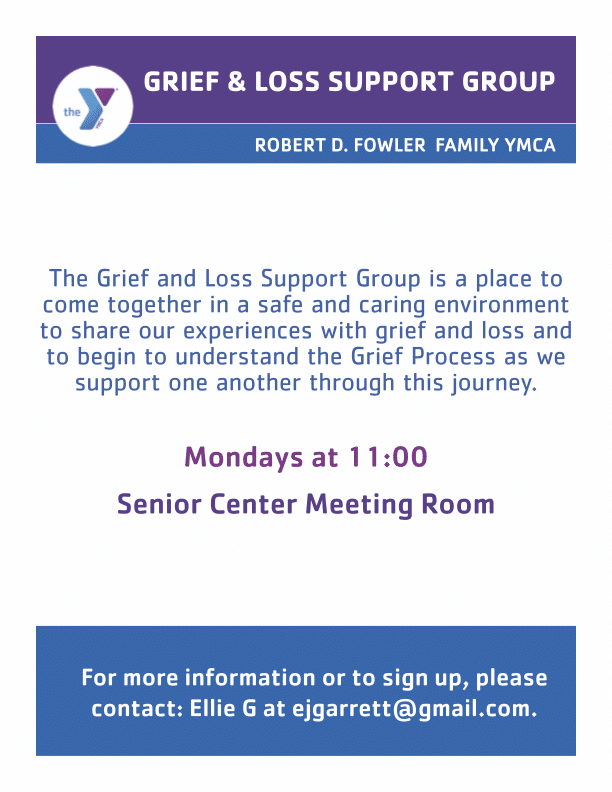 Caring for Those Who Care: The YMCA's weekly Caregivers Group provides a dedicated meeting space for caregivers to offer and receive emotional support. If you are providing care for a loved one, or want to learn more about long term caregiving, this group is for you. The group offers practical information while respecting confidentiality and encouraging camaraderie. Take this opportunity to build relationships with others in similar situations every Tuesday at 11:45 a.m. in the Senior Meeting Room. To learn more, email Mary Crawley at mcrawley@wans.net.
More Senior Activities:
Canasta: Every Monday at 2 p.m. in the Senior Meeting Room,
Dominoes: Every Thursday at 10:45 a.m. in the Senior Meeting Room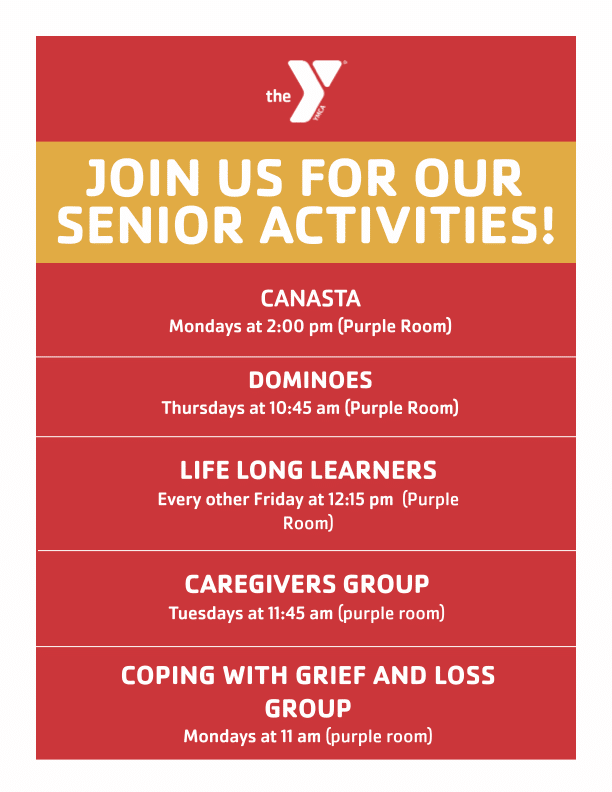 Gully-Washer Subsides to Keep 'Light Up The Corners' on Track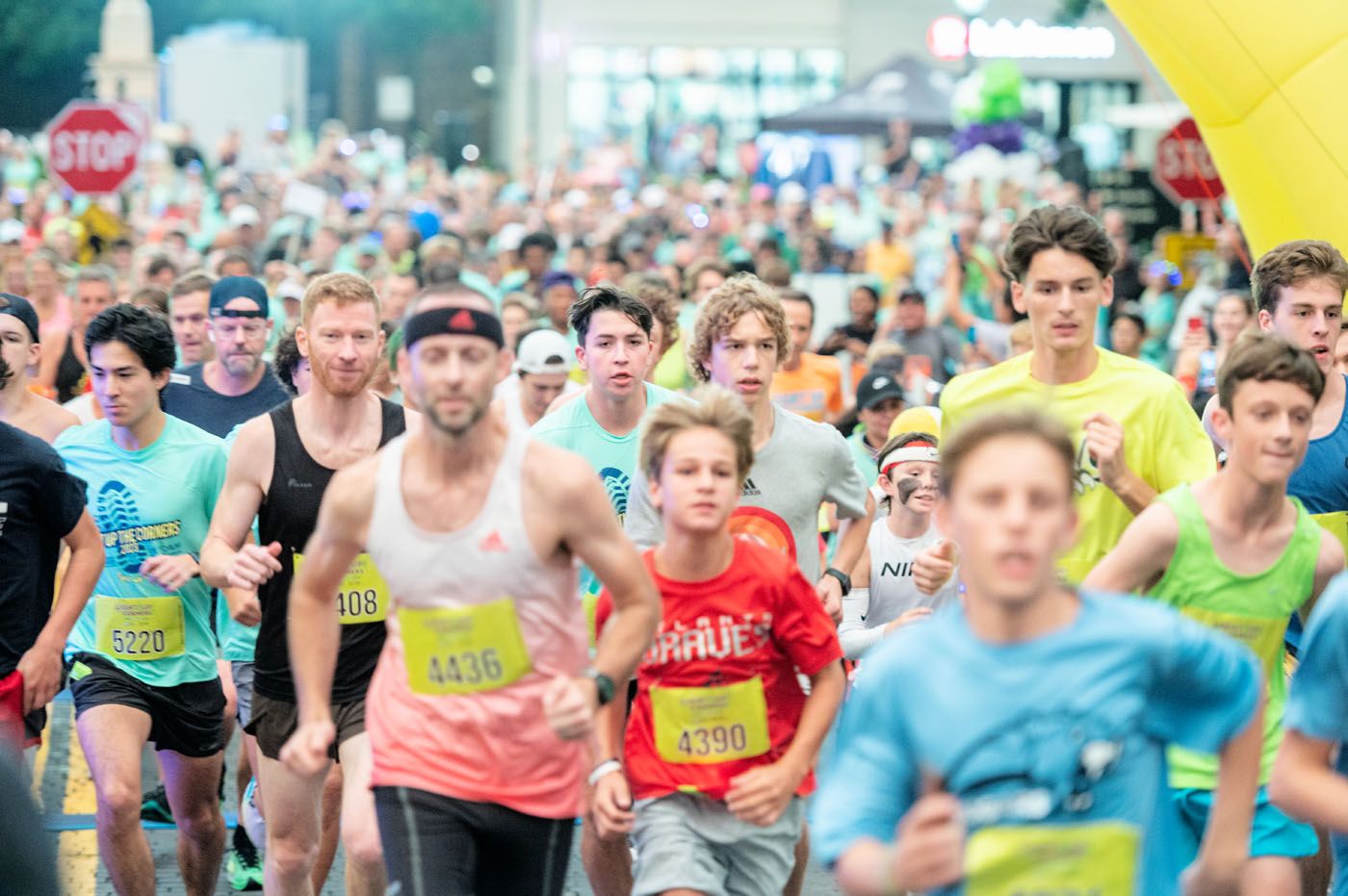 Call it luck or divine intervention, but some force in the universe was determined that the 10th annual Light Up The Corners event was going to take place as planned. About an hour before start time, the deluge that threatened the area with heavy rains and strong winds on Saturday, Aug. 12, began to subside.
By the planned 8 p.m. start, the sun had peeked through the clouds and fun and festivities were in full swing.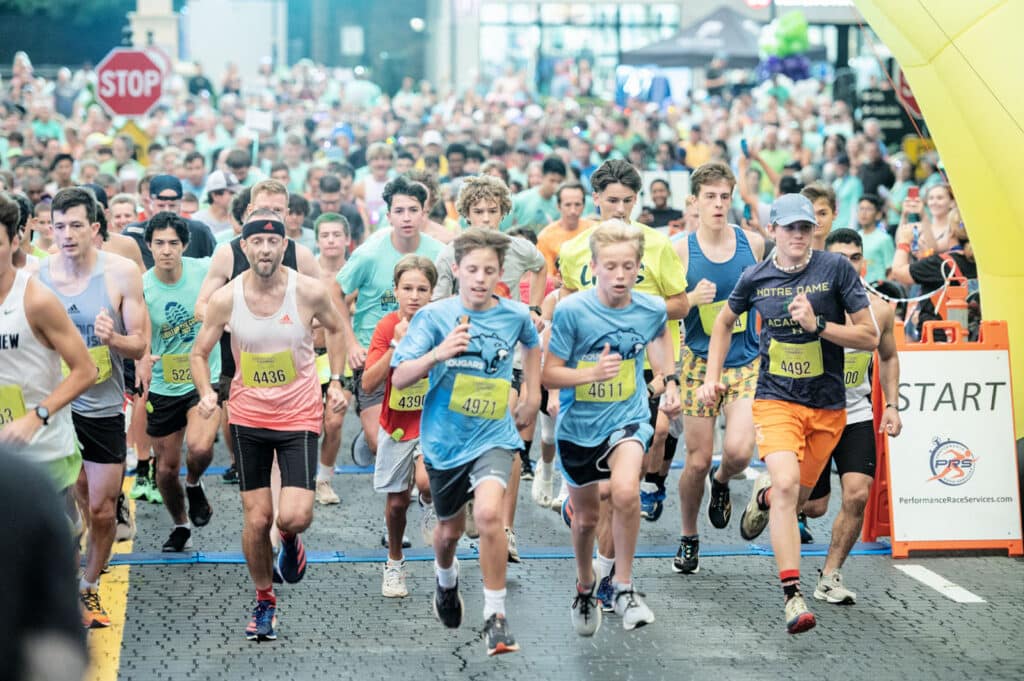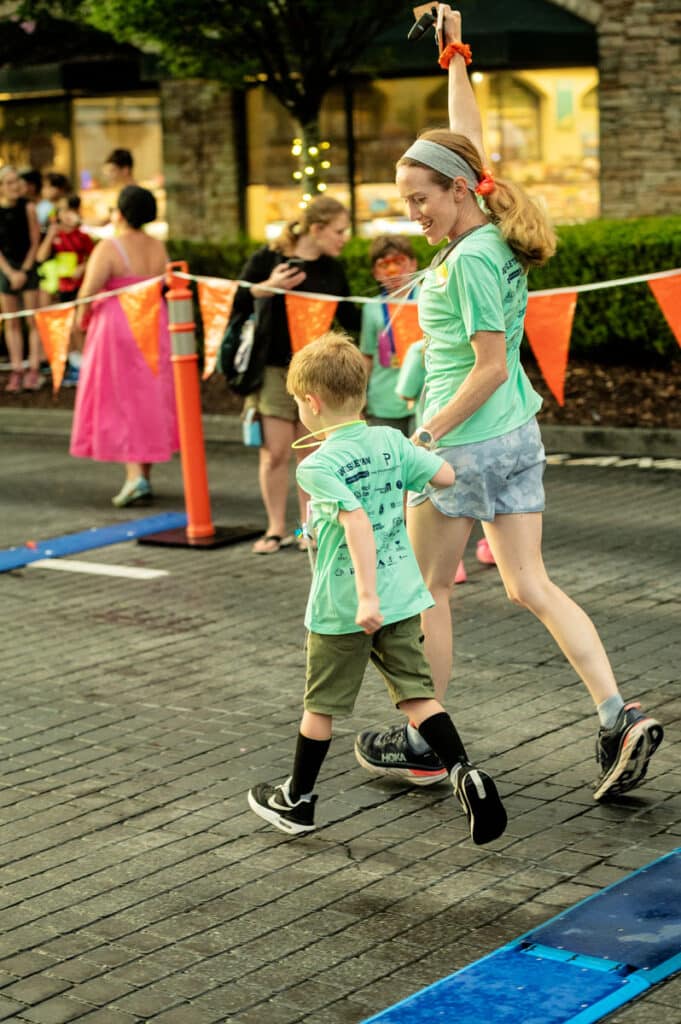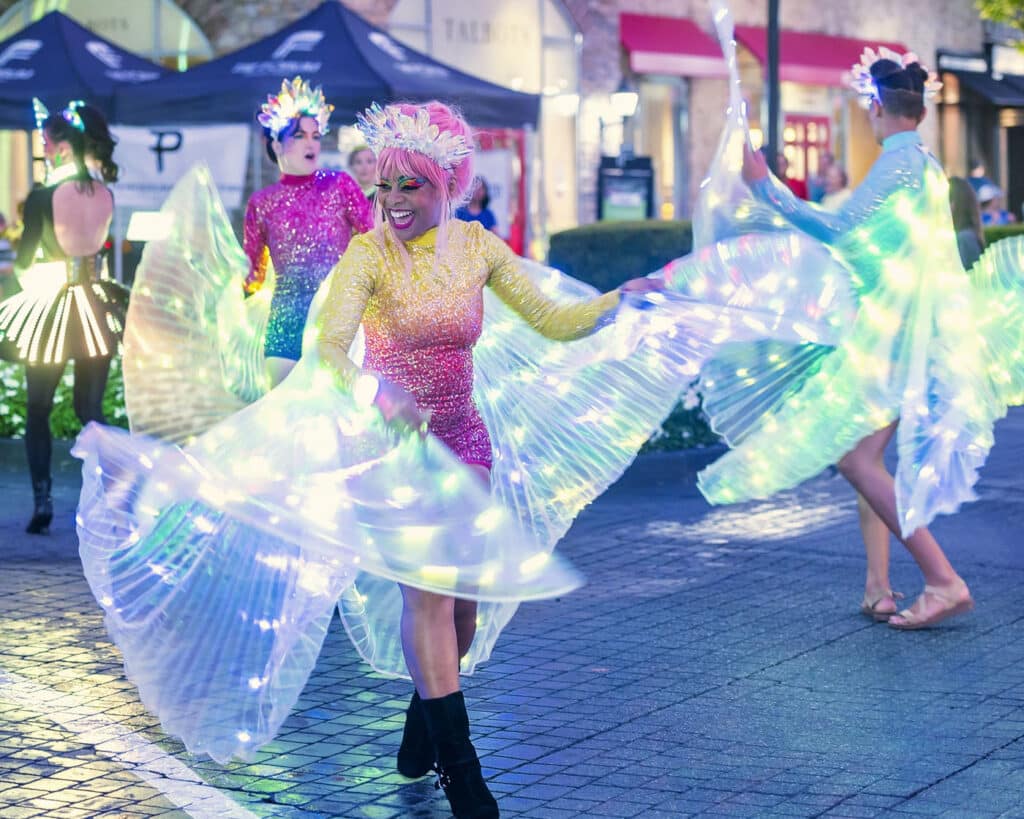 Guests from all across metro Atlanta gathered at The Forum at Peachtree Corners for the four-mile glow run and one kilometer twilight trot benefitting the Fowler Family YMCA. The evening raised over $60,000 for the local community center, according to organizers.
"This event has taken on a life of its own," said Light Up The Corners race organizer Amy Massey in a press release. "The run is less about competition and more about friends, neighbors and families coming together to participate in a healthy, family-friendly fun way to 'glow for the good' of the community."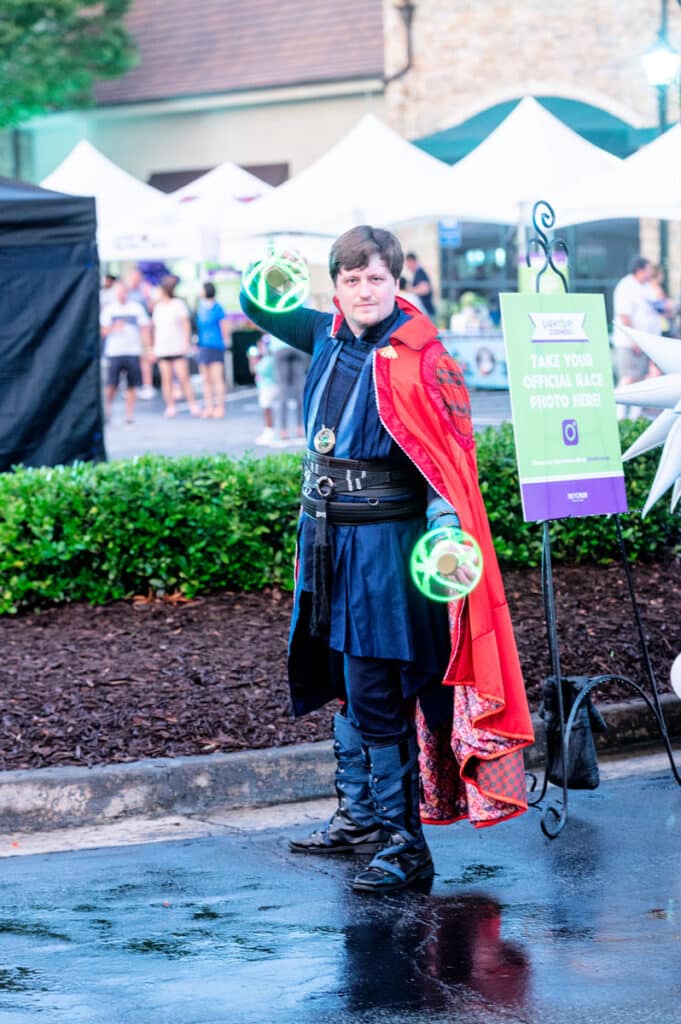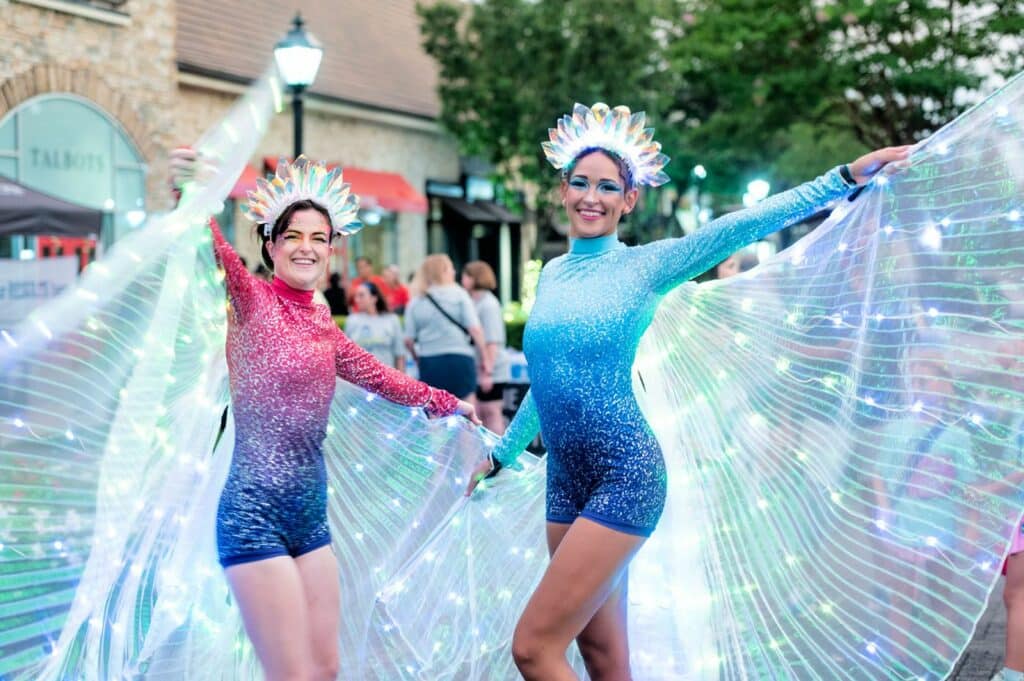 Despite the weather threat, this year's event attracted a record number of participants, sponsors and volunteers with more than 1,400 registered runners and hundreds of spectators cheering along the racecourse. Even if the physical activities weren't your thing, there were plenty of other attractions to keep one occupied.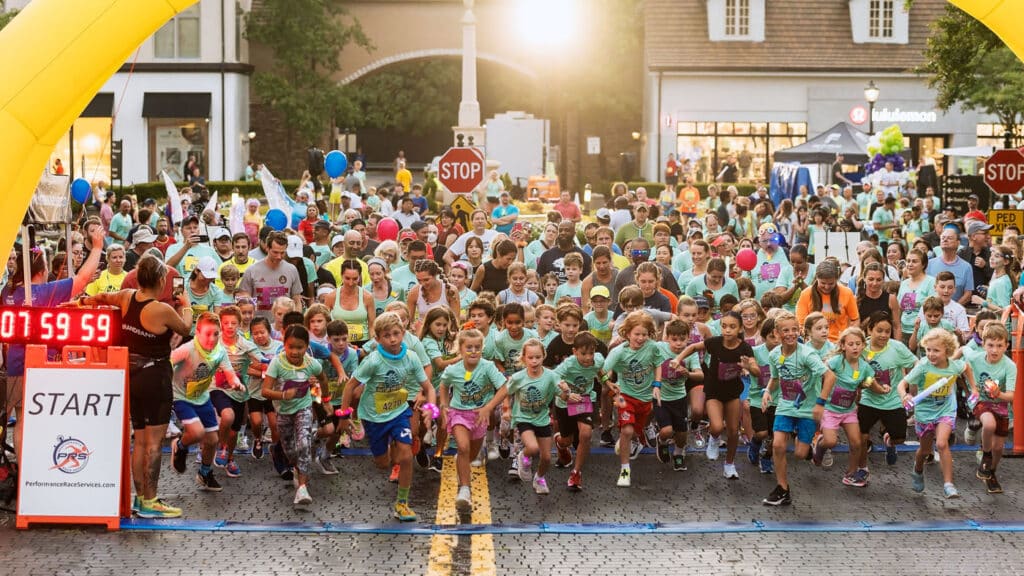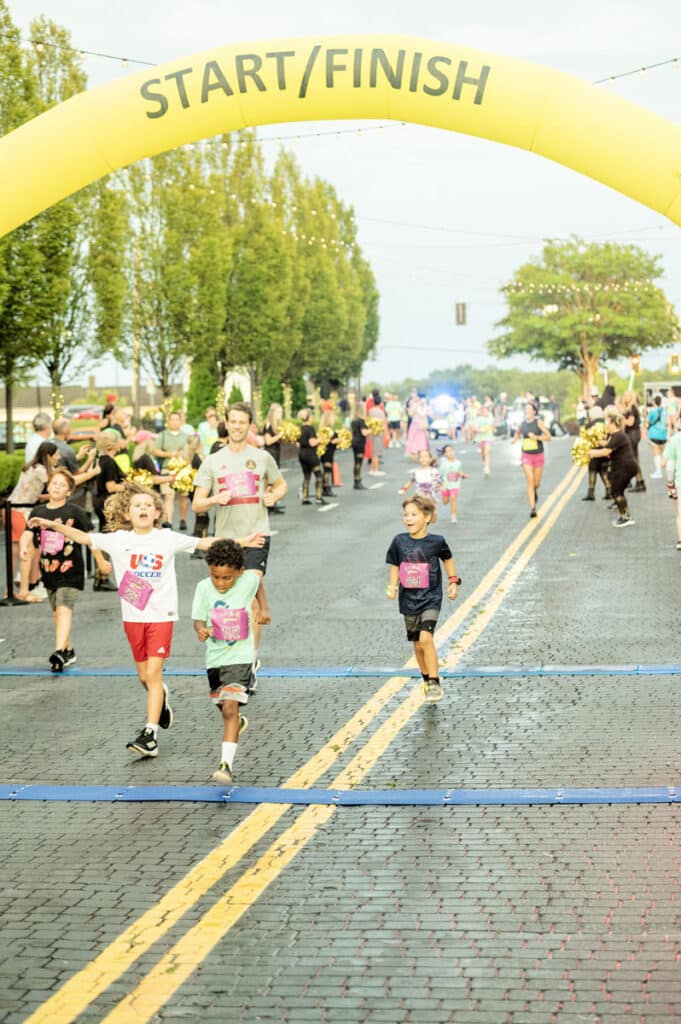 The festivities included activities for the whole family, a live DJ, roaming entertainment — one of the dancers was a dead ringer for Katy Perry — face painting, neon manicures, special prizes and awards for the runners. Light bites, beverages and giveaways were provided by The Forum retailers and restaurants, along with local schools, churches and businesses across the Peachtree Corners and metro Atlanta area.
"Light Up The Corners has become a truly beloved tradition not only for The Forum, but the entire Peachtree Corners community. Witnessing thousands of glowing runners is a thrill from start to finish, and we're honored to support our friends at the YMCA year after year," said Charlotte Hinton, The Forum marketing manager.
Since its inception, Light Up The Corners has raised more than $400,000 for the Fowler Family YMCA. To learn more, go to lightupthecorners.com.
Photos by George Hunter