Registering Security Cameras, Medlock Bridge Road, City Marshall and More with the City Manager [Podcast]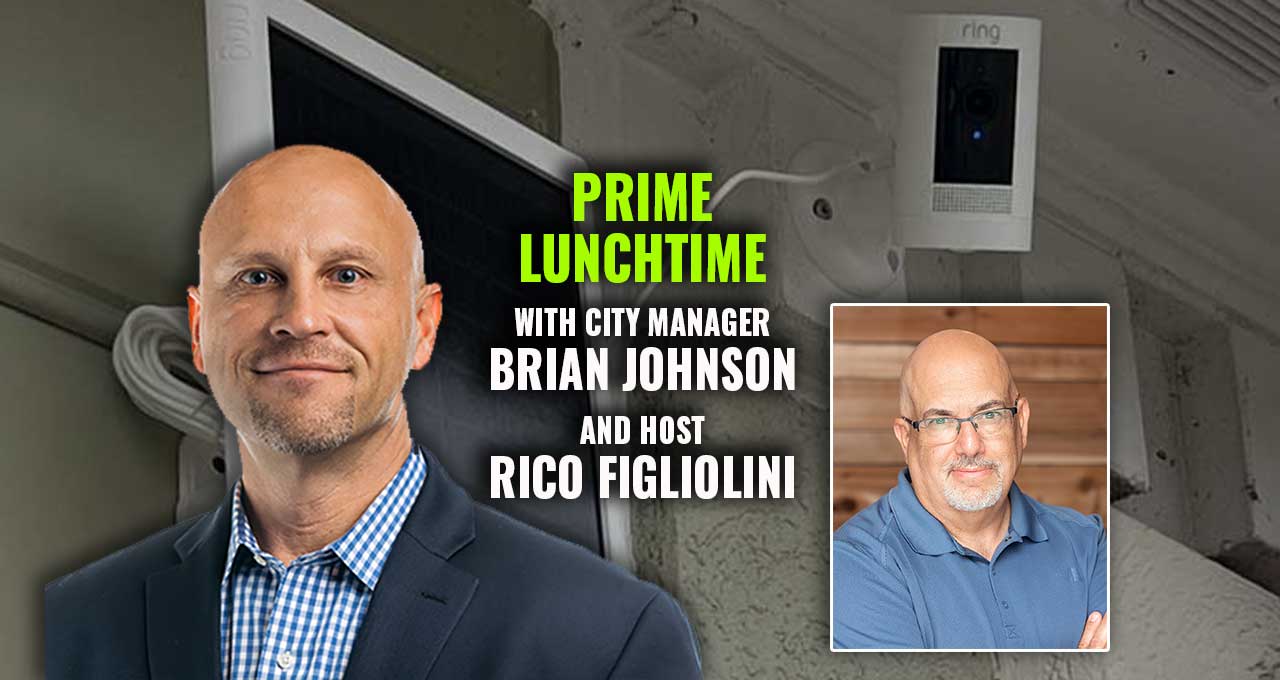 Here's why you should register your Ring doorbell with Connect Peachtree Corners. Plus, we discussed the Medlock Bridge and Bush Road intersection, the City Marshall system, the Town Center Parking Deck maintenance and the upcoming Economic Development Master Plan.
Timestamp:
[00:00:30] – Intro
[00:02:06] – Home Camera Registering with Fūsus
[00:09:29] – Parking Deck Partially Closed for Repairs
[00:12:52] – Medlock Bridge Road Repair Progress
[00:17:26] – Tree Removal Along 141
[00:22:29] – City Marshal Program Update
[00:32:37] – Writing a New Comprehensive Plan
[00:38:07] – Closing
Podcast Transcript
[00:00:30] Rico: Hi everyone, this is Rico from Peachtree Corners Magazine and Peachtree Corners Life. We have our special guest as we do almost every month, Brian Johnson, the city manager. Hey, Brian.
[00:00:40] Brian: Rico, how are you?
[00:00:42] Rico: Good, good. When we're taping today, it's actually a cold day, but it's a beautiful sunny day, so it's all good. Before we get into our discussion, updates about what's going on in the city, I just want to say thank you to our corporate sponsor, EV Remodeling Inc. And Eli, who's been a great sponsor of these podcasts and of the magazine. So I want to put a shout out to him and let you all know that if you're looking to do anything from design to build, in home improvement from extensions to whole house improvement, Eli's the one. So EV Remodeling, they live in Peachtree Corners, they're based in Peachtree Corners. It's a good local company. A lot of people like them. Check them out. EVRemodelingInc.com is where you can find out more information. So now let's get into the show. There's a few things we want to go through. Lots of things have been going on. We're going to be hitting on some of these. So then we can even clear up some stuff that I didn't even understand on some things happening. So it's all good to be doing this with you, Brian, and I always appreciate you straight shooting and giving us the information we all need to know. Why don't we start off with the first thing with Fūsus Technologies company here based in Peachtree Corners, that has been instrumental in helping Atlanta police, helping Gwinnett police, find criminals through technology and crime center in the cloud. So there's something going on now about registering home base cameras. So tell us a little bit about that and what that is.
[00:02:06] Brian: Yeah. And Rico, Fūsus, which is a Peachtree Corners based company here created a platform that can link all cameras of different makes, models, into a mesh network. That can both talk to each other and be used by law enforcement. And it doesn't have to be owned by one entity. Like it's not just city cameras, it just allows private cameras to voluntarily enroll their cameras into this program. So we create this net of surveillance for use by law enforcement, and in the two unfortunate fatalities we've had in the city within the last six months. The Norcross High School student shooting, and then the failed carjacking or car slider. Both of those shooters in both of those cases were identified because of the city's cameras and the Fūsus platform. And so it does work. Now, of course, the best crime is the one that's not committed. So, we would much prefer to prevent versus use it to solve, but it does help. What we're doing now is on residential cameras, these are cameras that are not owned by businesses, these are private residents. A lot of people have video surveillance of some sort. Ring video doorbell, Amazon's got products, and Google's got products, Simply Safe, I mean all that kind of stuff. Well, all those cameras are important to law enforcement in that, law enforcement wants to know that they exist. And that if a crime is committed in the area, the police department would know how to contact the owner to request a segment of their video they're recording for the use in investigating the crime. And so what we're asking is for people to take their cameras and enroll them. That's all this is. This is merely telling Gwinnett County PD through the city's program that, I have a camera. You can describe it and you can do more than one, but you can say, I have, five cameras. I have a doorbell camera, and I've got four cameras on the exterior looking around my house. If you want any of the video that I'm taping, here's my contact information, and then that's it. What we're doing, what Fūsus does then, is it creates a map. And it'll allow Gwinnett PD to see all the places that they know that there are cameras. And if a crime is committed there, then they also know how to quickly get ahold of the owner and quickly ask for some video that might be important because of a crime. And without this, if there's a crime committed somewhere, the only way the police can know if there's video footage in the area is to canvas, the area by knocking on doors. And that's time and labor intensive. And people aren't always home versus you provided your contact information and you know, somebody can call me or email me and I can help very quickly provide Gwinnett PD with the information they want. And again, it's a case by case basis, so you can enroll your camera. And for some reason, you could decide in that particular case, you didn't want to share your data. All this done, allows Gwinnett to know where there are cameras and where to request video from that on a case by case basis. So we really encourage everybody to do it because it's not, none of this is, all of a sudden anybody has access to your camera. Nobody can use it, you know?
[00:05:50] Rico: Right. That's important to say, right? There's no physical access through wifi or networking to the camera. The person would have to physically download that video and then send it off to the police, so.
[00:06:01] Brian: That's correct. And the Fūsus platform also provides a really easy way for you to, like drag and drop the particular date, time of video that the police might be asking for. And that's it. I mean, nobody's getting access to it. You're just providing what they request so that they can do it quickly. So nobody should feel like they shouldn't register their camera. I get it, if they don't want, which is why it's not part of it. On the commercial side, there will be a second level where some commercial establishments will give the police department access to their video feed. But that's only on commercial establishments and that's a different program. On the residential side, you have nothing to lose. All you're doing is telling the police that I have a camera and if you ever might need it, here's how to contact me and I will consider your request.
[00:07:01] Rico: And that makes sense because you don't want, you want the police to have available as immediate as possible video, if God forbid there's a child abduction. Kids waiting at the bus line and something happens, or there's something violent happens or burglary happens in the neighborhood, they can trace the street path of possibly where the cameras are and time of the incident. So there's all sorts of reasons why the homeowners should register their video camera.
[00:07:32] Brian: That's right. It's not just their own property, Rico, you make a good point. This isn't just, if there's a crime on your property, it could be there's a crime elsewhere in your neighborhood.
[00:07:42] Rico: That's right.
[00:07:42] Brian: Say you have a doorbell camera, the car has got to go across the front of your house and your camera might give the police, while that car, or a person walking or whatever, it could give valuable information to solve other crimes. So we encourage everybody to enroll.
[00:08:01] Rico: And certainly if it's a serial crime where you have car break-ins in a neighborhood, I've seen friends that have shown me videos of their driveway, well, all of a sudden you see a guy walking up the driveway, checking door handles to see if any of them are open. I mean, eventually, that type of stuff. And not even covering their faces is the strangest part.
[00:08:20] Brian: Right. Porch pirates, I mean, but you know, this is just an easy way for you to share the data. And it doesn't even have to be requested. You can actually reach out to Gwinnett PD through it by saying, Hey, I'm getting ready to send you, on my own, video of a porch pirate. And there's his face, I'd like to file a police report. Here's why. And it's just an easy way to communicate and share information for us to make this community a safer place.
[00:08:49] Rico: Yeah. We should all participate. Go to ConnectPeachtreeCorners.org. That's the website. So anyone listening to this should go to ConnectPeachtreeCorners.org and that'll give you all sorts of information. Right now I'm looking at 95 registered cameras, 255 integrated cameras. I guess there's a, a live member account on here.
[00:09:11] Brian: That would be commercial establishments.
[00:09:14] Rico: Okay.
[00:09:15] Brian: Acme Widget Company has a, lay down yard in the back of their property, a warehouse. They want the shipping doors to be under surveillance and they just tell Gwinnett, Hey, you can tie into our camera anytime you want. Those are the integrated ones.
[00:09:29] Rico: Okay, gotcha. Alright, cool. So check that out. If you're looking to help out and you're using a ring or Alexa or whatever you are using. Next on my list is, so the parking deck at Town Center, Peachtree Corners Town Center, portions of it will be closed, I think beginning February 1st. If I have that right. For repairs. Give us a little background on that.
[00:09:50] Brian: Much like any new construction, whether it's your home or elsewhere, when you build something brand new, you need to give it time for everything to settle. And the kinks to get worked out. You've flexed all the parts and you've been to all the corners and everything. And so we're kind of finishing up the parking decks, had some time for, everything to settle. And there's some areas that we think there needs to be a little bit of repair work. Now that it's kind of at the point where it's going to stop moving and settling like it does when it was brand new. And so unfortunately most of this work has got to be on the outside edge along where most people will know where the EV chargers are. Because just on the outside of that is the retaining wall for the creek. And so, that's the most sensitive part of the parking deck. And so that's why we're, kind of finishing punch list items from the parking deck. And it requires equipment to get and close off that ramp. So there will be a period of time in which those electric vehicle charging stations will not be accessible because equipment will be in there. So, it looks like it actually won't start until the middle of February.
[00:11:09] Rico: Okay.
[00:11:09] Brian: So we'll keep it open until the bitter end, but when it does, they have too much equipment. On the backside there's nowhere outside of the parking deck in that location for them to stage. Because it just falls right off.
[00:11:21] Rico: So actually just a portion of the deck, I said the whole deck, but just a portion. So the portion with the EV charges all the way up that part. And the entrance to that EV charging area, which is on the CineBistro side is going to be closed. And the entry from Lazy Dog Restaurant's side is going to be closed.
[00:11:40] Brian: That's right. Both sides of that ramp all the way down. Because again, the work being done on that side of the parking deck, there's nowhere on the outside of the parking deck for the equipment to stage because it's a drop off to the creek. So we've got to do it on the inside, and so it closes it.
[00:11:58] Rico: But the rest of the deck is opened.
[00:12:00] Brian: Yeah, the rest of the deck is open and, you know, we hate it. Trust me. I mean, the EV charging stations are, just the Tesla ones are the most heavily used Tesla Chargers in the US off interstate system.
[00:12:19] Rico: Really?
[00:12:20] Brian: So, yes.
[00:12:21] Rico: Told a little trivial pursuit of EV charging facts.
[00:12:28] Brian: Right. I mean, it gets a lot of use and there's places off the interstate system where they obviously more. But you know, that's business right now, so pretty cool. But, unfortunately we've got to do this work at some point. So now's the time to rip the bandaid off. It was right after the holidays, which we didn't want to effect. So we're going to get on it and we'll get it fixed and get it back open.
[00:12:52] Rico: Alright. Talking about repairs, continuing down that road, if you excuse the pun, Medlock Bridge Road, 141, Peachtree Parkway. That intersection, that area has been a burden to the city, to its residents. It's taken three years to get to where we are. But finally it seems like everything's finally getting together and gelling between, I guess, the state, the county, and everyone involved, utilities. So tell us, what progress, where we are with that.
[00:13:19] Brian: And, you know, as a reminder, this intersection project is a joint project between us and the county and Medlock and Bush Road, our county maintained Road. So the county's actually paying like 80% of this project. So, you know when you pay 80% into something, you have the most say in what's going on. And so there have certainly been some decisions that were made after the project started that have prolonged it, including like burying certain lines for the new traffic signal that originally were not slated to be buried. They were going to go above ground, but they made a decision, no, let's go ahead and bury it. And while then that means more material and, orders take longer and just, things like that, push it out. Of course, COVID had something to do with it, supply chain. But at the end of the day, that's probably a decision, if we had been asked, we would've probably said, yes, go ahead and do it. Because that means that power to this intersection is going to be less at risk of a power outage if we have a storm, if all the lines are buried. And so that was the decision making calculus here is, look, while we're doing this project, let's just bury all the power and fiber so that this intersection should, if electricity goes out, it should continue to work because the lines are buried. So anyway, we are getting close to having the final parts we need for this traffic signal cabinet to run the software. And that was a chip, a micro chip that we've been waiting on. And if anybody's read those kind of things, you know, the automotive industry has got massive car lots full of cars that are missing one chip because there's a shortage. Well, this traffic cabinet, which runs the cycle of signals, we're waiting on that. We're waiting on a, when we bury the utilities, there's got to be an underground utility cabinet there. So we should be getting close to being able to move the last traffic pole that was in there. And at a minimum get all the resurfacing finished. So all of that starts. Although, to remind everybody project, even though it's been a long time, it actually hasn't closed any lanes. All of this is about adding lanes. So you know, traffic, if we never did this project, traffic would still the way it is right now.
[00:16:08] Rico: Yeah, I mean, I drive that almost every day. And quite frankly, I know people are complaining about it, but there's no difference, I think. Once it's complete, it's really no difference from what's going on now to some degree. Right?
[00:16:20] Brian: Correct. But the main one would be the pedestrian crossing coming off of Bush Road, going to the Town Center will be better. That is one. So people who walk to the Town Center along Bush Road, that will be improved. It's probably the biggest improvement. You know, you've got a deceleration lane we added for those coming off of Medlock, turning onto Bush Road. Coming from say the Spalding Drive area.
[00:16:45] Rico: Right, right.
[00:16:46] Brian: But the main, will probably, improvement would be the slip lane for those coming up Bush Road towards the Town Center, and they want to head north up Peachtree Parkway. They won't even have to worry about the traffic signal because they will have a dedicated, call it on-ramp, a slip lane that'll pull them right around to the current on-ramp that you use to get on there. So that'll flush traffic wanting to head north on 141 in a way that they don't even have to wait for the signal, they just have automatic slip lane going. So that's probably gonna be the biggest advantage. But we're hoping that, February is when we're scheduled to get the chip, so we're hoping that that'll be it.
[00:17:26] Rico: So, we're close. A couple of months, I guess, to be fair. Cool. So this again, this is another part of where a lot of us drive, and that's coming off Peachtree Industrial Boulevard, where that split is, of 141 and Peachtree Parkway. Peachtree Industrial Boulevard, and Peachtree Parkway. So there's been a lot of clearance of trees there and stuff. And variety of reasons, different reasons have come up. None of which apparently is true at this point. Because I thought it was being cleared because of the new monument that's eventually would get put there. Someone else had thought the state had come in because there were a lot of, I don't know how many homeless tents in the back of that area. But apparently it wasn't because of that. Apparently it's because line of sight. Well, tell us why is that? Why are trees being cut away along the state route?
[00:18:14] Brian: So, and in fact, all up and down 141, there was tree clearing recently by actually two entities, Georgia DOT, and Georgia Power. Two separate initiatives that we did the best we could to coordinate them to kind of do it at the same time so that you didn't have lane closures and all that stuff at different times. Their purpose of both of them coming in was to remove trees that they deemed to be posing a more significant risk to, in Georgia Power's case, the power lines along the road. In Georgia DOT's case falling into the road during a storm event and posing a hazard to the public or sight lines. So, you know, as trees fill out and branches, sometimes they can start getting into sight lines. And so when Georgia Power and DOT come in, and mind you, we have nothing to do with this, this is the state's road. State Route 141. And Georgia Power certainly has a utility easement that gives them the right to remove trees that they deem, or branches of trees that they deem to pose a risk. But when either of these entities come in and do this, and not just in Peachtree Corners, they will overdo it. And by overdo it, I mean, they don't have the resources to come in on a consistent basis. They want to come in and do this and not have to come back for, 10, 15, 20 years.
[00:19:47] Rico: Right, right.
[00:19:48] Brian: So they overdo it. And so they will overcut, they will over clear, they will really kind of scalp the area because they're like, we don't want to come back. And in the case of the split, GDOT, and if anybody who's driven, you know, up PIB at the split and they've stayed left to go to Peachtree, you know, go on Peachtree Parkway.
[00:20:12] Rico: Sure.
[00:20:12] Brian: And the light at Holcomb Bridge is red, and the cars would back up. You could come smoking around that corner if traffic was good, there wasn't slow traffic. You'd come around the corner and you could be doing, 55, 60, or more depending on the driver. And then all of a sudden you come around and there's cars stopped. And GDOT was like, you know what, we are going to remove any of that sight line risk. We were surprised at how much they removed as well. I don't feel like all of that was necessary. But it's almost like, well, it's almost like I went into a barber with a full head of hair and I said, just take a little off of the top and this is what I came out looking. It's just like, the first time I saw him do it, I'm like, whoa, easy there, boss. I mean, you know. Their mindset is we don't want to come back and this thing, trees and plant material grows. And so we had nothing to do with that. We were surprised. There is, probably late spring, we do have a project that will enhance the Paul Duke Gateway sign.
[00:21:21] Rico: Okay.
[00:21:21] Brian: But we haven't started on it yet, and that would've not affected any of the trees. I mean, all of that wouldn't have removed any of the trees. So I, for those who knew that pop-up project's happening, I can see why somebody would think it was the city. But I promise you, we've been guilty about cutting trees or too many trees, but that was surprising. But again, GDOT's mandate is to safely move cars from point A to point B and site line is the consideration. So between them and Georgia Power, that's why all that work was done. And so kind of finishing up, there was a homeless camp down at the bottom. Not a big one, I would say there might have been, looked like, four or five individual. We're not even sure if they were always there. Could have been, you know, they were coming back. But when they removed those trees, there was a period of time before they cleaned it out that you could see the tents and little areas. So, yeah, it's almost done. They'll put in mulch where they removed all the trees. And sometime in the spring, we'll upgrade that sign and that'll be the way that intersection looks.
[00:22:29] Rico: Yeah. If anyone wants to see what that looks like, they should go to LivingInPeachtreeCorners.com and just search State of the City 2022. The video is there. In fact, they show in the video, it's shown what the signs will look like. So check that out. Cool. So I guess the next, probably the last thing here, is I just want to get back onto a little bit about what's going on with the City Marshal. The mechanics now, of a little bit of what the process might be over several months and stuff. So, because the City Marshal system is coming in, right? There's no doubt at this point that will not come in. So what is the process and give us some timeline idea of where you think this is going, Brian?
[00:23:09] Brian: Yeah, so, the program itself of having City Marshals here is going to happen. Based on our conversations with other communities who have this program outside of the city, or excuse me, outside of Gwinnett or even in Gwinnett. Like in the case of Sugar Hill, they have the very program we are looking to create, and because they use Gwinnett PD for their law enforcement or the enforcement of state law. And they created a City Marshall program so that they have post certified officers to enforce city code. And why that's unique is, most cities have code enforcement officers, they're called. But unless they're post certified, they can't enforce certain things because they don't have the right to, take away somebody's civil liberties if you will. Like arrest somebody, or detain somebody, or things like that. And so they can only go so far. And if there's a, you know, and in our case, there's some gaps between what Gwinnett PD can do. Because the legal department at Gwinnett County has taken the stance that they cannot enforce city code inside our city. And they're post certified, so that would've helped. And our code enforcement can enforce city code, but they're not post certified. So there's a little bit of a gap that needs to be filled. And so, we're going to fill it with City Marshals, which are going to fill that gap. We're still going to be using Gwinnett PD to enforce state law. But we'll be able to have some resources at our disposal to target specific things that are important to us at the time. Like here, just in Peachtree Corners. And sometimes that isn't quite as important to the leadership of Gwinnett Police Department, headquartered up in Lawrenceville, providing police protection for a very, you know, second most populist county in the state. So sometimes we need the ability to take assets that don't have limitations and direct them at things that are important to Peachtree Corners. So that's why we're doing it. What we're doing now is if you imagine, we're going to have these three new positions. We've got to start building, you know that we call it table of organization and equipment. Alright, who's answering to whom? How much are we going to pay? What are their uniforms going to look like? What type of vehicles are we going to have them drive? What type of weapon are they going to carry? Are they going to have body cams? If so, what kind? I mean, you can start getting into a lot of things that you have to, and that's what we're doing right now is building the framework. And we have a pretty good estimate on cost, which was presented to council when I presented them my proposal on creating this program. And I did it just to ensure that we can do this without there having to be any property tax. We can absorb this within our budget, which is important for everybody to know.
[00:26:23] Rico: So this is within the existing budget.
[00:26:25] Brian: Correct, yeah. So there's not like some new fee coming or property tax that's going to already start to be levied. No, we can do it within our existing budget. We do have to get the exact numbers. Some of this stuff has long lead times. But all of this is being put into the budget. What would be the FY 24 budget, which starts July 1st, 2023, this year. And so really this program will go live July One. At that point, and maybe I would've already started advertising the positions by then. You know, it could be August, September before we get some people in. And at that point they're in here, and then we have a few more things that you've got to do. We've got certain policies and procedures we're going to need to write. Creating their left and right limit because they're going to come in and they're going to have all of the very same authority that Gwinnett Police Officers have. They'll have that. Where they're gonna be limited is by our policy. We're going to say. Yeah, yeah, you can do all that, but you're not going to. This is where you're going to concentrate on. You're going to fill gaps and focus on areas that are really important to us in Peachtree Corners that are very unique to Peachtree Corners. And so that, you know, I've already started writing some of those. So there's a lot of work to this, even though it's just City Marshals and it's just going be three people.
[00:27:55] Rico: Oh, but you have to, yeah. I mean, we're fortunate I guess, because like you said before, Sugar Hill, City of Sugar Hill has a similar thing. Are you actually looking at that to see how they interact with Gwinnett Police? And not just how they interact, but policies, technology to use to interact. We're not taking 911 calls, obviously. You know, how do you interact when you detain someone and then Gwinnett Police has to come and actually do the arrest, to collar, if you will. And then all, like you said, the details of body cameras. Well, it's not just we need body cameras, but which brand, what type, how do you?
[00:28:32] Brian: Correct. How long are we going to score the video? I mean, things like that. And so, yeah. I mean, you know, Sugar Hill has been helpful in that. Their City Manager, Paul Radford and I know he is a really good guy, really smart manager. Their program has been run pretty well, so we've been talking to them. That's always helpful. There are other City Marshal programs in the US and we borrow from those programs and we find good examples and templates for us to make our own. And so that's being done right now. But yeah, I mean, it is going to happen. It'll be in the FY 24 budget. Technically speaking, July One, it'll all be funded fully and I'll start writing checks against that budget. But you know, by the end of this year, we will have three Marshals and a program and policies guiding their actions to make Peachtree Corners the safest community we can possibly make it.
[00:29:29] Rico: And one last thing was this, I forget now. We did discuss this on our last podcast, but was this a 24/7 type of deal as well, or is this?
[00:29:39] Brian: No, I mean, again, you start getting a 24/7 and you would need more people than that. No.
[00:29:45] Rico: Okay. That's what I thought.
[00:29:46] Brian: They would, generally speaking, they would probably be your normal business hours.
[00:29:52] Rico: Okay.
[00:29:52] Brian: But much like code does right now, there will be a consistent, call it exception to that. Where like maybe once a week, one of the officers is not going to come in until 6:00 PM and they're going to work till, 2:00 AM. Just looking, you know, maybe targeting certain things. And then if we have something that really becomes a problem, I may end up having all three of them focus on something on odd hours or over a weekend. Things like that. But normally they're not going to need to be 24/7. Again, 911 and the enforcement of state law, which are all felonious crime, that's still going to be Gwinnett PD. They're still 24/7.
[00:30:36] Rico: Will they provide any security or any policing, if you will, during big events like, Friday Night Concerts or the Peachtree Corners Festival or things like that?
[00:30:45] Brian: Oh, sure. And I don't foresee us stopping our off-duty police program either. Where we pay off duty Gwinnett officers to work the Town Center. From like, was it like 3:00 PM to 11:00 PM, I think, is what we have an off-duty shift. I don't foresee us stopping that because again, I want that to be a safe place and we've certainly grown a lot of toys and stuff out at the Town Green to encourage people to go there. So the more people who go there, the more you know you need. So this is an ad. There are volunteer, call it reserve programs, where you can end up having other people help with certain things as part of volunteers from the community. So it opens up some doors for us that we didn't have without exercising the city's authority to create these type of things. So again, mayor and council rightly so, agree with me that really making our community safe is about the most important responsibility we have. Because it will affect all other things. There's a lot of other important things too. But, for us to be a great community to live, work, learn, and play, it's got to be safe.
[00:32:02] Rico: I totally agree, totally agree. I'm glad the city's moving that way. Because if you don't feel safe, you don't feel like going out. We covered my list. And I'm glad that we were able to get through and talk about some of these things and touchpoints on a bunch of these things. I know over the next few months there'll be more things coming and happening. I know that there were a couple of boards appointed or reappointed this past week or so. It's going to be stuff coming out from the redevelopment authority and some of the other government entities. So there's going to be a lot to talk about. Not as much development maybe at this point.
[00:32:37] Brian: Well, one other thing, the one thing I do want to add at the end of this. Our comprehensive plan, all cities in Georgia have to have what's called a comprehensive plan. And it is a master plan to guide how the community is going to tackle your general components of being a city. Public safety, transportation, housing, things like that. Well, every 10 years you have to write a complete new one. And then, after that, five years later you have to update it. So every 10 years you have to rewrite it. And we're in the 10 year. It expired, our first one expired last year, so we're rewriting ours. There's going to be a series of public meetings, community meetings that we're going to be holding over the next four-ish months. And which we're inviting the community to come out and provide us some input on what they want to see the direction of this city in some of those areas I just mentioned. Rico, you'll be getting something to help with this, but on February 23, it's gonna be our first full on community meeting. And its purpose, its main topic is housing.
[00:33:52] Rico: Okay.
[00:33:53] Brian: And so, you've been covering the city for a long time. If you could pick one thing, one matter that over the 10 years we've existed, tends to get the most criticism on an ongoing basis, it tends to be housing. Specifically, rental.
[00:34:13] Rico: For sure, for sure.
[00:34:14] Brian: And so for those who want to have a say, to learn, to help guide how the city is going to handle that stuff. Going into the next five to ten years. That meeting is going to be a very important meeting to show up. We will have a lot of experts there, including ones who represent like developers, and developers to give us a perspective on what they look for. We can talk about legal constraints the city has on zoning decisions and all that kind of stuff. So very important. All these are important. But we tended to get, from an ongoing, consistent basis, criticism of decisions the city's made, tended to be mostly around housing decisions, zoning decisions around, you know, in that housing component. So if you are one of those people who don't think that it was going the right direction, that is the meeting to show up.
[00:35:10] Rico: So the housing, if I remember correctly from my planning commission days, the comprehensive development plan actually includes a map that will show areas where we might restrict certain types of housing, restrict businesses.
[00:35:24] Brian: That's correct. You're referring to what's called a future land use map. And that's right Rico. It is a map in which it is, in somewhat broad brush, it doesn't go parcel by parcel, but it basically paints a broad brush of character areas. And it'll be like, we want this corridor to be a commercial corridor. We want this area over here to be multi-family to serve this. We want this one to be single family. That map is the map that both planning commission and city council refer to when people come in for zoning decisions. And if they're requesting a rezoning and they look at the future land use map and it is not rezoning in the direction that future land use map says it should go, generally speaking, that's when Planning Commission and City Council are like, nope.
[00:36:15] Rico: I think that map also can be looked at two ways because it's a map that we all know over a period of time, certainly over a decade. The character changes even, because exceptions are made and once one exception is made, then other exceptions will have to follow, no doubt. Right? So it's both how some people look almost like at the Bible in some ways, if you will. It's should be strict, strictly followed. And others believe it should be aspirational because over a decade of time that plan changes a bit, you have aspirations of Technology Park should stay just the way it is where there's some housing now because it's already been adjusted and the rest of it should remain that way.
[00:36:58] Brian: Spoken by somebody who has been involved in land use decisions and planning commissioner. But you are right, Rico, a hundred percent. It is very much like the Bible or even like the Constitution. You have people who feel like it should be strictly adhered to and others are like, look, it provides guiding principles that can be. And you're a hundred percent right. But regardless how you feel about it, it has to be produced. It is referenced all the time. And if you want to either know what it's going to look like or be able to provide input and potentially influence the way it looks. That's the meeting, you know, that's the comp plan meeting that you're going to want to go to. Follow on ones will be around, like transportation and again, public safety, and things like that. But this housing one, February 23, it's going to be a big one. So, more information and invitation to follow. But while you and I are on here, we should talk before that in February because our council meeting is before that.
[00:38:07] Rico: That's right. Yeah, okay.
[00:38:09] Brian: Anyway, that's all I've got. So, thanks for your time.
[00:38:12] Rico: Thank you Brian. I appreciate it. Thank you everyone for listening in. Certainly go to LivingInPeachtreeCorners.com you'll always find more information. Follow us on Instagram, Facebook, and Twitter. February 23rd, Thursday, that's a Thursday, is that first meeting on housing, on the comprehensive development plan, the input of that. So check that out and we'll have more information as we get to it. Thank you again for listening in. Thanks Brian for being with me.

How will drones be used in the city, new City Budget is coming up and City Marshals are ready to be hired.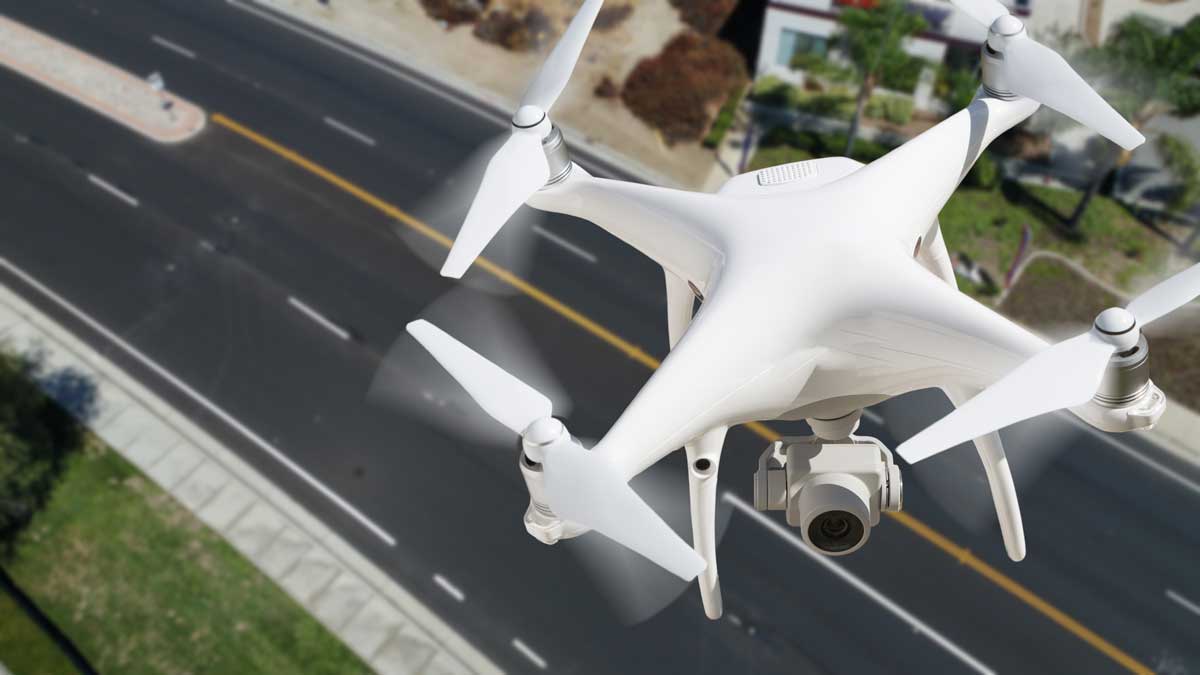 The city of Peachtree Corners, Georgia has been continuing to make strides in technology and community development. In the latest episode of "Prime Lunchtime with The City Manager," Brian Johnson shared several updates and plans for the city.
The Curiosity Lab Criterion Road Race
During the Curiosity Lab Criterion Road Race, Spoke Safety officially unveiled their new road safety technology. This device enhances safety for vulnerable road users by allowing for two-way communication between the device and automobiles, providing safety messages to drivers.
The event was livestreamed internationally, and Audi became an official partner in the project. The partnership will explore the enhancement of the vulnerable road user technology to make it better, easier to use and scalable.
Pickleball feasibility study
The city is considering building a 40-50 court pickleball facility and has commissioned a sports facility consulting firm to conduct a feasibility study. They will determine the market demand and economic impact. The study is expected to take a month, and results will be presented to the mayor, council and interested parties in early summer.
"Clearly there's a demand," Brian Johnson shared. "The question is, is it enough for the city to end up putting any time, energy and money into facilitating something? And we want to make sure that we are shooting at the bullseye that we need to."
The city marshal system
Additionally, the city is starting a city marshal program, which will begin with three post-certified marshals. The job announcement and requirements will be posted in May with interviews to be conducted in June. The program is expected to start in July, and the marshals will be based in City Hall.
The city marshals will have access to brand new hybrid vehicles, drones and the fūsus technology. The marshals will have the same authorities as any other police officer but be limited by policy. The Mayor and council will establish the policies and limitations on what the city marshals will be able to do.
Budget, housing, dog parks and more
During the May City Council Meeting, the budget for the upcoming fiscal year will be officially presented to the city. The budget includes increased funding for street resurfacing, multi-use trail activity and housing redevelopment in the south part of the city. The housing redevelopment project aims to acquire foreclosed and dilapidated properties and build affordable starter homes with equity control to make them accessible to more residents.
The city is using federal funds from the ARPA and will work with the Gwinnett Housing Authority for this project. The purchase price of these homes will be controlled through agreements with the building entity to prevent prices from getting out of hand. This will help fill the demand for starter homes in the area and remove squalor, vacant homes and foreclosed homes.
The city is constructing a dog park at the Town Center with two separate halves for big and small dogs. The park will be made of Astroturf to prevent dogs from digging and getting muddy. There will also be shade structures and seating areas for owners.
After the last event on the summer event calendar, the Town Center will undergo construction to relocate playground equipment and improve drainage. The playground equipment will be organized into two different areas for younger and older children.
North American Properties recently had the groundbreaking for the upcoming Forum redevelopment. The first section of the interior parking spaces will be removed to finish the Linear Park. In addition, there will be new outdoor seating and the parking deck will start construction in the late 2023 season.
FAA and drone programs
The city is working with the drone regulation team of the FAA to help create a local drone activity regulation. The FAA is interested in how it can handle multiple drones using the same wireless signal, even when beyond visual line of sight.
Peachtree Corners and the FAA will work with partnerships with T-Mobile and Deutsche Telecom to utilize the 5G wireless environment in the City. The City Marshals will also be working with projects related to law enforcement and the use of drones. The goal is to help the FAA issue regulations on private drones.
Overall, Peachtree Corners is a city that is making significant investments in technology and community development. With all of these upcoming plans, it is clear that the city is working to improve the lives of its residents.

On Topic: City Budget, City Marshals, FAA and Drones and Dog Parks [Podcast]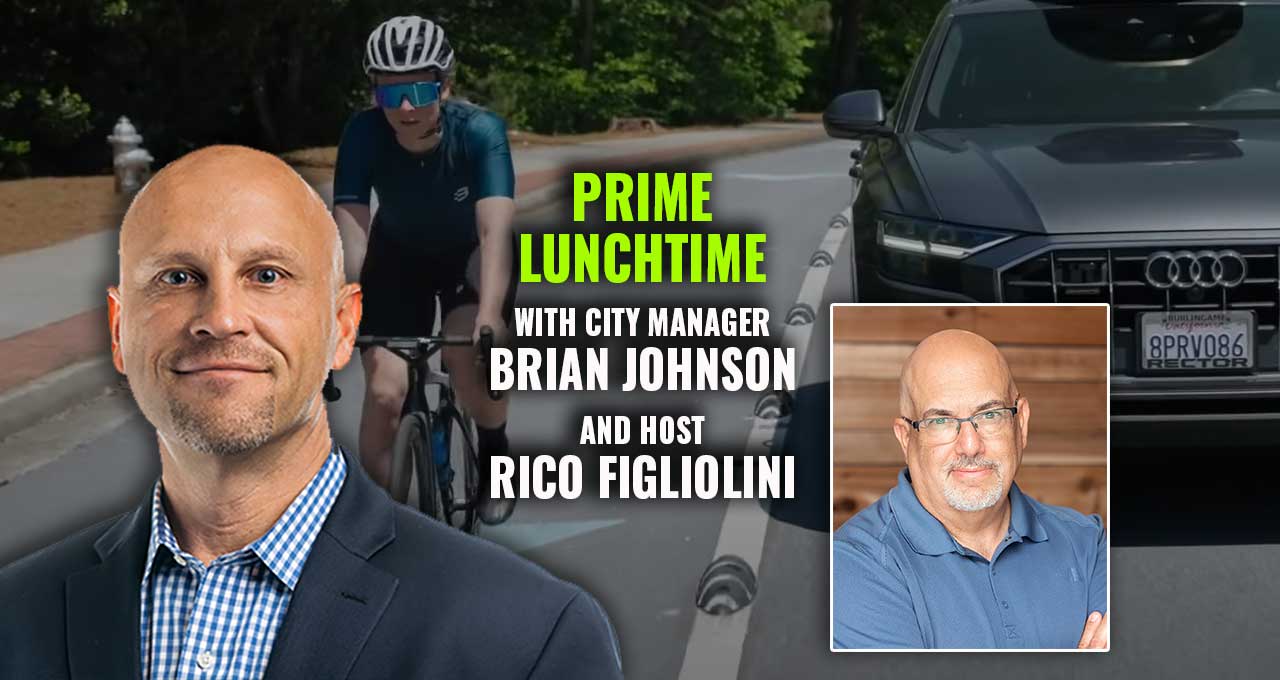 Brian Johnson, the city manager of Peachtree Corners, Georgia, shares exciting updates and plans for the city's technology and community development. From the successful Curiosity Lab Criterion Road Race to the construction of a new dog park and housing redevelopment, this podcast offers a glimpse into the innovative projects and partnerships that are transforming the city. Johnson's insights also shed light on how Peachtree Corners invests in its residents' safety, well-being, and quality of life.
Timestamp:
0:00:00 – Intro
0:01:11 – The Curiosity Lab Criterion Road Race
0:12:34 – Pickleball Feasibility Study
0:16:46 – The City Marshall System
0:20:44 – Budget, Housing, Dog Parks, and More
0:31:50 – FAA and Drone Programs
0:33:59 – Closing
Podcast Transcript:
Rico Figliolini 0:00:00
Hi, everyone. This is Rico Figliolini, host of Peachtree Corners Life. And today we have Brian Johnson. Hey, Brian, thanks for showing.
Brian Johnson 0:00:05
Rico, how are you?
Rico Figliolini 0:00:08
Good. Been a busy week for you, I'm sure.
Brian Johnson 0:00:10
A lot of them are lately.
Rico Figliolini 0:00:12
Yes, seems to be. Before we get right into it with Brian, city manager here at Peachtree Corners, let's just say thank you to EV Remodeling Inc. for being a corporate sponsor of ours. Eli, who is the owner of the company, lives here in Peachtree Corners. They do great work, check them out. They've been a great supporter of our work as well. We appreciate them for doing that. You could check out EVRemodeling.com and see all the great work that they're doing here in the City of Peachtree Corners as well as throughout the metro area. So, Brian, it's been weeks leading up to the event. Last night we're recording this a day after the Curiosity Lab Criterion Road Race, which was a big event here in Peachtree Corners as part of that speed week that Atlanta is holding and midweek on what started out as a rainy day. But I understand everything went well and phenomenal stuff. Why don't you give us a little detail about how it went?
Brian Johnson 0:01:11
Well, as you remember, when we've talked about this was a result of a conversation and a meeting that we had here at the city when we were at the Consumer Electronics Show in Vegas. And we met with a company called Spoke Safety that has created a device that can allow for enhanced safety for what are termed vulnerable road users, and that are essentially anybody who is on a roadway that's not in an automobile. So this would be everything from motorcycles down to people who use E-Scooters to bicyclists and even pedestrians. But this device, which is about the size of a pack of cards, allows for there to be two way communication between where this device is and an automobile. And so it'll basically be telling cars, hey, here is where this vulnerable road user is, and it can receive signals as well to where a car is like, fine, well, this is where we are. And so it can create basic safety messages to where in the case of bicyclist, if you had this device with you and you were approaching a car from the right, the driver of the car would get an alert saying, bicycle approaching on the right. And this company had come up with this technology and they wanted or needed some location that had the infrastructure in place to facilitate the deployment and the demonstration of this technology. And they already had a relationship with Audi and with Qualcomm. And we started talking and I said, well, we have proper city streets to be able to support this at Curiosity Labs. The streets inside of Curiosity Lab can do it. And they got excited. And so then there was talk about, all right, if this is going to be the world's first deployment demonstration of this technology. We make this into a significant event. How can we make sure that when it's deployed, it's done well? And I had some experience both as a participant back when I did a lot of cycling, and as the city manager of a community that had a long standing Criterion event every year, the Sunny King Criterium in Anniston, Alabama. And so I said, what if we did a Criterion here in Peacetree Corners and use that as an opportunity? And they loved it. So the result was, in a very short period of time, we were able to secure a date right in the middle of Speed Week, in between the two weekend events of Athens Twilight and the Sunny King and get a midday event. And we had a Criterium here that was part of the official USA Criterium annual calendar this year. And we had all the racing teams come out here and we created this Criterion. And in between the pro women's and pro men's event, we officially unveiled this technology, deployed it on a public street, did it live streaming. This event was live streamed internationally, and the result of it was a successful deployment. We now have an official partnership with Audi Phenomenal. Yes. We will now be exploring the enhancement of this vulnerable road user technology in a way that we can make it better, make it easier to use and to help scale it up so that we can improve the safety of those vulnerable road users that are on the roadway. Maybe one day, if this technology works out, and the theory behind it is sound, but so if it works out, look back and think that we played a small part in helping improve the safety on our roadways.
Rico Figliolini 0:05:14
Yeah, it's amazing. It's just the fact that the city is able to do that and provide this atmosphere, this environment, to be able to do that type of testing. I mean, everything starts out with the device. I can actually see this device becoming smaller or maybe even morphing into being able to use it as an app on phones already with GPS locations and stuff. But it has to start somewhere. I'm glad the city is able to provide that environment. And that's just crazy that Audi is now an official partner in this stuff. There aren't that many car companies out there, right? So to have to be able to have Audi come and say, we want to be an official partner here, that's just awesome.
Brian Johnson 0:05:56
It has to go all the way to Germany. It's Volkswagen Group is who owns Audi. So I had to go all the way over there for them to bless off on it. But they did because we have an environment that they're really not finding elsewhere. Audi, like the big other Big OEMs, has their own private test track for their vehicles, sure, but this is to do testing with this vulnerable road user technology. And you need public streets and you need the public. So we'll play a small part. We'll put some of these devices on our public works vehicles. We'll put them in our city Marshall vehicles, and we'll even have our public works employees who are mowing the lawns or the mowing out like Peacery Parkway. Now, you may brought up a good point. This technology is great. And Audi's testing was for the messages that there's like a cyclist approaching from the right or whatever to come up on the dashboard of the car. So that's where Audi is really wanting to have cars coming off the assembly line with the ability to receive these messages. Just where you would where if your check oil light came on or whatever, and it could even be audible if you want it to be. But as we know that even if every single brand new car coming off the line had this, it's going to be 25 plus years before we flush out most of the existing cars that don't have that technology. How do we scale this sooner? And you hit it right on, and that is through an app. We talked about it once before. Even if I am going somewhere, somewhere in town, especially closer to Atlanta, where it's getting more dense, even if I know exactly where I'm going, you know what I will still do? I'll pull my phone out and I'll pull the up or Google Maps for the traffic because I want to know, all right, I know how to get there. But is traffic bad? Do I need to take a different route? If you can get we can get this technology to come up messages inside of like Waze or Google.
Rico Figliolini 0:08:11
Perfect.
Brian Johnson 0:08:12
Everybody will be able to use this. So that's how we scale this. So again, we're going to do our small part of making our ecosystem available for this type of technology to hopefully become and everything.
Rico Figliolini 0:08:27
Yeah, that makes sense. I can see the applications even if it doesn't get into ways. Although small companies like this that start off get bought out by larger companies, right, because they get absorbed into their environment, like you said. So this way Waze can be able to provide that information to the driver. I mean, sometimes I'll put on Apple Map and stuff like that, always just because I may be on the phone and I want the system to be able to tell me, remind me.
Brian Johnson 0:09:01
That's exactly right.
Rico Figliolini 0:09:02
Yes. My wife says that I don't even. Have to think of where's my next turn, because I'm just a good point. Because otherwise you have to be aware of everything around you at every single minute, which I'm not a bad driver, I think a good driver, but it's like auto assist, right? So I think that's where we're going. So, yeah, if it can be in an app like that or I can even see Uber let's say a lyft looking at that and saying, you know, our drivers this is a propensity maybe, I don't know what the data shows, but they don't want the drivers hitting people and having problems too. So I could see a big company like that looking at this also and saying, you know what, that's not a bad add on to what we're doing.
Brian Johnson 0:09:52
Yeah, that'd be great points. But at the end of the day we had a pretty cool event. Had a couple of hundred people here as spectators, especially near the end of the evening around seven to around 945 when it ended. And that was with being a first time event. Wasn't great weather and isn't in our downtown. I was a little bit worried that the turnout would not be there but was we had food trucks here, we had some companies showing off some other types of technology. The racing teams were out here big and pro racers loved the course. They thought it was very technical and very unique and we had racers from all over the world australia, New Zealand, Europe, all over the country. It was a pretty cool thing. Puts us on the map. It gave our community a unique event go to and we were putting Curiosity Labs ecosystem to use. So all in all, a good event couldn't do it without rock star staff that put it on. And when you surround yourself with smart people and the tell you the resources they need and you get it to them and get out of their way, it can do some great stuff. So I got an unbelievable staff and the obviously mayor and council the support us, they are open to new things like this. They well attended throughout the course of the day because it started with amateurs 03:00 we even had the small kids race. Five to seven year olds and then like eight to ten year olds and they got on their bikes and the had started here and then at the starting line. And it's always cool to see those kids, everything from the kids who don't pedal yet, they just use their feet down with training wheels and others bike and so that was cool too. So it was a good event.
Rico Figliolini 0:12:02
It takes a lot of logistical work to get this put together, especially in that short amount of time that you guys had.
Brian Johnson 0:12:09
Early February is when we decided to do it. Yeah, pleased with it. So I think right now we're probably leaning forward in the saddle on doing it again. I don't really have a reason not to so other than just the time and energy it takes to set it up. But anyway, good things happening here. Never a dull moment.
Rico Figliolini 0:12:34
No, for sure. And we should hit upon a few of these things as some quick bursts because there are quite a few things well, not quite a few things, but there's always a lot of things, but there's four elements that we just want to hit real quick on. We've dove into them in more detail before, but just to give an update on it. So we discussed at one point about pickleball looking at possibly a 40 or 50 court facility here in Peachtree Corners. And I think the largest is what I found the largest in the metro area was 25, I think, or something when I was checking stats on that, of what was available. So feasibility study happening, not happening. Where is that going?
Brian Johnson 0:13:18
Yes. So we talked about it. Yes. For us to do this right, to not shoot too high, too low, we brought some professionals in. So it's a sports facility consulting firm that does feasibility studies. So we've commissioned this firm to do one. It'll take about a month and ultimately they'll come back and they'll tell us what is the market we're competing with, what's the demand out there? What can we expect as far as special events and how much economic development activity? What about ongoing, what size does it need to be? Are we going to cannibalize something if we do it? All of the things to consider and then based on that, mayor and council can look at it, make a decision on does the city want to facilitate doing something? Maybe we do and it's smaller than we thought because of whatever. Maybe we shoot for the stars and we want to do it, who knows? But got about a month and when they present the results, I'll end up organizing a meeting and invite kind of the people in Peachtree Corners that are involved in Pickleball and care about it. Everything from even you as you've gotten more interest in it, to people who play it a lot, to companies who are looking to maybe even be involved in managing it if we do it. Just kind of get everybody together and let them hear the results and we'll see where it goes from there.
Rico Figliolini 0:14:48
Cool. So we'll see that study sometime after that. Four weeks probably at a city council meeting, I guess, or a public meeting.
Brian Johnson 0:14:57
To be honest with you. I'll probably have the results presented before that at a different meeting and then go in front of council because council is going to need to make a decision based off of it. That would be more of what they do at the city council meeting is say, all right, we heard the results, we've had a chance to digest it. This is what we're going to do about it. So I'll probably just have schedule an evening one night or maybe a lunch one. And it's going to be inviting the people who have reached out to me and are involved and have been like, man, I played a lot, what can I do? To whatever people who care about it? Those are the ones who are going to want to hear the results so maybe we do it over lunch one day and have some pizzas or whatever and do something like that. But yeah, sounds good. End of May. Beginning of June.
Rico Figliolini 0:15:54
We'll have the yeah, I mean, there's quite a few. It's amazing how many businesses in the metro area and certainly there's a few in the corners that are pickleball oriented within the industry and coaches, registered coaches and stuff like that.
Brian Johnson 0:16:10
Just announced the Pickleball League. Now I'm sorry, Atlanta just created a pickleball league.
Rico Figliolini 0:16:16
Yes, I heard that. This is the Atlanta law and tennis.
Brian Johnson 0:16:24
Yeah. So clearly there's a demand. The question is, is it enough for the city to end up putting any time, energy and is what usually happens, money into facilitating something. And we want to make sure that we are shooting at the bullseye that we need to and it's not too big, too small, whatever.
Rico Figliolini 0:16:46
I love the fact that the city not only looking at cutting edge technology, but they're looking at other areas that might be great for our citizens and also the impact that it gives to this community. So got to love that. We also talked about city marshall in a couple of podcasts, the city marshall system. So it finally sounds like we're starting to move on it. And you were saying that May 1. What's happening?
Brian Johnson 0:17:10
May 1, beginning of May. So it's in the budget. Council seen the rough draft of the budget and as we talked about before, they supported it. So we're going to stand up a city marshall program and it'll start with three. And so I'm going to start putting out the job announcement out there with the requirements and sometime beginning of May they'll go out and the the June time frame is when we'll be doing the interviews and job offers and July 1, when our next fiscal year starts. Now there's the money in the budget to start standing it up. So sometime in July we'll start having actual uniformed city marshals here and they'll start filling in those gaps that we talked about before that we kind of feel the need to have filled. So the step in council feeling like they're doing everything they can to try to make the city as safe as we can and they're going to be post certified. We talked about just like Gwynette police. Duluth police, they will have the same exact authorities as any other police officer. Where they will be limited is by policy. So policy that we adopt, mayor, council adopt will end up being the one that keeps establishes their left and right limit. So for instance, by policy we're not going to have them out on roadway shooting radar guns and riding speeding tickets. Will they have the authority to do that? Absolutely. But we're not going to have the do that because that's not going to be in their job description as the city marshal is defined by policy. So that's how we're going to orient their activities through those policies.
Rico Figliolini 0:18:55
So the city has already gotten all the logistics down and stuff. Do you know where they're going to be? Sort of office out of, if you will.
Brian Johnson 0:19:03
Yeah, it'll be out of City Hall. We actually, because of the lead time, purchased the vehicles. We purchased one truck. F 152 Ford Police Interceptor Explorers. They're hybrid. They're all hybrid vehicles.
Rico Figliolini 0:19:20
Oh, cool. Okay.
Brian Johnson 0:19:21
Not all EV. Trying to get like what's the Ford pickup truck? All EV? What is that? The, I don't recall anyway. But they have an all EV pickup truck. The lead time was like a couple of years. That wouldn't work. We got hybrid. The truck will be outfitted in a way that we can have a drone take off from the back. We will be integrating a lot of drone stuff with the city Marshals as a technology asset for them to use to maybe do things preemptively. Maybe they fly them over problem areas helping to prevent hopefully, but if not solve criminal activity or do certain things. We've gotten some of those. They'll be housed in City Hall. Okay, so got renovation going on to reconfigure some of the interior spaces of the building to facilitate their activity. And they'll have a room here where they'll be able to pull all the images off of all of our flock cameras and all the other video cameras and the fūsus system.
Rico Figliolini 0:20:40
So we'll be connected to the fūsus system.
Brian Johnson 0:20:43
Absolutely.
Rico Figliolini 0:20:44
Excellent. Good deal. Talking about budget, that's coming up, right? Because it's the June budget, the annual.
Brian Johnson 0:20:51
It is the May City Council meeting is when we'll officially present the budget to council and community will be able to comment on what they hear. So that will be at the May Council meeting and then in June is when council will adopt it budgets. There's not a lot of surprises. Obviously one of the big ones would be the City Marshall program. One of the other byproducts of that is we're bringing the city attorney position in house. No longer be an employee of a separate law firm just because when you combine what additional municipal court activity we're going to have in addition to all the Curiosity Lab stuff, we just need to have legal counsel here all the time. There's just too much going on. And so it doesn't make sense to always try to pay the overhead to a law firm when you've got somebody who's here all day every day anyway. But yet they're not here. They're an attorney of another firm. So that's a byproduct of it. There's no financial hit. It's just moving. Instead of paying a third party, it's.
Rico Figliolini 0:22:05
Bringing yeah, probably better. The cost probably be a little better anyway.
Brian Johnson 0:22:11
Yeah, there's a little bit of now you've got the cities having to pay health insurance and other things. So we don't pay the overhead for that to the law firm. We're doing it in house. So it's a wash for all intents and purposes. A couple of things in there maybe of note, definitely got we've increased the amount of money we're putting towards street resurfacing. We've got more money in there for multi use trail activity. Trying to do more of that. Really focusing on some of the bigger sections like Crooked Creek down the south side of the city. We've got a couple of projects that we're looking to do on the south side we've talked about. One is some trailheads and public amenities along Peachtree Corners circle in between Holcomb Bridge and PIB. That would be part of that. We've got money there. We've got some money. A couple of million dollars set aside to do some housing redevelopment in the south part of the city to look for properties that are in foreclosure and in a state of disrepair. And the city may end up looking to acquire property and then turn around and have call it starter homes built to help with some of the housing.
Rico Figliolini 0:23:40
So we're talking about affordable starter homes versus three quarter of a million dollar homes.
Brian Johnson 0:23:45
Correct. That's what I'm saying. We would end up because we're involved, we'll be able to make it to where it truly is a starter home and it's an equity it would be equity product. It would still be home.
Rico Figliolini 0:23:57
Right.
Brian Johnson 0:23:58
But yes, there would be some sort of a home value control set on it so that the market doesn't push it to a point where it's another example where it's unachievable for.
Rico Figliolini 0:24:13
So would it be similar to like, I don't know how Habitat for Humanity works, but would it be like a lottery system in a way because otherwise the market will push that. Right.
Brian Johnson 0:24:23
Well, you use one of the best examples is one of the partners we would look to work with is Habitat.
Rico Figliolini 0:24:28
Okay, cool.
Brian Johnson 0:24:29
That's exactly, Gwinnett Housing Authority has programs where they'll come in and they'll build houses and it'll be specifically oriented to a particular demographic. It's an equity product, it's a new home. But you control the purchase price through the agreement you have with the entity building it's saying you can't sell this for a value above X because that's not the intent of why we're doing this.
Rico Figliolini 0:24:58
Yeah, otherwise that would just fail at that point. Right. For being what you exactly.
Brian Johnson 0:25:03
We're not filling a housing demand in that particular income strata in this way. We have some of the money set aside from the ARPA funds.
Rico Figliolini 0:25:15
I was going to say. So there's federal funds also for that.
Brian Johnson 0:25:18
And so the intent would be remove substandard housing stock from our roles and replacing it with new stock, but that it's got to control so that it doesn't get out of hand price wise. And so now we've, in a small way filled the demand for starter homes in an area and at the same time we've removed some cases squalor or vacant homes or foreclosed on homes. And so it's a win win. So there's money in there to do some work there. On the south side, we've also got there's going to be a dog park constructed at the Town Center.
Rico Figliolini 0:26:01
I heard that. That's cool. A small dog, big dog, or are they going to be like.
Brian Johnson 0:26:09
There are going to be two separate halves to it. It'll all be Astroturf inside there. So it's not going to be like just a fence around woods, but it'll be there at the Town Center in the woods. Probably the best way to get there would be to walk in from the side parking lot, that's surface parking lot next to Cinnabistro. Yeah, it'll be down there in the woodline. That'll be about the area.
Rico Figliolini 0:26:37
That'll be interesting. Artificial turf for the dog park.
Brian Johnson 0:26:43
Well, if you don't do artificial turf, you start getting into dogs digging. It can get muddy. If it's rain, it starts to defeat the purpose. So it will be Astroturf on the inside, and there will be a separation. There'll be two different ones, one for bigger dogs, one for smaller dogs. There'll be shade structures inside, seating areas for the owners in there so that'll go in over the summer.
Rico Figliolini 0:27:10
Okay.
Brian Johnson 0:27:11
Then right after the last event on our summer event calendar, I think it's the last weekend in November, we will do two things. One is we will be removing and relocating some of it. The very first three playground pieces of equipment that went out to the Town Center was the slide. And then you've got those two playground pieces. That area will be relocated in a tot playground, like oriented for four years, and younger will go in that area. So you'll have the call it the succession of age where you have four and under will be in that area. Then if you go five to whatever age you'll go to where the Qantas is and the big stuff. And then theoretically, if you outgrow the Qantas and everything as like my 14 year old son would tell me that's kid stuff, he'll go want to go to the fitness trail? And him and his buddies like to see who can climb the ropes, navigate some of those obstacles the fastest or whatever. But for a kid, if you adhere to the rules and the ages or whatever, you have kind of a succession of difficulty, if you will. So that won't start until after the last one because that'll be a little bit of a mini construction area, and we don't want to do that. The other thing we're going to do is at the same time, after the same event is we will be closing the inside of the sidewalk that forms the big circle there for the Town Green.
Rico Figliolini 0:29:00
Okay.
Brian Johnson 0:29:00
We're going to be removing all the soil and replacing it with a drainage field. Because if you've been out there, you can tell that when it's lumpy. And the reason is that way is because when it was put in. Originally our private partners just put grass over what was existing. And what was existing is the clay that we have here in Georgia. And when you put a lot of weight on the clay, when it's wet, what will happen is it'll squish down and then when it dries out, it hardens so it doesn't go back to where it was. And then there's no drainage that's been placed in there. So we're going to remove all the bad clay soil we're going to put back in. It's kind of like the French drain type of underground drainage field to allow it to drain away and then put good dirt, no clay, and then put sod back. We're going to try one more time with the good soil and drainage to actually have real grass. Sod otherwise putting Astroturf into it. But it's got a different feel. It's always nice to sometimes have grass we'll see, but we're not averse to if we can't keep it, we can't keep the grass. If it's being used too much, trampled on too much. We may have to go to the artificial turf, but right now we're going to put back sod but that'll happen in December, January time frame.
Rico Figliolini 0:30:33
Right.
Brian Johnson 0:30:33
And hopefully that so we'll have one more season where it'll still be a little lumpy and everything.
Rico Figliolini 0:30:41
I think people will be fine.
Brian Johnson 0:30:45
Those two things are not going to happen until after the concert series done. So we don't interrupt any the dog park is not interrupting anything. So that'll happen. So, yeah, more stuff with the Town Green. And then of course at the time of this recording, a couple of hours from now, the Forum North American Properties is having the groundbreak. Yeah, they're groundbreaking on the first phase of the Forum's redevelopment and they're going to removing the first section of interior parking spaces and put in the first section of the Linear Park. And then they're going to put in the food hall and the outdoor seating there at the north end of the Forum. So that'll be happening. The parking deck will be start construction on it sometime later on this 2023 season. And so once that is finished, they'll then be able to remove the remaining three quarters of those parking spaces and finish the Linear Park. So the Forum is moving ahead as well. So we got some stuff going on still.
Rico Figliolini 0:31:50
Yeah. Interesting. Well, lots of stuff to probably keep going. I know you were in DC a few weeks ago about with the FAA, and so I know that you were talking about more drone activity projects probably coming. Why don't we make that the last thing? What quick hits can you tell us about that, about the FAA, the drone programs that you think might be coming here?
Brian Johnson 0:32:12
Based on a visit that we had from the deputy administrator of the FAA who is in charge of drone regulation. He had been out here at Curiosity Lab once he invited us back to DC to meet with the entire drone regulation team for the FAA to talk about what Curiosity Labs ecosystem might offer to the FAA as it looks to figure out how to regulate this type of thing. And they're in the business of needing more data and data in certain areas. And so we discussed and have come up with some areas where we can really help them out. Areas partnering with T Mobile, Deutsche Telecom and their 5G wireless environment here. FAA is very interested in how well it can handle multiple drones using the same wireless signal, especially when it gets beyond visual line of sight where the drone operator can no longer see directly drone. We're going to do some stuff in that space and then our city marshals are going to end up doing some things around law enforcement and the use of drones, which is a different area of regulation that they've got to get into. So we're going to be doing some things to help them ultimately come to a point where they can feel like they can start issuing regulations on some of this stuff. It's the wild west to think about it. There's a lot of regulations have to be created for private drones. One day they just become so common that everybody walks out, throws up their own drone and starts doing the thing. Well, if everybody's doing it, how do you keep becoming a problem?
Rico Figliolini 0:33:59
And it's been out there a while, so it's interesting how long it's taken to get that regulation place. People are talking about AI and how long regulation will be in place for that. Who knows? It'll be another decade before we say, that cool. Just a lot of stuff going on in the city of Peachtree Corners. You guys are busy and have a vision and I'm just excited to see these things happening. So Brian, I appreciate you coming out every month giving us all thanks for having me.
Brian Johnson 0:34:28
Again, thanks for providing us this opportunity to let everybody know of the cool things that our great community has going for it and what we're doing to leverage to make it even better. So appreciate it.
Rico Figliolini 0:34:39
Yeah, no worries. Thank you again and thank you to EV Remodeling Inc. For being a great corporate sponsor of ours and the work that we do in both in print and the podcast. So check them out. EvRemodelingInc.com. Brian, thank you so much and we leave your comments if you have any, in the comments below. And stay safe out there. We'll see you next time. Thanks, guys.

Discussing the Comprehensive Plan Update, Density, Annexation and Pickleball, with the City Manager [Podcast]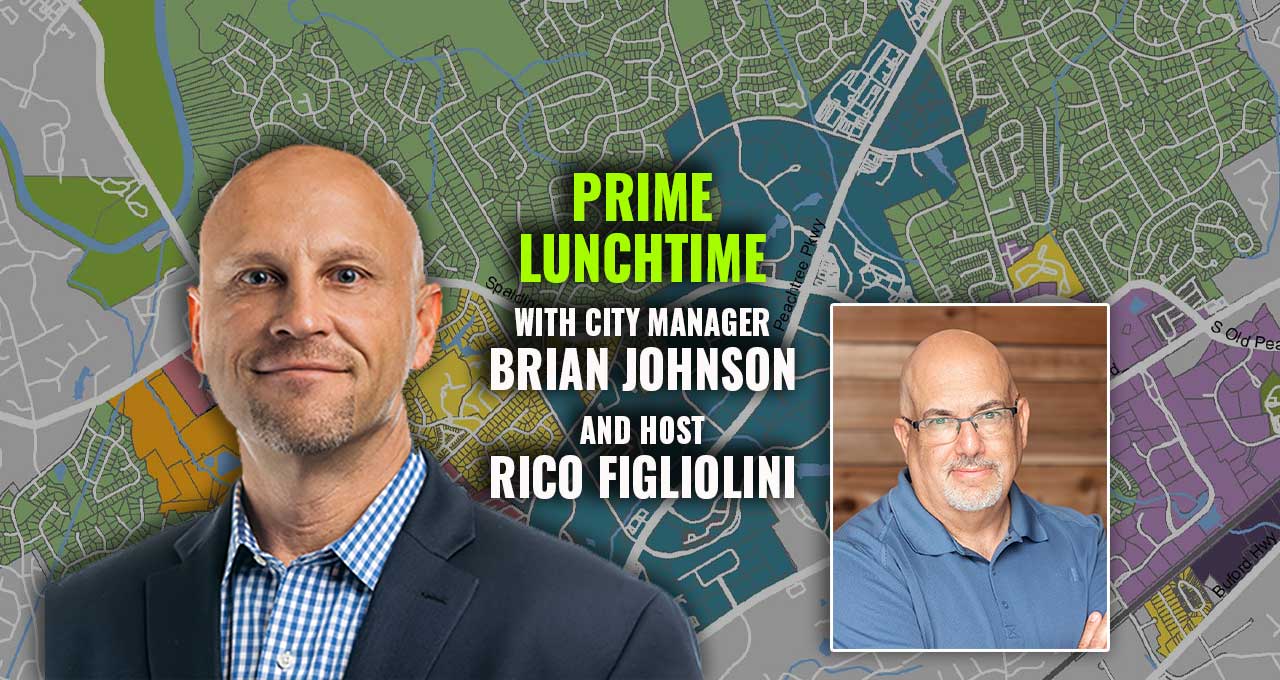 On today's episode of Prime Lunchtime with The City Manager, we explore the challenges and opportunities facing the vibrant community of Peachtree Corners, where city leadership is open to creative ways to generate economic development and drive activity while avoiding property taxes. From incubators creating new jobs to the feasibility of a pickleball center, discussions around housing types, density, and annexation, there is never a dull moment in Peachtree Corners. Join us as we dive into the city's comprehensive plan, Future Land Use Map, and discuss visions for the future.
Timestamp (Where to find it in the podcast):
[0:00:00] – Intro
[0:02:43] – Why Development Has Paused
[0:11:12] – Residential Properties
[0:16:02] – Using the Comprehensive Plan
[0:31:06] – Feasibility on the Pickleball Center
[0:36:37] – Trellis Leaving the Incubator
[0:39:38] – Closing
Transcript:
[0:00:00] Rico Figliolini: Hi, everyone. This is Rico Figliolini, host of Peachtree Corners Life. And today we have Brian Johnson, as usual, once a month, although it's been a while. Hey, Brian. How are you?
[0:00:09] Brian Johnson: Good, Rico. How are you?
[0:00:11] Rico Figliolini: Good, thanks. So this is our Prime Lunchtime with the City Manager. We get to talk about different things in this episode. We're going to be talking about redevelopment, rezoning, things that are going on in the city that has to deal with development and redevelopment. It just to catch up about what's going on with several different properties. So be a good show to be able to talk about what I think is on everyone's mind, especially with the economy moving the way it is and interest rates and all that. But before we get there, just want to thank our sponsor, EV Remodeling Inc. And Eli for supporting our journalism, our podcasts, our magazines, for being a good corporate sponsor and good corporate citizen with us. So thank you, EV Remodeling and Eli. Check him out where they do design, build and renovation work. He lives in Peachtree Corners. Great family. We just had a recent article on him as well, talking about what he's doing, but visit them at EVRemodelingInc.com and check out. Hopefully you all by the time you get the podcast, listen to it, you'll be having received this or not. This is the latest issue of Peace Corners magazine.
[0:01:18] Rico Figliolini: Wesleyan Artist Market will be and we're a sponsor of theirs will be happening April 28 and 29th. So now that we've gotten that out of the way and good to see you, Brian. It's been a while. Been a few weeks, a little over a month actually, I think. And you all have been busy, like always. I've been speaking to Lewis, the communications manager, and so much going on in the city, and we could talk about a lot of things, but I think zoning it down to development and redevelopment, I think for this episode makes a lot of sense, especially talking about it before we started rolling, talking about how different properties right now, because of the economy, right? Interest rates are going up, commercial properties. Commercial development is adjusting, I think, to the marketplace a bit more so than the home market. I think it's being affected. But several properties have put a break, I think, on some of the development work. I know that Charlie Roberts property, what we call that, that hole in the ground, if you will, behind Chase Bank where North American properties was going to possibly develop an apartment complex there, is on hold now because that deal sort of fell through and now it's being marketed separately. But so there's a few things going on like that. So can you share with us, Brian, maybe, what's going on with some of these properties? Why are they being stopped? Why are they stopping the development and all that?
[0:02:43] Brian Johnson: Well, Rico, you're right. As development goes, typical cycle is a developer or property owner will come to the city if they need a rezoning. And they'll come to the city and only have gone so far as to come up with is my project feasible, I've got to produce enough for the city to know what I want to do. So there's a lot of conceptual work, a lot of engineering, those kind of things. But they'll only get to that point because there's no guarantee that they are going to be successful in their rezoning request. And how that's affected when the economy changes is that most of these developers, even with favorable zoning decisions by Council The, have not gone to the next step of lining up, locking in their financing for the actual construction because they didn't know if they were going to even get approval to do it. So we run into and real estate cyclical, but we have run into a number of properties that were rezoned in 2022, maybe even late 2021 that got favorable zoning. And then they would go in and start the actual design documents, the construction documents, the detailed ones that the contractor will build off of. That takes a while, especially the bigger it is. It could easily be a year where the architects, engineers are creating those construction documents. And if the economy changes in that interim period of time when it's time for the property owner developer to go to the banks and get financing, sometimes there aren't terms that they like or the banking industry has changed to where they require more collateral or the banks don't have enough equity to loan out or whatever. And so we have seen that over the last six to twelve months, especially six to nine months where interest rates started climbing and certain developers kind of pumped the brakes and said, we don't like these terms, let's maybe hold off a year and see if the improve. Then you've got some of the banking issues we've had of late with these mid tier banks like Silicon Valley Bank and everything changing now. You've got the Feds are more involved in equity requirements that banks have to have and that's affected. And so yes, we've had a number of favorable zonings here that right now are on hold to a degree indefinitely.
[0:05:49] Brian Johnson: So the only ones that I can say are for sure moving forward that have had favorable rezonings recently, mostly because they already had the money locked in and ready to go. Would be waterside continues to move forward. They're in phase two. They are basically done with the first third of the property. Now they're moving into the constructing the middle third and the clubhouse and shared facilities. And then phase three would be the institutional use the memory care type of thing. But their money has already been locked in, so they're continuing to go. Intuitive is definitely moving forward on their first really two phases. But they had a third phase that wasn't going to slate at a start for another two years anyway. But they have kind of, I think, stopped a little bit of the work on that that was really demoing some existing buildings and building even bigger ones to house some of their HR. There's a welcome center. They were going to have some things that maybe weren't or aren't considered critical, what they want to ultimately do. But there's been a little bit of what you.
[0:07:18] Rico Figliolini: Noticed. Those sales, intuitive robotic sales have slowed based on some of the reports I read on them. But their work, anyone that passes through Technology Park, they continuously those cranes are up, they're working, they're dumping soils coming out and stuff. So they're definitely working over there every single day. So it's not like they stop. There is a piece of property, I think that was cleared or some work was done, but then they put the brakes on that development. I don't recall which property that was that I thought I don't know if it was cleared, but they started some work on it and then they stopped.
[0:07:54] Brian Johnson: But there's other which one near Intuitive. You're talking about near Intuitive location.
[0:08:00] Rico Figliolini: Yeah, it might have been that maybe it was near there.
[0:08:03] Brian Johnson: Someone had to cleared and officially placed, had the brakes put on it. I know the Jewish chabad cleared their property, but I've not heard that they've officially put.
[0:08:18] Rico Figliolini: No, I think they're still moving ahead with that, I think.
[0:08:24] Brian Johnson: But Intuitive, their main assembly area, their training, their expanded training, their sales office, all that stuff, they're moving people from California. They're actively hiring. Still going forward. The one on Peachtree Parkway is a 57 20 Peachtree Parkway. I think it's called broadstone. The mixed use the you can see that. That's another one that had the financing locked in before interest rates to change. So they're going to finish that and then North American Properties will and is moving forward on the forum, I want to say it's next week or the following. They're kind of breaking ground on the first part of their call. It enhancement. And that is they're going to be removing the middle parking spaces in the north, the northernmost section, Byumi, that section. And then they're taking the old canoekins space and they're putting in the food hall. And they are moving forward on getting the parking deck designed. It's under design. It's got another step when the design is at a point where it's worthy of consideration, it's got to go back in front of council.
[0:09:54] Brian Johnson: That was the only condition that required them to go back to council. And so they're designing it. There's going to be some conversation with the residents in Amberfield that reside right along the forum, so there'll be some dialogue with them on what it looks like. But that parking deck, their hope is to have the design approved and then they start construction on that sometime in the summer.
[0:10:22] Rico Figliolini: Yeah, I think they want to finish by the end of the year or first quarter. 24.
[0:10:26] Brian Johnson: Correct. Because they can't remove any more of the middle parking stalls beyond that northernmost section. They're getting ready to do until the parking deck has been completed. But they are moving forward with that. So I just wanted to say bring that up to say they're still moving forward. But beyond that, pretty much all of the other ones that have come through with favorable zonings have kind of, in some cases, officially informed the city that, hey, we're not working on this right now, so don't expect anything from us. Put this on hold until market conditions improve.
[0:11:12] Rico Figliolini: Right. I guess the residential stock in the city will be on hold for a little while other than the broadstone and the water size. Yeah. So interesting, the economy does affect everyone. I did an overview, market overview for recent issue, and I was looking in Peachtree Corners just to see what was listed. Right. Just on zillow, let's say. And I think I only saw two homes being on, and this was granted, this was back in February, so before spring came. So I'm sure there are more houses on the market now, but there was like, I think only two back in January, february, that was on the market. Yeah. So, I mean, higher rates, what is it, six and a half percent now for a 30 year mortgage?
[0:11:58] Brian Johnson: Residential, unless banks have the equity that they did before, because they're becoming a little more cautious on how much and how risky the applicant might be. And so it's definitely affected things. And then you're right. Housing as it stands right now, housing is a difficult thing. Of course it's a difficult thing for everybody right now. I mean, nationally, there's a housing shortage. Problem we have is unless we have some annexations, and even then, not a lot of annexation opportunities of undeveloped parcels. But just with our current corporate limits, we are pretty much tapped out on single family homes. There's nowhere else for somebody to at least cost effectively build a bunch of single family residence because all that property has been used up. Now there are the one offs where somebody buys, tears down the existing house and builds a new single family on it.
[0:13:09] Rico Figliolini: Or townhomes. I mean, the metal streets not detached.
[0:13:14] Brian Johnson: Right, but yeah. So to your point is other housing products other than single family detached, it's.
[0:13:23] Rico Figliolini: Still equity products, still ownership.
[0:13:26] Brian Johnson: Right, yeah.
[0:13:29] Rico Figliolini: The problem with that, though, is that I find is that if all of a sudden there's 20 townhomes being built, ten of them may be owned by a company that are renting them. And that does happen more often than I think some people think. And then there's even single family homes being bought. I mean, I was looking at I spent some time on GIS. I think it's GIS, it's called, where you could actually click on parcels and see who owns the parcels. Someone had asked me about a parcel that was recently zoned on the west side of Medlock Bridge Road near the Forum Drive, not the Forum Town Center Drive, and it was the west corner of that, and someone had bought it. And obviously they're going to be developing stuff there. But then you mentioned there are companies, there are landowners, let's say, that own land with retail on it that have a lot of parking space. And they've been talking to the city about possibly doing something a bit different. But they're stopping too, right. Just because of the way the market is.
[0:14:33] Brian Johnson: Yeah. You can drive through Peachtree Corners and there are a number of locations in which you look at it, they were built back when the core units were built, way off the road and at the back of a sea of parking, both retail and some commercial. And so there's locations that we all can think of. The Ingls shopping center at east jones bridge and peachtree parkway. You've got the Goodwill Shopping Center there. You can go down to PIB and Holcomb Bridge Road where the old La Fitness was another big even where Outback Shopping Center used to be at. What is that? Holcomb Bridge and Spalding. Those are ones where you've got underutilized parking. That is a lot of parking. Yes. That is ripe for anything as small as an out parcel is added to the current layout or some cases. Developers have approached us and said developers of even the ones that I mentioned have said, hey, we're open to what could we do? What happens if we scrape the whole thing and start it all over? What would the city let us do?
[0:16:02] Brian Johnson: And you get back into what do we need? Using housing types are oftentimes a component of it. How much multi use rental and all that kind of stuff. Things that are being discussed right now on the Comp plan, our comprehensive plan, is being rewritten that you have to do every ten years. And housing is a very important component of the conversation being had right now. How much of our housing stock should be ownership versus rental and how much of our housing stock should be either of those two things in specific areas, and how dense should we get? And if we are wanting to grow, do we want to grow out through annexation or do we not want to do that? But do we want to grow, we've got to grow up more dense, or do we want to put a sign at our city limits saying, no more growth in Peace Street corners. This is it. I don't know if there's right or wrong answer. I'm not here to advocate for one of them. But those are all questions that have to be answered is what do we want the city to look like over the Lat next five to 25 years? We've got to create some policy around zoning and a future land use map that shows kind of what Mayor and Council's goal is for, how the community is developed, and Mayor and Council gets input for them to make that decision based on community input, which is what the comp plan process is all about.
[0:17:43] Rico Figliolini: Right. I think the first public meeting has already happened. There's another one being set up, I think, with United Peachtree Corners Civic Association. Unless that one passed already.
[0:17:52] Brian Johnson: No, that hasn't passed. We've had to the Planning commission meeting last week, last Tuesday had a portion of it that was reserved for it. But there's like five or six. And if anybody wants to provide input on any part of the way they think the city should be moving into the future, whether it's housing, transportation, public safety, what have you, we will take comments about that at any point. There's a link on our website. You can provide input. You could say, I want all of our roads to be six lanes, or I want our own police department, or I never want a police department, other than whatever, provide comments. This is the time for you to put it on record comments about some of these things or attend the meetings. And there are always times each meeting kind of has a theme, but at the end of it, when it's time for the public to come and provide comment, you can comment on anything. But these are important decisions.
[0:19:01] Rico Figliolini: Yeah. And I'll put the links into the show notes so this way people can see it. And we've been sharing that on social media anyway, so it's out there. I mean, there's no reason that anyone can say, I didn't know, unless you have your head in the ground.
[0:19:17] Brian Johnson: I was going to say somebody will Rico.
[0:19:21] Rico Figliolini: There's always people that do that. I just found out about it, even though for the last six months it's being put out. Yeah. It's a tough thing. Right. Do you decide that you don't want more development? No, you can't decide not to have more development. The thing is, like you said, this plan is really a plan that every ten years has to be redone. Every five years it has to be updated. It's a guide, not a Bible. It's not contract set in stone. These are just guidelines. And like you said, really, there is not much land to I don't foresee any more places where you could put single family homes at a reasonable price. Right. There'd be million dollar homes, I think, because there's just no place to do that. 100 square hundred foot frontage on single family homes or even 60 foot frontage. I think that's gone. Right.
[0:20:20] Brian Johnson: I would agree. You want to do that, you got to go up into North Forsyth County, and that's where those things are happening. We are at a point where we're transitioning into what Brookhaven is, what Dunwoody is. They don't have any more undeveloped land. So really they're in redevelopment mode. And in their case, as opposed to us, we actually have the ability to annex. We can grow our boundaries.
[0:20:45] Rico Figliolini: Right.
[0:20:47] Brian Johnson: Brookhaven and Dunwoody are completely hemmed in. There is nowhere else. So what they are, what their city limits are, what it is forever. And so now they've got to, how are we going to redevelop? Are we going to make it facilitate growth in a dense way, which means you got to go up. Are we going to not do that? And just keep these aren't easy questions. And again, it's important and it's good.
[0:21:18] Rico Figliolini: To have input because you don't live in a silo, right? I mean, the city doesn't know everything. And there are citizens here, the citizens here that don't want further development, for example, citizens that don't want more apartments, and then citizens that feel it wouldn't be bad to be like Brookhaven. They moved here. They've moved here in less than a decade, let's say, and some of them have moved out from a Brookhaven or a Buckhead, and they wouldn't mind having more development similar to that and yet still have some space, if you will. Right. So like you said before, you have some of these areas where you have a sea of parking spaces that certainly can become mixed use. Maybe they can become equity property, like condos where they're going up seven, eight stories, because some of those places you can do that because they don't have single family residential behind them. Some of them can do it differently. But you're right, we can either annex or we're going to have to go up. There's really no other or stop. And if you stop development, that's really bad, I think, for a community. You can't be in a thriving community and there's no development.
[0:22:38] Brian Johnson: You're right. While it's an option within reason, if somebody has a parcel, they have a legal right to develop it. So there's no such a thing as a literal freeze button, but you can't have the zoning such that you really aren't letting any more density happen. And so as a result, it to a degree does freeze it. But historically speaking, communities that have kind of taken that stance, what they find is they may have, for a period of time, kind of stopped development, which some people want. What they find is the communities around them that haven't, all of a sudden, they leave the community that did want to kind of stop. They leave the behind. So a community that says, oh, we like it just the way it is, well, the world moves on, and just the way it is may end up being to where your community isn't looked at as an appealing community anymore because you're not doing anything. You're not getting young blood, you're not getting different demographics, different age groups. And all of a sudden, people start pointing to that community to say, it's a dead community.
[0:23:54] Rico Figliolini: Yeah. I think of Matt Carmel in California when they wanted to stop development there. And Matt Carmel is on the West Coast. California. It's essentially a tourist city. I think I forgot who is that.
[0:24:07] Brian Johnson: Right near Monterey Bay. Monterey, California.
[0:24:09] Rico Figliolini: Yeah. And the idea was to stop development essentially with the city proper because it still had like this nice old feel and ocean feel to it and stuff. I can understand that because it's a tourist spot. It's a whole different thing. We are not a tourist spot. No one comes here necessarily for anything specific. I can say that I've lived here for a while. Yes. When we have concerts, people will come for the concerts, but we are not a tourist location. We're not a place that has ten festivals going on through the year, at least not yet. We have an iconic Peachtree Corners festival that goes on. But other cities have five or six different festivals going on through. The big ones, too. Not little ones. Bear and wine fests and stuff like that.
[0:24:59] Brian Johnson: Think of when you're a community that has just under 50,000 people and just under 50,000 jobs. We are a very vibrant community. Meaning there is a lot of activity here. Berkeley Lake might be able to get away with saying, we're freezing it right here. Because they have that one little sliver of retail there at, what is it? South Peach Tree and PIV. And then the rest is residential, really, around the lake. You could potentially get away with it there to say, look, no more density, no more we are what we are. And their redevelopment would be parcel by parcel if somebody wanted to demo one of the houses and build a new one, specific purpose, they're not going to sit here and say, oh, we're, you know, tried to be this really big they are a very hidden gem of a bedroom community around this lake. And so they could maybe get away with it, but it would be hard for us to and stay vibrant in the way that we are now.
[0:26:10] Rico Figliolini: Right. And Burke Lake is a whole different animal. Right. One of the richest per capita places in the city or the richest city in the state or something like that.
[0:26:19] Brian Johnson: They got the highest median income and median home value of any city. And for a while it was like the Southeast. I know it's still in Georgia. So yeah, I mean, it's a unique type of thing. It's almost like large HOA and that's great. But yeah, for you to be an actual community that's really got a lot of jobs or whatever, it's awful hard. So if you get to the point where you're like, well, you don't want to go that route, then it's either do we grow out or do we grow up? And then whichever way you decide, what mix of growth does that encompass?
[0:27:07] Rico Figliolini: And the comprehensive plan allows for it to be segmented. So it's not like we have to make that decision as a citywide thing. We can say, well, you know what, technology park or certain areas, industrial areas can be a certain way because there's more density there. It's a different not more density, but it's a different layout of land. So segmenting the density in certain parts of the city is not a bad thing. Right.
[0:27:34] Brian Johnson: And the most important document that comes out of the Comp plan is something called the Future Land Use Map, and that is a zoning map that shows what character areas mayor and Council want the city to look like over the next five to 25 years. And it doesn't go parcel by parcel. It does more like areas almost be like example would be like we want Peace Street Parkway to be a retail corridor along the parkway. Like the parcels that are right, basically up against Peace Parkway want it to be retail all the way up that corridor. It's kind of broad brush stuff. But it does allow, like you said, the ability to segment certain parts of the city and say, here's an area of the city that we think should be mixed use or should be single family residential or could be a rental specific product or could be a dense ownership product like condos. It's a way for them to kind of more broadly say that's a good area for this or that. And so that's the most important product that comes out of it because it's a visual depiction of what Council hopes that the zoning over the next X amount of years results in. Is that's the Future Land use map that we aspire to have in the future? And it is a map that Council refers to, planning Commission refers to when they are considering zoning. It's not a binding document, but it certainly carries weight both in the decision or even if there's any litigation over a zoning decision.
[0:29:20] Rico Figliolini: Right, I was just going to say because you can then either deny or prime based on that and no one can say, well, you're making an arbitrary decision on that. No, we're working with the Comp plan. Does that comp plan also includes the overlays, like the Entertainment Overlay District? It includes all that. So any of that and those things can be expanded as well, probably and adjusted depending on what you want to include in it.
[0:29:48] Brian Johnson: So it's a part of it. Now, I will say that the due date for the Comp plan to be submitted to the Georgia Department of Community Affairs is probably going to prevent there's some overlays that are being considered right now that may not make it as part of the Comp plan. The Comp plan conversation includes all of our existing overlays.
[0:30:12] Rico Figliolini: Okay.
[0:30:12] Brian Johnson: But there are some other ones. Like the Downtown Development Authority going to be considering looking at the overlay for Tech Park, Atlanta just Tech Park and seeing if there's some parts of it we want to tweak because we've really put a premium on us making sure Tech Park Atlanta is healthy because it is the driver of a lot of activity, including its boundaries being shared by Curiosity Labs. Boundaries. It's very much an economic development engine for us. We want to make sure it's firing on as many cylinders as we can get it to fire on. So there could be some additional overlay tweaks or districts that follow because you can create the at any time.
[0:31:06] Rico Figliolini: Right. And the can be added. Okay. All right, I just want to one more thing I think I want to just cover because I'm inherently interested in it, and that was that pickleball idea that we talked about last time. And the city is going to move ahead, I guess, with the feasibility study on the pickleball center is what we were discussing 40 or 50 courts?
[0:31:30] Brian Johnson: Yeah. So the pickleball's growing popularity, there is certainly evidence, at least to our naked eyes, not being necessarily experts per se, and that just one thing, but there is some evidence that we're seeing that it might, in and of itself be a driver of unique. Call it ancillary and tertiary activity, meaning you could maybe have a pickleball facility at a certain location, and its construction would then create an energy around it where others would want to get close to it. And it could be the driver of economic development at a certain location in the city. But that could be if we're talking about a facility that has 30 to 50 pickleball courts, and its purpose is to pull activity to it during the week for league play and on weekends for tournaments. It could be an investment by somebody. Whether it's the city private sector or combination thereof, it's a significant investment. And so you want to make sure that you're doing it at a good time. The need is there like you think it might be, like there is, in fact, enough demand. You're not inadvertently going to be cannibalizing somebody's activity that already exists. You'd hate to build 50 court pickleball facility for tournaments only to find out later on that 15 miles down the road another city is ahead of you or already built one, and now you trying to compete for the same tournaments. You got to make sure you don't do anything that might hurt existing business, things like that. So a feasibility study by an expert to come in and look at the entire landscape and come back and tell us, is the demand there? Are we filling a niche that hasn't been met, or can we do it without hurting any existing things? Do you have the interest in the area that you'll pull in?
[0:33:46] Brian Johnson: Are there enough pickleball tournaments that it makes sense to do it, and would it fill hotel rooms, all that kind of stuff. And I think if it comes back favorably, I think Council Mayor. And council here. Our community doesn't realize how lucky they are either, and I do because I work for them as a board. But they are very open to creative ways to generate economic development in the city as a way to make sure the community is vibrant. We have a mix of things and two, for us to go as long as we possibly can into the future without having to have city property tax and result. Mayor and council are very supportive of efforts that might do this. Hence why we have some of these unique events. We got this bike race, the criterion coming that might be a unique event that drives activity that in the future. Maybe it's something we do along or maybe it's a one time thing. We do it and we look back and we're like, yeah, didn't move the needle. But they're very open and aggressive on what can we do to drive activity in this city so that we can be vibrant. We can have a whole host of quality of life offerings here. And our commerce, our business to business, business to customer interaction is generating enough revenue that we don't have to have property tax. And we've been successful for ten plus years and we're going to, we can.
[0:35:26] Rico Figliolini: The leadership on down has done a great job. I think there may be people that would argue that, but I see things like companies like Smart Mile joining Curiosity Labs, ecosystem, if you will. They're continuing to bring in startups into that organization. I see businesses like Henry's Bakery opening, like Julia's Bakery opening up in the Forum. We just published some renderings on that. That looks great. As someone with Italian heritage, I can't wait to see how that's going to be because it's supposed to be all authentic ingredients from Italy. So that'll be interesting because otherwise I'd have to go downtown or something into Atlanta to get stuff like that. There's a lot of lot going on here and I think you're right. The city leadership is always looking at a variety of different things. I mean, from even thinking about an art center and still talking about that possibly possible other types of programs or things that the city can come up with.
[0:36:37] Brian Johnson: Rico, this one may be also something to do an article on as well. But we created an incubator in the city to help create jobs. Because in economic development, your goal is to, when it comes to jobs, to help companies expand. You want to retain or recruit or create. Those are the four legs of the economic development stool, if you will, and incubators help create jobs. It allows a very low cost way for a company to create from scratch a new thing. Well, we are getting ready to have another example, probably the largest example to date of a company that was incubated at Curiosity Lab, which started out as prototype prime. And they are going to leave and expand into commercial space elsewhere in Peach Street Corners. And that's trellis.
[0:37:34] Rico Figliolini: Okay.
[0:37:35] Brian Johnson: And so Trellis is leaving the incubator. They've outgrown it, but they're staying here in Peach Street Corners. So this is a company that didn't exist before it was incubated here. They created a company in the agricultural space with sensors, and they've grown outgrown our incubator, and now they're becoming a full fledged company in commercial space. And they've stayed here, which means that we have new jobs, or I guess you could consider it retained jobs that were created here. And that's the whole purpose of having incubators here, is create new jobs or a new company. And then your hope is that they stay here when they outgrow your incubator. Because they've all made housing decisions based on where they were initially and now they want to stay here. So it's a good news story of a company that made it or is making it, and they're going to be a corporate tenant of the city and stay here.
[0:38:34] Rico Figliolini: It'll be fun to see these companies come out like that. I mean, I remember Trellis, I think we did a small piece on it a couple of years ago. They've been there for, I think since prototype prime almost, if I remember.
[0:38:46] Brian Johnson: Yeah, it was they've been there a little bit longer with COVID We let them stay there a little bit longer than the three years. We generally want companies to leave, but COVID kind of wrench in in the mix. But yeah, it's just great. But if mayor and council hadn't supported having an incubator, you know, continuing to provide resources to us would have happened. And so they're going to end up paying business license or occupational tax to be a business out in the community generating revenue for us. And they've got some of their employees that live in Peachtree Corners. So this is the little things add up. But we're all about making sure that we are a vibrant economic, vibrant local economy, and that's what drives revenue and keeps us from having to have city property tax.
[0:39:38] Rico Figliolini: Like always, Brian, we do a lot of get to learn a lot from you about what's going on in the city. So I do appreciate you giving us the time to be able to talk about these things, especially something like this, where we were able to talk about quite a few things and some of it in general, but certainly to be able to find out a little bit more about the development work that's going on commercially in the city, housing wise and all that. There's going to be a lot more to talk about the next few months just because of the nature of what's going on with the comp plan and all that. And I'm sure there will be even more development going on that we don't even know about you.
[0:40:14] Brian Johnson: Yeah, people haven't stopped kicking tires and looking. It might be argue it's a little bit harder to do right now than it was a year ago, but there are still companies that are wanting to do it. In fact, some companies feel like this is a great time to do it because everybody else has stopped and so they might be able to get into a market it would have been harder to get into. But Rico, things change quickly. And I appreciate the city, appreciate you giving us a vehicle in which we can communicate some of this stuff to those of our residents who care and listen to this. It's an invaluable resource that we're lucky to have. So thanks for letting us have this opportunity every month.
[0:40:59] Rico Figliolini: Well, thank you, Brian. Appreciate it. Appreciate your comments. And it's worth doing. I mean, I have lived here since 95. My kids have grown up here gone to school here, just a great community. So I'm always having fun finding out new things that are happening here and learning about new people that have moved here and are doing things. So it's always great. Thank you, Brian, for being with us. Everyone else, thanks again for joining us. Check out the latest issue of Peachtree Corners magazine and we're working currently on Southwest Cornette magazine, which will be profiling some of the businesses that we've just mentioned. We're going to be doing a feature story about entrepreneurs and enterprises here in Peachtree Corners. So check that out. That'll be out in another probably a month or so. But thanks again for joining us and go visit LivinginPeachtreeCorners.com for what you need to know about the city, what's going on here. Thank you much.