Peachtree Corners Receives 'Tree City USA' Recognition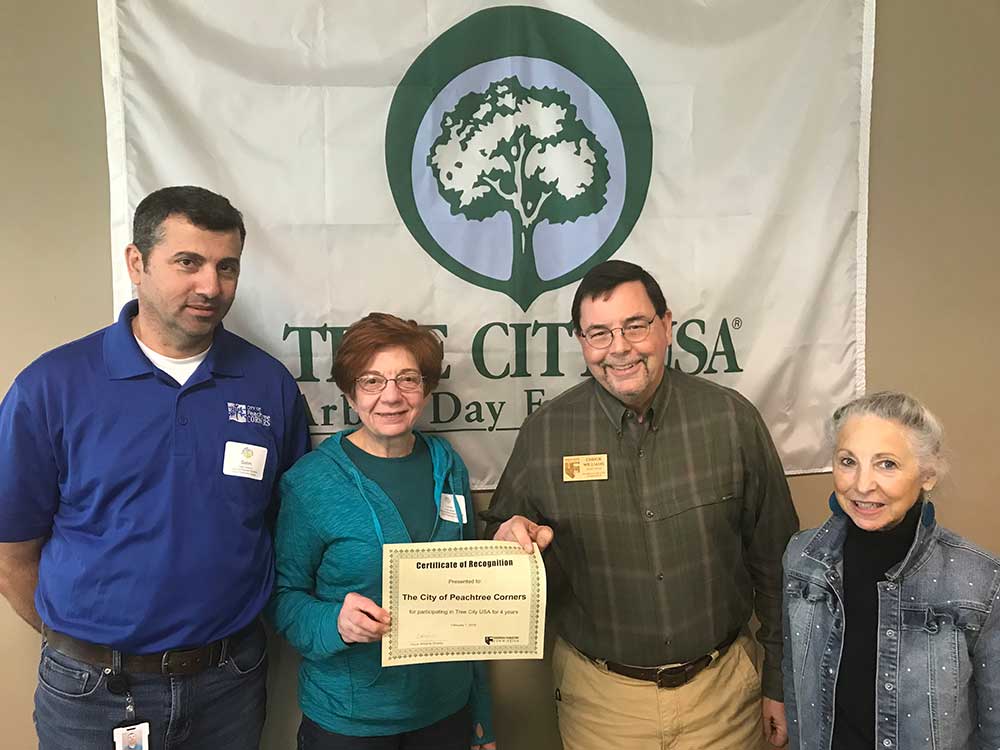 It's the young city's fourth consecutive certification
Gwinnett County's largest city, Peachtree Corners, was among 20 Georgia cities recently honored as one of the state's "Tree City USA" communities. This is the fourth successive certification received by the 6-year-old city.
Peachtree Corners, which was incorporated July 1, 2012, was recognized February 7 during the 2019 State Arbor Day celebration at Trees Atlanta for its commitment to caring for and managing its public trees. Residents Lorri Backer and Hilary Wilson, along with Salim Maalouf, the city's Land Development Inspector, represented the city during the event.
Tree City USA provides the framework for community forestry management in cities and town nationwide that meet certain requirements, including the establishment of a tree board or department, a community tree ordinance, specific spending levels for urban forestry and planned Arbor Day celebrations.
"Our citizens who make up the city's Green Committee are to be commended for their efforts, said Mayor Mike Mason. "It is indeed an honor that Peachtree Corners has been recognized for a fourth consecutive year."
There are 155 Tree Cities USA in Georgia, and nearly 30 percent of the state's population lives in a Tree City. Nationwide, more than 3,400 Tree City USA communities serve as home to about 135 million Americans.
"Trees connect all of us," said Georgia Forestry Commission Director Chuck Williams. "Trees clean our air, filter our water, spur economic growth and provide countless opportunities to enjoy recreation, contributing to a better quality of life."
Peachtree Corners will hold its annual Arbor Day celebration 11 a.m. April 26 at Paul Duke STEM High School.
Feature image: Peachtree Corners Land Development Inspector Salim Maalouf, resident Lorrie Backer, Georgia Forestry Commission Director Chuck Williams and resident Hilary Wilson.
City Issues Proclamation Condemning Racism Ahead of Georgia Assembly Passage of Hate Crimes Bill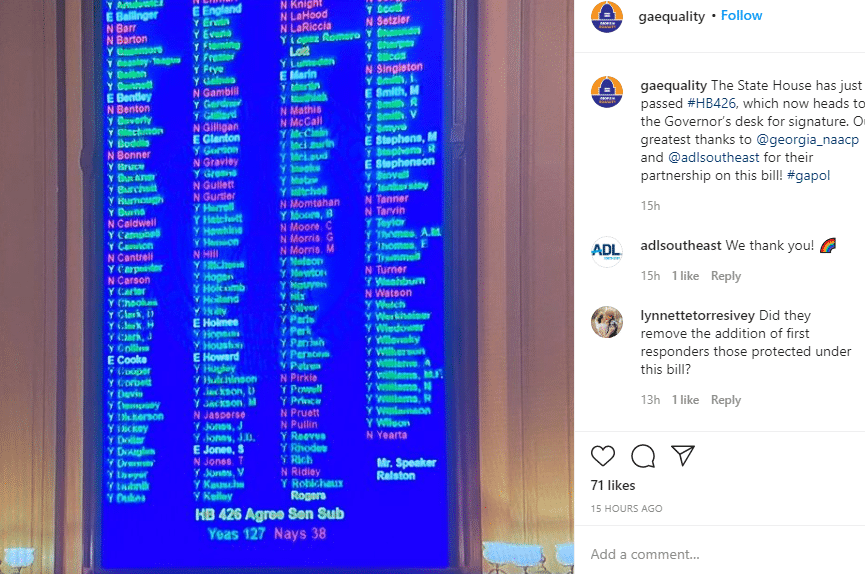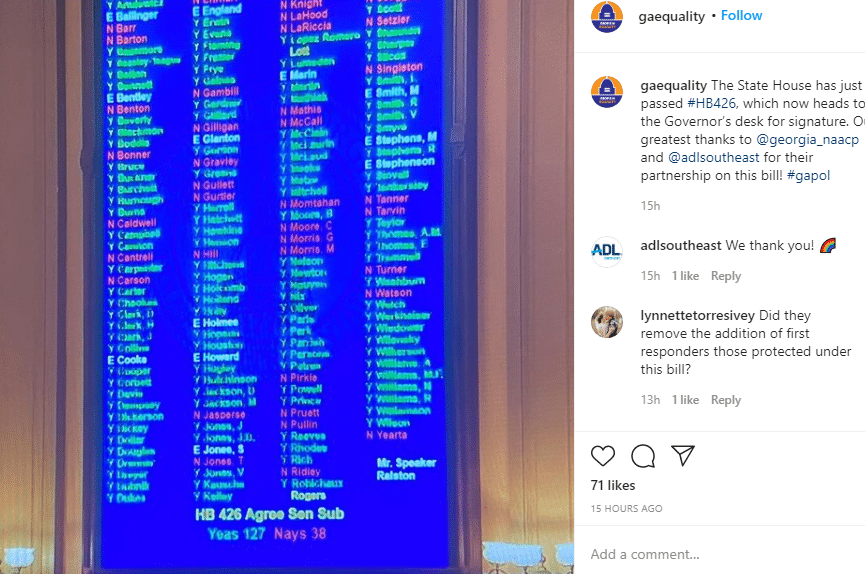 Yesterday, the City of Peachtree Corners issued a proclamation condemning racism and urging the Georgia General Assembly to enact hate crimes legislation.
The Georgia legislature on Tuesday approved a hate crime bill that will allow enhanced criminal penalties for people who target others because of their race, gender, sexual orientation or other reasons.
According to CNN, Gov. Brian Kemp's communications director tweeted that Kemp would sign the bill, pending legal review.
The Georgia State Senate press office, HB 426 passed by a vote of 47-6 and was immediately transmitted to the House. The House voted 127-38 to pass the bill.
Georgia has been one of four states without a hate crime law.
The GA House Bill is here [PDF]
An Important Message from Mayor Mike Mason
Mayor Mike Mason addresses the citizens of Peachtree Corners and updates them about the status of COVID-19 in Gwinnett County and the new rules for the now open City Hall, as well as important agenda items for the upcoming City Council meeting.
He also covers other major issues affecting Peachtree Corners such as the reopening of Town Center, Town Green and upcoming events such as the Night Market and Yoga on the Green, not including any July 4th Celebrations as Gwinnett County is not allowing those.
Mason also discusses his willingness to listen and learn during increasing racial tensions. Peachtree Corners falls under Gwinnett County Police jurisdiction. He has been assured that they are trained and held to the highest standards, which can be reviewed on their website. Prior to and during the renewed interest in the Black Lives Matter movement, Gwinnett County Police and others have been taking a closer look at their policies to ensure fair treatment of all citizens, not necessarily in response to this movement but out of an ongoing desire to improve.
For more videos from Mayor Mike Mason and other Peachtree Corners officials, please stay tuned to Peachtree Corners Network.
City Announces Town Green Events to Begin in July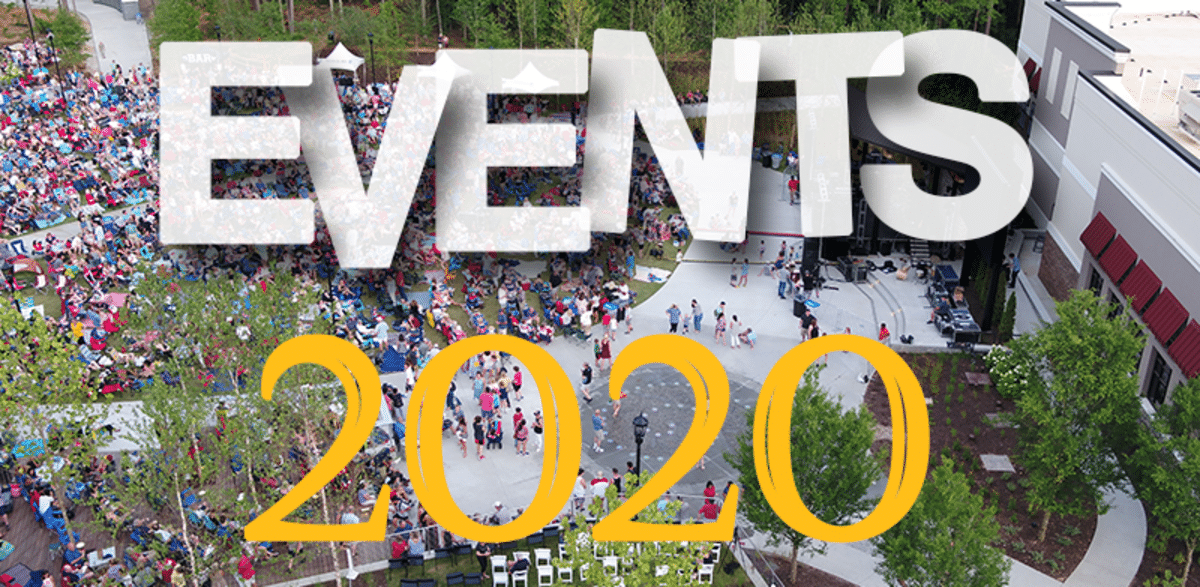 With the state's new directives that lift many of its previous restrictions and following Gwinnett County's lead, the city has announced it will begin its 2020 event schedule in July. The events include a new event, a Night Market on Friday, July 10, followed by Flicks on the Green on July 11, Classic Sports on the Screen, July 18 and a live concert featuring Electric Avenue, a 1980's pop tribute band, on July 25.
To ensure everyone's safety, the city has incorporated some modifications: Six-foot social
distancing and face masks will be required.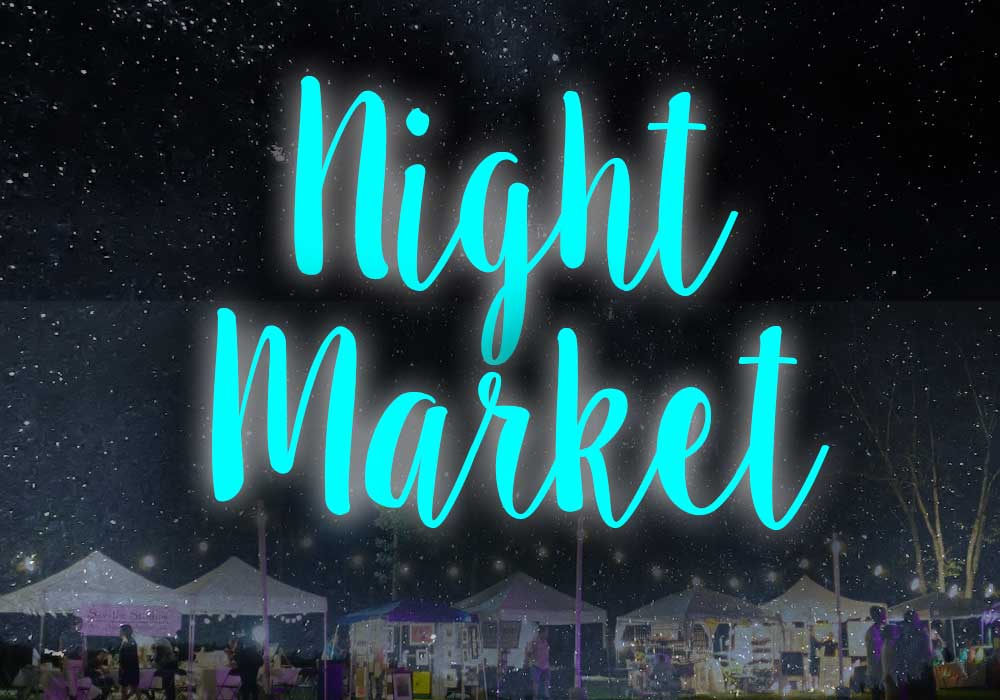 The Night Market; held 6:30 – 9:30 p.m., features local farmers with fruits, vegetables,
gardeners with fresh flowers and herbs, and edible home goods from desserts and breads to
homemade sauces, jellies and soaps for sale. The booths will be spaced to ensure all attendees
are able to maintain social distancing while they shop.
Attendees will also enjoy live music provided by 42 Coldplay Tribute band.
For lawn events, such as those that feature watching movies and concerts, large white circles
will be painted on the Town Green's grass for use by families and groups so all may enjoy their
time together while maintaining social distancing. The circles will accommodate family and
groups and will be spaced six feet apart.
For concerts, the city is incorporating a no-cost reservation system in order to maintain safety
and crowd control. Space will be limited, and reservations will be taken on a "first come-first
served" basis. The no-cost reservation system for concerts will be activated in mid-July.
What a difference a year makes
After kicking off its inaugural event season in April 2019 which, by every measure, was a rousing
success, the anticipated 2020 season was delayed due to the state's mandatory shelter-in-place
order that began in March. Some of the April, May and June events have been rescheduled for
later in the year.
The city is pleased to offer a number of favorites from last year including its big concert series
that features Electric Avenue, July 25; Texas Flood, Aug. 29; Drivin N Cryin, Sept. 26 and Marcy
Playground on Oct 17.
This year's list of special events includes:
• Derby Party: Sept. 5, 6 – 9 p.m.
• Bark in the Park: Sept. 14, 11 a.m. – 1 p.m.
• Harvest Fest: Oct. 24, 4 – 7 p.m.
• Veterans Day: Nov. 11, 11 a.m. – 12 p.m.
• Holiday Glow on the Green: Dec. 4, 6 – 9 p.m.
The city's revised 2020 Calendar of Events is available here. It is also accessible on the city's
website under the "Town Center Events" tab. Please check the city calendar regularly for
updated event information.
Please note, the safety modifications referenced in the second paragraph (i.e. mandatory face
masks and six-foot social distancing), are subject to change as the COVID-19 public health risk
changes.
Source: Press Release from the City of Peachtree Corners