Outdoor Burn Ban Ends, But Still Limited in Gwinnett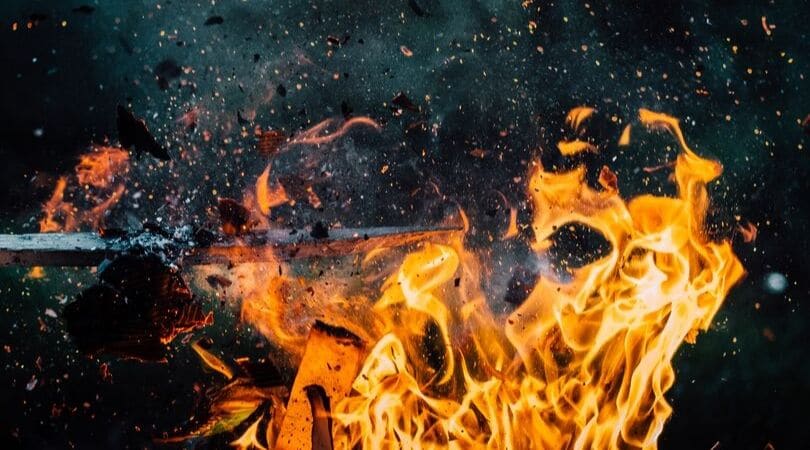 The annual ban on outdoor burning put in place by the Georgia Environmental Protection Division has now ended, but Gwinnett residents must still take precautions and check whether burning is allowed before burning yard debris or hosting bonfires.
The annual summer ban restricts open burning in metro Atlanta and larger counties between May 1 and September 30 to comply with Federal Clean Air Regulations.
Even though the ban is now lifted, burning may still be restricted on a given day due to weather conditions and in accordance with High Fire Danger Warnings from the National Weather Service or Red Flag Warnings from the Georgia Forestry Commission. Recent drought conditions may also impact when and if outdoor burning is allowed.
Residents who wish to burn limited amounts of yard debris are allowed to do so between October 1 and April 30, but are required to follow County ordinance restrictions that cover all types of outdoor burning. Residents should review the outdoor burning ordinance and take required safety precautions before burning to reduce the potential risks of outdoor burning.
The types of fires that are allowed without a permit are:
The burning of leaves, limbs, and natural vegetation that may fall on one's property.
Fires for the purpose of keeping warm when the outdoor temperature is 50-degrees or less.
Fires for the purpose of cooking food for human consumption.
Recreational fires in commercially available chimineas or outdoor fireplaces.
The types of fires that require written permits from Gwinnett County Fire Plan Review are:
Land clearing pit fires.
Bonfires.
The following general rules govern all outdoor burning:
Never leave an outdoor fire unattended.
Have a water hose or other means available to control the fire.
The Fire Marshal's Office may temporarily prohibit any and/or all outdoor fires.
Burning is not permitted when prevailing winds are predicted to be, or are, in excess of 15 miles per hour, when the National Weather Service issues a Red Flag Warning or a Fire Weather Watch, or during an air pollution episode, such as an air pollution alert, warning or emergency declared by proper authorities. You also must wait at least 24-hours (one-day) following the passage of a cold front before burning.
No burning of solid waste or household garbage is allowed. No burning of any materials that emit a heavy dark smoke, such as rubber products, oils, roofing material and petroleum-based products, etc.
No burning when smoke presents a health hazard to persons near the fire.
No burning within 25-feet of a property line.
No burning shall be conducted within 20 feet of flammable or combustible materials (inclusive of homes, outdoor structures and decks) or in close proximity of explosive materials unless otherwise specified by the Fire Marshal's Office.
No outdoor burning of limbs, leaves and yard debris is allowed on Sundays or at night. Any burning limbs, leaves or yard debris must be completely extinguished by nightfall.
Compliant bonfires, cooking fires and recreational fires in chimineas and outdoor fireplaces may be burned at any time provided all other criteria and restrictions are applied.
In addition to the rules listed above, there are certain times during the outdoor burning period that may be designated as a "NO BURN" day due to weather conditions or Red Flag Warnings from the Georgia Forestry Commission. Outdoor burning may also be restricted in certain areas of the county where a medical burn ban area has been established.
Visit www.gwinnettfiremarshal.comfor more information and to see a brochure covering safe burning practices for outdoor and open burning. You can also contact the Gwinnett Fire Community Risk Reduction Division-Fire Marshal's Office at (678) 518-4980 and select Option 3 for the Burn Information Line, or call the outdoor burn line at (678) 518-4979. Information on outdoor burning is updated daily by 9 a.m. both online and through the outdoor burn line.
Construction on Pedestrian Bridge Underway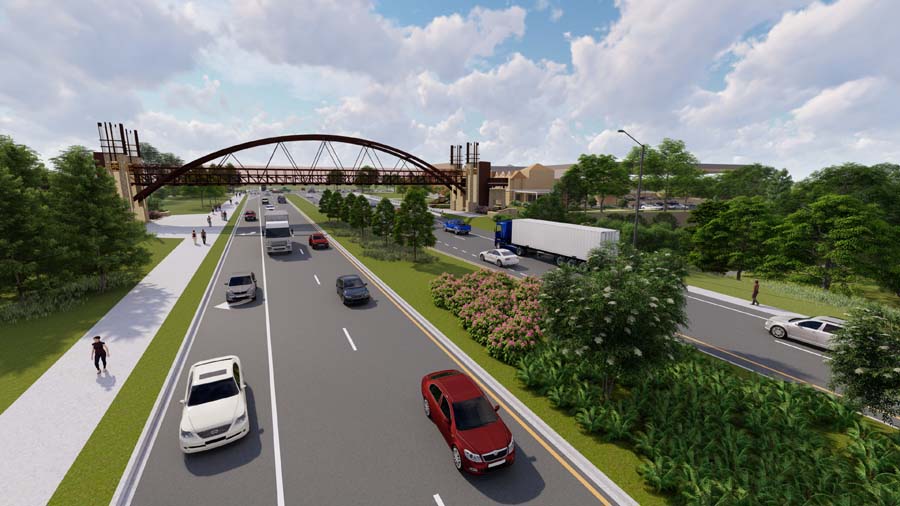 The Peachtree Parkway Pedestrian Bridge is now under construction thanks to the recent permit approval from the Georgia Department of Transportation. Construction is scheduled to continue for the next 14-16 months until completion.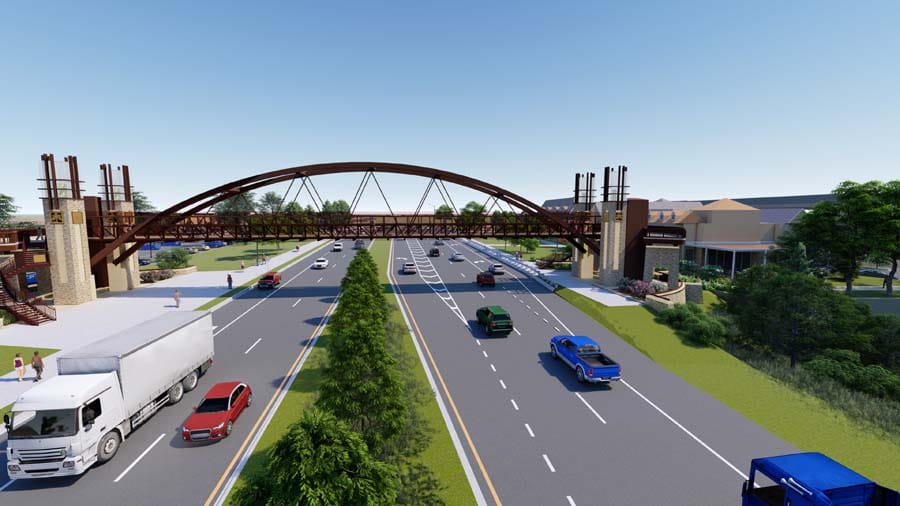 It will be a steel, thrust arch bridge connecting the multi-use path on the west side to the east side of State Route 141 that separates the Town Center and Forum developments. The design of the pedestrian bridge is intended to be a tribute to Jones Bridge, which stretched across the Chattahoochee River for decades and served as a namesake for many of the amenities and roads in the Peachtree Corners community.
Concrete barricades have been installed along northbound and southbound Peachtree Parkway that provides protection between the construction work zone and vehicular traffic. Lane closures or traffic interruptions are not anticipated, but any construction activities that require impact to the vehicular lanes will be kept to a minimum during off-peak hours only, and no permanent or long-term lane closures will be involved.
Initial construction for this project will involve driving piles for the foundation of the structural towers on each side of the bridge. The structure itself is being manufactured now and it will be delivered and installed in Spring 2020.
The installation process will require lane closures over a weekend, and information on that process and plans for detours will be disseminated as that information is finalized and the calendar approaches the scheduled dates for the work.
Volunteers Needed at County's America Recycles Day Event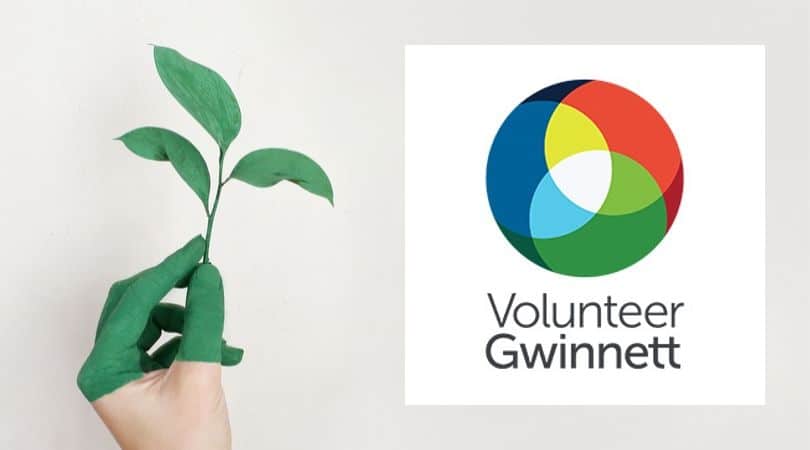 Help Gwinnett County maintain a sustainable environment by volunteering at the annual America Recycles Day event Saturday, Nov. 9 from 9am to 12pm at Coolray Field.
Gwinnett residents are invited to recycle paper, paint, electronics, tires, clothing, sneakers and ink/toner cartridges. Volunteers ages 14 and up are needed to unload vehicles, break down boxes, distribute recycling information and support other America Recycles Day activities.
The event is rain or shine. Volunteers should register at www.VolunteerGwinnett.net.
For more information, please contact Gwinnett Clean & Beautiful at (770) 822-5187 or email gwinnettcb@gwinnettcb.org.
Coolray Field is located at 2500 Buford Drive in Lawrenceville.
Prime Lunchtime with Brian Johnson – Olli, Autonomous Vehicles, 5G and Smart City