Four Upcoming School Plays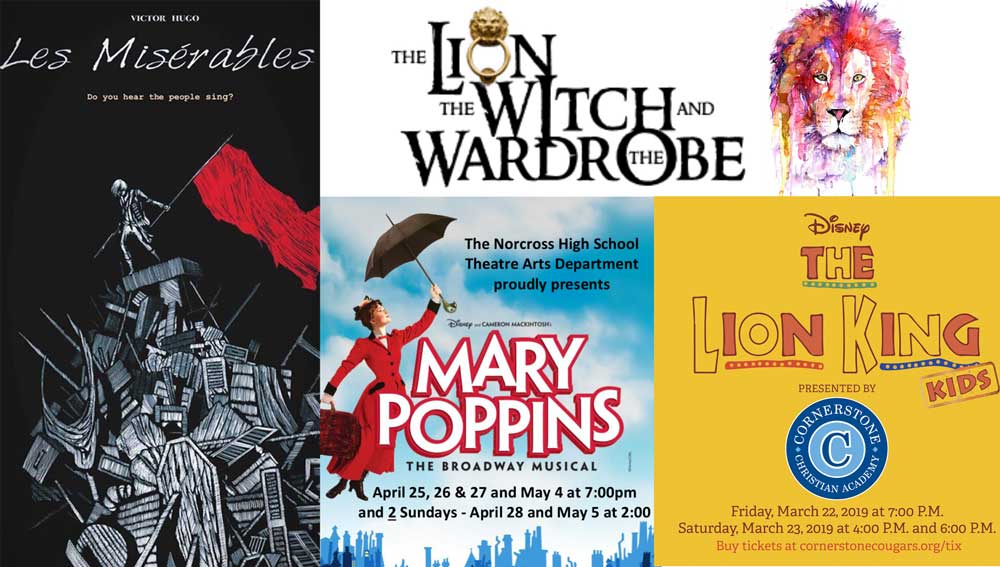 Plays from Duluth and Norcross High Schools and from Greater Atlanta Christian School and Cornerstone Christian Academy
Les Miserables
March 7, 8 & 9
Greater Atlanta Christian School
1575 Indian Trail Road, Norcross 30093
770-243-2000
greateratlantachristian.org
King's Gate Theatre players perform this epic classic that showcases the fight for justice, love, freedom, and redemption. In impoverished and diseased France, Jean Val Jean is haunted by his past convictions and hunted by Javert, a man with a vendetta.
Disney The Lion King Kids
March 22 & 23
Cornerstone Christian Academy
5295 Triangle Parkway, Peachtree Corners 30092
770-441-9222
Cornerstonecougars.org
The African savannah comes to life on the Cornerstone stage with Simba, Rafiki and an unforgettable cast of characters as they journey from Pride Rock to the jungle… and back again, in this inspiring, coming-of-age tale.
The Lion, the Witch and the Wardrobe
APRIL 12, 2019 @ 7 PM
APRIL 13, 2019 @ 7 PM
​APRIL 14, 2019 @ 3 PM
Duluth High School
3737 Brock Road
Duluth, GA 30096-2724
(770) 476-5206
duluththeatre.weebly.com/
Mary Poppins: The Broadway Musical
April 25-28 and May 4 & 5
Norcross High School Auditorium
5300 Spalding Drive, Norcross 30092
770-447-2667
nhs-drama.com

Everyone's favorite practically perfect nanny takes the stage as the Norcross High School Players present this Supercalifragilisticexpialidocious musical adventure. The show is perfect for family night or a fun sing-along with friends. Tickets are $7 for students and children, $10 for adults and $15 for premium.
Gwinnett County Health and Human Services Offers Family Fun and Low-Cost Immunizations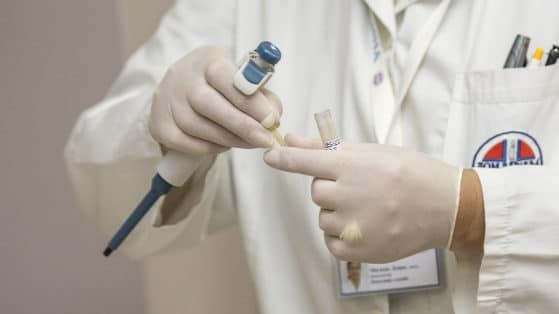 Gwinnett County Health and Human Services is helping families get ready for the back-to-school season with Health Hero Day at OneStop Norcross Saturday, July 20 from 8 a.m. until noon.
The Gwinnett Health Department will offer low-cost immunizations and health screenings, and Gwinnett County Public Schools will provide early learning and education tools. Free activities include a kid zone play area, family resources and giveaways. A WIC farmers market will be onsite for those looking for healthy options.
"We are pleased to host Health Hero Day just in time for school registration," said Health and Human Services Division Director Regina Miller. "We are thankful for our many partners who are dedicated to the health and well-being of our community."
The Gwinnett County Health Department will be providing immunizations and health screenings as required by Gwinnett County Public Schools. "It can be difficult for parents and children to fulfill this requirement during the weekday so we are excited to provide this opportunity on a day that may be more convenient for them," said Miller. "We are expecting a good turnout at the Health Hero Day event and encourage people to come early to ensure they receive their immunizations and screenings."
OneStop Norcross is located at 5030 Georgia Belle Court, Norcross. You can find more information at www.GwinnettHumanServices.com.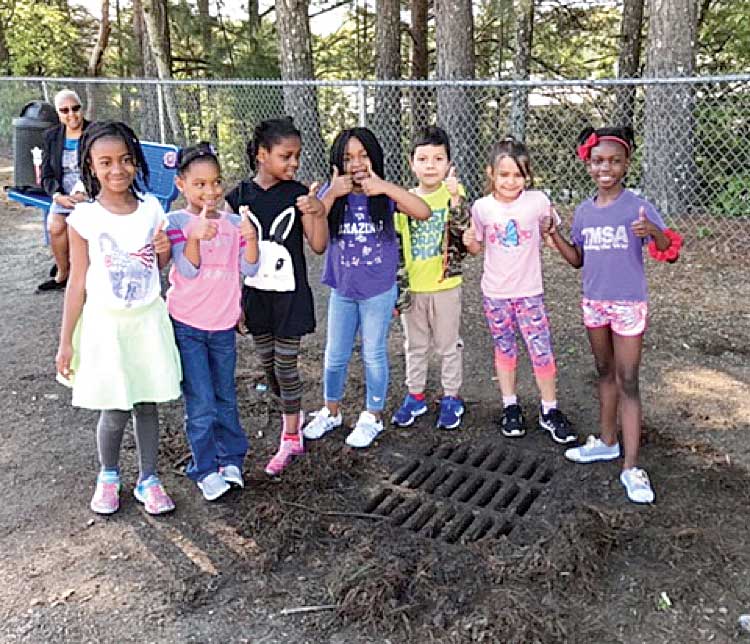 IB Programme takes local schools to an international level
Several Gwinnett Public Schools in Peachtree Corners offer an innovative, challenging program to eligible students — the prestigious International Baccalaureate® (IB) Programme. The Programme is respected world-wide and has become a factor in drawing corporate interest and talent to the area.
Developed in 1968, the IB Programme was designed to establish preparatory school standards recognized by European universities and to prepare students for higher-level studies. The program has been in authorized American schools since 1980.
What's different about the program is that it promotes inquiry and encourages students to think critically and challenge assumptions. And it's cohesive. Courses in the IB Programme don't stand alone; critical thinking builds between subjects and looks at the whole curriculum. This approach encourages students to consider subjects in local, national and global contexts.
Peachtree Elementary School was authorized as an IB Primary Years Programme (PYP) school in May 2010. It was one of the first public elementary schools to achieve authorization in Georgia.
Brian Ginley, IB Coordinator at Peachtree Elementary, explained that the IB Programme is a framework for organizing curriculum and instructional practices. Designed for students aged 3-12, the PYP challenges students to think for themselves and take responsibility for their learning as they investigate local and global issues.
"It's not a specific curriculum," he said. "Peachtree Elementary organizes the Gwinnett County Academic Knowledge and Skills in transdisciplinary units that are conceptually based. The PYP promotes the use of inquiry as an instructional tool to foster student questioning and taking ownership of their learning."
Earning the authorization created a continuum from Peachtree Elementary to the Middle Years Programme at Pinckneyville Middle School and Norcross High School, and the Diploma Programme at Norcross High School. That means students can attend classes in the IB Programme from Kindergarten through 12th grade to earn an IB diploma, which is recognized and respected by the world's leading universities.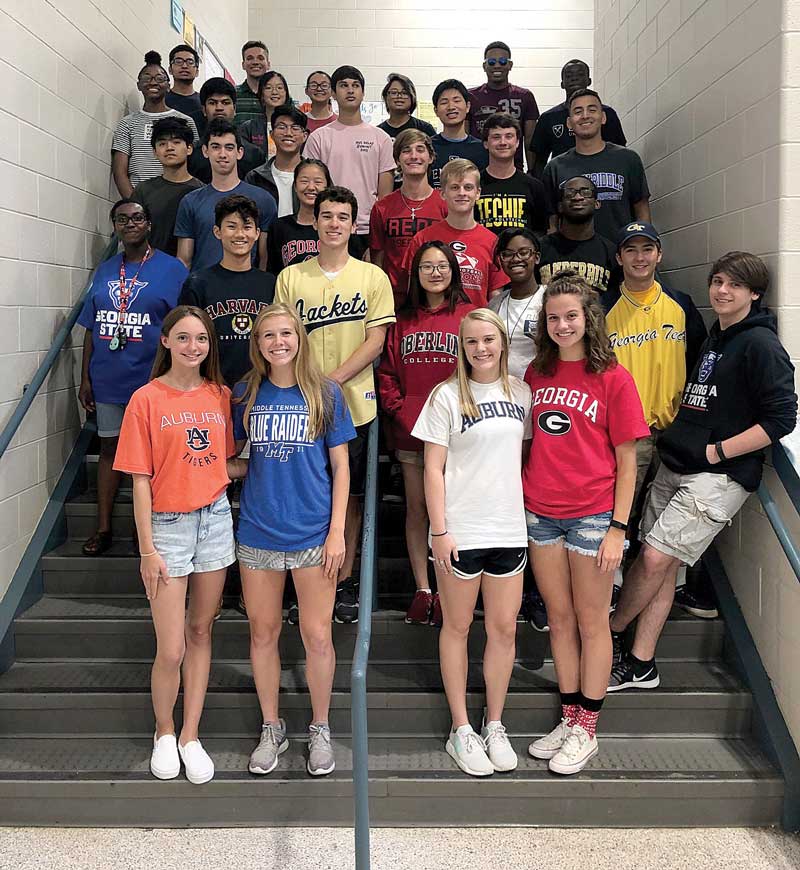 Sloan Roach, Gwinnett County Public Schools Executive Director of Communication and Media Relations, said that Norcross High School began offering the IB Programme in 1999 as a means of providing additional rigor to its students.
"As a leading International Baccalaureate school, Norcross High offers the Diploma Programme and Middle Years Programme," Roach explained. "Both Pinckneyville and Summerour middle schools participate in the Middle Years Programme and Peachtree Elementary offers the Primary Years Programme, providing a K-12 IB opportunity for students in the Norcross Cluster." The school system also offers IB opportunities in the Shiloh Cluster, she added.
Students at Norcross High School who participate in the IB Programme throughout their school experience have an extremely high success rate when compared to the state, national and world passage rates, according to Roach. "At Norcross in May 2018, 95% of our students received a passing score on IB exams compared to 61% in Georgia, 69% in the U.S. and 78% in the world," she said.
Norcross High Principal Will Bishop and his IB team shared their insights. They said that students who have been through the IB Programme, when they return from college, report how well prepared they are compared to their classmates, even those who are going to elite colleges.
"They believe they're getting a top-notch education at Norcross High School," they said. "Like the students, parents feel that their children are well prepared to perform at top-level colleges. They believe critical thinking applies to life beyond school."
And what do the teachers think about the IB program? Teachers enjoy the inquiry approach to learning. "I make the doing easy, but the thinking hard," said teacher Natalie Dixon.
The community at large benefits, too. As sophomores, Norcross High students have the opportunity to complete a personal project. In fact, several projects have turned into events that improve local communities, such as the Blue Devil Run.
The IB Programme PYP also encourages elementary school students to take action and make positive differences. Ginley gave an example from one of Peachtree Elementary's first-grade classes.
"This spring, during a recess, the students observed that the storm drain was covered by debris from a recent rain. They wondered if this might have a negative effect on animals," he said. "The students took action by clearing the debris from the storm drain. This is just one example of our students looking to make Peachtree Elementary and our world a better place for all." ■
Meet the Mayors ….a panel discussion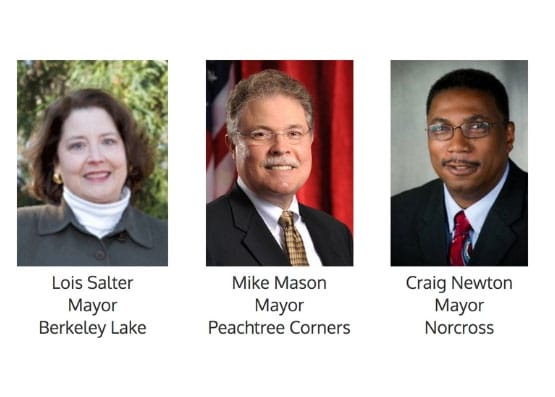 With Gwinnett poised for major economic development in the coming years, business owners in the Southwest sector of the County are curious about local impact and upcoming opportunities.
On July 12, 2019, from 7:30am – 9:00am at the Hilton Atlanta Northeast, the Southwest Gwinnett Chamber's monthly breakfast meeting agenda will highlight a panel discussion with the mayors of Berkeley Lake, Norcross and Peachtree Corners.
The discussion is intended as an opportunity for area stakeholders to learn how their municipal leaders are addressing concerns and representing economic interests at the local, County and metro levels.
Mayor Lois Salter (Berkeley Lake), Mayor Craig Newton (Norcross) and Mayor Mike Mason (Peachtree Corners) represent cities touting both one of the biggest and smallest populations in Gwinnett, as well one of the County's newest and oldest incorporated municipalities.
The panel will address concerns that cross town boundaries and potentially impact the area's overall economic health in 2019 and beyond. Mr. Jim Woods will moderate the discussion, posing pre-submitted questions as well as local- and County-level questions from the audience. "
This is a great opportunity for our audience to be engaged in the direction being taken by our community," said Southwest Gwinnett Chamber chairman Weare Gratwick.
Reservations are recommended for this event and should be made no later than noon on Thursday, July 11. (ticket purchases at the door are subject to availability of seating.) To register, visit www.southwestgwinnettchamber.com or email Beth Coffey at bcoffey@southwestgwinnettchamber.org.
ABOUT THE SOUTHWEST GWINNETT CHAMBER: The Southwest Gwinnett Chamber of Commerce is a voluntary partnership of business and professional people working together to build a healthy economy and to improve the quality of life in Berkeley Lake, Norcross and Peachtree Corners. The organization's broad objectives include (but are not limited to) increasing job opportunities and economic prosperity in the Southwest sector of Gwinnett County, providing a forum for addressing issues of importance to the area, and to represent the economic interests of these three communities at County and regional levels.