Great Spaces: Atlanta Tech Park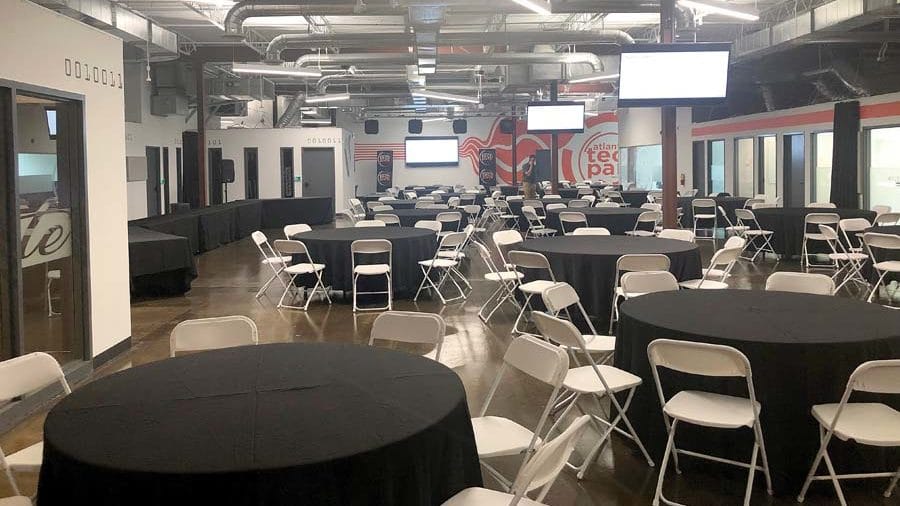 One of Fourteen included in Our Great Spaces for Your Corporate & Holiday Events
Atlanta Tech Park
107 Technology Pkwy, Peachtree Corners 30092
404-797-1221, atlantatechpark.com
Home to tech businesses that have graduated from the incubator phase and are now seeking to grow their companies to the next level in this modern, techy, coworking space and accelerator, Atlanta Tech Park also hosts events for lovers of their industrial atmosphere. Program Coordinator, Emily Pitman, filled me in on all of the ins and outs of hosting a party here.
Picture exposed beams and ductwork in the soaring ceilings, glazed cement floors, bright orange accents like the metal frame installation at the front entrance and giant logo decals on the walls inside. Outdoor space is also available for your event.
An Accelerated Sleigh Ride into the Holiday Spirit.
There are space options at Tech Park to meet every need, from a conference room for a small group, to the Event Hall which can hold 500 people at round tables for a seated dinner (8-10 per table). Standing events can range from 100-700 people here. If you're not featuring a buffet or a seated meal, high-tops are available for cocktail style receptions.
It's safe to say all of your audio-visual needs will be met at Tech Park: microphones, speakers, big screens, and four replicating screens throughout the main hall.
The Event Hall is a long hallway surrounded by offices on either side. It can be partitioned-off with black curtains called Pipe and Drape, to give you just the amount of space and intimacy you need. You can choose to blackout the entire hallway, hiding the office spaces from view on either side. If hosting a party in this area, you can have the whole space, including the café area.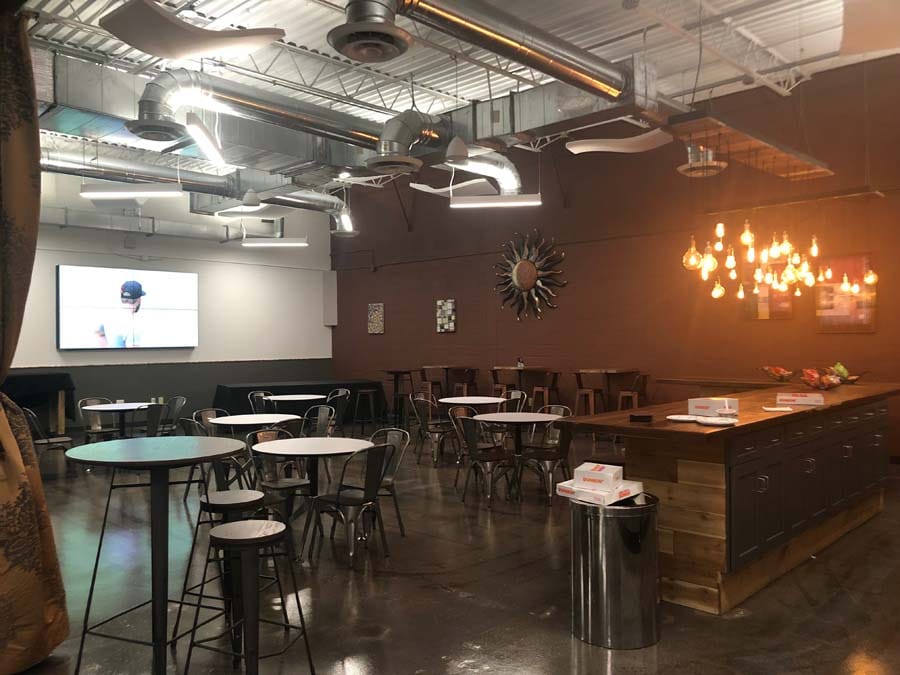 The Café sits at one end of the hall. It's a more casual area where people can sit at small, four-seater tables for a total of 30 people, or a group of 50 can stand and network with space to move outside. It includes an island for the convenience of setting-up catering.
The Private Auditorium allows for six tables of six comfortably for an intimate, seated meal. Standing room only can fit 70. If you need theater-style seating in rows for your corporate function, it can seat 100 in this manner. Alternatively, for a school-style set up with desks and two chairs at each, 40-50 people can be accommodated.
How About a Holiday Party at Atlanta Tech Park?
They don't allow children under 16 so this space would be ideal for corporate or otherwise adult-centered events like galas, meetups, get-togethers, graduation parties, and of course, holiday parties for the techno-savvy crowd!
From cocktail hours and passed hors d'oeuvres with high tops so people can socialize and set down their drinks, to buffets or served and seated meals, they've got you covered. "…served dinners are best for a party of up to 150. If you go past 200 it would take a long time to serve everyone. Typically, bigger events have buffets," said Pitman.
Décor is entirely up to you, Atlanta Tech Park will provide Pipe and Drape, folding chairs, tables, and black linens.
The same goes for catering—with the expectation that they clean-up after themselves—although they are happy to share a list of favorite vendors with you.
They don't have a liquor license, so hosts bring in their own liquor and hire a bartender, or attendees self-pour.
Book it!
People have started booking holiday events since the summer, so although they can be accommodating at short notice if they are available, they advise you to book your date as soon as you have it. "Companies like weekend parties and there are only so many weekends in December," advised Pitman.
On a weekday, it would likely be an after-hours event so as not to disturb those working. On Saturday and Sunday, you can choose your time as needed from as early as 8 a.m., and ending as late as 11 p.m.
The following are quotes meant to give you an idea:
Event Space
Low: $2500—200 people in main event space
Mid: $5000—350 people in the main space, taking-up half the floor
High: $10,000—$11,000 – 500 people taking-up the whole floor
Auditorium and Café
$1500 – $2000
Fees are based on the space used, duration, and the number of people. A more accurate quote for an industrial/tech holiday party can be provided by Program Coordinator, Emily Pitman at 404-797-1221.
Disclaimer: Pricing is meant as a guide and is subject to change, please check with the individual facilities directly.
My Favorite Holiday Foods & Desserts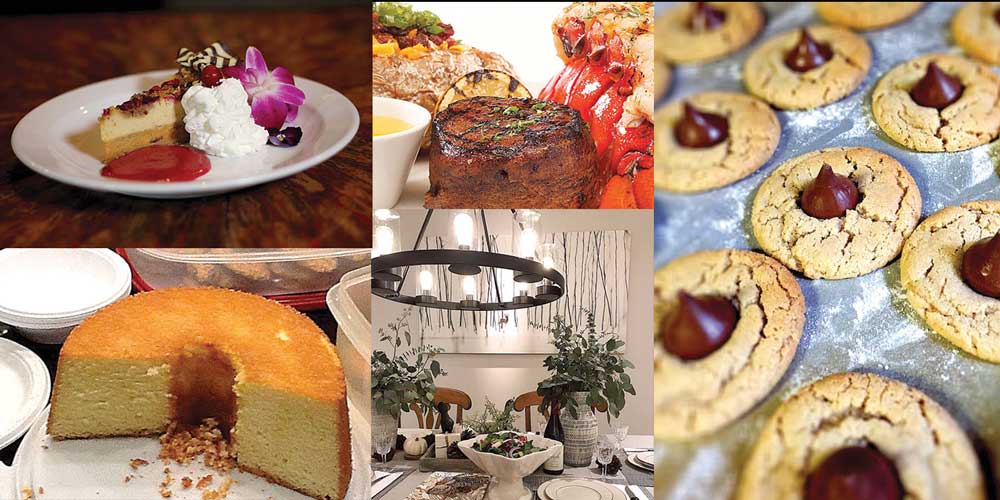 We asked some local people what their favorites were for this holiday season
The Bramble Family
Kyra, Cliff, Stevie, Reid
Owner of Noble Fin
The Bramble Family

Peanut Butter Cookie Kisses
Peanut Butter Cookie Kisses
"One of the joys of making this dessert during the holidays is not the actual eating of these cookies, but the pure look of excitement in our kids' faces. The excitement of gathering all of the ingredients, and the fun of pouring the ingredients into the bowl, making a mess and watching the kids be filled with so much excitement as the cookies get placed into the oven."
---
Debbie Mason
Peachtree Corners
First Lady
While Debbie is involved with many of the city's activities, including the Peachtree Corners Festival, she takes time to bake for her family. She shares this favorite holiday recipe.
Debbie's Sour Cream
Pound Cake

Debbie Mason
Debbie's Sour Cream Pound Cake
2 sticks butter, softened
½ teaspoon baking soda
3 cups sugar
1 cup sour cream
6 eggs
1 teaspoon vanilla extract
3 cups flour
Cream the butter and sugar until light and fluffy. Add the eggs, one at a time, beating well after each. In a different bowl, sift together the flour and baking soda. Then add the flour mixture, alternating with adding the sour cream, beginning and ending with flour. The batter should have taken on a different sheen when it's ready. Add the vanilla and blend well. Pour into a greased and floured tube pan. Bake in a preheated oven at 325 degrees for 90 minutes. Enjoy!
---
Executive Chef Ken Hampton
Hilton Atlanta—Peachtree Corners
Chef Ken Hampton

Cranberry Pumpkin Pie with Berry Coulis

Warm Salted Caramel Vanilla Bean Cake with Peppermint Ice Cream

Pearls Sugar Waffles with Mini Cider Donuts.

Red Velvet Cheesecake with Bourbon Eggnog Crème
"I have been Executive Chef at the Hilton Atlanta—Peachtree Corners Hotel, known as the "Castle on the Hill," for the past nine years, and I've seen tremendous growth in the area. Over the years, several local companies have held their holiday celebrations at our hotel. The holiday season is my favorite time of the year—I love to see the joy and happiness of our customers celebrating the season with co-workers and family.
"Our holiday collection this year includes Red Velvet Cheesecake with Bourbon Eggnog Crème, Warm Salted Caramel Vanilla Bean Cake with Peppermint Ice Cream, Cranberry Pumpkin Pie with Berry Coulis and Pearls Sugar Waffles with Mini Cider Donuts."
---
Gina Solomon
Wesleyan Artist Market
Harvest Salad
"This is, hands down, a sure hit—even for those who typically do not enjoy a salad. The combination of sweet and savory is a crowd pleaser every time. Crisp green apples, toasted pecans and dried cranberries make it a seasonal specialty."
● The salad ingredients include:
● mixed greens lettuce
● sliced red pepper
● cubed Granny Smith apples
● sliced red onion
● toasted pecan halves
● dried cranberries
● crumbled blue cheese
● salted bagel chips and
● homemade dressing of oil, apple cider vinegar, sugar, dried mustard and poppy seeds.
---
Jeanne Aulbach
Peachtree Corners City Council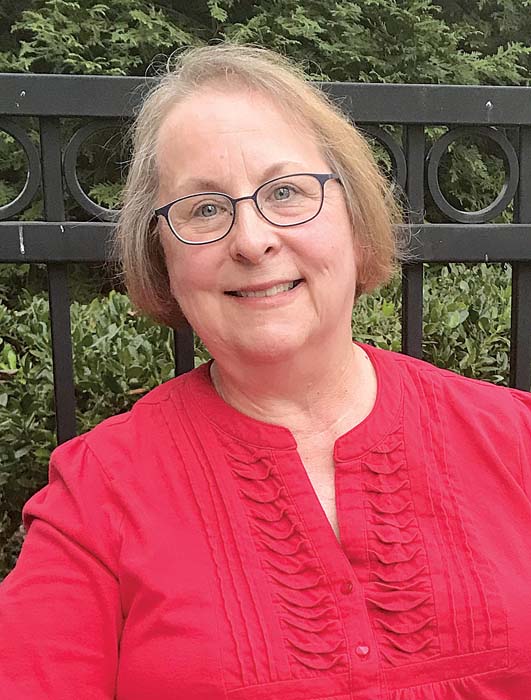 Jeanne likes to keep it basic. "Generally, if I'm hosting for the holidays, I just roast a turkey and fix some candied sweet potatoes, mashed potatoes and succotash. No recipes needed!"
---
Chef Donte Youmans
Firebirds Wood Fired Grill in Peachtree Corners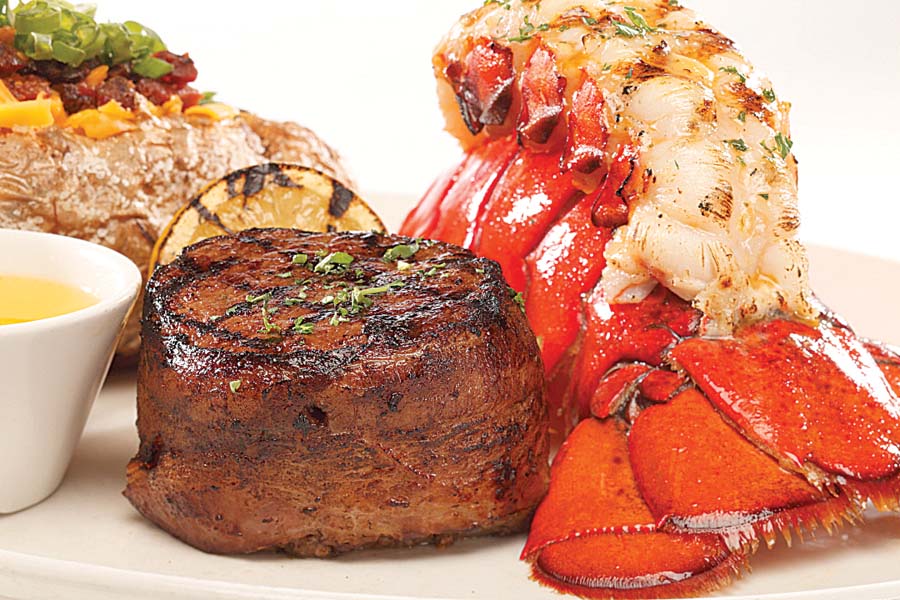 Surf and Turf
If turkey isn't your style, Chef Youmans has a suggestion: try a half-pound lobster tail and a 7-ounce applewood-smoked, bacon-wrapped filet seared over glowing embers of Firebirds' 100% wood fired grill.
"Our Surf and Turf is a special entree combining a flavorful hand-cut filet with a juicy lobster tail grilled to perfection."
Celebrate the Spooky Seask with Family-Friendly Halloween Events at Gwinnett Parks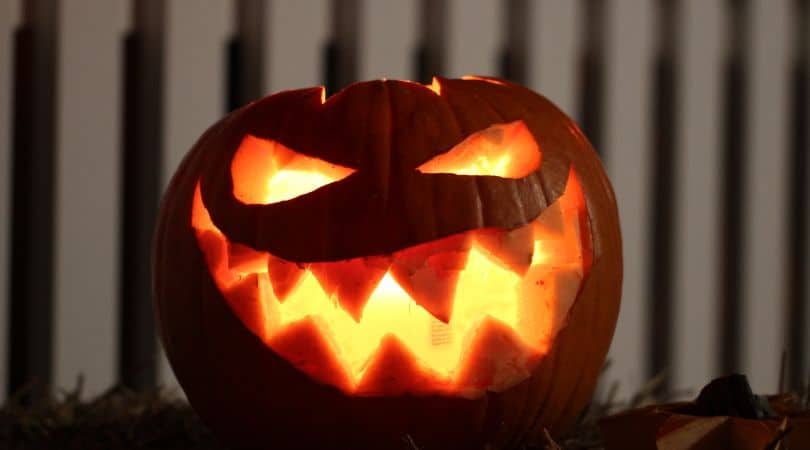 Gwinnett County Parks and Recreation has so many ways to celebrate the haunting season. Some are spine-chilling and others are educational but all are family friendly:
Walk Among the Stars is on Oct. 24, from 6 p.m. to 8 p.m. at Collins Hill Park, 2225 Collins Hill Road, Lawrenceville 30043. Celebrate National Lights on Afterschool at this free event for all ages with costumes, games, crafts, inflatables and more. Visit www.livehealthygwinnett.com or call 770-822-3197 for more information.
Gourd Monsters & Mocktails is Oct. 25, from 2 p.m. to 4 p.m. at Prime Timers Pointe at George Pierce Park, 55 Buford Highway, Suwanee 30024. Create a spooktacular masterpiece while enjoying mocktails and tasty treats! All instructions and materials provided. Ages 50 and older, $5 per person. Preregister by Oct. 22 online with code GPP41901 or call 678-277-0910.
Escape the Room: Teen Edition is on Oct. 25, from 7 p.m. to 9 p.m. at Rhodes Jordan Park Community Recreation Center, 100 East Crogan Street, Lawrenceville 30046. Help solve the mystery, beat the clock and escape. Ages 11 to 14, $10 per person. Preregister by Oct. 21 online with code RJP41605 or call 678-277-0890.
Super Hero Costume Party is on Oct. 26, from 4 p.m. to 7 p.m. at Lilburn Activity Building, 788 Hillcrest Road, Lilburn 30047. Come to this free event dressed as your favorite hero for an afternoon of fun, games, music and more. All ages welcome. Preregister to reserve your spot online with LAB41620 or call 678-277-0875.
Fall Into Halloween is on Oct. 26, from 9:30 a.m. to 12:30 p.m. at Lucky Shoals Park Community Recreation Center, 4651 Britt Road, Norcross 30093. A Halloween festival complete with crafts, games, costume contests and a haunted surprise for everyone. All ages, $3 per person. Preregister online with code LSP41610 or call 678-277-0860.
Harvest Homecoming is on Oct. 26, from noon to 4 p.m. at McDaniel Farm Park, 3251 McDaniel Road, Duluth 30096. A free event with a special trip to the farm for games, face painting and tours. See the furry farm friends, enjoy a hayride, visit vendors and sample some tasty s'mores. All ages, preregister online with code MFP41690 or call 770-822-5450.
Trail of Terror is on Oct. 26, from 6:30 p.m. to 8:30 p.m. at Vines Park, 3500 Oak Grove Road, Loganville 30052. Get your chills and thrills as you experience the shadowy and sinister Phantom Village. All ages, $5 per person. Preregister online with code EXT41700 or call 678-377-4010.
Underwater Pumpkin Patch is on Oct. 26, from 10 a.m. to 1 p.m. at Bethesda Park Aquatic Center, 225 Bethesda Church Road, Lawrenceville 30044. Come find your perfect pumpkin in the pool patch to decorate for our pumpkin contest. All ages, $8 per person. Preregister online by Oct. 18 with code BEP41101 or call 678-277-0880.
Spooktacular Skate Party is on Oct. 26 from, 6:30 p.m. to 8:30 p.m. at Pinckneyville Park Hockey Rink, 4758 South Old Peachtree Road, Peachtree Corners 30071. Create ghoulish crafts, roast marshmallows, participate in a costume contests and more! Free to attend, bring your skates and have some fun. Additional fees may apply. All ages, preregister online with code PVP41690 or call 678-277-0920.
Evening with Edgar Allan Poe is on Oct. 26, from 7 p.m. to 10 p.m. at Lawrenceville Female Seminary, 455 South Perry Street, Lawrenceville 30046. Get into the spooky season with one of the most renowned writers to hear tales that will make your blood run cold! Ages 16 and up, $26 per person. Preregister by Oct. 20 online with code LFS41402 or call 770-822-5178.
Boo Bingo and Potluck is on Oct. 31, from 11:30 a.m. to 1 p.m. at Bethesda Park Senior Center, 225 Bethesda Church Road, Lawrenceville 30044. Dress up in your best Halloween costume, bring a frightfully good potluck dish and enjoy a round of Boo Bingo! Ages 50 and up, $6 per person. Preregister Oct. 29 online with code BEP41908 or call 678-277-0179.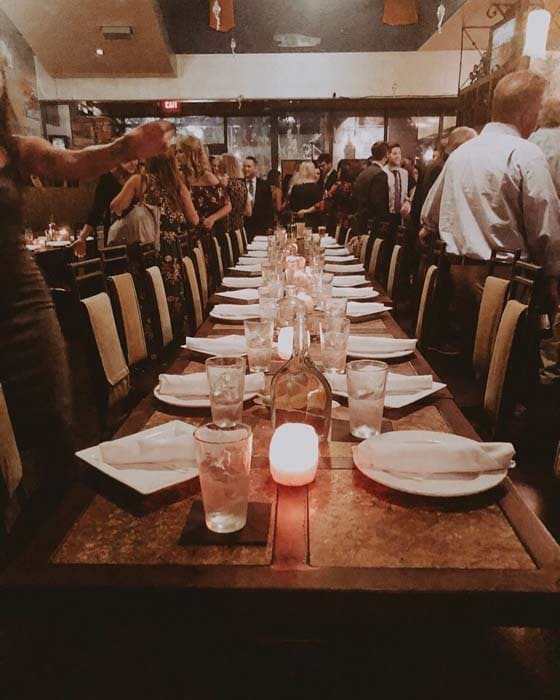 One of Fourteen included in Our Great Spaces for Your Corporate & Holiday Events
Ten Bistro
5005 Peachtree Parkway #820
Peachtree Corners 30092
770-375-8330
tenlocalflavors.com
Ten Bistro is the vision of Owner and Chef Jesse Kauffman who initially spent a long time on the corporate side of the restaurant business. Much of his formation included eight weeks of training in the kitchen, at each new restaurant that he managed.
He comes from a family of foodies; his mother was always very focused on organic, healthy foods, and his grandfather was a life-long baker. He rolled into the restaurant business very naturally.
When this attractive space became available in his community, he jumped at the chance to open his own, and just like that, Kauffman became both a Peachtree Corners resident and restauranteur. Although he didn't realize it at the time, he decided on a brilliant way to get the neighborhood to rally behind him.
He put out the word to the 10 major subdivisions in Peachtree Corners, soliciting favorite recipes from his neighbors. "There's always that one person known for their white chicken chili at the tennis team party," chuckled Kauffman. So in a genuine attempt to find out what his fellow citizens would enjoy eating, his initial menu emerged, complete with the names of the neighbors who had volunteered them and the subdivisions they hailed from.
"So that's where the "10" came from. And Bistro, just because a bistro has everything from French onion soup, to a good fresh fish, to filet mignon, and good organic salads. So that's Ten Bistro!"
The Ten Bistro Noël
Both corporate and family gatherings on the smaller side, which do not necessarily require a private event space, are welcome in the restaurant. If a private function is a requirement, buyout of the restaurant is always an option.
The best number for a party size here is 50 or less—50 would take-up the whole restaurant. They've had parties of up to 65, with some guests spilling over onto the patio, but you can't always count on the weather.
Owner and Chef Jesse Kauffman
How About a Holiday Party with Ten Bistro?
Great news! Kauffman and his team do provide off-site catering for 10-150 people. Call the restaurant to discuss your vision and Ten Bistro can come to you!
For a group reserving the whole restaurant, they'll start off with either passed around appetizers, or set them up on the bar. Envision brie wrapped in puff pastry with pineapple chili marmalade, asparagus fries, pitta and hummus, vegetable crudités, and bruschetta toast points.
Once guests are seated two choices of salad are offered; either Caesar or the House Salad.
Entrees can be served one of two ways; family-style, with guests being served from platters brought out by servers or plated in advance and brought out. For family-style, "servers come out with large platters of truffle mashed potatoes, green beans, and asparagus, and serve everybody. Then we come out with 3 different proteins and everybody can have all of them, like salmon, steak, and chicken. So, you get a nice full plate that we keep serving until people are full," explained Kauffman.
Alternatively, you may develop a menu from which guests will be able to choose one of three entrees if the party is large. If the party is 20 or smaller, guests can have a choice of up to five entrees. "That's where we can include vegan, vegetarian, seafood, chicken, steak, for a nice broad coverage. Then we just plate it, and bring it out," offered Kauffman.
Desserts are the grand finale of either aforementioned scenario. 
Dietary restrictions can be accommodated here. Whether you're a vegetarian, or you're avoiding gluten, or dairy. Meals can be easily made per your request. Because everything is made to order, any undesired ingredients can be easily left off.
Kauffman has always had his finger on the pulse of every food decision at the restaurant. For the past seven years he's shifted his focus from shaking hands and kissing babies in the front of the house to the kitchen even more so. There's a reason the "boutiquey" restaurant is often buzzing.
Artwork from local artists adorns the walls of this eclectic establishment. If you should find a piece that speaks to you, they're for sale – all proceeds go to the artists who created them.
Book it!
Any day is a good day to host a party at Ten Bistro. Kauffman recommends scheduling your holiday season event one month in advance.
From Sunday through Thursday, the group would have to spend $4,000 to rent the whole restaurant. This includes an open bar and a four-course meal.
The buyout price for Friday and Saturday is $5k, including a four-course menu, an open bar, tax and gratuity.
Daytime parties that take place on Saturday or Sunday can be done for much less: $20 per person, with a 20-person minimum.
For smaller groups of 15 to 25 that don't need to rent the whole space for a private venue, it's from $15 to $20 per person for lunch groups. For three course dinners, it's $27 per person, alcohol would not be included. It would be billed separately.
To book your holiday fête or soirée at Ten Bistro, call Owner and Chef Jesse Kauffman at 770-375-8330.
Disclaimer: Pricing is meant as a guide and is subject to change, please check with the individual facilities directly.