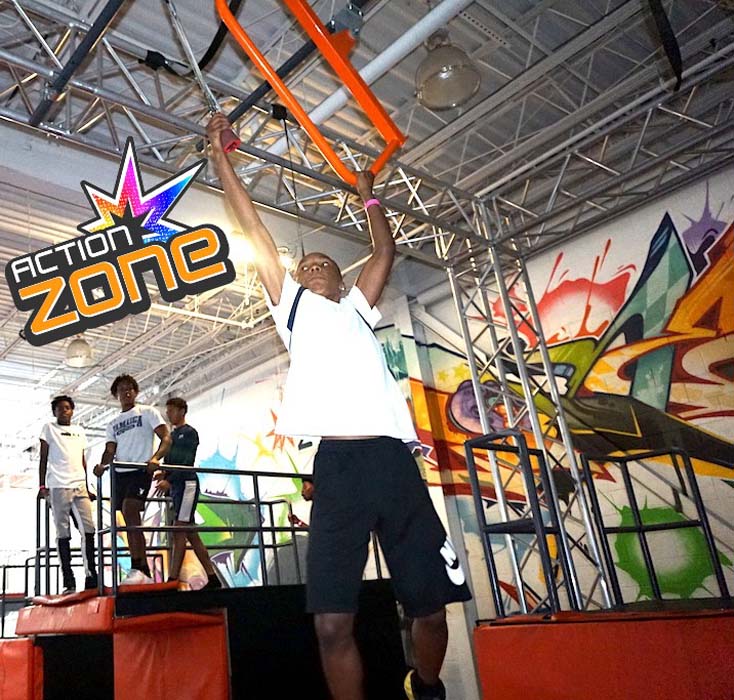 One of Fourteen included in Our Great Spaces for Your Corporate & Holiday Events
Nitro Zone
6344 Cash Court
Peachtree Corners 30071
678-949-3866
nitrozone.com
Who says a corporate or family gathering has to mean a seated meal in a restaurant? Why not entertain the colleagues and the kids – both children and adults who are still kids at heart, and head over to Nitro Zone for some action-packed holiday fun? Nitro Zone offers all the entertainment your coworkers and relatives can possibly handle, in one building.
If you're wondering how this could fit into your holiday plans, Nitro Zone has everything you need for competition-driven, and/or team-building corporate celebrations. And families easily spend 3-4 hours here on average. Eliminate the worry of restless youngsters being seated for a traditional, multigenerational holiday gathering.
Nitro Zone Marketing and Sales Specialist, Kendall Lawrence, informed me that there is something for everyone. The kids are entertained, and when the adults are not joining in the bowling, racing and arcade action, they enjoy the full bar and massage chairs; everyone is happy.
Childhood AND Grown Up Christmas List
The smallest party here would be a party of 10. Conversely, a group as large as 500-750 can be amused for an event at this location. If rotating groups of guests throughout the day, a party can be planned here for up to 2000 people. Buyout for a few hours is an option, you would have to speak to one of their party planners for details.
"Quick Trip had an Employee Appreciation picnic here with 2000 people rotating throughout the day. They had face painters, balloon artists, and bouncy houses for the kids outside. FedEx had a formal Christmas party with white tablecloths…and silver ornaments dressing up the room," recounted Lawrence.
Whether you're seeking a chance at bragging rights, or your team just enjoys cheering each other on, there are plenty of options at Nitro Zone. "It's 127,000 square feet of fun," said Lawrence.
The following activities are sold-by-the-hour options for your event:
The Nitro Speedway go-kart races take place on a high-speed track with dimmed lights. A state-of-the-art timing system allows you to challenge yourself for your best personal time.
Bazooka Ball is a cross between paintball, Nerf Guns, and Laser Tag. Participants wear vests, shoot nerf balls at each other, and light-up when they get hit.
Action Zone includes a Ninja Course, Rope Course, and a Trampoline Park. It's wall-to-wall trampolines. "Picture a game of Trampoline Dodgeball where you can hit your boss in the face and not get in trouble for it," chuckled Lawrence. Bounce and flip into the Foam Pits, or try your hand at a jousting match on a balance beam.
Near Stacks Bar and Grill you'll find Bowling – 14 lanes worth, with interactive touch screens, and Billiards (pool tables) with 24 televisions dedicated to sports.
Arcade video games with the hottest new games and latest technology. "The most popular arcade game is basketball. Everyone loves to show off who's the best."
How About a Holiday Party at Nitro Zone?
From a cocktail hour at the bar with the availability of an additional satellite bar if you wish, to any type of food set-up you'd like for your holiday bash, Nitro Zone's sales team, and event coordinators will make sure the right amount of staff is on-site to make your vision a reality.
Food options vary and depend on the nature of the event you are planning. "We can provide foods like pizza, wings, tacos, and burgers in-house. You may want to have a burger bar, or a taco bar set-up," related Lawrence.
For something more upscale they have a preferred caterer from the Norcross/Tucker area. Their party planners have worked with Moe's, a favorite barbecue place, and Buca di Beppo. Any type of food and service you'd like is possible, as long as you give them enough time to plan accordingly.
In the same manner, any food restrictions you may have can be addressed if they are given proper notice. Lawrence explained, "I can contact our food rep. I ordered kosher wings for a birthday party recently. If we need to outsource something, we'll make sure we do everything we can for the customer." They do have vegetarian options: veggie burger, fries, loaded nachos with no meat. They have a veggie stack, a vegan option, as well as gluten-free options, and dairy-free cheese.
As for desserts, they have cookies in-house, and they are happy to order any desserts you may need. Usually, people bring their own cakes, but they can order those too, if you wish.
Wine, beer, and liquor is available for your party, and you can rent 8-10 tables of 10-12 to set up down the hallway. For larger parties, they offer a buffet style meal with chafing dishes to keep food warm.
Book it!
If you're planning to have a grand, extravagant event at Nitro Zone, you should look into booking two months ahead. For a typical holiday party, a month in advance is advisable, although they've booked socials in as little as two days and even 20 minutes.
Nitro Zone Hours
Monday: Closed
Tuesday: 4 p.m.-9 p.m.
Wednesday: 4 p.m.-9 p.m.
Thursday: 4 p.m.-9 p.m.
Friday: 4 p.m.-11 p.m.
Saturday: 11 a.m.-11 p.m.
Sunday: 11 a.m.-9 p.m.
Parties can be booked during hours of closure with proper notification and sufficient time to plan.
For smaller parties, there is a per person rate. Once you reach 40 or more guests, there is a per hour charge. For reference, you can have 5-6 races on the Speedway in one hour.
Events are sold based on the number of guests, food and beverage selections, and the activities you choose.
Specials
Wednesday: 4 p.m.-9 p.m. unlimited play for $25.
Tuesdays and Thursdays: half off bowling.
Activities are a la carte – you purchase the activities of your choice. You can do all if you time it right, for a little over $50. There are often Groupons available, and you can usually find coupons in the Magazine, Local Flavor.
To give you an idea of the range in cost for activities:
Low: $22 bowling and racing.
Mid: $28-30 two races and one hour of bowling.
High: $35 per person to do Bazooka Ball, racing, unlimited Action Zone, and an hour of bowling.
Buyout: $1250 an hour for Go Karts – depending on the day of the week.
Prices vary from weekday to weekend. A weekend grand package is $35. It's $32 on a weekday. They're willing to negotiate with you as long as they make sure they're covering their costs.
Call Kendall Lawrence, Marketing and Sales Specialist, to inquire about booking your fun-for-all-ages holiday event at Nitro Zone at 678-949-3866.
Disclaimer: Pricing and specials are meant as a guide and is subject to change, please check with the individual facilities directly.
Local Ingredients from Georgia Grown To Go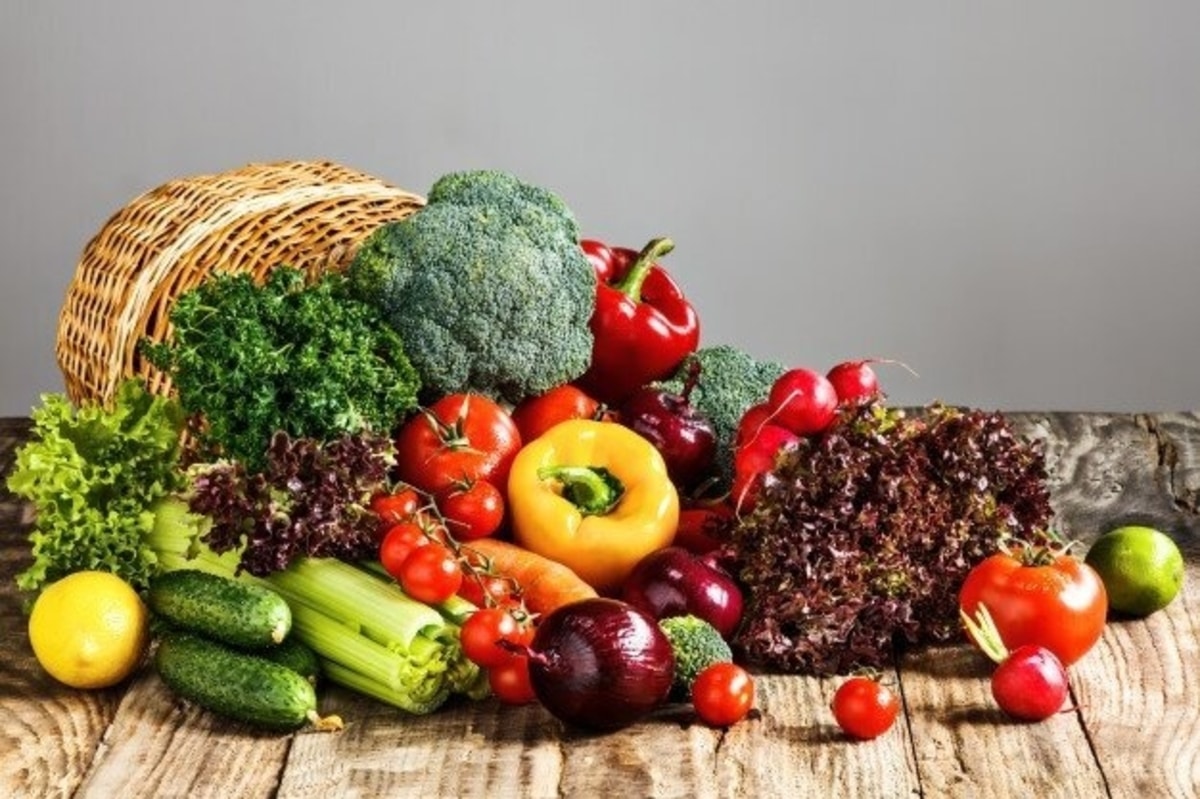 Now is your chance to stock up on fresh, local produce and meat before your Independence Day cookout. Residents can pre-order boxes of produce from local farmers for a reduced rate online at GeorgiaGrownToGo.com. The next event is Tuesday, June 30, 3-7 PM, at 4780 Hugh Howell Road, Tucker, GA.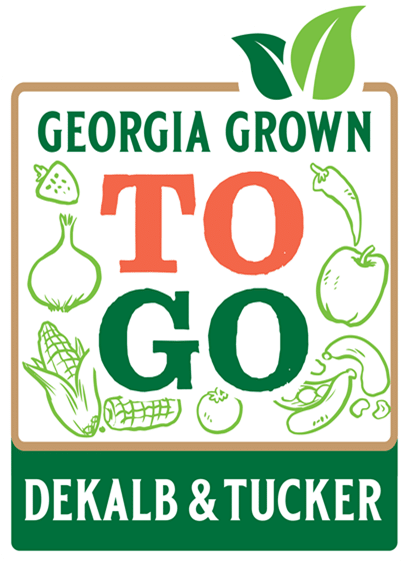 The Georgia Grown baskets will feature these fresh items: Zucchini, Yellow Squash, Bell Peppers, Cucumbers, 2lb of Vidalia Onions, Sweet Corn, Eggplant, Cantaloupe, 1lb of Jalapeno
Other items available for purchase include watermelons and boxes of beef, chicken, sweet corn, peaches, mushrooms and Vidalia onions. Whether you're grilling out or staying in for the holiday, you can support local farmers with these fresh choices.
Orders will be available for contactless pickup at the event site, and a limited supply of items will be available for same day purchase on a first-come, first-served basis. Contactless payment options, cash, credit and debit cards will be accepted. Residents can also support their community by donating a box to a neighbor or local charity.
The last event before this one was hosted in Gwinnett County at Coolray Field Thursday, June 25. Georgia Grown, an initiative of the Georgia Department of Agriculture, partnered with Gwinnett County Government, Live Healthy Gwinnett, the Gwinnett Stripers and Explore Gwinnett to host the event.
"It is because of the great support from our community leaders that our Georgia Grown To Go events have been so widely successful," said Georgia Agriculture Commissioner Gary W. Black. "We are honored to once again team up with the great folks in Gwinnett County to not only help bridge the gap between our farmers and consumers, but to also expand the offerings to include melons, protein and value added Georgia Grown products just in time for the upcoming holiday."
To learn more and place an order for upcoming events, visit GeorgiaGrownToGo.com.
Source: Press Release by Georgia Grown
The New 'Baked Kitchen' Food Truck Serves Safely Throughout Peachtree Corners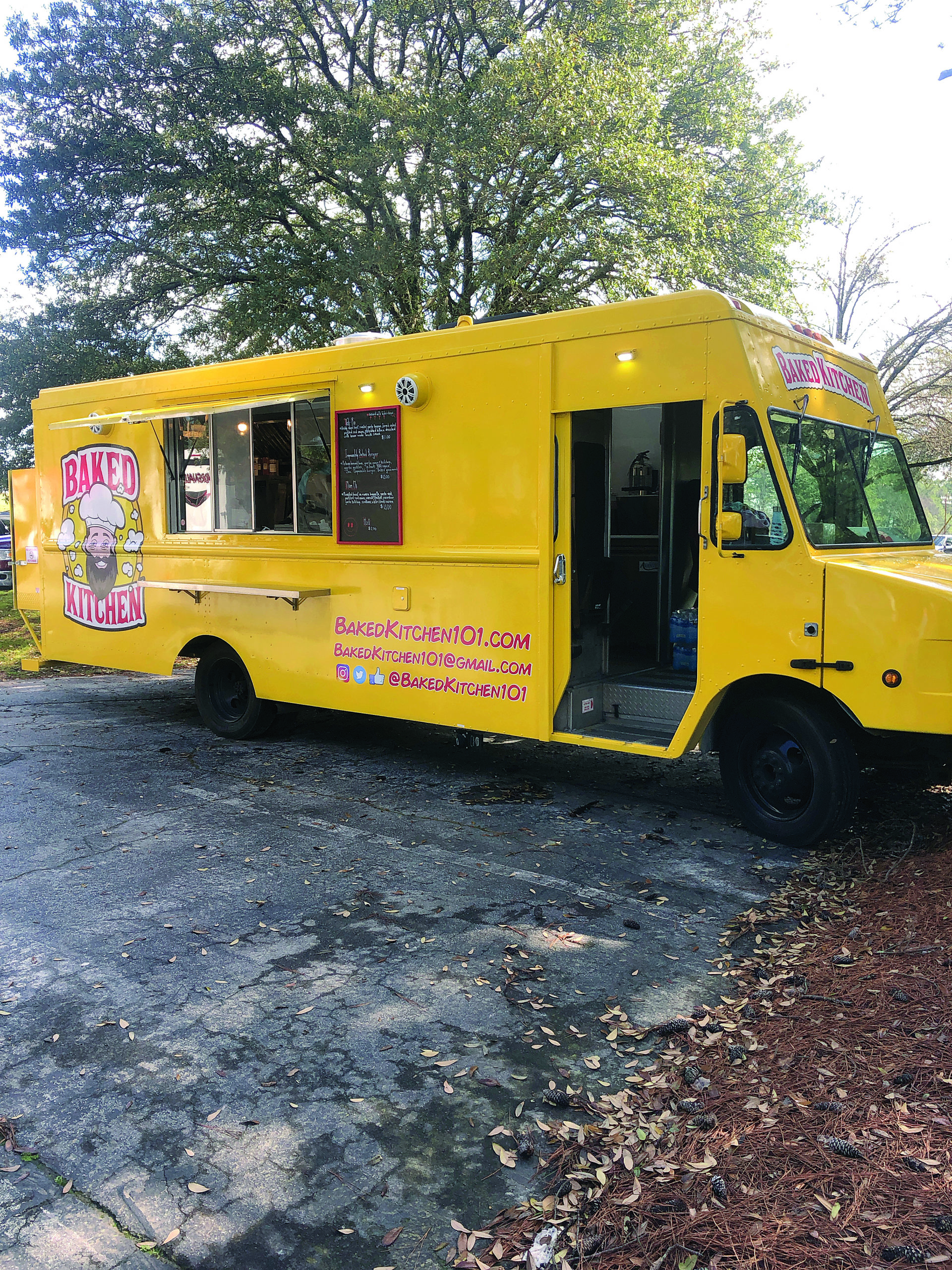 Take a bite out of something different from Baked Kitchen! Their eclectic international menu travels your taste buds, with flavorful wraps, sandwiches and desserts. The Katzef family owners have called Peachtree Corners home for 26 years. In January 2020 they invested in a food truck and started operating their business February 2020.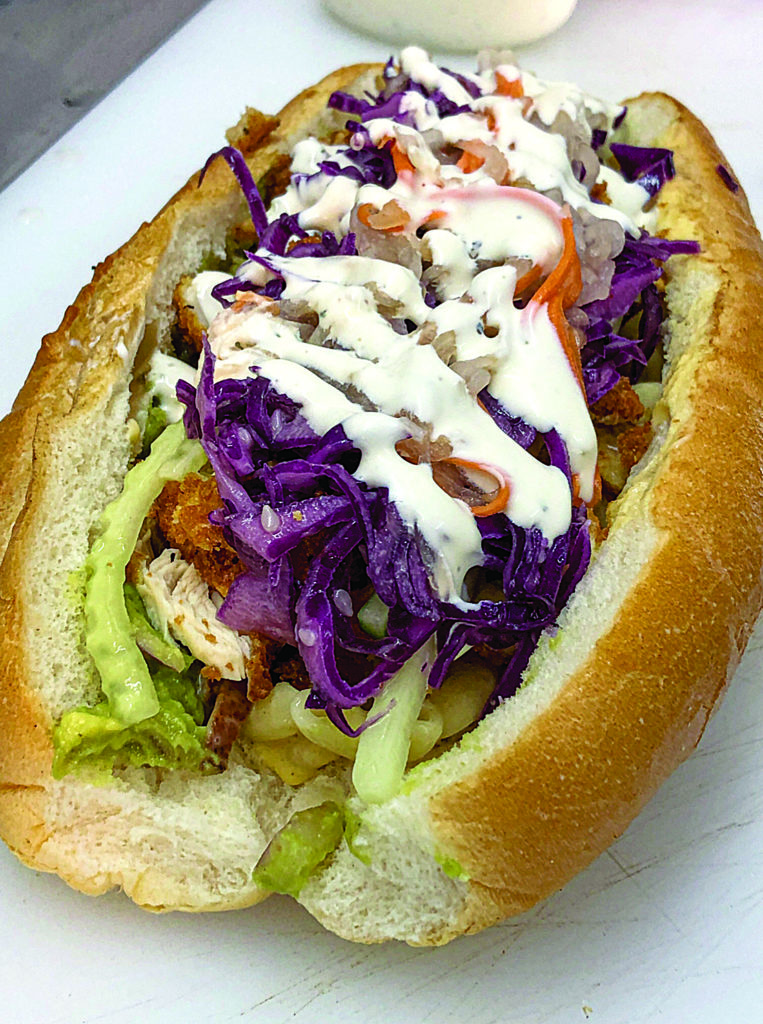 Marketing Manager Nikki Katzef had the calendar booked for events, breweries and festivals for the next few months. Then COVID-19 hit. The family came up with a plan to reach out to subdivisions and apartment complexes to offer online ordering and curbside pickup. Chef Allan Katzef cooked up a menu and Baked Kitchen was once again on the move. To find out where the food truck will be next, check out their Facebook page at facebook.com/BakedKitchen101. ■
8 Places to Get Steaks & Burgers in Peachtree Corners
Firebirds Wood Fired Grill
Firebirds Wood Fired Grill is known for their perfectly cooked meat, and their renowned Filet Mignon is no exception. This dish is center cut is wrapped in delicious applewood bacon and served with your choice of a side dish. The meat is tender and flavor-packed.
While it's on the pricey side, customers say that the quality and taste makes it all worth it. Experienced diners recommend that you pair this dish with the spinach salad or the Parmesan mashed potatoes for the best possible dining.
And with Father's Day on June 21, what better way to celebrate Dad than with delicious Firebird's specials? There are 4 ways to do just that, as outlined in our recent post "4 Ways to Celebrate Dad at Firebirds Wood Fired Grill". Dine in, cook a feast at home, or pick and choose. It's all delicious.
5215 Town Center Blvd, Peachtree Corners (770) 225-4662 | firebirdsrestaurants.com
Ted's Montana Grill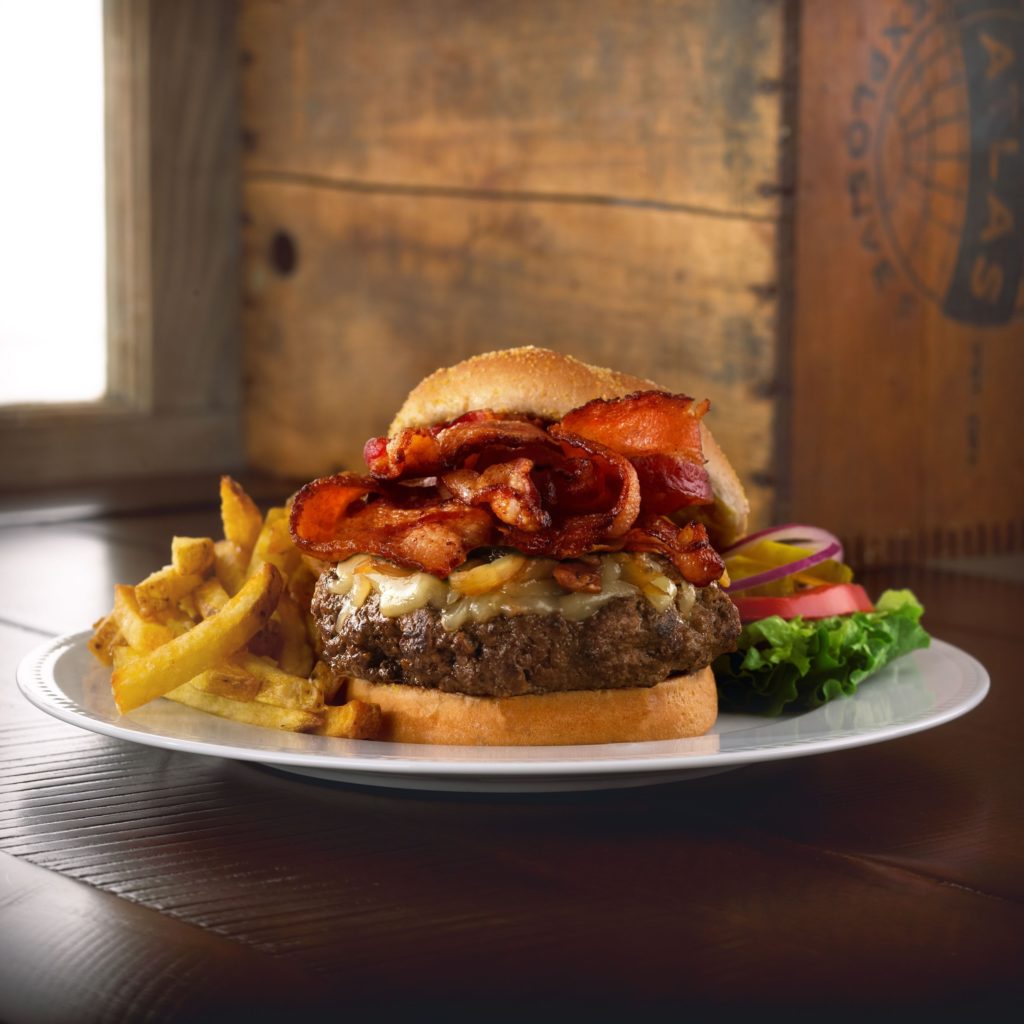 Ted's Montana Grill's world-famous Bacon Cheeseburger has everything: a perfectly cooked patty, fresh toppings and full flavor. The burger comes with the option of any of Ted's regular or premium sides, but critics say pairing it with the salt and pepper onion rings is the way to go.
For an even tastier experience, follow this dish up with Ted's Apple Pecan Crisp, which includes delicious apple pie, caramel sauce, a crunchy oatmeal pecan crust and vanilla ice cream.
5165 Peachtree Pkwy #205, Peachtree Corners
(678) 405-0305 | www.tedsmontanagrill.com
Burger Fi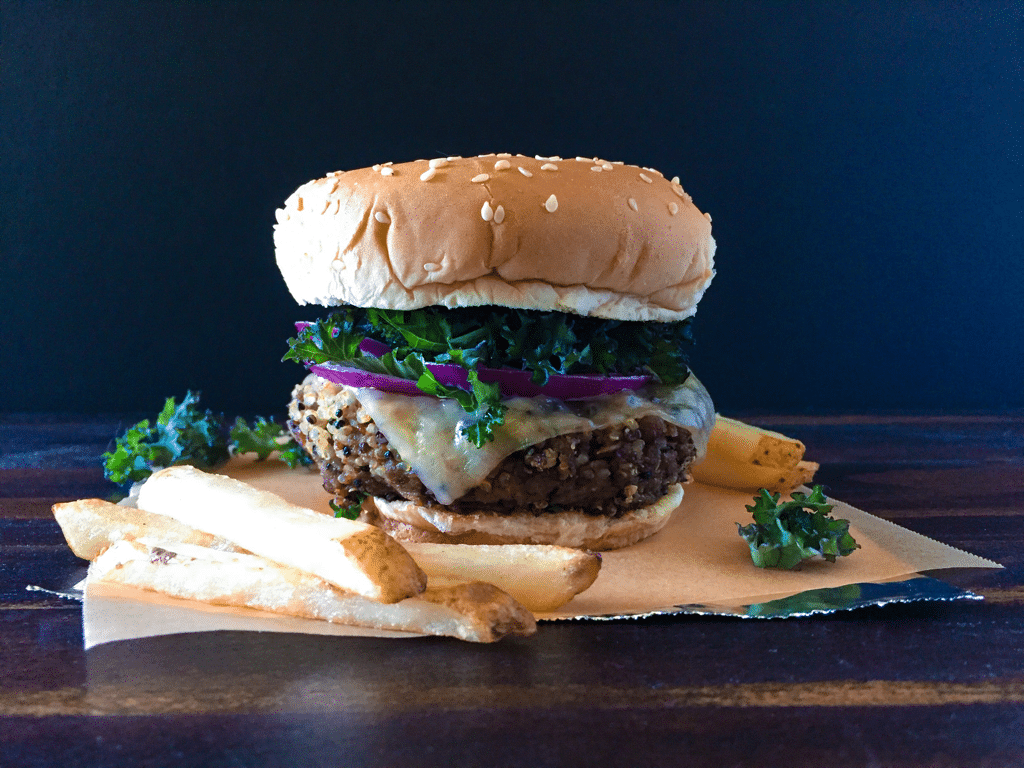 For vegetarians, or anyone who isn't a beef fan, BurgerFi's VegeFi Burger is a great option. It includes a vegan multigrain bun, a fresh-made veggie patty, BurgerFi sauce and your choice of toppings. It also comes with the option of one of the three sides: hand-cut fries, onion rings or the tasty Cry + Fry basket combo. To complete this already perfect meal, indulge in one of BurgerFi's creamy milkshakes which comes in many flavors, including Red Velvet, vanilla, chocolate, black + white, strawberry, Oreo and coffee mocha.
6141 Peachtree Pkwy #200, Peachtree Corners
(470) 375-6993 | www.burgerfi.com
Dog Days Hot Dogs & Burgers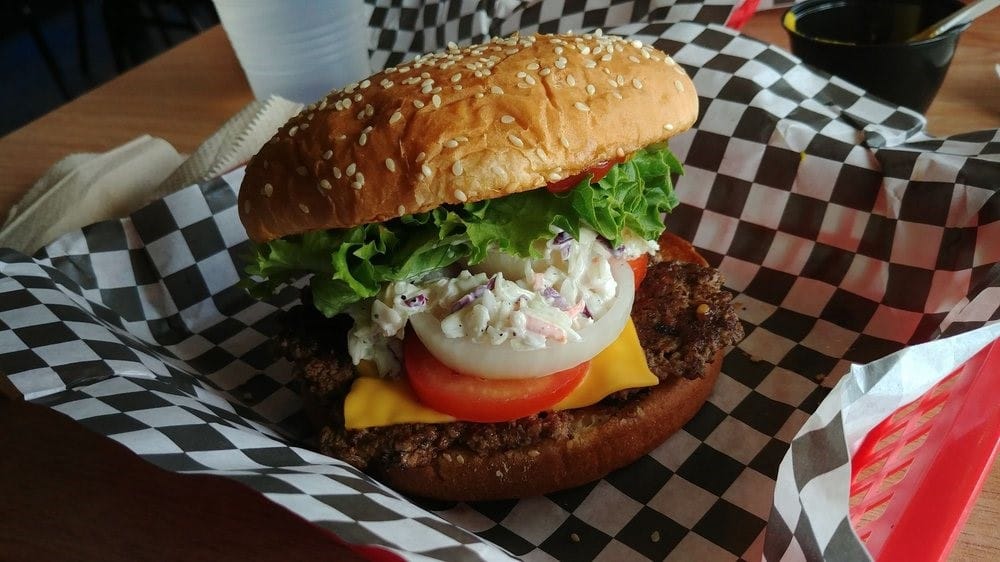 The All-American Burger comes in three patty sizes: 6-oz., 1⁄2-pound and 12-oz. It's topped with American cheese, onions, tomatoes and lettuce. It's an all-time fan favorite at Dog Days Hot Dogs & Burgers because of its unforgettable flavor and classic taste.
This meal comes with your choice of side, but experienced diners recommend the cheesy cheese totchos, which are tater tots covered with mac and cheese, cheddar, mozzarella and nacho cheese sauce.
6025 Peachtree Pkwy #3, Peachtree Corners
(770) 449-7433 | dogdayshotdogs.takeout7.com
Marlow's Tavern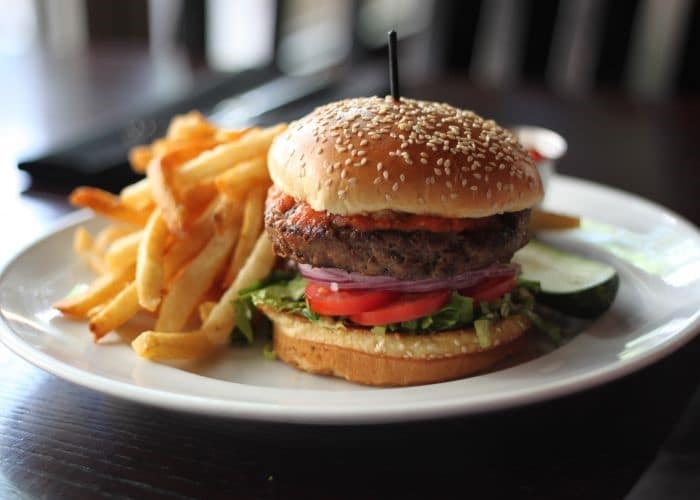 If you're dining at Marlow's Tavern, the Classic Tavern Burger is a must. While the burger is simple, the delicate seasoning and fresh toppings take it to a whole new level. The burger comes with a toasted sesame brioche roll and the delicious house-made tomato bacon jam.
Marlow's Tavern also offers a grilled chicken patty substitute for those who don't eat beef. To top off this perfect meal, order a side of Marlow's hand-cut Tavern fries.
5210 Town Center Blvd Suite 260, Peachtree Corners
(470) 550-1197 | www.marlowstavern.com
BurgerIM Gourmet Burgers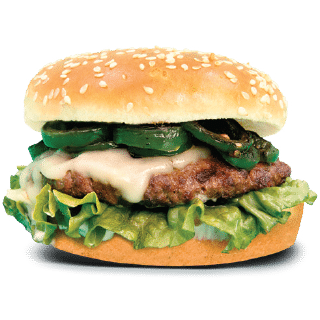 If you're dining at BurgerIM, you need to try the Spanish Beef Burger. It's a nicely grilled patty topped with grilled jalapeño, leaf lettuce and pepper jack cheese. The flavors go together wonderfully, but the jalapeño peppers add a kick of spice that isn't for everyone.
BurgerIM also offers you a choice of premium toppings, but I recommend adding bacon for some extra crunch. If you aren't sure what kind of burger you want, BurgerIM also gives customers the opportunity to try multiples with their duo or trio packs.
5135 Peachtree Pkwy NW Ste#925, Peachtree Corners
(770) 676-9358 | burgerim.com
Farm Burger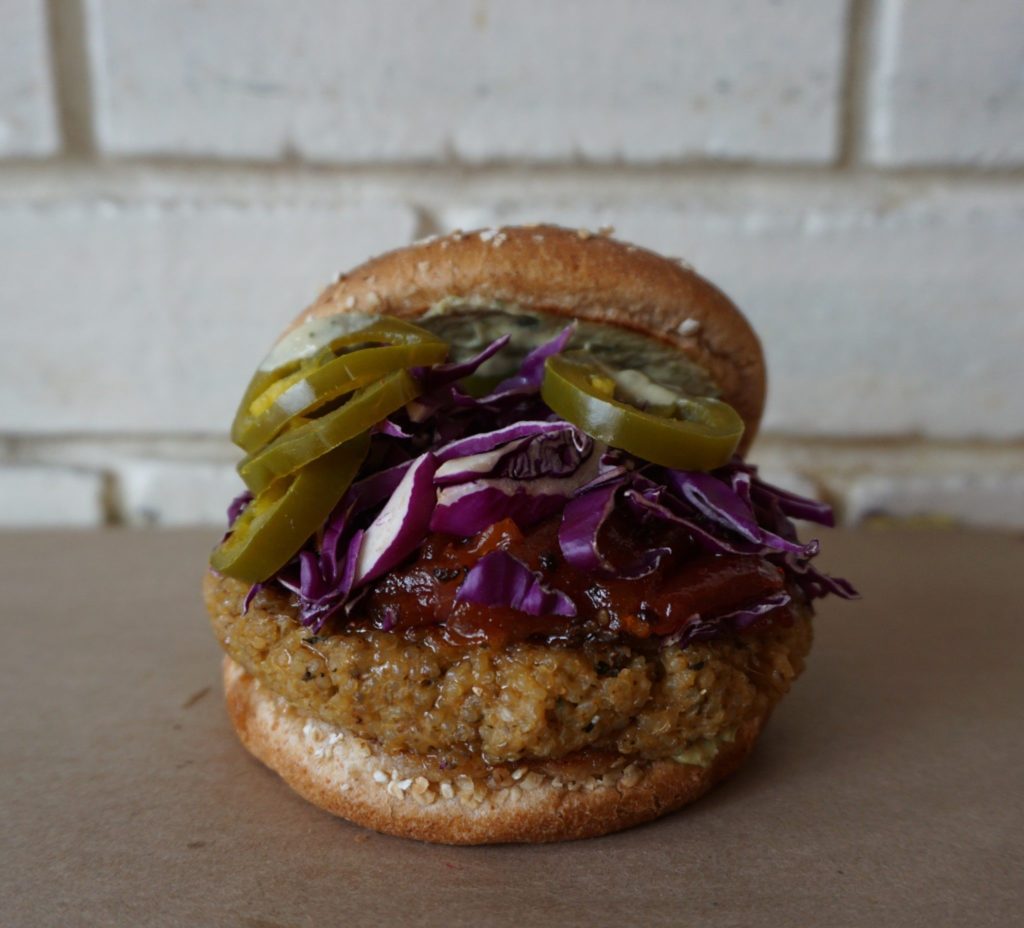 Farm Burger's No. 2 Housemade Veggie Burger is another great alternative for vegans or vegetarians. The patty is made out of quinoa, black-eyed peas, kale, roasted mushrooms, sweet potatoes and spices that pull all the flavors together.
Veggie Burger pairs well with the Farm Burger fries, which are hand-cut, tossed with spicy garlic and covered in parmesan and herbs. For dessert, indulge in the Farm Burger classic chocolate milkshake, which gets sweeter with every sip.
5170 Town Center Blvd Suite 410, Peachtree Corners
(678) 691-6222 | farmburger.com
Cheeseburger Bobby's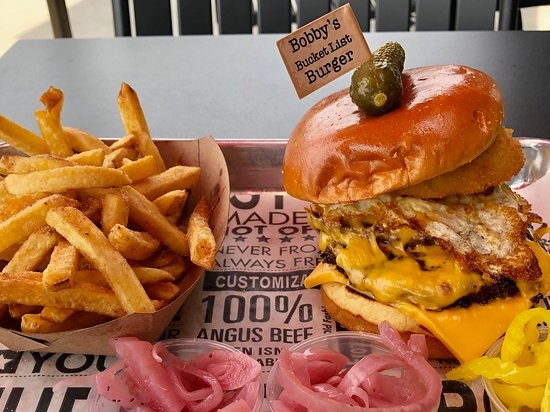 Even though Cheeseburger Bobby's classic burger is legendary, the Bucket List reigns supreme. This dish, which can be ordered off Bobby's Specialty Burger List, includes two perfectly grilled beef patties, a fried egg, an onion ring, American cheese, Bobby's sauce and a pickle.
While this sounds like a hodgepodge of different foods, the flavors meld perfectly with every bite. Pairing this burger with a side of freshly made onion rings makes the meal even more enjoyable.
6050 Peachtree Pkwy #140, Peachtree Corners
(770) 300-0032 | cheeseburgerbobbys.com
Other Bites
Redland's Grill
Suggestion: Filet Kabob
redlandsgrill.com
Pub Ten
Suggestion: Mac Burger
pub10.com/
Ba Bellies
Suggestion: Shaking Beef "Bo Luc Lac"
babellies.com
Ten Bistro
Suggestion: 50/50 Burger
tenlocalflavors.com
Three Dollar Café
Suggestion: Fajita Burger
threedollarcafe.com
Tavern at Medlock
Suggestion: California Burger
tavernatmedlock.com
JR's Log House
Suggestion: Country Fried Steak and Gravy
jrsloghouse.com
Loving Hut
Suggestion: Vegan Burger
lovinghut.us/norcross/
Mojitos Cuban American Bistro
Suggestion: Palomilla Steak
mojitosbistro.squarespace.com
Lazy Dog Restaurant & Bar
Suggestion: Bison Burger
lazydogrestaurants.com/locations/
peachtree-corners-ga