Peachtree Corners Orders Certain Businesses to Close Temporarily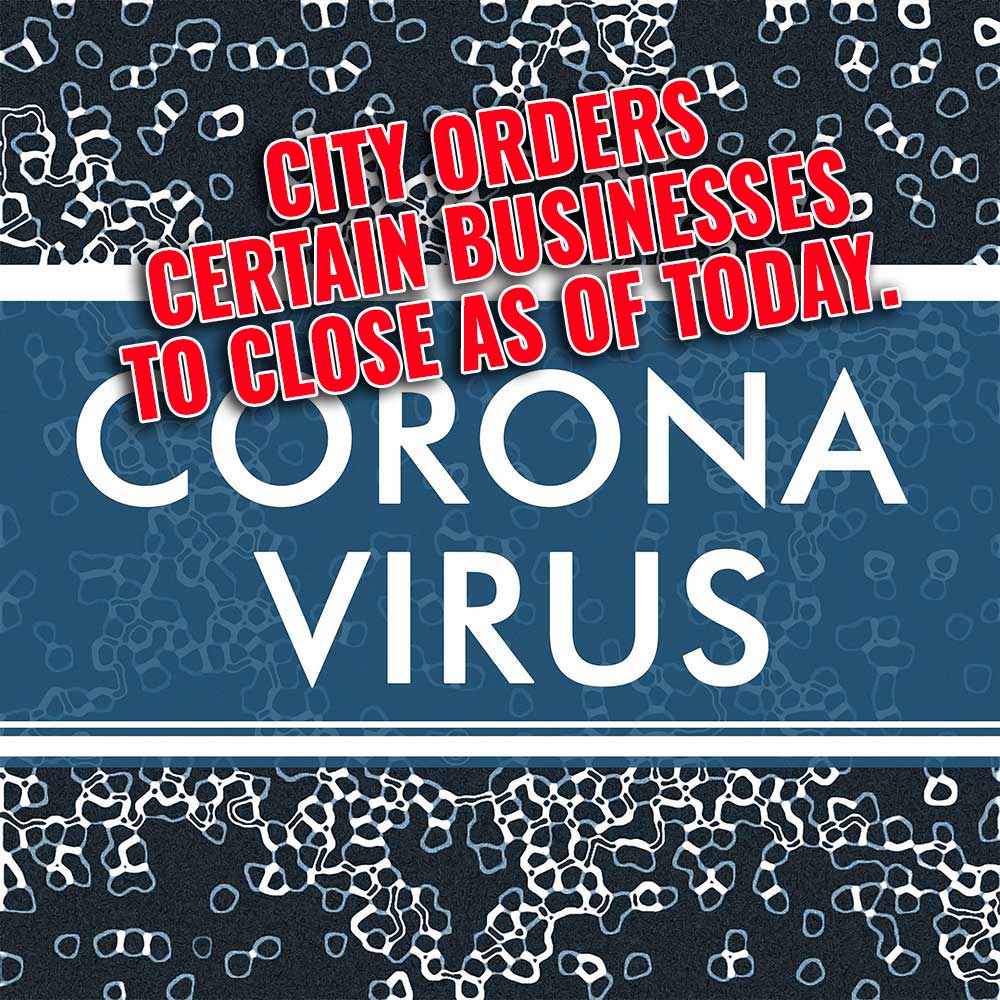 In an emergency-called meeting at 3 p.m. today, the Peachtree Corners Mayor and City Council voted unanimously to pass an Emergency Ordinance calling for certain actions deemed necessary or appropriate for the public health and safety of its residents.
The ordinance to temporarily close certain establishments where the public gathers and where social distancing recommendations cannot be maintained will help slow the spread of the highly contagious coronavirus and is in place for the protection and safety of all who live and work in the city.
The restrictions outlined below are in keeping with the Order issued on March 25, 2020, from Gwinnett County. All cities in Gwinnett County plan to adopt these restrictions.
This Ordinance will be enforced by the Gwinnett County Police Department and the City's Code Enforcement Department.
The Emergency Ordinance declares that:
All gyms, fitness centers, fitness studios, theaters, live performance venues, bowling alleys, arcades and other similar establishments within Peachtree Corners be temporarily closed.
Restaurants, brewpubs, breweries, and other eating establishments in Peachtree Corners are to cease offering dine-in and/or outdoor/patio service. Such eating establishments may continue to prepare and offer food to customers through delivery, takeout, and/or drive-thru service.
Cafeterias or on-site dining services in hospitals, nursing homes, assisted living facilities and other similar facilities within city limits following previously issued state and federal public health guidelines are not subject to closure requirements of this Order.
If a business is licensed by the City to sell alcohol for on-premises consumption, such business, during the efficacy of this Ordinance only, shall be authorized to sell unopened bottles, or otherwise appropriately sealed containers, of alcohol for take-away for consumption off-premises. Any alcohol licensee who engages in a course of conduct permitted under this section does so at the licensee's own peril as it concerns the licensee's state liquor license. This ordinance makes no representation as to the legality, under state law and state alcohol licenses, of any course of conduct undertaken pursuant to this section.
All employers and businesses which remain open for use by the public must take the necessary steps to restrict in-person contact and maintain a distance of six (6) feet between individuals while in the establishment.
The Governor's Executive Order No. 03.23.20.01 is hereby incorporated by reference herein, such that:

a. All persons ordered by the Department of Public Health to isolate, quarantine, or shelter in place within their homes or place of residence shall comply with such executive order or administrative order. In accordance with the Governor's executive, the following populations are specifically included:

i. Those persons who live in a nursing home or long-term care facility;
ii. Those persons who have chronic lung disease;
iii. Those persons who are currently undergoing cancer treatment; and
iv. Those persons included in any Department of Public Health Administrative Order.

b. All businesses which possess a license to operate as or otherwise meet the definition of "bar" as defined in Official Code of Georgia Section 3-1-2(2.1) shall cease operation.
c. No business, establishment, corporation, non-profit, corporation, or organization shall allow more than ten (10) persons to be gathered at a single location if such gathering requires persons to stand or to be seated within six (6) feet of any other person.
The restrictions contained within this Ordinance became effective upon adoption and shall expire concurrent with the expiration of the emergency ordinance of March 21.
At 7pm tonight, Wednesday, March 25 we'll be live streaming with City Manager Brian Johnson and talking about this and other issues. We'll post the audio/video here once it's complete or visit our Facebook page and like it for notification of the stream https://facebook.com/peachtreecornerslife
City Council Meeting to take up new Townhomes, Nuisance Ordinance and Expansion of the Gateway85 CID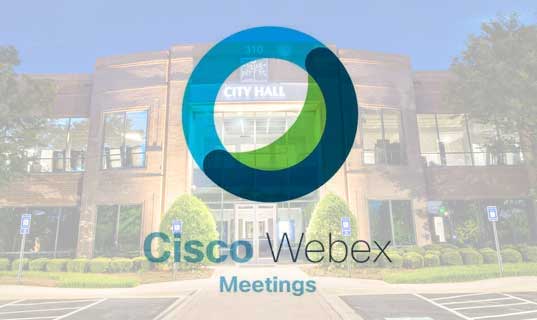 The Peachtree Corners City Council will hold its monthly meeting on Tuesday, May 26 virtually via Cisco WebEx.  Details on how to join are included in the agenda. Below is a link to the agenda and packet.
Link to the AGENDA
Link to the full PACKET
Below is a portion of the agenda, click the link for the full current agenda:
PUBLIC HEARING
O2020-02-162 Second Read and Consideration of RZ2020-001, V2020-001 & PH2020-001 Governors Lake Townhomes. Request to rezone 28.454 acres from M-1 to R-TH
with associated variances and to amend the Comprehensive Plan Character Area
Map to change the subject property from Industrial Corridor and Employment
Corridor to Village Residential to allow for a new townhome community along
Governors Lake Parkway, Dist. 6, Land Lot 251, Peachtree Corners, GA.
O2020-03-166 Second Read and Consideration of an Ordinance of the Mayor and City Council of Peachtree Corners, Georgia to amend and adopt Chapter 42 (Nuisances), Article 4 (Noise), to provide for regulation of nose; to provide an effective date; and for other purposes.
O2020-05-167 First Read and Consideration of an Ordinance of the City of Peachtree Corners, Georgia, adopting the amended fiscal year 2020 operating budget for each fund of the City of Peachtree Corners, Georgia. (Second read will be June 23, 2020)
O2020-05-168 First Read and Consideration of an Ordinance of the City of Peachtree Corners, Georgia, adopting the fiscal year 2021 operating budget and capital improvement budget for each fund of the City of Peachtree Corners, Georgia.
(Second read will be June 23, 2020)
K) ITEMS FOR CONSIDERATION
R2020-05-133 Resolution of the City of Peachtree Corners consenting to expansion of the Gateway85 Community Improvement District (CID)
Action Item FY2021 Capital Improvement Project (CIP) Plan.
Please be advised that this meeting will be held via Cisco Webex.
To join the meeting by phone: Dial 415-655-0002 Access Code: 790 914 564.
If you choose this option, you will ONLY be able to hear the meeting and will not be able to
participate in any public comment.
To join the meeting by video: Use this link.
This will allow you to view and hear the meeting and be able to participate in the public comment
through the Q&A section. To activate the Q&A section, you will need to select the question icon
at the bottom of your screen and type in your public comment. Please make sure to type your name
and address prior to your comment. Your question will be read to the Mayor and Council by the Host.
World's First Self-Driving E-Scooters Launch in Peachtree Corners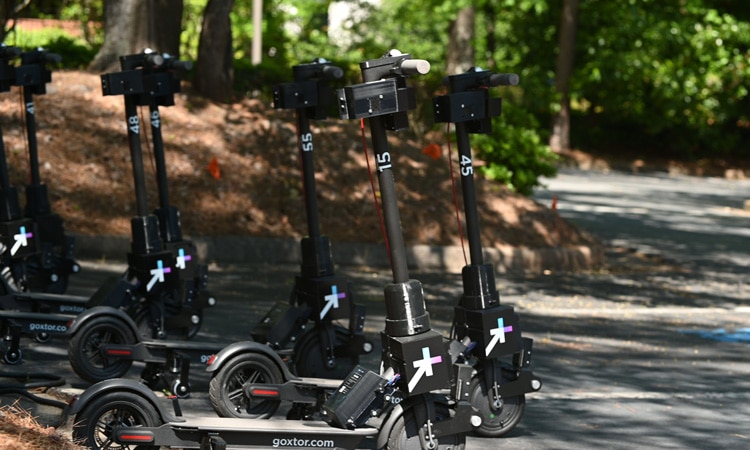 Teleoperated e-scooters will operate on public streets
In keeping with its long history of developing cutting-edge technologies, the city of Peachtree Corners announced the launch of a fleet of the world's first teleoperated e-scooter to operate on public streets The e-scooters made their debut this week.
The city welcomed the opportunity to work with Tortoise and Go X, which combined forces to offer an e-scooter that has the ability, through the use of remote tele-operators, to reposition itself back to a safe parking spot – or to respond to a call (using the company's app) for an e-scooter to be delivered right to a customer's door. The e-scooters are repositioned by Tortoise's remote teleoperators.
Peachtree Corners has been working with the two visionary companies to revolutionize e-scooter mobility for use in its city. The new technology solves two issues that have plagued the industry: 1) Finding a scooter – and 2) Returning scooters to a home base for safe parking, charging and cleaning.
The e-scooters make their debut in the city's Technology Park Atlanta, a 500-acre existing technology park that is home to over 7,000 employees. The teleoperated e-scooters will be available for use by the general public and will operate on the city's new 1.5-mile autonomous vehicle test track that runs alongside lanes used by the motoring public.
"We are excited to showcase this innovative technology," said Mayor Mike Mason. "It's another opportunity for the city to look beyond traditional transportation and seek innovative ways to improve mobility. We invite our citizens and the business community to see and experience this new technology."
The initial pilot will run for six months and marks the first time ever that teleoperated e-scooters are deployed on public streets.
This is not the first time that the city has been the site of innovative transportation technologies. Last fall, Olli, the self-driving shuttle designed and built by Local Motors, began operating along the city's 1.5-mile autonomous vehicle track. The test track is part of Curiosity Lab, the city's living lab, which offers companies a facility to test emerging technologies in a real-world environment.
This latest venture into teleoperated e-scooters is part of the city's drive to further expand its "smart city" technologies.
"An important goal for us was to ensure that residents can enjoy the convenience of using e-scooters, right here in Peachtree Corners," said City Manager Brian Johnson. "As a reflection of our commitment to making cities smarter, we didn't hesitate to partner with Tortoise to launch the first-ever fleet of self-driving e-scooters for public use. We are extremely pleased to be a partner in this innovative and world-changing technology."
Public Safety Cameras in Our City

Community safety is a top priority in our City; the City Council and I consider this is of utmost importance. Peachtree Corners is extremely fortunate to have the services of the Gwinnett County Police Department to patrol our neighborhoods and public areas.
However, we felt there was more the City could do to assist the GCPD in ensuring the safety of our citizens, our businesses and those visiting. You may have read in the news recently about Georgia Power's program that offers cities a service to install cameras and license plate readers at strategic entry points. A number of surrounding cities have added public safety cameras through this program. The cameras record traffic movements and scan license plates.
We will begin implementing Georgia Powers' program in the coming months. I am sure you have questions. Below is a series of Q&As which should address the majority of your queries. Please know, we are all available and happy to answer any additional questions you may have.
Editor's Note: This Q&A was part of the city's official news published in our April/May issue. Since publication we've learned that some of the cameras will be installed beginning in May but it will be August before all 15 are installed and working.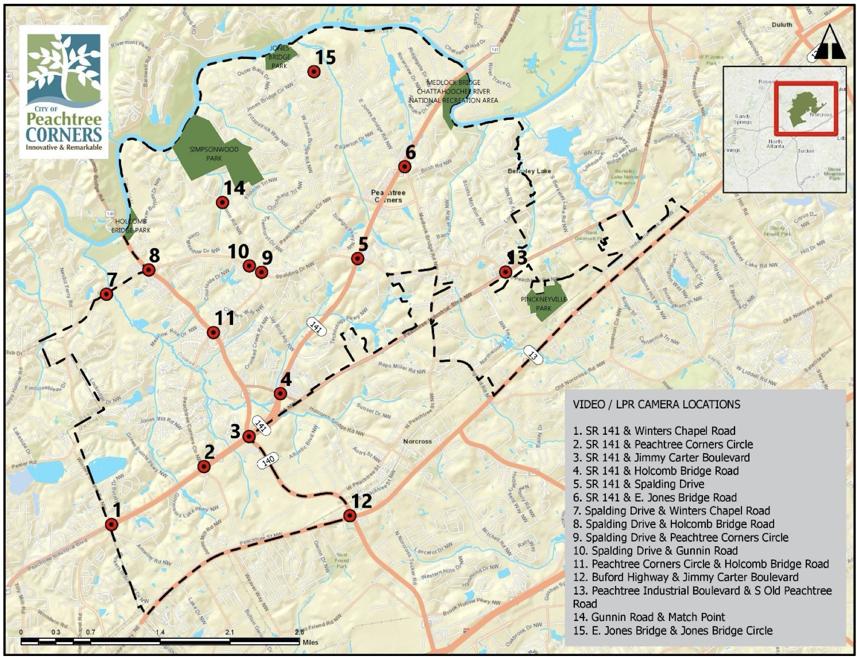 Q: Why is the City doing this? Has the crime rate risen in Peachtree Corners?
A: No. The cameras are designed to enhance GCPD's crime-fighting capabilities. The City decided to add the video/license place recognition cameras as another step in ensuring everyone's safety.
Q: How many cameras will be installed and where will these cameras be located?
A: With GCPD's assistance, the city has identified 15 locations, which are all at major entry points into the City. The cameras will only capture activity in the public right of way. The locations were chosen based on factors such as traffic count and crime statistics.
Q: Will the cameras include recording activity in neighborhoods and other residential areas?
A: No, the cameras will only record activity on the selected 15 major access points. The purpose for these camera locations is to capture traffic on major thoroughfares coming in and out of our City. The accompanying map shows the locations where the cameras will be located.
Q: Will the City or residents have access to the video footage from the cameras? And how long is the video kept?
A: Only the GCPD will have access. The camera system retains video footage, which is stored in the cloud, for 30 days, after that new video footage replaces the oldest footage.
Q: Do the cameras simply record automobiles coming and going?
A: In addition to traffic activity, the cameras are equipped with License Plate Recognition (LPR) capabilities. The cameras will scan license plates and alert police if vehicles are flagged as stolen or of interest in a criminal investigation.
Q: Where are the cameras mounted?
A: The cameras and LPRs are mounted to utility poles and streetlights. They are high-speed, computer-controlled cameras that capture all license plate numbers that come into view, along with the location, date and time.
Q: How are the police notified? How does the LPR technology work?
A: The readers send an alert to officers' laptops when a tag is read that may be connected to a stolen vehicle, car-jacking or other criminal activity.
Q: How much do these cameras cost? Did the City purchase them?
A: The cameras will be leased from Georgia Power for $285.00 per month per camera and Georgia Power will repair or replace any camera that isn't working properly. This was a less expensive option over purchasing the equipment. Additionally, the lease agreement ensures the cameras will be maintained by the provider. The monthly cost includes the camera itself, electricity and cloud storage of data.
Q: When will the cameras be installed?
A: The City is coordinating with Georgia Power; the work is expected to be complete by late summer.
Q: Will additional cameras be added at a later time?
A: It's possible, the GCPD will help in assessing whether additional cameras are needed.
Q: Can these cameras be installed at the entrance to my subdivision?
A: The City is working on a program that would allow subdivisions to request the cameras to be installed at the entrance. The subdivisions must meet certain criteria. Each neighborhood would be responsible for the cost of installing and the monthly/yearly cost of operation. We expect to have more information on this program in the near future.
Peachtree Corners has relatively low crime rates; however, we have state and county roads that run through our City carrying over 150,000 vehicles daily through our city limits. Adding an additional crime-fighting tool that the police can use makes our City that much safer.
Sincerely,
Mike Mason, Mayor