Greater Atlanta Christian School Bolsters Salvation Army's Annual Can-a-Thon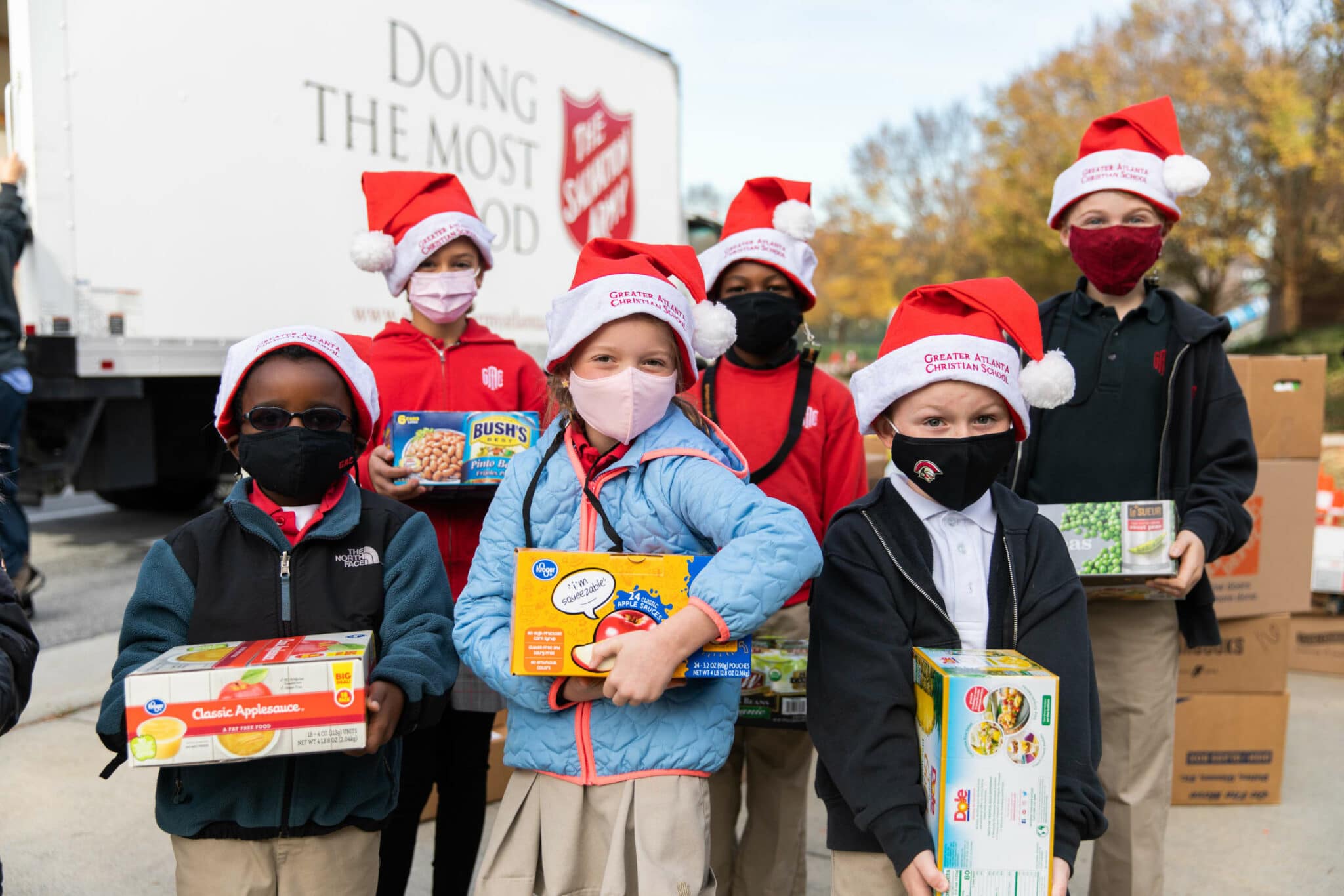 Greater Atlanta Christian School's community outdid themselves this year, rising to the challenge of providing non-perishable food items in a more significant way than ever before. Already a community leader in the Salvation Army's annual Can-A-Thon, this year the school collected a record 27,000 cans, surpassing last year's record of 20,000 cans.
Captain Paul Ryerson of the Gwinnett County Salvation Army spoke in chapels to the GAC students and shared how the pandemic has created food insecurity for many families globally and locally.  In response, the parents, students and faculty/staff rolled up their sleeves with determination to make their collections an even more meaningful impact during this difficult year.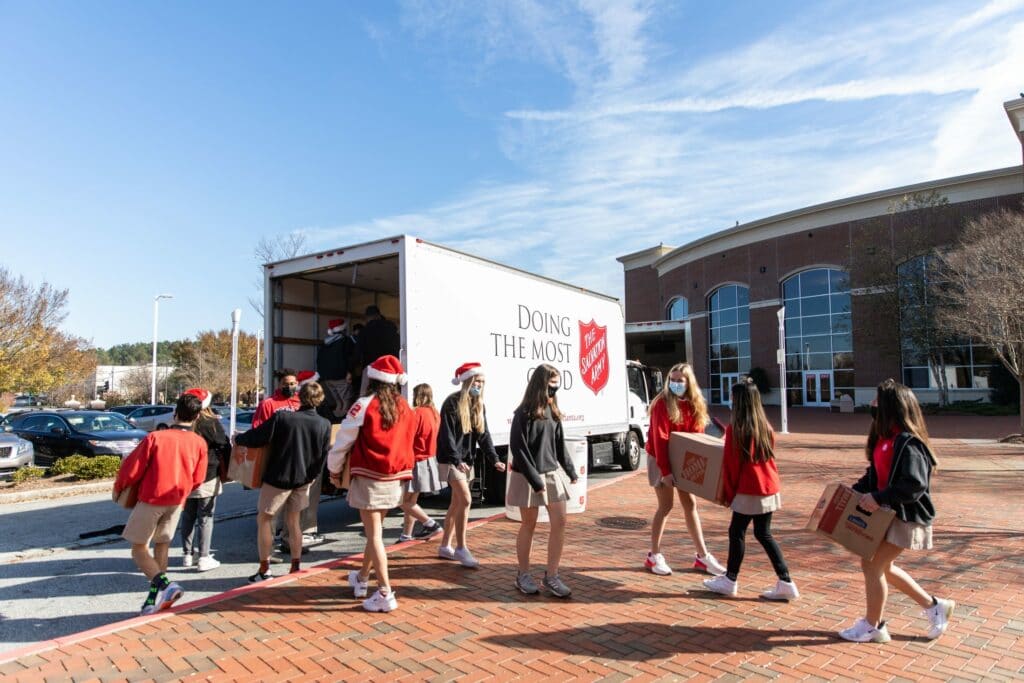 GAC President Dr. Scott Harsh was on hand to help students load the 1,200+ large boxes into two box trucks, and he noted the significance of the day. "It's incredible to see what our families have done and to see the leadership of our students. In a year when many are focused on what we can't do, I love seeing our community focused on what we can do. Our students really latched on to the reasons why this help is needed. It's been such great joy in coming together to give this donation."
Student -leader and senior Deymon Fleming Jr., son of Deymon and Alesia Fleming of Stone Mountain, added that "GAC does a great job instilling a sense of serving in all the students. Can-A-Thon is a natural extension of how we can have a positive effect despite the challenges of 2020." Senior student -leader Sydney Deardorff, daughter of Burt and Sherri Deardorff of Buford, heads up service projects for the High School. She said, "It's been super uplifting and encouraging to see our school come together and collect cans to make a difference in our community."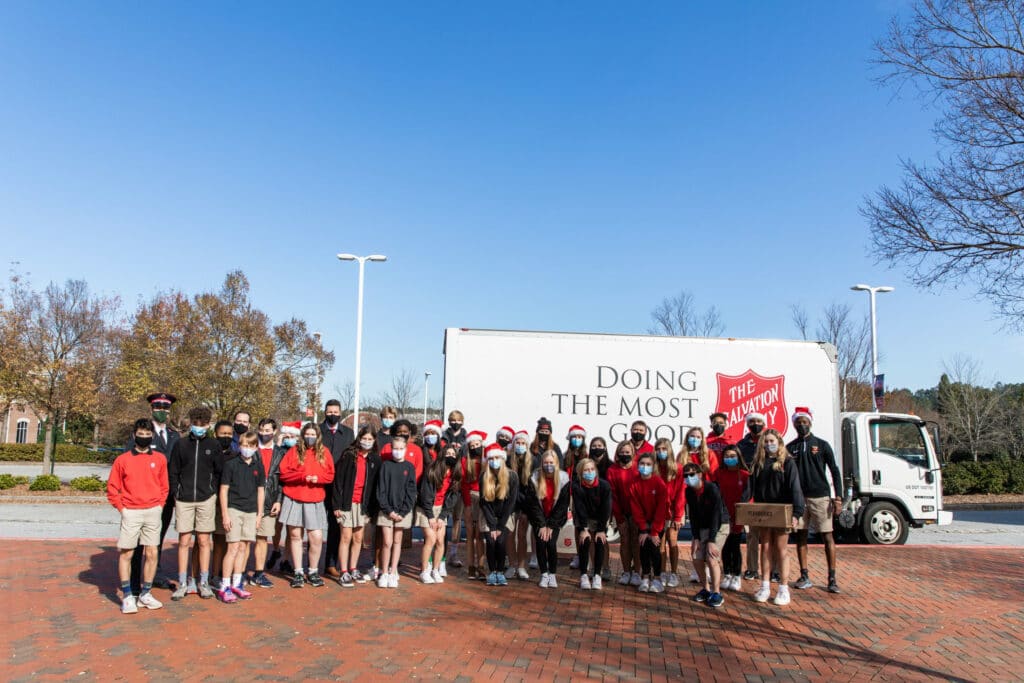 GAC's strives to instill a heart for serving in each of its students throughout the year. The annual Can-a-Thon food drive is unique since it includes the efforts of the school's entire student body, from GAC's very youngest to its oldest Spartans. What began as a challenge from administrators to collect 20,000 cans turned into a school-wide determination to make the greatest impact yet to the metro Atlanta community. The record-setting collection surpassed the goal by 35% by donating over 27,000 cans.
The annual Can-A-Thon is sponsored in the Atlanta Area by Publix and 11Alive and is active through December 31st.  GAC challenges all readers to donate a dozen cans: salvationarmyatlanta.org/
Source: Greater Atlanta Christian School Press Release
Run the Gauntlet of Fitness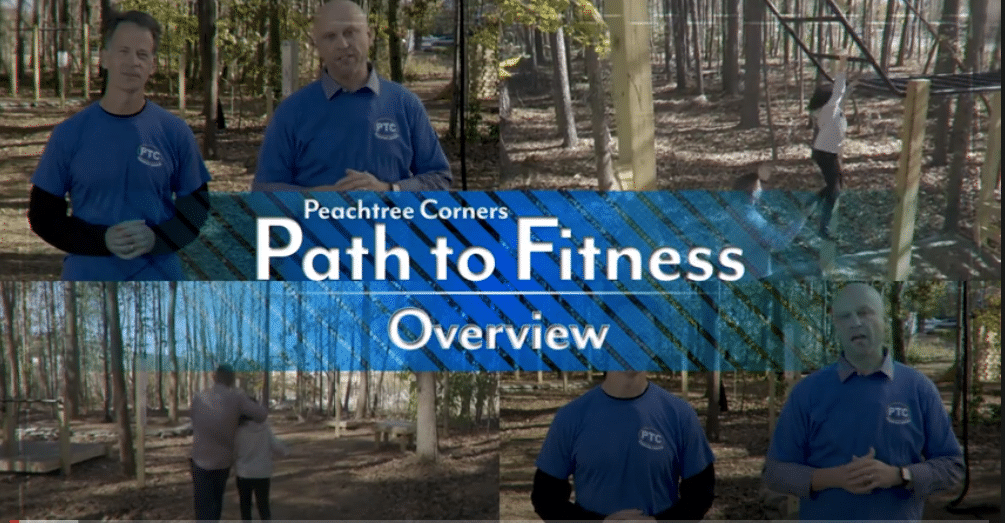 How the Path to Fitness was "paved"
As businesses, restaurants, and gyms close down, we struggle more and more to meet our need to stay healthy. Fortunately, Peachtree Corners City Councilman Alex Wright has teamed up with city manager Brian Johnson to construct the Path to Fitness in the Peachtree Corners Town Center. Path to Fitness is a unique green space that combines the fresh air of the outdoors with high-quality fitness equipment akin, or even superior, to that you might use in a gym.
Using their experiences at the U.S. Army's Ranger School, Wright and Johnson took note of the strenuous — but muscle-building — obstacle courses that were made to create herculean soldiers. They shaped wood and bent steel into stationary equipment to aid residents in developing their body both conveniently and efficiently.
Brian Johnson stated "…we had a certain institutional knowledge of certain things that we could create, so I asked Mike if he could create some of those as a way to help this group… come out here and enjoy some unique fitness equipment that could be integrated in their normal workout routine [and] help them work muscle groups that they wouldn't be able to normally work in another setting."
The Path to Fitness includes a number of pieces of high -quality equipment. According to Councilman Wright, "I have to say that there's a lot of excitement because they didn't really know what to expect! They're thinking, you know, just regular playground equipment, but we've got a 20-foot rope climb here… some very unique monkey bars."
Of course, the Path does not end there:  the trail also includes a few pull-up bars, a sit-up station, as well as a wall climb. It must be emphasized that the trail is meant for fitness, not for use as a playground. So make sure to supervise your children if you decide to substitute your YMCA subscription for a free walk on the Path to Fitness!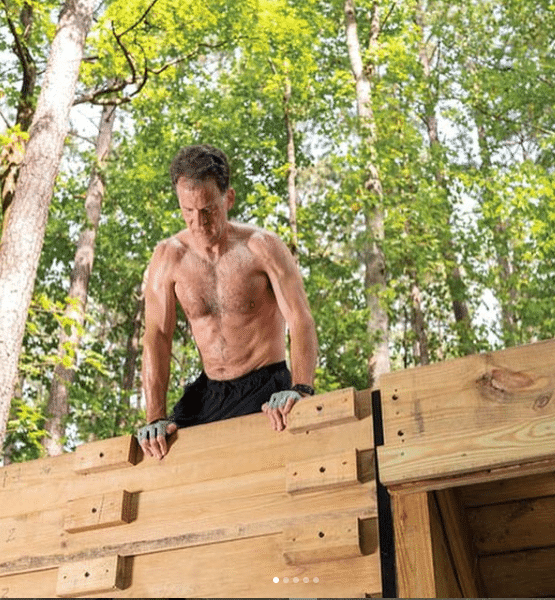 Some of the exercises you can do on the fitness trail:
Check out the full YouTube playlist of all the things you can do on the Fitness Trail at Peachtree Corners Network
Report an issue with the free Peachtree Corners Fix-it app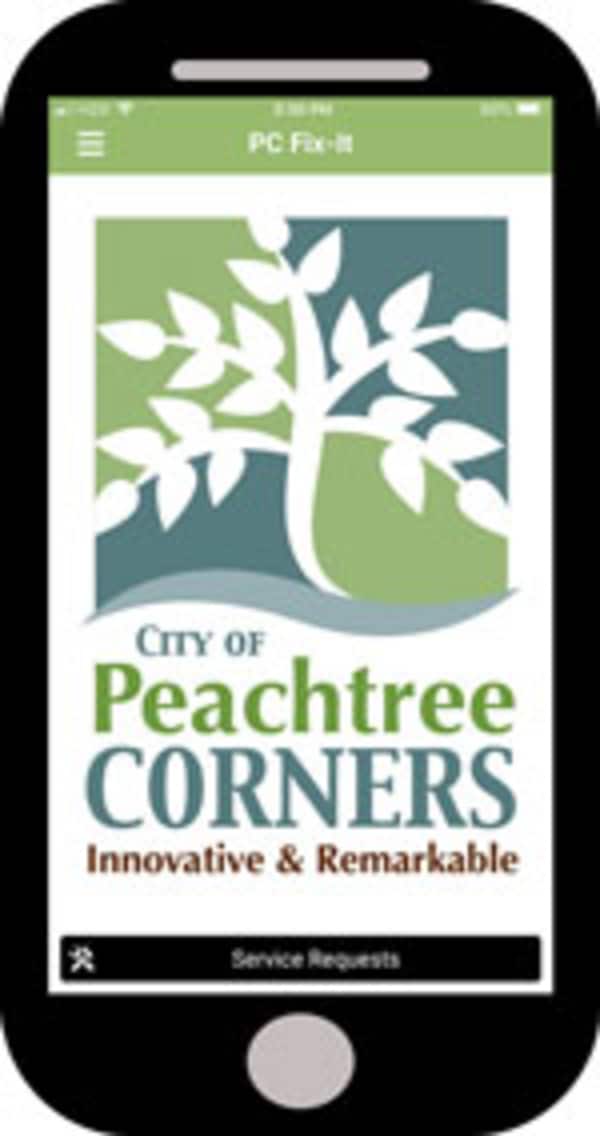 It's now easier than ever to report an local issue by using the free Peachtree Corners Fix-it app.
To Create a Report
Select "Create" from the menu.
Log in, create an account, or click "Create anonymously…"
Click the box under "Select a Report Type" and select a type from the menu that appears at the bottom, then click "Done".
Under "Where is the problem" click the map; set the location by entering an address in the search box or by clicking the location on the map, then click "Done".
Click in the box under "Tell us more details" to answer additional questions and/or enter a description of the problem. Please include the address.
Under "Add photos, video, or audio" click the paper clip icon to upload a file.
Click "SUBMIT".
To View the Status of a Report
Select "View" from the menu.
Select an item from the list, or click the map icon at the far right to see all reported issues on a map.
Click a flag on the map, then click the status box to see details of the report.
Tiffany P. Porter Takes Office as Gwinnett Tax Commissioner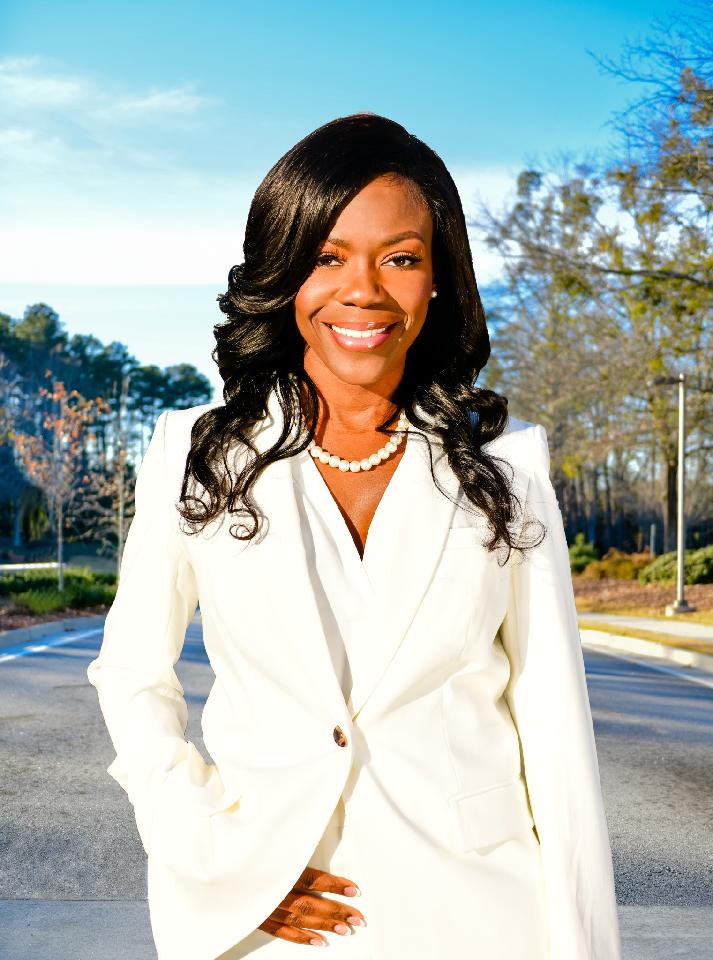 Tiffany P. Porter assumed the Office of the Tax Commissioner for Gwinnett County effective today, the first African American to do so in the county's history.
Porter campaigned on a platform of bringing a new type of leadership to Gwinnet that builds upon the legacy of past leaders.
"I'm honored that voters put their faith and trust in me," Porter said. "I believe in civic duty and promise to serve all Gwinnett residents to the best of my ability."
Prior to being elected tax commissioner, Porter served as the first African American judge in Duluth Municipal Court and had founded two law firms. In addition to serving on the bench and practicing law, Porter appears weekly as a legal analyst for the Court TV network.
Porter has a law degree from Emory University and was admitted in 2009 to the State Bar of Georgia. She also earned a master's degree in Business Administration from Georgia State University and a bachelor's degree from Hampton University, where she graduated with honors.
A 20-year resident of Gwinnett County and the mother of four, Porter is the first in her family to attend college and the first to earn a law degree. She is a 19-year member of Life Church International in Duluth, a 20-year member of Alpha Kappa Alpha Sorority, and a proud two-time breast cancer survivor.