Howell Upchurch – From Filmmaking to Guitar Making, Part of Five Stories to Brighten Our Spirits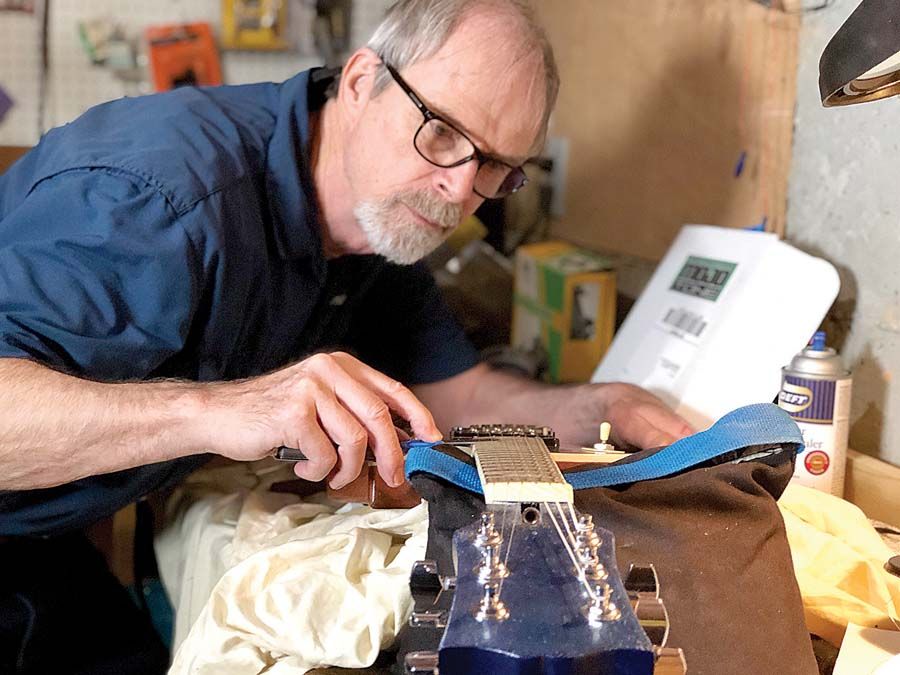 The Bright Side of Lockdown in Peachtree Corners
We can all relate to the surreal feeling brought on by the coronavirus as we struggled with being caught in this bizarre new world that was difficult to believe yet impossible to ignore. We couldn't help but feel shocked as it unfolded — it was unprecedented — although there had been a dreadful buzz in the air heading straight for us from miles away.
As our nation is sieged with controversy, climbing death rates, trepidation and uncertainty, I wanted to find some uplifting, local COVID-19 stories that would serve to brighten our spirits. This is part 2 of 5 stories to be posted.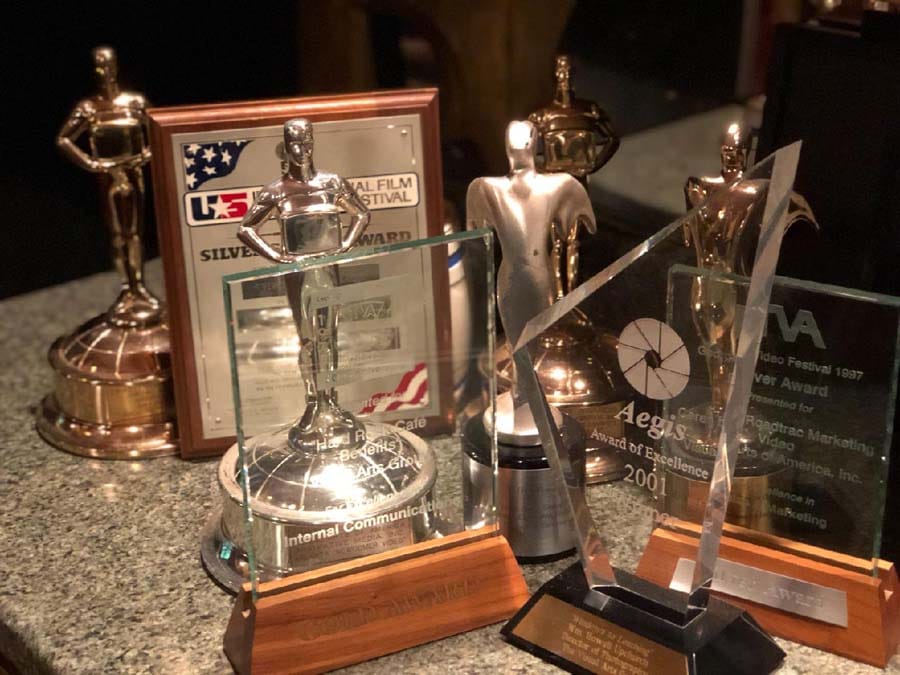 Peachtree Corners resident and Videographer Howell Upchurch has been in the film business since he was 25 years old. His most recent project with the city is a video tribute to commemorate America's fallen soldiers at the Veterans Monument on Town Center, to be viewed on Memorial Day in lieu of having a ceremony — a coronavirus safety precaution.
As many can relate, when the pandemic struck, his professional projects completely shut down. He knew he'd be inoperative for at least two months and decided he wanted something tangible to show for this time.
Rather than join his acquaintances on Facebook who divided into warring camps, Trump vs. Pelosi, Upchurch turned to a creative outlet to find his way out of the darkness.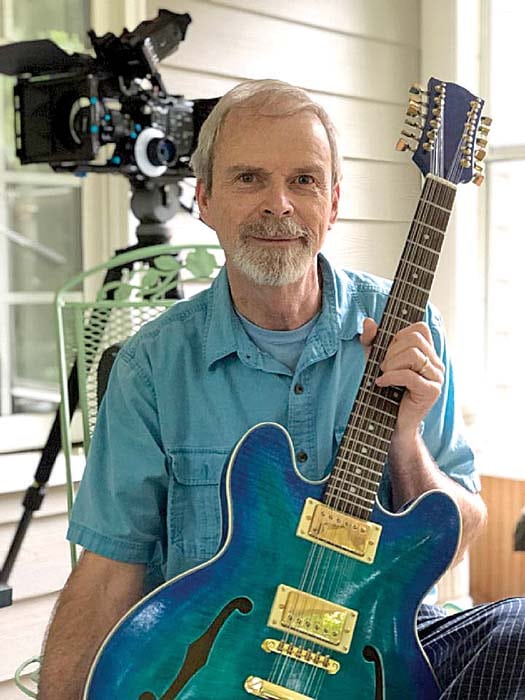 It Only Takes One Finger to Play a Guitar
Upchurch took up the guitar two years ago. Though he doesn't consider himself a gifted guitarist, he enjoys playing the blues. The Allman Brothers and Eric Clapton are among his favorite artists.
"When I met Ric Seymour, former guitar player of Wet Willie, he set me on course to really start taking it seriously," Upchurch shared. "I enjoy playing along with backing tracks. If there's a song I like, I turn up the guitar and jam with it. I feel like I'm playing with the Rolling Stones."
You Can't Play the Guitar All Day
Upchurch soon decided that building a guitar would be a good break from playing one.
He had gifted a guitar kit to his son which they built together. Woodworking has always been a hobby.
"I've built boats, decks, furniture, the chair I'm sitting on, but the guitar was different," he said. "It's very fine woodwork. Once you finish building it, it has a real purpose."
From his basement workshop, Upchurch has constructed both acoustic and electric guitars, with plans to build more and even try his hand at other instruments like the violin. He's eager to expand his hobby as his growing skills allow.
"I'd like to continue on a much grander scale, make it very à la carte. When I do my next acoustic, I'll start out at a very non-kit, raw material level," Upchurch explained.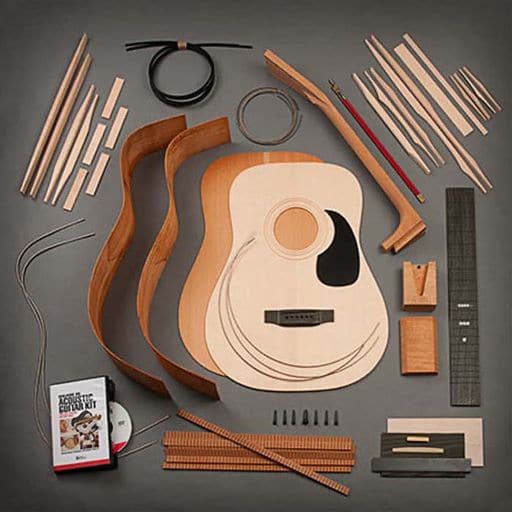 Guitar Making Made Me a Better Musician
Upchurch described a special bond with an instrument you make yourself: "The instrument becomes an extension of you. It sounds the way it does because you made it that way. You speak through the instrument.
"As I got into building it, I learned how the instrument makes the sounds that it makes, which immediately made me a better guitar player," he said. Previously, Upchurch would take his guitar to a luthier who would set it up to get the best sound out of the instrument.
"When you start building guitars, you learn how to do all that yourself. After a while your knowledge of music, scales, fretboards all interrelate with intonation and harmonics. That's what makes a great instrument," Upchurch explained.
Post-Lockdown PTC — More Than Just a Place to Work
Upchurch would like to see music lessons offered by the city, "Playing music brings people together. The city is considering a Cultural Arts Center to be built behind the Veterans Monument. That would be a good place for lessons," Upchurch suggested.
He feels guitar building would also bring the community together. "We could start a Guitar Building Clubwhere we can help each other and share ideas. I'd like to share some of what I've learned and encourage others to build."
According to Upchurch, the new Town Center buildings in chrome and glass can be turned into a cultural center with a focus on music. "The city government is focused on technology, business, a Smart City, driverless vehicles and drone delivery. But there should be an equal amount of emphasis placed on developing the cultural aspects of our city," he said.
Jamming in the Corners
When conditions safely allow for it, Upchurch would like to expand his musical network from virtual jam sessions with friends in Virginia to playing with musicians in town. Evoking the street musicians of New Orleans and Paris, he proposed we encourage local musicians to gather on Town Center to play informally, adding a touch of musical identity and charm typical of iconic cities.
"We have great bands around here, even high school bands like Norcross and Wesleyan. We should bring them out more to perform before an audience. I'd love to see Peachtree Corners' cultural and musical development parallel its technology and industry development," Upchurch said.
Commissions
As things slowly open up again, Upchurch plans to continue his guitar making hobby. A custom guitar can take one to three months to build. An acoustic guitar takes longer to make than an electric guitar.
Upchurch said he would want to learn about your personality, your musical abilities and preferences before setting out to create an instrument for you. "You're trying to make something that's appropriate for the individual. You can actually build a guitar to suit someone's size and personality," he explained.
The choice of wood is determined by the genre of music one wishes to play because the type of wood affects the sound. Mahogany for example, produces a higher pitched sound.
To view his custom guitars, find Howell Upchurch on Facebook. Or contact him via email at howell@mindspring.com
High Museum of Art Commissions New Accessible Piazza Installation, Continues Site-Specific Series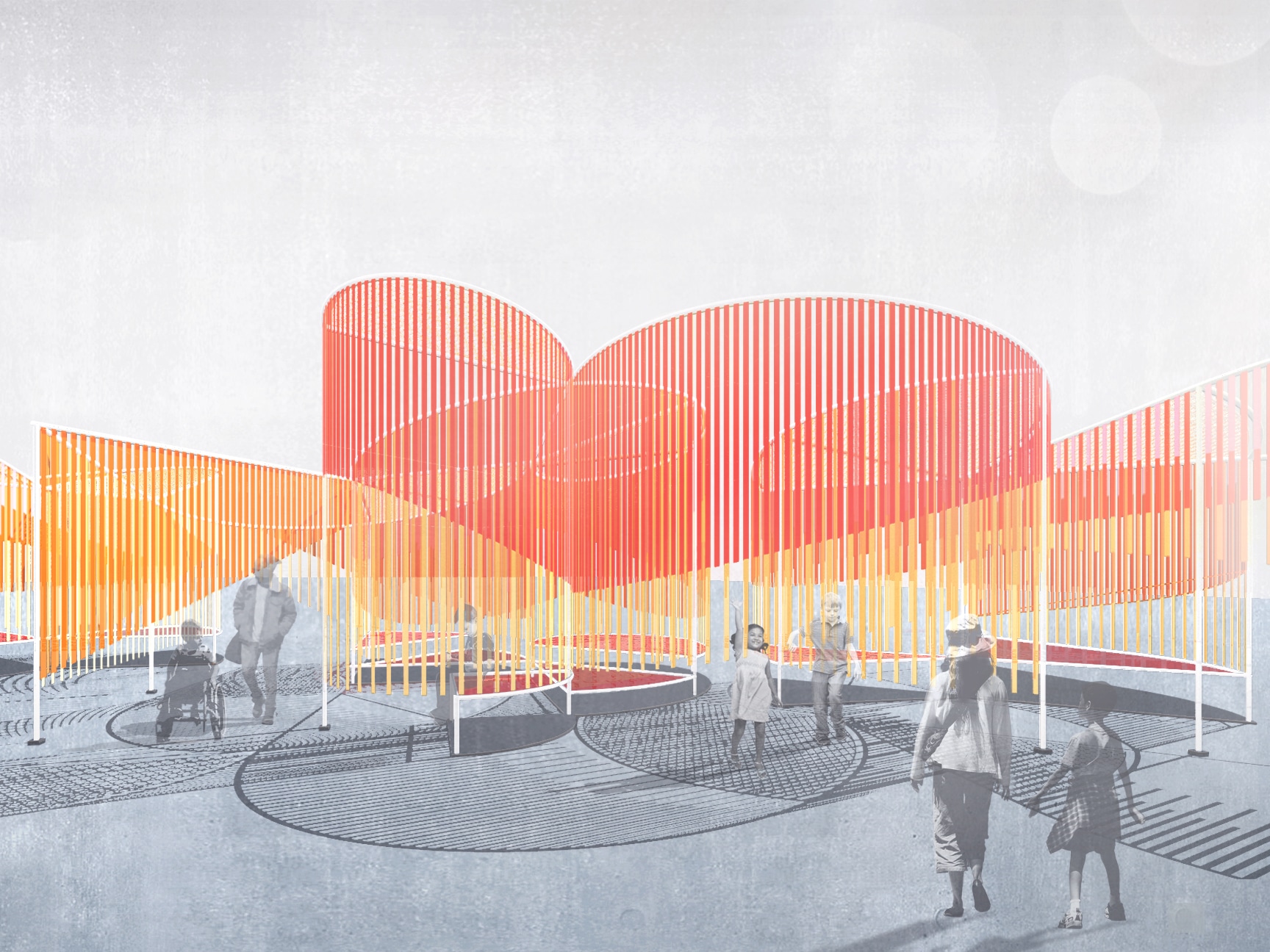 Working with advocates with disabilities and their allies, Bryony Roberts Studio will create an inclusive and immersive environment
This summer, the High Museum of Art will present an immersive maze of accessible, sensory environments by award-winning design and research practice Bryony Roberts Studio as its seventh site-specific installation on The Woodruff Arts Center's Carroll Slater Sifly Piazza. Titled "Outside the Lines," the installation continues the High's multiyear series of inclusive and inviting commissions to activate the Museum's outdoor space and encourage community engagement. On view July 10 through Nov. 28, 2021, "Outside the Lines" emerged from conversations between Bryony Roberts Studio and self-advocates with disabilities and their allies throughout Atlanta, with the goal of creating a space that is engaging for all.
"'Outside the Lines' builds on our tradition of attracting visitors of all ages with participatory art experiences and providing a gathering space for all Atlantans to stimulate their sense of wonder and play," said Rand Suffolk, Nancy and Holcombe T. Green, Jr., director of the High. "We look forward to welcoming audiences with wide-ranging abilities to explore this year's unique, outdoor installation."
"Outside the Lines" provides an environment that is accessible and playful for those with physical, developmental and/or intellectual disabilities, supporting discovery and social connection through an array of tactile environments. The installation aims to present a richer environment for everybody by offering spaces that celebrate a range of sensory experiences.
"Bryony Roberts is a designer who understands the power and immense responsibility of public space by creating community-based projects involving multiple collaborators," said Monica Obniski, the High's curator of decorative arts and design. "For me, her research-driven methodology gives weight to the project's objective, while the aesthetic ambitions of interlocking geometries and colorful tactile surfaces offer a visually stunning and joyful experience for all Atlantans."
The gently curving steel structure of "Outside the Lines" supports thousands of hanging strands, along the rise and fall of the frame, that will form both small enclosures for quiet relaxation and open environments for social interaction. Emulating a forest-like atmosphere, the tactile materials, designed in collaboration with individuals who are blind and visually impaired, invite safe interaction and enable dynamic navigation through touch. The variety and height of the materials provide a spectrum of exploration within reach of all people, including those who use wheelchairs and mobility devices, and produce a range of intensity and stimulation, offering choice for people with sensory sensitivities.

Community engagement is a central part of the design process at Bryony Roberts Studio, with extensive conversations and interviews with local residents informing both the design and programming of a project. For this project at the High, Bryony worked alongside self-advocates with disabilities and their allies to collaboratively imagine a space that would be both inviting and playful. Representatives from the Center for the Visually Impaired suggested ideas for tactile navigation and exploration, while parent advocates from Parent to Parent of Georgia described the benefits of interactive materials and quiet spaces for children with intellectual and developmental disabilities. Self-advocates helped to brainstorm spaces both for social interaction and restorative calm, while doctors from the Marcus Autism Center and Emory Brain Health offered further insights into the relationship between materials, colors, textures and experience.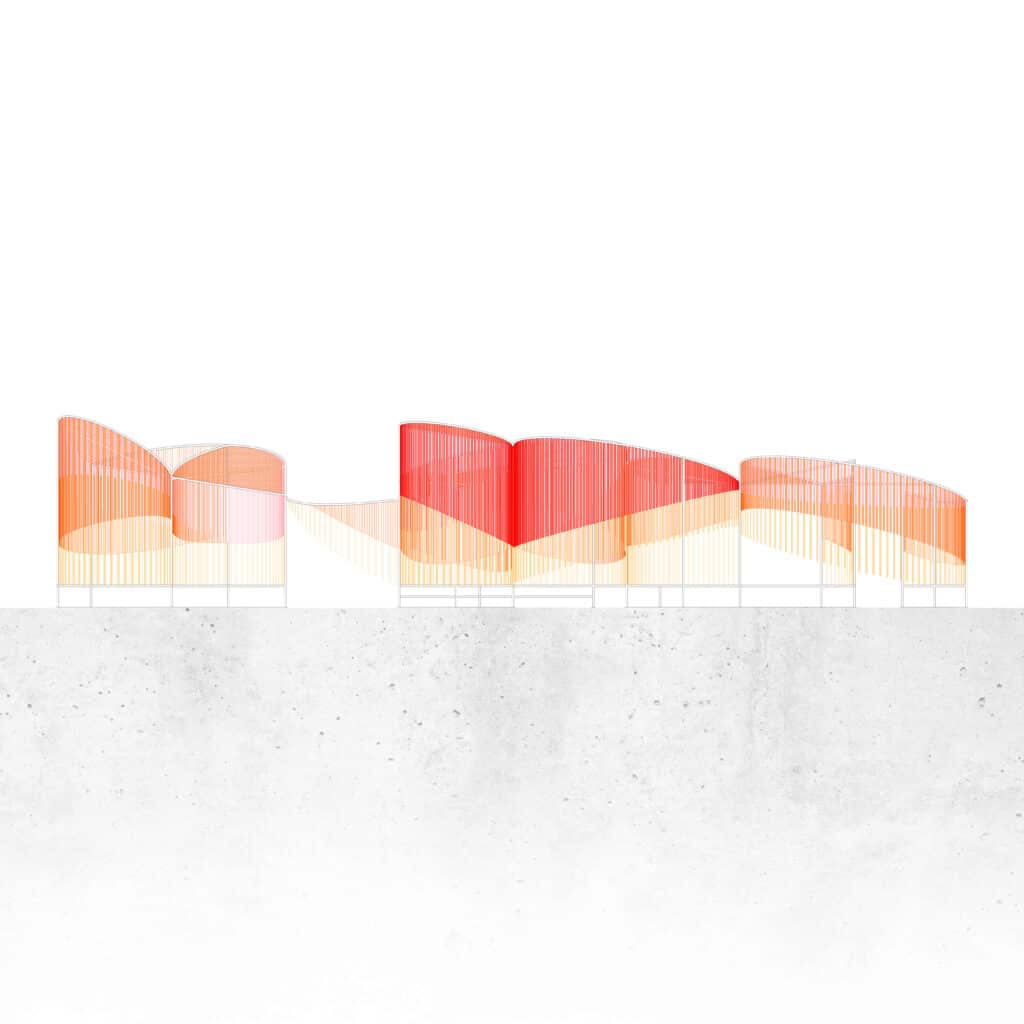 This project builds on the success of the six previous Piazza commissions: "Murmuration" by New York-based architectural firm SO – IL (2020); Japanese designer Yuri Suzuki's "Sonic Playground" (2018); Spanish designer Jaime Hayon's "Merry Go Zoo" (2017) and "Tiovivo" (2016); and 2014-2015's "Mi Casa, Your Casa" and "Los Trompos" ("The Spinning Tops") by Mexican designers Héctor Esrawe and Ignacio Cadena.
Community Partners
Greg Aikens, BEGIN Program Manager, Center for the Visually Impaired
Shelby Ball, STARS Program Manager, Center for the Visually Impaired
Victoria Dugger, Artist
Lindsay Flax, Advocate
Paula E. Forney, MMSc, RPT
Dr. Madeleine Hackney, Associate Professor, Emory University School of Medicine
Eric Jacobson, Executive Director, Georgia Council on Developmental Disabilities
Dr. Cheryl Kaiman, Program Director, Marcus Autism Center
Sitara Nayak, Vice President of Programs, Parent to Parent of Georgia
Mitzi Proffitt, Director of Support Services, Parent to Parent of Georgia
About the High's Piazza Activation Initiative
The High's Piazza activation initiative launched in 2014 to explore how engaging with art and design can extend beyond the Museum's walls. Varied programs, art-making activities and other interactive features enliven these dynamic outdoor installations. More info at high.org
High Museum announces major Nellie Mae Rowe Exhibition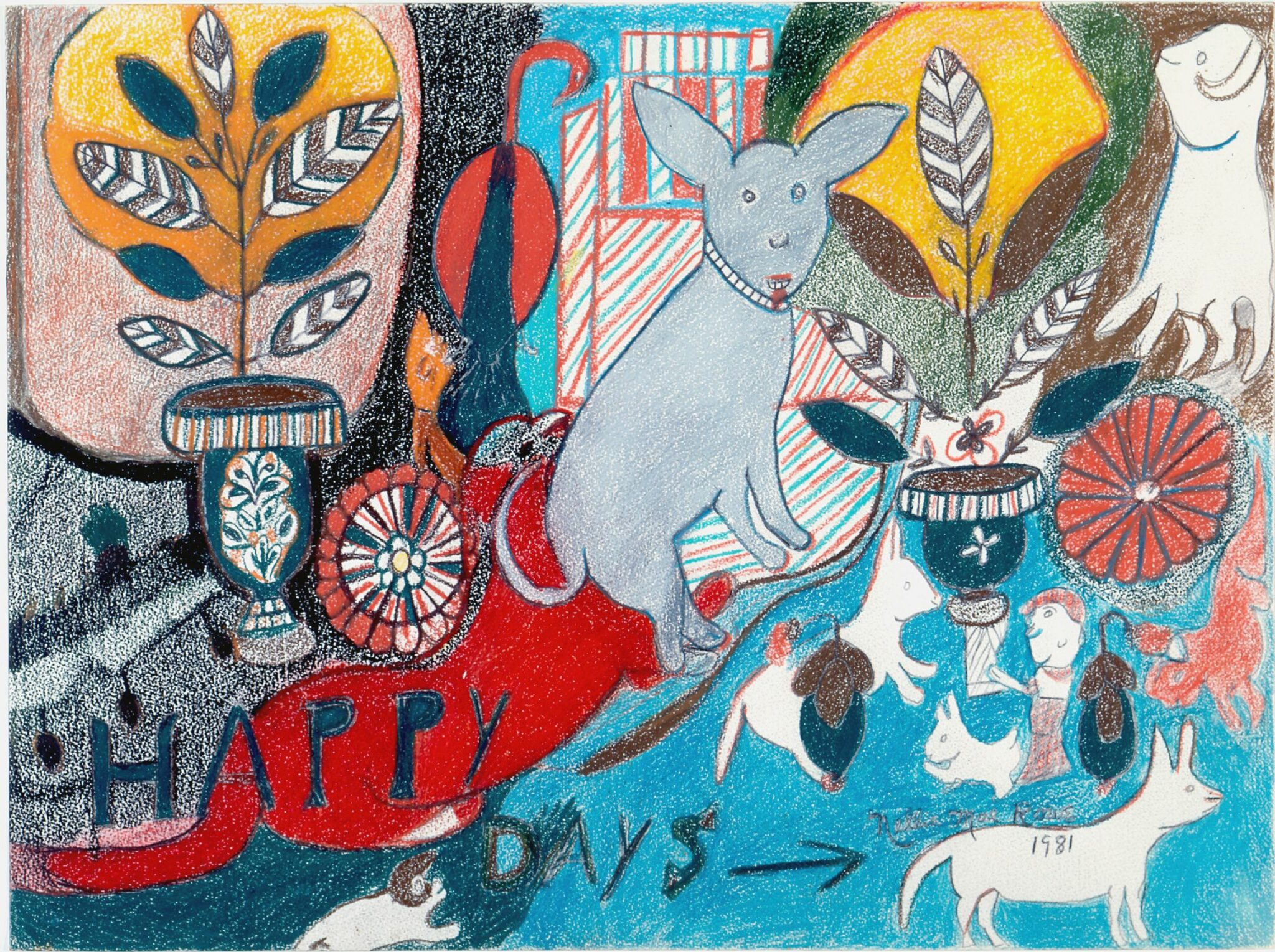 For the last 15 years of her life, self-taught artist Nellie Mae Rowe (1900-1982) lived on a busy thoroughfare just outside of Atlanta and welcomed visitors to her "Playhouse," which she decorated with found-object installations, handmade dolls, chewing-gum sculptures and hundreds of drawings.
This fall, the High Museum of Art will present "Really Free: The Radical Art of Nellie Mae Rowe" (Sept. 3, 2021-Jan. 9, 2022), featuring nearly 60 works drawn from the Museum's leading collection of her art. The exhibition is the first major presentation of her work in more than 20 years and the first to consider her practice as a radical act of self-expression and liberation in the post-civil rights-era South. "Really Free" marks the Museum's first partnership with the Art Bridges Foundation, an organization dedicated to expanding access to American art, which will allow the exhibition to travel nationally into 2023.
"The High was among the first American museums to establish a department dedicated to self-taught art, and today we hold the foremost collection of work by artists without formal training from the American South, including Nellie Mae Rowe," said Rand Suffolk, the High's Nancy and Holcombe T. Green, Jr., director. "We are incredibly proud of this distinction and honored to celebrate Rowe's life and work through this exhibition. Her art has been a fixture in our collection galleries for decades, and this exhibition allows a much-needed deeper look into her bold artistic production."

Katherine Jentleson, the High's Merrie and Dan Boone curator of folk and self-taught art, added, "The exuberant color and imaginative design that characterize so many of Rowe's drawings—which comprise most of her surviving work—is so aesthetically pleasing that her work is often taken at face value. This show will really explore her drawing practice, tracing its emergence and relationship to the installations of her Playhouse, as well considering the artistic path she blazed for herself as a radical act undertaken at a time when Black, women and self-taught artists struggled for respect and visibility."

Rowe began making art as a child in rural Fayetteville, Georgia, but only found the time and space to reclaim her artistic practice in the late 1960s, following the deaths of her second husband and members of the family for whom she worked. Although she did not speak much about politics or social movements, she purposefully embraced her creativity and devoted her life to making art during a time when civil rights leaders and Black feminist politicians and artists were igniting great change across the country. 
As she filled it with drawings and sculptures, Rowe's Playhouse became an Atlanta attraction, which fostered her growing reputation and public reception. She began to exhibit her art outside of her home, beginning with "Missing Pieces: Georgia Folk Art, 1770-1976," a bicentennial exhibition that brought attention to several Southern self-taught artists, including Rowe and Howard Finster, and traveled to venues across Georgia. In 1982, the year she died, Rowe's work received a new level of acclaim, as she was honored in a solo exhibition at Spelman College and included as one of three women artists in the Corcoran Gallery of Art's landmark exhibition "Black Folk Art in America: 1930-1980."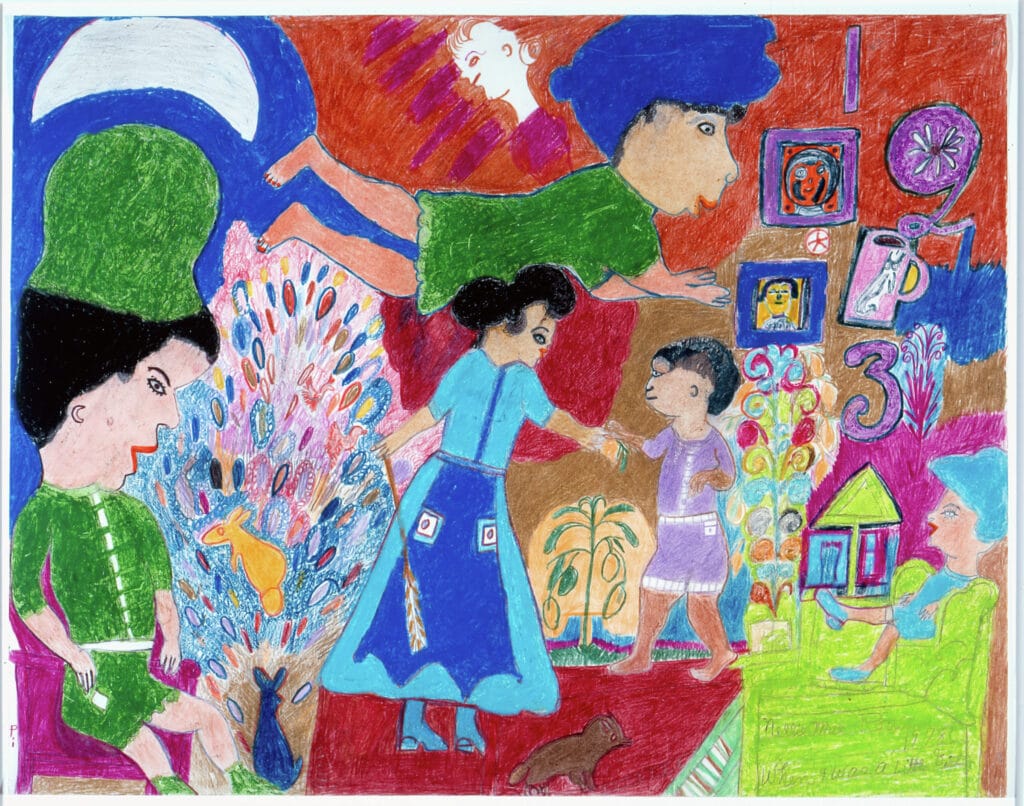 The High began collecting her drawings in 1980. Between 1998 and 2003, major gifts totaling more than 130 works from trailblazing Atlanta art dealer Judith Alexander, a friend and ardent supporter of Rowe, solidified the High's holdings as the largest public repository of Rowe's art. Recently, the Museum announced another major gift of 17 drawings by Rowe from Atlantans Harvie and Charles Abney. Selections from this gift, as well as recent gifts and pledges of Rowe's drawings and photographs of the artist and her Playhouse taken by Lucinda Bunnen and Melinda Blauvelt, will be presented as part of the exhibition.
"Really Free" will feature the colorful, and at times simple, sketches Rowe made on found materials in the 1960s and reveal their relationship to her most celebrated, highly complex compositions on paper of the late 1970s and early 1980s. Other sections of the exhibition will explore themes in Rowe's work such as depictions of women, her childhood, images of her garden, and her experimentation with materials, including recycling cast-offs to make handmade dolls and chewing-gum sculptures. The final galleries will focus on her career breakthrough and ruminations on death and the afterlife.
In addition to works on paper and sculptures, the exhibition will feature photographs as well as components and footage from the experimental film on Rowe's life to be released by Opendox in 2022, "The World is Not My Own," which includes an artful reconstruction of her Playhouse. Through these elements, visitors can experience the lively art environment she created in and outside of her home.
"Really Free" will be presented in the lower level of the High's Wieland Pavilion.
Exhibition Publication
"Really Free: The Radical Art of Nellie Mae Rowe" is accompanied by a fully illustrated catalogue co-published by the High and DelMonico Books that reproduces the High's vast Rowe collection and features a lead essay by Jentleson with contributions from documentary producer Ruchi Mital, scholar Destinee Filmore and award-winning artist Vanessa German. The High also will publish a suite of online content, including author videos, a virtual tour and additional interpretive material, as part of a new library of collection-focused digital resources that launches with "Really Free." 
Source: High Museum of Art Atlanta Press Release
Spotlight: Four Wesleyan Students Display Original Artworks in Artist Market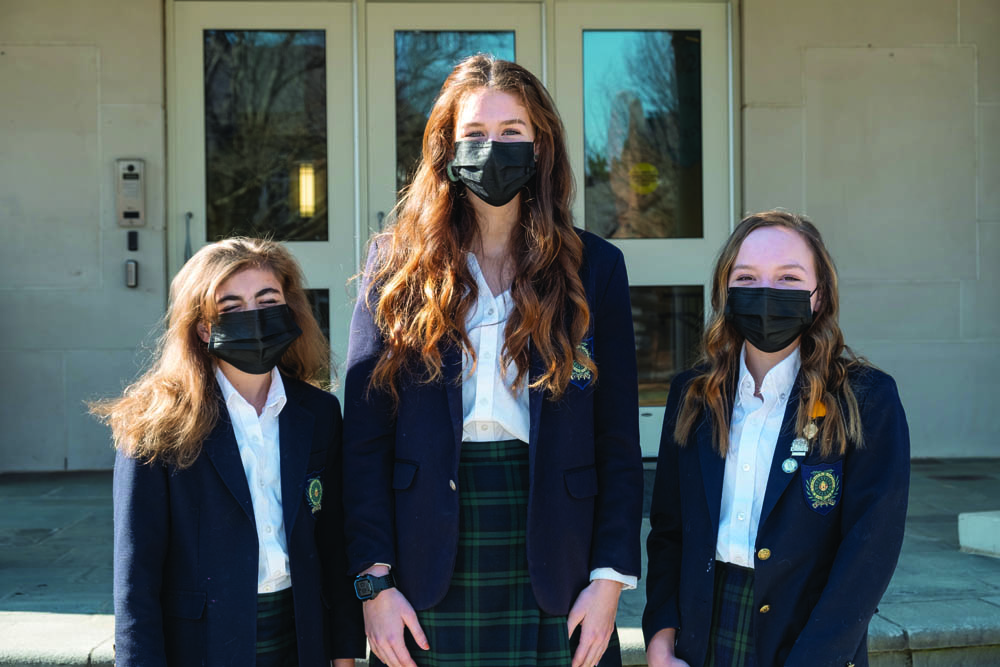 The Wesleyan Artist Market is one of the premier art exhibits in the Southeast and is known for showcasing art categories that include acrylics, ceramics, illustration, glass, jewelry, mixed media, oils, photography, watercolors, wood and textiles.
A number of Wesleyan Student Artists will be participating in the artist market, in addition to the professional artists who are exhibiting their works. In anticipation of this great art event coming to Peachtree Corners, we spoke with four of the featured student artists to learn about their process, their artworks and what inspires them.
Makenna Wazevich
Middle school student Makenna Wazevich is an accomplished textile artist. Her works include scrunchies, makeup pouches and in a true sign of the times, face masks. Inspired by the pieces she saw on "Project Runway," she asked her parents for a sewing machine and took to the textile arts immediately. Working both from existing templates and making up her own, Makenna enjoys the process of sourcing the fabrics at local craft stores and then transforming them into beautiful, useful items.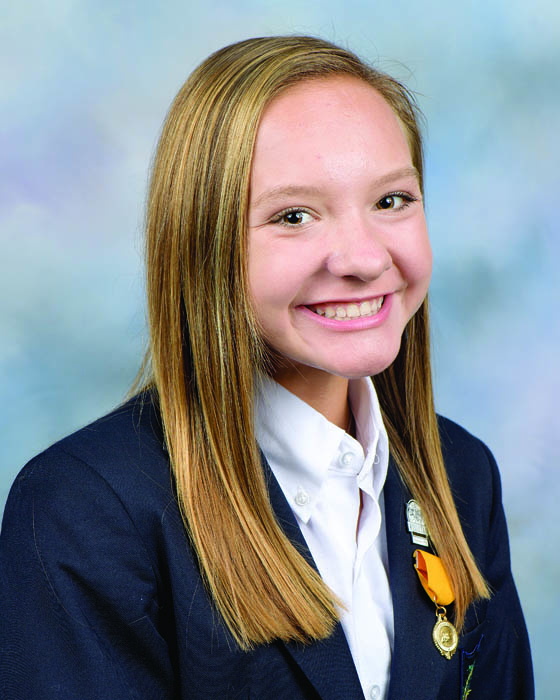 "I start by sketching out the idea, then I create a pattern, then cut out the fabrics, and then figure out how I am going to sew it together," explained Makenna. "I usually have to do a lot of problem-solving to get the project to turn out how I pictured."
Bold, geometric designs with eye-catching accent colors ensure that Makenna's pieces stand out among the crowd. Her careful selection of patterns and textiles result in an elevated style that appeals to consumers of all ages.
Many of her ideas come from images she sees online on sites like Pinterest, and she says her biggest mentors have been her parents. They help to keep her on target for creating her pieces in a timely fashion and have been essential to help her prepare for the Wesleyan Student Market.
During the pandemic Makenna has even found ways to give back by creating face masks that she donates to local hospitals. While she isn't sure if she wants to pursue textile work as a career instead of a fun hobby, she is looking forward to gaining experience with the marketing and networking that the Artist Market provides.
Suzy Loetscher
Suzy Loetscher, also a middle school student, is exhibiting several watercolor paintings in the Artist Market. Her colorful pieces feature birds, highlighting her deep love for those feathered creatures."It leads me to get outside in my backyard and look for inspiration," said Suzy. Inspired not only by the native birds she sees around her home here in Georgia but also near the condo her family owns in Miami, Suzy looks up the birds online and uses those images for reference.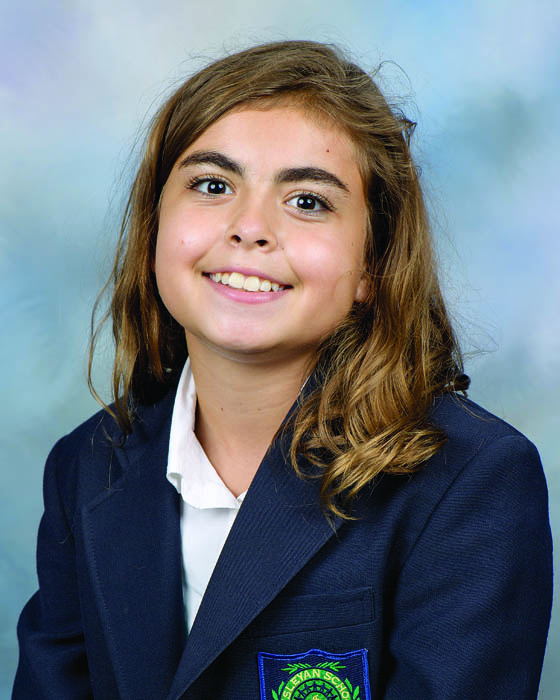 She says being home during the pandemic has provided a unique opportunity to pursue her passions with renewed vigor. "It helps me focus on the other positive things that come from the extra time; it gives me more time."
Suzy is an inquisitive and curious artist, devoting significant time to learning about her subjects. She read every book in the lower school library at Wesleyan that related to exotic birds — especially parrots, which she says are her favorite.
She has two pet parakeets and is enthralled by birds' colorful feathers and the freedom of flying. Not bound by a strict adherence to the anatomical colors of birds, Suzy takes liberties and infuses her subjects with a vibrant assortment of colors.
"It's important to have someone to remind you about the priorities," Suzy said, speaking of her mother's consistent support for her in her artistic pursuits. Keeping her on track and pushing her to create are some of the ways her parents encourage her to develop her artistic skills. Her father's work ethic is inspirational to Suzy and she hopes to incorporate some of those elements into her future works, most notably into a dress concept she says is influenced by his devotion to their family.
Elijah Tian
Intricate motions, patience, time and attention to detail are some of the elements that middle schooler Elijah Tian relies upon to make his paper crafts. Constructed of precisely folded paper, his creations exhibit animals and recognizable items like pineapples.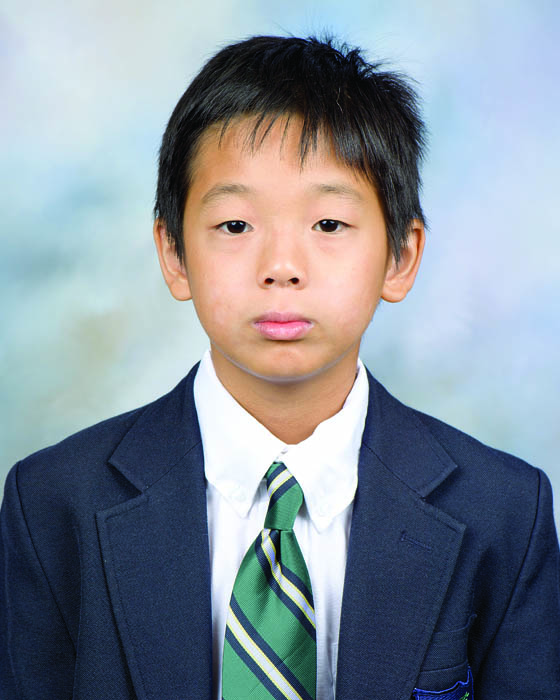 "I used paper because it is not costly and it is colorful and easy to design," said Elijah. "Sometimes I may like to make paper crafts because they are fun and get rid of your boredom. Also, it occupies my hands."
Hoping that his pieces might brighten the lives of others, Elijah is mostly inspired by images he finds online. It is no surprise that this level of precision and an understanding of three-dimensional shapes might lend an inkling to what the future holds for this budding artist. Elijah hopes to be an architect one day, and for many architects, building designs start with sketches followed by renderings and — you guessed it — 3D models often crafted out of paper.
Katherine Graddy
High school student Katherine Graddy will be exhibiting her clay jewelry at the Wesleyan Artist Market. Bright, cheery colors, floral influences and a clear understanding of modern design lend her pieces a decidedly hip aesthetic. It would come as no surprise to find these items for sale at popular boutiques or shops such as Urban Outfitters.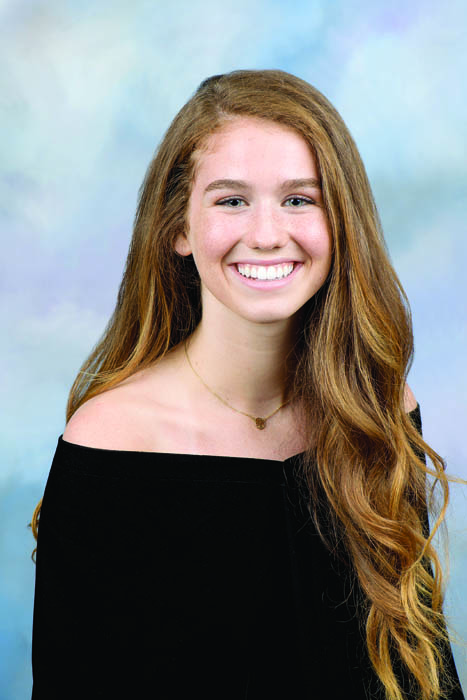 Inspiration and opportunity led to a flurry of creation for Katherine. "A few days before a school dance, I stumbled upon a picture of clay earrings on my timeline," she said. "I hadn't realized that clay jewelry even existed, and the opportunity to make art that you could wear seemed so incredible." The following days were filled with experimentation in the craft, and soon she was developing pieces that she had until then only dreamed of.
Before the pandemic hit, Katherine started selling flowers at a flower cart to benefit the City of Refuge, a faith-based organization dedicated to lifting individuals and families out of crisis. When the shutdowns began, she pivoted her Looking for Lillies campaign and used her newfound free time to transition from florals to jewelry. She also created dozens of pieces that she donated to the women there.
"I truly love to create earrings that can represent the wearers' personalities, crafting pairs to represent the most unique aspects of who people are," said Katherine, who hopes to work in nonprofits one day. She considers all that she has learned from making her jewelry and working with the City of Refuge as important experiences and a unique insight into ways that arts can help those in need, all of which she aims to incorporate into her future work.
"The creativity that has been fostered in my life through art will hopefully allow me to find new and unique approaches towards working to create change in a nonprofit environment," said Katherine. "One thing I know for sure is that art will always be a huge part of my life!"
Shop the Artist Market online
Whether you're an art connoisseur, shopping for yourself or for loved ones, or simply looking to upgrade your home and wardrobe, consider logging in and checking out the incredible works on display at the fully virtual Wesleyan Artist Market.
As a bonus, pajamas are totally acceptable attire for this year's exhibit! For more information go online to the Wesleyan Artist Market website at artistmarket.wesleyanschool.org.