Stephen Chininis- Local Hero, Part of Five Stories to Brighten Our Spirits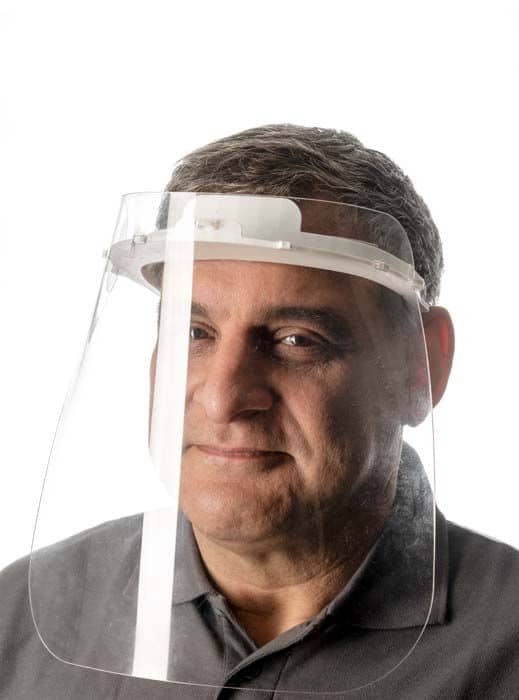 The Bright Side of Lockdown in Peachtree Corners
We can all relate to the surreal feeling brought on by the coronavirus as we struggled with being caught in this bizarre new world that was difficult to believe yet impossible to ignore. We couldn't help but feel shocked as it unfolded — it was unprecedented — although there had been a dreadful buzz in the air heading straight for us from miles away.
As our nation is sieged with controversy, climbing death rates, trepidation and uncertainty, I wanted to find some uplifting, local COVID-19 stories that would serve to brighten our spirits. This is part 1 of 5 stories to be posted.
Stephen Chininis — Local Hero
Industrial Designer and Inventor at Chininis Product Development Group — Chininis Designs, Georgia Tech educator, Curiosity Lab mentor and Peachtree Corners resident Stephen Chininis wondered what he could do to help during the crisis. "We all got the sudden shock that the world was changing. I suppose if you're a poet, you write poems about it. I'm not a poet. I make things. I'm an inventor," he said.
Behind Every Great Man…
In early March, his wife, former Assistant Principal of Norcross High School, Maria Chininis, suggested he make face shields when she realized her colleagues were in desperately short supply. Mrs. Chininis currently works with a sports medicine group at Northside Hospital.
Equipped with a 3D printer and a laser cutter, her husband got to work in the garage, creating a model to be vetted by the infectious disease staff at Northside. A few modifications later and Chininis was ready to go, well before most. Some were producing one-time-use face shields, but Chininis had specifically received requests for shields that could be cleaned daily and reused.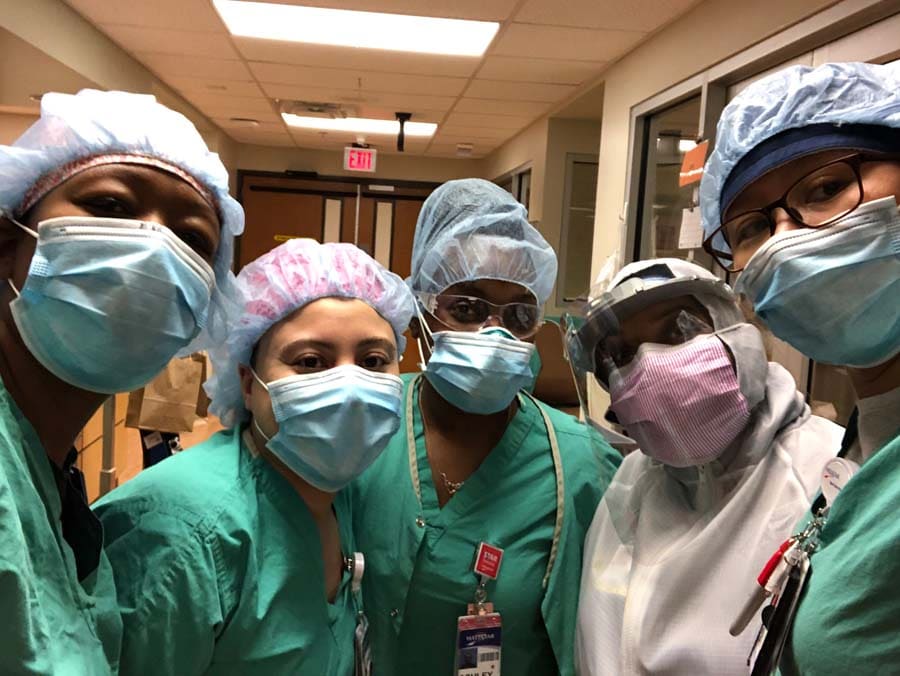 Left, Inventor and Industrial Designer- Stephen Chininis Top right, Stephen Chininis and his wife Maria Middle right, 3D printer Bottom right, Stephen in the work space where he created 3D printed PPE to put in the hands of U.S. hospital and medical staff when they needed it most.
Photos by George Hunter
The Power of 3D Printers
"The companies who produce face shields couldn't meet the immediate demand. They were ramping up production the same time we were. We beat them; the 3D printers of the world beat them, we got… [face shields] into the ICUs. It's just a get 'er done attitude," Chininis stated.
Regarding his problem-solving approach to life Chininis said, "I've always had that attitude; it came from my parents and my upbringing. I think that's something we need more of. I'm really glad to see my students acting that way. They're asking how they can help. It's very infectious. Everybody wants to be a part of making things better."
He provided over 300 face shields to hospitals all over the U.S. "3D printing has some weaknesses but the strength is, if there's a problem and you need to solve it, you need a prototype, I can design something, print it overnight, and the next day, I can have the answer," Chininis said of the low-run production solution he made use of so ingeniously.
"What's cool is you save the files of all these different things you make, and you can reproduce them again whenever necessary," Chininis beamed.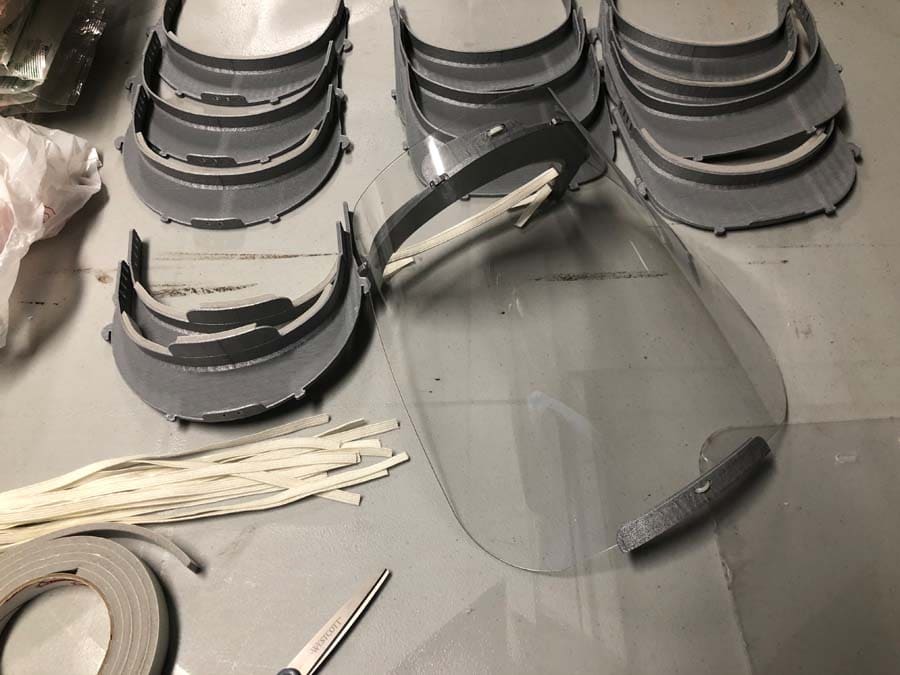 Trial and Error
An injection mold is a better way to produce face shields, but it's a much more expensive endeavor. The mold alone could cost $30,000. It requires special equipment and machines, so the tooling price is prohibitive if you're only looking to produce a few hundred of them.
With a long-spanning career of 30-plus patents and licenses for over 100 inventions under his belt, Chininis found himself Googling and talking to doctors, trying to find out what kind of plastic other Personal Protective Equipment (PPE) products were made of so he could use that same grade for his shields.
"It wasn't as smooth as it sounds," he recounted, and told of misadventures with industrial plastic companies that would suddenly cancel orders due to COVID-19.
He modified his designs several times to be able to continue making the visors with whatever plastic he could find, often with variations in thickness. The downside: "Sometimes the plastic was heavy, so it wasn't as comfortable to wear, but better that than not having a visor," Chininis offered.
An initial model made of acrylic crazed after sitting overnight, forming tiny cracks all over the surface of the shield. Two of his face shields melted when left in direct sunlight for too long but they were returned and easily replaced.
"3D printed plastic is susceptible to high heat. At 150 degrees it will start to bend and melt," Chininis explained.
Then it was a matter of finding someone who stocked the right plastic in the thickness needed. "It's all very tedious. Thankfully, my wife helped me," he noted.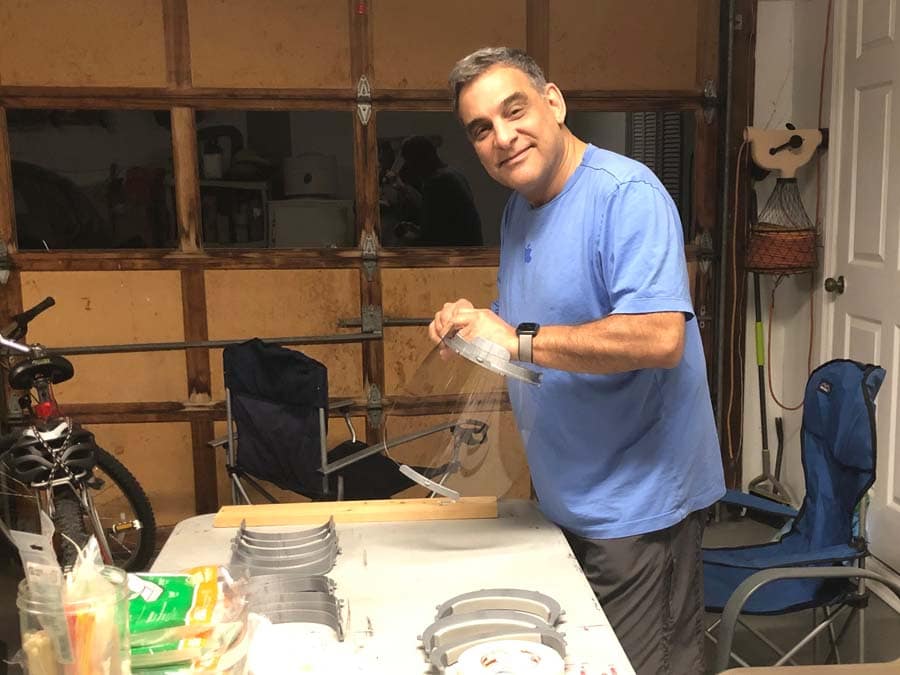 The Cost of 3D Printed PPE
Materials for one medical grade shield run about $10, and the two-hour time frame needed to print it, $50. Yet Chininis offered his products for free to hospital staff. Some recipients offered to help defray the cost of materials for the production of subsequent shields.
Ratted-Out by the Neighbors
"I'd like to point out how lucky I feel to live in Peachtree Corners," added Chininis, a resident since 1986. When neighbors saw him toiling in the garage in response to the needs of medical staff, the news soon reached CBS who rushed to cover the story in March.
The design that got him recognition was a sturdy yet comfortable mask, made of high-quality plastic that was resistant to chemicals and could easily be washed and reused for several months.
"Everybody wanted one from San Francisco, Louisiana, Atlanta, to Chicago and New York," he said. His Instagram and Facebook posts resulted in requests pouring in.
When a Community Pulls Together
During the busiest time, he turned to Curiosity Lab at Peachtree Corners for an extra printer to ramp up production. Chininis had helped set up the 3D printers there when it was still Prototype Prime, and he has been instrumental in the printers' maintenance ever since.
He also enlisted the help of a former student in Marietta who could make a batch of 10 masks per week to help fulfill the orders.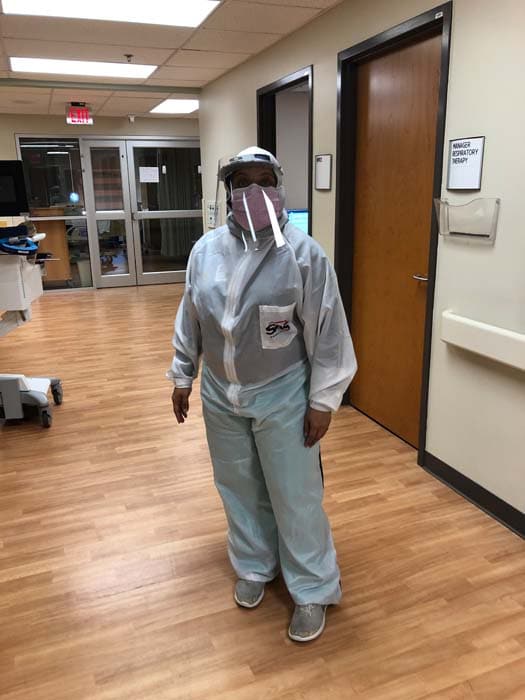 Face Shields of the Future
The demand from hospitals started to taper off in early May. It has shifted from PPE for hospital staff use to mask for use by everybody else. Chininis explained, "We're starting to see a second wave of PPE coming along, not designed for the ICU but for other people. We never really thought about this. How do we protect everybody?"
Chininis is now producing made-to-order shields: "Tell me what you need, I'll make it." People don't want to take medical grade visor shields away from the ICU, but they do want something to make visiting their parents safer. He's created a simpler design that can be fastened to a baseball cap.
Chininis meets these challenges with enthusiasm; it's part of why he loves design so much. Effective design is the result of knowledge, and he has a passion for learning about each new need.
"I try to anticipate what may happen. It's hard because there's a lot of conflicting information," he said.
"People are getting restless. It's not safe yet and it won't be for a good while. I'm inclined to listen to doctors and medical people. We did have a great effect on COVID-19 already, we did flatten the curve. I don't think relaxing [Stay at Home Orders] to a great extent is going to be helpful. It's going to come back. There are going to be hot spots. The question is how big and where will they be, in our backyard or someone else's?"
We all Need to get Back to Work — Safely
Chininis was working with dentist Emily Chen, DDS, MA Prosthodontist, the day of our interview, custom designing a visor that would allow for the dental loupes to fit underneath with a headlight affixed to the top. "She's going to use it over the weekend and let me know on Monday what we should change," he explained.
He's also gotten a request from a turkey factory in Minnesota that has asked for face shields that they can attach to their hardhats.
A Humble Hero
When I thanked him for everything that he and his wife have done to make things a little better during this frightening time, Chininis replied: "Honestly, it's nothing. You do what you do. If you're a doctor or a nurse, you go to the hospital and you help there. If you drive trucks, then you help with the food supply."
"I'm really proud of the folks I know who have not been whiney in the face of this crisis. They've taken on a 'We can figure this out' mindset."
His unpretentiousness had me on the Coronacoaster of emotions. Eyes welling with tears, I needed him to know that his ingenuity and generosity are everything, especially to those who have loved ones on the front lines.
At this point a blubbering mess, I managed to choke out, "Most of us feel helpless — like there's nothing we can do." To which he replied, "But that's not true. By writing an article, you're doing something. Right? It's just a matter of everyone figuring out what they're good at." That's when I would've hugged him if I could, but alas, distanced Zoom interviews are the new normal.
To learn more about our local hero, a man you want on your side when the chips are down, visit ChininisDesign.com.
Photos by Photographer George Hunter
Backyard Escapes Pt. 5: If You're Lucky, You'll Discover Happiness in Your Own Backyard Like Bob and Lori Howard in Forest Hills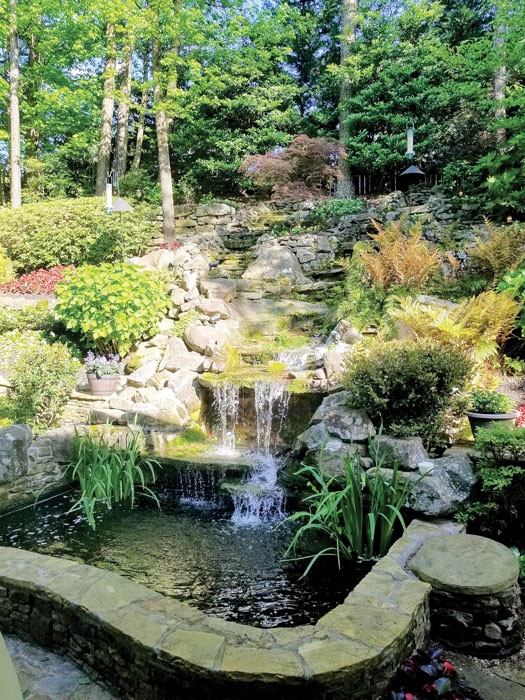 What if you could feel like you were in the north Georgia mountains every time you stepped outdoors? That was the inspiration for Bob and Lori Howard's posh backyard makeover upon settling into their retirement home.
An environmental engineer, Bob designed and supervised the transformation of their yard. A home designed for empty nesters doesn't come with the largest yard, but every square inch of this one is gorgeous.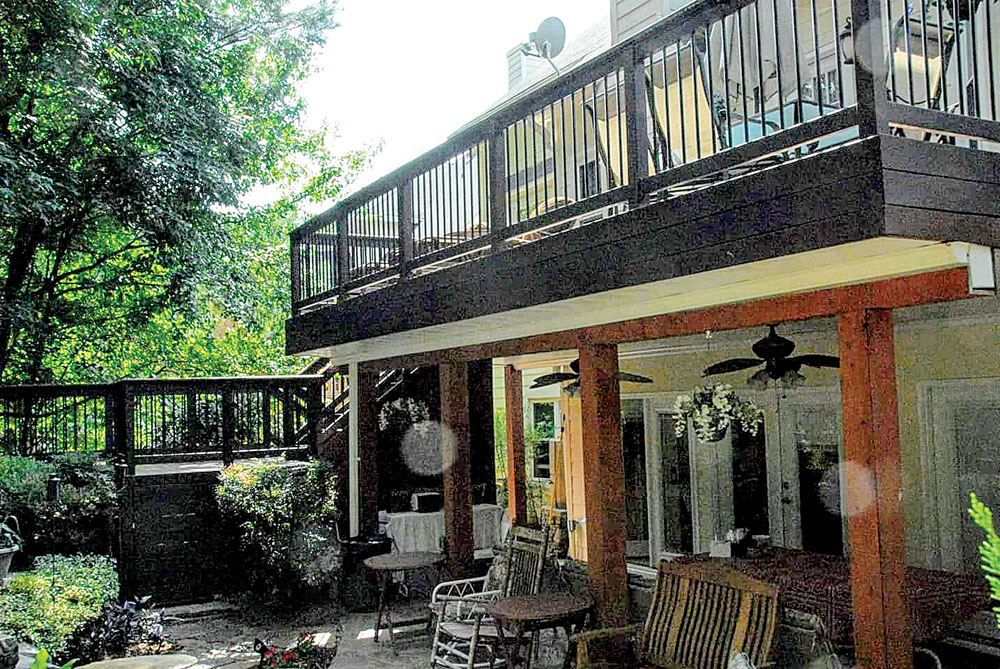 Taking advantage of the natural topography — their property slopes towards the back of the home — Bob had a vision of what could be there and brought it to life exquisitely. It's difficult to believe their yard once consisted of privet and a few short pine and other scrubby trees. "There was no landscaping. It was a cosmetic disaster," Lori recalled.
They were able to develop their outdoor space into a striking deck, a series of retaining walls and flowerbeds, a marvelous waterfall, koi pond and patio haven which they've been reveling in for 12 years.
"It's a comfortable place to be. We turn music on, have the waterfall going, drink a margarita and life is good," Bob said.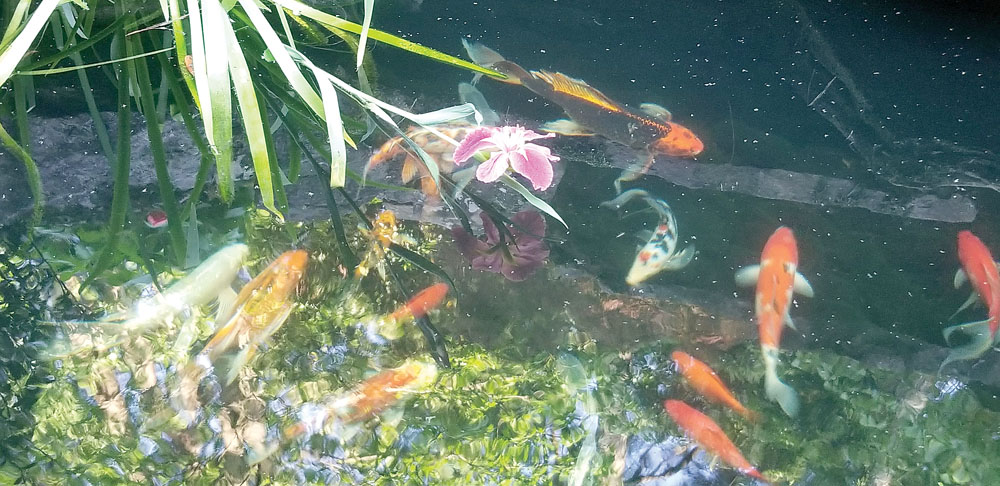 "We have under decking, ceiling fans, a fire pit and a warming light on the patio, so we can sit out almost year-round," Lori added.
Color changing landscape lights illuminate the waterfall at nighttime. From the patio, one has a breathtaking view of the waterfall.
Most evenings you'll find the Howards on their patio, listening to The Bridge on SiriusXM. "Bob also put in a sound system. I've had a live-in handyman for 40 years; I've been blessed," Lori smiled.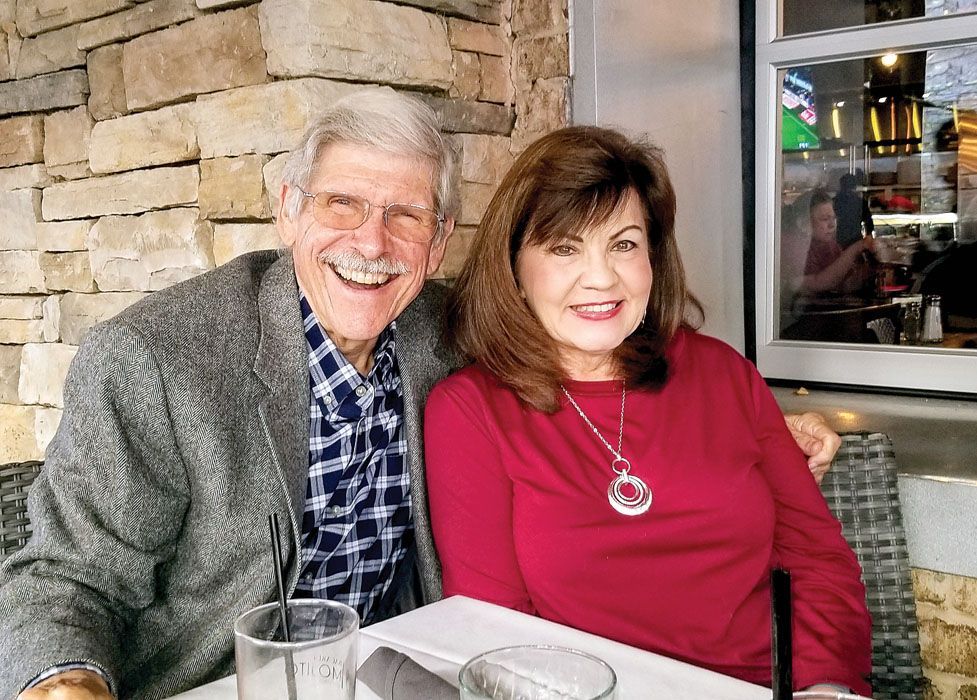 The Howards have been able to share their lovely surroundings with family and friends. Their friends were married here, they host neighborhood parties — not this year, of course. For their 70th birthday, they welcomed a large group of friends. A country western singer came from Nashville to perform for them.
"This is a good party house. It flows very nicely," Lori said.
Extreme Remodel
The stonework in the Howard garden is impressive. "There are probably 20 or 30 tons of stone and rock on the slope. I laid out where I wanted it with spray paint, bought the stone and the contractor, Nick Carillo, built it," Bob reported. The tiered, stacked stone retaining walls were built to create flat areas for planting flowerbeds.
Bob conceived the 3,500-gallon koi pond including the pumps, biological filter and UV light. "We have large koi. I designed it so the herons could not get access to fish," Bob said. "They can stand on the edge, but they can't get into the water to get any fish; it's over four feet deep."
A coyote's attempt at catching the fish was captured on their security camera. The fellow almost drowned after falling in, but he was able to scramble to safety.
Knock on Brazilian Wood
They originally had a poorly made deck that was falling off the house with nothing but earth underneath it — but Bob had plans to rebuild it. He selected premium Brazilian cherry wood for the new, sturdy deck. "I like the reddish color and it holds up longer than pressure-treated pine," Bob said. He designed and built the deck with his son's help.
"On our last deck, we used Trex composite wood. We love the way it looked but it holds a lot of heat in the summer," Bob said.
The new deck has a stair system with a boardwalk that goes over to the back slope. Steps lead to an area by the waterfall.
Carillo poured the foundation, reinforcing the sandstone patio for the posts. "I didn't want to have that much weight on the sandstone patio without having a foundation underneath," Bob said. "It has worked well. Knock on wood."
Pandemic Relief —Backyards for the Win
The couple hosted an engagement dinner for their youngest son and his fiancée in August. They've been able to gather with friends, one couple at a time, socially distanced on their patio. "That's how we've managed to do it, with people our age who have been quarantining and staying close to home like us," Lori said. "They wear masks when they come in. Outside we serve drinks, hors d'oeuvres and talk."
Gardening Is a Work of Heart
Amid a backdrop of hydrangeas, ferns, azaleas, Japanese maples and dogwoods, Carillo and his crew return every spring to plant annuals: begonias and impatiens. In the fall, they pull out the gardens and winterize the flowerbeds.
"Yearly, at the beginning of the season, I have to pressure wash and seal the sandstone patio," Bob said. "It has a water finish look; it's really quite beautiful."
The Howards have had four different homes in Peachtree Corners since 1984. This is their last. "You really want to have a nice backyard, a retreat you can enjoy," Bob said.
Gwinnett Tax Commissioner awarded CARES Act grant to cover convenience fees for 2020 online property tax payments

Gwinnett property owners have the opportunity to pay property taxes online using debit or credit cards without incurring added convenience fees, Tax Commissioner Richard Steele announced today.
"We wanted to make it as easy as possible for people to pay their property taxes safely," Steele said. "Obtaining this grant helps us do that, and I sincerely hope people take advantage of it during the pandemic to pay online from the safety of home."
The Gwinnett County Office of the Tax Commissioner was recently informed of its successful application for obtaining a CARES Act grant to cover the cost of convenience fees for online property taxes. Taxpayers who have already paid their 2020 taxes and incurred a convenience fee will automatically receive a refund of the fees via the card they used from payment processing vendor Value Payment Systems LLC.
Online payments can be made at GwinnettTaxCommissioner.com/pay and include these options:
· E-check, debit or credit card with no added convenience fees.
· Scheduling payments in advance, as long as the total is paid by the Dec. 1 due date.
Property owners who have questions or need assistance may contact the Tax Commissioner's Office 8 a.m. to 5 p.m. weekdays via email to Tax@GwinnettCounty.com, by phone at (770) 822-8800 or initiate a chat on any device from GwinnettTaxCommissioner.com.
Backyard Escapes Pt. 4: Come Gather in the Garden of Jay and Jill Lowe in Peachtree Station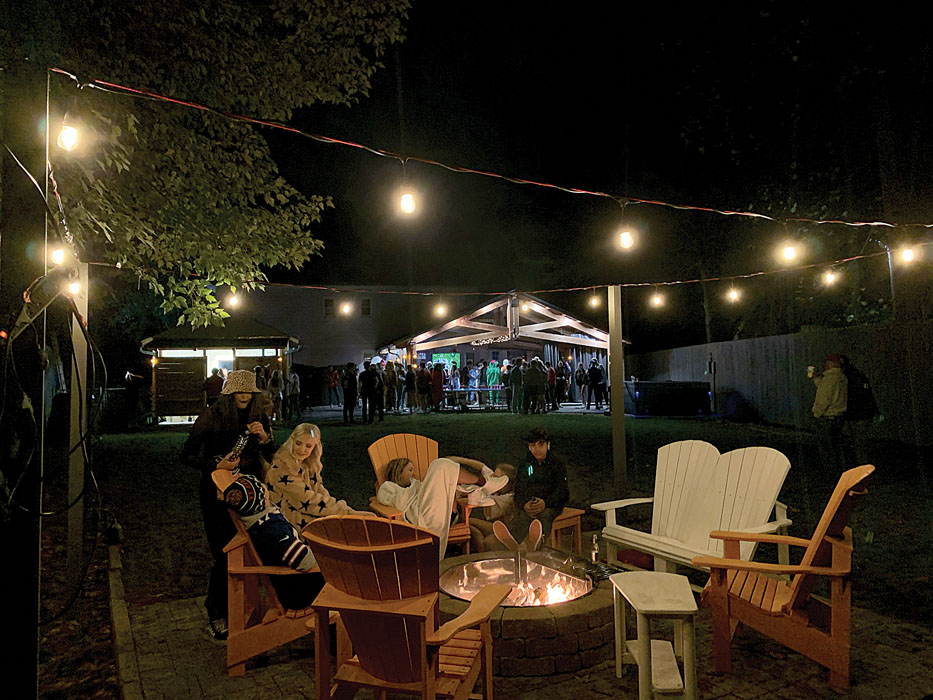 What if the weather couldn't ever foil your plans to spend time outside? That's the case at the home of Jay and Jill Lowe. Little remains of the teal green shuttered house they purchased 20 years ago. Their recent improvements include an architectural pavilion in the backyard— a sheltered center for gatherings and celebrations.
"This was Jay's vision," Jill said. "I gave him a hard time about the size of this space. I thought it was a little over the top. Actually, it's my favorite room in the house. I love it. It's big but it doesn't feel overbearing. It's perfect."
Jay designed the 30-foot x 30-foot all-cedar structure, acting as general contractor. It's equipped with LED lights in the ceiling, a granite bar countertop, a refrigerator, living and dining areas, a stacked stone gas fireplace, fans, heaters, outdoor curtains to enclose it, a Sonos surround system, two televisions and security cameras. The Lowes have this stunning space to entertain family and friends all year long.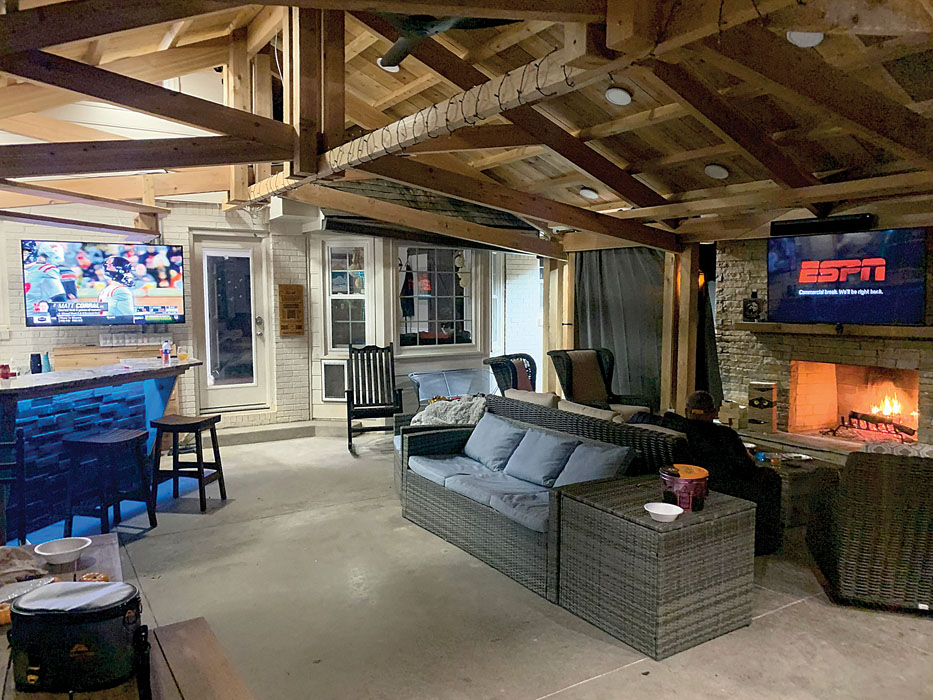 "We put an aluminum roof above the support beams because Jill likes the pitter patter of the rain," Jay noted. Insulation in the 17-foot-tall pitched roof helps to keep it from getting too hot in the summertime.
Their four dogs and kitten, Axel, like to spend time here as well. "We've had fires out here, watched movies and football games. I like the girls to have friends over, so I know where they are," Jay said.

A 600 square foot patio extends around the pavilion to meet a large, level lawn which stretches to the back of the long yard. On the left side of the patio, there is a large hot tub, and to the right, another unusual backyard structure.
When Nature Calls
An outdoor bathroom complete with sink, shower, urinal and toilet is available for guests visiting the party pavilion.
This prevents "a bunch of kids running in and out of the house," Jay said. Regarding using the outdoor restroom in colder weather, Jay said, "I like a wintertime shower; we use the hot tub a lot."
Fire Pit
The end of the yard opposite the pavilion is rounded out by a fire pit surrounded by string lights and a trampoline, which gets regular use. Orange accents like the Adirondack chairs convey the family's Tennessee affiliation.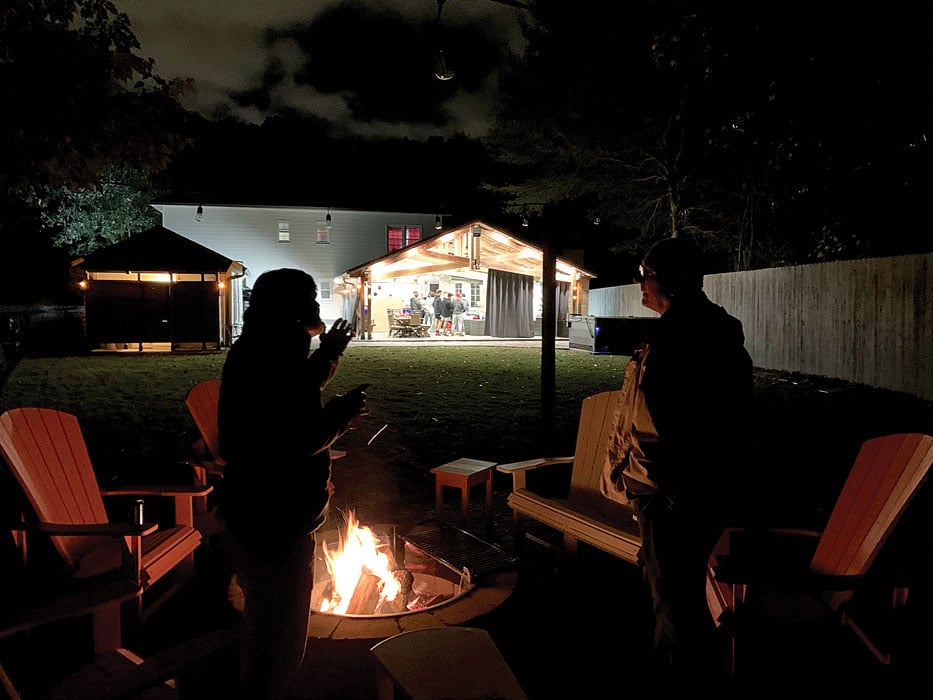 Extreme Remodel
Originally, the Lowes deforested the backyard, removing 65 trees. In 2018, the demolition of a huge back deck and sunroom made way for Jay's plans. His carpenter of choice is Mimi, a Taiwanese gentleman who has done plenty of work for the family over the years. "He's the hardest working, most intricate woodworker," Jill said.
From a muddy plot, to bringing in loads of backfill dirt, to laying the cement pad, the all-season pavilion was underway. Once the frame was up, Jay started building the fireplace. Then the interlocking brick patio was laid. The project was completed last October.
Pandemic Relief — Backyards for the Win
"We are so grateful for this space because it's made [living through a pandemic] a lot easier," Jill said. "We can come out here and play games: ping pong, corn hole, basketball."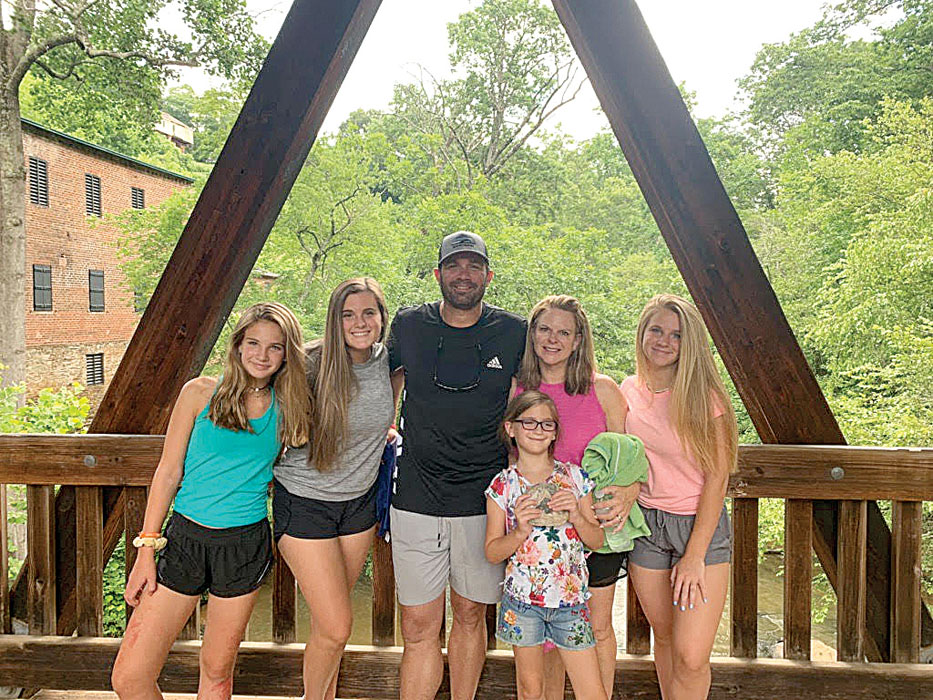 She said that their oldest child graduated this year and noted that it was a rough year for seniors. "We were able to host a little graduation party for her. We had tables and chairs spaced out. There's a lot of room. It's been great for us. It's been a blessing," Jill shared.