Looking Up: Two Peachtree Corners residents show enthusiasm for things that fly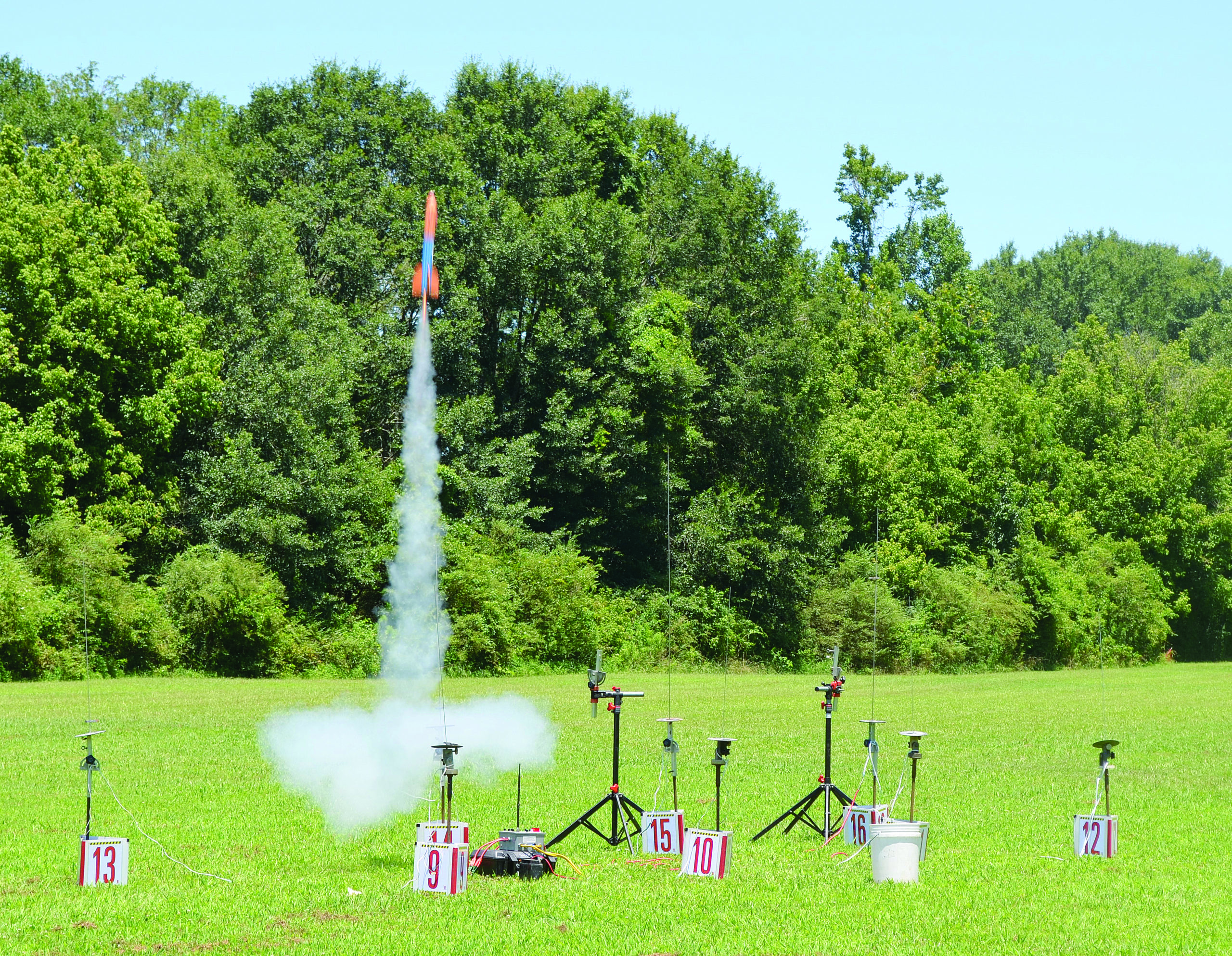 One hot Saturday in July, a cloudless sky burned deep blue above an isolated field hidden among the woods behind a private high school in Atlanta's northern suburbs. About 20 cars, pickups or SUVs lined the edge of the grassy field and families gathered beneath tents or tarps they'd pitched beside their vehicles, like tailgaters at a football game. In the middle of the field, a pair of model rockets sat side by side on launch pads, waiting the electronic command to blast skyward.
One belonged to Maddie Cain, a 9-year-old from Peachtree Corners who enjoys flying rockets with her dad. She and Nicolas Ruthruff, a 7-year-old friend from Acworth, planned to launch their rockets side-by-side in a "drag race," a competition to see how well each rocket performed. The winner would be the last rocket to hit ground. Jorge Blanco, president of the Southern Area Rocketry club (SoAR), stood in the shadow beneath a tarp next to the launch area. Blanco counted down from five to zero and the rockets zipped into the sky. After just a few seconds, they headed back to earth. Nicholas' rocket won. The two rocket racers ran across the mowed grass to collect their models so they could fly another day. "Good race," Maddie said.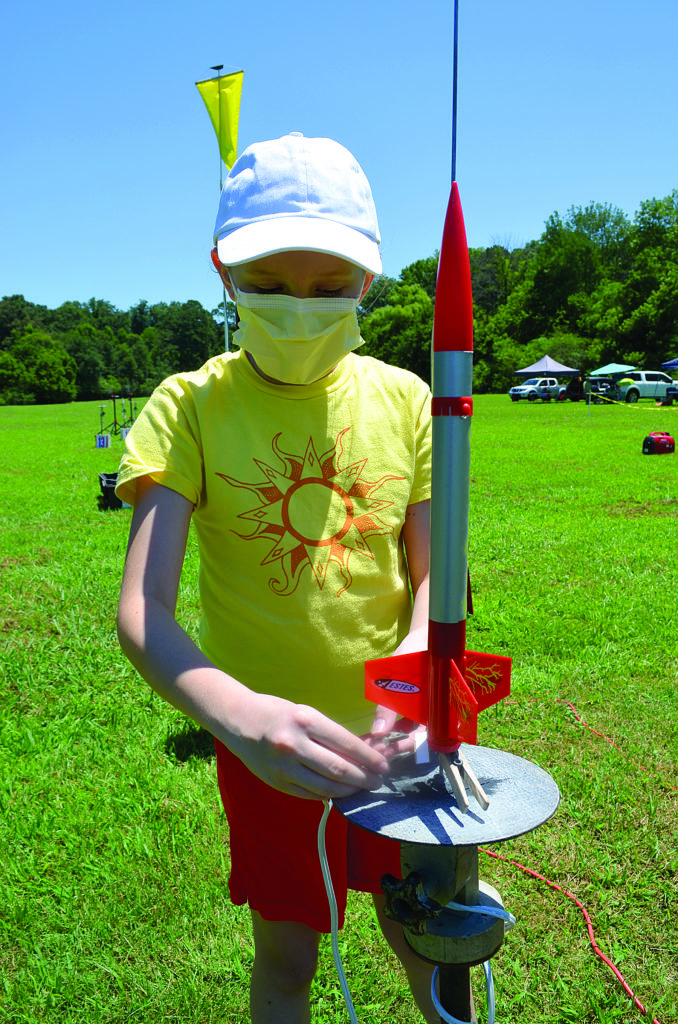 Maddie learned about model rocketry from her dad, David Cain. Cain, a 61-year-old software interface architect, first flew model rockets as a boy who was, as he put it, "growing up in the Space Age." He moved on to other interests as a teenager, he said, but picked up the hobby again a few years ago as a common interest with his children, Maddie and her 12-year-old brother Jim. This year, Cain took over as vice president of the 400-member SoAR.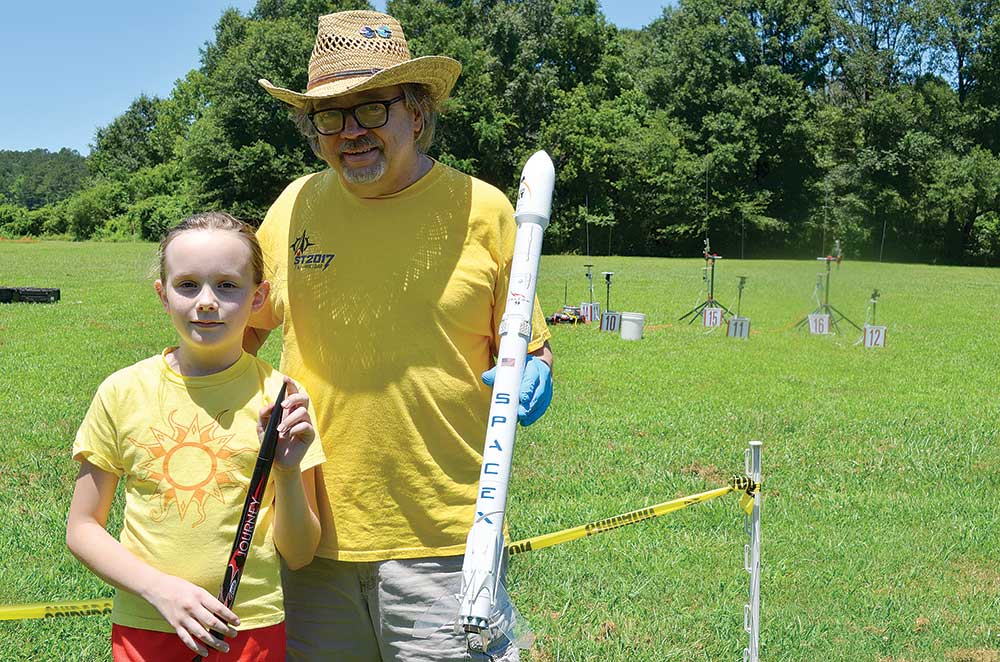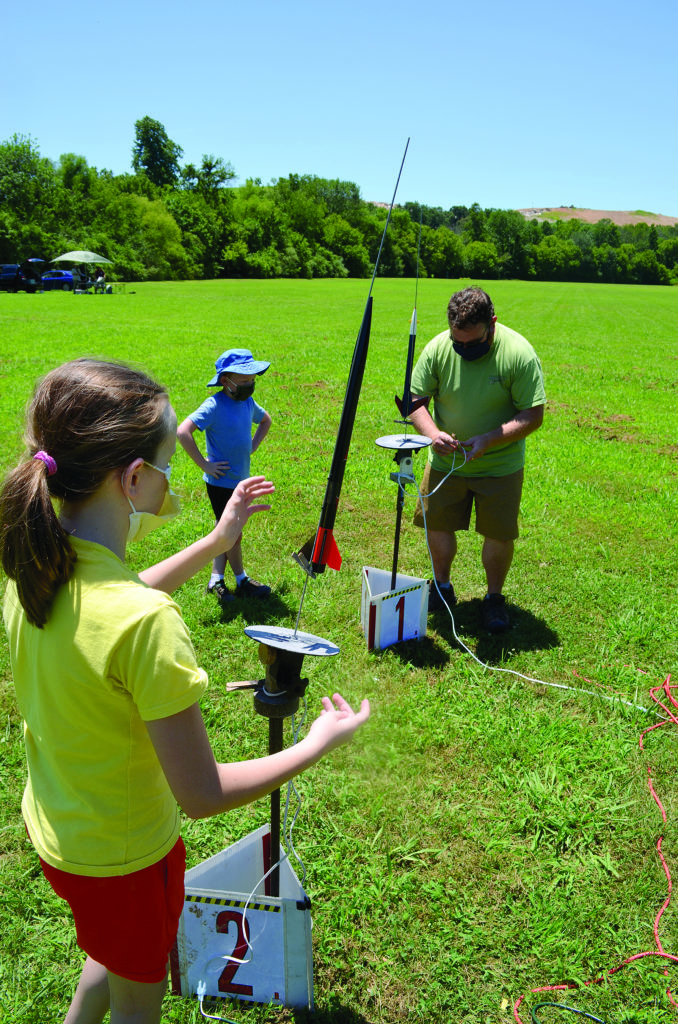 These days, he and another Peachtree Corners resident, Moreno Aguiari, are working to help introduce metro Atlantans to machines that fly.
New kind of aviation museum
While Cain engages in model rocketry, Aguiari, a 44-year-old commercial pilot and publisher of a magazine about vintage warplanes, wants to help create a new museum and education center built around Georgia's aviation history and industry. The new Atlanta Air and Space Museum is proposed for 18 acres on the eastern side of the DeKalb-Peachtree Airport, the county-owned airport in Chamblee usually referred to by its call letters, PDK. The property, once used for a runway but now abandoned, offers a close view of PDK's working runways and airport facilities.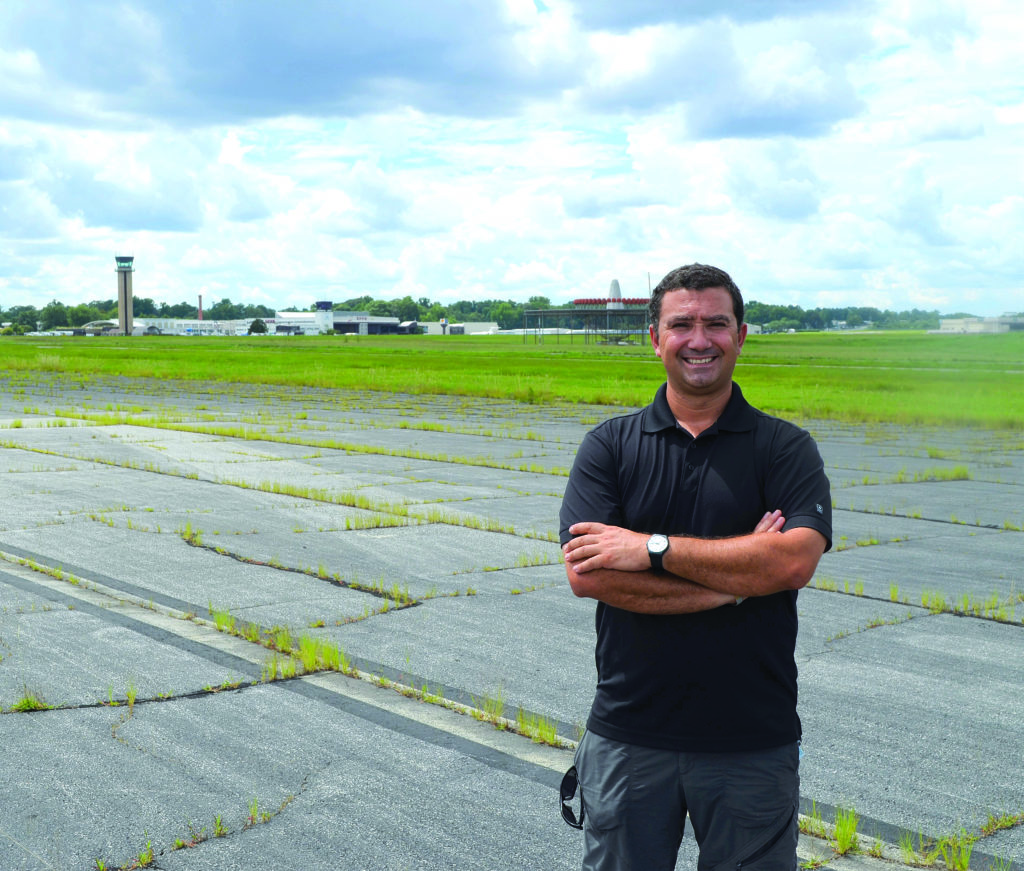 Aguiari is a founder and board member of the Inspire Aviation Foundation, a nonprofit created about three years ago to create the museum. "The purpose of this museum would be to acquire, restore and conserve historic aircraft, spacecraft, technology and related artifacts, while creating innovative visitor experiences that are educational and entertaining," the foundation said in a press release.
Aguiari puts it a bit more simply. The museum's proponents, he said, don't want simply to create another building full of old airplanes, like plenty of other aviation museums scattered around the country. "We are not going to build your typical box full of planes," Aguiari said as he sat in a conference room at PDK once recent afternoon. "That's an old concept of a museum."
Instead, they see exhibits that are interactive and engaging to young people. They want the DeKalb School System and perhaps even Georgia Tech to be involved with the aviation campus to create a place where students can learn about aerospace careers and flying.
The foundation wants to create a place "designed to build aspiration for a life in Science, Technology, Engineering, Arts and Mathematics (STEAM)," it said in its press release. "But the platform will go further than aspirations to nurture an interest in aviation throughout someone's entire life. The [foundation] wants to offer a tangible path from childhood all the way through an aerospace career and beyond."
Aguiari realized the PDK museum should be different when he was taking his own children to see other aviation museums. He liked looking at the old planes, he said, but his kids soon were bored. "My 5- and 6-year-old kids were telling me, 'Dad, can we go someplace else? Nothing moves here.'"
Fellow foundation board member Latessa Meader, a C-130 pilot in the U.S. Air Force Reserve, got excited about and signed on with the project last year because of its educational components. She's a former high school math teacher who says she became an aviation mechanic and then a pilot because she thought the most interesting teachers were those who had done other things during their lives.
"We don't want static airplanes with placards in front of them," she said. "All of us have a passion for aviation and we want to inspire that in students from age 1 to 100."
She said she wants the project to showcase careers in aviation and aerospace and show students how to pursue jobs as engineers, air traffic controllers, mechanics or baggage handlers. "Anything you enjoy doing can be [related to aviation]," she said. "One of my long-term goals in this is to capture their passions."
The museum would tell the story of aviation in Georgia. Georgians have built airplanes at Lockheed Martin and Gulfstream, flown them for Delta Air Lines and operated the busiest airport in the world. "Georgia has an incredible aviation history [stretching back] almost 120 years," Aguiari said.
Georgia's aviation heritage
Georgians were building and flying airplanes soon after the Wright brothers showed it was possible. One of the nation's aviation pioneers was Ben Epps of Athens, whose descendants made flying a family tradition that continues. His youngest son, Pat Epps, started Epps Aviation, the fixed based operator still in business at PDK.
The land that would become PDK was part of the site of Camp Gordon, a World War I army training base. The property was sold at auction after the war to a private owner, and then in the 1920s and early 1930s, aviation enthusiasts thought the land would make a good airport, according to the PDK webpage. In 1940, DeKalb County bought the land and dirt runways and opened it in 1941, the webpage says.
During World War II, the property was home to a U.S. Naval Air Station. "Many young men, not only from Georgia but from all over the United States, began their flying careers during the next few years, while the Navy was using the airport for pilot training," the PDK webpage says.
After the war, the Navy continued to operate the airport as a Naval Air Station until a new facility that could handle jets opened at Dobbins Air Force Base in Cobb County. PDK returned to full civilian use in 1959.
One of the first collections the aviation museum has received is composed of memorabilia from retirees of the Naval Air Station. The collection includes photographs, logbooks, newspaper clippings and other artifacts that had been displayed during annual meetings of the retirees. The foundation is having the items photographed so they can be preserved digitally, Aguiari said. With the items, the museum can showcase the air station's history so "the guys who served here will not be forgotten."
Efforts to pull together the aviation museum and to develop the campus are expected to take at least three to five years, Meader said. The foundation is conducting a feasibility study for the project and for fundraising for the millions of dollars needed for the project, Aguiari said. He remains hopeful.
"I'm just a regular Joe with a big vision," Aguiari said. "It's not like we have millionaires or big companies behind it. It's just a bunch of regular guys trying to build something incredible."
Soaring high
David Cain pursues a different vision. He still regularly fires small kit rockets similar to ones his daughter Maddie and Jim build and fly, but he's also looking up to see just how high some of his models can soar and survive.
SoAR organizes launch days for small rockets every month. (The launches are open to anyone who wants to fly rockets, not just members). But its members also take part, a few times a year, in high altitude flights from fields in south Georgia, Alabama or other places far from the flight paths of airplanes. Cain has taken part in a few of those outings. He said his collection now includes three high-powered rockets, three middle-level ones and seven smaller ones. His personal best flight went up about a mile, he said.
Still Cain likes flying rockets, no matter what size they are. After all, not all launches work. Some rockets sit dead on the launchpad. Others blow up or reach only a few feet before heading back to ground. Others end up in the trees surrounding the range and can't be recovered.
"I have never lost the thrill of seeing my rocket go up there," he said. …"It is a challenge. It's the joy of watching it fly."
The hobby also allows him to indulge other passions. He likes to operate a 3-D printer to make things, he said, so now he creates his own rocket parts. At the range in July, he flew a model of the Space-X rocket that he had built from a kit he bought from Space-X, he said. The largest rocket he's built, he said, stood about six feet tall "…and looked like a length of black hose. I have gotten to a point that my teenage self would not recognize the rockets I do now."
These days, flying rockets also connects him with his kids. "There's not just one reason I enjoy it," Cain said. "I discovered when I did it with my boy that I still enjoyed it. I just hadn't done it in a while. As a hobby, it allows me to integrate my different interests…. It's a great way to spend time with the kids and to give them experience building things with their hands."
Cain said building and flying their rockets gives rocketeers the feeling of personal satisfaction and achievement that video gamers feel when they finally conquer a difficult level in a game and "level up." "Rocketry delivers a similar kind of thing," he said. "It's a 'level-up' experience when you do something like fly your rocket to 5,700 feet and then then get your rocket back."
Maddie sees that, too. "I'm enjoying myself pretty much," she said after a few launches on that hot Saturday in July. "Today, there is a breeze going and there are kids here. … The main reason I'm here is to hang out with my dad and have fun flying rockets.
"It's kind of cool to watch your rocket go up and realize, 'Hey! I built this thing and it's working!'"
Find Out More
Learn more about rocketry and the museum project at:
Atlanta Air & Space Museum — atlantaairandspacemuseum.org
SoAR Rocketry —soarrocketry.org

What's Happening at Pinckneyville Community Center this Month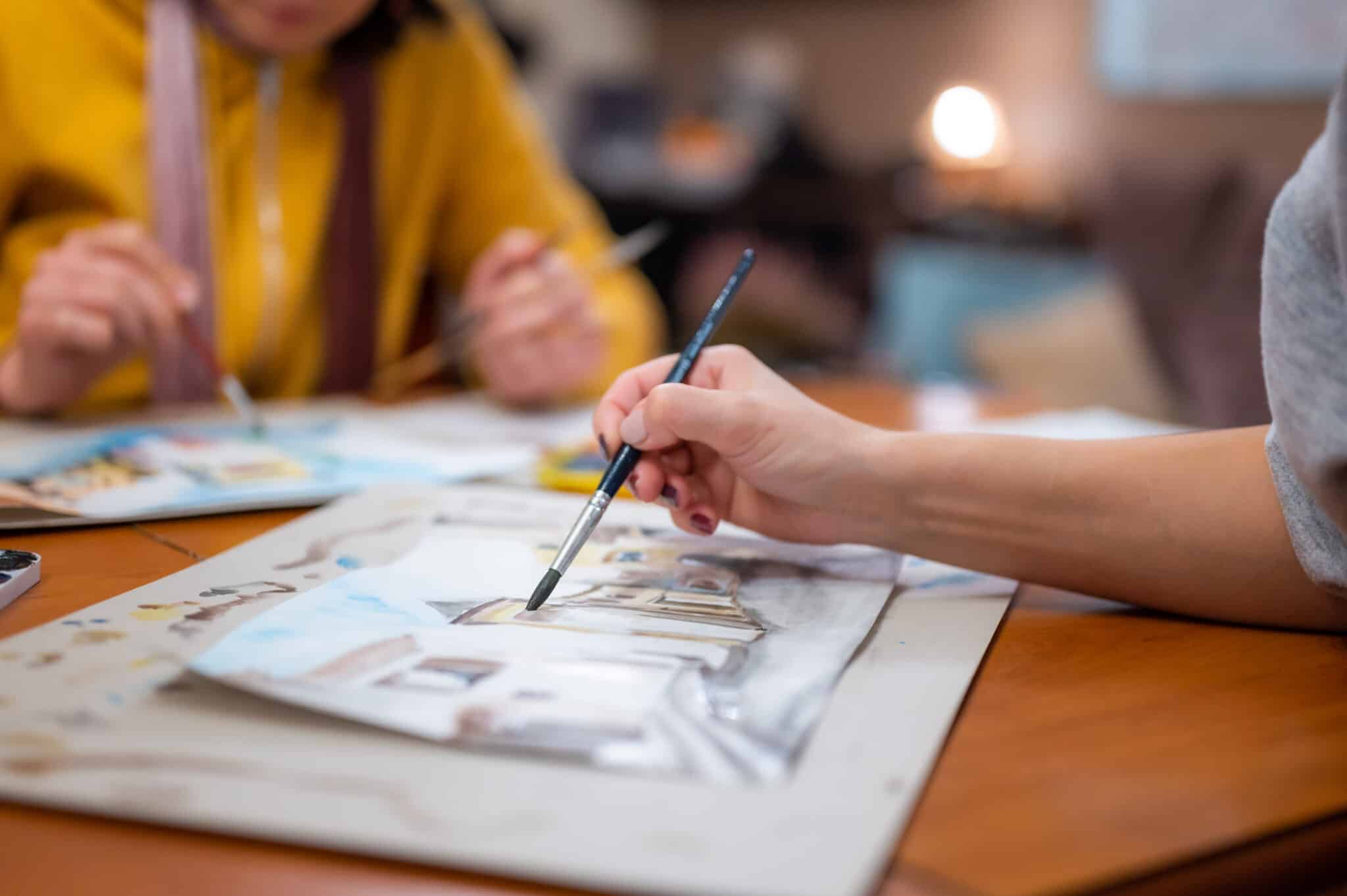 NEW! Gwinnett "En Plein Air" Park Art Challenge: We're calling Gwinnett artists 16 and older to participate in an artwork challenge! Paint an outdoor scene at one or more of the parks selected for a chance to win a cash prize. Saturday, August 5 to Saturday, November 11. Submission deadline is November 17. Please call 678-277-0920 for more information!
OFFERINGS
Adventure Days Out: We've got your school's out childcare covered. Children will have an amazing experience trying new games, exploring new skills, making new friends and most of all, having fun! 7:30 a.m. – 6:00 p.m. Ages 5-12. $30 per day.
NEW! Beginner Karate: This course consists of traditional martial arts self-defense to help students develop strength, knowledge and discipline. Our classes are safe, fun and exciting! Saturdays, October 7 – 28. 1:15 p.m. – 2:15 p.m. Ages 5/up. $88.
NEW! Basic Drawing: Students will learn the basics of line, shape, value, texture, and perspective to create finished drawings in pencil and charcoal. Students will draw subject matter provided by the instructor. Call 678-277-0920 for dates and times. Ages 18/up. $201.
NEW! Understanding Watercolor: Taught by an award-winning watercolorist, this course emphasizes techniques in watercolor. Various subject matter from still life, landscape, animals to portraits will be rendered. All levels welcome. Call 678-277-0920 for dates and times. Ages 18/up. $201.
Get Into Watercolor: Learn the basics of watercolor from a seasoned instructor! This class is designed for beginners as well as the more experienced. Master the methods of watercolor to paint basic and complex shapes; development of depth through values, perspective, color and the composition of overall painting. Students will furnish their own materials (supply list will be provided). Saturdays, October 7 – November 11. 10:00 a.m. – 12:30 p.m. Ages 16/up. $141.
Ballet–Preschool: Creative dances and imagination will help instill a love for dancing, as your toddler learns the basics of ballet in a positive and fun environment! Preschool ballet will need pink leather ballet shoes and pink footed tights, pink leotards and a pink skirt. Saturdays September 9 – 30. 10:00 a.m. – 10:45 a.m. Ages 4–5. $37.
Ballet–Beg: Expand your child's ballet abilities in this beginner class. Students will focus on developing ballet techniques and posturing. Beginner ballet will need pink leather ballet shoes and pink footed tights, pink leotards and a pink skirt. Saturdays, September 9 – 30. 12:15 p.m. – 1:00 p.m. Ages 6–9. $37.
Ballet–Int: Expand your child's ballet abilities in this beginner class. Students will focus on developing ballet techniques and posturing. Beginner ballet will need pink leather ballet shoes and pink footed tights, pink leotards and a pink skirt. Saturdays, September 9 – 30. 9:15 a.m. – 10:00 a.m. Ages 7–10. $37.
Ballet–Int: Students will reinforce their ballet techniques, physical strength, flexibility, and musicality in this intermediate level class. Dancers need pink leather ballet shoes, pink footed tights, black leotard and a black skirt. Saturdays, September 9 – 30. 11:30 a.m. – 12:15 p.m. Ages 11–16. $37.
Ballet–Adv/Pointe: This class is designed for dancers 15 or older, aimed at strengthening ballet technique, flexibility, and performance levels. More demanding and complex movements will help your student master the art of ballet. Dancers need pink leather ballet shoes, pink footed tights, black leotard and a black skirt. Saturdays, September 9 – 30. 10:45 a.m. – 11:30 a.m. Ages 15/up. $37.
NEW! Hip Hop/Jazz: Tone your body and get your heart pumping to the beats of your favorite music! Students will learn fun, innovative, and unique dance routines that will strengthen their dance skills. Each class consists of stretching, exercise, cool downs and dance choreography. Drop in any class for only $15. Wednesdays, September 13 – November 1. 6:10 p.m. – 7:00 p.m. Ages 8-12 $81.
NEW! SWEAT: This class incorporates all aspects of fitness: cardio, resistance, flexibility and core training structured in segments that focus on upper, middle and lower body exercises. This class will improve endurance, strength, muscle, tone and definition for all fitness levels. Wednesdays, September 13 – November 1. 7:10 p.m. – 7:50 p.m. Ages 18/up. $81.
NEW! 3D Printing Workshops: Unlock your child's creativity and introduce them to the exciting world of 3D modeling and printing! Our class teaches the basics of 3D design using industry-standard software, Blender and bringing designs to life through 3D printing. Participants will gain valuable skills such as problem solving, spatial reasoning, creativity and attention to detail while having fun creating their own unique 3D printed creation. A laptop and mouse are needed for this class. Required: A $10 material fee is due at the start of the class paid directly to the instructor Optional: $10/session for laptop rental fee. Please reserve ahead. Highly recommended to bring your own laptop and mouse.
3D Printing Experience: Saturdays in August, 2 p.m. – 3 p.m., Ages 6 – 18, $36
Design Thinking in 3D Printing: Saturdays, August 5 – 19, 1 p.m. – 2 p.m. Ages 6 – 18, $100
POTTERY STUDIO
NEW! Session begins September 11, registration opens August 30.
Wheel: This class is perfect for beginner pottery students who want to learn the basics of working with a pottery wheel. $22 per bag of clay required. Mondays, 6:30 p.m. – 9:30 p.m. Ages 16/up. $128.
Wheel Adv: Advanced pottery wheel lessons that build on the beginner class so you can hone your skills and perfect your craft. $22 per bag of clay required. Tuesdays, 6:30 p.m. – 9:30 p.m. Ages 16/up. $128.
Wheel/Handbuilding – Beginner: This class is for true beginners interested in pottery, both wheel and handbuilding will be explored. Try it out and explore a new art form! $22 per bag of clay required. Tuesdays, 10:30 a.m. – 1:30 p.m. Ages 16/up. $128.
Wheel/Handbuilding – Adv: This course incorporates working with a pottery wheel and hand building with clay for more experienced students. $22 per bag of clay required. Wednesdays, 10:30 a.m. – 1:30 p.m. Ages 16/up. $128.
Handbuilding: No wheel necessary in this course, learn how to work and create with your hands using clay and tools. $22 per bag of clay required. Thursdays, 6:30 p.m. – 9:30 p.m. Ages 16/up. $128.
Independent Study: Open studio session for individual pottery artists. Must complete Pottery Studio orientation prior to first visit if you are a new patron. Monday – Saturday. Ages 16/up. $100.
Independent Study ADD ON: Open studio session for individual pottery artists. Must be registered for current pottery class. Monday – Saturday. Ages16/up. $30.
*Out of county resident fees applied at time of registration*
FREE ACTIVITIES
Atlanta Gourd Patch: Create art on gourd canvases. Meeting the second Saturday of each month, 10:00 a.m. – 2:00 p.m. To register contact Kay Rozea at 470-316-8185 or kmr01@aol.com.
Atlanta Hobby Robotics Club: Come and share your robotics ideas. All ages are welcome. Meeting on the third Saturday of each month, 10:00 a.m. – 12:00 p.m. To register contact Walter Burleson at 404-932-8108 or wlenbl@gmail.com.
Senior Bridge Club: A trick-taking card game using a standard 52-card deck. In its basic format, it is played by four players in two competing partnerships. 50/up. Thursdays, 9:00 a.m. – 2:00 p.m. To register contact Mary Fender at 678-357-6709 or maryrfender@yahoo.com.
Bridge- Act II: Fourth Monday of each month from 10:00 a.m. – 2:30 p.m. For more information contact JoAnne Leisen at 571-330-4730.
Guitars for Vets: Helping Veterans cope with PTSD through music. Participants get 10 weeks of one–on–one lessons. When finished with lessons participants will receive a free guitar! Mondays, 12:00 p.m. – 3:00 p.m. To register contact Cliff Meinhardt at 404-234-8040. Visit guitars4vets.org for more information.
Gwinnett Chess Club: Chess for all ages. All experiences are welcomed. Every other Saturday, 9:30 a.m. – 12:00 p.m. To register contact Tom Emch at 770-605-0429 or ibemch@charter.net.
Last Tuesday Book Club: Join in on all the reading fun! Meets the last Tuesday of each month.

Robert D. Fowler Family YMCA Plans 'Welcoming Week' and More Exciting Events This Fall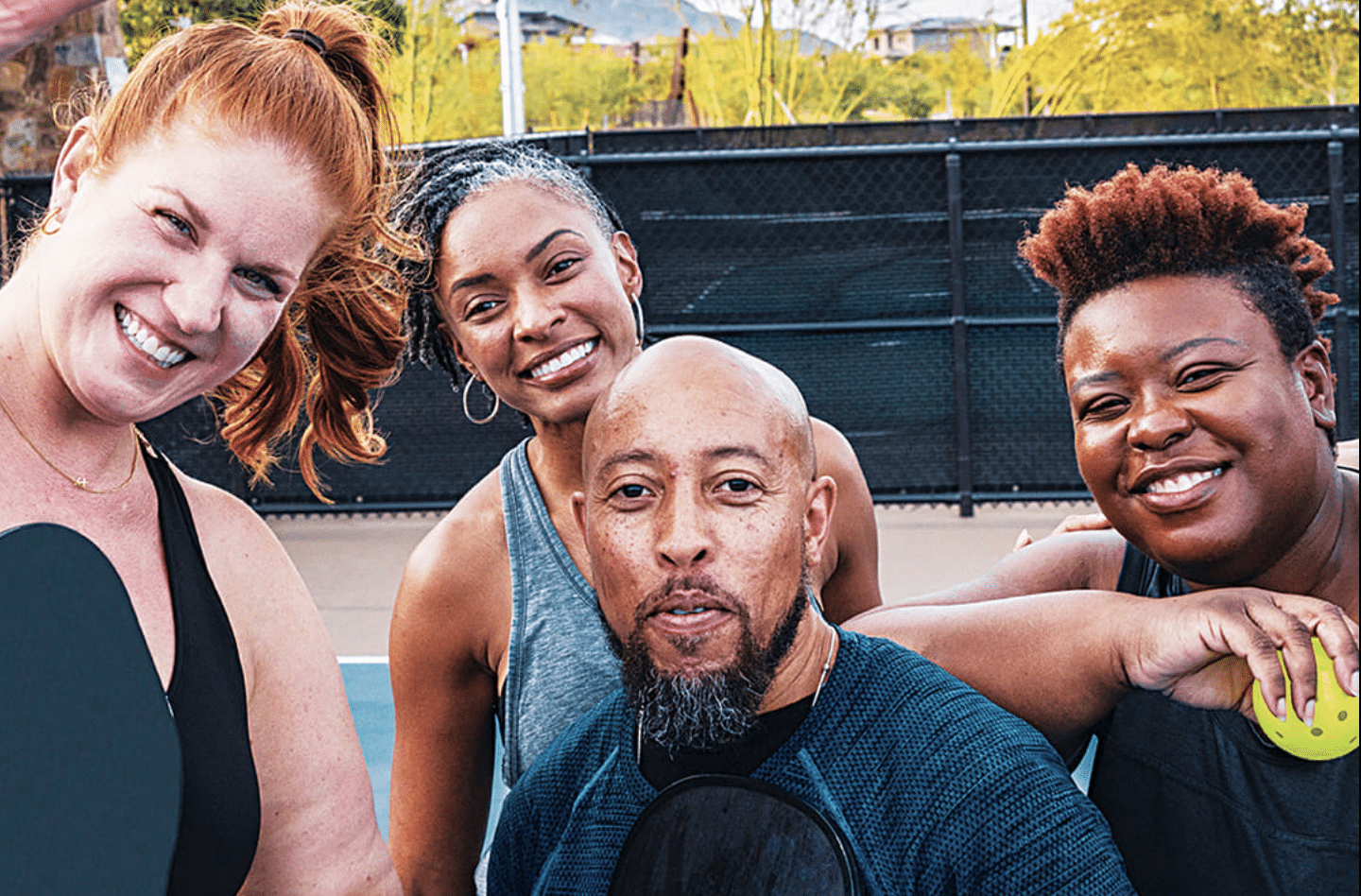 Welcoming Week: Reserve your FREE one-time guest pass during the week of September 8 – 17 and enjoy everything the Robert D. Fowler Family YMCA has to offer. Welcoming Week provides an opportunity for Peachtree Corners neighbors, whether they are immigrants or U.S.-born residents, to connect and strengthen community bonds. From swim class and water safety to day camps, group workouts and community well-being initiatives, the Rober D. Fowler Family YMCA has something for the whole family.
Guest passes do not include access to outdoor pools or basketball facilities in the gymnasium. Click here for you free guest pass.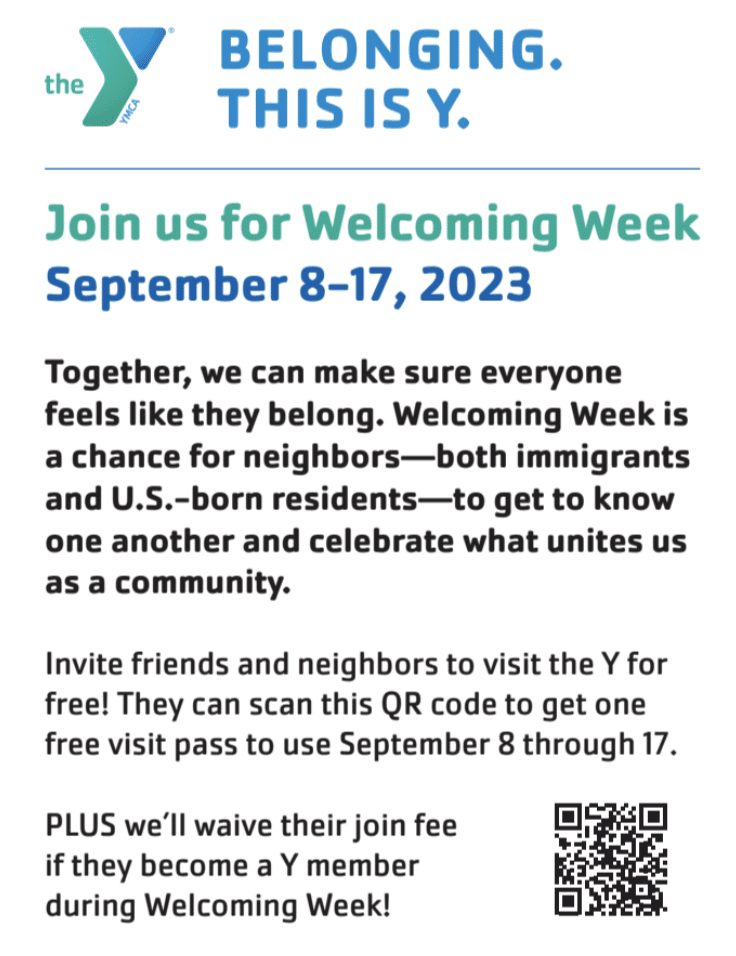 Lifelong Learners: Healthy living doesn't always mean physical activity. Creative thinking, exploring interests, and learning new things are as important as diet and exercise. That is the philosophy behind Lifelong Learners. For ages 50 and up, Lifelong Learners offers seniors the chance to come together and enjoy guest speakers, local field trips and spirited cultural discussions. The group meets every other Friday at 12:15 p.m. in the Senior Center. For more information, email Rob Wilson at robertw@ymcaatlanta.com.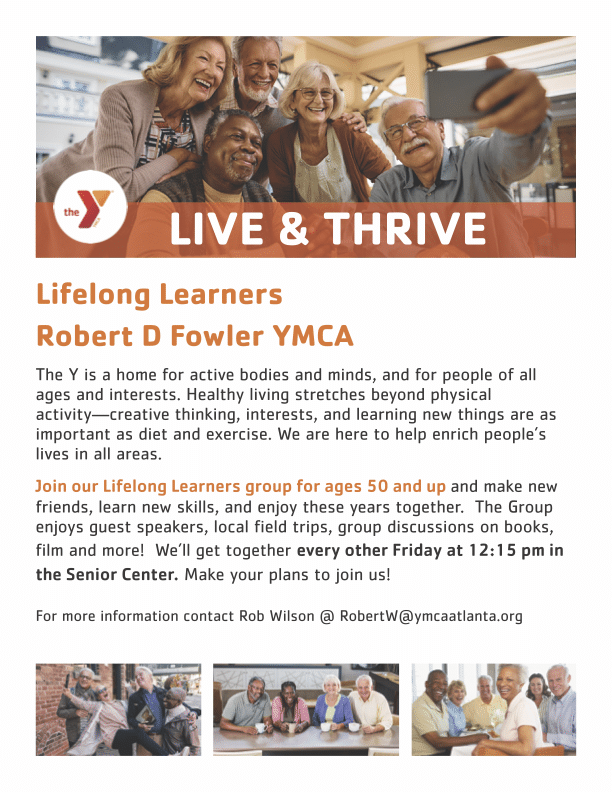 Grief and Loss Support Group: Grief and loss are two of the most difficult emotions to face in life, but you don't have to face them alone. Every Monday at 11 a.m. in the Senior Meeting Room, the Robert D. Fowler Family YMCA provides a safe and caring environment for participants to come together and begin to understand the grief process. For more information, connect with Ellie Garrett at ejgarrett@gmail.com.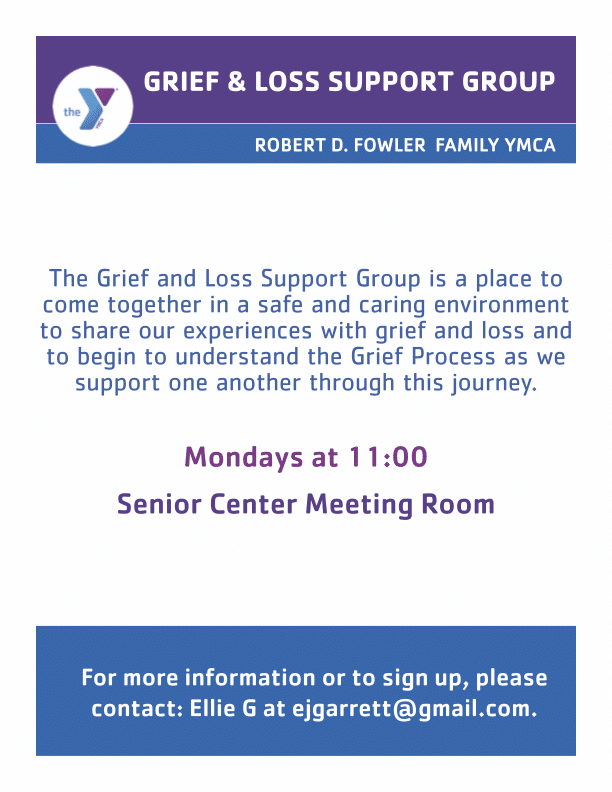 Caring for Those Who Care: The YMCA's weekly Caregivers Group provides a dedicated meeting space for caregivers to offer and receive emotional support. If you are providing care for a loved one, or want to learn more about long term caregiving, this group is for you. The group offers practical information while respecting confidentiality and encouraging camaraderie. Take this opportunity to build relationships with others in similar situations every Tuesday at 11:45 a.m. in the Senior Meeting Room. To learn more, email Mary Crawley at mcrawley@wans.net.
More Senior Activities:
Canasta: Every Monday at 2 p.m. in the Senior Meeting Room,
Dominoes: Every Thursday at 10:45 a.m. in the Senior Meeting Room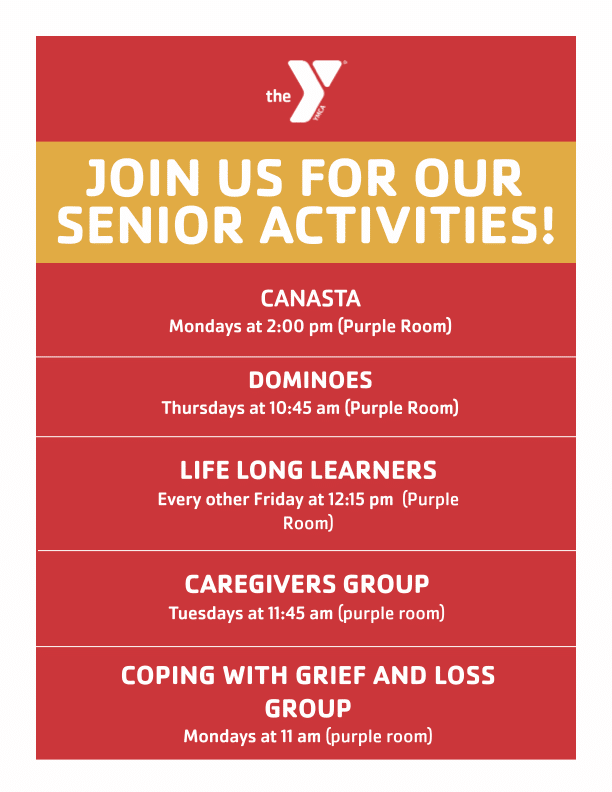 Gully-Washer Subsides to Keep 'Light Up The Corners' on Track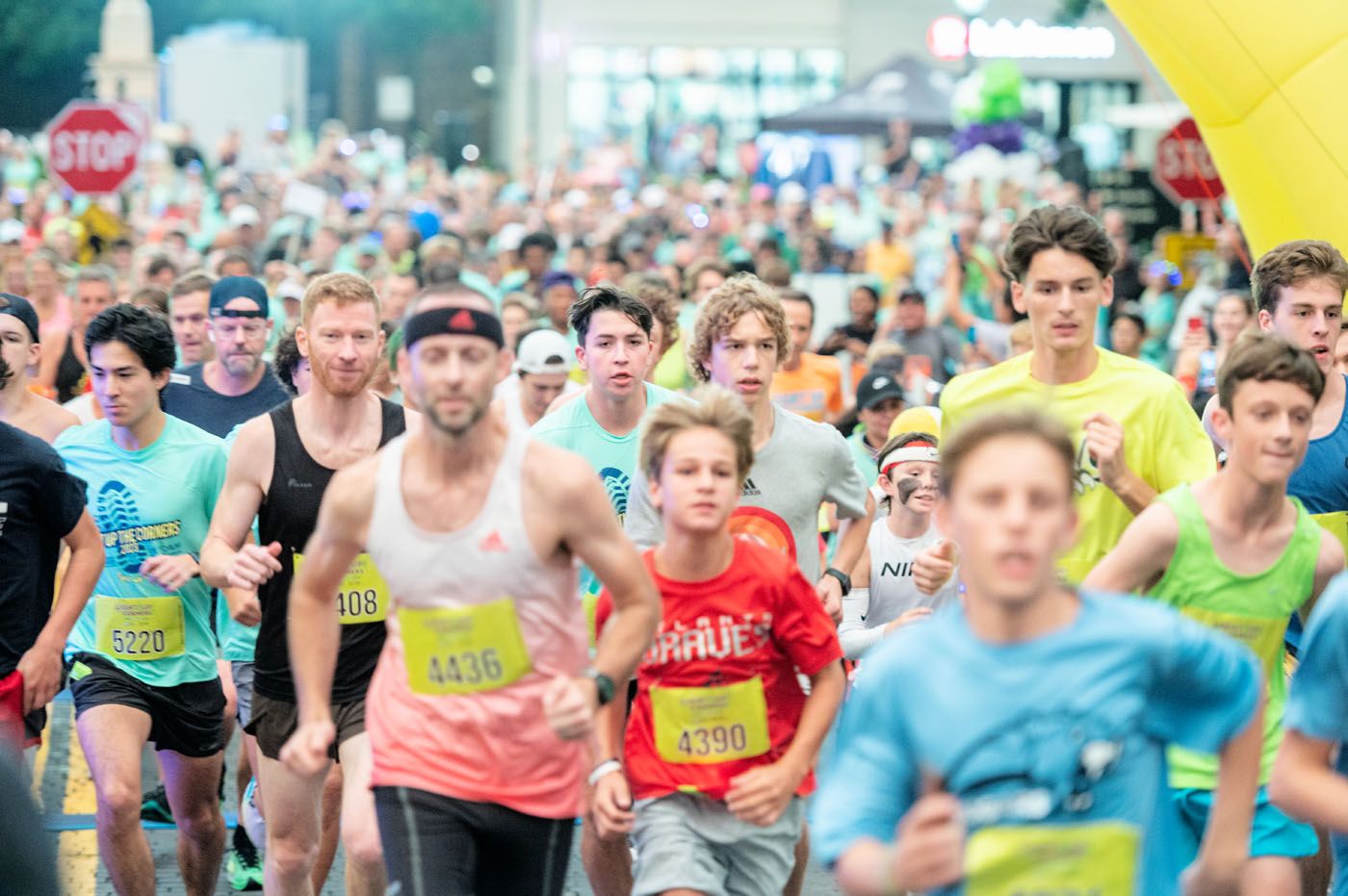 Call it luck or divine intervention, but some force in the universe was determined that the 10th annual Light Up The Corners event was going to take place as planned. About an hour before start time, the deluge that threatened the area with heavy rains and strong winds on Saturday, Aug. 12, began to subside.
By the planned 8 p.m. start, the sun had peeked through the clouds and fun and festivities were in full swing.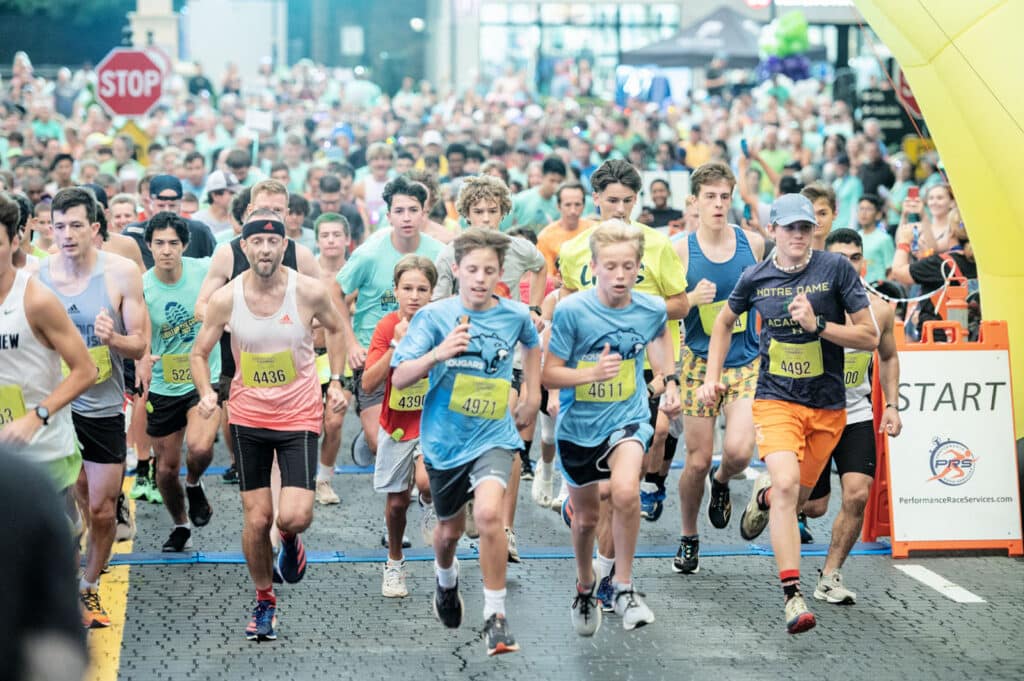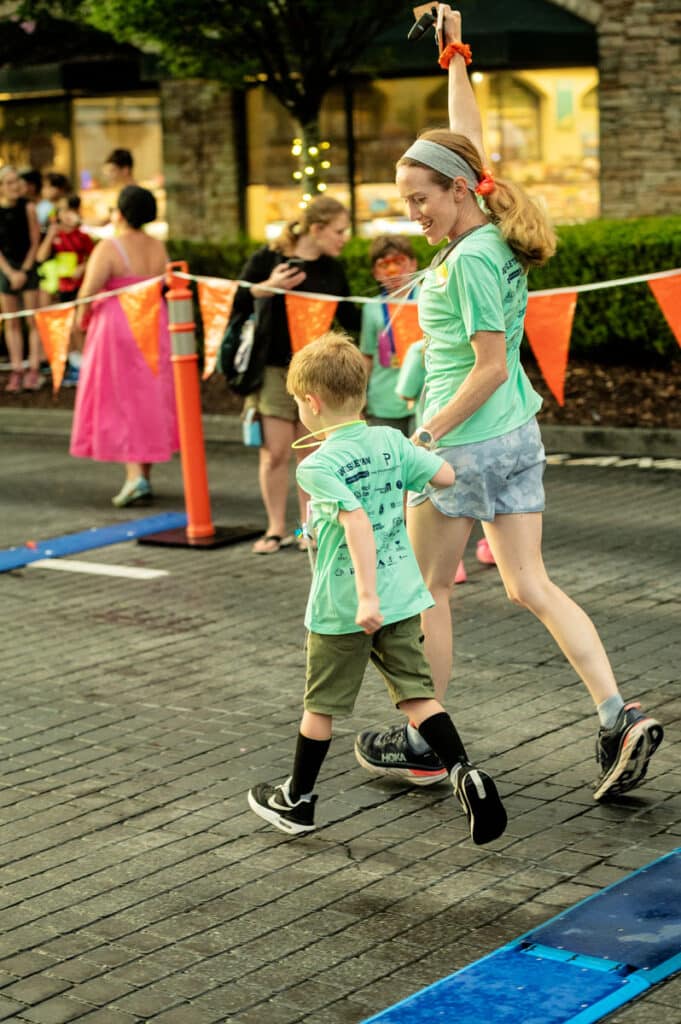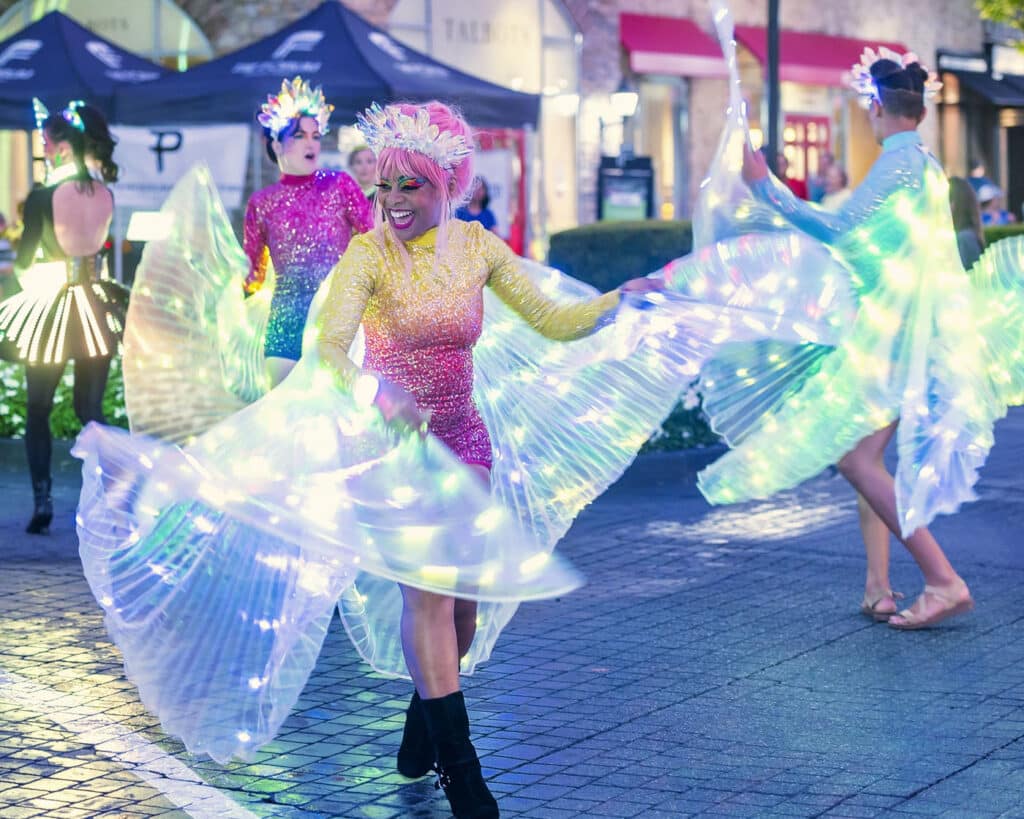 Guests from all across metro Atlanta gathered at The Forum at Peachtree Corners for the four-mile glow run and one kilometer twilight trot benefitting the Fowler Family YMCA. The evening raised over $60,000 for the local community center, according to organizers.
"This event has taken on a life of its own," said Light Up The Corners race organizer Amy Massey in a press release. "The run is less about competition and more about friends, neighbors and families coming together to participate in a healthy, family-friendly fun way to 'glow for the good' of the community."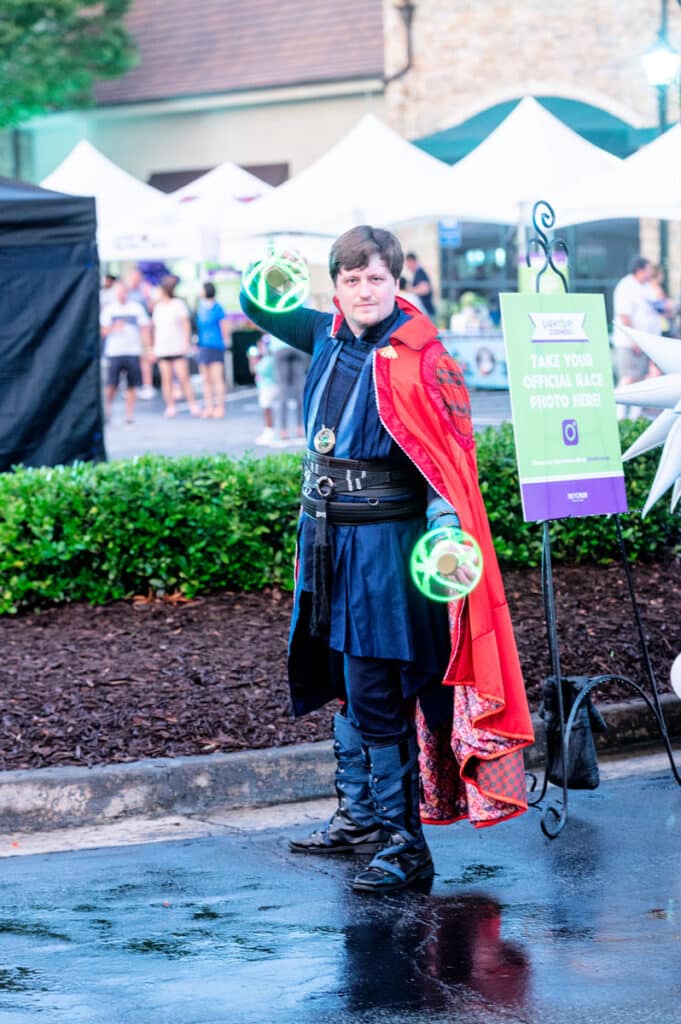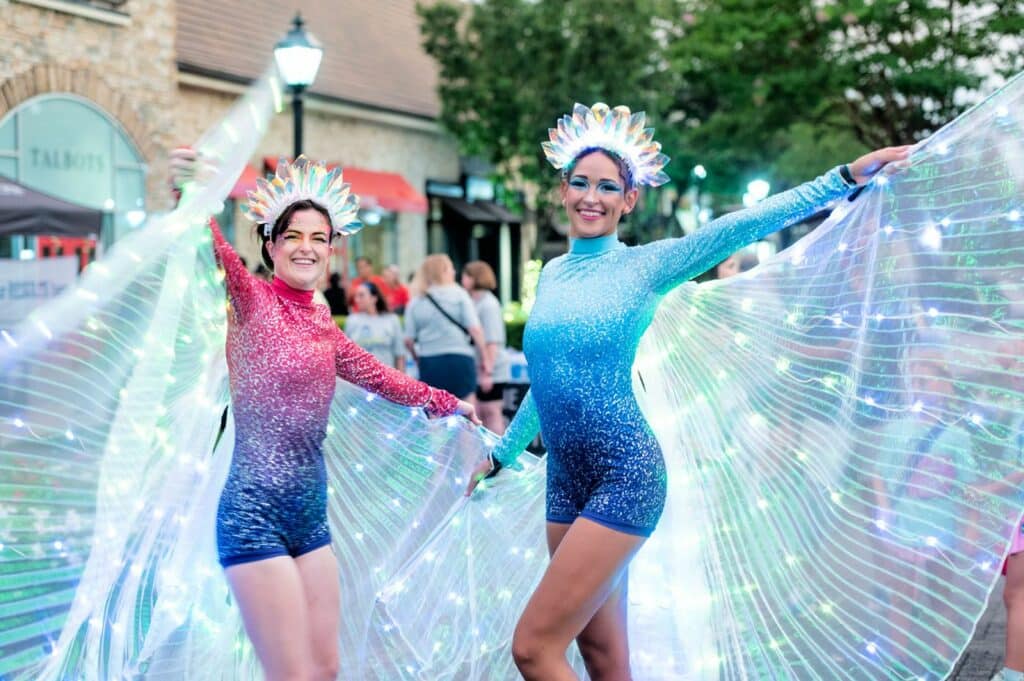 Despite the weather threat, this year's event attracted a record number of participants, sponsors and volunteers with more than 1,400 registered runners and hundreds of spectators cheering along the racecourse. Even if the physical activities weren't your thing, there were plenty of other attractions to keep one occupied.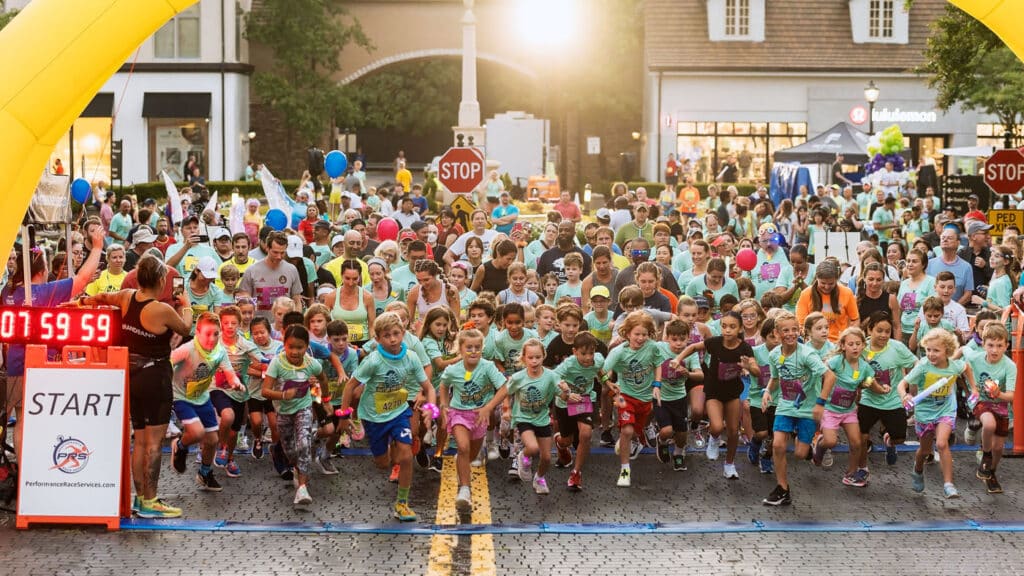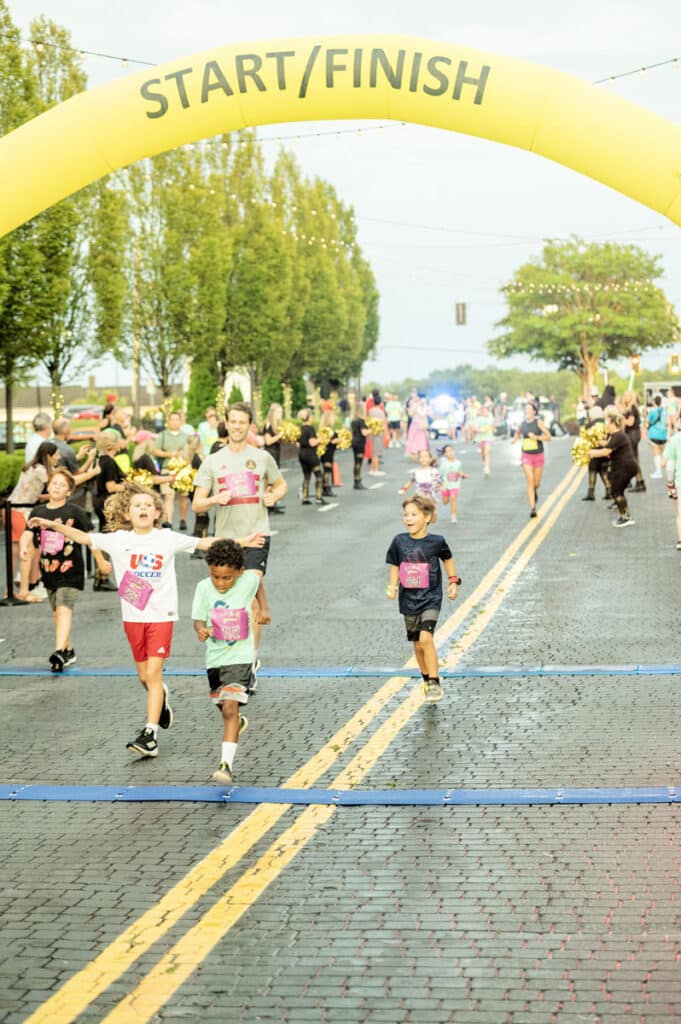 The festivities included activities for the whole family, a live DJ, roaming entertainment — one of the dancers was a dead ringer for Katy Perry — face painting, neon manicures, special prizes and awards for the runners. Light bites, beverages and giveaways were provided by The Forum retailers and restaurants, along with local schools, churches and businesses across the Peachtree Corners and metro Atlanta area.
"Light Up The Corners has become a truly beloved tradition not only for The Forum, but the entire Peachtree Corners community. Witnessing thousands of glowing runners is a thrill from start to finish, and we're honored to support our friends at the YMCA year after year," said Charlotte Hinton, The Forum marketing manager.
Since its inception, Light Up The Corners has raised more than $400,000 for the Fowler Family YMCA. To learn more, go to lightupthecorners.com.
Photos by George Hunter