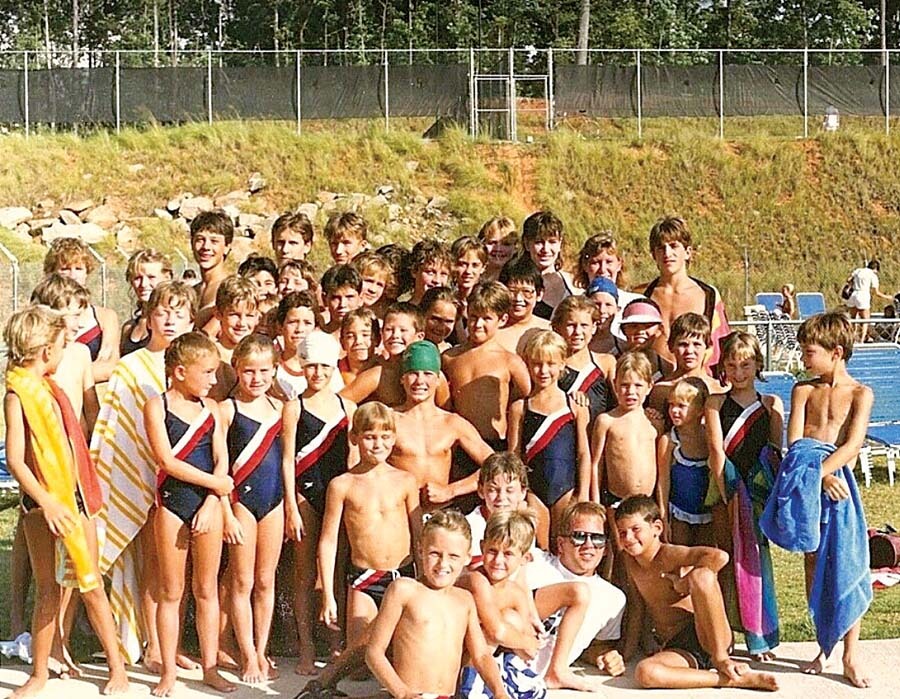 What it took to build a neighborhood
At first glance, you might think that North Manor is an idyllic, tree-lined community with a heart of gold. And after spending some time there, you'd know you were right.
Turn onto East Jones Bridge Road from Peachtree Highway and suddenly the atmosphere changes. Almost immediately, the scenery shifts from strip malls and restaurants to a picturesque neighborhood peppered with community centers and churches.
Despite the current climate, families are still outside taking advantage of the winding sidewalks and sharing a neighborly wave. The schools and playgrounds are currently closed, but on normal spring days, happy children would be making what they'll later describe as their childhood memories.
North Manor memories
This could be any town in "Mayberry, America," but what you don't know is that if it weren't for the residents of this little community, Peachtree Corners would look very different today. Back in the 1980s when the houses were first being built in North Manor, it was still a rural area surrounding what is now modern-day Peachtree Corners.
It was considered a transient community, and houses went for the high $70s to low $80s. Most of the families moved from the Northeast for jobs in the quickly developing
Southern hub of Atlanta. Tech Park had already been built, and young families were flocking to the "city in the forest" in large numbers.
Jim Gaffey has one of these families. Because most of the residents in North Manor were transplants, no one knew each other. There was no infrastructure in place, no main roads to cut off driving distance and no recreational facilities. Gaffey knew that he'd moved to a rural area; finding an old moonshine still in one of the creeks behind his house confirmed just how far out in the country he really was.
One of the biggest obstacles he encountered was the schools in which he was to send his two young boys. The roads were still being measured by a horse and buggy journey, and the closest schools available were Summerour Middle School and Norcross High School.
Gaffey met with the Superintendant of Schools at the time to address the issue, but instead of reassurance, he was told: "We'll never build schools in Peachtree Corners just to have them left empty when you all move on, just like you did in Dunwoody."
He'd already tried and failed twice to start a swim club for the North Manor community, but it was hard to get anything accomplished in a neighborhood full of strangers.
A proposed road leads to a mission
Then came the big announcement that changed it all. The "East Jones Bridge project" is what caught Gaffey's eye. East Jones Bridge Road was proposed to become the major highway to cut through in Peachtree Corners, just like the modern-day Holcomb Bridge Road.
It would have sliced the North Manor community in half with a major highway running through it. Then they'd add a Planned Unit Development (PUD) modeled after similar neighborhoods in Columbia, Md.
"I looked at the original plans in the local media and saw red," Gaffey recalled. "I'd just moved from New Jersey where there was no thought behind the plans — they were just putting up buildings anywhere they would fit — and I felt like it was following me down South."
At the time, there was no real sense of community in the neighborhood, no one to stick up for the little guys and no way of finding out when the hearings would be held. The writing was on the wall for North Manor community just a mere three years after it was built.
Gaffey knew from his experiences in the Northeast that the East Jones Bridge project and subsequent developments would decimate the community.
Connections + contacts = success
Obviously, that's not the case when you look at the community today. So how did a collection of neighbors who didn't know each other build the stately North Manor that we know today? The answer is churches.
The residents of the community banded together at the many different congregations in the area, such as Peachtree Corners Baptist Church and Simpsonwood United Methodist Church. "Then a unique thing happened," Gaffey said. "We started to help one another."
With the solidarity of the community growing in the churches, they had a fighting chance. By the time they held the first town meeting at the Good Age Building, it was packed with families ready to protest the new building plans.
The grassroots campaign was started, but they had little time to block the vote and almost no outlet to plead their case. The group found two members of the commission and Gaffey met with them to try and influence their vote without success.
Then, a member of the community they'd gotten to know from congregation events, Scott Ferguson, won one of the seats on the commission. He became the key to the success of their campaign. Now they had a powerful member of the campaign on their side — and inside information about when the votes were being held.
By the time the plan was put to a vote, the turnout was far beyond what they'd ever imagined. The North Manor community collected signatures and raised $96,000, all through good, old fashioned door-to-door campaigning.
They won the day and successfully blocked the project that would have changed the face of Peachtree Corners forever. The Linfield subdivision never would have been built, and Simpson Elementary or Pinckneyville Middle schools never would have existed. Jones Bridge Park wouldn't be the tranquil place for people to escape that it is; instead, it would be a loud eyesore of a bridge. And, of course, the North Manor community wouldn't be the beautiful oasis it is today.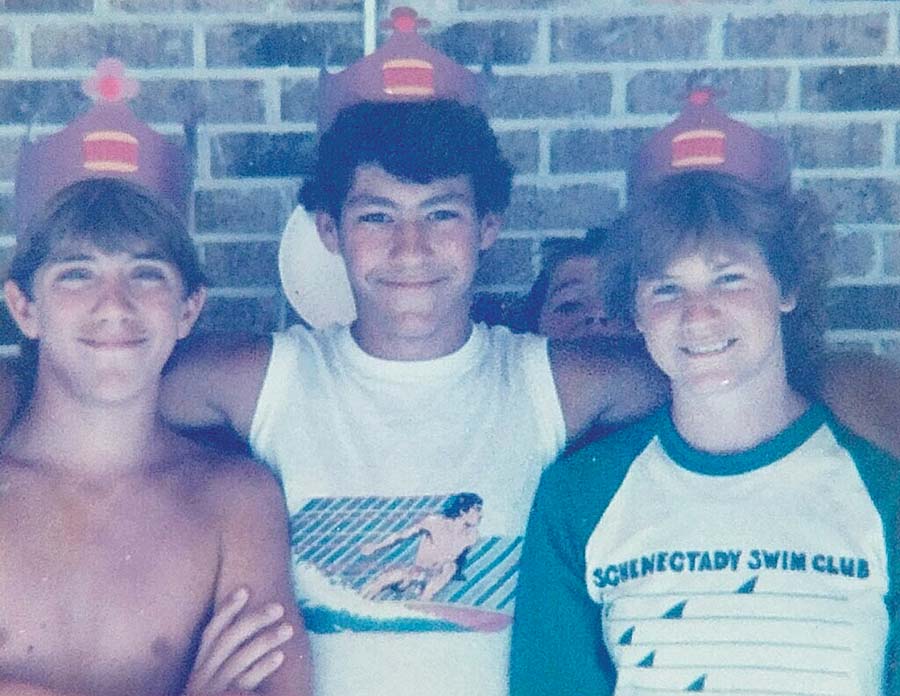 The start of PCSR
Once Gaffey had a platform on which to stand, the neighbors were able to successfully start the North Manor Swim and Racquet Club. Today, you know it as the Peachtree Corners Swim and Racquet Club (PCSR) — a staple to the community.
"The club founders, all North Manor residents, were involved in blocking multiple large-scale developments in the early 80s that would have dramatically impacted the area," said Sonny Peiper, a board member of PCSR, as he recalled the swim club's humble past.
Peiper and many other North Manor residents are excited to celebrate the 35th year of the Waverunners swim team. You can follow them on Facebook and Twitter at #Waverunners35.
The swim club is an intricate part of North Manor's charm. While other areas worship on Fridays, residents here are dazzled by the "Thursday night lights" and all that it means to their history.
North Manor creates a legacy
Nancy Minor, a real estate agent who has lived in the community since its first inception, recalls that "buying in the neighborhood was a leap of faith." Residents of North Manor first fell in love with the forests surrounding the neighborhood, the creeks where their children might play and the idea that one day it might be a strong community.
Today, with 262 homes, the residents can marvel at having some of the most desirable schools in the county, top-notch community amenities, vibrant bus stops and sidewalks filled with smiling faces. Now, because of the affluent subdivisions that have slowly popped up around the community, North Manor will be protected from any future development plans that might jeopardize all that the residents have accomplished.
It was the neighborly bond with each other that became the most important factor in transforming the North Manor community from a rural afterthought into one of the most desirable neighborhoods in the metro Atlanta area. When Minor is asked if she'll ever leave North Manor, she simply says, "I love my neighborhood."
The original residents have lived there long enough to witness the evolution of the neighborhood. Now, their children are grown and looking for homes of their own, and there's something comforting about watching them try to find communities just like the one their parents have built. ■
City Recognizes its High School Graduating Seniors with Special Video Tribute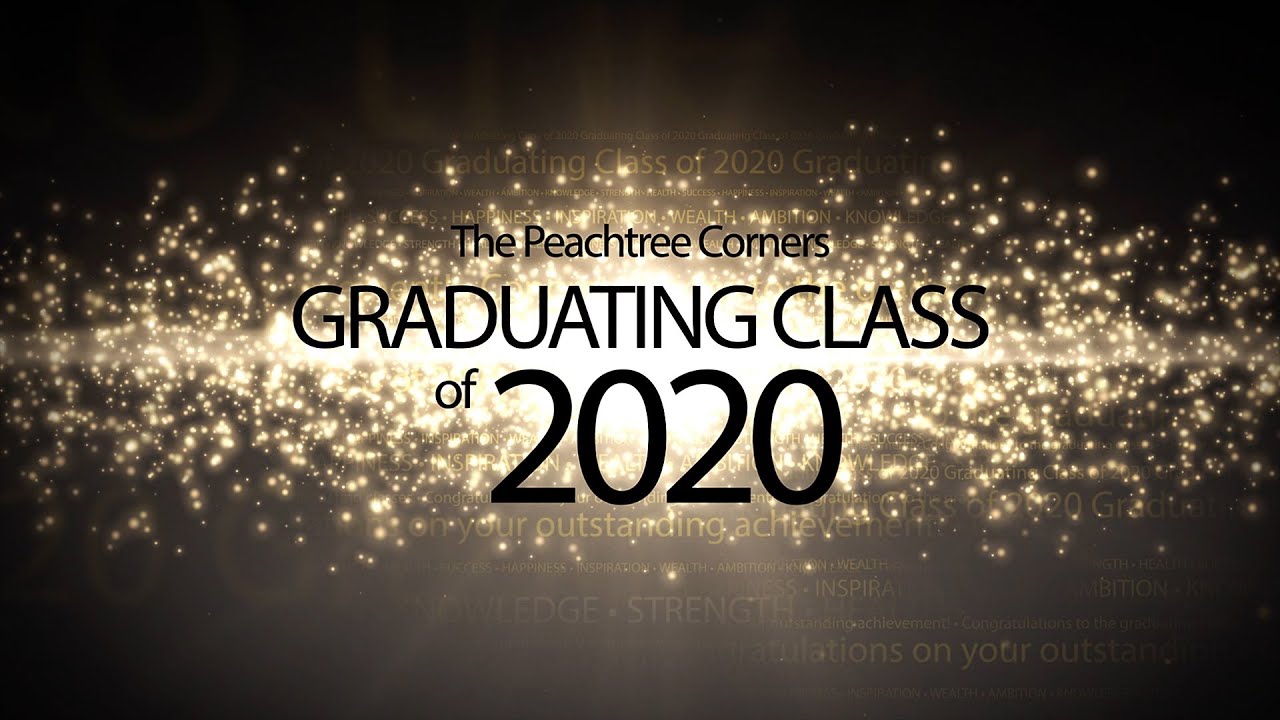 The coronavirus hasn't stopped this year's high school graduating seniors from making lemonade out of lemons, in this case the lemon was a virus pandemic that has virtually stopped the world in its tracks.
Though they didn't have the chance to be part of the traditional march to pick up their diplomas signifying the completion of 13 years of schooling, this group has learned there is more than one way to mark this annual rite of passage. Families have gathered remotely using technology to overcome the barriers of social distancing, and impromptu automobile parades were held as graduating seniors made the rounds in their cars waiving to neighbors, friends and supporters in celebrating their big day.
And the city of Peachtree Corners is also doing its part to make this a special moment – via a unique video highlighting the city's high school seniors. All Peachtree Corners graduating seniors who attended a public, private school – or were home schooled, had the opportunity to submit photos, videos and information which was used to create this special video.
"This year's high school graduates went from working in a classroom to working 100 percent online," said Mayor Mike Mason. "They watched their dreams of a traditional graduation vanish before their eyes. But history will prove that the 2020 High School graduates have learned to improvise. The world changed, and they changed with it.
"Each and every student can stand tall and be proud for they will forever be remembered as the graduating class who made milestones and history. We wish you great success."
The 2020 High School Senior Class video is available on the city's YouTube channel, PCN Network.
The video will also be shown Friday, Saturday and Sunday on the big screen at the Town Green.
City Releases Special Memorial Day Tribute Video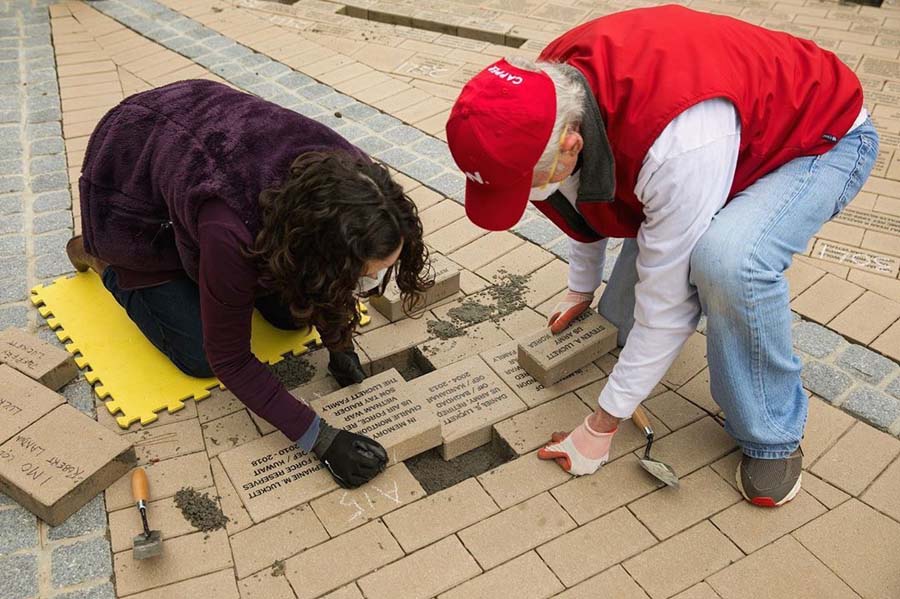 Due to the coronavirus pandemic, the City of Peachtree Corners and the Peachtree Corners Veterans Monument Association will commemorate America's fallen soldiers this Memorial Day with a special video tribute.
The special video features comments by Mayor Mike Mason and Retired Army Col. Bob Ballagh, a wreath laying by Councilmember Alex Wright, volunteers installing 48 new pavers and concludes with the traditional raising of the flags to full staff at noon.
Please use this link (or see the embedded video below) to view the city's video tribute as we remember the men and women who died while serving our country.  
The PCVMA would like to thank all who were involved in the making of this year's video:
Mayor Mike Mason, a veteran of the U.S. Navy
PCVMA Master of Ceremonies, Retired Army Col. Bob Ballagh
Councilmember Alex Wright, a veteran of the U.S. Navy
PCVMA Vice President, Retired Army Reserves Col. Doug Heckman
PCVMA Committee Member and Retired Navy Commander Tiffany Grave de Peralta
Assisting with flag raising PCVMA volunteer David "Doc" Hammer
Simpsonwood United Methodist Church Rev. John Purington
Bugler, Wesleyan Band Director Jeff Foster
Videographer Howell Upchurch, a veteran of the U.S. Air Force
Professional Photographer Jason Getz, a Peachtree Corners resident
And the volunteers who installed the 48 new brick pavers
Gwinnett Accepting Cares Act Grants Applications For Covid-19 Programs For The Needy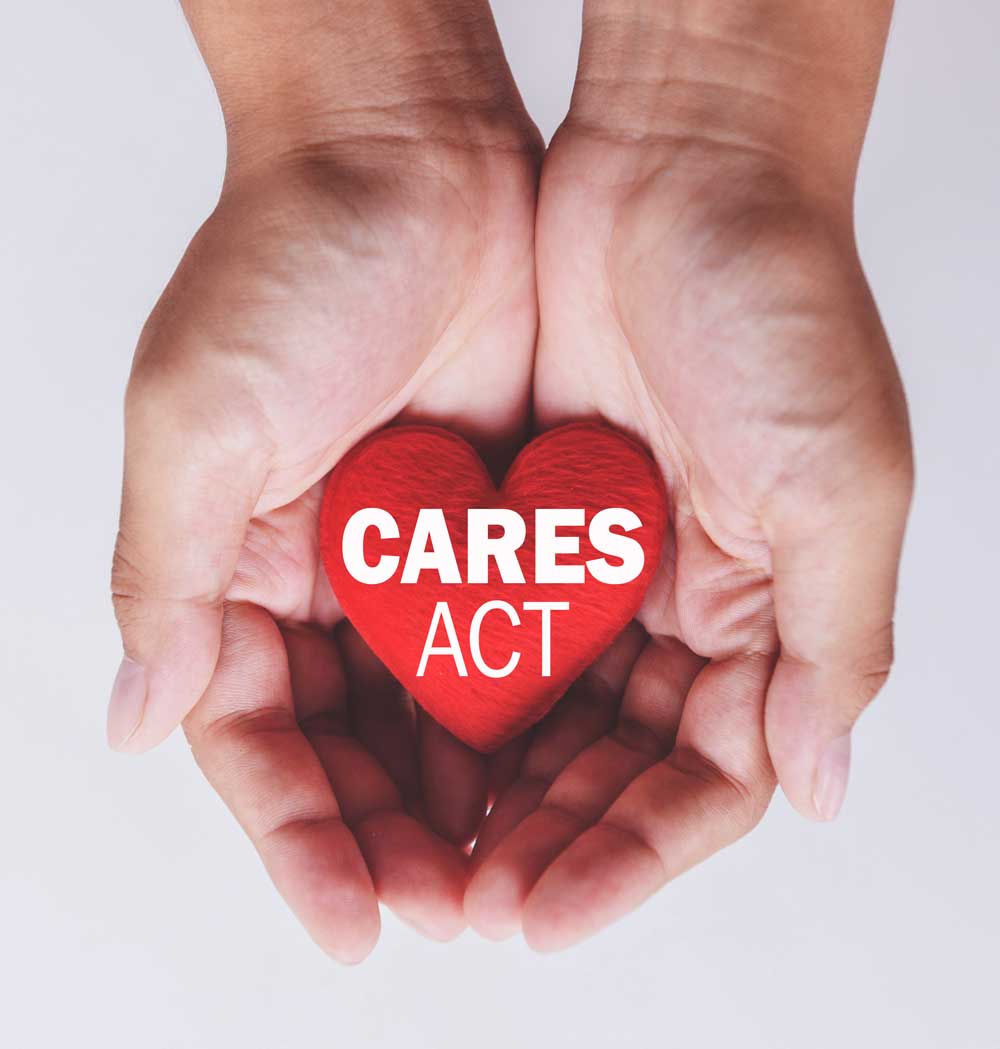 Gwinnett County is accepting applications from nonprofit and faith-based partners for round one of its federal CARES Act grant funding to serve Gwinnett residents most in need because of COVID-19.
All applications must be submitted electronically to the Community Development Program by June 4 for consideration.
Funding allocations will be made to qualifying nonprofit agencies providing eligible services in Gwinnett County. Applicants must be registered to conduct business in the state of Georgia and be designated as a 501(c)(3) organization.
The Gwinnett County Community Development Program will be hosting a Gwinnett COVID-19 Funding Webinar Friday at 11 a.m. The meeting can be accessed by computer, tablet or smartphone at global.gotomeeting.com/join/994133205 or by phone at 571.317.3112. The access code is 994-133-205.
CARES Act grant funds are reimbursable, so applicants must have the capacity and cash-flow to cover eligible costs. The County encourages collaborative submissions – especially those that use a strategic approach to address critical needs, such as emergency food assistance, housing and emergency shelter, childcare, transportation, and healthcare services.
Applicants will need to fill out the COVID-19 Statement of Need application at www.GwinnettCounty.com. The application can be found under Top Stories from the home page as well as under COVID-19 Resources for Nonprofits on the Department of Financial Services' Grants webpage.
The $2 trillion Coronavirus Aid, Relief, and Economic Security Act passed in March is intended to provide direct economic assistance for American workers, families, and small businesses, and to preserve jobs for industries. Gwinnett County manages CARES Act funding locally.
For more information, call the Community Development Program at 678-518-6008 or email gchcd@gwinnettcounty.com.